One of the last remaining, truly unspoiled wilderness that is simply teeming with wildlife is the incredible sanctuary of Kangaroo Island. If you enjoy stunning cliff views, endless beaches, up close and personal wildlife, and absolute solitude, Kangaroo Island is the place for you. Don't wait any longer and set off on your ultimate outdoor experience this year!
If you are planning on camping your way around the island, which is definitely the best way to go, then you are going to want to know about the best places to camp on Kangaroo Island. This guide lists all of the best Kangaroo Island camping areas, including how to get to them, what to expect there and all the other important info you will need for your trip!
Save this image to your South Australia Pinterest board!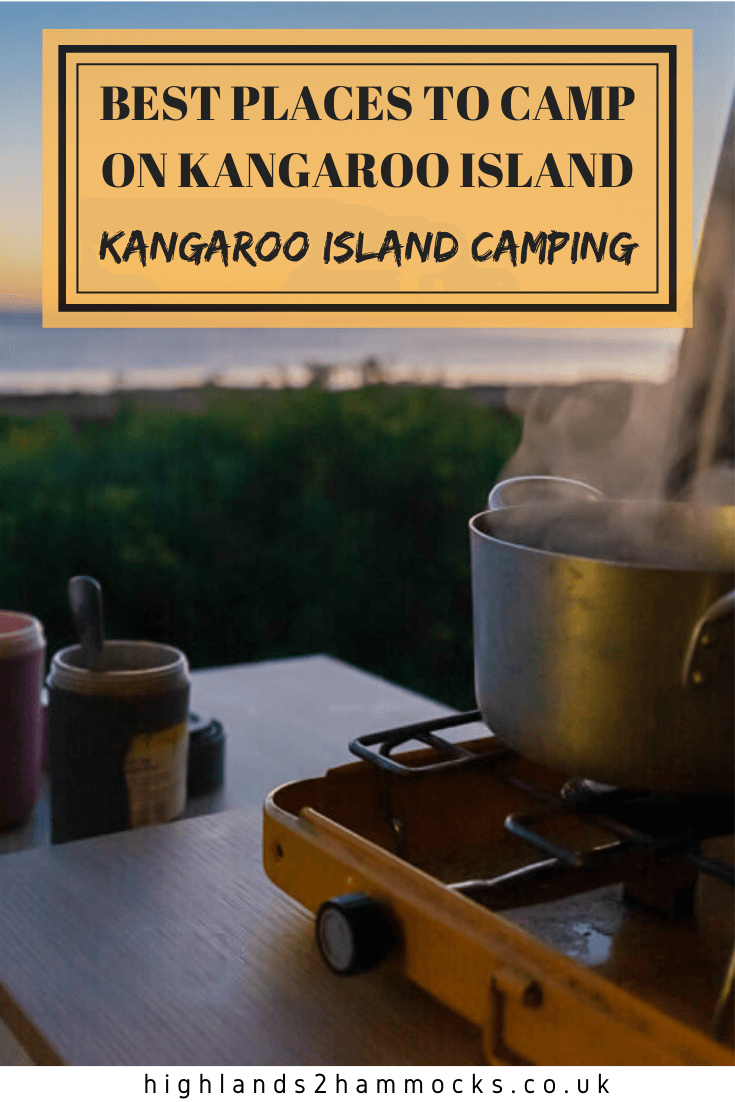 In this guide, we discuss all of the campgrounds and caravan parks listed below. We explore each of these in greater detail, discussing how to get to them, what amenities the campground has, as well as any nearby sights that you should check out.
Also Read – Kangaroo Island Self-Drive Itinerary – The Perfect Kangaroo Island 5 Day Itinerary
Watch more of our Kangaroo Island road trip over on our channel
Kangaroo Island Camping – The Best Places to Camp on Kangaroo Island
Is Wild Camping Allowed on Kangaroo Island?
If you enjoy wild and free camping (as we do), I am afraid you will be slightly disappointed on Kangaroo Island. Due to the huge number of conservation parks, as well as local bylaws and other protected areas, it is very difficult to find anywhere to camp for free. Everywhere we found suitable for camping is either on a community campsite or in a national park, both of which require small fees to camp on them.
If you are visiting off-season you may get away with not paying for a permit, however, is it worth the fines if you get caught? The best option is to plan ahead for the areas you wish to visit, book a camping permit and a day pass for the national parks that require one and enjoy your trip without the worry of any unexpected fines.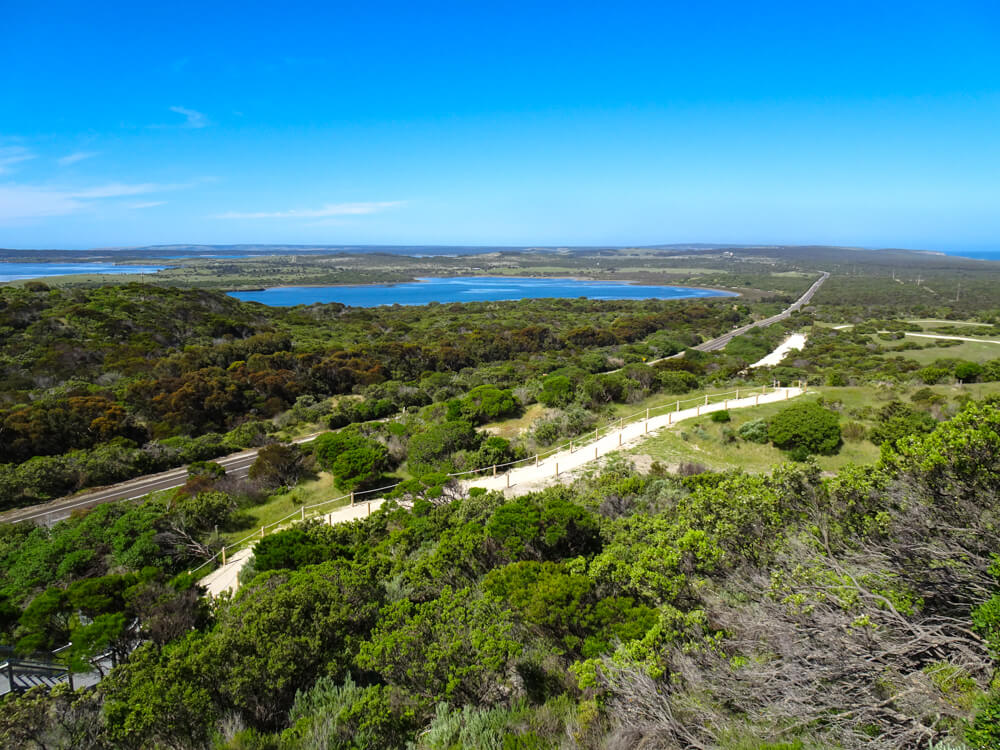 Where Can You Camp on Kangaroo Island?
Kangaroo Island offers camping on several different sites, the main difference between them being the number of amenities you are going to find on the ground. These range from fully kitted sites, with toilets, showers, electricity, a cafe/shop, and even a kitchen, to literally nothing but a bush for a neighbour and a drop-dead view.
On Kangaroo Island you can camp on three different sites: caravan parks, council campgrounds, and basic campgrounds.
Caravan Parks on Kangaroo Island
At a caravan park, you are going to be treated to the most luxurious style of camping on the island. There are three official caravan parks on Kangaroo Island (all discussed below), which offer toilet and shower facilities, kitchens, electricity and many other perks that you don't get whilst free camping.
The downside of these sites is, of course, the much greater fee that comes alongside the luxury. For a caravan park on Kangaroo Island, you are going to be paying around $30-40AUD per night for an unpowered site. A LOT more than the cheapest type of campground.
Council Campgrounds on Kangaroo Island
A council campground on Kangaroo Island is a slightly more civilised version of a basic campground. There will be a toilet and maybe an onsite cafe, and it will also tend to have a much better-maintained road leading to the site.
Kangaroo Island Council has six parks spread around the island. At each location, there will be a parking ticket booth (Parkeon) that you will register and pay for your night on the site. These machines accept cash, or if you are at American River, Vivonne Bay, or Brown Beach campground, you can also pay by card. No booking is required and these campgrounds are available on a first come first serve basis.
The current camping fees (Jan 2020) for a council campground are
– Powered site $27 a night for up to two people
– Unpowered site $17 a night for up to two people
– Additional persons $6 a night
Campgrounds on Kangaroo Island
The most basic type of camping on Kangaroo Island, and therefore the cheapest, are campgrounds. These tend to be in the conservation parks (or national parks) and require a permit in order to stay overnight. The sites must be booked in advance on the South Australia Parks website and there are only a limited number of spaces available.
On these pitches, you will normally have a 5m square space for your vehicle.. and that's about it. Nothing but you and some bushes to keep you company. This complete isolation results in a very tranquil, removed and peaceful feel to the sites, which is exactly what you want for any camping trip (in our opinion).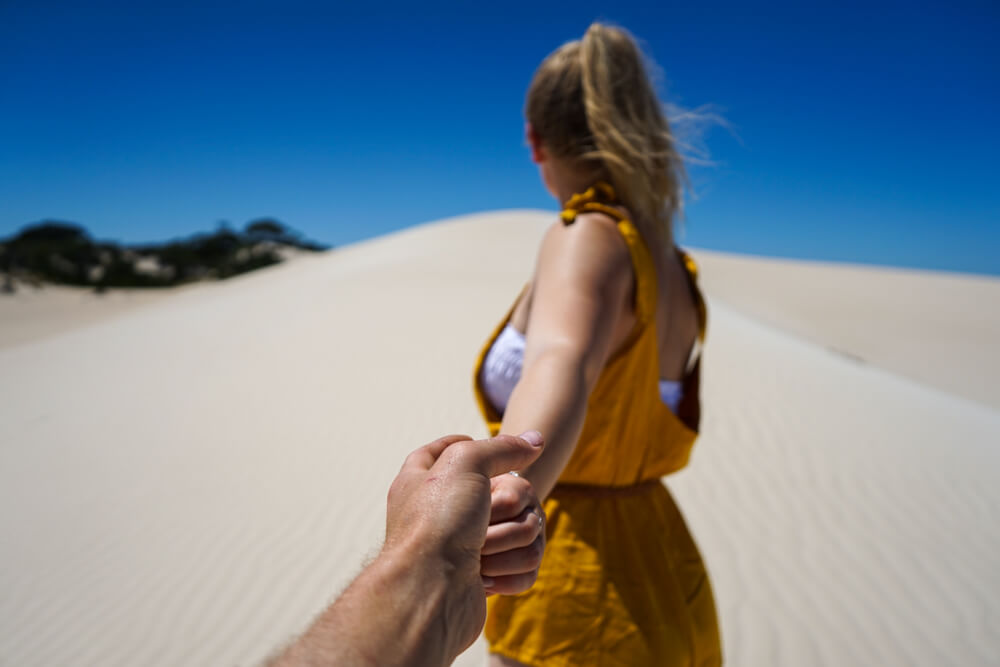 Caravan Parks on Kangaroo Island
The most luxurious and therefore the most expensive sites available on Kangaroo Island are the caravan parks. These are located in Penneshaw, Western KI and Kingscote.
Kangaroo Island Shores – Penneshaw
The most Easterly situated caravan park on Kangaroo Island is the Kangaroo Island Shores in Penneshaw. This beautiful, coastal park is located near to the ferry terminal, perfect for the start or end of your trip. This pet-friendly park has laundry facilities, local walking trails and fantastic views of the Backstairs Passage between Kangaroo Island and mainland Australia.
Book your stay at the Kangaroo Island Shores caravan park now.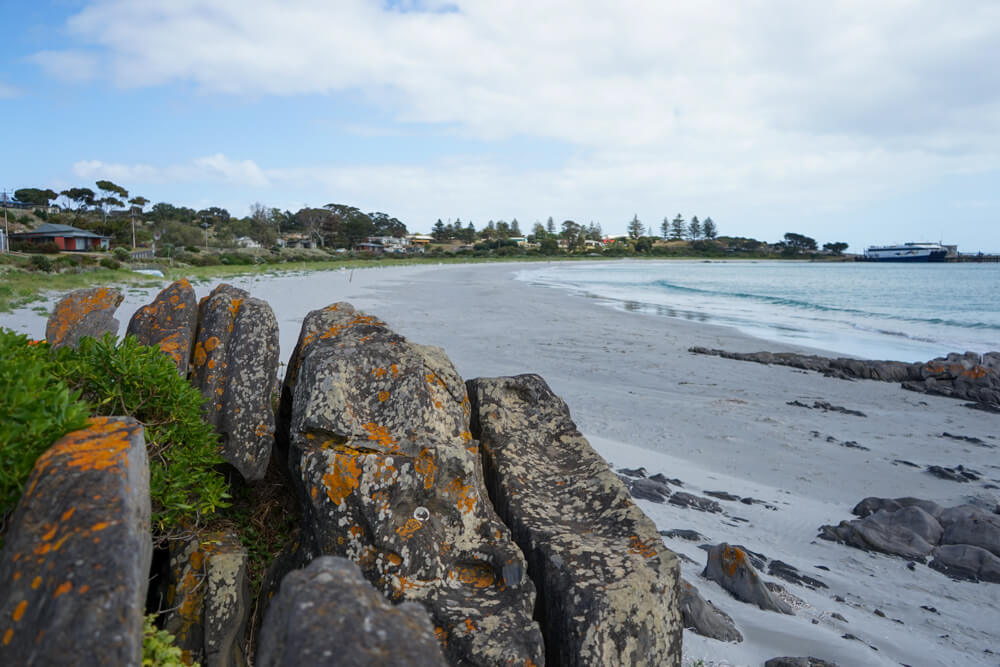 Discovery Lagoon Caravan and Camping Grounds
Situated just north of the largest town on Kangaroo Island, Kingscote, the Discovery Lagoon Caravan and Camping Grounds is a fantastic mid-point camping grounds for your week trip to Kangaroo Island. Given its central location on the island, this luxurious campground makes an excellent base camp for exploring the local area, such as the beautiful beaches along the northern coast or the incredible wilderness of Cape Gantheaume National Park.
This pet-friendly caravan park allows for one pet to accompany you on your adventure, so it is perfect for anyone with a furry friend. The pitches on this site are all unpowered, however, there is the option of lockable boxes that allow you to charge your small devices.
If camping is not really your style, the Discovery Lagoon Caravan and Camping Grounds also offer the option of an Eco-Glamping cottage. This luxurious, environmentally friendly country cottage runs 100% on solar power, with heating for the winter and AC for the summer. It is the perfect escape from the busy 21st-century world, with no wifi or TV, nothing but the beauty of the countryside surrounding you.
Western KI Caravan Park and Wildlife Reserve
Western KI Caravan Park and Wildlife Reserve offers powered and unpowered sites and is the only 4-star luxury self-contained accommodation on the western side of Kangaroo Island. There is a general store in the park, selling basic necessities as well as a laundry room and camp kitchen.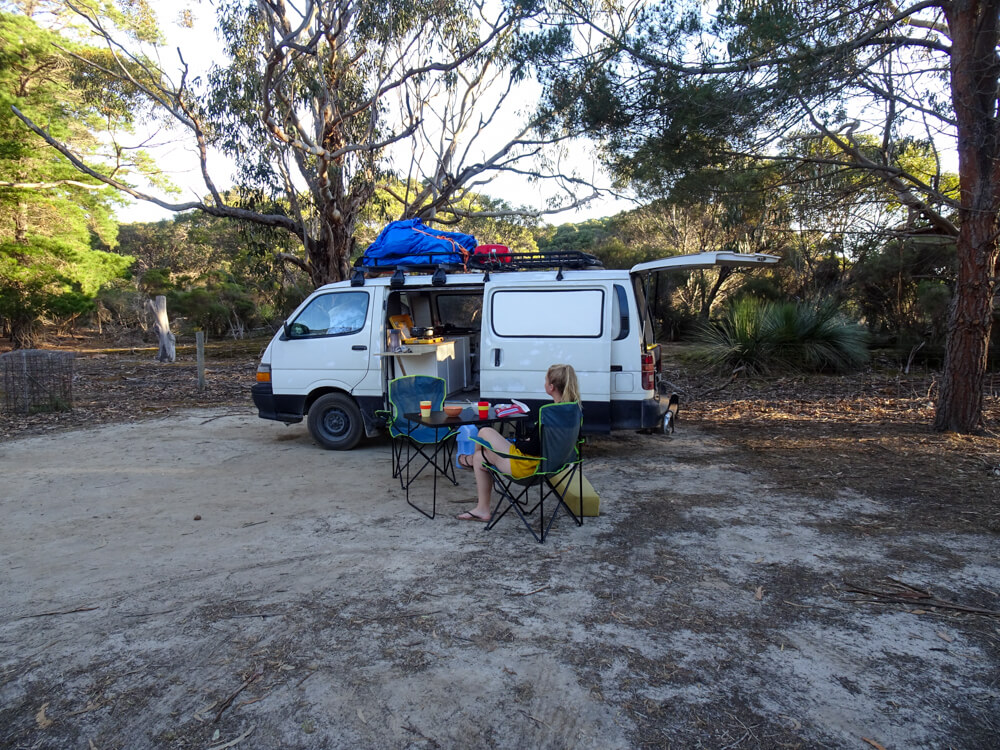 There is a koala walk beside the park where you are guaranteed to see koalas sitting in the trees. You may also see some kangaroos hopping around whilst you take this short walk amongst nature.
There is limited signal around this area of the island and no wifi on the caravan park.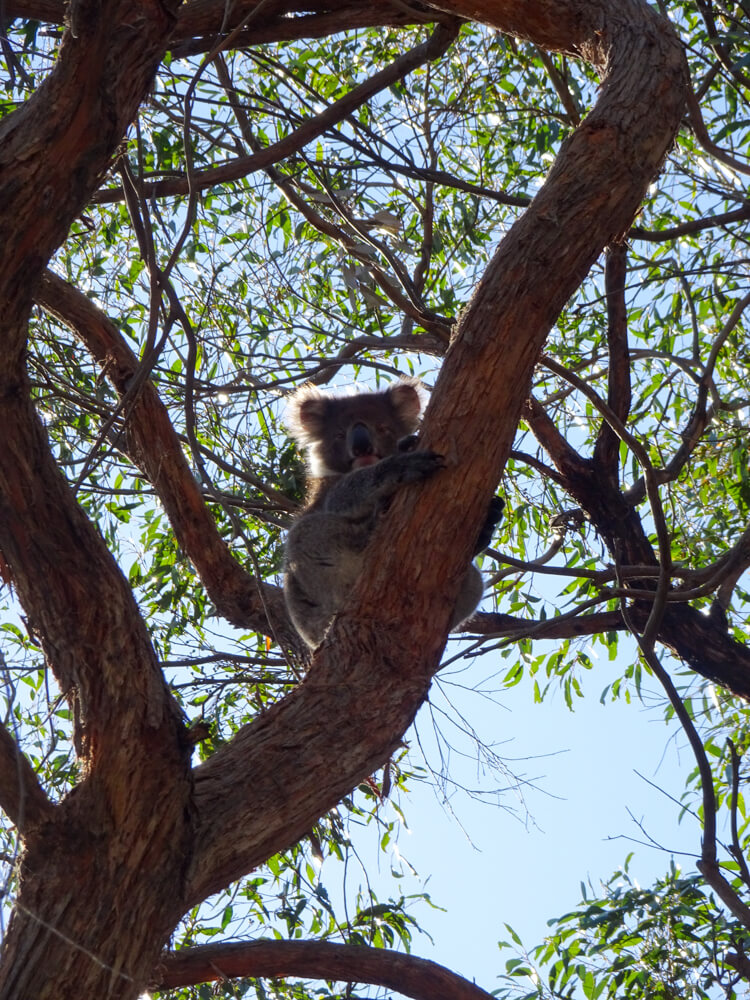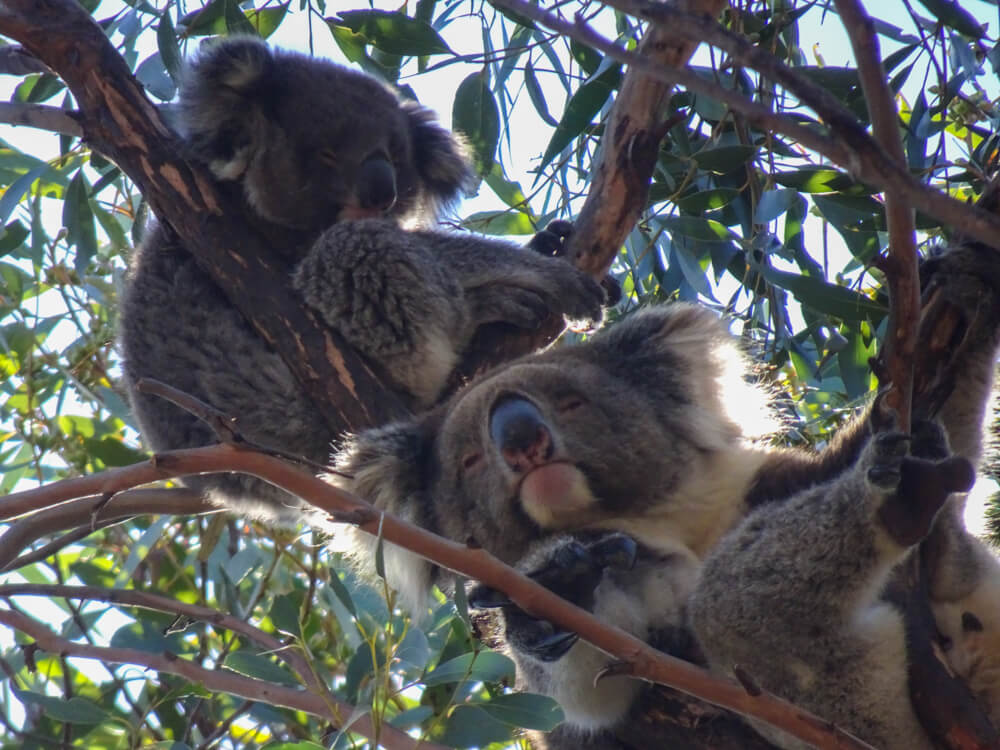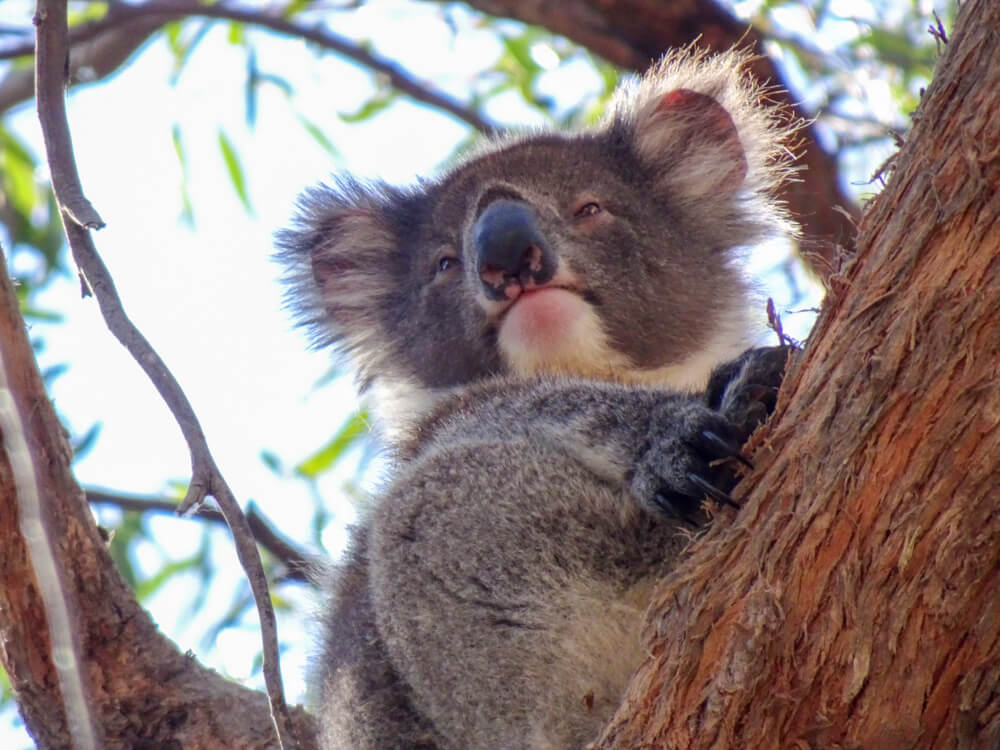 Council Campgrounds on Kangaroo Island
The cheaper option for those wanting easily accessible sites with good facilities, council campgrounds are located all across Kangaroo Island.
All of the below sites have a fee for camping overnight. This fee varies between the sites and it is paid upon arrival at the site in either cash or (at some locations) card. We advise that you always carry enough cash to pay for these sites, as sometimes the machines do not work.
American River Caravan Park
Just outside the small township of American River, roughly 30-minutes from Penneshaw is one of Kangaroo Island's best caravan parks. Right on the banks of the river itself, this self-standing park has space for around 15 campervans and works on a "first-come-first-serve" basis, ie. you cannot book a spot in advance.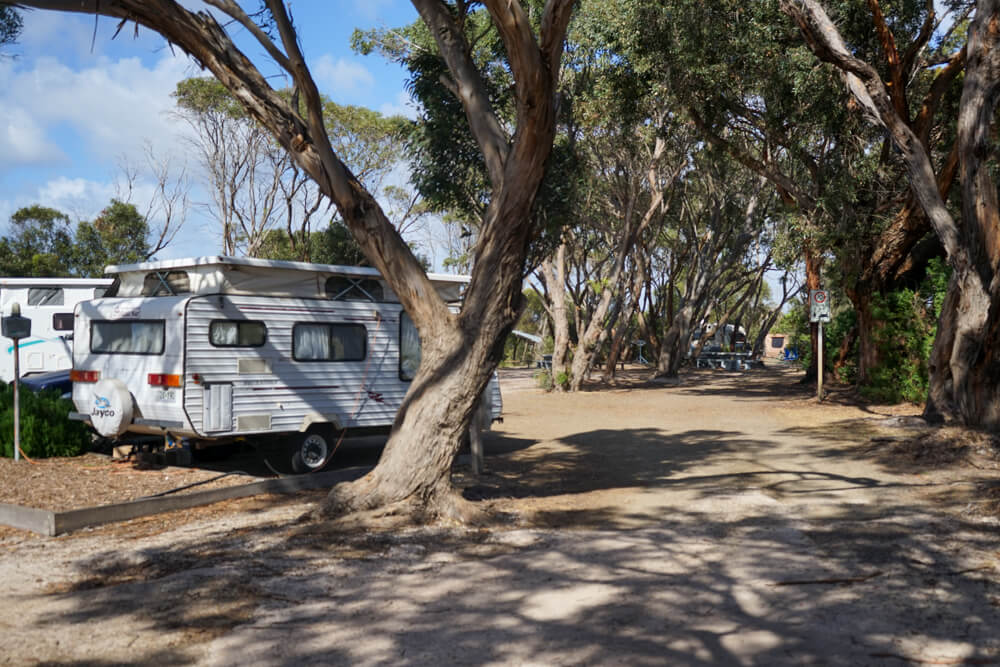 There are around 6 powered sites at this camping spot, all situated right beside the toilet block. This site also as showers ($2 per 5-minutes), drinking water, BBQ facilities, and beach access. It is a very good stopping point if you are passing by the north coast of Kangaroo Island during your visit to the island. It is also pet-friendly for tose bringing their four-legged friends.
The card-reader at this location was not working when we visited, so bring cash just in case.
American River Caravan Park Facilities
Powered and unpowered sites
Caravan access
Toilets
Showers
Picnic area
Sheltered picnic area
BBQ facilities
Beach access
Water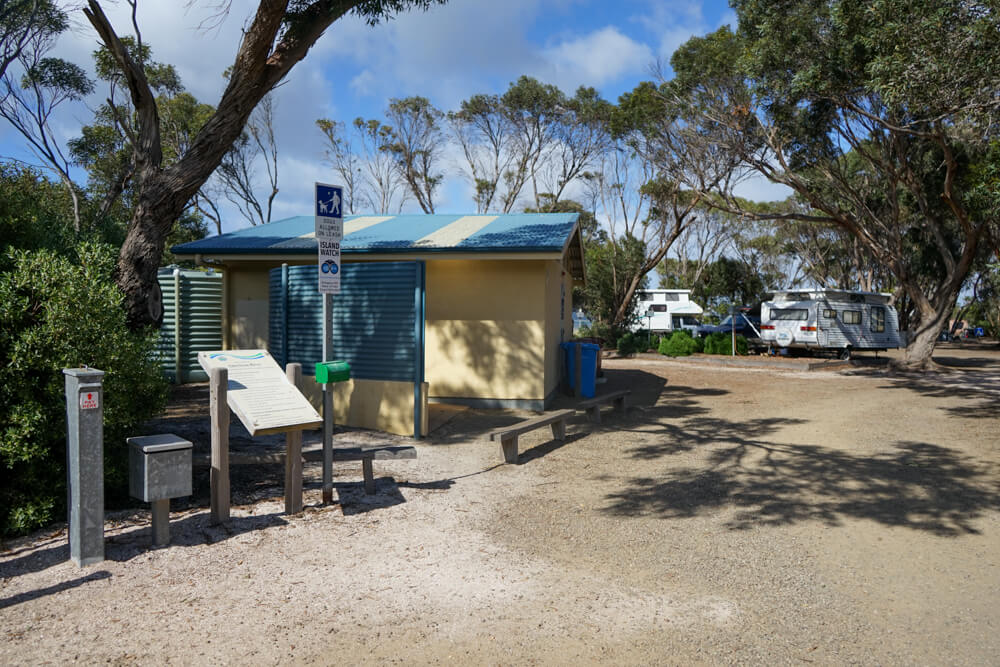 Brown Beach Campground
Around 15-minutes from Penneshaw sits Browns beach, along with its adjacent camping grounds. This pet-friendly camping ground has fantastic views over the beautiful bay of the Southern Ocean. Due to its remote location, this spot is also less popular than the nearby American River Campgrounds, which is a bonus if you enjoy the peace and quiet.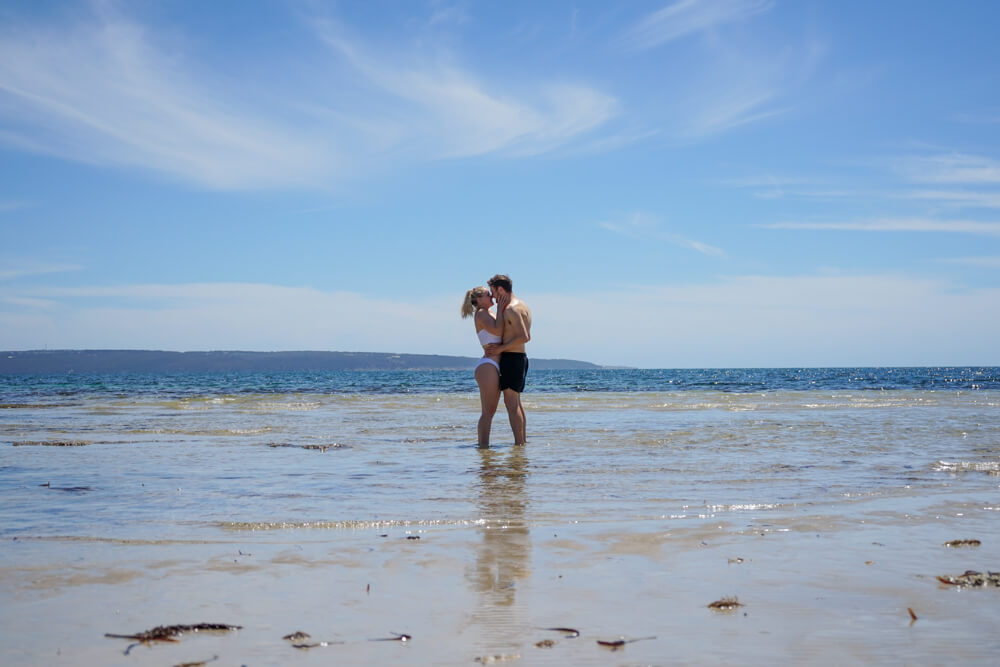 Brown Beach Campground does not have any powered sites, however, it does allow for caravan access and it also features toilets and showers ($2 per 5-minutes). There are BBQ facilities if you want to cook up some food and there is also a sheltered picnic area to protect you from the midday sun. There is a drinking water supply onsite and it also has good network coverage, meaning you can keep in touch with the outside world (if you wish).
Keep an eye out off-shore as we saw a pod of wild dolphins swimming past the shore here.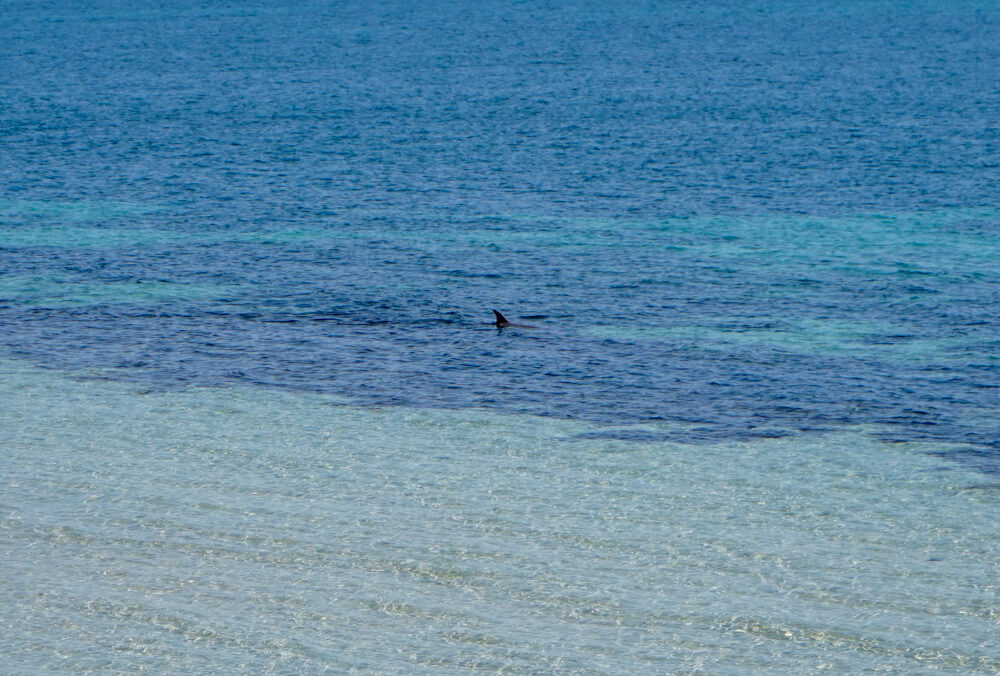 Brown Beach Campground Facilities
Unpowered sites
Caravan access
Toilets
Showers
Picnic area
Sheltered picnic area
BBQ facilities
Beach access
Water
Good Network Coverage (4G on Telstra)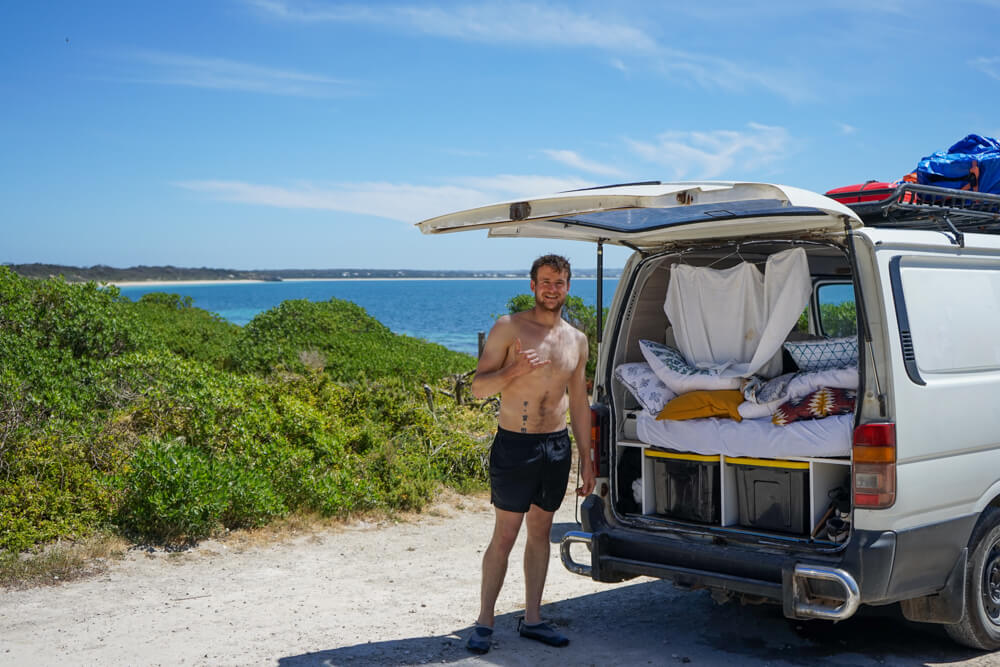 Duck Lagoon Campgrounds
Located further inland than most of the other campgrounds, Duck Lagoon does not offer stunning beachfront views. It does, however, have a much more isolated, tranquil and peaceful setting because of this. The nearby pond offers fantastic bird-watching opportunities, and even if this doesn't interest you, the views over the still waters at sunrise and sunset are simply breathtaking.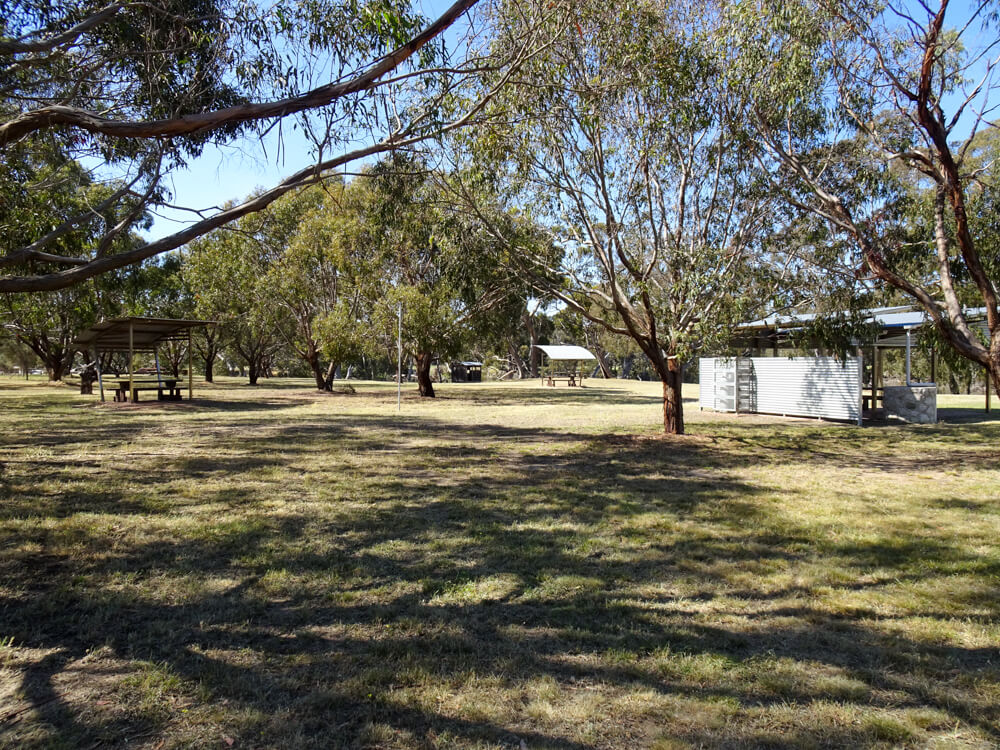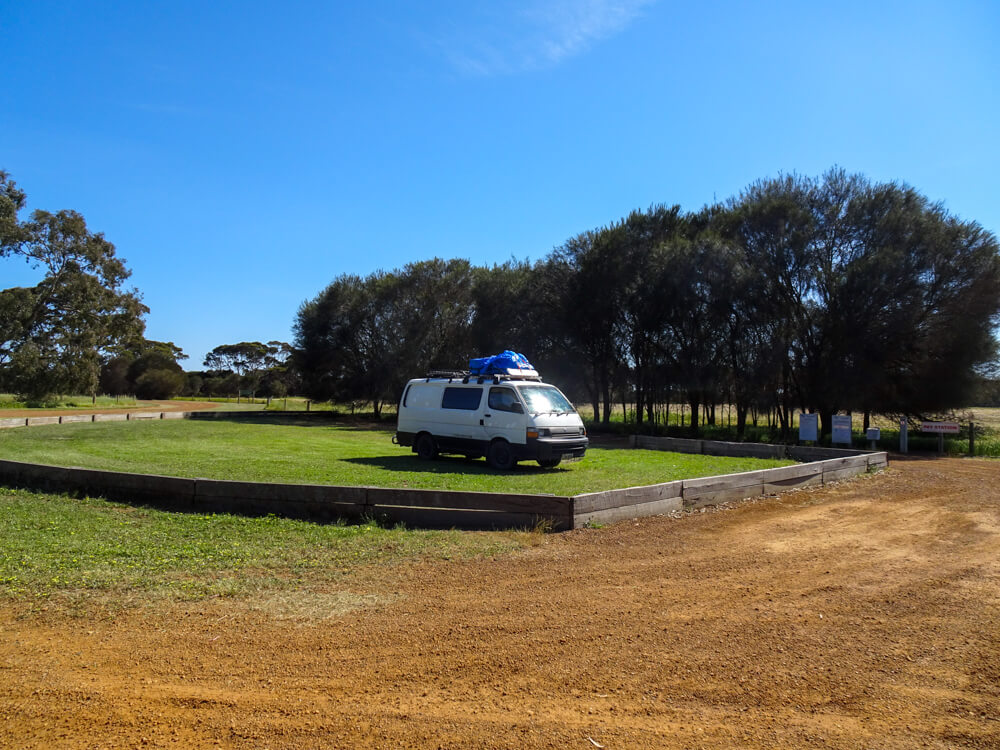 Once again, this is a "first-come-first-serve" camping ground, meaning you cannot book in advance. There are toilets on-site, however, there are no shower facilities. There are also no powered sites available here, so it is not suitable for charging anything up. This site does have BBQ facilities and drinking water available, so it is still possible to enjoy a slightly more luxurious stay than if you camped wild.
Duck Lagoon Campground Facilities
Unpowered sites
Caravan access
Toilets
Picnic area
Sheltered picnic area
BBQ facilities
Water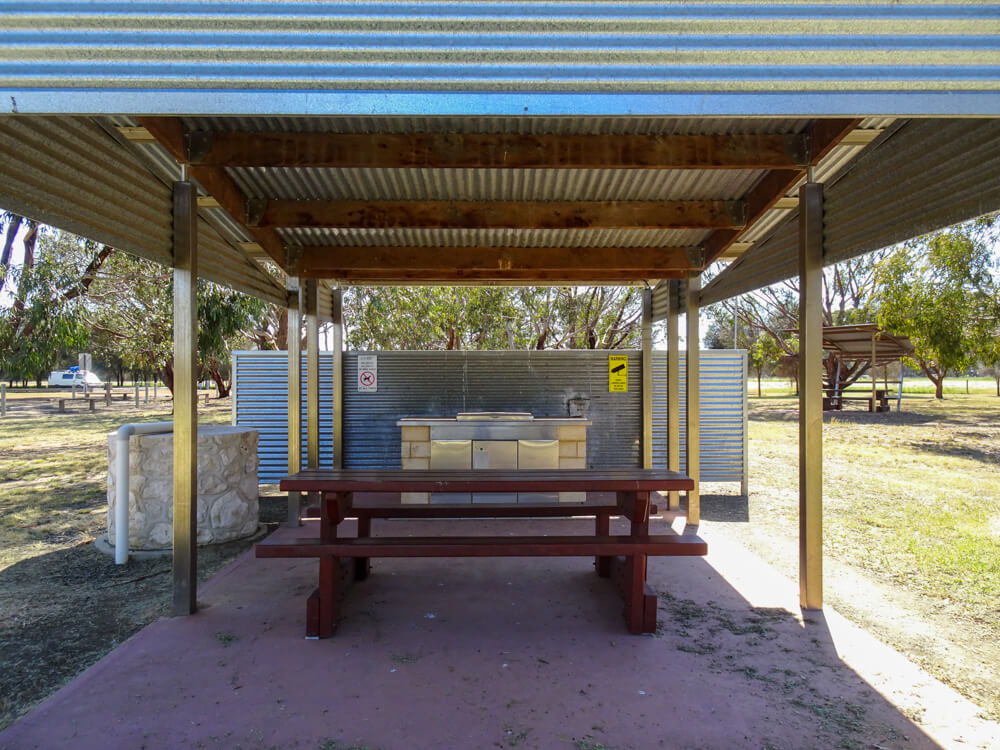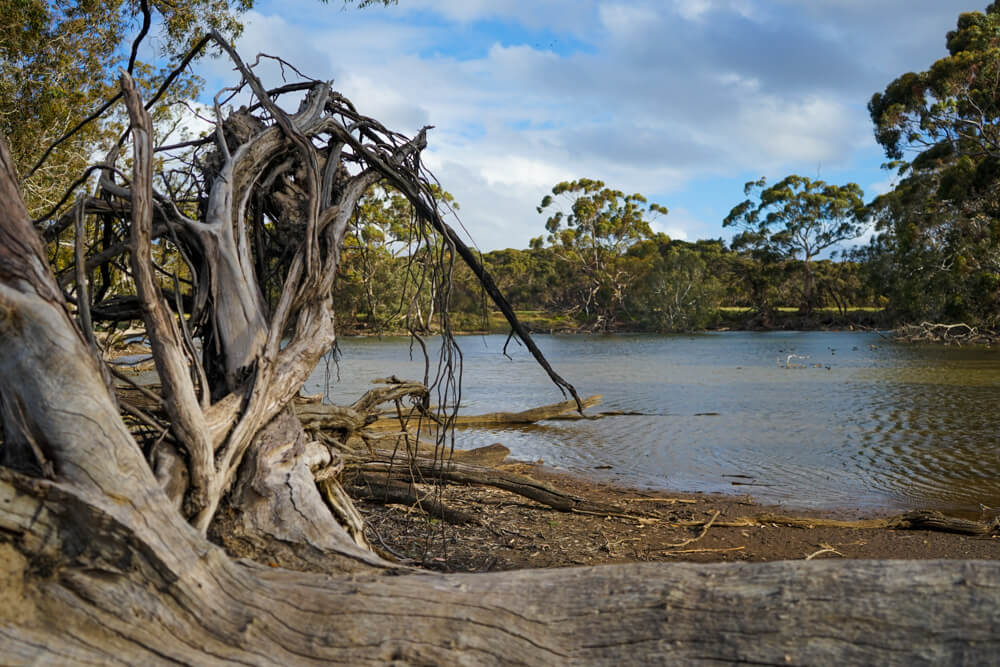 Emu Bay Campground
If white, sandy beaches are more your style, Emu Bay Campground is the place for you! Although the campground is not on the beach itself, you can reach the gorgeous blue water in just a short walk. Situated on the north side of the island, this campground is only a short drive from the large town of Kingscote.
The campgrounds themselves do not have many facilities on them, however, toilets, BBQ facilities, and a picnic area are available roughly 400m away. The sites in Emu Bay are all unpowered and there are no shower facilities either.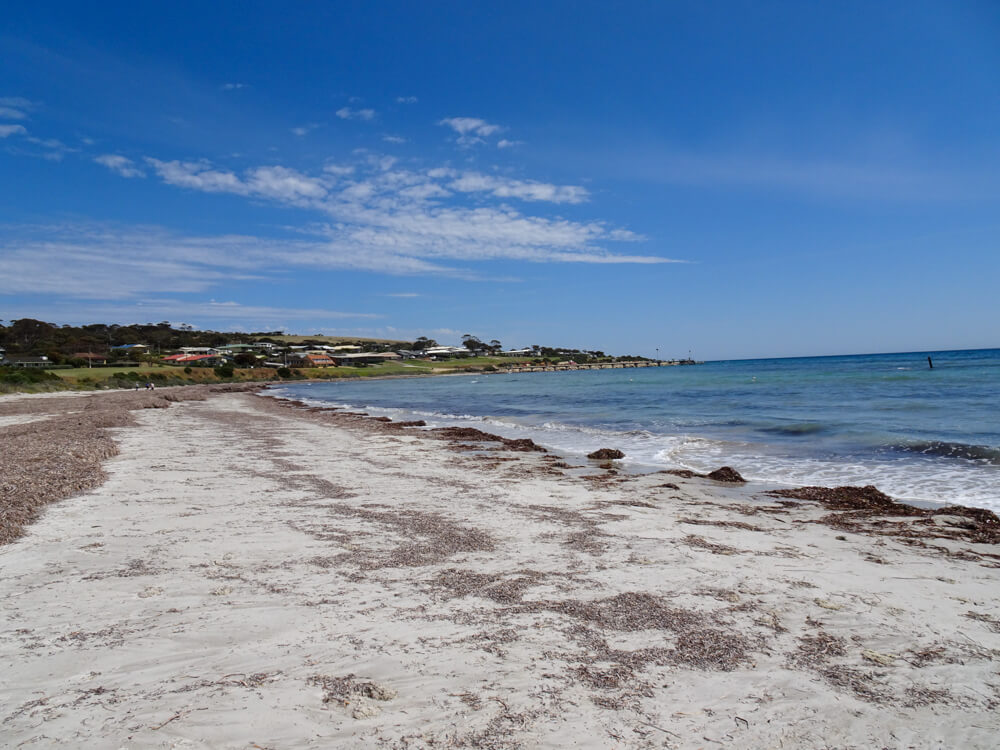 Emu Bay Campground Facilities
Unpowered sites
Caravan access
Picnic area
Beach access
Toilets
BBQ facilities
Stokes Bay Campground
One of the largest council campgrounds on the island, Stokes Bay Campground, has over 25 spaces for caravans and campers. It is located on the centre of the northern coast of the island and once again there are magnificent views of the bay just a short walk from where you will pitch up.
As the sunset over our camp in Stokes Bay, a huge mob of kangaroos came bouncing down from the hills and through the campgrounds. They must be used to the campers in this area as they were not phased by our presence, instead, they were more interested in a late-night snack on the lowland grass.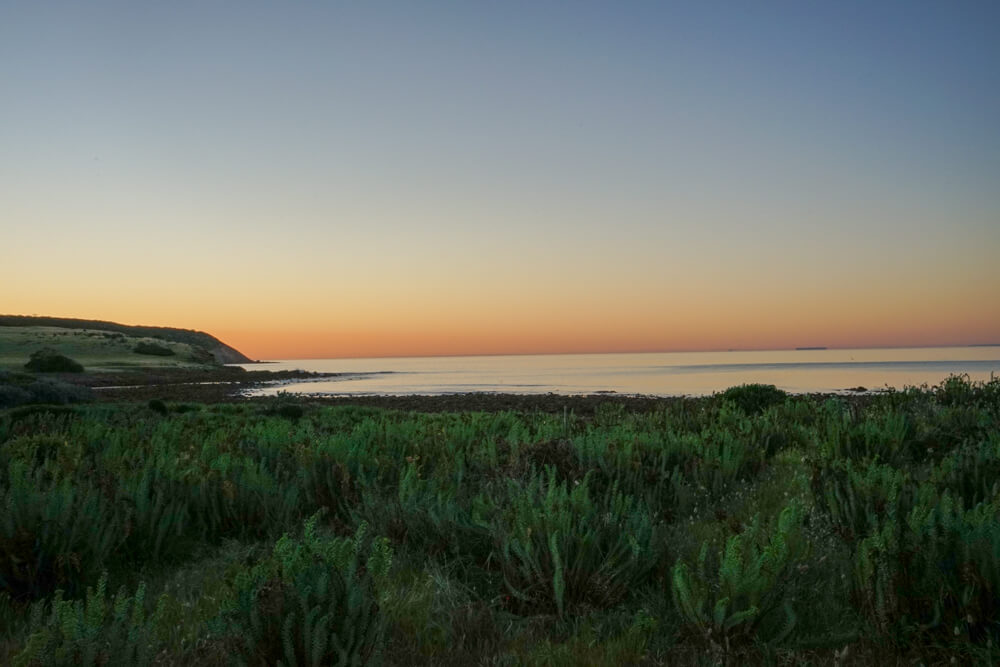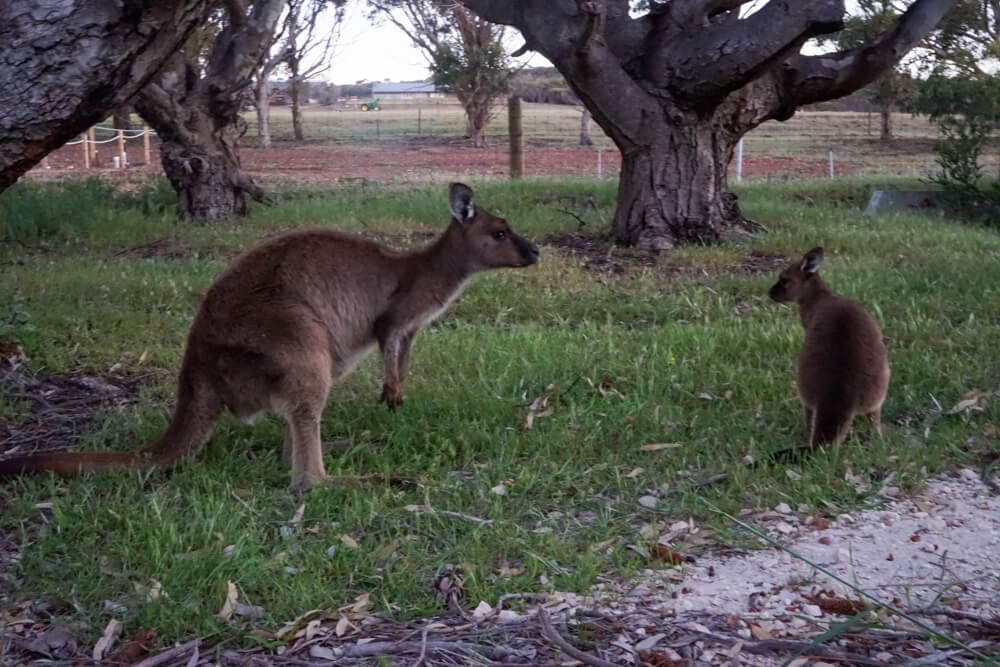 This campground has very good, local facilities that are perfect for a night or two in the area. There are large water tanks, although there are "no drinking water" signs on them. The toilet block is right on the edge of the campgrounds and is well looked after. There are also BBQ facilities and a shaded picnic area to enjoy right on the campgrounds. Despite these facilities, there is no shower and there are no powered sites available at the Stokes Bay Campground.
This was a highly popular camping spot when we visited in winter, so we would recommend getting here early in the day if you wish to camp, especially during the summer months.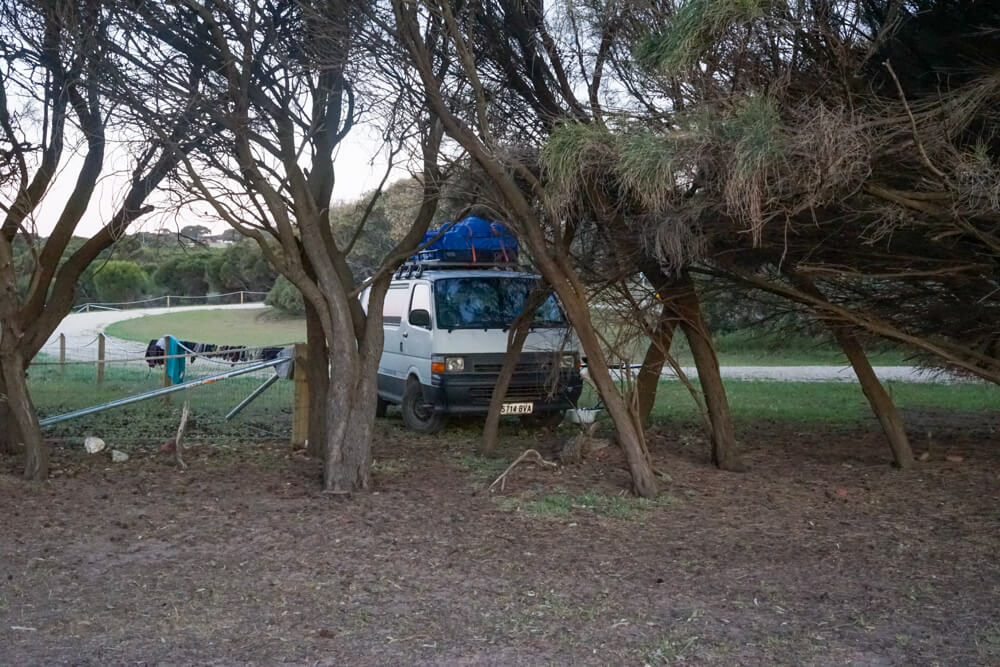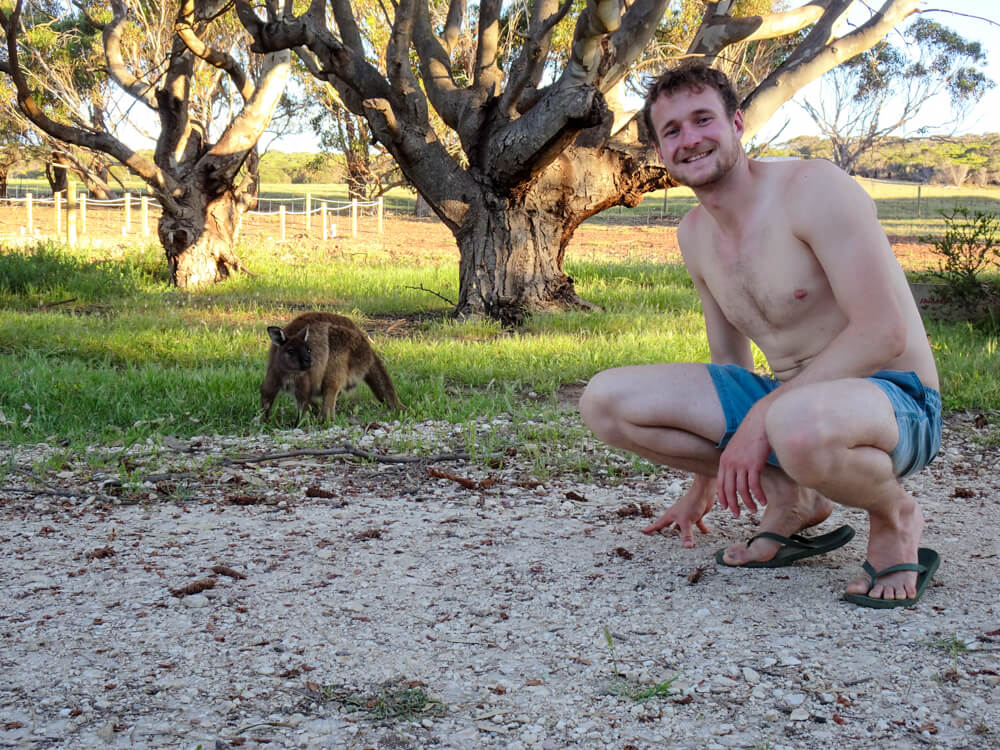 Stokes Bay Campground Facilities
Unpowered sites
Caravan access
Toilets
Picnic area
Sheltered picnic area
BBQ facilities
Beach access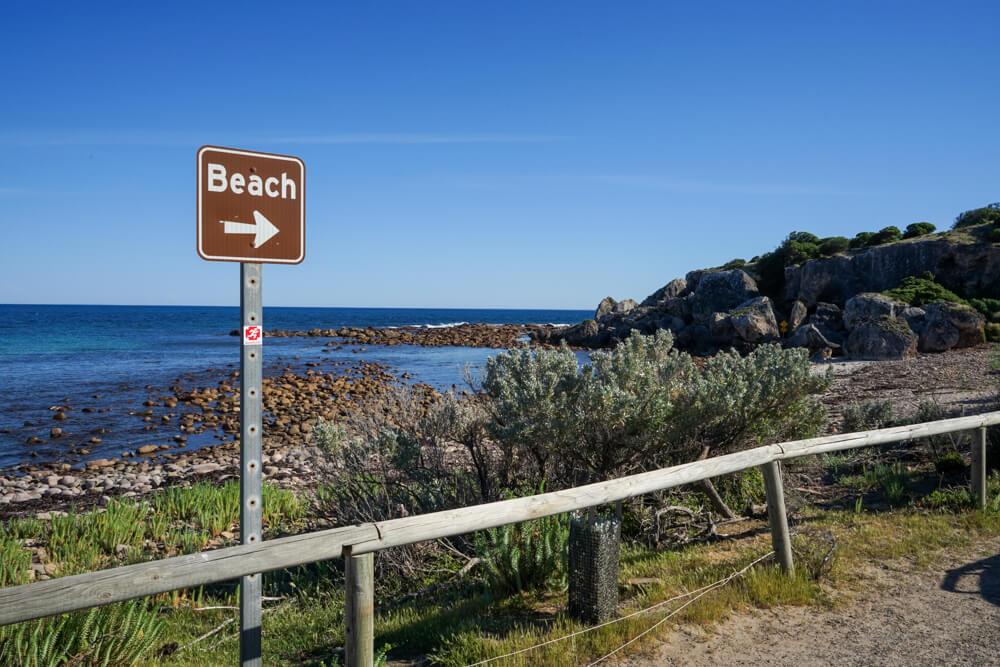 Vivonne Bay Campground
By far the most complete council campgrounds on the island, the Vivonne Bay Campgrounds is also complete with stunning views of one of Australia's most beautiful beaches. Voted as one of the best beaches in Australia in an evaluation by the University of Sydney, Vivonne Bay is a must-visit place during your trip to Kangaroo Island.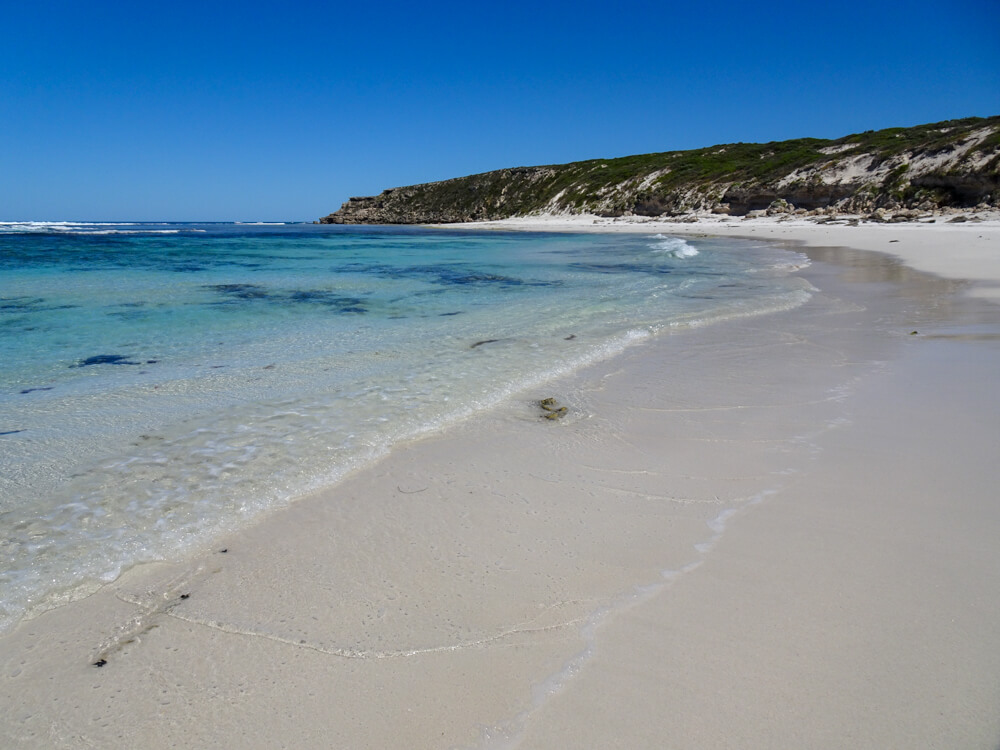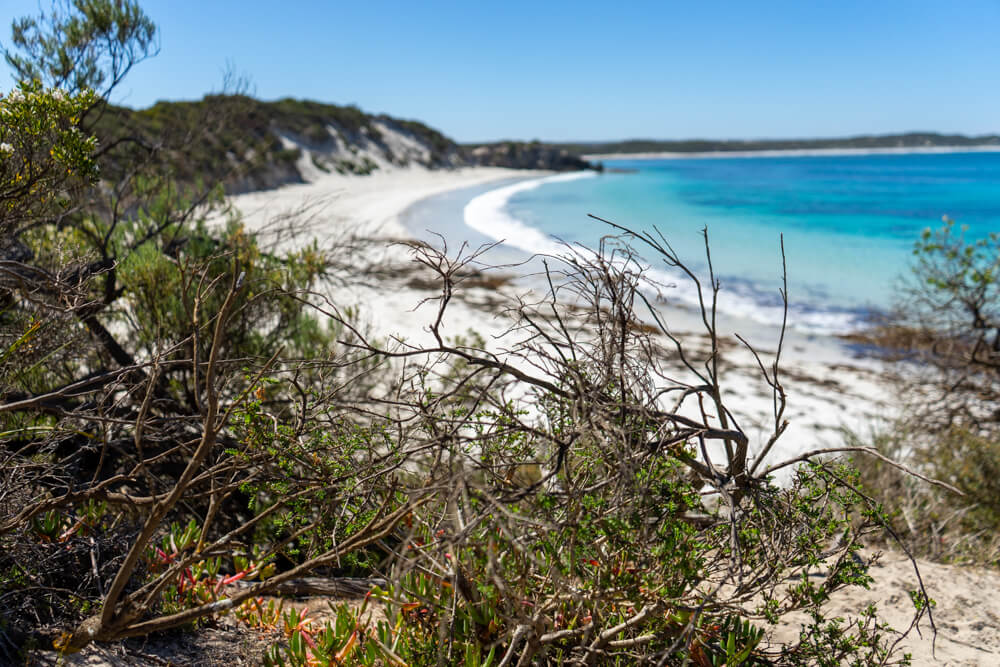 With a large number of unpowered sites, Vivonne Bay campground also has 8 powered sites and is suitable for caravans. There are toilet facilities on sight and even shower facilities ($2 per 5-minutes). There are also BBQ facilities, a sheltered picnic area, a playground, and a water source.
Unpowered and powered sites
Caravan access
Toilets
Showers
Picnic area
Sheltered picnic area
BBQ facilities
Playground
Beach access
Water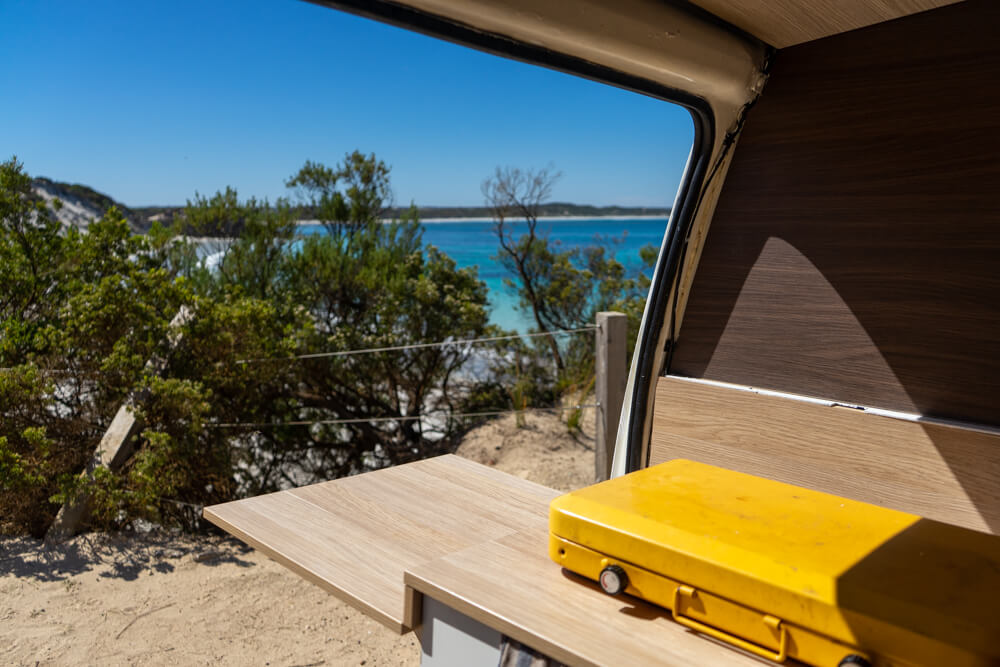 Western River Campground
Despite its name, Western River Campground is actually situated on the northern coast, just 20km west of Stokes Bay. This lovely, secluded camping ground has the tranquility of an inland campsite with the flowing river that runs through the centre, as well as the beach just a short walk away.
There is no caravan access to this campsite and there are no powered sites or showers either. The beach is just a short across a bridge from the campgrounds and there are toilet, BBQ and picnic facilities on the campground itself.
Western River Campgrounds Facilities
Unpowered sites
Toilets
Picnic area
Sheltered picnic
BBQ facilities
Beach access
Water
Conservation Park Camping on Kangaroo Island
Aside from the official campgrounds and caravan parks, your final option for camping around the island is at one of the established grounds in one of the island's conservation parks. Out of all of the island's conservation parks, camping is only permitted in Cape Gantheaume, Flinders Chase and Lashmar conservation parks.
These campgrounds are as basic as you can get, with nothing but a 5mx5m site to set up on and the beautiful seclusion of nature. There are no toilets, showers, powered sites or even in some cases cell reception. It is also worth noting that there are no rubbish disposal facilities out in these sites so make sure you take out whatever you brought in. Let's protect this natural beauty from being ruined by our presence, leave nothing but footprints.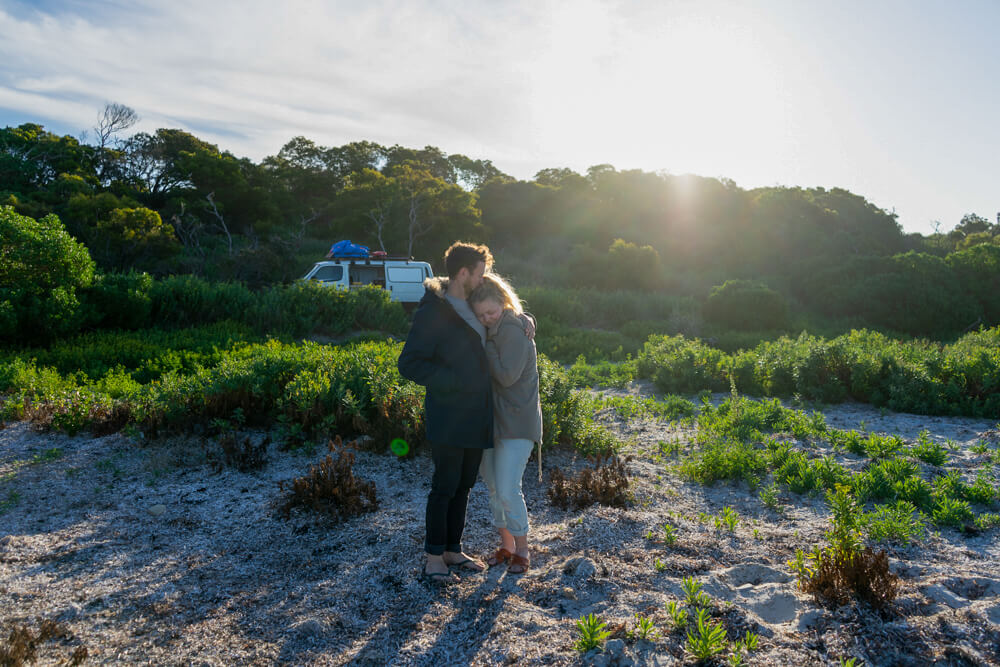 It is worth noting that due to the lack of facilities on the campgrounds themselves, permits must be booked PRIOR to arriving at the campgrounds in these parks. Combined with the lack of signal in a lot of these areas, this means that you will need to book your stays in these parks well in advance. Don't ruin your trip by arriving at your campsite only to need to head back out of the park to find a signal and buy a permit.
It is also worth noting that the roads leading to a lot of these campgrounds are not sealed and can be very bumpy. We managed to get to a few of them in our 2WD campervan, however, our journey there was very slow as we couldn't drive over 20km/h. Research thoroughly whether your destined campground is reachable with 2WD, or whether they are 4WD only.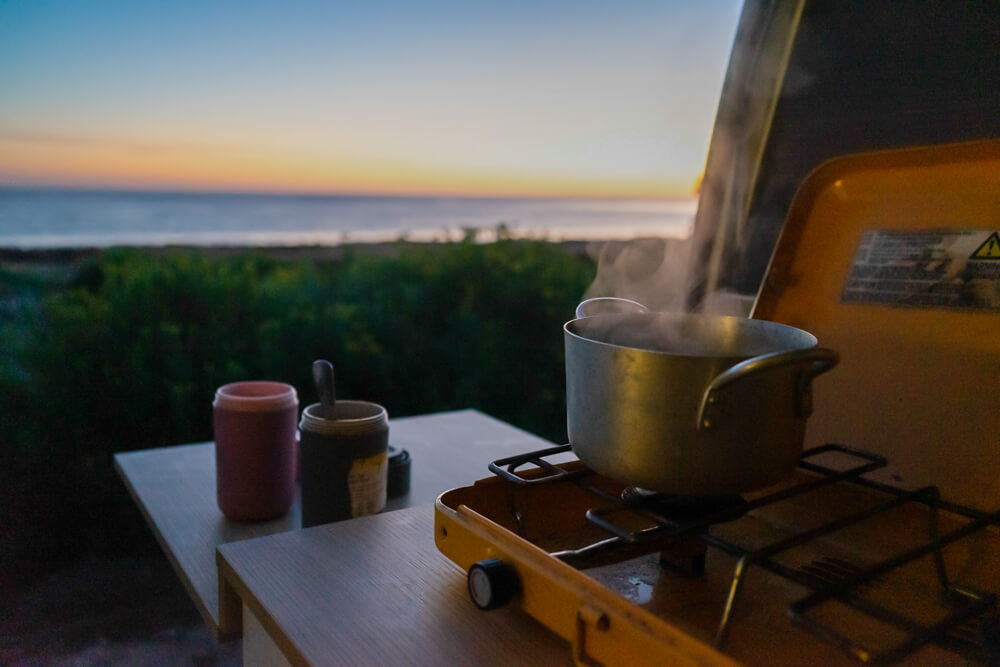 There is a small chance that some of the parks may be closed at certain times of the year, including during bushfire season, to prevent danger to the lives of visitors. Make sure you check if the parks are open before you set off to Kangaroo Island.
You can read more about each conservation park, including if they are open and the fees included on the website here.
Things to Know Before You Visit Kangaroo Island
Are Camp Fires Allowed on KI?
Campfires are only allowed in designated areas on Kangaroo Island and wood fires are not permitted in national or conservation parks at any time. Only gas and liquid fuel stoves are permitted in these conservation parks in order to reduce the impact on the surrounding environment.
During bushfire season, it is highly likely that you will experience a total fire ban. This means that no external fires are permitted on the island, including gas stoves that are used in the outdoors.
Mobile Phone Signal
Phone signal on the island can be sparse, so be prepared to live in the dark ages at some points during your trip. Around Kingscote area, you should have signal however the further away you go, the harder it will be to find. We especially struggled for signal when we entered into the conservation parks around the island.
If you want to maximise your chances of getting a signal on Kangaroo Island, we recommend using a Telstra SIM card. We had both Optus and Telstra, however, only Telstra received signal for the majority of the trip.
Use of Drones
As with the rest of Australia, the use of drones in national parks is strictly prohibited to protect the wildlife within. A lot of the beautiful sights that you will visit around the island are situated within these parks, therefore you will not be able to use drones for photography/videography without explicit consent.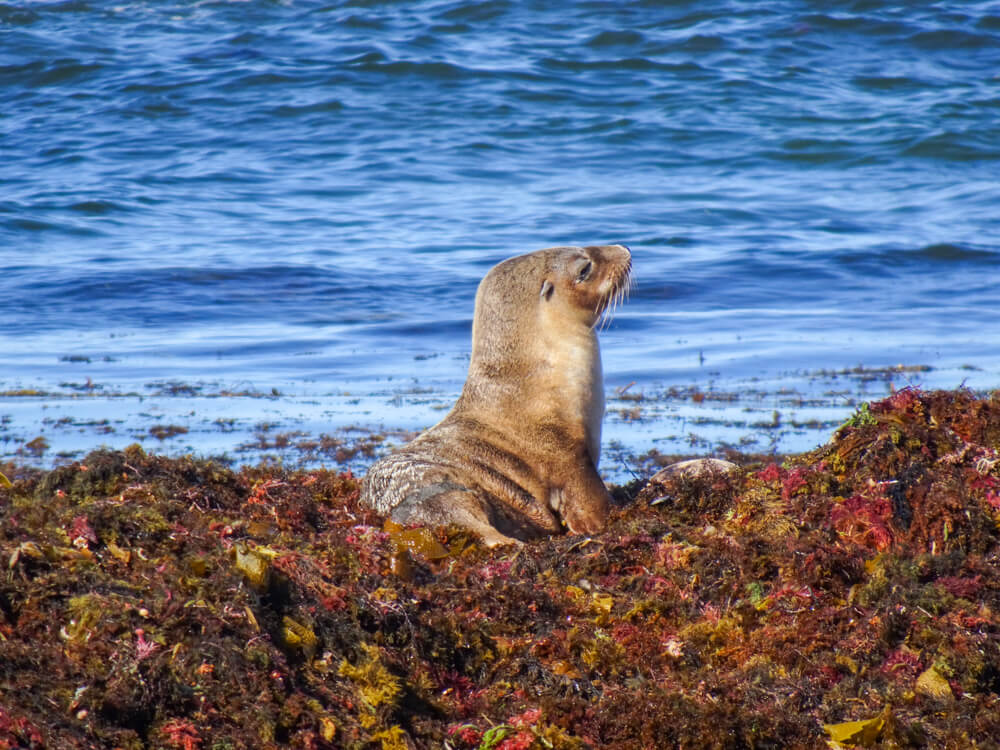 Preparing for Your Trip to Kangaroo Island
Before you leave on your trip of a lifetime to the incredible Kangaroo Island there are several things you will need to get organised to ensure a smooth and enjoyable journey. These include what to pack, how to get there, how to get around and what the best insurance is.
Applying for an Australian Visa
If you have yet to leave for Australia then this is a section of interest for you. There are a LOT of different visa options for people arriving into Australia, from tourist visas to permanent residence visas. The most common visas, however, are the 3-month tourist visa and the Working Holiday Visa.
If you are only visiting Australia for a short period of time then a tourist visa is your best option. These are easily obtained and relatively cheap, costing roughly $140AUD, and allow you to stay in the country for up to 12months. These can be applied for on the government website here.
If you wish to work and travel in Australia, a working holiday visa is your best option. These cost around $480AUD and allow you to stay in Australia for up to 12months, whilst working and earning money to travel. This visa also gives you the opportunity to extend your stay in Australia by up to 24months by working in certain job sectors.
For all of the information you need to know about the Australian Working Holiday Visa, read our full guide over here.
What to Pack for Kangaroo Island
Being an island, Kangaroo Island will be at risk of experiencing some mixed weather. Depending on the season your visiting will depend on what you pack. At the least, we would always recommend, a warm layer, a waterproof and, of course, suncream!
During the summer months, Kangaroo Island can reach temperatures in the 30's, meaning it should be warm enough to get in the water for a swim. This also means that you will need plenty of lightweight clothing for getting around and exploring in the heat of the midday sun.
In the winter months, you would need to be very brave to get in the water as the temperatures average at half that of summer, peaking at around 14 degrees Celcius. Warm layers and a waterproof is a must for these months!
If you need more inspiration on what to pack for your trip, check out our full packing guides for all-weather conditions over here.
When it comes to toiletries, we recommend that you pack as much sunscreen as you can. The sun in Australia is strong, and even the darkest skin tones can get easily burnt. No matter what the season is or how warm you may feel, you should always wear sunscreen in Australia.
Given the beautiful sights and scenery that you are no doubt going to see around Kangaroo Island, we highly recommend packing a good camera for your trip. If you want to read more about the cameras we use and why we love them, check out the link below.
You can read what else we keep in our camera bag over here.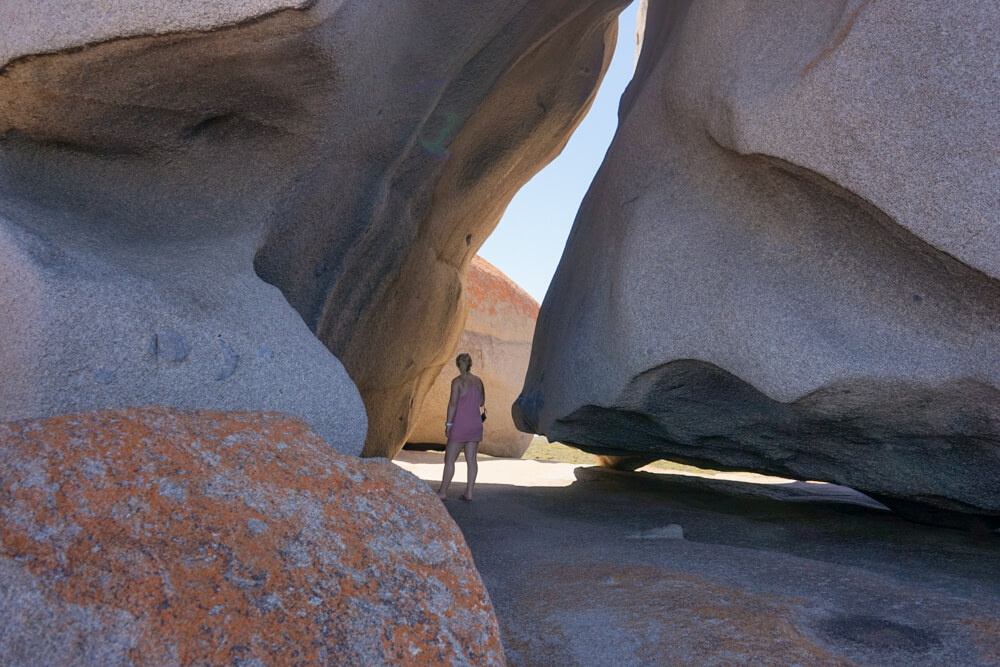 How to Get to Kangaroo Island
Unfortunately, getting to Kangaroo Island is the reason that it is not as popular as many other areas in Australia. There are only two options for getting to the island (and only one if you wish to bring your own vehicle). With a larger vehicle and passenger ferry and a smaller passenger-only ferry operating to the island, the prices of transport are very monopolised, resulting in the most expensive ferry (per metre of travel) in the world.
Sealink Ferry
Sea Link offers passenger and vehicle crossings from the tip of the Fleurieu Peninsula on mainland Australia to Penneshaw on the island. This is an expensive option, however, by bringing your own vehicle it means when you arrive onto the island you can get straight into exploring.
This ferry leaves 5 times a day and takes 45 minutes to get across.
Browse the best option for getting to KI on this ferry right here.
Did you know – The Kangaroo Island ferry is the most expensive ferry in the world per distance!
Kangaroo Island Direct Ferry
This ferry leaves for KI 4 times a week, so it is much less regular than the SeaLink option. It is also only a passenger ferry, meaning you will not be able to bring your own transport with you. This ferry is a much cheaper option if you are wanting to go across as a passenger only, however, once you are on the island you will need to pay a lot more money for transport.
You can browse the ferry tickets and transport options available from KIC right here.
Airplane
Flying to Kangaroo Island is another option, however, this can be an expensive option and you would be restricted on your luggage. Flights from Adelaide tend to go for roughly $150 each way. You will also need to organise a method of transport for getting around the island when you arrive.
Browse your options for flying to Kangaroo Island right here.
How to Get Around Kangaroo Island
When it comes to getting around the island you have a few different options available. If you did not bring your own transport, you can rent a car or campervan and tur the island yourself at your own pace. This is the best option if you are not short on time, as it means you can dictate the pace of your adventure.
Private Tours
As for getting around the island, a 4wd is advisable, however not necessary. Many of the beautiful beaches are off the beaten track and can be up to 20km of gravel roads. The same goes for a lot of campsites in the more isolated areas, so beware if you are using a hired campervan or bringing your own.
There are car hire services available when you arrive at Penneshaw or you can book this as a package with your ferry. We would recommend hiring a campervan during your trip on Kangaroo Island due to the flexibility it gives you. You can park up wherever you are and cook your next meal, not wasting any time travelling back and forward.
Organised Tours
The last option for getting around Kangaroo Island is to book yourself onto a Kangaroo Island tour and enjoy a more relaxed and controlled adventure around the island. This can either be with a private car driver or an organised group tour from the nearby city of Adelaide.
The organised group tours will take you to the most popular sights on the island and will show you all of the best things you can see in a short period of time. The advantage of these kinds of tours is the efficiency of getting around and the information provided about the island. Your tour guide will be able to tell you a lot of interesting things about the sights that you are visiting that you would not learn on your own.
The downside of tours is the lack of flexibility in your schedule. You will be herded from one location to the next, on as quick a schedule as possible in order to ensure that you see the maximum number of sights as quickly as you can.
Private tours are available for booking online or in visitor centres around the island. These tours will give you the same benefits as a group tour with less of the stringent timeline as if you want to spend more time somewhere you have that option. There are lots of different tours available, however, we have listed a few below.
What is the Best Travel Insurance for Kangaroo Island
Regardless of what type of trip you are heading on, one thing that is essential for everybody is good travel insurance. Accidents can happen anywhere and at anytime and unexpected hospital bills will ruin a holiday. Remove the stress from your next adventure and get covered for the worst.
World Nomads Travel Insurance provides budget reliable travel insurance that will keep you covered for any level of adventure.
You can get your quote before you leave on your trip right here.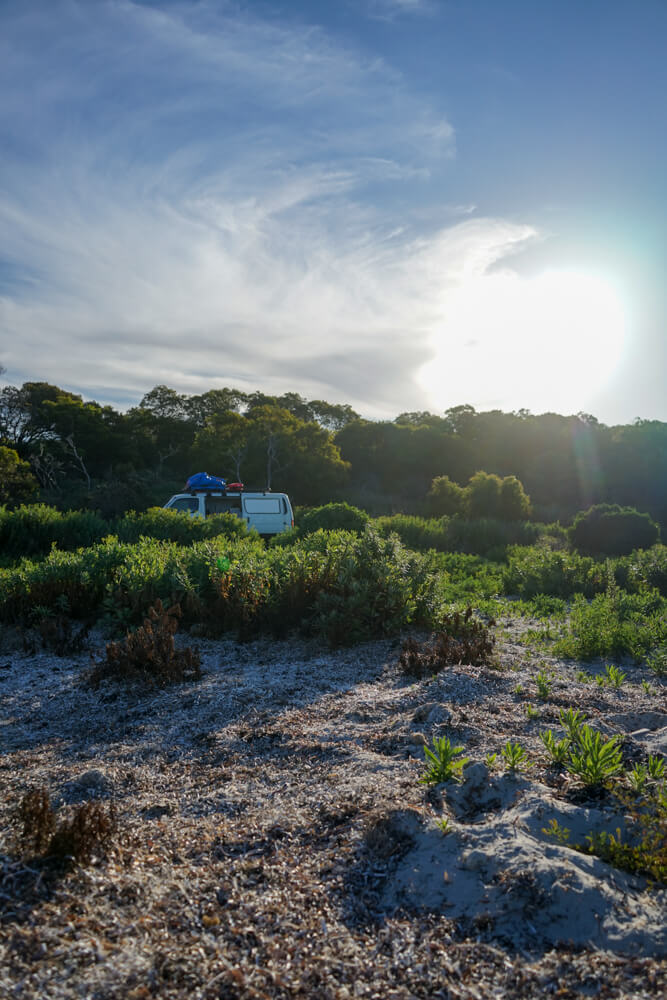 So there you have it, your ultimate guide to the best places to camp on Kangaroo Island. If you are visiting this breathtaking island and have any other questions on what to expect, leave us a comment down below. We love to chat about this stuff! If you have already been, let us know how it was! What wildlife did you see on your trip? What was your favourite thing about Kangaroo Island? Let us know in the comments below!
Also, remember to share this with your friends and family that you are going to tour with. Sharing is caring and we want to inspire as many people as we can to visit this unbelievable part of the world.
If you are planning an Australia trip soon then check out our other Australia content right here. Come and find us on social media to see where we are currently exploring. Tag us in your photos from Kangaroo Island and we will share them with the rest of our community of explorers and backpackers.
Now Read:
This article may contain affiliate links that provide us with a small income. For more information read our Affiliate page.
---
Save this image to your South Australia Pinterest board for later!