The Isle of Skye is one of Scotland's largest and most picturesque islands. The rugged coastline and skyscraping mountains make the Isle of Skye a bucket list destination for many, which is reflected by the thousands of tourists who visit the island every year.
Whether you are a fan of ancient castles, rugged mountains, fascinating geological formations, crashing waterfalls or quaint, babbling streams, the Isle of Skye has it all and must be included in your Scotland itinerary. You can spend your morning wandering in the mystical Fairy Glen, the afternoon admiring glacial remains and the evening dancing the night away at your local pub.
To help you along with your planning of your Isle of Skye road trip, we have put together a complete one-day itinerary to the Isle of Skye. This Isle of Skye road trip itinerary takes you around all of the best sights on the island and even includes some other essential tips for a smooth and enjoyable trip.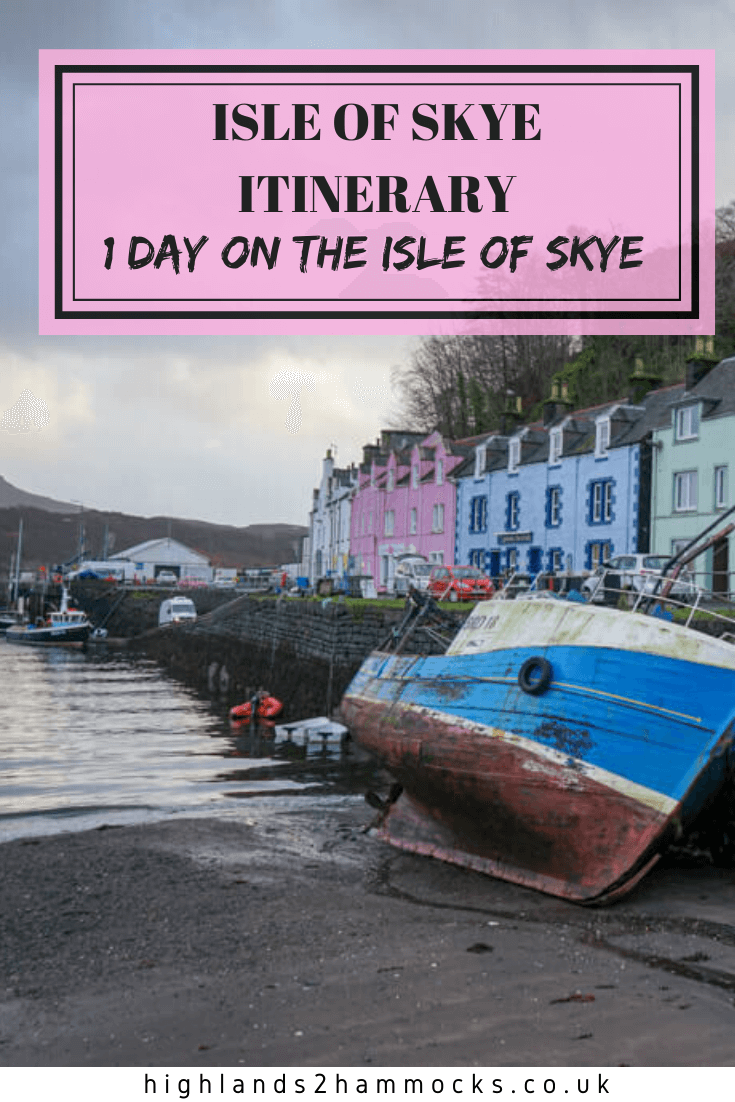 This Isle of Skye itinerary follows a route that is most easily accessed by car. We have based this adventure in Skye's main town, Portree, which sits in the centre of the island. Our recommendation is that you start your trip in the north and work your way back down south.
Below are all of the sights we will visit on this trip, each with a description and guide to the location later in the article.
Fairy Glen
Isle of Skye Brewery
Uig Viewpoint
Quiraing
Kilt Rock and Mealt Falls
Lealt Falls
The Old Man of Storr
Sligachan Bridge
Portree Town Centre
See the beautiful Isle of Skye for yourself in our Best Road Trips in Scotland video. Make sure you subscribe to our Youtube channel for more by clicking here!
Isle of Skye Itinerary – One Day on the Isle of Skye
Before You Leave on Your Trip to the Isle of Skye
Before you set off on your Skye adventure there are a number of things that you will need to organise to ensure a smooth and enjoyable trip. These include how to get to Skye and how to get around, what to pack for Scotland, what is the best travel insurance and where to stay on Skye.
How to get to the Isle of Skye
The Isle of Skye is accessible from mainland Scotland by a free road bridge which starts from Kyle of Lochalsh to the small village of Kyleakin. There is also a ferry to the Isle of Skye that leaves from Mallaig on the mainland to Armadale on the Isle of Skye. There are also bus services that leave from Fort William and other Scottish cities that go to the Isle of Skye.
Once you are on the Isle of Skye there is very little public transport to get around, making transport without a vehicle quite difficult. For each of the sights in this itinerary, we list how to reach them by public transport. Due to the time required for this, however, you may not be able to complete this one-day itinerary to Skye.
Stagecoach runs the public buses on the island, the route of which can be found on their website here.
Also Read – Edinburgh to Isle of Skye Itinerary – Haggis Adventures Skye High Review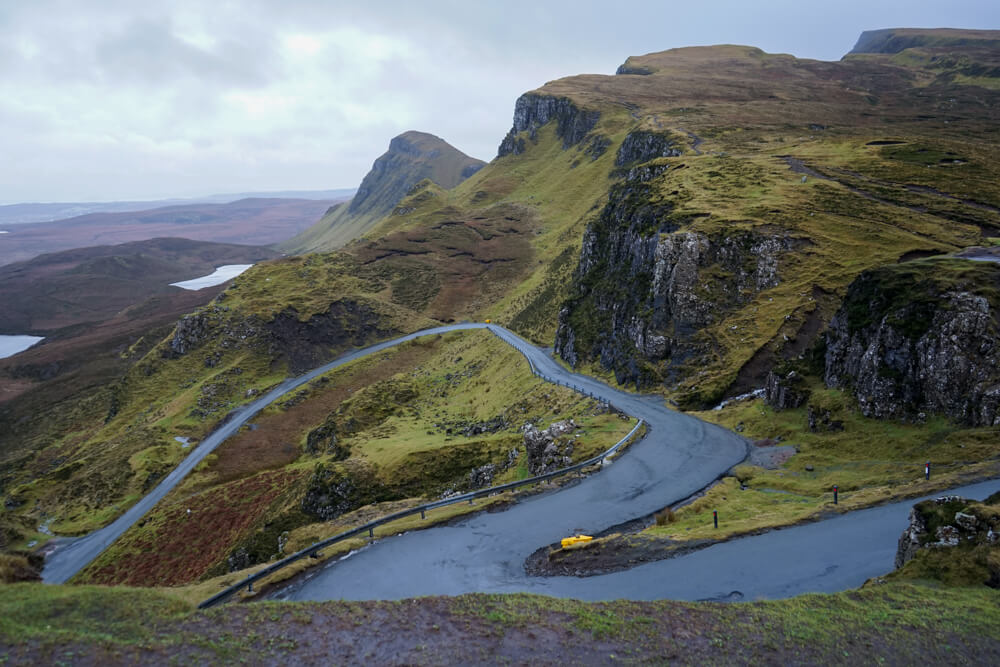 A popular option for visitors to Scotland that wish to explore the best that Skye has to offer is to rent a campervan and explore the route with your home on wheels. This not only gives you the freedom to get around the island, but it also allows you to take your home with you and lets you sleep where you wish around the island.
There are plenty of campsites on offer across the Isle of Skye, however, if you wish to camp up in a wild location for free, a campervan is perfect for this. If you do decide to camp wild, make sure you know the laws and guidelines of camping in Scotland.
We recommend using the campervan rental company Spaceships Rentals, who offer excellent customer service, good rates and a wide range of rental options across the UK.
What is the Best Travel Insurance for the Isle of Skye
We know travel insurance is the least enjoyable thing to purchase and look at when you're planning a trip, however, you wouldn't want to be without it in the event that something happened. Accidents can happen anywhere and the extortionate medical bills will ruin your trip if you are not covered.
To ensure you have a stress-free trip with no worries about potential medical bills, make sure you cover yourself when you travel. We can recommend using SafetyWing, a backpacker-friendly and cheap insurance company that provides good coverage and support. It is also nomad-friendly, unlike most other insurance companies, meaning you do not need to worry about being out of your home country for too long.
Get a quote for your travel insurance right here and get covered!
Where to Stay on the Isle of Skye
These recommendations may vary depending on what activities you are wanting to do whilst on the island. However, for this one-day itinerary on the Isle of Skye, we have based these accommodations in Portree as the sights are around this area. Portree can be extremely busy if you are visiting in the summer so we would recommend that if you choose to stay here, you book early and expect that it will be busy.
Luxury – If you are looking for a comfortable apartment stay to come home to after a day exploring, Quayside Apartment is the perfect place for you. With spectacular views and a good central location, this accommodation is comfort plus for your next trip to Skye.
Book your stay at the Quayside Apartments right here.
Mid-range – The Portree Hotel is a great central location for your stay in Skye. This hotel overlooks the main square in Portree and in the winter months there are wood-burning stoves to keep you warm after a day of exploring.
Book your stay at the Portree Hotel right here.
Budget – If you are looking for a budget place to rest your head but still have a great view, The Pink House is the place to stay just for that. A continental breakfast is included in your stay and you can book a room with a great view out to sea.
Book your stay at the Pink House right here.
If hostels are more your scene, you can check out the hostels available in Isle of Skye here.
Packing for the Isle of Skye
When it comes to packing for a trip to Scotland there is one item of clothing that you are going to need all year round: a waterproof. It rains in Scotland on average 250 days a year, meaning that during your trip to the Isle of Skye you will probably experience at least a drizzle of rain. Due to this, the number one item on any Scotland packing list is a good waterproof jacket.
As for the rest of the year, the temperature in Scotland and the central heartlands is reasonably mild for most of the year. During the winter months, you may experience snow, however, temperatures usually sit around freezing, so it is not too cold.
For your reference, the average temperatures in Scotland are listed below during each season.
Spring (March, April, May) – 5-10 degrees C
Summer (June, July, August) – 15 degrees C
Autumn (September, October, November) – 5-10 degrees C
Winter (December, January, February) – 0-5 degrees
As you can see, the weather never really gets above the teens, with anything over 25 degrees C considered a heatwave. The best way to pack for your trip to the highlands is with layers that can be added and removed as you need them. You will definitely need a hat and gloves during the colder months and will most likely need sunscreen to protect you on the long days in the open.
For our full list of items that we pack no matter where we go in the world, check out our full packing guides over here.
Given the beautiful sights and scenery that you are no doubt going to see around Scotland, we highly recommend packing a good camera for your trip. If you want to read more about the cameras we use and why we love them, check out the link below.
You can read what else we keep in our camera bag over here.
Also Read – All the Best Free Things to do in Glasgow
Driving on the Isle of Skye
Driving is the easiest and cheapest way to get around Skye, however, this route is also possible by cycling. The majority of the roads on Skye are narrow, single-lane roads that require a lot of concentration and patience. It is important to time your trip around the island well and not to rush, as this is how accidents can happen.
If you are driving, there is a petrol station and Co-op shop at Broadford, where you can top up before you get in amongst nature. This offers the cheapest fuel on the island, so we recommend you fill up here before heading any further north.
As you make your way along the winding country roads, there is a large temptation to lose yourself in the stunning scenery all around. However, due to the landscape of the island, there will also be wildlife roaming around on the roads and even sometimes pedestrians walking on the roads, so it is important to concentrate on the roads at all times.
As you make your way along the single track roads you will no doubt see small areas at the side of the road. These are known as "passing places" and are there for you to give way to oncoming traffic. If you see a car coming towards you, it is your responsibility to pull in at the nearest passing place, which will sometimes even be behind you, so pay attention to where these are located.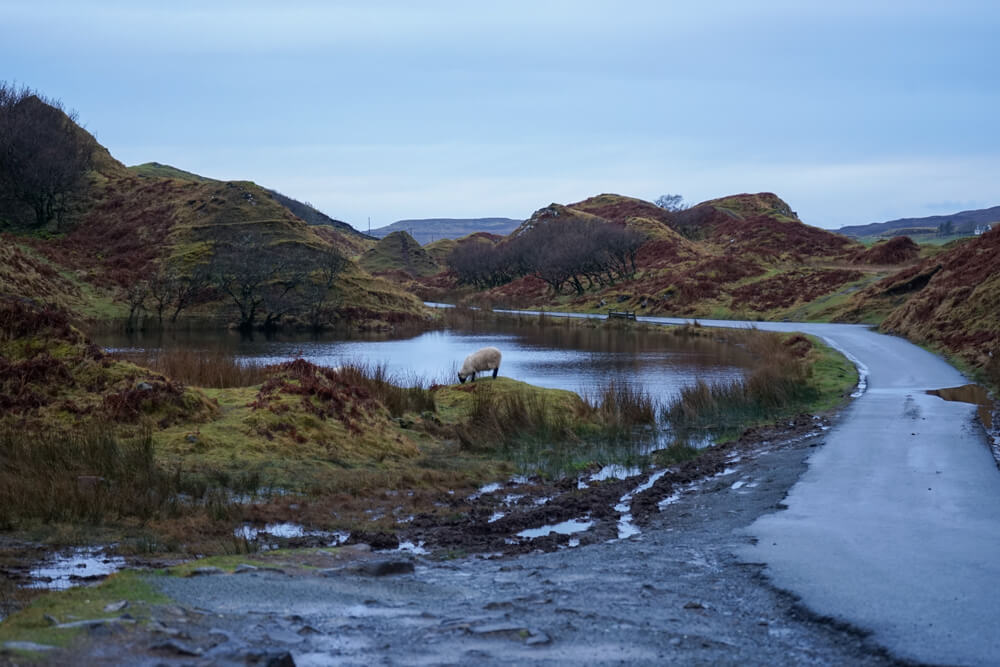 Isle of Skye Itinerary
In this itinerary, we have left plenty of time for you to take your time and get photos, as Skye is one of the most photogenic places in Scotland after all. We would recommend that in order to maximise your time on Skye for this one-day itinerary, you will need to get up and out early in the morning. The most beautiful time of day in Scotland is most of the time at sunrise.
We would also recommend you take a packed lunch with you on your trip, as you may not pass by anywhere along the route that serves food. You can stock up on food and snacks in Portree before you set off.
If you are lucky with the weather and it is a clear day, you will be able to see the black cuillen mountains towering on the island.
On your way to the Isle of Skye, we highly recommend stopping off at one of Scotland's most famous castles. The last stop before you reach the Isle of Sye sits at the intersection of the three lochs, Loch Long, Alsh and Duich. It is at this serene spot that the historically and culturally significant Castle of Eilean Donan sits. This castle dates back 700 years and is featured in several different films, including James Bond.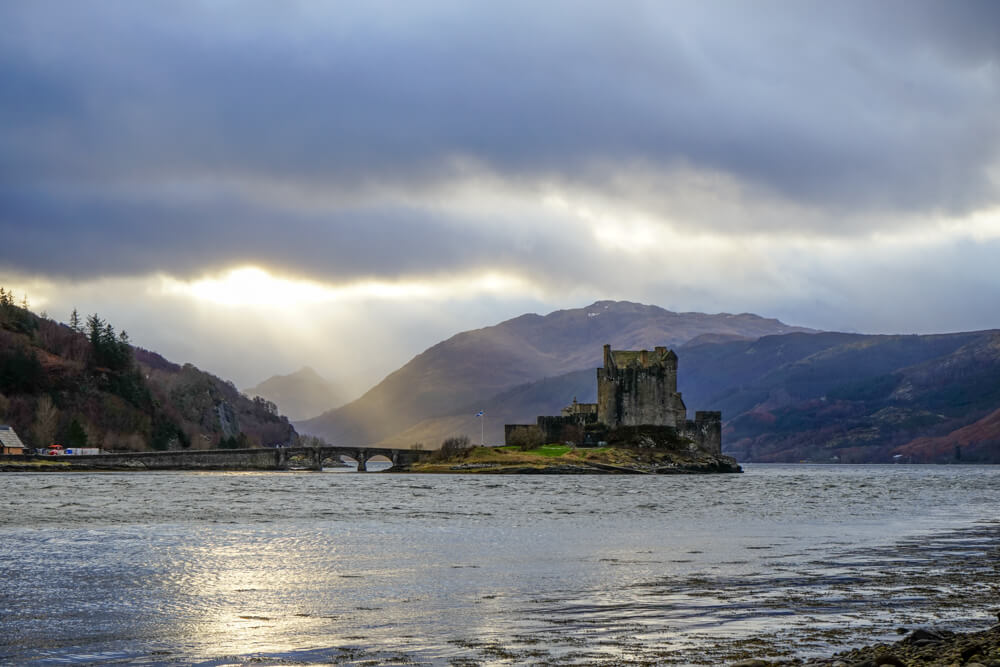 The current spot where the grand Eilean Donan Castle sits hosted its first fortified structure in the 13th century. This castle was constructed as a deterrent to the Vikings, who at the time frequently raided and pillaged the lands of Kintail. It also played a large part in the Jacobite uprisings of the 17th and 18th centuries, where it hosted a band of rebel soldiers plotting to overthrow the government. Upon the defeat of the rebels, this castle was blown up and lay in ruin for the next 200 years.
At the beginning of the 20th century, the lands of Eilean Donan were purchased by Lt Colonel John Macrae-Gilstrap, and over the next century, the castle has been revived to the grand structure you see today.
The castle is open to visits by paid entry, which allows you to walk around the castle grounds and view the exhibitions inside. Admission costs roughly £10, which includes an audioguide. It is worth noting that backpacks are not allowed inside the castle and must be left in your car or in a coin-operated locker outside.
Wander Through the Fairy Glen
Start your morning at The Fairy Glen and take in the beautiful sunrise colours of the morning light over the green rolling hills. There is a small number of parking spaces right beside the glen itself, however, in peak season you may find it harder to get parked here. Hopefully by starting the day here, you will beat the crowds, but if you are not this lucky the best thing to do is park in the town of Uig and walk to the glen.
Please ensure you don't block any accessible paths or passing places when you park as the road is extremely narrow.
If walking is not your cup of tea then you can book a space on the shuttle bus and get a transfer to and from the Fairy Glen from the town centre.
Read our full guide to the Fairy Glen for all the information you will need to know before your visit.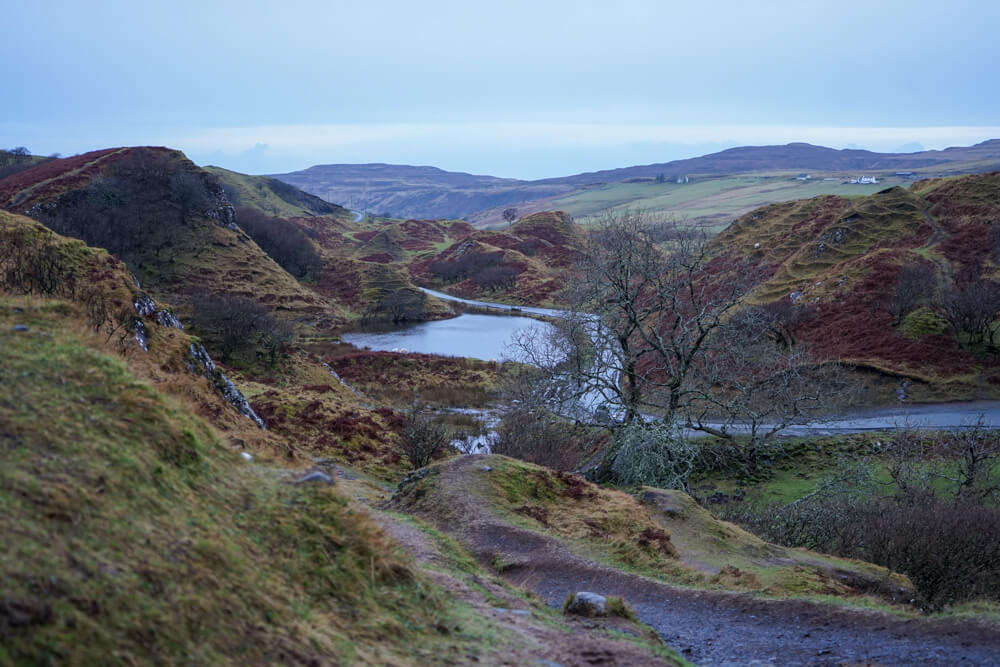 The Fairy Glen got its name due to being an unusual area, as there are no traceable stories involving fairies in this area. The seemingly bizarre landscape of this small glen was produced when a landslide occurred, which was then in turn smoothed by glacial movements. The result is a mystical landscape that could have come straight from a fantasy novel.
As you enter the glen, your eyes will be drawn to two main features, the spiralling markings on the ground in the centre and the towering rock structure on the right. This stoney outcrop was named Castle Ewan and there is a walkway leading up here which offers great views over the landscape.
As for the spirals themselves, there is no real story of where they appeared from or why they are there. Were they created to add a more magical atmosphere to the glen or are they an important addition to the land made by the local fairies themselves? I guess we will never know.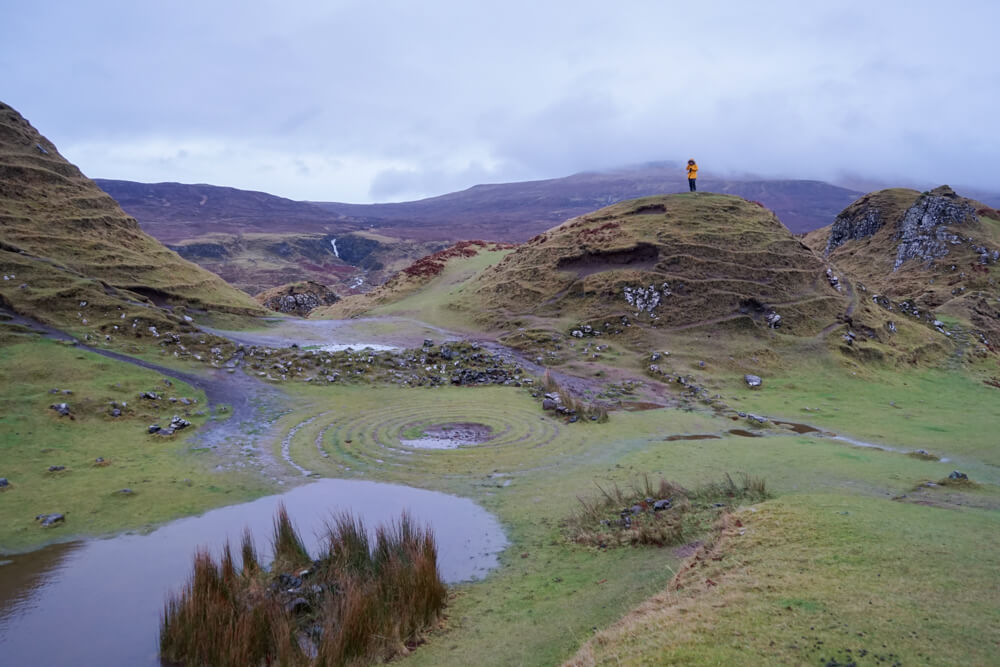 One thing that is known is that every single year thousands of tourists descend on the glens and have begun to add their own additions to this tranquil part of nature. Moving stones onto the spirals, walking around the lines and creating stone piles, sometimes metres tall. All of which is spoiling the peace and natural look of the Fairy Glen.
If you do decide to visit this beautiful place, we ask you to view it from afar, admire its beauty and then leave it as you found it for the next generation to enjoy it as you have.
If you are taking public transport around the island, this is an option to get to the Fairy Glen from Portree. Take the 40-minute Stagecoach rrive at Flodigarry, Road End. Then get on the 57a towards Portree taking 43 minutes until you arrive at Uig Pier. From here you can catch the shuttle bus or walk 30 minutes to the Fairy Glen.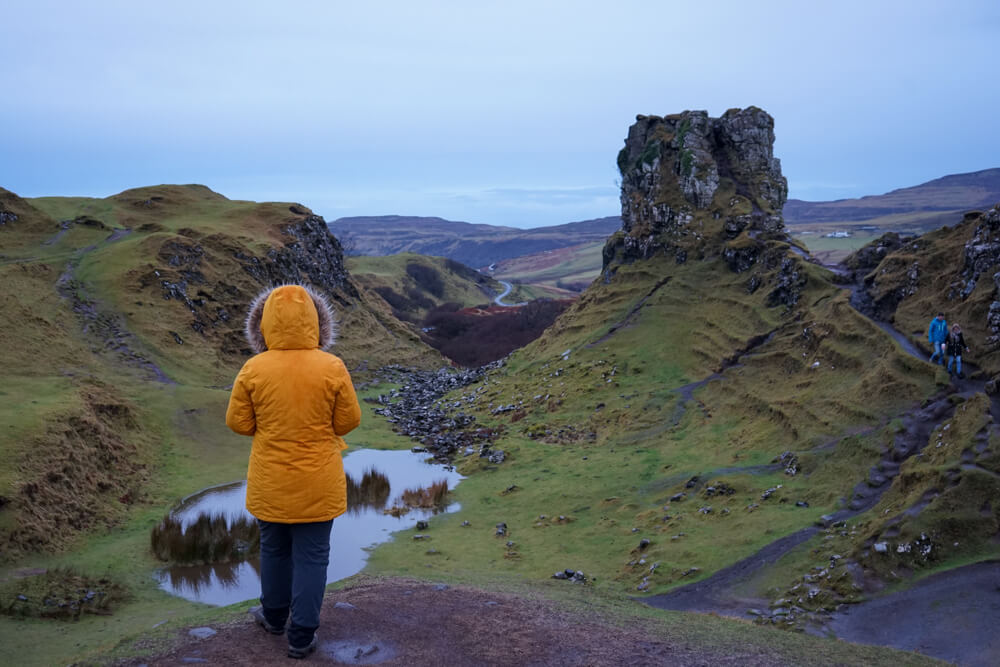 Visit the Isle of Skye Brewery
Whilst you are in Uig, take some time to visit the Isle of Skye Brewery and sample the locally brewed beer. This place is great for souvenirs, homemade jams and, of course, all different kinds of beers and ales. They even have a small take away coffee shop where you can purchase a hot drink to keep warm. Support a local business during your visit to Skye and enjoy a cold one for us!
The town of Uig itself is very small and isolated, with only single-track roads leading in and out of it. There are two ways to reach Uig from Portree, involving the drive over the Quiraing and the northern route via the coast. We recommend you drive to Uig via the northern route to admire the stunning sea views on the way there, as you will be taking the Quiraing on the way back.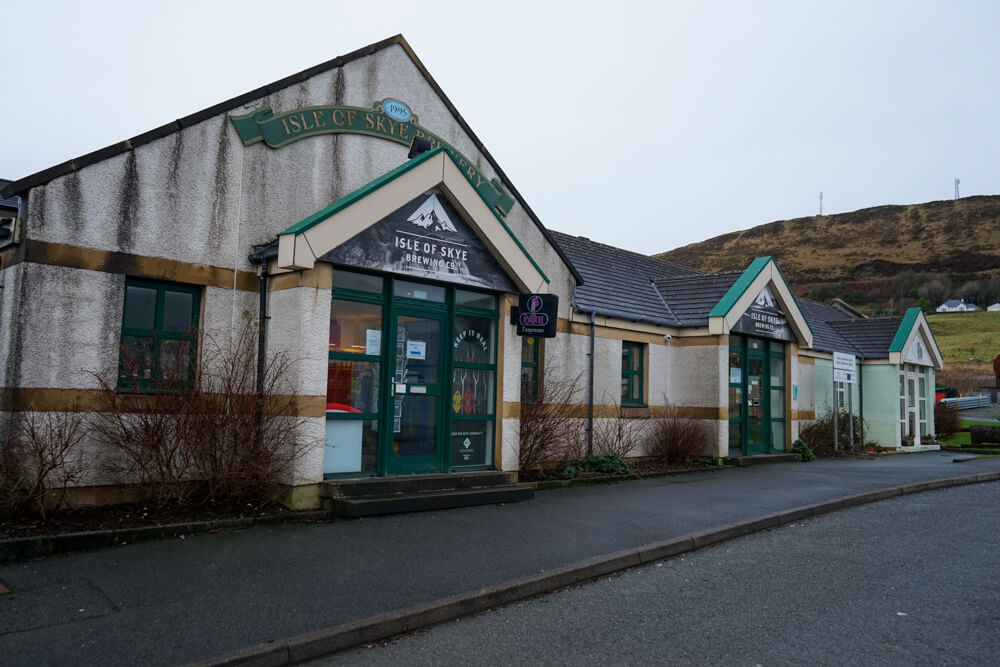 There is a bus that leaves from Uig to the Quiraing, however, it only leaves a couple of times a day and this may leave you restricted. You will also be unable to stop at the Uig viewpoint if you take the public transport option.
Catch a View from the Uig Viewpoint
As you drive up the hill away from Uig pier, prepare yourself for one of the most breathtaking views on the island. As you continue on the road towards the Quiraing, there is a viewpoint on the right that gives spectacular views over Uig and the islands surrounding Skye.
On a clear day, it is even possible for you to see across the sea to the Isle of Harris, and sometimes beyond. If you are not in a hurry, this spot is definitely worth stopping off at and getting your camera out.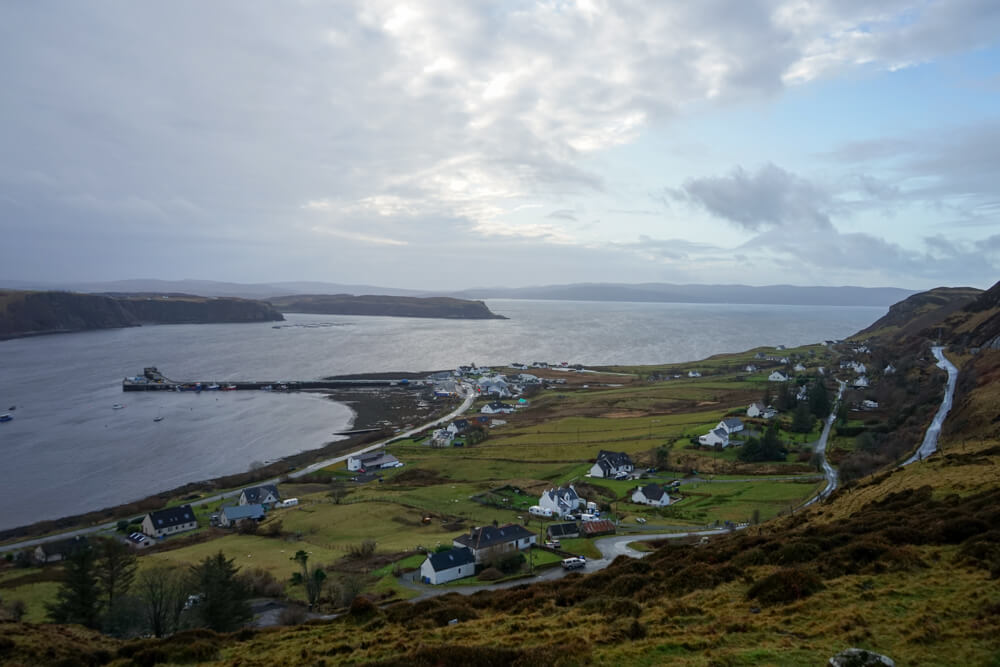 Be Stunned by the Natural Landscape of the Quiraing
The Quiraing (pronounced Coorang), is located in the north of the island and one of the most spectacular sights on the island. Depending on how much time you wish to spend in this area, it can either be viewed as part of a hike through the mountains or by a short walk to the first viewpoint.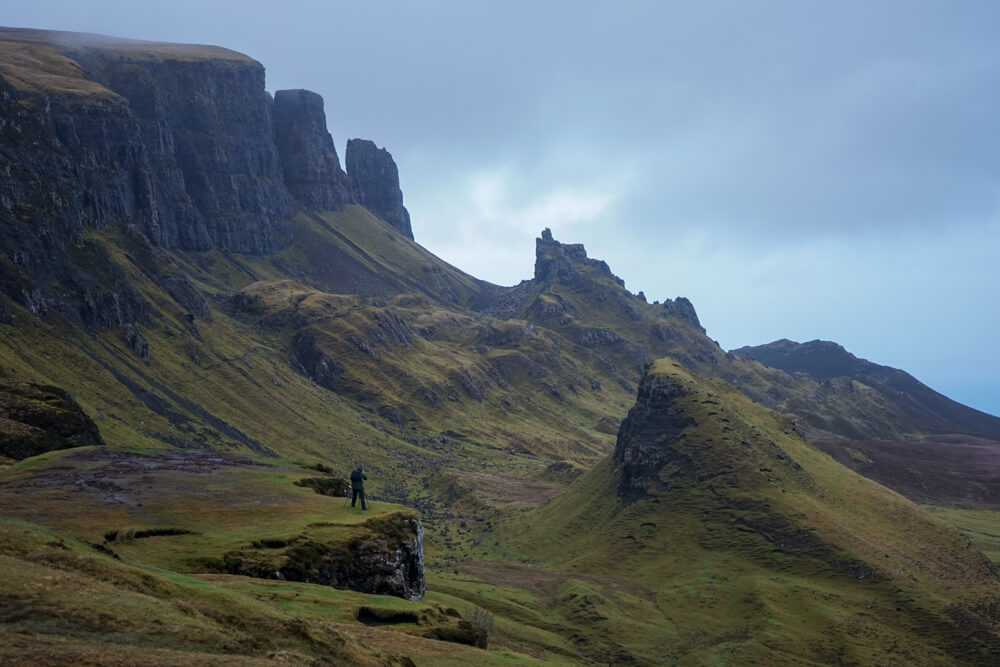 This spot is a photographer's dream as the landscapes in this area are some of the most beautiful in Scotland. The Quiraing was created by a landslide, thousands of years ago and has left pinnacles and outcrops of cliffs. The view from the viewpoint is simply incredible, sitting high above the winding road in the glen below and below the towering cliffs to the left of you.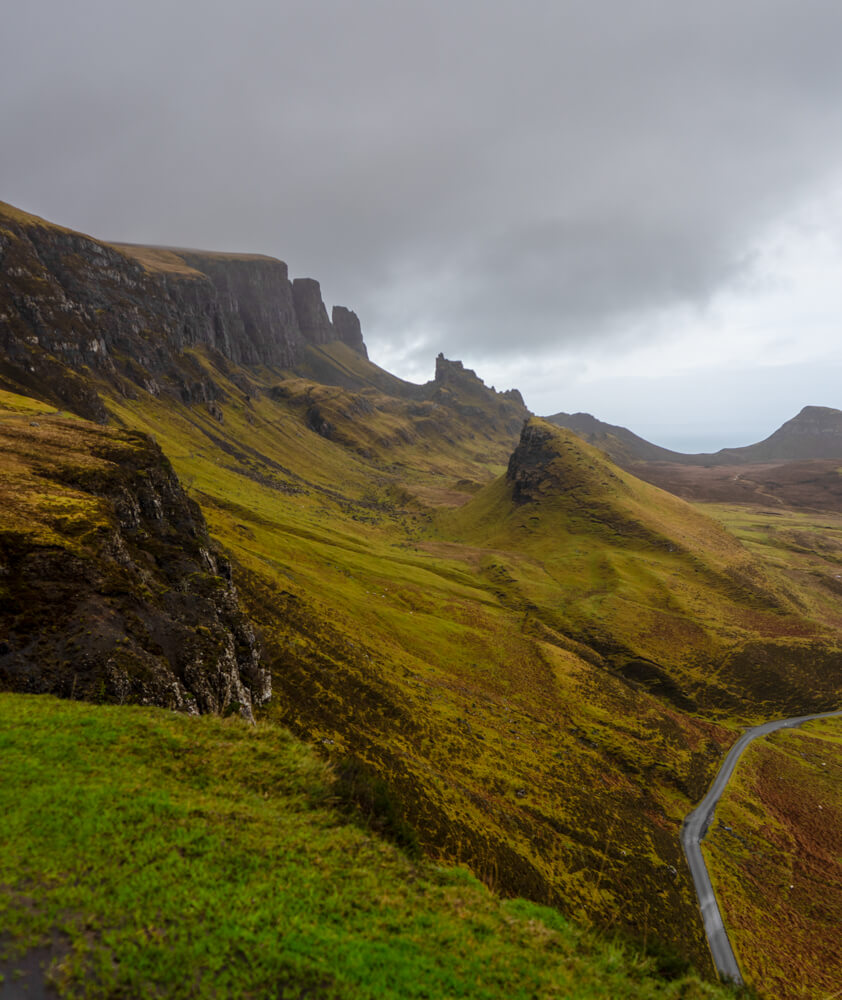 The walk through the hills is a total distance of 6.8km and with no stops, it will take you around 2 hours. I would recommend you leave some extra time spare for stops though as you will want to get snap happy on this walk.
There has been a brand new car park built to sustain the number of tourists visiting this spot and the cost for 3 hours parking is £3 or £5 for 6 hours.
Find the Tartan at Kilt Rock and Mealt Falls
Kilt Rock is a seacliff between Portree and Staffin, formed by thousands of years of punishment by the powerful ocean below. The cliff itself gets its name from its resemblance to a kilt (a traditional Scottish skirt worn in Scotland by men and woman), with the vertical basalt columns forming the plaits and the varying colour seen as the tartan.
In addition to the stunning sea view and the beautiful cliffs leading up to them, there is also a rather unique waterfall here that tumbles directly into the ocean. Mealt Falls is 55-metres tall and is a mesmorising sight to watch, especially if there has been a lot of recent rain.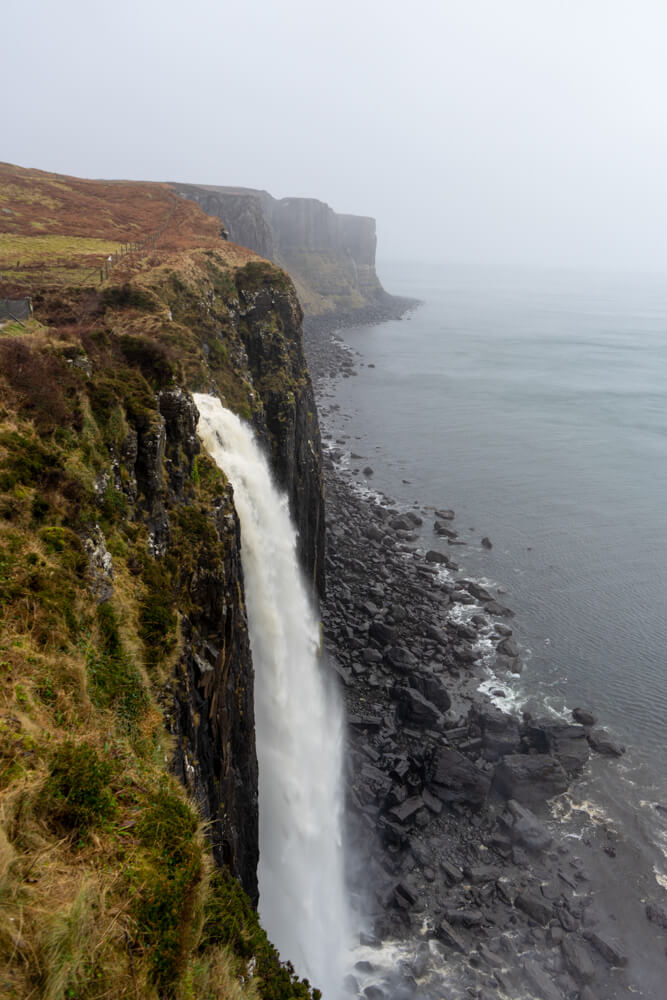 This is a highly popular stop on the Isle of Skye, presumably due to its ease of access in comparison to a lot of other places. As a result of this, you will struggle to have this place to yourself, especially during the busy, summer months on Skye.
If you are feeling the need for a quick break and some food, there is a Dinosaur Museum close by Kilt Rock where you can see footprints of dinosaurs that once roamed the area. This museum also has a cute cafe that serves delicious, hot drinks and a range of snacks to fill you up.
Chase Waterfalls at the Lealt Falls
Time to stop off at another one of the Isle of Skye's breathtaking waterfalls. This is, once again, a very unique waterfall on Skye, this time because of how close it is to the road and the fact that there are indeed three tumbling columns of water. As you head south towards Portree you will see a bridge passing over the river Abhainn An Lethuilt.
The viewing platform for this collection of waterfalls lies just north of the bridge, where you will see a small parking area for visitors. Walk towards the waterfalls and you will reach a small platform that leads out over the river for a better view. The river itself contains two waterfalls that form two steps to the right of the platform, whilst on rainy days there is a third, much taller waterfall that joins onto the river directly in front of the platform.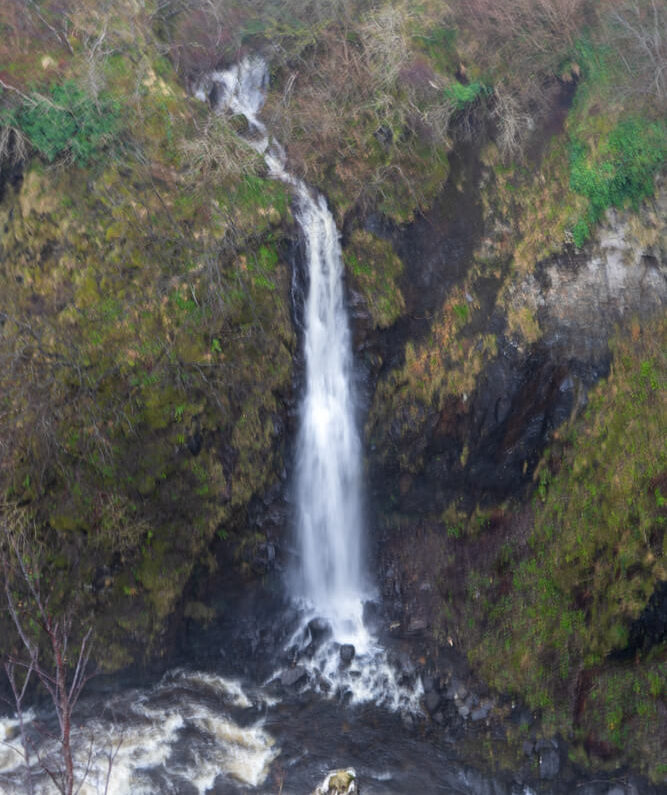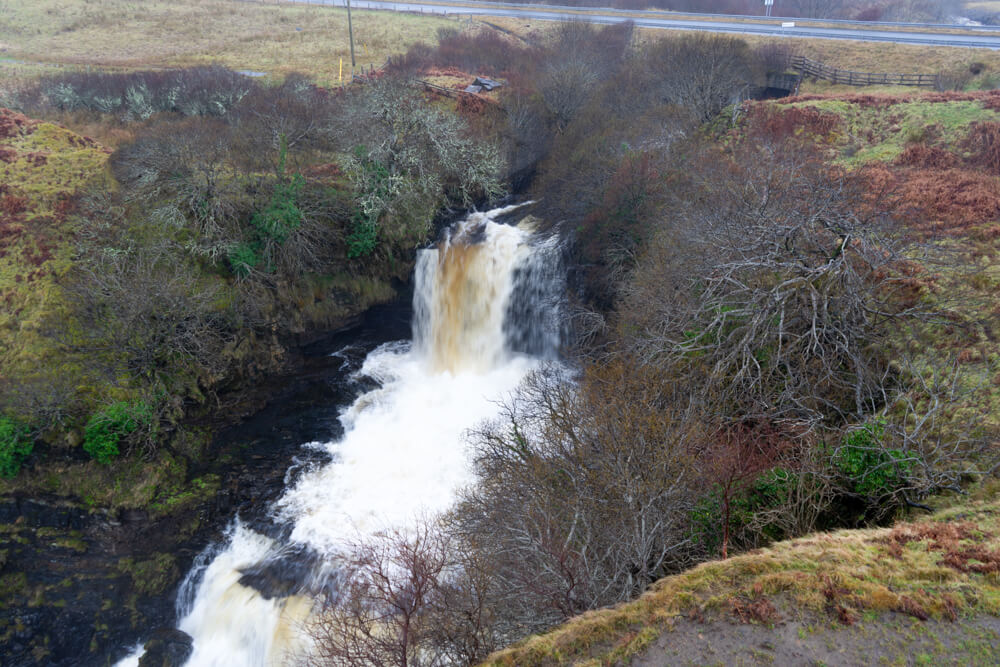 Hike up to the Old Man of Storr
The Old Man of Storr is a natural phenomenon created by a massive landslide thousands of years ago, which left the tall pillars of rock standing on the mountain that you see today. The Old Man itself is just one of many incredible rock features in this collection known as the Storr. The Old Man rock tower got its name due to the rock having the features of an old man's face. This is one of Scotland's most iconic landscapes and is worth the climb to the viewpoint if you are able to.
Read our full guide to hiking up the Old Man of Storr here.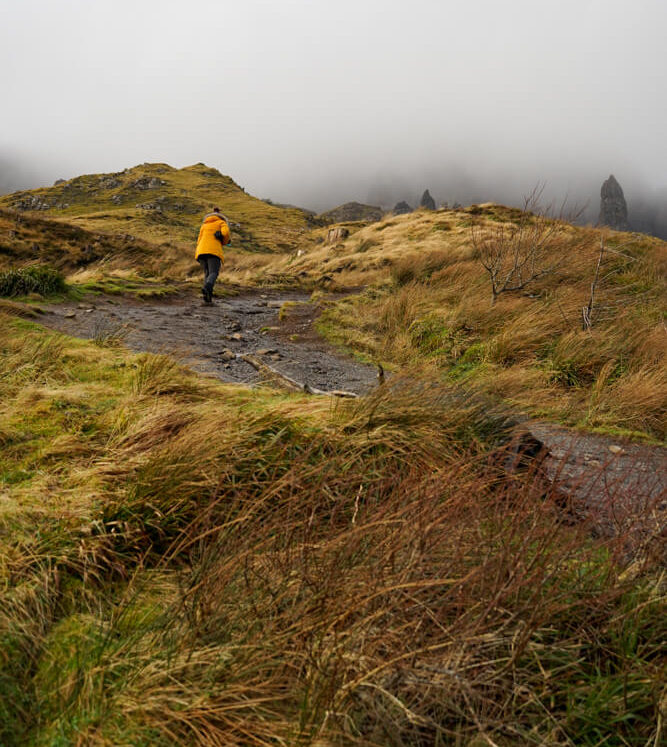 There is plenty of parking available at the bottom of the hill and this is well signposted. In the summer months, this will fill up quickly and you will be asked to pay for parking. The walking path starts at the gate by the information board.
There are two options when it comes to walking up to the Old Man of Storr, a winding steady walk up or a more steep walk. The total distance to the viewing platform and back is 4.5km and will take roughly 45 minutes to an hour one way. There are gates on the walk up and it is important to make sure you close these behind you as they are built to keep the deer from roaming in this area.
There is a clear path in place for the first half of the climb where you will reach a halfway viewpoint. From here on, there is no clear path and if it has been raining the trodden pathway will be extremely muddy and slippery, take care.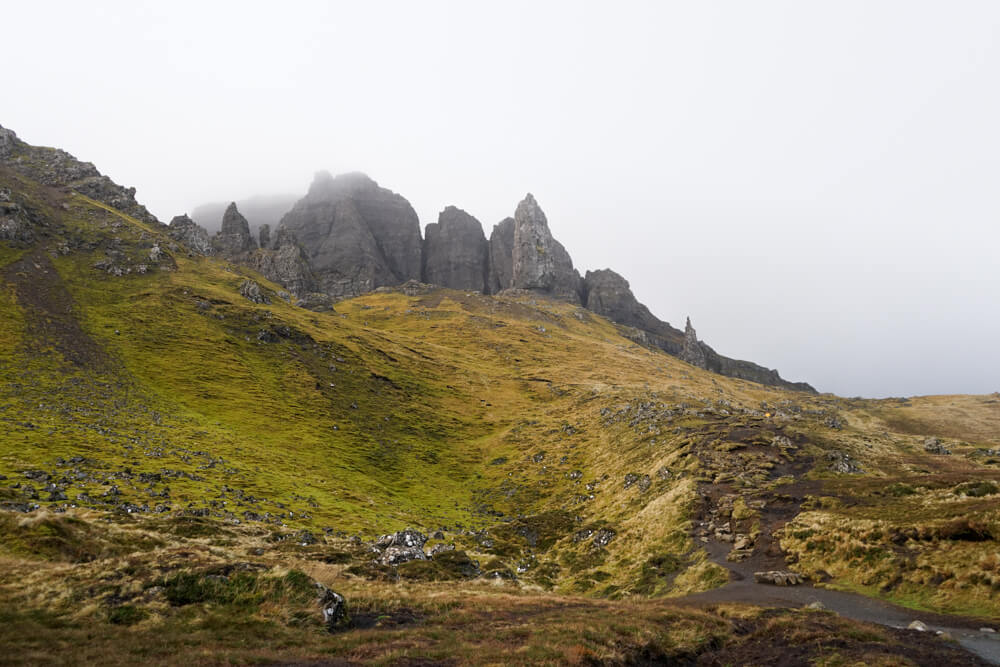 Once you reach the top you will be able to see all the way to the Isle of Raassay and even Applecross on mainland Scotland on a clear day. If the weather is less favourable the landscape around you is still out of this world, with low lying clouds on the Storr giving it a mystical and other-worldly feel to it.
Is Scotland expensive? Read more about how expensive Scotland is in this guide
Cross the Breathtaking Sligachan Bridge
As you head further south on the island, the next iconic stop you will make is beneath the impressive mountain range of the Cullin. Sitting well beneath this wall of rock is the meeting point of many different rivers and an old bridge known as the Sligachan Bridge. With the stunning scenery around you, this has got to be the most picturesque bridge on the Isle of Skye.
Originally built at the beginning of the 19th century, this bridge has since been replaced by a more suitable crossing for cars. This beautiful, arched bridge has, however, been preserved as a footbridge for walkers and tourists of Skye to access the towering mountains above.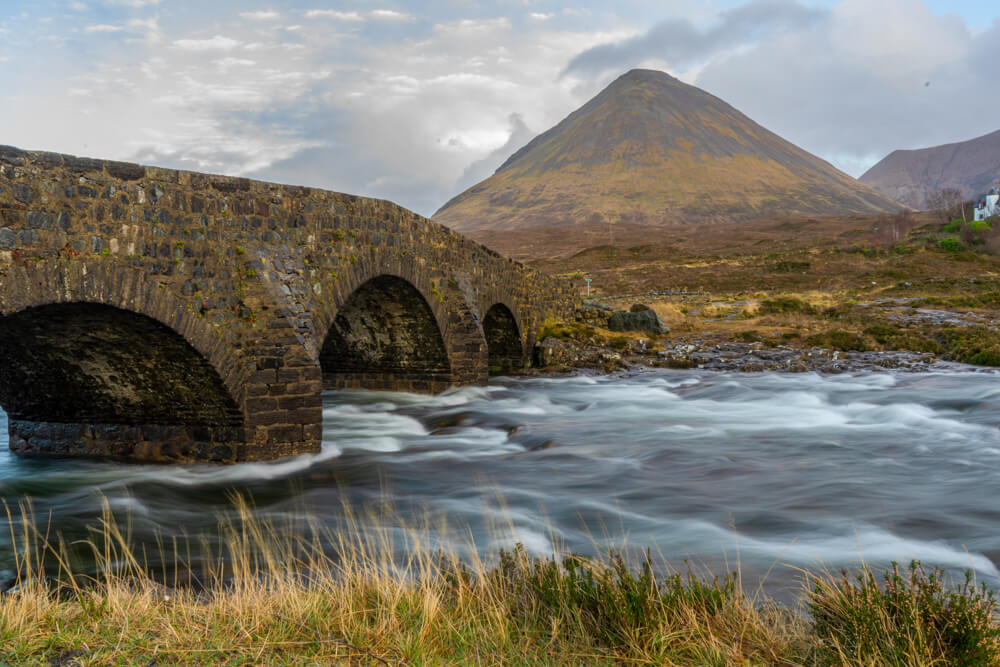 As for the river running under the beautiful arches of Sligachan Bridge, there is a fantastic tale of its importance to the region, and of course, it contains more fairies. The belief is that if you lie down on your stomach on the banks of the water and dip your face into its icy depths you will be granted with eternal beauty.
Now, I am not all too convinced that this worked for me but it sure did replace the need for a coffee that day.. What a wake-up call!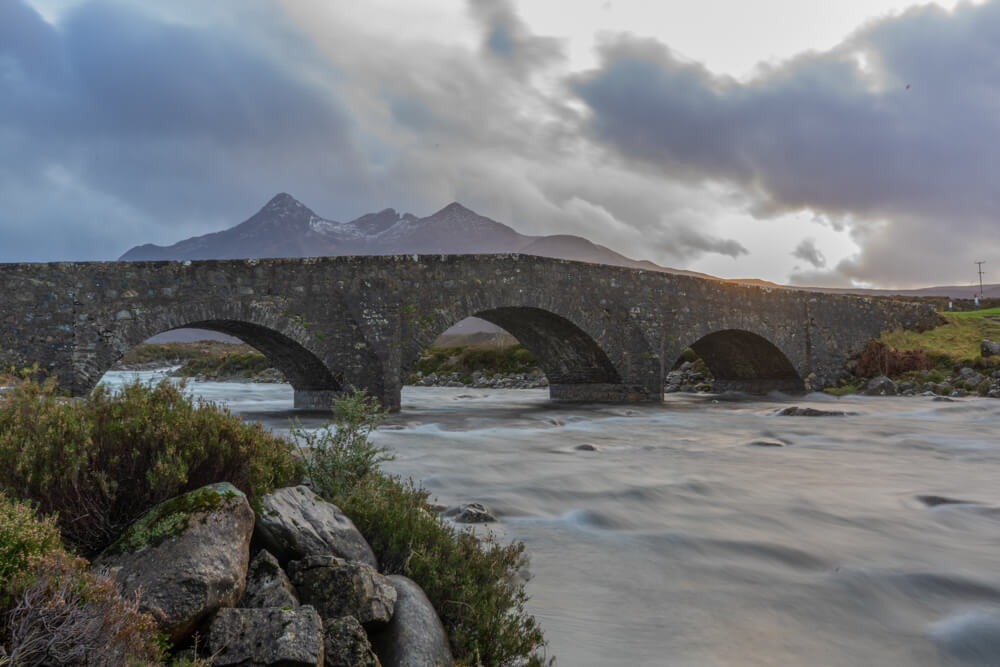 Dine Out in Portree
Now that your day out in Skye has come to an end, it is time to head back north for a night of relaxation, reminiscing and a warm, cosy pub. At the end of a busy day full of walking and fresh air, the best place to rest up is in Portree, the largest town on the Isle of Skye.
Portree is a fishing village with a variety of accommodation, pubs and restaurants. There are some lovely areas by the harbour to relax and enjoy the sea view with a picnic or you can choose one of the restaurants in the area. There are a number of cosy pubs to choose from if you wish to rub shoulders with other adventurers and locals, all exchanging tales from the day before.
Make the most of your last night on Skye and make sure you do your best to please the faeries of the region.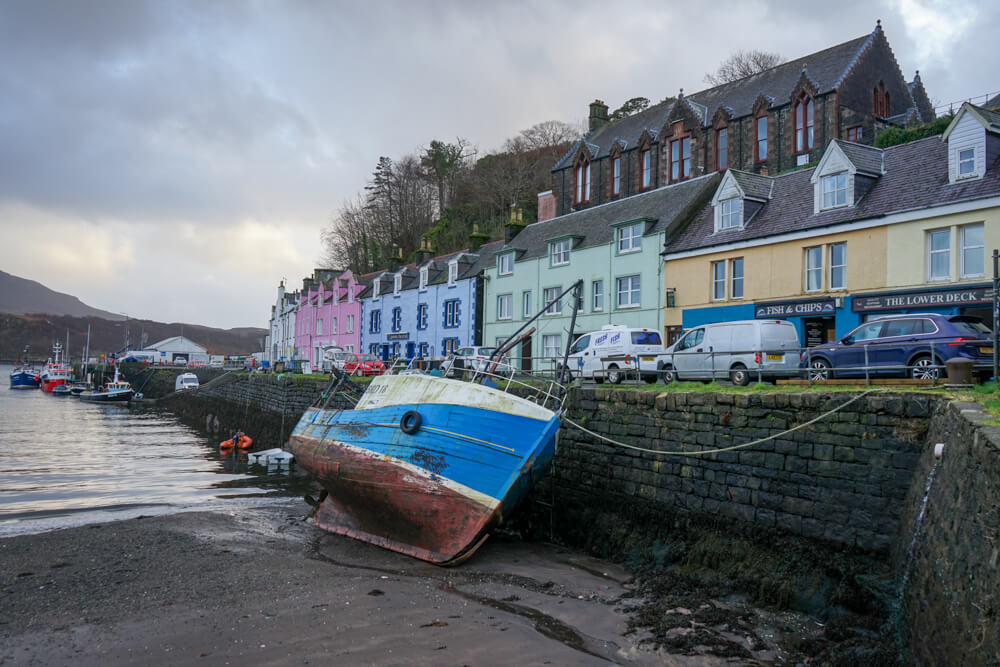 So there you have it, your ultimate one-day Isle of Skye itinerary. If you are visiting this incredible island and have any other questions on what to expect, leave us a comment down below. We love to chat about this stuff! If you have already been, let us know how it was! What sights was your favourite? Do you have any other recommendations for our next visit to the island? Let us know in the comments below!
Also remember to share this with your friends and family that you are going to share this trip with. Sharing is caring and we want to ensure that everyone is fully prepared to and knows what to expect on their Isle of Skye itinerary.
If you are planning a Scotland trip soon then check out our other Scotland content right here. Come and find us on social media to see where we are currently exploring. Tag us in your photos from your trip to the Isle of Skye and we will share them with the rest of our community of explorers and backpackers.
Read Now:
This article may contain affiliate links that provide us with a small income. For more information read our Affiliate page.
---
Pin it for later!