The west coast of Scotland is well known for it's beautiful white sandy beaches and crystal clear blue water. During the summer months, many of these beautiful beaches are popular with visitors completing the North Coast 500 road trip.
Another beautiful thing about beaches in Scotland is that the majority of them are dog friendly due to how quiet they are. With this in mind, however, the quietness of the beaches does mean that there are no lifeguards present so take care if you choose to enter the water.
No time to read now? No problem, save a pin to your Pinterest board for later!
Best Beaches on the West Coast of Scotland - You Cannot Miss These
The west coast of Scotland is one of the most beautiful parts of the country and we can highly recommend that you visit. In this post we are sharing with you the most beautiful beaches we have visited on the west coast of Scotland.
Clachtoll Beach

Achmelvich Bay

Sandwood Bay

Clashnessie Beach

Oldshoremore Beach

Gairloch Beach
Firemore Beach
Mellon Udrigle Beach

Preparing for your trip to Scotland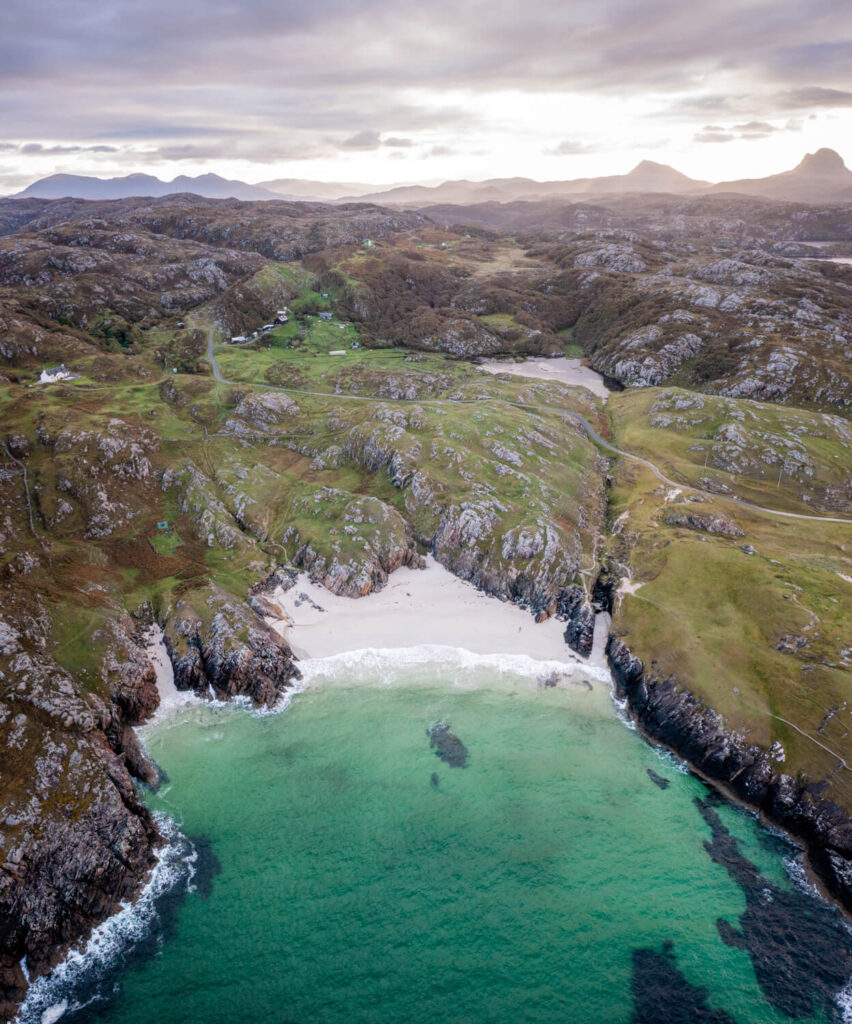 Clachtoll Beach
Clachtoll Beach is accessed by driving through the campsite to the small parking area. There are toilet facilities here and a boardwalk to access the beach from the car park. Clachtoll Beach is small but continues to have that beautiful white sand that has been a common theme around the NC500 beaches. Look out for basking sharks and other marine animals in this area. You may just see them out in the distance. 
Achmelvich Bay
Hidden along a narrow windy road on the north west coast of Scotland is one of the most popular beaches on the North Coast 500, Achmelvich Bay. Surrounded by sand dunes and cliff faces, the white sandy beaches are met with the clearest blue water. Being on the west coast of Scotland, Achmelvich Bay is a great place to watch the sunset from the beach over the sea. 
This beach is accessed by foot from a medium sized car park. 
There is a campsite that overlooks the beach, as well as the NC500 Pods glamping area. These don't take away from the remote beach feeling; if you follow the small hill you will see another secluded cove.
Sandwood Bay
Sandwood Bay is one of the most remote beaches in Scotland and is situated 11 miles from Cape Wrath, the most north-westerly point in mainland Britain.
Sandwood Bay is not an easily accessible beach as it requires walking 4 miles from the car park across moorland. The best place to park is at Blairmore where you will cross through a gate and follow the path to the coast. 
There are no amenities at this beach and it will never be overly busy due to the effort required to get there.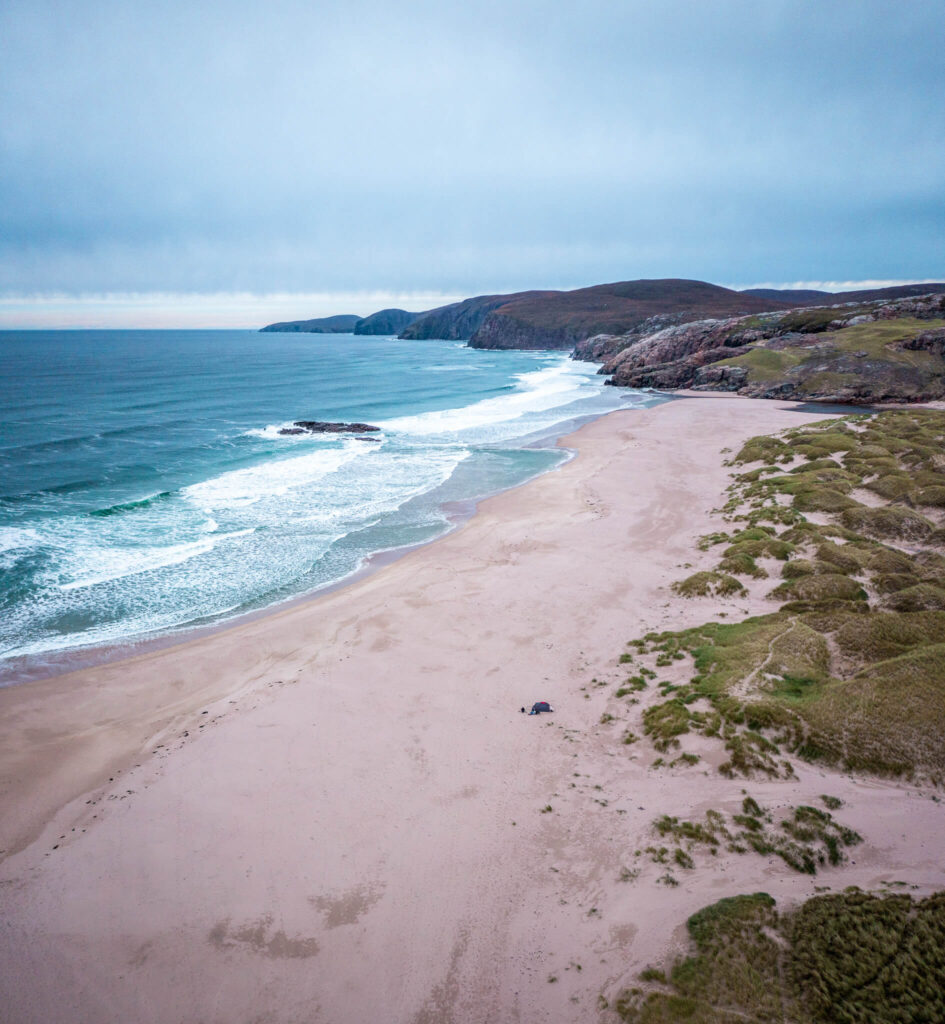 Clashnessie Beach
Clashnessie Beach is a small and beautiful bay with a rocky inlet and plenty of pristine white sand meeting the tranquil turquoise water. Clashnessie Beach has a mild micro-climate due to the closeness of the Atlantic Ocean Gulf Stream.
The Clashnessie Falls sit a short walk upstream and are worth a walk to. There is a large pull in area off the single track road that can be parked in to access the beach. 
DON'T FORGET
Your trip to Scotland will be a lot more comfortable with a midge net and midge spray. These little biting bugs can be enough to ruin a trip if you don't have the equipment to protect yourself from them. A repelling candle can also be helpful if you are sitting oustide.
Oldshoremore Beach
Oldshoremore Beach is located near Kinlochbervie at the end of a very narrow steep road. There is a small car park at the bottom with toilet facilities. The beautiful white stretch of sand is only a 5 minute walk away from the car park. There is a basic parking area across from the car park where you can camp overnight for a small donation.
Gairloch Beach
Gairloch Beach is a secluded bay surrounded by mountains and moorland located on the southern outskirts of Gairloch. This beach is popular with families and is also visited by many at sunset due to the westerly position of the beach. Down on the sandy beach are incredible views across to the nearby islands. There is free Parking for the beach beside the golf course and there are toilet facilities for a small fee.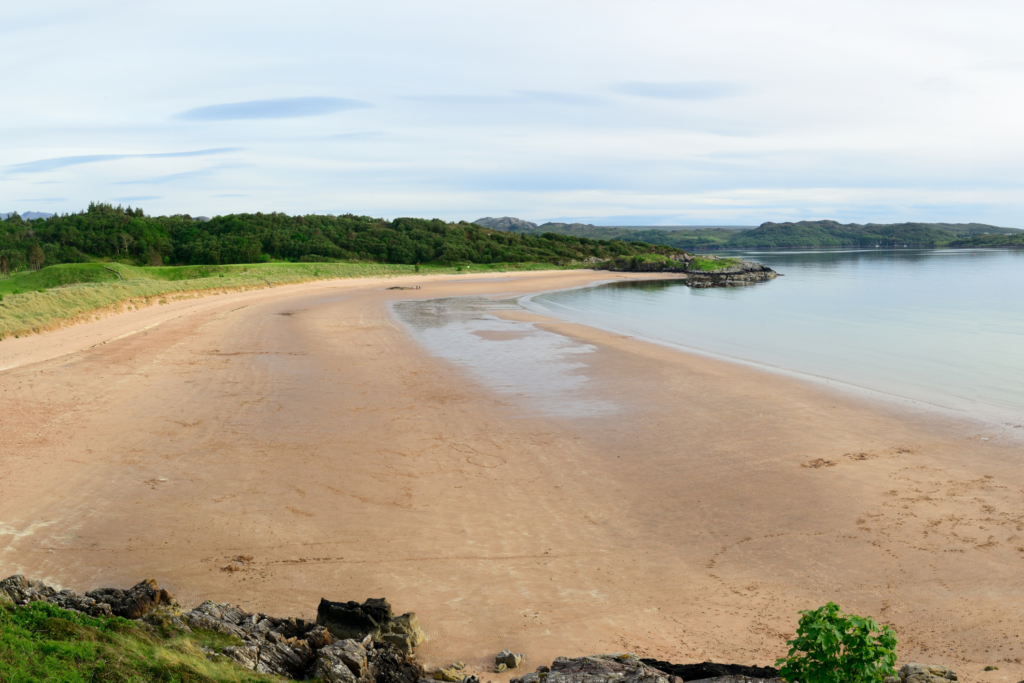 We would highly recommend getting yourself a Seashell dryrobe for keeping warm when you get out of the water! They even have pockets to store your keys!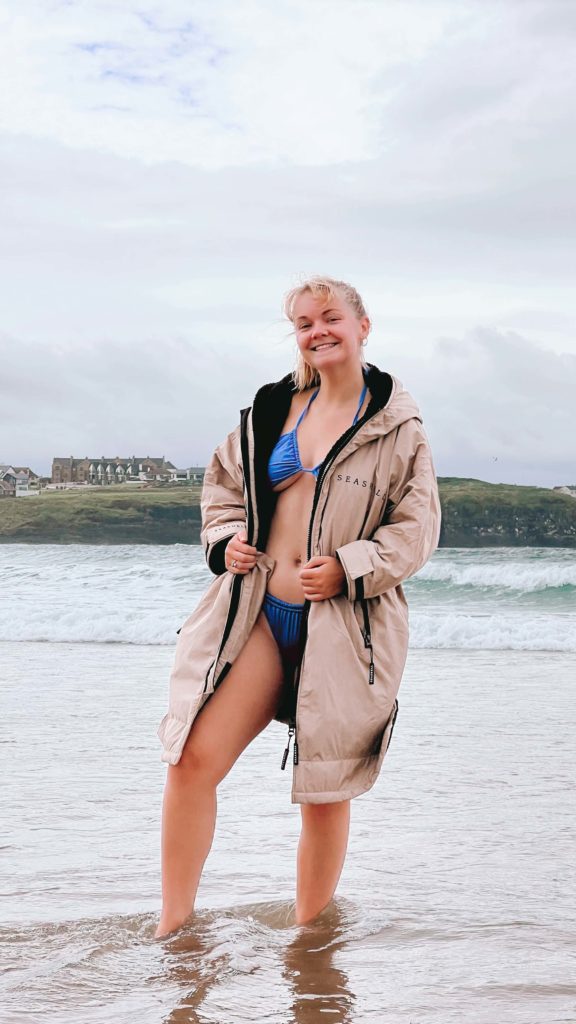 Firemore Beach
A beautiful stretch of sand located near Poolewe, Firemore Beach is often missed out on many peoples NC500 itinerary due to it being a bit of a detour from the route. However, this beach is brilliant for watersports and even swimming as the water is the warmest you will find on the west coast of Scotland due to the Gulf Stream running close by.
Across from the beach is a small sand island named Ewe Island. At low tide you can walk out to this island but make sure you don't get stuck there.
If you are patient enough, dolphins, whales and seals have been spotted from the shoreline. There are also plenty seabirds and we also saw 2 golden eagles in the area when we were here too. You might also be lucky to see highland cows grazing nearby too.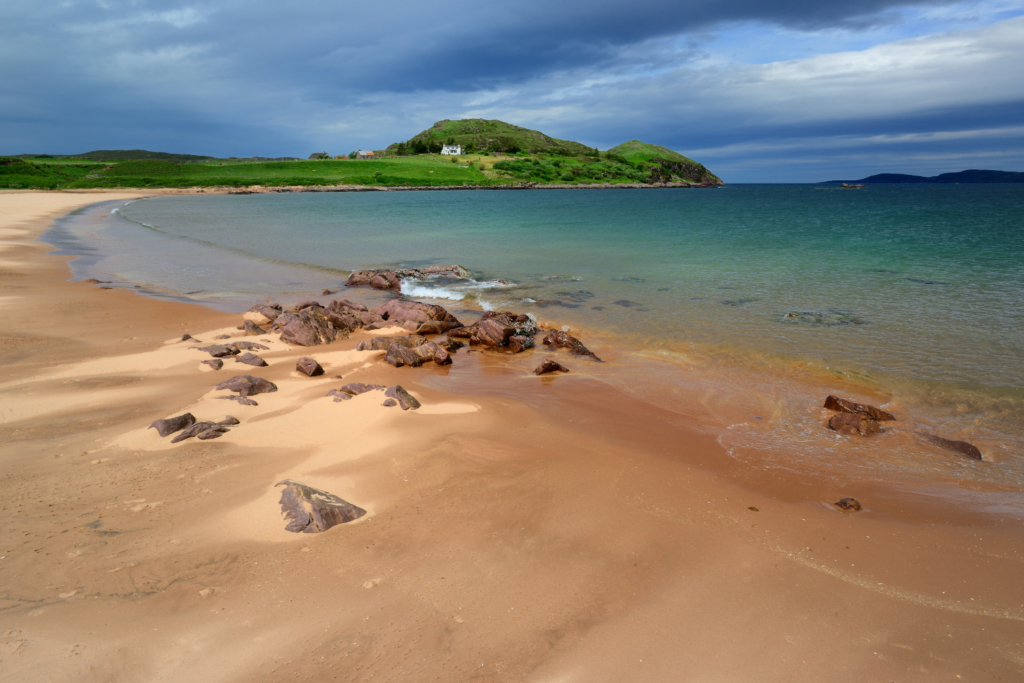 Mellon Udrigle Beach
Mellon Udrigle Beach is another spectacular beach that sits off the beaten track of the main NC500 tourist route. It is well worth the drive along to this secluded settlement as the white sandy beach has beautiful views of the mountains. There is a small car park with a short wooden boardwalk along the beach. There are no facilities nearby for this beach and there is a campsite nearby if you are looking for somewhere to stay the night in the area.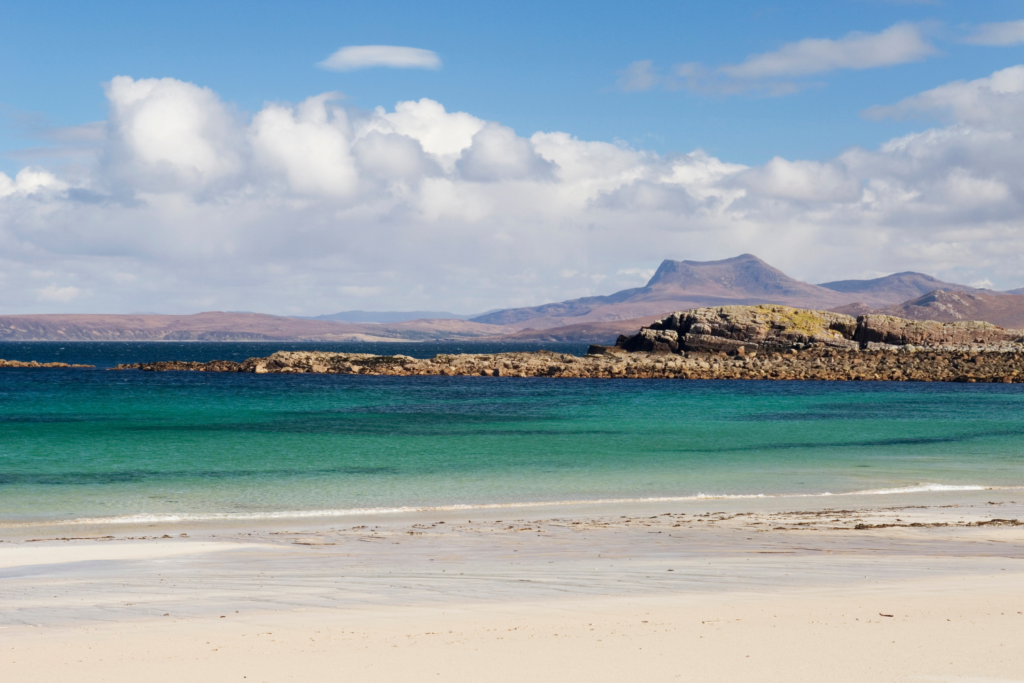 Are you planning to visit more of Scotland on your trip? Why not check out our books to help you plan your trip? 
Before You Leave for Scotland
Before you head off on your Scotland trip, there are certain things you will need to get organised to ensure a smooth trip. These include how to get around the route, including being aware of single track roads, etc., what to pack for Scotland, where to stay along the route and what travel insurance to book.
How Do I Get Around Scotland?
Given the remote location of many of the incredible sights in Scotland, we would recommend driving, or even better in a campervan! 
As for public transport, there are trains and buses around Scotland but they can be few and far between the more remote you go. However there are tour companies that you can book onto that tour around Scotland. 
If you are looking to rent a cosy, reliable and luxurious campervan for your 5 day itinerary in Scotland, we highly recommend hiring through Spaceships Rentals. We toured in a campervan around the up-and-coming Heart 200 road trip in Scotland's central highlands, it is by far the best way to get around and enjoy the amazing scenery.
Browse the full range of vehicles on offer at Bunk Campers over here.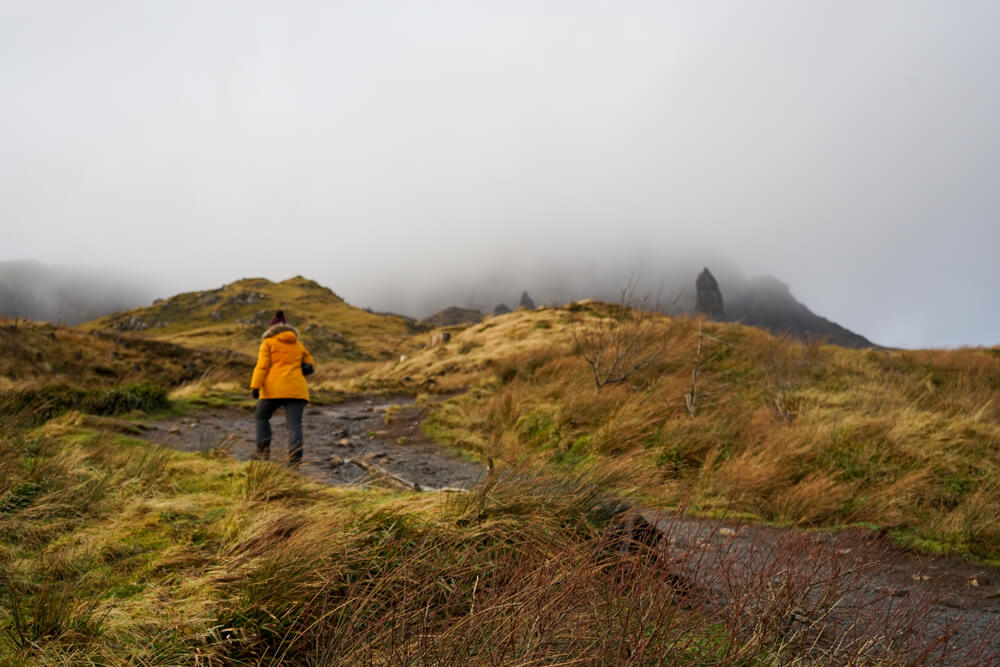 What Should I Pack for Scotland?
When it comes to packing for a trip to Scotland there is one item of clothing that you are going to need all year round: a waterproof. It rains in Scotland on average 250 days a year, meaning that during your 5-day Heart 200 road trip you will probably experience at least a drizzle of rain. Due to this, the number one item on any Scotland packing list is a good waterproof jacket.
As for the rest of the year, the temperature in Scotland and the central heartlands is reasonably mild for most of the year. During the winter months, you will most likely experience snow, however, temperatures usually sit around freezing, so it is not too cold. For your reference, the average temperatures in Scotland are listed below during each season.
Spring (March, April, May) – 5-10 degrees C
Summer (June, July, August) – 15 degrees C
Autumn (September, October, November) – 5-10 degrees C
Winter (December, January, February) – 0-5 degrees C
As you can see, the weather never really gets above the teens, with anything over 25 degrees C considered a heatwave. The best way to pack for your trip to the highlands is with layers that can be added and removed as you need them. You will definitely need a hat and gloves during the colder months and will most likely need sunscreen to protect you on the long days in the open.
For our full list of items that we pack no matter where we go in the world, check out our full packing guides over here.
Given the beautiful sights and scenery that you are no doubt going to see around the highlands of Scotland, we highly recommend packing a good camera for your trip. If you want to read more about the cameras we use and why we love them, check out the link below.
You can read what else we keep in our camera bag over here.
Photography Equipment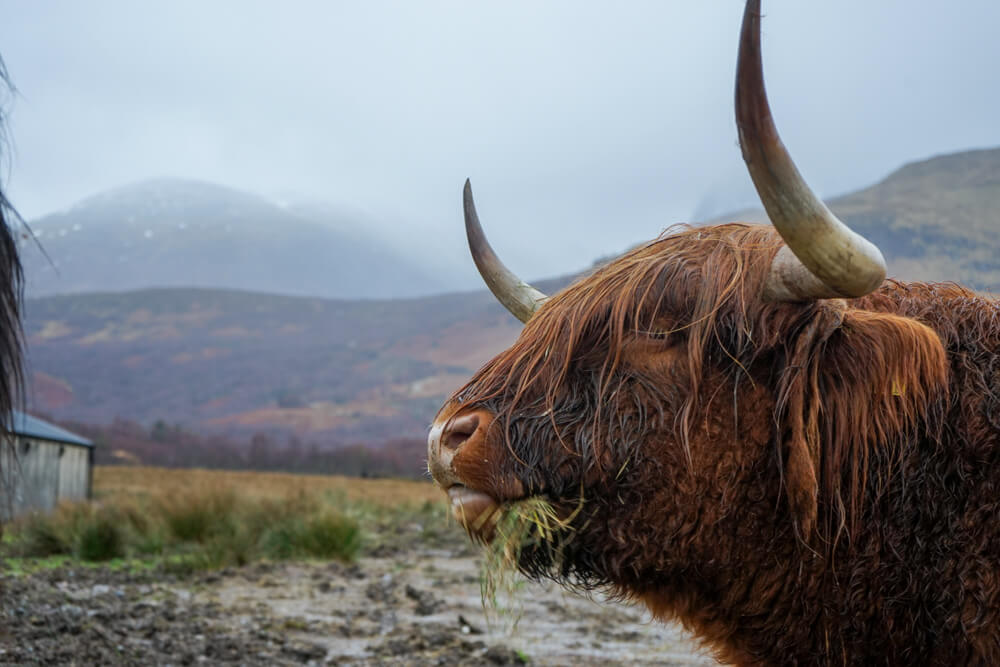 What is the Best Travel Insurance?
No matter what type of adventure you are heading on, whether it is a mountain adventure or a relaxing beach destination, one thing we all need to be aware of is that accidents can happen. The last thing you want is for an unexpected medical emergency to ruin your trip of a lifetime. Luckily, that is what travel insurance is for.
Whenever we travel abroad, we get covered with Safetywing Travel Insurance, a reliable, friendly and extremely affordable method of covering yourself on any adventure. With years of experience working for backpackers around the globe, the service they provide is perfect for whatever type of trip you have planned.
Get covered for your next trip and get a quote from Safetywing right here.
So there you have it, your complete guide to visiting the best beaches on the west coast of Scotland. If you are visiting this incredible country and have any other questions on what to expect, leave us a comment down below. We love to chat about this stuff! If you have already been, let us know how it was! What spot was your favourite?  Let us know in the comments below!
Also remember to share this with your friends and family that you are going to share this amazing adrenaline experience with. Sharing is caring and we want to ensure that everyone is fully prepared to maximise their experience completing this bucket list activity.
If you are planning a Scotland trip soon then check out our other Scotland content right here. Come and find us on social media to see where we are currently exploring. Tag us in your photos from your Scotland itinerary and we will share them with the rest of our community of explorers and backpackers.
Read Now:
This article may contain affiliate links that provide us with a small income. For more information read our Affiliate page.
---
Pin this to your Scotland Pinterest board for later