This article was written in partnership with BluefinSUP in exchange for gifted items. Rest assured all of the content below is accurate and true to the beliefs and opinions we hold for this sport and these places. 
There is an up and coming sport currently sweeping the globe, drawing outdoor enthusiasts from all over to the nearest source still water. This rather bizarre and totally amazing activity is, of course, Stand-up Paddleboarding, or as it's otherwise known SUP. Stand-up paddle is social, intense, and relaxing all at the same time, which explains why it has become so popular for both experienced watersport enthusiasts and newby beginners alike.
We will be the first to admit that we very much fall into the second category, preferring much more to be under the water than standing on top of it. No good at surfing, rubbish at bodyboarding and unable to stand on a skateboard without breaking something, we thought we would be the last to ever give the likes of SUP a go. Yet here we are, proud SUP board owners and giddy with our new love of this outdoor adventure sport.
This is a guide to our new Bluefin SUP 12-foot Cruise Board, including all the info that you need to know about Bluefin SUP as a company, what products they offer and our entire experience with this board, including our top recommendations.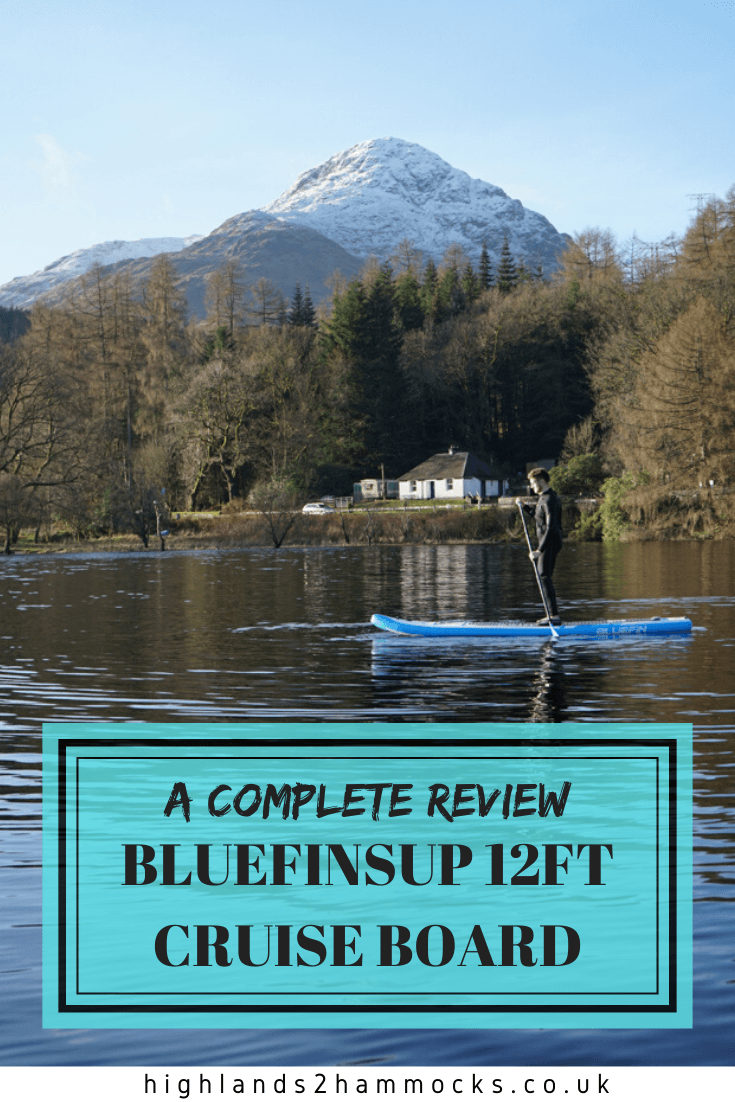 BluefinSUP 12-Foot Cruise Board – Review
What is Stand-up Paddleboarding?
Stand-Up Paddle Boarding differs from the more conventional sport of paddleboarding in one very obvious way (it's right there in the name..). With the help of a much bigger board and a good amount of core strength, the participant stands up on the board and uses a single, long paddle to propel themselves through the water.
Why Should You Try SUP?
Out of the many reasons that SUP is a fantastic sport to try, the main one that attracts so many outdoor enthusiasts is how achievable it is. With varying sizes of boards, SUP is a sport that is easy to pick up and can gradually become more difficult as the user improves. If you are new to the sport and do not have the best balance, the best thing about SUP is that you can start off kneeling down and gradually transition to standing up over time.
Compared to simple paddleboarding, SUP allows the user to have a much higher perspective over the water on the board. This gives you a much better view of your surroundings, makes it easier to chat with other boarders and also gives you a better view of what is under the water.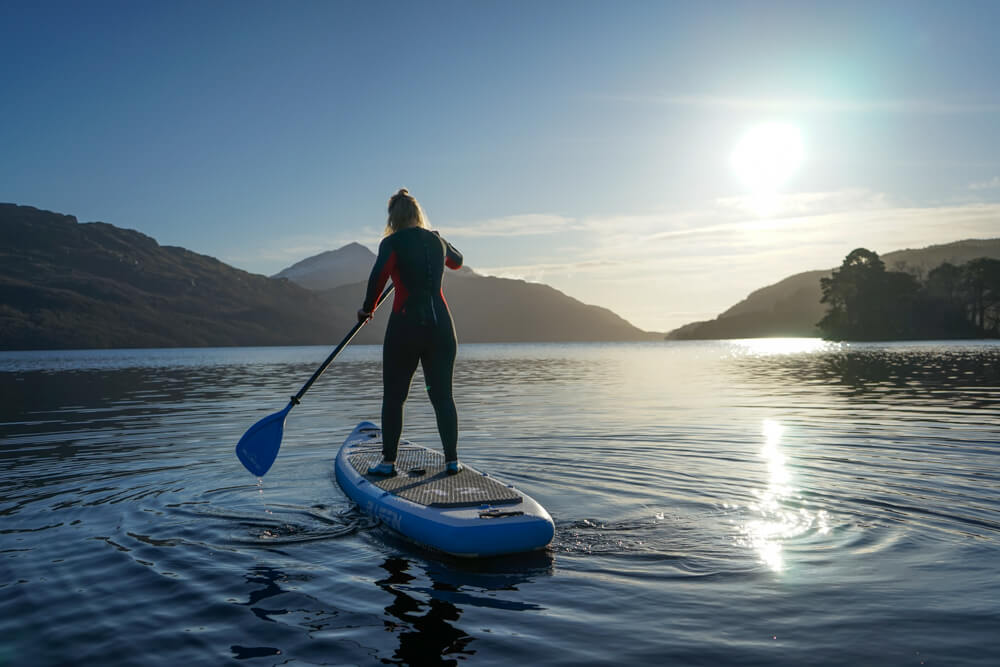 Who Are BluefinSUP?
The company that we got our SUP board is none other than Bluefin SUP, proud producers of the number one inflatable SUP in 2019. Bluefin was kind enough to send us a paddleboard from their wide range of available inflatables in exchange for this written review. Please note that any and all opinions in these articles are true to our own and are in no way influenced by this gesture.
Story of the Company
BluefinSUP began selling and distributing SUPs at the beginning of 2010 when a group of watersport enthusiasts decided to band together to fuel and promote their passion for getting wet. Having spent most of their youths playing in the water of the Southern Uplands, their dream was to produce a range of inflatable boards of fantastic quality that were affordable by anyone and everyone.
Over the next decade, BlueFinSUP worked on promoting this fantastic sport and investing in the design of their range of boards. All of this hard work eventually paid off when their design of inflatable SUP boards was named the Number One Inflatable SUP in 2019. What an end to a decade of hard work!
Range of Products
No matter what your level of skill on the board may be, Bluefin SUP has the perfect board for you. With boards ranging from the 8-foot kids version to the 18-foot Mammoth board, you are spoiled for choice on what board is the one for you. Our board of choice was the 12-foot Cruise SUP, which we will discuss in a little more detail later on, however, we can highly recommend it for anyone.
For those who are not too sure about owning a board of your own, BluefinSUP offer a range of ex-demo boards at a massively reduced price. This means you can own a good as new board for less than half the original price, perfect for starting out and giving SUP a try.
Guide for Choosing a Board
If you are not sure which board is the one for you or are simply blinded by the wide range available, BlueFin offer a fantastic guide to which board is the best for your level and interests. This is based on the stability provided, the size of the board, what activities it is great for and the speed at which it can travel.
Read their guide over here to decide what is the best SUP board for you.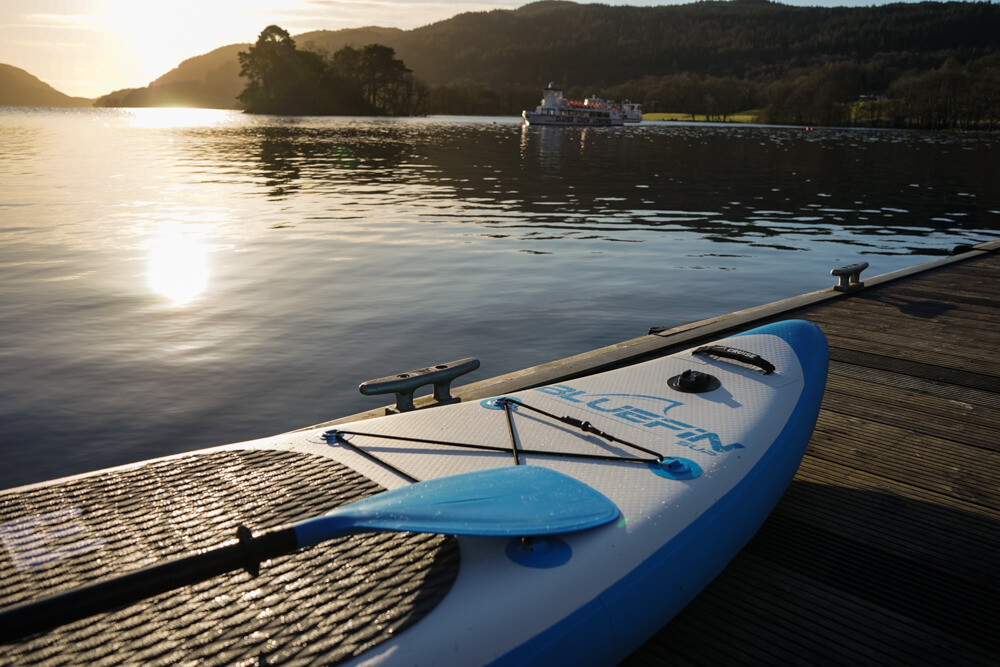 12-Foot Cruise SUP Board
So as I said before, the board we ended up getting was the medium-sized, 12-foot Cruise board fro BluefinSUP. This is a good starting point for anyone wanting to get into SUP as it has fantastic balance, is easy to set up and isn't too big, so you can transport it easily. This board is also perfect for couples, as we both managed to get out on the board at the same time.
Initial Impression and Unboxing
When the board first arrived at our door, I am not going to lie we were pretty shocked by the size of the box. It was big enough to fit a full-grown person inside and felt like it weighed not far off it either. The weight of the box was actually only 22kg, and the size of the box is larger than the actual bag due to how it is stored for delivery, which was a relief.
Once we got the box opened and everything unwrapped we were really pleased with the apparent quality, size, and weight of all of the equipment. There were also some small touches that made us really like the BluefinSUP brand, such as the free, waterproof phone casing and the easy store repair kit for the board.
Equipment Included
The full kit included the board itself, a hand pump for inflation, collapsible paddle and attachment to make kayak paddle, removable fin for the bottom, repair kit in a sealable tub, backrest to turn the board into a kayak, the aforementioned waterproof phone case, and the backpack to fit all of this into.
Some important things to note about the equipment are
the board rolls away quite easily and comes with a strap to secure it in the bag
the hand pump pipe disconnects for easier storage
the hand pump also has a pressure gauge on it to assist in achieving the required pressure of the board
the bag is equivalent to the size of a 70L backpack and has hip straps for easy carrying
the board comes with a built-in GoPro mount so you don't need to attach one
Quality of Material
The first thing that we noticed about all of the equipment was the high quality of the material. Although it is most likely what contributes to the impressively heavyweight of 22kgs, the material of the board is extremely tough. There is not much chance of puncturing the board unless you are either very, very unlucky or equally dedicated to doing so.
The collapsible paddles are all designed to clip and clamp onto each other, meaning you are not going to find yourself up any creeks without one. Also, the GoPro clip is sealed onto the material itself, meaning you are not going to find yourself going swimming in search of a lost camera.
The bag itself is, unfortunately, showing signs of ageing already, with the zip coming apart on one corner. Whether this is a fault or a result of my admittedly heavy-handedness is up for discussion, however, we must advise that you take care with the zips and don't punish them.
Overall, we were very impressed by the feel, quality, and design of the equipment provided by this kit and expect it to last for a good few years.
First Time Using It
Getting it out into the wild, ready for your first paddle is always an exciting time and we decided to make our first voyage on the Bonnie Banks of Loch Lomond in Scotland. The bag was easy to transport from the car to the beach and unwrapping it was even easier. The hard part comes when it is time to pump the board up, as you have to reach a recommended minimum pressure of 15psi.
It is likely to take you 10-15 minutes from unzipping to paddling, by the time you get the equipment set up and then get the board up to pressure, so make sure you account for this time. The pumping up of the board also doubles as an excellent warm-up activity before you get out on the water.
Collapsing the board down again takes around the same time as the set up. There is a quick-release air valve where you plug in to pump up, such that you only need to press it in and the board will be flat in a matter of seconds. In order to wrap it up as tight as you can, you will need to fold it slowly and patiently, beginning at the end opposite to the air valve and making sure to push all of the air out of each segment between folds.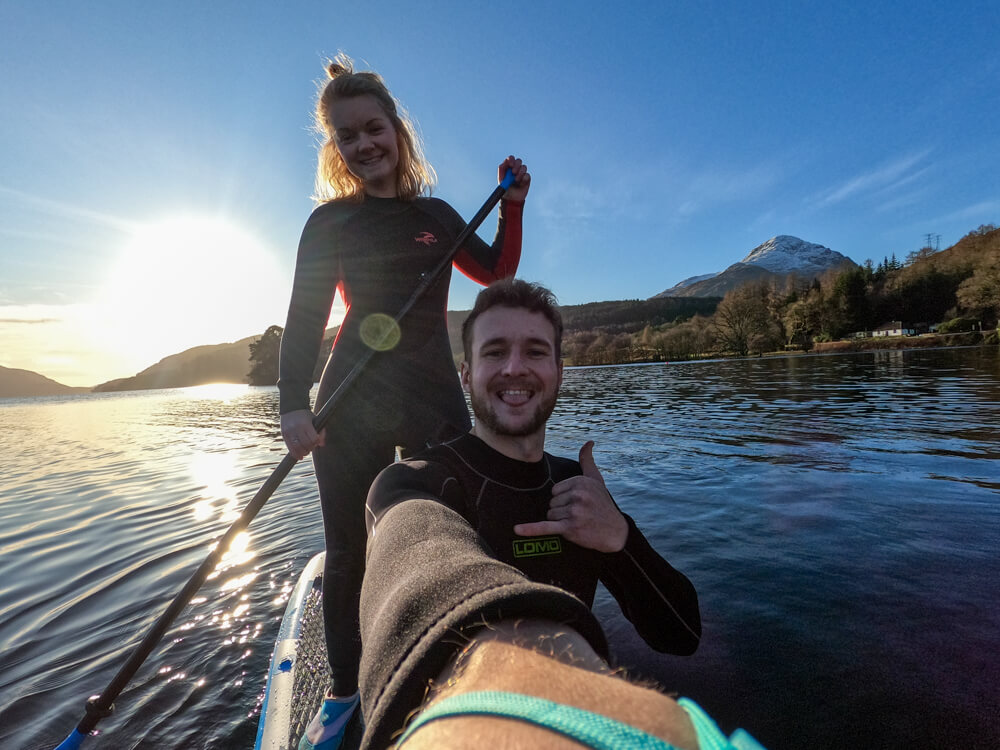 Overall Review
Ever since we first tried paddleboarding on Lake Bled in Slovenia, we had always wanted to give it another shot. Thanks to BluefinSUP we were able to do just that in some of our favourite places around Scotland. It is a sport that is perfect for people of all ages, abilities and interests and is something that we always look forward to doing again.
The equipment supplied by BluefinSUP is of excellent and reliable quality, complete with thoughtful touches and genius additions. We highly recommend the 12-foot Cruise SUP to anyone that is new to paddleboarding or to couples who are wanting to spend some time in nature together.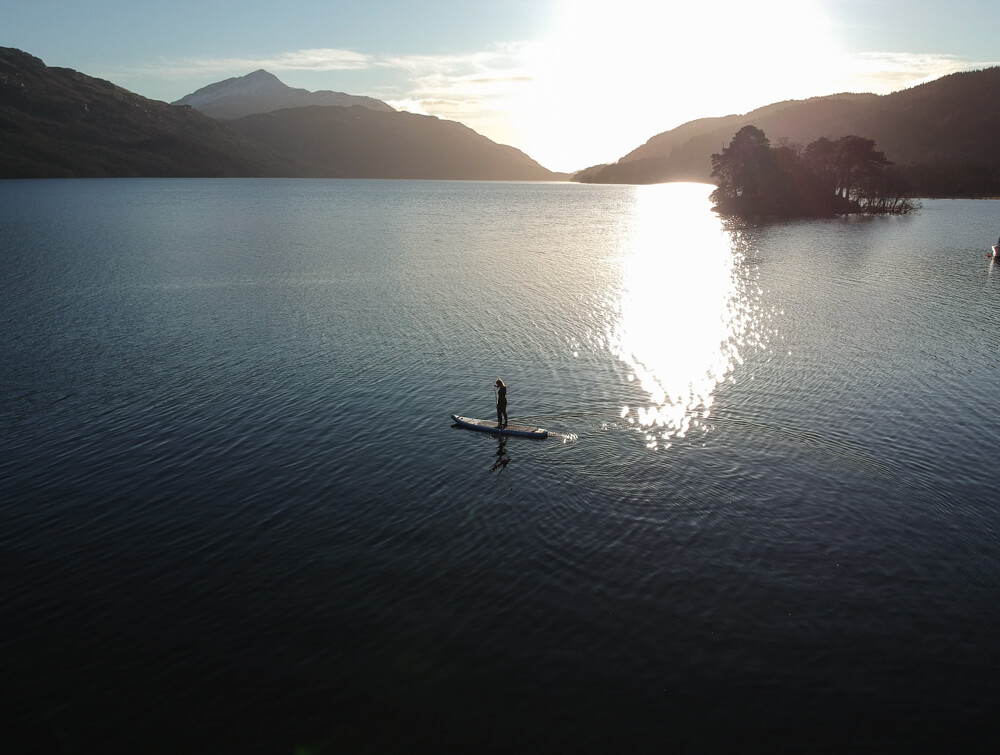 So there you have it, all you need to know about the 12-foot Cruise SUP by BluefinSUP. Don't waste any more time and get out on the water this weekend on a SUP of your own. Do you have a SUP of your own? Are you unsure what board is the best for you? Do you have any recommendations for SUP locations that we need to try? Let us know in the comments section below. We just love talking about this kind of thing.
Also, remember to share this with your friends and family to get them inspired to try SUP as well. Sharing is caring and we want to show as many people as we can how beautiful Scotland is.
If you are planning a Scotland trip soon then check out our other Scotland content right here. Come and find us on social media to see where we are currently exploring. Tag us in your photos from your SUP adventure and we will share them with the rest of our community of explorers and backpackers.
Now Read:
This article may contain affiliate links that provide us with a small income. For more information read our Affiliate page.
---
Pin it for later!