This article was written in partnership with BlueFinSUP in exchange for gifted items. Rest assured all of the content below is accurate and true to the beliefs and opinions we hold for this sport and these places. 
One of the fastest-growing past-times in the world is making waves (quite literally) across Scotland's still waters and blissful lochs. Whether you are a paddle boarding expert or have yet to give SUP a shot, the beautiful glens and deep lochs of the Scottish highlands are the perfect places to get out on your board. With so many bodies of water spread across the length of Scotland, the most difficult part about paddle boarding in Scotland is deciding just where to go!
To help you get out and about this year, exploring the most beautiful parts of Scotland from the peace and tranquility of a paddle board, we have put together a list of our favourite places for paddle boarding in West Scotland.
Get planning your ultimate Scotland Road Trip with our 10-day Scotland itinerary to all the best sights!
No time to read now? No problem, save a pin to your Pinterest board for later!
Below is a list of the amazing places to try SUP in Scotland, all of which will be discussed in greater detail later in the article.
Luss – Loch Lomond
Inveruglas – Loch Lomond
Castle Stalker – Loch Linnhe
Bridge of Orchy – Loch Tulla
Eilean Donan Castle – Loch Duich
Loch Lomond Shores – Loch Lomond
Corpach – Loch Eil
7 Amazing Places for Stand-Up Paddle Boarding in West Scotland
Paddle Boarding in Scotland
With the beautiful scenery, sheltered conditions from towering mountains and the bountiful supply of water (thanks to the 250 days of rain a year), Scotland is the perfect country to give SUP a shot. Although it may not have the warmest waters, with the average sea temperature sitting below 20oC, the popularity for SUP in Scotland is ever-present thanks to the magnificent scenery it has to offer.
There are loads of great quality and affordable paddle boards on offer online, all of which are perfect to start you off.
What is Stand-Up Paddle Boarding?
Stand-Up Paddle Boarding differs from the more conventional sport of paddle boarding in one very obvious way (it's right there in the name..). With the help of a much bigger board and a good amount of core strength, the participant stands up on the board and uses a single, long paddle to propel themselves through the water.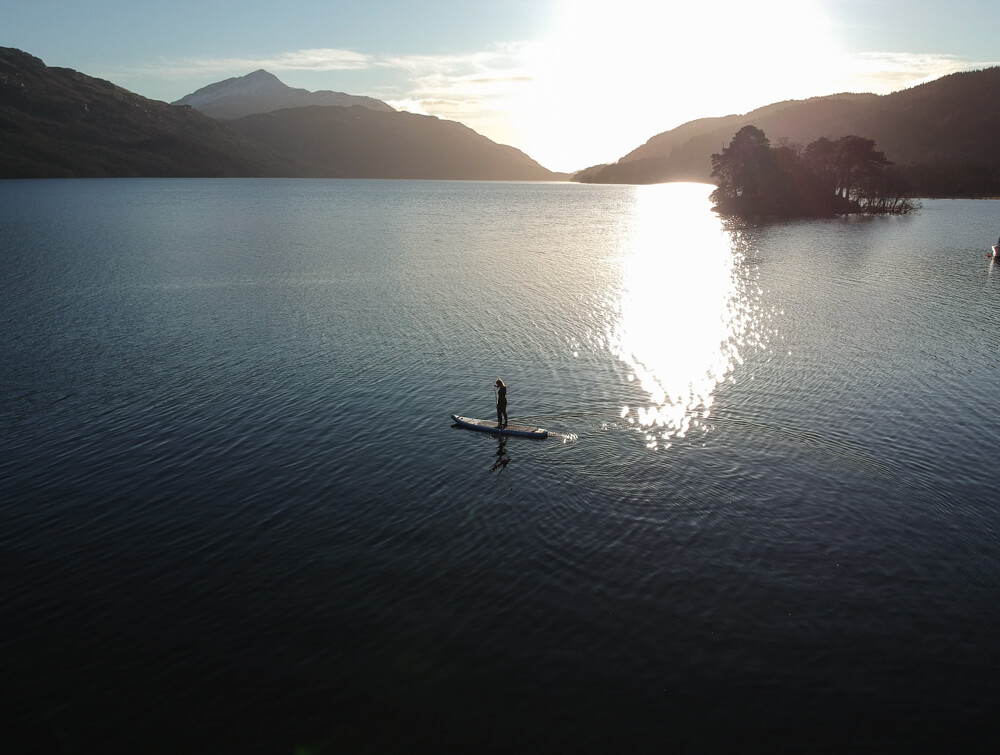 Why Choose Stand-Up Paddle Boarding?
Out of the many reasons that SUP is a fantastic sport to try, the main one that attracts so many outdoor enthusiasts is how achievable it is. With varying sizes of boards, it is possible to get a SUP is a sport that is easy to pick up and can gradually become more difficult as the user improves. If you are new to the sport and do not have the best balance, the best thing about SUp is that you can start off kneeling down and gradually transition to standing up over time.
Compared to simple paddle boarding, SUP allows the user to have a much higher perspective over the water on the board. This gives you a much better view of your surroundings, makes it easier to chat with other boarders and also gives you a better view of what is under the water.
Where to Get Your SUP?
If you do not have your own SUP yet but would like to give it a shot, you can either choose to buy your own or rent one to see how you enjoy it. Due to the high popularity of the sport across Scotland, there is a huge range of rental companies all across the highlands. Wherever you plan on visiting for your SUP adventure you will be sure to find a rental board.
If you are looking to buy a SUP board of your own, Bluefin SUP is a fantastic place to look. No matter what your skills level, choice of size or budget may be, BlueFin is sure to have the board for you. They even offer ex-demo boards at a massively discounted rate for people who are not bothered about brand new equipment.
We would personally recommend an inflatable board for your trips away in Scotland, simply due to how practical they are. Inflatable SUPs allow you to pack a board of any size into a small car and then, in a matter of minutes, unpack and set up at a location of your choosing.
Read our full review of our inflatable, 12ft Cruise Board for all the information you need to know.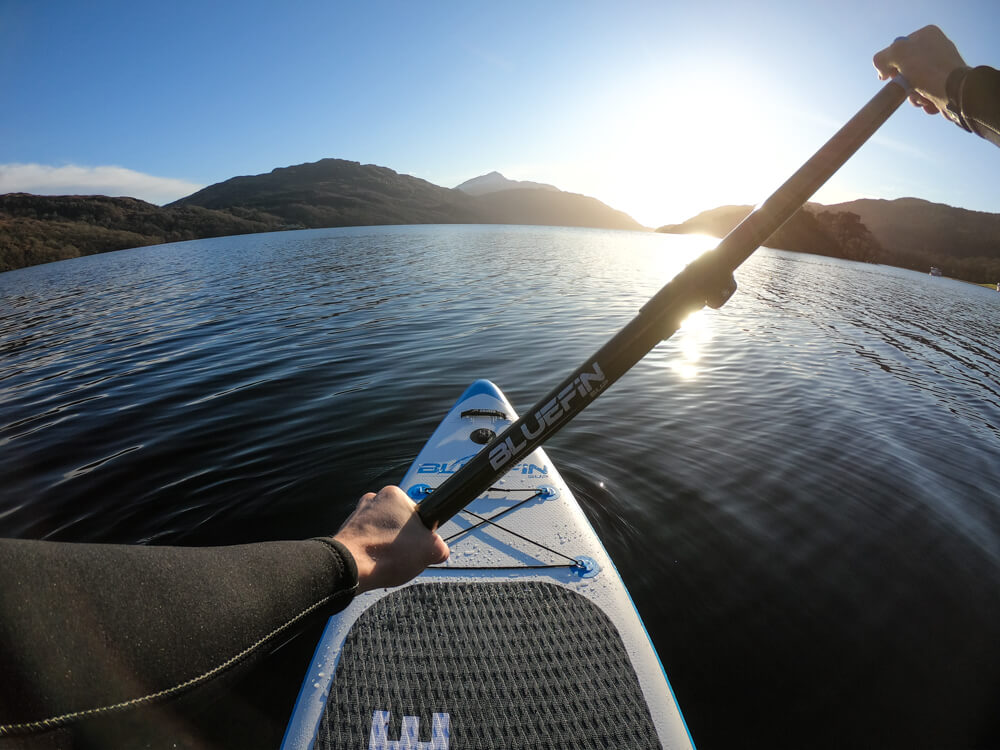 Best SUP Locations in West Scotland
Our list of amazing paddle boarding locations is spread along the west coast of Scotland, travelling north from Loch Lomond to the Isle of Skye. These are all special places due to either their sheltered bays, stunning backdrop or unique sights in the area.
Luss – Loch Lomond
The most southerly point of interest in our list is at the small town of Luss on the banks of Loch Lomond. This town is an incredibly popular swimming spot for crowds of people during the summer months and even for the hardier souls during the winter.
With a stone beach, sheltered by overhanging trees, it is easy to set up your board and get your wetsuit on and ready. The car park is a mere 20m from the water's edge and there is a gentle slope into the water, making this spot perfect for setting sail on the calm waters of Loch Lomond.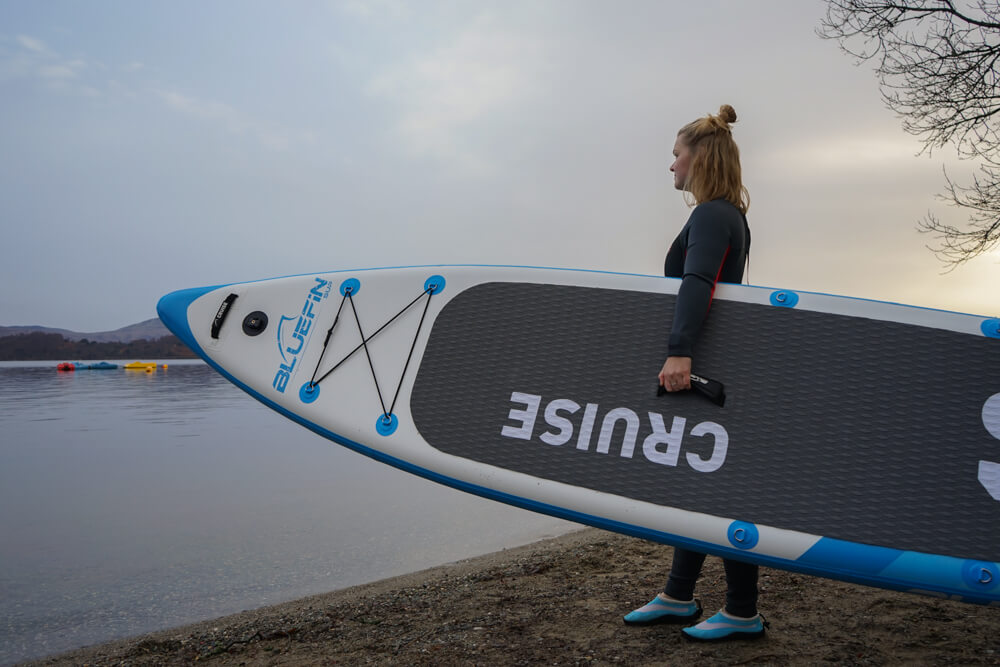 There is a year-round parking charge for parking at Luss, costing £1 per hour. Since this is such a popular spot for tourists and locals, we would highly recommend paying this fee to avoid fines.
Once you are finished on the water there are a few choices of warming cafes where you can heat up and grab a bite to eat. These are all located right beside the car park, just a 2-minute walk from the water. Our favourite choice of a cafe in Luss is the Village Rest, sitting at the end of Pier Road, although the Loch Lomond Arms is also a nice place to eat.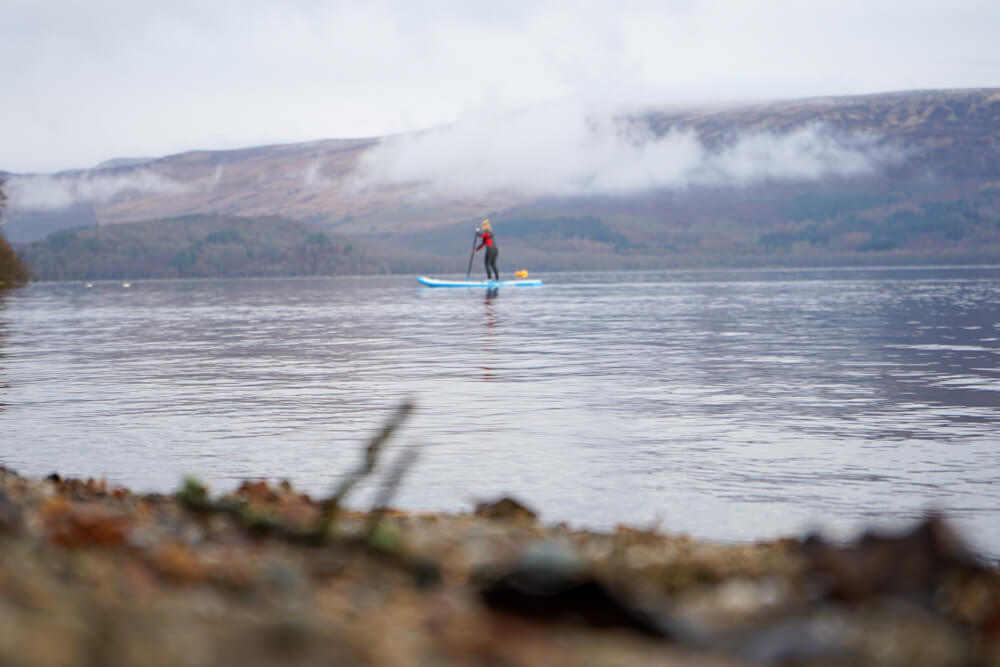 Inveruglas – Loch Lomond
A much quieter spot for paddle boarding on Loch Lomond is around mid-way up the western coast. Tucked away beneath the towering mountains and impressive sight of the Inveruglas Hydro Station is the small cafe and visitor centre at Inveruglas. As you enter the car park of the visitor centre, you will see a floating pontoon where boats are normally launched, this is the perfect spot to set out on your paddle board.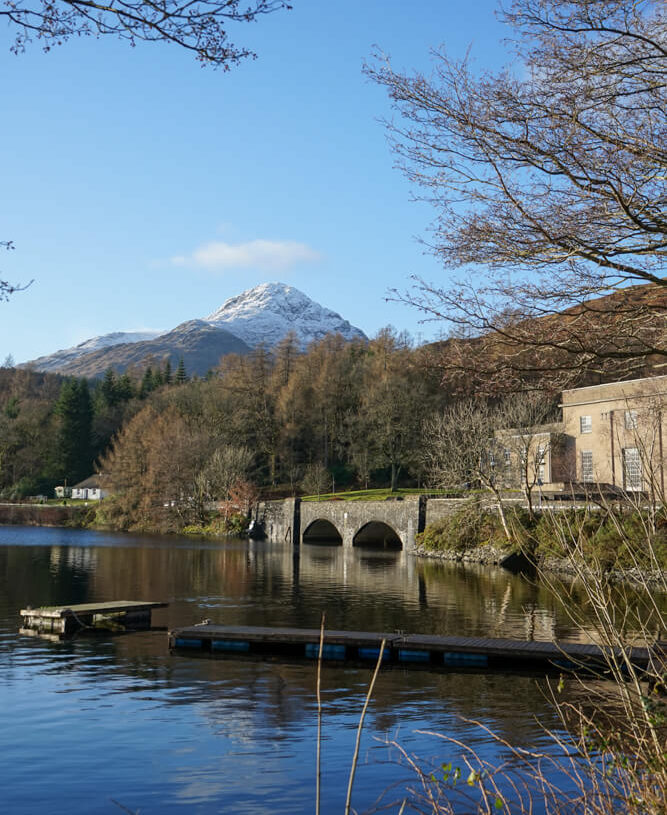 Once again, during the summer months, this area becomes much busier, with frequent tour buses making stops and boart cruises setting sail from this dock throughout the day. If you wish to have a peaceful SUP then we recommend you either visit early in the morning or during the winter months.
Getting onto your SUP is a little more tricky at this point as you will be stepping onto it from the side of the floating pontoon, however, this also means you do not need to worry about getting wet feet.
Once again there is a parking fee at this car park, charging roughly £1 per hour. There is also a cafe inside the visitor centre that is perfect for warming up and getting refuelled before your next stop.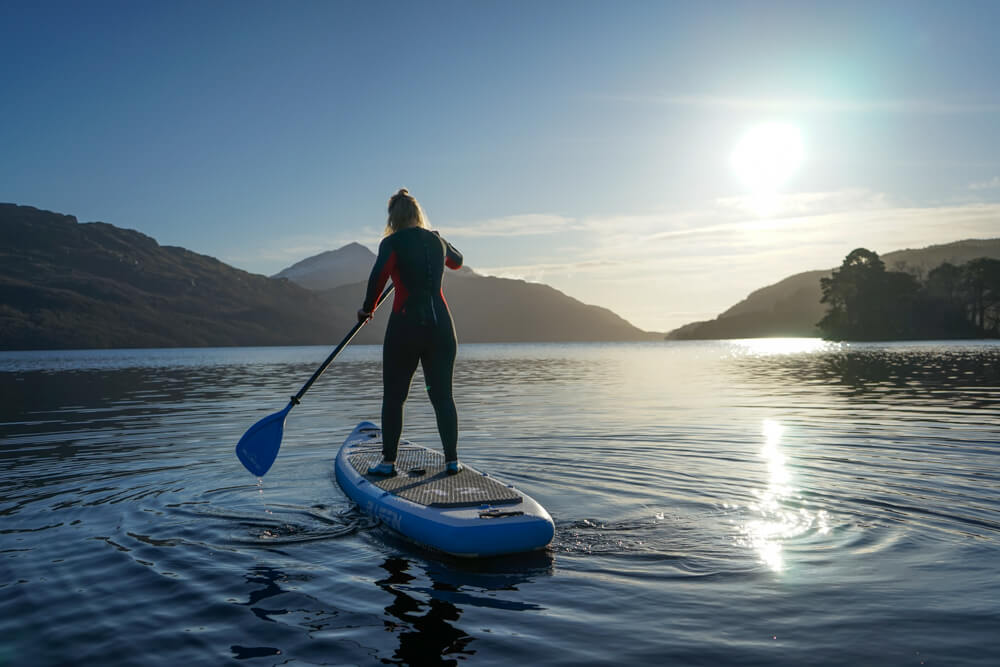 A new addition to the Inveruglas visitor centre is the An Ceann Mor (also known as the Inveruglas Pyramid). Opened in 2015, this 8-metre tall viewing platform makes the most of the spectacular loch views in this area, with easily accessible stairs and railings leading up to a free pair of binoculars at the top. After you are finished out on the water, take a walk through the small, wooded area behind the visitor centre and enjoy the best view of Loch Lomond in this area.
Castle Stalker – Loch Linnhe
South of the northern town of Glencoe is one of Scotland's more picturesque castles, Castle Stalker. This privately-owned, renovated castle ruin sits just off the shoreline of Loch Linnhe, making it inaccessible apart from by boat. Given that it is still occupied by the residents, we ask that you respect the privacy of the family ad simply admire the castle from afar unless you book onto a private tour.
To paddle board on Loch Linnhe with a view of the castle, you have two options. One is to park up at the Castle Stalker View Cafe or the Old Inn to park your vehicle and set off on foot. From the Old Inn, you will walk towards the cycle path and then turn right to find the boathouse. This is a good spot to set up and get paddling.
Other than that, there is another option to get out on the water, however, this one requires a little more walking. Follow signs for the Jubilee Bridge and you will eventually find a small car park on your right, with room for maybe 4 cars. From here you can walk around the shoreline to the left until you reach the closest point to the castle and get your board ready. At low tide, this option isn't suitable as the water recedes to leave a muddy shoreline that will get you rather stuck.
Once you are finished out on the water, the Castle Stalker View Cafe is the perfect place to go for a warming drink and a bite to eat.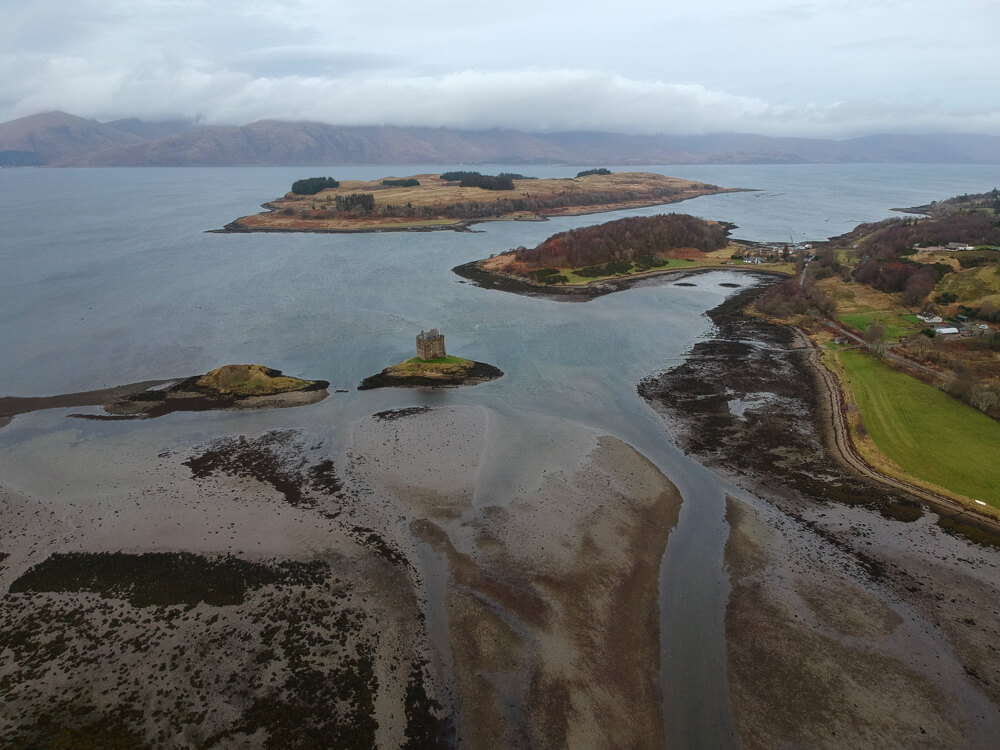 Bridge of Orchy – Loch Tulla
One of Scotland's most breathtaking drives takes you between the small towns of Bridge of Orchy and Glencoe. Sitting right on the side of the road of this incredible road trip is the small and tranquil Loch Tulla. Surrounded by towering mountains, this peaceful spot makes a truly beautiful SUP experience.
Just after you pass through the small village of Bridge of Orchy, you will soon approach the shores of Loch Tulla. On the side of the road, you will see numerous places that are suitable for pulling in to stop, mainly used by people admiring the incredible scenery. Park up here and get your wetsuit on before you head to the water's edge.
It is a little bit of a walk to the Loch itself, varying depending on where exactly you choose to park, however, the view along the way is worth it.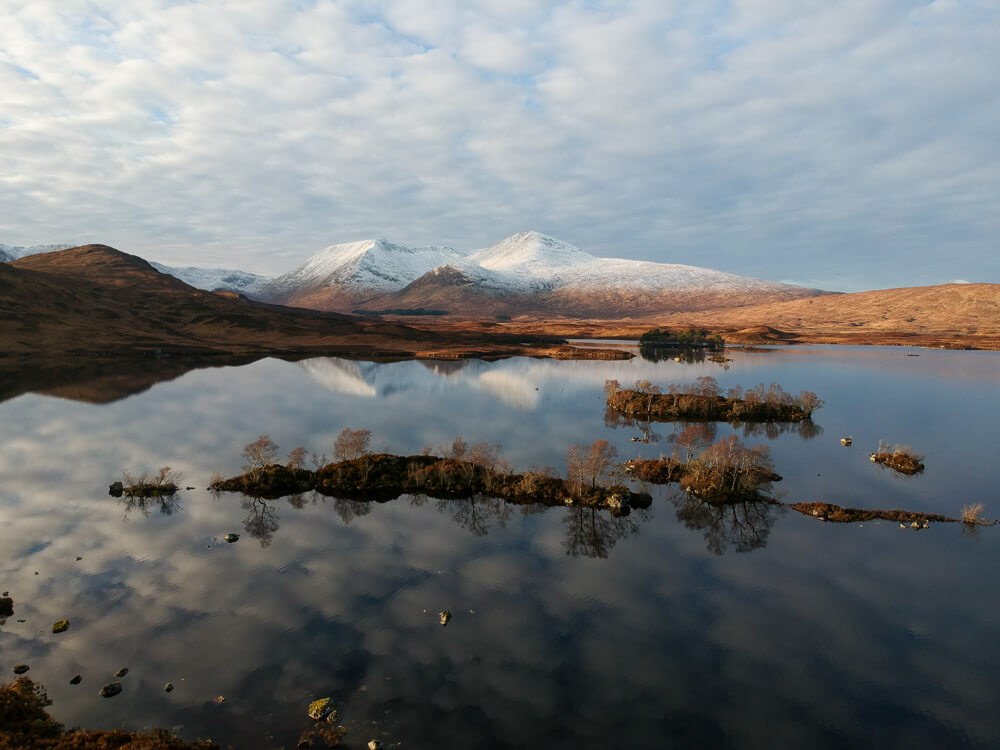 After you have finished on Loch Tulla, you have a couple of options for places to heat up and enjoy a drink. Back in Bridge of Orchy you have the cosy pub and restaurant in the Bridge of Orchy Hotel. If you continue towards Glen Etive you will pass by the famous King's House Hotel, which has spectacular views of one of Scotland's most picturesque mountains, the Bouchaille Etive Mor.
Eilean Donan Castle – Loch Duich
Further north of Glencoe sits Scotland's most photographed castle, the stunning Eilean Donan Castle. This castle has been made famous due to the high number of Hollywood films it features, such as James Bond and Highlander. It is easy to see why this castle was chosen for such movies as the view of the beautifully restored building, floating out on the water with spectacular scenery all around is simply magnificent.
There is, of course, a bridge to access the castle grounds themselves, however, if you are wishing to paddle board over to the castle then you can do so from the Eilean Tioram peninsula. This small piece of land is on the other side of the nearby car bridge to Eilean Donan Castle, where you can find parking and a small boat ramp leading to the water. From this car park, the castle lies about 400m across the water, so it is a fair distance to paddle, however, the view while you are doing so is worth it.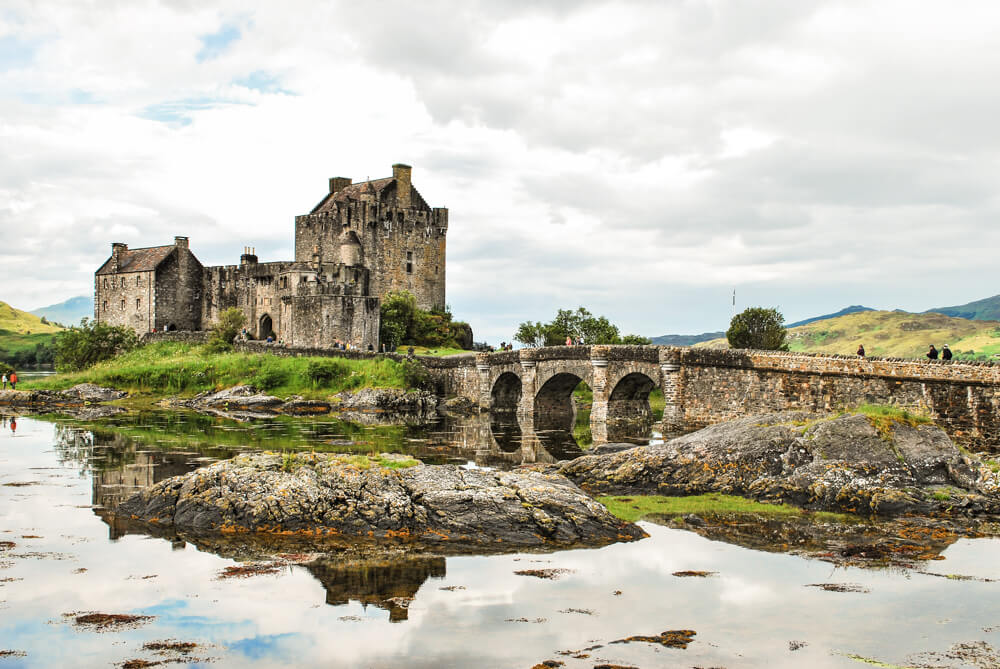 After you are finished on the water, the All the Goodness Coffee and Bake Shop is the perfect place to enjoy a warming drink with a view of the castle and surroundings. This is situated beside the car park across the car bridge from Eilean Donan.
Loch Lomond Shores – Loch Lomond
Sitting at the very south of Loch Lomond, Loch Lomond Shores is a beautifully located shopping complex with food, drinks, entertainment, and clothes shopping. It also features a sheltered bay that is perfect for paddle boarding and other water activities. The large car park at the shopping centre is also free to use, which is a bonus.
This is the best paddle boarding spot in the West of Scotland if you are heading from Glasgow, as it sits just half an hour from the city and you are surrounded by beautiful views.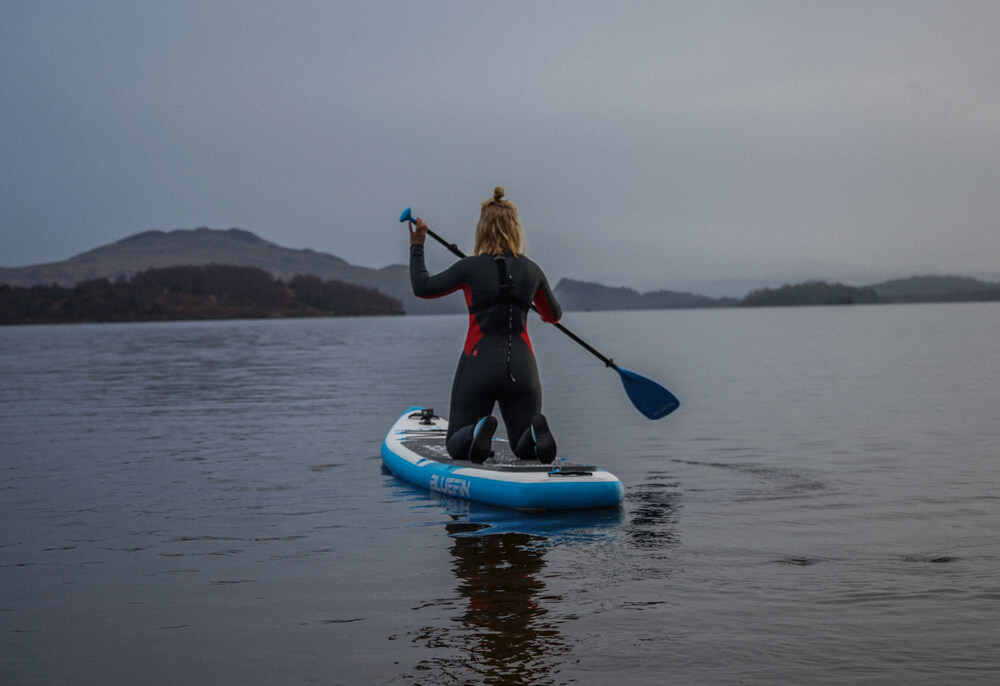 From the car park, you can head to two different spots to reach the water. Either follow the shopping centre and the marina bay around. past the SeaLife centre and you will reach the sheltered bay that is usually filled with paddle boats and lots of ducks. You can either launch off from this area or head further round to the end of the path for a quieter area.
Your other option is to take a left through the forest when you reach the shopping centre. This will take you to a sheltered picnic area that also leads on to another sheltered bay full of paddle boats and yachts.
These locations are both very similar and there is no real advantage with either of them.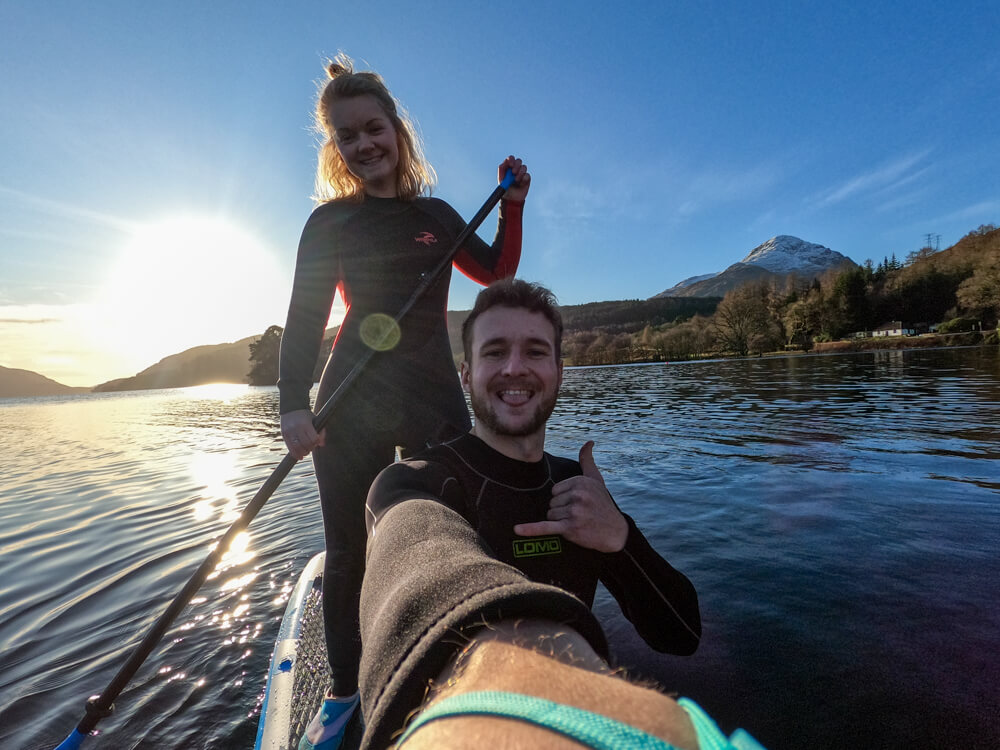 Once you are finished on the water, you are truly spoilt for choice for places to warm up and enjoy a meal at the Loch Lomond Shores centre. You can either choose from the cafes in the centre itself or if you fancy a cheap meal head out of the centre and find the Queen of the Loch restaurant.
Corpach – Loch Eil
Our final spot for paddle boarding on Loch Lomond offers one of the most unique views you will experience in all of Scotland. Picture the towering mountain of Ben Nevis, covered by a dusting of snow and a shadow of clouds, then imagine paddle boarding beneath it on the still waters of Loch Eil, and to top it all off throw in the wreck of an old shipping boat!
This is what you will find at the small town of Corpach, just outside of Fort William. The boat in question is formerly known as the Corpach Shipwreck or the Old Boat of Caol and is one of the most beautiful sights in the area, thanks to the rugged views of Ben Nevis as a backdrop.
Read our full guide to the Corpach Shipwreck for all the information you need about how to find it and its history.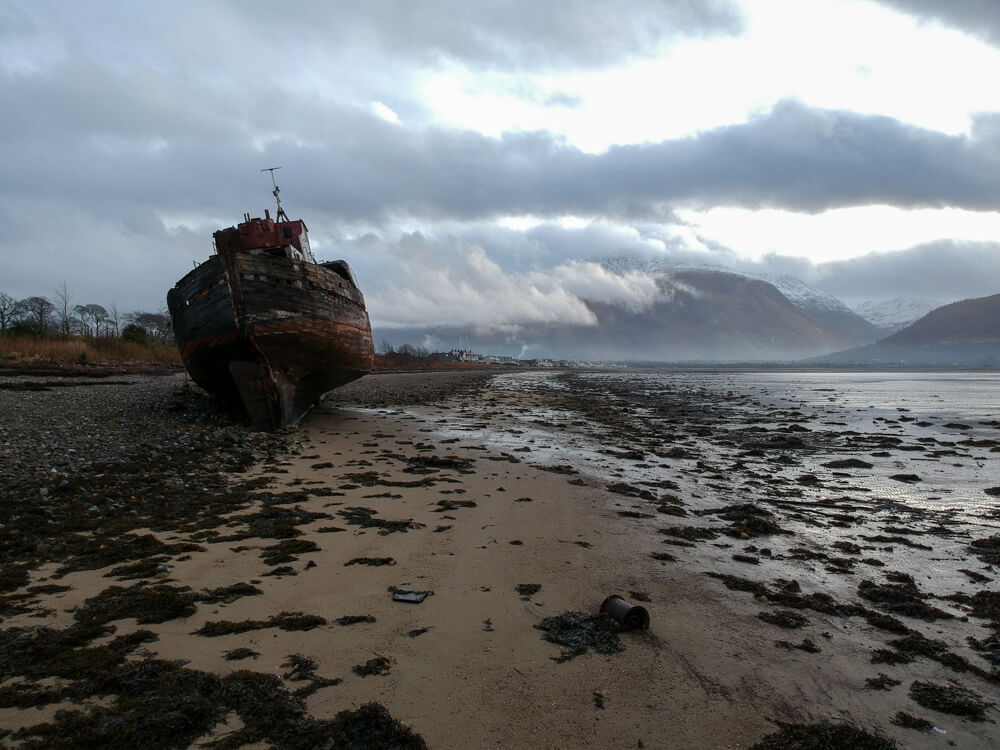 To reach the boat, the best place to park is at the harbour beside the Corpach train station. From here you can walk across the canal locks to reach the beach, where you can walk down the steep hill onto the stones themselves. You will be able to see the boat once you are onto the beach, so it is up to you whether you walk closer or head straight to the water.
If you wish to get up close and personal with the boat you will need to follow the footpath beside the canal locks until you cross a bridge, as the beach is impassable due to a river that runs across it. Once you cross the footbridge you can head down onto the beach and find the Corpach Shipwreck on the shores of the loch.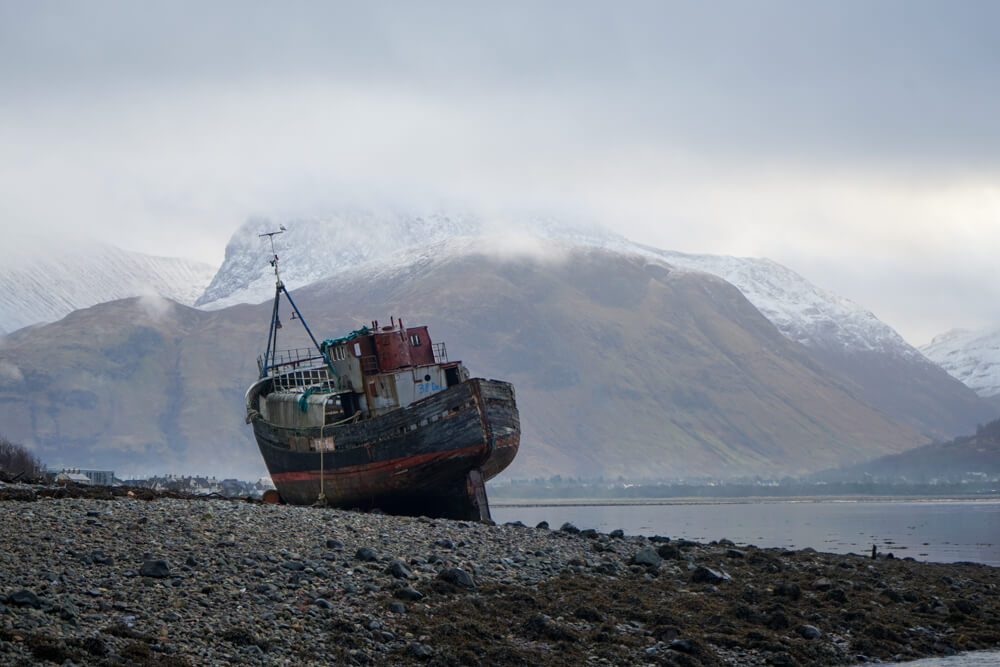 After you are finished on the water, the best place to head for a warming drink is into the town of Fort William itself. If you park in the carpark of the large shop by the train station you can walk to the high street in about 5 minutes. Here you have a choice of cute cafes and warming pubs to get a drink and a meal.
Before You Go Paddle Boarding in Scotland
Before you set off on your SUP adventure, there are a few things that you will need to get organised to ensure a smooth and enjoyable journey. These include what to pack, where to stay and what travel insurance to get.
What to Pack for SUP in Scotland
Given the colder climate of Scotland and the low temperatures of the water across the highland, our number one recommendation for packing for SUP is a wetsuit. The water across Scotland rarely gets to 20oC, with in-land lochs being even colder as the water comes from high up on the mountains.
If you are skilled enough to know that you will not end up in the water then you may not need one, however, if you are new to the sport like us then a good wetsuit is recommended.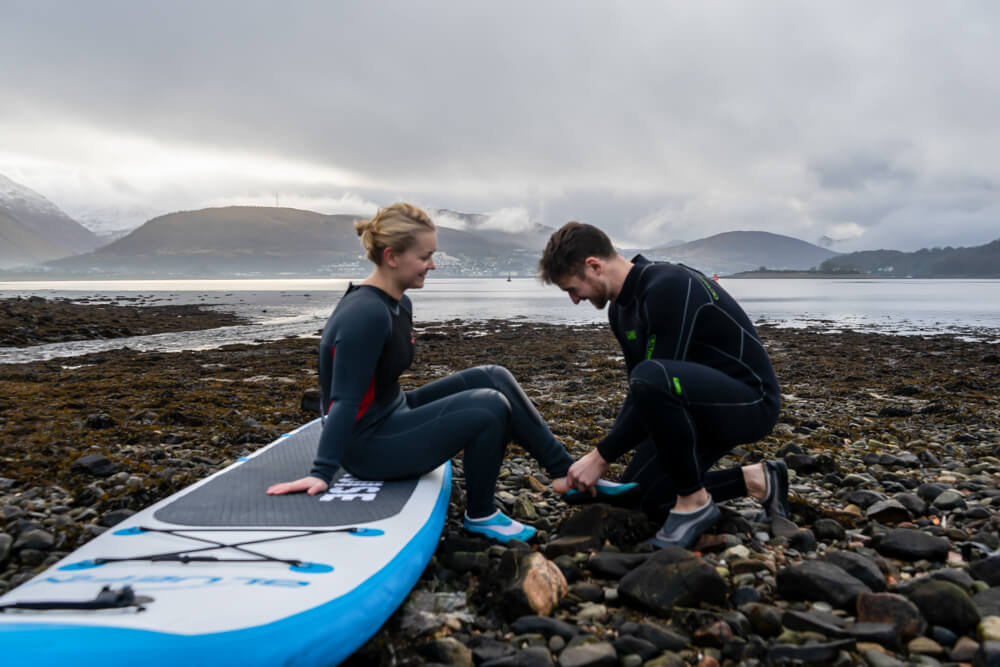 The Regatta Pack It Jacket III is an excellent, cheap and durable waterproof for your outdoor expedition.
Check out what other waterproofs are available and compare prices right here.
Apart from that, packing for Scotland can be quite tricky, as even in the warmer months the weather can prove unpredictable. For outdoor sports such as SUP, we recommend that you pack with layers in mind. This means a lot of thin layers that you can double and triple up to stop the wind from getting to your body.
If you would like more packing tips and a full list of what we pack for summer and winter trips, read our full packing guides over here.
Given the beautiful sights and scenery that you are no doubt going to see around the West Coast of Scotland, we highly recommend packing a good camera for your trip. If you want to read more about the cameras we use and why we love them, check out the link below.
You can read what else we keep in our camera bag over here.
Best Travel Insurance for Scotland
I know travel insurance is the least enjoyable thing to purchase and look at when you're planning a trip, however, you wouldn't want to be without it in the event that something happened. Accidents can happen anywhere and the extortionate medical bills will ruin your trip if you are not covered.
To ensure you have a stress-free trip with no worries about potential medical bills, make sure you cover yourself when you travel. We can recommend using SafetyWing, a backpacker-friendly and cheap insurance company that provides good coverage and support. It is also nomad-friendly, unlike most other insurance companies, meaning you do not need to worry about being out of your home country for too long.
Get a quote for your travel insurance right here and get covered!
Where to Stay in Scotland
Given how spread out these locations are, we would not suggest one place for all of the above paddle boarding spots. Instead, here are our recommendations for the best places to stay for each of the different locations.
Fort William
To access Corpach, Castle Stalker, Bridge of Orchy and Eilean Donan Castle, a good base camp will be the town of Fort William. This is a pretty central location in the western highlands and can reach each of these spots in less than 2hours.
Luxury – Offering world-class service on the banks of Loch Linnhe, the beautiful Ardrhu House Hotel sits just south of the town of Fort William. With free bike rentals, free parking and even access to a private beach this hotel have everything you need for a luxurious stay in the Fort William region.
Book your stay at the Ardrhu House Hotel right here.
Mid-range – Just 1-mile from Fort William is the luxurious Ben Nevis Hotel and Leisure Club. This Hotel as a bar, restaurant and free access to the heated swimming pool. It is also within walking distance of the town centre of Fort William, so is perfect if you wish to explore this beautiful part of Scotland.
Book your stay at the Ben Nevis Hotel and Leisure Club right here.
Budget – Situated right beside the beautiful Neptune's Staircase canal locks, the Chase the Goose Hostel is a perfect budget choice for accommodation. With beautiful views of Ben Nevis, this hostel is within walking distance of the many pubs and restaurants in Fort William's town centre.
Book your stay at the Chase the Goose Hostel right here.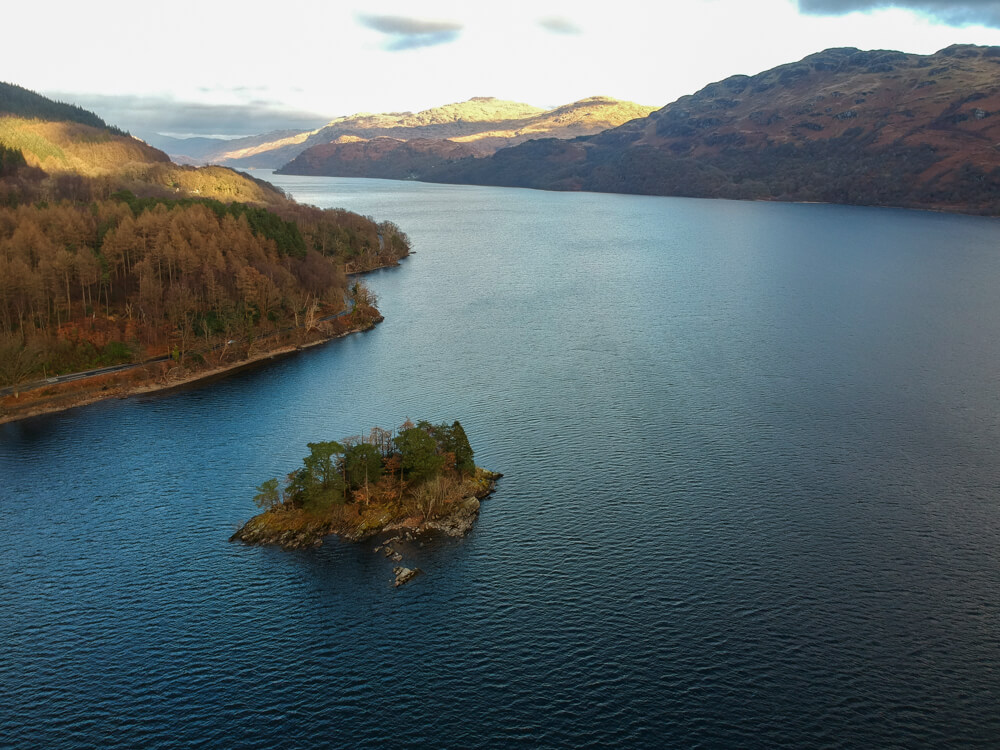 Loch Lomond
As for Loch Lomond Shores, Luss and Inveruglas, there are lots of options for accommodation along the length of Loch Lomond itself. From anywhere on the western shore, you will be able to reach each of these spots in less than an hour.
Luxury – With stunning views of Loch Lomond right on your doorstep, Castle Steadings is a beautiful place to rest your head. Situated just south of the lochside town of Balloch, this luxury villa offers a private space to relax and enjoy the Scottish highlands.
Book your stay at Castle Steadings right here.
Mid-range – With the Balmaha beach just a stone's throw away, the Balmaha Inn Bed and Breakfast is a gorgeous location for your stay near to Loch Lomond. Once again situated on the southern coast of Loch Lomond, this hotel offers private rooms and breakfast inclusions for your SUP adventure.
Book your stay at Balmaha Inn Bed and Breakfast right here.
Budget – As for budget accommodation, the best, affordable and comfortable accommodation that is close to the west banks of Loch Lomond is the Three Lochs Hostel. Just 11 miles from Loch Lomond Shores, this is your best choice for cheap and luxurious accommodation on the western shores.
Book your stay at  Three Lochs Hostel right here.
If camping is more your style, read our full guide to wild camping, including all you will need to pack for a trip to the highlands.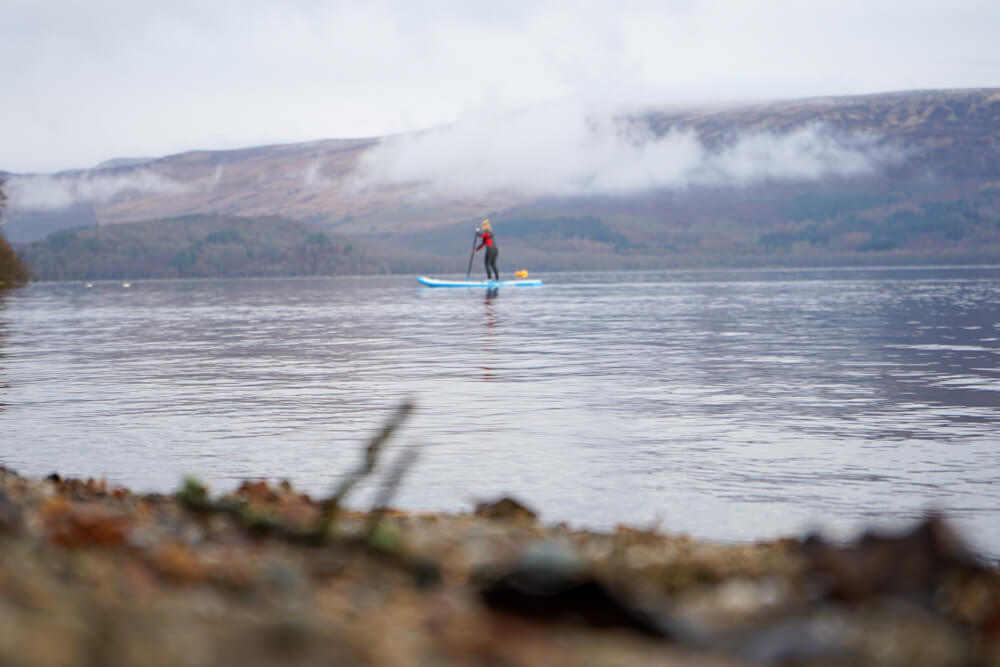 So there you have it, the best places for paddle boarding in West Scotland. If you are like us and love the SUP life as well, leave us a comment down below. We love to chat about this stuff! What are your favourite spots in Scotland? Did we miss any out in West Scotland? Let us know in the comments below!
Also, remember to share this with your friends and family to get them inspired to try SUP as well. Sharing is caring and we want to show as many people as we can how beautiful Scotland is.
If you are planning a Scotland trip soon then check out our other Scotland content right here. Come and find us on social media to see where we are currently exploring. Tag us in your photos from your SUP adventure and we will share them with the rest of our community of explorers and backpackers.
Read Now:
This article may contain affiliate links that provide us with a small income. For more information read our Affiliate page.
Pin it for later!