Serene surroundings, azure water, a vast stretch of sand, and the astonishing sunsets and sunrises, that's a beach for anyone, right?
Sitting on the north coast of mainland Scotland, Ceannabeinne Beach is a spot that you certainly don't want to miss.
Ceannabeinne Beach is located underneath Beinn Ceannabeinne, a mountain with an elevation of 383 metres. There is a sloped cliff face that is steep and grassy that provides the access to this stretch of sand.
With that being said, let's dive deeper into this amazing tourist spot to help you make the most out of your Ceannabeinne Beach visit. 
No time to read now? No problem, save a pin to your Pinterest board for later!
Ceannabeinne Beach is one of the most beautiful and popular beaches on the NC500. In this guide, we will discuss the best time to visit Ceannabeinne Beach as well as the following
Best time to visit Ceannabeinne Beach

Wild Camping on Ceannabeinne Beach

What to Expect at Ceannabeinne Beach

Things to do near Ceannabeinne Beach

Preparing for your trip to the NC500.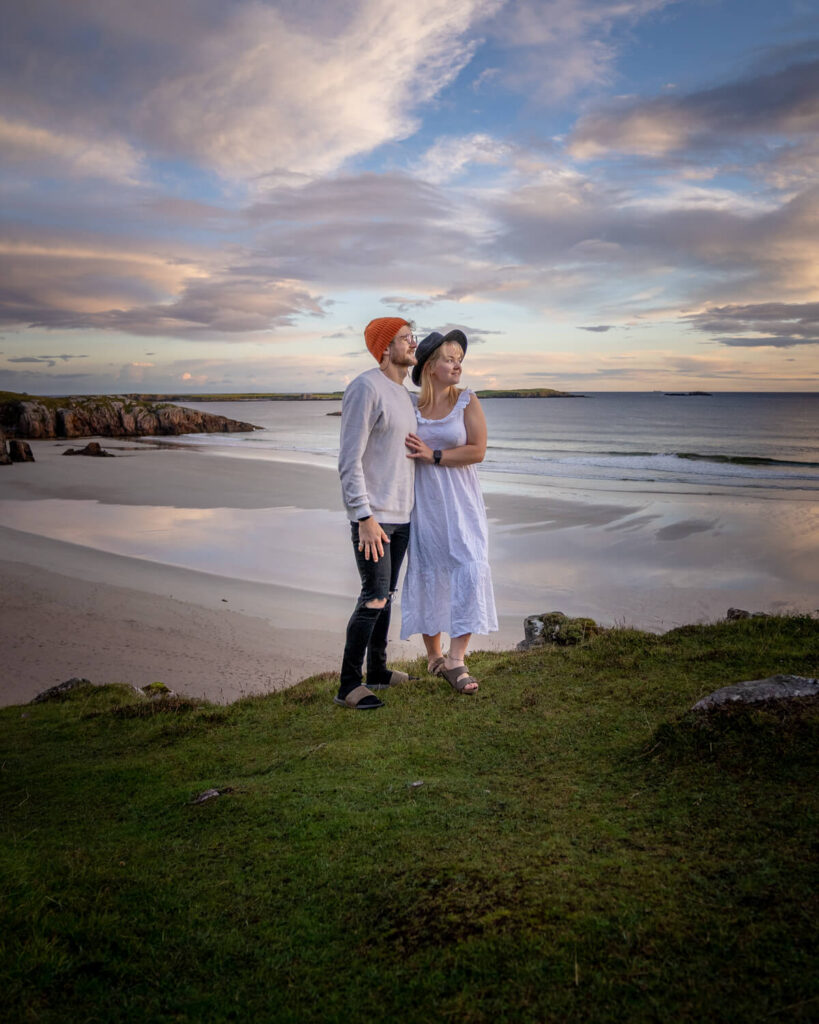 Best Time to Visit Ceannabeinne Beach
Scotland is one of those countries that is ideal to explore any time of the year. From November to February, the country witnesses the winter season. The temperature during these months varies from fairly cold to extremely chilled with snow. This is the time when a lot of travellers prefer to visit the North Coast 500 due to the route being quieter but most likely not to sunbathe on the beaches.
The spring season begins in the month of March and lasts until April. Though the weather remains quite pleasant during this time. The mountains still remain quite cold while snow still covers the peaks.
Now talking about Ceannabeinne, one of the best NC500 beaches, well, the best time to visit the beach is the summer months, i.e., July to August. This is the time when the temperature is averaging at around 19°C.
This is also the busiest time of the year in Scotland. The temperature remains fairly hot and hence, the perfect time to take a dip into the waters of Ceannabeinne Beach.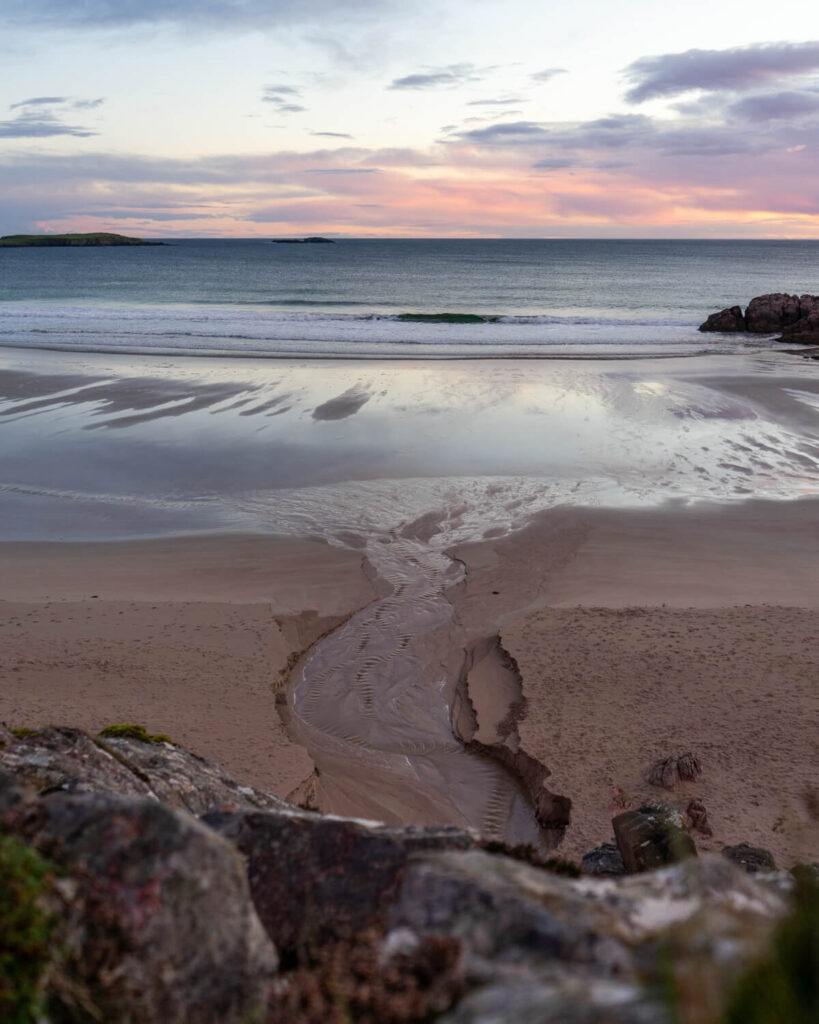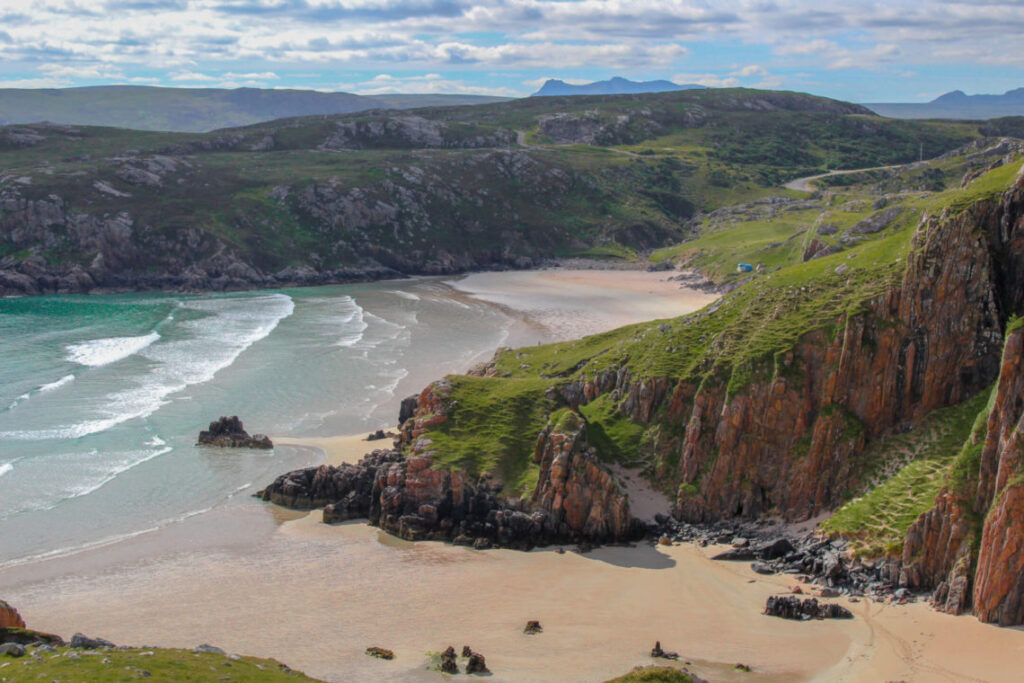 What can You Expect at Ceannabeinne Beach?
Ceannabeinne Beach is one of the most beautiful beaches on the North Coast 500. As you leave the beautiful mountainous scenery surrounding Loch Eribol, you will be met with a gorgeous white sandy beach sitting beneath the cliffs. There is a small car park on the left-hand side of the road, which is often full.
The roads around this area are single track and traffic can often build up during the peak season.
Ceannabeinne Beach was once known as Traigh Alt Chailgeag which translates to "the beach of the burn of bereavement and death".
The legend has it there was a lady who died as a result of falling in the burn and she was found here at this beach.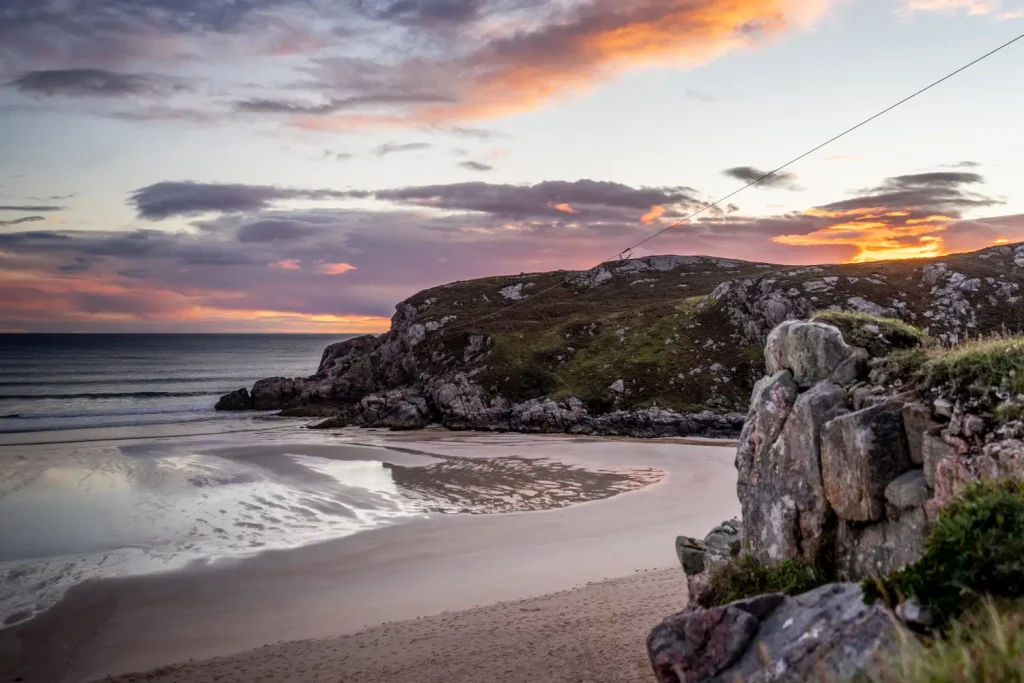 Things to do near Ceannabeinne Beach
Although Ceannabeinne Beach is in a remote part of Scotland, there is still plenty of things to do in the area if you enjoy the outdoors.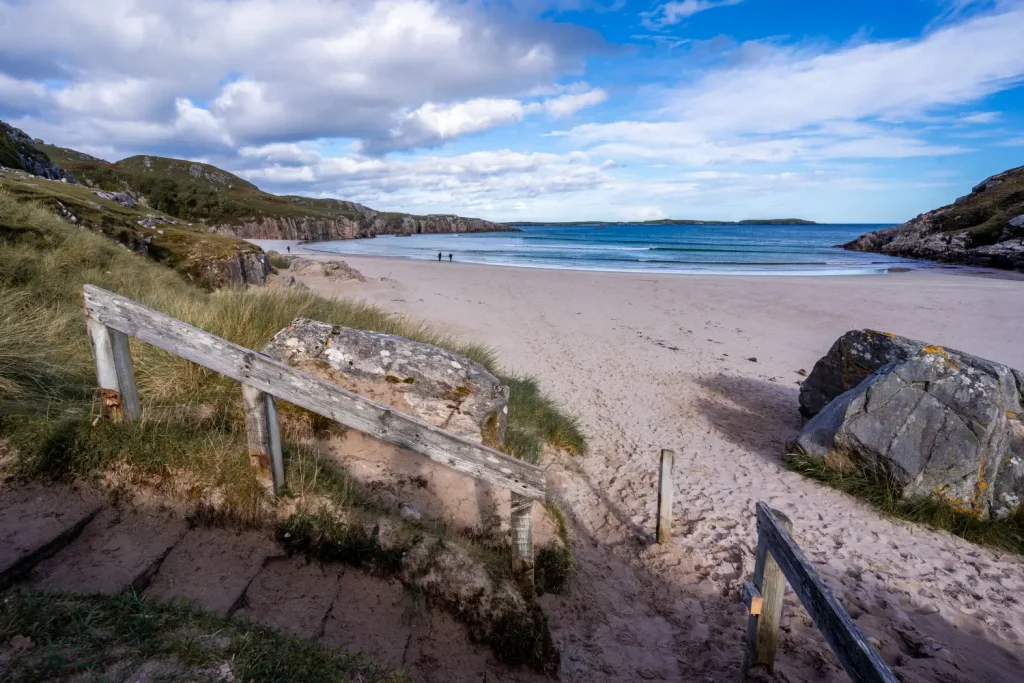 Surfing with North Coast Watersports
North Coast Watersports are the only surf school on the north coast of Scotland and offer surf lessons, board hire, and other watersports on the north coast. 
If you fancy getting in the sea, we can definitely recommend a surf lesson with these guys, you will leave having learned a lot!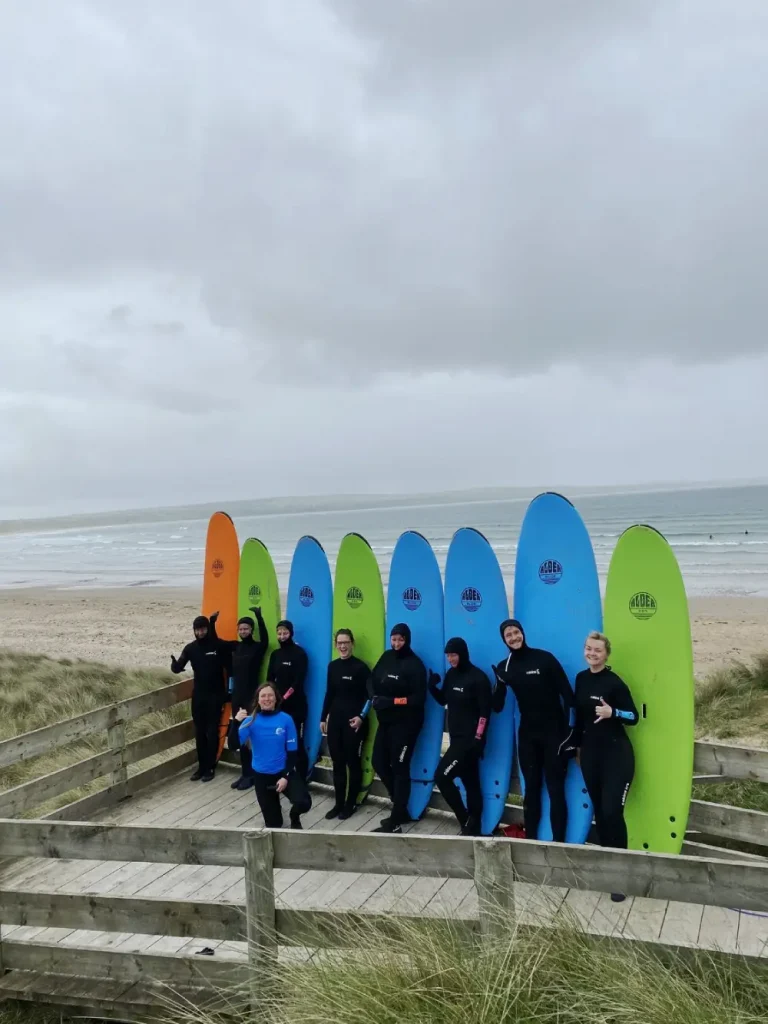 Smoo Cave
Smoo Cave is a natural sea cave in Sutherland on the NC500 route. It is made up of three parts; the large entrance, the first chamber with a large waterfall and the second chamber which sits at the back of the cave.
The cave is open all year round and is accessible via a staircase. If the weather is suitable during the peak season, tours are operated which take you further into the cave on a short boat ride. The tours are weather dependent and will not run if there has been poor weather as heavy rain can cause the water levels to change within the cave meaning it can often be closed during winter. Smoo cave was formed due to erosion caused by the sea over time.
The water at Smoo Cave is inaccessible unless you have paid for the tour that takes you further into the chamber. You will travel through the cave on a small boat and no swimming is allowed inside the cave.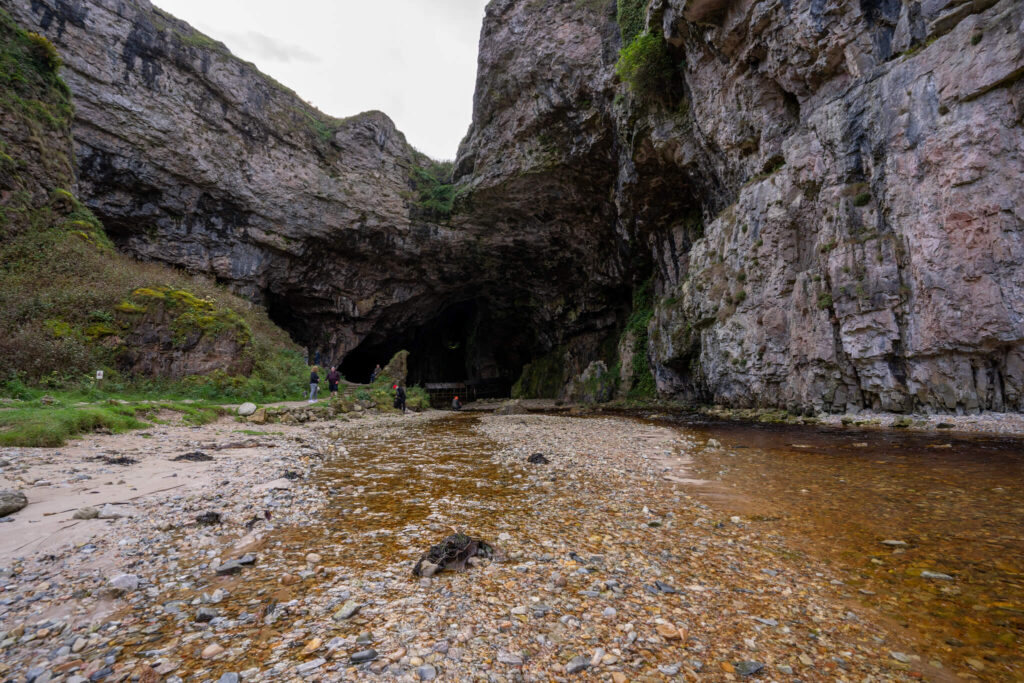 Golden Eagle Zipline
Have you ever been ziplining? Well now is you chance and what better place to do it than on the most northerly zipline in Scotland and over one of the most beautiful white sandy beaches in Scotland. You will reach speeds of up to 40mph and be flying across the beach at 37m high. 
This activity is very much weather dependent so we would recommend keeping an eye on their Facebook page to check if they are running. No booking is required and the opening hours are between 10am-6pm.
During the peak season waiting times for the zipline can reach 3 hours so if it is something that you really want to do, make sure you get there early!
A new activity Golden Eagle have is the cliff jump. Are you daring to take matters into your own hands and jump from the cliffs overlooking Ceannabeinne Beach? The elasticated cord will catch you after a short free fall and gently lower you to the sand.
Cost – £15 per person.
Ben Hope
Ben Hope is the most northern Munro in Scotland, situated at a height of 927 metres. This relatively straightforward hike is located near Loch Eribol in Tongue. 
As it is a mountain in Scotland over 914 metres (3000 feet), it is classed as a Munro. It is common in Scotland to 'bag' a Munro or 'Munro bagging' which simply means, to hike up the mountain.
The hike takes on average around 3.5 hours, after following along a stream the path then heads steeply up a stony path towards the summit.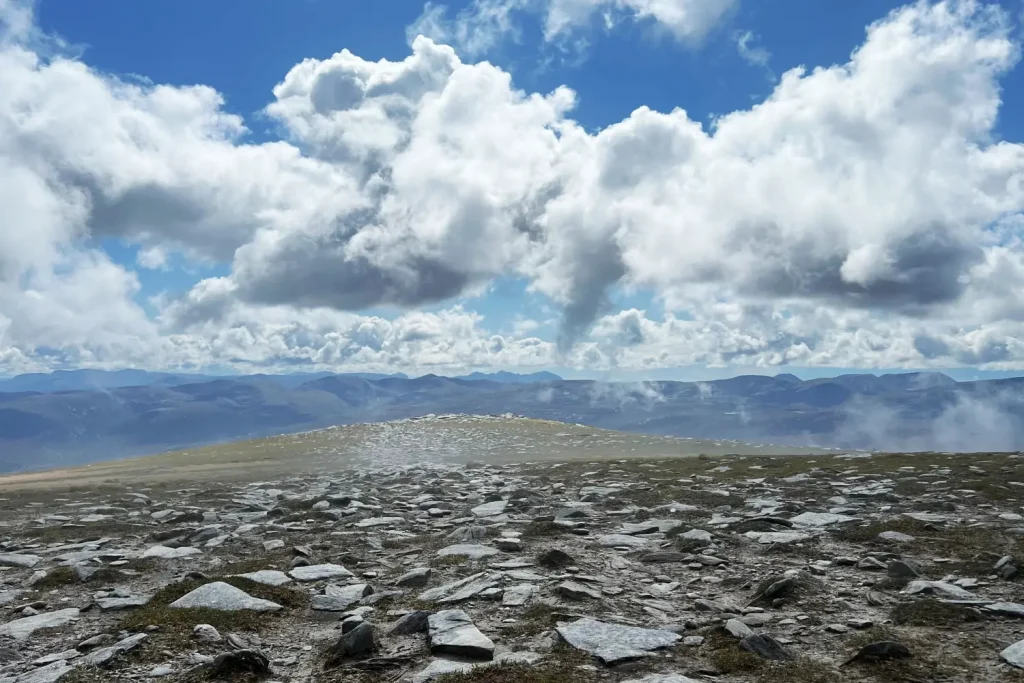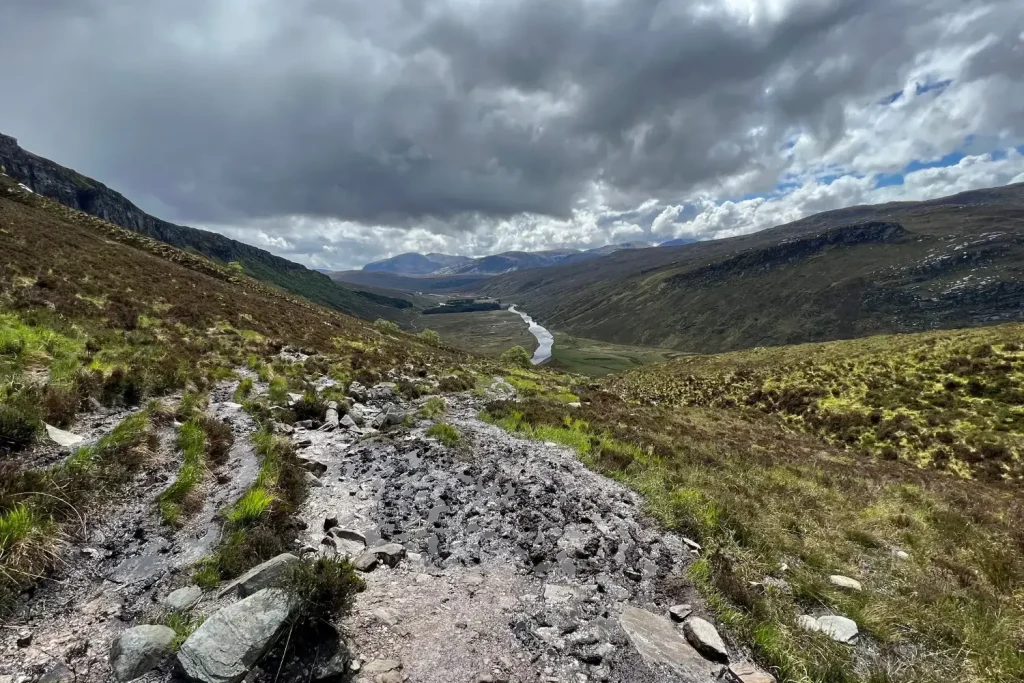 Balnakeil Beach
Balnakeil Beach could easily be missed as it is hidden off the main track of the NC500. Follow the main road through Durness and past Smoo Cave. Take the turn off towards Cocoa Mountain and follow the road all the way to the end. At the dead end you will see a small car park for Balnakeil sitting overlooking another beautiful white sandy beach. There is a small car park with more parking round the corner beside the golf course.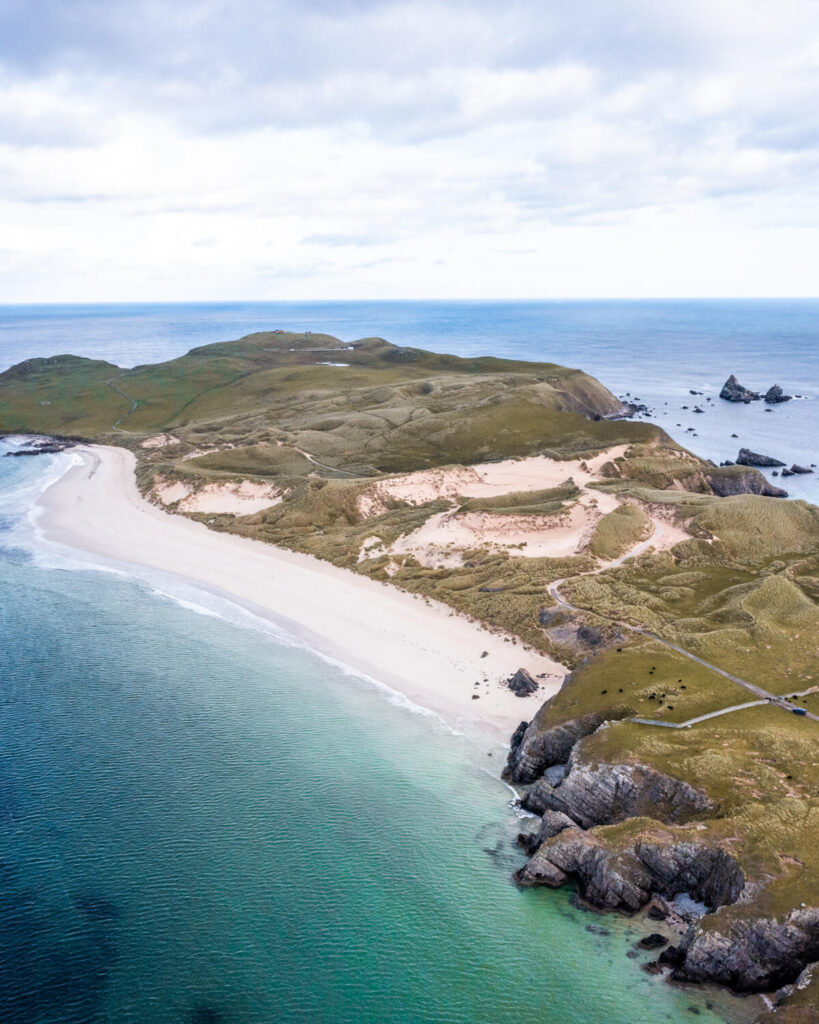 Before You Leave on the North Coast 500
Before you head off on your trip around the NC500, there are certain things you will need to get organised to ensure a smooth trip. These include how to get around the route, including being aware of single track roads, etc., what to pack for Scotland, where to stay along the route and what travel insurance to book.
Read more planning tips for the North Coast 500 in our full guide.
How Do I Get Around the NC500?
Given the remote location of the NC500 and the majority of the sights along the route, the best way to get around this road trip is by driving. There are of course other methods that are still popular, such as cycling and hiking, however, if you have a short amount of time on the route, neither of these are very suitable.
As for public transport, the use around the NC500 is understandably difficult due to how remote each location is, however, with the increasing problem of congestion along the route, this is a good option to research if you have time. If it is something that interests you, you can read a public formed itinerary of how to get around the NC500 by public transport over here.
If you are looking to rent a cosy, reliable, and luxurious campervan for your trip along the NC500, we highly recommend hiring through Spaceship Rentals. 
Browse the full range of vehicles on offer at Spaceship Rentals over here.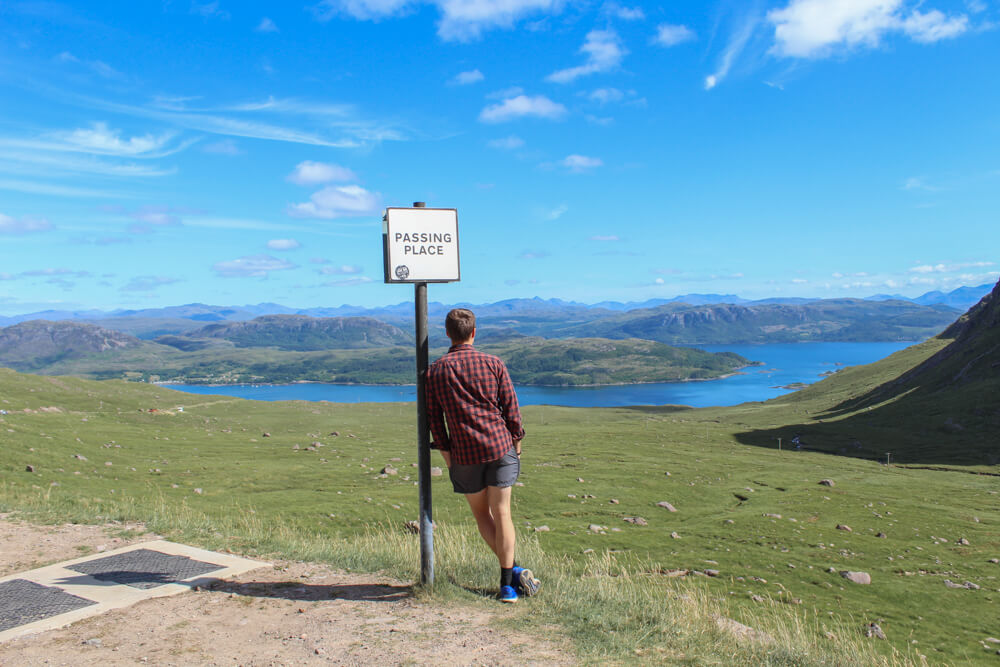 What Should I Pack for the NC500?
When it comes to packing for a trip along the NC500 there is one item of clothing that you are going to need all year round: a waterproof. It rains in Scotland on average 250 days a year, meaning that during your 7-day NC500 road trip you will probably experience at least a drizzle of rain. Due to this, the number one item on any Scotland packing list is a good waterproof jacket.
As for the rest of the year, the temperature in Scotland and the central heartlands is reasonably mild for most of the year. During the winter months, you will most likely experience snow, however, temperatures usually sit around freezing, so it is not too cold. For your reference, the average temperatures in Scotland are listed below during each season.
Spring (March, April, May) – 5-10 degrees C
Summer (June, July, August) – 15 degrees C
Autumn (September, October, November) – 5-10 degrees C
Winter (December, January, February) – 0-5 degrees C
As you can see, the weather never really gets above the teens, with anything over 25 degrees C considered a heatwave. The best way to pack for your trip to the highlands is with layers that can be added and removed as you need them. You will definitely need a hat and gloves during the colder months and will most likely need sunscreen to protect you on the long days in the open.
For our full list of items that we pack no matter where we go in the world, check out our full packing guides over here.
Given the beautiful sights and scenery that you are no doubt going to see around Scotland, we highly recommend packing a good camera for your trip. If you want to read more about the cameras we use and why we love them, check out the link below.
You can read what else we keep in our camera bag over here.
Where Should I Stay on the NC500?
The remoteness in the highlands of Scotland will leave you with little choice of accommodation in each location along the NC500, however, there are still enough options to choose from to ensure a comfortable trip. These are mostly in the shape of B&Bs, Airbnbs, converted cottages and other quirky accommodations.
Depending on how adventurous you are, there may be more accommodation choices than just the above, often with an even better view. Caravan and camping sites are abundant along the NC500, drawing camping enthusiasts from all over the world. For some of the most spectacular bedside scenery along the North Coast 500, we recommend packing a tent and getting in touch with nature for the week.
As we travelled along the North Coast 500, camped in our trusty Vango tent on a mixture of campsites and wild sites. Wild camping is a fantastic way to enjoy the beauty of the highlands, however, it must be done respectfully. Read our full guide to Wild Camping if you wish to give it a go so you know everything you need to for a comfortable and sustainable trip.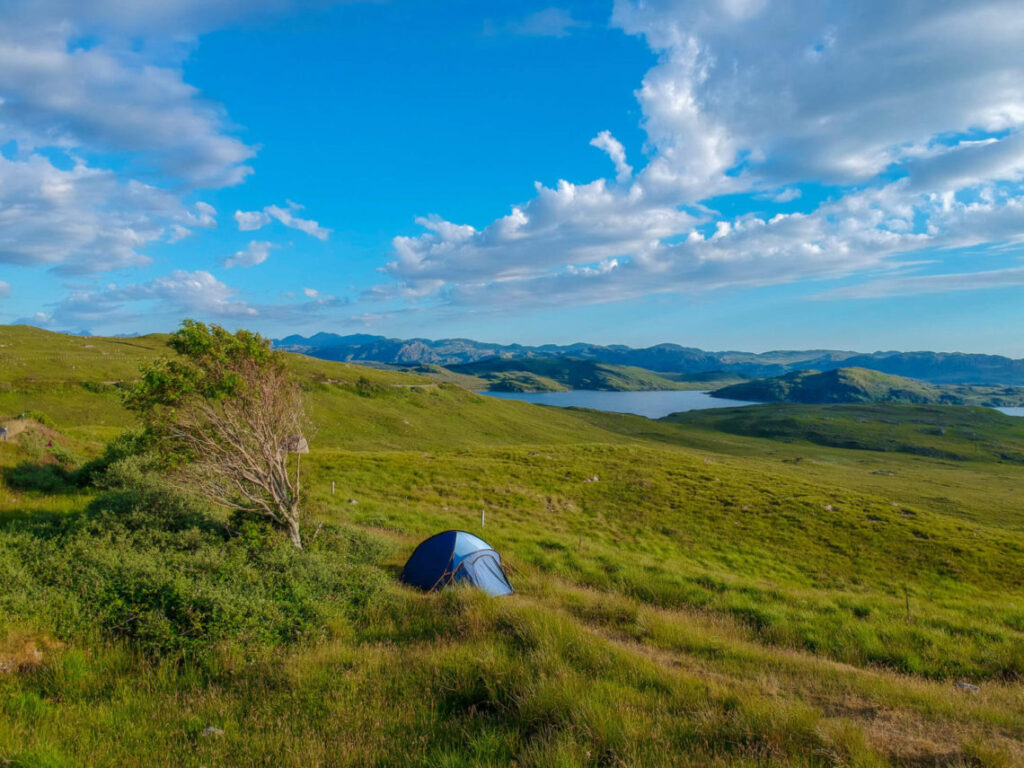 What is the Best Travel Insurance?
No matter what type of adventure you are heading on, whether it is a mountain adventure or a relaxing beach destination, one thing we all need to be aware of is that accidents can happen. The last thing you want is for an unexpected medical emergency to ruin your trip of a lifetime. Luckily, that is what travel insurance is for.
Whenever we travel abroad, we get covered with World Nomad's Travel Insurance, a reliable, friendly and extremely affordable method of covering yourself on any adventure. With years of experience working for backpackers around the globe, the service they provide is perfect for whatever type of trip you have planned.
Get covered for your next trip and get a quote from World Nomad's right here.
So there you have it, your complete guide to visiting Ceannabeinne Beach on the NC500. If you have been to Scotland recently, let us know how you found it in the comments below. What were your favourite sights? What did you think of the castles? Where was your favourite stop? Let us know in the comments below.
If you are planning a full trip to Scotland, make sure you check out the rest of our guides and Scotland content to ensure a stress-free adventure. We will gladly answer any questions you have with regards to your trip, so either DM us or send us an email.
Don't forget that sharing is caring! Be sure to share this article with your family and friends to let them know all about your big plans. Maybe even inspire them to visit the NC500 castles themselves! Catch up with us on social media and see what we are currently up to. Tag us in your photos from your North Coast 500 adventure on Instagram so that we can share them with the rest of our community.
Read Now:
This article may contain affiliate links that provide us with a small income. For more information read our Affiliate page.
---
Save this image to your Scotland Pinterest Board for later!