The North Coast 500 is one of the most popular road trips in the UK, combining stunning coastal views, jaw-dropping mountain scenery, fascinating history and amazing food into one epic adventure. Winding its way along the northern part of Scotland, the NC500 is a circular route that begins in Inverness and takes you on a 500-mile trip through some of Scotland's most stunning scenery.
Before you set off on your North Coast 500 road trip, there are a number of things you will need to know about this rugged and barren part of the UK to ensure a smooth and enjoyable trip. These include how to get around the NC500, what to expect along your trip, where the best places to shop are and how much does it cost.
All of these North Coast 500 planning tips are discussed in the following article.
Get planning your ultimate Scotland Road Trip with our 7-day North Coast 500 itinerary.
Save this image to your Scotland Pinterest board for later!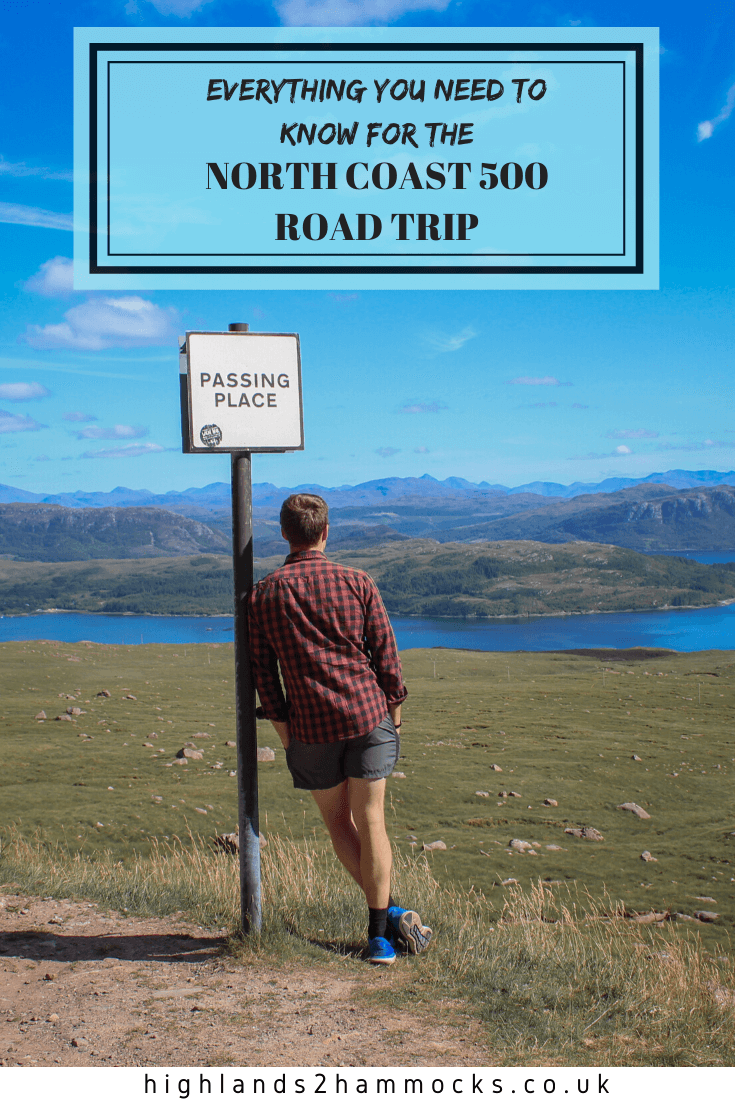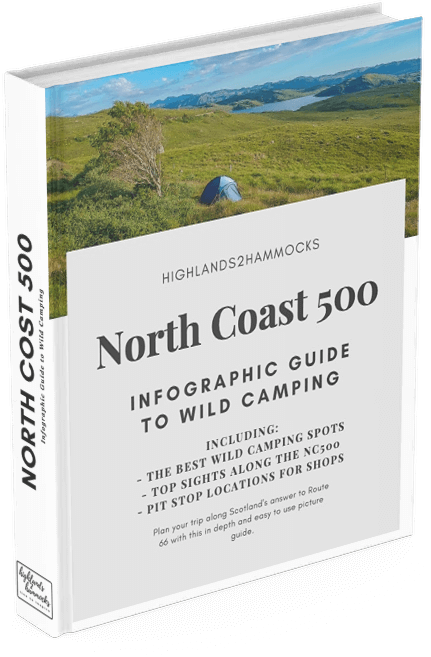 Download an easy to use, NC500 map and North Coast 500 Itinerary right here. Complete with pictures, stopping points and highlights along the way, this guide is a must-have for your next trip!
Come along on our road trip with us on our Best Road Trips in Scotland video. Make sure you subscribe to our Youtube channel for more!
North Coast 500 Planning Tips – What You Need to Know
With so many beautiful sights along the North Coast 500, as well as delicious restaurants, fascinating museums and breathtaking landscapes, you will want to make the most of your time on the road. In order to help you do this, we have put together this short list of North Coast 500 planning tips containing everything from petrol station locations to phone signal on the North Coast 500.
Phone Reception on the North Coast 500
As you may have guessed, phone reception is very scarce throughout the majority of the North Coast 500. The best networks for signal along Scotland's northern coast and the more remote parts of the country are reportedly EE and Vodafone. Although phone signal is not guaranteed along the entire length of the NC500, you can expect to get good coverage on these networks for the majority of your trip.
In order to prepare for this trip and the lack of cell reception, we highly recommend you download Google Maps to work offline for the area of the NC500. This will mean you can follow the directions from spot to spot without getting lost or relying on mobile data.
We also recommend either downloading your favourite music playlists or even go "old-school" with a good old CD player!
Farr Point has produced this complete interactive map of the mobile coverage across the NC500 route that is perfect for planning your trip. It details all of the UK networks reach along the North Coast 500 road trip at each point, showing you where the dead zones are.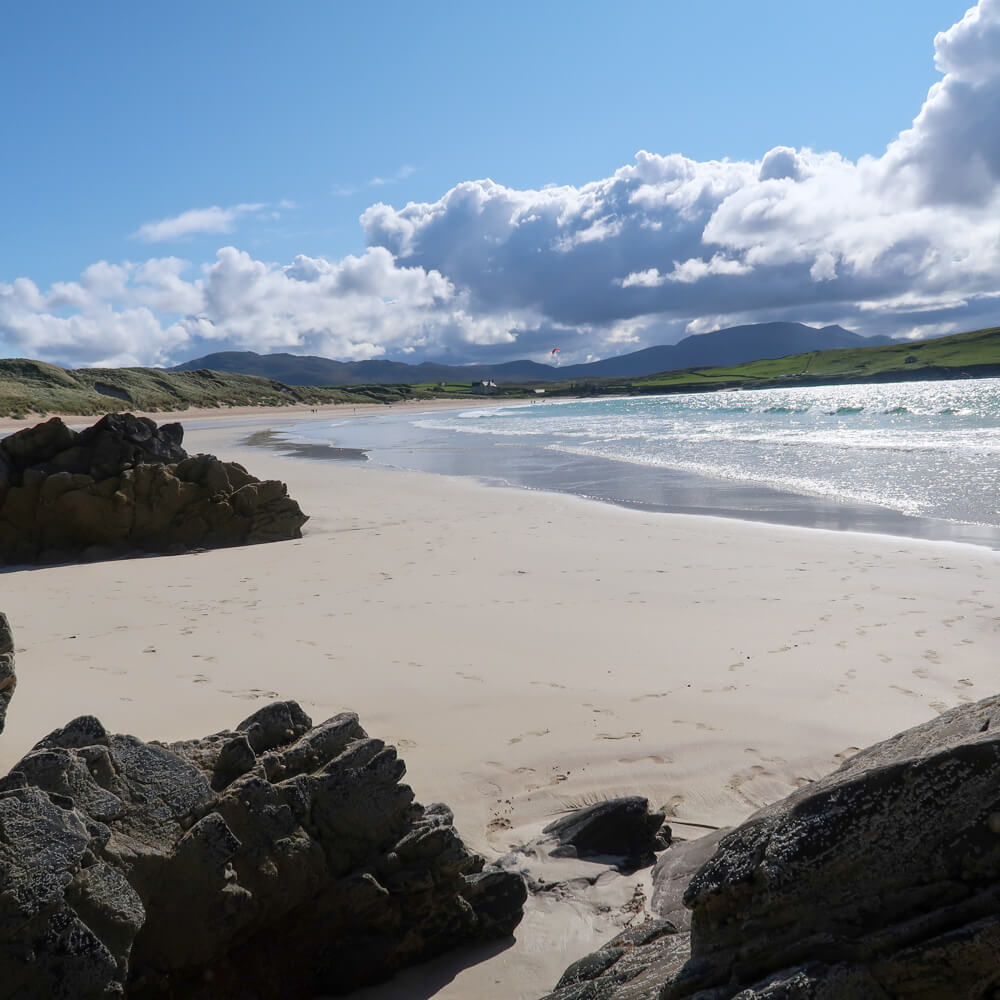 Tips for Driving the Nc500
When it comes to the North Coast 500 driving the route is half of the fun, with stunning coastal views, breathtaking mountain ranges and beautiful wildlife to look out for. With all of this beauty to take in, it is especially important that you TAKE YOUR TIME whilst driving the NC500.
A major cause of accidents and deaths along this part of the world is the result of distraction and haste, as people do not pay attention to the winding, narrow single track roads and rush between spots to see as much as possible. The best way to stay safe is to follow the road safety guidelines, drive slowly and don't rush.
The North Coast 500 is best enjoyed at a relaxed pace. One that allows you to truly soak up the beauty of the land around you, coming to terms with how lucky we are to witness this paradise, rather than simply driving the NC500 just to get it over with.
Roads along the North Coast 500, especially on the western side, are narrow and winding, only allowing access for one car at a time in some places. On these roads, there are spots called "passing places" at the side of the road that you are meant to pull into to allow oncoming traffic to pass you.
This is part of the culture in this part of the world and by giving way to those in front of you will always be rewarded with a smile and a wave from a local, so do the right thing! Follow the outdoor access code and park appropriately to maintain safety on the roads.
There have been a LOT of issues with these passing places in recent years with people parking in these places and preventing the flow of traffic. When you are driving the narrow, beautiful roads and see a sight you want to stop and check out, DO NOT park in these passing places.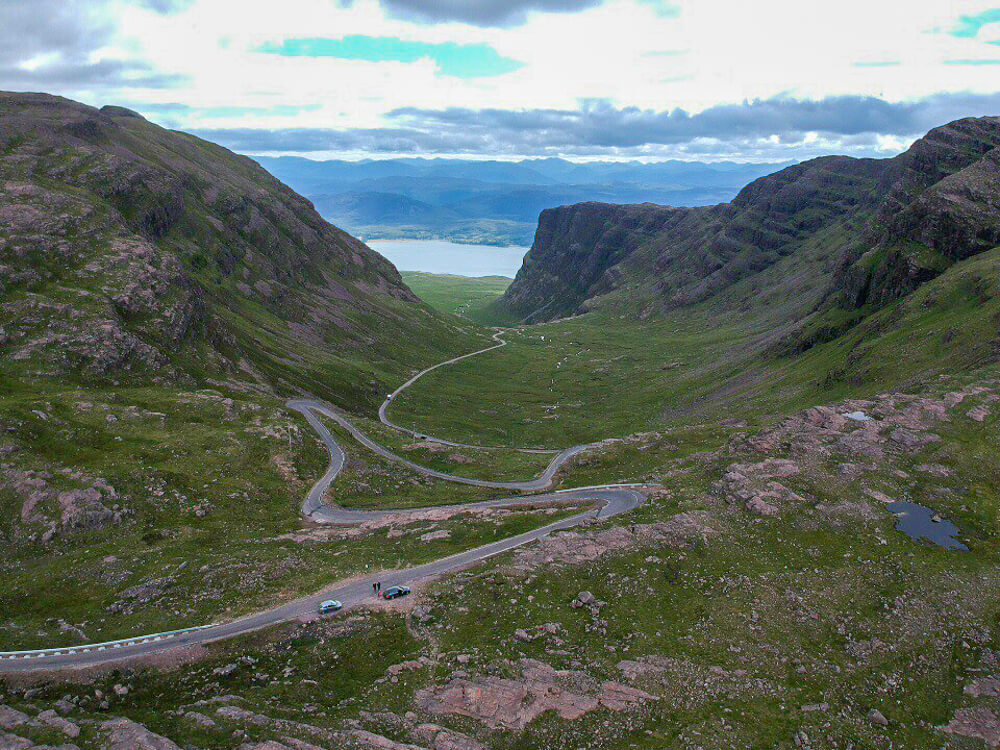 When is the Best Time to Tour the NC500?
It is no secret that the weather in Scotland is a rather fickle thing. On average, the wettest parts of Scotland experience 5 rainy days a week, while the driest experience 3 days a week. This means that choosing the right time for a road trip as epic as the NC500 requires some care and consideration.
As a general rule of thumb, the months of the year that experienced the best weather in Scotland are April, May and June. These months tend to be drier, with cooler mornings and clearer skies than later in summer. As the summer months go on, the humidity returns to the air and the rainfall begins once again, with July and August tending to be much wetter.
The additional perks of the early summer months is that (especially in April) the biting insects that are known as "midges" have not yet woken up. These bugs tend to come out when the warm rain begins and they have lots of water to lay their eggs in. It might seem crazy to base an entire trip on the absence of some bugs, however, midges are a fierce, unformidable force in the highlands that are enough to make the hardest Northman cry.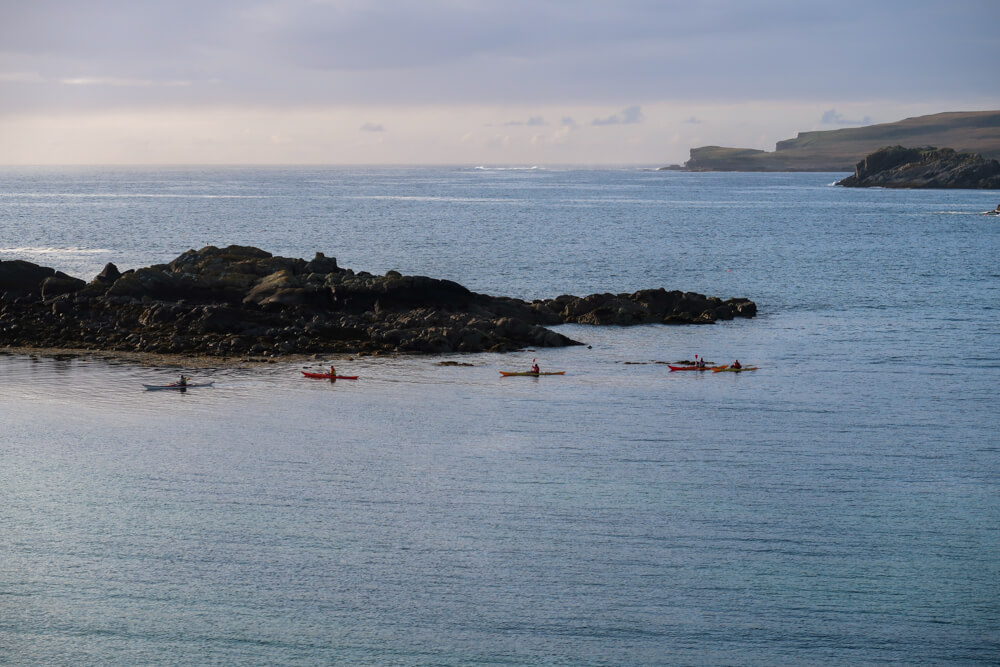 How to Travel the North Coast 500 Responsibly
Over the past few years, popularity for the North Coast 500 road trip has grown exponentially, bringing about a new problem with the local areas. The small, isolated towns and villages along this incredible route are not equipped for the large influx of visitors that the NC500 brings every year.
As a result of the huge number of people exploring this remote part of Scotland, the natural landscape is faced with a new threat of litter, human waste and soil erosion from walking off of paths. As with any trip into nature, it is important to remember that we are only a temporary visitor to this beautiful part of the world and that we must leave it as we found it for future generations to enjoy as we have.
leave nothing but footprints and take nothing but memories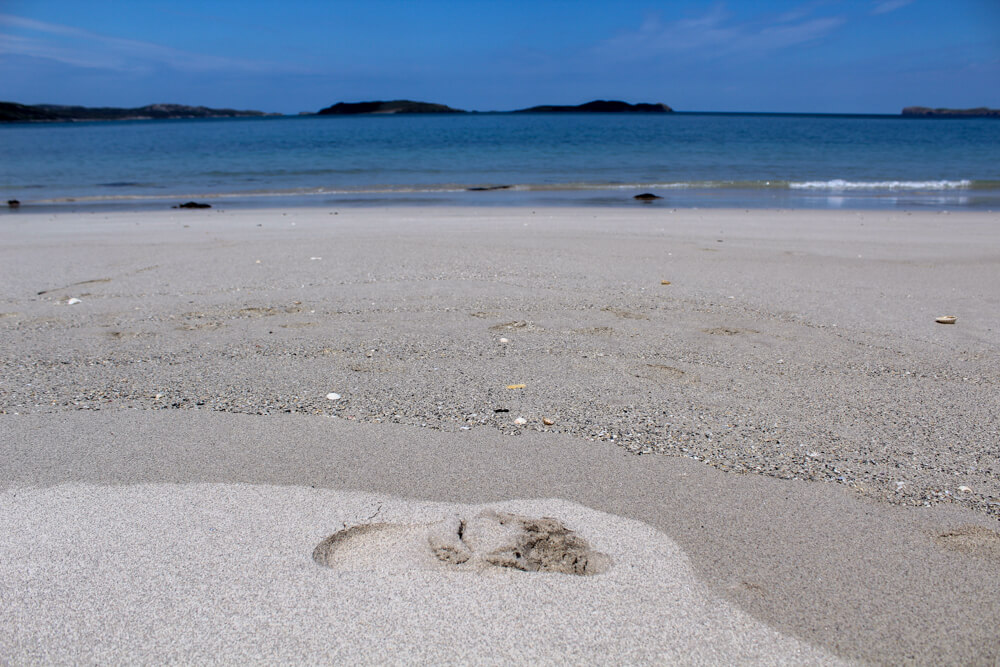 Where are the Best Shops on the NC500
As for buying food and supplies around the NC500, choosing the right location to shop will save you a LOT of money during your trip. There are a number of large, cheap shops spread along the route, in between which you will find smaller, local shops that charge almost 2x the price for necessities.
The main shops that you want to aim for are Morrisons, Tesco, Aldi and Asda, most of which are located on the Southwestern part of the NC500. Once you head north of Dornoch you will only pass two more Tesco superstores, one in Wick and one a the end of the trip in Ullapool.
Due to the lack of shops along the route, we highly suggest you stock up in Inverness with tinned dried food, as well as plenty of snacks for the road trip. This will mean you will not need to worry about stopping at small, expensive shops along the route.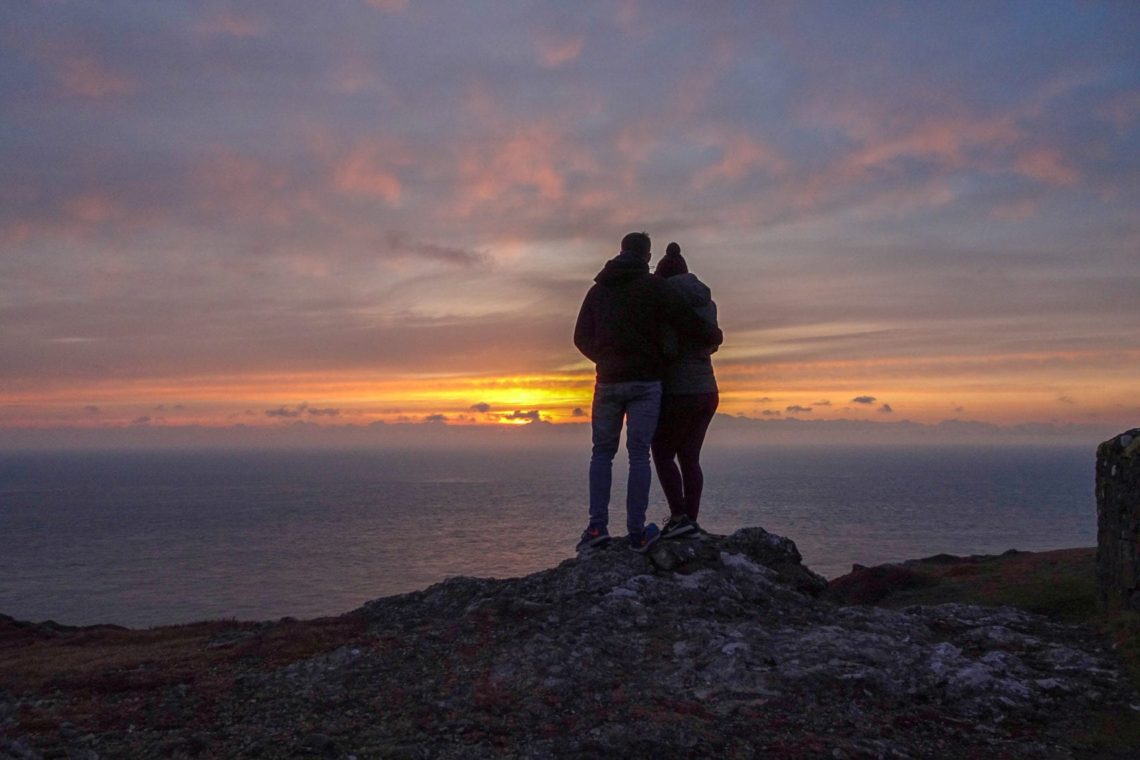 Where to Get Petrol on the NC500
Petrol stations are quite evenly spread out along the NC500, however, you should know where each of them is and how far between they are to avoid running out of gas on the road. Below is a list of each of the petrol stations on the NC500 going counter-clockwise along the route.
Inverness (distance to next – 15miles)
Dingwall (distance to next – 24miles)
Tain (distance to next – 23miles)
Brora (distance to next – 46miles)
Wick (distance to next –  16miles)
John O'Groats (distance to next – 20miles)
Thurso (distance to next – 30miles)
Bettyhill (distance to next – 40miles)
Sango Sands (distance to next – 25miles)
Scourie (distance to next – 53miles)
Lochinver (distance to next – 37miles)
Ullapool (distance to next – 56miles)
Kinlochewe (distance to next – 37/42miles)
Applecross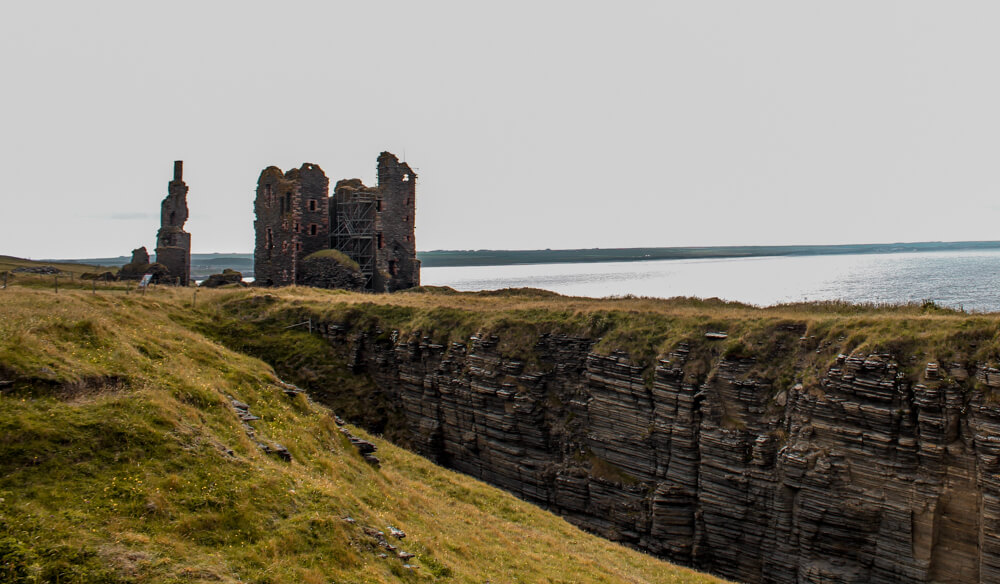 How Much Does it Cost to Tour the NC500
This unforgettable road trip on Scotland's famous NC500 worked out a LOT cheaper than we were expecting, without us sacrificing any of the good bits. When we toured the NC500, we camped the majority of the time in the wild and drove our car the entire way, which saved us a LOT of money.
The total cost of the trip for both of us ended up being £420. If you are considering this then you should also add on any rental costs you need, plus the equipment that you do not have.
As you can see, the two largest areas of spending are food and petrol, the rest is very low. This is again due to our choice of accommodation (wild camping), as well as how much fun Scotland can be without the need to spend any money. Another reason why we love it so much!
Read the full breakdown of our budget on our complete NC500 budget guide.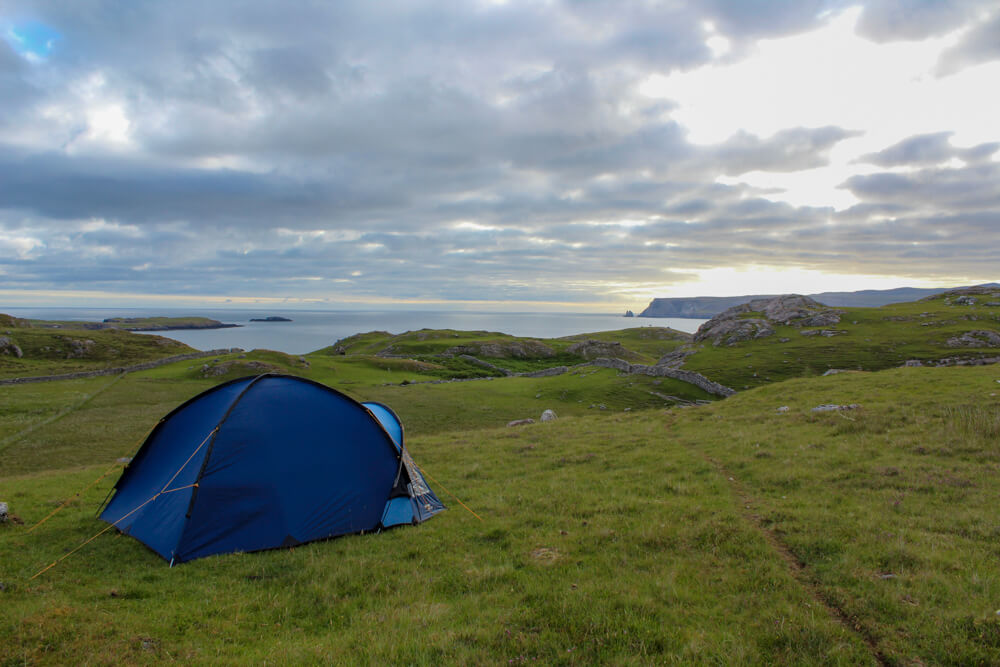 North Coast 500 Guidebooks
Check out these recommended guidebooks for your road trip! [affiliate links]
Or lose yourself in the beautiful tales of Scotland with the Kindle Unlimited membership. Get your FREE 30-day trial and choose from thousands of different NC500 guidebooks.
Before You Leave on the North Coast 500
Before you head off on your trip around the NC500, there are certain things you will need to get organised to ensure a smooth trip. These include how to get around the route, including being aware of single track roads, etc., what to pack for Scotland, where to stay along the route and what travel insurance to book.
How Do I Get Around?
Given the remote location of the NC500 and the majority of the sights along the route, the best way to get around this road trip is by driving. There are of course other methods that are still popular, such as cycling and hiking, however, if you have a short amount of time on the route, neither of these are very suitable.
As for public transport, the use around the NC500 is understandably difficult due to how remote each location is, however, with the increasing problem of congestion along the route, this is a good option to research if you have time. If it is something that interests you, you can read a public formed itinerary of how to get around the NC500 by public transport over here.
If you are looking to rent a cosy, reliable and luxurious campervan for your trip along the NC500, we highly recommend hiring through Bunk Campers. We toured with these guys around the up-and-coming Heart 200 road trip in Scotland's central highlands and could not believe the comfort and customer service we experienced with their vans.
Browse the full range of vehicles on offer at Bunk Campers over here.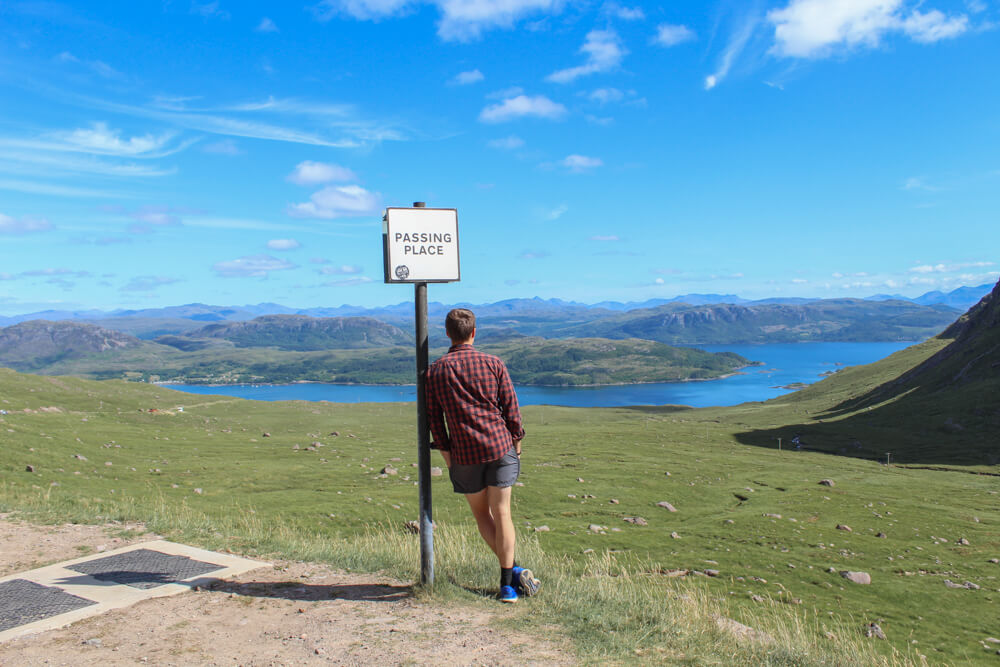 What Should I Pack?
When it comes to packing for a trip to Scotland there is one item of clothing that you are going to need all year round: a waterproof. It rains in Scotland on average 250 days a year, meaning that during your 5-day Heart 200 road trip you will probably experience at least a drizzle of rain. Due to this, the number one item on any Scotland packing list is a good waterproof jacket.
As for the rest of the year, the temperature in Scotland and the central heartlands is reasonably mild for most of the year. During the winter months, you will most likely experience snow, however, temperatures usually sit around freezing, so it is not too cold. For your reference, the average temperatures in Scotland are listed below during each season.
Spring (March, April, May) – 5-10 degrees C
Summer (June, July, August) – 15 degrees C
Autumn (September, October, November) – 5-10 degrees C
Winter (December, January, February) – 0-5 degrees C
As you can see, the weather never really gets above the teens, with anything over 25 degrees C considered a heatwave. The best way to pack for your trip to the highlands is with layers that can be added and removed as you need them. You will definitely need a hat and gloves during the colder months and will most likely need sunscreen to protect you on the long days in the open.
For our full list of items that we pack no matter where we go in the world, check out our full packing guides over here.
Given the beautiful sights and scenery that you are no doubt going to see around Scotland, we highly recommend packing a good camera for your trip. If you want to read more about the cameras we use and why we love them, check out the link below.
You can read what else we keep in our camera bag over here.
Where Should I Stay?
The remoteness in the highlands of Scotland will leave you with little choice of accommodation in each location along the NC500, however, there are still enough options to choose from to ensure a comfortable trip. These are mostly in the shape of B&Bs, Airbnbs, converted cottages and other quirky accommodations.
Depending on how adventurous you are, there may be more accommodation choices than just the above, often with an even better view. Caravan and camping sites are abundant along the NC500, drawing camping enthusiasts from all over the world. For some of the most spectacular bedside scenery along the North Coast 500, we recommend packing a tent and getting in touch with nature for the week.
As we travelled along the North Coast 500, camped in our trusty Vango tent on a mixture of campsites and wild sites. Wild camping is a fantastic way to enjoy the beauty of the highlands, however, it must be done respectfully. Read our full guide to Wild Camping if you wish to give it a go so you know everything you need to for a comfortable and sustainable trip.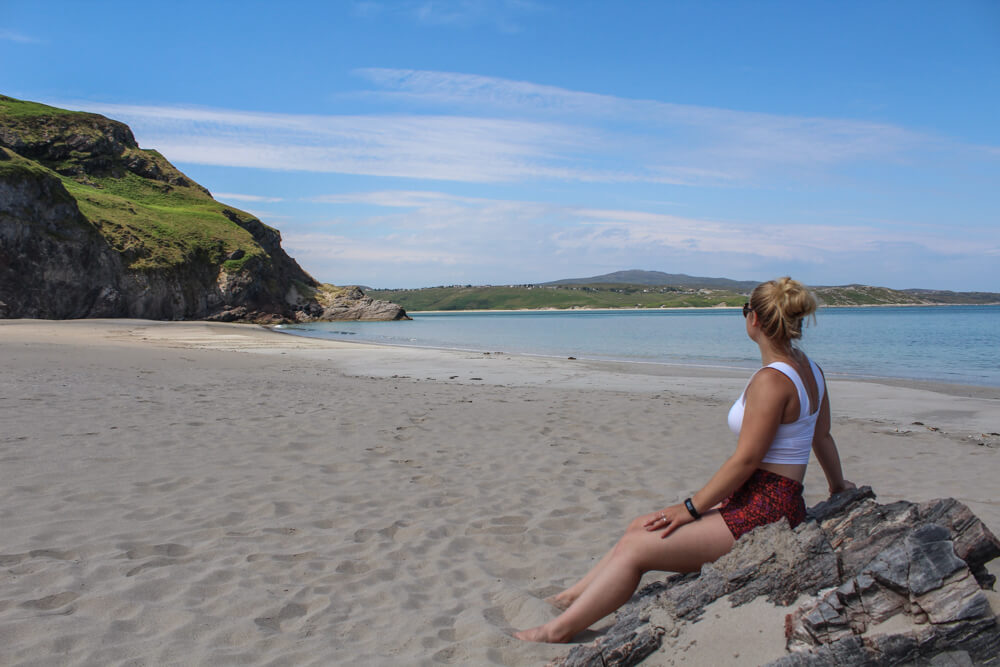 What is the Best Travel Insurance?
No matter what type of adventure you are heading on, whether it is a mountain adventure or a relaxing beach destination, one thing we all need to be aware of is that accidents can happen. The last thing you want is for an unexpected medical emergency to ruin your trip of a lifetime. Luckily, that is what travel insurance is for.
Whenever we travel abroad, we get covered with World Nomad's Travel Insurance, a reliable, friendly and extremely affordable method of covering yourself on any adventure. With years of experience working for backpackers around the globe, the service they provide is perfect for whatever type of trip you have planned.
Get covered for your next trip and get a quote from World Nomad's right here.
FAQs on the NC500
Where can I Camp on the North Coast 500?
There is a huge selection of campsites spread along the length of the North Coast 500 road trip, all of which are perfect for anyone wanting a comfortable sleep with showers, toilets and power. However, if you fancy a trip a little more on the wild side, it is legal to wild camp in Scotland and there are a lot of wild camping spots along the NC500 route as well.
Is Wild Camping Allowed in Scotland?
It is generally legal to wild camp around Scotland, with the exception of some specific areas due to bye-laws. For example, it is not legal to camp on the western shores of Loch Lomond due to overuse and lack of respect. When you are wild camping in Scotland, the most important thing to remember is Leave No Trace.
Where Can I Wild Camp NC500?
The best spots to wild camp on the NC500 are those listed in greater detail in this article:
Dornoch – Dornoch Beach
John O'Groats – Duncansby Lighthouse
Thurso – Strathy Point Lighthouse
Durness – Ceannabeine Beach / Village Trail
Scourie
Ullapool
Poolewe
Applecross
Read our full list of Wild Camping Spots along the North Coast 5oo for all of the most beautiful locations that you can wild camp on this epic road trip. 
How Long Does it Take to Drive the North Coast 500?
A very popular and important question when it comes to the Nc500 driving experience. The answer to this is a simple one; it can take however long you want it to. Some people race around it in one day, and some people slow travel it for over a month.
For us, 8 days was the answer, with no two nights spent in the same place, although plenty of time to see lots of sights. You can pitch up in a spot here and explore the surroundings for two of three days before moving on, or you can make some quick pit stops at each one and get going.
Is the North Coast 500 Suitable for Motorhomes and Caravans?
In short, yes it is. Touring the NC500 in a caravan or motorhome is a very popular choice, given the freedom that it brings. Given the additional size that these vehicles possess, I can only say that you should take extra care while driving the roads around this route, especially on the western coast.
There is one road, however, that is NOT suitable for larger vehicles and that is the Bealach na Ba pass towards Applecross.
So there you have it, your ultimate 7-day itinerary to the North Coast 500. If you have been to Scotland recently, let us know how you found it in the comments below. What were your favourite sights? What did you think of the castles? Where was your favourite stop? Let us know in the comments below.
If you are planning a full trip to Scotland, make sure you check out the rest of our guides and Scotland content to ensure a stress-free adventure. We will gladly answer any questions you have with regards to your trip, so either DM us or send us an email.
Don't forget that sharing is caring! Be sure to share this article with your family and friends to let them know all about your big plans. Maybe even inspire them to visit the NC500 castles themselves! Catch up with us on social media and see what we are currently up to. Tag us in your photos from your North Coast 500 adventure on Instagram so that we can share them with the rest of our community.
Read Now:
This article may contain affiliate links that provide us with a small income. For more information read our Affiliate page.
---
Save this image to your Scotland Pinterest Board for later