During your visit to the incredible country of the Netherlands, the capital city of Amsterdam is an obvious must for all adventurers. From the beautiful canals to the delicious food, the Amsterdam has everything that you could possibly want for a memorable trip to Europe.
Being a very popular tourist destination, Amsterdam isn't the cheapest city in Europe to visit. However, it can be done cheaply if you are on a budget and are willing to make some "sacrifices". There is so much good food and drink and tourist attractions, all which seem irresistible, but what if there was a cheaper way to do it?
To us, these are just what makes our trips amazing, full of adventure and what keeps us on the road for longer! Here is your guide on how to save money in Amsterdam.
*All prices below are based on 2 people*
Save this image to your Amsterdam Pinterest board for later!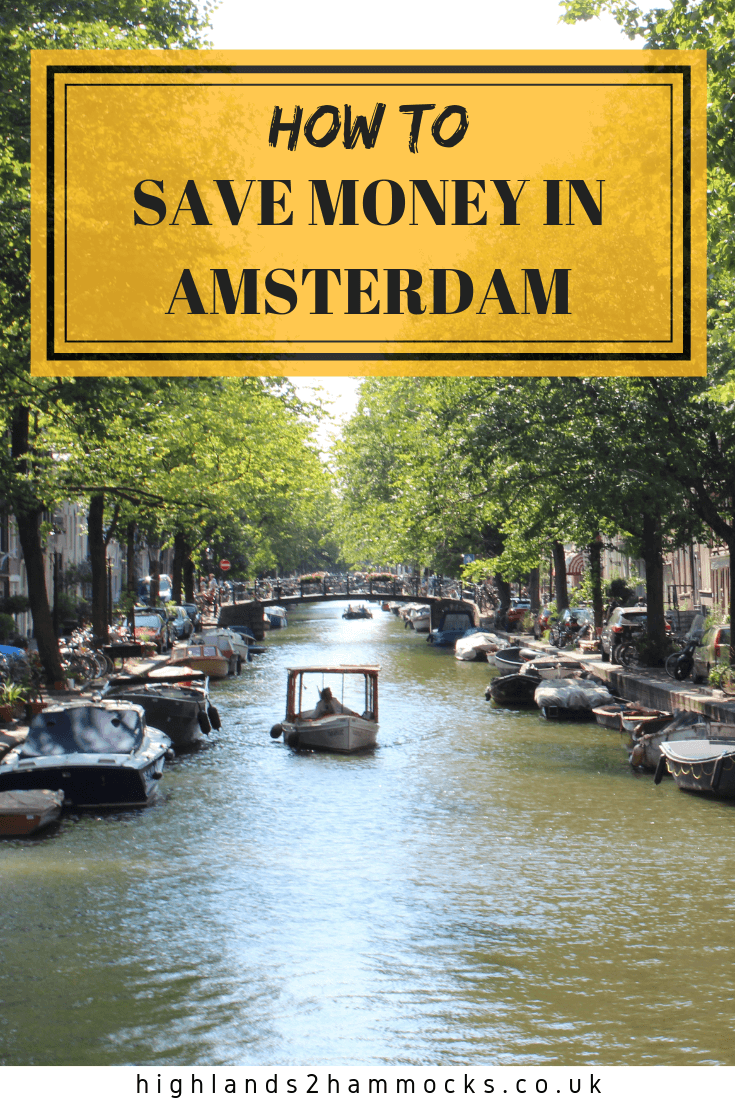 How to Save Money in Amsterdam – A Budget Guide to Amsterdam
Accommodation
The cheapest place to hit the hay at night (or for some party-goers during the day?) is definitely a campsite. We spent €20/night compared to spending roughly €80 for a double private room in a hostel dorm. If you don't mind sharing a room, then this is cost is obviously lower, however, you will still fork out between €30-40/night.
To save money in Amsterdam, your best option is camping. We prefer the camping option as it meant we had our own privacy. It also meant we could book last-minute locations, helping us maintain flexibility with our trip. We stayed at Vligenbos campsite which catered for tents, caravans and campervans.
They also had small glamping pods available for rent. The campsite was very well equipped with plenty of amenities, a shop and café and even live music, depending on what day of the week you are there. This campsite is a 10-minute walk and then 2-minute metro to Amsterdam Centraal station.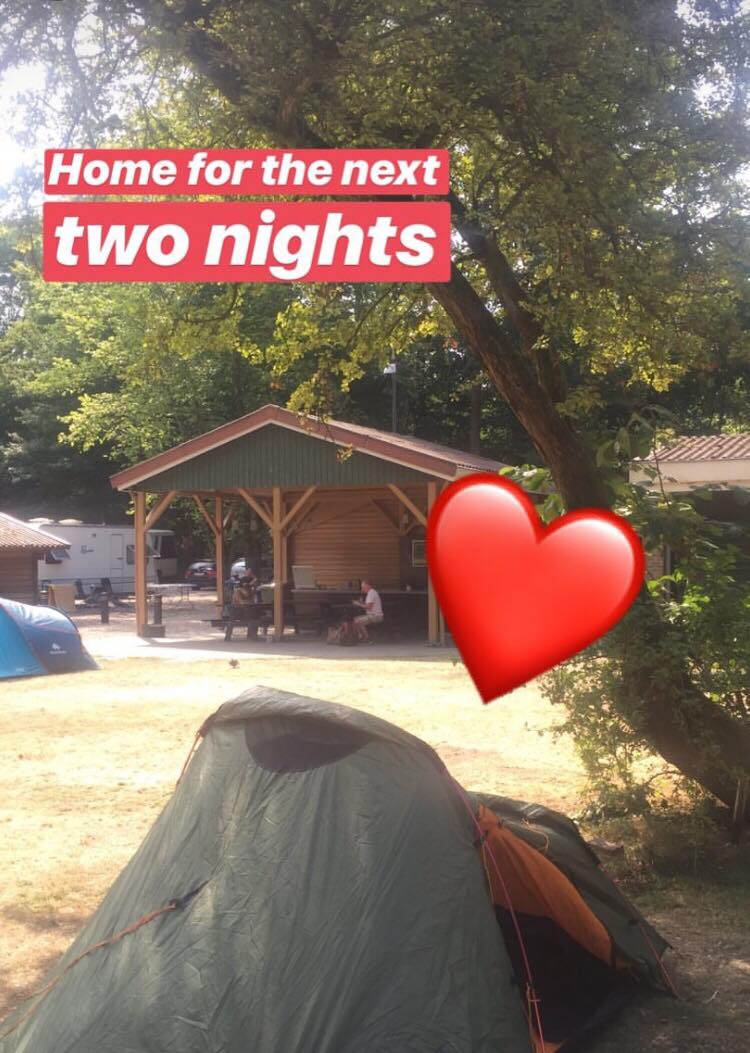 Transport in Amsterdam
The best way to travel around the city is by tram. The last time we visited Amsterdam we toured the city on foot which would obviously be the cheaper option, however, if you're short on time and want to see a lot of the city it would be better value to take advantage of the public transport. Spoilt for choice between the bus, metro and tram system, you will always find a quick way of getting around.
Day passes cost €7.50pp for 24 hours, €12.50pp for 48 hours or €17.50pp for 72 hours. We made our money back on these pretty quickly the amount of travelling we did on them. This was also surprisingly cheaper than hiring a bike for the day!
Food and Drink
Restaurants and bars can be pretty pricey in Amsterdam and if you eating out it would be best to avoid the areas around the square as they tend to be eye-wateringly expensive. If you are trying to save money and you are smart during your search for grub, there are lots of lanes branching off from the squares where you can find cheaper food and drink options.
Keep an eye out for places with lunch deals on that may finish at 5 o clock, that way you can have an early dinner at a cheaper price! If you're heading out for a boozy night then your cheaper option would be to pre-drink on some cheap supermarket beer and then head out. If you stop by the local Aldi/Lidl, you can get cans of cold beer for as little as 50c!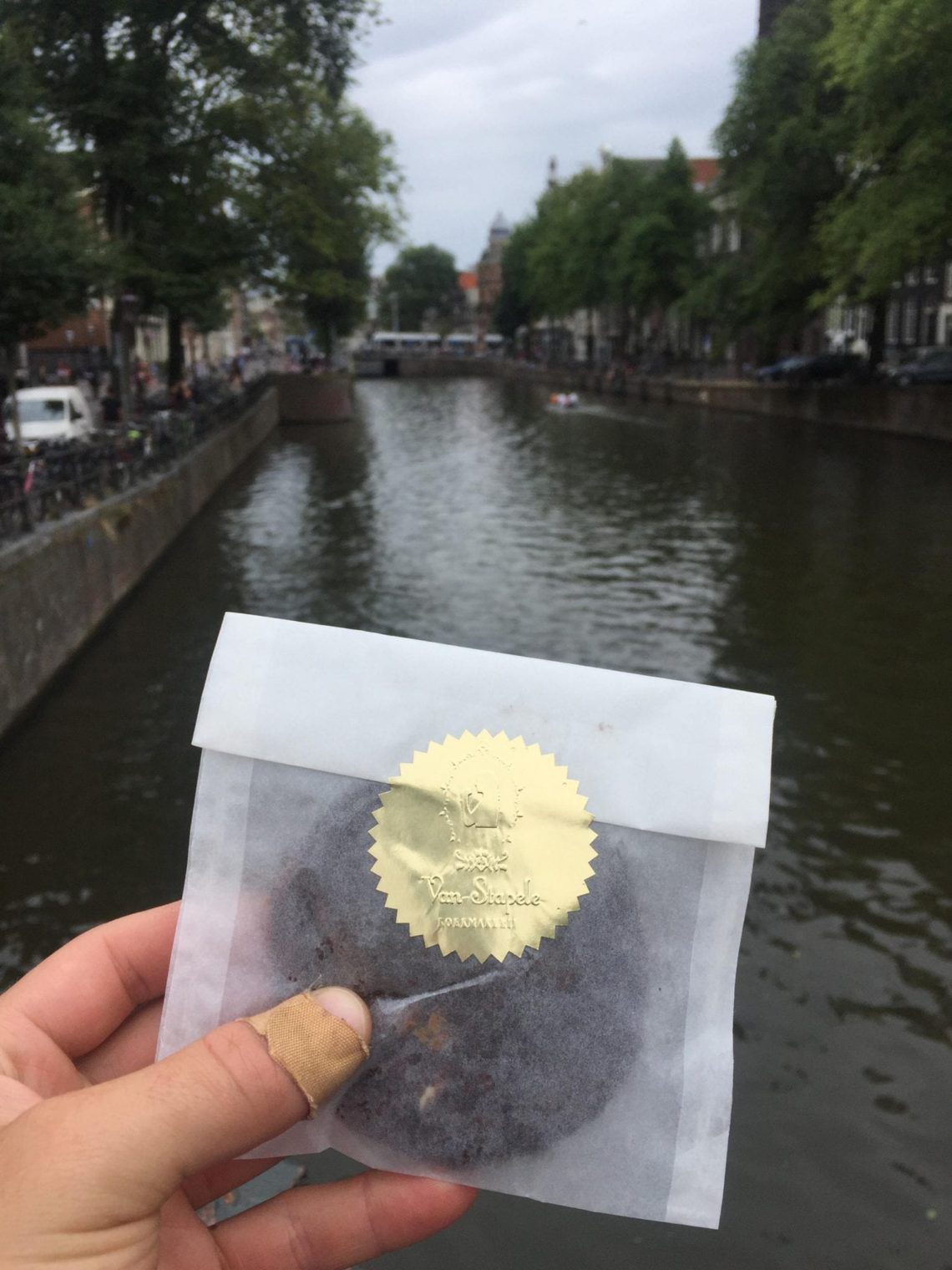 Shops in Amsterdam
If you are staying somewhere with cooking facilities, or even if you're not, not all of your meals need to be bought from a restaurant. There are cheap supermarkets in the city: Deen, Aldi and Lidl. We got breakfast, 2 lunches, dinner, drinks and snacks costing only €13! Backpacker bargain!
However, we did always say we want to try the local cuisine, so we made sure that we had at least one breakfast, lunch and dinner from a restaurant, and made the rest ourselves. This saved us a lot of money during our time in Amsterdam.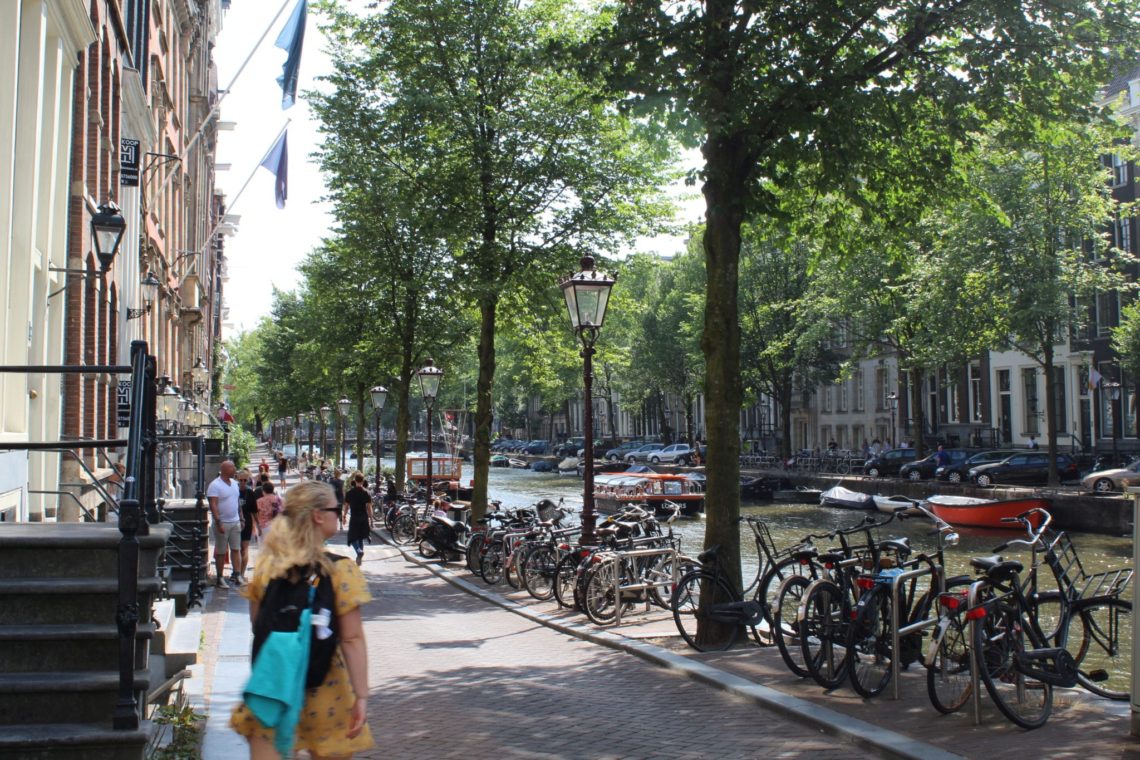 Attractions in Amsterdam
As much as restaurants and bars can be expensive in the city, the many amazing attractions Amsterdam features are all quite reasonably priced. We spent a total of €65 on attractions during our visit, giving us access to the Anne Frank house, A'dam lookout and swing, and a free walking tour which we loved so much we tipped €10. This is much cheaper than other famously expensive cities, such as London.
If you have access to the internet, try booking your tickets online as they will sell out fast and there is sometimes even a discount for booking online. If you don't have internet access, pick up a leaflet from a Tickets and Tours shop, as these have discount coupons  for attractions around the city.
\Each of these attractions we did were brilliant and we would highly recommend them. For more inspiration for your trip, have a look at our favourite 15 activities in Amsterdam.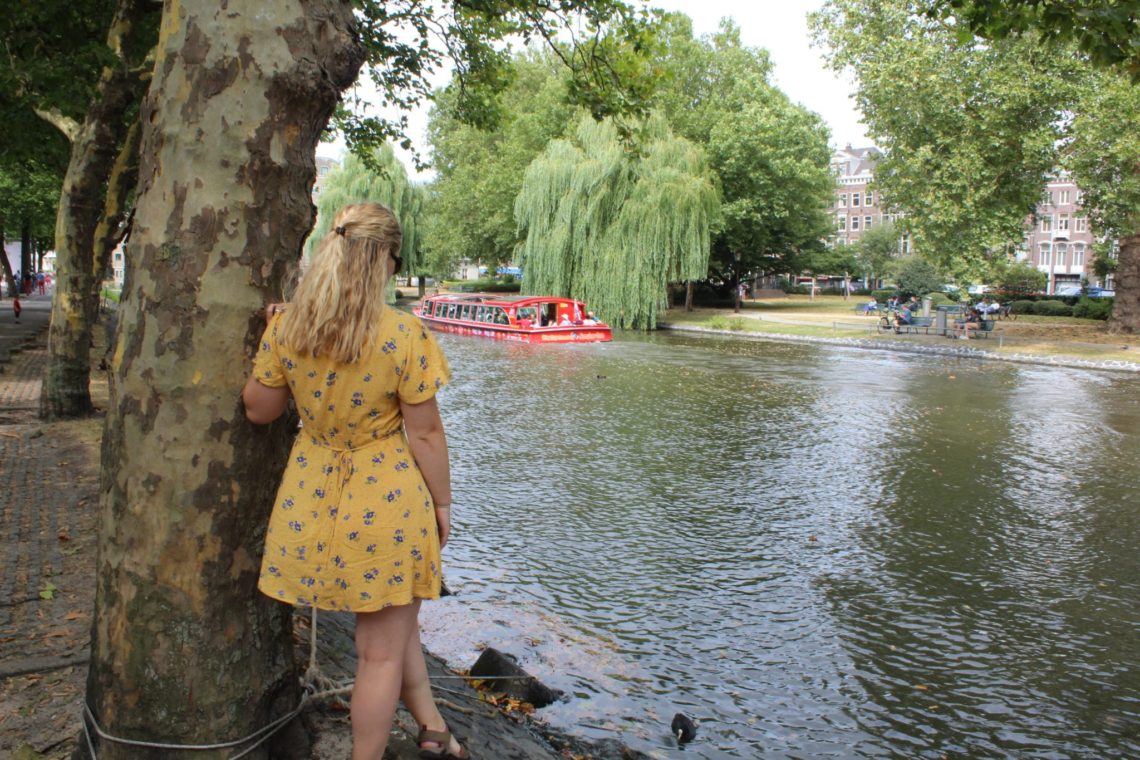 How to Prepare for Your Trip to Amsterdam
Before you head off on your trip to Amsterdam there are a number of things that you will need to organise to ensure a smooth and enjoyable trip. These things include what to pack, what travel insurance is the best, and where to stay in the city of Amsterdam. All of these points will be discussed in the below section.
What is the Best Travel Insurance for Amsterdam?
Whatever type of adventure you plan to embark on, the most important purchase you can make is always Travel Insurance. Accidents can happen anywhere and at any time, so the last thing you want is to have your holiday ruined by extortionate medical bills. We always sort our travel insurance with World Nomad's travel insurance to ensure we are covered for a stress-free trip.
World Nomad's Travel Insurance offers incredibly diverse and inclusive policies combined with worldwide customer support, designed with backpackers in mind. The policies they offer are all very reasonably priced and can be booked from anywhere in the world, even if you are not currently in your home country.
You can get your quote before you leave on your trip right here.
What to Pack for Amsterdam?
Depending on what time of year you decide to visit Amsterdam will change the requirements for what you need to pack. During the summer months of June through to September, the weather in Amsterdam is a beautiful 25-35 degrees Celcius, with very little rain.
During these months, the obvious choice is to pack light clothing that is comfortable to wear in the heat whilst you are out and about in the city. We would also recommend packing a light raincoat that you can put on if you get caught in a rare shower whilst exploring.
During the shoulder and winter months in Amsterdam, the temperatures vary from 15 degrees Celcius down to as low as below freezing, so warm clothes are a must. The best way to pack light whilst keeping warm is to pack a lot of thin layers that you can wear multiple of.
Check out our Summer Packing List for Women and Summer Packing List for Men for some clothing inspiration for your trip to paradise.
When it comes to toiletries, we recommend that you don't forget to pack sunscreen. The sun in Amsterdam is very strong, especially during the summer months. Apply a lot of cream regularly to prevent a nasty burn from ruining your trip. We use this specific sunscreen to protect us as it is not as oily and irritating as other sunscreens.
Given the beautiful sights and scenery that you will see in Amsterdam, we highly recommend packing a good camera for your trip. If you want to read more about the cameras we use and why we love them, check out the link below.
You can read what else we keep in our camera bag over here.
Where to Stay in Amsterdam
Despite all of our love for this incredible city, there is one downside to visiting Amsterdam and it is the price of accommodation. Although it is possible to find cheap activities, cheap places to eat, and cheap ways to get around, there are no cheap options for accommodation.
Despite this, there are still some affordable options for accommodation, so regardless of your budget, you are going to find Amsterdam has the perfect accommodation for you. Here are the best places to stay in Amsterdam for all budgets that we could find.
Luxury – If you want to tour Amsterdam on the luxurious side of life, the most central and most comfortable place for you is the W Amsterdam hotel. Offering guest rooms, suites, and a heated wetdeck rooftop pool, this hotel offers the best experience for your stay in the centre of Amsterdam.
Book your stay at the W Amsterdam hotel right here.
Mid-Range – The best option for those who wish to visit Amsterdam comfortably without breaking the bank is the Reiwa guest house. This comfortable and spacious apartment is only a couple of miles away from major sights such as the Artis Zoo and the Rembrandt House and offers breakfast, wifi, and a terrace to relax on.
Book your stay at the Reiwa guest house here.
Budget – For those who are more interested in getting out and about in Amsterdam and are simply looking for a comfortable place to rest your head, the Hotel Flipper in Amsterdam is the best option for you. Situated in the Berlage Quarter of Amsterdam's residential district, this hotel is only a couple of miles from the centre of the city. It offers either shared or private bathrooms with all of the rooms, and also offers a free breakfast and wifi.
Book your stay at the Hotel Flipper Amsterdam here.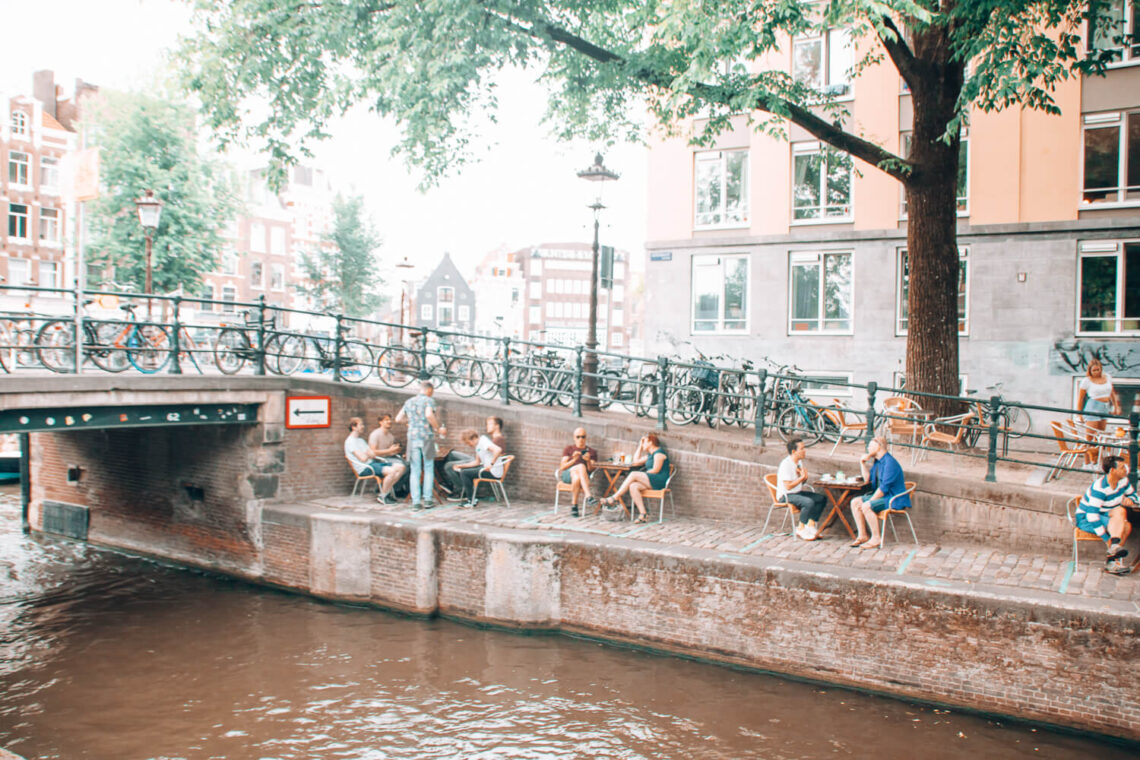 So there you have it, your complete budget guide to Amsterdam, with all of the best sights, activities and food stalls Amsterdam has to offer. If you have been to Amsterdam recently, let us know how you found it in the comments below. What were your favourite sights? What did you think of the culture? Where was your favourite area? Let us know in the comments below.
If you are planning a full trip to Amsterdam, make sure you check out the rest of our guides and Netherlands content to ensure a stress-free adventure. We will gladly answer any questions you have with regards to your trip, so either DM us or send us an email.
Don't forget that sharing is caring! Be sure to share this article with your family and friends to let them know all about your big plans. Maybe even inspire them to visit Amsterdam themselves! Catch up with us on social media and see what we are currently up to. Tag us in your photos from your Amsterdam adventure on Instagram so that we can share them with the rest of our community.
Now Read: 
This article may contain affiliate links that provide us with a small income. For more information read our Affiliate page.
---
Save this image to your Amsterdam Pinterest board for later!