When it comes to food, the Netherlands are famous for their Dutch pancakes, Stroopwaffles and (as our walking tour guide said) "all kinds of warming foods that you just throw together with mashed potato and spinach!". Being budget backpackers we do enjoy a wee pre-made packed lunch sitting by the canal (we managed breakfast, 2 lunches, dinner, drinks and snacks for €13!).
However, we still do enjoy eating the local cuisine and treating ourselves with the money we've saved. During our stay here in Amsterdam we did just that! Here are our best bites in Amsterdam.
Save this image to your Amsterdam Pinterest board for later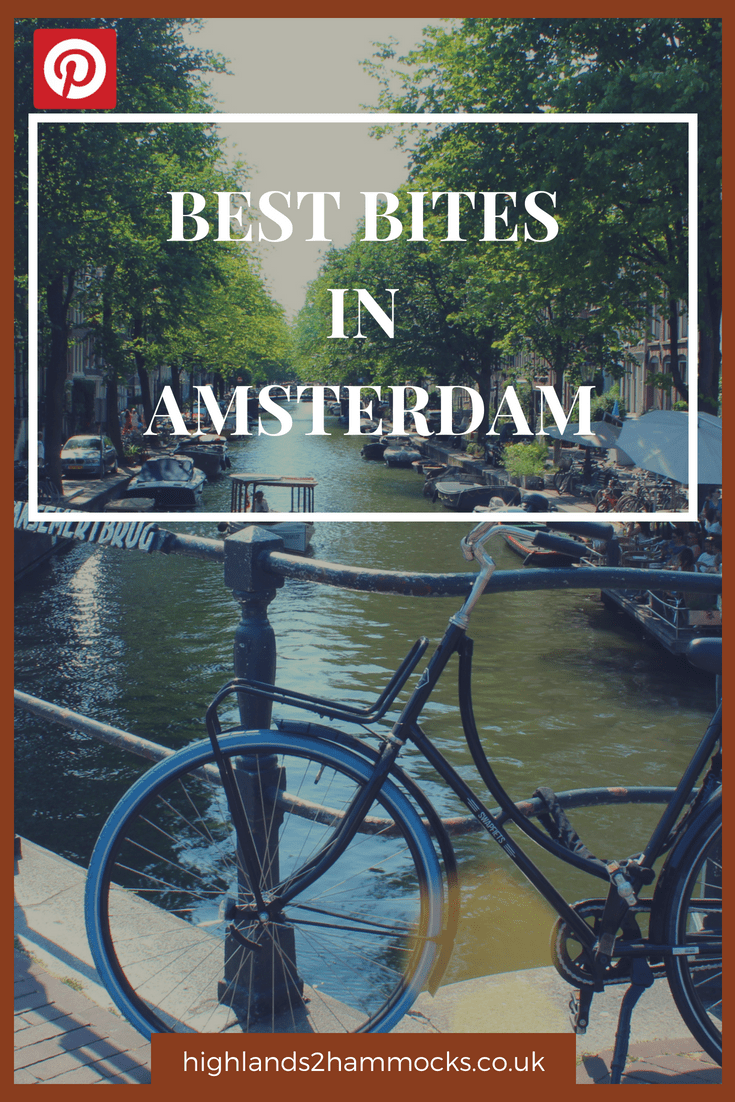 Best Bites in Amsterdam – The Cheapest Places to Eat
Breakfast in Amsterdam
We were recommended to go to Bakers and Roasters to start your off your day out in Amsterdam. The menu looked so amazing, we decided to head for brunch. However, apparently so did everybody else in Amsterdam.. I think to be in with the chance of getting a table you need to be there for it opening at 9 am, as when we arrived it was a 2-hour wait for a table! We were far too hungry for that so we decided to try somewhere else.
As we were in the mood for pancakes, De Carrousel was google's top recommendation and it did not disappoint! We both had a (very large) pancake with bacon and egg through it, costing us just €8. Very yum!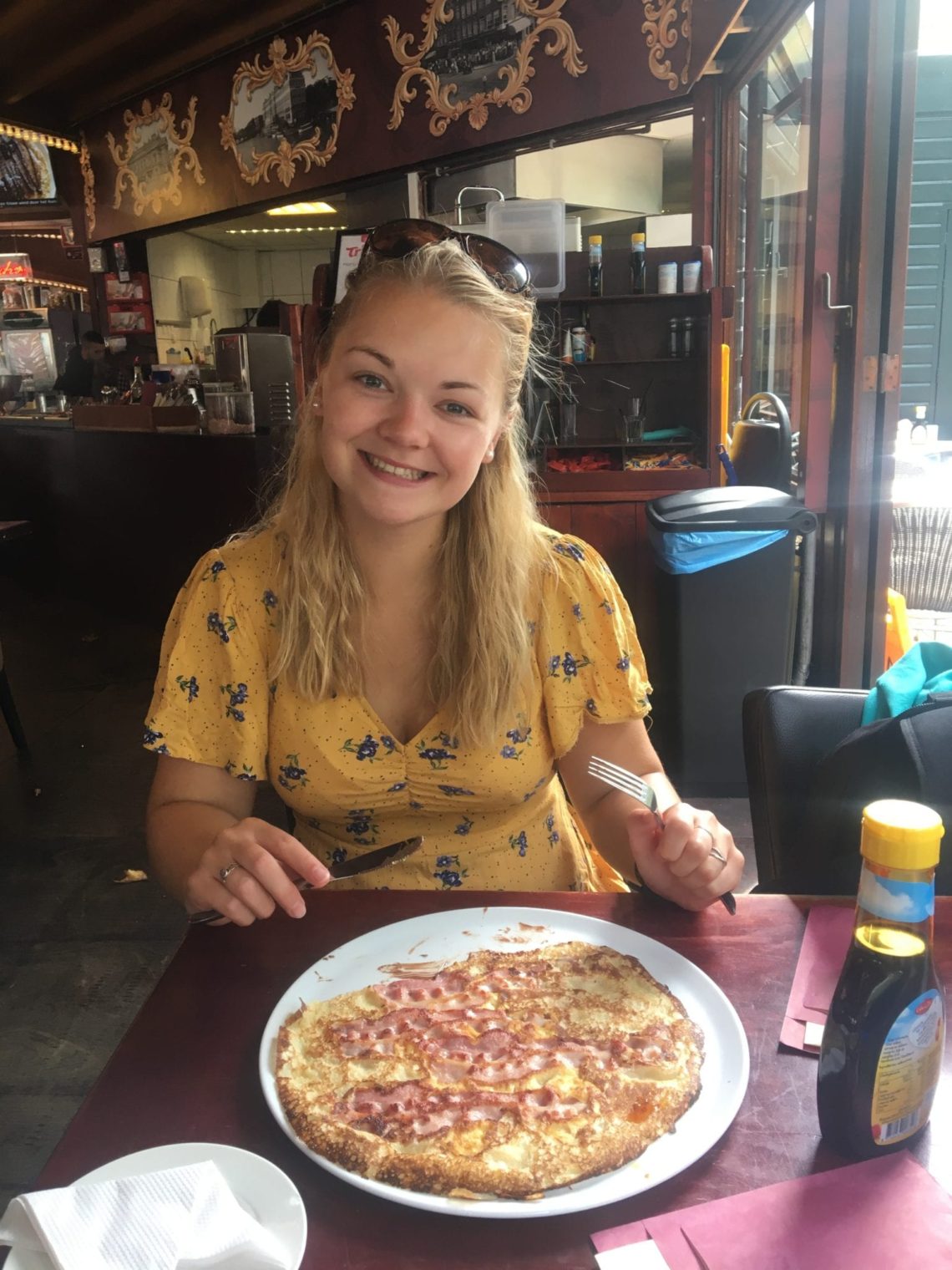 Lunch in Amsterdam
When we read that there was a shop called Hummus Bistro there really was no discussion, we knew that's where we were headed. For just €10, you can have a very large bowl of hummus with spices, topped with roasted chick peas and falafel balls, all served with pitta bread and a salad. It was worth every cent, even the salad was amazing and very unique.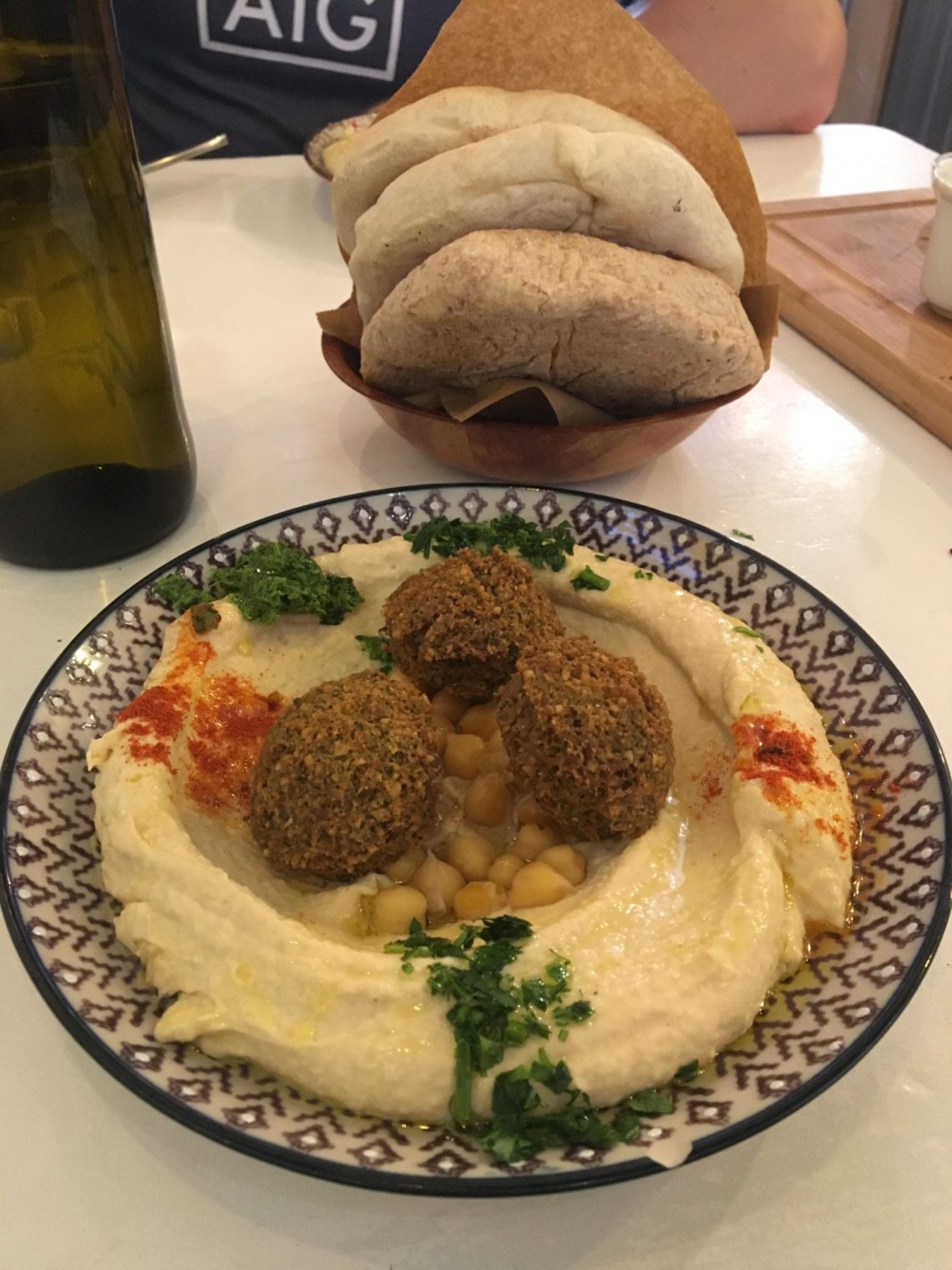 Dinner in Amsterdam
Located on Reguliersbreestraat is Burger Fabriek, where (during our last trip 3 years ago) was so good we ate here twice! We had planned to eat here again on this trip, however we ended up getting last minute tickets to Anne Frank House instead (that is another story). It looked very busy so I'm sure it's still as good as it was and it was reasonably priced, around €10 for a burger.
There are many food options on Reguliersbreestraat if you are not in the mood for a burger. We ate at an Italian one night and got a really good pizza for €8, however Burger Fabriek would be our top recommendation.
Snacks
World Famous Cookie
The best cookie maker in the world sits right in the heart of Amsterdam. This cookie is so good, apparently people are travelling to the city just to try it. The small bakery, Van Stapele, only sell one type of cookie and when they sell out for the day they close. At €1.95 per cookie it may seem overly expensive, however this was the best €1.95 we spent on the entire trip. Straight out the oven, a double chocolate chip with a melted white chocolate centre is any chocolate lovers dream, and boy we are still dreaming about it today!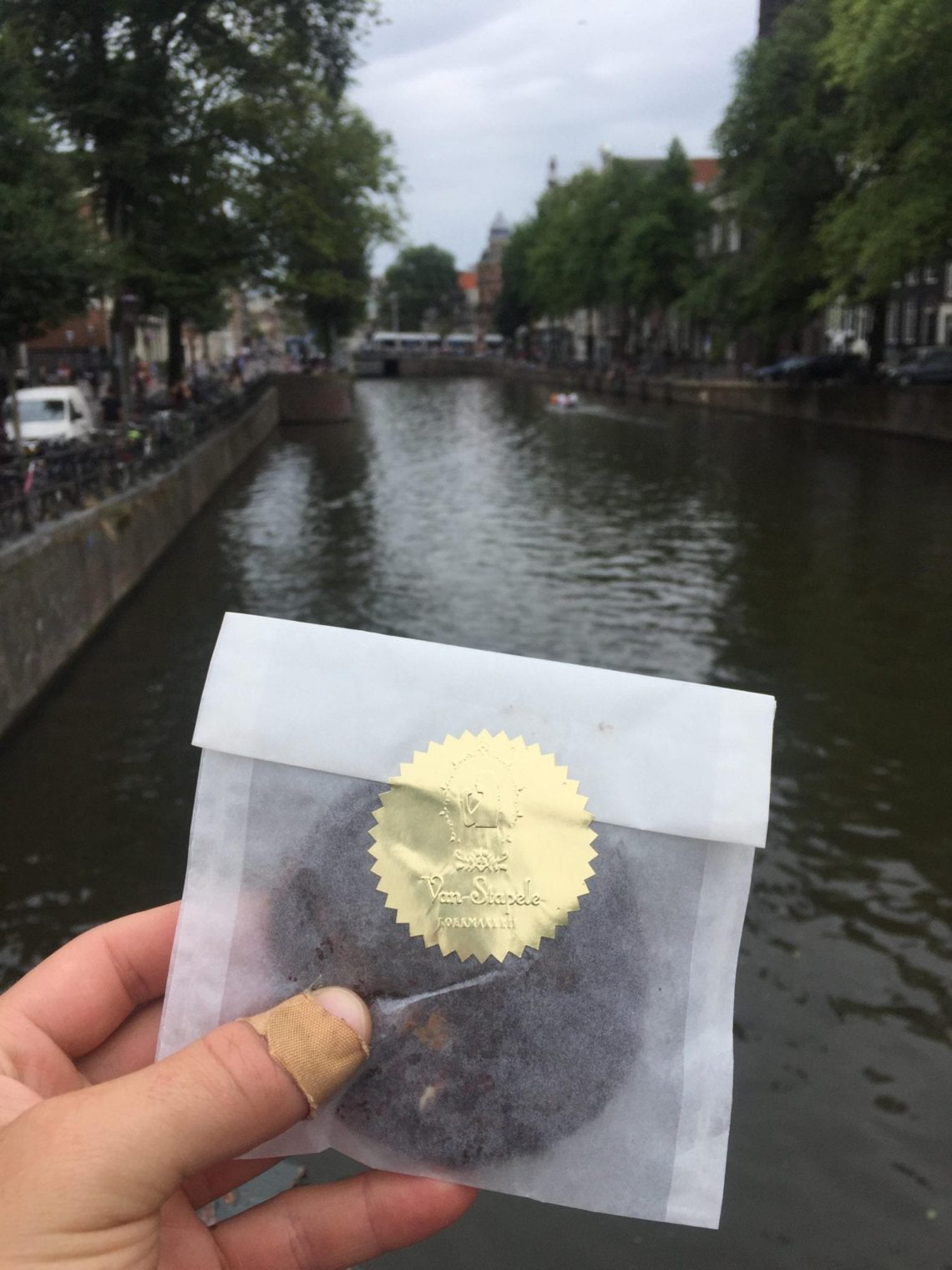 Traditional Bitterballen
We had read a lot of good things about Bitterballen so decided to give it a try at Bar Langendijk. This yummy dutch snack is a fried beef croquet, usually served with mustard and is the perfect snack to have alongside a Dutch beer.
Ice cream
On a hot day, who doesn't love an ice cream, especially when you're at the beach! (Yes Amsterdam has a beach). IJscuypje IJburg next to Strand Blijburg sells the most amazing ice cream, costing only €1.50 for a scoop! We tried the praline, apple and caramel, which was a tummy change to our usual budget, 50cent McDonalds whippy!
If your wanting somewhere to have a meal around this area, the Beach Pavilion looked like a beautiful café/restaurant. We went in to have a look around, however this is where we realised we'd left Campbell's filter water bottle somewhere and had to backtrack our steps (again this is another story..).
Amsterdam can be expensive for food and drink but if you shop around and don't sit in at a restaurant on a main square, then you should be able to enjoy your stay without breaking the bank.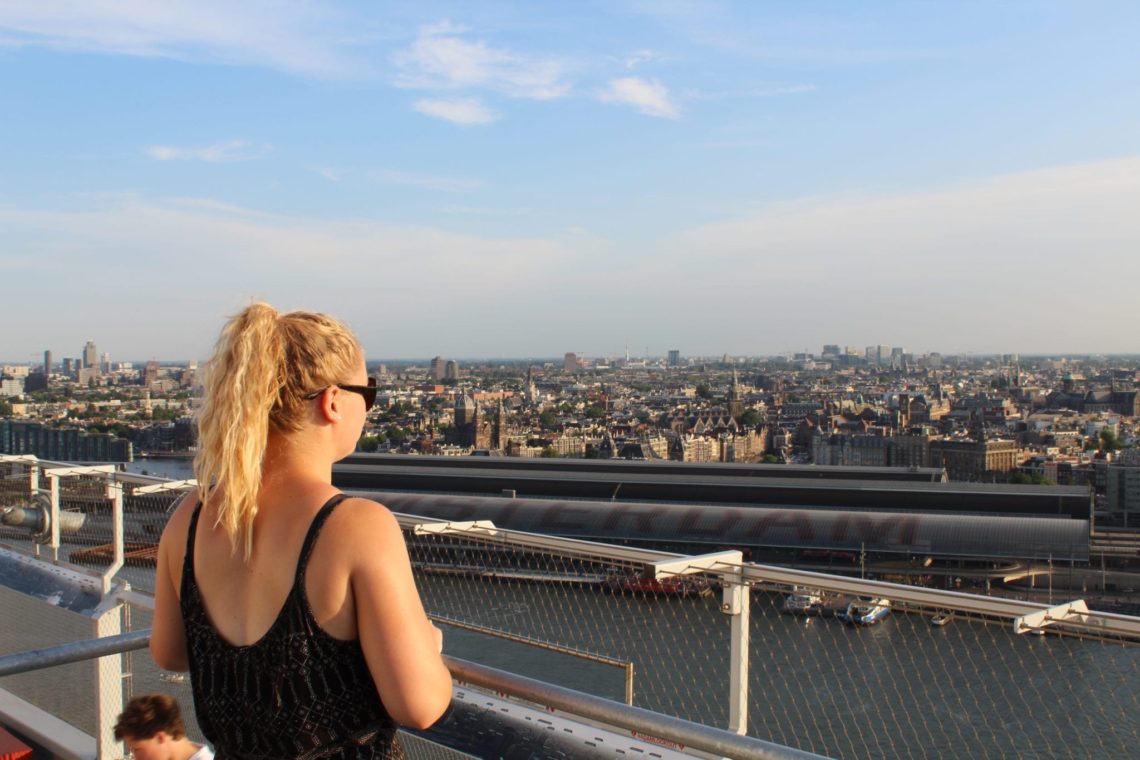 How to Prepare for Your Trip to Amsterdam
Before you head off on your trip to Amsterdam there are a number of things that you will need to organise to ensure a smooth and enjoyable day out in Amsterdam. These things include what to pack, what travel insurance is the best, and where to stay in the city of Amsterdam. All of these points will be discussed in the below section.
What is the Best Travel Insurance for Amsterdam?
Whatever type of adventure you plan to embark on, the most important purchase you can make is always Travel Insurance. Accidents can happen anywhere and at any time, so the last thing you want is to have your holiday ruined by extortionate medical bills. We always sort our travel insurance with World Nomad's travel insurance to ensure we are covered for a stress-free trip.
World Nomad's Travel Insurance offers incredibly diverse and inclusive policies combined with worldwide customer support, designed with backpackers in mind. The policies they offer are all very reasonably priced and can be booked from anywhere in the world, even if you are not currently in your home country.
You can get your quote before you leave on your trip right here.
What to Pack for Amsterdam?
Depending on what time of year you decide to visit Amsterdam will change the requirements for what you need to pack. During the summer months of June through to September, the weather in Amsterdam is a beautiful 25-35 degrees Celcius, with very little rain.
During these months, the obvious choice is to pack light clothing that is comfortable to wear in the heat whilst you are out and about in the city. We would also recommend packing a light raincoat that you can put on if you get caught in a rare shower whilst exploring.
During the shoulder and winter months in Amsterdam, the temperatures vary from 15 degrees Celcius down to as low as below freezing, so warm clothes are a must. The best way to pack light whilst keeping warm is to pack a lot of thin layers that you can wear multiple of.
Check out our Summer Packing List for Women and Summer Packing List for Men for some clothing inspiration for your trip to paradise.
When it comes to toiletries, we recommend that you don't forget to pack sunscreen. The sun in Amsterdam is very strong, especially during the summer months. Apply a lot of cream regularly to prevent a nasty burn from ruining your trip. We use this specific sunscreen to protect us as it is not as oily and irritating as other sunscreens.
Given the beautiful sights and scenery that you will see in Amsterdam, we highly recommend packing a good camera for your trip. If you want to read more about the cameras we use and why we love them, check out the link below.
You can read what else we keep in our camera bag over here.
Where to Stay in Amsterdam
Despite all of our love for this incredible city, there is one downside to visiting Amsterdam and it is the price of accommodation. Although it is possible to find cheap activities, cheap places to eat, and cheap ways to get around, there are no cheap options for accommodation.
Despite this, there are still some affordable options for accommodation, so regardless of your budget, you are going to find Amsterdam has the perfect accommodation for you. Here are the best places to stay in Amsterdam for all budgets that we could find.
Luxury – If you want to tour Amsterdam on the luxurious side of life, the most central and most comfortable place for you is the W Amsterdam hotel. Offering guest rooms, suites, and a heated wetdeck rooftop pool, this hotel offers the best experience for your stay in the centre of Amsterdam.
Book your stay at the W Amsterdam hotel right here.
Mid-Range – The best option for those who wish to visit Amsterdam comfortably without breaking the bank is the Reiwa guest house. This comfortable and spacious apartment is only a couple of miles away from major sights such as the Artis Zoo and the Rembrandt House and offers breakfast, wifi, and a terrace to relax on.
Book your stay at the Reiwa guest house here.
Budget – For those who are more interested in getting out and about in Amsterdam and are simply looking for a comfortable place to rest your head, the Hotel Flipper in Amsterdam is the best option for you. Situated in the Berlage Quarter of Amsterdam's residential district, this hotel is only a couple of miles from the centre of the city. It offers either shared or private bathrooms with all of the rooms, and also offers a free breakfast and wifi.
Book your stay at the Hotel Flipper Amsterdam here.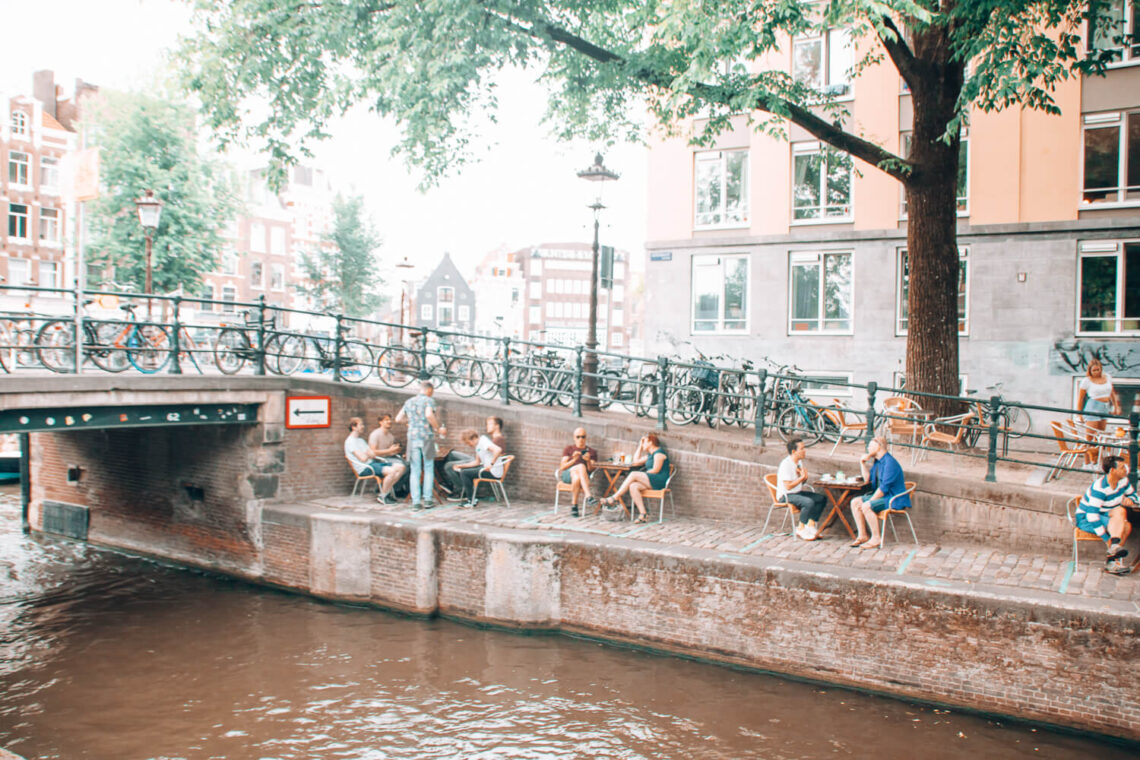 So there you have it, your complete guide to the cheapest places to eat in Amsterdam. If you have been to Amsterdam recently, let us know how you found it in the comments below. What were your favourite sights? What did you think of the culture? Where was your favourite area? Let us know in the comments below.
If you are planning a full trip to Amsterdam, make sure you check out the rest of our guides and Netherlands content to ensure a stress-free adventure. We will gladly answer any questions you have with regards to your trip, so either DM us or send us an email.
Don't forget that sharing is caring! Be sure to share this article with your family and friends to let them know all about your big plans. Maybe even inspire them to visit Amsterdam themselves! Catch up with us on social media and see what we are currently up to. Tag us in your photos from your Amsterdam adventure on Instagram so that we can share them with the rest of our community.
Now Read: 
This article may contain affiliate links that provide us with a small income. For more information read our Affiliate page.
---
Save this image to your Amsterdam Pinterest board for later!