World-famous as one of Europe's most eccentric, forward-thinking and all-round wacky cities, Amsterdam is definitely worth a visit. We returned to this beautiful city as the first stop on our European adventure and already can't wait to go back!
Whether it's a long weekend, or a lifetime move, you will struggle to ever get bored of Amsterdam's quirky charms and stunning sights. These are our top 15 activities in Amsterdam!
Save this image to your Amsterdam Pinterest board for later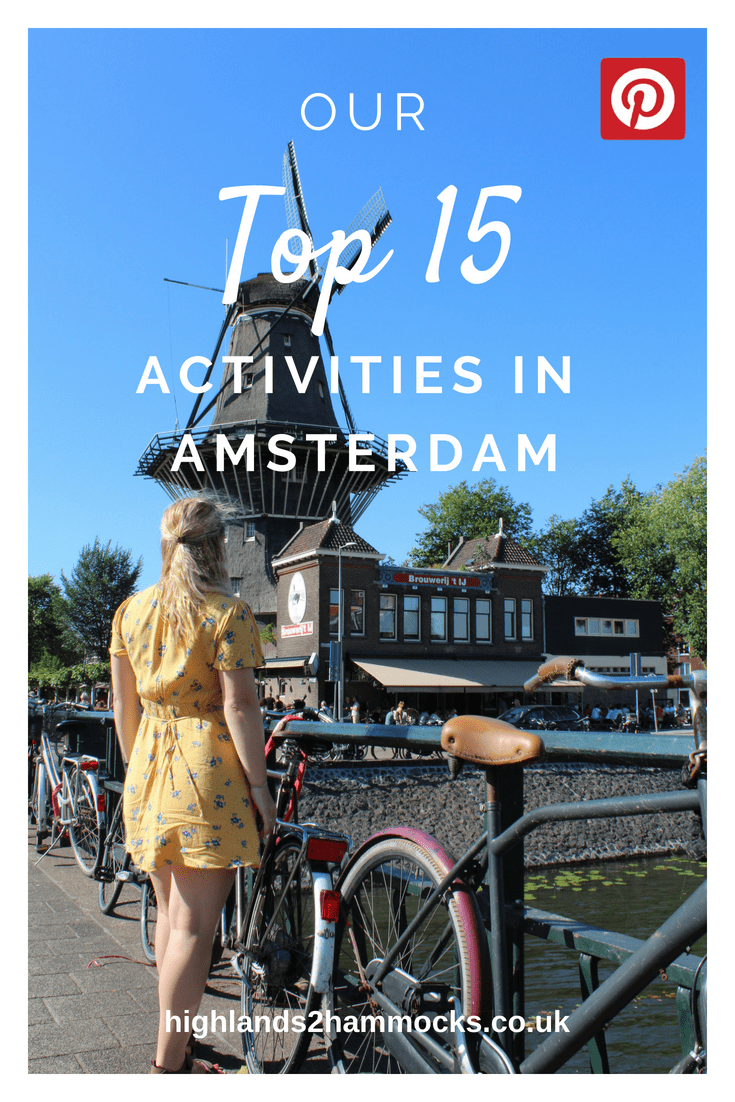 The Top 15 Activities in Amsterdam
Take a Picture with I Amsterdam
Possibly one of the most touristy spots you can find, this famous sign is an absolute must-see activity on your trip. If you don't Gram a pic, did you even go?! Just make sure you grease up your elbows to squeeze in for a picture, as you won't be alone!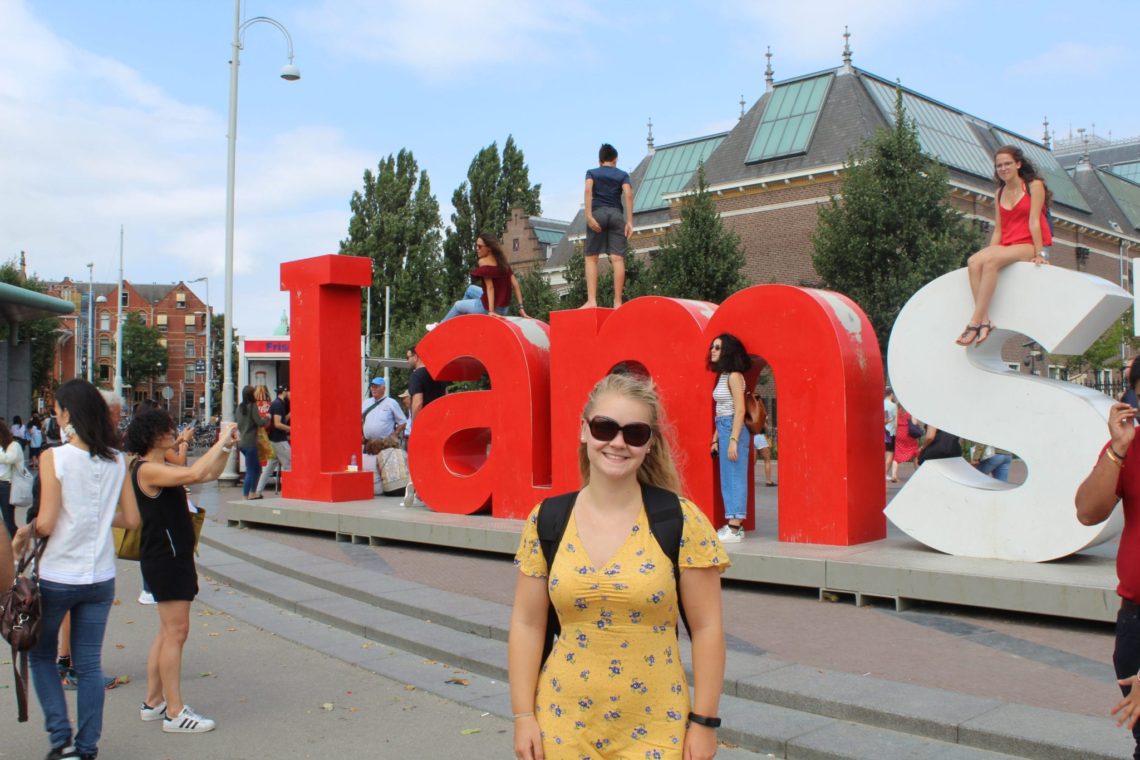 Rooftop Swing and Drinks at the A'DAM Lookout
Catch the best view over the bustling city of Amsterdam during your visit to the Netherlands at the top of the Amsterdam Tower. Sitting high above the busy port, the A'DAM Lookout has two bars to choose from, either inside or outside and both with stunning views. Entry to the Lookout is a very reasonable €12.50.
If you are feeling extra brave, have a shot on the Over the Edge swingset. This knee-wobbling swing shoots you out over the edge of the 20 story building, giving you a unique view of the busy streets below. At only €5 extra, this activity is well worth it! Tickets can be bought for A'DAM Lookout online here.
This is the perfect place to end your day out in Amsterdam, with a beautiful sunset view over the city and drinks at the bar. We came here just before sunset and found it to be not too busy, but with enough atmosphere to make it a night to remember. Definitely the best sunset spot in Amsterdam!
 Go for a Snooze in Vondelpark
If a busy day out in Amsterdam is just too much for you, then you can always head to the beautiful Amsterdam Park. Pick up ice cream and chill out, or even rest your eyes for the wild night ahead. Look out for the beautiful tulips that the Netherlands is so famous for.
 Drink Heineken Fresh from the Keg
One of the most popular attraction in Amsterdam is the famous Heineken brewery, and there are countless reasons why! Take a tour of the birthplace of Heineken beer, learning the history of its creators, the process of making it and finally tasting the fresh product itself.
If walking around the tour has left you thirsty, then you are in luck as two half-pints are included in the price of your ticket! You can buy your tickets for the Heineken Experience online here.
 Take a Romantic Tour of the Canals
During our first visit, we set sail around Amsterdam maze-like network of canals. Giving you a completely unique view of the city, these tours also tell you about the history of the narrow houses and many of the stories that took place here. You can book your cruise throughout the city, or at any of the multiple Tickets and Tours centres.
 Explore with a Free Walking Tour
We always find that there is no better way to get to know a city than by chatting with a local. Well, this is exactly what you can do with 360 Amsterdam's free walking tour! Meeting every day beside the Palace in Dam Square, your free guide will give you an incredibly detailed, 2-hour walking tour of the city. Get to know the fascinating history of Amsterdam, as well as some local secrets such as where to buy the best cookie in the world!
 Soak up the Atmosphere at Dam Square
Sitting in the centre of Amsterdam, this square is always heaving with people. Take a stroll through its bustling crowds and enjoy the beautiful buildings that surround it.
 Get your Cheese Fix at the Cheese Museum
Tour around this unique (and smelly) attraction in the heart of Amsterdam. Browse and sample all of the Netherland's famous goudas and even learn more the process of making the cheese.
 Learn the Story behind Anne Frank
Without a doubt, Amsterdam's most famous attraction, the walking tour around Anne Frank's hiding place is a must-see attraction. As you walk around the very building where the two families were hidden, an audiotape will tell you the harrowing stories of what life was like for Jewish people during the war.
Tickets are hard to come by for this attraction and are normally sold out months in advance. However, on the day you are planning to go, you can request tickets as they release last-minute spares. This was what we did and thankfully we were online early enough and got some
 Ride the Free Ferry to North Amsterdam
Across the busy shipping route of Amsterdam's port, there is even more bars, restaurants and sights to discover. To get there you can simply hop on one of the free ferries that run 24/7 and every 5 minutes!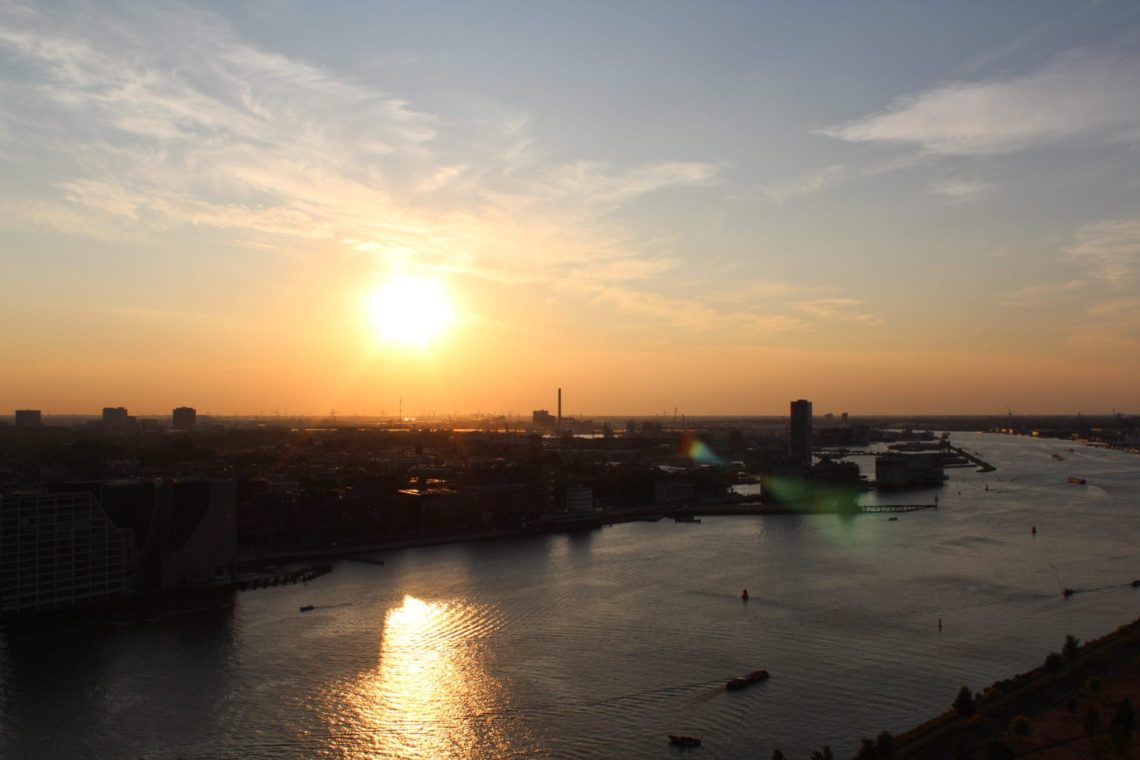 Cool Off in the Canals
Now I know what you might be thinking, "you want me to go swimming in THAT?!". If you have been to Amsterdam before, you will know that the water doesn't look very appealing for a quick dip. HOWEVER, there are parts of Amsterdam where the water is clearer and swimming is very popular! For a list of all the swimming spots, check out this useful guide by Awesome Amsterdam!
Drink Beer in an Old Windmill
If you are into sampling the local beers, then make sure you do it in style! The Brouwerij 't Ij is one of Amsterdam's oldest and most unique breweries (aside from the famous Heineken, obviously). The brewery is located inside an old windmill on one of Amsterdam's many canals and has a huge selection of beers to try. There is even a tasting menu to try 5 different beers for only €10!
Sample the World's Best Cookie
Okay so remember that local secret I spoke about before, well I'll let you in on it now. For the best cookie in the world, head to Van Stepele's cookie shop, located near Spui Street. This bakery is incredibly unique, as they literally only serve one kind of cookie. It is quite pricey, at €1.95 per cookie, however this is well worth it!
 Trip to the Seaside at the Blijburg Strand
When you think of Amsterdam, you probably imagine beautiful canals, slanty buildings and lots of red lights (must be bad traffic..). Well, believe it or not, Amsterdam also has its own beaches! Catch the tram across to Ijlburg and walk along to the Blijburg Strand. Here you can swim in the sea, catch some waves with wind-surfing or simply chill in the very hip, ramshackle café. This is also where lots of festivals and events take place, so check out what is going on during your visit!
 Chill by the Canals
There is no better way to finish off a hectic day in one of Europe's most beautiful city than spending some time people-watching. Grab a cheap beer from the local supermarket, sit by the canal system and simply watch the world go by.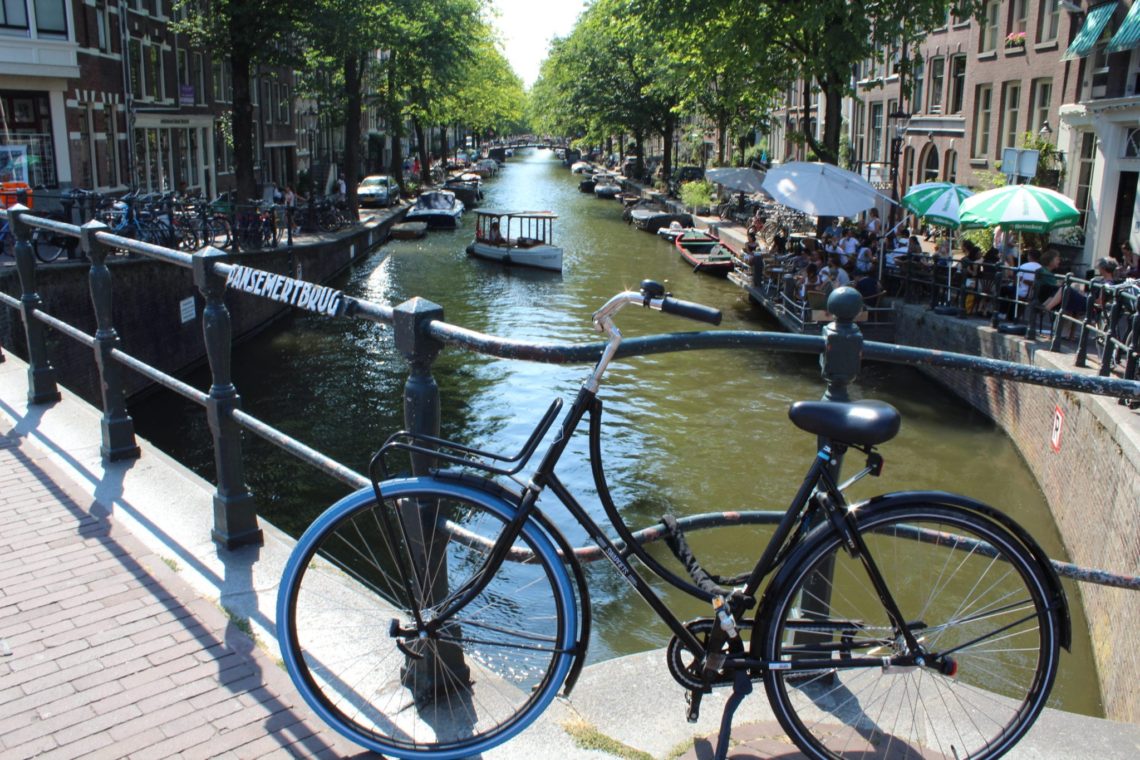 How to Prepare for Your Trip to Amsterdam
Before you head off on your trip to Amsterdam there are a number of things that you will need to organise to ensure a smooth and enjoyable trip. These things include what to pack, what travel insurance is the best, and where to stay in the city of Amsterdam. All of these points will be discussed in the below section.
What is the Best Travel Insurance for Amsterdam?
Whatever type of adventure you plan to embark on, the most important purchase you can make is always Travel Insurance. Accidents can happen anywhere and at any time, so the last thing you want is to have your holiday ruined by extortionate medical bills. We always sort our travel insurance with World Nomad's travel insurance to ensure we are covered for a stress-free trip.
World Nomad's Travel Insurance offers incredibly diverse and inclusive policies combined with worldwide customer support, designed with backpackers in mind. The policies they offer are all very reasonably priced and can be booked from anywhere in the world, even if you are not currently in your home country.
You can get your quote before you leave on your trip right here.
What to Pack for Amsterdam?
Depending on what time of year you decide to visit Amsterdam will change the requirements for what you need to pack. During the summer months of June through to September, the weather in Amsterdam is a beautiful 25-35 degrees Celcius, with very little rain.
During these months, the obvious choice is to pack light clothing that is comfortable to wear in the heat whilst you are out and about in the city. We would also recommend packing a light raincoat that you can put on if you get caught in a rare shower whilst exploring.
During the shoulder and winter months in Amsterdam, the temperatures vary from 15 degrees Celcius down to as low as below freezing, so warm clothes are a must. The best way to pack light whilst keeping warm is to pack a lot of thin layers that you can wear multiple of.
Check out our Summer Packing List for Women and Summer Packing List for Men for some clothing inspiration for your trip to paradise.
When it comes to toiletries, we recommend that you don't forget to pack sunscreen. The sun in Amsterdam is very strong, especially during the summer months. Apply a lot of cream regularly to prevent a nasty burn from ruining your trip. We use this specific sunscreen to protect us as it is not as oily and irritating as other sunscreens.
Given the beautiful sights and scenery that you will see in Amsterdam, we highly recommend packing a good camera for your trip. If you want to read more about the cameras we use and why we love them, check out the link below.
You can read what else we keep in our camera bag over here.
Where to Stay in Amsterdam
Despite all of our love for this incredible city, there is one downside to visiting Amsterdam and it is the price of accommodation. Although it is possible to find cheap activities, cheap places to eat, and cheap ways to get around, there are no cheap options for accommodation.
Despite this, there are still some affordable options for accommodation, so regardless of your budget, you are going to find Amsterdam has the perfect accommodation for you. Here are the best places to stay in Amsterdam for all budgets that we could find.
Luxury – If you want to tour Amsterdam on the luxurious side of life, the most central and most comfortable place for you is the W Amsterdam hotel. Offering guest rooms, suites, and a heated wetdeck rooftop pool, this hotel offers the best experience for your stay in the centre of Amsterdam.
Book your stay at the W Amsterdam hotel right here.
Mid-Range – The best option for those who wish to visit Amsterdam comfortably without breaking the bank is the Reiwa guest house. This comfortable and spacious apartment is only a couple of miles away from major sights such as the Artis Zoo and the Rembrandt House and offers breakfast, wifi, and a terrace to relax on.
Book your stay at the Reiwa guest house here.
Budget – For those who are more interested in getting out and about in Amsterdam and are simply looking for a comfortable place to rest your head, the Hotel Flipper in Amsterdam is the best option for you. Situated in the Berlage Quarter of Amsterdam's residential district, this hotel is only a couple of miles from the centre of the city. It offers either shared or private bathrooms with all of the rooms, and also offers a free breakfast and wifi.
Book your stay at the Hotel Flipper Amsterdam here.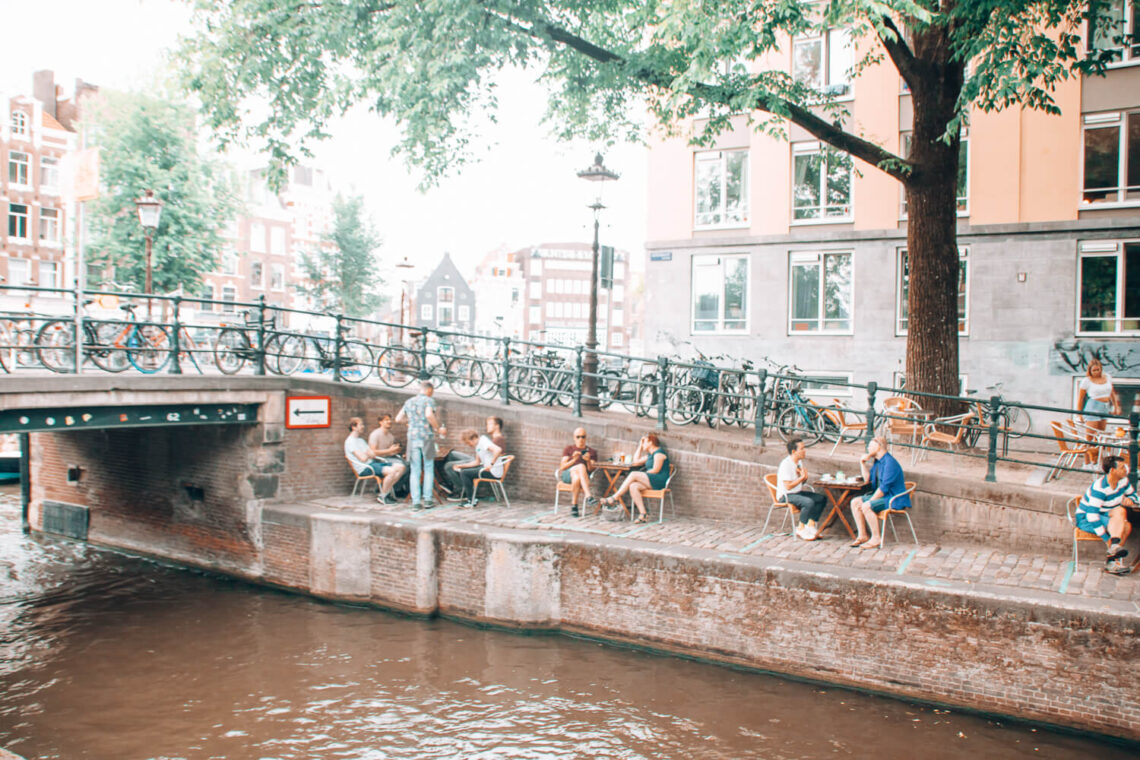 So there you have it, your complete guide to the best sights in Amsterdam, with all of the best sights, activities and food stalls Amsterdam has to offer. If you have been to Amsterdam recently, let us know how you found it in the comments below. What were your favourite sights? What did you think of the culture? Where was your favourite area? Let us know in the comments below.
If you are planning a full trip to Amsterdam, make sure you check out the rest of our guides and Netherlands content to ensure a stress-free adventure. We will gladly answer any questions you have with regards to your trip, so either DM us or send us an email.
Don't forget that sharing is caring! Be sure to share this article with your family and friends to let them know all about your big plans. Maybe even inspire them to visit Amsterdam themselves! Catch up with us on social media and see what we are currently up to. Tag us in your photos from your Amsterdam adventure on Instagram so that we can share them with the rest of our community.
Now Read: 
This article may contain affiliate links that provide us with a small income. For more information read our Affiliate page.
---
Save this image to your Amsterdam Pinterest board for later!