If you are to ask anyone what their favourite memories from their trip to Bali are, a perfect, Balinese sunset is definitely going to be up there. If stunning sunrises are not your forte, then sunsets are just another one of the many things that Bali does oh so well. Pink skies, crashing waves, and stunning scenery, it all adds up to a recipe for success. This post is all about the best sunset spot in Uluwatu (if not the entire island of Bali), the Karang Boma cliff viewpoint.
This spot is the perfect way to end your ultimate day out in Uluwatu, or if you are just passing by, it is a spectacular place to end another day in paradise. Complete your trip to this incredible island of Indonesia with Karang Boma cliff, one of the most spectacular sunset spots in the world.
This is your ultimate guide to Karang Boma cliff sunset point, including everything you will need to know for your own visit such as how to get there, what to expect and how much it costs.
Save this image to your Indonesia Pinterest board for later!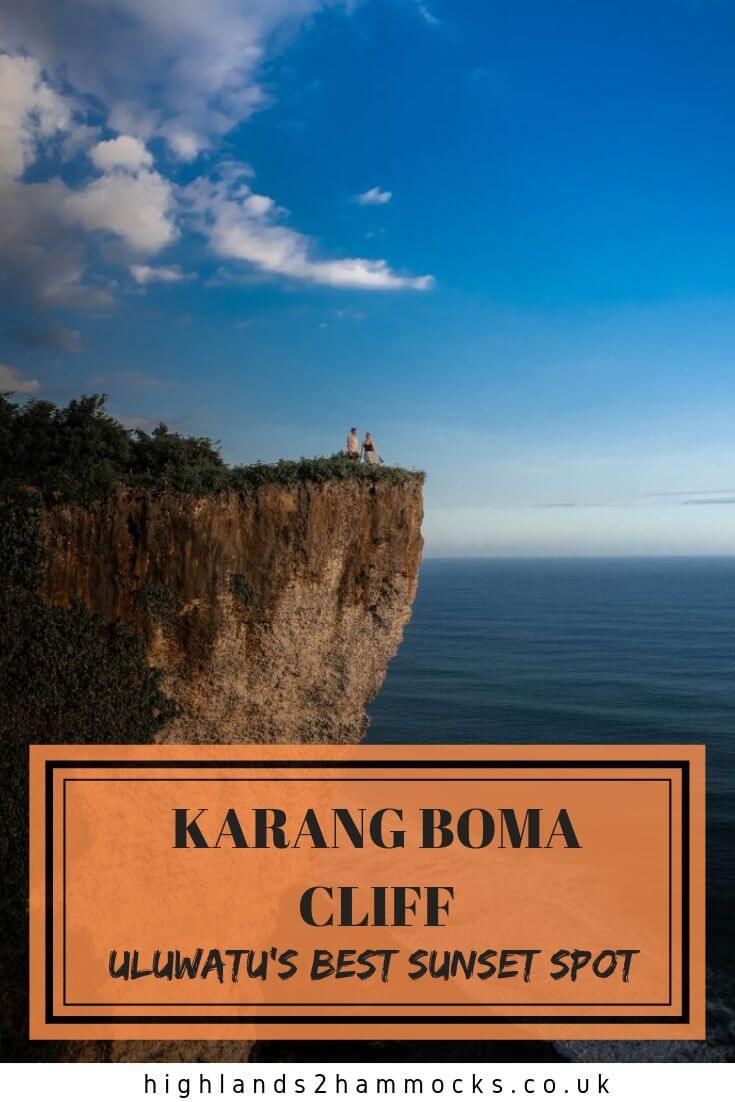 Also check out our ultimate guide to Bali for a 7 day itinerary of the island, as well as the best places to stay, what sights to see and other travel tips for Bali.
In this guide, we will discuss all of the points below. All of these points will be discussed in greater detail later in the article.
How to Get to Karang Boma Cliff, Uluwatu
What to Expect at Karang Boma Cliff, Uluwatu
When is the Best Time to Visit This Uluwatu Cliff
Other Amazing Activities in the Area
How to Prepare for Your Trip
Keep up with us over on Youtube and SUBSCRIBE for more videos by clicking here!
Karang Boma Cliff, Bali – Uluwatu's Best Sunset Spot
Where is Karang Boma Cliff?
The perfect sunset spot that is Karang Boma cliff is quite a distance from the popular southern regions of Bali, with Canggu being a 35km drive from the cliff viewpoint. Despite this distance, the sunset view and the beauty it has to behold is absolutely worth the hour-long drive it will take to get there.
If you do not fancy this commute home in the dark, there are plenty of accommodation options in the local area that you can spend the night in. These will be discussed later on in the article.
Transport to Karang Boma Cliff
When it comes to getting around Bali, you really have to choose one of the two options. You can either rent a scooter and drive yourself around the island, or you can hire a driver to do it for you. Each has its own advantages and disadvantages, however, our recommendation is to rent a scooter and self-drive.
Hiring a Driver in Bali
Hiring a driver is a popular option in Bali and it can be done in a number of ways. You can rent a taxi driver for long or short trips, or you can hire a driver for an entire day trip around the island.
In order to book a driver, you can either do so in person and face the task of bartering hard for a reasonable price, rent through your hotel and risk being overcharged again, or book a driver using the online apps GoJek or Grab.
The plus side to renting a driver for a day is the experience of having a private chauffeur, tour guide and photographer for the day. Your driver will either take you on a pre-determined tour or you can follow your own Bali itinerary.
The downside to renting a driver is the cost. A taxi driver that you meet on the street will typically charge you around £40 (700k IDR) for a day tour. If you book a driver online, this cost is typically half of this, costing around £20 (350k IDR).
Renting a Scooter in Bali
As for exploring Bali in your own time, renting a scooter of your own is the way to go. The freedom of having your own transport brings is well worth the stress of driving on the busy Bali streets. There is no need to worry about whether you can book a taxi from your location or if it is too remote to get a driver.
You can rent a scooter from either a private rental company or from your hotel or hostel, with the latter usually giving you a better deal. Renting a scooter long-term will work out at a cheaper rate than the cost of a single day.
The cost of renting a scooter in Bali is usually around £3 (60k IDR) per day, with rates going as cheap as £2 (40k IDR) when you rent long-term. Fuel in Bali is very cheap, with a litre costing as little as £0.40 (7k). On a scooter, this cost will go a fair distance, as during our trip from the south to the north of Bali we spent only £2 on fuel.
Also Read – Sunrise Over Bali – The 7 Best Spots for Sunrise in Bali
How to Get to the Karang Boma Cliff?
Karang Boma Cliff Entrance Fee – 10k IDR
Getting to this Uluwatu cliff is a relatively straight-forward drive. Situated on the southwest part of the Uluwatu peninsula, it is not far from the famous Uluwatu Temple. Follow directions to the GPS coordinates listed below and you will be led to a side road leading to the small Warung TG.
Karang Boma Cliff Sunset Spot Location – 8°50'11.6″S 115°05'19.1″E
Continue on past Warung TG along the winding road for another 5 minutes, where you will eventually meet a checkpoint with a local charging an entrance fee. Unfortunately, this cliff is situated on private property, so a small fee will be expected from you.
After the entrance checkpoint, you will continue along the road for another few minutes until you reach the end of the paved road at a barricaded fence. To your right is a dirt road leading on for another 200m, where you will find other scooters parked up.
Leave your scooter here and follow the path through the bushes until you reach the open area beside the cliff. Prepare for the sunset of your life.
How Much is the Entrance Fee?
The entrance fee for this viewpoint is roughly £0.60 (10k IDR), which includes the cost of parking. You are likely to be asked if you have a drone on you, which is you say "yes" to, you will be charged an additional £6 (100k IDR). Obviously you should deny this.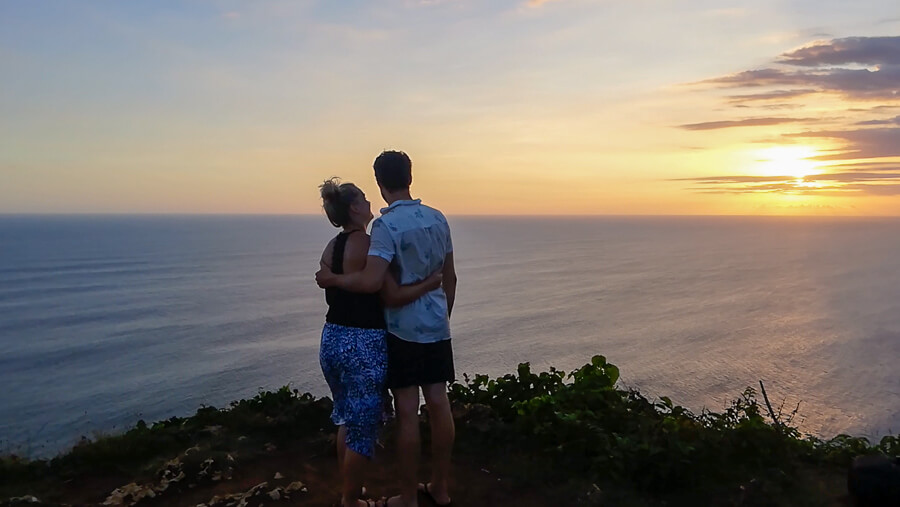 Also Read – Visa Extension Bali – Everything You Need to Know about Your Visa Extension Indonesia
What You Will Find at Karang Boma Cliff
The cliffside area of the Karang Boma viewpoint is just made for sunset views. There is a gentle slope from the entrance leading down to the cliffside, where it flattens out for 10m prior to the drop-off. This makes it the ideal place to sit on a blanket and enjoy a sunset picnic with a view.
To your left is the iconic Karang Boma cliff photo spot, with a rocky outcrop leading impressively over the water. This is actually a lot safer than it looks, with a large area between yourself and the drop to your right and ahead of you.
The sunset spot is surprisingly quiet for how beautiful a place it is. We visited on two different days and on both days there were less than 20 people there, the atmosphere was very chilled and relaxing, and there was no stressing or rushing to get that perfect photo.
This space is very popular with locals, with a large group of them setting up tents for a night under the stars during one of our visits. This speaks volumes about how undisturbed by tourism it is, as locals continue to enjoy using it.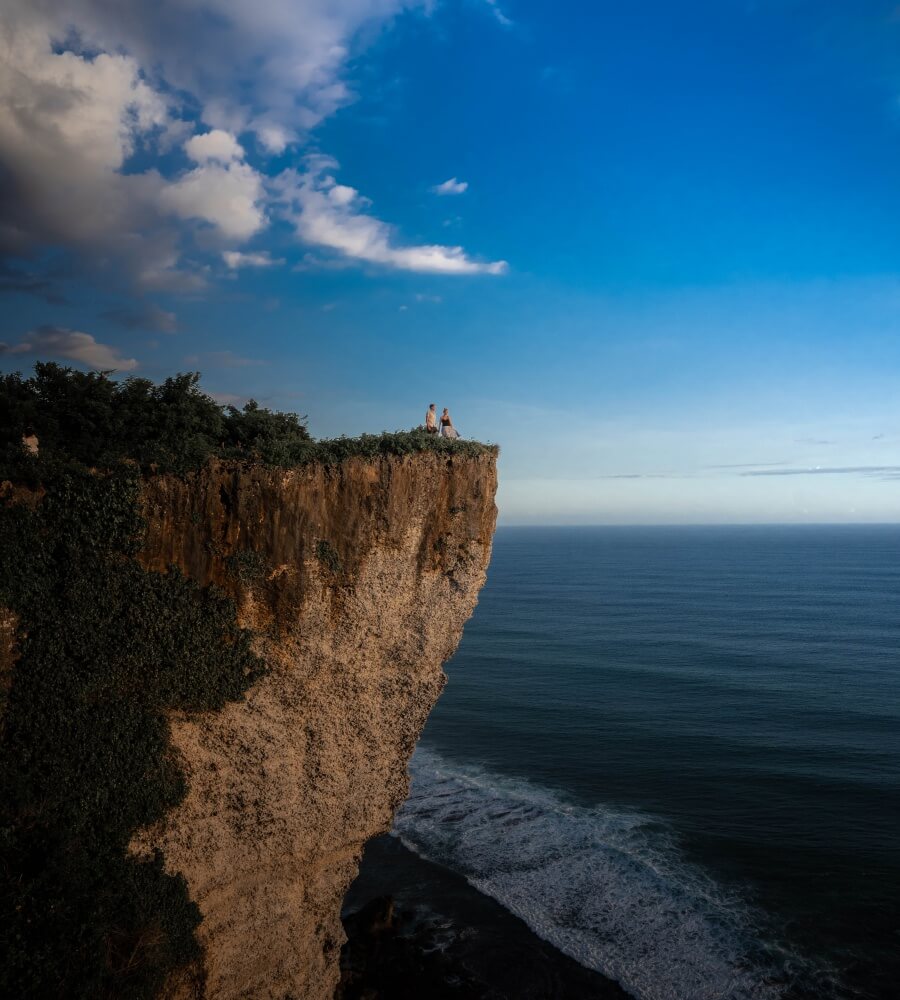 Also Read – Living in Bali – All You Need to Know for One Month in Bali
When is the Best Time to Visit Karang Boma Cliff
The best part of this cliffside retreat's location is how far south it is. This viewpoint makes for the perfect end to a day out in Uluwatu. Sitting on the west side of the peninsula, the sunset view from here is simply unbelievable.
With the high temperatures and strong sunshine in the south of Bali, visiting this spot is not recommended during the day. Instead, you should check out some of the local beaches, chill out at the bars and visit the other areas of interest around Uluwatu, before winding your day down here.
We recommend arriving at the Karang Boma cliff roughly an hour before the sun is due to set. This will give you plenty of time to find your way here, set up and enjoy the view with the golden hour sunlight.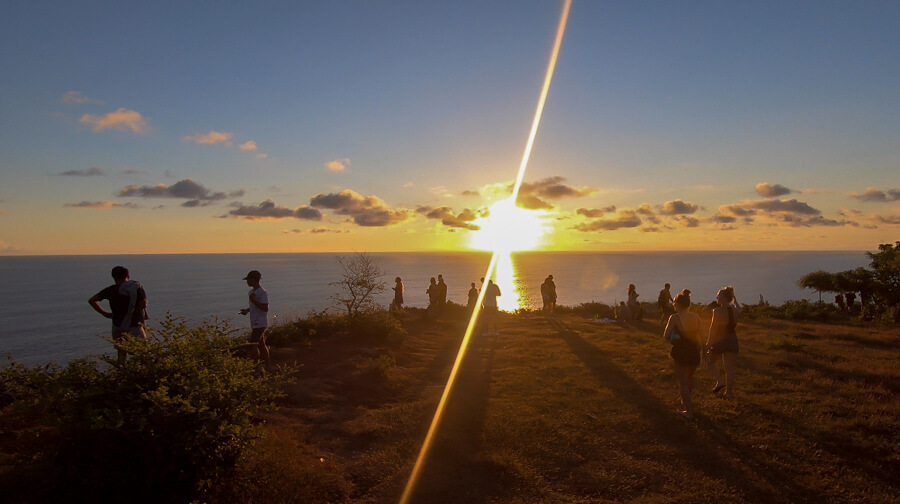 Also Read – The Ultimate Itinerary for Ubud – Three Days in the Jungle
Other Activities Near to Karang Boma Cliff
The entire peninsula of Uluwatu is chock full of incredible sights and activities. Here are just a few of the activities that you should check out before you head to Karang Boma for sunset.
Marvel at the Mystery of the Abandoned Airplane
Located on the East side of the Uluwatu is one of Bali's stranger sights. If you head to the coordinates shown below, park up at the small market stall at the side of the road and head up the hill, you are going to make a discovery that has left many visitors scratching their heads.
The famous abandoned airplane in Bali is a full Boeing 737 located in the middle of a closed field, with no explanation or indication of how or why it is there. Rumour has it that an investor bought the plane with the intent to turn it into a restaurant, going bust this could plan could become a reality. Since that day it has resided in this field, acting as the most bizarre photo prop on the island.
There is no entrance fee to see the plane and you are not allowed to enter the compound where the plane itself resides. Instead, you can view it from above at the top of the cliff.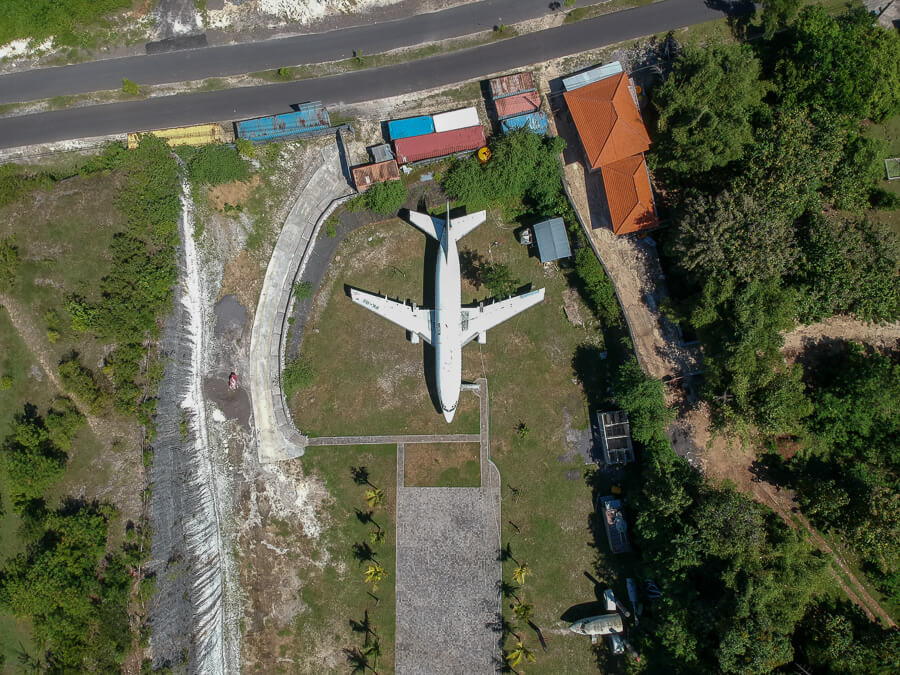 Also Read – The Definitive Guide to the Gili Islands, Bali – Gili Trawangan, Meno and Air
Chillout at Suluban Beach
One of Bali's most unique beaches, Suluban beach combines everything from clifftop bars to underwater caves. This beach is situated just north of Karang Boma and is famous for being one of Uluwatu's best beaches for a surf.
What is unique about this beach is how the cafes and shops are built into the side of the cliff as you walk down the stairs to the beach. It will take you about 15 minutes to wind your way down from the car park to the sand beach below.
Once you reach the bottom, you will find yourself in a huge, limestone cave, which is evidently submerged at high tide. Make your way out of the cave and onto the beach to relax and unwind in the warm Balinese ocean.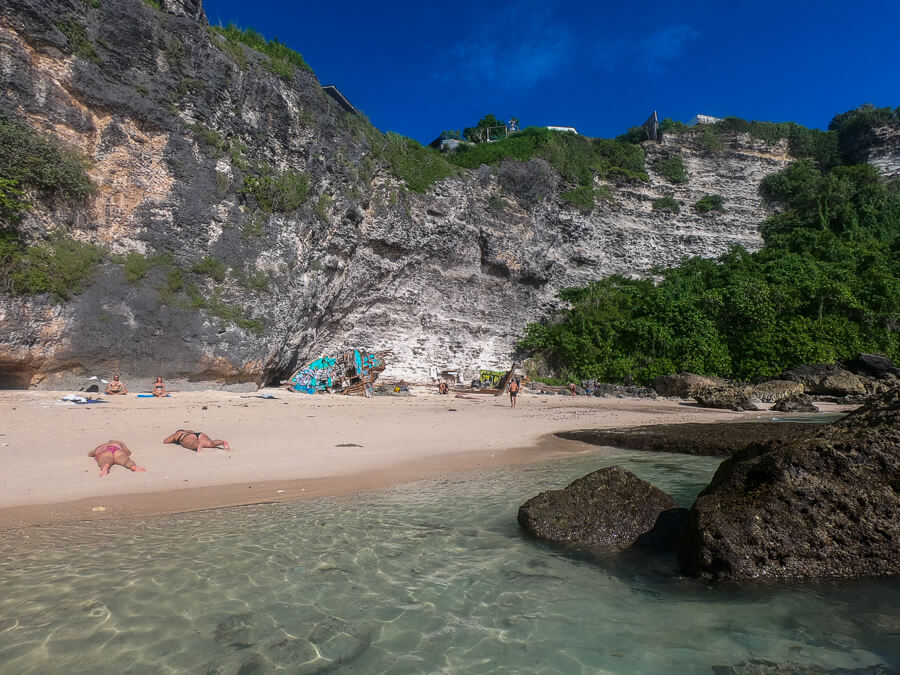 How to Prepare for your Trip to Bali
Whether you have yet to leave for your trip to Bali, or if you are already on the island and are preparing for your trip to Karang Boma cliff, there are a number of things you will need to organise to ensure a stress-free trip. These include what to pack for your trip, what insurance is best for Bali and where you should stay on Uluwatu. All of these are discussed in detail below.
What Visa Should You Get for Bali
If you are from one of the countries on the Visa on Arrival list, then getting a visa for Indonesia is relatively straight forward. All you will need to do is turn up at the airport immigration and you will be granted a free 30-day visa for Bali.
If you are not on this list then you can browse the requirements and sort your visa out over here.
For those who are wanting to stay in Bali for longer that 30 days then you will need to purchase a Visa on Arrival Extension before passing through immigration. You can then extend your visa once you are on the island by multiple methods.
For your full guide to extending your Indonesian visa check out this article.
Best Travel Insurance for Bali
Regardless of what type of trip you are heading out on, whether it is a relaxed, beach holiday or an adventurous waterfall hunt, you are going to need travel insurance. Accidents can happen anywhere, the last thing you want is to have your holiday cut short by expensive medical bills.
In order to make our travel insurance process as pain-free as possible, we buy ours through World Nomad's Travel Insurance. Designed with backpackers in mind, World Nomad's offers excellent polices, worldwide support and incredibly affordable costs.
Get a quote for your travel insurance right here and have a stress-free trip knowing you are covered.
What to Pack for Bali
Thanks to Bali's tropical climate, packing for this island paradise is easy. There are two seasons when it comes to Bali; there is a wet season and a dry season. Throughout the year, the lowlands of Bali experience a warm temperature of around 30oC. However, in the higher altitudes of Bali, the temperatures are known to drop as low as 5oC, meaning that warm layers are also required.
As for packing for Bali, or best advice is to pack layers. The majority of your pack will be light, summer clothes, to handle the heat of the main areas of Bali, and the minority will be a rain jacket and a jumper to wear in the higher regions.
Due to the intensity of the sun in this part of the world, we also recommend packing some long-sleeved clothes to wear during long bike rides in the midday sun. Long periods of exposure can lead to serious health risks such as sunstroke and even skin cancer.
Pack lots of sun protection and apply frequently throughout your trip. The cost of sun protection on the island is EXTORTIONATE, with a small, 200mL bottle costing as much as £15.
Check out our Summer Packing List for Women and Summer Packing List for Men for some clothing inspiration for your trip to paradise.
Don't forget to subscribe and follow our journey on Youtube.
Given the beautiful sights and scenery that you are no doubt going to see around Bali, we highly recommend packing a good camera for your trip. If you want to read more about the cameras we use and why we love them, check out the link below.
You can read what else we keep in our camera bag over here.
Where to Stay in Uluwatu for Karang Boma Cliff
In order to save yourself a long drive home in the dark once the sun has set on Uluwatu, why not book a night in one of these amazing places? No matter what your budget is, Uluwatu has the perfect place for you. These are our top picks for all budgets.
Luxury – Hidden Hills Villas is nestled in the hills of Uluwatu overlooking the sea. If you are lucky enough, you may even be able to bag yourself one with an infinity pool or spa bath!
Book your stay at Hidden Hills Villas here.
Mid-Range – An example of the cheap luxury accommodation you can live in Bali. La Kreyiol is centrally located and with an outdoor swimming pool and breakfast included, how could you say no?!
Book your stay at La Kreyiol here.
Budget – For a cheap price you can stay in a double room at Pecatu Guest House & Hostel, central to all the hot spots in Uluwatu
Book your stay Pecatu Guest House and Hostel here.
For all of the other best places to stay in Uluwatu, click through to booking.com here.
If hostels are more your social scene, there is a huge range of hostels to choose from in and around Uluwatu. Book your stay for Uluwatu right here.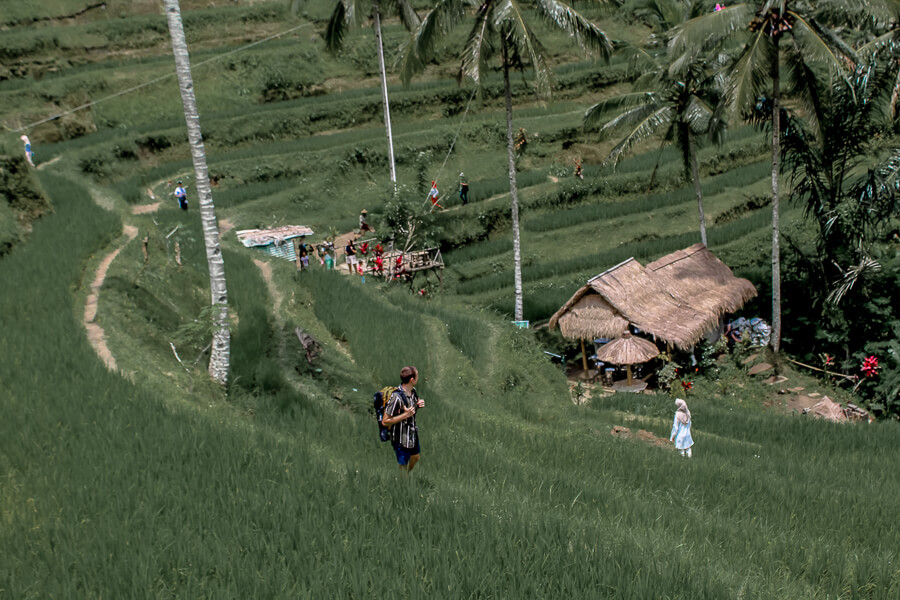 So there you have it, your ultimate guide to the Karang Boma sunset viewpoint in Bali. If you have recently visited Bali yourself, let us know about your trip in the comments section below. Where was your favourite place? What was your favourite food? Did you manage to find the Karang Boma sunset viewpoint? Let us know in the comments below.
If you are planning a trip to Bali, be sure to check out the rest of our Indonesia content to plan your trip to the fullest. We will gladly answer any questions you have with regards to your trip, so either DM us or send us an email.
Also, remember that sharing is caring, so be sure to share this with all of your friends and family and show them the beauty of a Bali sunset. Catch up with us on social media to see where we currently are and tag us in your own sunrise pictures so we can share them with our community of fellow adventurers.
Now Read:
This article may contain affiliate links that provide us with a small income. For more information read our Affiliate page.
---
Pin it for later!