One of the best past times in Bali is exploring the wonderous and infinite landscape. With no much natural beauty and jaw dropping phenomenon waiting to be discovered, sitting still for too long on this magical island is an impossible task. Alongside, mountaineering, surfing and
snorkelling with turtles
, chasing waterfalls is right up there with
some of the best activities you can do in Bali
. There are just hundreds of waterfalls to choose from, and that is just the ones that have already been discovered! The Nungnung waterfall in Bali is one of the more popular places to visit and is definitely not somewhere to be missed! This is your
complete guide to the Nungnung waterfall in Bali
, including how to get there, where to stay and all the costs involved.
Save this image to your Bali Pinterest board for later!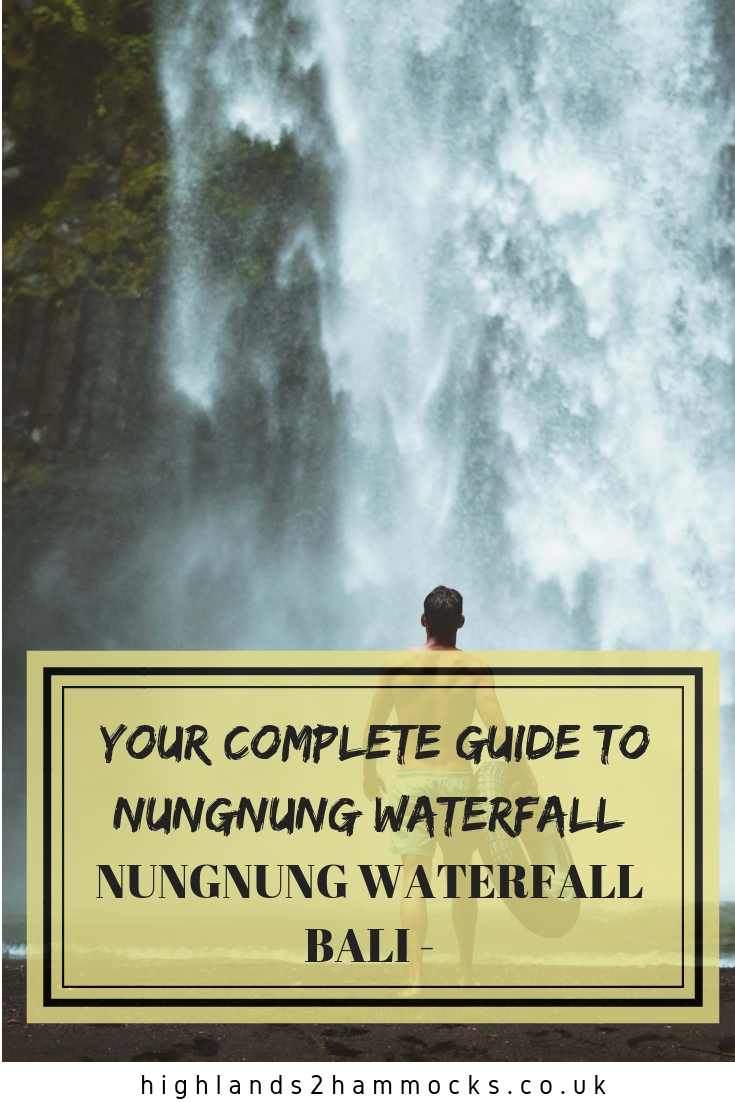 If you are looking for a week of non-stop action, head over here for the Ultimate Seven Day Itinerary for Bali.
Nungnung Waterfall Bali – Your Complete Guide to Nungnung Waterfall
How to Get to Nungnung Waterfall
Getting around Bali is mainly done by automobile, either rented taxi or motorbike. There is no public transport to get you around, so larger groups mostly use higher cabs through online apps like GoJek or Grab. The taxi drivers you see lining the straight will charge you through the teeth prices, unless you are very adept at bartering. The cheapest and easiest way to get around the island is by scooter. With low rental and fuel costs, combined with the freedom of having your own transport, riding a scooter allows you to write your own story whilst on this paradise island. Scooters can either be rented from your accommodation or from rental shops around the town of Ubud. The rental costs will vary from 70k down to 40k per day, dependent on where you rent from and how long you rent for. The longer you rent for, the cheaper the cost will tend to be.
Nungnung waterfall sits an hour and a half north of Ubud, with plenty of sights along the way, such as Tergalalang Rice Terrace and LekeLeke waterfall. Plan a full day of it if you are renting a cab, and make sure you stop at as many as you can. Being one of the more popular waterfalls in Bali, Nungnung waterfall is well developed and looked after, making it perfect for families with young children. There are steps leading down to the waterfall and barriers to help you walk.
Also Read – Best Bank for Travelers – Starling vs Monzo Card Review
What You will Find at Nungnung Waterfall, Bali
Entrance fee – 10k rupiah
Parking – Free
When we say there are steps leading to the waterfall, be prepared for a lot of them. In the 20 minute hike down to the waterfall, you will have to conquer 509 of them. On the way down this is easy, as you will be rewarded with jaw dropping views and a refreshing breeze at the bottom. The same, however, cannot be said for the way back up. If you do decide to swim in the waterfall, please make sure you take care when climbing in and out of the rock pool. There are no safety attendants to look out for you and the currents from the waterfall are very strong. Don't let this put you off however, as the water is perfect for a refreshing dip. It is worth noting that there are no changing facilities or toilets at the waterfall, so make sure you keep your possessions safe and in sight. You will also find small warungs at the top, selling refreshments and snacks as a reward for your hike back to the top.
Also Read – The Ultimate Bali Itinerary – Seven Days in Bali Paradise
Other Ubud Activities
If you are in the mood for chasing more waterfalls in the Ubud region then have a look at our full guide to the
8 best waterfalls near Ubud
.
Rice Terraces
Aside from waterfalls close to Ubud, another of Bali's famous sights are its many, beautiful rice terraces. Ubud is the perfect place to explore these wonderfully tranquil places. The most famous of all rice terraces in Bali is only a half hour drive north of the city, the Tegalalang Rice Terrace. Set an early alarm to watch the sunrise over Tegalalangs incredible steps and you will never miss a sunrise again.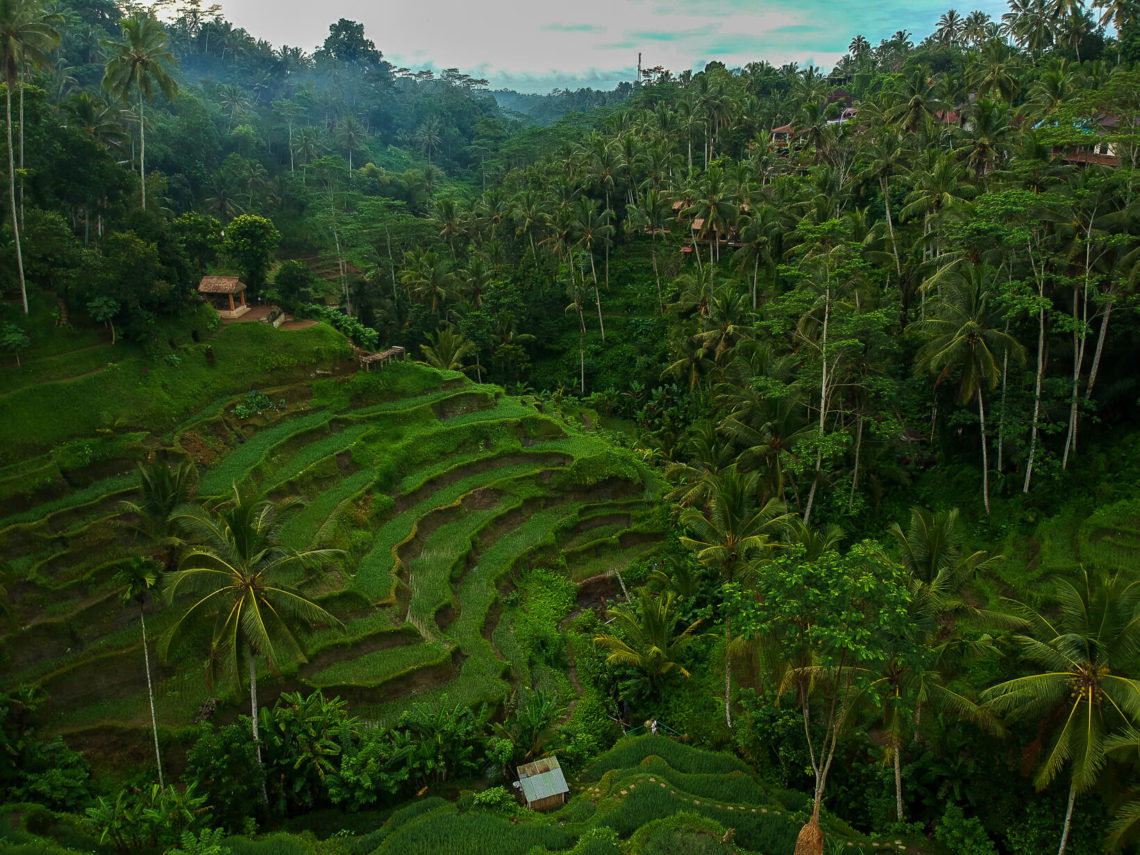 Also Read – 10 Day Bali Itinerary: The Best Sights for First-Timers Visiting Bali
Ubud Markets
The perfect place to bag yourself a holiday bargain is the Ubud public market. Starting off the day as a food market, the locals will all gather at the public market before sunrise to get the best deals and freshest ingredients for the day ahead. Later in the morning the food market will transform into a clothing market, with the cheapest deals happening early in the day.
Campuhan Ridge Walk
Only a ten minute walk from Ubud's busy city centre is the fantastic Campuhan Ridge Walk. This pedestrian only shortcut takes you high above the surrounding jungle, meaning an early morning walk will take you high above the morning fog. Simply beautiful!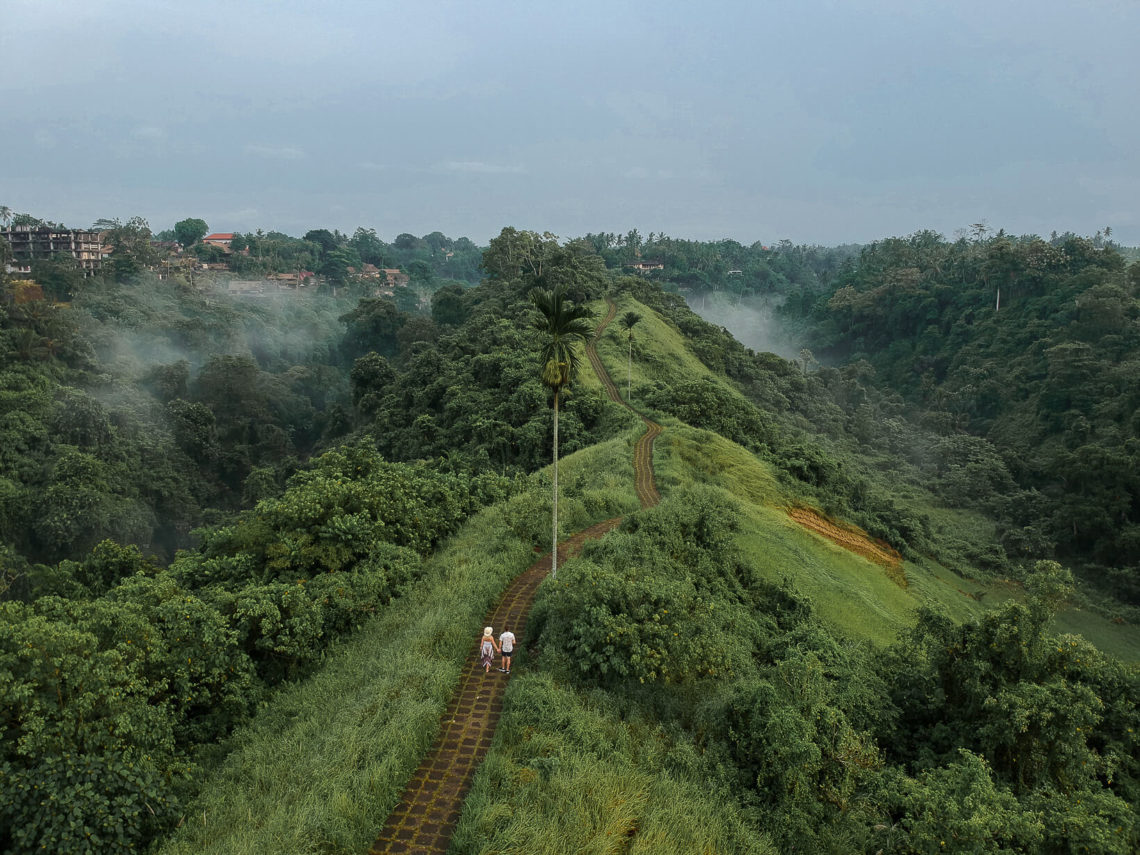 Monkey Forest
The most famous tourist attraction in Ubud has got to be the Ubud Sacred Monkey Forest. Situated right in the centre of the city, the monkey forest is a small area of jungle, surrounded by civilisation, that has been protected from building in due to the inhabiting monkeys. It is a paid admission area and if you do visit, make sure you take care of your possessions as the monkeys are known for stealing sunglasses, cameras and even phones. If you want to see the local monkeys but aren't wanting to pay for admission, the roads around the monkey forest are also full the little guys at sunrise and sunset.
Also Read – Sekumpul Waterfall – Your Ultimate Guide to Bali's Biggest Waterfall
Other Waterfalls
Why not make a day of chasing waterfalls and explore all of the natural phenomenon in the area. You will find 3 main waterfalls in Ubud that are hugely popular, easily accessible and unbelievably beautiful. In under an hour, you can visit Tegenungan, Kanto Lampo and Tukad Cepung waterfalls. If you fancy a trip further afield, the north of Bali has an incredible number of hidden gems and beautiful waterfalls. The
famous giant waterfall, Sekumpul Waterfall
, lies only an hour and a half north uf Ubud.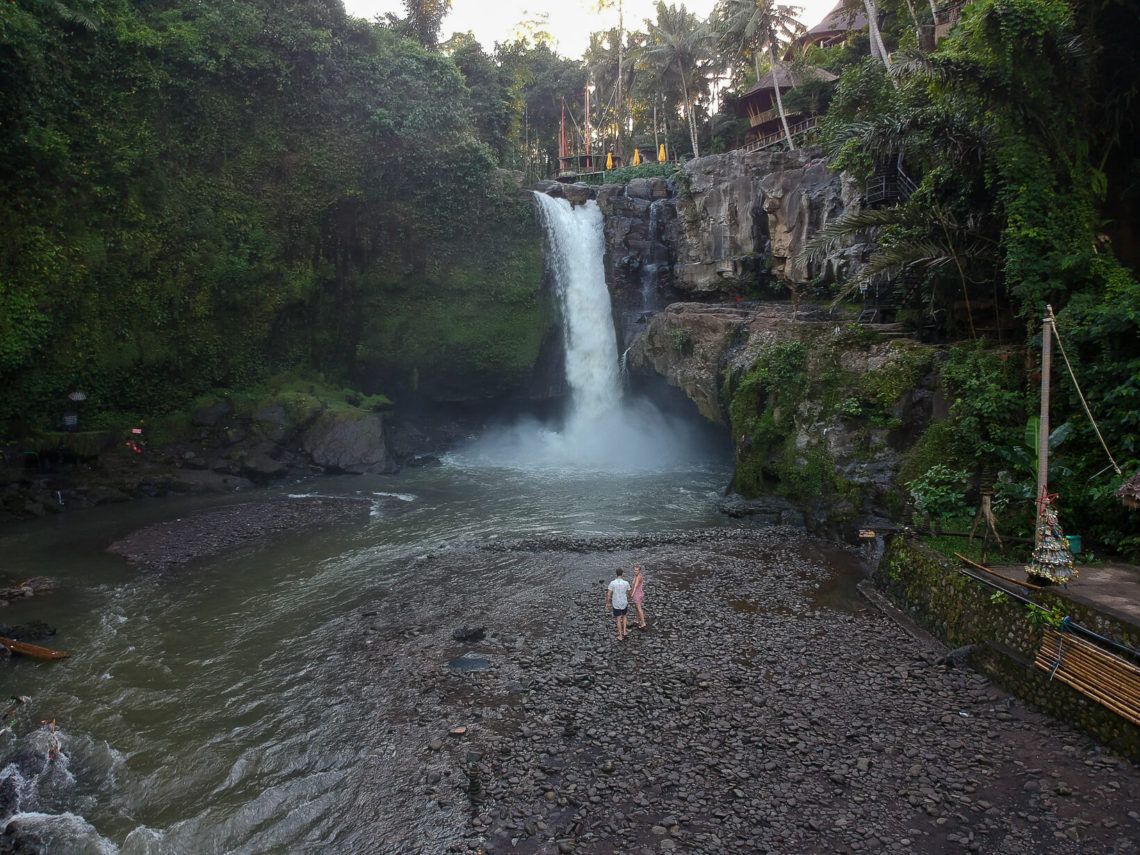 Before you Leave for Bali
Whether you are yet to arrive in Bali or are heading to Nungnung Waterfall from elsewhere, there are a few things to check off to ensure you have a smooth trip. This includes what to pack for Bali, where to stay for Nungnung waterfall and what insurance is best for your trip.
Also Read – Living in Bali – All You Need to Know for One Month in Bali
What to Pack for Bali
The climate of Bali is as predictable as it is perfect, with hot weather being the norm in the south and the temperature getting colder the further you go north. When it comes to packing for your Bali adventure, there are a few things that you will need to make sure you pack for a smooth trip. Namely, the most important of these is sunscreen, with Bali's incredibly strong sun that burns even darker skin tones easily. You will want to pack as much of it as you can as well, as the cost of sunscreen is simply extortionate on the island itself. A small bottle of sunscreen will set you back £12. A light waterproof and warm layers are another thing that you will need to ensure you pack. The further you head north and the higher up the mountains you go, the colder it gets. You might not believe it, but when you are riding a scooter through the mountains of Bali and the temperature drops to below 10oC, you will soon wish you had a jumper to put on.
Don't forget to subscribe and follow our journey on Youtube here.
We recommend packing mainly summer clothes, with a few long sleeve tops to wear when riding scooters or spending a day in the sunshine. You can check out our 
full packing guide when it comes to summer over here
 for your own checklist. Make sure to pack a camera of your own, as you will be doing plenty of photo snapping in this insanely gorgeous part of the world. If you want to see what travel tech you should be packing, have a look at our 
travel tech packing list over here
.
Also Read – Visa Extension Bali – Everything You Need to Know about your Visa Extension Indonesia
Best Travel Insurance for Bali
Like any other adventure, making sure you have the right cover is incredibly important. It is not a fun expense to fork out for, however the consequences for your loved ones if you are not covered and something should happen to you are simple not worth thinking about. We use World Nomad's Travel Insurance to keep us covered on our adventures, as we have found them to offer the most backpacker friendly policies and assistance.
Get your quote for travel insurance right here
.
What Visa should You get for Bali
As for a visa for your Indonesia trip, it is relatively straight forward if you are from one of the
Visa on Arrival (VOA) countries
. All you will need to do is show up at the airport and you are granted a visa for 30 days. If you would like to extend your Visa up to 60 days, you will have to pay for a visa extension once you are in the country.
Read our full guide on how to extend your Bali visa over here.
Also Read – The Definitive Guide to the Gili Islands, Bali – Gili Trawangan, Meno and Air
Where to Stay in Bali
For the sport of chasing waterfalls, Ubud makes the perfect central hub for accommodation. Situated right in the centre of Bali, Ubud offers the perfect base camp for exploring out in all directions, whilst also being close enough for a trip to the southern beaches. Also, given how Nungnung is also one of the many waterfalls close to Ubud, it is the best place to stay during your waterfall adventure. Here is the best accommodation we have found in the central city of Ubud.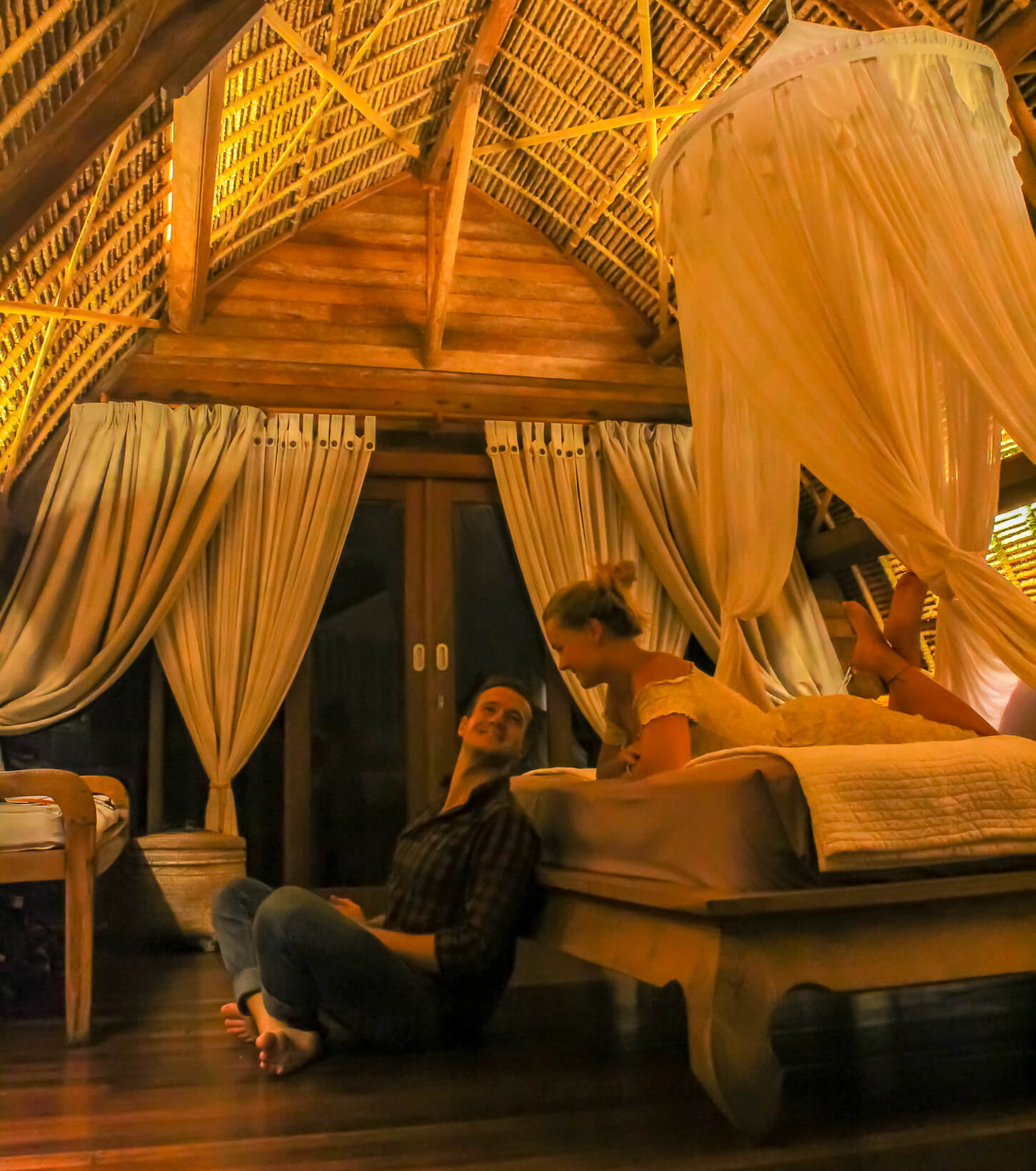 Luxury
 – Escape the craziness of Ubud city centre and spend your nights in the tranquility of the jungle. Sandat Glamping Tents sit only 15 minutes from the bustling Ubud markets, however you will feel like you are in another world. Spend your day relaxing by the pool and use the free shuttle to explore Ubud by night.
You can book your stay at Sandat Glamping Tents right here.
Mid-Range
 – Situated right in the centre of Ubud is the basic, yet very comfortable hotel, Nyuh Gading. This quiet hotel has excellent AC and fan options, balconies views and even offers cheap food and drink.
You can book your stay at Nyuh Gading right here. 
Budget
 – For barebones accommodation just minutes from the Ubud markets, Ojek's Homestay is the place for you. This converted, traditional Balinese house compound offers rooms with and without AC, has a kitchen, showers and even offers laundry service for a reasonable price.
You can book your stay at Ojek's Homestay right here.
If hostels are more your social scene, there are a huge range of hostels to choose from in and around Ubud. 
Book your stay for Ubud right here
.
Also Read – Cheap Eats in Ubud – Your Guide to the Best Food in Ubud
So there you have it, all you need to know about the
Nungnung Waterfall in Bali
. If you visited Nungnung and have any suggestions for other visitors, make sure you leave a comment below and share the knowledge. What did you think of it? Would you recommend it to others? Also be sure to share this article with your friends and family, so we can all get lost in nature and discover the beauty that Bali has to behold. Check out our
other articles on Indonesia
and plan your next trip here to the fullest. You can 
catch up with us over on our social channels
to see where we currently are, and tag us in your photos to show us you enjoying the waterfalls of Bali!
Now Read:
This article may contain affiliate links that provide us with a small income. For more information read our Affiliate page.
---
Pin it for later!