The vibrant city of Glasgow is Scotland's largest city, full of culture and good vibes. From the fascinating history of the old port town to the buzzing high streets filled with tourists and locals sharing laughs and memories, Glasgow is a must-visit city on your trip to Scotland. As the saying goes, "People make Glasgow", and when you step foot into this vibrant city you really get a feel for that as you are welcomed with open arms and smiles.
What makes Glasgow an especially amazing location for weekend trips and backpacking adventures is the vast number of free and cheap activities there are across the city. Get out and about on your next trip to Scotland's cultural capital and get to know the best free things to do in Glasgow with this handy guide.
Hover over the image and save it to your Scotland Pinterest board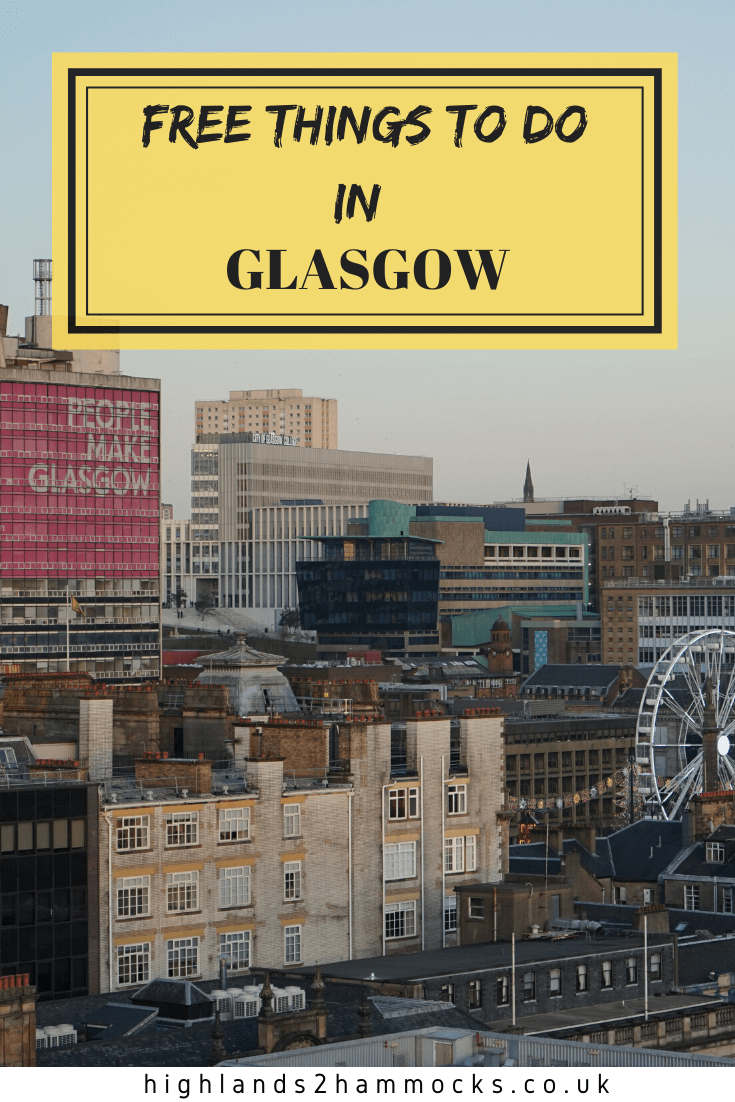 Free Things to do in Glasgow –  A Complete Guide
Free Things to do in Glasgow City Centre
Starting off in Glasgow city centre, we discuss all of the best free activities and sights that you should check out on your next visit to Scotland. This city is somewhere that must be included in your Scotland itinerary. From historical buildings to fantastic views over the city you will be spoiled for choice for things to do at no extra cost in Glasgow city centre.
Glasgow Cathedral
Glasgow Cathedral is the oldest cathedral in mainland Scotland and is also the oldest building in Glasgow. The Glasgow Cathedral is also commonly known as St Mungos Cathedral. It is thought that the cathedral was built on St Kentigern's tomb, who was the first Bishop within the area of Strathclyde. It is believed that the cathedral marks the birthplace of Glasgow city centre.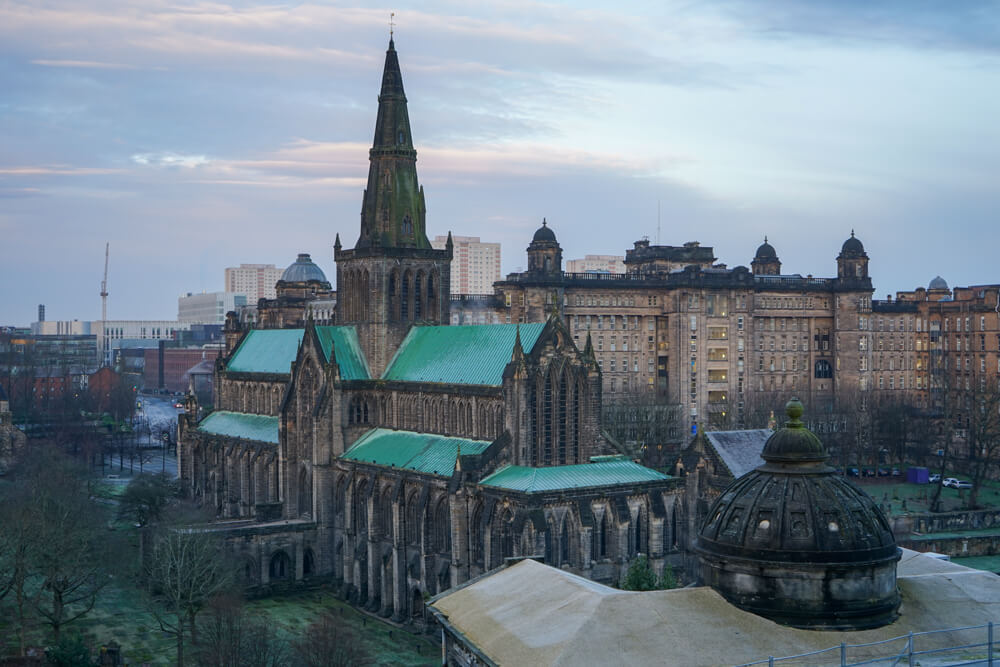 Glasgow Necropolis
A Victorian cemetery sits on a hill to the east of Glasgow Cathedral known as the Glasgow Necropolis. Officially opened in 1833, there lies over 50,000 bodies underground and a variety of different architectural memorials. The cemetery opens at 7 am and is a great place to go to watch the sunrise or set over the city.
A photographer's paradise.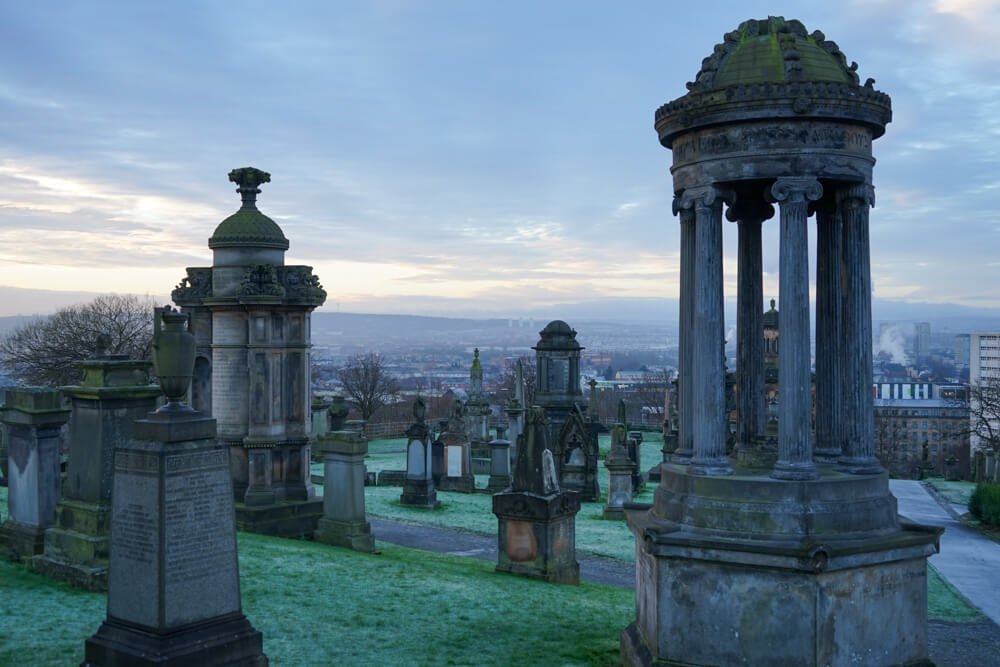 George Square
George Square is in the centre of Glasgow and is a great spot to sit down, rest your legs and watch the world go by. George Square was laid out in 1771 and was named after King George III. Here you can absorb the atmosphere of the hustle and bustle surrounded by architecturally important buildings looking onto the Square.
The Square is often used for many events throughout the year and at Christmas time it hosts the Glasgow's Christmas Market and Ice rink.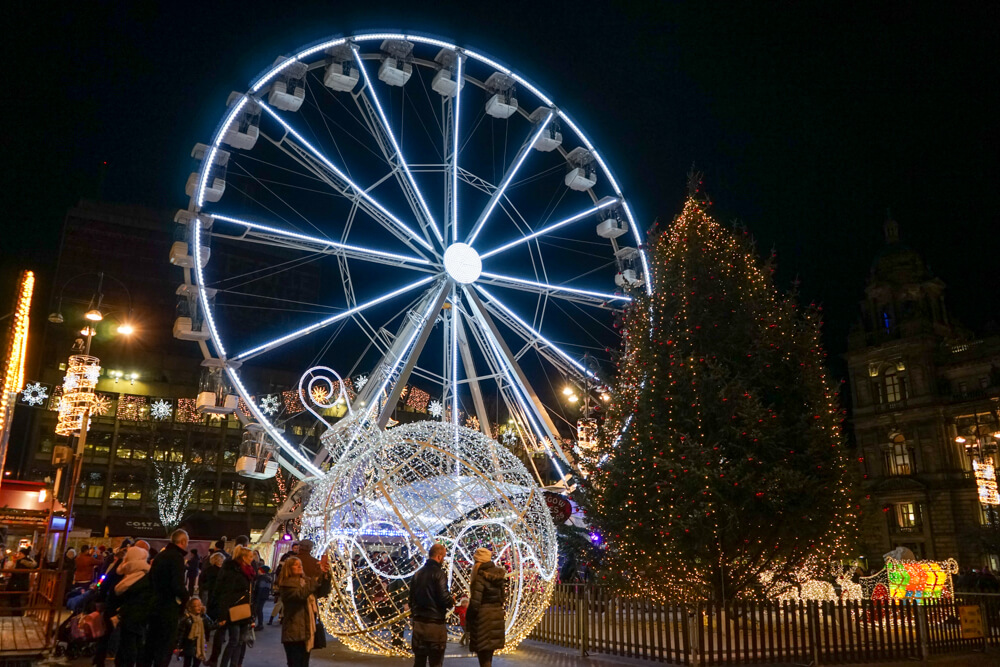 Glasgow City Chambers
Glasgow City Chambers is one of Glasgow's most reputable buildings and sits in the heart of Glasgow's city centre. Overlooking George Square, Glasgow City Chambers is the main hub for successful councils looking after the city of Glasgow. Tours are conducted in the City Chambers between 10.30 am and 14.30.
The Lighthouse
The Lighthouse is an exhibition centre dedicated to the famous architect, Charles Rennie Mackintosh. Situated in the heart of Glasgow, the centre boasts creative art and culture, as well as a truly magnificent view over the city. The Lighthouse hosts events and exhibitions promoting design and architecture to those who visit.
This is an ideal spot to watch the sunset during your big weekend trip to Glasgow.
It is open to visitors Monday- Saturday 10.30-17.00 and Sunday 12.00 – 17.00. For one of the best views over Glasgow, we can recommend heading up to the viewpoint, especially if the sun is setting.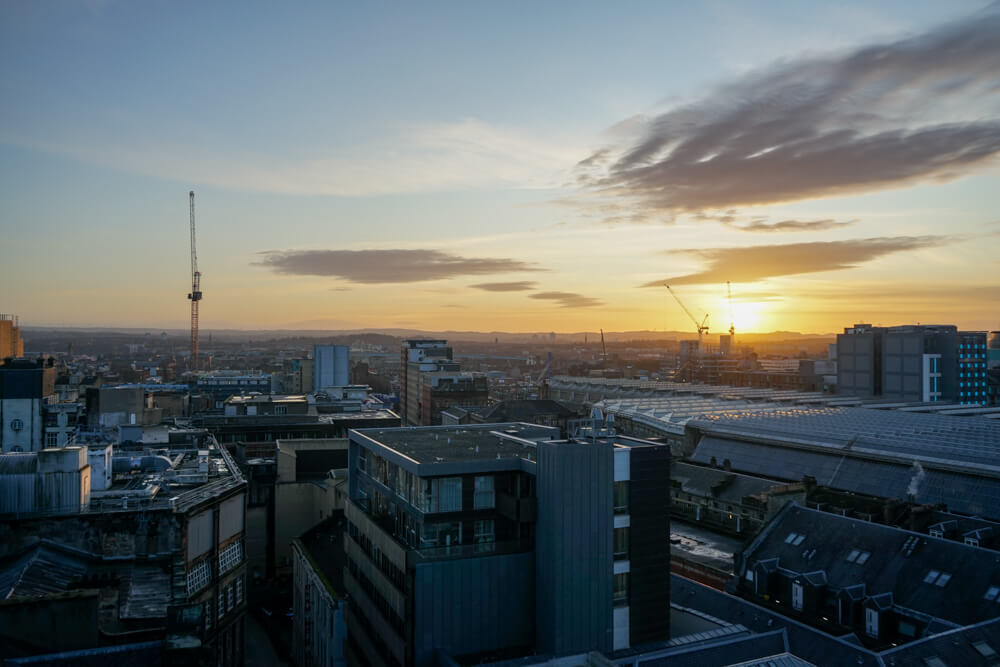 The Glasgow Mural Trail
The mural trail in Glasgow has become incredibly popular over the last few years. The colourful artwork spread throughout the centre is helping to brighten up the city and waken up the tired-looking buildings, making lanes and alleyways more inviting.
There are 29 colourful pieces of art around the city, each with a story to tell. The mural trail is within walking distance and will take around 2 hours to complete.
You can read more about the city centre mural trail here.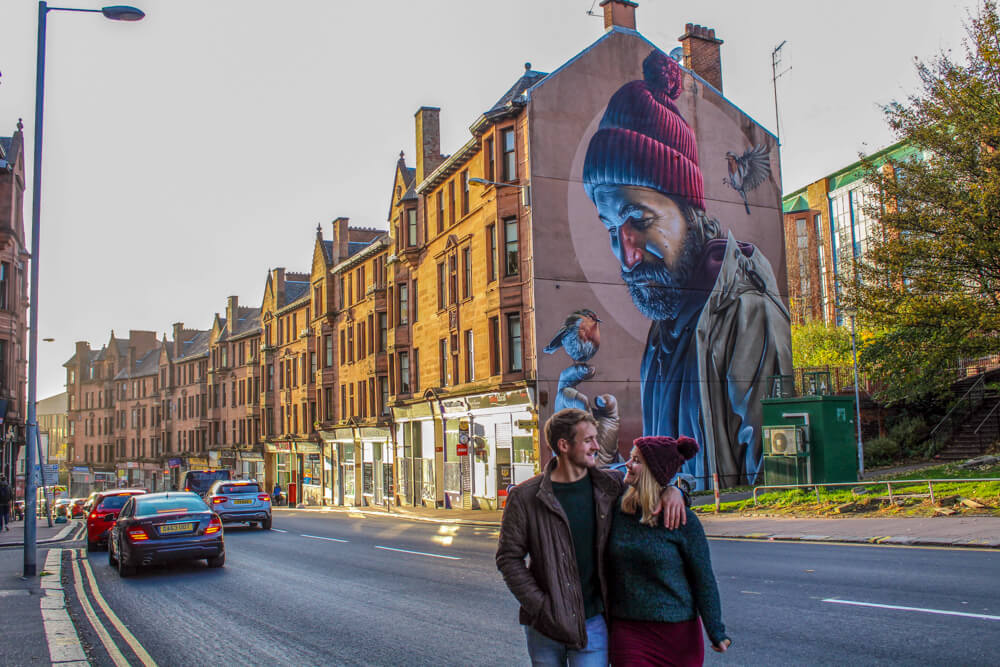 Gallery of Modern Art
The Gallery of Modern Art or more commonly known in Glasgow as the GOMA is a world-class art museum in the city centre of Glasgow. It is located in Royal Exchange Square and is free to enter. Inside there are four thought-provoking and fascinating galleries, full of local artwork and a display of the history of the building. There is also a cafe, a shop, and a library with wifi.
Outside the GOMA is the Duke of Wellington, one of the most popular icons in Glasgow. He usually sits proudly on his horse wearing an orange traffic cone, which is usually placed there by bold passers-by in the night. Each time the cone is removed, it won't be long before another one returns onto the Duke of Wellington's head.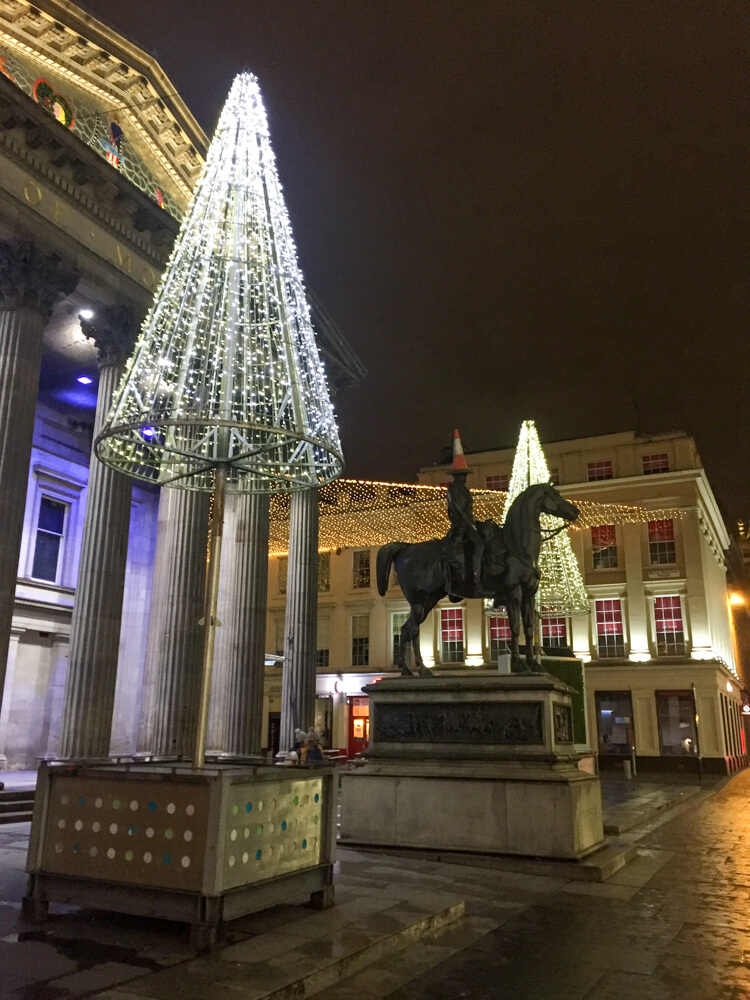 Free things to do in the West End of Glasgow
Kelvingrove Art Gallery and Museum
Kelvingrove Art Gallery and Museum is located in the West end of Glasgow and was originally opened in 1901. This stunning building is well known for its incredible architecture and family-friendly atmosphere. 
There are 22 galleries in Kelvingrove Art Gallery and Museum and the collections on show include many periods of history and art from many movements. Besides the many exhibits, the art gallery and museum have to offer, there is also a cafe, restaurant, and a gift shop.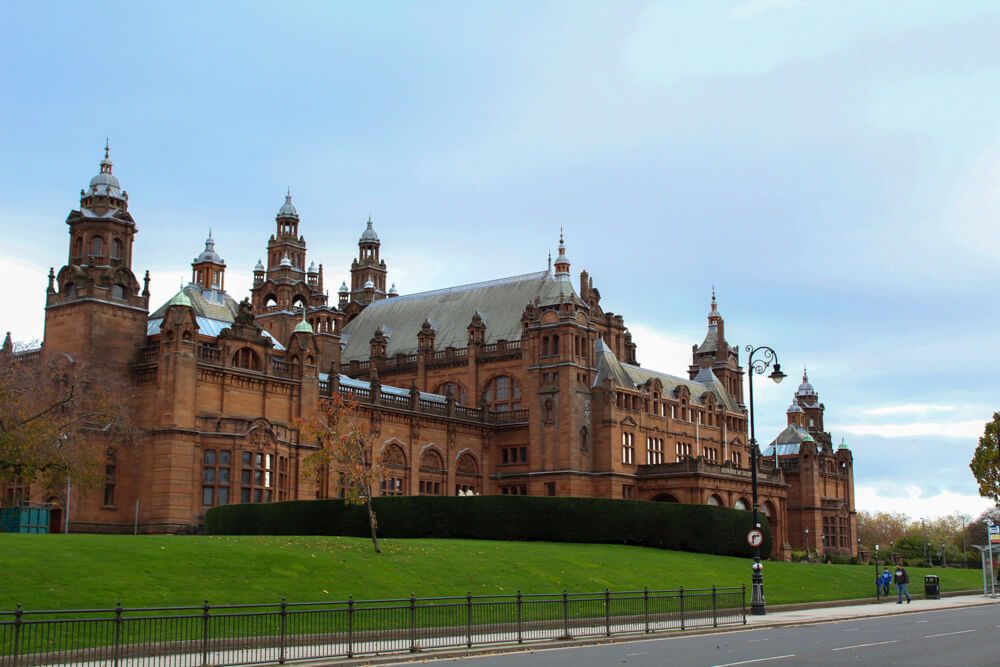 Kelvingrove Park
Take a stroll through Kelvingrove Park along the River Kelvin during your time in Glasgow. This public park is open all year round and is the perfect place to get away from the hustle and bustle of the city centre and be amongst nature and wildlife. This Victorian park is 34 hectares and compliments the beautiful architecture surrounding the green nature.
There is a bandstand along with many statues and monuments in the park that you should check out. There are also a number of children's play parks and cafes for your convenience located in Kelvingrove Park.
There are often events held in Kelvingrove Park so make sure you stay tuned here so you don't miss out.
The Riverside Museum and the Tall Ship
The Riverside Museum is a large transport museum located on the banks of the River Clyde. This award-winning museum is home to over 3000 objects on display and interactable screens telling stories of the fascinating history behind the objects. Walk around a number of different old cars, emergency service vehicles and even prams and skateboards. There is even the option to take a trip down memory lane and walk down a cobbled street from the 1895-1980's.
Outside you will see a tall ship named Glenlee, built in 1896. This is the UK's only floating Clyde-built sailing ship and you will be kept entertained from the second you step foot on the ship.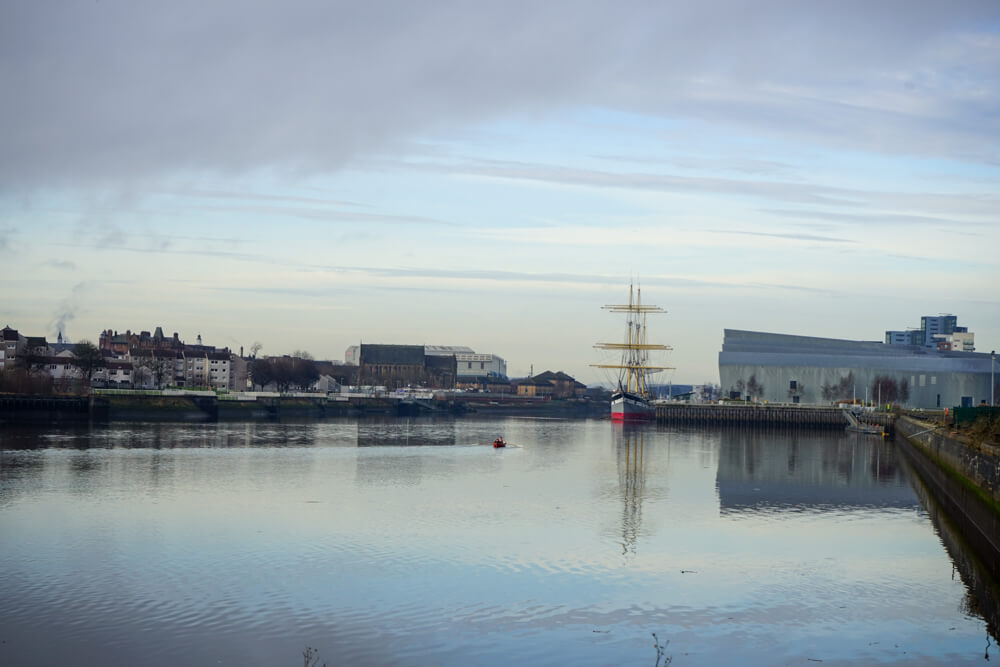 Glasgow Botanic Gardens
Beside the River Kelvin in the West End of Glasgow lies the Glasgow Botanic Gardens. Entry to all areas of the gardens and greenhouses are free and are open from 7am till dusk all year. Nearby the Botanic Gardens are peaceful walks and trails to explore in amongst nature.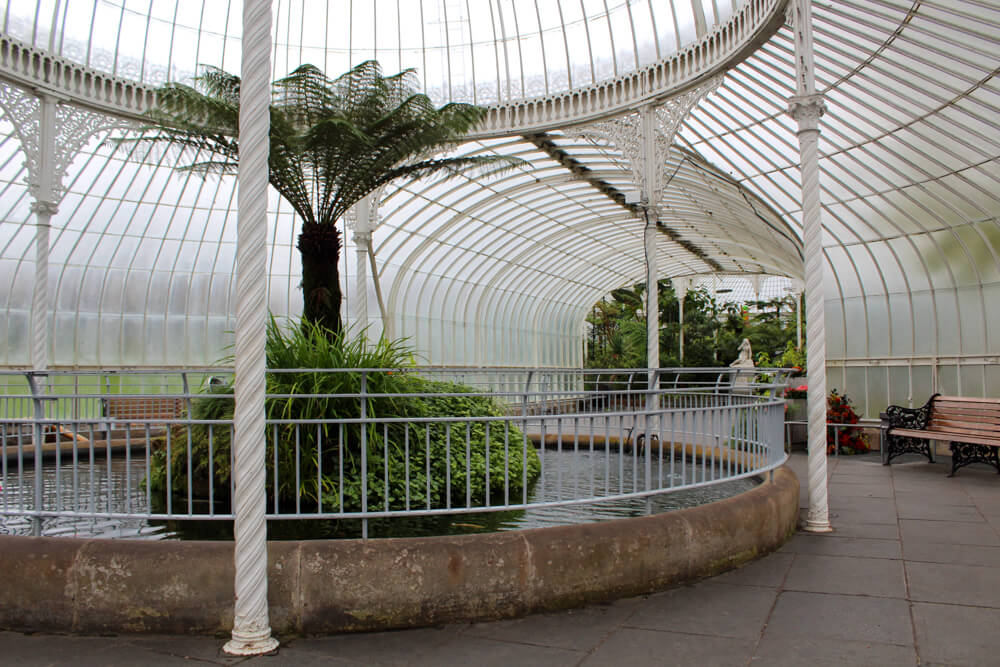 Hunterian Museum 
The Hunterian Museum is Glasgow's oldest museum and is located across various buildings on the main campus at the University of Glasgow. This museum features extensive displays that relate to William Hunter, who the museum is dedicated to.
The Hunterian Museum is home to one of the largest collections outside of the National Museums, inside there is a zoology museum, Hunterian Art Gallery and the Mackintosh House.
Free things to do in the East End of Glasgow 
The People's Palace
The People's Palace is a museum and glasshouse situated in Glasgow Green in the East End of Glasgow. It was open in January 1898 intending to bring some culture into this area of Glasgow. The Peoples Palace tells the story of the development of Glasgow from the 1700s to the 20th century through art and visuals.
There are also pop up events held from time to time at the People's Palace alongside the permanent exhibitions.
If the weather is nice, it's the perfect opportunity to relax in the gardens and watch the world go by.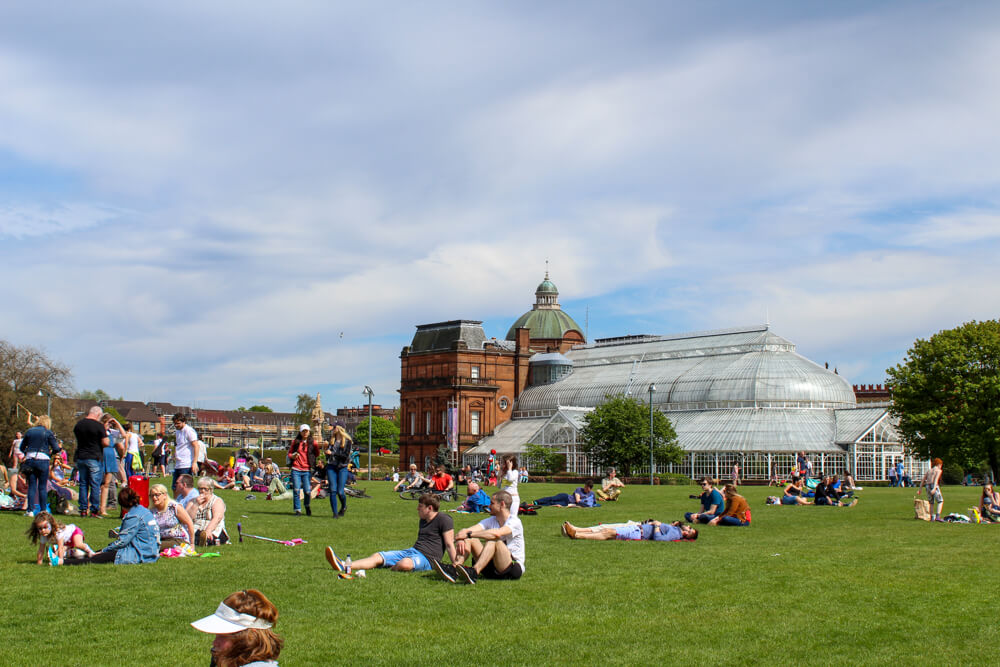 How to Prepare for Your Trip to Glasgow
Before you set off on your way to Glasgow, there are a number of things you will need to get organised to ensure a smooth and enjoyable journey. These include what to pack, where to stay and what is the best insurance for your trip to Scotland. All of this is discussed in detail below.
What to Pack for Your Trip to Glasgow
When it comes to packing for a trip to Scotland there is one item of clothing that you are going to need all year round: a waterproof. It rains in Scotland on average 250 days a year, meaning that during your trip to the Isle of Skye, you can expect rain at some point. Due to this, the number one item on your packing list is a good waterproof jacket.
Second to that, another item to not leave home without is a good pair of warm and, if possible, waterproof boots. A lot of the best sights on Skye require a bit of walking to reach them and the conditions underfoot can become very muddy. You do not want to ruin a good pair of white trainers so pack some sturdy boots.
You will definitely need a hat and gloves during the winter months as the wind chill can be bitter.
For our full list of items that we pack no matter where we go in the world, check out our full packing guides over here.
Given the beautiful sights and scenery that you are no doubt going to see around the Isle of Skye, we highly recommend packing a good camera for your trip. If you want to read more about the cameras we use and why we love them, check out the link below.
You can read what else we keep in our camera bag over here.
What is the Best Travel Insurance for Scotland
I know travel insurance is the least enjoyable thing to purchase and look at when you're planning a trip, however, you wouldn't want to be without it in the event that something happened. Accidents can happen anywhere and the extortionate medical bills will ruin your trip if you are not covered.
To ensure you have a stress-free trip with no worries about potential medical bills, make sure you cover yourself when you travel. We can recommend using World Nomads, a backpacker-friendly and cheap insurance company that provides good coverage and support.
Get a quote for your travel insurance right here and get covered.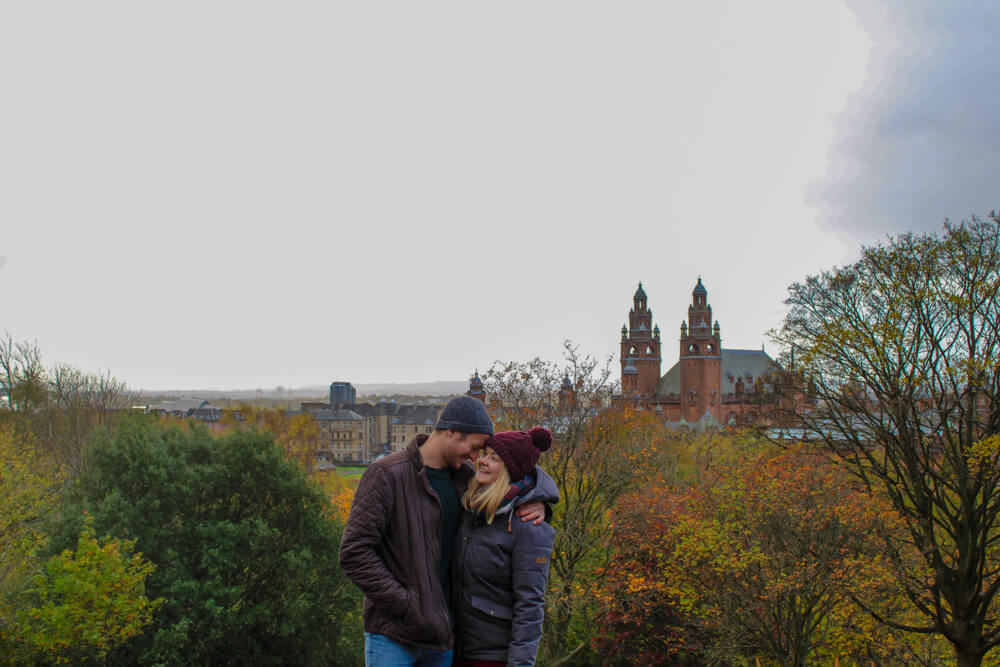 Accommodation in Glasgow
There are plenty of choices when it comes to accommodation in Glasgow. Whether you are looking for something friendly on the wallet or a place that will wow you with luxury, there is something to suit the needs of everyone.
Luxury – Located beside Glasgow's Queen Street Station and only a couple of minutes walk from Buchannan Street shopping district and George Square's fantastic bars and restaurants. Carlton George Hotel offers luxury suites with a complimentary mini-bar.
Book your stay at the Carlton George Hotel here.
Mid-range – Motel One is located beside Glasgow Central Station and is in close proximity to the city's shopping district and nightlife.
Book your stay at the Motel One here.
Budget – Located in the heart of Glasgow's shopping district, Alexander Thompson is a budget-friendly accommodation and is perfect for a short or long stay in Glasgow's city centre.
Book your stay at the Alexander Thompson here.
If none of these suit your preference you can browse all of the available accommodation in this area right here.
If hostels are more your social scene, there is a huge range of hostels to choose from in and around Glasgow. Hostels in the UK are not as cheap as other parts of the world, however, it is still possible to get a shared dorm for less than £20 per night. When it comes to location, the most central hostels are the Clyde Hostel and the Hot Tub Hostel. Both are just a 10-minute walk west of Sauchiehall street's bars and clubs.
If these options don't suit your needs, Book your stay at a different Glasgow hostel right here.
If you are new to the hostel scene and can't decide if it is for you then check out our handy Ultimate Guide to Hostels. This will show you why you should definitely choose a hostel, what to look out for when picking and what to pack for your adventure!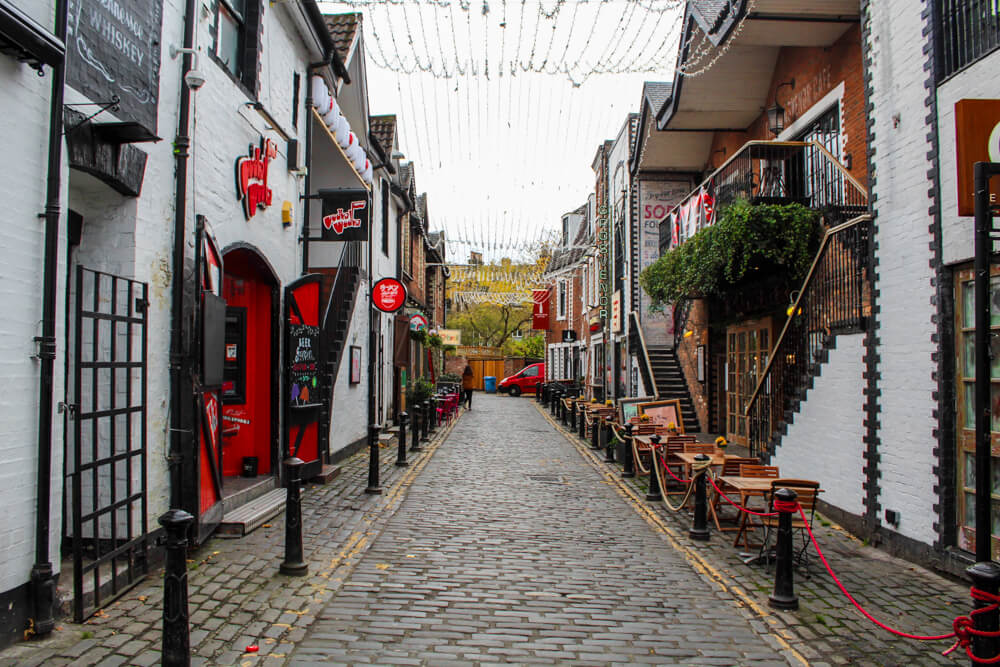 So there you have it, a full guide to the free things to do in Glasgow. If you have any other recommendations of sights to see in Glasgow that are free, let us know in the comments below.
As always, sharing is caring so make sure to share this Glasgow guide with your family and friends and inspire them to plan a trip to Glasgow. If you are planning the trip for yourself, make sure you have a look at the rest of our Scotland content for more inspiration to our beautiful home country.
When you set off on your own adventure, be sure to tag us in your photos on Instagram and we will share them with the rest of our community. In the meantime, why not follow us over there to see what we are currently up to and keep up with us on our Instagram Stories.
Now Read:
This article may contain affiliate links that provide us with a small income. For more information read our Affiliate page.
---
Pin it for later!