Meall a' Bhuachaille is a mountain in the Cairngorms, located 10km outside of Aviemore in Glenmore. This Corbett sits just short of a munro at a height of 810 metres.
The looped trail is 8.7km and takes around 2-3 hours to complete, allowing you to take in the Cairngorm scenery from a less intimidating mountain to most in that area. There is a lot of different terrain on this walk, however breathtaking views all around.
No time to read now? No problem, save a pin to your Pinterest board for later!
Complete Guide to Hiking Meall a' Bhuachaille - A Beginner Hike in the Cairngorms
Meall a' Bhuachaille is a great beginner hike for those visiting Aviemore. If you are looking for some spectacular views but not feeling the long walks up the Cairngorm mountains, then Meall a' Bhuachaille is perfect. In this guide, we will discuss what the walk is like and the route to follow well as the following
How to get to Meall a' Bhuachaille?

Where to start Meall a' Bhuachaille?

The Green Loch

Preparing for your trip to Aviemore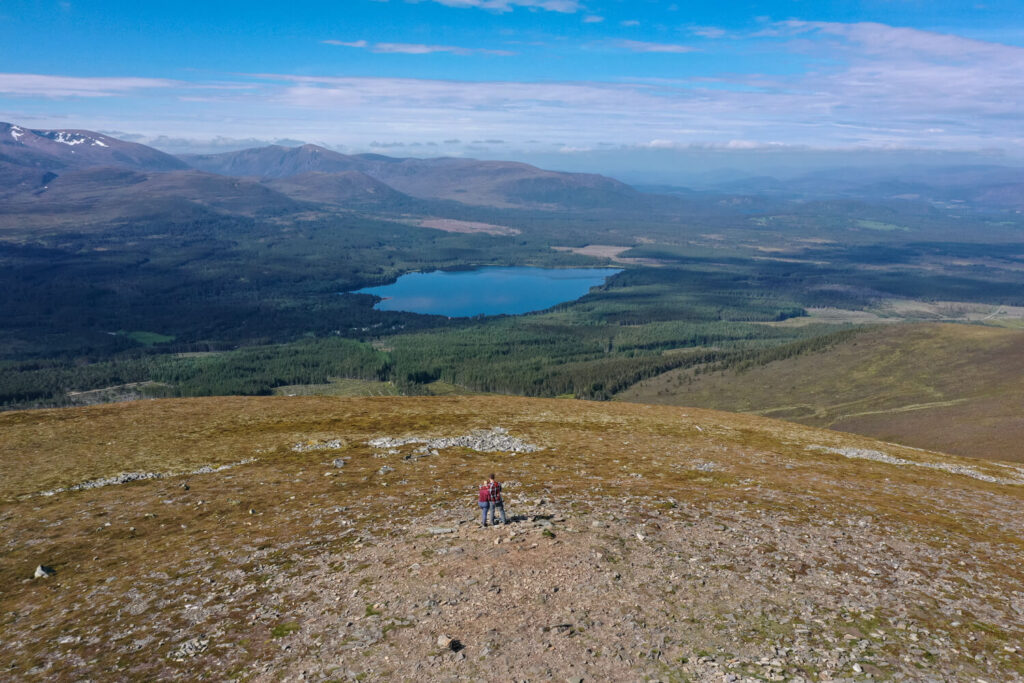 How to get to Meall a' Bhuachaille
There is parking around this area and nearby, however it can get extremely busy so we would recommend getting out early. If you are taking public transport, bus number 31 will take you from Aviemore to the Glenmore Visitor Centre. You can check the bus times here.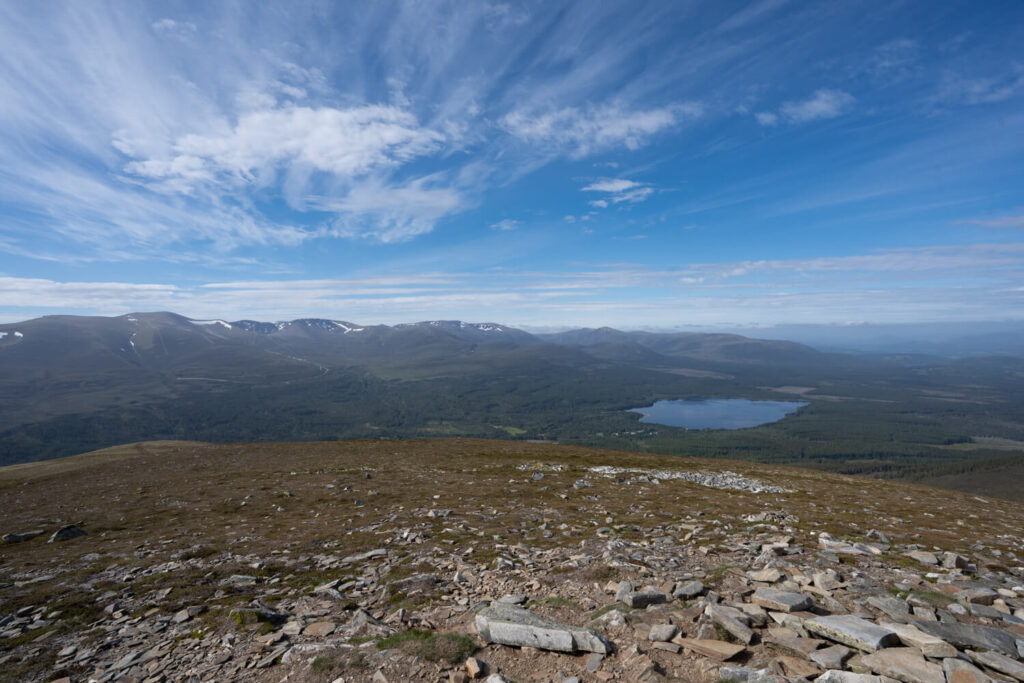 Where to start Start Meall a' Bhuachaille
Start the walk at the Glenmore Visitor Centre and follow the fork road to the right, past the Cairngorm Reindeer Centre. The terrain is flat and easy for this part, giving a nice steady start to the walk. Eventually you will reach a gate. Cross through the gate and make sure you close it behind you.
The Green Loch
The path will become a little bit more uneven beneath after you come off the road, however it is still reasonably flat. You will soon come across a Lochan on your right hand side. This is An Lochan Uaine, translated from Gaelic to the Green Loch due to the green colour of the water. This is a beautiful spot to stop and take some photos of the Loch and surrounding mountains.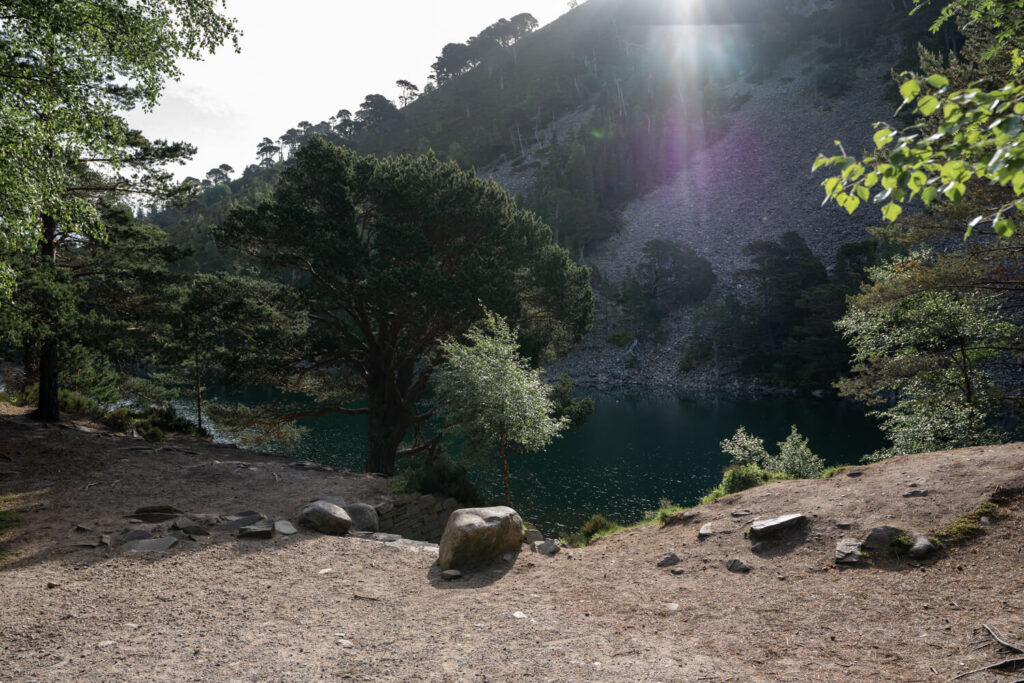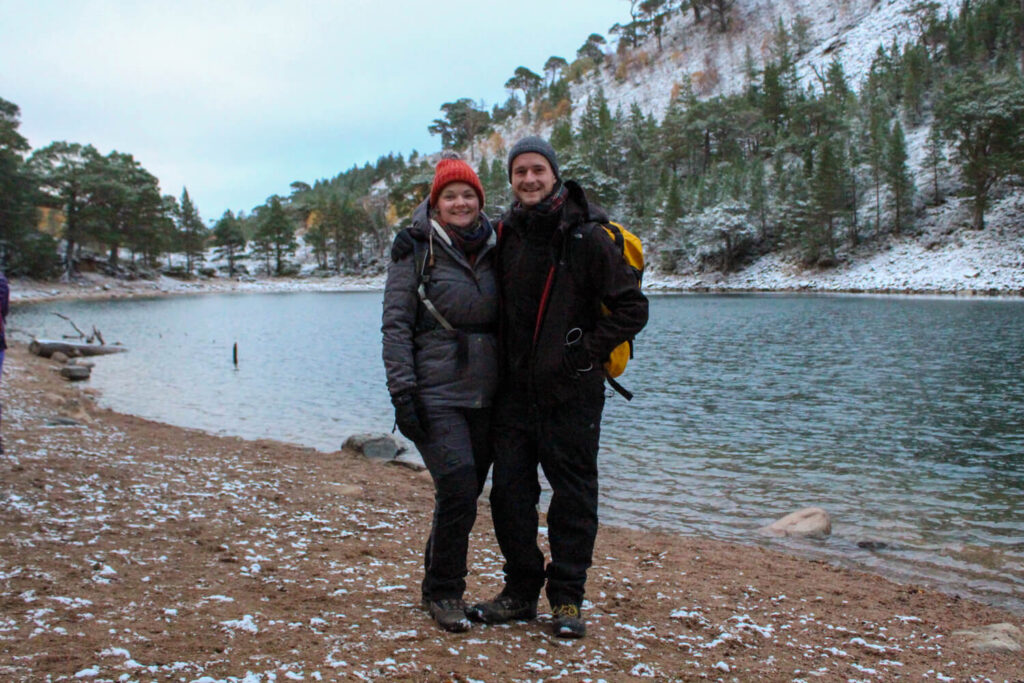 Following on up the trail from the Green Loch, the next stop in sight will be Ryvoan bothy. This is maintained by volunteers from the Mountain Bothy Association. At this point you will turn left where the gradient will start to become steeper up the hill. The ground underneath will also become more temperamental and can be quite rocky underfoot at somepoints.
This is when the walk will start to feel a little more challenging, after being flat for so long it does feel like to hill goes on forever!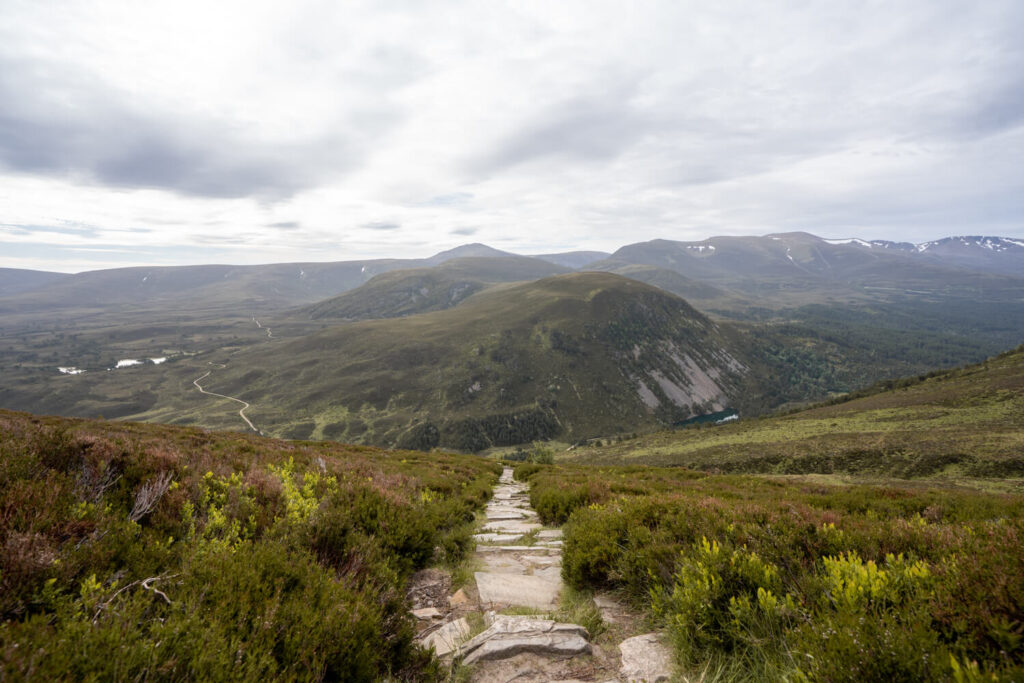 Look all around you and the views will be spectacular, you don't want to forget your camera when hiking in Scotland, even if it is that little bit of extra weight!
After a couple of false summits, there is no better feeling than reaching the top. The top of Meall a' Bhuachaille is 360 degree panoramic views of the Cairgorms and surrounding Lochs and it is absolutely breathtaking.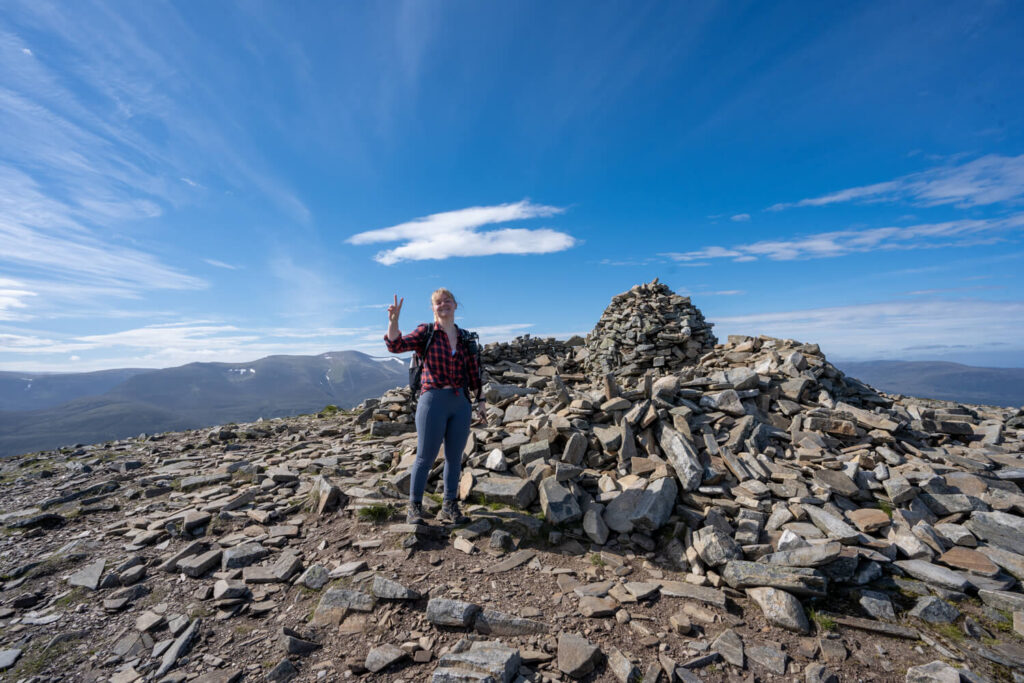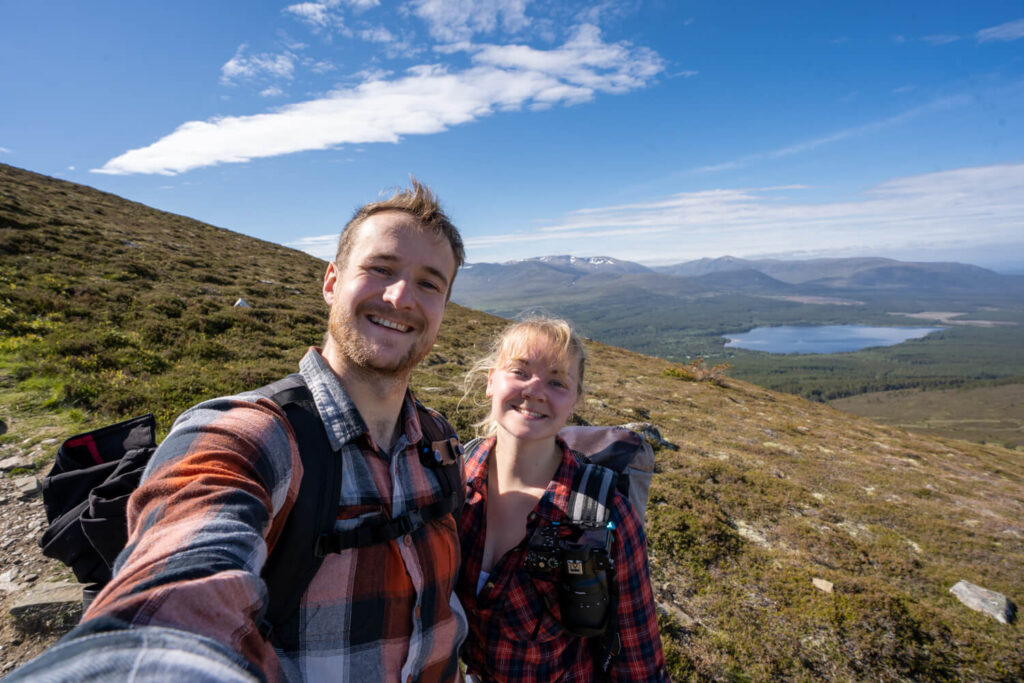 One thing to keep in mind, is that the weather and temperature in Scotland can be very temperamental, don't go out on the hills unprepared. We have climbed Meall a' Bhuachaille before in blizzard snow and it was a completely different experience!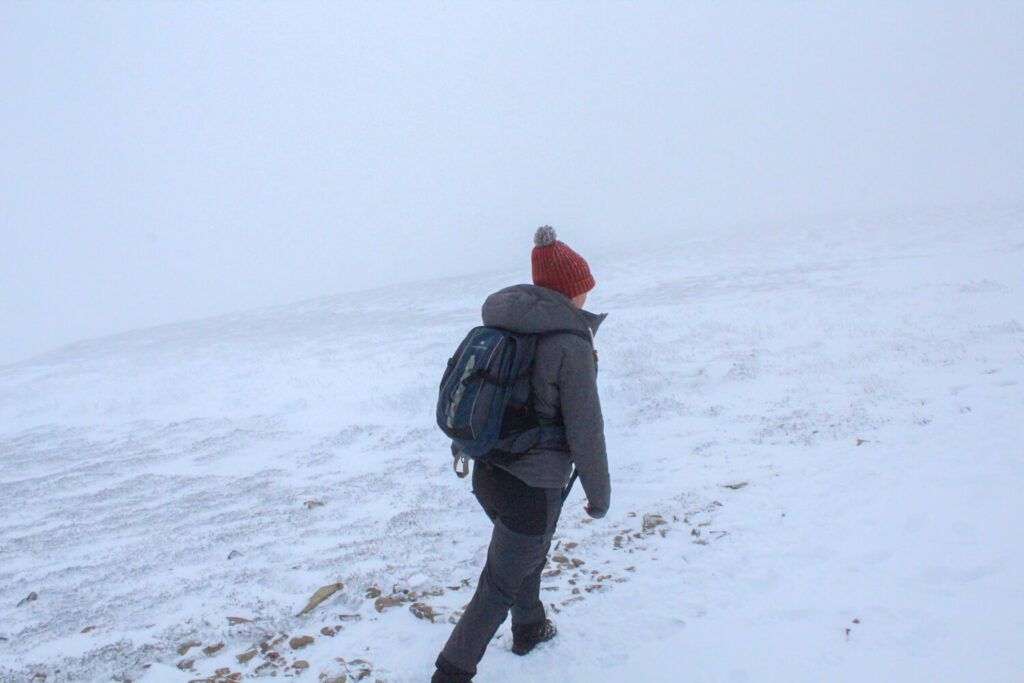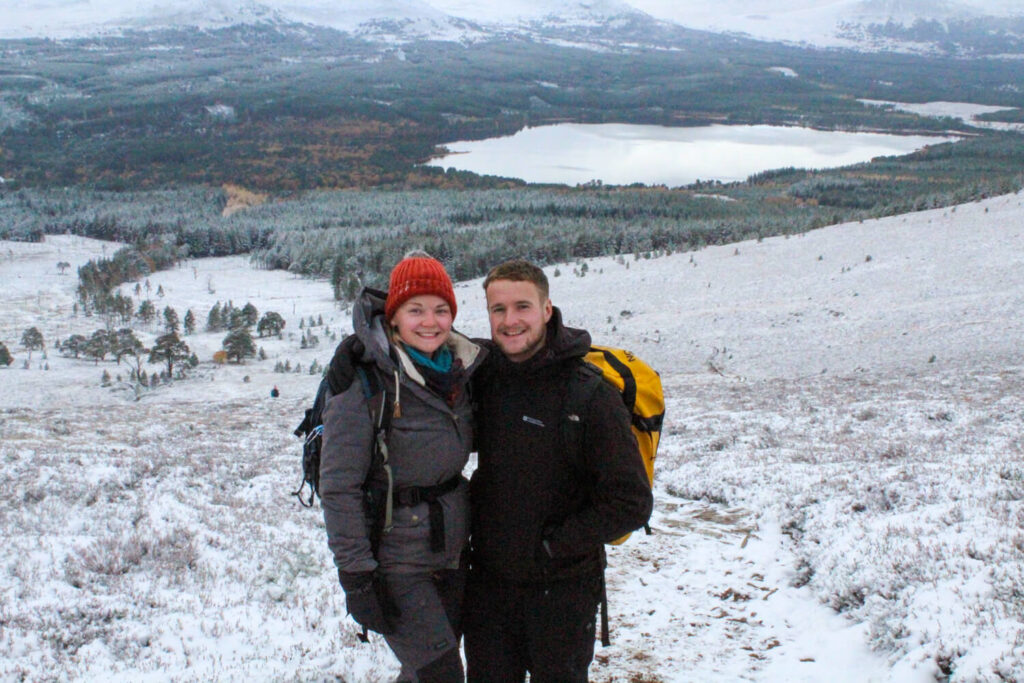 On the way down, there are a few steep parts but most of the walk is a gentle gradient and flat underfoot. Now you have your breath back you can really soak in these beautiful views surrounding you, and don't forget to look out for deer in the hills. This part of the walk is shorter and before you know it you will be back at the Glenmore Visitor Centre.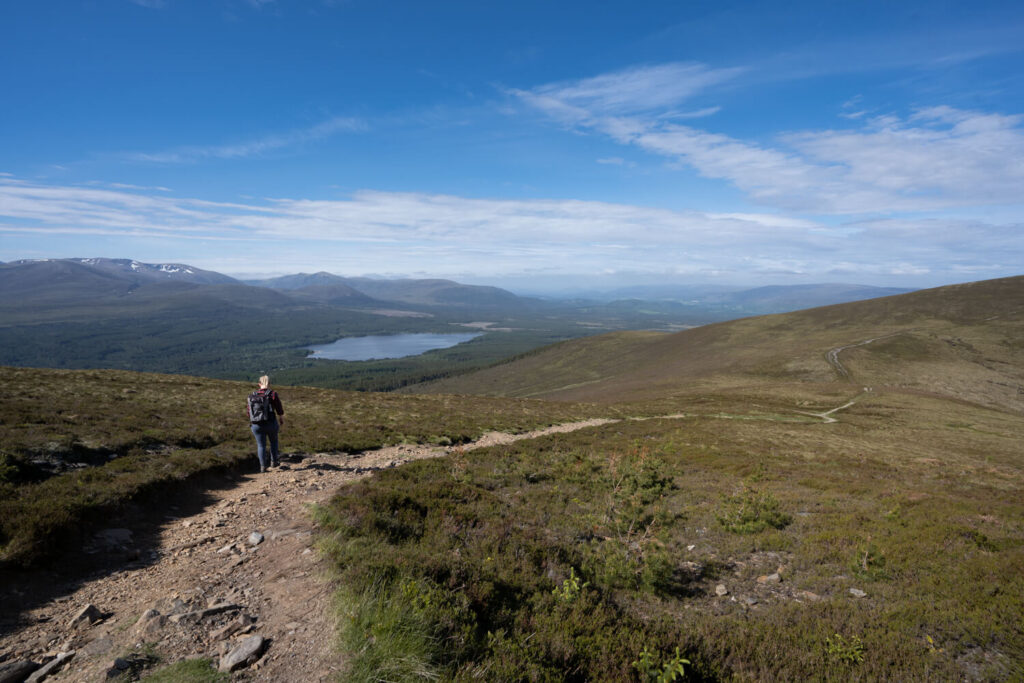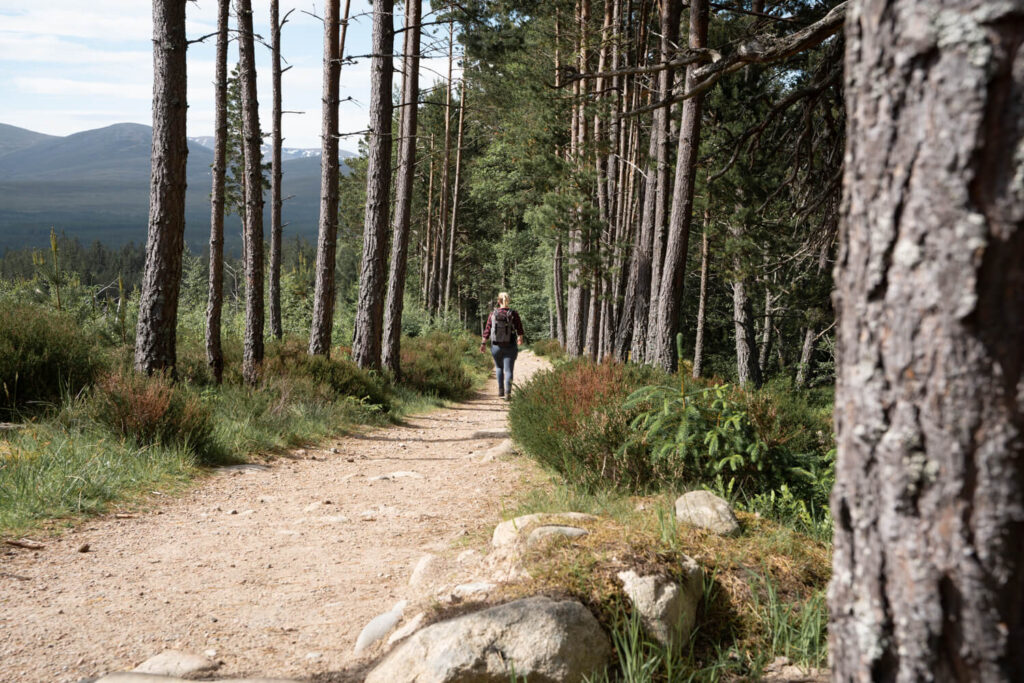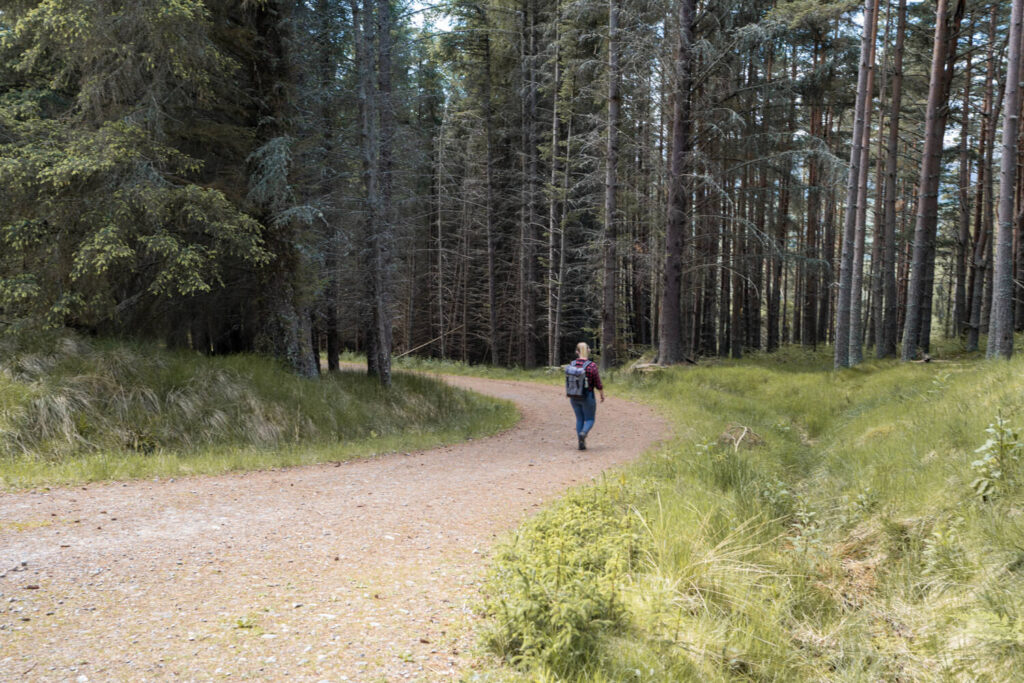 Before You Leave for Aviemore
Before you head off on your trip to Aviemore, there are certain things you will need to get organised to ensure a smooth trip. These include how to get around the route, including being aware of single track roads, etc., what to pack for Scotland, where to stay along the route and what travel insurance to book.
How Do I Get to Aviemore?
Aviemore has become the hub of the Highlands, with many people visiting all year round. The easiest way to get to Aviemore would be to drive as that will make it easier to get around when you get there. However there is always the option of getting public transport. Both trains and buses stop in Aviemore.
If you are looking to rent a cosy, reliable and luxurious campervan for your trip to Aviemore, we highly recommend hiring through Bunk Campers. We toured with these guys around the up-and-coming Heart 200 road trip in Scotland's central highlands and could not believe the comfort and customer service we experienced with their vans.
Browse the full range of vehicles on offer at Bunk Campers over here.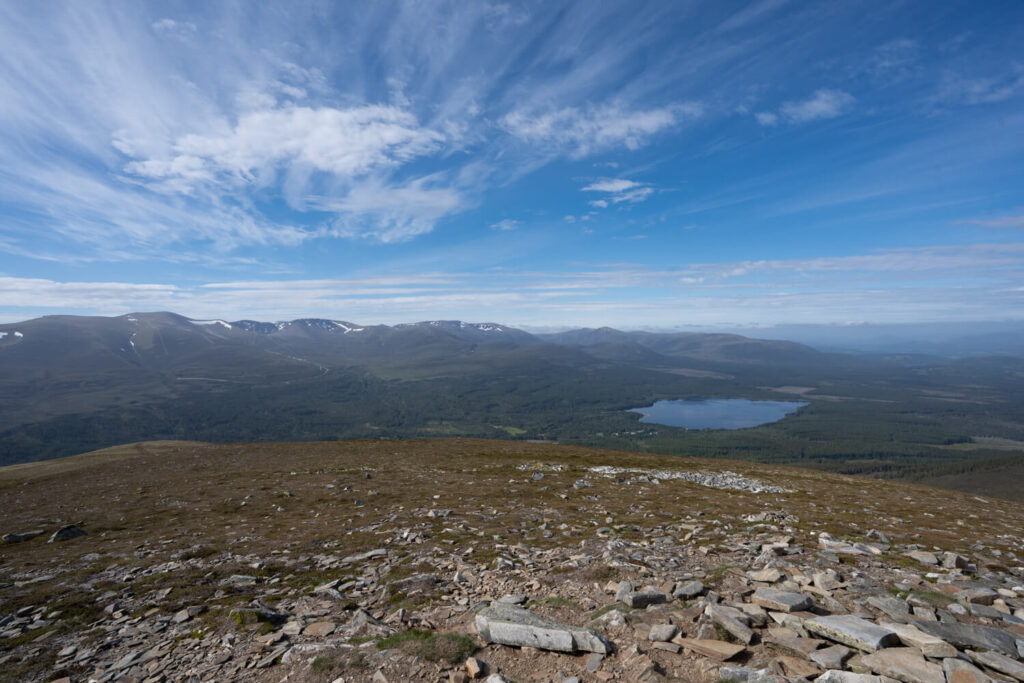 What Should I Pack for Aviemore?
When it comes to packing for a trip to Aviemore there is one item of clothing that you are going to need all year round: a waterproof. It rains in Scotland on average 250 days a year, meaning that during your trip to Aviemore you will probably experience at least a drizzle of rain. Due to this, the number one item on any Scotland packing list is a good waterproof jacket. If you are travelling in winter to Aviemore, it is also highly likely you will experience snow so we would recommend packing plenty warm clothing and waterproof shoes.
As for the rest of the year, the temperature in Scotland and the central heartlands is reasonably mild for most of the year. During the winter months, you will most likely experience snow, however, temperatures usually sit around freezing, so it is not too cold. For your reference, the average temperatures in Scotland are listed below during each season.
Spring (March, April, May) – 5-10 degrees C
Summer (June, July, August) – 15 degrees C
Autumn (September, October, November) – 5-10 degrees C
Winter (December, January, February) – 0-5 degrees C
As you can see, the weather never really gets above the teens, with anything over 25 degrees C considered a heatwave. The best way to pack for your trip to the highlands is with layers that can be added and removed as you need them. You will definitely need a hat and gloves during the colder months and will most likely need sunscreen to protect you on the long days in the open.
For our full list of items that we pack no matter where we go in the world, check out our full packing guides over here.
Given the beautiful sights and scenery that you are no doubt going to see around Scotland, we highly recommend packing a good camera for your trip. If you want to read more about the cameras we use and why we love them, check out the link below.
You can read what else we keep in our camera bag over here.
Where Should I Stay in Aviemore?
There are many accommodation options in Aviemore, however due to how busy this small town is, we would recommend booking in advance.
Luxury – MacDonald Morlich Hotel is a beautiful hotel in the Cairngorm National Park with 7 bars and restaurants on site as well as leisure facilities. There is even an onsite cinema and a championship golf course nearby.
Book your stay at MacDonald Morlich Hotel here.
Mid-range – The Cairngorm Hotel is located in the heart of Aviemore and is perfect if you are wanting to stay local to bars and restaurants in the town. Each morning a full highland breakfast is available to guests and there is a bar and restaurant onsite for your needs.
Book your stay at the Cairngorm Hotel here.
Budget – The Aviemore Youth Hostel is situated in the town of Aviemore and in the perfect location for a walk into town or a walk to the mountains. There is a range of facilities including private rooms and dorms, a lounge area and a self-catering kitchen.
You can book your stay at the Aviemore Youth Hostel here.
Camping is also extremely popular in Aviemore. There are a number of campsites in the area such as High Range and Rothiemurchus Camp and Caravan Park.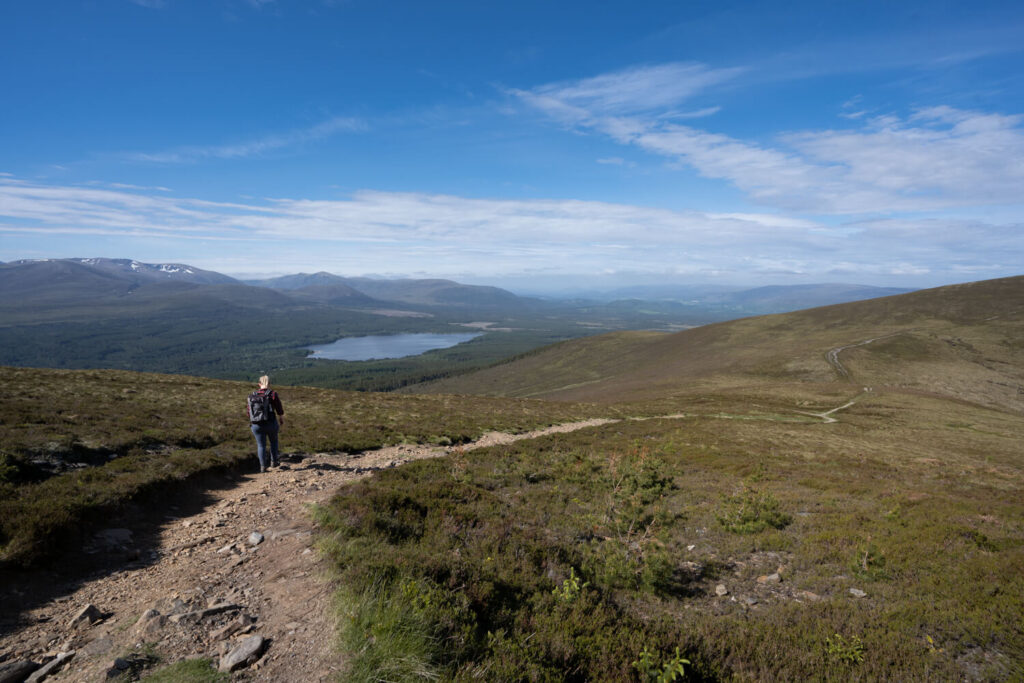 What is the Best Travel Insurance?
No matter what type of adventure you are heading on, whether it is a mountain adventure or a relaxing beach destination, one thing we all need to be aware of is that accidents can happen. The last thing you want is for an unexpected medical emergency to ruin your trip of a lifetime. Luckily, that is what travel insurance is for.
Whenever we travel abroad, we get covered with World Nomad's Travel Insurance, a reliable, friendly and extremely affordable method of covering yourself on any adventure. With years of experience working for backpackers around the globe, the service they provide is perfect for whatever type of trip you have planned.
Get covered for your next trip and get a quote from World Nomad's right here.
So there you have it, a guide to the Meall a' Bhuachaille. If you have visited Aviemore recently, let us know what you thought of the walks in the area or Meall a' Bhuachaille if you have done it. If you have any suggestions let us know in the comments below.
As always, sharing is caring so make sure to share this photo guide with your family and friends and inspire them to head off on their own Scottish adventure. If you are planning the trip for yourself, make sure you have a look at the rest of our Scotland content for more inspiration to our beautiful home country.
When you set off on your own adventure, be sure to tag us in your photos on Instagram and we will share them with the rest of our community. In the meantime, why not follow us over there to see what we are currently up to and keep up with us on our Instagram Stories.
Now Read:
This article may contain affiliate links that provide us with a small income. For more information read our Affiliate page.
---
Pin this image to your Scotland Pinterest board for later
No time to read now? No problem, save a pin to your Pinterest board for later!