Undeniably, Scotland is a treasure trove for travellers. And one of its most significant gems is the small town of Pitlochry.
Engirdled by the beautiful highlands of Perthshire, Pitlochry is a serene destination set amongst some incredible mountains. The woodland scenery here in this part of Scotland is something that you can't get enough of. 
Known as the largest town in Highland Perthshire, Pitlochry is such a tourist destination that is ideal for all types of travellers.
With so much to offer to its visitors, tourists can surely have the best of their time while vacationing in Pitlochry. In this guide, we have created a list of the best things to do in Pitlochry for a memorable time in this part of Scotland. 
No time to read now? No problem, save a pin to your Pinterest board for later!
There are many great things to do in Pitlochry. In this guide, we discuss the following in more detail.
The Queens View

Pitlochry Festival Theatre

Killiecrankie Gorge

Highland Fling Bungee

Blair Castle & Gardens

Black Spout Wood
White Water Rafting
Atholl Palace Museum
Moulin Village and Brewery

Preparing for your trip to Pitlochry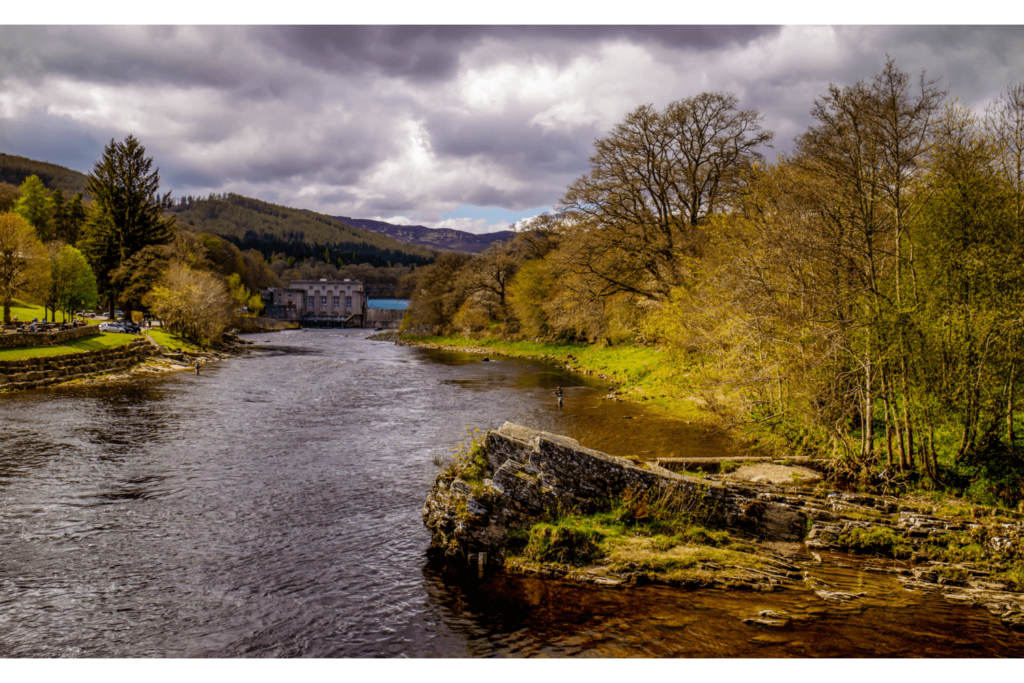 Best Things to Do in Pitlochry
There is a reason why Pitlochry holds such an important place on the map of Scotland, there are so many things to do and places to explore that it will leave you wanting to return to Pitlochry. 
The Queens View
The sweeping mesmerizing views of the Scottish countryside; there couldn't be a better way to start off your Pitlochry tour, right?  From The Queens View point, you can capture the astonishing panoramas as far as 50 miles. 
There are a couple of stories as to how the name "The Queens View" came about and it is still unknown which is true.
Some believe that Queen Victoria visited this particular spot in 1866 and The Forestry Commission named the viewpoint after her. 
However, another story has it that this place is named after the first wife of Robert the Bruce, Isabella. She preceded Queen Victoria some half a century ago. According to the people, she used to rest here on her travels. Some even say that she hid in the woods located nearby. However, it is still unknown which story is true.  
Being located in the vicinity of Tay Forest Park, there are a number of walking trails that go through the surrounding woodlands. However, the key highlight of this place is the viewpoint that overlooks gorgeous Loch Tummel and provides a mesmerizing view of the countryside.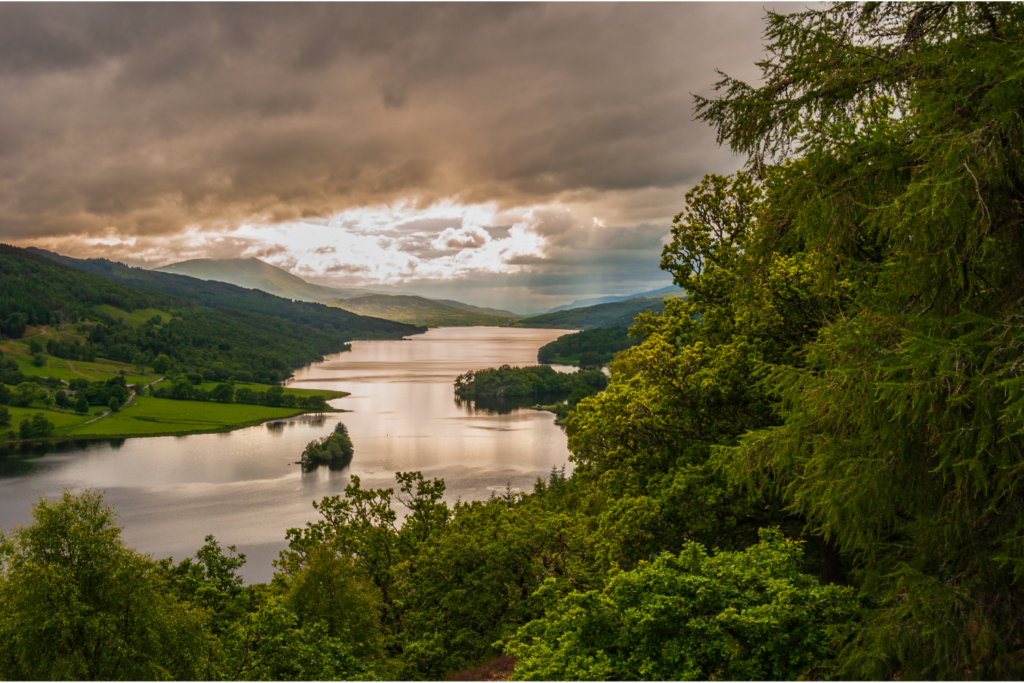 Pitlochry Festival Theatre
Pitlochry Festival Theatre, the name might not entice you, however, this is one of the Pitlochry attractions that one should visit. 
Attracting more than 100,000 people every year, Pitlochry Festival Theatre is ideal for people of all ages. There is so much to do and explore here at this theatre that you might even want to spend a whole day here. 
One of the key highlights of this place is the 'Studio' where plays are premiered. The 'Amphitheatre' is another highlight of this place which is primarily known for its picturesque setting as it is nestled within the Explorer Gardens. 
There are also plenty of fun things to do in the form of 'Family Fun Outdoor'. The terrific lineup of entertainment awaits to astound you in this particular section. Lastly, there is also 'Live Music' through various events organised at Pitlochry Festival Theatre.
Killiecrankie Gorge
A nature haven that once served as the site of the goriest battles in the history of Jacobites, Killiecrankie Gorge. Today, it is one of the most gorgeous places to visit around Pitlochry. 
Here at this stunning wooded river gorge, you can enjoy peaceful walks in nature. Admire the beautiful panoramas from the green footbridge which blooms up in colours during the autumn season. 
Along with that, you can also explore the Soldier's Leap. This is the spot where an 18ft leap was made across the River Garry by a redcoat soldier in order to flee the Jacobites. 
The region is known to be rich in wildlife being home to woodpeckers, red squirrels, pine martens, and more wild species. The Killiecrankie Visitor Centre is also open where you can know more about the battle.
There is also a cafe which serves the best hot food, sandwiches, and cake beside the visitor centre. On your tour to Pitlochry, Killiecrankie Gorge can be a perfect place for a day outing with friends and family.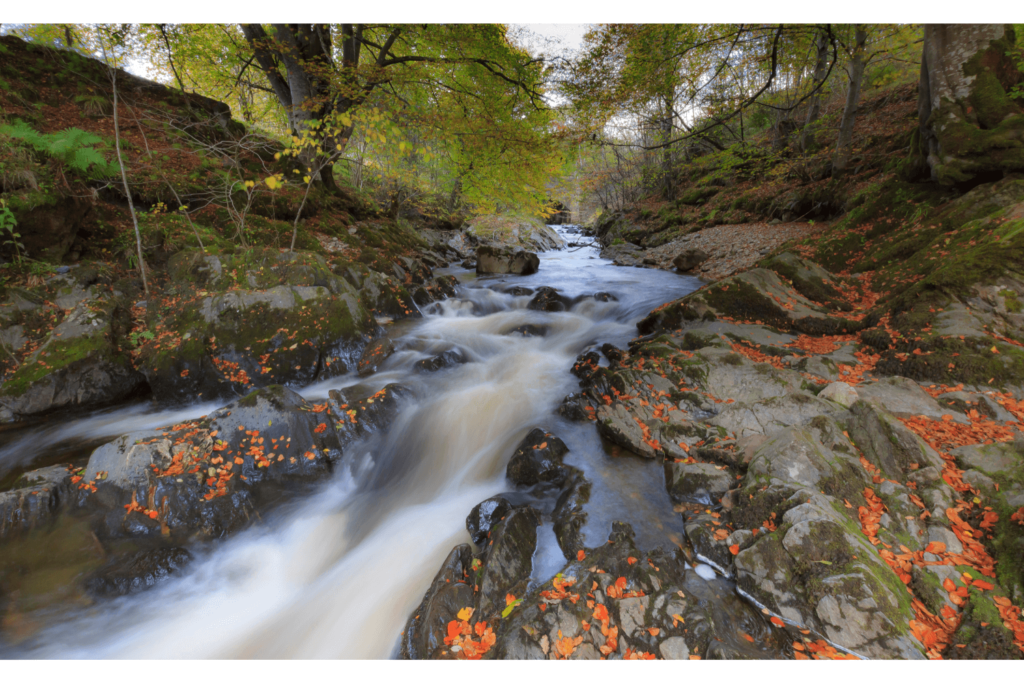 Highland Fling Bungee Jump
One of our personal favourite things to do when we are in Pitlochry is to visit Highland Fling Bungee. Killiecrankie offers one of the best bungee jumping experiences in Scotland at Highland Fling Bungee Jump. 
This is the only permanent bungee jumping spot in the entire UK, therefore many people will travel far for it. The platform sits around 40 metres from the River Garry Bridge, with incredible views surrounding you. The bungee jump is indeed a lifetime experience that is open 7 days a week all year, you know you want to give it a go!
Highland Fling also offers other options such as the Highland Swing which is a large swing that operates above the river. You can also try the zipline around the forest or the quadbiking which is at a location nearby.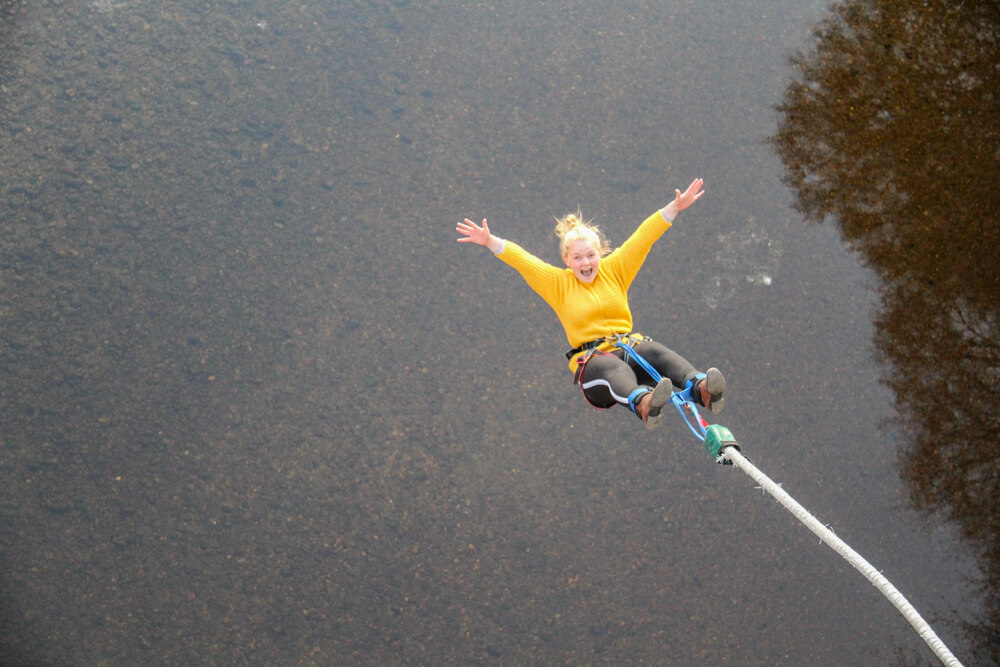 Blair Castle & Gardens 
Known as the ancient seat of Earls of Atholl and Dukes, Blair Castle & Gardens is another must-visit attraction in Pitlochry. The castle is also the home to Atholl Highlanders, the home to Europe's last remaining private army. 
The castle & gardens is located just at a distance of 10 minutes drive from Pitlochry. Blair Castle & Gardens is one of its kind in Scotland. Engirdled by the beautiful hills and scenic countryside, the castle offers some exceptional views. 
Along with the castle, this tourist spot is also known for its garden, Hercules Garden. Sprawls over a land of 9 acres of land, the walled garden is restored to its original Georgian design. There is a life-sized statue of Hercules is installed at the garden site. The garden is named after the statue.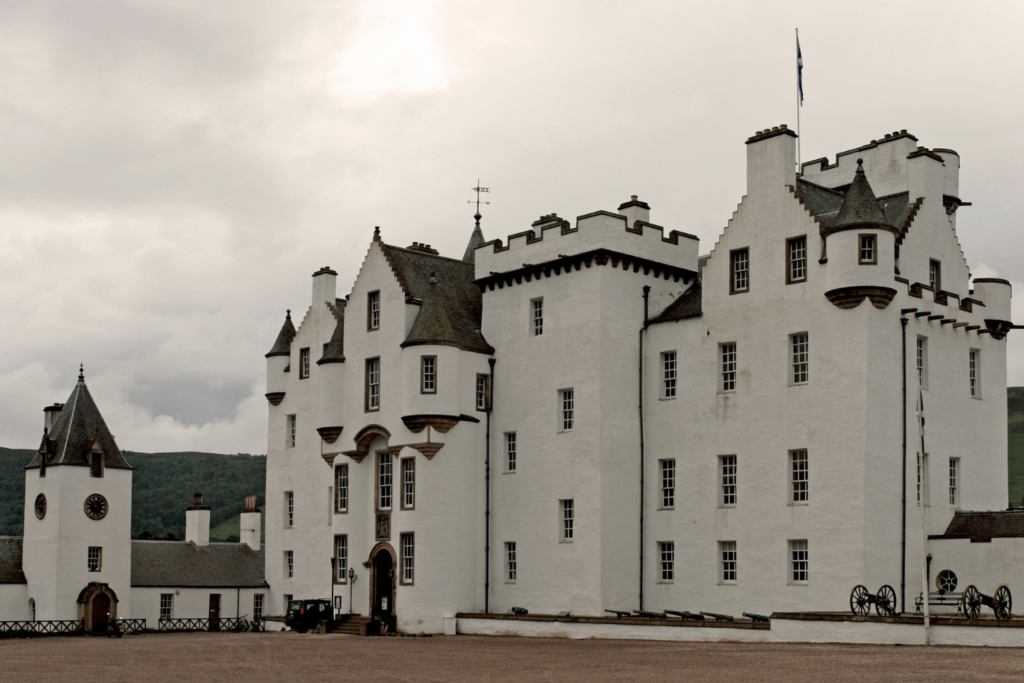 Black Spout Wood
Far away from the hustle and bustle of the town of Pitlochry, Black Spout Wood is the place where the famous Black Spout Waterfall is. Cascading from a height of 190 ft, this waterfall is one of the most picturesque sites to visit in Pitlochry. 
There is a short walk to the waterfall that also includes a visit to the beautiful Edradour Distillery, one of the small distilleries in Scotland. Reaching the site is quite easy by car. There is a car park at Black Spout Wood where you can park your vehicle. and from there, there is a clear route to the waterfall. 
At the waterfall site, there is a timber viewing platform that offers exceptional views from up above. The entire route passes through oak woods and follows the boundaries of the farm fields. En route, you can also expect to capture the sights of some beautiful wild species such as the Great Spotted Woodpecker, Roe Deer, and Jay. 
For a seamless journey, you can also buy a leaflet from Pitlochry Visitor Information Centre. The leaflet also includes a map along with some travel guidance too.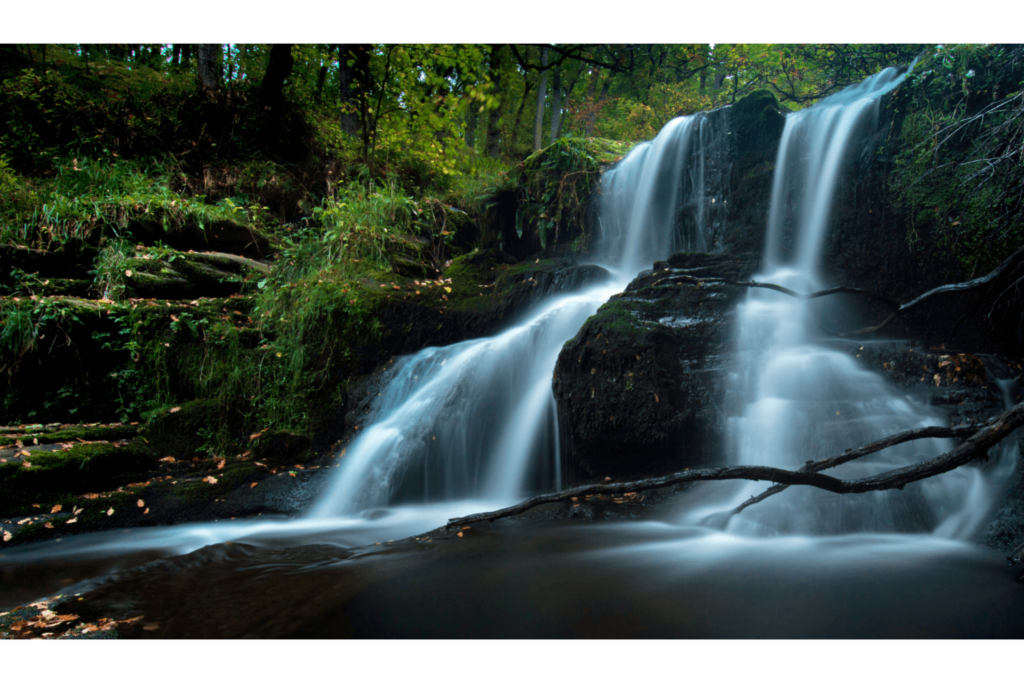 White Water Rafting
After bungee jumping, white water rafting is another must-do activity in Pitlochry. 
The activity is operated in River Tummel and is recommended for people above the age of 16. There are a number of organizations that operate white water rafting activities in River Tummel. 
White water rafting is indeed a great choice of activity if you want your Pitlochry vacation to be filled with adrenaline and adventure.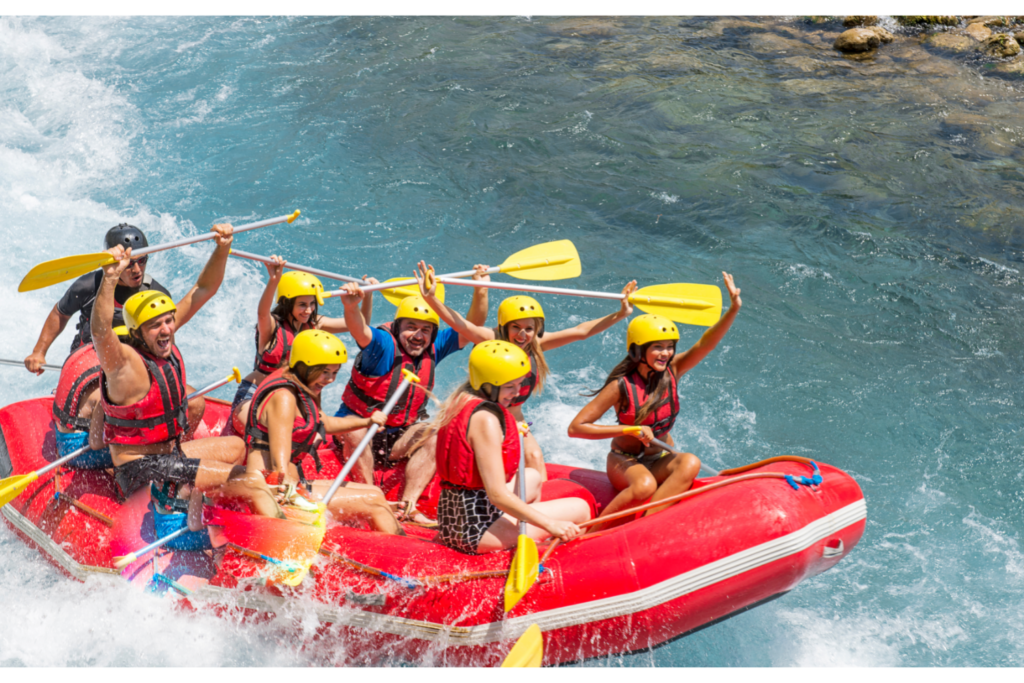 Atholl Palace Museum
In the servant's wing, Atholl Palace Museum boasts the history of the Atholl Palace Hotel since the time it opened in 1878 as a hydropathic establishment. It talks about the entrepreneurs, bankruptcy, and the unusual and torturous spa treatments of Victorian servants. 
Unlike any other museum, Atholl Palace Museum is known to display some intriguing exhibits. There is also exhibits related to wartime evacuees, renovations, Minecraft educational resource, audio dramas, short film, and photographs. 
Along with that, the museum also has a gaming area and interpretation boards intriguing and engaging for people of all ages. In general, at this museum, you can discover the vibrant victory of the Victorian Hotel where the Atholl Palace Museum is also located.
Moulin Village and Brewery
Mouline is one of those towns around Pitlochry that are steeped in rich history and culture. There are shreds of evidence here that date back to as far as the bronze age. 
The small town is also known for its tiny brewery, known as Moulin Brewery. Opened in 1995, the brewery receives a good footfall of people every year to learn about its history and production. 
There are four major real ales that are created at Moulin Brewery. These are Ale of Atholl, Old Remedial, Light Ale, and Braveheart Ale. Though you might not get to savour these ales as much as you would on the brewery tour, it is still great to have a taste and know which ones you like. 
There are some local ale houses where you can go and enjoy these drinks after the tour is you wish. These are Bothy Bar at Blair Atholl, Moulin Hotel, Royal Dunkeld Hotel in Dunkeld, and Loch Tummel Inn.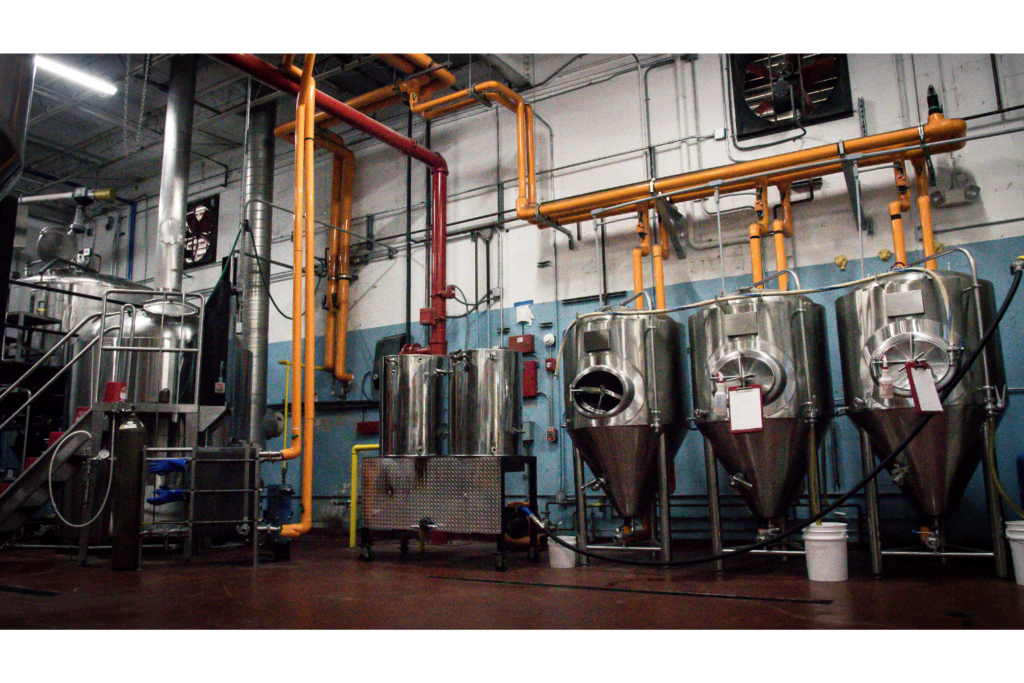 Before You Leave for Pitlochry
Before you head off on your trip to Pitlochry, there are certain things you will need to get organised to ensure a smooth trip. These include how to get around the route, including being aware of single track roads, etc., what to pack for Scotland, where to stay along the route and what travel insurance to book.
How Do I Get to Pitlochry?
Getting around in Pitlochry is quite easy as the town boasts great transportation connectivity not just within the town but also from the main cities. 
The town of Pitlochry lies on the A9 Scottish trunk road system. Therefore, if you are planning to reach here by car then it's a pretty straightforward task. Along with that, Scotland's bus network also connects Pitlochry with other main destinations in Scotland such as Glasgow and Edinburgh. 
Regarding train connectivity, ScotRail also offers easy connectivity to Pitlochry, Scotland. There are regular trains running throughout the day connecting around the UK. 
If you are looking to rent a cosy, reliable and luxurious campervan for your trip to Aviemore, we highly recommend hiring through Bunk Campers. We toured with these guys around the up-and-coming Heart 200 road trip in Scotland's central highlands and could not believe the comfort and customer service we experienced with their vans.
Browse the full range of vehicles on offer at Bunk Campers over here.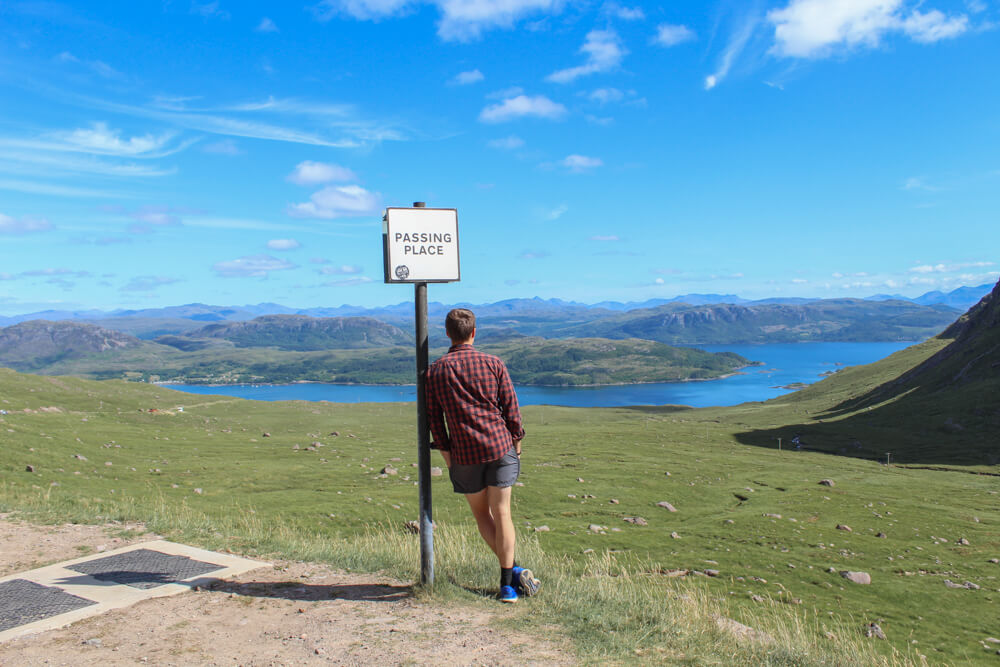 What Should I Pack for Pitlochry?
When it comes to packing for a trip to Pitlochry there is one item of clothing that you are going to need all year round: a waterproof. It rains in Scotland on average 250 days a year, meaning that during your trip to Pitlochry you will probably experience at least a drizzle of rain. Due to this, the number one item on any Scotland packing list is a good waterproof jacket. If you are travelling in winter to Pitlochry, it is also highly likely you will experience snow so we would recommend packing plenty warm clothing and waterproof shoes.
As for the rest of the year, the temperature in Scotland and the central heartlands is reasonably mild for most of the year. During the winter months, you will most likely experience snow, however, temperatures usually sit around freezing, so it is not too cold. For your reference, the average temperatures in Scotland are listed below during each season.
Spring (March, April, May) – 5-10 degrees C
Summer (June, July, August) – 15 degrees C
Autumn (September, October, November) – 5-10 degrees C
Winter (December, January, February) – 0-5 degrees C
As you can see, the weather never really gets above the teens, with anything over 25 degrees C considered a heatwave. The best way to pack for your trip to the highlands is with layers that can be added and removed as you need them. You will definitely need a hat and gloves during the colder months and will most likely need sunscreen to protect you on the long days in the open.
For our full list of items that we pack no matter where we go in the world, check out our full packing guides over here.
Given the beautiful sights and scenery that you are no doubt going to see around Scotland, we highly recommend packing a good camera for your trip. If you want to read more about the cameras we use and why we love them, check out the link below.
You can read what else we keep in our camera bag over here.
When is the best time to Visit Pitlochry?
Like most parts of Scotland, Pitlochry also witnesses cool winters and milder summers. The calmer, drier weather begins in the month of April and lasts until around August.
Pitlochry experiences long days during the summer months which is perfect if you have a lot of plans for your visit. During these months, the town of Pitlochry becomes alive with a lovely bustle of tourists visiting the local businesses. It may be the case that accommodation will book up quickly during the summer months so we would recommend booking in advance. 
If you prefect to visit during a quieter period, September and October are also ideal to visit Pitlochry. Accommodation availability is easier to book during this time.
Where Should I Stay in Pitlochry?
There are many accommodation options in Pitlochry, however, due to how busy this small town is, we would recommend booking in advance.
Luxury
Ever fancied staying in a castle? Well, Fonab Castle Hotel can offer you just that and at less than a 10 minute drive away from the Killiecrankie Visitor Centre.
Mid-Range
If you are looking to stay somewhere that includes breakfast, Derrybeg Bed and Breakfast serves up a traditional Scottish breakfast to fill up your adventurous bellies in the morning. What more could you want than that and the amazing views of the Tummel Valley that come with it.
Budget
The Red Brolly Inn is a budget yet comfortable place to stay for your next trip to Pitlochry. For a cosy and traditional accommodation experience, this is the place for you.
If hostels are more your scene, you can check out the hostels available in Scotland here.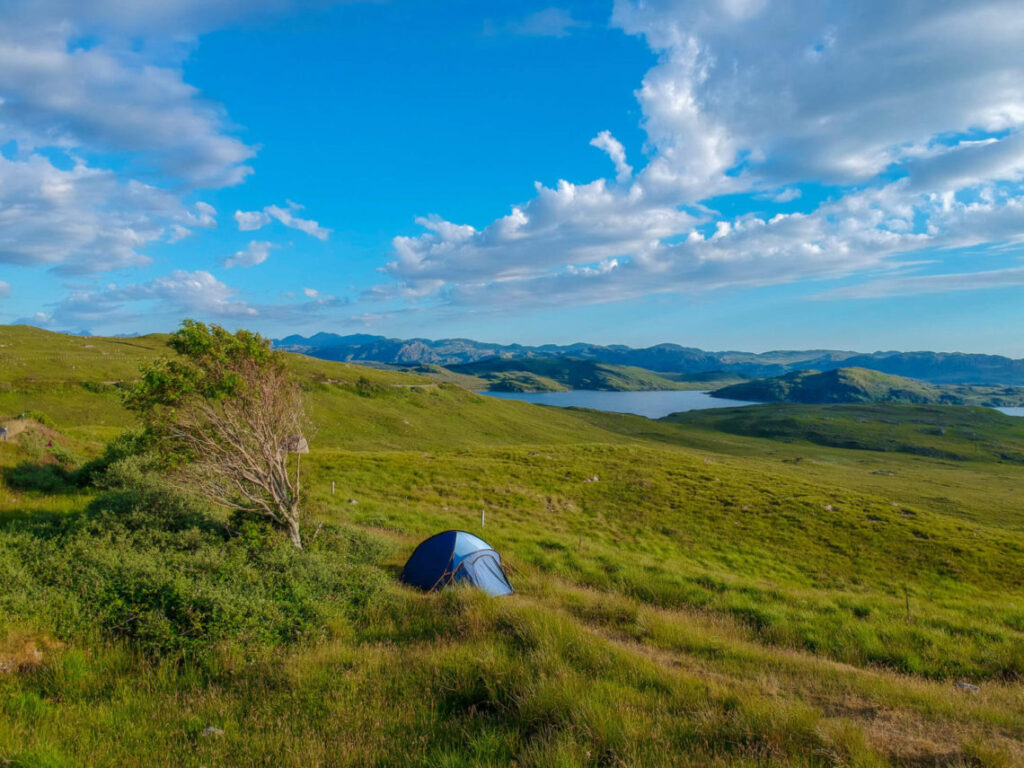 What is the Best Travel Insurance?
No matter what type of adventure you are heading on, whether it is a mountain adventure or a relaxing beach destination, one thing we all need to be aware of is that accidents can happen. The last thing you want is for an unexpected medical emergency to ruin your trip of a lifetime. Luckily, that is what travel insurance is for.
Whenever we travel abroad, we get covered with World Nomad's Travel Insurance, a reliable, friendly and extremely affordable method of covering yourself on any adventure. With years of experience working for backpackers around the globe, the service they provide is perfect for whatever type of trip you have planned.
Get covered for your next trip and get a quote from World Nomad's right here.
So there you have it, a guide to the best things to do in Pitlochry. If you have visited Pitlochry recently, let us know what you thought of the walks in the area or did you brave the bungee jump? If you have any other suggestions let us know in the comments below.
As always, sharing is caring so make sure to share this guide with your family and friends and inspire them to head off on their own Scottish adventure. If you are planning the trip for yourself, make sure you have a look at the rest of our Scotland content for more inspiration to our beautiful home country.
When you set off on your own adventure, be sure to tag us in your photos on Instagram and we will share them with the rest of our community. In the meantime, why not follow us over there to see what we are currently up to and keep up with us on our Instagram Stories.
Now Read:
This article may contain affiliate links that provide us with a small income. For more information read our Affiliate page.
---
Pin this image to your Scotland Pinterest board for later
No time to read now? No problem, save a pin to your Pinterest board for later!