Plan your trip to the North Coast 500 like never before and enjoy a road trip around the most scenic landscape in the world.
Containing details on
– All of the best sights (100+)
– Where to eat and stay
– Campervan facilities (water points and waste disposal)
– Sample itineraries
and so much more!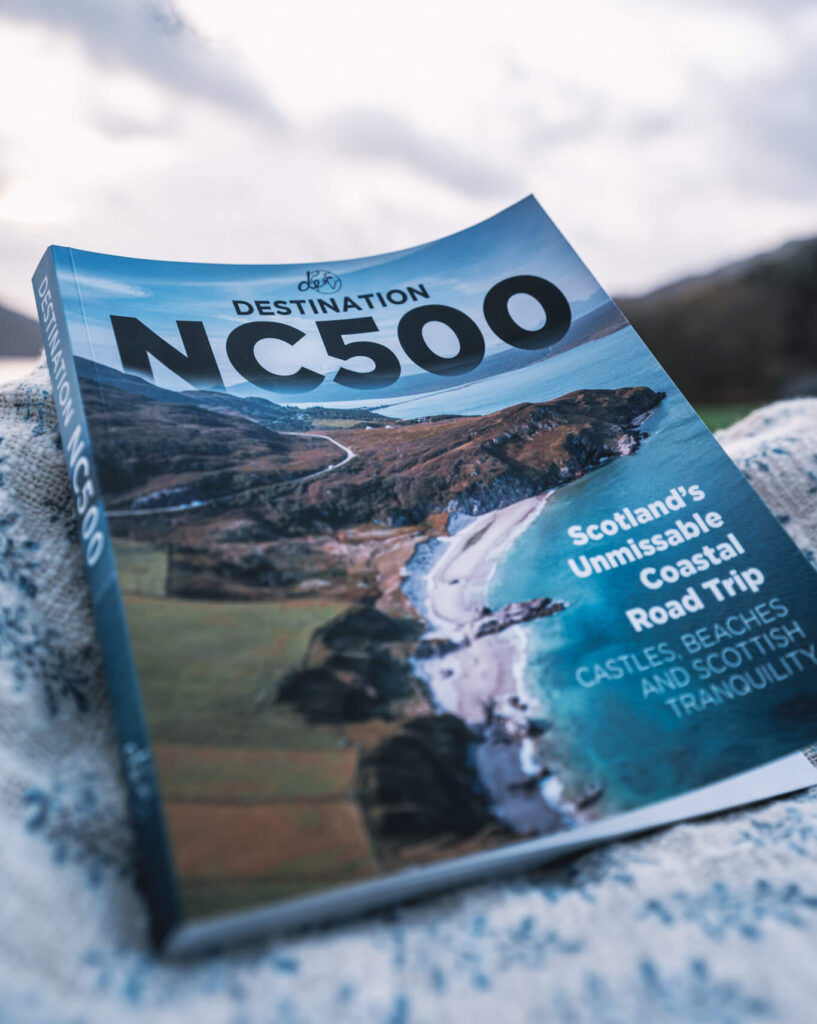 Disclaimer – We stayed at the NC500 Pods as part of a collaboration. The opinions below, however, are ours and are in no way influenced by this. 
An accommodation located within walking distance of the most popular beach on the NC500. The NC500 Pods at Achmelvich is a beautiful place to spend a night on your road trip around the NC500. 
Located on the north west coast of Scotland, across the water from Lewis and Harris, you won't be disappointed by the beautiful scenery surrounding the pods.
No time to read now? No problem, save a pin to your Pinterest board for later!
NC500 Pods Achmelvich - A Complete and Personal Review
The NC500 Pods are the perfect place to stay on your NC500 road trip come rain or shine. In this guide, we will discuss the the following in more detail
The NC500 Pods

Location of the NC500 Pods

Relax in the Lounge

Unwind in the Bedroom

Get Naked in the Bathroom

Cook up a Feast in the Kitchen
Enjoy the Fire Pit in the Communal Area
Overview of our Stay at the NC500 Pods

Preparing for your trip to the NC500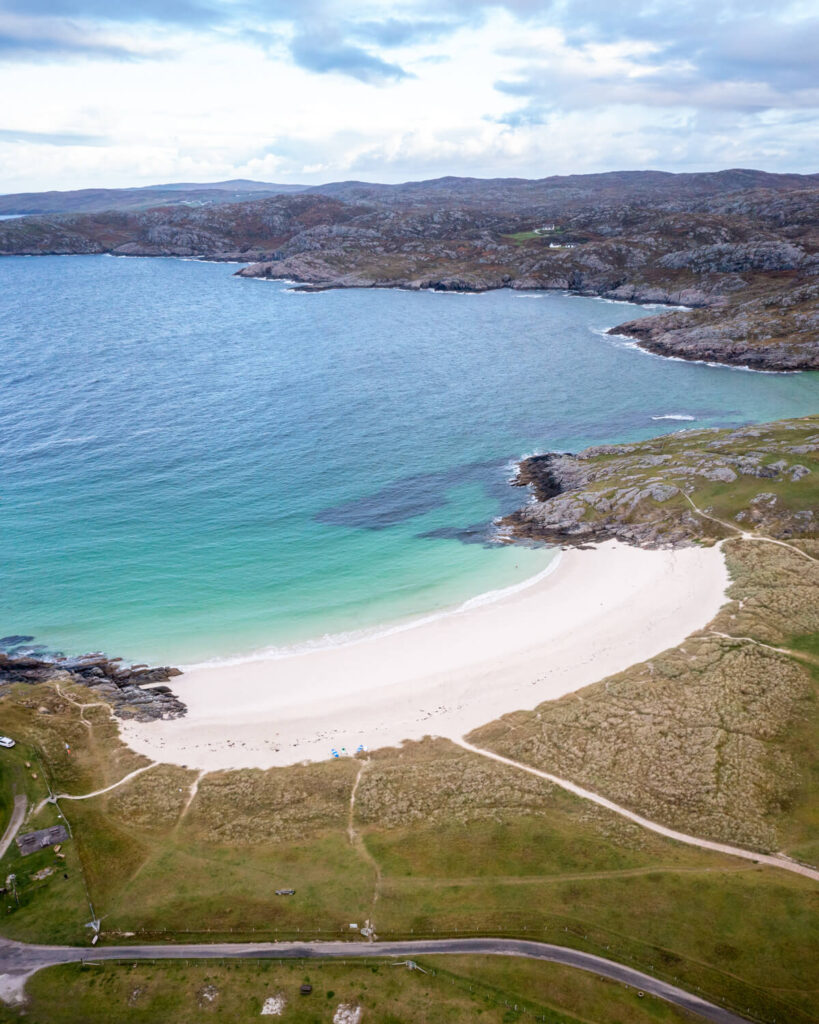 The NC500 Pods
The NC500 Pods are wooden glamping pods located next to one of Scotland's most beautiful beaches, Achmelvich Beach. There are 4 pods on site, each named after a nearby mountain. There is also a communal, social area with outdoor seating and a fire pit.
There are pet free and pet-friendly pods onsite making it suitable for everyone. A parking space is available per pod a short walk from the pods themselves.
The NC500 Pods is an incredibly popular place to stay and we would recommend that if you are thinking about booking a trip here, you book now to avoid disappointment as they book up so quick! 
Location of the NC500 Pods
The NC500 Pods in Achmelvich are located in one of the most remote parts of mainland Scotland. There are no amenities within walking distance of the pods and the nearest shops and restaurants and in Lochinver, a small fishing town 3 miles south of Achmelvich. There is a campsite, self-catering static caravans and a Youth Hostel in the nearby vicinity. 
The best part of the location of these NC500 Pods is that you are only a 5 minute walk away from the award winning white sandy Achmelvich Beach.
With the remoteness of this location, there is no signal in the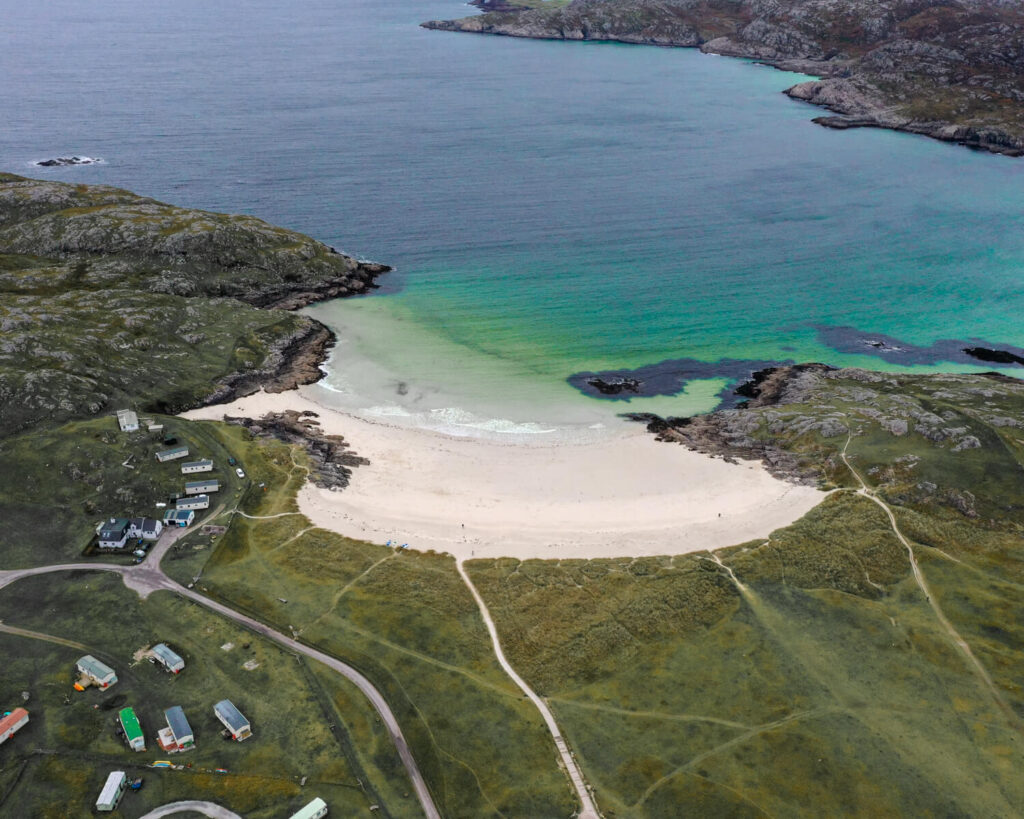 DON'T FORGET
Your trip to Scotland will be a lot more comfortable with a midge net and midge spray. These little biting bugs can be enough to ruin a trip if you don't have the equipment to protect yourself from them. A repelling candle can also be helpful if you are sitting oustide.
Relax in the Lounge
When you enter into your pod there is a comfortable L-shaped couch that has the option to be turned into a double bed for either more guests or a movie night in the evening. Each of the pods have their own wifi and password allowing you to hook up to the online world if you choose to. If not, you can enjoy being disconnected as there is no signal in this remote part of Scotland. 
Kick back and enjoy flicking through the movies on Netflix or catch up on your favourite TV programmes using the catch up option on the TV. There are no TV channels which adds to that nice disconnected feeling you will have here. Once you are comfortable, you can use Amazon Alexa to turn the lights off for you.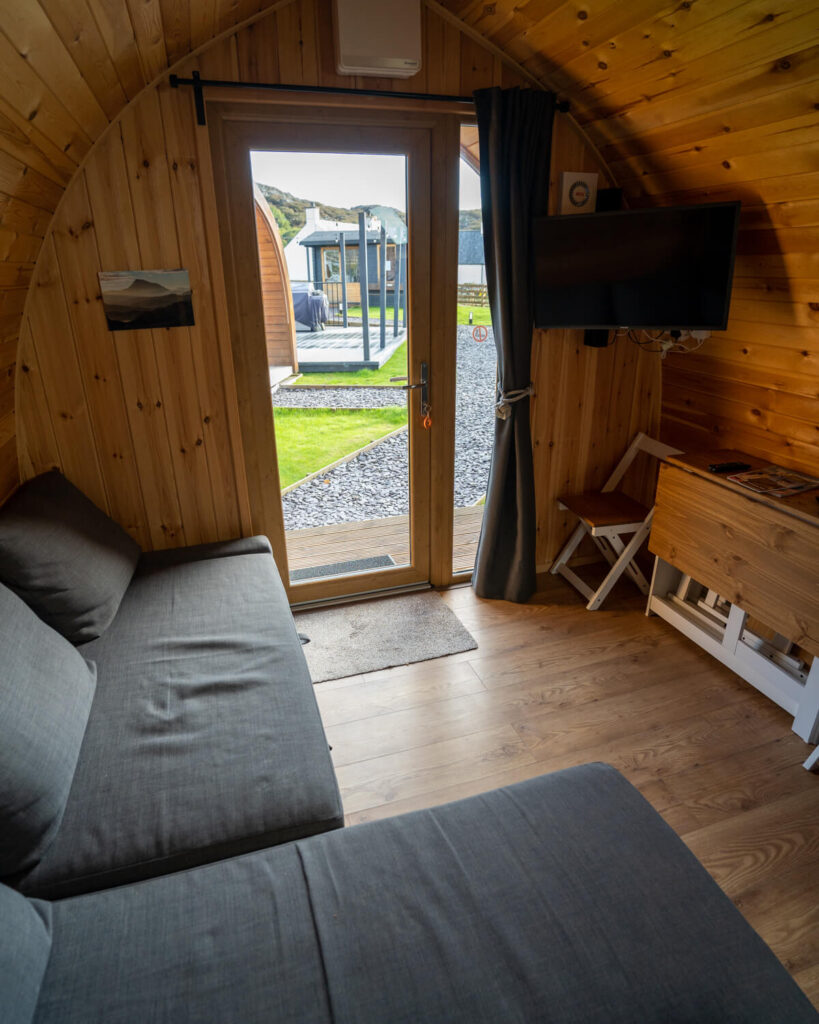 Unwind in the Bedroom
Unwind at night in a big comfortable double bed at the back of the pod. There is a spotlight beside the bed for reading before you go to sleep and the area is so quiet overnight. A highlight for us was being able to set the heating on timer so that we could step out of bed onto a heated floor, it's the little things that make a stay like this so comfortable. 
At the bottom of the bed there are coat hangers for you to hang your clothes and there is space at the bottom of the bed and under the bed for storage of your bags.
Get Naked in the Bathroom
The bathroom is small with a toilet, sink and shower. There is a heated towel rail which is perfect to come back to after a swim in the sea! The hot shower is delightful and there is a powerful hairdryer under the sink. 
Cook up a Feast in the Kitchen
The kitchen facilities in the pod come with full cutlery and crockery kits as well as salt and pepper. There is an oven and grill alongside a microwave, toaster and kettle. There is a very spacious fridge and freezer to store your food in as well.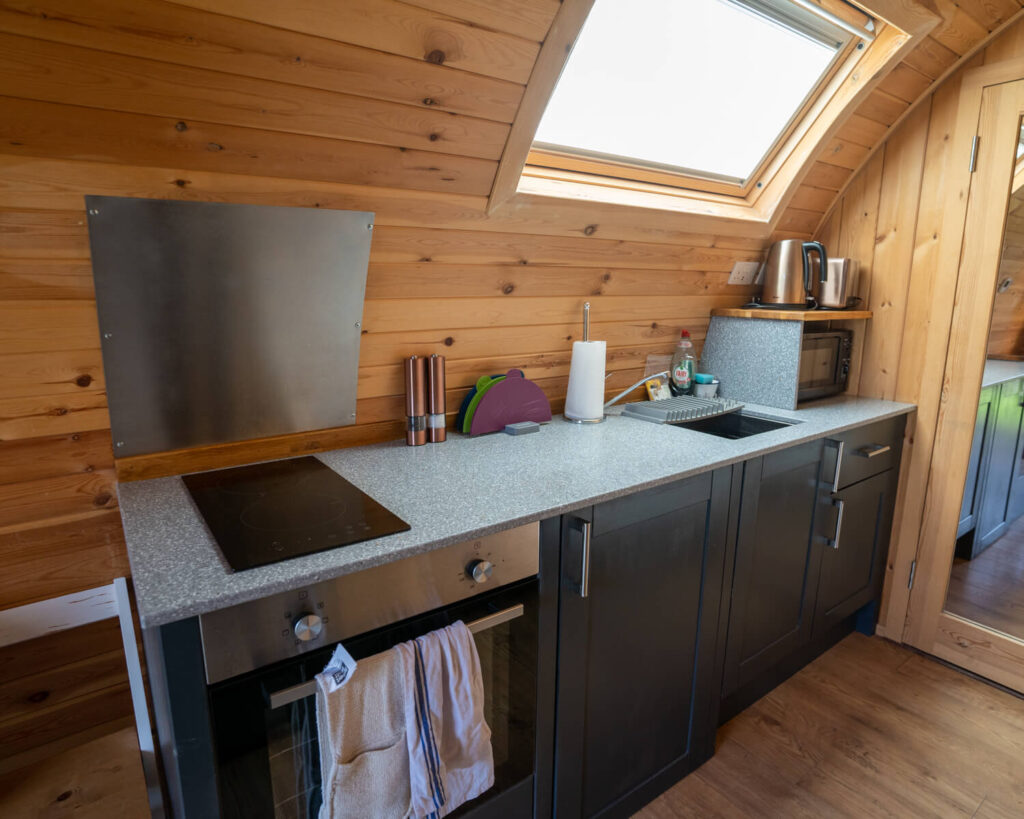 Enjoy the Fire Pit in the Communal Area
There is a small communal area are at the NC500 Pods that would be beautiful to sit out in during the summer months. In the cooler months, there is a fire pit so you can still sit out and enjoy the surrounding nature with the heat of the fire.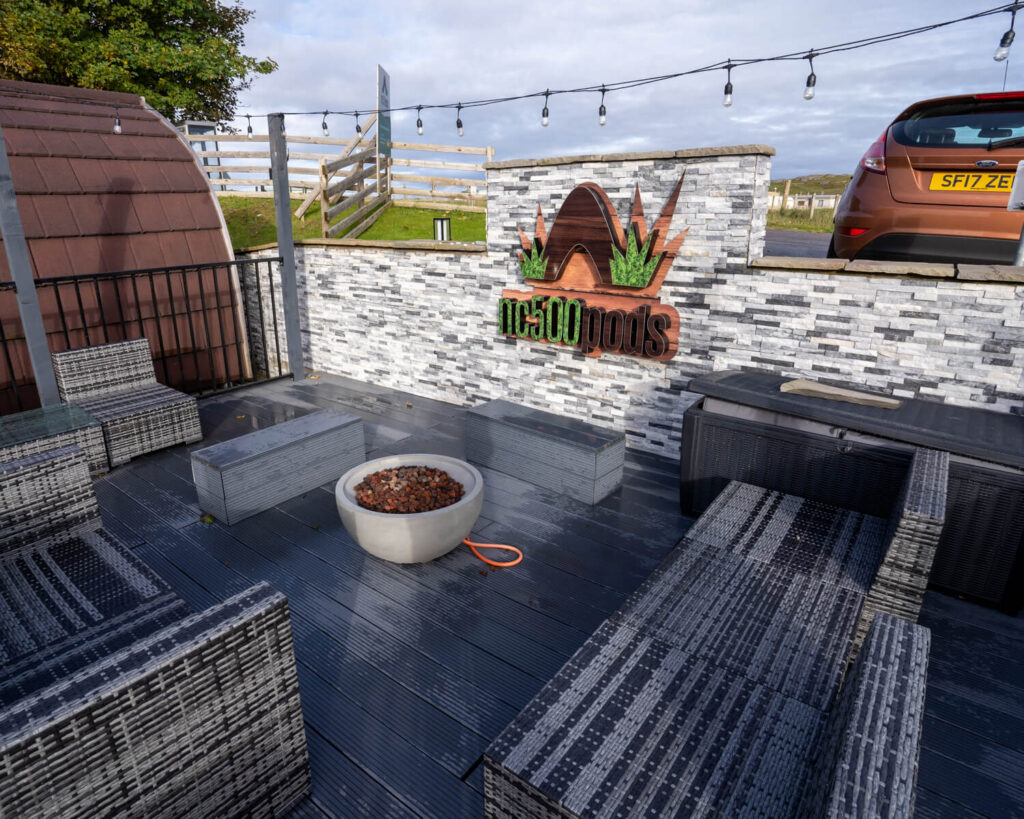 Overview of our Stay at the NC500 Pods
If you are looking for a unique stay in amongst nature, then a stay at the NC500 Pods is perfect. A real highlight of our stay was being so close to the beach that we could walk down for our morning swim and then it was only a short walk back to the pod to heat up afterwards. The pod is a great size for a little bit of luxury on the NC500, we really enjoyed our stay here.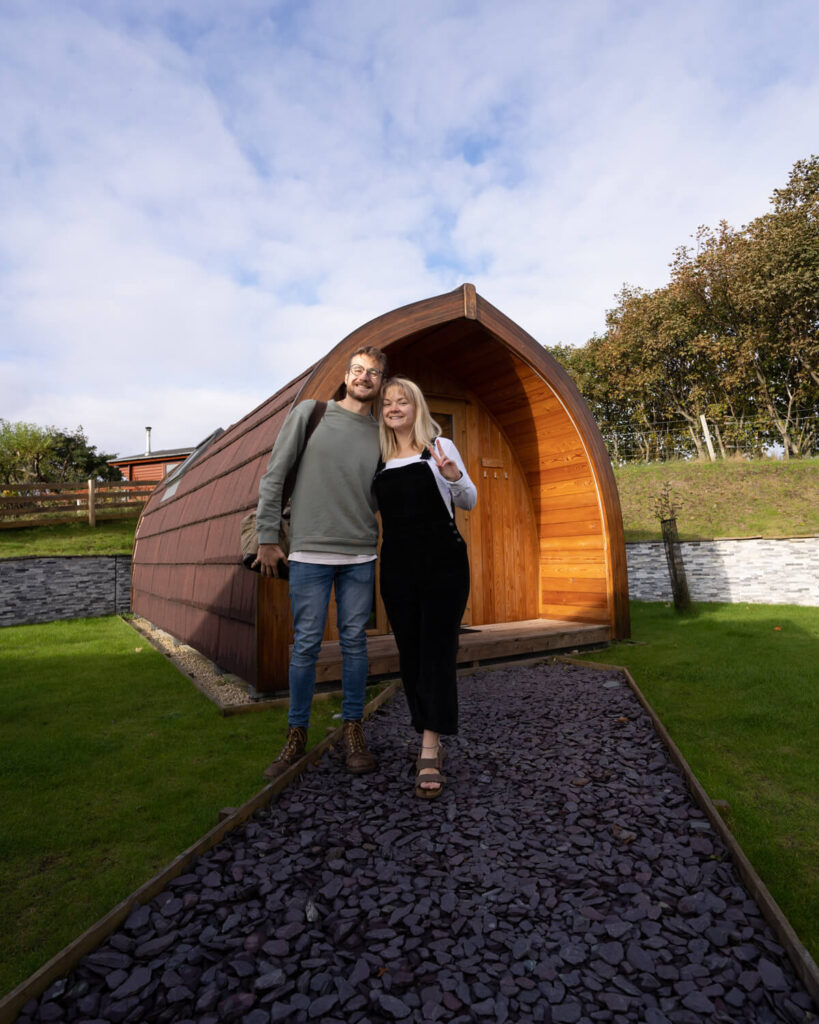 We would highly recommend getting yourself a Seashell dryrobe for keeping warm when you get out of the icy cold water! They even have pockets to store your keys!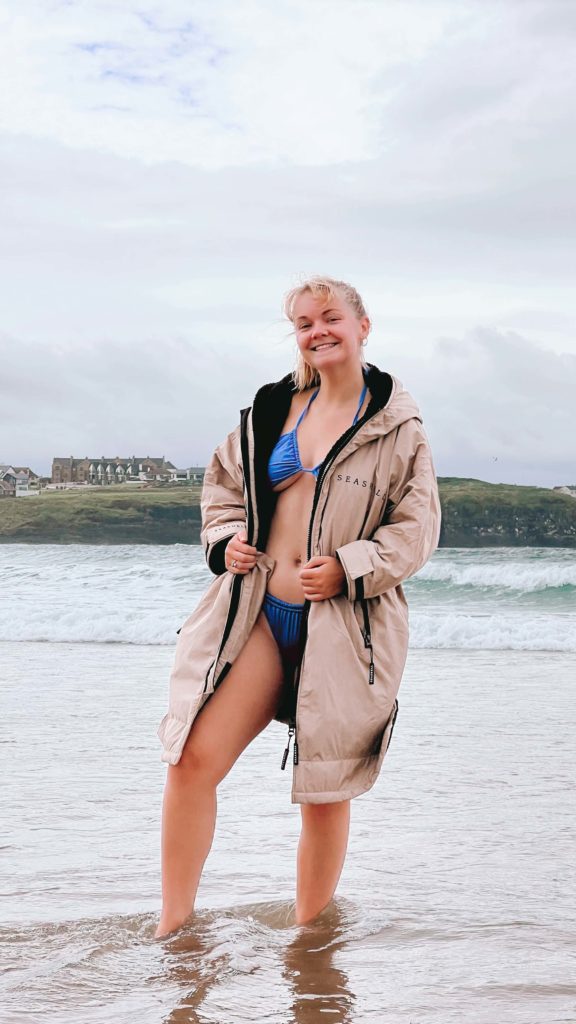 Before You Leave on the North Coast 500
Before you head off on your trip around the NC500, there are certain things you will need to get organised to ensure a smooth trip. These include how to get around the route, including being aware of single track roads, etc., what to pack for Scotland, where to stay along the route and what travel insurance to book.
Read more planning tips for the North Coast 500 in our full guide.
How Do I Get Around the NC500?
Given the remote location of the NC500 and the majority of the sights along the route, the best way to get around this road trip is by driving. There are of course other methods that are still popular, such as cycling and hiking, however, if you have a short amount of time on the route, neither of these are very suitable.
As for public transport, the use around the NC500 is understandably difficult due to how remote each location is, however, with the increasing problem of congestion along the route, this is a good option to research if you have time. If it is something that interests you, you can read a public formed itinerary of how to get around the NC500 by public transport over here.
If you are looking to rent a cosy, reliable and luxurious campervan for your trip along the NC500, we recommend hiring through Spaceships
Browse the full range of vehicles on offer at Spaceships over here.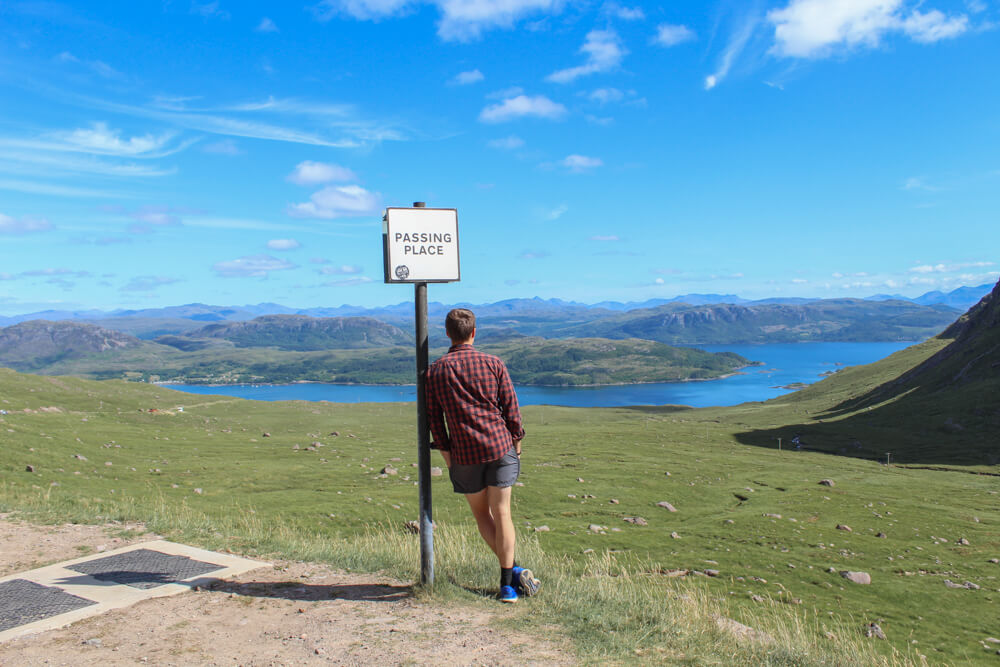 What Should I Pack for the NC500?
When it comes to packing for a trip along the NC500 there is one item of clothing that you are going to need all year round: a waterproof. It rains in Scotland on average 250 days a year, meaning that during your 7-day NC500 road trip you will probably experience at least a drizzle of rain. Due to this, the number one item on any Scotland packing list is a good waterproof jacket.
As for the rest of the year, the temperature in Scotland and the central heartlands is reasonably mild for most of the year. During the winter months, you will most likely experience snow, however, temperatures usually sit around freezing, so it is not too cold. For your reference, the average temperatures in Scotland are listed below during each season.
Spring (March, April, May) – 5-10 degrees C
Summer (June, July, August) – 15 degrees C
Autumn (September, October, November) – 5-10 degrees C
Winter (December, January, February) – 0-5 degrees C
As you can see, the weather never really gets above the teens, with anything over 25 degrees C considered a heatwave. The best way to pack for your trip to the highlands is with layers that can be added and removed as you need them. You will definitely need a hat and gloves during the colder months and will most likely need sunscreen to protect you on the long days in the open.
For our full list of items that we pack no matter where we go in the world, check out our full packing guides over here.
Given the beautiful sights and scenery that you are no doubt going to see around Scotland, we highly recommend packing a good camera for your trip. If you want to read more about the cameras we use and why we love them, check out the link below.
You can read what else we keep in our camera bag over here.
Photography Equipment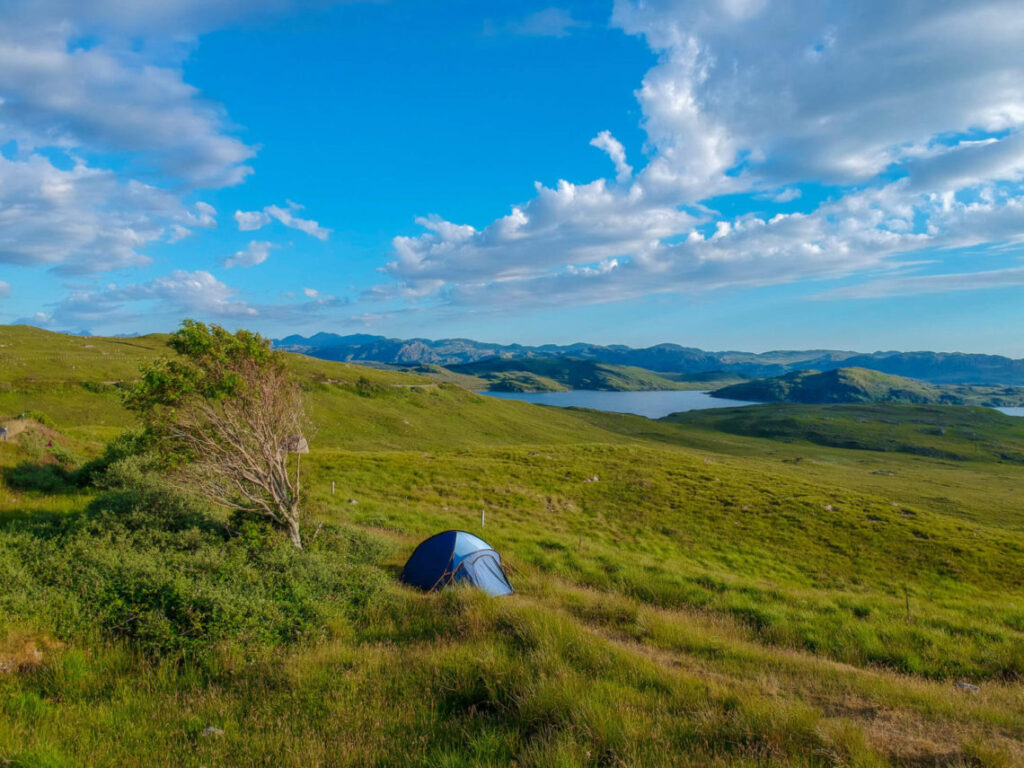 What is the Best Travel Insurance?
I know travel insurance is the least enjoyable thing to purchase and look at when you're planning a trip, however, you wouldn't want to be without it in the event that something happened. Accidents can happen anywhere and the extortionate medical bills will ruin your trip if you are not covered.
To ensure you have a stress-free trip with no worries about potential medical bills, make sure you cover yourself when you travel. We can recommend using SafetyWing, a backpacker-friendly and cheap insurance company that provides good coverage and support. It is also nomad-friendly, unlike most other insurance companies, meaning you do not need to worry about being out of your home country for too long.
Get a quote for your travel insurance right here and get covered!
So there you have it, our complete review of our stay at the NC500 Pods in Achmelvich. If you have visited the NC500 recently, let us know what you thought of it, did you stay somewhere similar? Let us know in the comments below.
As always, sharing is caring so make sure to share this post with your family and friends and inspire them to head off on their own North Coast 500 adventure. If you are planning the trip for yourself, make sure you have a look at the rest of our Scotland content for more inspiration to our beautiful home country.
When you set off on your own adventure, be sure to tag us in your photos on Instagram and we will share them with the rest of our community. In the meantime, why not follow us over there to see what we are currently up to and keep up with us on our Instagram Stories.
Now Read:
This article may contain affiliate links that provide us with a small income. For more information read our Affiliate page.
Pin this image to your Scotland Pinterest board for later