Scotland's largest city, Glasgow is a lively and dynamic destination that cannot be missed on your next trip to Scotland. With the friendly atmosphere, this city has a charm like no other and a vibe that will attract you to visit again and again. In this guide to Glasgow, we will take you a tour of this vibrant city, from the extensive shopping and museums to the exciting nightlife that comes when the sunsets.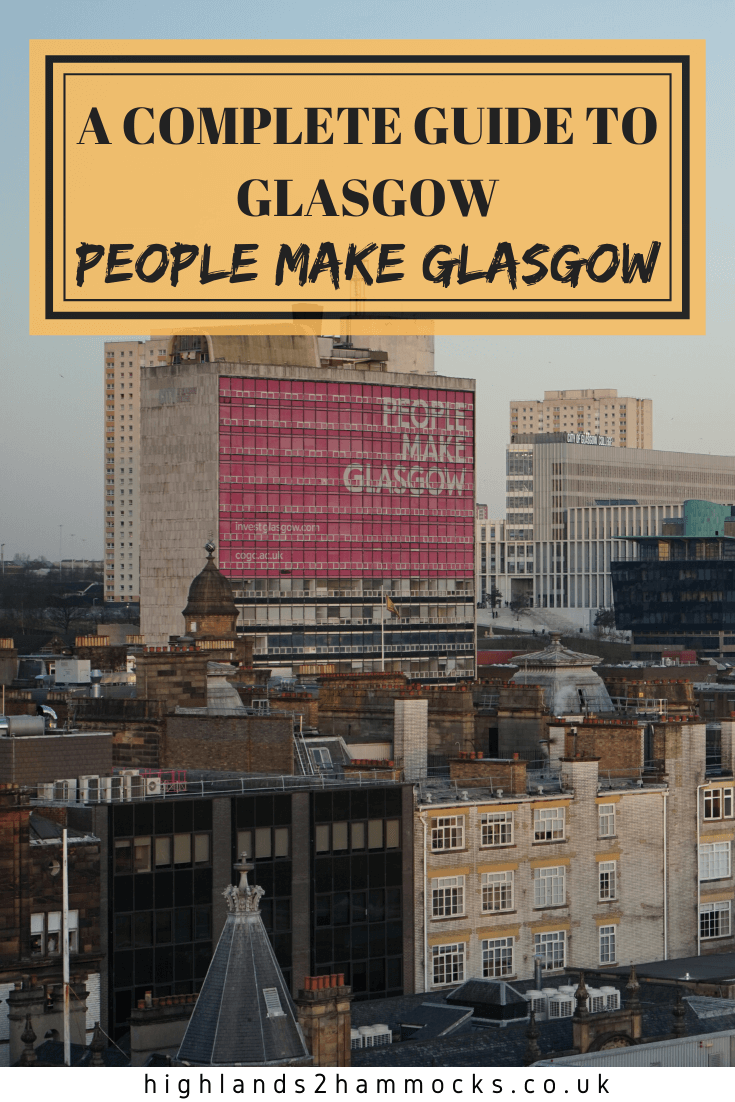 Being our home city, we have all the knowledge and wisdom about Glasgow to show you why you should visit this incredible and as the saying goes, prove to you that people really do make Glasgow.
Also Read – All the Best Free Things to do in Glasgow
Arriving into Glasgow
When you arrive into Glasgow, we want to make sure you have the easiest and most cost-effective options to get to your accommodation before you set out sightseeing. Below we discuss arriving by airplane, train and bus into Glasgow.
Arriving at Glasgow Airport
When you arrive into Glasgow Airport you have a few options of how to leave the airport and travel to your destination.
Cheapest – If you have family or friend that can pick you up, there is a pick up and drop off area outside the airport, costing £2 for 10 minutes. If you want to avoid paying for this then we can recommend walking a short distance to the BP garage near the airport and being collected there.
Mid-range –  If you choose to get public transport you will have a couple of options. The McGills 757 bus which runs Clydebank to Paisley via Glasgow Airport will take you as far as Paisley where you can then jump on the train to Glasgow Central at Paisley Gilmour Street. This bus leaves from the Terminal Building, Stance 7 and takes around 15 minutes to get to Gilmour Street Station.
An adult day ticket will cost you £4.20 if you purchase on the McGills app before you board, or £4.50 on the bus. If you have a valid student card, you can also ask for a student ticket. A day ticket is perfect if you plan to use McGills in the city, however, we would recommend asking the driver if a single ticket is available if you do not plan to use your day ticket. You can use contactless onboard a McGills bus.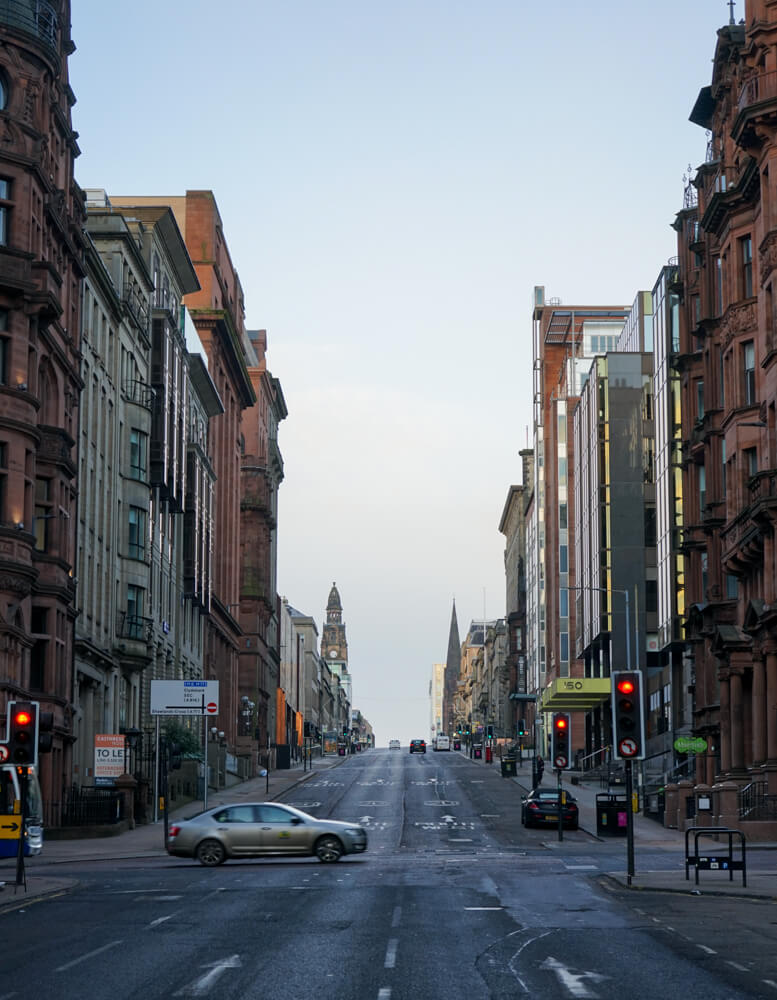 From Paisley Gilmour Street, catch the train to Glasgow Central Station for £3.80 one way, taking approximately 10 minutes. If you are staying in the city centre, then you should be within walking distance of your accommodation. If you are staying in the West End of Glasgow we recommend looking into the Glasgow underground. You can use Google Maps or City Mapper to find the best way for you.
The other public transport option to get the Glasgow Airport Express bus, number 500. This bus departs every 10 minutes from the terminal building stance 1 and takes around 15 minutes to get to Buchanan Street in Glagsow city centre. An adult single ticket will cost £8.50 onboard the bus (contactless is accepted)  or you can save 50p by purchasing your ticket on the First bus app beforehand.
If you plan on travelling in the city using First bus on the same day, you can purchase a day ticket for £13.80. Alternatively you can purchase this a lot cheaper on a different first bus. For example, a weekly ticket will cost £17.
Expensive (only if travelling solo) – Although this final option seems the most expensive and if you are travelling solo it will be, booking a taxi from Glasgow Airport to the city centre could actually be the best option if you are travelling as a group. The fare will cost around £15 (using Uber) and will only take 10 minutes.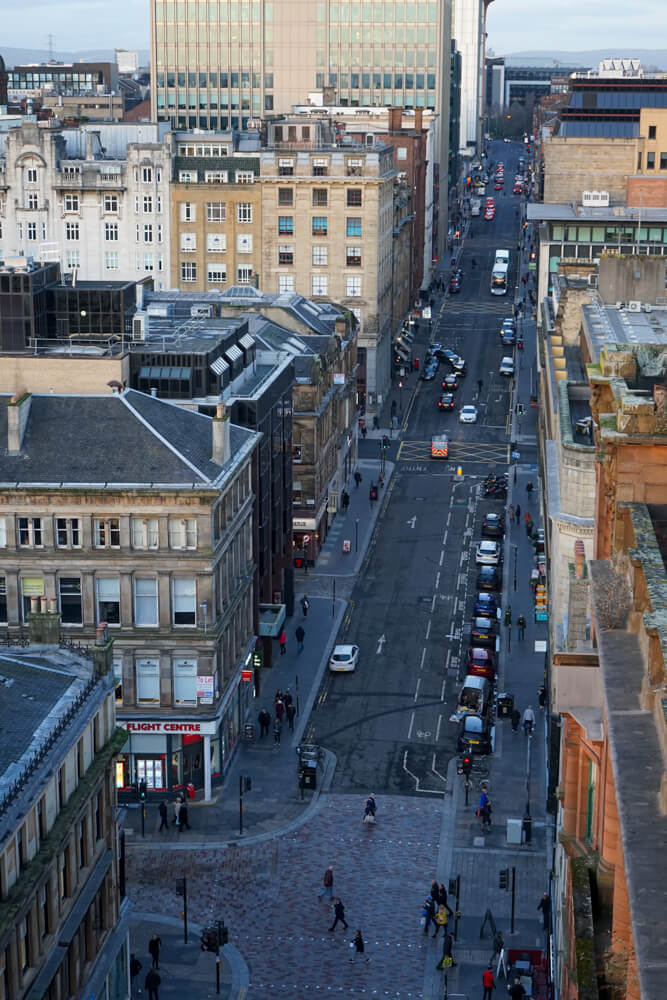 Arriving into Glasgow by Train
Glasgow has two main train stations, central station, and Queen Street Station. These stations are both situated in the city centre and only a 9 minute walk away from each other. Depending on where you are travelling from, will depend on what train station you arrive into. If your accommodation is located in the city centre, you may well be within walking distance, otherwise, you can check out Google Maps or City Mapper for the best option for you.
Arriving into Glasgow by Bus
Buchannan Bus Station is the main bus depot in the city and is located in the northern end of the city. As mentioned before, you may well be within walking distance, otherwise, you can check out Google Maps or City Mapper for the best option for you.
Getting Around Glasgow
Glasgow may be Scotland's largest city, however, the city centre of Glasgow is easy to walk around and the gridlock layout makes it compact to navigate.
Walk – Glasgow City council has developed a walking app to take you around the history and hidden gems of the city as you make your way around. This is the cheapest way to get around and the best way to see the sights up close on route.
Bicycle – A fun and eco-friendly way to get around Glasgow is by bicycle. Nextbike is a bike share scheme with both standard bikes and e-bikes available at different locations around the city. Your first 30-minute ride on a standard bike only costs £1 and a full day will cost you no more than £10, a great way to get around Glasgow.
The Subway – This is the easiest and quickest way to get from Glasgow city centre to the West End of Glasgow. Tickets start at £1.55 for a single or £3 for a day ticket. If you plan to use the Subway for a few days, you can look further into the Subway smart card or a 7-day pass.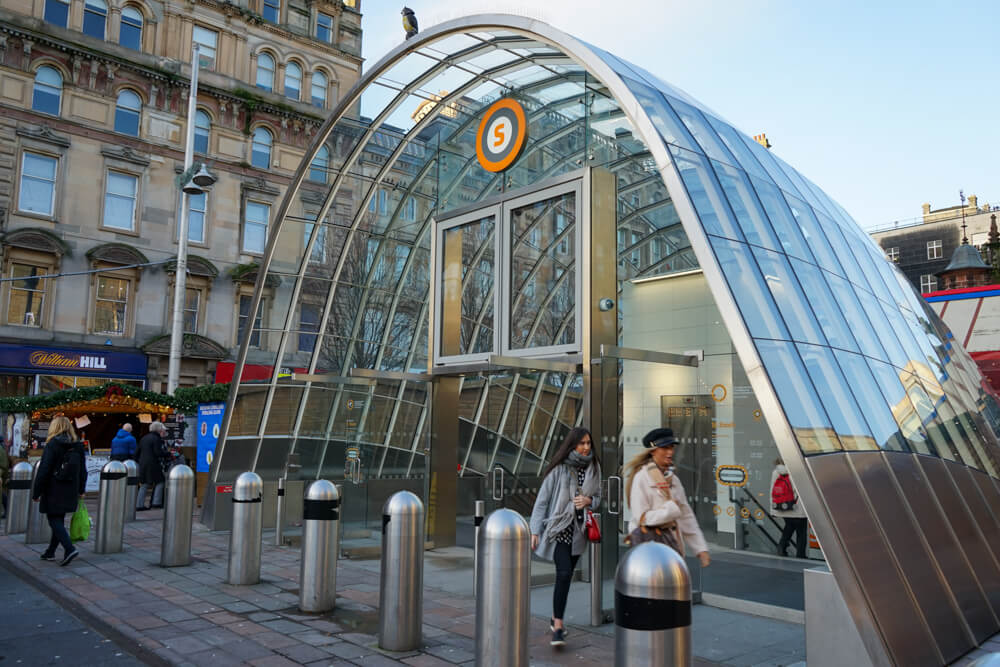 Glasgow Taxis – You can flag down a Glasgow Taxi whilst getting around the city and have a chat with the locals. If they have a yellow light on then they are available for passengers. Look out for the black cabs or the pink People Make Glasgow Taxis.
Bus Services – As mentioned above, First Bus has many services running in Glasgow city centre and a day ticket can be bought for only £4.60, valid for unlimited use on that day. If you are staying for longer, a weekly ticket can be purchased for only £17. For a cheaper price, buy your ticket on the app before you travel.
City Sightseeing Bus – The Glasgow City Sightseeing bus is another way to get around the city, as well as seeing the top sights that Glasgow has to offer. For a fixed price of £16 for one day or £17 for two days, you can hop on and off this bus as you please, making sure you get off at each of your preferred stops.
There is also a commentary on the bus for additional information about the sights. By travelling on this bus you will receive free transport on the Subway on the same day you travel on the City Sightseeing Bus.
Accommodation in Glasgow
There are plenty of choices when it comes to accommodation in Glasgow. Whether you are looking for something friendly on the wallet or a place that will wow you with luxury, there is something to suit the needs of everyone.
Luxury – Located beside Glasgow's Queen Street Station and only a couple of minutes walk from Buchannan Street shopping district and George Square's fantastic bars and restaurants. Carlton George Hotel offers luxury suites with a complimentary mini-bar.
Mid-range – Motel One is located beside Glasgow Central Station and is in close proximity to the city's shopping district and nightlife.
Budget – Located in the heart of Glasgow's shopping district, Alexander Thompson is a budget friendly accommodation and is perfect for a short or long stay in Glasgow's city centre.
If none of these suit your preference you can browse all of the available accommodation in this area right here.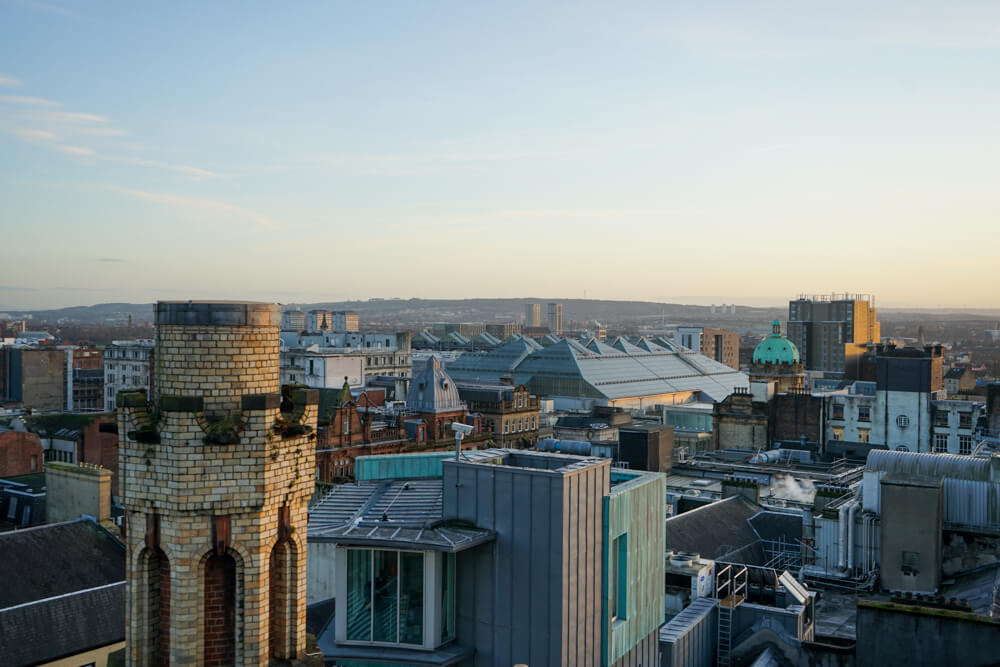 If hostels are more your social scene, there is a huge range of hostels to choose from in and around Glasgow. Hostel's in the UK are not as cheap as other parts of the world, however, it is still possible to get a shared dorm for less than £20 per night. When it comes to location, the most central hostels are the Clyde Hostel and the Hot Tub Hostel. Both are just a 10-minute walk west of Sauchiehall street's bars and clubs.
If these options don't suit your needs, Book your stay at a different Glasgow hostel right here.
If you are new to the hostel scene and can't decide if it is for you then check out our handy Ultimate Guide to Hostels. This will show you why you should definitely choose a hostel, what to look out for when picking and what to pack for your adventure!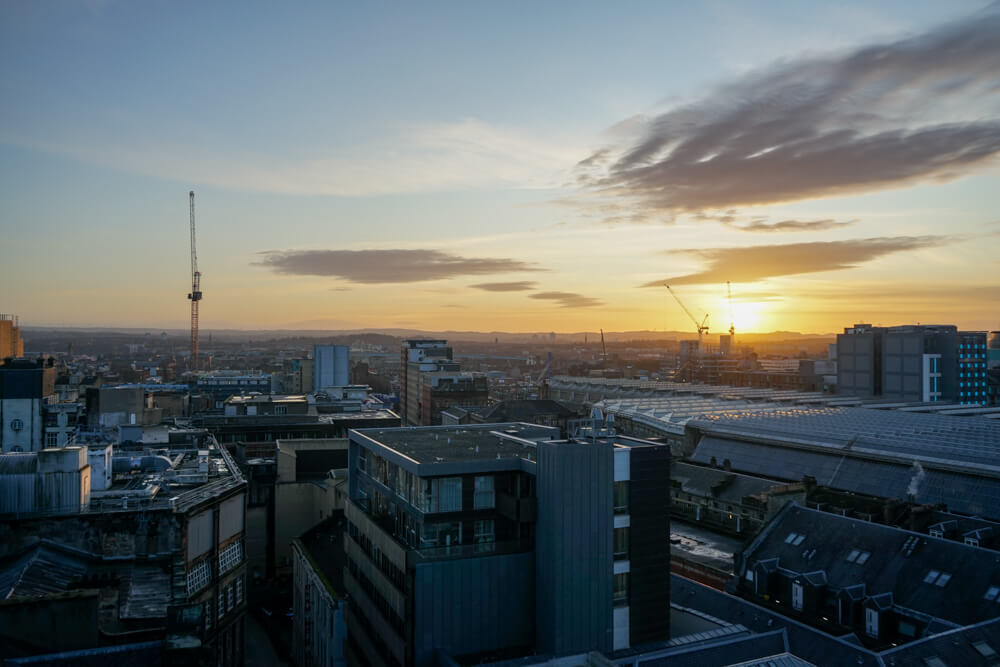 Food and Drink in Glasgow
One of the best features about this city is the number of bars and restaurants it holds; spreading all the way from the city centre on Bath and Sauchiehall Street, down to the south side at the Merchant City and across to the West-end of Byres Road and the famous Ashton Lane. No matter what your cravings are, you will be able to find it somewhere in Glasgow. Below we have listed a few of our favourites for you to try.
Restaurants in Glasgow
Italian – La Vita: there are 3 of these restaurants in Glasgow, 2 of which are in the city centre and 1 in the west end. There is a selection of Italian favourites on offer and vegetarian options are available on request.
Latin American – Las Iguanas:  From fajitas, to nachos, the selection of tasty food at Las Iguanas is out of this world. There is a vast range of vegetarian and vegan options available as well as mocktails.
European – Bills is a restaurant in Glasgow city centre that is great for brunch or for an evening meal. There is a large menu of tasty food and drink, suitable for a range of dietary requirements.
Shabby-chic – Butterfly and the Pig is a unique restaurant serving a variety of high-quality food and drink in the city centre. the mismatched furniture and dim lights give a relaxed feeling in this restaurant and bar area.
Pub Food – Weatherspoons: If you are looking for tasty food at budget prices then Weatherspoons should be on your itinerary. With an extensive range of pub foods and a growing range of vegetarian and vegan options, this restaurant will steal your heart and soul as a returning customer for years to come.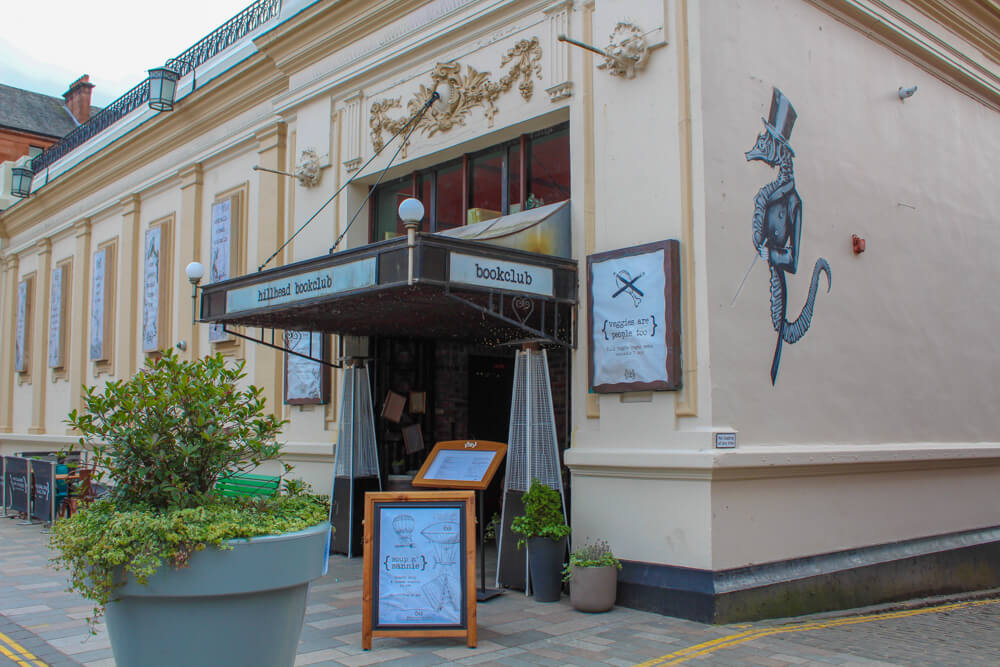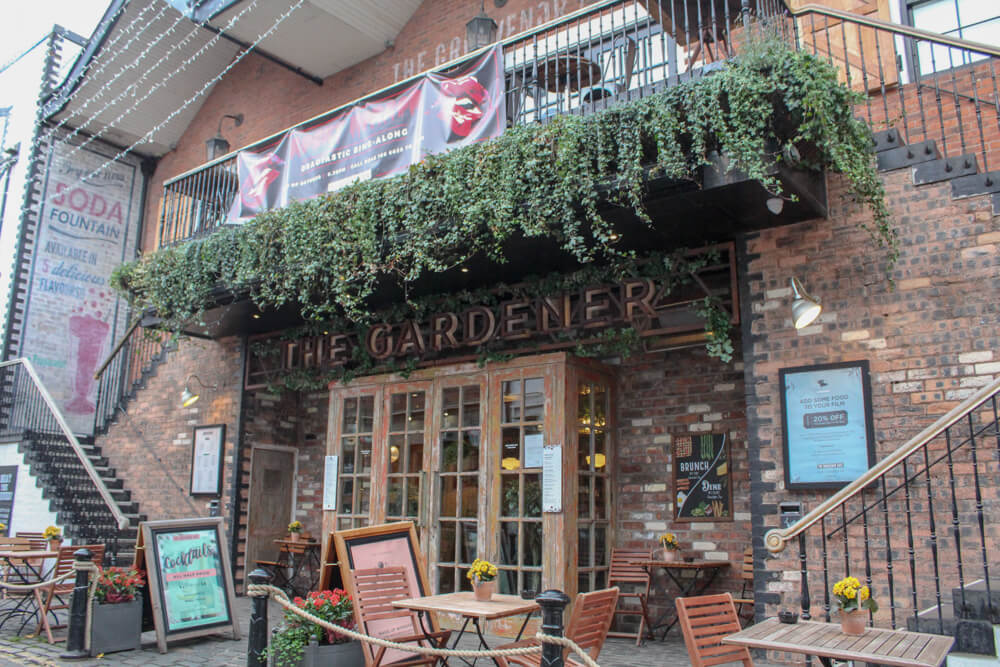 Bars in Glasgow
The Howlin' Wolf is a bar and kitchen for those that love Blues and Rock and Roll music. Live music is on throughout the week and food is served until 2am.
Slouch is a bar in the city centre of Glasgow offering a relaxed vibe, live sports and music as well as excellent food and drink. The bonus is, the live music is completely free and the rest is really reasonably priced.
Bloc + is one of the best value for money bars you will find in Glasgow. Each night of the week there is a different offer for food. On a Tuesday a burger and chips will cost you £3 which is a bargain! They also have an extensive vegan menu and meal options to suit any dietary requirements.
Theatres in Glasgow
Theatre Royal Glasgow
The longest running theatre in Scotland is the Theatre Royal, which is also the oldest theatre in Glasgow opening in 1867. It is owned by the Scottish Opera, therefore, many of the events performed there are by the Scottish Opera. There are also many family-friendly musicals on in this theatre.
The Kings Theatre
The Kings Theatre was first opened in 1904, as a sister venue to the Theatre Royal. There are 5 wheelchair spaces available in the stalls as the upper levels are only accessible by stairs, there is no lift in the building. The Kings Theatre is located on Bath Street, near Charing Cross and hosts family shows such as pantomimes at Christmas and touring musicals and shows throughout the year.
The Pavillion Theatre
The Pavillion Theatre was opened in Glasgow in 1904, originally as a music theatre. It is now commonly used for family pantomimes, comedy acts and other shows. It is located on Renfield Street and seats just under 1500 visitors.
Tron Theatre
Located at the corner of the Trongate, The Tron Theatre is a multi-faceted venue for performances. This theatre was built in 1981 and was rebuilt in 1999. The capacity in the main auditorium is 230.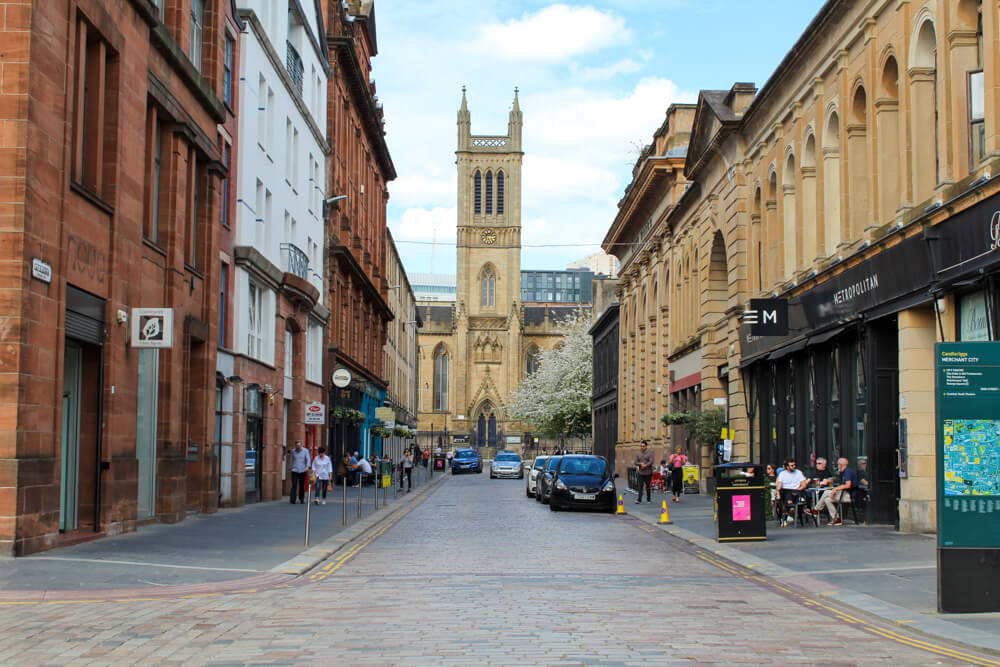 Live Music and Gigs
Another area Glasgow specialises in is the music scene, with famous venues such as King Tuts Wah Wah Hut and The Barrowland Ballroom (also known as Barrowlands),  both of which offer an intimate experience with low ceilings, good acoustics and close proximity to the band. There are also slightly larger venues such as the O2 Academy, and then the larger venues, the Hydro and SEC.
Nightlife in Glasgow
The layout of Glasgow offers an easy way of getting around on a night out, which is handy since it will probably be raining! Most clubs and bars in the city centre are situated around the Bath and Sauchiehall street area. However, if you want to head down to the south side, you can hit Suger Cube and Distrikt, or if you're in a rock mood, the Cathouse. Again there are plenty of nightclubs on the West-end if you don't mind a short tube ride. Alight at Kelvinbridge for Viper, or Kelvinhall SPT for Sanctuary.
Glasgow has a true plethora of choice when it comes to bars and nightclubs. You are guaranteed to find something to suit whatever kind of party you are craving.
Culture in Glasgow
Without a doubt, my favourite thing about this beautiful city is the incredible culture that comes with it. There are plenty of things to see and do around the city centre. These include a large variety of shopping centres and street shops along Buchanan Street and Argyle Street. There is also the Glasgow Gallery of Modern Art in Merchant Square and the buzzing George Square itself.
It is especially beautiful around December time when the Christmas lights and markets open up, giving a warm feel to George square and Argyle Street on the cold winter nights. Throughout my time at university it always gave me motivation to study late until the sun went down, just so I could walk home through the lit up square and admire the enormous Christmas tree!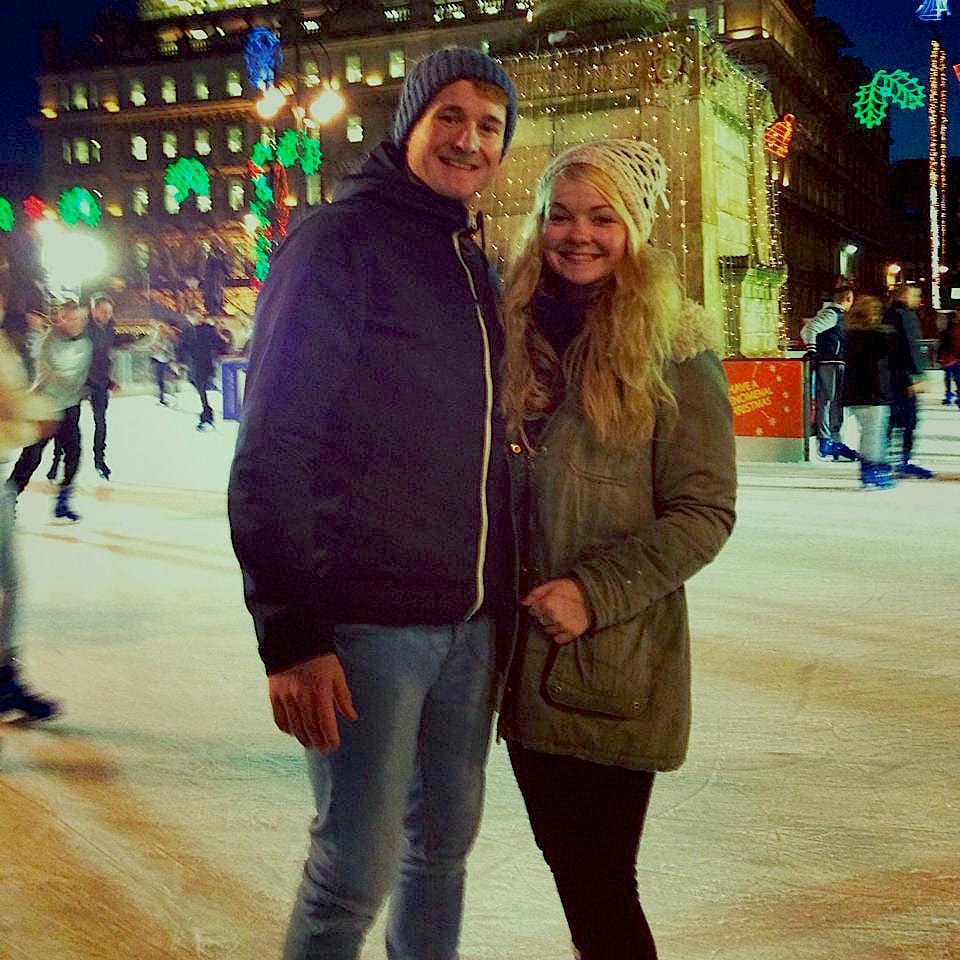 The west end offers the beauty of the Victorian tenement flats that line the streets, and if you're a Harry Potter fan, the Hogwarts resemblance of Glasgow University. Kelvingrove Park offers a fantastic opportunity to soak up the sun if you should be so lucky as to experience the short-lived Scottish summer.
Is Glasgow Expensive?
As always, the number one priority for a backpacker is finding the most affordable way to enjoy a location on a budget. In general Glasgow is a relatively cheap city. This is mostly due to its heavy student presence (two Universities in the city centre alone). There are a wide variety of budget bars to choose from, such as your average Wetherspoons chain, the Ark just off George Square and Driftwood at the west end of Sauchiehall Street. These places will offer a pint of lager for £3.
If you are feeling slightly more adventurous (and wealthy), then wander up to Bath Street for a selection of cosy bars with low roofs and good vibes. These bars offer a pint of lager ranging from £3.50 to £5. Similarly, bars towards Merchant city offer a mid range cost with a classier feel to the place.
The best advice I can give you is to have a wander between bars and try to experience as many as you can. Many have special drinks deals on that offer considerable discounts. One bar that I recommend you do not miss is Waxy O'Connor's off George Square. With its cosy, wooden interior and winding staircases branching across the venue, it offers quite a unique experience.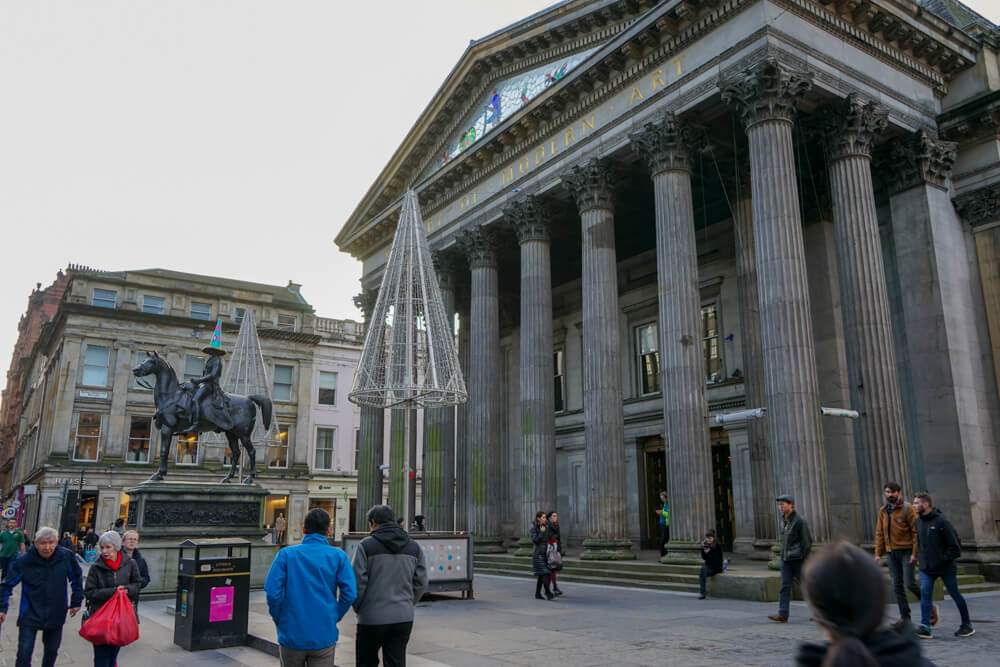 Day trips from Glasgow
If you have had enough of the hustle and bustle in the city of Glasgow and are ready to immerse yourself into another setting, there are plenty of day trips you can take outside of Glasgow.
Stirling
A 40-minute drive or train north and you will arrive at the historic town of Stirling. There are many historical tourist attractions worth visiting in Scotland, including Stirling Castle and the Wallace Monument.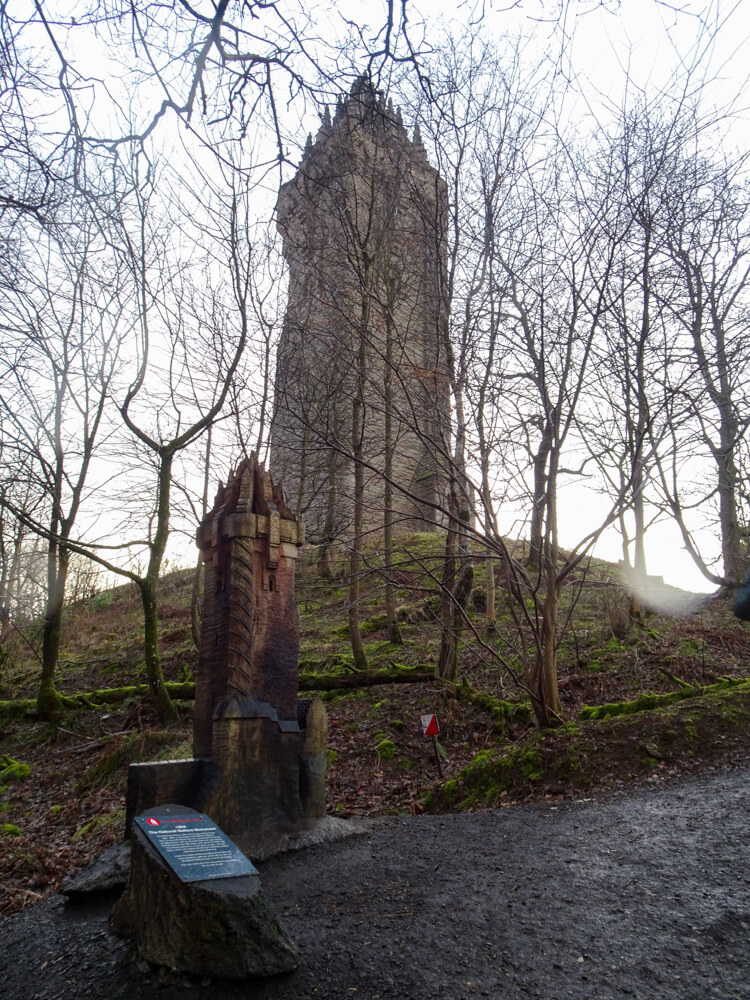 Edinburgh
One of the most popular day trips from Glasgow is to visit Scotland's capital city, Edinburgh. Only an hour's drive or 50-minute train and you will arrive at this incredibly picturesque city. Edinburgh Castle sits proudly on a volcanic outcrop overlooking the city of Edinburgh and is a fantastic tourist attraction to visit whilst you are there.
For a full guide to your day trip to Edinburgh check out our complete itinerary to the capital city.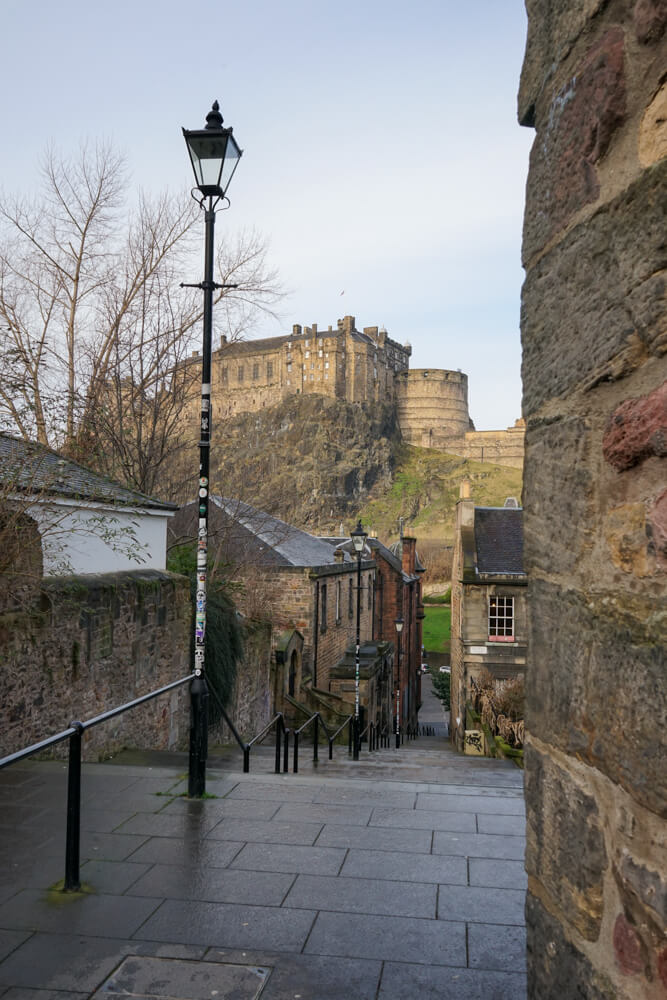 Loch Lomond
Loch Lomond and the Trossachs National Park is around an hour away from Glasgow and if you love the outdoors, you will love it here. Spanning 720 square miles, there is somewhere for everyone to enjoy in this National Park whether you enjoy the waterfalls at the Falls of Falloch, The country walks by the loch in Balloch or the hill walks to take in the beautiful view over the lochs in Balmaha.
You can read about these spots in more detail in our Loch Lomond guide.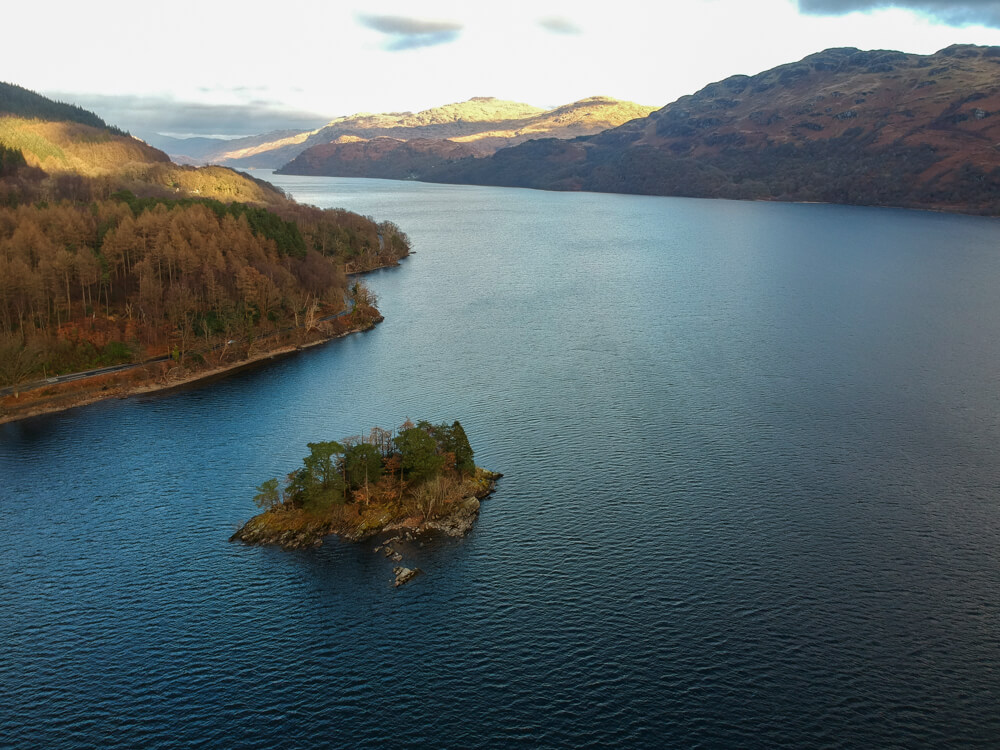 Soar in Renfrew
Head out to Scotland's premier entertainment centre, Soar for a day of fun. There are plenty of restaurants to choose from as well as the opportunity to ski or snowboard on real snow, climb an ice wall, jump in the trampoline park or go bowling. If the adrenaline side doesn't tickle your fancy, you can take a wander around the many shops in Soar or at Intu Braehead.
St Andrews
St Andrews is a seaside town north of Edinburgh and is a 2 hour trip from Glasgow. It is the home of golf in Scotland and is also famed for its medieval streets and beautiful traditional buildings. You won't be short on things to do in this historic town.
Isle of Skye
If you want to head out a bit further afield into nature, Isle of Skye is a 5 hour drive away, however, the journey will be so worth it when you get there. The island is famed for its rugged coastline and the stunning scenery and landscapes will take your breath away.
Read our full one-day itinerary to the Isle of Skye for more ideas on what to do.
So there you have it, a full guide to visiting Glasgow, as well as some of our favourite trips from the city. If you have any other recommendations of sights to see in Glasgow, or you have a favourite bar or restaurant that we don't know about, let us know in the comments below.
As always, sharing is caring so make sure to share this Glasgow guide with your family and friends and inspire them to plan a trip to Glasgow. If you are planning the trip for yourself, make sure you have a look at the rest of our Scotland content for more inspiration to our beautiful home country.
When you set off on your own adventure, be sure to tag us in your photos on Instagram and we will share them with the rest of our community. In the meantime, why not follow us over there to see what we are currently up to and keep up with us on our Instagram Stories.
Now Read:
This article may contain affiliate links that provide us with a small income. For more information read our Affiliate page.
---
Pin it for later!