Plan your trip to the northern coast of Scotland and enjoy a road trip around the most scenic landscape in the world with this relatable and reliable guidebook, detailing not only the best and most popular sights along the route but also the hidden gems that most overlook. 
Orders for the most in-depth travel guide to the North Coast 500 are now open.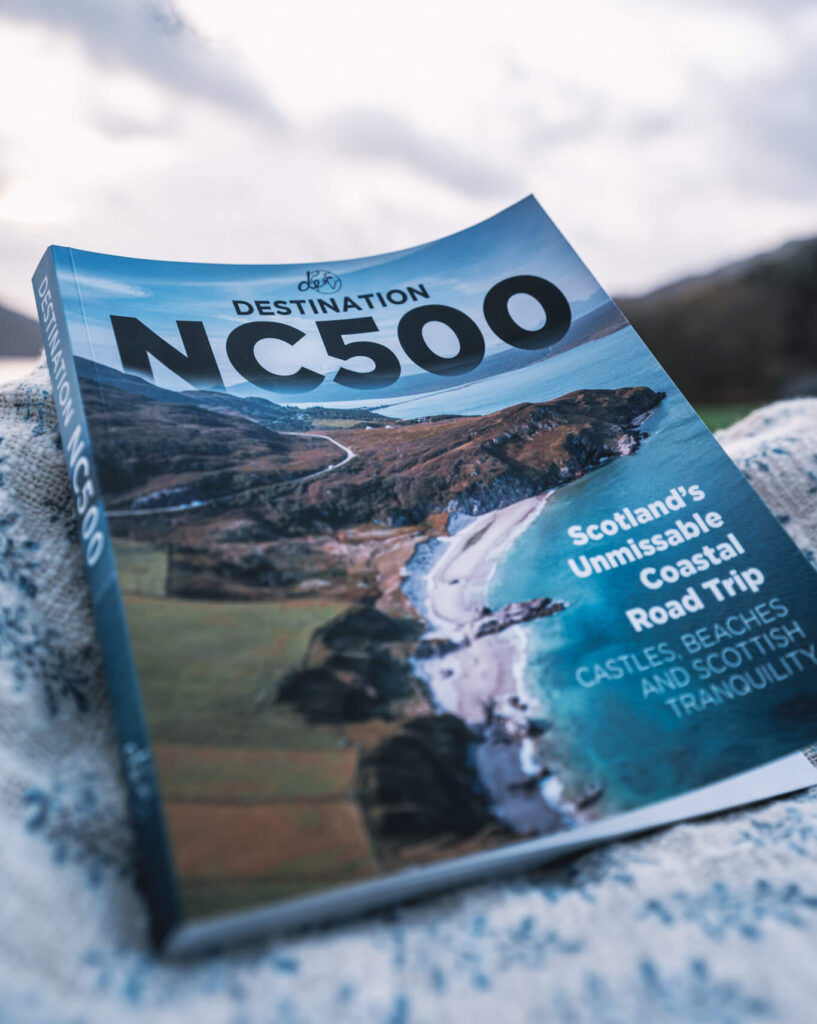 One of Scotland's most legendary, sight-seeing road trips sits along its northernmost coast. Featuring some of the country's most breath-taking landscapes, engulfing history and unbelievable feats of nature, the
North Coast 500 road trip
is famous across the globe as Scotland's answer to Route 66. However, the most common question we get asked about this epic road trip isn't about the sights or activities, it is "How much does the North Coast 500 cost?" To help you plan your own NC500 adventure, we put together our NC500 road trip budget, including how much money we spent on each different part of the trip, as well as advice for what you should budget for other parts. This will give you a full breakdown of the NC500 cost and will give you an idea of what you should budget.  
Get planning your ultimate Scotland Road Trip with our 7-day North Coast 500 itinerary
Download an easy to use, NC500 map and North Coast 500 Itinerary right here. Complete with pictures, stopping points and highlights along the way, this guide is a must-have for your next trip!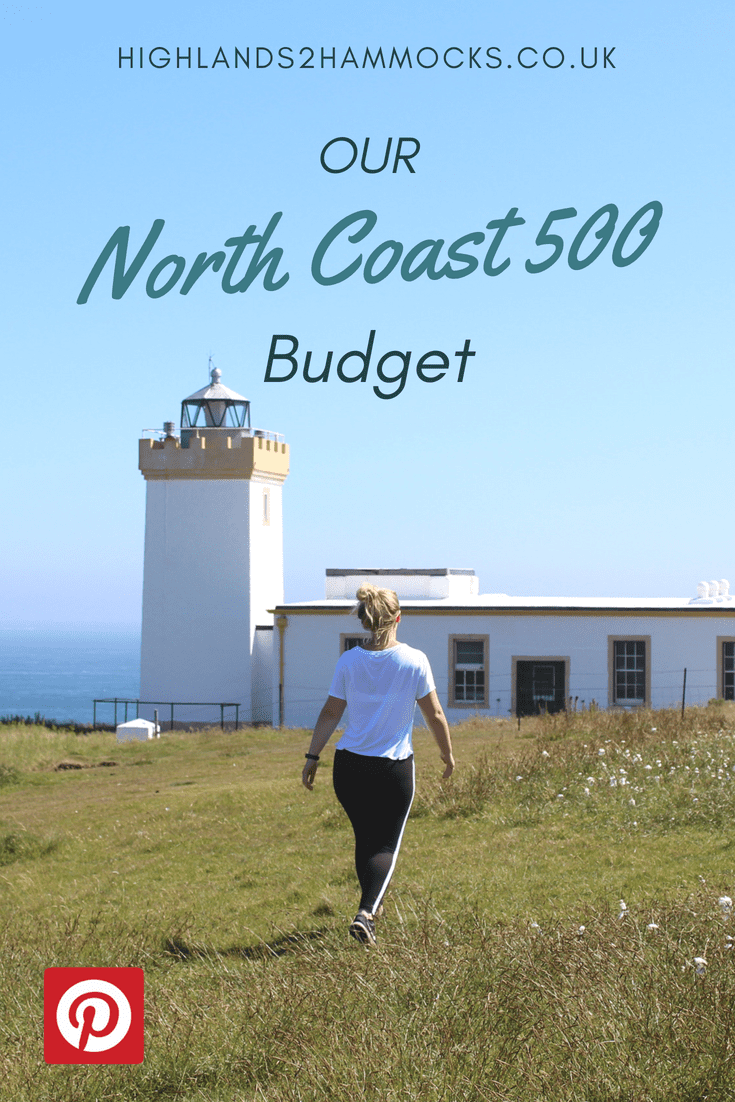 Come along on our road trip with us on our NC500 compilation video. Make sure you subscribe to our Youtube channel for more!
Also Read – Heart 200 Road Trip – Five Day Itinerary to the Heart of Scotland
North Coast 500 Budget – How Much Does It Cost?
  Although we are both from Scotland and LOVE the great outdoors, neither of us has ever ventured further north than Aberdeen; nowhere near the NC500's many beautiful sights! We decided enough is enough and set off on our two-week-long camping trip to take in some of Scotland's most spectacular sights and attractions. For this two week trip, we decided to budget as hard as possible. We still made the most of Scotland's fantastic activities, food and (most importantly) drink, however, saved money on accommodation. In order to do this, we wild camped for the vast majority of this trip.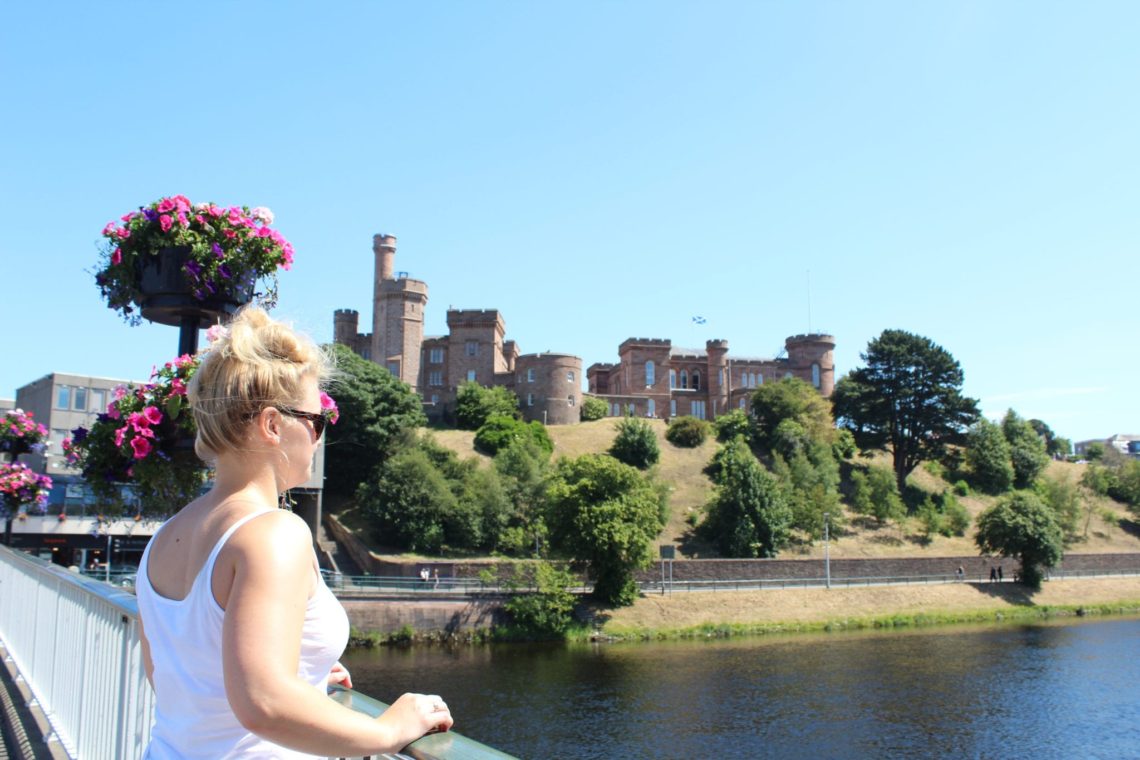 Our trip began by heading north from Glasgow for a two day stay in Aviemore, south of Inverness, before joining the NC500 route. We then finished at Lochcarron on the west coast, before spending three days in Skye and heading back to Glasgow. This budget is only for the 7 days we spent exploring the NC500 route, going counter-clockwise along the coast.  
The costs discussed will obviously be for two people, however, I will also summarise what I would expect this trip to cost for one person as well.
Also Read – Best Sights on the North Coast 500
Fuel Costs
Now in order to do the NC500, a method of transport is absolutely crucial. Unless you are a very savvy hitchhiker with a lot of time on your hands, you will need a vehicle of some form to get around the north coast. This can range from the highly popular motorbike, to a campervan. All of these options can be rented from companies local to the route. This is a popular choice for many visitors, and the
most popular rental companies can be found here
. Over our entire trip, the 500 mile route turned into more of a 700 mile adventure. This is mainly due to off route detours to explore the surrounding area, however a small amount was also due to our incredible navigation skills (sarcasm alert).  The total cost of our fuel bill for this trip was £120 (you can add the price of car rental). Car rental is usually around £35/day for a small, hatchback car.   A money saving tip we can give you are be aware of where you top up. Some places will obviously be cheaper than others, with rural areas cranking the price right up (sometimes by as much as 20%!). Try and top up at the larger, chain stores and make sure you do so every time you pass one. This way you won't find yourself in desperate need of fuel, with only expensive pumps to be found. Since the fuel cost would be this regardless of the number of adventurers, I will say that the cost is £120/person.    
Accommodation
As I said before, for the majority of our NC500 trip we managed to completely avoid accommodation fees by wild camping and avoiding campsites. Over the 7 days that we were on the road, we paid to stay for one night on a campsite. This was only to freshen up, wash our clothes and recharge our tech. Thanks to this, our accommodation was the smallest part of our NC500 budget. Our only accommodation cost was at the highly recommended Scourie Camping and Caravan Park, costing us £20 for a small tent with two people. This included electricity to allow us to charge up our
travel tech
. On top of this, we paid £2 to wash our clothes and £1 to dry them.
For a complete list of all of the best North Coast 500 campsites, read our complete guide over here.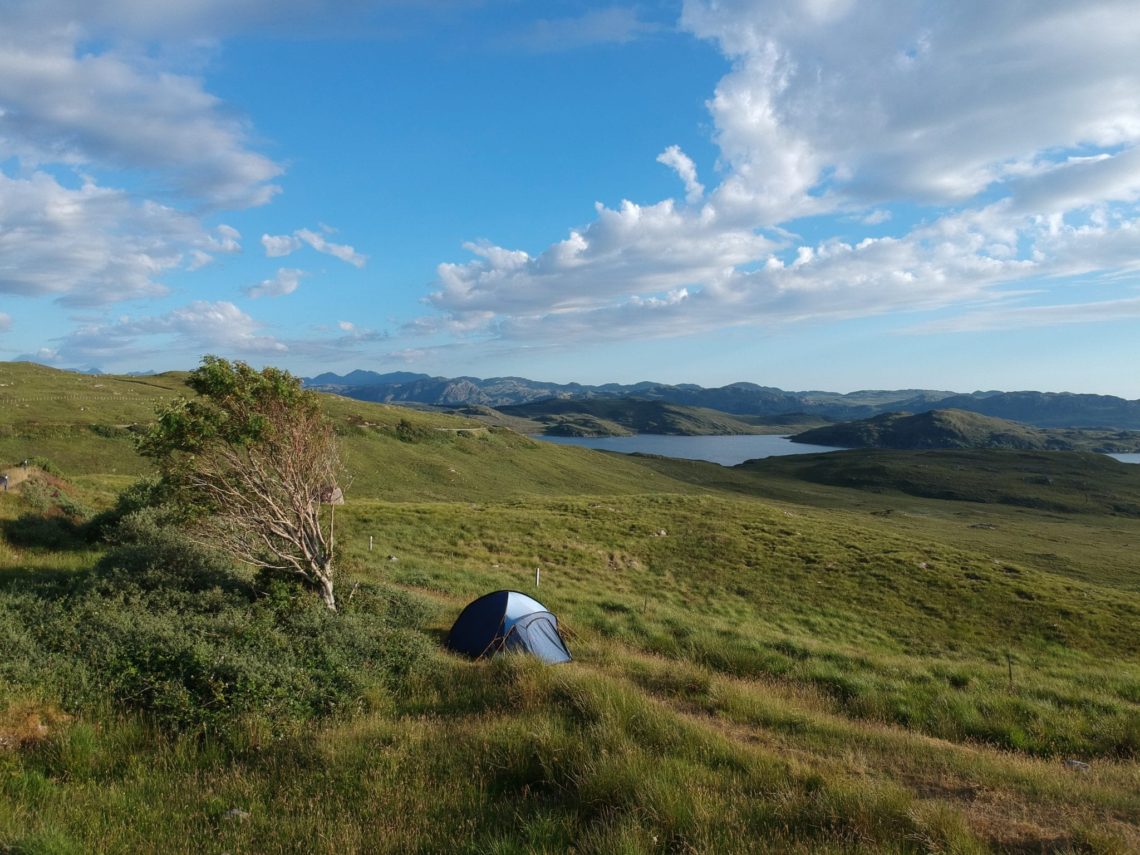 Wild camping can seem like a daunting task, especially if you enjoy your small comforts. However, over the years we have managed to perfect our own
cheap glamping
bible that can ensure a comfortable nights sleep, regardless of where it is. Also have a look at our
Guide to Wild Camping
for inspiration and advice for your next cheap adventure! For camping one night on this campsite, the cost for a single person will be £13, including clothes washing.    
Activities
The best part of the epic North Coast 500 roadtrip is that Scotland's most spectacular attractions are completely free. The stunning views that you can admire for a lifetime cost nothing, as you wind your way through the countryside. If you are into your great outdoors, then this is definitely the trip for you! One of the few activities we paid for during our trip was the Smoo Cave tour. This will cost you £6 per person, and gives you an in depth and fascinating insight into Scotland's volcanic and geographical past. It also paints an incredible picture of how the country looked when the first Vikings landed and began to colonise the north coast. I never thought of myself as being into this side of history before, but this tour has me addicted!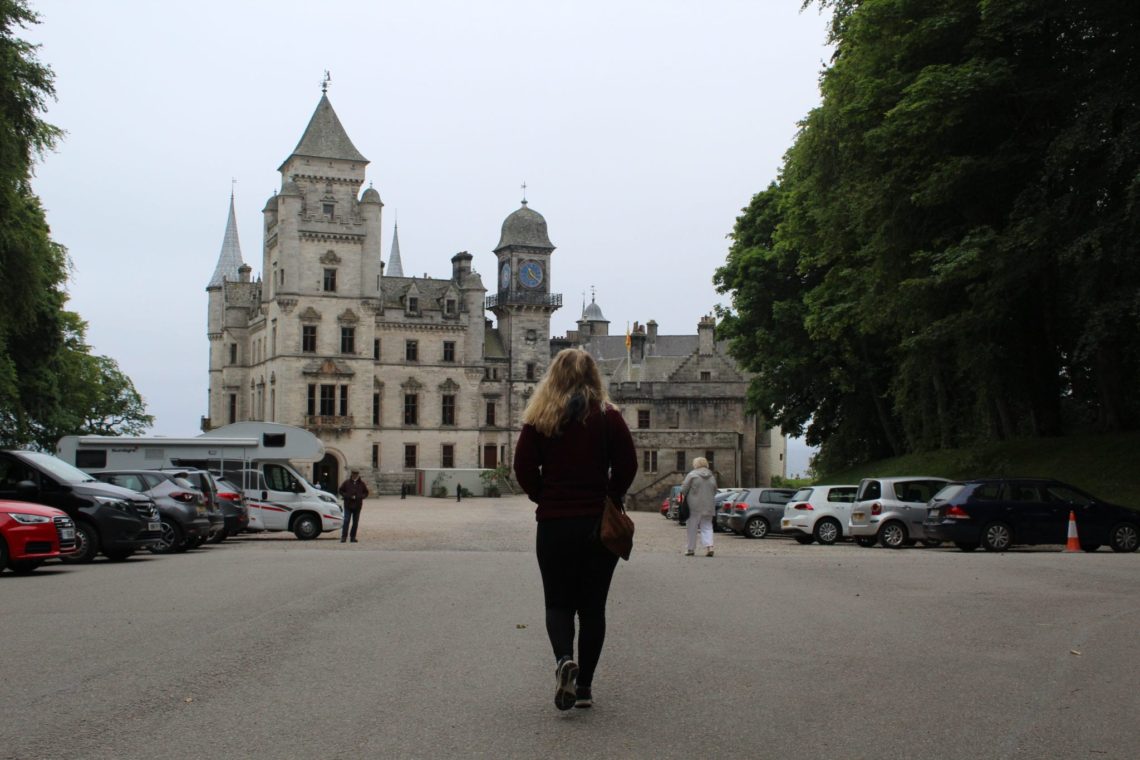 Our most expensive activity was a trip across to Handa Island, an almost completely uninhabited, nature reserve. This sits just off the coast of Tarbet, and the boat trip across will cost you £15 per person. When you arrive on the island, you will be met by the islands only inhabitants, an RSPB member, who will give you a quick briefing. Once you are all clued up on where to go and what to expect, you can make your way out to explore this vast and beautiful island. Beaches, cliffs and hundreds of species of birds; this trip is well worth a morning of exploring if it is a nice day.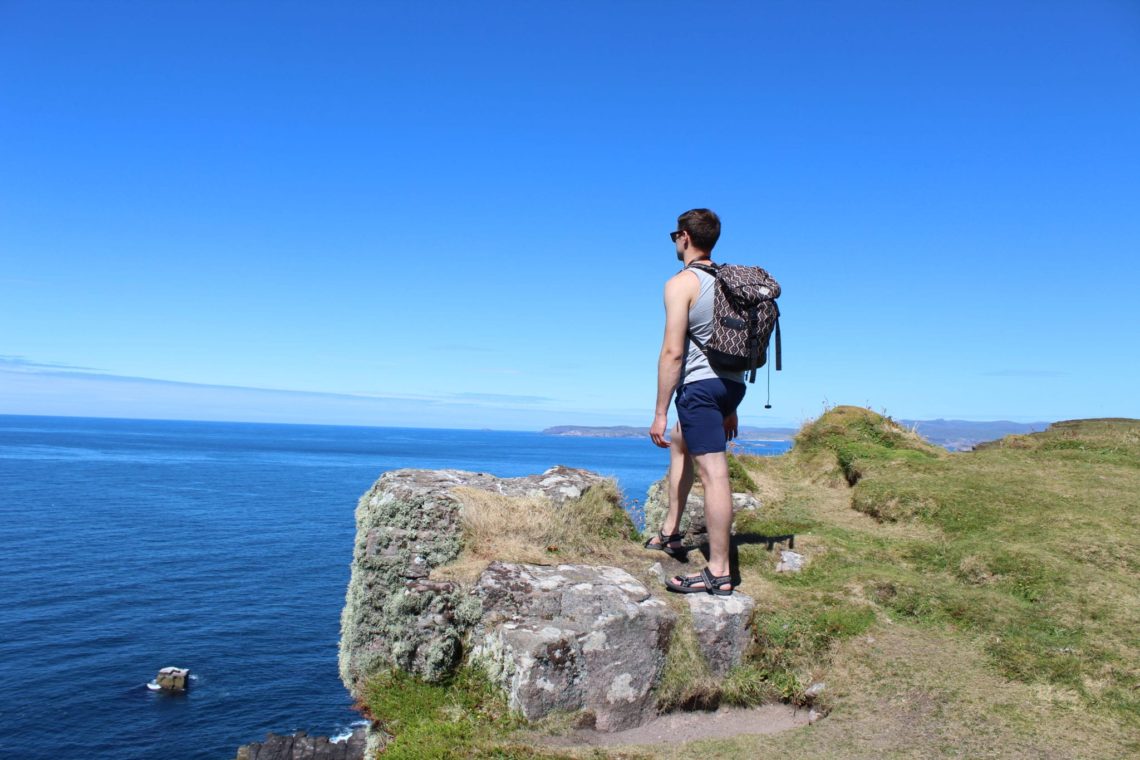 The last activity we paid for was a leisurely morning swim in the small town of Ullapool. We decided to do this partly to relax our weary bodies and do some exercise, and partly as an excuse to have a shower and freshen up. A swim here will cost you just £6.20. If you go during the day before school holidays begin, you will have the pool to yourself. Our activities for this trip will therefore total at £27.20/person.    
Food and Drink
Food
During our trip around the north coast, we were tended to cook as many of our meals as possible. As we packed our
portable fridge and camping stoves
, we managed to save a lot of money by avoiding eating out every day. By doing so, we were able to enjoy the huge range of delicious camping recipes we keep under our belts, and also spend more money enjoying the beautiful sights around the NC500.  
If you want some cooking inspiration yourself, download our FREE camping cookbook right here.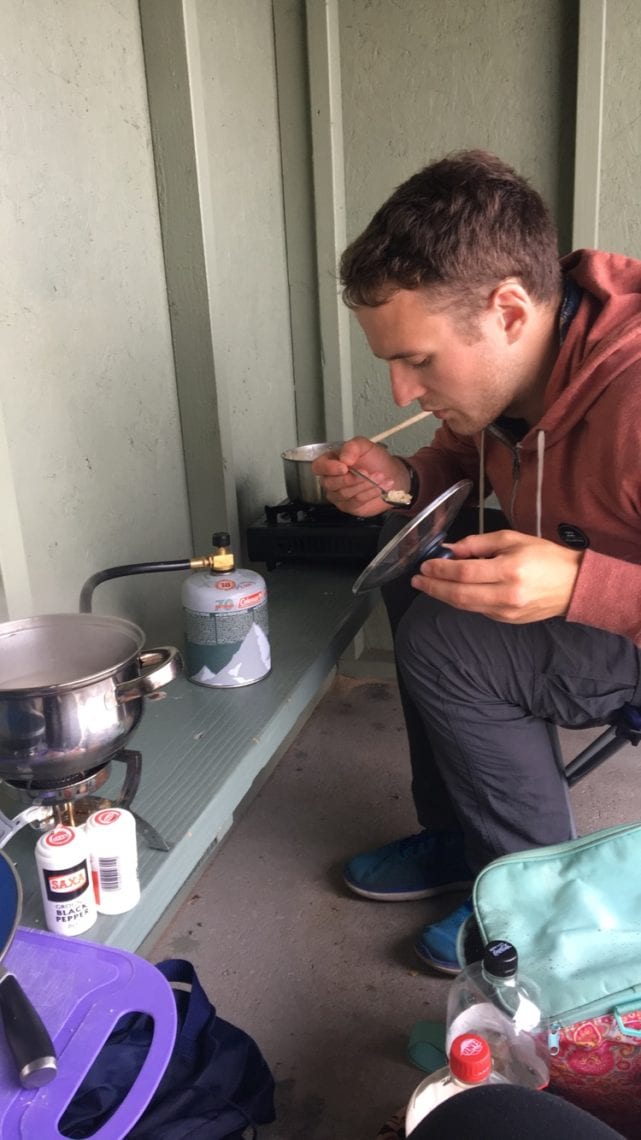 Don't get me wrong, we did treat ourselves to dinner out on a couple of our nights, after all the cuisine is half the reason why we visit places. For this budget, I have included one bought breakfast and two bought dinners, with the rest of the meals cooked by ourselves. Our total food budget for the week was £130 for the both of us.
This budget equals £65 for one person.
Drink
Limiting your alcohol consumption is a huge money saver when it comes to small budget trips. However, as the local drink is one of the main reasons I enjoy travel, I didn't cut it out completely, and I don't recommend you do either. Our budget for alcohol, coffees, and cakes and other miscellaneous drinks was £75 over the week.
The equates to £37.50 per person.
Total Trip Cost
This unforgettable road trip on Scotland's famous NC500 worked out a LOT cheaper than we were expecting, without us sacrificing any of the good bits. We realised how affordable so-called "Staycations" actually are, and when you have a country as beautiful as Scotland to explore, why wouldn't you?! The total cost of the trip for both of us ended up being £420. If you are considering this then you should also add on any rental costs you need, plus the equipment that you do not have.  
  As you can see, the two largest areas of spending are food and petrol, the rest is very low. This is again due to our choice of accommodation (wild camping), as well as how much fun Scotland can be without the need to spend any money. Another reason why we love it so much!    
FAQs on the NC500
Is Wild Camping Allowed in Scotland?
It is generally legal to wild camp around Scotland, with the exception of some specific areas due to bye-laws. For example, it is not legal to camp on the western shores of Loch Lomond due to overuse and lack of respect. When you are wild camping in Scotland, the most important thing to remember is
Leave No Trace
.  
Where Can I Wild Camp NC500?
The best spots to wild camp on the NC500 are those listed in greater detail in this article:
Dornoch – Dornoch Beach
John O'Groats – Duncansby Lighthouse
Thurso – Strathy Point Lighthouse
Durness – Ceannabeine Beach / Village Trail
Scourie
Ullapool
Poolewe
Applecross
Where does the North Coast 500 start and finish?
The official starting point (and ending point) of the North Coast 500 Circuit is at the beautiful city of Inverness. It is, of course, is entirely up to yourself where you wish to join the circle, so long as you make sure you see as much of it as possible. We recommend starting on the East coast and saving the incredible West coast for last.     So there you have it, the full breakdown of our
North Coast 500 Cost
, complete with everything you will need for an unforgettable trip. If you have visited the NC500 yourself, 
let us know how you enjoyed it in the comments section below
. What packing tips do you want to share? Is there anything that we forgot to mention? What were your favourite sights along the North Coast 500? 
Let us know in the comments below
. If you enjoyed this article and are preparing for your own camping adventure, make sure you check out the rest of our 
Scotland content here
, as well as all of our 
Camping Tips and Guides over here
. Remember, 
sharing is caring
, so if you enjoyed this article then share it with your friends and family so they too can learn everything they need to about the NC500. If you used this guide to help you plan your NC500 road trip, let us know how you found it. You can 
catch up with us over on our social channels
 to see where we currently are, and 
tag us in your photos
 to show us you enjoying your own camping adventure for us to share it with the rest of our community!    
Now Read:
This article may contain affiliate links that provide us with a small income. For more information read our Affiliate page.
---
Pin it for later!