Scotland is a country full of history, from the ancient castles to the kings and queens that called them home. When you visit Scotland, visiting the ancient castles must be on your bucket list. On our trip around the North Coast 500, we made it our aim to visit as many of the castles around the route as we could and learn about history.
One of our favourite castles on the NC500 being Castle Sinclair Girnigoe, ruins that sit on the east coast of Caithness.
Get planning your epic North Coast 500 road trip with our guide to the Best Planning Tips
Pin this image to your Scotland Pinterest board for later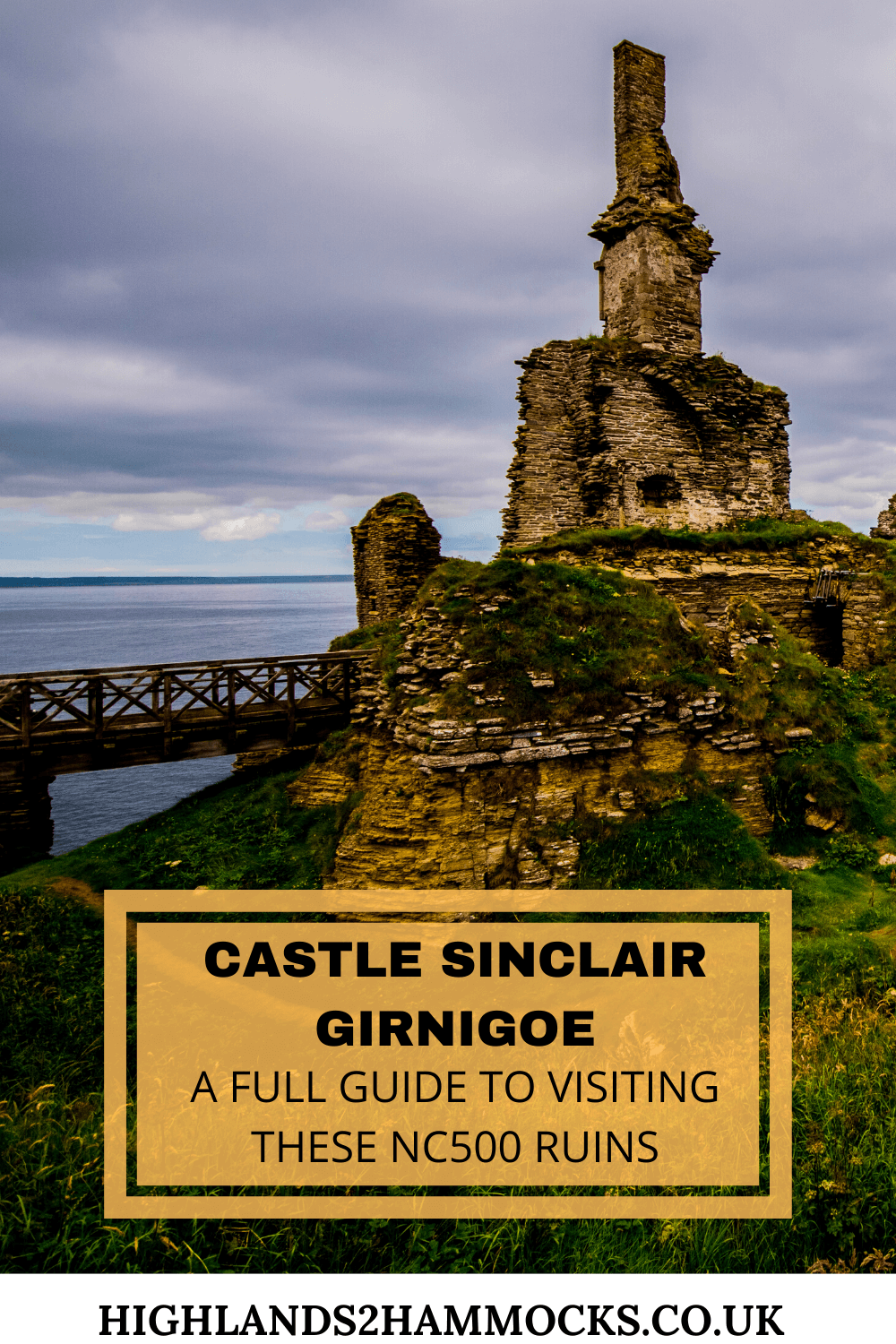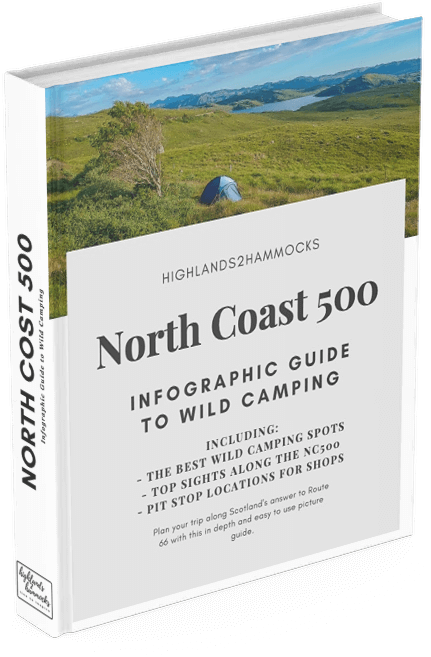 Download an easy to use, NC500 map and North Coast 500 Itinerary right here. Complete with pictures, stopping points and highlights along the way, this guide is a must-have for your next trip!
Come along on our road trip with us on our Best Road Trips in Scotland video. Make sure you subscribe to our Youtube channel for more!
This guide to Castle Sinclair Girnigoe covers the history of these ruins as well as how to get there and also includes the following information:
What is the history of Castle Sinclair and Castle Girnigoe?
Where is Castle Sinclair and Castle Girnigoe?
How to get to Castle Sinclair and Castle Girnigoe?
Why Should I go to Castle Sinclair and Castle Girnigoe?
When Should I go to Castle Sinclair and Castle Girnigoe?
Castle Sinclair Girnigoe Ruins, NC500 – WHAT, WHERE AND WHY..
One of Scotland's most ancient castles lies high up on the northern coast of Scotland, just south of the town of John O'Groats. Castle Sinclair Girnigoe dates back more than 500 years and features a truly turbulent history involving gruesome battles and changing ownership.
Development of the huge castle happened over a span of 300 years of occupation until it was finally abandoned and left to the harsh elements of the north of Scotland. Visit this beautiful castle ruin on your trip around the North Coast 500 and discover one of the most dramatic castles of the NC500.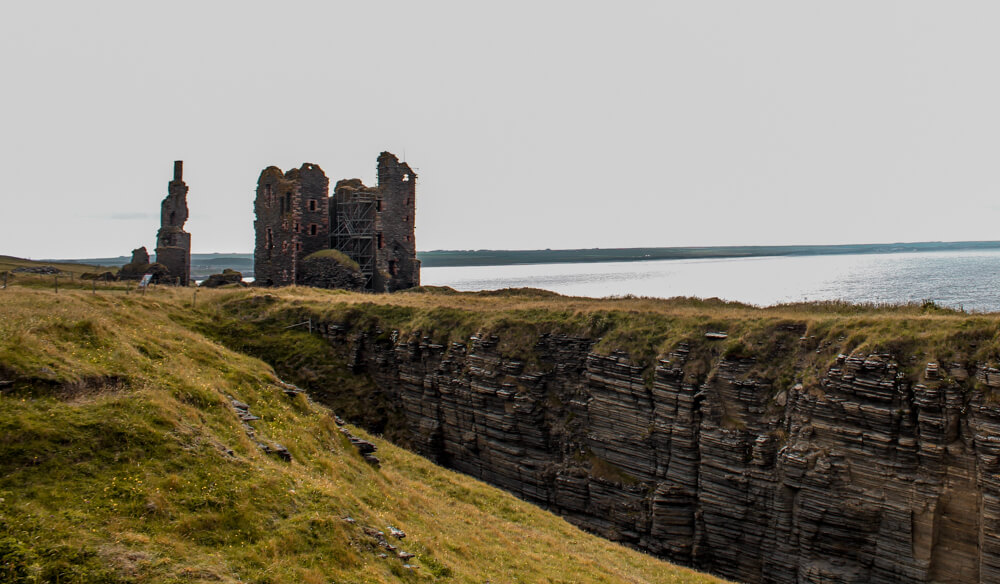 What is the History of Castle Sinclair Girnigoe?
The largest castle ruins on the Nc500 are the cliffside wonders of Castle Sinclair and Castle Girnigoe. The 15th century Castle Girnigoe and 17th century Castle Sinclair are believed to be one of the earliest seats of Clan Sinclair. Located around 3 miles north of Wick, these ruins are the most spectacular ruins you will find on the NC500.
Perched on the side of the cliff, these castles hold a fascinating historical tale. The structure was constructed between 1476 and 1606, with adaptions made to them spanning some 100 years. Throughout this time, these castles remained occupied by either Sinclair or Campbell, with ownership passing between the two. Occupation of this castle came to an end in 1680 when a siege to Castle Sinclair and Girnigoe saw it damaged so badly, it was never inhabited again.
This castle site is free entry, although there is a donation box on the gate. Reconstruction of the ruins aims to make Castle Sinclair the first castle on the North Coast 500 to be wheelchair accessible. By donating whatever you can to this cause, we can ensure everyone will have the opportunity to enjoy the beauty of Scotland.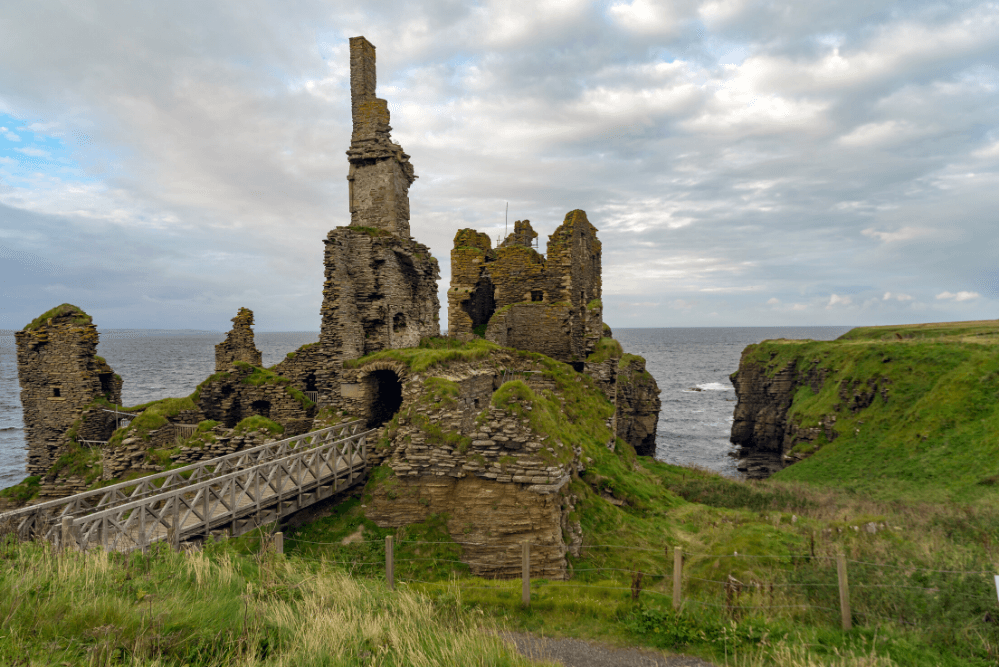 Where is Castle Sinclair Girnigoe?
Castle Sinclair and Castle Girnigoe are located on the cliffside 3 miles north of the town of Wick on the east coast of Caithness in Scotland. It is the perfect stop off on a North Coast 500 road trip.
Located on the north coast of Scotland and overlooking the North Sea, the castles were exposed to harsh coastal weather conditions, resulting in erosion that has been threatening to destroy the castle. The Clan Sinclair Trust charity has been set up to maintain and repair the castle over the years to ensure it is safe and accessible for visitors to experience.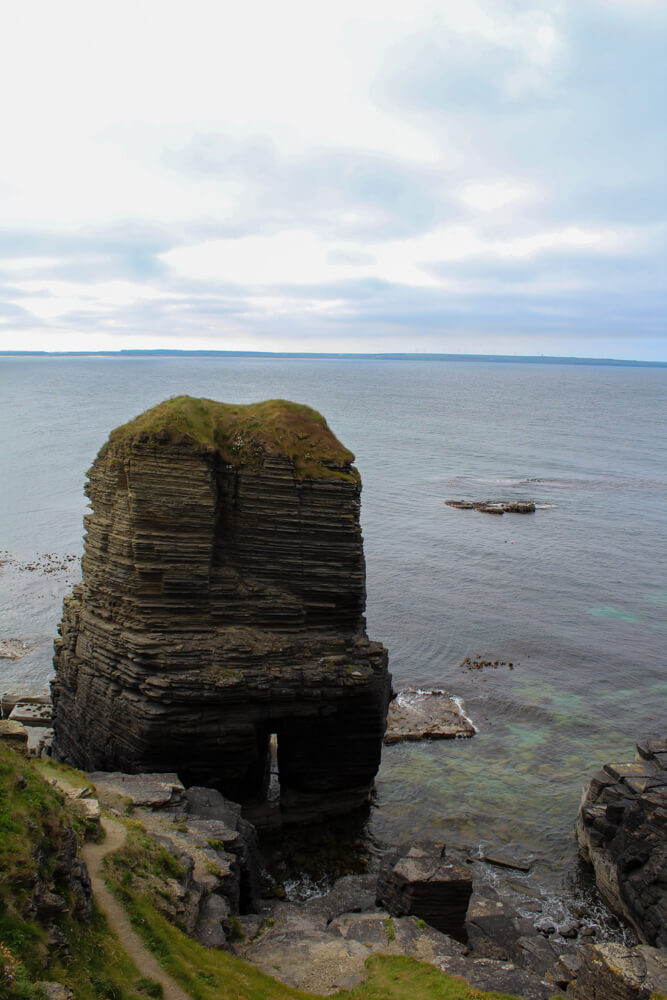 How to get to Castle Sinclair and Castle Girnigoe?
To get to Castle Sinclair and Castle Girnigoe, head through the town of Wick and follow the signs for Staxigoe, heading east. Follow the signs for Castle Sinclair and Castle Girnigoe where you will come across a large car park. You will see the castles sitting in the distance, around a 5-minute walk away. Follow the path towards the castle, where there is an option to pay a donation.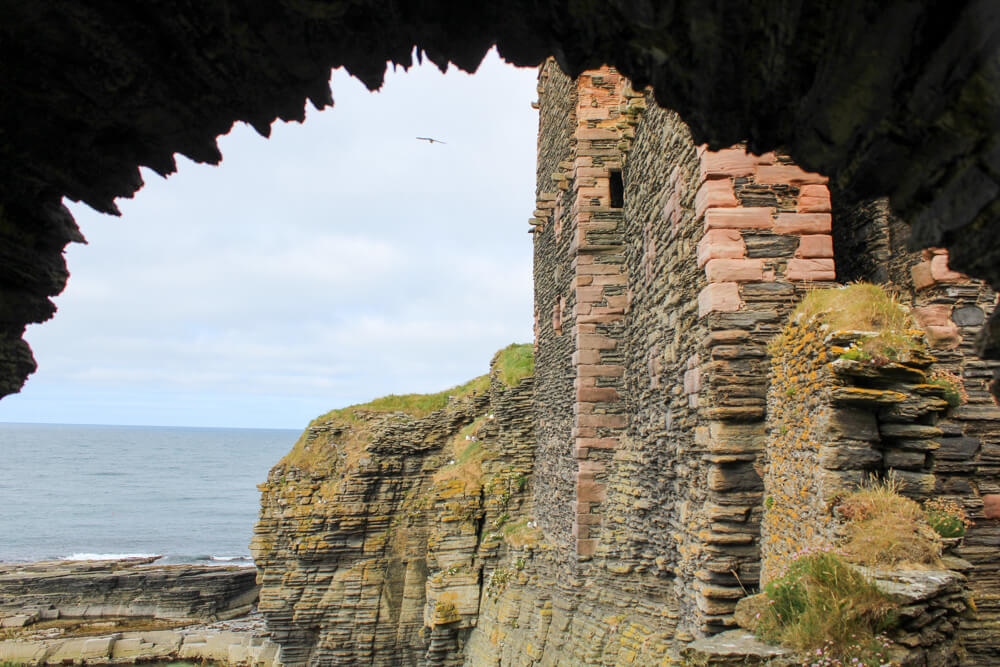 Why Should I go to Castle Sinclair and Castle Girnigoe?
Visiting Castle Sinclair and Castle Girnigoe allows you to learn a lot about the history in Scotland. It is also a great opportunity to visit a castle ruin in the north of Scotland. Many castles you will need to pay entry into to visit, however, Castle Sinclair and Castle Girnigoe are donation-based and you can still explore around the ruins.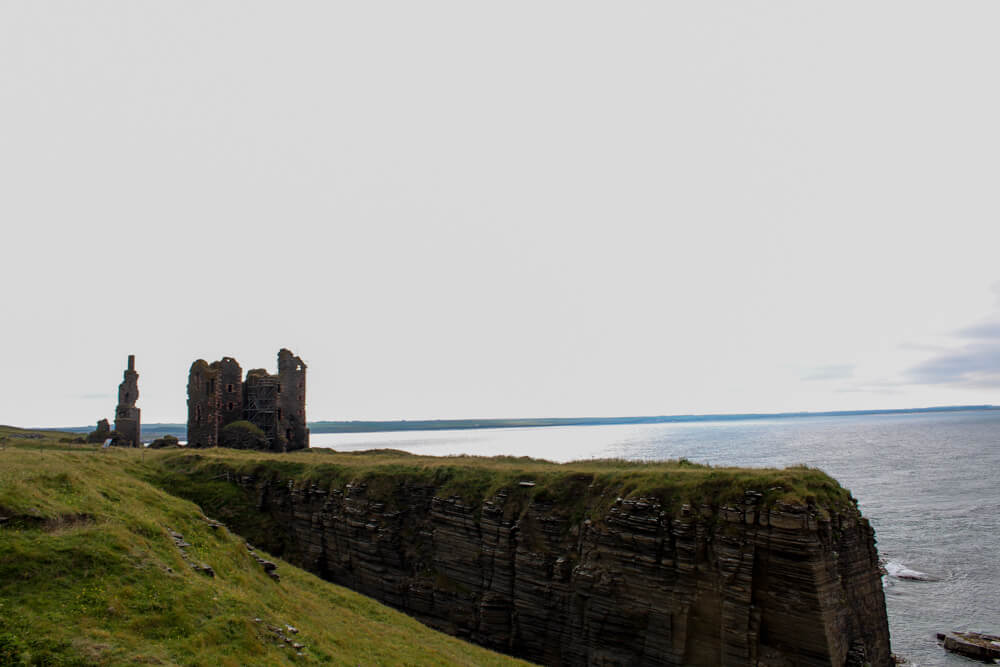 When Should I go to Castle Sinclair and Castle Girnigoe?
Due to the potentially harsh and ever-changing weather conditions that can be expected in the winter months in Scotland. We would recommend a trip to Castle Sinclair and Castle Girnigoe in the summer months. That way it will be a lot more enjoyable to explore the ruins than worrying about the freezing and most likely wet weather conditions.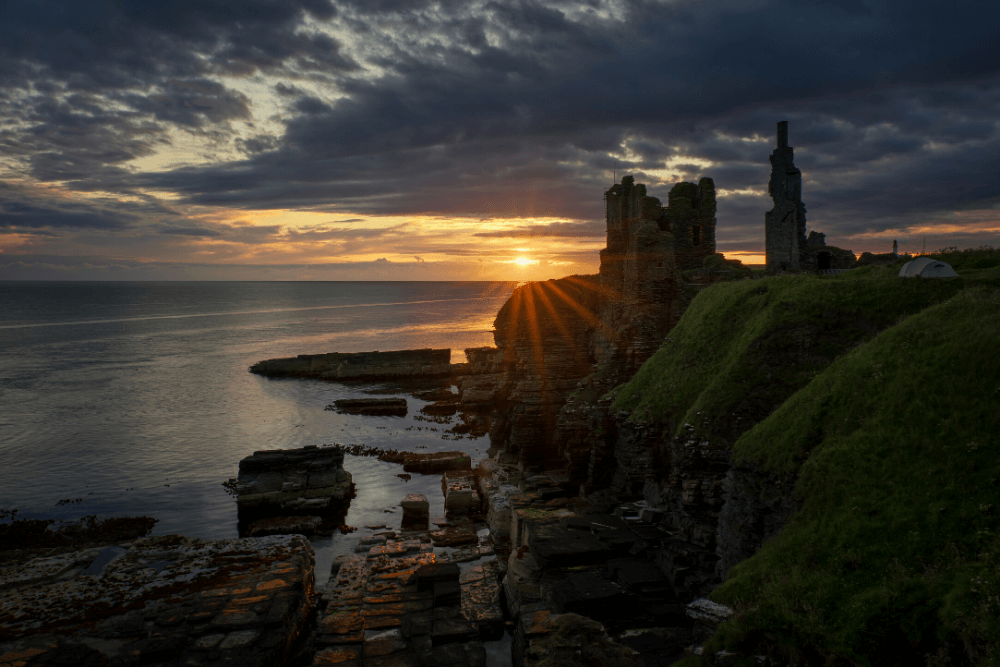 Nearby Sights to Castle Sinclair Girnigoe
There are loads of other beautiful sights that you will need to visit close by to Castle Sinclair Girnigoe, both to the west and further to the south. For a full list of all of the best North Coast 500 sights that you cannot miss, read our full guide here.
Visit the Duncansby Stacks
Towering above the ferocious North Sea are the beautiful and majestic outlines of the Duncansby Stacks. Standing as a testament to the power of nature in this remote part of the world, it is believed that these sea stacks have existed for over 6000 years, slowly being eroding by the strength of the sea.
During your trip around the NC500, swing by Duncansby Head and visit the lighthouse that dates back to 1924, and wander along the coast to see these impressive sea columns for yourself.
Read our full guide to Duncansby Stacks and Lighthouse to plan your trip to the fullest.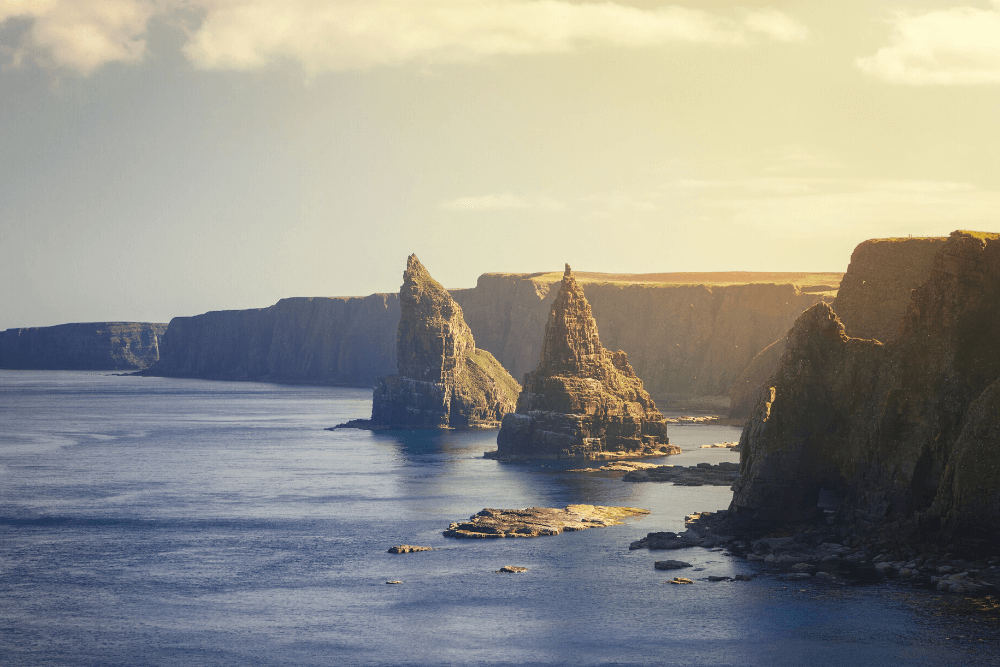 Before You Leave on the North Coast 500
Before you head off on your trip around the NC500, there are certain things you will need to get organised to ensure a smooth trip. These include how to get around the route, including being aware of single track roads, etc., what to pack for Scotland, where to stay along the route and what travel insurance to book.
Read more planning tips for the North Coast 500 in our full guide.
How Do I Get Around the NC500?
Given the remote location of the NC500 and the majority of the sights along the route, the best way to get around this road trip is by driving. There are of course other methods that are still popular, such as cycling and hiking, however, if you have a short amount of time on the route, neither of these are very suitable.
As for public transport, the use around the NC500 is understandably difficult due to how remote each location is, however, with the increasing problem of congestion along the route, this is a good option to research if you have time. If it is something that interests you, you can read a public formed itinerary of how to get around the NC500 by public transport over here.
If you are looking to rent a cosy, reliable and luxurious campervan for your trip along the NC500, we highly recommend hiring through Bunk Campers. We toured with these guys around the up-and-coming Heart 200 road trip in Scotland's central highlands and could not believe the comfort and customer service we experienced with their vans.
Browse the full range of vehicles on offer at Bunk Campers over here.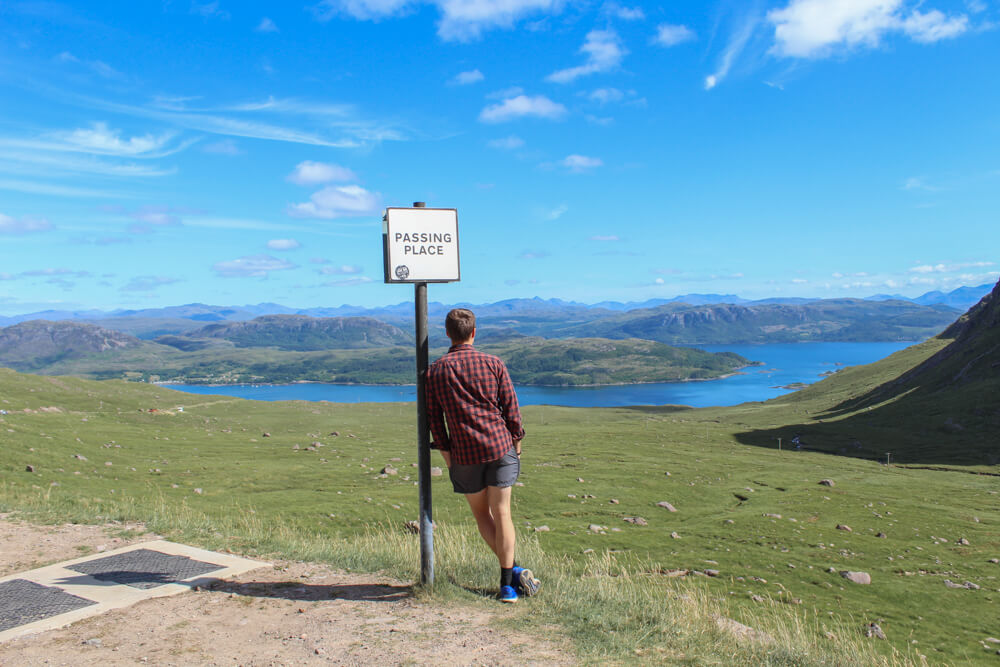 What Should I Pack for the NC500?
When it comes to packing for a trip along the NC500 there is one item of clothing that you are going to need all year round: a waterproof. It rains in Scotland on average 250 days a year, meaning that during your 7-day NC500 road trip you will probably experience at least a drizzle of rain. Due to this, the number one item on any Scotland packing list is a good waterproof jacket.
As for the rest of the year, the temperature in Scotland and the central heartlands is reasonably mild for most of the year. During the winter months, you will most likely experience snow, however, temperatures usually sit around freezing, so it is not too cold. For your reference, the average temperatures in Scotland are listed below during each season.
Spring (March, April, May) – 5-10 degrees C
Summer (June, July, August) – 15 degrees C
Autumn (September, October, November) – 5-10 degrees C
Winter (December, January, February) – 0-5 degrees C
As you can see, the weather never really gets above the teens, with anything over 25 degrees C considered a heatwave. The best way to pack for your trip to the highlands is with layers that can be added and removed as you need them. You will definitely need a hat and gloves during the colder months and will most likely need sunscreen to protect you on the long days in the open.
For our full list of items that we pack no matter where we go in the world, check out our full packing guides over here.
Given the beautiful sights and scenery that you are no doubt going to see around Scotland, we highly recommend packing a good camera for your trip. If you want to read more about the cameras we use and why we love them, check out the link below.
You can read what else we keep in our camera bag over here.
Where Should I Stay on the NC500?
The remoteness in the highlands of Scotland will leave you with little choice of accommodation in each location along the NC500, however, there are still enough options to choose from to ensure a comfortable trip. These are mostly in the shape of B&Bs, Airbnbs, converted cottages and other quirky accommodations.
Depending on how adventurous you are, there may be more accommodation choices than just the above, often with an even better view. Caravan and camping sites are abundant along the NC500, drawing camping enthusiasts from all over the world. For some of the most spectacular bedside scenery along the North Coast 500, we recommend packing a tent and getting in touch with nature for the week.
As we travelled along the North Coast 500, camped in our trusty Vango tent on a mixture of campsites and wild sites. Wild camping is a fantastic way to enjoy the beauty of the highlands, however, it must be done respectfully. Read our full guide to Wild Camping if you wish to give it a go so you know everything you need to for a comfortable and sustainable trip.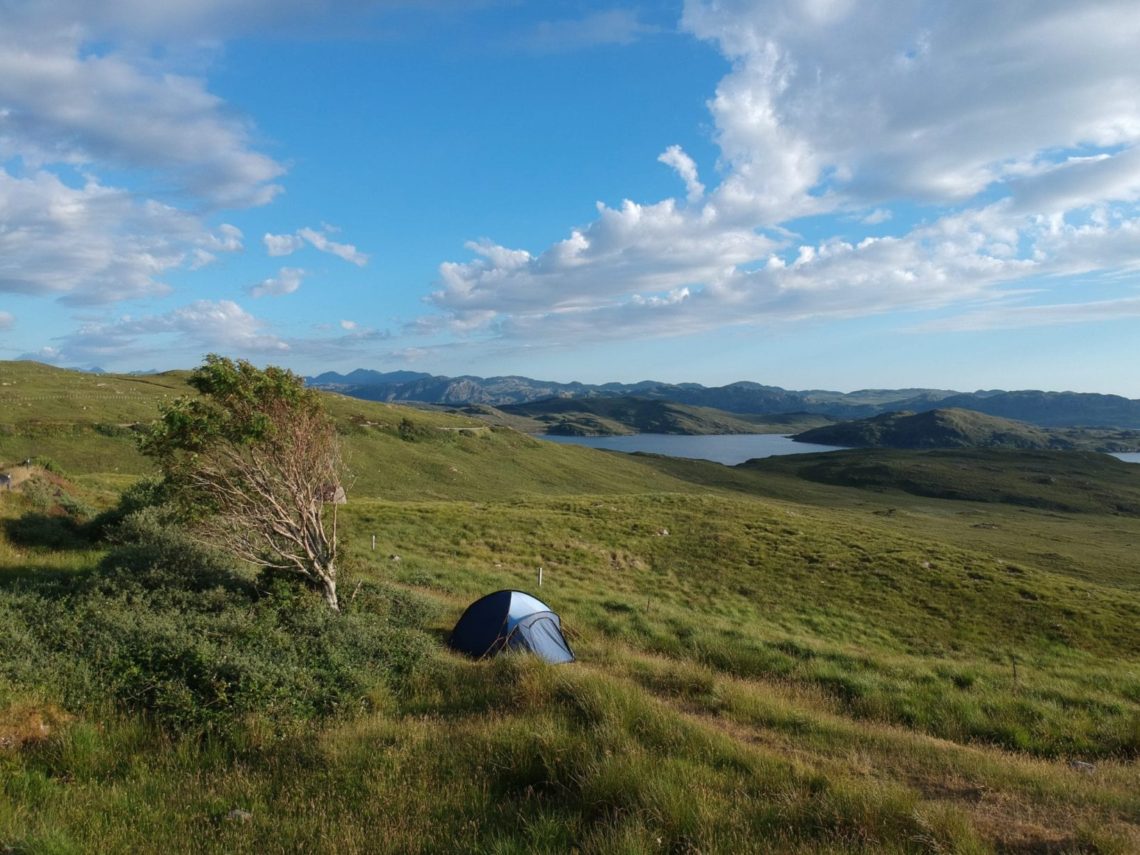 What is the Best Travel Insurance?
No matter what type of adventure you are heading on, whether it is a mountain adventure or a relaxing beach destination, one thing we all need to be aware of is that accidents can happen. The last thing you want is for an unexpected medical emergency to ruin your trip of a lifetime. Luckily, that is what travel insurance is for.
Whenever we travel abroad, we get covered with World Nomad's Travel Insurance, a reliable, friendly and extremely affordable method of covering yourself on any adventure. With years of experience working for backpackers around the globe, the service they provide is perfect for whatever type of trip you have planned.
Get covered for your next trip and get a quote from World Nomad's right here.
So there you have it, your ultimate 7-day itinerary to the North Coast 500. If you have been to Scotland recently, let us know how you found it in the comments below. What were your favourite sights? What did you think of the castles? Where was your favourite stop? Let us know in the comments below.
If you are planning a full trip to Scotland, make sure you check out the rest of our guides and Scotland content to ensure a stress-free adventure. We will gladly answer any questions you have with regards to your trip, so either DM us or send us an email.
Don't forget that sharing is caring! Be sure to share this article with your family and friends to let them know all about your big plans. Maybe even inspire them to visit the NC500 castles themselves! Catch up with us on social media and see what we are currently up to. Tag us in your photos from your North Coast 500 adventure on Instagram so that we can share them with the rest of our community.
Read Now:
This article may contain affiliate links that provide us with a small income. For more information read our Affiliate page.
---
Save this image to your Scotland Pinterest Board for later