Endless rice terraces spanning out before you. Green grass and blue reflections of the sky above. Mt Agung standing tall in the distance, taking up most of the horizon, a hauntingly beautiful picture. This is the absolute epitome of an Indonesian landscape, and it is all yours for the taking at Bukit Cinta, Bali. This was definitely our favourite sunrise location during our two months spent in Bali, as it not only has the most unique views, it is the best place to view Mt Agung on the island.
Complete your trip to the island of the Gods with the most unforgettable sunrise in your life. Bukit Cinta is definitely the place for you if you enjoy natural beauty, free from entrance fees and other tourists.
This is your ultimate guide to Bukit Cinta Mt Agung view point, including everything you need to know for your own visit, such as how to get there, what to expect and even where to stay nearby.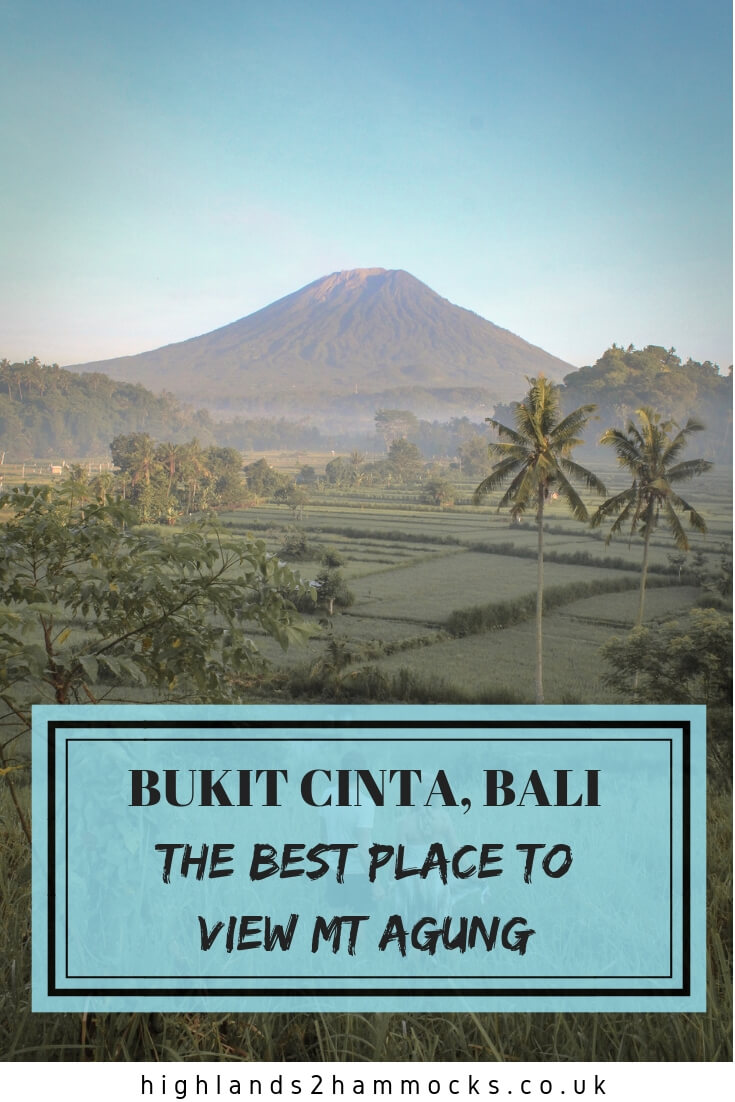 Also check out our ultimate guide to Bali for a 7 day itinerary of the island, as well as the best places to stay, what sights to see and other travel tips for Bali.
In this guide, we will discuss the points listed below. All of these points will be discussed in greater detail later in the article.
How to Get to Bukit Cinta
When is the Best Time to Visit Bukit Cinta
What You Will Find at Bukit Cinta
Other Activities near Bukit Cinta
How to Prepare for Your Trip to Bali
Bukit Cinta, Bali – The Best Place to View Mt Agung
How to Get to Bukit Cinta, Bali
The sunrise spot at the Bukit Cinta viewpoint is a fair distance from civilisation in Bali. A long, 2-hour ride from Canggu or an hour and a half from Ubud, it will require a pretty early morning to get there for first light. In saying that, the resulting view you will get if you make it to Bukit Cinta for sunrise will make you forget about all of the work required to get there. It is 100% worth the 4am start.
Transport to Bukit Cinta
When getting around Bali, you have two main options: hiring a driver or self-driving by scooter. The latter is by far the cheaper and easier way to do it, however, it is not possible for everyone, so we will discuss both.
Hiring a Driver in Bali
Hiring a driver can be done through multiple services. You can hire a driver in person from most accommodations, with business on the street or by talking to one of the taxi drivers who sit on the street. These are all very expensive methods unless you are incredible at bartering. The price for a driver for one day is normally around £40 (700k IDR)
The cheaper option is to use the online taxi companies Grab and GoJek. These offer a fixed price at the industry standard rate, so there is no need to barter the price down. You can rent a driver for a fixed period of time from these apps, allowing you to sort out your own itinerary, follow one of our itineraries or just ask your driver to take you to their favourite places. On these apps, the nominal price for a day is around £20 (350k IDR).
Renting a Scooter in Bali
The easier, cheaper and much more liberating option for getting around Bali is to rent a scooter and drive yourself. It is an intimidating place to drive, even for the most experienced drivers, so extreme caution is required when navigating the hectic city centres. However, being able to drive where you want, when you want is a much more efficient and enjoyable way to enjoy Bali's incredible sights.
Most accommodations in Bali will offer you scooter rental, however, if not then you can also rent from one of the many rental shops spread around the island. If you are planning on spending a long time in Bali, such as staying for a full month, then renting a scooter longer-term works out at a much cheaper rate than just for a day.
The average price for renting a scooter in Bali is around £3 (60k IDR) per day, with rates going as cheap as £2 (40k IDR) when you rent long-term. Fuel is also incredibly cheap on the island, with costs as low as £0.40/L (7k IDR per litre). This will last you a long time too, as, during our trip from Canggu to the northern tip of Bali, we spent only £2 on fuel.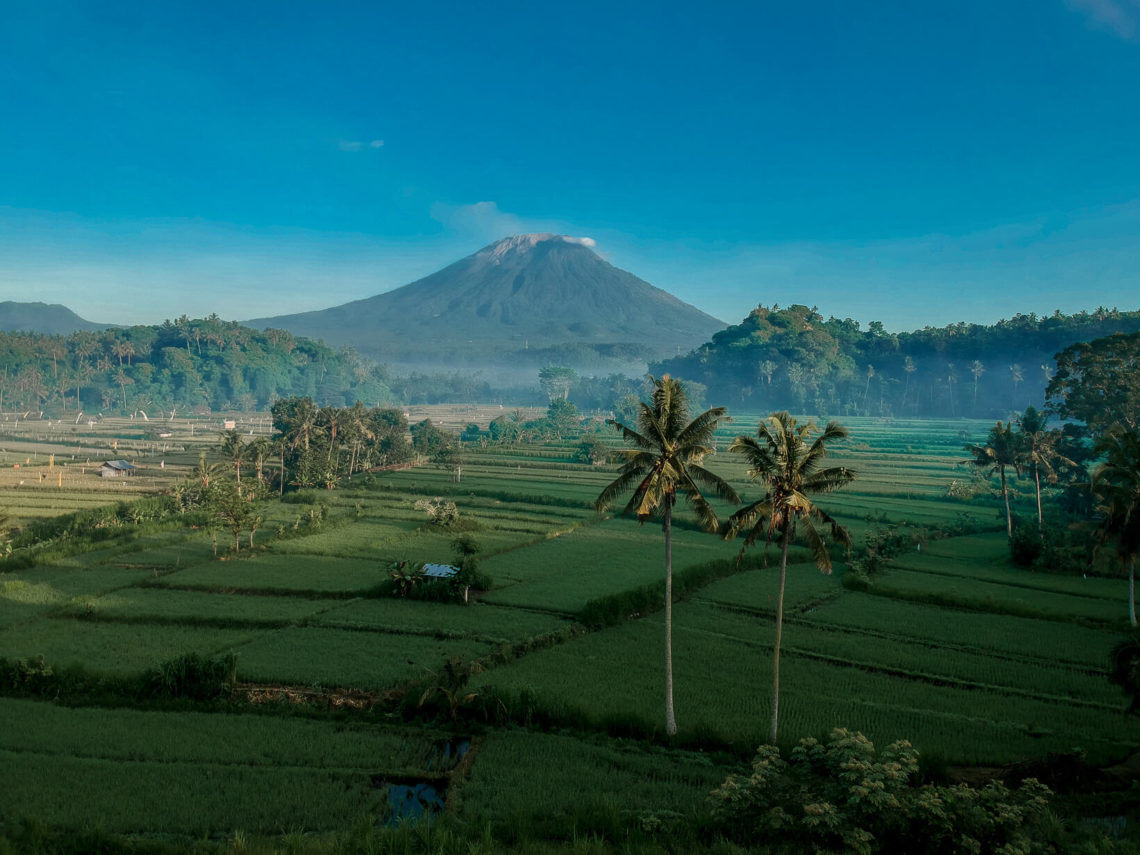 How to Get to Bukit Cinta?
To get to here, all you will need to do is follow your GPS to the coordinates shown below. It is a 2-hour ride east of Canggu towards the eastern coast. As you approach, the viewpoint is on your left (if you are driving up the hill), where you will see a small opening in the bushes and a track leading down the hill. If you do arrive here in the dark, you will not be able to see what lies in front of you, but just you wait!
Bukit Cinta Sunrise Spot Location – 8°25'34.8″S 115°36'25.2″E
There is also another spot further up the hill on your left if you continue past this stop and continue along the road for another 500m. This field is much flatter, which although it doesn't give you as good a view of the rice fields, it is still a tranquil paradise.
Also Read – The Definitive Guide to the Gili Islands, Bali – Gili Trawangan, Meno and Air
When Is the Best Time to Visit Bukit Cinta?
Given its incredible, organic view, Bukit Cinta can be visited at any time of the day for a beautiful view. There is no cost involved and it is so out of the way that it isn't a major tourist hotspot. This means that you should be able to enjoy the views of Mt Agung and the rice fields below all day in peace and solitude.
That being said, our favourite time of day to visit this viewpoint is definitely at sunrise. The way the morning light slowly reveals the beauty that lies before you is an unforgettable sight. It also means you have the rest of the day to explore this eastern coast of Bali and the other sites that lie in this area.
If you can't make it for sunrise, try to go at sunset instead. Due to the height of Mt Agung, the mountain will catch the last bit of light whether at sunrise or sunset, meaning it is perfect for golden hour pictures.
What Will You Find at Bukit Cinta?
Without a doubt, Bukit Cinta is the best place to go in Bali for sunrise. The main viewpoint of Mt Agung is a sloping field of grass, which you can reach through a small opening in the bushes at the side of the road. This hill does get very slippery due to the morning mildew, so take care when you are walking down to get a picture.
In front of you are beautiful rice fields, stretching out for about 10km to the foothills of Mt Agung itself. The morning mists usually hang around the lower slopes of this active volcano, however, once the morning sun hits the base, it will clear and unveil the towering figure of the mountain ahead.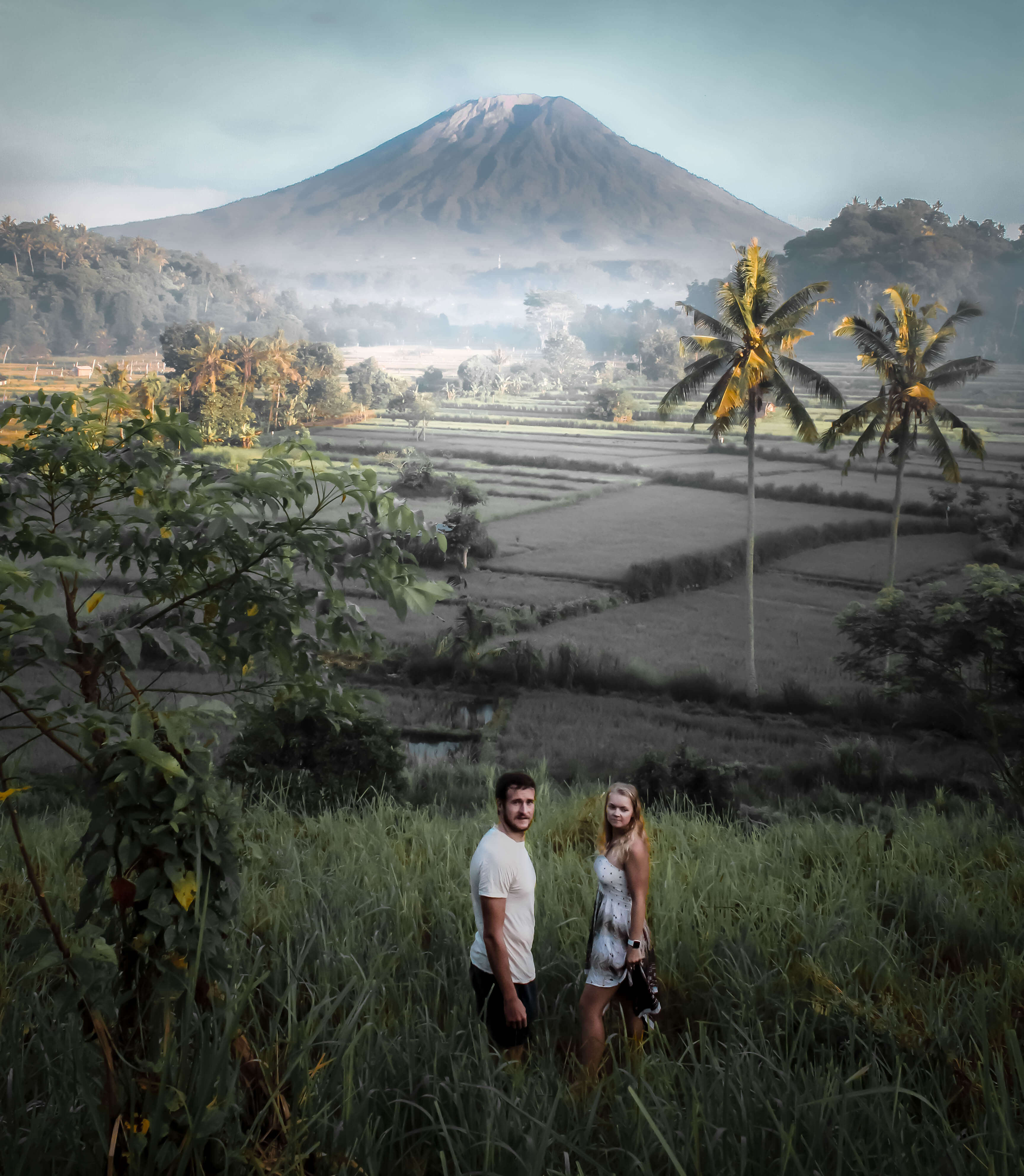 Where Should You Stay in Bali for Sunrise at Bukit Cinta
Due to its isolated location, accommodation around the Bukit Cinta area tends to be more expensive than in places like Canggu and Ubud. We would, therefore, recommend making an early start on your day to Bukit Cinta and heading here for sunrise before checking out the other beautiful sights in this area.
You can view all of the best accommodation options for Canggu and Ubud right here.
If you are not a fan of an early morning, but still want to make it for sunrise, you can stay at the accommodation closer to this viewpoint. Here are our top recommendations for all ranges of budget.
Luxury – For an unbelievable view of rice terraces right from your bed, Villa di Bias is the perfect luxury stay near Bukit Cinta. The double bedroom villas have a private balcony, swimming pool and even feature free wifi and air conditioning. This is only a 10 minute drive from the Bukit Cinta viewpoint.
Book your stay at Villa di Bias right here.
Mid-Range – Bukit Asri Lodge features colonial-style rooms with air conditioning, free wifi and a swimming pool for guest use. You will have access to the terrace and garden view from your bedroom. This hotel is only a 10-minute drive from the Bukit Cinta viewpoint.
Book your stay at Bukit Asri Lodge right here.
Budget – The best value accommodation withing a 10 minute drive of Bukit Cinta is the Ayuri Guesthouse. Offers a garden, terrace and sea views right from the Guesthouse, with car rental and hot tub services also available to guests. It also has free wifi, AC and a private bathroom as standard.
Book your stay at Ayuri Guesthouse right here.
If none of these suit your preference you can browse all of the available accommodation in this area right here.
Other Activities near Bukit Cinta
Once the sun has risen and you have had your fill of stunning, mountain views, it is time to explore a little more of what East Bali has to offer. Here are a couple of the other stunning sights that you must visit during your day in Bali, all of which lie in wait around this off-the-beaten-path part of the island.
Pura Lempuyang Temple
One of the most iconic sights on the island of Bali and an incredibly important part of the Balinese culture is the Pura Lempuyang temple. Situated on Mt Lempuyang, the temple is actually split into 7 stages, each spread out along the height of the mountain. Thankfully, the most photogenic of these temples is the very first one, which is easily accessible by car or bike.
The famous Pura Lempuyang gates (also understandably referred to as the Gates of Heaven), are a beautiful carved set of stone pillars, which have a backdrop of a cracking view of Mt Agung. This is definitely the most popular tourist attraction in East Bali, with queues of people all lining up to snap a photo with the gate. It is not uncommon for the queue to reach more than 2 hours long around the peak times of 10-11am.
In order to visit this place and snap a photo with the gate, we recommend either coming here for sunrise or directly from the Mt Agung viewpoint at Bukit Cinta.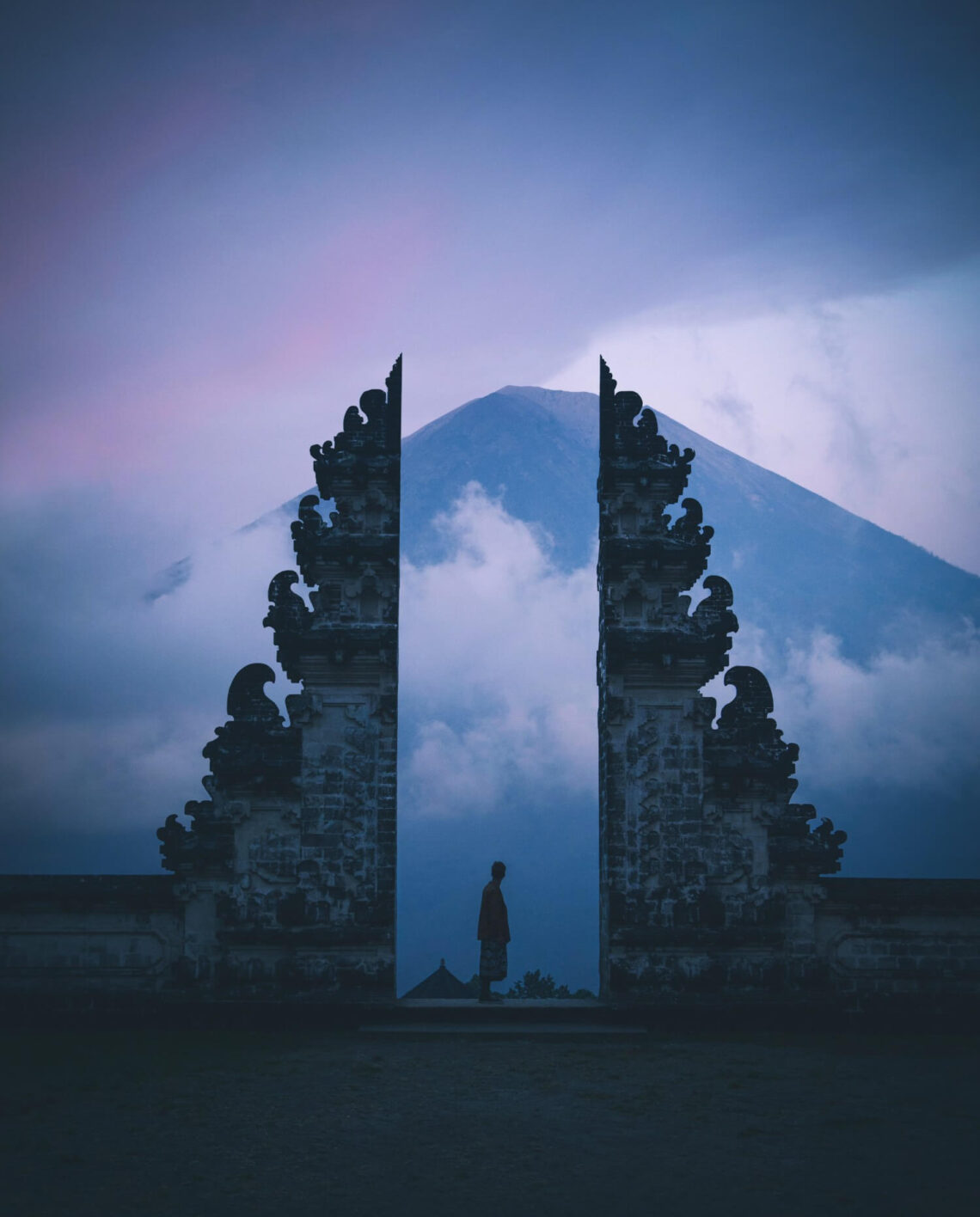 Amed Beach
Just a half-hour north of Bukit Cinta is the beautiful, black sand beach of Amed. Again, due to its easterly position, Amed beach is a lot quieter compared to those in the south, with its main visitors being scuba divers visiting Amed itself.
Amed beach is a beautiful spot to relax and enjoy the sea views and a view of Mt Agung from its northerly side.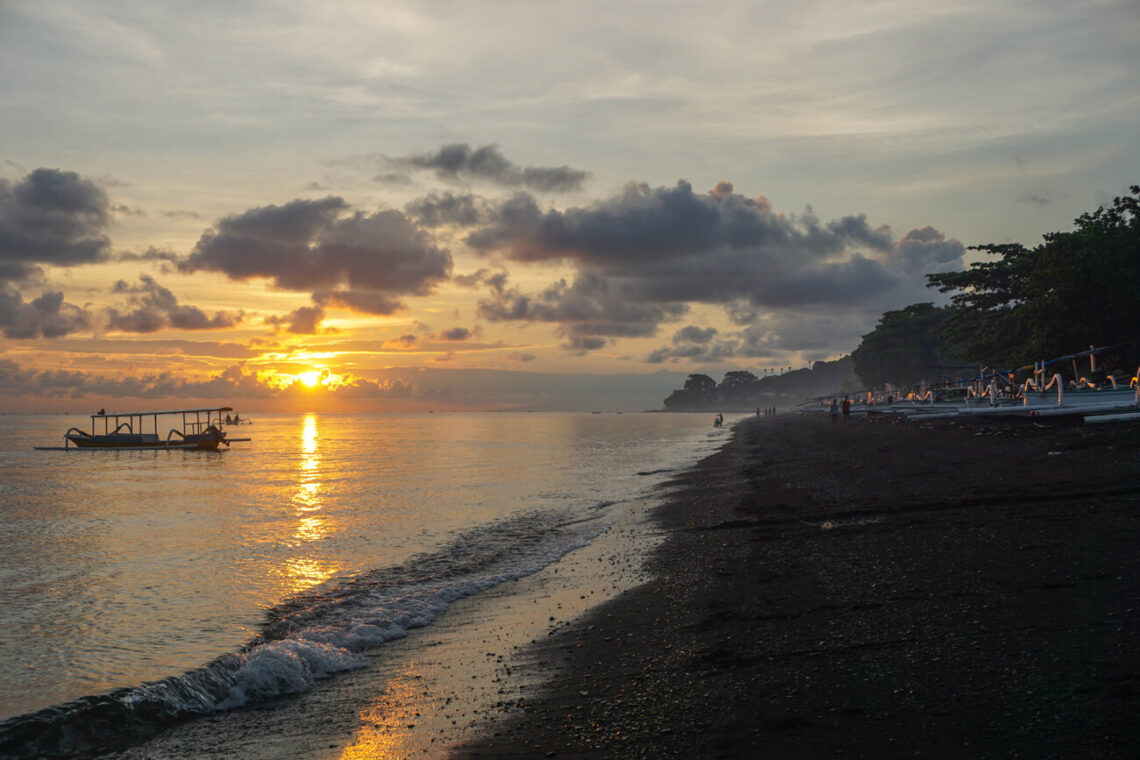 Also Read – The Ultimate Itinerary for Ubud – Three Days in the Jungle
Before You Leave for Bali
Whether you have yet to set off on your trip to Bali or you have already arrived and are planning your adventures, there are a number of things you need to do in order to ensure a smooth stay. These include getting a visa for Indonesia, sorting out travel insurance and packing for Bali. All of this will be discussed below to give you a stress-free journey.
What Visa Should You Get for Bali
When it comes to getting a visa for Indonesia, the process is relatively straight forward if you come from one of the Visa On Arrival countries. In this case, all you need to do is turn up at immigration in Bali and you will automatically be granted a 30 day visa for Indonesia.
If you wish to stay in Bali for longer than this then you will have to buy a Visa On Arrival Extension before passing through immigration. This can be done at the small desk labelled "Visa On Arrival", which is sutuated right before the immigration desks in the airport. This VOA Extension will cost you $35USD and can be paid for in any currency.
Once you have purchased this, pass through immigration and then you will need to extend your visa a the government building in Bali. You can either extend it yourself or by using a Visa Agent.
For all the information you will need to extend your Bali Visa, read our full guide over here.
Best Travel Insurance for Bali
Although it is definitely the least enjoyable way to spend money as a backpacker, travel insurance is the most important thing you can purchase before any adventure. Accidents can happen to anyone, and you do not want to have your trip ruined by extortionate, unforeseen costs such as medical bills or cancelled flights.
In order to make our travel insurance process as pain-free as possible, we buy ours through World Nomad's Travel Insurance. Designed with backpackers in mind, World Nomad's offers excellent polices, worldwide support and incredibly affordable costs.
Get a quote for your travel insurance right here and have a stress-free trip knowing you are covered.
What to Pack for Bali
Thanks to Bali's tropical climate, packing for this island paradise is easy.There are two seasons when it comes to Bali; there is a wet season and a dry season. Throughout the year, the lowlands of Bali experience a warm temperature of around 30oC. However, in the higher altitudes of Bali, the temperatures are known to drop as low as 5oC, meaning that warm layers are also required.
As for packing for Bali, or best advice is to pack layers. Majority of your pack will be light, summer clothes, to handle the heat of the main areas of Bali, and the minority will be a rain jacket and a jumper to wear in the higher regions.
Due to the intensity of the sun in this part of the world, we also recommend packing some long sleeved clothes to wear during long bike rides in the midday sun. Long periods of exposure can lead to serious health risks such as sun stroke and even skin cancer.
Pack lots of sun protection and apply frequently throughout your trip. The cost of sun protection on the island is EXTORTIONATE, with a small, 200mL bottle costing as much as £15.
Check out our Summer Packing List for Women and Summer Packing List for Men for some clothing inspiration for your trip to paradise.
Don't forget to subscribe and follow our journey on Youtube. 
Given the beautiful sights and scenery that you are no doubt going to see around Bali, we highly recommend packing a good camera for your trip. If you want to read more about the cameras we use and why we love them, check out the link below.
You can read what else we keep in our camera bag over here.
Also Read – 10 Day Bali Itinerary: The Best Sights for First-Timers Visiting Bali
So there you have it, your ultimate guide to the best view of Mt Agung, Bukit Cinta, Bali. If you have recently visited Bali yourself, let us know about your trip in the comments section below. Where was your favourite place? What was your favourite food? Did you manage to find the Bukit Cinta viewpoint? Let us know in the comments below.
If you are planning a trip to Bali, be sure to check out the rest of our Indonesia content to plan your trip to the fullest. We will gladly answer any questions you have with regards to your trip, so either DM us or send us an email.
Also remember that sharing is caring, so be sure to share this with all of your friends and family and show them the beauty of a Bali sunrise. Catch up with us on social media to see where we currently are and tag us in your own sunrise pictures so we can share them with our community of fellow adventurers.
Now Read:
This article may contain affiliate links that provide us with a small income. For more information read our Affiliate page.
---
Pin it for later!