When booking a plane ticket, you have the tough choice between cramming your life into a tiny cabin sized bag with very minimal toiletries, or spoiling yourself and paying for a much larger packing capacity and unlimited toiletries.
Personally, I like to travel with hand-luggage only and can count on one hand the number of times I've paid to check-in luggage.When I lived in Guernsey, I was privileged that the Aurigny airline allowed a free check in bag. So on the occasions when I visited Campbell in London, I would trek a large bag across the waters to allow me to do lots of shopping whilst he was at work and not worry about how I was getting it all home!
One thing I have learnt from the many, many flights I have been on, is that I need to be smart and light about my packing. Often when flying from Guernsey to Glasgow, I would have to get two flights and the last thing I wanted to do was lug loads of luggage on and off planes and through the airports. Now I try to cram as much into hand-luggage as physically possible, I mean flights can be expensive enough without adding on the bank breaking hold luggage fee, right?!
Rucksack or Suitcase
Packing a hand luggage sized bag is easy enough to do in summer, but hand luggage when you're going to the snow is a tad more challenging! I choose to travel with a back pack instead of a suitcase as I find it easier to carry around, and it can also be used as a day bag when you're away. By keeping your luggage with you on the plane it also removes the fear that your luggage will end up at a different destination!
Our most recent trip to Canada has seen us packing up our trusty North Face duffle bags for the minus temperatures we would be braving for the next week. We have the size small which is the largest size suitable for storage in the cabin. This bag is waterproof and also thief-proof as the zip is against your back.
Click the picture to browse these bags online
Airport Clothes
A good tip for squeezing as much as you can into your bag as possible is to wear your heaviest clothing and pack the lightest. It seems obvious but by wearing your big warm jacket and heavy waterproof boots you'll save a lot of room and weight on your back! A lot of the time the plane is cold or you'll want to use your clothes as a pillow, so this shouldn't be too hard.
What to Pack and How
Personally, I don't think its necessary to pack an outfit for every day. Your hostel or Air BnB may have free washing facilities, and even if they don't we have previously hand washed clothes in the sink. This can save a lot of space in your packing AND can save money on pricey laundry services.
---
Top Tip – Rolling up your clothes will save you some precious space!
---
When packing, anything that is a 'maybe' or you aren't sure if you will need it, don't pack it! It obviously not a necessity for your trip and will only mean you'll be carrying around more than required.
Be smart with your combinations and lay out clothes that you can mix and match. This allows you to have more outfit options and also allows you to be versatile if you pack clothes that you can dress up or dress down.
If you're taking an extra pair of shoes in your bag make sure you stuff them with any little bits and pieces to save space.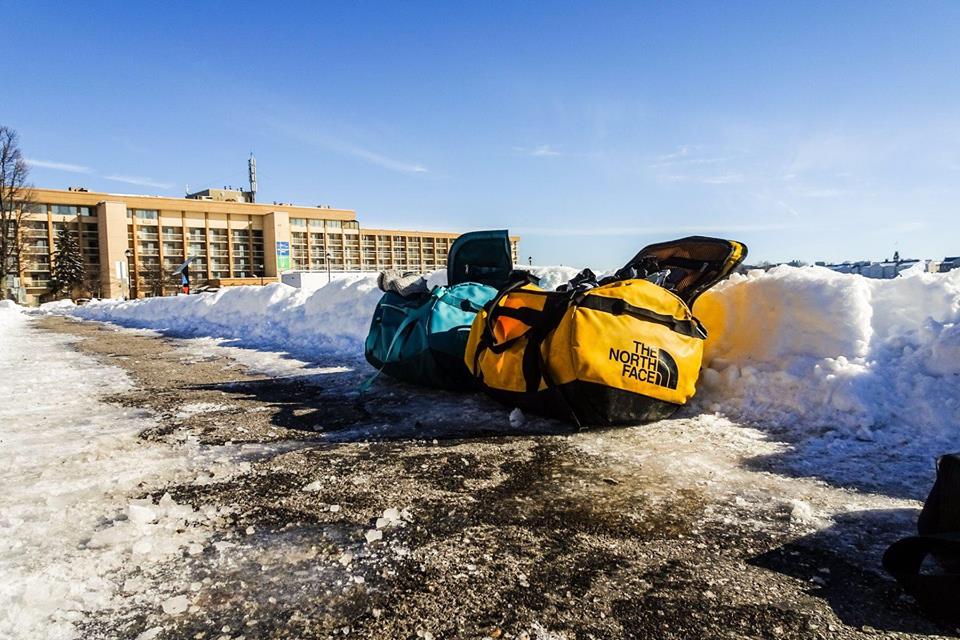 Toiletries
Now this is the hard bit. Packing toiletries can be a real struggle, especially for a girl! Many times, I have somehow managed to get a bursting bag of toiletries through security, but this is all just added stress to your journey whether or not you'll get it all through.
For shorter trips, I pack the most important miniatures: body wash, cleanser and moisturiser. I wash my hair before I leave and if I'm going away for a week or less I should be able to get away without washing it again until I get home.
For longer trips I would buy the toiletries I needed when I get there to save the cost and hassle of checking in luggage. However, this is really down to a little pre-planning and price calculation. If it is cheaper to pay for check-in luggage than it is to buy the toiletries at the destination, then definitely do that!
Winter Packing List
Below is a list of what I packed for our most recent trip to Canada. This was the first time I have visited somewhere cold and only packed hand luggage so there were some things I wish I had packed and some I wish I hadn't, which I have also included.
Airport Outfit
Large ski jacket
Warm pair of hiking boots
Short sleeved t-shirt
Wooly jumper
Gym leggings
1 thin and 1 thick pair of socks
Underwear
Bra
Scarf
Packed Clothing
One pair of jeans
Two pairs of sports leggings
Two pairs of thermal leggings
One polo neck
Three long sleeved t-shirts
Thin sports hoodie
One small bag of toiletries and make up
Two bras
Four pairs of underwear
Four thin pairs of socks
Four thick pairs of socks
Two pairs of gloves (one fingerless cotton gloves and one thick ski gloves)
Small daybag
Small handbag
Packed Electronics and Miscellaneous Essentials
Sunglasses
Keepcup reusable coffee cup
Waterbottle
Camera (although I forgot my memory card!!)
Notepad, pen and pencil
Passport
Earphones
Laptop
Chargers
Universal Adapter
What I Wish I had Packed
You live and learn on all adventures you go on, and the one thing I learned from our Canada trip was to bring a pair of comfy slippers. As we stayed in an AirBnb, we spent some of our nights chilling at home and cooking our dinners. However, during these nights I had nothing to put on my feet to wear around the house, and I often found myself with cold wet feet from standing in puddles of snowmelt.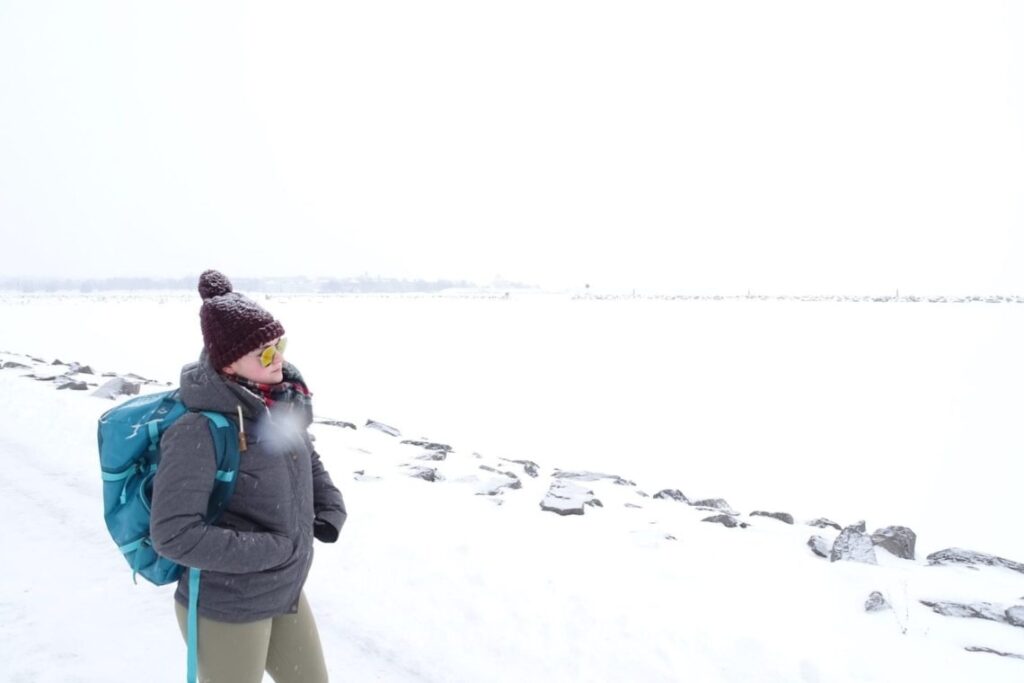 What I Wish I had Not Packed
Equally, there are a number of items that in hindsight were a waste of space packing them for this trip.
Small handbag
Small rucksack – I only used this small bag once when we were away. As we were staying in an AirBnB and had somewhere to leave our belongings this was not a problem however if we were staying in a hostel there may not have been anywhere to leave things.
Spare pair of boots – I had bought a new pair of hiking boots and hadn't spent much time walking them in so I had a last-minute panic before leaving for the airport and took my trust Berghaus hiking boots instead. I had packed a pair of long boots (incase of sore feet) however I didn't wear them.
With these tips and experience under our belts, we hope that our next adventure will be a lighter and more efficient trip. Fingers crossed you can also use some of our blunders and lessons learned, rather than making the same mistakes as us!
If you enjoyed this article and found the advice useful check out our other Travel Tips and see what else we have learnt from our years exploring. Also catch up with us on social media to see what we are doing!
Read Now:
Five Magical European Destinations for a Last-Minute Winter Getaway
Long-Haul Flight Survival Guide
Featured Items
This article may contain affiliate links that provide us with a small income. For more information read our Affiliates page.
---
Pin it for later!