The former capital of Australia, coffee centre of Victoria and honeytrap to so many backpackers on working holiday visas, it is easy to see why Melbourne is a top choice for Australian city break. Whether you are venturing from across the seas, or simply from elsewhere in Australia, Melbourne is the perfect city to relax, unwind, party and admire, as well as pretty much anything else you could possibly want to do. In fact, there is so much to do, trying to nail down a five day Melbourne trip itinerary is almost an impossible task.
Lucky for you, after living here for 4 months we have narrowed down all of the best bits, the must-see sights and the "cannot wait to go" spots that you need to see during your week-long trip to this cultural metropolis. Here is your ultimate Melbourne itinerary, five days of fantastic activities, including where to stay, how to get around and what you need to see.
Download our FREE full guide to arriving in Melbourne and getting yourself set up. This includes how to setup a bank account, superannuation and so much more!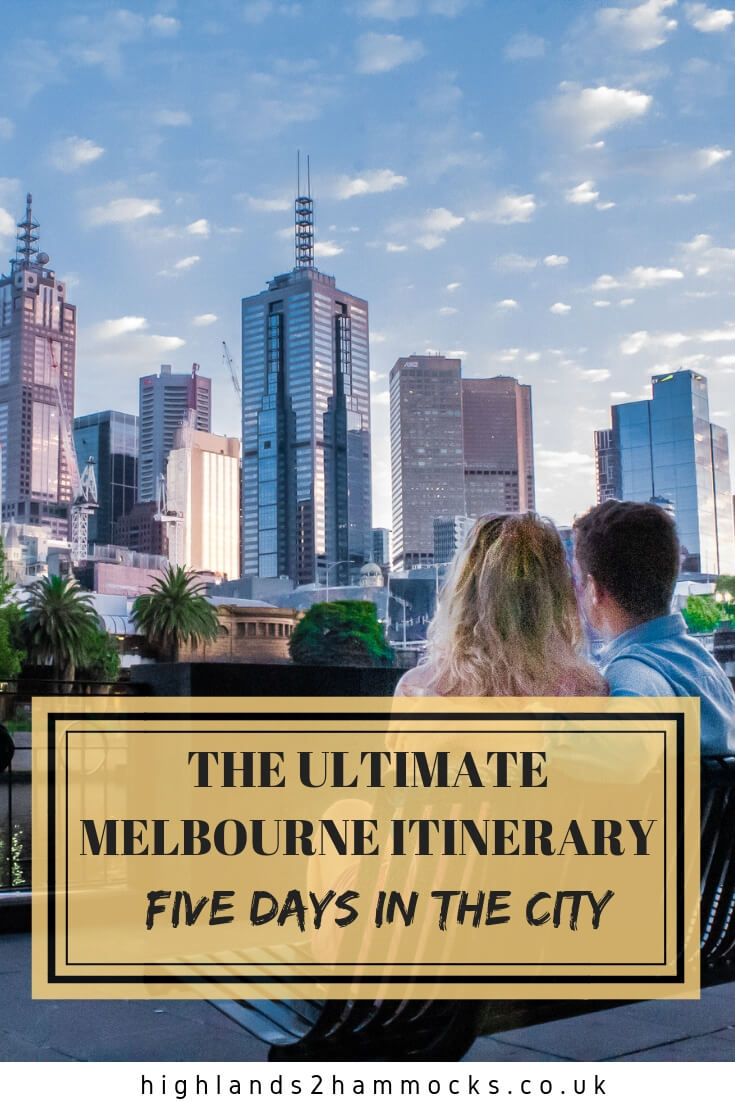 The Ultimate Melbourne Itinerary – Five Days in the City
Before You Arrive in Melbourne
Before you set off on your Australian adventure, there are a number of things you will need to get organised to make sure your trip runs smoothly. These include what you should pack for Melbourne, what travel insurance to get and what accommodation is best in Melbourne.
Applying for an Australian Visa
If you have yet to leave for Australia then this is a section of interest for you. There are a LOT of different visa options for people arriving into Australia, from tourist visas to permanent residence visas. The most common visas, however, are the 3-month tourist visa and the Working Holiday Visa.
If you are only visiting Australia for a short period of time then a tourist visa is your best option. These are easily obtained and relatively cheap, costing roughly $140AUD, and allow you to stay in the country for up to 12months. These can be applied for on the government website here.
If you wish to work and travel in Australia, a working holiday visa is your best option. These cost around $480AUD and allow you to stay in Australia for up to 12months, whilst working and earning money to travel. This visa also gives you the opportunity to extend your stay in Australia by up to 24months by working in certain job sectors.
For all of the information you need to know about the Australian Working Holiday Visa, read our full guide over here. 
What Travel Insurance is Best for Melbourne
As with any other adventure, before you jump in a plane, train or automobile you need to make sure you are covered for the worst. When it comes to travel insurance, although we try to save as much money on our trips as we can, this is one area we NEVER cut back on. You can never be too careful!
After years on the road, we have found that the best provider of travel insurance for backpackers and travellers alike is with World Nomad's travel insurance. Not only does this give you a clean, comprehensive and cheap cover, it is also super easy to renew whilst on the road. The team are used to handling people with no fixed address, which makes claiming as a backpacker a LOT simpler.
You can book your travel insurance with these guys right here.
Also Read – Melbourne Food Blog – The Foodies Guide to Melbourne
Where to Stay in Melbourne
When it comes to your Melbourne trip, you will possibly find that accommodation will take up the largest part of your budget. Accommodation here is expensive, there is not really much way of getting around that. Hostels will set you back about $20-30/night for a large, mixed dorm and hotels are even more eye-watering.
Nonetheless, we managed to find affordable and reasonably central accommodation throughout our stay in Melbourne using a mixture of Booking dot Com and Airbnb. As a couple, these offered private rooms for cheaper than it would have been for us both to bunk down in a hostel. We therefore recommend, if you are travelling with a friend or partner, to use these mediums and share a room for a much more comfortable stay.
Book your stay with Booking dot Com right here for your best choice of budget hotels.
Book your stay with Airbnb right here and get £25 off your first booking.
If you are travelling on your lonesome then not to worry either, as the hostel dorm never lacks in social abundance and will probably be your best option anyway. For hostels, we recommend finding a place in the Central Business District (CBD). This way you will be close to the sights, restaurants, bars and clubs, and will have the best social scene possible.
You can browse and book the best hostels Melbourne has to offer right here.
What to Pack for Your Trip to Melbourne
When we travel, whether it is for a weekend break or a month-long expedition, we always like to pack as light as possible. Not only does this save baggage fees, carbon emissions and unnecessary stress, it also means we are not wasting our energy carrying around a huge bag. Win win win for everyone!
For our full guides on what to pack for your next trip, have a look at our packing guides, including what to pack for men and women in both summer and winter. Also check out the backpacks we will swear by till our final days, our North Face Duffel Bags.
Given how ridiculously photogenic the city is, you will be wanting to pack your best camera for all the memories and Instagram shots you will be capturing. During our trips, we always make sure our camera bags are packed to the brim with our drone, GoPro and camera.
If you want to read more about what we keep in our camera bag, check out our list here.
Also Read – Free Stuff Melbourne – Cheap things to do in Melbourne
Arriving into Melbourne
Once you have touched down in Australia, the next step is figuring out how to get from the airport to the city and then getting around the city itself. Luckily for you, this guide will tell you all you need to know about Melbourne transport, including the fastest and cheapest ways of getting from airport to city.
Download our FREE full guide to arriving in Melbourne and getting yourself set up. This includes how to setup a bank account, superannuation and so much more!
Getting To and From the Airports
In Melbourne, there are two different international airports that you may fly into: Tullamarine and Avalon. Tullamarine is your best choice, sitting just north of Melbourne and only a 50 minute journey away. It is also very simple to get from here to Melbourne using public transport, which is free if you have a Myki card pass.
The other airport, Avalon, sits further west, just beside Geelong. This is also pretty straight forward to get to, however public transport will cost you as it is outside the Melbourne zones.
Arriving into Tullamarine Airport
You have two cheap options and one more expensive option when it comes to getting to and from this airport. The cheapest (and slowest) option is by public transport. From the airport, take the public bus, number 901, to Broadmeadows Central station and then catch the train into the city. This will take you approximately one and a half hours.
The train pass and tickets for the public transport around Melbourne are discussed in the next section.
The second option you have, and the mid-range one in terms of costs, is by taking the SkyBus from the airport to the city. This will take you approximately one hour and will cost roughly $25-30, depending on where you are going.
You can buy your tickets for the SkyBus here.
The last and most expensive option you have is hiring a taxi. This is also the fastest option, only taking around 40minutes into the city. If you do decide to take a taxi, your cheapest and easiest option will be to use the Internet taxi company, Ola.
Research their online deals as they sometimes have special airport fares.
Arriving into Avalon Airport
Again, there are three options to getting to Melbourne from Avalon Airport. Due to the public transport in this area not being covered by a Myki card, this option could be a more expensive option. The SkyBus is also an option from this airport and will cost you around $25. The final option being a taxi, which we would expect to be an expensive ride from this airport to Melbourne city centre.
Also Read – Self Guided Walking Tours, Melbourne – The Ultimate CBD Street Art Tour
How to Get Around Melbourne
Once you have arrived in the city, it is time to sort out how you will get around. Melbourne is a fantastic place to visit by foot, as within the CBD area of the city, all trams are free. This is known as the "Free Tram Zone" and the map of it can be found here.
There is an excellent, free tour of the city called the "city circle tram", which takes you on a loop of the city in an old fashioned tram cart. During this tour, the conductor will highlight points of interest about the city and tell you about the fascinating history of Melbourne.
When it comes to getting around outside of the city, you are going to need a Myki card. These top-up cards will allow you access to trains, trams and buses around the two zones of the city. Simply buy one a Myki vendor across the city, or download the electronic version to your phone.
Melbourne Itinerary – Five Days
Day One – Arriving into Melbourne
It is time for the big trip! You have made it to your hotel and have dropped your bags off, but there is no time to waste. It is time to head straight back out and check out one fo the city centres most popular areas, the Queen Victoria Markets.
Catch the tram to the markets and wander around, exploring the magnificent smells, sights and sounds of this vibrant marketplace. The food stalls here are amazing, and if you can be bothered with the queues, we highly recommend you get the speciality potato on a skewer. You will no doubt see everyone tucking into them!
As the sun begins to set and the market closes its doors, it is time to head home and get ready for your first night on the town. Tonight we will be checking out the Melbourne rooftop bar scene, and boy, are there are lot of them!
Our favourite rooftop bars are all located right in the city centre, easy to travel between or simply spend the night in one spot. They are:
Rooftop Bar
Goldilocks
Asian Beer Cafe
Imperial Hotel (Harry Potter Themed)
Also Read – Trivia Melbourne – Interesting Melbourne Facts
Day Two – South Melbourne
For the second day of your Melbourne itinerary, it is time to explore the southern reaches of the city, with an early morning morning stroll along Brighton Beach. Catch the train to Middle Brighton Station and head towards the colourful Brighton Beach Boxes that line the shore.
By getting here for sunrise, you will be able to enjoy the peace and quiet of the sea before other tourists arrive. The shopping high street near Middle Brighton station has a few cute cafes for you to grab a coffee and some breakfast before the next stop.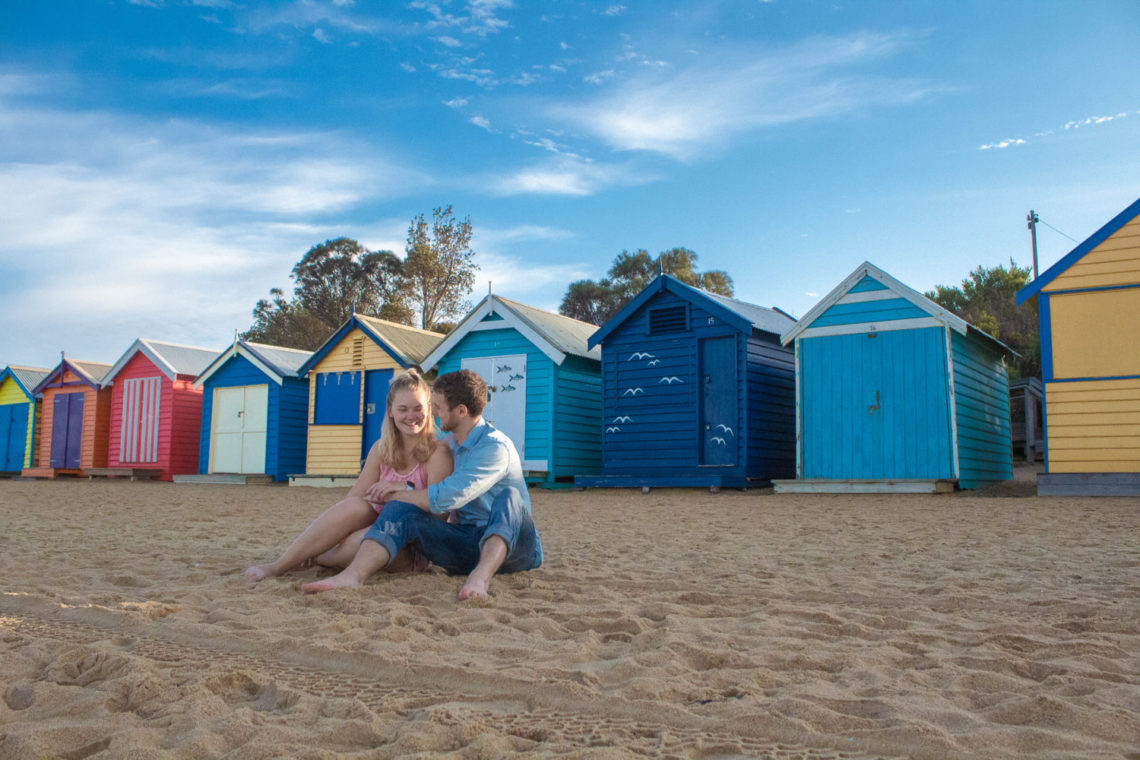 The next stop is further north, along the seaside, at the beautiful St Kilda Beach. Jump on the bus (No. 600 or 903) and ride north to this backpacker hangout area. In St Kilda you have a huge choice of activities to choose from. You can go shopping along the high street, relax and hang out in one of the many bars, get your adrenaline pumping in the Luna Park theme park, or simply relax and soak up the sunshine on the beach.
If it is too busy for you in St Kilda, the much quieter and just as beautiful Elwood Beach lies just south of St Kilda. This is an easy 10-minute cycle or 30-minute walk along the shore, with beautiful views of the sea. If you want to cycle, keep an eye out for the rental bikes dotted around St Kilda and head along the cycle path on the sea front.
When the sun begins to set over Melbourne it is time to witness the grand finale of the day, the famous St Kilda Penguins. After the sun goes down, St Kilda pier becomes home to hundreds of tiny penguins returning from the sea to rest. If you want to see these little cuties for yourself, walk all the way along the St Kilda Pier and join the crowd of people waiting to witness this daily spectacle.
There will be attendants to assist you see them with special red lights. This is to avoid blinding the penguins, so please do not use your own torches.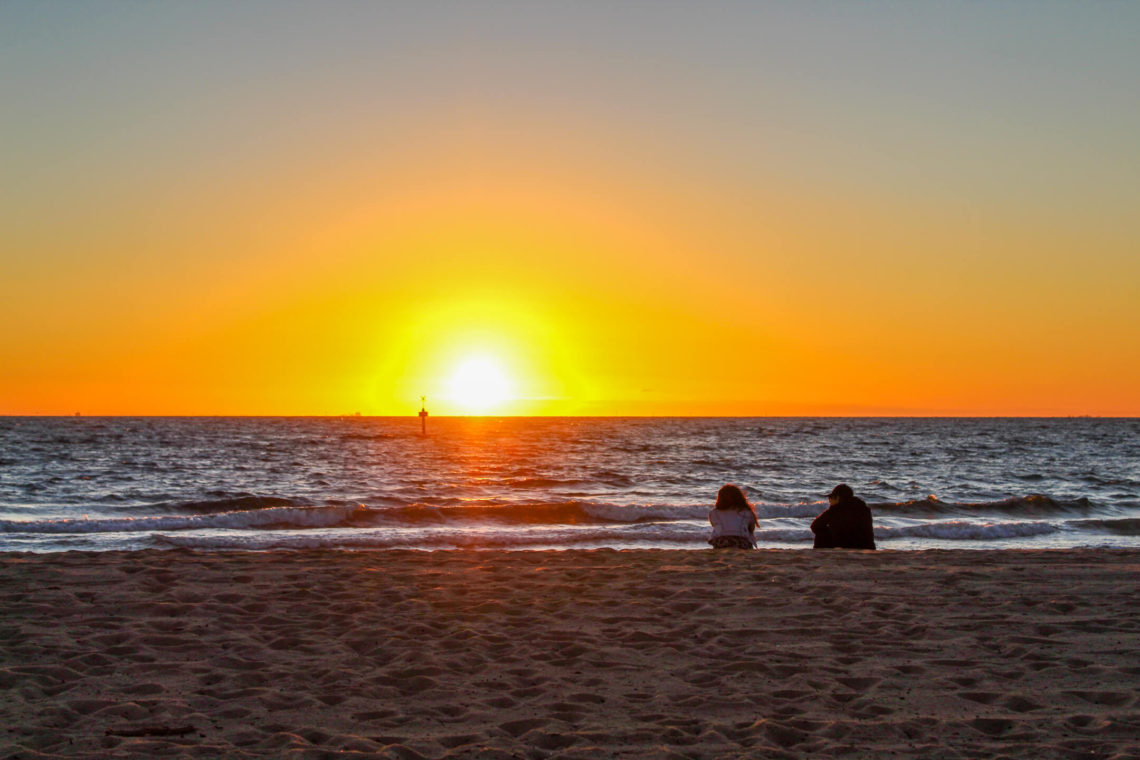 Day Three – Road Trip Along the Great Ocean Road
So after two days in the big city, it is time for one of Melbourne's most popular day trips, to get some fresh, ocean air, and we have the perfect place to do just that. Only an hours drive from the city centre of Melbourne, you have one of Australia's number one road trips, the Great Ocean Road. This road is nothing but 200km of stunning coastal views, beautiful hillside scenery and amazing wildlife just waiting to be found.
The Great Ocean Road was built between 1919 and 1932 by returned soldiers from World War 1, in memory of those soldiers who did not return home. Over the years it has allowed many locals and tourists to enjoy the beautiful scenery that Australia has to offer.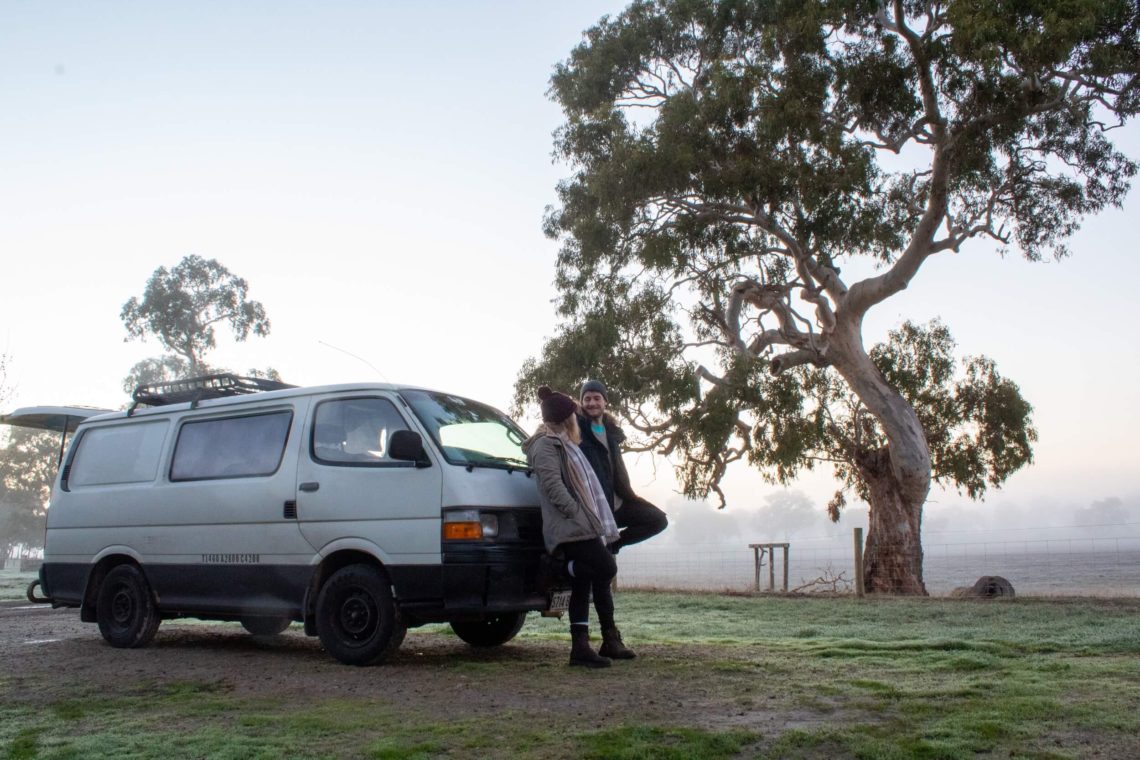 How to Visit the Great Ocean Road
The easiest way to hire a car during your trip to Melbourne is from Europcar hire. You can check out the best prices for renting a car for yourself right here.
The other option you have for visiting the Great Ocean Road is with an organised tour from Melbourne. These tours leave almost daily from the city and are a hugely popular attraction, regardless of the season. If you do decide to book a trip, make sure you do it soon.
A one Day Great Ocean Road and 12 Apostles Tour will set you back $105, leaving at 7am from Melbourne and returning by 9pm. You can check out the itinerary and more information on this

Great Ocean Road one day tour, here.

If you decide to spend longer on the Great Ocean Road, maybe the Great Ocean Road two day tour is the one for you. This tour will cost you $225 and leaves Melbourne at 7am, returning at 7pm. This tour only operates on Mondays and Thursdays. For more information on the

two day itinerary for this Great Ocean road tour, click here.
If you want to explore the Great Ocean Road at a more leisurely pace, buying a campervan might be your best bet! We did this with our little Hiace, Roxy, and made the most of this epic coastal route. We now also live in this van, saving thousands on accommodation costs.
Read our full guide to buying a campervan in Australia for all the information you will need.
Driving the Great Ocean Road
If you decide to self-drive the Great Ocean Road (and we highly suggest you do), you will be starting your journey a little before the official starting point. There are some beautiful sights that should not be missed at the cute town of Torquay, including the lighthouse and beach.
After you hit Torquay, your journey will take you along the 243km, winding road until you reach the final stop at the Bay of Islands. Make sure you pack lots of snacks, warm clothing and (most importantly) a decent camera, as you will be wanting to take photos.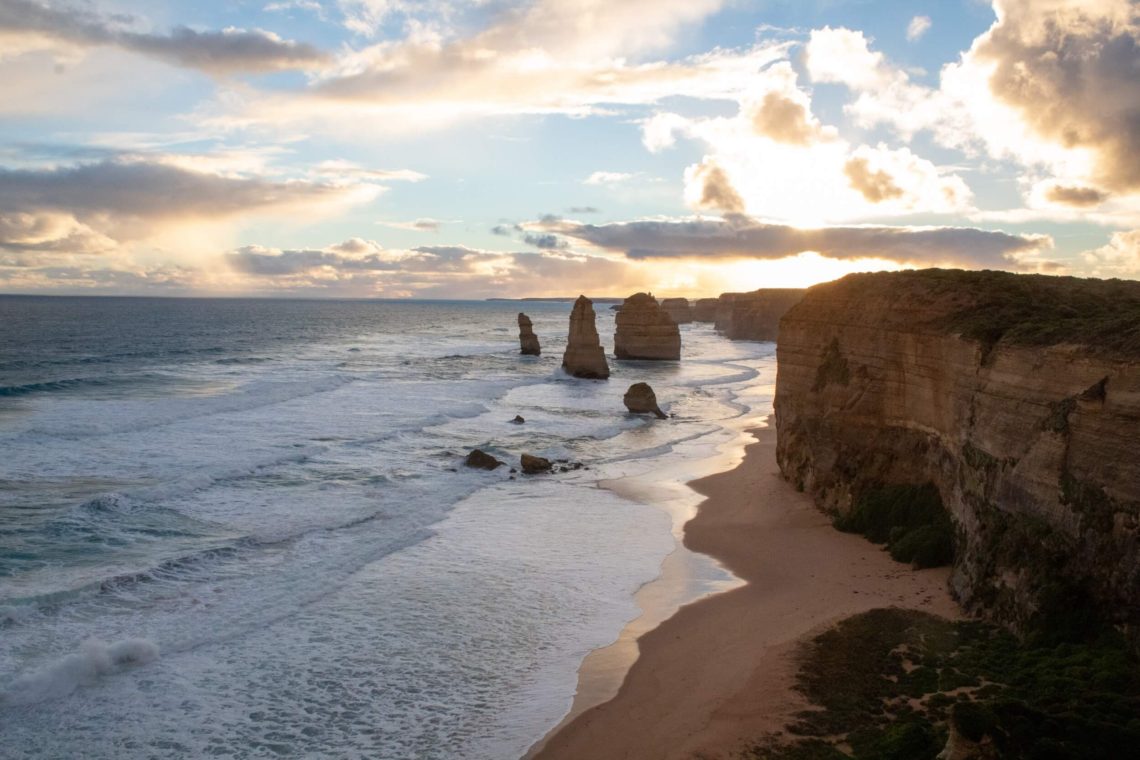 Some of the top sights along this route that are definitely worth mentions are:
Erskine Falls Walking Track – Chase waterfalls from the coast of the Great Ocean Road with this beautifully secluded, jungle waterfall. Read about Erskine Falls over here for all the information you need.
Teddy's Lookout – Soak up the sound of the waves at the lookout over the beginning of the Great Ocean Road.
Gibson Steps – A stunning cliff beach with insanely powerful waves. Access the beach at low tide and marvel at the height of the cliffs on one side and the open ocean on the other.
The 12 Apostles – The most famous landmark on the Great Ocean Road, the 12 Apostles are a beautiful collection of sea stacks just off the coast. Watch in awe at the power of the waves shaping the landscape right before your eyes.
Loch Ard Gorge – Another spectacular cliff beach, Loch Ard Gorge is a little less well known that the 12 Apostles and therefore much more peaceful. Sheltered from the ocean winds, this beach is a beautiful place to relax.
Bay of Islands – The last spot on the road trip and definitely worth the visit, the Bay of Islands is collection of dozens of sea stacks just off shore. This is the perfect spot to watch the sun set on your Great Ocean Road adventure.
These are just some of the many beautiful sights that you will be able to see along the Great Ocean Road. . For more details on this epic road trip, read our full itinerary to the Great Ocean Road to see what lies in store for you along the way.
Also Read – Great Ocean Road Itinerary – Two Days Along the Coast
Day Four – Art and Nature in the Big City
If there is one thing that makes a big city special, it is the connection it can maintain with nature whilst still expanding into a metropolis. Melbourne has absolutely nailed this goal, with green spaces spread evenly throughout the city. This is just one of the many reasons why Melbourne was voted "most liveable city in the world" multiple times.
With parks and green spaces so easy to find around the city, it is easy to escape the hustle and bustle of the traffic filled centre, if you so desire. This is exactly what we will be doing for today, so the first stop is the Botanical Gardens, south of the Yarra River.
Catch the tram south of Flinders Street and get off at the last stop in the "Free Tram Zone". It is a simple walk from here to the serenity of the Botanical Gardens. Head into the gardens on your left and spend the morning wandering through the huge variety of flora from all corners of the world.
Make sure you don't miss the peaceful lakes, spread throughout the Botanical Gardens. These spots are the perfect location to watch the park come to life as the sun rises. Walk to Guilfoyle's Volcano and climb the manmade water feature for a better view of the city in the background.
This will be the backdrop of your next stop, the Shrine of Remembrance. Walk back towards the tram stop along St Kilda road and you will see the huge shrine in the distance. This monument is the National War Memorial of Victoria. Unveiled in 1934, this war memorial was built to commemorate the men and women who served in World War One, however, it is now used to remember all of those who have served in all of the wars fought in history.
Below the Shrine are the Crypts, which are open from 10am to 5pm daily. In this lower area, there is a lot of information on the wars that have been fought, as well as material and memories from the soldiers who fought in them. This is an incredible place to humble yourself to the suffering and agony that this recent history has caused.
The most fascinating part of this feature happens once a year on the 11th November at 11am (Remembrance Day). At this hour, a ray of sunlight comes through an aperture in the roof to illuminate the word "Love" on an inscription on the wall.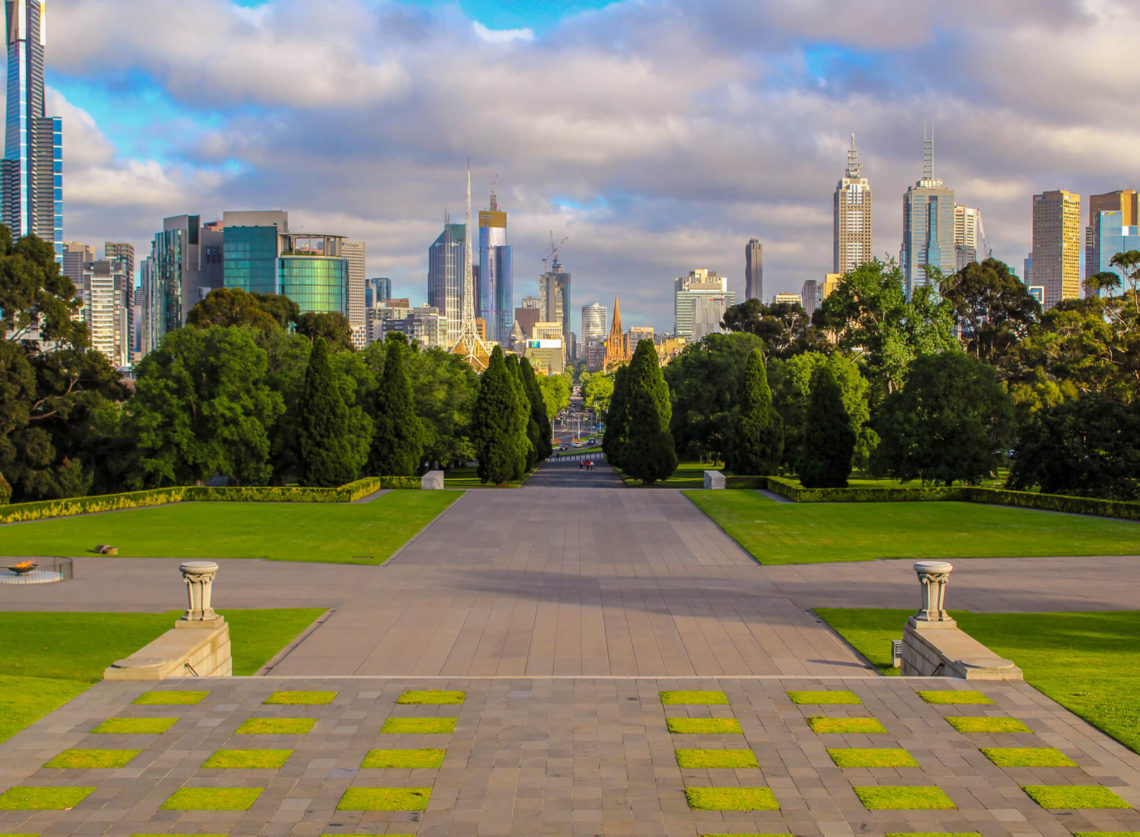 Once you have finished admiring Melbourne's magnificent skyline from the steps of the Shrine of Remembrance, it is time to head across St Kilda Road to the National Gallery of Victoria. This gallery is Australia's oldest and most visited art museum.  Founded in 1861, this gallery has had countless exhibits, art collections and amazing stories to tell.
The exhibits in this gallery are constantly changing and evolving, with new and exciting concepts being introduced every year. Check out what is going on at the NGV during your five days in Melbourne here.
Also Read – Best Bank for Travelers – Starling vs Monzo Card Review
After you are tired from your day admiring the art and culture of Melbourne, it is time to head home and get ready for another night on the town. It is time to explore some of Melbourne's more underground nightlife, the famous "Hidden Bars".
These quirky bars are more than just a cool idea for a night out, the history behind them is really quite fascinating. During the Australian Capital Territory alcohol prohibition of 1916, the Australian government declared it illegal to sell alcohol after 6pm. In response, the residents of Melbourne simply continued the party well into the night, however did it in a more private location.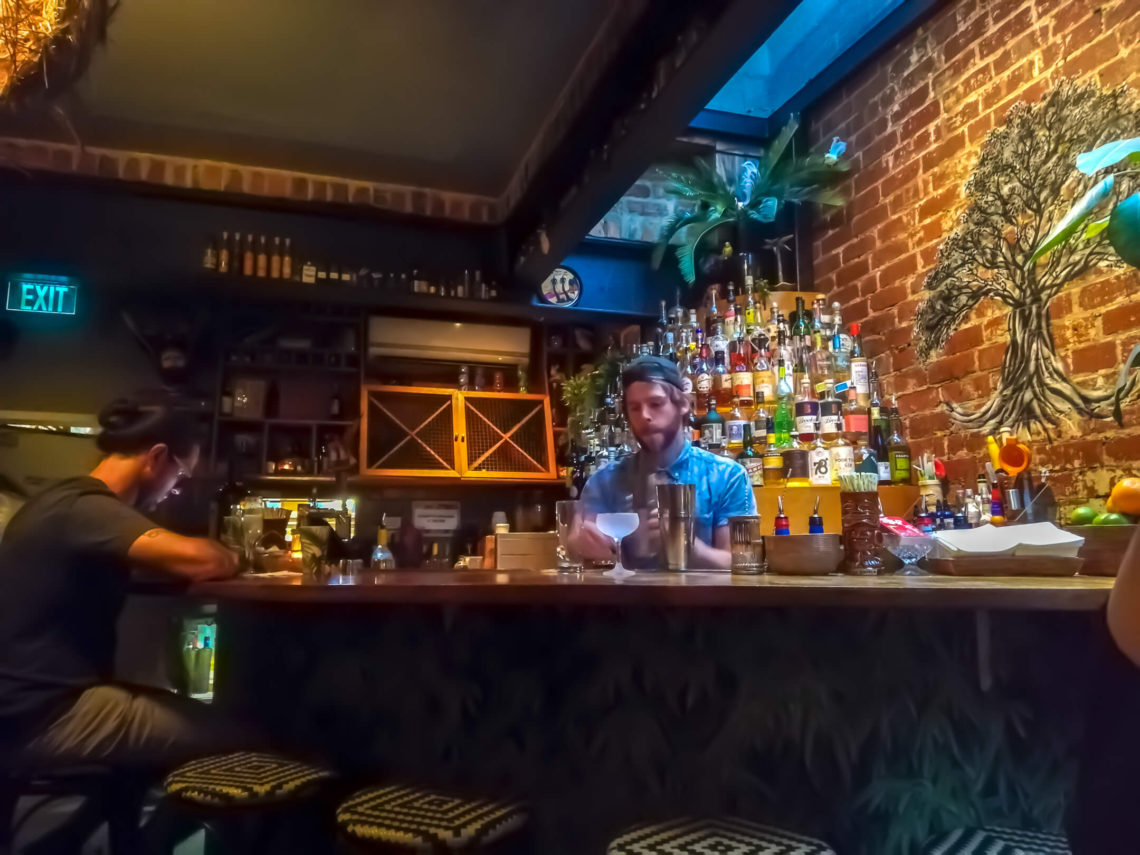 Our favourite hidden bar lies just a short train journey out of town towards Windsor station. Jungle Boy is a cool, themed bar, hidden in the back of a sandwich shop called "Boston Subs". In order to gain access to the bar you need to enter the sandwich shop and walk straight past the sandwich counter. There is a giant, fridge door on the right hand side of the counter, through which leads you to one of the funkiest bars in town.
Other hidden bars around Melbourne that are definitely worth checking out include:
Day Five – Goodbye Pink City
The time has come for your final day in the big city, so let's do it justice with a cracking Melbourne sunrise. Get up early and head down to Southbank, ready for the pink skies that sunrise brings to this amazing city. The glass buildings all across the horizon come to life with hues of pink and blue, making each and every sunrise a truly memorable experience.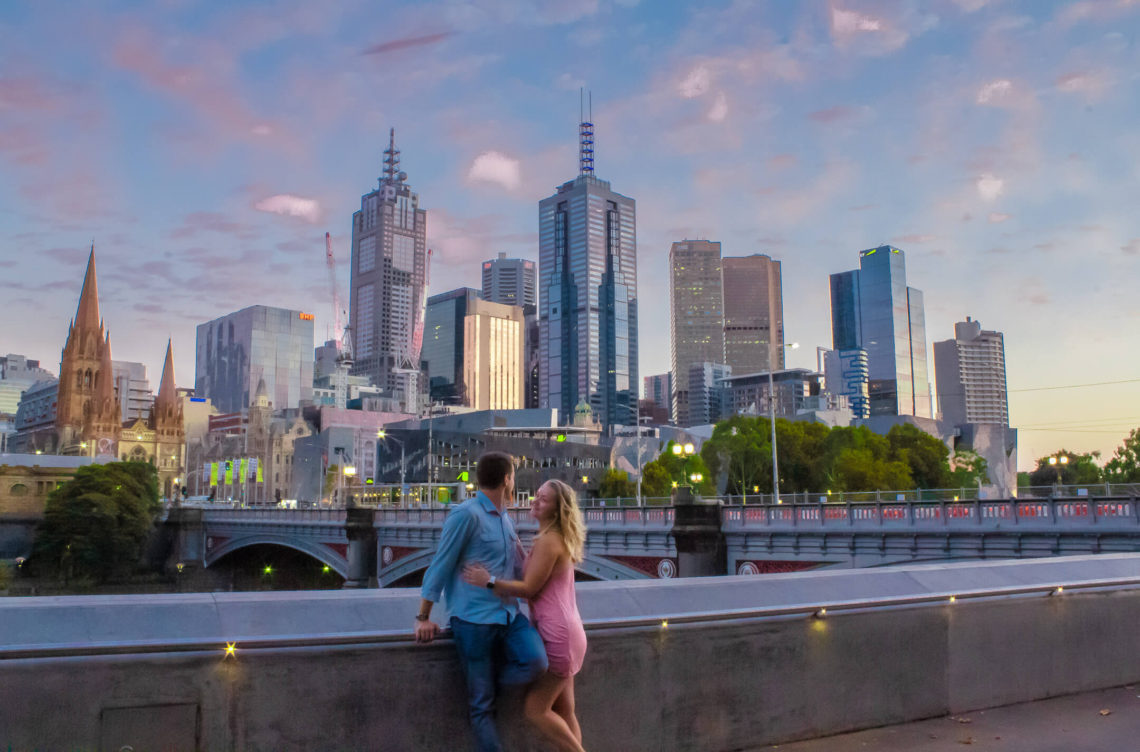 The last activity we have planned is possibly one of the best, and is one of the main features that Melbourne is famous for; The Melbourne Street Art scene. Once know as the Stencil Art capital of the world, Melbourne has a fascinating history with street art, all through the city. With murals and colourful laneways stretching out to the suburbs of Melbourne, it is possible to see artwork in all areas of the city.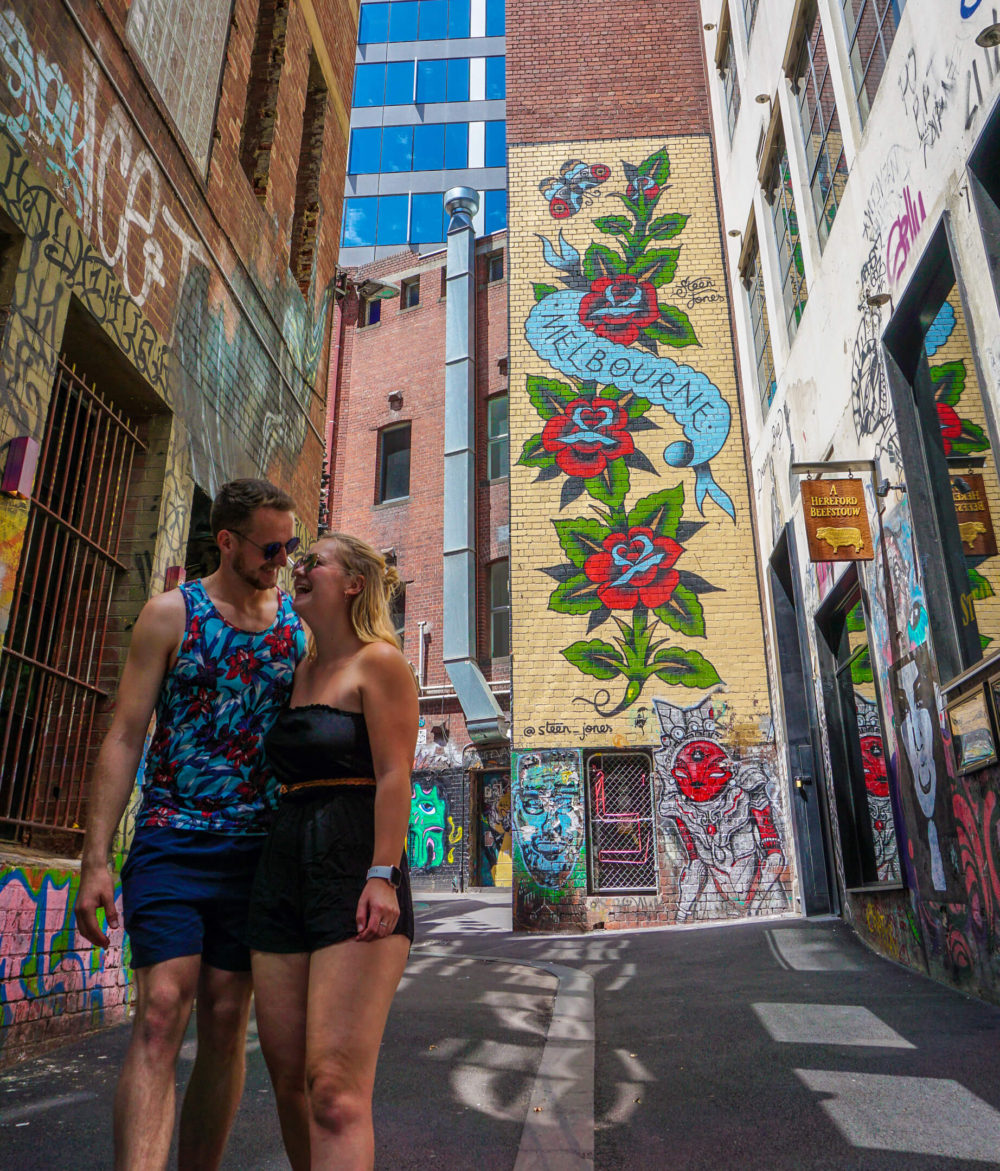 The street art tour we will be doing today is focused around the blocks and laneways of the Melbourne CBD. Beginning at Flinders Street Station, the tour takes you east to the most famous street for artwork, Hosier Lane. You then head north and west before completing your circular tour at Flinders Court.
Read the full street art tour guide over here for all the details and history you need to know for your own, self-guided Street Art Tour of Melbourne.
There are loads of other tours available, from free history tours to ghost tours of Melbourne, depending on what your taste is. Get to know the city on a whole other level through the eyes of a local and hear stories of the streets straight from their mouth.
Grab a bite to eat in the narrow laneways of Flinders Court and have one last taste of the famous Melbourne coffee before you say goodbye to the city. If you have a Myki card, don't forget to trade it for your deposit refund.
Where to Eat in Melbourne
With hundreds of restaurants, bars and cafes to choose from around the city, even the lucky people who call Melbourne "home" would struggle to try them all. To make your choice a little easier, we have listed all of our favourite places down below for each meal of the day. Try out a few of them during your trip and you will not be disappointed.
Breakfast
8 Murray St – Abbotsford
The classic experience of Aussie brunch, this converted bungalow serves incredibly delicious food, in a comfortable environment similar to your own home.
Jimmy Jamz – Elwood
This funky bar is the dog friendly, local hotspot for Sunday Brunch, filled to the brim at the weekend with families, young couples and (best of all) family pets.
Pancake Parlour – City Centre
Is there a better way to start the day than pancakes?! Download the app and get your first two pancakes and whipped butter for only $5!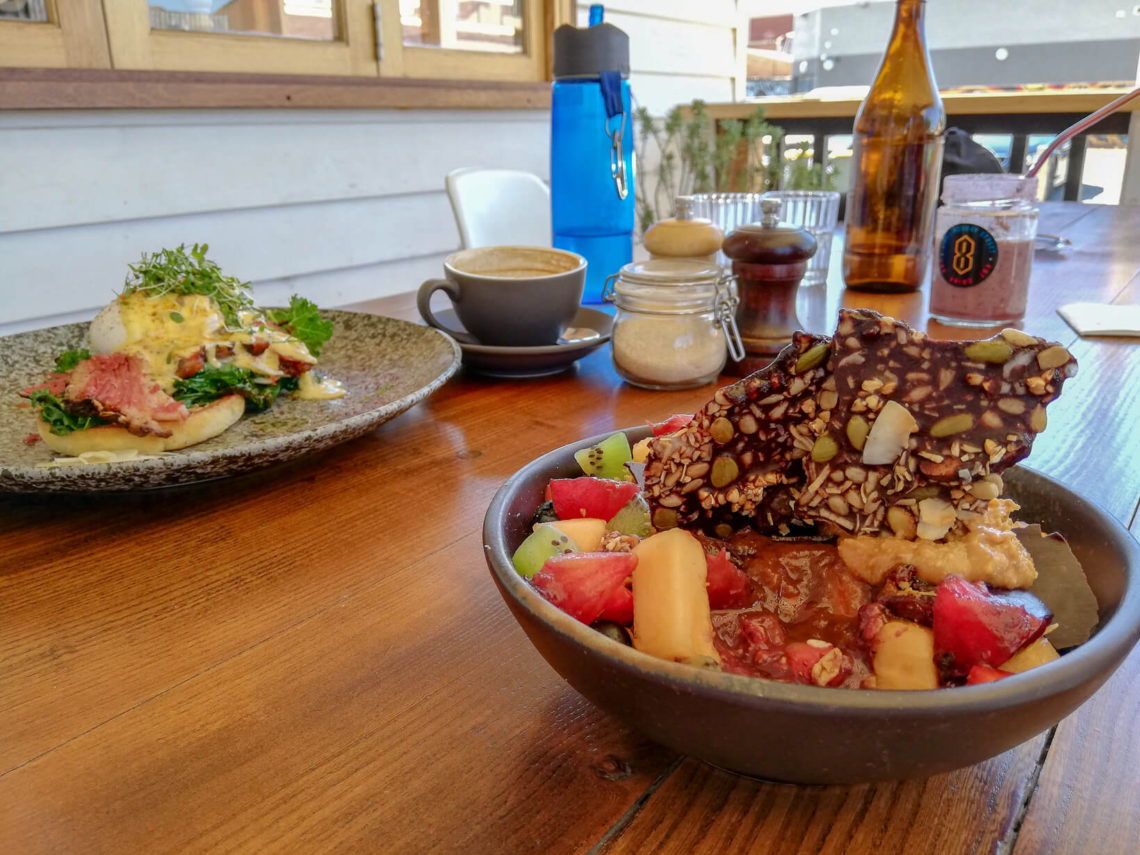 Lunch
D'lish Fish – Port Melbourne
For a classic, summertime fish and chips by the sea, D'lish Fish is the place to go. Take your meal to go and tuck in on the harbourfront with a beautiful view of the bay.
New Jaffa – Collingwood
Middle Eastern cuisine with a delicious twist, New Jaffa takes some classic dishes and gives them an interesting spin. Can highly recommend the sharing platter and the non-alcoholic cocktails.
Mao Please – City Centre
One of Melbourne's most famous delicacies is straight out of Chinatown in the form of dumplings. Mao Please is one of the best dumpling houses you can visit, with a menu of dozens of options to choose from.
Also check out the lunchtime deals for a real budget meal.
Nostimo and Co – Elsternwick
One of the most interesting bites to eat you will ever experience, Nostimo and Co take sweet and savoury and smash them together to form an incredibly delicious, sweet meal. We highly recommend the cheeseburger served in a glazed donut, like bacon and maple syrup it needs to be tasted to be believed.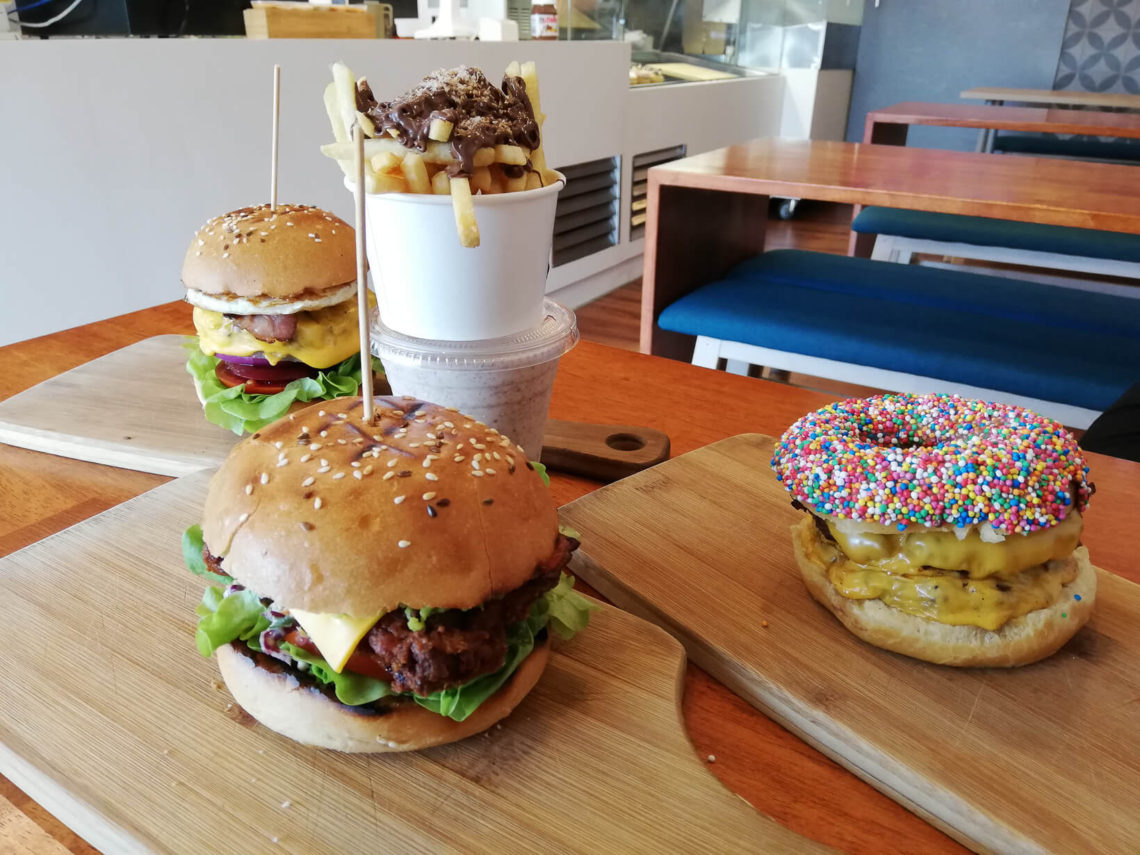 Dinner
Fat Jaks – St Kilda
The classic burger joint with portions to excess, Fat Jaks is the place to go if you need a hearty meal. We recommend ordering one portion of fries between two people, as there is no way you will finish two.
Duke Pizza – City Centre
The largest selection of gournet pizzas you will find this side of Italy, Duke Pizza is the place to go for any pizza lover. The vegetarian options here are just amazing, so try something new and go veggie for the night.
Maccaroni Osteria – Fitzroy North
This Italian restaurant has the largest vegetarian menu we have ever seen, with each option from the meat menu being replicated to form its own vegetarian counterpart. Delicious and unique, we recommend this spot for a romantic, candle lit dinner during your stay in Melbourne.
Asian Beer Cafe – City Centre
Sitting right above Melbourne central, this is the place to go for a cheap, delicious meal right in the city centre. All day, every day, the happy hour food menu is the best value you will find anywhere in Melbourne.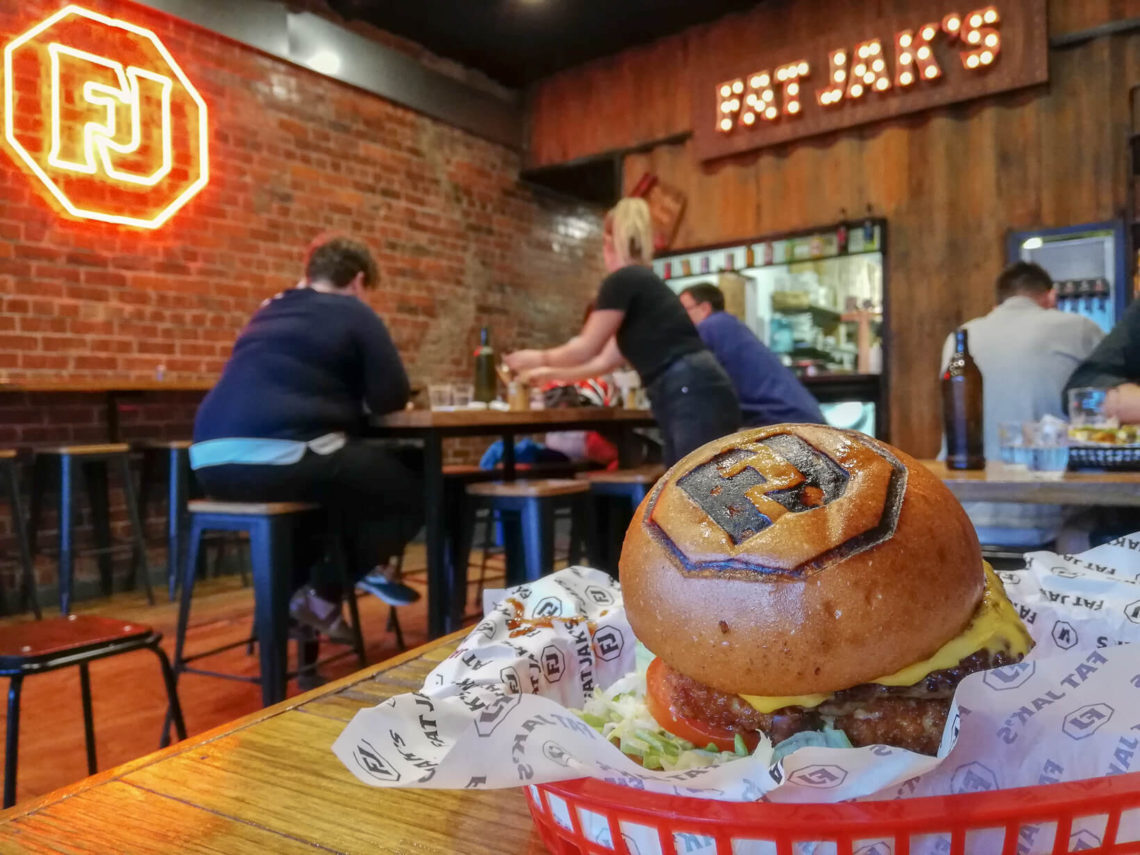 Download our FREE full guide to arriving in Melbourne and getting yourself set up. This includes how to setup a bank account, superannuation and so much more!
So there you have it, your Ultimate Melbourne Itinerary, five day of unforgettable sights, smells and tastes from the big city. If you have recently visited Melbourne, let us know how you enjoyed it in the comment section below. What was your favourite part of the city? Did you try the famous coffee? What street art did you see? Let us know down below.
Also remember that sharing is caring, so be sure to let all your friends and family know about this guide to Melbourne so they too can plan their own trip. Save this guide for later by Pinning it and make the most of your adventure to Melbourne when you visit.
If you found this guide useful, make sure you check out the rest of our Australia content so you can plan your trip to its maximum potential. Catch up with us on our social medias and tag us in your Melbourne photos so we can share them with our community.
Now Read:
This article may contain affiliate links that provide us with a small income. For more information read our Affiliate page.
---
Pin it for later!