Australia is inundated every year with backpackers from all over the world, yearning to soak up the Australian sunshine and live a laid back lifestyle. The
working holiday visa 417
allows those aged 18-30 to work and travel in Australia for a year. There is an opportunity to gain a second and now even a third-year working holiday visa by completing specified work in regional Australia, this is commonly known as
"farm work"
. To gain a second-year visa an individual will be required to work in this field for 3 months. To gain a third-year visa, it is a requirement that this work is carried out for 6 months. There are often horror stories that go around about this kind of work, it is very remote and can be a very daunting experience for a solo traveller or a group of travellers. Unfortunately, there have been
one too many cases of backpackers being exploited
when completing this kind of work. This is why we want to give you some insight into backpacker's experiences and hopefully, you will find some recommended farms to look for work at.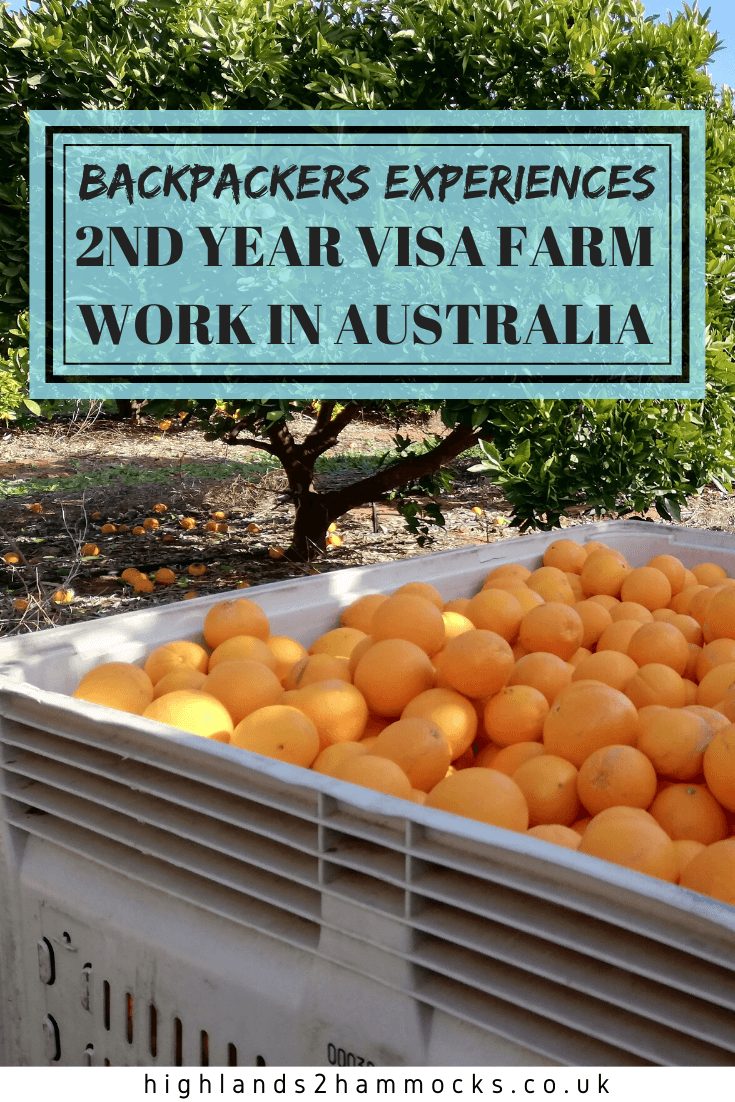 Backpackers Experiences – 2nd Year Visa Farm Work in Australia
Orange Picking in the Riverlands, SA
Nearest city – Adelaide, 173km
Our first farm work job in Australia was picking oranges in Waikerie. This job had us climbing ladders and picking oranges as quick as we could to try and make a decent wage on piece rate. We paid $25 to rent a picking bag which we would place the oranges into before decanting them into a 400kg bin. Our piece rate agreement was $28 per bin and depending on how many hours we worked in a day and how full the trees were, we would be finishing a day's work with 4-6 bins, our best day being 8! In this kind of job, the weather plays a huge part in the work you can do. If it was raining we were unable to work and we couldn't start picking until the oranges were ready which was when the temperature was above 13 degrees Celcius. This made it really hard for us to earn a decent wage as many of our days we would be working around 5 hours per day. Waikerie was a lovely location, with a petrol station, Woolworths and other small shops in the area. There was also a laundry and plenty of public toilets. It wasn't compulsory to stay in the work accommodation, so we lived in our van and camped up on the Murray River, free of charge. If you were looking to stay in the accommodation you would be expecting to pay around $200 per person per week to stay in a shared room. As much as we struggled to earn a lot of money working as hard as we could on piece rate, we would still recommend working on this farm. The manager was friendly and it wasn't a requirement to stay at their accommodation. There was also car-sharing so it would be possible for you to work here without a vehicle.
Gemma and Campbell highlands2hammocks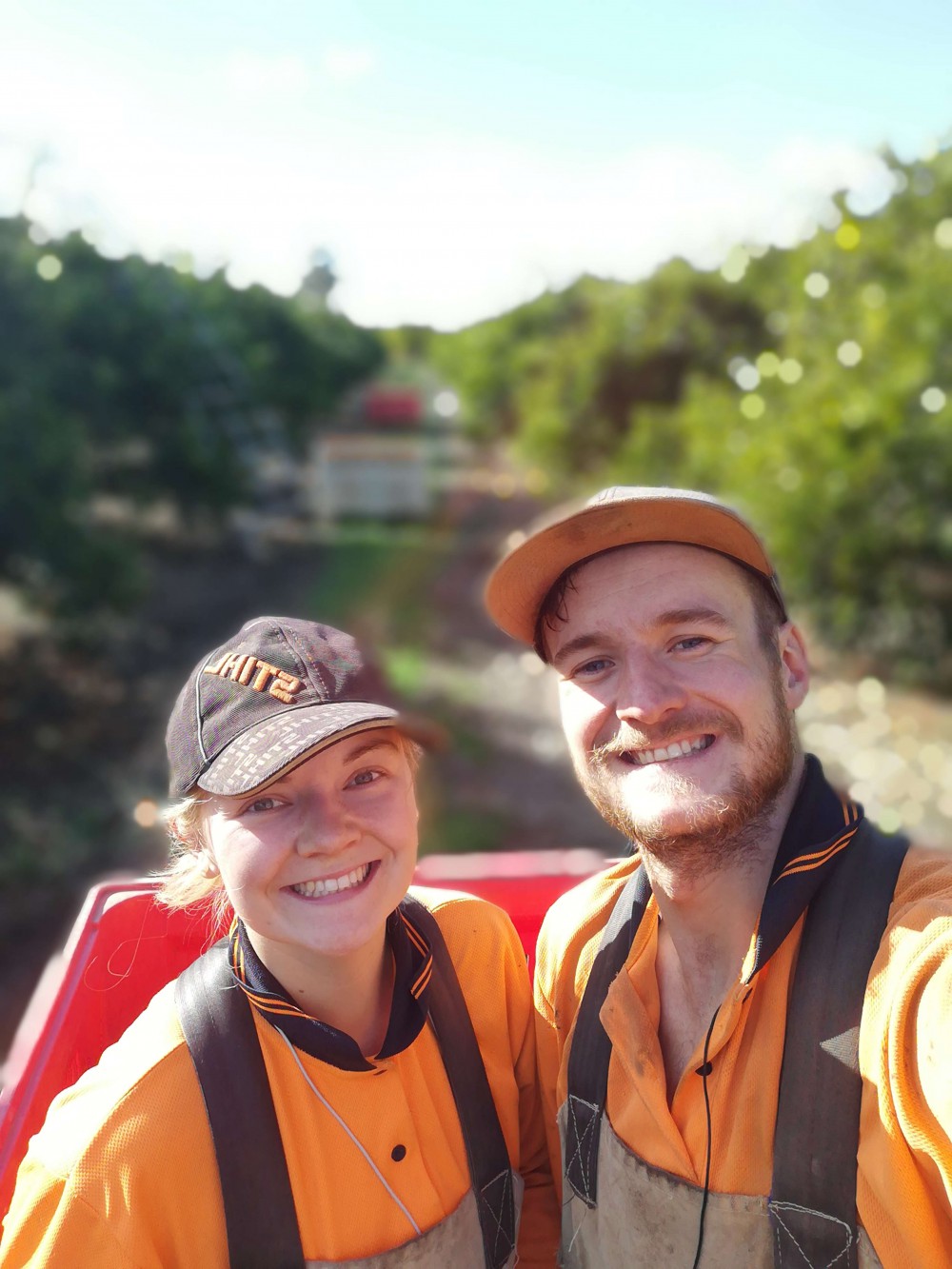 Also Read – Complete Guide to 2nd Year Visa Farm Work in Australia (Subclass 417)
Olive Farm in the Murraylands, SA
Nearest City – Adelaide, 150km 
When we were offered the job working on the olive farm, we were warned that it was extremely remote and there were no shops around. Turns out Peake is the most remote place we have been in Australia so far. With only a small post office, pub and oval, we had to travel 47km to Tailem Bend where the nearest petrol station and shops were. This was a very large farm and the work was split between ourselves and two other backpackers, as well as three full-time staff. Everyone was really friendly and had a feeling that we would be happy (or as happy as you can be doing farm work) here. There is a house nearby that is available to rent for around $120 per person per week, however, it is not compulsory to stay here so we parked up nearby in our campervan. There are water and toilet facilities in Peake and if you don't have a shower then 2 of the petrol stations in Tailem Bend have shower facilities. Work on the farm involved a variety of manual jobs including
Pruning
Planting
Spraying
Driving a tractor
Clearing old trees in preparation to plant new ones.
These were all extremely physical jobs however we were now getting paid $24 an hour to work here so we couldn't really complain. We would definitely recommend this job to other backpackers, our favourite way to relax after a week of work was in the heated pool and spa in Murray Bridge 67km away.
Gemma and Campbell – highlands2hammocks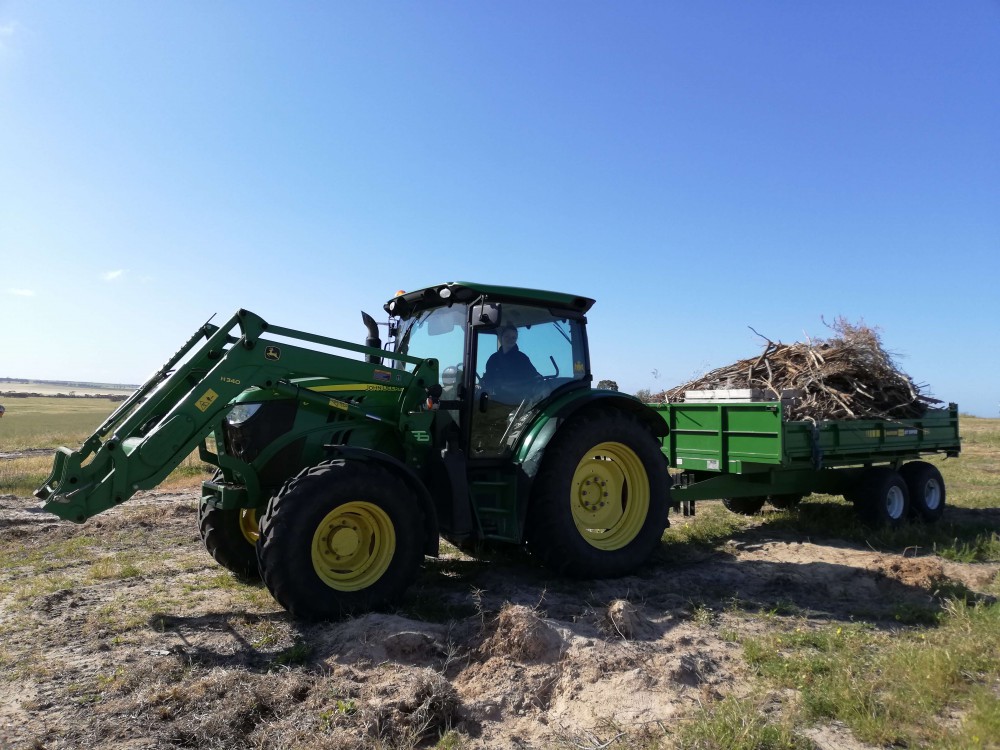 Picking and Packing Fruit in the Riverlands, SA
Nearest city – Adelaide, 260km 
Location
I went to Renmark, SA because a fellow traveller caught news of a hiring wave. Once she got into the packing shed and said she found a room for me to rent, I got on the next bus from Adelaide.
I rented a room in a farmhouse for $150/week (4 travellers plus owner). I had a 1 km walk to the packing shed, and received rides from fellow workers home. A car is not mandatory but helps.
The first step was visiting the Randstad office in town to get registered as a legal worker. I just needed my passport, basic CV (resume). Once I received my worker card I was legal to work on a farm picking. They put my name and cell phone number (needed a phone to receive my schedule) on a list for contractors who need workers. I also right away put my name on a list to work in the packing shed.
 What did the Job Involve – Picking Field?
I worked on the picking field for a total of 3 days before I was called back to Randstad to do a physical test to make sure I met the physical standards to work in the packing shed. (Basic, flexibility, ergonomic lifting, and bending, strength test to be able to move fruit boxes for a full shift).
During my days picking I averaged an 8-10 hour workday. It was pretty flexible, if you filled enough bins and were satisfied with your earnings you could leave whenever, as well as take as many breaks as you needed- as long as you filled at least 2 bins in a day. (I don't remember how much I made per bin…there was a team of 4 of us for one bin…think we made $30 each at the end of the day picking mandarins. And $25 for oranges)
For picking they took the value of my picking bag and clippers out of my paycheck. Steel toe boots were recommended but not mandatory. Once I moved from picking to the shed, I sold my equipment to another traveller.
What did the Job involve – Packing Shed?
In the "Packing Shed" I started by working 12 hour day shifts, total of a month($21/hour). But was on the list to be moved to night shift ($27/hour). I worked in the packing shed for a total of 5 months.
In the packing shed we were required to purchase our own reflective vests. Steel toe boots were not required but a suggestion. Long hair must be tied up, no jewelry (bracelets, necklaces or earrings) gloves and earplugs were provided to us. We had 2, 15-minute Breaks also known as "smoko" and lunch (don't remember if it was 1 hour or 30min). Our schedule was emailed and texted to us every Friday.
As I was one of the few native English speakers in the shed (I worked with a lot of Asian and Europeans) I was moved around to various work stations to learn all the jobs and later move up to sorting supervisor.
Tasks included building crates and boxes, sorting the fruit into different classes of 1st grade (perfect for grocery stores), 2nd grade (discounted for grocery stores), 3rd grade (is juice category), and then there is garbage (mouldy or bug-infested fruit). And after sorting there is the box line, where we put the 1st and 2nd-grade fruit into boxes. The shed was very "gender" segregated. Girls worked on the sorting and boxing lines, while boys worked on the forklifts and stacking the filled fruit boxes onto pallets.
Accommodation 
After 2 months I moved out of the farmhouse and into larger farmhouse (my landlord was unpleasant).  Paid $100/week and had free wifi, full kitchen, laundry, very comfortable farmhouse. I would recommend this farmhouse owned by a pair of Aussie brothers. They were incredible landlords and quickly became family! There are supermarkets and other shops in the Renmark area, as well as other amenities.
Nadia – Jeff and Nadia Travels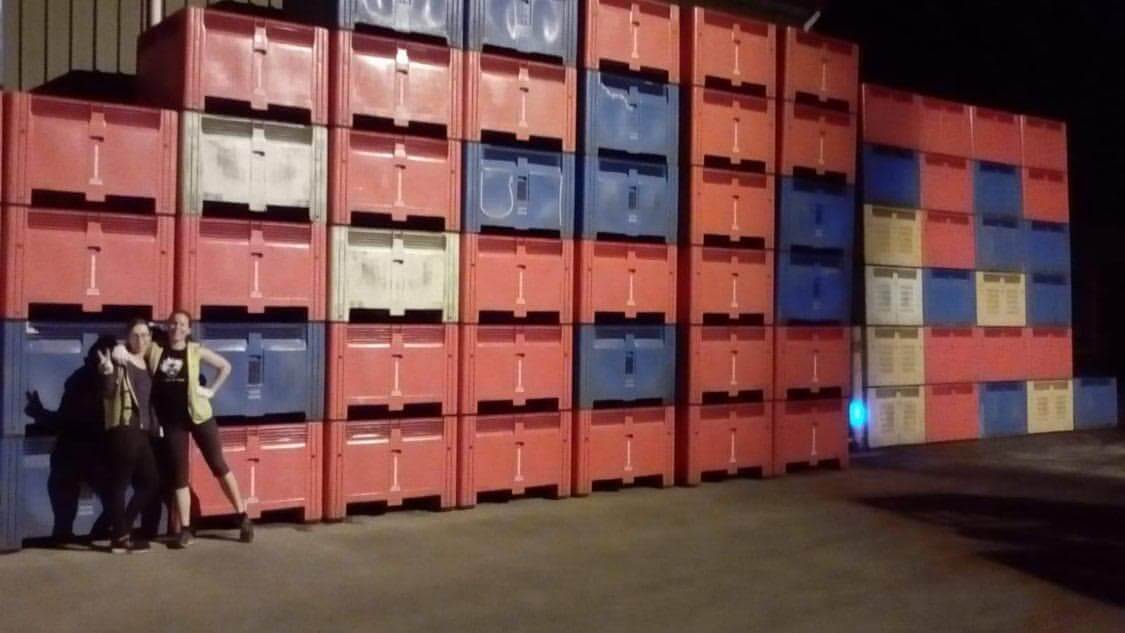 Also Read – Our Farm Work Experience – 2nd Year Visa Australia
Potato Farm in the Barossa Valley, SA
Nearest city – Adelaide 40km
Location
Charles and I both worked in a potato factory, Gawler, Adelaide. We couldn't say we enjoyed this work, but we were lucky with the factory and our roles.
What did the Job Involve?
I, Kate, was on the grading belt, this involves removing the bad potatoes from a moving belt. Charles was on the packaging line, loading bags and boxes of potatoes onto crates, ready to be shipped to Woolies, Coles and Mcdonalds etc. We were also inside the factory rather than the field, this was amazing during the summer time; although no aircon, it still helped to be inside burning these summer months. We were paid hourly, 24.66$ but only received 18-50 hours per week, it varied dramatically due to mechanical breakdowns.
Accommodation
We found the work through a family friend for also worked at the factory as a maintenance worker, so we managed to avoid the working hostel and stayed with Charles family nearby. The working hostel is in Barrossa Backpackers, and we visited friends there a couple of times and it seemed as fine as a working hostel could be! We would recommend this factory to others, but it took us 4 months to actually receive our 88 days as the hours varied every day. This can be a little frustrating, but we got paid weekly and worked with some lovely locals and other backpackers. There are supermarkets and other shops in the Gawler area, as well as other amenities.
Kate – When Wandering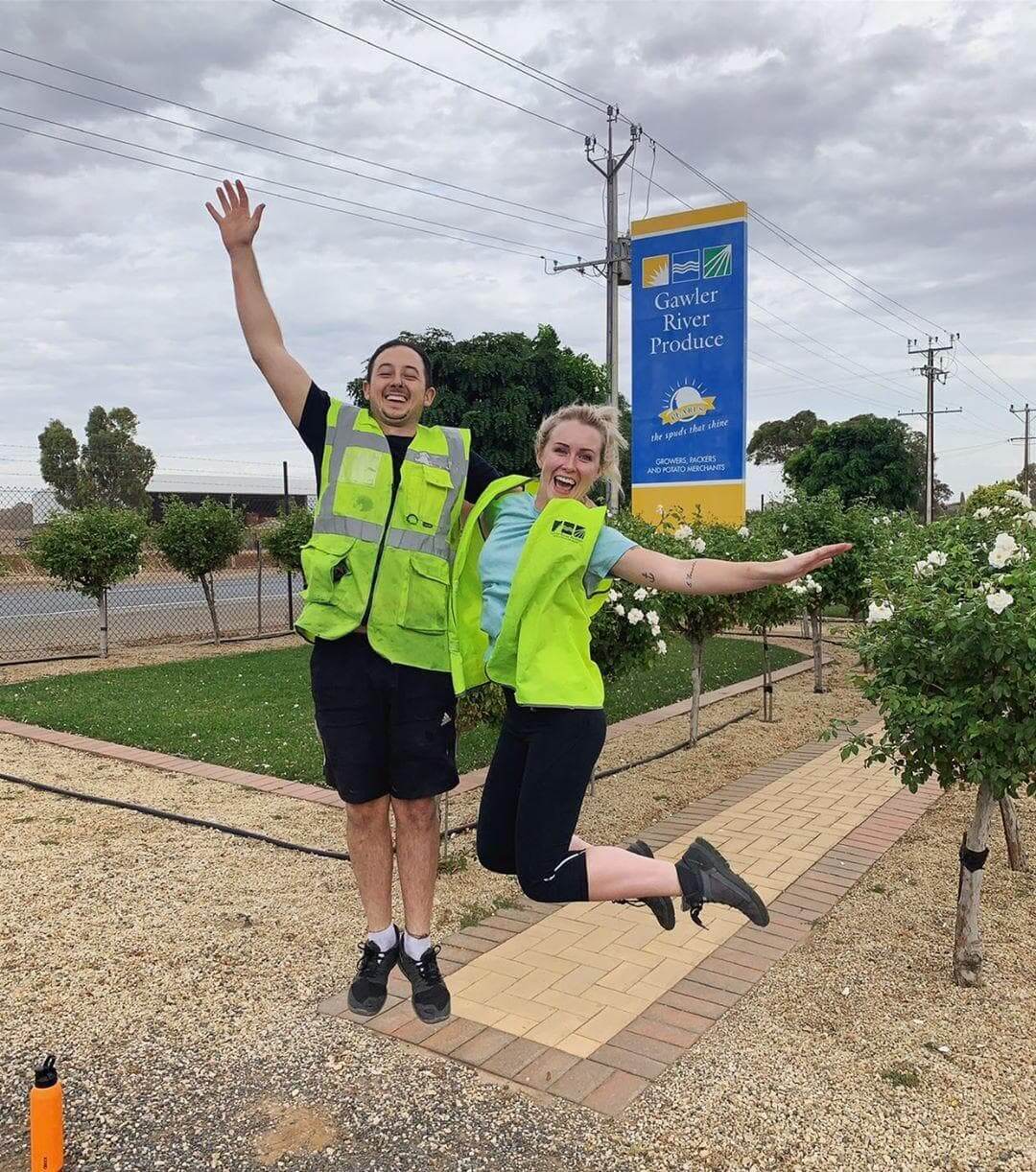 Also Read – Does Nursing Count Towards my Australian 2nd Year Visa?
Free Range Egg Farm, South Australia
Nearest city – Adelaide 1 hour
Location
Our 88 days ended up being 300+ days as we worked for 5 months at our farm and went back for another 5 months! We worked at a free-range egg farm in South Australia about an hour North of Adelaide.
What did the Job Involve?
The job was monotonous but not at all difficult; checking the chickens 3 times a day, picking up the eggs that they lay on the floor and then packing the eggs into trays that are taken to be graded in the 'grading room' where they are thoroughly checked to ensure that only the eggs in perfect condition go out to the supermarkets and bakeries.
Accommodation
One great thing about this job was that it was an hourly rate. We got paid the minimum wage which is still fairly decent at around $25 an hour, on Sundays we got paid $35 an hour and we got paid $50 an hour on public holidays! The town we lived near was small but it had everything we needed to live comfortably. We lived in a house provided to us by the farmers and we paid $106 a week each in rent. The house was big and we shared it with four other backpackers but each couple had their own room.
I wouldn't recommend this job if you're squeamish or don't like getting your hands dirty because chickens are smelly, dirty and pretty gruesome when they want to be. Not only that, chickens can become unwell and lots of them die – guess who has to remove dead chickens from the shed? – YOU!
All in all, we were lucky we had a great experience with our farm work and would absolutely recommend you go and try it out.
Sean and Rhianne – Wanderfully Living 
So there you have it, a guide to some of the
different farm work jobs
experienced by backpackers in Australia. If you are thinking about giving farm work a go, or have already completed your 88 days, and have any other questions on what to expect, leave us a comment down below. We love to chat about this stuff! If you have already completed it, let us know how it was and where you worked! What was your favourite part of the job? Did you see any scaley friends whilst working on the farm? Would you like to write about your experience on this post?
Let us know in the comments below
! Also, remember to share this with your friends and family that may be thinking about giving farm work a go too.
Sharing is caring
and we want to share as much information as we can about our experience, to make sure you get the best experience out of this part of your Australian visa too. If you are planning an Australia trip soon or you are already here, then check out our
other Australia content right here
. Come and 
find us on social media
to see where we are currently exploring. Tag us in your photos from your farm work and other Australian adventures and we will share them with the rest of our community of explorers and backpackers.
Now Read:
This article may contain affiliate links that provide us with a small income. For more information read our Affiliate page.
---
Pin it for later!