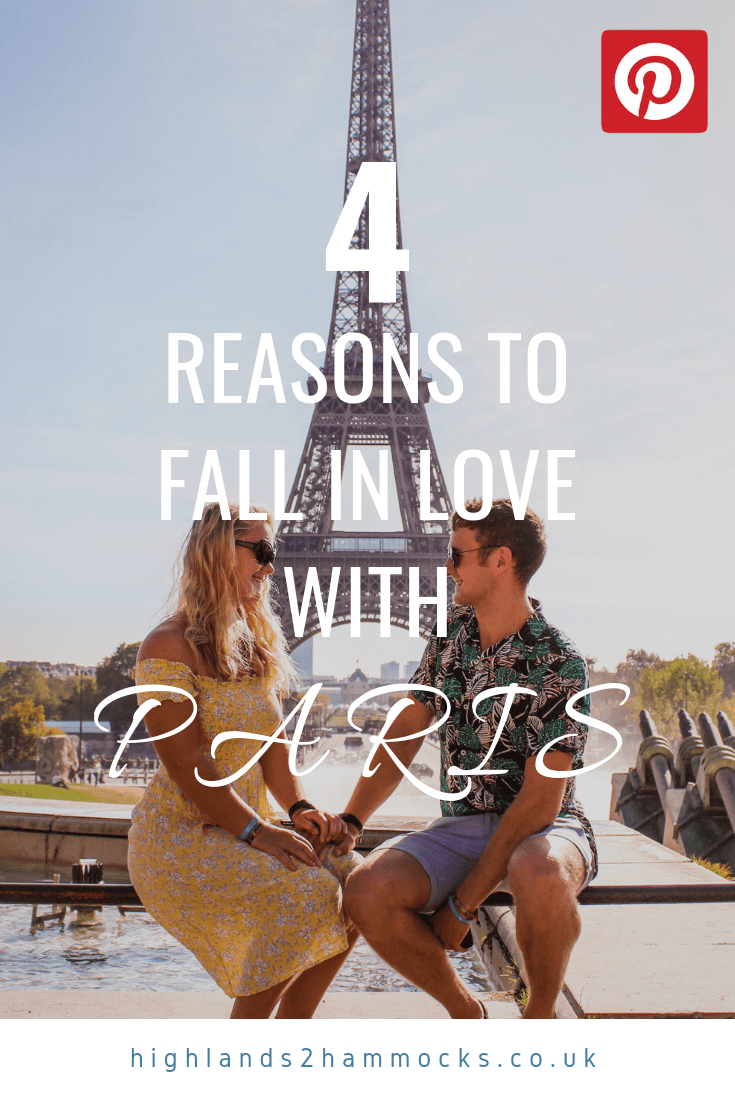 A city famed for romance and love, Paris is a city like no other. Everyone that visits will fall in love with Paris. Whether you are visiting to try French cuisine, see the Eiffel Tower in person or submerge yourself in the French way of life, you are bound to fall in love with the French capital.
Paris is an obvious choice for any European explorer and being just across the pond from the UK, it is an easy visit for neighbouring islands too. Your first visit to Paris will definitely not be your last.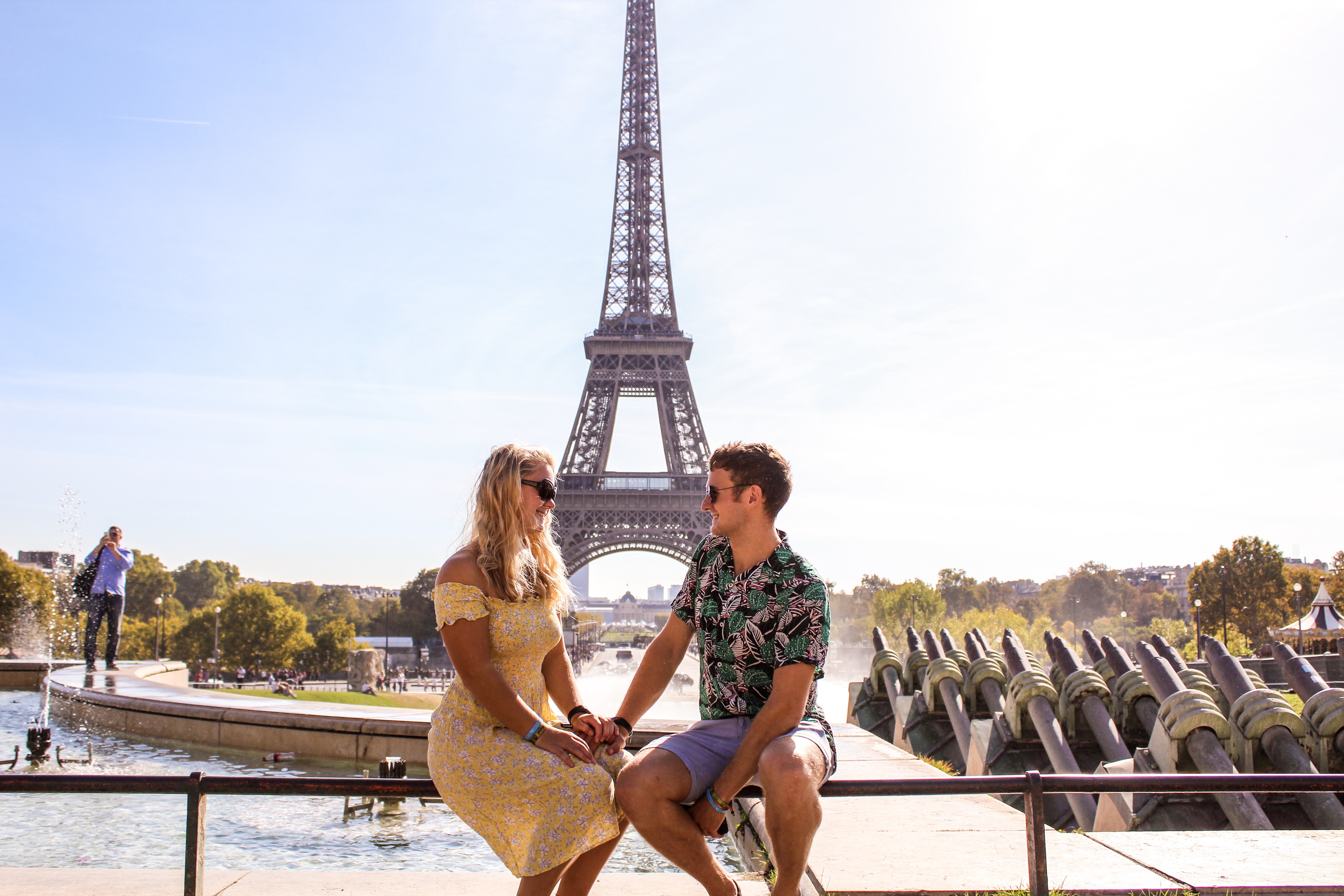 Paris, often referred to as the "City of Love," is a magical destination that captures the hearts of its visitors. With its enchanting streets, world-renowned landmarks, and delicious cuisine, it's no surprise that Paris is often visited by those looking for a romantic weekend away. Strolling hand-in-hand along the Seine River, admiring the twinkling Eiffel Tower, or sharing a sweet treat at a charming patisserie, it's easy to see why Paris is the city of love. The city's rich history, beautiful architecture, and vibrant arts scene make it a city that many people would love to visit. 
Four Reasons to Fall in Love with Paris
Disneyland Paris
As one of the best day trips from Paris, no trip to the city of love is complete without a day at Disneyland Paris. This attraction is just as adult friendly as it is for children. To get to Disneyland Paris from the city centre of Paris is really simple. There is a train service dedicated solely for it which will take you straight to the gates.
No French is required as all you need to do is mention it to any train ticket salesman and they will know what you want. Despite this, I did try to show off my 2 months of French practice to Gemma and failed miserably..
The train ticket from the centre of Paris will cost around €15 and you can purchase this either at the desk in the train station or from one of the ticket machines.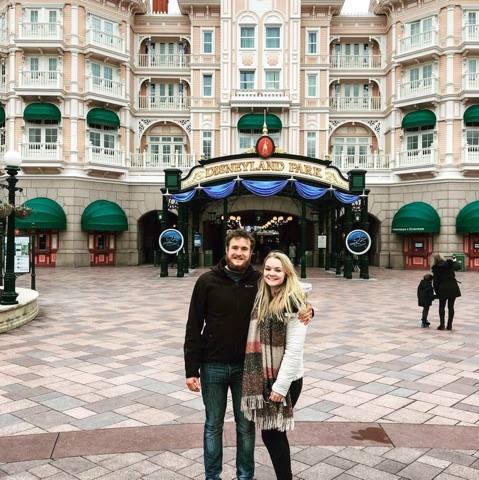 Best of all, we managed to get two for one ticket on a special discount from the website! Buy your tickets and check out the current deals here.
Some things I will recommend about using the park are:
Plan your trip
If you want to make the most of the rides you need to plan out your route. There is a LOT of things to do when you get there and you will want to make the most of every minute. Get yourself a map before getting on the train and have a chat about what you want to see and when!
Use FastPass Tickets
Unlike other parks, the FastPass in Paris is completely free! How it works is you get a ticket from the ride with a designated time to return at. This allows you to go and see other attractions and return to a much shorter queue. However, you can only have one active FastPass ticket at a time, so make sure you get it for the ride you want to do most and then work your way down the list.
Bring a Packed Lunch
As you can probably guess, the cost of anything inside the park is EXTORTIONATE! You can pay up to about 12euros for the equivalent of a McDonald's burger and drink. Make up some sandwiches or pasta and bring it with you to save a LOAD of money. There are also plenty of water fountains dotted around the park, so bring a refillable bottle and stay hydrated for free.
However, if you want the full experience of Disneyland, you need to explore the inside of some of the restaurants. Throughout the park each different zone has its own theme, and the restaurant are no different. Stop in after the busy lunch hours, grab a coffee and let the decorations and staff transport you to somewhere far away.
Watch the Park Closing Ceremony
This is definitely our highlight of the day when it comes to Disneyland Paris. Personally, I am not a big fan of the afternoon parade and would rather spend my time on rollercoasters. The visual show and fireworks display at the end of every day in Disneyland are truly breath-taking. The amount of time and effort that goes into making this show a success 365 days a year is incredible!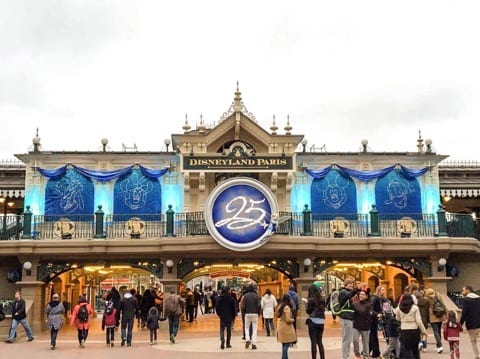 Food and Wine
Like anywhere in France (and most of Europe to be honest), the food is mouth-wateringly good. Whether its breakfast, lunch of dinner you are after there will be something for your choosing. As our hostel was slightly further north of the river (about an hour walk), we managed to find some very reasonably priced boulangeries and restaurants. The closer you get to the river and city centre of Paris, the more expensive things become.
For drinks it is always nice to hit the bars and experience some true French culture. However, any of the bars worth going to will charge an obscene amount for a drink. We found it was best to stock up on cheap (and delicious!) wine from the supermarket and get merry in our hostel. We could then hit the town for a drink to sip and enjoy the atmosphere.
Parisian Markets
On one of our aimless meanders through the old streets of Paris, we happened upon a street market. This lovely surprise soon led to disbelief by the sheer size of the market. Stretching for hundreds of metres down the centre of two roads, it had beautiful old buildings on either side. From food to flowers, antiques to absolute junk, this market offered the widest range of purchase I had ever seen.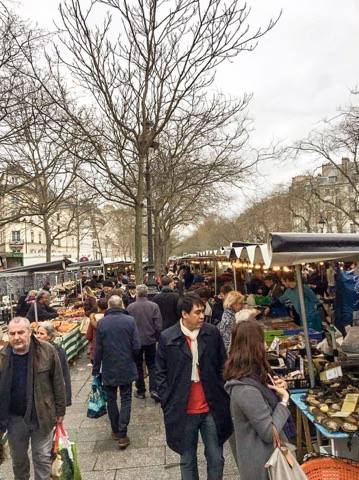 We wandered between the heaving stalls for almost an hour before deciding to eat some food: packed lunch wraps from the local shops that saved us a few euro. However, the fruit stalls looked so fresh and delicious we had to treat ourselves to some strawberries. So we sat and ate and enjoyed the atmosphere of the open air market, people watching and day planning.
Suddenly an old couple started to busk right beside us and our plans instantly fell apart as the beautiful country music from this cute southern American couple entertained us and time marched on.
The experience of our short time at this market still sits with me as I crave to be back there once again. Nothing can beat chilling to some blissful live music and munching on some market fresh strawberries. The lesson learned here is definitely get lost in this wonderful city and find something incredible!
Unforgettable Sights
Possibly the most well-known part of Paris, and France for that matter, is the number of beautiful sights there are to see. A day in this city is simply not long enough to admire even the most popular attractions. The Eiffel Tower, the Louvre Art Museum, the Arc de Triomphe and the Notre Dame Cathedral are just to name a few.
Eiffel Tower
On one particularly sunny day we spent almost an entire afternoon lying in the gorgeous parks near the Eiffel Tower. Here we lay admiring the beauty of this incredible feat of engineering. I usually find that these sights are pumped up and exaggerated so much by movies and other travellers that when you see them in person, you are disappointed by the normality of them.
When I find saw Big Ben I was shocked by how small it was (don't get me wrong, it is still an impressive landmark). The Eiffel tower, however, was even more spectacular in person than I had ever imagined! Dwarfing everything around it, this monument almost seems godly as it towers over the ancient houses in the surrounding suburbs.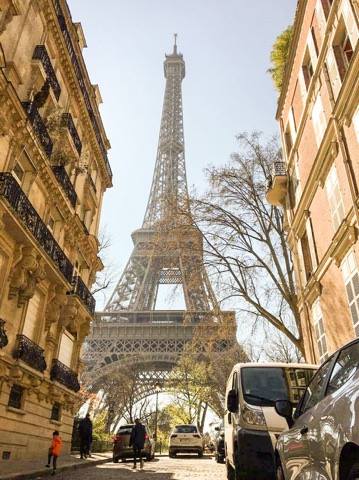 The Louvre
The Louvre Art Museum costs quite a bit of money to get inside (€17). It is still possible, however, to admire the exterior of this wondrous building and the surrounding parks. The trio of glass pyramids rise from the ground to hint of the beautiful pieces of historical work that lie beneath the ground. This area alone is a spectacular photo opportunity, however have fun competing for the best spot!
People watching here is also highly entertaining. People will be climbing and jumping to get the perfect picture with their finger on top of the pyramid. All very amusing for people on the other end of the photo.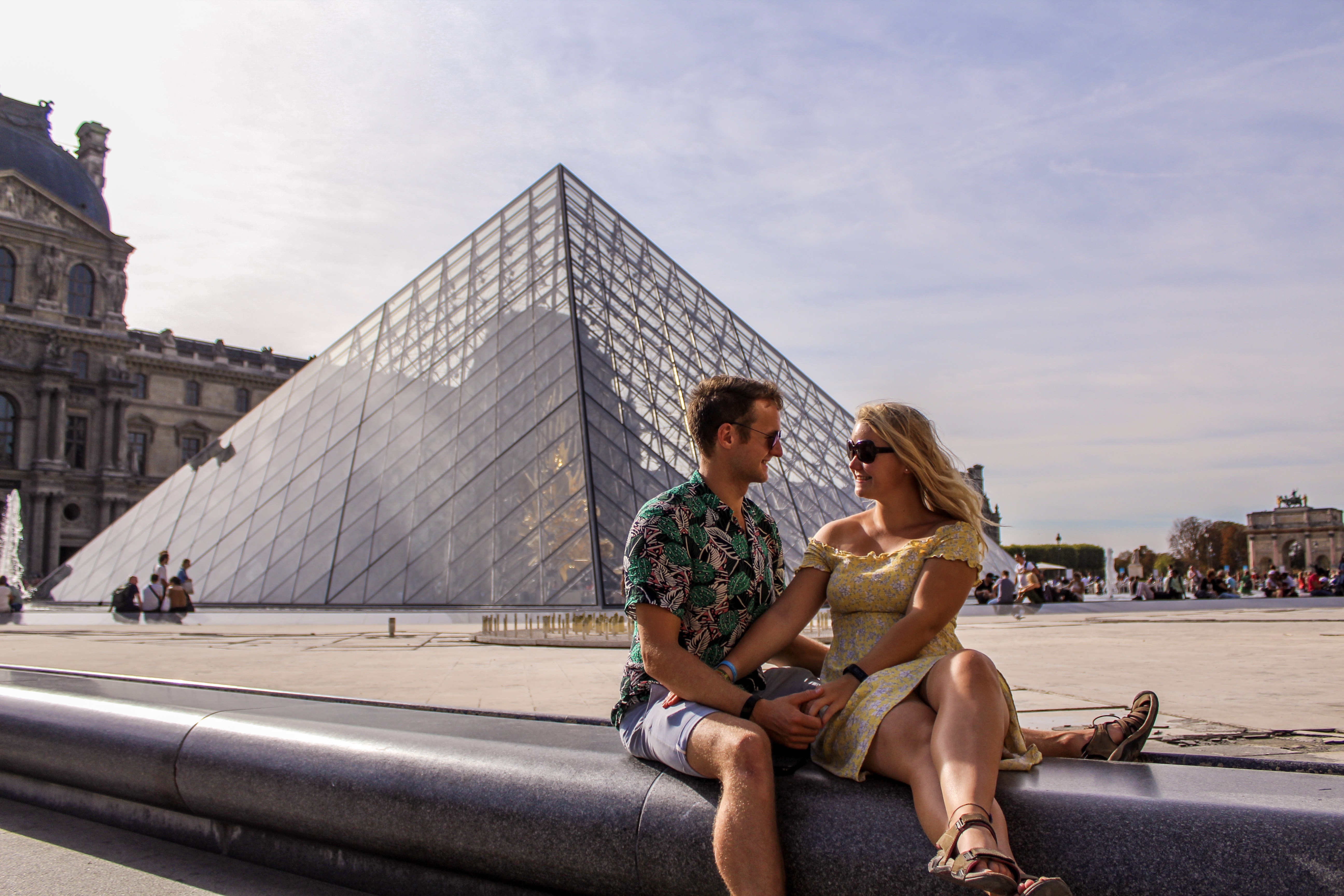 The River Seine
One other reason we fell in love with the city of Paris is the walk along the River Seine. From our hostel we would walk south for an hour to the river and then follow its winding path for an hour till we hit the Eiffel Tower. The river holds a large path on both of its banks, allowing pedestrians and cyclists to enjoy its tranquillity away from the bustle of the city. Cafes and bars are dotted along this route and there are plenty of spots to stop and have a rest to enjoy the views.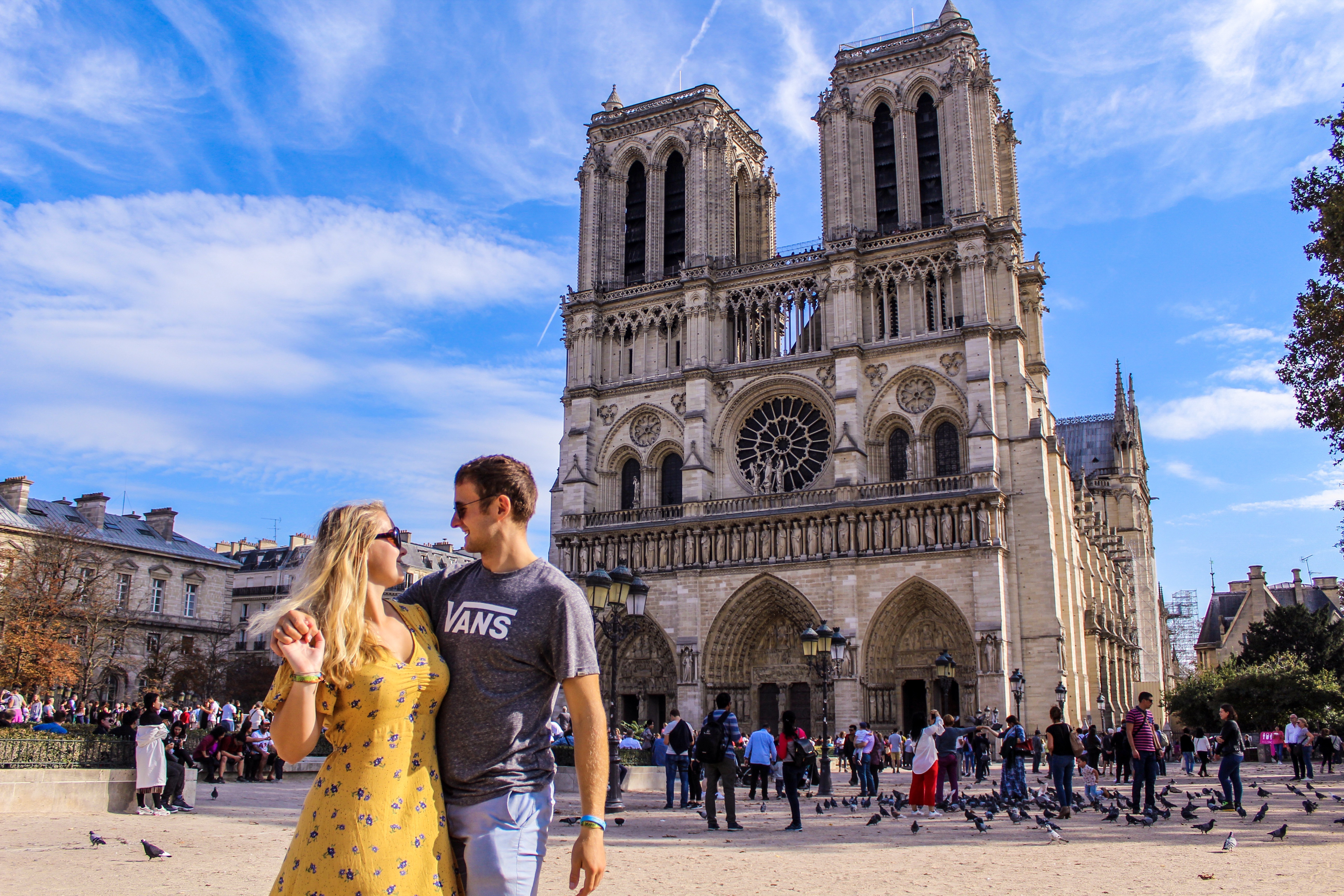 The Joys of Hostel Life..
One part of our trip that we DID NOT enjoy was the noise of other residents in our hostel. During both of the weekends we spent in Paris we stayed in the same hostel, the first weekend being a pleasant and enjoyable stay. The second weekend, however, was a very different story. The Saturday night was a late one, it was our last night together for two months and we were enjoying the local bars and restaurants. Home by about midnight and up at 6 for Gemma's flight, we were keen for a good night's sleep.
Our lovely neighbours did not receive this memo apparently. Between midnight and 3am the thin hostel walls were vibrating with music, bangs and loud Russian chat. Normally I can get to sleep when I lie and listen to people, but when it's in a different language and I have no idea what they are saying it is incredibly hard! At one point it sounded as if they were running a bath and fighting each other! Eventually they tired themselves out and went to bed, just in time for the hostel bar to start blasting music for another 2 hours. An hours sleep and then up at 6 left us both in a rather foul mood, not the best end to an amazing week in France..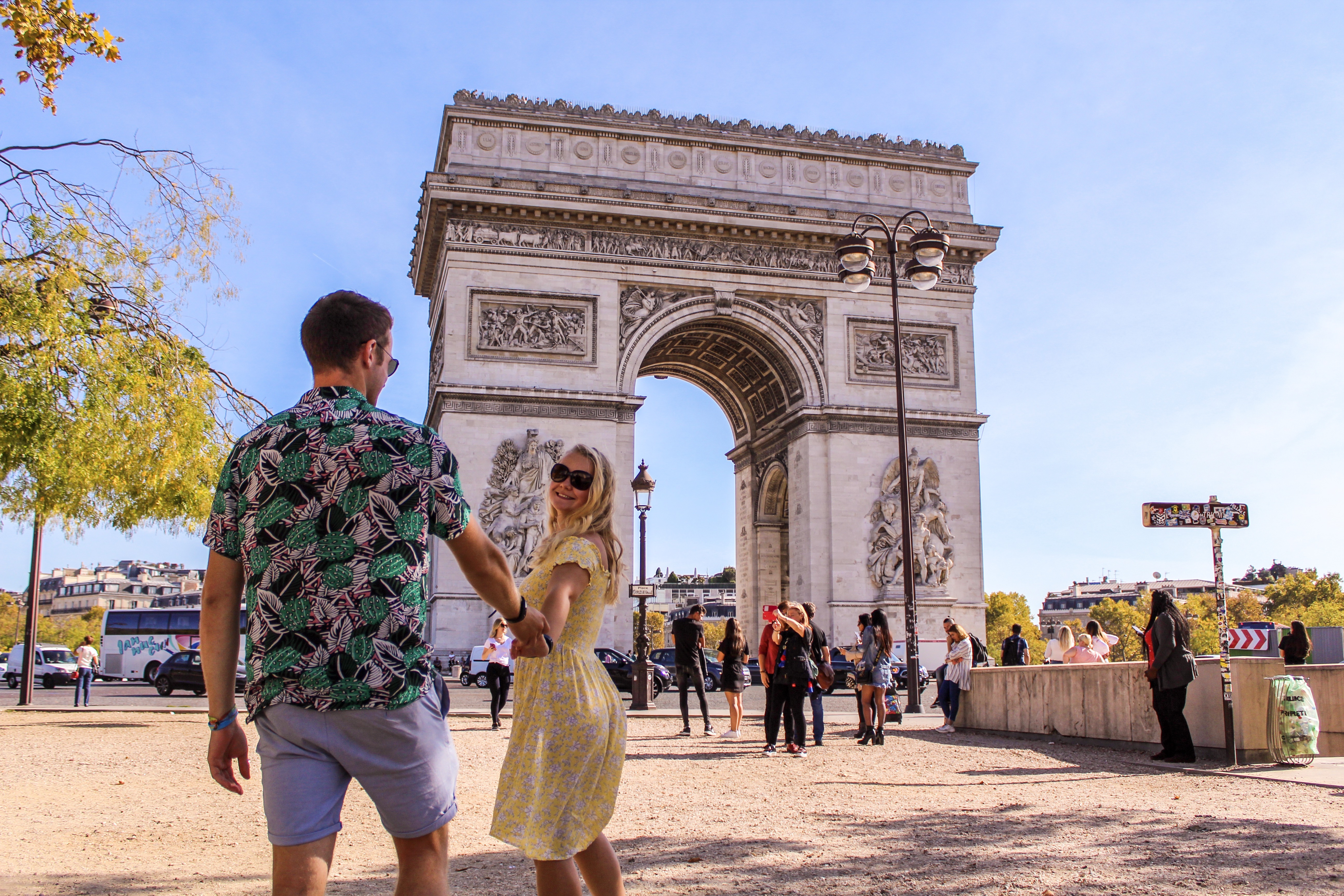 o
All in all, our time in the magnificent city was a memorable one that we would love to repeat again and again. Our main takeaways from this adventure had to be to get lost every now and again, learn to stop and smell the roses and of course read hostel reviews BEFORE booking!
Since this experience, we have learned our lessons with hostel life and have written a full guide for you guys to avoid our mistakes. Check out our Ultimate Guide to Hostels here.
If you enjoyed reading about this beautiful city then check out our other blogs on what to do in France here. Also catch us on social media to see what we are currently up to.
Read Now: 
Visit Paris: The Most Romantic City in the World
Top Destinations in Europe for 2019
This article may contain affiliate links that provide us with a small income. For more information read our Affiliate page.
---
Pin it for later!