A hidden gem in the Cairngorm National Park, not easy to see unless you are prepared to take the short walk to it is the Green Loch. Translated to Gaelic, An Lochan Uaine, means 'Green Lochan' and is pronounced oo-an-yi.
This magical spot is well worth a visit on your trip to Aviemore to see the beautiful colours against the backdrop of the mountains. 
No time to read now? No problem, save a pin to your Pinterest board for later!
Green Loch Aviemore (An Lochan Uaine) - An Unmissable Walk
The Green Loch is a beautiful place to visit just outside of Aviemore. In this guide, we will discuss the common questions asked about the Green Loch as well the following
Where is the Green Loch?

Why is it called the Green Loch?

Can you swim in the Green Loch?

Preparing for your trip to Aviemore
Where is the Green Loch?
The Green Loch is hidden in amongst the Caledonian pines at the bottom of the mountain Sgor. It is a short walk from the Glenmore Visitor Centre.
To get there, we would recommend parking at or nearby the Glenmore Visitor Centre. If you are facing the visitor centre, there is a road to your right that runs adjacent to the main road. Walk along this road, or the forestry pathway that runs alongside it until you reach a gate. 
Pass through the gate and the ground underfoot will become a little bit stoney but the views that open up when you pass through here are spectacular. After around a 20 minute walk, you will see a small entrance to your right leading to the Green Loch.
If you are up for walking a bit further, the Green Loch is the start of the walk for Meall a' Bhuachaille. This corbett is 810m high however, so make sure you are prepared.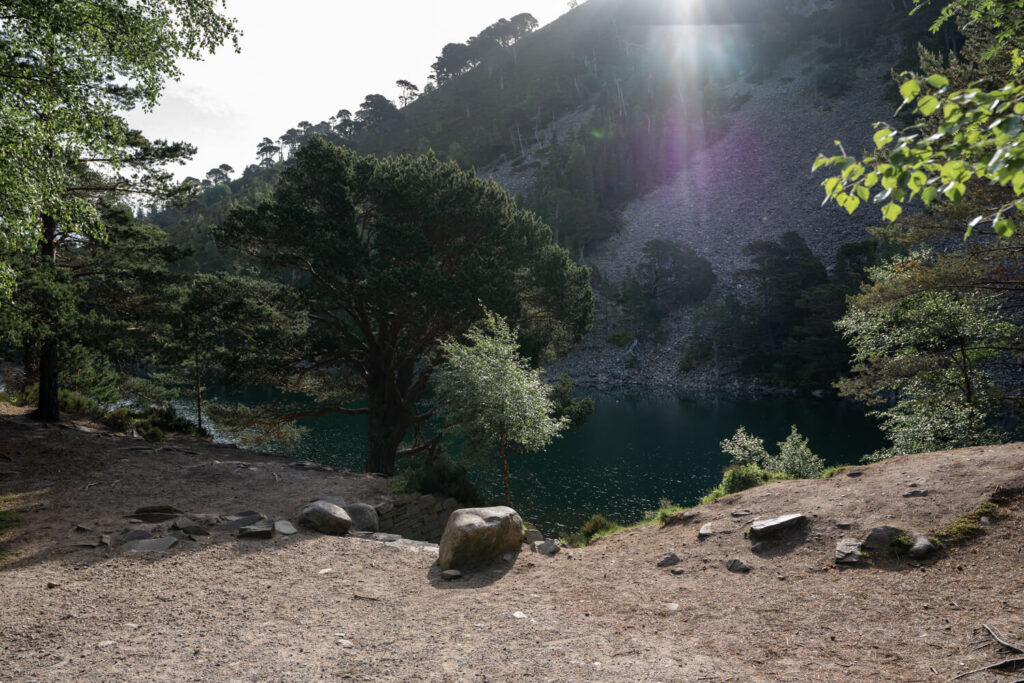 Why is it called the Green Loch?
The deep turquoise colour of the water gives the Green Loch its name. This colour most likely comes from the algae that is present in the water, as well as the reflection of the surrounding green pine trees.
According to local folklore, the loch is said to get its colour from the local fairies washing their clothes in it. It is said that when we are walking in this area we should wear something green to pay respect to the fairies.
This is a great place to visit in Aviemore in Summer as you the Green Loch will be well lit with the sunlight.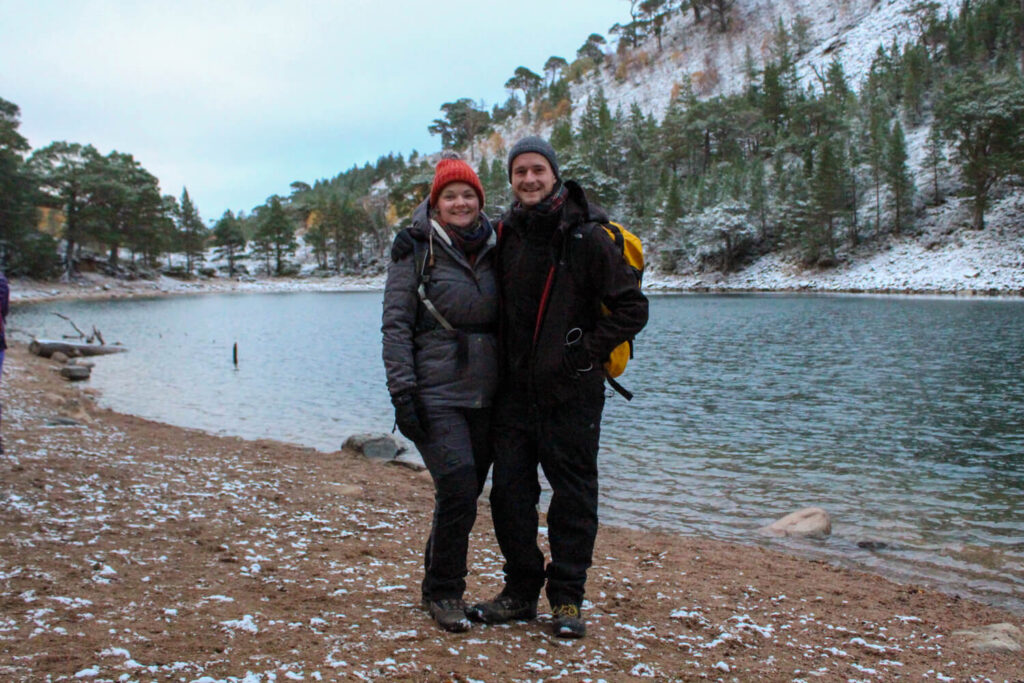 Can you Swim in the Green Loch Aviemore?
There is nothing to say that you can't swim in the Green Loch. The Scotland Outdoor Access Code means that in Scotland we can wild swim if we do so responsibly. 
Remember that the water in Scotland is very cold and will be snowmelt. Don't go alone if you are not experienced with cold water swimming.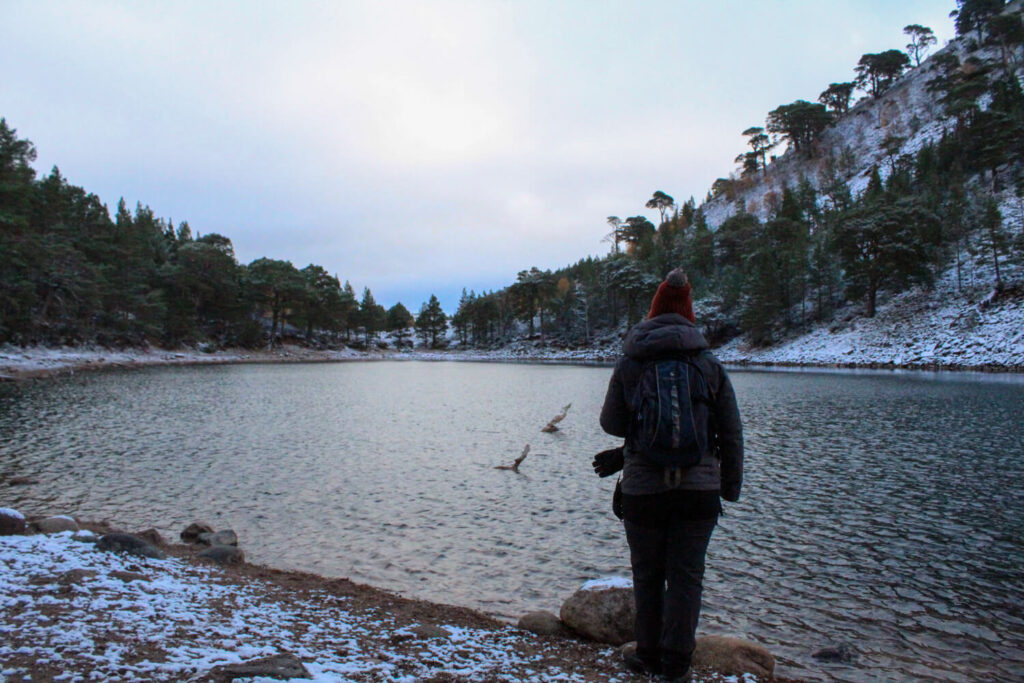 Before You Leave for Aviemore
Before you head off on your trip to Aviemore, there are certain things you will need to get organised to ensure a smooth trip. These include how to get around the route, including being aware of single track roads, etc., what to pack for Scotland, where to stay along the route and what travel insurance to book.
How Do I Get to Aviemore?
Aviemore has become the hub of the Highlands, with many people visiting all year round. The easiest way to get to Aviemore would be to drive as that will make it easier to get around when you get there. However there is always the option of getting public transport. Both trains and buses stop in Aviemore.
If you are looking to rent a cosy, reliable and luxurious campervan for your trip to Aviemore, we highly recommend hiring through Bunk Campers. We toured with these guys around the up-and-coming Heart 200 road trip in Scotland's central highlands and could not believe the comfort and customer service we experienced with their vans.
Browse the full range of vehicles on offer at Bunk Campers over here.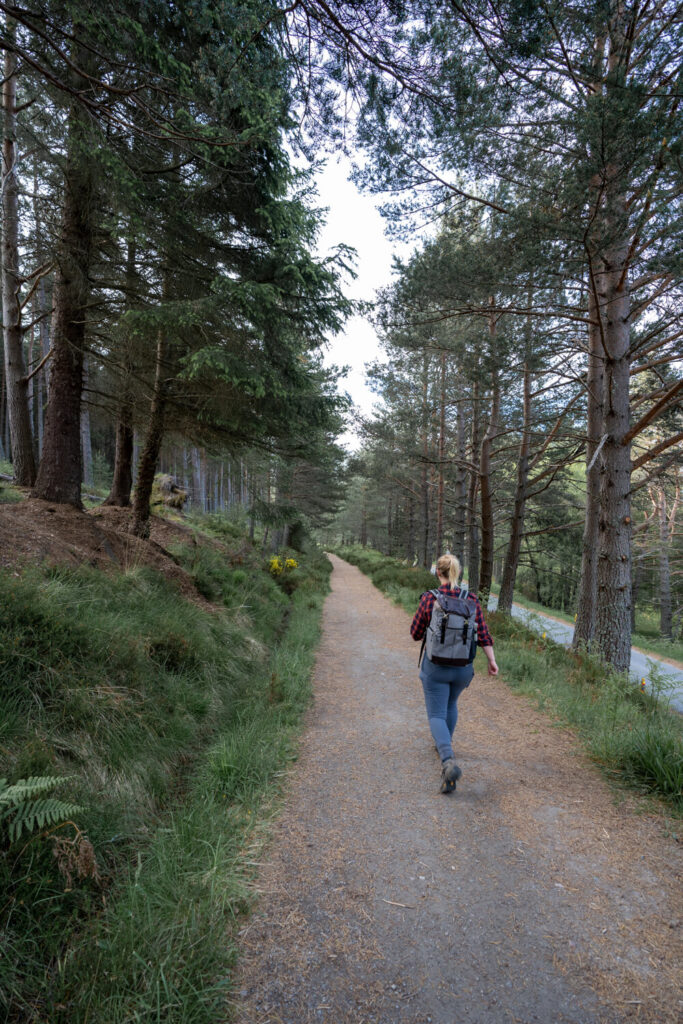 What Should I Pack for Aviemore?
When it comes to packing for a trip to Aviemore there is one item of clothing that you are going to need all year round: a waterproof. It rains in Scotland on average 250 days a year, meaning that during your trip to Aviemore you will probably experience at least a drizzle of rain. Due to this, the number one item on any Scotland packing list is a good waterproof jacket. If you are travelling in winter to Aviemore, it is also highly likely you will experience snow so we would recommend packing plenty warm clothing and waterproof shoes.
As for the rest of the year, the temperature in Scotland and the central heartlands is reasonably mild for most of the year. During the winter months, you will most likely experience snow, however, temperatures usually sit around freezing, so it is not too cold. For your reference, the average temperatures in Scotland are listed below during each season.
Spring (March, April, May) – 5-10 degrees C
Summer (June, July, August) – 15 degrees C
Autumn (September, October, November) – 5-10 degrees C
Winter (December, January, February) – 0-5 degrees C
As you can see, the weather never really gets above the teens, with anything over 25 degrees C considered a heatwave. The best way to pack for your trip to the highlands is with layers that can be added and removed as you need them. You will definitely need a hat and gloves during the colder months and will most likely need sunscreen to protect you on the long days in the open.
For our full list of items that we pack no matter where we go in the world, check out our full packing guides over here.
Given the beautiful sights and scenery that you are no doubt going to see around Scotland, we highly recommend packing a good camera for your trip. If you want to read more about the cameras we use and why we love them, check out the link below.
You can read what else we keep in our camera bag over here.
Where Should I Stay in Aviemore?
There are many accommodation options in Aviemore, however due to how busy this small town is, we would recommend booking in advance.
Luxury – MacDonald Morlich Hotel is a beautiful hotel in the Cairngorm National Park with 7 bars and restaurants on site as well as leisure facilities. There is even an onsite cinema and a championship golf course nearby.
Book your stay at MacDonald Morlich Hotel here.
Mid-range – The Cairngorm Hotel is located in the heart of Aviemore and is perfect if you are wanting to stay local to bars and restaurants in the town. Each morning a full highland breakfast is available to guests and there is a bar and restaurant onsite for your needs.
Book your stay at the Cairngorm Hotel here.
Budget – The Aviemore Youth Hostel is situated in the town of Aviemore and in the perfect location for a walk into town or a walk to the mountains. There is a range of facilities including private rooms and dorms, a lounge area and a self-catering kitchen.
You can book your stay at the Aviemore Youth Hostel here.
Camping is also extremely popular in Aviemore. There are a number of campsites in the area such as High Range and Rothiemurchus Camp and Caravan Park.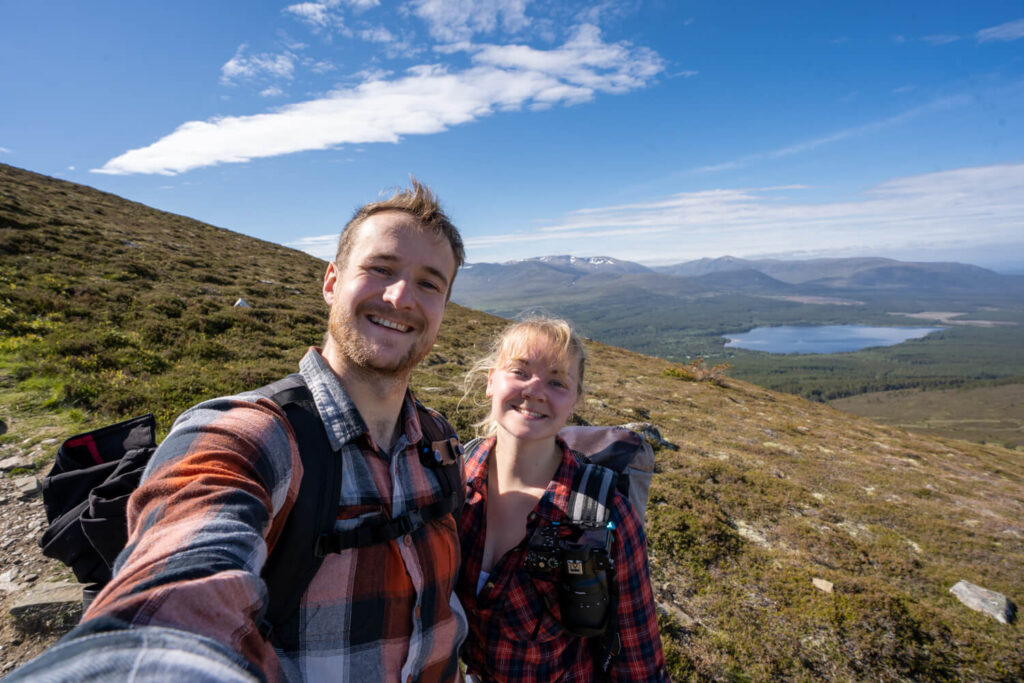 What is the Best Travel Insurance?
I know travel insurance is the least enjoyable thing to purchase and look at when you're planning a trip, however, you wouldn't want to be without it in the event that something happened. Accidents can happen anywhere and the extortionate medical bills will ruin your trip if you are not covered.
To ensure you have a stress-free trip with no worries about potential medical bills, make sure you cover yourself when you travel. We can recommend using SafetyWing, a backpacker-friendly and cheap insurance company that provides good coverage and support. It is also nomad-friendly, unlike most other insurance companies, meaning you do not need to worry about being out of your home country for too long.
Get a quote for your travel insurance right here and get covered!
So there you have it, a guide to the Green Loch in Aviemore. If you have visited Aviemore recently, let us know what you thought of the walks in the area and the Green Loch. If you have any suggestions for things to do in the area, let us know in the comments below.
As always, sharing is caring so make sure to share this photo guide with your family and friends and inspire them to head off on their own Scottish adventure. If you are planning the trip for yourself, make sure you have a look at the rest of our Scotland content for more inspiration to our beautiful home country.
When you set off on your own adventure, be sure to tag us in your photos on Instagram and we will share them with the rest of our community. In the meantime, why not follow us over there to see what we are currently up to and keep up with us on our Instagram Stories.
Now Read:
This article may contain affiliate links that provide us with a small income. For more information read our Affiliate page.
---
Pin this image to your Scotland Pinterest board for later
No time to read now? No problem, save a pin to your Pinterest board for later!