Disclaimer – We stayed at the Larch Green Lodges as part of a collaboration. The opinions below, however, are ours and are in no way influenced by this. 
If you're looking for a relaxing and secluded getaway in Scotland, the Larch Green Lodges in Langbank are definitely worth checking out. These self-catering lodges offer the perfect combination of privacy, luxury, and stunning views over the River Clyde towards Ben Lomond whilst also been close to civillisation and only 20 minutes from Glasgow.
One of the standout features of these lodges is the hot tub, which is the perfect way to unwind after a long day of sightseeing or hiking. 
But if you'd rather stay put and enjoy the peace and quiet of your own private garden area, you can fire up the BBQ and cook up a storm while soaking in the hot tub. There's nothing quite like enjoying a meal under the stars while surrounded by nature.
No time to read now? No problem, save a pin to your Pinterest board for later!
Larch Green Lodges – Luxury Lodges with Hot Tub near Glasgow
Larch Green Lodges
Location of the Larch Green Lodges
Relax in the Lounge
Unwind in the Bedroom
Get Naked in the Bathroom
Cook up a Feast in the Kitchen
Indulge in the Local Food
Enjoy the Views from the Hot tub and garden
Fox and Pheasant Lodge
Buzzard Lodge
Larch Green Alpacas
Overview of our Stay at the Larch Green Lodges
Preparing for your trip to the Glasgow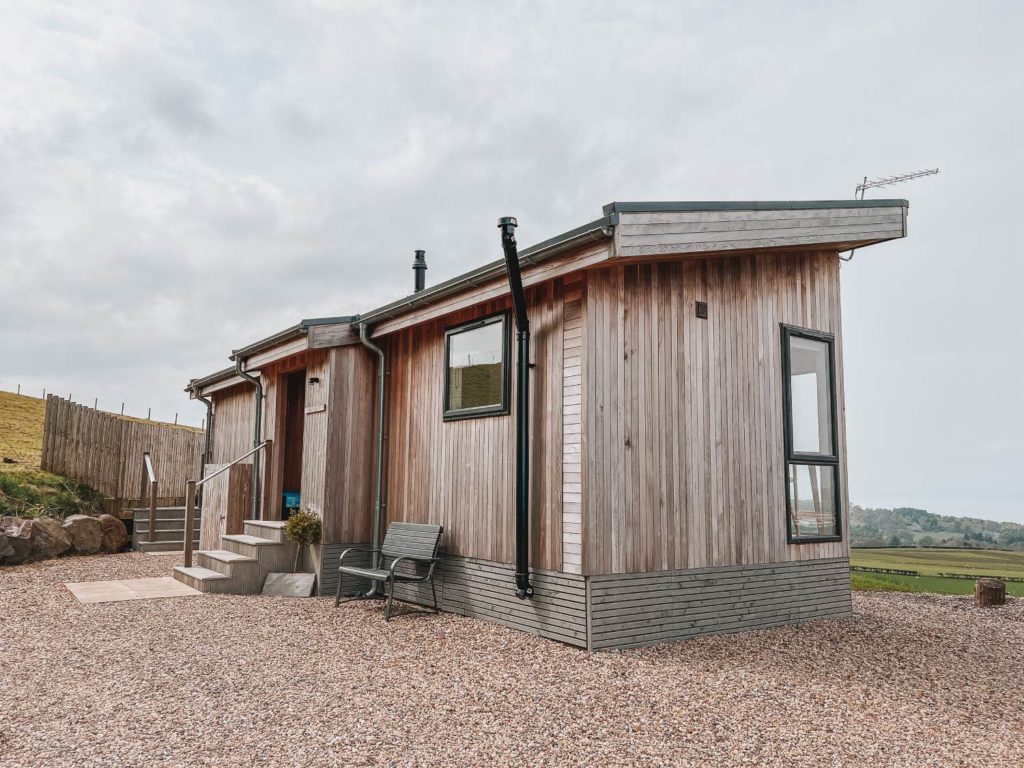 Larch Green Lodges
There are currently three lodges on-site at the Larch Green Lodges. Pheasant and Fox Lodge which sleeps four people and Buzzard Lodge which is a little smaller and sleeps two people. Each lodge has its own private garden and balcony area with a BBQ and a hot tub with spectacular views. 
If the weather is nice, this is a perfect place to have a BBQ in the garden and relax in the serenity of your surroundings. Each lodge also has a grassy area outside with comfortable chairs where you can relax and admire the views from.
Inside the lodge, you'll find everything you need for a comfortable stay. The log cabin-style accommodation is both cozy and spacious, with a warm fire to keep you toasty on cooler nights. And with the lodges being self-catering, you can come and go as you please, and cook your own meals in the fully equipped kitchen.
There is free wifi in all the lodges and the password is available in the lodge. 
When you make your booking at the Larch Green Lodges, you will receive a booking confirmation with the lodge name and a key code. The key code will give you access to the small key safe that sits on the outside of the lodge with your key inside.
If you need any assistance when you are in the pod, you will be able to contact the friendly family that owns the lodges and they will be able to assist you. 
You can book your stay at the Larch Green Lodges right here.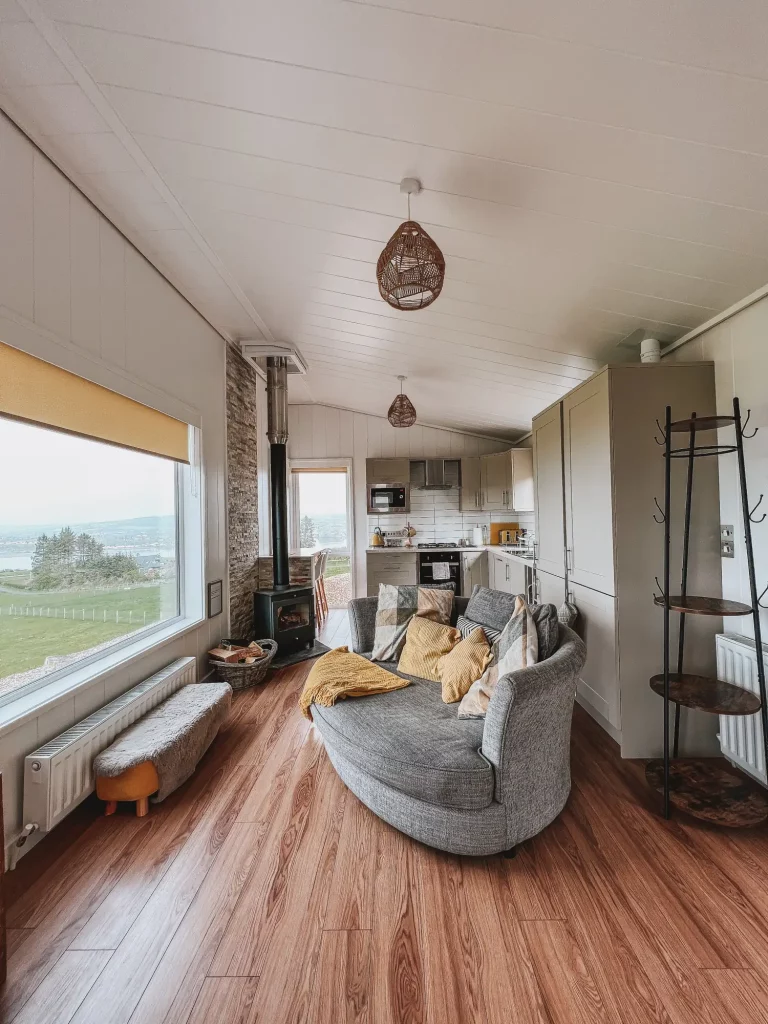 Location
of Larch Green Lodges
The location of Larch Green Lodges is perfect if you are visiting Glasgow or the local area as it sits only a short drive or train ride from Glasgow. It is also around 30 minutes to Loch Lomond and Largs.
However, staying at Larch Green Lodges feels totally removed from civilization, sitting under the forest and surrounded by fields it is a very peaceful location. 
There is a single-track road leading to pods, past Gleddoch Hotel. You will pass the resident alpacas on your left and the next left will take you up to the lodges. There is a spacious parking area with an electric charging area per pod for an additional charge.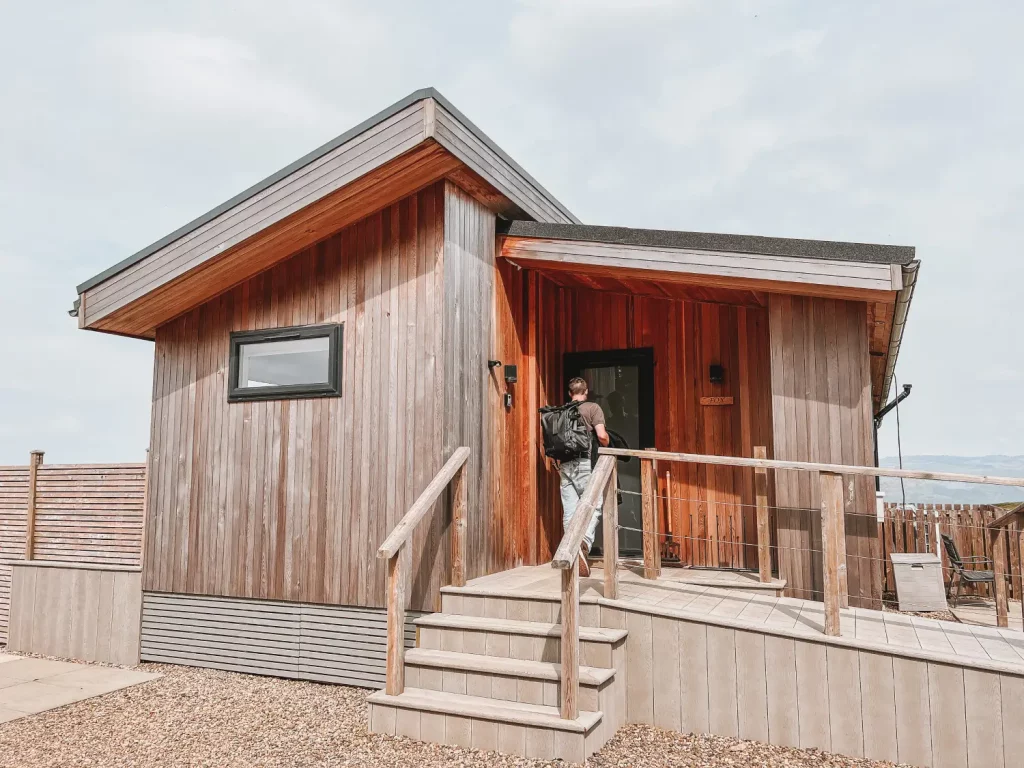 Relax in the Lounge
In the Fox Lodge, we had a very comfortable lounge area with two double couches and one single chair. There is a flat screen TV and also great views out the large windows across the River Clyde. The TV has Netflix and other catch up apps, including YouTube, as well as the standard satellite channels. If you are wanting to charge your devices, there are plenty of charging points around the pod, both USB and 3 pin plugs.
The interior inside the pods is very modern and they are decorated with beautiful paintings throughout. The lodge is well insulated and there is a fireplace which when lit keeps the lodge nice and warm. 
Pictured below is the cosy lounge area in buzzard lodge.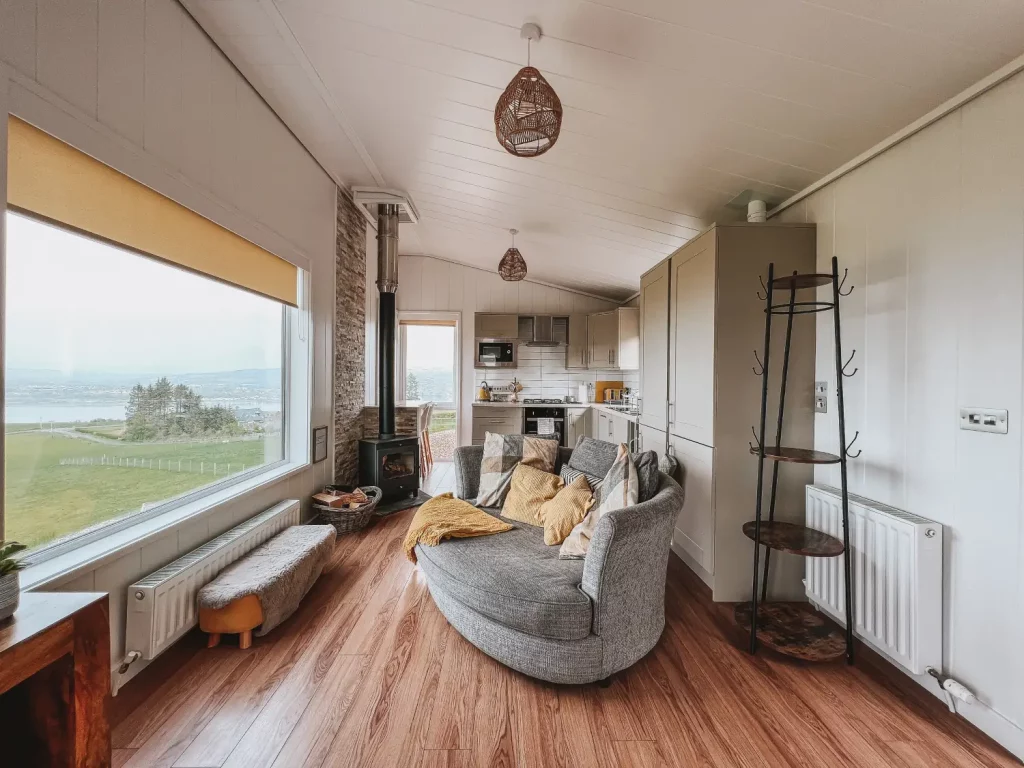 Unwind in the Bedroom
Fox Lodge and Pheasant Lodge both sleep 4 people and have 2 en-suite bedrooms with king-size beds. Each of the bedrooms has large patio doors leading out to a balcony with fantastic views from the bed. The bedrooms have a small wardrobe with a full-length mirror and a small dressing area.
Pictured below is the bedroom area in Buzzard lodge which is a smaller lodge and therefore more open plan.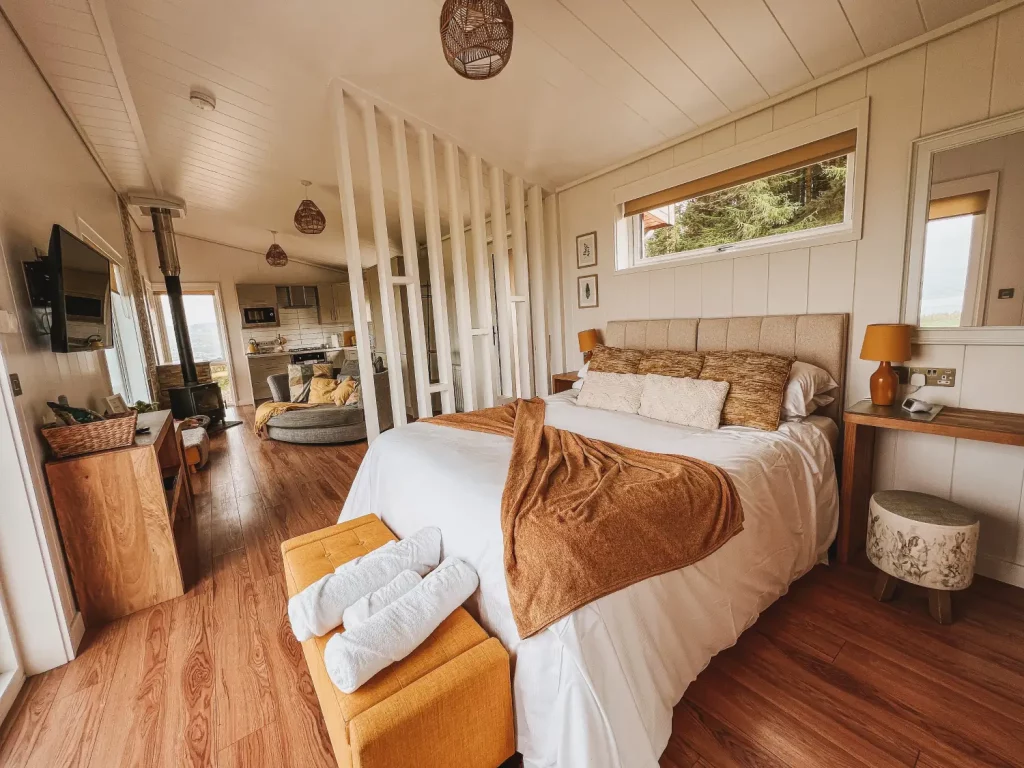 Get Naked in the Bathroom
In the 4 berth lodges, there are two en-suite bathrooms. One has a waterfall shower head and the other with a bath/shower.  To save you from bringing your own, bath towels and hand towels are included in the room as well as dressing gowns hanging on the back of the door.
Cook up a Feast in the Kitchen
Each lodge is fitted with a small, well-equipped kitchen area, complete with utensils, a microwave, oven, kettle and toaster. There is also a dishwasher and washing machine. A dining table with 4 seats sits in the kitchen area for dining.
Below is the kitchen area in Buzzard lodge which is bright and open with everything you need to start cooking!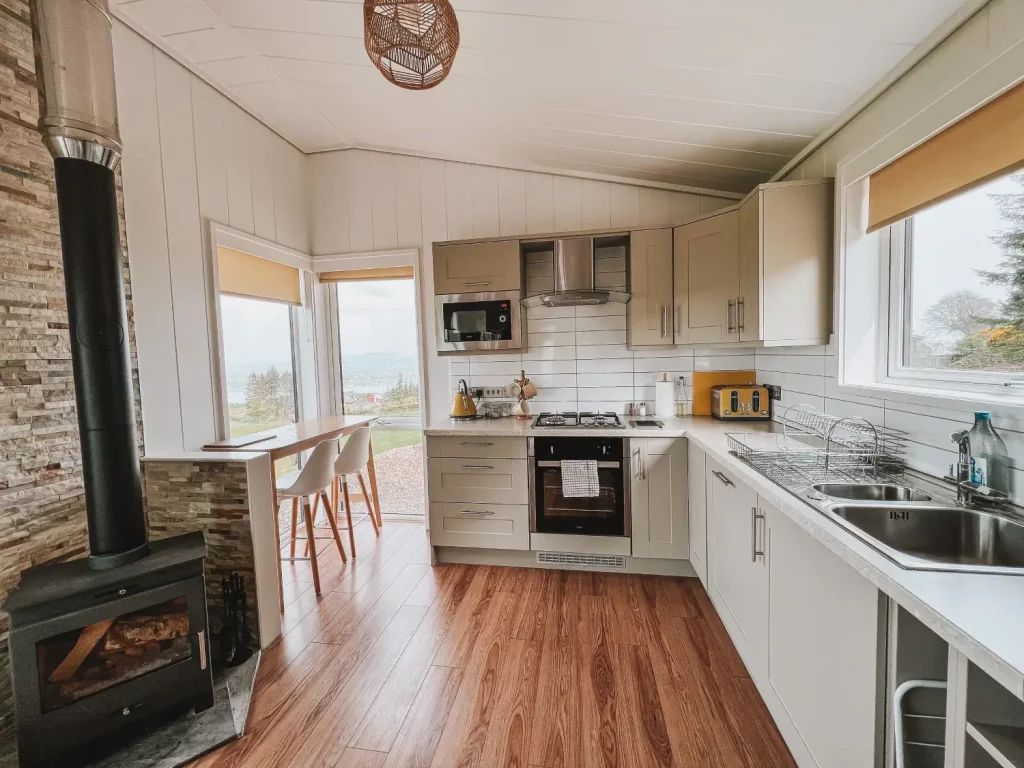 Indulge in the Local Food
There are many great places to eat out in the local area. One of our favourites is Coast which serves a variety of great food for breakfast, lunch and dinner and has great views from the large windows over the Clyde. 
The Gleddoch Hotel is also nearby as well as some cafes and restaurants in Houston, Kimacolm and Bishopton. We would also recommend visiting Lorimers, Scoff and Patter and Ingliston. 
If you are wanting to buy food before you arrive at the Larch Green Lodges, there is an Aldi and Morrisons in Erskine and a Co-op in Bishopton.
There are recycling facilities onsite to dispose of your waste.
Enjoy the Views from the Hot Tub
A little something to make your stay at Larch Green Lodges that little bit more luxurious is the private hot tub outside your lodge.
This is a lovely way to enjoy the views whilst soaking in the toasty warm water.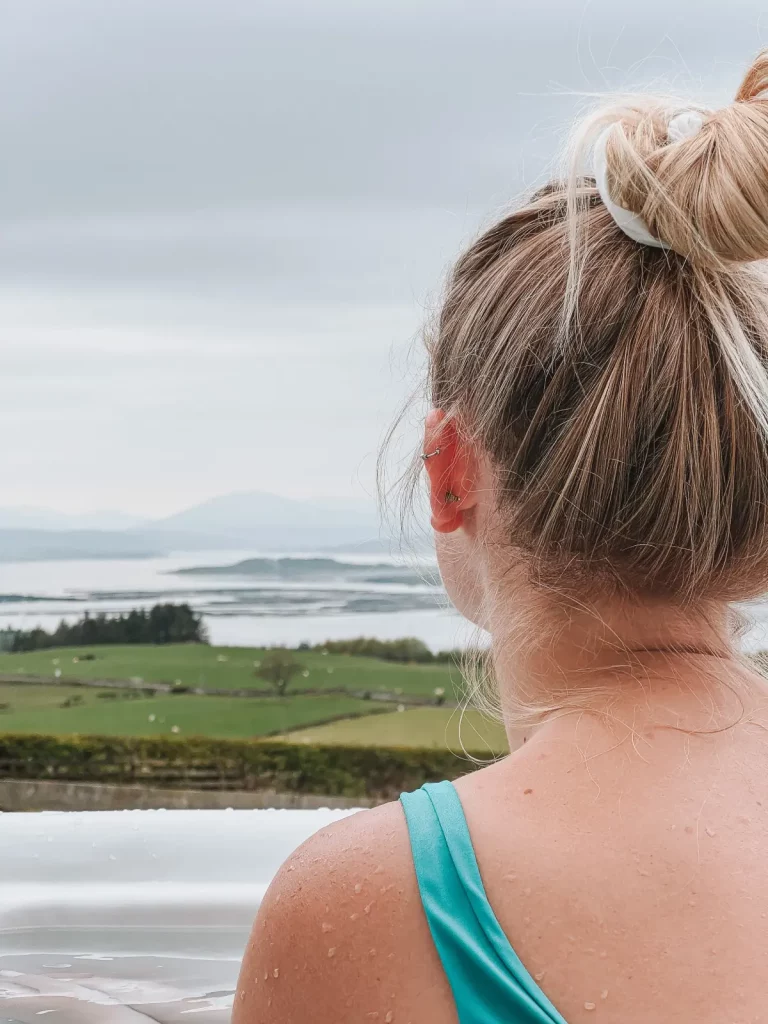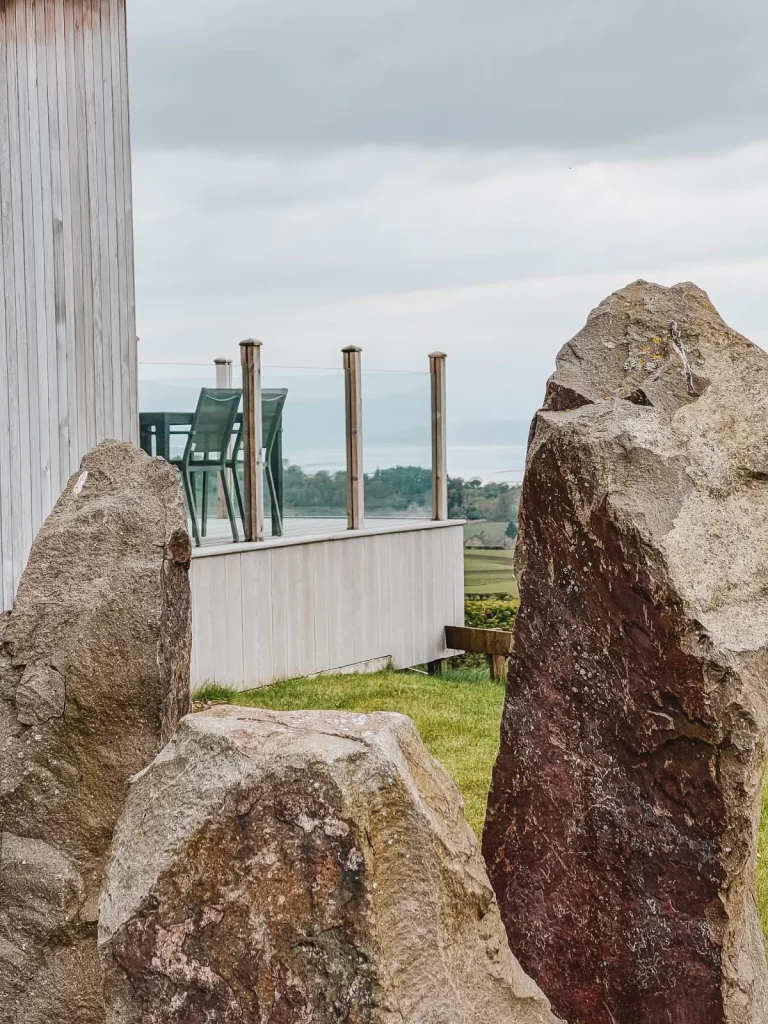 Buzzard Lodge
Buzzard Lodge sleeps two people and has a slightly different layout to the other two lodges. It is more open plan with a cosy circular couch and a high dining area overlooking the views. 
If you are visiting with a freind or as a couple, this will be the perfect lodge for you!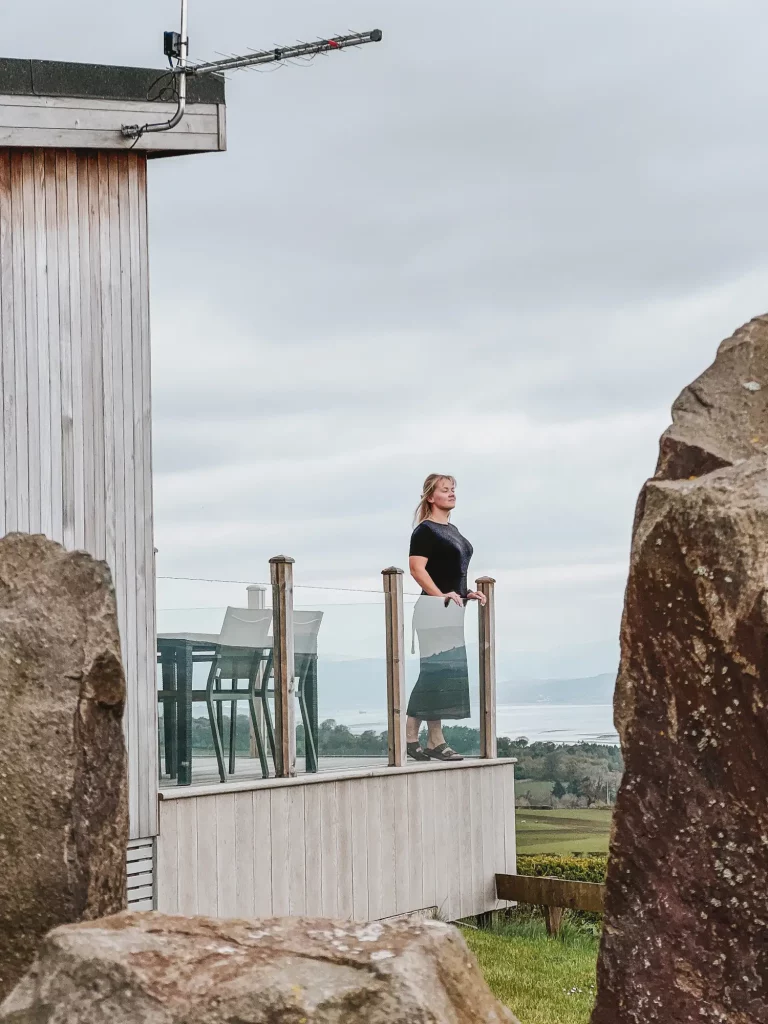 Larch Green Alpacas
A stay at Larch Green Lodges isn't just about relaxing in a hot tub and taking in the views. If you're feeling adventurous, you can also go alpaca trekking here. This unique activity is a great way to get up close and personal with these adorable animals, while exploring the beautiful countryside.
At Larch Green Lodges you can choose to book on to their alpaca experience at Larch Green Alpacas. Here they offer a unique experience where you can walk alongside one of the friendly alpacas. On your walk, you can enjoy the breathtaking views that follow the River Clyde all the way down to Greenock and up to Glasgow.
Larch Green Alpacas has seven adorable alpaca boys, each full of character and eager to meet you.
Overview of our Stay at Larch Green Lodges
The Larch Green Lodges is a lovely bit of luxury in Langbank, near Glasgow. We were given a very warm welcome from the family that own the lodges and had a very comfortable stay here. We spend two nights at the Larch Green Lodges and enjoyed cooking in the kitchen and eating out at the local restaurants. 
Larch Green Lodges is a great self-catering lodge in Scotland and is a very comfortable place for a few nights away near Glasgow.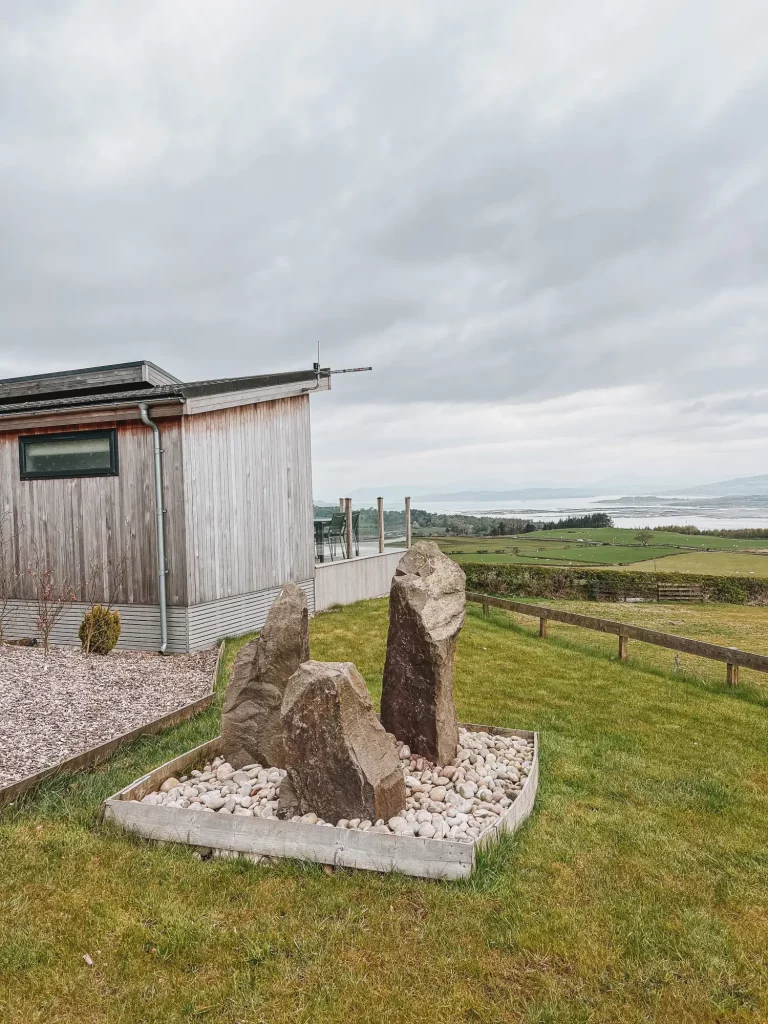 Before You Leave for Glasgow
Before you set off on your way to Glasgow, there are a number of things you will need to get organised to ensure a smooth and enjoyable journey. These include what to pack, where to stay and what is the best insurance for your trip to Scotland. All of this is discussed in detail below.
How to Get to Glasgow
Glasgow is a lively city in Scotland, attracting tourists from all over the world with its rich history, vibrant culture, and delectable cuisine. Getting to Glasgow is easy, as the city is well-connected to major cities in the UK and other parts of the world.
By Air: Glasgow has two major airports, Glasgow International Airport and Glasgow Prestwick Airport. Both airports are well-connected to major cities in the UK, Europe, and the rest of the world through several airlines. From the airport, you can take a taxi, bus, or train to reach your destination in Glasgow. Glasgow International Airport is closer to the city centre.
Book your flight to Glasgow here.
By Train: Glasgow is easily accessible by train from major cities in the UK, including London, Manchester, Edinburgh, and Liverpool. Glasgow Central and Glasgow Queen Street are the two main train stations in the city, and both offer excellent connectivity to other parts of the UK.
Book your train to Glasgow here.
By Bus: Several bus operators offer services to Glasgow from various cities in the UK. The bus journey may take longer than a train journey, but it is often a more cost-effective option.
By Car: Glasgow is well-connected to other parts of Scotland and the UK through several motorways, including the M8, M74, and M77. Driving to Glasgow can be an enjoyable experience, as the Scottish countryside offers some breathtaking views.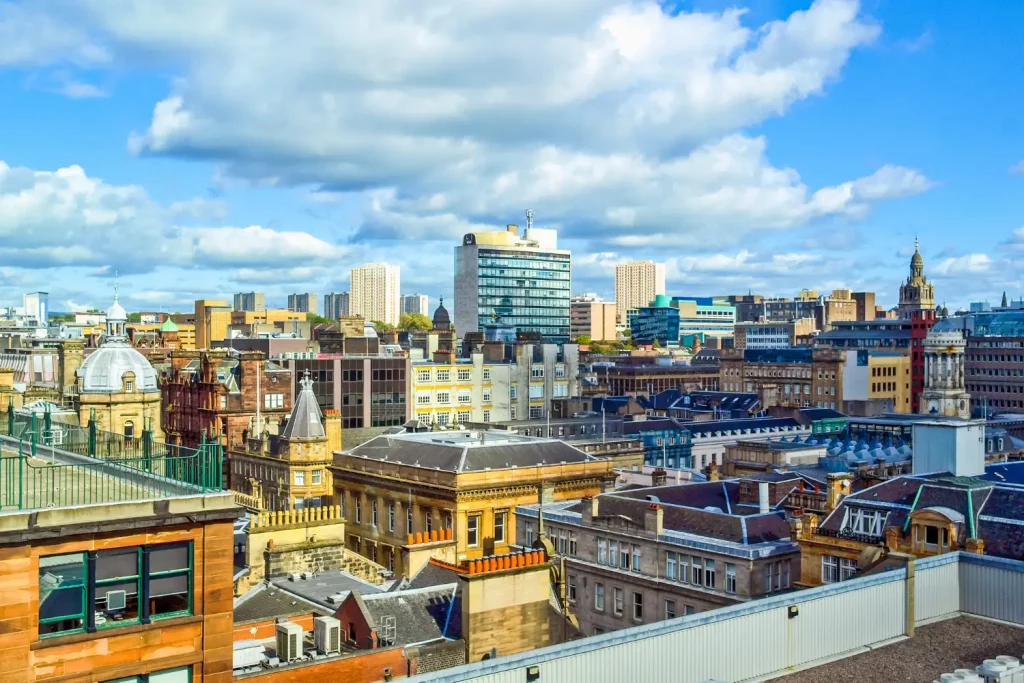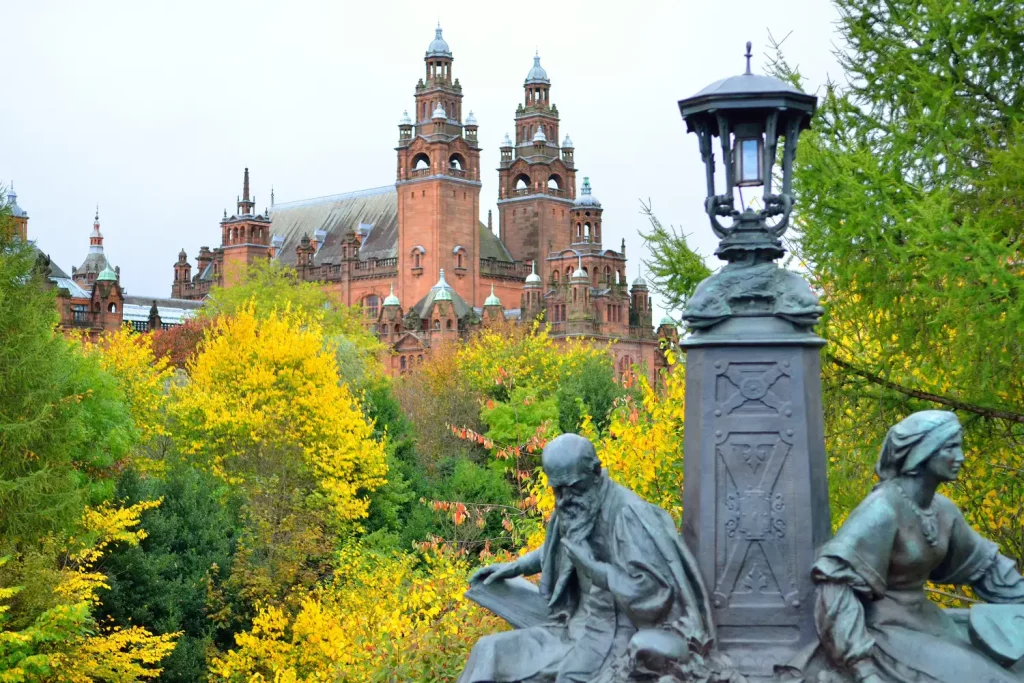 What to Pack for Your Trip to Glasgow
When it comes to packing for a trip to Scotland there is one item of clothing that you are going to need all year round: a waterproof. It rains in Scotland on average 250 days a year, meaning that during your trip to the Glasgow, you can expect rain at some point. Due to this, the number one item on your packing list is a good waterproof jacket.
Second to that, another item to not leave home without is a good pair of warm and, if possible, waterproof boots. A lot of the best sights on Glasgow require a bit of walking to reach them and the conditions underfoot can become very muddy. You do not want to ruin a good pair of white trainers so pack some sturdy boots.
You will definitely need a hat and gloves during the winter months as the wind chill can be bitter.
For our full list of items that we pack no matter where we go in the world, check out our full packing guides over here.
Given the beautiful sights and scenery that you are no doubt going to see around Glasgow, we highly recommend packing a good camera for your trip. If you want to read more about the cameras we use and why we love them, check out the link below.
You can read what else we keep in our camera bag over here.
What is the Best Travel Insurance for Glasgow
I know travel insurance is the least enjoyable thing to purchase and look at when you're planning a trip, however, you wouldn't want to be without it in the event that something happened. Accidents can happen anywhere and the extortionate medical bills will ruin your trip if you are not covered.
To ensure you have a stress-free trip with no worries about potential medical bills, make sure you cover yourself when you travel. We can recommend using SafetyWing, a backpacker-friendly and cheap insurance company that provides good coverage and support. It is also nomad-friendly, unlike most other insurance companies, meaning you do not need to worry about being out of your home country for too long.
Get a quote for your travel insurance right here and get covered!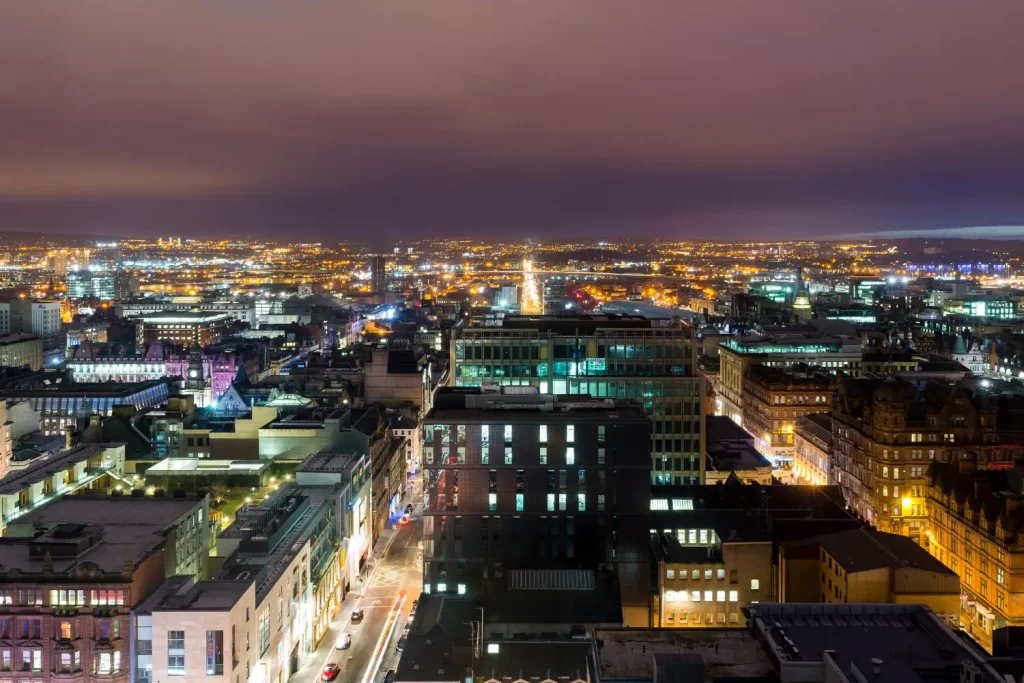 So there you have it, your guide to visiting Larch Green Lodges in Langbank. If you are visiting this incredible part of Scotland and have any other questions on what to expect, leave us a comment down below. We love to chat about this stuff! If you have already been, let us know how it was!
Also, remember to share this with your friends and family that you are going to share this amazing experience with. Sharing is caring and we want to ensure that everyone is fully prepared to maximise their experience in Glasgow.
If you are planning a Scotland trip soon then check out our other Scotland content right here. Come and find us on social media to see where we are currently exploring. Tag us in your photos from your stay and we will share them with the rest of our community of explorers and backpackers.
Read Now:
This article may contain affiliate links that provide us with a small income. For more information read our Affiliate page.
---
Pin it for later!