A modern city brimming with vibrant culture and oozing artistic beauty, Glasgow is one such tourist destination that has to be on every traveller's bucket list. The city is comfortably located on the banks of the Clyde River in Scotland. Glasgow is also renowned as an important centre for trade in Western Lowlands. 
From art galleries to museums to adventure to food to shopping, there is almost everything the city of Glasgow has to offer to its visitors. Glasgow also serves as the base point for the rest of the country.
There are also some amazing day trips from Glasgow which we are going to share with you in this post. 
No time to read now? No problem, save a pin to your Pinterest board for later!
Glasgow is our home city and we love sharing the incredible thing to do in and around the city. There are many incredible day trips from Glasgow, varying in distance from the city.
Loch Lomond and the Trossachs National Park

The Devil's Pulpit

Stirling

Xscape

Filming Locations

Whisky Distilleries

Pitlochry

Preparing for your trip to Glasgow
Best Day Trips From Glasgow 
Loch Lomond and The Trossachs National Park
The largest freshwater loch in Scotland, Loch Lomond is located at a distance of just an hour away from Glasgow. This is one of the perfect spots to spend some quality time gazing upon the natural beauty here. 
Such is the unrivaled beauty of Loch Lomond and the mountains around it that the place is even known as the name "The Highlands in Miniature". 
Loch Lomond and the Trossachs is popular when the weather is nice and people gather to go wild swimming, stand-up paddle-boarding, and hiking. 
Boaters and other water sporters are drawn towards this Loch Lomond along with golfers as there is Carrick Golf Course at Cameron House – Scotland's finest golf course. Throughout the park, there is a number of trails for bicycling and hiking. 
There are many Munros around Loch Lomond, however, if you don't fancy something so challenging, we can recommend Conic Hill as an easier hike with fantastic views.
How to Get to Loch Lomond
From Glasgow, Loch Lomond is located at a distance of around 25 miles. The easiest way to get there is by car If you are travelling in a group, this is the best and cheapest way to reach Loch Lomond. 
There is also decent connectivity with public transport options. From Glasgow, you can either board a train to Balloch or can take a cruise on the Loch. The waterbus services also operate from Arduli and Tarbet to Loch Lomond.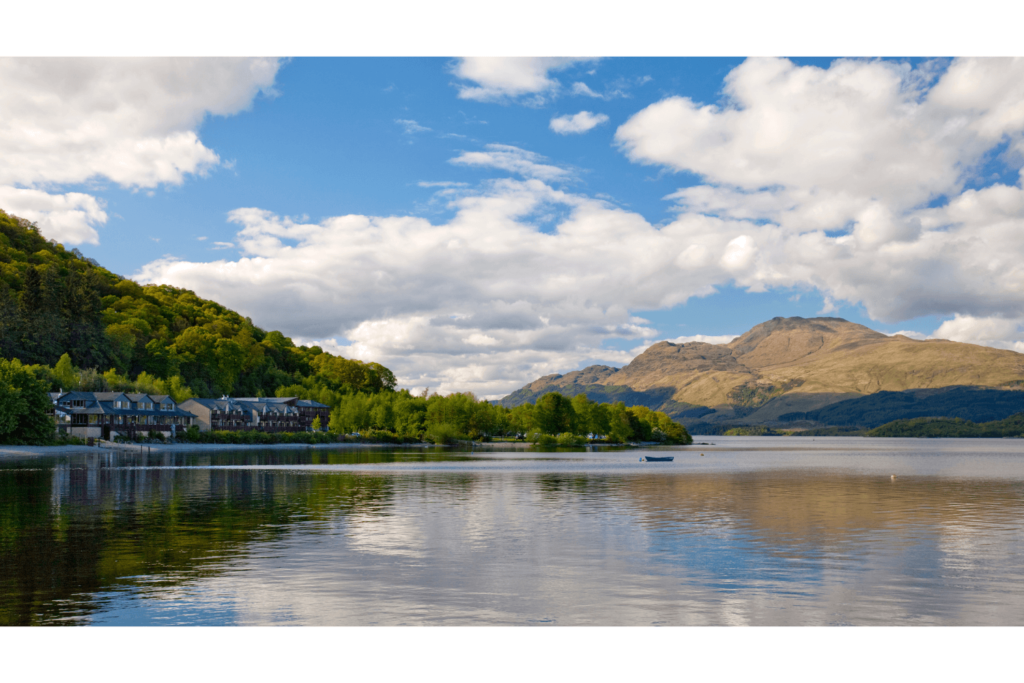 Devils Pulpit 
Our final stop on the journey south through Scotland's rugged highlands is the fascinating and mystical location of the Devil's Pulpit. This deep ravine in the middle of the rolling countryside is the setting of the "Liar's Spring" from an episode of the famous TV show "Outlander".
This 100ft gorge lies within Finnich Glen and is like nothing you will have seen yet on this trip. Once you are down within the gorge, you are transported to a different world, sheltered from the above weather and sounds, surrounded by thick, mossy walls of mud, the only noise being that of the blood-red river that flows through the pit.
First things first, if you plan to climb down what is called the Jacobs Ladder to get into the gorge you will want to make sure you are prepared, as this spot can be dangerous, slippy and very muddy. This means wearing sturdy, waterproof and excellent gripping shoes. It also helps to wear clothes that you do not mind getting dirty, as chances are you will slip into the red mud.
How to get to the Devil's Pulpit?
To find the Devil's Pulpit, you will need to look out for more natural signs, as there is not much sign postage for the Devil's Pulpit. You can park up in one of the two laybys at the side of the road for free, both of which are shown on the map below. Be aware that this road can be busy and cars can come around the corner at some speed, so take your time when walking around this area.
If you wish to view the waterfall, you will need to wade through parts of the water to get further upstream. We took our shoes and socks off to get through the water, however, it was freezing. If you have a pair of wellies then it would be best to wear them for this part. There are some parts of the water that are extremely deep, so please be careful if you choose to wade through the water.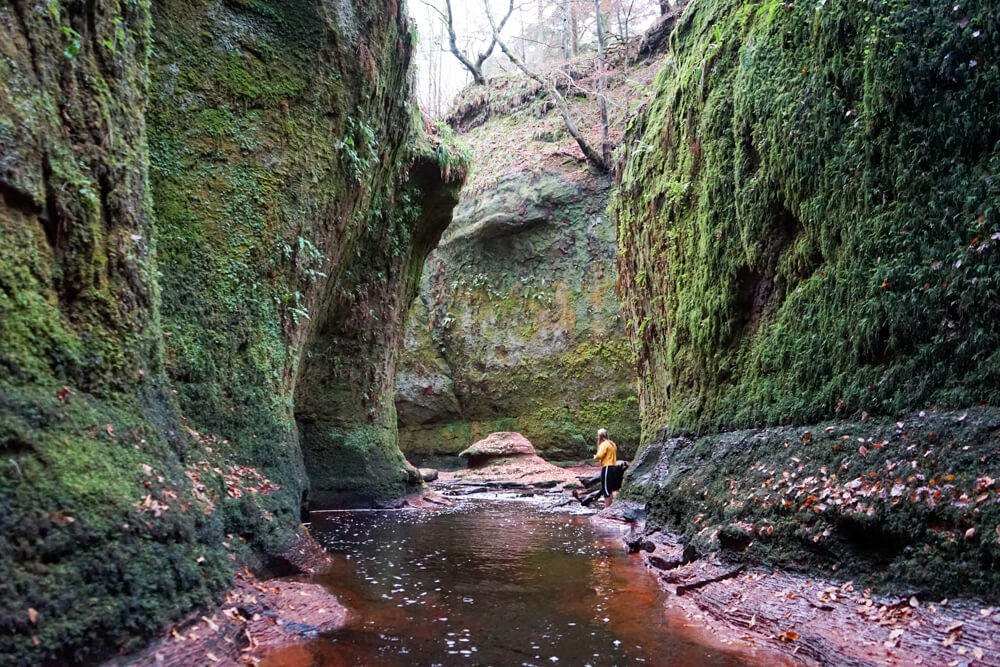 Stirling and Stirling Castle
Similar to Glasgow, Stirling is also an internationally renowned city in Scotland that receives a large number of tourists every year, and hence, is on this list of best day trips from Glasgow. It is known as the land where the famous Battle of Bannockburn happened. 
If you are into history, you will find Stirling incredibly interesting as it is also the place where Robert the Bruce defeated English invaders in 1314. It is also the land where William Wallace defeated the English at the Battle of Stirling Bridge, which is known as the victory for Scottish independence. 
The key highlight when you visit Stirling is Stirling Castle. Comfortably seated at a height of 70 meters above the ground, the castle is built atop a volcanic crag. Stirling Castle has stood tall through all the thick and thin of Scotland's rich history. From the castle, you can enjoy the beautiful scenery across the city
How to Get to Stirling 
Stirling is located at a distance of approx 50 minutes from Glasgow. There are three direct services an hour operating from Glasgow to Stirling daily via train. 
Bus services are also available from Glasgow to Stirling.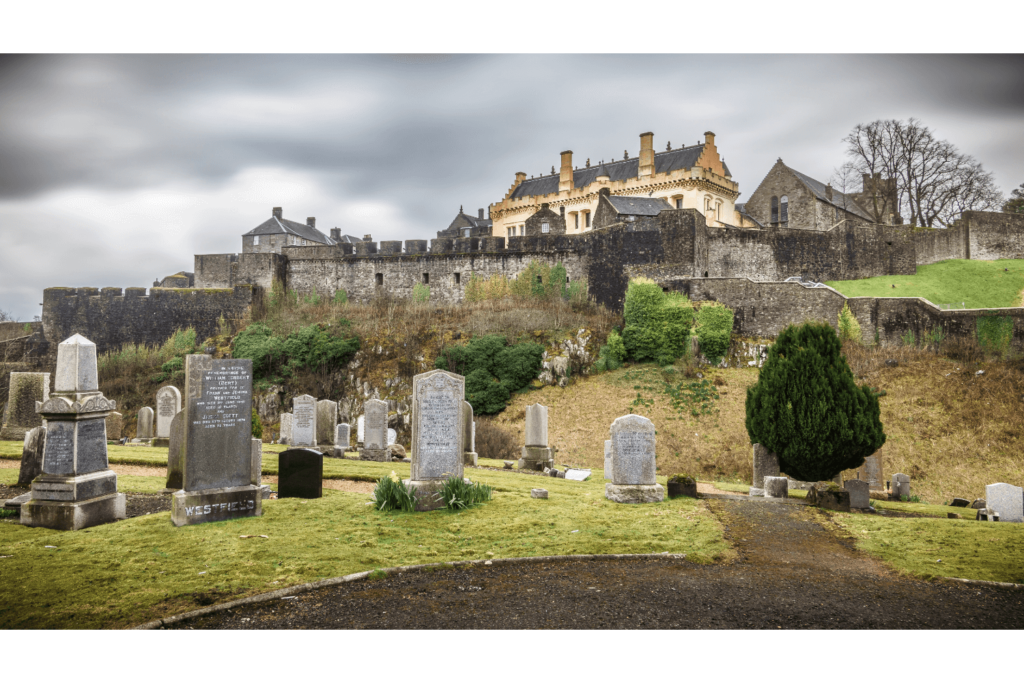 Go Skiing Indoors at Xscape
Located a short bus journey from the city centre of Glasgow is Snowfactor at XSITE Braehead. This is Scotland's only year-round indoor ski slope that offers skiing and snowboarding lessons and lift passes as well as ice climbing and tubing. 
There is an observation area on the slopes, however, this is obviously very cold so make sure you come prepared with warm clothing. You can also watch it from the restaurant Bar Varia.  
Outlander Filming Locations Near Glasgow
Many parts of Scotland have been used many times over the years as a filming location for many well-known films.
Outlander is one of the most popular TV shows and are you surprised to know that some of its iconic scenes were shot here in Scotland. And the best part is all these locations are just an easy drive away from Glasgow. 
Glasgow Cathedral

is one of the significant attractions in the city that was built between the 13th and 15th centuries. It is the only cathedral in Scotland that dates back to medieval times. For L'Hôpital des Anges, a Parisian hospital, the cathedral was featured in Outlander season 2.

Kelvingrove Park

is in the west end of Glasgow and is known as one of the most popular public parks in Glasgow It features an art gallery and museum to explore. It is also featured in Outlander season 3 in a number of scenes of Bostin. 

The University of Glasgow

is another renowned spot where multiple scenes of Outlander were shot. Today, the university also serves as a prominent tourist spot to explore. By visiting the university, you can learn about its history along with being a part of various events that are observed here.

Doune Castle is a beautifully constructed architectural marvel that dates back to the 14th century. It has been featured in the very popular series, Game of Thrones. 

Culross

is a beautiful town located in the

Kingdom of Fife

and is certainly a hidden treasure for all the tourists planning day trips near Glasgow. The village has been a prominent filming location for many scenes of Outlander. It has been also presented as the location of Cranesmuir in the show. Today, the town is well-preserved by the National Trust of Scotland.

Linlithgow Palace

is known for being the birthplace of the Mary Queen of Scots. However, today, it is known as another shooting location for the Outlander show. The palace has been portrayed as a prison in the show. It is a ruined castle that isn't visited by many tourists, and hence, is one of those lesser-known attractions near Glasgow. The palace has also featured in many other shows.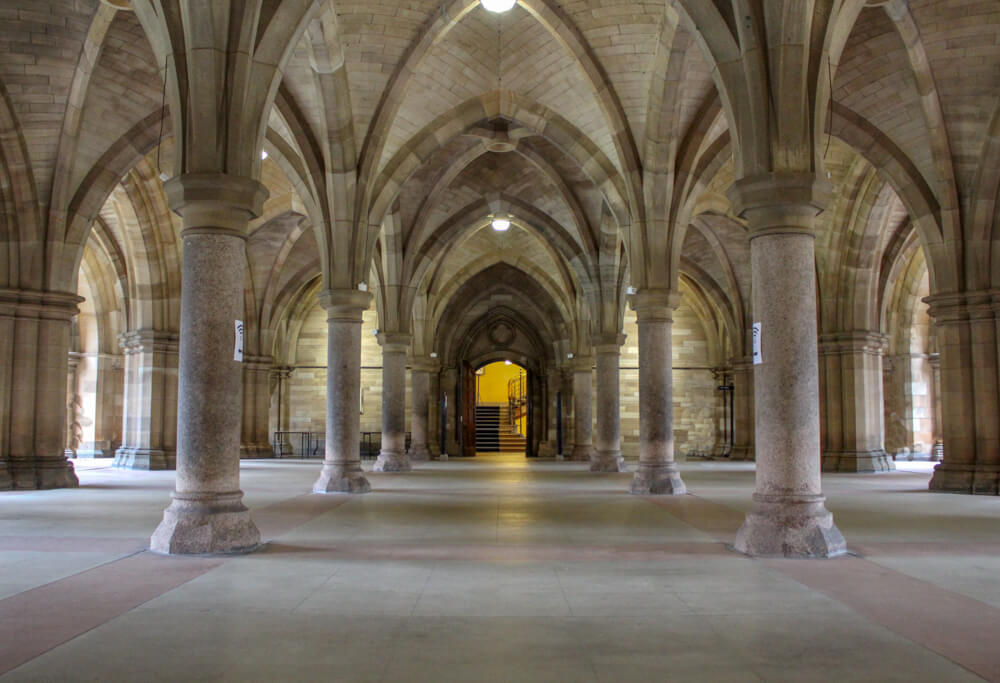 Whisky Distilleries Near Glasgow
When in Scotland, you just cannot ignore the whisky distilleries; there are so many in the country. Even if you don't drink alcohol o don't enjoy whisky, a visit to whisky distilleries is a must when you visit Scotland and there is a lot more to the tour than drinking the whisky.
Whisky distilleries play a significant role in the culture of Scotland. There are a good number of distilleries around Glasgow that you must visit. Here are a few:
Auchentoshan Distillery

– Located in the suburbs of Glasgow, Auchecntoshan is one of the prominent distilleries in the region. Since 1800, this distillery is making lowland style single malts. As compared to other options, their whisky has a sweeter flavour and is more on the delicate side.

The Clydeside Distillery – This is one of the newest distilleries in the region as it was opened in 2018. Situated on the banks of River Clyde at Queen's Dock, The Clydeside Distillery is a perfect spot to learn about the history of whisky culture in Scotland.
Deanston Distillery – In the town of Deanston, this distillery is located just a mile from Doune Castle. Operating since the 18th century, it was initially a cotton mill. However, later in 1967, it was converted into a distillery. They offer a tasting tour of their single malts which you must indulge in.
Glengoyne Distillery – This is one of the most popular distilleries in the region and is explored by hundreds of tourists every day. They use original techniques of whisky distilling that are more than 200 years old. Take a tour of their facility and even taste their exceptional whisky.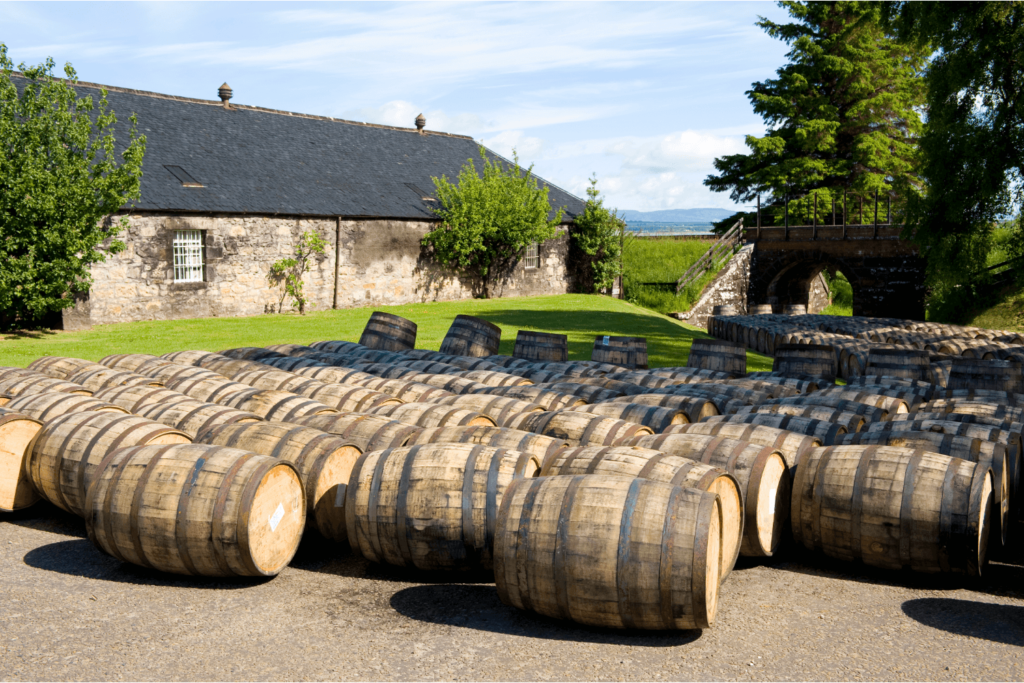 Pitlochry
Undoubtedly, Pitlochry is one of the most gorgeous and scenic parts of Scotland. Located at a distance of 83 miles from Glasgow, around one and a half-hour drive.
The town beautifully lies around the highlands of Perthshire and mighty mountains. Even though the town is a nature's paradise, there is something for every type of traveller to enjoy and indulge in. 
From natural beauty to adventure to festivals to history and culture, there are a lot of amazing things to do in Pitlochry. Visiting Pitlochry can be a perfect way to leave the hustle and bustle of city the city for a day. 
In Pitlochry, you can enjoy a peaceful time with your friends and family amidst the stunning surroundings of Perthshire. 
One of the highlights of a trip to Pitlochry, is booking yourself in for an activity at Highland Fling Bungee.  Some of the activities on offer here are quad biking, bungee jumping and zip lining.
How to Get to Pitlochry 
Reaching Pitlochry from Glasgow is relatively straightforward.
Reaching Pitlochry from Glasgow via car is easy since the town is located on the A9 Scottish trunk road system. There is also a great bus network from the city. 
From Glasgow, you can also choose ScotRail as your ideal way to reach Pitlochry. There are regular trains from Glasgow to Pitlochry.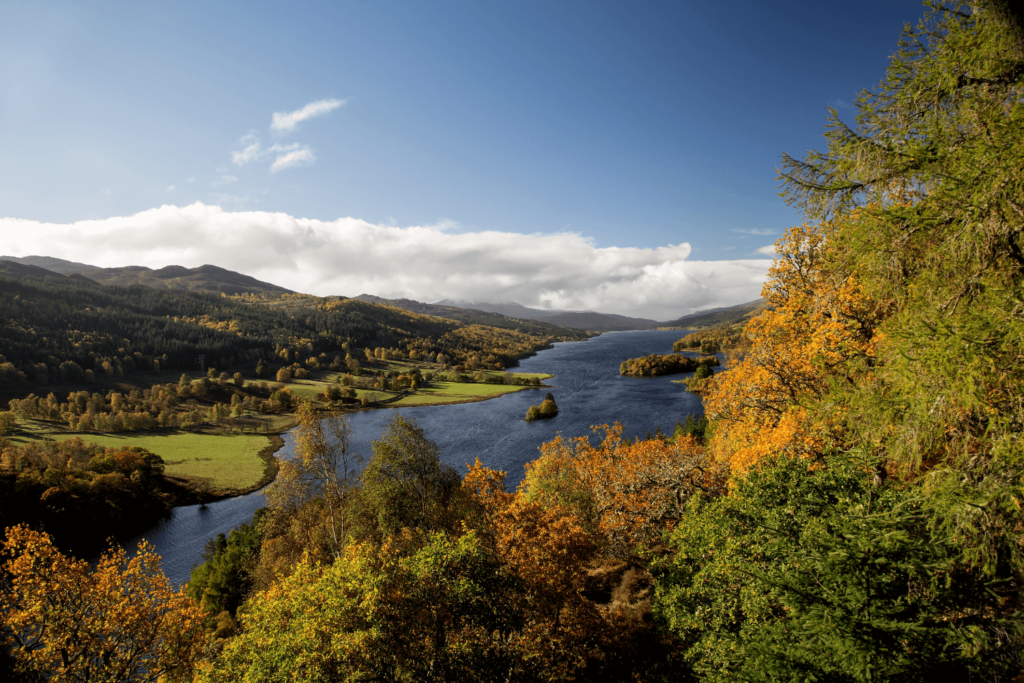 How to Prepare for Your Trip to Glasgow
Before you set off on your way to Glasgow, there are a number of things you will need to get organised to ensure a smooth and enjoyable journey. These include what to pack, where to stay and what is the best insurance for your trip to Scotland. All of this is discussed in detail below.
How to Get to Glasgow
When you arrive in Glasgow, you will most likely arrive at one of the two main train stations, Glasgow Central or Glasgow Queen Street, the bus station or the airport. Either way is perfect for getting into the city centre
From Glasgow airport, you can get a bus into the city centre.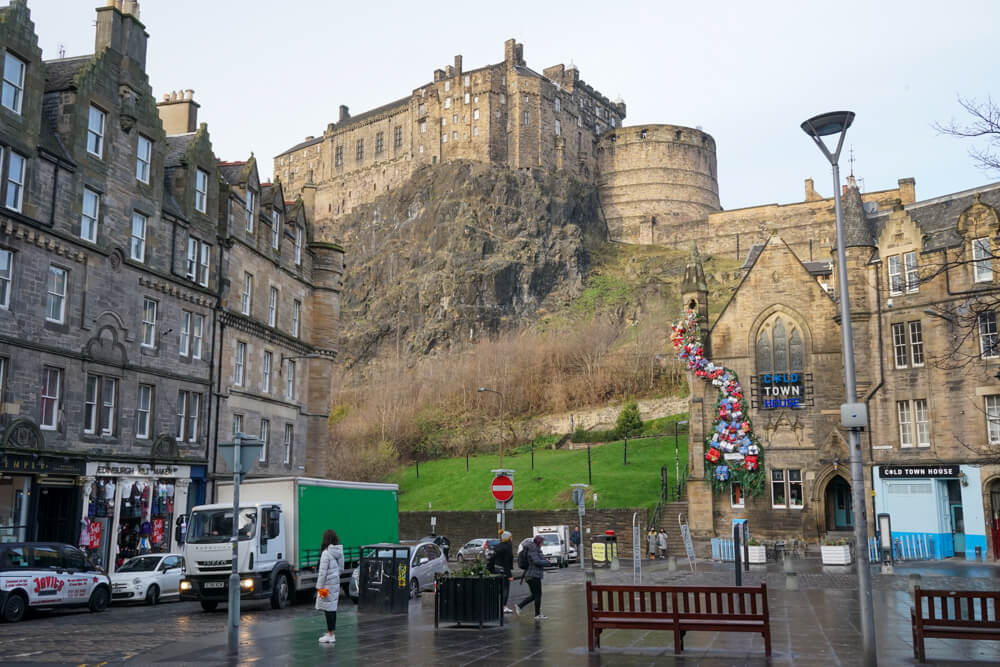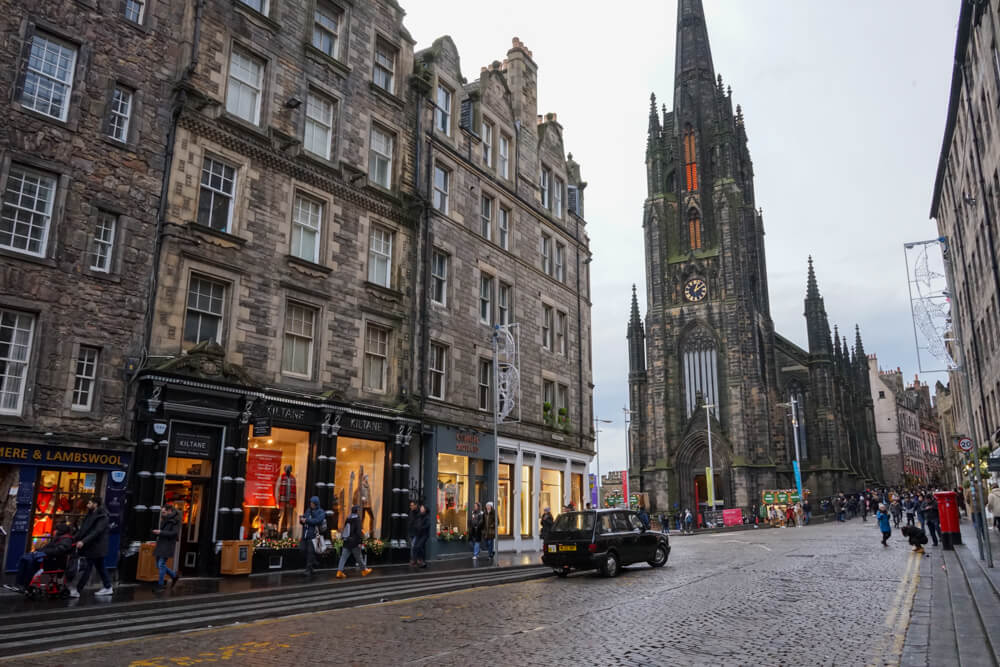 Best Time to Visit Glasgow
Glasgow is a year-round destination to visit with a range of activities on throughout the summer and the Christmas period.
The summer season begins in the month of June and lasts until August. During this time, July is considered the warmest month of the year with an average temperature of 17 degrees celsius. But on the hottest day, the temperature can rise as high as 19 degrees celsius. Summer is also a time when a lot of tourists prefer to visit the region.
Whereas, the autumn season is from September or November. The winter season commences in December and this is when the Christmas markets come alive and the pantomimes are on in the theatre. The winter weather, which usually consists of rain will, unfortunately, last until February.
Spring is an ideal time to visit and plan your day tours from Glasgow. The season begins in March and ends in May.
What to Pack for Your Trip to Glasgow
When it comes to packing for a trip to Scotland there is one item of clothing that you are going to need all year round: a waterproof. It rains in Scotland on average 250 days a year, meaning that during your trip to the Scotland, you can expect rain at some point. Due to this, the number one item on your packing list is a good waterproof jacket.
Second to that, another item to not leave home without is a good pair of warm and, if possible, waterproof boots. A lot of the best sights on Skye require a bit of walking to reach them and the conditions underfoot can become very muddy. You do not want to ruin a good pair of white trainers so pack some sturdy boots.
You will definitely need a hat and gloves during the winter months as the wind chill can be bitter.
For our full list of items that we pack no matter where we go in the world, check out our full packing guides over here.
Given the beautiful sights and scenery that you are no doubt going to see around Scotland, we highly recommend packing a good camera for your trip. If you want to read more about the cameras we use and why we love them, check out the link below.
You can read what else we keep in our camera bag over here.
What is the Best Travel Insurance for Scotland
I know travel insurance is the least enjoyable thing to purchase and look at when you're planning a trip, however, you wouldn't want to be without it in the event that something happened. Accidents can happen anywhere and the extortionate medical bills will ruin your trip if you are not covered.
To ensure you have a stress-free trip with no worries about potential medical bills, make sure you cover yourself when you travel. We can recommend using World Nomads, a backpacker-friendly and cheap insurance company that provides good coverage and support.
Get a quote for your travel insurance right here and get covered.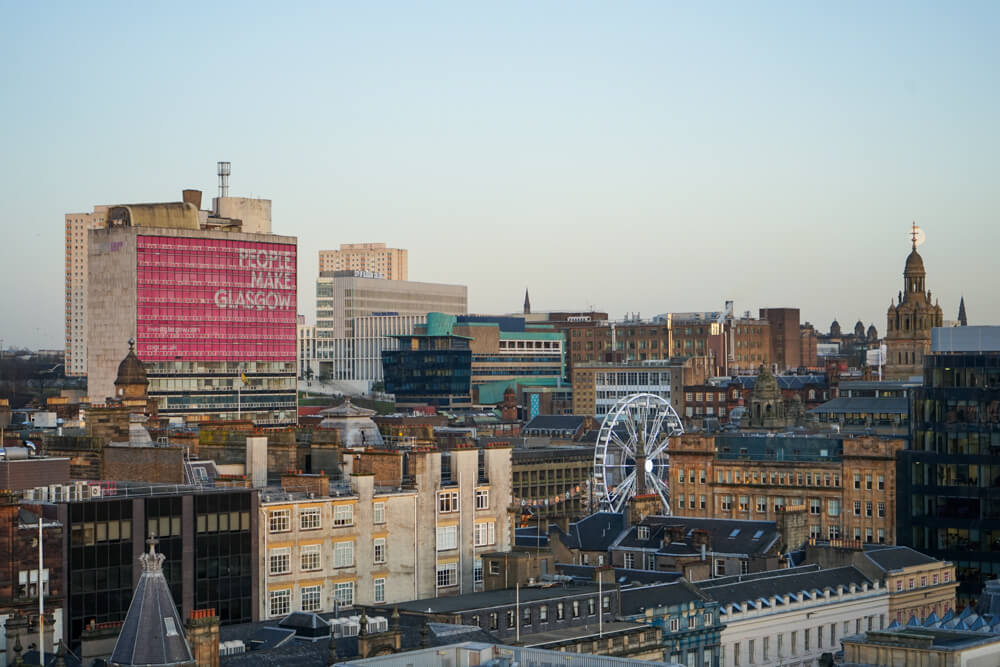 So there you have it, all of the best day trips from Glasgow. If you have covered any of these trips recently, let us know what you thought, or if you have any suggestions let us know in the comments below.
Also, remember to share this with your friends and family that you are going to share this amazing experience with. Sharing is caring and we want to ensure that everyone is fully prepared to maximise their experience completing this stunning walk.
If you are planning a Scotland trip soon then check out our other Scotland content right here. Come and find us on social media to see where we are currently exploring. Tag us in your photos from your stay and we will share them with the rest of our community of explorers and backpackers.
Read Now:
This article may contain affiliate links that provide us with a small income. For more information read our Affiliate page.
---
Pin it for later!