London can be an overwhelming city to visit due to the size and number of things to do.  As one of the densest, most populated cities in the world, the number of activities and sights to see and do in London can be intimidating for any tourist and adventurer. You could live in this vast metropolis your entire life and still not have time to visit everywhere.
Never fear, however, as we have compiled four days London itinerary is the best way to get a really good feel for the city and the things going on. Using our "local knowledge" from when we lived in this city for two years, we have compiled all of the best well-known spots as well as our favourite hidden-gems.
This is your ultimate four day London itinerary, including all the information you need for your next visit to the capital, such as where to stay, what to pack and the best sights to see.
Save this image to your London Pinterest board for later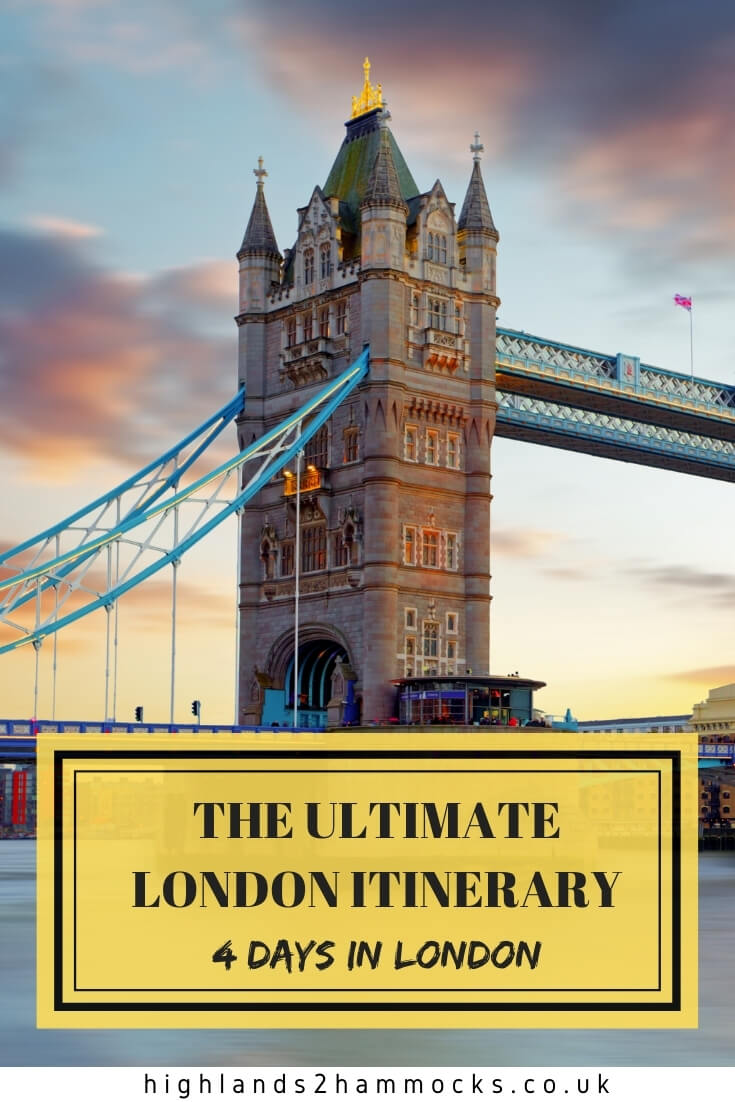 Below is a summary of some of the sights included in this 4 day London itinerary, all of which will be discussed in greater detail later in the article.
Tower Bridge
South Bank
London Eye
London Bridge
The Shard
Nottinghill
Big Ben and Houses of Parliament
Buckingham Palace
Trafalgar Square
Covent Gardens
Oxford Street
Hyde Park
West End show
Come along on our tour of London in this video. Make sure you subscribe to our Youtube channel for more by clicking here!
London Itinerary 4 days – The Perfect Itinerary for Your Trip to London
When Should You Visit London?
No matter what time of year you visit the bustling city of London you are all but guaranteed an amazing visit. Whether you visit the cosy and delicious Christmas Markets, the buzzing and electric Summer festivals, or the beautiful Spring and Autumn colours, the city of London is always an amazing place to explore.
It is difficult to pinpoint a time that is best to visit due to how busy it is, as London tends to be busy all year round. Our top recommendation would be during the month of December when you can explore the incredible Christmas markets, including one of the biggest in Europe, Winter Wonderland. Either this month or during the warmer Summer months of June to September, as you are pretty much guaranteed warm and enjoyable weather.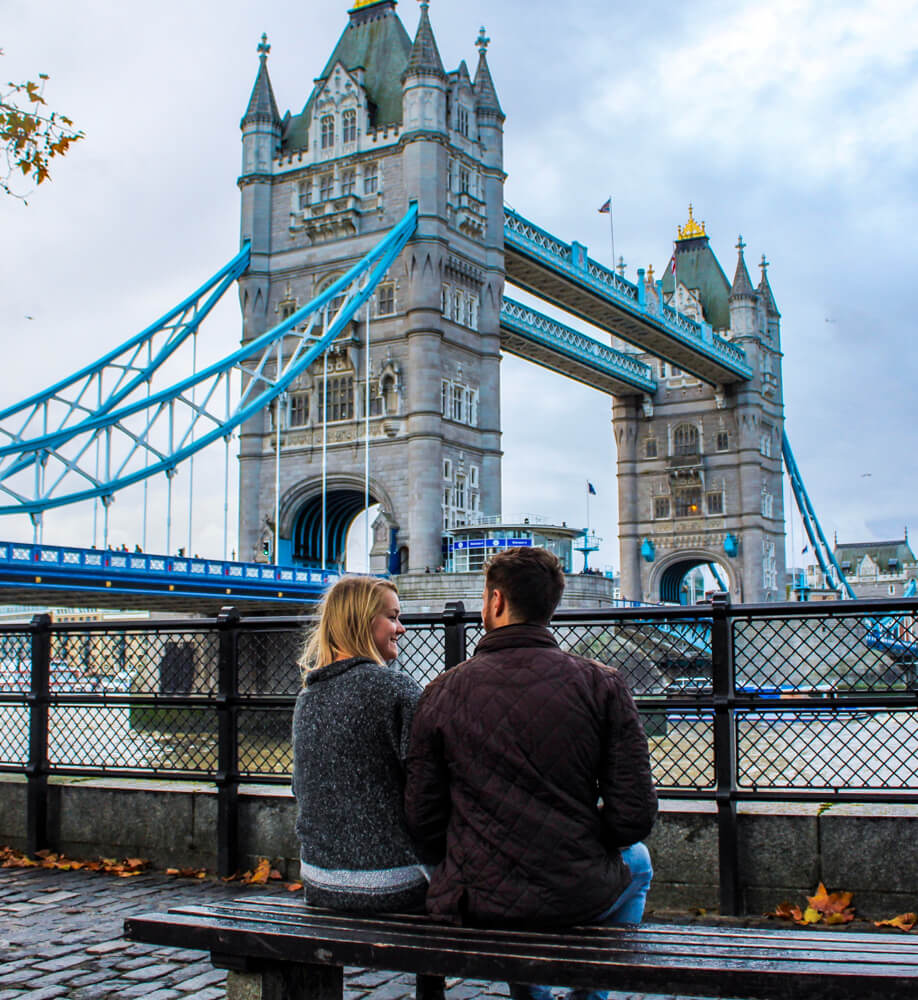 Are Four Days in London Enough?
As with any location, we would always recommend spending as long as you can in one location to maximise your experience of the country. The longer you spend in London, the more you will grow to appreciate the discrete and beautiful cultural quirks that the city has, with friendly locals, stunning secret locations and fascinating history.
With that being said, if you can only manage a flying visit, four days are definitely long enough to see all of the best sights that London has to offer. This itinerary will take you around our favourite sights and activities and will give you a good impression of what life on the capital is really like.
What Should You Not Miss in London?
Of all of the incredible sights that London has to offer there are a few that we would recommend you do not miss out on. These vary from the obvious tourist hotspots to some of our own hidden gems that we discovered when we lived here for 2 years.
Our favourite secret spot in London is the beautiful district of Little Venice, the peaceful and tranquil canals that stretch around Paddington Central Station. The other top spots that we recommend are all discussed in this four-day itinerary, so make sure you read on!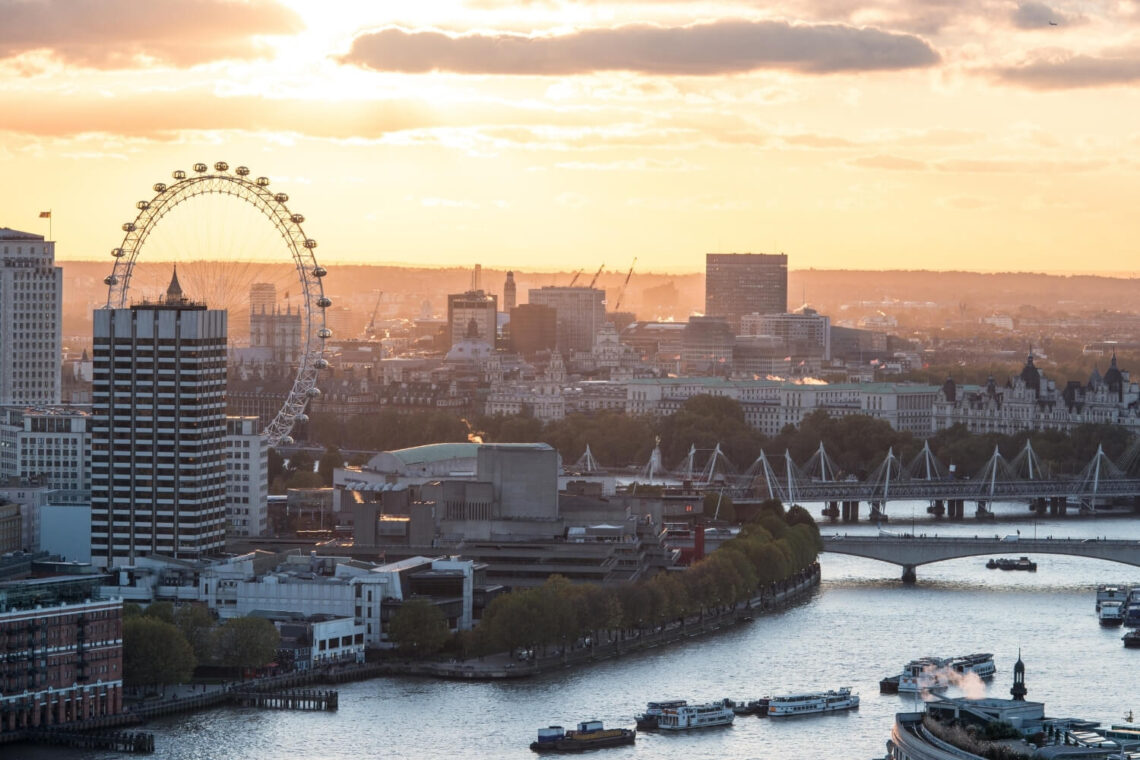 Day One – Tower Bridge Area
Learn the History of the Tower of London
The Tower of London is an iconic castle and a World Heritage site in central London. Located beside Tower Bridge, the Tower of London allows you to tour around the Medieval Palace and learn about the fascinating history that this 11th-century castle has to behold.
The Tower of London gets its name from the White Tower that sits at the centre of the outer wall and consists of several other buildings, guarded by two outer walls and a moat. During the course of its lifetime, the Tower of London has been expanded several times, been used as a residence for royalty, and was used as a prison for over 800 years (ending in 1952).
Tours of the Tower of London complex can be organised by either buying tickets in person or online, however, the latter is recommended as the sessions sell out regularly.
Browse more about the Tower of London and book your tickets on the official website over here.
Enjoy the Tower Bridge Experience
The day starts off at London's most famous and iconic bridge, Tower Bridge. Situated beside the Tower of London, this is a hotspot for picturesque views of London's most famous sights such as the Shard, Tower Bridge and the Tower itself. Try to arrive at Tower Gateway station for sunrise for incredible views of the bridge and its surrounding as the city comes to life.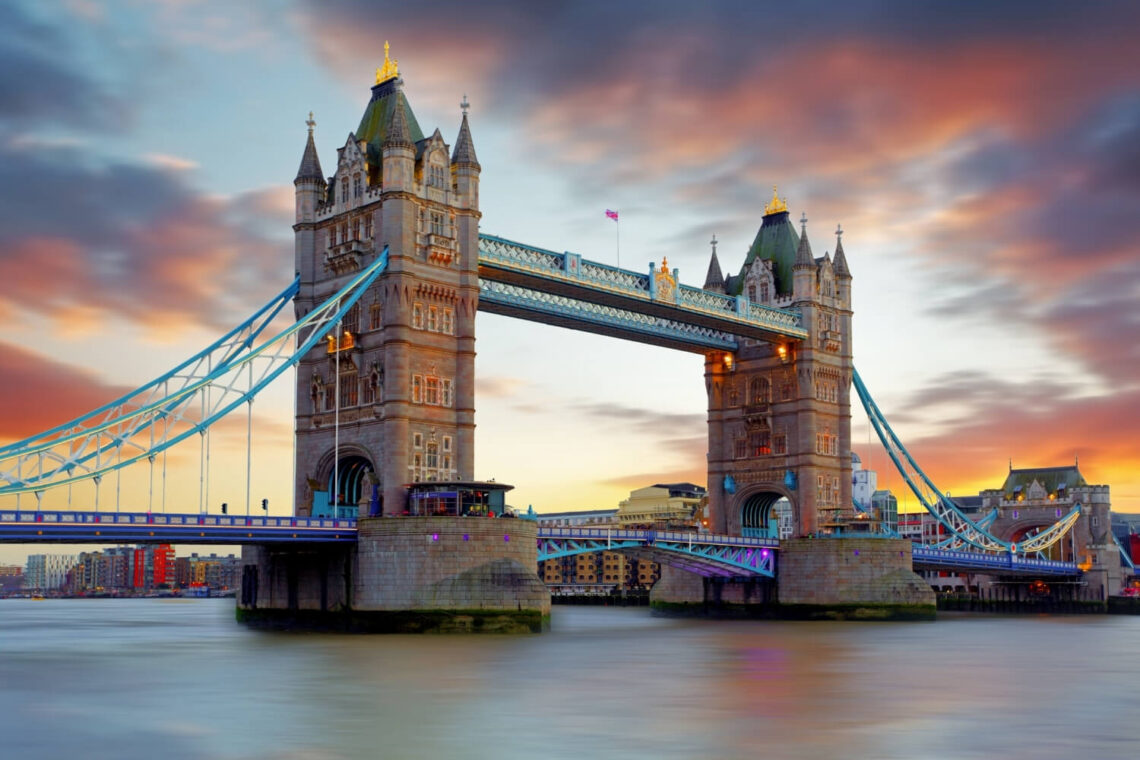 Explore Southbank
Home to the London Eye, Southbank is the perfect place to go if you are looking for somewhere to go in London. Sitting right on the Thames you can choose to sit out on the surrounding grassy areas and watch the world go by or stop in at the restaurants on the promenade with a view of London.
Throughout the year, particularly in summer and at Christmas, there are events on in the area creating a great vibe in the city.
The Udderbelly Festival is a pop-up festival which runs on Southbank from April-September. This fantastic festival offers world-class entertainment as well as amazing food and a great atmosphere to sit and have a drink. It is free to enter into the festival, however, if you want to attend the events you will need to purchase tickets. The majority of tickets are under £20 making this fantastic festival in the heart of London extremely affordable.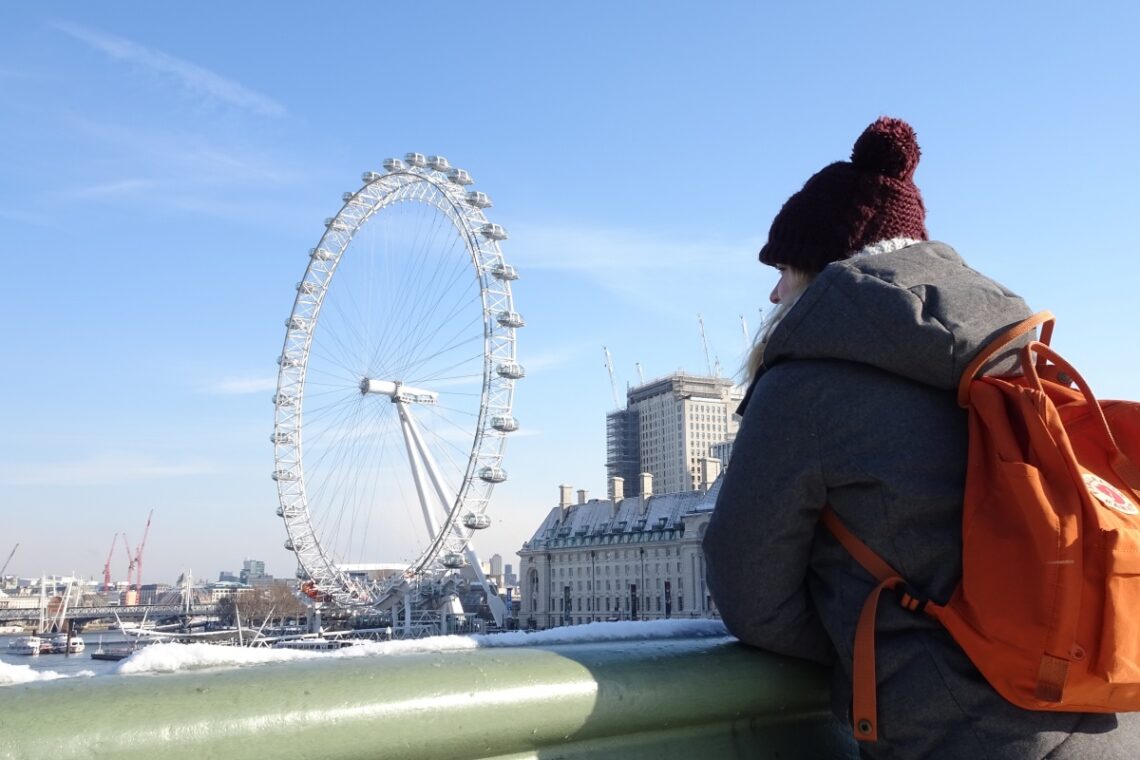 The Winter market opens up at Southbank in early November and runs through until January, open from 10 am till 10 pm daily. There are many pop up markets with gifts for sale and hot drinks and food. This is not to be missed if you are in London in the winter months.
Southbank is within walking distance to many popular areas in London. The nearest tube station to Southbank is Waterloo. Embankment and Charing Cross are a short walk across the river or you can rent the Santander city bikes for a more adventurous way to see London.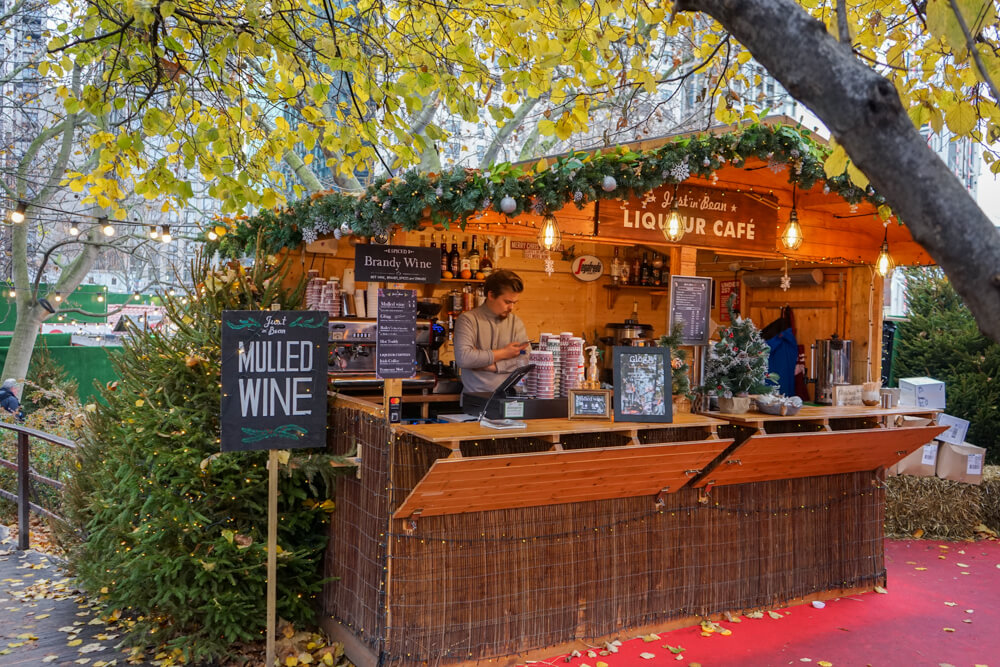 Come along on our tour of London at Christmas in this video. Make sure you subscribe to our Youtube channel for more by clicking here!
Browse the Borough Markets
It's time for lunch and there is no better place to go than the Borough Markets. There is a huge variety of market stalls selling fresh local produce as well as hot food and drinks to take away. As you can imagine, the aroma in the building is just phenomenal.
The markets are open all week and are also available to make purchases online.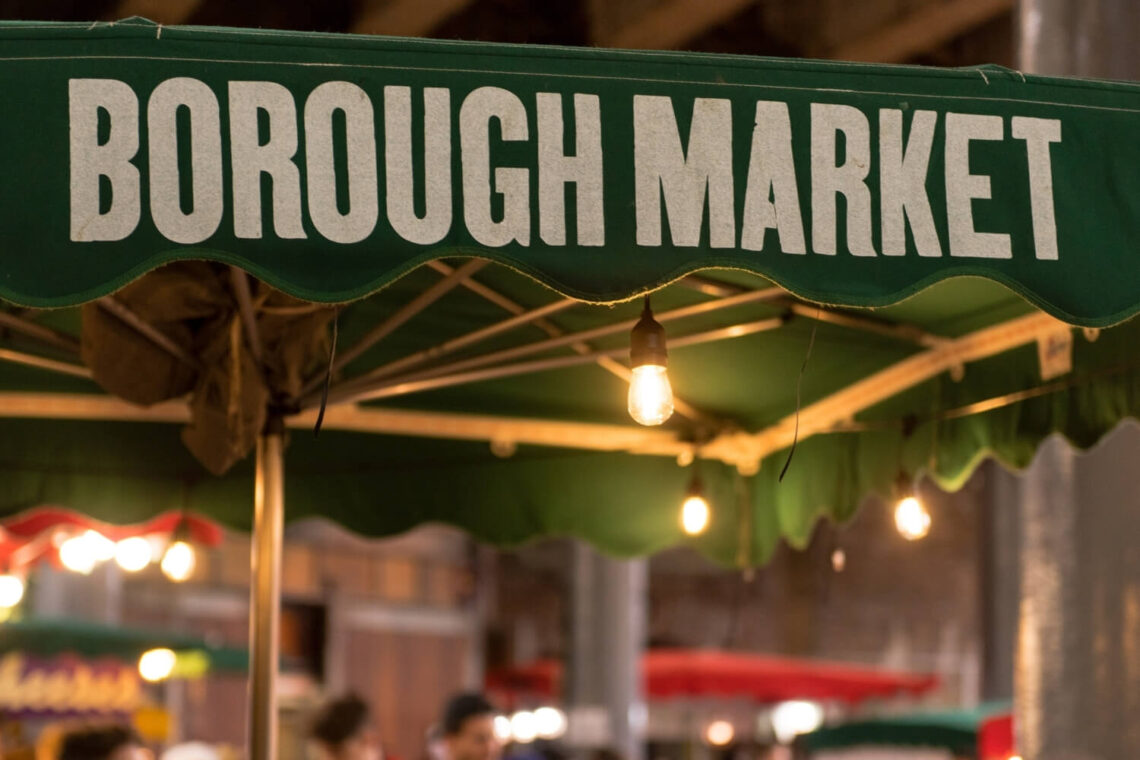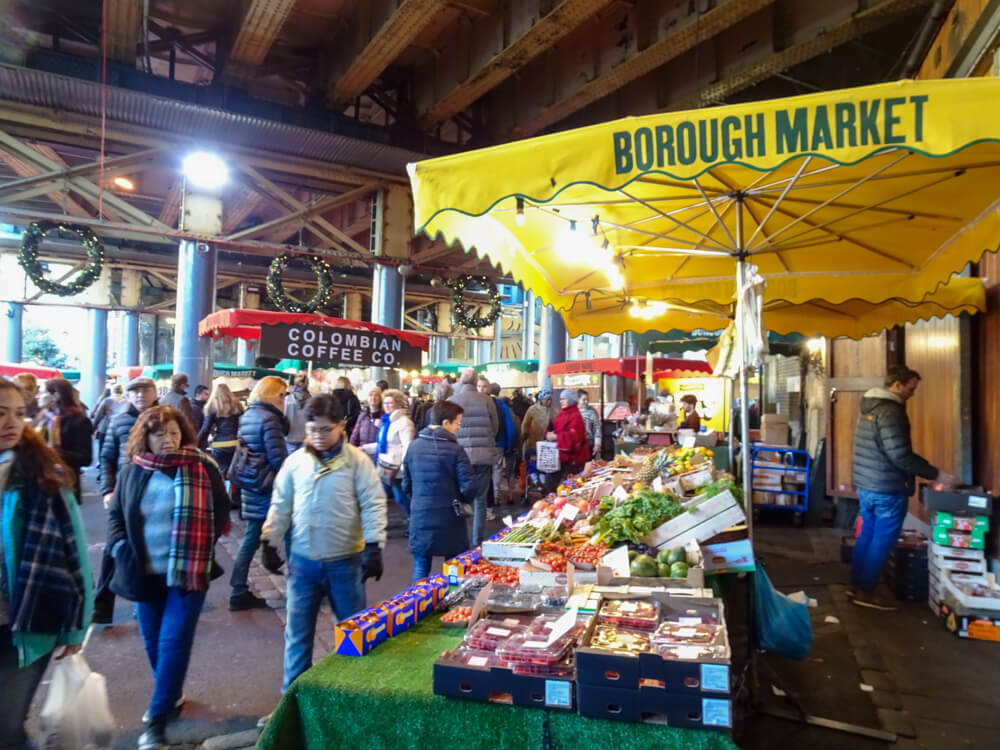 Catch the View from London Eye
The London Eye is the big spinning wheel sitting on Southbank, you simply can't miss it. Offering one of the best views of the city centre of London, we highly recommend going for a spin in the Eye to see a unique angle of the city.
When riding in the pods of the London Eye, the wheel slowly spins for roughly a quarter spin at a time before it stops for a few minutes to allow you to enjoy the view. One complete rotation takes around 30 minutes, giving you about 20 minutes of incredible views over London.
We would recommend booking your tickets online to ensure you get a space and also to check out the best deals. When we visited London during our last-minute getaway, we managed to snag a bargain on the UK website Groupon.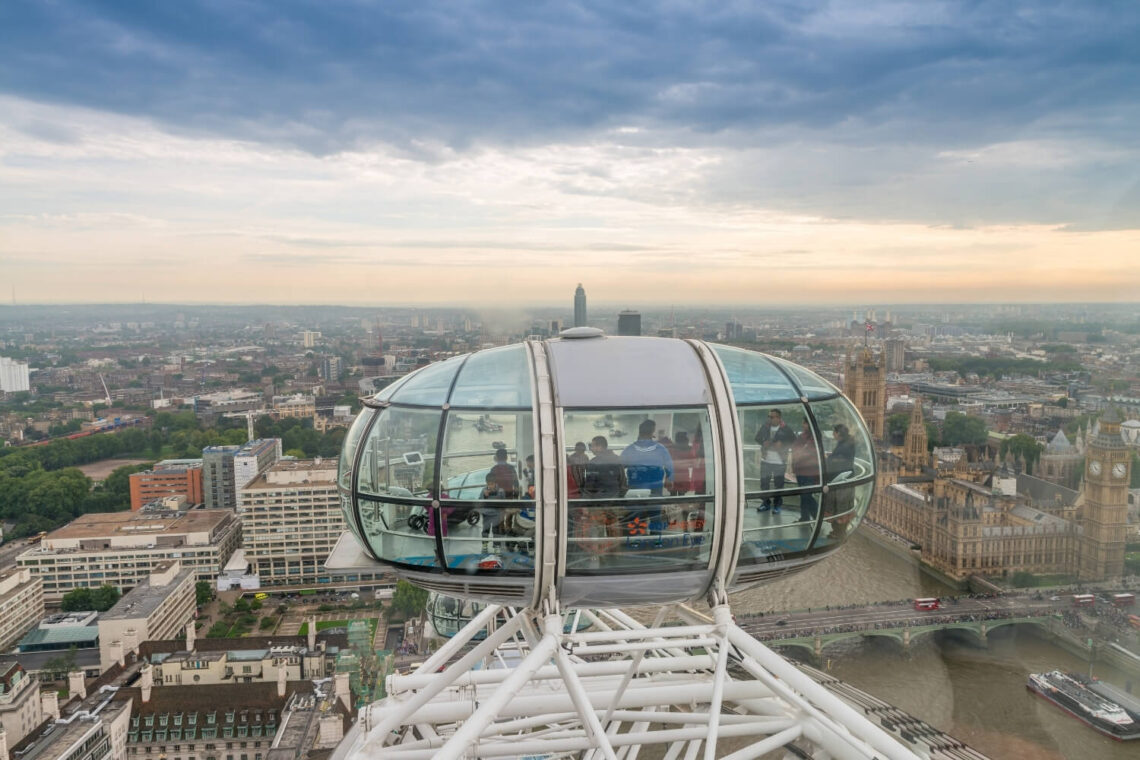 Relax in the Coppa Club
Coppa Club sits in the centre of London, beside Tower Bridge. It is a space for unwinding and eating and drinking. For such a beautiful and unique place in London, the prices are very reasonable, a coffee costing between £2-£3.
To sit outside in the igloos overlooking the river, it is recommended that you book in advance, especially if you are with a group. However, if it is quiet, you may be able to get a table in one whilst it is free, it's always worth the ask.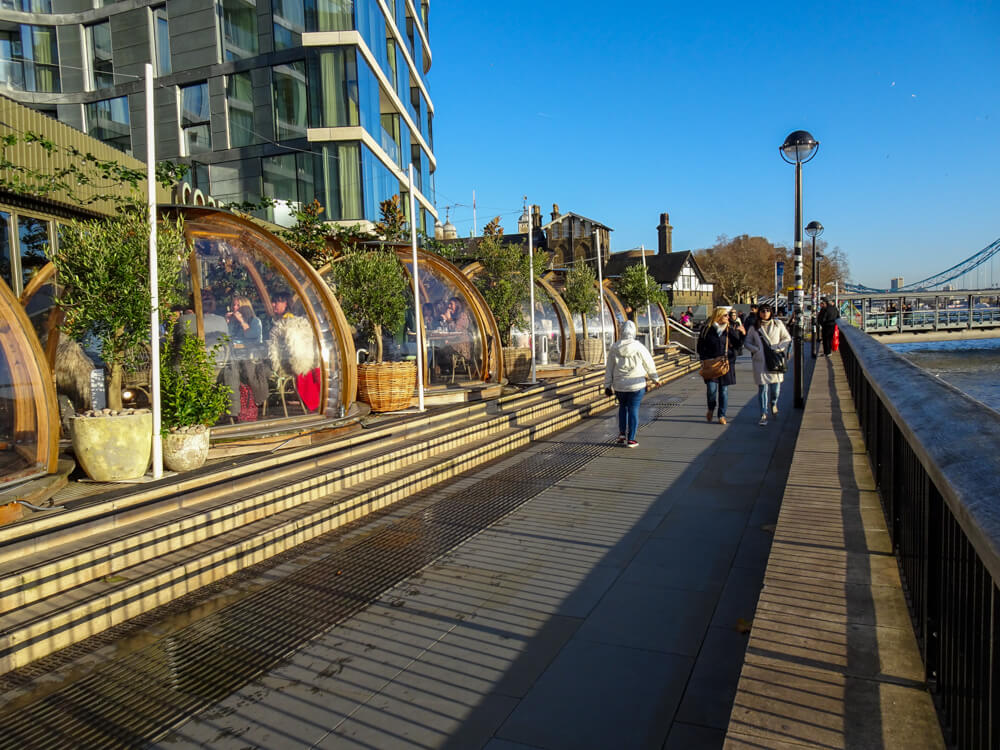 Day Two – Central London
Walk along London Bridge
Start the day off with a walk along the famous London Bridge, which gives you extraordinary views across the city. It's a great place to get a photo of the famous Tower Bridge, which many people mistake for London Bridge.
This bridge is alive with bustling feet and excited chatter first thing in the morning as other travellers and local people rush off to begin their days. Soak up the views and atmosphere before you head off to your next destination.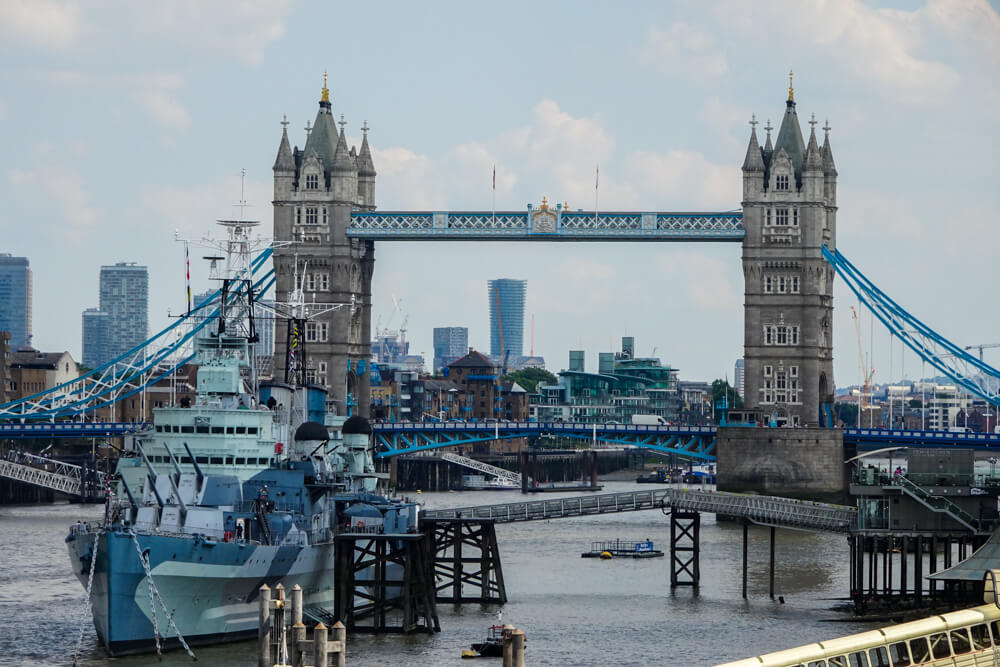 Get Breakfast in Leadenhall Market
Another one on London's popular markets, Leadenhall Markets offers a dining experience as well as food and drinks to go. Stop off here for one of the fancier breakfasts you will have and soak up the views across the River Thames while you break your fast.
Visit the Iconic Gherkin
The most recognisable tower in building in London. There are amenities to eat and drink in the Gherkin whether you choose to do that amongst the hustle and bustle downstairs or at the top with fantastic views over the city of London.
Entrance to the Gherkin is free if you are going to the Helix Restaurant or Iris Bar. You may need to book a table at these, however, due to the high demand!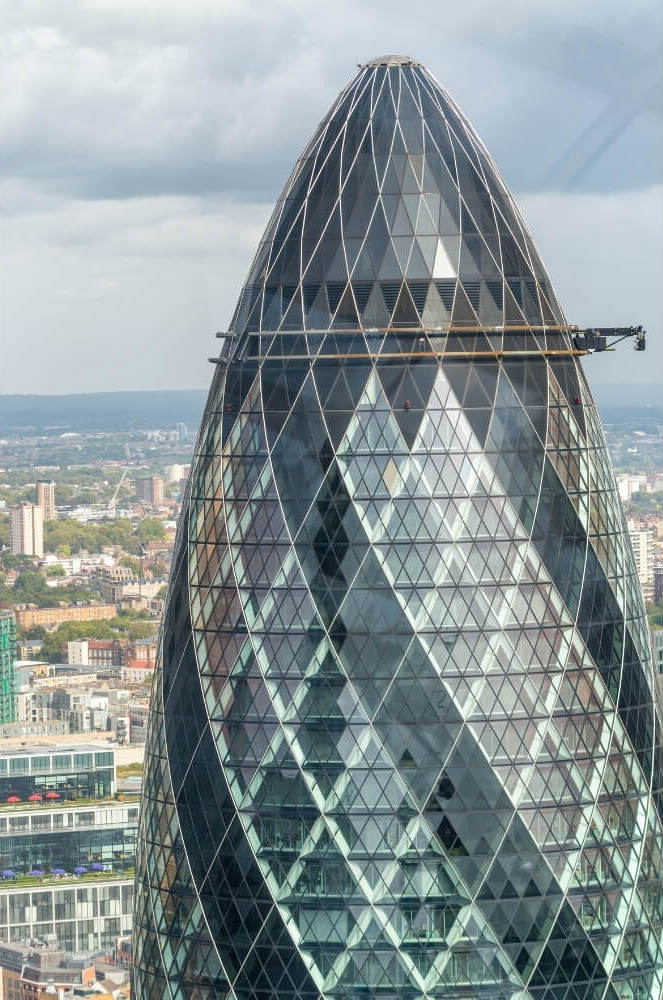 Enjoy the View from The Shard
Another one of the most iconic glass buildings in London with spectacular views of the city is the unmistakable outline of the Shard. Similar to the Gherkin, this building is mostly used as offices for the London based businesses, however, there is also a viewing platform, as well as bars and restaurants, and even the high-class Shangri-La Hotel.
If you wish to enjoy the view from the top of the Shard you have a couple of options, including paying to visit the viewing platform, booking a table at the restaurant, or simply buying a drink in the bar lounge. We recommend the latter as it is the cheapest option, with just one drink giving you access to the best view of London.
This is our favourite budget way to enjoy luxury in London!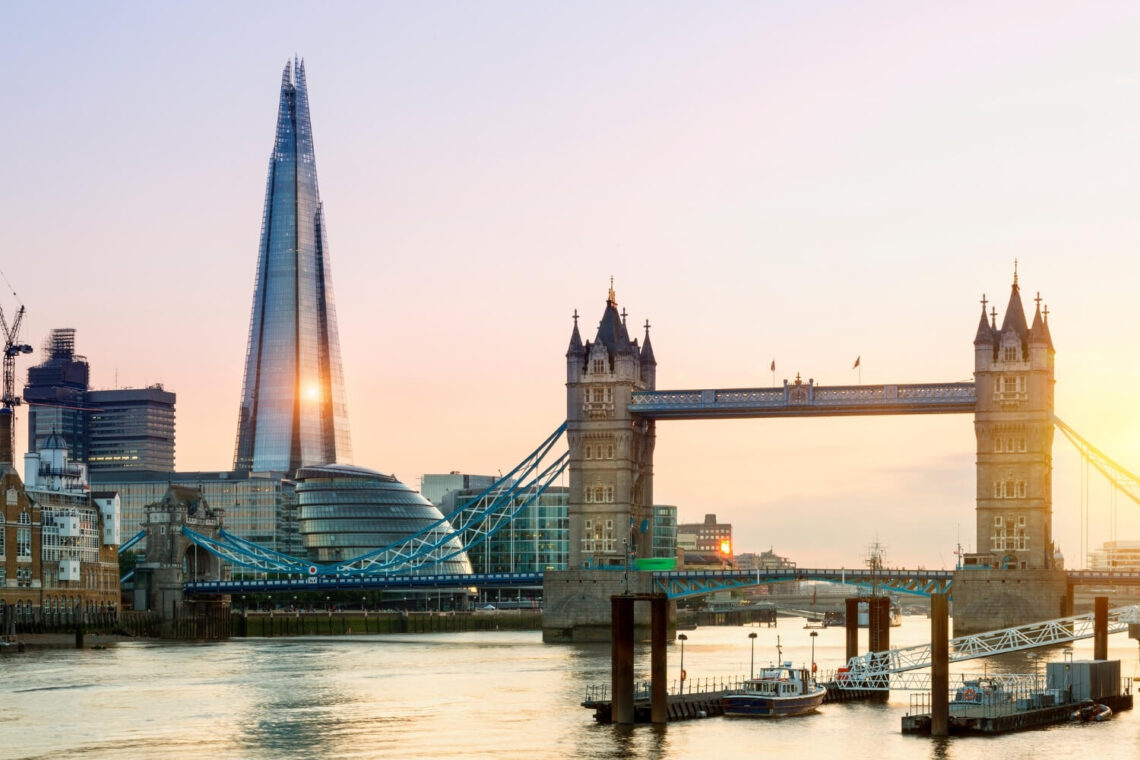 Wander through the Sky Garden
Another one of London's best views is available from London's highest public gardens. Across the water from The Shard, the Sky Garden offers a completely different view from its tall neighbour. It is recommended you book a slot for the Sky Garden as the queues are massive if you don't.
Located in the heart of Bank, the Sky Garden is up on the 35th floor looking over the stunning landscape of the city. Completely free to enter (during certain hours) and offering very reasonably priced drinks, this is the better option to The Shard. PLUS you get to admire the glass obelisk and its surroundings from here!
You will need to book a ticket to the Sky Garden, at no cost and you will have access to the gardens, bars and restaurants for 1 hour.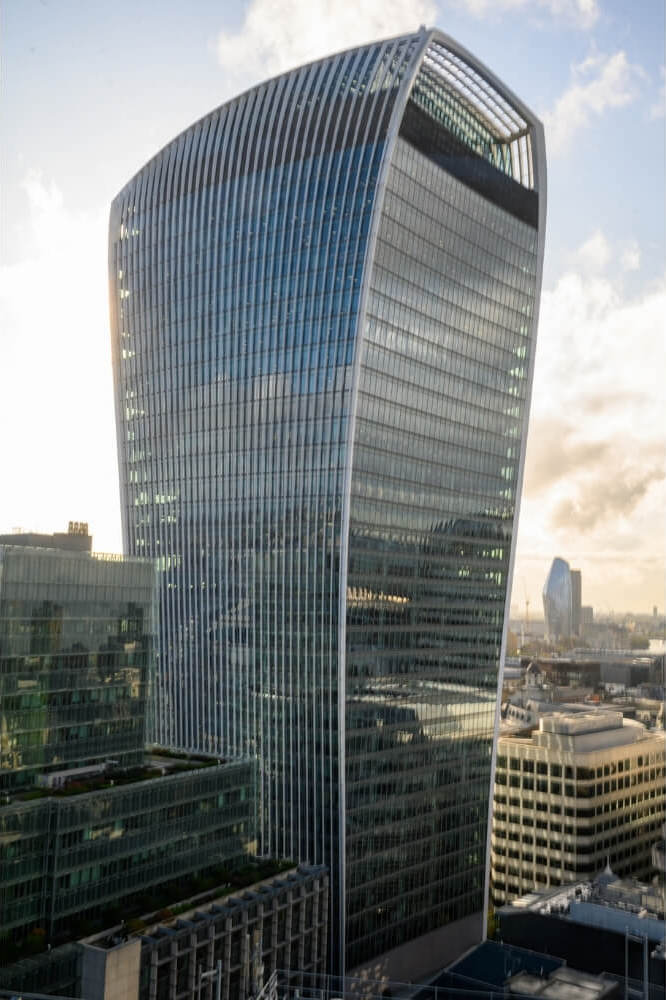 Day Three – West London
Shop Along Portobello Road Market
Yet again if you love shopping and love markets, one of the best places in London for street markets is the famous Portobello Road. These markets are open Monday to Saturday, from 9am to varying times at night.
These markets have a little bit of everything, from the traditional food and drink that you will find across London, to Bric-a-brac, Antiques, and Fashion and clothing.
Check out the Coloured Nottinghill Houses
Home to the colourful houses that you will see all over Instagram, this area is one of the most picturesque places in London. Starting at Portobello Road, there are several streets with pastel-coloured houses that make for the perfect photograph. These streets include St Lukes Mews (featured in the film "Love Actually"), Lancaster Road, Colville Terrace, and Elgin Crescent.
If you are feeling peckish and nothing from the markets tickled your fancy, the bright and airy cafe of Granger&Co at Colville Terrace is the perfect spot for you. Try and get here early if you do wish to eat here as it is usually queued out the door by mid-morning.
Also, if you are in London in August, be sure to check out the Nottinghill Carnival in this area. The vibrant colours, eye-catching costumes, and electric music will not disappoint.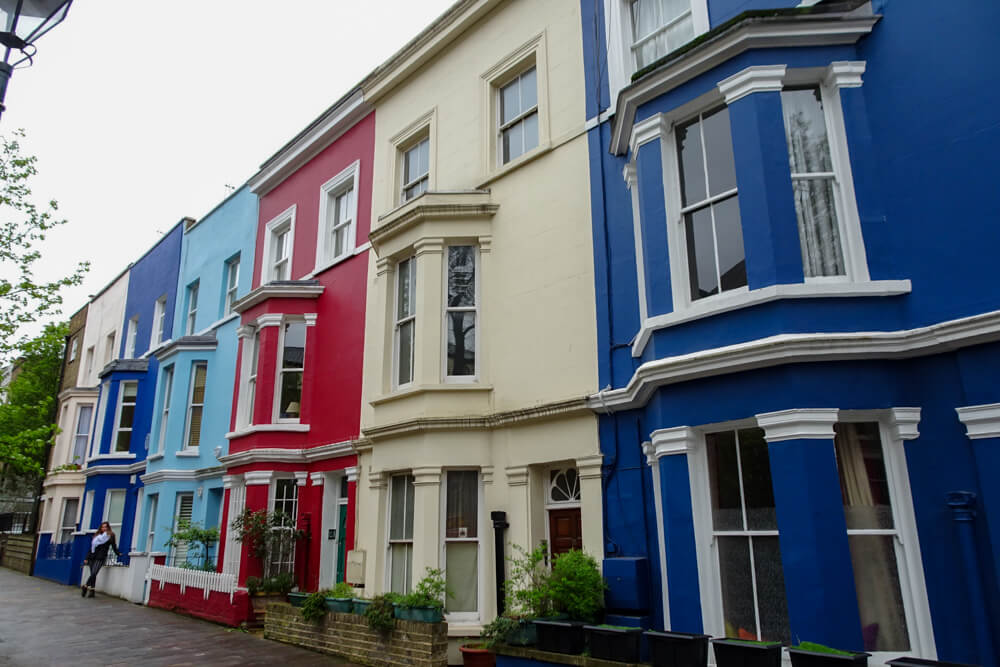 Stroll Along Little Venice
One of our favourite spots in London to get away from the hustle and bustle of the city centre is Little Venice. By going here you will feel as if you have been transported to Italy as you walk alongside the canals.
If you are feeling peckish whilst in this area, we recommend getting something to eat in Beany Greens or if you are feeling a little more adventurous, try out their sister company on the canal, Darcie and May.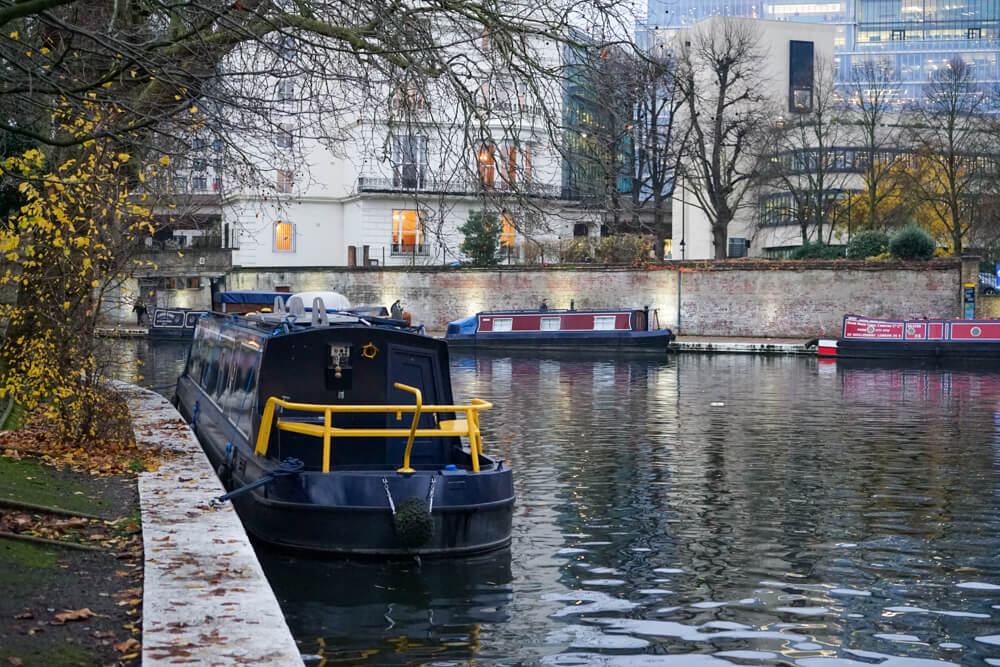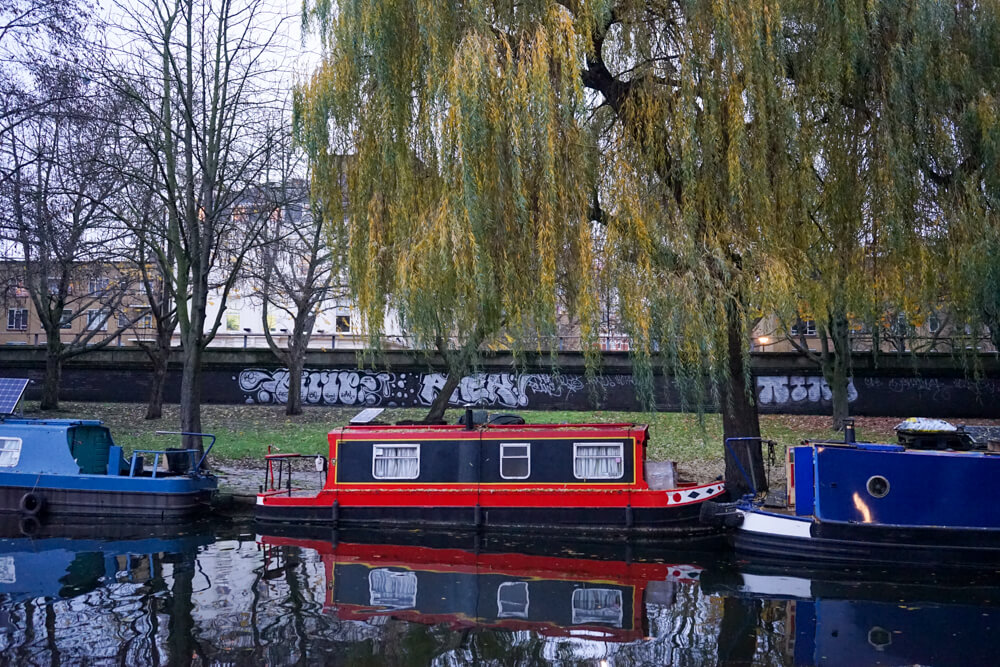 Listen to the Big Ben Bell
After you have filled your belly at Little Venice, it is time to head back to the centre for some more in-depth sightseeing. Head over the Westminster Bridge and cross the water while admiring the splendour of the famous London icon, Big Ben. The tower that you see above the Houses of Parliament is actually called the Elizabeth Tower (renamed in 2012 to honour the Queen).
The name Big Ben comes from the largest of the five bells that ring out across London, weighing in at a massive 13.7 tonnes. Before you feel underwhelmed by the size of the tower (personally I was expecting it to be much bigger), remember that it is over 150 years old!
Visit the Houses of Parliament
Beneath the beautiful tower of Big Ben is the political centre of the UK, the Houses of Parliament. This is where political heads from across the country, known as MP's, come to meet, debate and ultimately make the laws of the country. It is possible to take a guided tour of the Houses of Parliament upon your visit, however, you will need to book your place in advance as they usually sell out.
Now it's time to pay a visit to the Prime Minister, so take the second right after the bridge and head along past Downing Street. This is where you will find the house of 10 Downing Street, where every Prime Minister has lived since the beginning of the 18th century.  If you're lucky you might see some famous faces as you walk by, so keep an eye out!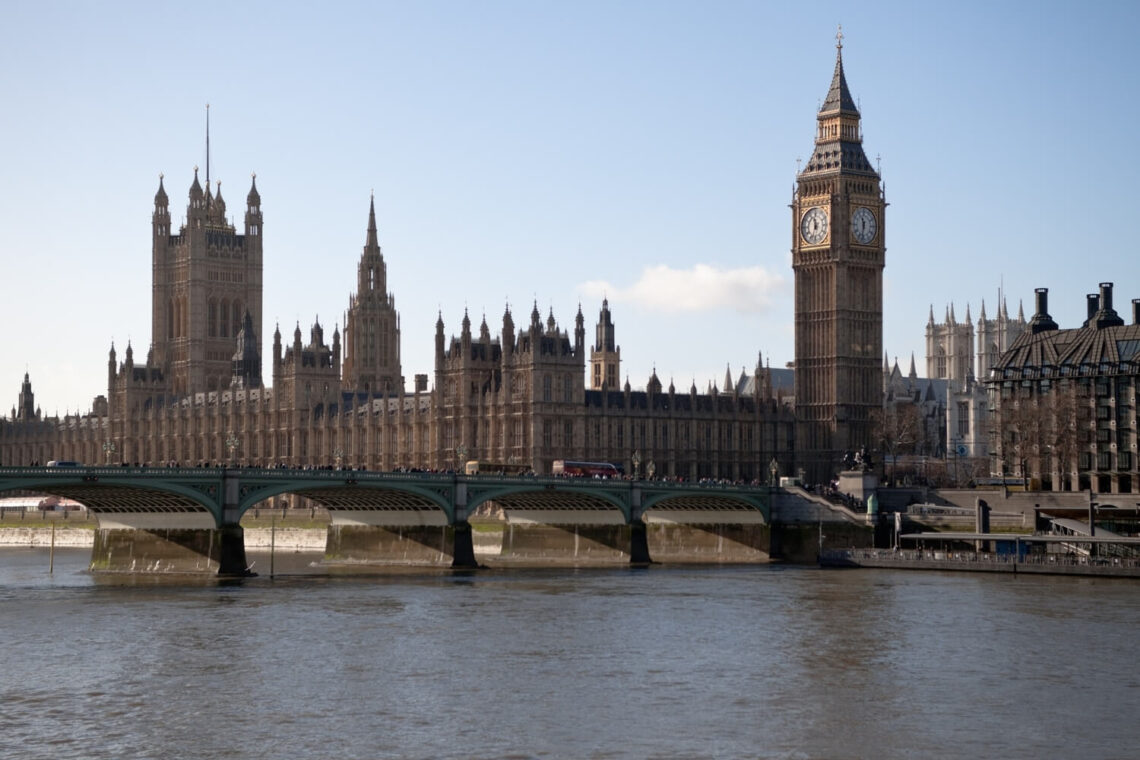 Tour Westminster Abbey
Sitting right beside Big Ben is the beautiful royal church known as Westminister Abbey, one of the most spectacular buildings in the centre of London. Westminster Abbey has been the coronation church since 1066 and is still open for visitors most days. The building itself dates back as far as 960AD, meaning there are over a thousand years of history to be learned during your visit.
Book into a guided tour of the Abbey either online or in-person and learn the history of this fascinating building.
Meet the Royals at Buckingham Palace
No visit to London is complete without paying a visit to the Royal Family at Buckingham Palace. Just a short walk from the Houses of Parliament, at the western end of St James Park, Buckingham Palace is another one of London's most iconic sights. This impressive building has been home to the Royal Family for over 150 years and has been consistently enlarged throughout this time.
Once again it is possible to experience a guided tour of the palace, which will show you many of the splendid rooms, interior decor, and give you an insight to the fascinating history of this beautiful building. These tours are available every summer and admission times run from 0930-1615 from July to October.
It is recommended that you book your tickets online here before you go.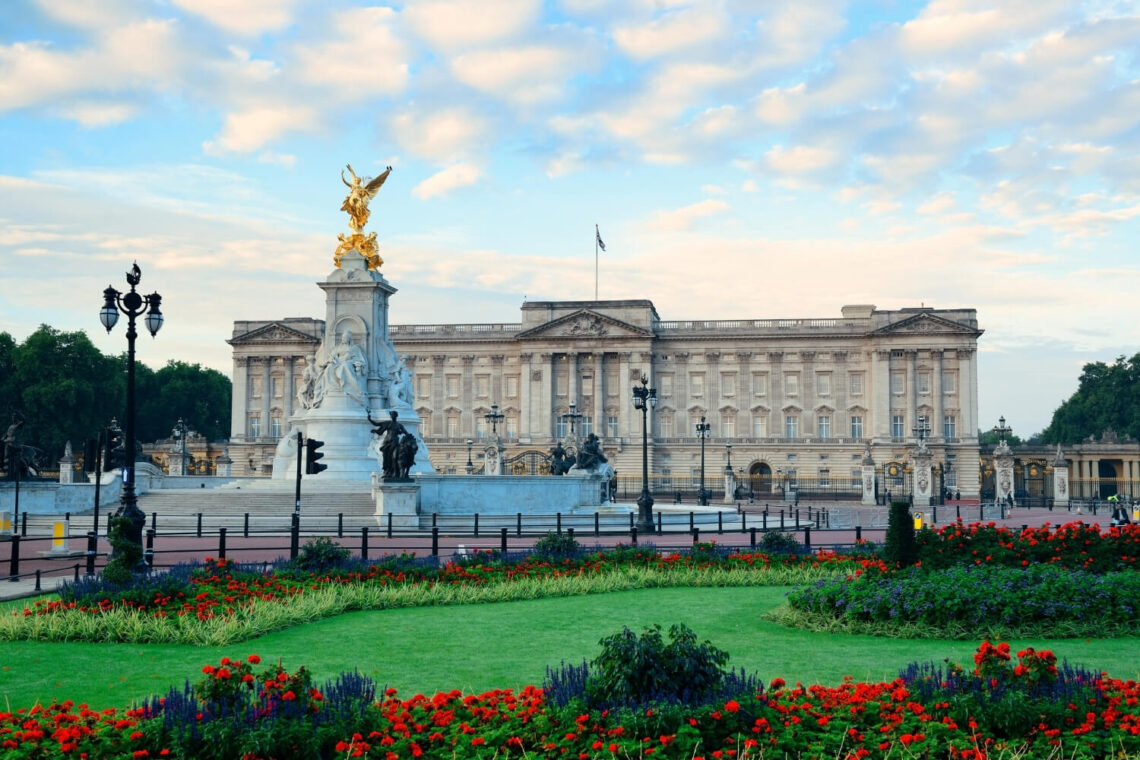 Stroll through Trafalgar Square
Leaving Buckingham Palace down the main road that is known as The Mall, you will eventually reach the beautiful Trafalgar Square, which sits below the impressive silhouette of the National Gallery. This is the perfect opportunity for some photos as this square is filled with towering statues and fantastic fountains. If you fancy a quick stop, head into the National Gallery and marvel at the huge amount of artwork that is on display here.
Admission here is free so don't be afraid to soak up the culture. You can browse the main gallery of art until your heart is content before heading to your final stop for the evening.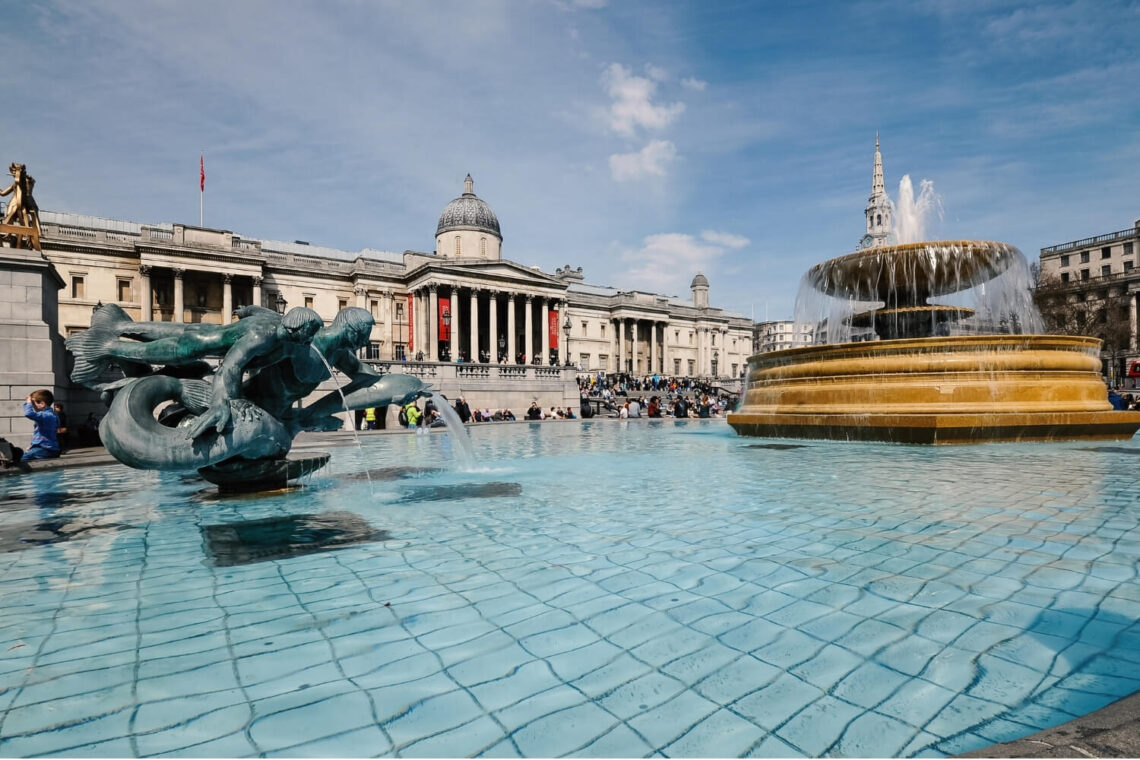 End the Night at Cahoots Kingly Court
To finish off the day, why not go back in time and grab a cocktail in this 1940's underground themed cocktail bar. Cahoots Bar sits beneath Kingly Court and is set in old-time, post-war London in an old subway tunnel that was used as an air-raid shelter during the London Blitz.
Everything about this bar is quirky, from the excentric costumes worn by the staff, to the vintage newspaper menus, and even the names of the cocktails and drinks themselves.
"where spirits are high and drinks never run dry"
Make sure you book a table in advance, Cahoots in London may be a hidden gem but it is always very busy!
Day Four – Final Day in the Capital
Get Fancy at Covent Garden
Kicking off your last day in style, Covent Gardens is a rather special place to visit in London.  It has the perfect mix between beautiful buildings, classy shops, and quaint market stalls, and even has a selection of cafes to grab a bite to eat. Have a wander around the surrounding buildings for a couple of hours and take in the atmosphere of the area.
If you are an avid tea and coffee drinker, we recommend heading inside the main building and visiting the Whittard of Chelsea Tea Bar. In the downstairs area, there is a large selection of free samples and cute tea making equipment, perfect for a mid-morning refreshment.
After this, you can head out to the main area of the building and admire the beautiful live music that is played here most days.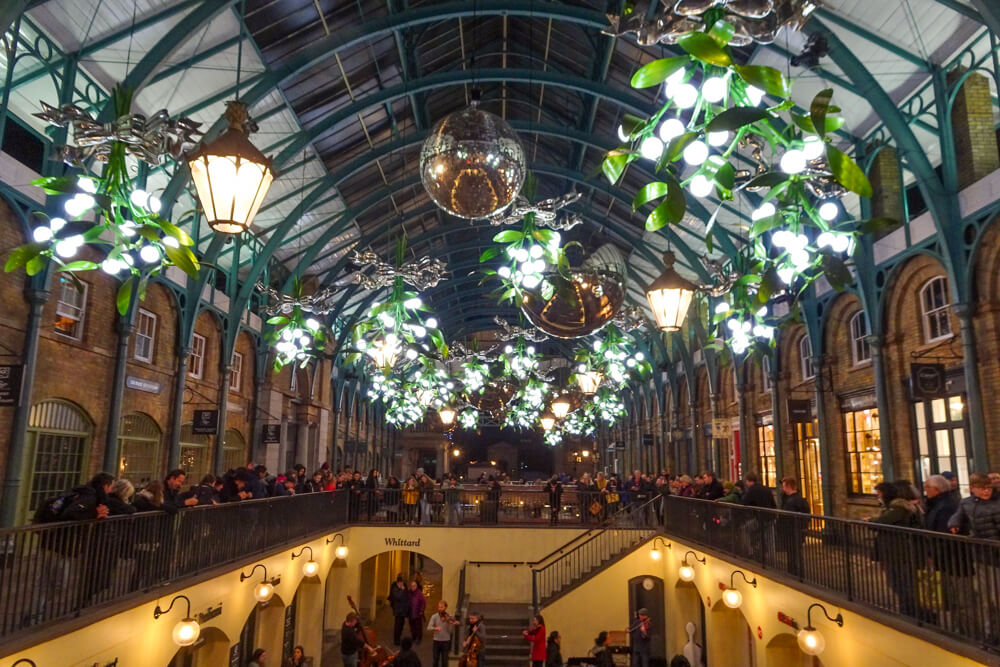 Shop till You Drop on Oxford Street
Next up is the ever-busy, shopping capital of London, Oxford Street. If you are a keen shopper then Oxford Street is the main Shopping Hub in London and is not to be missed on your visit. This district has something for everyone, however, so even if you are not mad about shopping you should still take a stroll along the high street.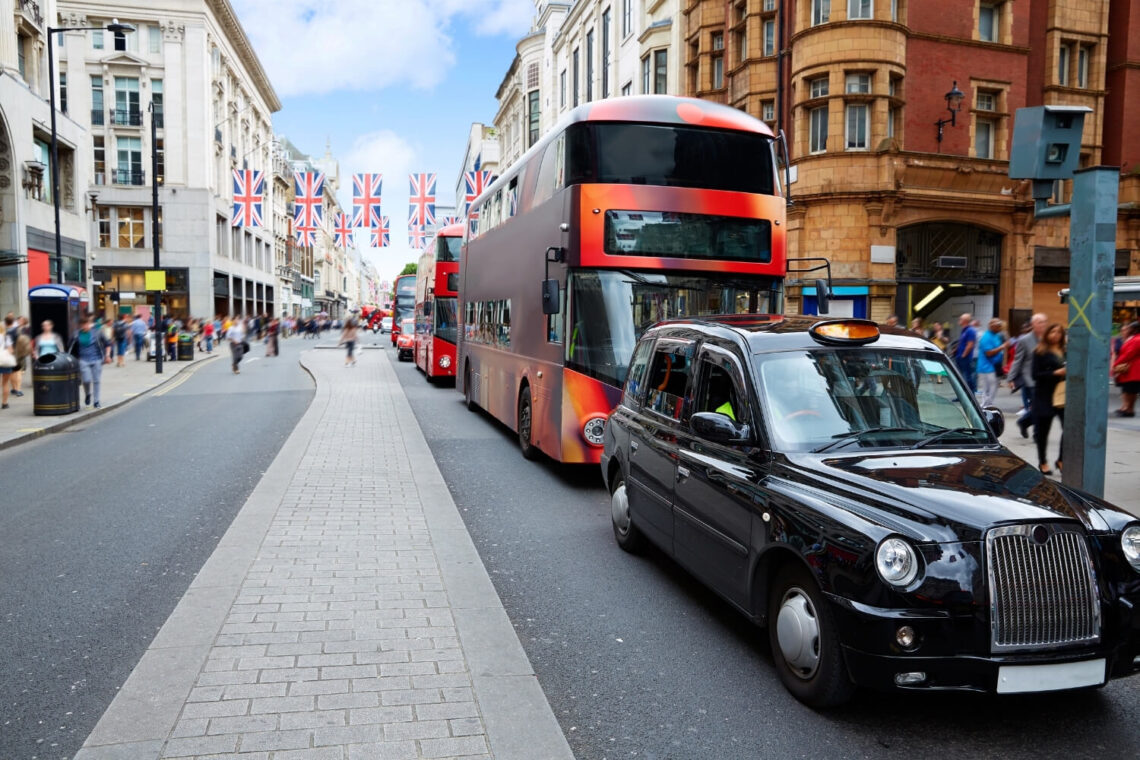 Stroll through Hyde Park
Following Oxford Street directly west, you will reach the largest green space in London, Hyde Park. Coming into the late afternoon on a Summer's day, Hyde Park is a beautiful place to wander through and relax on the grass and soak up some sunshine. Due to the sheer size of the park, you will always be able to find a quiet spot to relax in if you need a break from the city centre hustle.
If you are feeling hungry then head along to the Serpentine Lake that dominates the centre of Hyde Park and find the Serpentine Bar and Kitchen for an evening meal once the sun starts to set. In the summer you will find a large outdoor seating area with BBQs and plenty of hustle and bustle.
Toast to a successful day out in the capital and enjoy the scenery as the sun sets over the lake.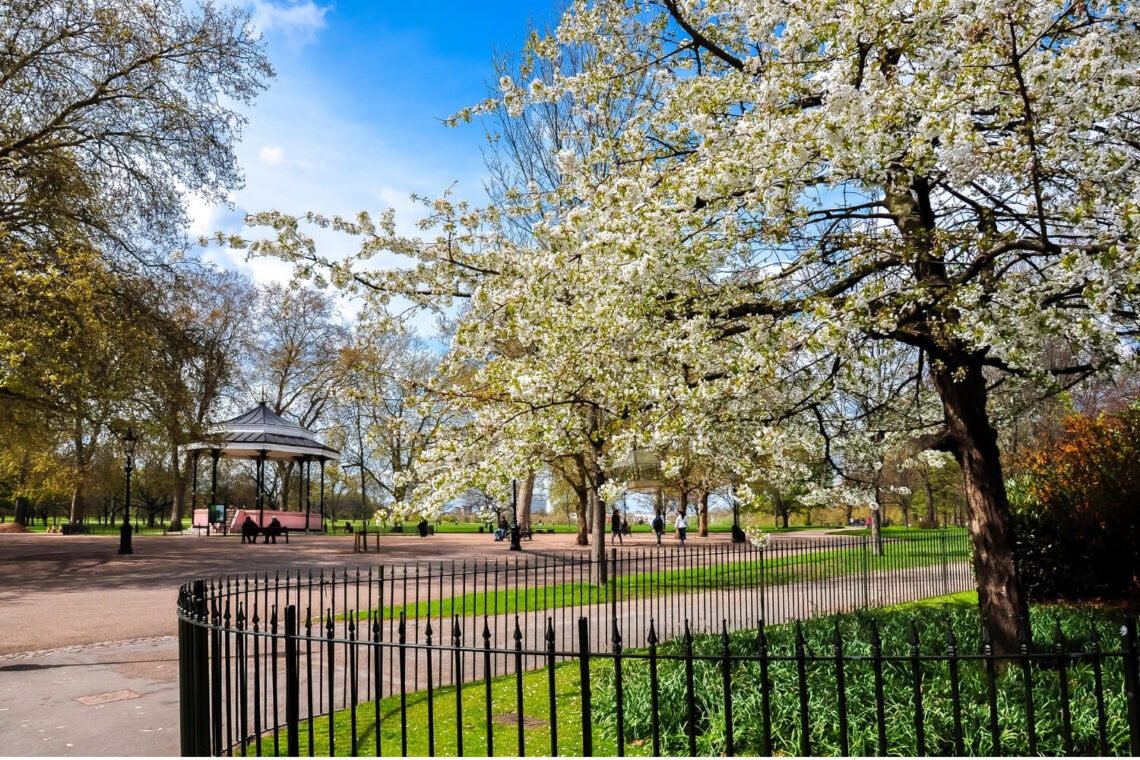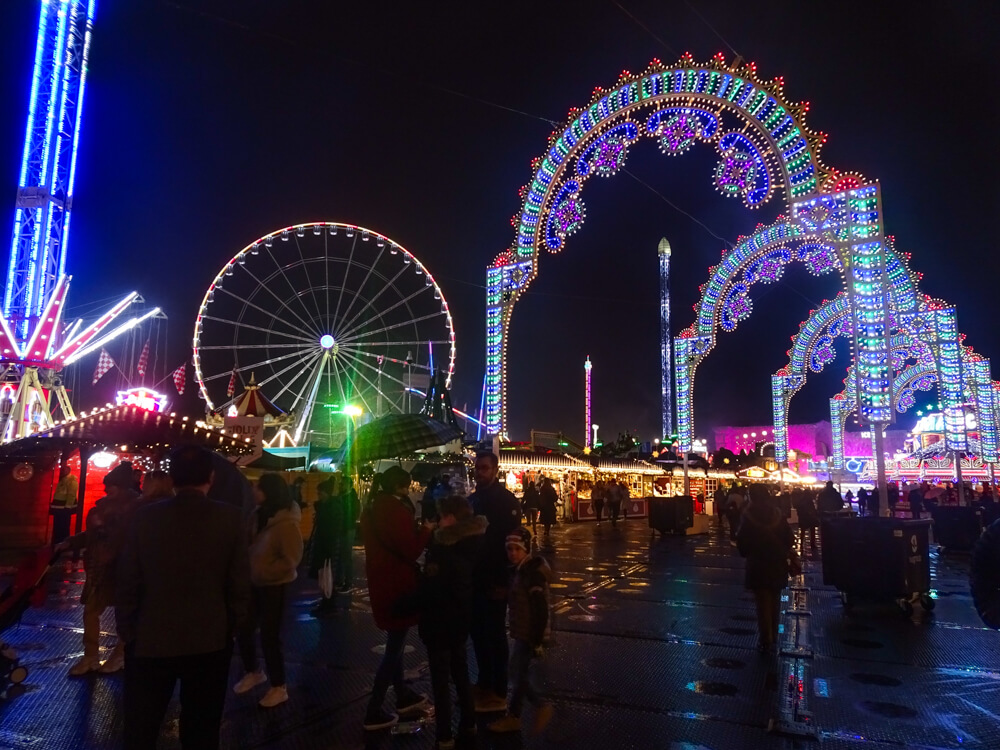 Round it off with a West End Show
End your trip with a bang and book yourself in to enjoy a West End show in some of the world's best theatres. There is always a huge selection of shows available in London, spread out across the city from Oxford Street itself out to the Apollo theatre out in Victoria. This is a great activity to do in London in the rain or to escape the hot weather in the summer.
Tickets can be booked in advance online or at one of the ticket stands that can be found around the city. Alternatively, if you are not restrained by time and are able to change your plans to suit last-minute shows, you are able to get incredible deals on the website TodayTix!
You will not be disappointed by the level of talent that the theatre in London has to offer. We have been to many over the years and have loved every show, our favourites are Kinky Boots and The Lion King.
Other Places that Cannot be Missed
There is so much to do in London and the surrounding areas. You may wish to swap some things in and out of this itinerary. We have also added in some day trips below which you may choose to do.
The Royal Borough of Greenwich
Right in the heart of south London is the bustling riverside town of Greenwich. Sitting on the banks of the River Thames, Greenwich offers locals and tourists beautiful views matched with history and culture. North of the river sits North Greenwich, a smaller part of Greenwich, home to the O2 arena and Emirates airline.
You will never be stuck for something to do in Greenwich! There is a mass number of restaurants, bars and coffee shops and on a nice day, a lot of them will provide outdoor seating. In the heart of the town is Greenwich market, open daily 10-17.30 all your round to locals and tourists selling a variety of fashion, jewellery, antiques and food.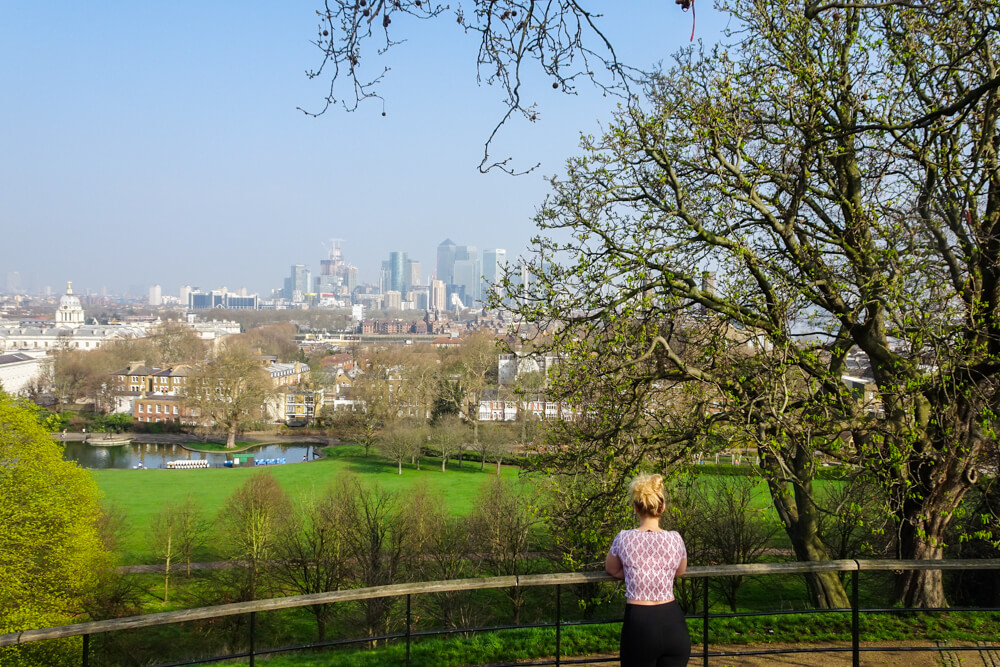 Shoreditch High Street
Without a doubt, our favourite place to go for dinner is Shoreditch, more specifically Brick Lane. If you fancy a curry in the big city then Brick Lane is the place to go! Catch the Overground railway to Shoreditch high street and enjoy a bar crawl through the student-filled, happy hour bars that line these streets.
Many of the deals you can get on drinks here will make you forget you're in London! We would recommend checking Groupon or the likes before getting a curry on Brick Lane, however, as it can still be rather pricey!
Whilst you roam around this part of London, make sure to keep a lookout for the street art displayed on the buildings around you.
Street Feast Food Markets in South-East London
Street food and London go hand in hand throughout the city, from the pop-up markets to the permanent setups spread across the buzzing metropolis. Some must-visit attractions for any street foodie exploring the capital are the Street Feast food markets situated throughout East London, from Canada Water to Shoreditch. These five markets all reside in some form of renovated warehouse or storage space that has been transformed into a thriving social scene with food to die for.
The following are the street feast markets that you will find around East London –
Public – Woolwich Arsenal
Giant Robot – Canary Wharf
Dinerama – Shoreditch
Model Market – Lewisham
Hawker House – Canada Water
Eat Curry on Brick Lane
To the north of the city, not far from Shoreditch High Street is a place that is widely known as the "Curry Capital" of London. Brick Lane is a well-known street in east London that has a huge range of Indian restaurants that are guaranteed to make your mouth water. Take a trip up here one evening for dinner if you are in the mood for a curry to remember.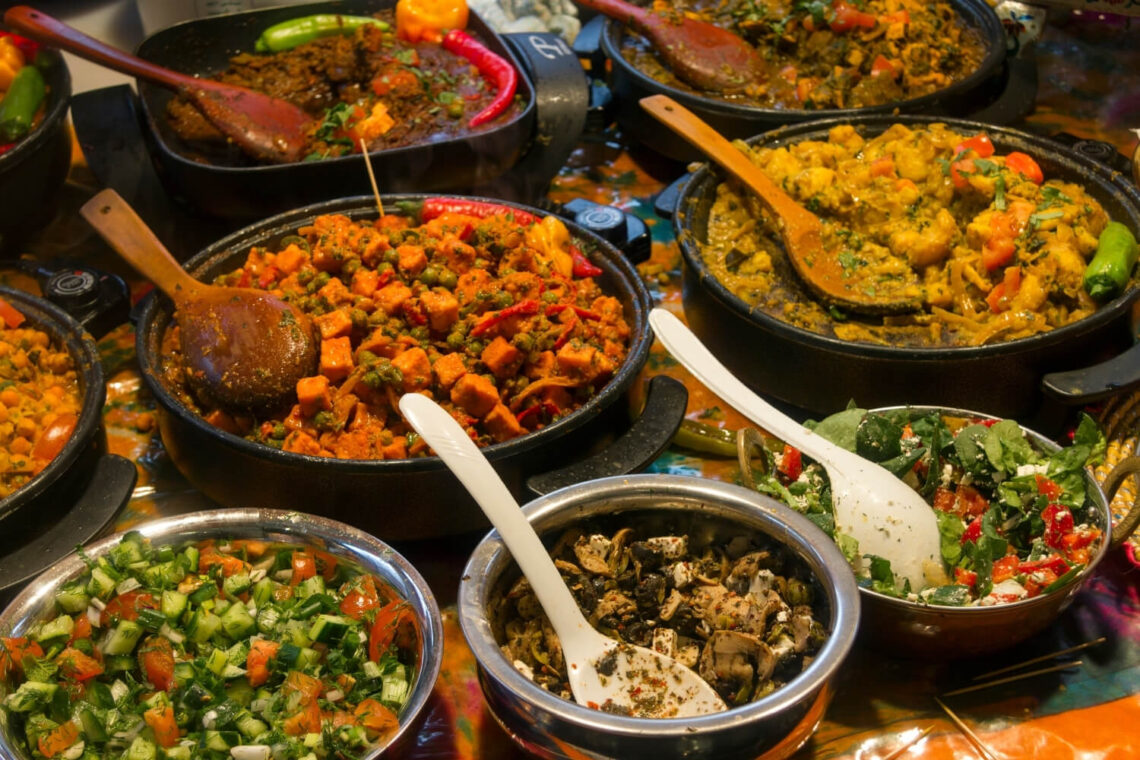 Day Trips from London
Outwith the hustle and bustle of the big city of London, there are a number of sights that you cannot miss out on that lie just outside of the city centre. Listed below are our top recommendations for day trips from London.
Harry Potter Studio Tour – The Making of Harry Potter
One of our favourite day trips from London is heading north to the Warner Bros Studio Tour to see the film making of Harry Potter. This is where they filmed the movies and all of the set equipment is there to see. You can also try some Butterbeer in the cafe. The creativity of the set and the props is incredible to see, we would highly recommend a trip there.
Make sure you book your ticket in advance before you come here as the tours book up very quickly.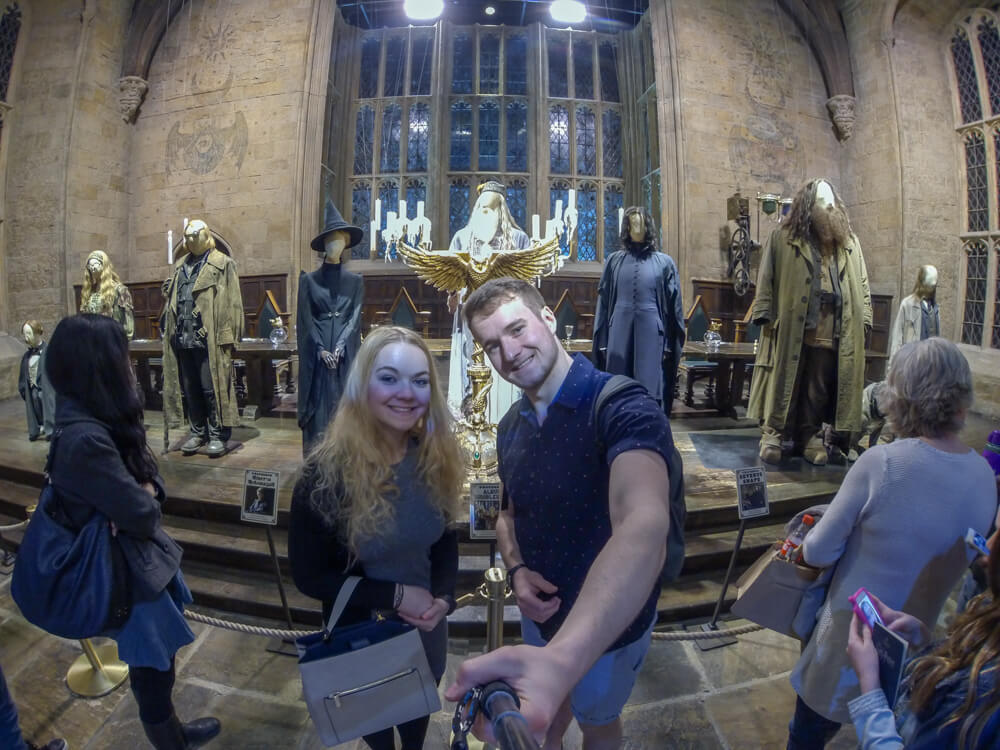 The Natural Paradise of Kent
Need a break from the busy hustle and bustle of the city? Less than one hour to the south-east of the centre of London, you will reach the beautiful countryside of Kent. If you enjoy being outdoors stunning castles, beautiful beaches and delicious food and drink, then you are going to the right place.
Catch the train from the city centre and you will be out of the city in a matter of minutes to sights such as the stunning White Cliffs of Dover, the beautiful Canterbury Cathedral, or the tranquil plains of one of the 12 Kent Country Parks.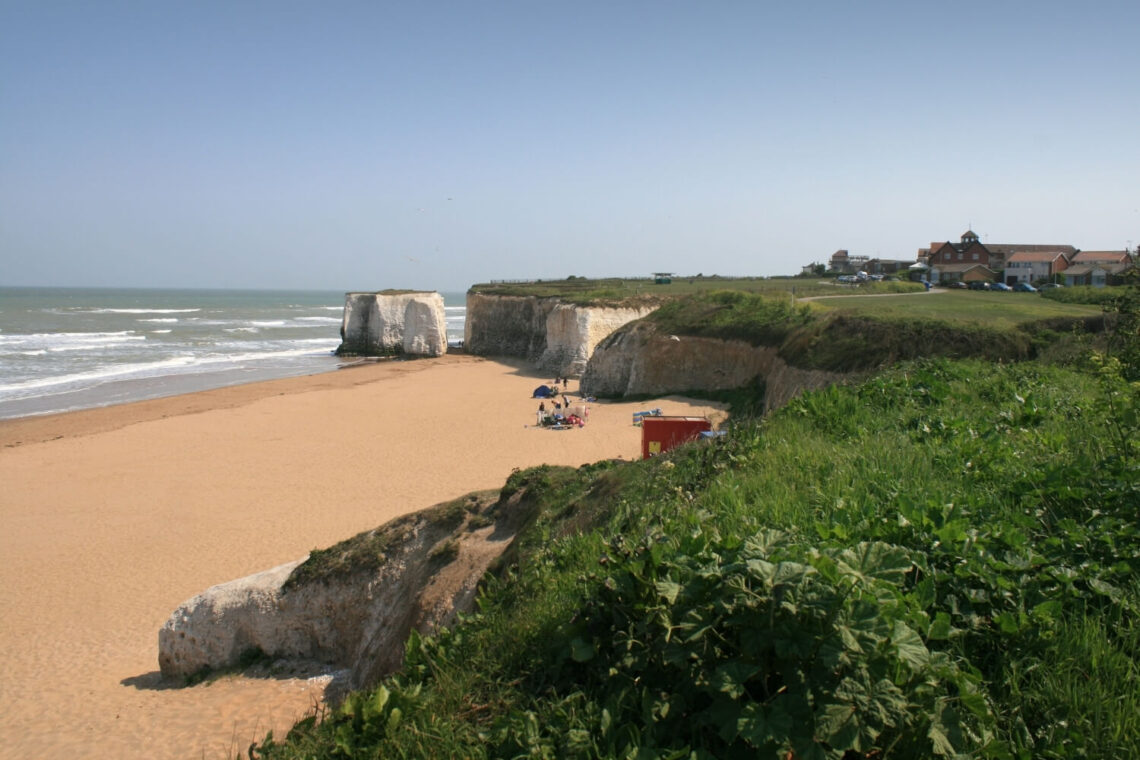 Before You Leave for London
Before you set off on your trip to the big city, there are a number of things you will need to know before you go to London. There are also a number of things you will need to arrange, such as how to get around, where to stay, and what insurance to use. All of this is discussed in the section below.
How to Get Around London
Public transport around London is really simple and easy to use. The cheapest way of doing this is by either using your bank card or purchasing an Oyster card. Both work the same of these work the same, giving a hugely discounted rate compared with paper tickets, however, the "daily cap" for the Oyster Card is slightly lower, making it the best option.
The Oyster card can be purchased at any station for a refundable deposit on return. To use this or your "contactless" bank card, you must swipe it at the designated machines at the station. You must swipe on and off the underground, overground and the train, however, you only need to swipe it once when you get onto the bus.
Some of the machines can be easy to miss at stations without a turnstile, so make sure you don't forget to swipe or you could be in for a hefty fine!
What is the Best Travel Insurance for London
I know travel insurance is the least enjoyable thing to purchase and look at when you're planning a trip, however, you wouldn't want to be without it in the event that something happened. The extortionate medical bills could ruin your trip if you are not covered.
To ensure you have a stress-free trip with no worries about potential medical bills, make sure you cover yourself when you travel. We can recommend using World Nomads, a backpacker-friendly and cheap insurance company that provides good coverage and support.
Get a quote for your travel insurance right here and get covered.
What to Pack for London
What you need to pack for London will rely highly on when you make your trip to the capital. During the Spring and Autumn months, temperatures and weather patterns vary wildly between beautiful sunny skies and freezing rain.
The temperatures generally vary from 10 oC to 25 oC during these months, with a mixture between cold, northerly winds and warmer southerlies. There is a small amount of rain, with maybe 1 in 7 days receiving rainfall, which makes it perfect for days out exploring the beautiful city.
During the Summer months in London, temperatures tend to range from 20oC to 30oC, with some days topping 35oC. Summer days in London are perfect for the beach, with many locals and travellers alike sending their day soaking up the sun and playing in the sea. When it comes to toiletries, we recommend that you don't forget to pack sunscreen. The sun in London can be strong, especially in the summer months.
If you need more inspiration on what to pack for your trip, check out our full packing guides for all-weather conditions over here.
Given the beautiful sights and scenery that you will see in London, we highly recommend packing a good camera for your trip. If you want to read more about the cameras we use and why we love them, check out the link below.
You can read what else we keep in our camera bag over here.
Where to Stay in London
Accommodation in London is not cheap, especially if you are looking to stay in the city centre. We can recommend that you use booking.com to find your accommodation and we have suggested one for each budget below.
Luxury – DoubleTree by Hilton Hotel London – Tower of London is the perfect luxury stay, located in the heart of the city centre.
Book your stay at DoubleTree by Hilton Hotel London – Tower of London here.
Mid-Range – The Premier Inn London County Hall is situated beside the London Eye and is the perfect central location for your one day in London.
Book your stay at The Premier Inn London County Hall here.
Budget – For a cheap and cheerful stay that isn't a night in a hostel dorm, Brick Lane Deluxe Guest Room is a great location for your one day in London.
Book your stay at Brick Lane Deluxe Guest Room here.
If hostels are more your scene, you can check out the hostels available in London here.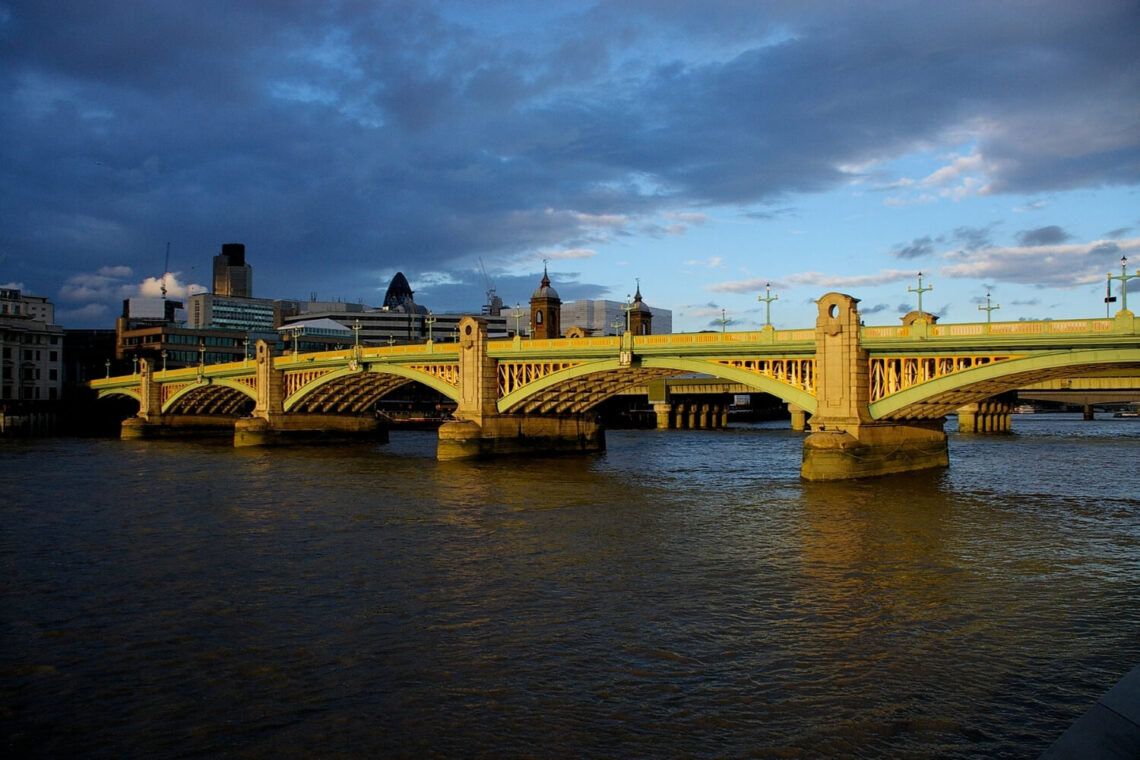 So there you have it, your ultimate four days London Itinerary. If you have recently visited London yourself, let us know about your trip in the comments section below. Where was your favourite place? What was your favourite food?  Let us know in the comments below.
If you are planning a trip to London, be sure to check out the rest of our England content to plan your trip to the fullest. We will gladly answer any questions you have with regards to your trip, so either DM us or send us an email.
Also, remember that sharing is caring, so be sure to share this with all of your friends and family and show them the beauty of London. Catch up with us on social media to see where we currently are and tag us in your own London pictures so we can share them with our community of fellow adventurers.
Read Now:
This article may contain affiliate links that provide us with a small income. For more information read our Affiliate page.
---
Pin it to your London Pinterest Board for later!