The small city of Nancy, populated by just 100k residents (a huge portion of which being students), was the place I called home for the first 4 months of 2017. This quaint, lively and most of all beautiful city will always have a place in my heart. This mainly due to its incredible culture and breathtaking sights! Here are just a few reasons why Nancy makes the perfect base camp for your next trip to the Alsace region. As part of my final year of university, I performed my obligatory rite of passage. As does any other wanderlust student,
I participated in an Erasmus exchange programme
. My initial choices were, of course, the obvious ones: Alicante in Spain (sunshine), Prague in the Czech Republic (beer) and Warsaw in Poland (cheap parties). However, after failing to get any of these, I was fronted with the choice of Nancy in France or nothing, (bearing in mind despite
my love for France
, I had never heard of Nancy until this moment). Despite this, I decided to go for it. I pulled together my incredibly limited, school-taught French skills and my sense of adventure. Beginning in January 2016, I would spend the
next four months
in this unknown eastern city of France. Little did I know at the time, these would turn out to be some of the best months of my life. Here are five things to do in Nancy, along with some anecdotes from my adventures in this vibrant, historical city. This guide is your
ultimate Nancy, France itinerary
, including where to stay, what to pack and the best sights and attractions that you cannot miss.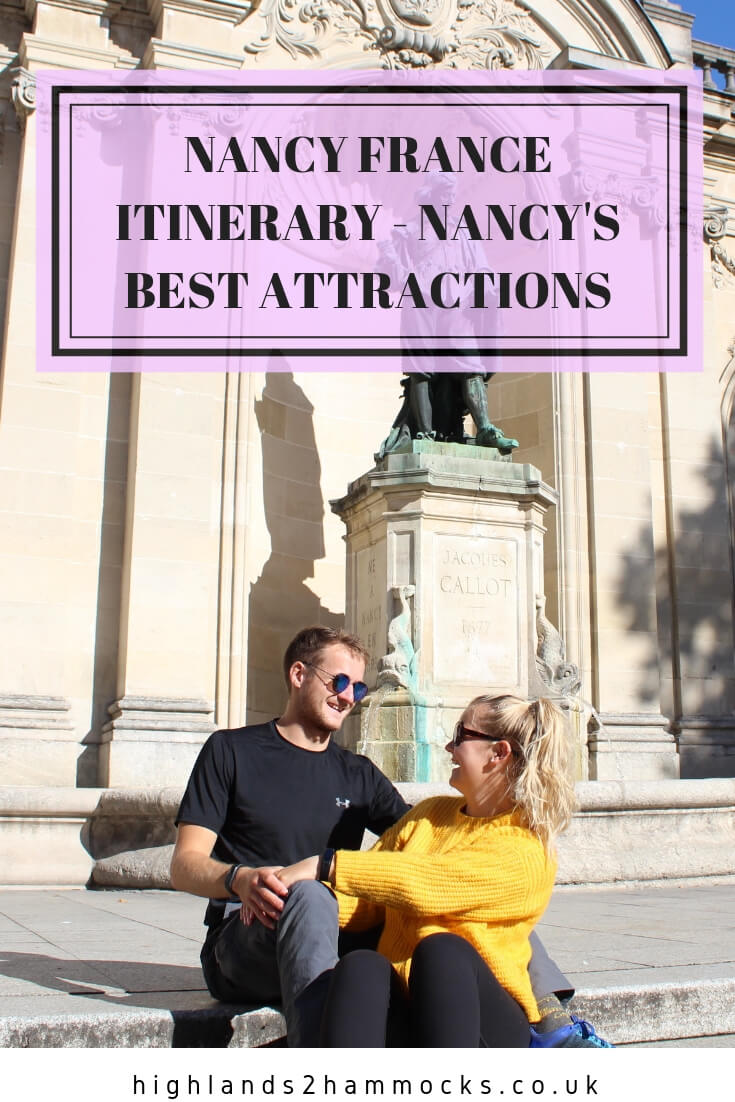 Nancy France Itinerary – Nancy's Best Attractions
Nancy France Itinerary
With so many sights to see around Nancy and the Lorraine region of France, you will need to ensure you make the most of your time in this beautiful part of France. To help you maximise your time in Nancy, France, here are some activities to do as well as the best time to do them.  
Late-night walk through Place Stanislas
The first of many things to do in Nancy is the famous Place Stanislas. This historical square was first constructed in 1755 as a way of linking the old town of Nancy, to the newly constructed, 17th-century town. The beautiful buildings surrounding the square link together forming a magnificent pedestrianised space.  This allows for bars and cafes to spill out onto during the warm summer evenings. Spectacular black and gold arches guard the four corners of the square, with sculpted fountains in the two most eastern.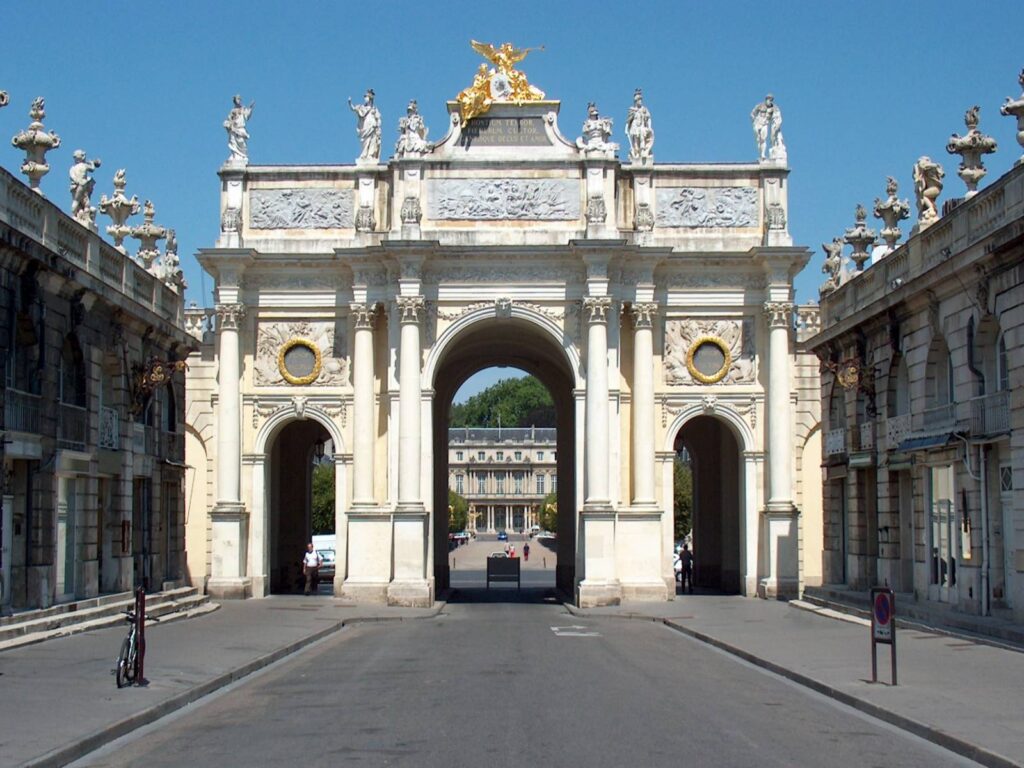 In the evening this square comes to life, lights across the square give the statues and gateways a haunting beauty. Clubs and bars open for the evening with a guaranteed bustle of entertainment for the large population of students Nancy holds. This is the time for a romantic walk through the square to take in the atmosphere and marvel at the architecture. You can then stop at one of the bars for a fine wine or two.    
Fairground Fun at Place Carnot
During the spring months, Nancy's town centre comes to life as its largest square hosts a month-long carnival. Place Carnot turns from a vacant square into a vibrant show of flashing lights and family fun. This carnival has got to be one of the biggest I have ever seen. Rollercoasters, Ferris wheels, dodgems, haunted houses and more food stalls than you could possibly sample. The Carnot festival is an incredible day and night out.      
Sunbathe in Parc de la Pepiniere
The perfect place for an afternoon snooze is just a 10-minute stroll from Place Stanislas. The restaurants and cafes do not open until the summer months, however, it still offers its beautiful atmosphere. The surrounding area is perfect for a walk, or in the warmer months a post-lunch kip. For animal lovers, there is a small zoo with farm animals and a variety of birds. This makes it the perfect spot to sit and enjoy a picnic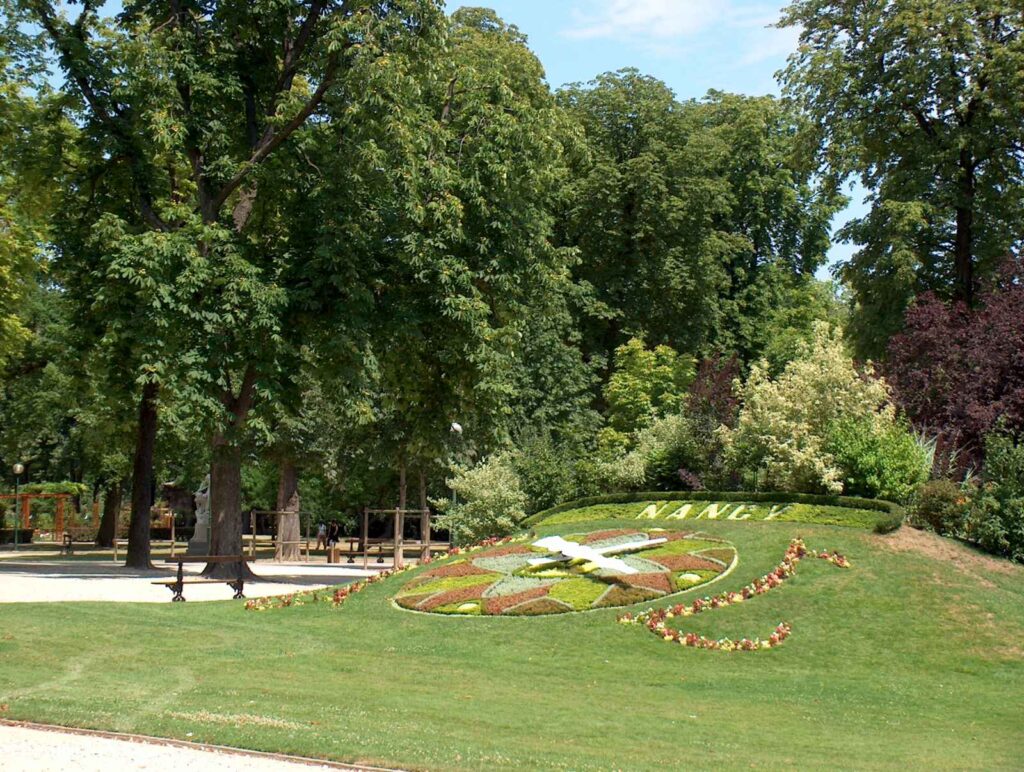 Day Trips to Neighbouring Cities
Situated in the northeast region of Lorraine, Nancy offers some fantastic day trips to some historic and beautiful cities. An hour to the north lays the city of Metz, an ancient city with history dating back 3000 years. Thought of as the capital of Lorraine, this city is known for its Gothic architecture and incredible Metz Cathedral. To the east of Nancy is the better-known city of Strasbourg. This city is the capital of the Grand Est region and formal seat of the European Parliament. The architecture of this city blends German and French influences and holds some incredible tales of the struggles this city has faced.
Metz
An hour train ride north of Nancy will bring you to the beautiful city of Metz. Tickets can be purchased online for a reasonably cheap price. On my visit to this city, the weather was far from ideal for a day trip. Being of Scottish heritage, however, we managed to make the most of it! We started the day off with traditional coffee and croissant in one of the many mouth-watering boulangeries. Then we made our way to the magnificent Metz Cathedral. Exploring the interior of this incredible building, we were able to admire the stained glass that it holds (as well as take a break from the rain..). From here we wandered to the Porte des Allemands or the Gate of the Germans. This ancient fortification serves as a bridge over the river Seille. At this point, we decided to head back to the city centre and explore the indoor food markets. These offered a huge range of food, from meats to pastries in a unique and incredible atmosphere. The weather then turned on us, forcing us to find shelter in one of the nearby pubs and enjoy an afternoon of Six Nations Rugby. For food and drink in Metz, there is a noticeable decrease in the number of budget-friendly bars and restaurants in comparison with Nancy. The main square offers a variety of English, Irish and traditional French pubs. The prices however are much less desirable with an incredible €5/6 per pint. We managed to find a reasonable sports bar, known as the
Tipsy Beef
, for drinks and entertainment. What this bar lacked in a traditional pub atmosphere, it more than made up for in televised Rugby and cheap beer.
Strasbourg
Another one-hour train journey from Nancy, Strasbourg offers an incredible day out for wherever your interests lie, be it history, beautiful architecture, fancy pubs and restaurants or shopping till you drop.     Another rainy and miserable day hosted my day visit, starting off with a visit to the beautiful cathedral and surrounding markets. The magnificent organs of the cathedral were a definite highlight of my trip, resting high above the cathedral floor I could only imagine the breath-taking melodies it would produce. From here we took a boat trip along the Ill River, through the area of
le petit France
, and on towards the newer architectural designs that lie on the outskirts of the city. The river takes you on a trip through time, showing the different designs of structures influenced by the different rulers of this fascinating region.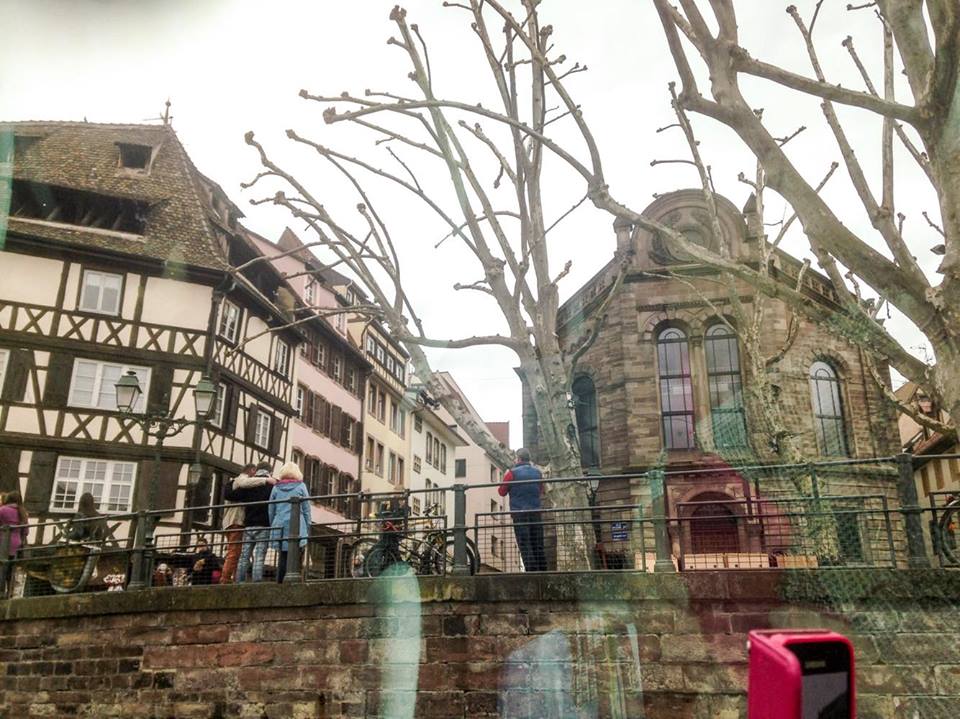 The history of the Alsace region through the 20
th
and 21
st
century is darkly fascinating, with terrible stories of the lives of those who lived through the occupation by Nazi soldiers. They are stories that must be told and never forgotten, lest we forget the terrors brought on by such a time.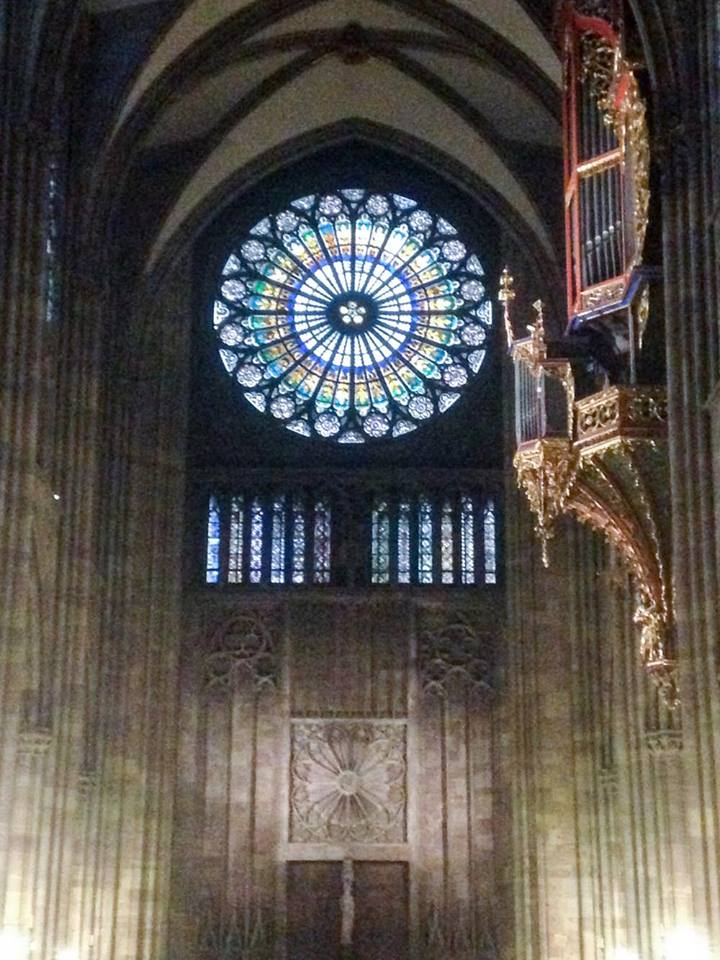 Paris
Lastly (and most importantly) you have the romantic capital of the world, Paris! We took two weekend trips to this incredible city during my time here, however you could easily smash out a day trip, if you don't mind an early rise.     By catching a cheap train into the Gare du L'Est, you can take a quick walk into the city centre of
Paris
and see all of the main sights in one day. Our most memorable sight was definitely the Eiffel Tower during our trip here. I had always thought it would be a bit of a disappointing sight in person, due to how romanticised it is in movies and books, however, in person, it was even more spectacular than I could have imagined. It is absolutely huge! HUGE! And the surrounding parks are perfect for a lie down to soak up the atmosphere and sun.
Read more about our time in this magical city here and see why it's impossible to not fall in love with it!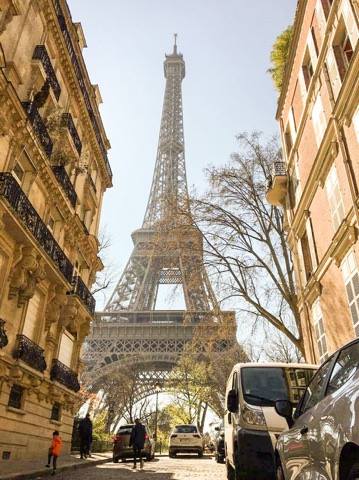 Come along on weekend trip to Paris in this video. Make sure you subscribe to our Youtube channel for more by clicking here!
The Small Charms of Nancy
From living in a wonderful city, I have learnt to appreciate even the little characteristics of the locals and tourists. There is so much to appreciate in Nancy, such as the incredible number of independent
boulangeries
and
pâtisseries 
that fuel the vast population of students, the stunning architecture dotted around the city, and of course the fascinating obsession with micro-scooters! A highlight of my time here was the number of fully grown businessmen and women scooting around in fancy suits.  
Cafe Culture
The café culture of France is another highlight for me, with the local cafes spilling into the streets during the warmer months as residents soak up the sun with an after-work caffeine fix. If you plan on enjoying a coffee in one of these lovely spots then make sure you don't have any plans for later, as the laid back attitude of the waiters certainly does not mix with the rush of extra customers. Then again, why would you be in any rush when the sun is shining and beautiful buildings and people surround you?   A last piece of advice I would give is to embrace the student culture of Nancy! I met some amazing people when I was there, which made my experience that much more incredible. The local pubs tend to do student nights and the Irish pub next to Place Carnot, Pub MacCarthys, does weekly
Café du Lingue
sessions where students of all different languages meet up for a drink and to practice speaking different dialects. It also tends to be jumping on weeknights towards the end of the week and was our go-to place to enjoy the Six Nations rugby tournament, so there is always a social scene to try out! So take the leap, book a flight to somewhere you have never heard of, and most importantly get involved!    
Before Your Trips to Nancy
Before you leave for Nancy, there are a few things you will need to take care to ensure a smooth and enjoyable trip. These include where to stay, what insurance is best and what to pack.  
What to Pack for Nancy
As with most areas of northern Europe, Nancy is subject to all four seasons. This makes packing for your trip vary dependant on what time of year you are going. During the warm, French summers, Nancy can easily get to temperatures in the high 30s. If you are heading to Nancy during these months then I would highly recommend light, summer clothes and a waterproof for the odd downpour. During the winter months, Nancy is very partial to below freezing temperatures and even snowfall. Wrap up warm and take some good shoes for rain and snow.   If you would like more help packing,
you can read our full packing guides for all seasons over here.
  Given the beautiful sights and scenery that you will see in Guernsey, we highly recommend packing a good camera for your trip. If you want to read more about the cameras we use and why we love them, check out the link below.
You can read what else we keep in our camera bag over here.
Best Travel Insurance for Nancy
As with any adventure, it is essential to make sure you are covered for your trip to Nancy. This can help with flight cancellations, lost luggage and even unthinkable situations like injury and death. It is never a fun thought, spending money on something as boring as insurance, however, the consequences that your loved ones may face are simply not worth the risk. To make insurance as painless as possible, we get ourselves covered with World Nomads Travel Insurance. These guys provide excellent cover, customer service and optional extras, all for a very reasonable price.
Get your own quote for travel insurance here and get covered for your trip to Nancy, France.
How to Get to Nancy
There is no airport near Nancy that offers a reasonably priced journey, so the best way to get to Nancy is to fly to Paris and then connect to Nancy either by bus or train.  
Train
Flying into Paris and then catching the connecting train to Nancy is by far the easiest way to get here, with a direct link and minimal walking. The train leaves from the Gare du L'Est and takes just under two hours to reach Gare du Nancy.
You can book your train tickets online through the TGV website.
Bus
Getting the bus to Nancy is the much cheaper option, and is the one I recommend. It takes longer (roughly 5 hours), however it can cost as little as 10% of the price of a train. Bring a good book and relax while you save money for the French delights that await. There are two main bus operators around Europe, OuiBus and FlixBus. Both offer very good value, customer service and comfort for your trip. They both have USB charging points and a limited amount of free Wifi. You can browse your bus options for
OuiBus
and
FlixBus
on their website.  
Where to Stay in Nancy
For your accommodation in Nancy, there is a huge range of choices available from budget to luxury. The city is quite spread out, without much of a desirable central area to live in, and there is excellent public transport to get around with. To make your life easier, we have put together the best accommodation we have found in each budget range.  
Luxury
– For a city centre escape, five minutes from Place Stanislas, the Aparthotel Adagio Access is the choice for you. These self-contained, self-catered apartments are not only in amongst the action, they also offer the comfiest nights sleep we have ever had in our lives.
Book your stay at the Aparthotel Adagio Access right here.
Mid-Range 
– For a reasonably priced stay only 700m from Place Stanislas, Au Coeur de Nancy B&B is an excellent choice. These rooms share a bathroom and kitchen with other travellers and offer an optional continental breakfast for a surcharge. Wifi and television come as standard.
Book your stay at the Au Coeur de Nancy B&B here.
Budget
– For the best value accommodation in Nancy, Anne MAI offers dormitory rooms for cheap prices. Situated right in the city centre, this accommodation allows you to spend as much time as possible exploring the city and soaking up the beautiful atmosphere that Nancy has to offer.
Book your stay at Anne MAI here.
    If you are heading to France soon then make sure you
check out the rest of our France content to plan the rest of your trip.
If you have recently visited Nancy yourself, let us know in the comments section below. What was your experience like? Where was your favourite hangout? What were the highlights?
Let us know in the comments below
. If you enjoyed reading this, then make sure to
share it with your friends
, it may just inspire them to take the leap and go for Erasmus. Come and
say hi on our social media
to see where we are in the world and tag us in your photos of beautiful Nancy so that we can share them with our community.    
Now Read:
This article may contain affiliate links that provide us with a small income. For more information read our Affiliate page.
---
Pin this image to your Nancy board for later!