Australia is a land of exquisiteness that has plenty in its fold, from nature to wildlife to coastal beauty to sports to cosmopolitan culture. Brisbane is one such city that perfectly represents Australian tourism.
Booming in rich history and oozing out cultural heritage, Brisbane is a destination that should be on every traveller's bucket list. It is the capital of Queensland. The city is often known as the home to some of the modern architectural grandeurs, along with interesting museums, must-visit wildlife sanctuaries, and adventure parks.
However, that's not it! Brisbane offers plenty more to travellers and even provides easy access to nearby iconic attractions like Great Barrier Reef and Gold Coast. With that being said, let's now have a look at the fun things to do in Brisbane that you must look to cover on your trip to this beautiful Australian city.
No time to read now? No problem, save a pin to your Pinterest board for later!
A Guide to the Best Things to Do in Brisbane
Where to Stay in Brisbane
Best Time to Visit Brisbane
Explore South Bank Parklands
Visit Story Bridge
Admire the Surreal Beauty of Brisbane Botanic Gardens Coot-tha
Head Out to Mount Coot-tha
Get an Insight Into the Local History at the Museum of Brisbane
Cuddle a Koala at Lone Pine Koala Sanctuary
Take a Day Trip to Cedar Creek
Enjoy a Delectable Time at Eat Street Northshore

Before You Leave for Brisbane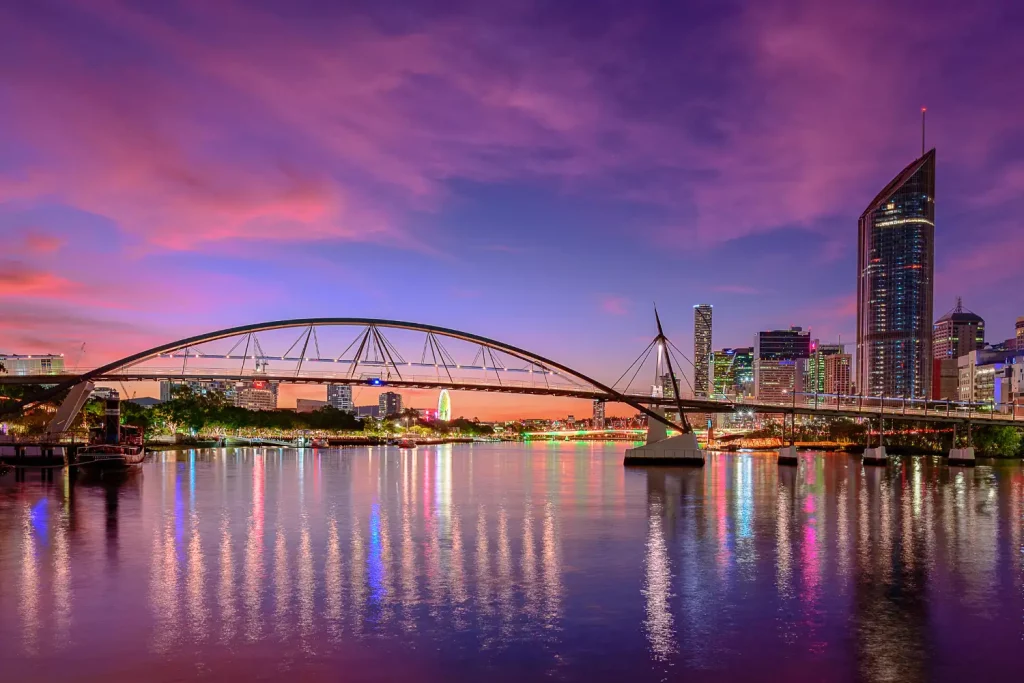 Best Time to Visit Brisbane
Brisbane is one such destination where you can plan your trip any time of the year. The city sees four major seasons – summer, winter, autumn, and fall. However, unlike other parts of the world, Australia's seasons are a little different. Wondering how? Well, the seasons in Australia are in the opposite pattern. Let's know more about it!
Summer begins in the month of December and lasts until February. Yes, that's how the Australian seasons are different from the rest of the world. The temperature during these months ranges from 31°C to 33°C.
The weather is hot and humid during this time, with chances of storms. Sometimes, the storms can also come along with thunder, lightning, and heavy downpour. Despite that, January is a popular time to plan a trip and indulge in fun activities in Brisbane.
From March to May, Brisbane sees the fall season. The temperature ranges between 15°C and 25°C, where March and April are on the warmer side. The humidity is low during this time, and rainstorm chances remain very less. Late falls happen to be the shoulder season to visit Brisbane.
Spring season commences in September and lasts until November. This is the time when humidity and rainfall start to rise. Other than that, the city is quite easy and comfortable to explore during this time of the year. A beach trip is highly recommended during this time.
Lastly, winter in Brisbane is from June to August. Stranger, right? Well, that's the Australian climate for you! Winter brings cooler nights and clear days in Brisbane. The temperature ranges from 11°C to 21°C, and the water is still warm enough to swim. Winter also marks the start of humpback whale season off the Southern Queensland coast.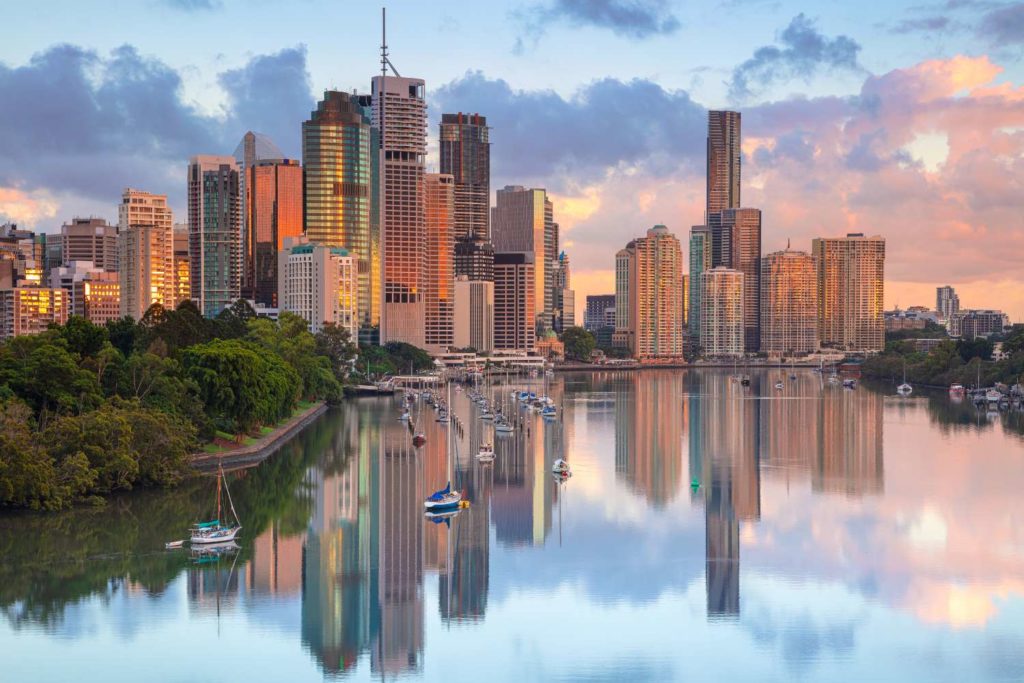 Explore South Bank Parklands
When in Brisbane, you cannot just miss out on South Bank Parklands as it is one of the best places in the city. This is a riverfront public area that boasts an amazing Australian vibe.
For a fact, this was the original site where World Expor happened in 1988. You can also stroll through the riverfront to explore the area while soaking up the spirit and the vibe.
Apart from Parklands, promenades and plazas also dot the region and encourage tourists to get engaged in this popular pedestrian area. The strategic location where Streets Beach is right at the centre between Parklands and CBD gives you a chance to swim in a man-made lagoon on a warm sunny day.
People can also be seen chilling on the shore or enjoying a swim in the water, just as Australians love to do. Once you're done enjoying an amazing time strolling around or swimming, you must go for a delicious meal at one of the restaurants at South Bank.
The precinct also hosts various events in Brisbane and even film screenings. So, on your stay in Brisbane, make sure you check beforehand and choose the right day to explore this famous tourist site.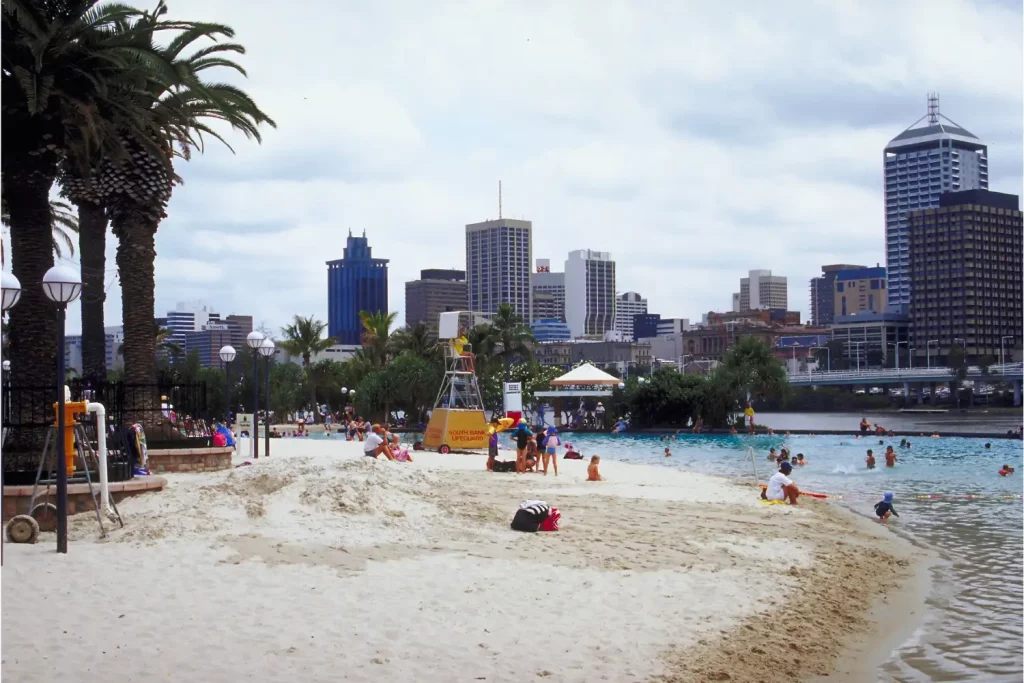 Visit Story Bridge
Story Bridge is an iconic attraction to visit in Brisbane. The bridge serves as an integral part of the city's history. It is a heritage-listed steel cantilever bridge that dates back to 1940 and used to be a toll bridge until 1947.
From the bridge, one can savour the spectacular view of Brisbane CBD along with the city's skyline. If you are a shutterbug or want to click some insta-worthy pictures, then a visit to this place is a must.
There are various ways to explore the bridge; you can either walk the bridge and see people crossing it as part of their daily commute, or you can go down and enjoy the view of the sun falling asleep with a backdrop of the skyline.
However, if you want to be a little adventurous, go for bridge climbing. You will be strapped into a harness through which you can climb the bridge. From the top, you can soak in the 360-degree views of the city along with the sight of Glasshouse Mountain Range.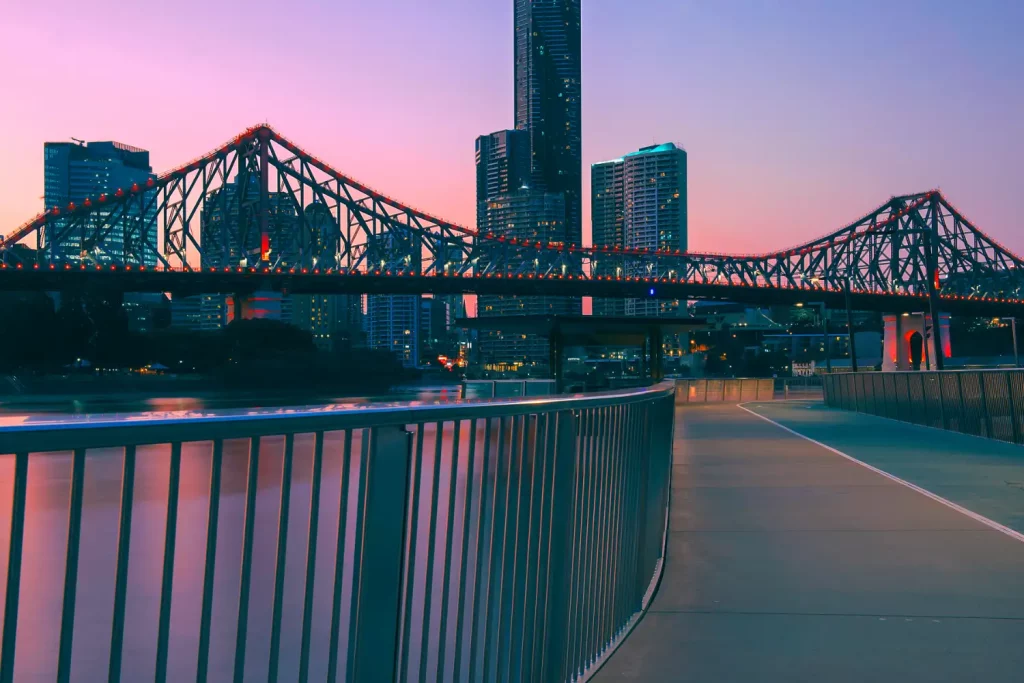 Admire the Surreal Beauty of Brisbane Botanic Gardens Mount Coot-tha
The city of Brisbane is dotted with many gardens, and one popular choice amongst locals and tourists is Brisbane Botanic Gardens Mount Coot-tha. Based at the height of 287 metres from the sea level and some 7 km distance from Brisbane, the botanic gardens is a paradise for nature lovers.
The gardens sprawl over 52 acres of land and make for a perfect location not only to have quality downtime but also to capture stunning pictures. From this tourist site, you can also see the iconic and exotic Moreton Bay Islands.
Entry to the garden is free of cost, and there are even guided tours every day from 11 am to 1 pm, except Sunday. Hence, it is one of the best free things to do in Brisbane.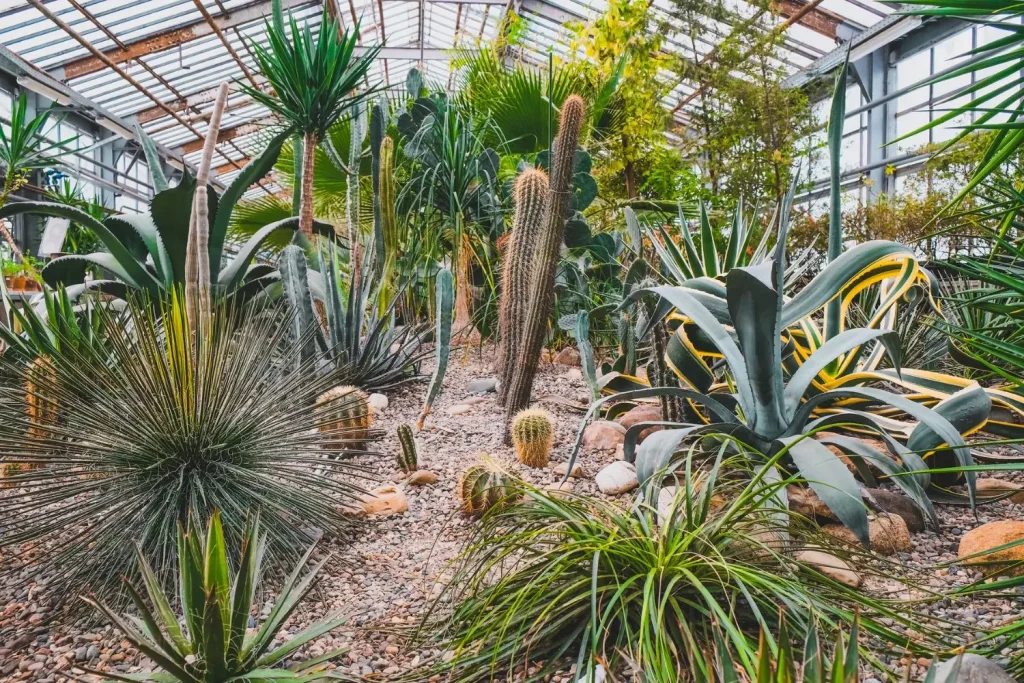 Head Out to Mount Coot-tha
Located some 10 km from Brisbane and a 5-minute drive from the botanic gardens, Mount Coot-tha is a perfect escape from city life. It is one of the top tourist attractions around the city. There is an observation deck which is probably one of the best things to do in Brisbane.
The deck offers spectacular views over Brisbane city. In fact, you can see all the way to Moreton Island and Moreton Bay. There are even trails that are perfect for mountain bike riding. However, for others, there is also the option of horseback riding.
These tracks pass through the national park. Besides, there is also a restaurant that serves a perfect stopover to fill yourself up with delicious food served with one of the best views of Brisbane.
This is also a popular sunset spot, and many tourists prefer to visit the mountain during the evening time. We also recommend you capture the sunset from the observation deck and know for yourself why it is one of the best Brisbane city views.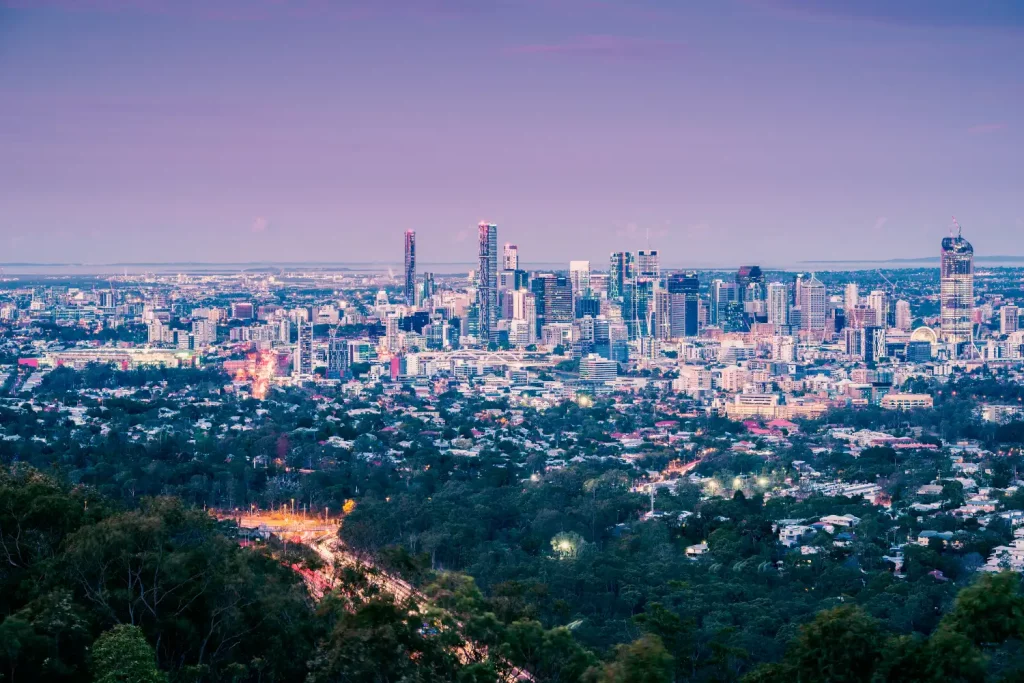 Get an Insight Into the Local History at the Museum of Brisbane
There are a number of museums in Brisbane, but if you have to pick one to visit, it has to be the Museum of Brisbane. This is a perfect place for all the history buffs and museum lovers to quench their curiosity.
Located inside the Brisbane City Hall, it is a unique museum as it is a part art gallery and part museum. However, you still get to learn about the rich history of Brisbane. Even the art gallery beautifully exhibits the story of the city and its people through paintings, artwork, and unique objects.
There are more than 9000 objects on display, having their origin from the mid-19th century. Not only this, there is also an ever-changing array of exhibitions that cover exhibits featuring Brisbane's food and drink along with the effects of the 2011 floods.
For those who want a deeper knowledge of the history of the city, there are guided tours provided by the museum that only cover the museum tour but also include associated tours of the Hall Clock Tower, Brisbane City Hall, and a boat tour on the Brisbane River.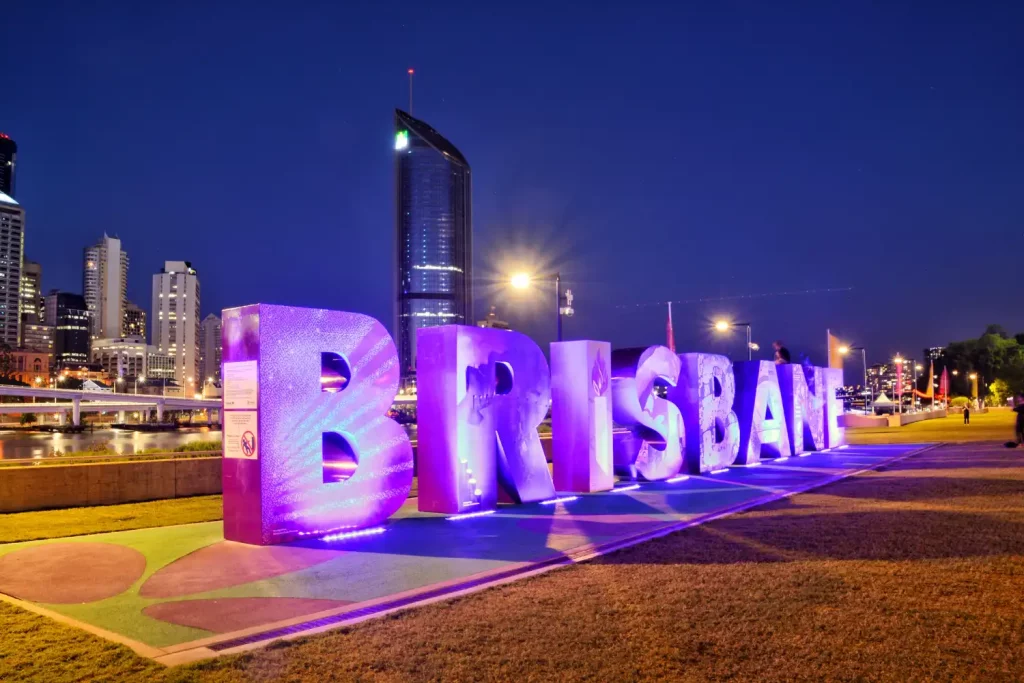 Cuddle a Koala at Lone Pine Koala Sanctuary
If you are expecting to enjoy the best of your time in Koala, then a visit to Lone Pine Sanctuary is a must. Kangaroo isn't the only creature Australia is known for, Koala is also there. This friendly creature is also beautifully contributing to Australian tourism.
On your trip to Brisbane, cuddling a koala has to be a thing that you must indulge in. Apart from that, you can also spot more than 70 species of various other Australian animals, including cackles, hand-feed kangaroos, kookaburras, rainbow lorikeets, and more.
Nestled on the Brisbane River, Lone Pine Koala Sanctuary is a popular sport amongst tourists and wildlife lovers. The wildlife tours are hosted by keepers that engage the visitors. Besides, there are also interactive demonstrations that walk you through the tour.
Another key highlight of the park is the daily encounters and experiences that include platypus feeding, bird of prey flight demonstrations, shearing shows, and sheep dogs.
There are different ways to reach Lone Pine Koala Sanctuary. However, the best to explore the sanctuary is a Brisbane River Cruise.
Take a Day Trip to Cedar Creek
Even though we are referring it as a day trip, the drive is just 30 minutes to Cedar Creek from Brisbane. This is a beautiful bushland that makes for a perfect peaceful escape from the hustle and bustle of the city. Not only this, it also serves as a popular day trip from Gold Coast.
This Cedar Creek winds around from the summit of Mount Glorious. The hill is a part of D'Anguilar National Park and goes along the creek bed till Moreton Bay. The entire location is pretty and serene, which makes for a beautiful walk amidst nature.
On the way, you can also expect to catch the sight of some native Australian animals like platypus, kookaburras, and wallabies. The location can also be your perfect picnic spot. Along with that, there are also various BBQ spots located along the river.
There are also rock pools located in the beginning of the route. So, you can also pack your swimmers to enjoy a dip in one of the pools. Cedar Creek has different trails, and one of them takes you to a small waterfall.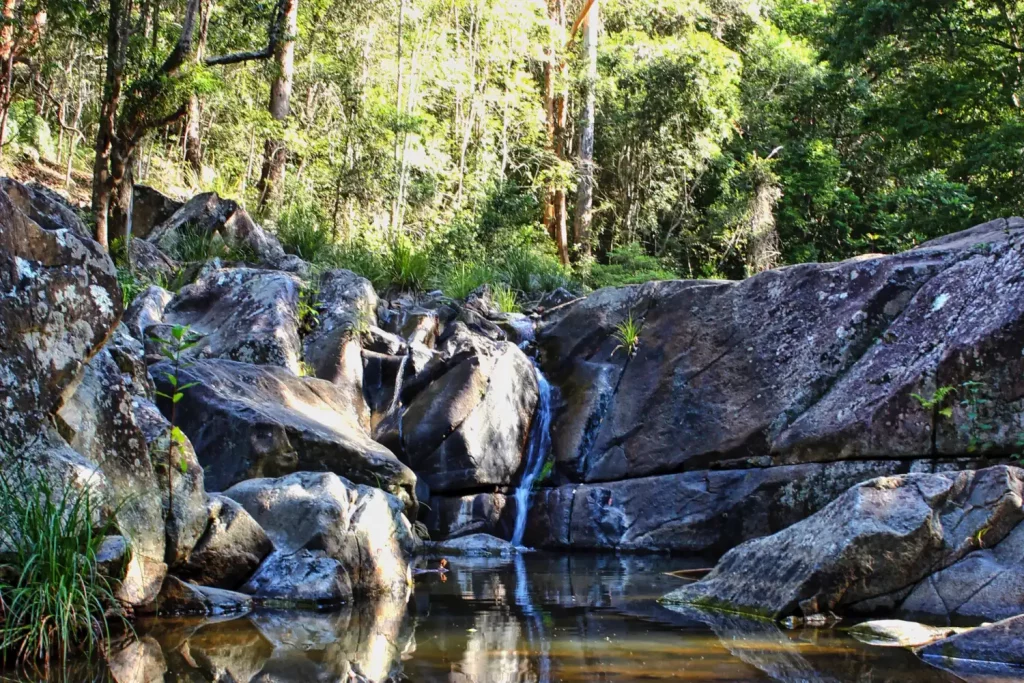 Enjoy a Delectable Time at Eat Street Northshore
Are you sure your Brisbane vacation is complete without a dedicated food tour? Certainly not, right? Hence, Eat Street Northshore is the place that you must cover on your trip to Brisbane.
Located on the shore of the Brisbane River, this place is a heaven for food lovers as it features more than 180 food and entertainment options beautifully squeezed into repurposed shipping containers.
However, crucial information to know here is that this place only operates on Friday and Saturday from 4 pm – 10 pm. Whereas on Sundays, it operates from 10 am to 2 pm.
The eateries here not only give you the opportunity to savour the local food, but also dishes from Brazil, Vietnam, Italy, Turkey, Africa, and more. Besides, some of the popular dishes you can enjoy here are dumplings, pizzas, doughnuts, gourmet popcorn, and crepes, along with Australian favourites. These fares can be best accompanied by beer or a mocktail.
Before You Leave for Brisbane
Before you set off on your way to Brisbane, there are a number of things you will need to get organised to ensure a smooth and enjoyable journey. These include what to pack, where to stay and what is the best insurance for your trip to Australia. All of this is discussed in detail below.
Applying for an Australian Visa
If you have yet to leave for Australia then this is a section of interest for you. There are a lot of different visa options for people arriving in Australia, from tourist visas to permanent residence visas. The most common visas, however, are the 3-month tourist visa and the Working Holiday Visa.
If you are only visiting Australia for a short period of time then a tourist visa is your best option. These are easily obtained and relatively cheap, costing roughly $140AUD, and allow you to stay in the country for up to 12 months. These can be applied for on the government website here.
If you wish to work and travel in Australia, a working holiday visa is your best option. These cost around $480AUD and allow you to stay in Australia for up to 12 months, whilst working and earning money to travel. This visa also gives you the opportunity to extend your stay in Australia by up to 24 months by working in certain job sectors.
For all of the information you need to know about the Australian Working Holiday Visa, read our full guide over here. 
How to Get to Brisbane
When you arrive in Brisbane, you will likely arrive at one of the two main train stations, the bus station, or the airport. If you are eager to explore the city centre sights, such as the Queen Street Mall, South Bank Parklands, and the Brisbane River, then Central Station is the best train station for you. The Brisbane Coach Terminal, located in the heart of the city, is perfect for arriving via bus.
Roma Street Station is situated slightly further from the city centre, and the airport itself even further out of the city. However, there is a very efficient and reliable train system that runs throughout the city. You can catch the Airtrain from Brisbane Airport directly into the city centre, passing through Roma Street, in just 20-minutes.
For this itinerary, any of these options will be suitable for getting you into the city centre. However, most of the sights are based around the Brisbane River, so Central Station or the Brisbane Coach Terminal are the closest stations. To explore the city further, you can take advantage of the CityCat ferries and the free CityHopper service, which provide a scenic way to navigate Brisbane's waterways and reach popular attractions such as the Gallery of Modern Art, the Queensland Maritime Museum, and the Story Bridge.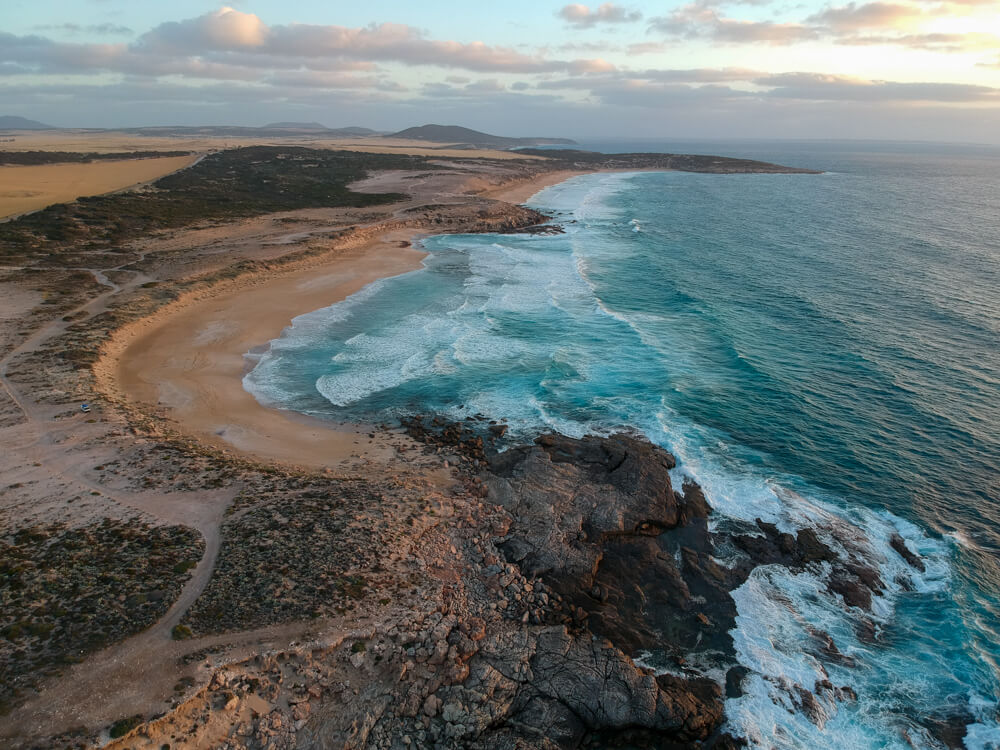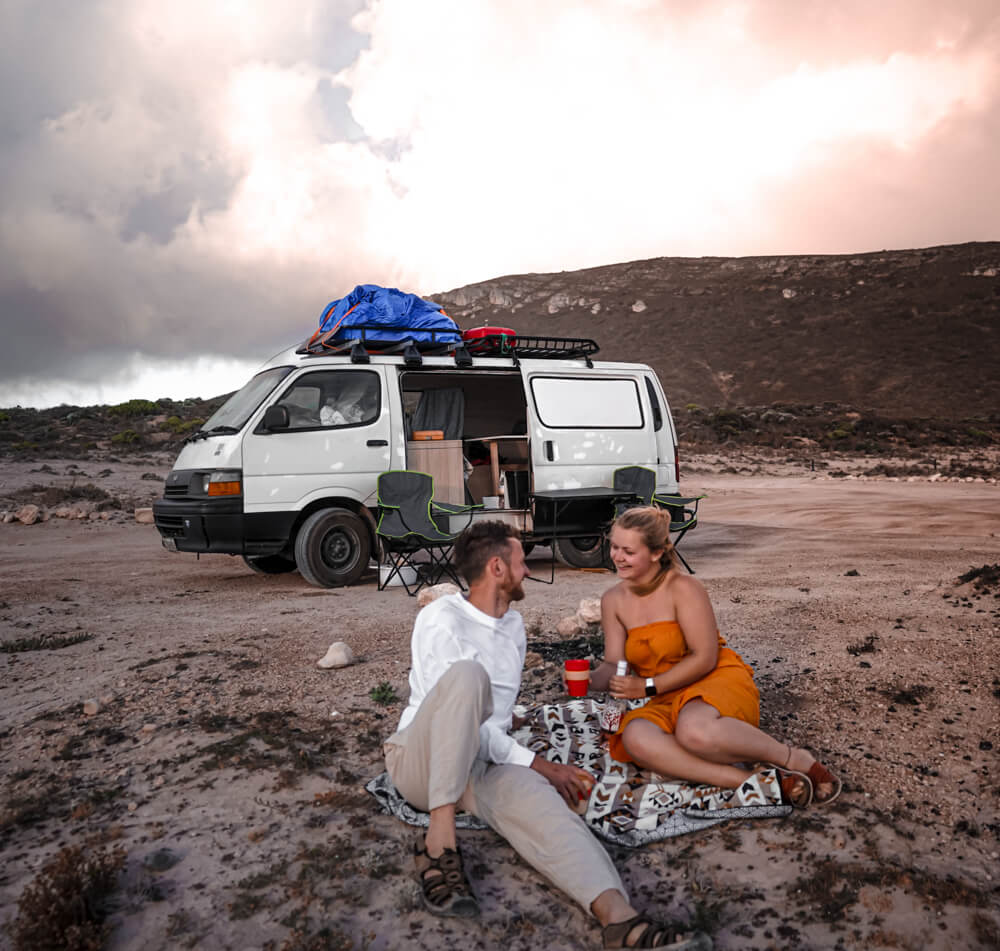 What to Pack for Your Trip to Brisbane
Depending on which season you visit Brisbane, what you will need to pack will vary. During the summer months of December to February, temperatures around Brisbane can reach temperatures in the 30's.
During the other months, temperatures and weather around this region are rather consistent, fluctuating between the teens and low 20's. We highly recommend that you pack a rain jacket and some warm layers, however, also pack some light and summery clothing for the days blessed with sunshine.
If you need more inspiration on what to pack for your trip, check out our full packing guides for all-weather conditions over here.
When it comes to toiletries, we recommend that you pack as much sunscreen as you can. The sun in Australia is strong, and even the darkest skin tones can get easily burnt. No matter what the season is or how warm you may feel, you should always wear sunscreen in Australia.
Given the beautiful sights and scenery that you are no doubt going to see around Brisbane, we highly recommend packing a good camera for your trip. If you want to read more about the cameras we use and why we love them, check out the link below.
You can read what else we keep in our camera bag over here.
Photography Equipment
Main Photography Camera – Sony A7v Mirrorless Camera and  Sony A7iii Mirrorless Camera
Microphone – Shure VP83 Condenser Shotgun Microphone
Main Lens – Tamron 17-28mm f/2.8
Zoom Lens – Tamron 70-180mm f/2.8
Camera Tripod – ZOMEI Z669C Camera Tripod
Gorilla Pod – JOBY JB01507-BWW GorillaPod
Action Camera – GoPro Hero 9 Black and Insta 360 One RS
Drone Camera – DJI Mavic Pro 3
Camera Bag – Wandrd PRVKE 41L and The Nest by Tropicfeel
Phone Tripod – Manfrotto MKPIXICLAMP-BK, Mini Tripod with Universal Smartphone Clamp
Sturdy Phone Tripod & Selfie Stick – ATUMTEK 61″ Selfie Stick Tripod, Sturdy Phone Tripod Stand with Wireless Remote
Hard Drives – LaCie Rugged Mini, 5TB, 2.5″, Portable External Hard Drive
SSD – SanDisk Extreme Pro 1TB Portable NVMe SSD
Travel Adapter –Worldwide Travel Adapter Universal Travel Plug with 4 USB Ports+Universal AC Socket
What is the Best Travel Insurance for Australia
I know travel insurance is the least enjoyable thing to purchase and look at when you're planning a trip, however, you wouldn't want to be without it in the event that something happened. Accidents can happen anywhere and the extortionate medical bills will ruin your trip if you are not covered.
To ensure you have a stress-free trip with no worries about potential medical bills, make sure you cover yourself when you travel. We can recommend using SafetyWing, a backpacker-friendly and cheap insurance company that provides good coverage and support. It is also nomad-friendly, unlike most other insurance companies, meaning you do not need to worry about being out of your home country for too long.
Get a quote for your travel insurance right here and get covered!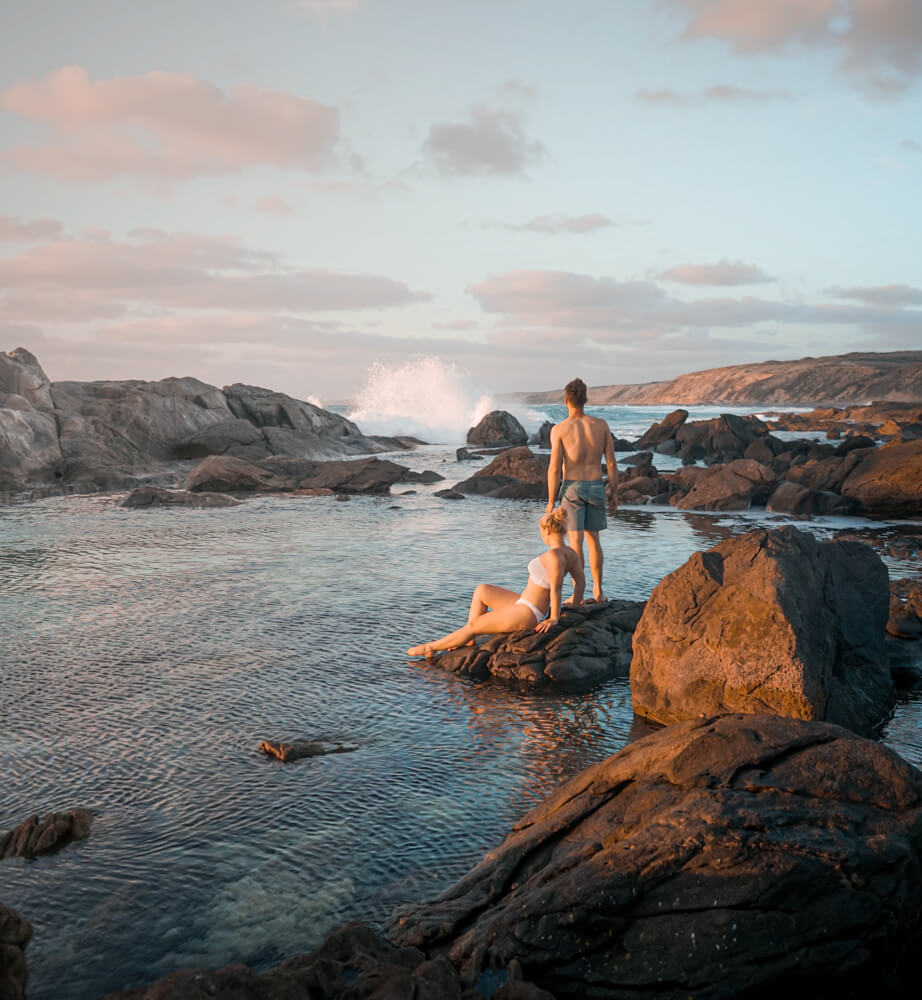 So there you have it, your guide to the best things to do in Brisbane. If you are visiting this incredible part of Queensland and have any other questions on what to expect, leave us a comment down below. We love to chat about this stuff! If you have already been, let us know how it was! 
Also, remember to share this with your friends and family that you are going to share this amazing experience with. Sharing is caring and we want to ensure that everyone is fully prepared to maximise their experience visiting this beautiful part of the world.
If you are planning an Australia trip soon then check out our other Australia content right here. Come and find us on social media to see where we are currently exploring. Tag us in your photos from your stay and we will share them with the rest of our community of explorers and backpackers.
Read Now:
This article may contain affiliate links that provide us with a small income. For more information read our Affiliate page.
---
Pin it for later!