Set on the shores of Waterloo Bay are the spectacular Talia Caves. This is one of the top spots to visit on your Eyre Peninsula itinerary as you can explore the beautiful beaches, caves and rock pools. 
The Eyre Peninsula is South Australia's largest peninsula, stretching from Port Augusta all the way west to the Head of Bite on the South Australian coast. It is a must visit on your South Australia itinerary.
No time to read now? Why not pin an image to your Pinterest board for later?
In this guide, all of the below points will be discussed in greater detail. We will also go into how to get to Talia Caves where you should stay nearby and what the other nearby sights and attractions are.
What to expect at Talia Caves?

How to Get to Talia Caves

Where to Stay near Talia Caves

What to Pack for Talia Caves

Other Sights and Attractions near Talia Caves
Complete Guide to the Taliah Caves Rock Pools
What to expect at Talia Caves
The Talia Caves are located on the west coast of the Eyre Peninsula, a 2.5 hour drive from Elliston. The road leading to the caves is unsealed and is easier in 4WD. Firstly, you will arrive at the Woolshed and if you follow the road round further, you will see a sign for the Tub. 
We will discuss both of these in greater detail below. You can expect the phone signal to be limited in this area, due to the remoteness.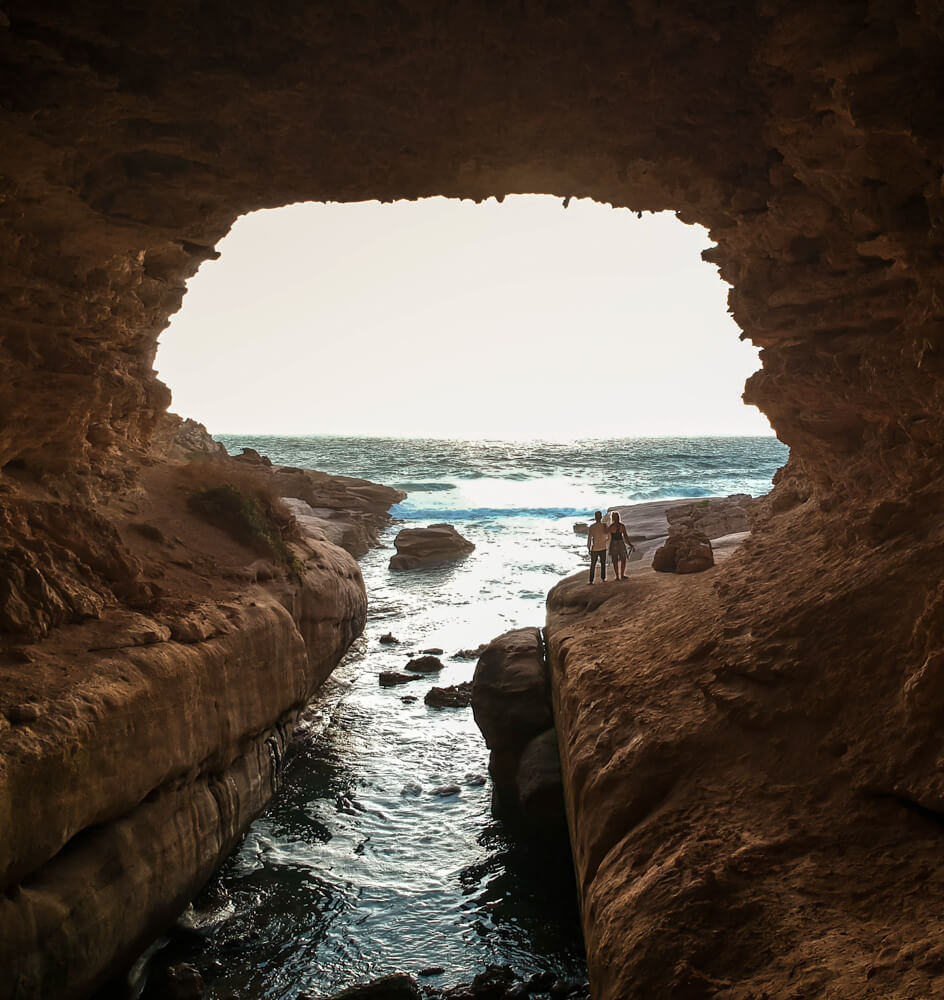 The Woolshed Cave
The Woolshed Cave is one of the most beautiful places on the Eyre Peninsula. There is a parking area at the top and some solid wooden stairs to walk down to the rocks. It is important for your safety to make sure you check the tides as at high tide this could be extremely dangerous. So make sure you plan your trip to coincide with the tide being low. 
When you reach the bottom of the stairs, turn left and you will see the large, deep Woolshed Cave. This cavern was formed by erosion to the rocks. This is a stunning place to visit at sunset in particular as the golden light shines through the cave.
The granite cave acts as an amazing frame of the ocean. Again, be careful here, as there is a drop off the rocks into the sea.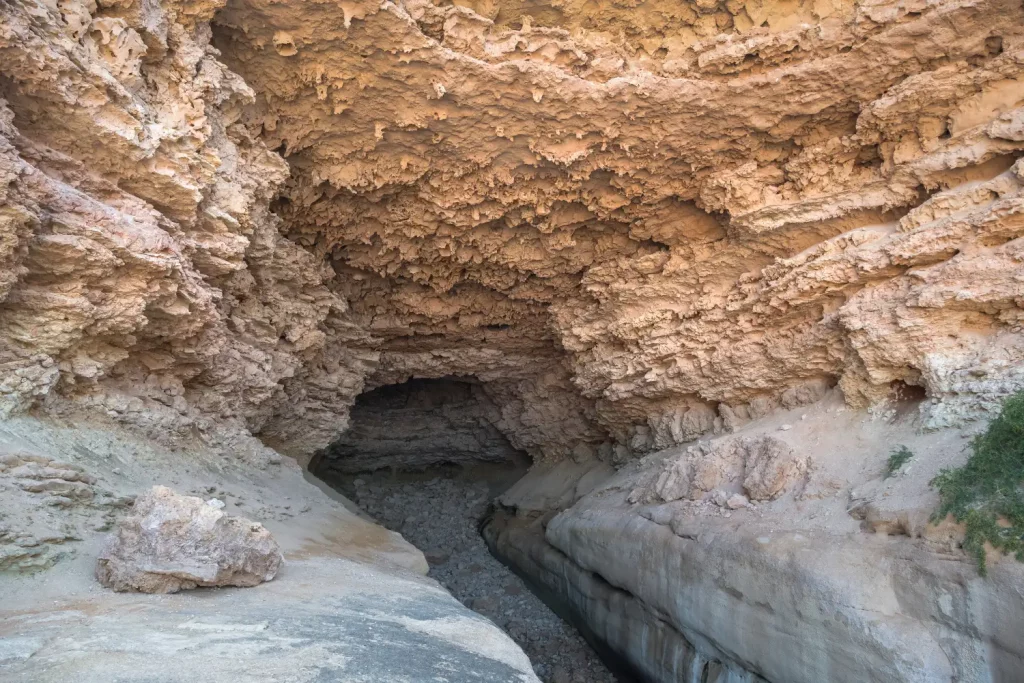 Talia Cave Rock Pools
If you turn right at the bottom of the stairs and follow the rocks round, you will reach a fantastic selection of rockpools. There are rock pools shaped as love hearts and even an octopus shaped rock pool.
These are really fun to chill out in and take photos. Again, you need to make sure you are aware of the tide though as high tide would be dangerous and make it near if not impossible to get back to the stairs and there is no other way back up the cliff.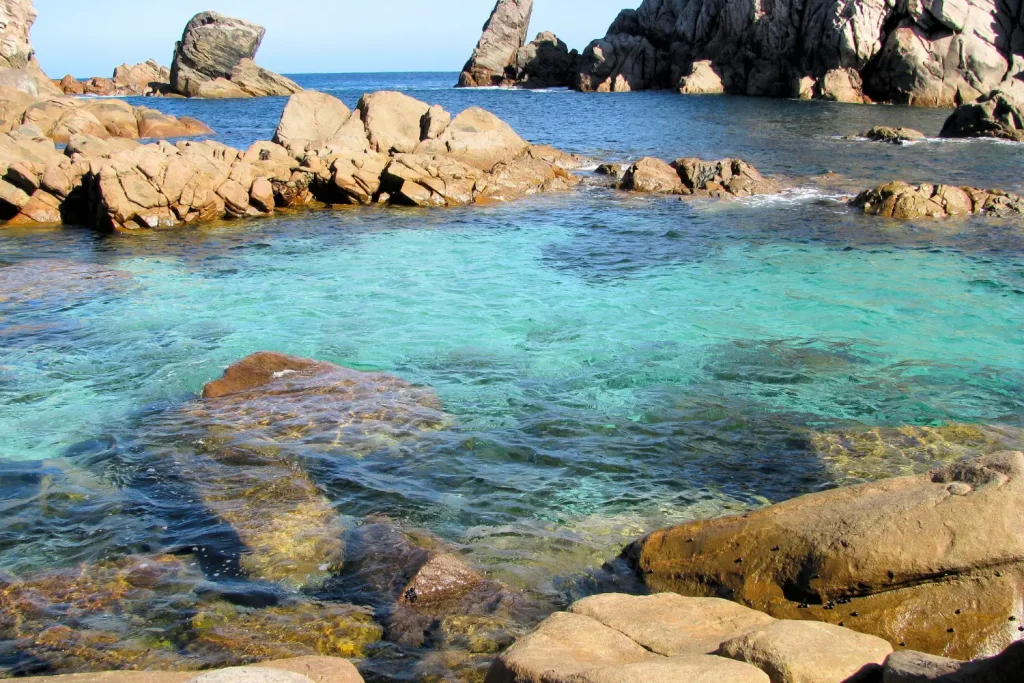 Talia Beach
Follow the road round a little bit more and you will reach Talia Bay. Stretching 20km, this white sandy beach is another one not to miss whilst you are touring the Eyre Peninsula.
Lookout for dolphins and sea lions which are frequently spotted in the area.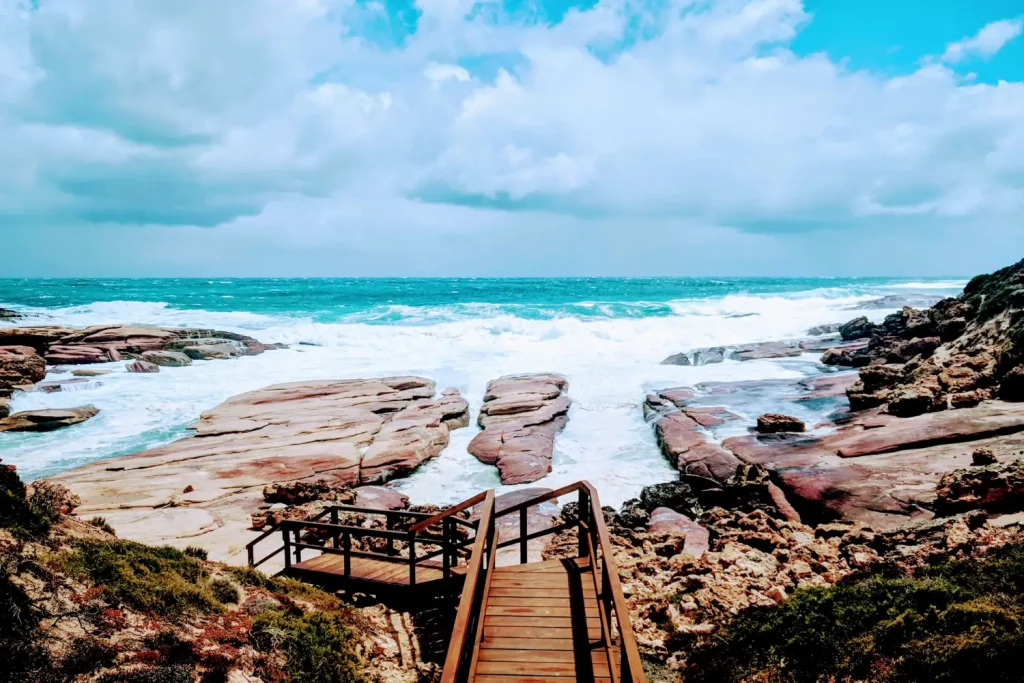 The Tub
The Tub is a large crater in the cliff that has a caved slipway leading out to the sea. It looks like a sinkhole, that is 50m wide and around 30m deep. The granite base of the crater is accessible for adventure seekers who are brave enough to endure the climb down.
At the bottom, you can explore an area that is barely touched and if you look up, you will see plenty of wasps nests buried around the cliff. Look down the slipway and you will see the waves crashing in but again, just be careful and remember the power of the ocean, you do not want to get dragged out to sea here! 
Back up the top, the cliff face has incredible views looking out to sea over the choppy waves, we could have sat and watched the power of the ocean all day.
How to Get to Talia Caves 
The Talia Caves lie 40km north-west of Elliston, which is the closest main town. Whether you are coming from Elliston direction or Baird Bay, you will be driving along the Flinders Highway and you will turn off on to the Talia Caves Road. Follow the unsealed road and you will see signs on the right hand side for the Woolshed Cave.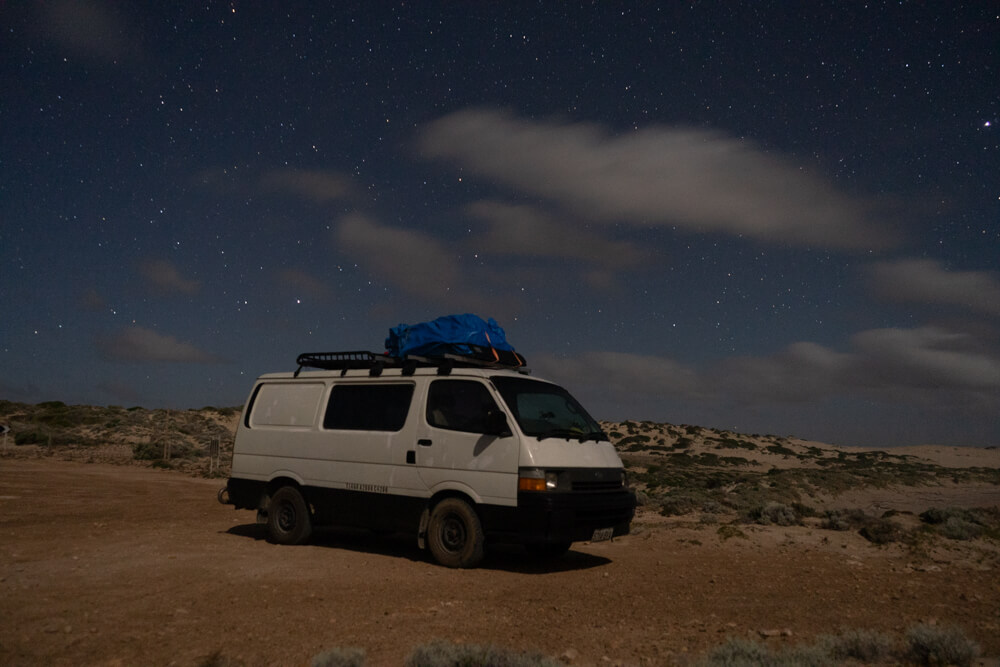 Other Attractions Near Talia Caves 
Greenly Beach
Greenly beach is one of south Australia's hidden gems and is definitely a must visit on your Eyre Peninsula itinerary. This golden sandy beach is popular for swimming and paddling. The waves can reach up to 1m high, therefore it is also a favourite amongst those who love to surf.  
Whilst you are at Greenly Beach, we highly recommend heading along the coast in search of the rock pools that you can find here at low tide. This is a great place to go for a paddle or take photos. 
There is also a nearby hill known as Mount Greenly that delivers stunning views of the surrounding landscape from the top.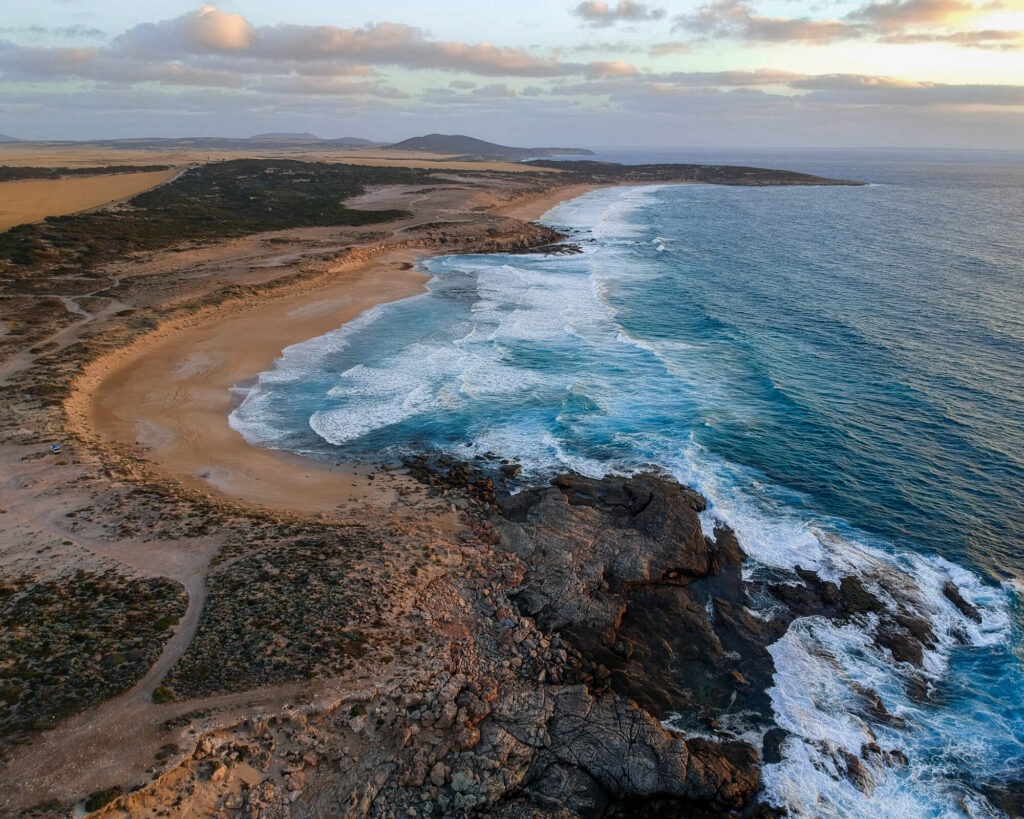 Murphys Haystacks
Murphy's Haystacks are one of Australia's oldest rock formations located on the Eyre Peninsula which is worth a visit. This incredible granite feature is isolated in a field and is pink/orange in colour.
The course appearance is believed to be due to a combination of erosion by underground rainwater and then by subsequent weathering after they were exposed. It is unfortunately believed that these ancient rocks are eroding away.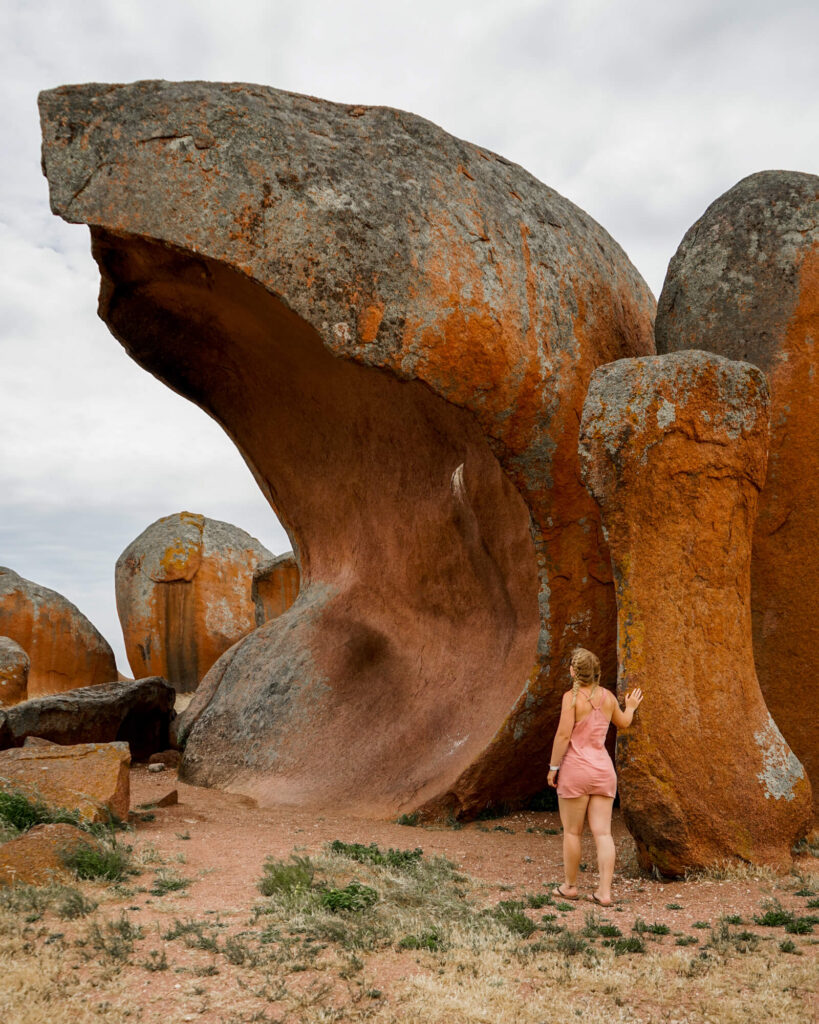 Before You Leave on Your Trip to the Eyre Peninsula
Before you head off on your trip to the Eyre Peninsula, there are a few things to organise to make sure your trip runs as smooth as possible. Applying for your Australian visa, what to pack for your trip and where to stay during your trip to Greenly Beach.
Applying for an Australian Visa
If you have yet to leave for Australia then this is a section of interest for you. There are a LOT of different visa options for people arriving into Australia, from tourist visas to permanent residence visas. The most common visas, however, are the 3-month tourist visa and the Working Holiday Visa.
If you are only visiting Australia for a short period of time then a tourist visa is your best option. These are easily obtained and relatively cheap, costing roughly $140AUD, and allow you to stay in the country for up to 12months. These can be applied for on the government website here.
If you wish to work and travel in Australia, a working holiday visa is your best option. These cost around $480AUD and allow you to stay in Australia for up to 12months, whilst working and earning money to travel. This visa also gives you the opportunity to extend your stay in Australia by up to 24months by working in certain job sectors.
For all of the information you need to know about the Australian Working Holiday Visa, read our full guide over here. 
What to Pack for the Eyre Peninsula
Depending on which season you visit South Australia, what you will need to pack will vary. During the summer months of December to February, temperatures around this part of South Australia can reach temperatures in the mid-20s.
During the other months, temperatures and weather around this region are rather consistent, fluctuating between the teens. We highly recommend that you pack a rain jacket and some warm layers, however, also pack some light and summery clothing for the days blessed with sunshine.
If you need more inspiration on what to pack for your trip, check out our full packing guides for all-weather conditions over here.
When it comes to toiletries, we recommend that you pack as much sunscreen as you can. The sun in Australia is strong, and even the darkest skin tones can get easily burnt. No matter what the season is or how warm you may feel, you should always wear sunscreen in Australia.
Given the beautiful sights and scenery that you are no doubt going to see around South Australia, we highly recommend packing a good camera for your trip. If you want to read more about the cameras we use and why we love them, check out the link below.
You can read what else we keep in our camera bag over here.
What is the Best Travel Insurance for South Australia
Regardless of what type of trip you are heading on, one thing that is essential for everybody is good travel insurance. Accidents can happen anywhere and at anytime and unexpected hospital bills will ruin a holiday. Remove the stress from your next adventure and get covered for the worst.
World Nomads Travel Insurance provides budget reliable travel insurance that will keep you covered for any level of adventure.
You can get your quote before you leave on your trip right here.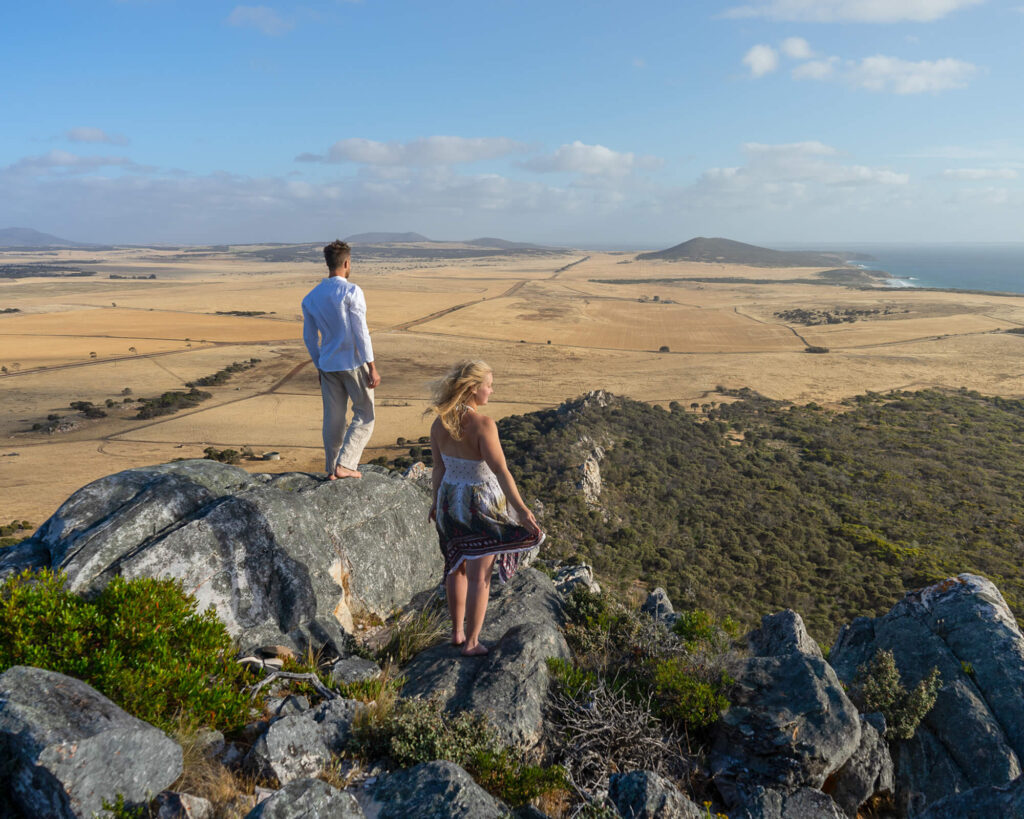 Where to Stay near Talia Caves
There are some beautiful places to stay in near Talia Caves that will suit all ranges of budget. Due to how remote it is, there is not a lot of nearby accommodation to choose from. We have listed our top recommendations for Venus Bay at all price ranges.
Luxury – Harris House is a great holiday home to stay in located in Venus Bay. There are 4 bedrooms in the home allowing 5 people to sleep here. With beautiful sea views, this is the perfect place to stay when you visit Venus Bay.
Book your stay at Harris House here.
Mid-range – Set on the Eyre Peninsula in South Australia, Venus Bay Beachfront Tourist Park South Australia offers accommodation on the beach front. Each room features a kitchenette and private bathroom. 
Book your stay at Venus Bay Beachfront Tourist Park South Australia here.
Budget – Our best advice for a budget stay in this area would be, camp out beneath the stars near the Talia caves. It really is an unforgettable experience.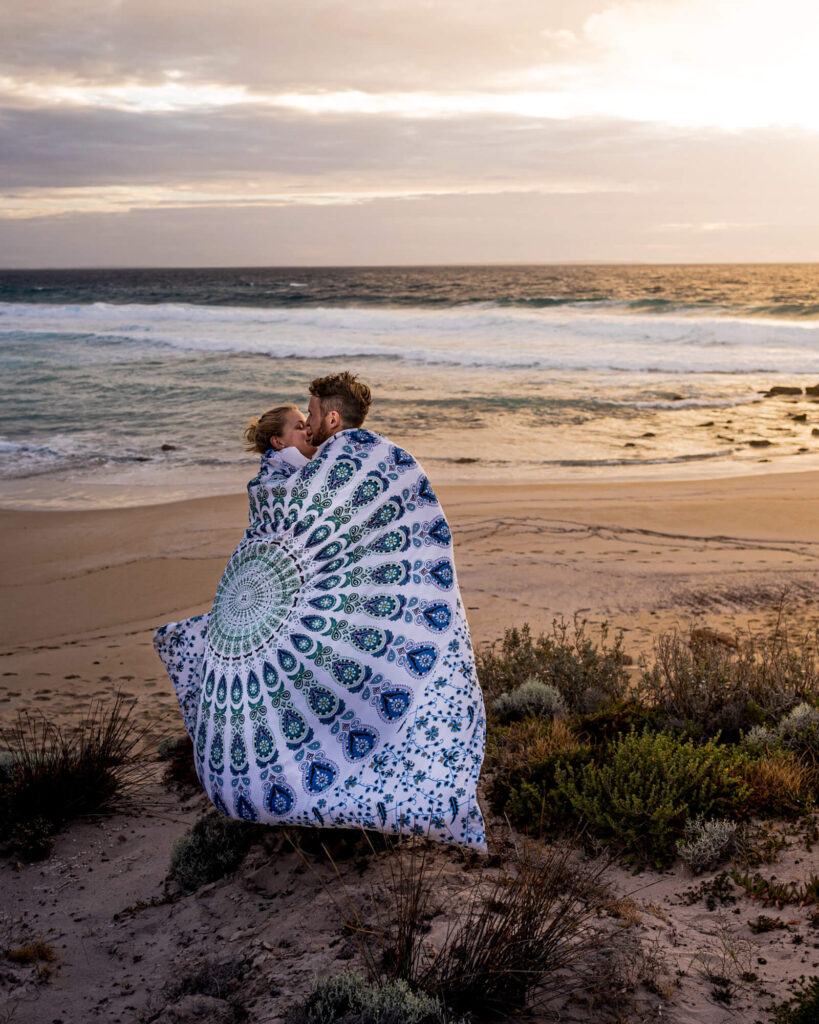 So there you have it, your guide to the amazing Talia Caves. If you are visiting this breathtaking place and have any other questions on what to expect, leave us a comment down below. We love to chat about this stuff! If you have already been, let us know how it was! What was your favourite part of your trip? Did you camp there? Let us know in the comments below!
Also, remember to share this with your friends and family that you are going to tour with. Sharing is caring and we want to inspire as many people as we can to visit this unbelievable part of the world.
If you are planning an Australia trip soon then check out our other Australia content right here. Come and find us on social media to see where we are currently exploring. Tag us in your photos from Greenly Beach and we will share them with the rest of our community of explorers and backpackers.
Now Read:
This article may contain affiliate links that provide us with a small income. For more information read our Affiliate page.
Save an image to your Australia Pinterest board for later!