Murphy's Haystacks are one of Australia's oldest rock formations located on the Eyre Peninsula which is worth a visit. This incredible granite feature is isolated in a field and is pink/orange in colour. You might not notice them as you are driving along the highway, so make sure you know where to find them.
No time to read now? No worries, save one of these pins to read later!
Murphys Haystacks - WHAT, WHERE and WHY..
In this guide, all of the below points will be discussed in greater detail. We will also go into how to get to Murphys Haystacks where you should stay nearby and what the other nearby sights and attractions are.
What are Murphy's Haystacks 

What to expect at Murphy's Haystacks?

How to Get to Murphy's Haystacks

Where to Stay near Murphy's Haystacks

What to Pack for Murphy's Haystacks

Other Sights and Attractions near Murphy's Haystacks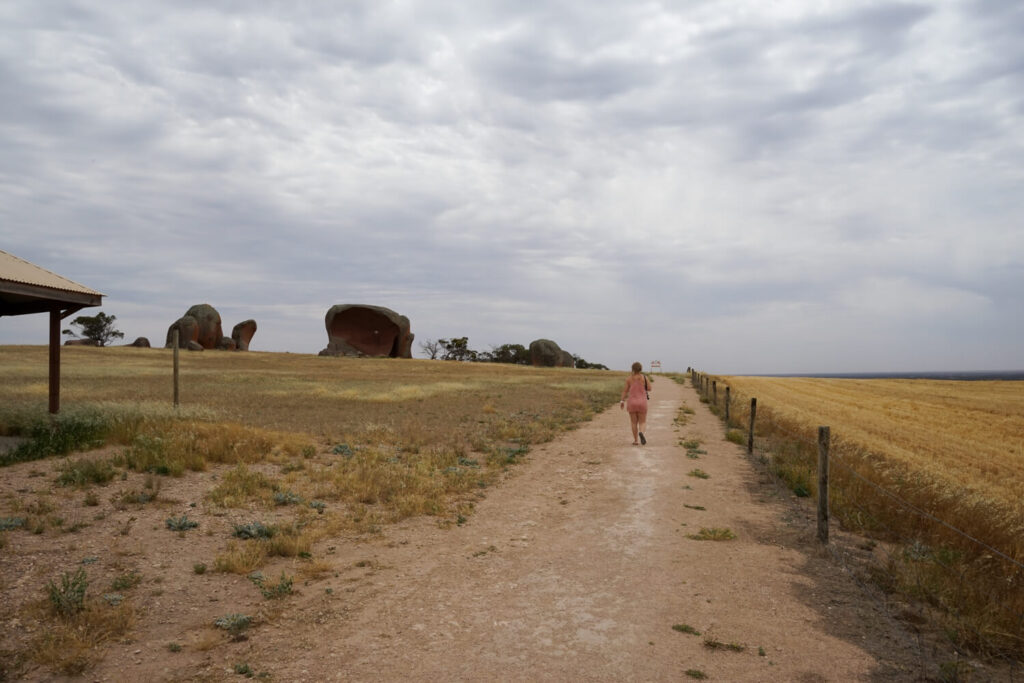 What are Murphy's Haystacks
The ancient rock formations named Murphy's Haystacks, are a photographer's dreams. The unique boulders sit isolated in a field at 8m high. The rock is pinky orange in colour and the course appearance is believed to be due to a combination of erosion by underground rainwater and then by subsequent weathering after they were exposed. It is unfortunately believed that these ancient rocks are eroding away.
The name of the haystacks came from a Scottish agricultural expert who saw the rock formation and believed it was hay. Of course, this was not hay and the owner of the land was named Murphy, therefore these rocks became Murphy's Haystacks.
This attraction is listed on the South Australian Heritage Register.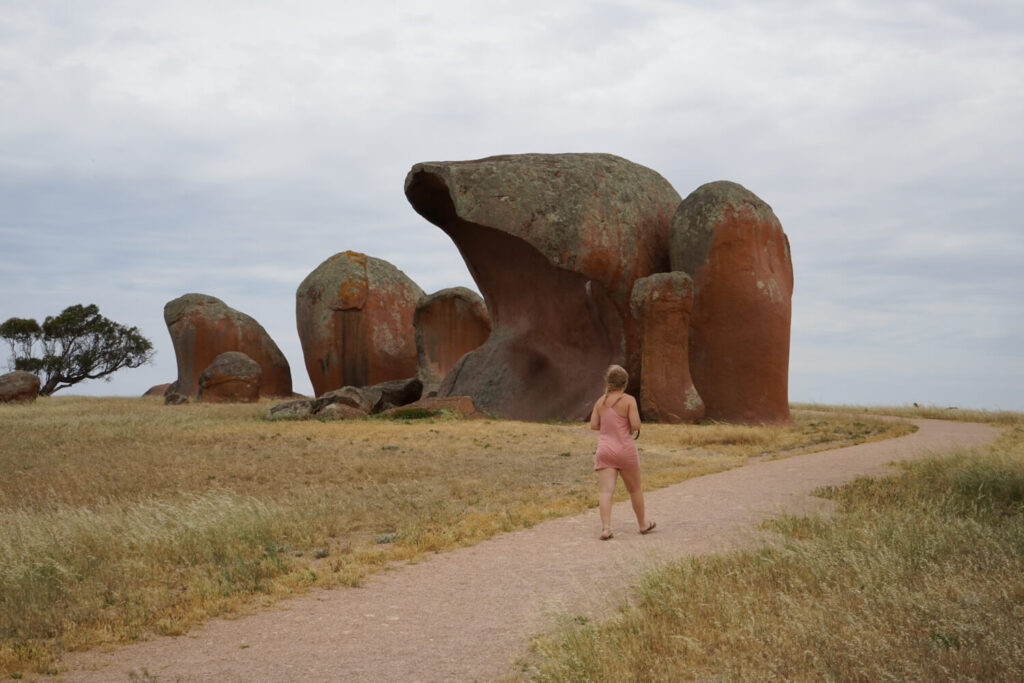 What to expect at Murphy's Haystacks 
When you arrive at the car park, you will see Murphy's Haystacks from the car. You will need to walk to get closer to the formation. Before you enter, you will be required to pay a donation fee. The cost of visiting Murphy's Haystacks is $2. There is also local honey on sale for $10 here, before you enter the paddock. Enter through the gate and you can walk over to the rocks. The coloured granite towers above at 8m high.
There are toilets at this stop and there is also a sheltered picnic area for you to sit out in the shade and have a break from driving the neverending highway.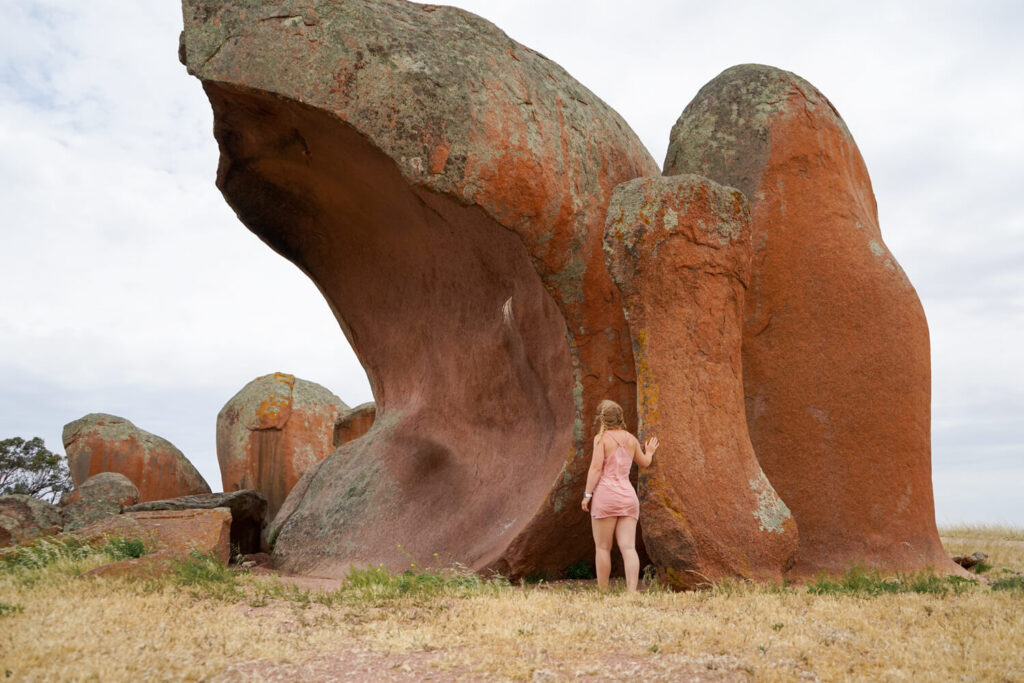 How to get to Murphys Haystacks 
Murphy's Haystacks are located in Mortana, 40km southeast of Streaky Bay on the Eyre Peninsula. They can be accessed by heading along the Flinders Highway and turning onto the Calca-Point Labatt Road. Around 1.6km along the road you will begin to see the entrance.
There is a reasonably sized car park where you will need to leave your car and walk to the attraction. However, you will be able to see it from the car. From here you can walk through the short tunnel where you will pay for entrance and enter the paddock.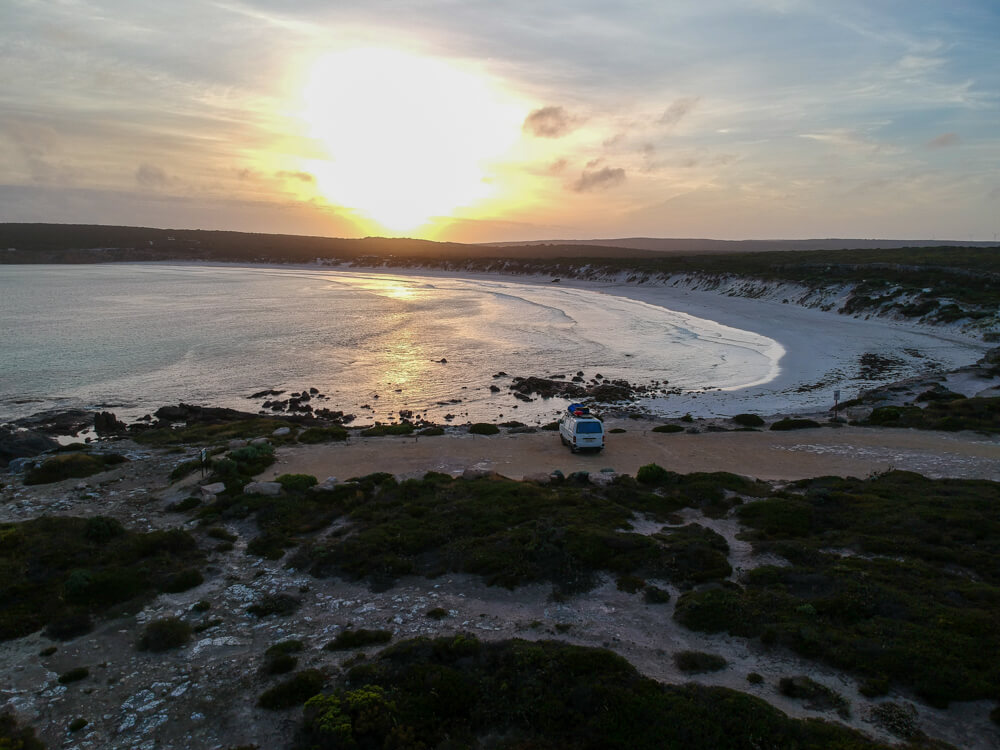 Other Attractions near Murphys Haystacks 
Greenly Beach 
Greenly beach is one of south Australia's hidden gems and is definitely a must visit on your Eyre Peninsula itinerary. This golden sandy beach is popular for swimming and paddling. The waves can reach up to 1m high, therefore it is also a favourite amongst those who love to surf.  Whilst you are at Greenly Beach, we highly recommend heading along the coast in search of the rock pools that you can find here at low tide. This is a great place to go for a paddle or take photos. There is also a nearby hill known as Mount Greenly that delivers stunning views of the surrounding landscape from the top.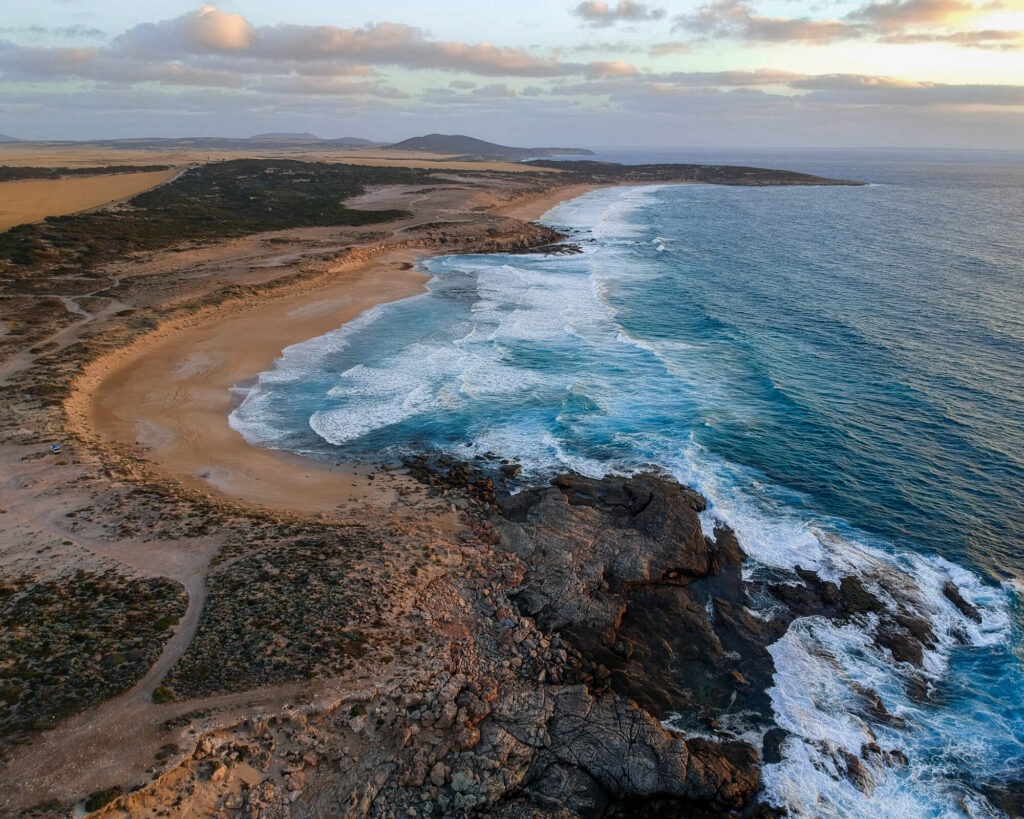 Talia Caves
The Talia Caves are located on the west coast of the Eyre Peninsula, a 40 minute drive south from Murphy's Haystacks. The road leading to the caves is unsealed and is easier in 4WD. Firstly, you will arrive at the Woolshed and if you follow the road round further, you will see a sign for the Tub.
Both of these spots are visited, as well as the rockpools and Talia Bay which are both close by. You can read about these spots in more detail.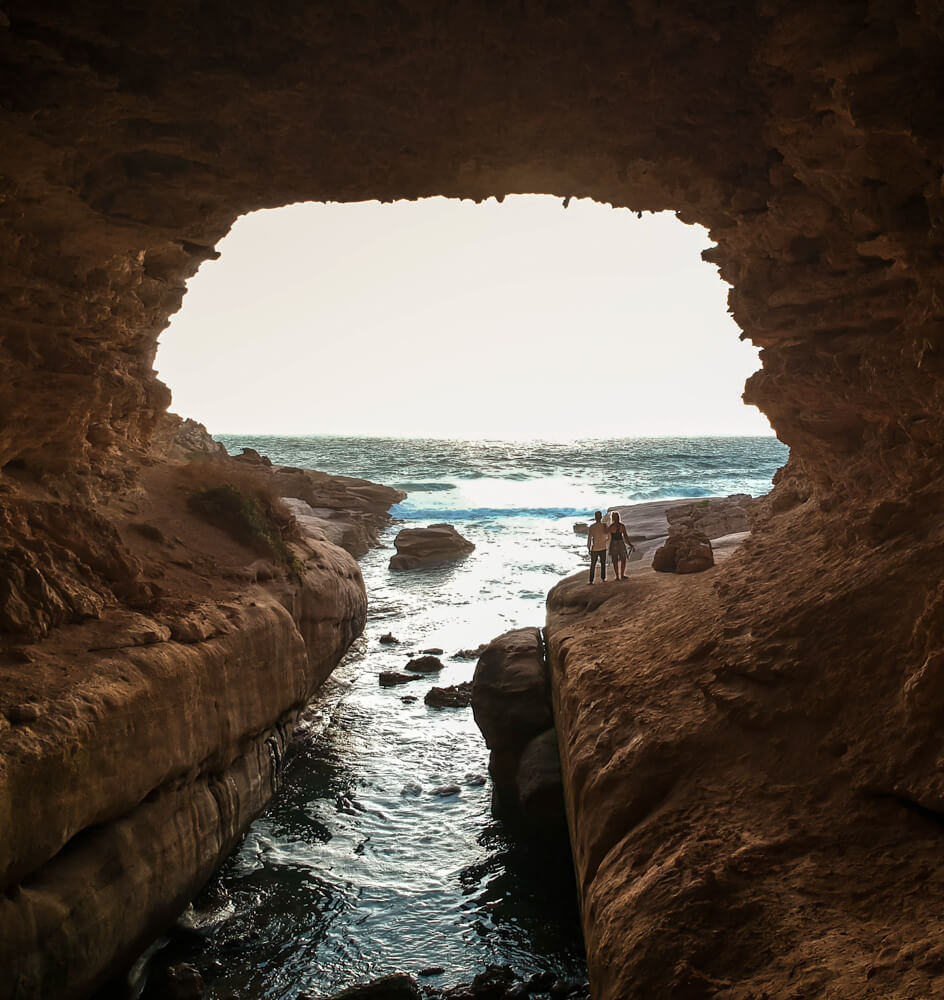 Before You Leave on Your Trip to the Eyre Peninsula
Before you head off on your trip to the Eyre Peninsula, there are a few things to organise to make sure your trip runs as smooth as possible. Applying for your Australian visa, what to pack for your trip and where to stay during your trip to Greenly Beach.
Applying for an Australian Visa
If you have yet to leave for Australia then this is a section of interest for you. There are a LOT of different visa options for people arriving into Australia, from tourist visas to permanent residence visas. The most common visas, however, are the 3-month tourist visa and the Working Holiday Visa.
If you are only visiting Australia for a short period of time then a tourist visa is your best option. These are easily obtained and relatively cheap, costing roughly $140AUD, and allow you to stay in the country for up to 12months. These can be applied for on the government website here.
If you wish to work and travel in Australia, a working holiday visa is your best option. These cost around $480AUD and allow you to stay in Australia for up to 12months, whilst working and earning money to travel. This visa also gives you the opportunity to extend your stay in Australia by up to 24months by working in certain job sectors.
For all of the information you need to know about the Australian Working Holiday Visa, read our full guide over here. 
What to Pack for the Eyre Peninsula
Depending on which season you visit South Australia, what you will need to pack will vary. During the summer months of December to February, temperatures around this part of South Australia can reach temperatures in the mid-20s.
During the other months, temperatures and weather around this region are rather consistent, fluctuating between the teens. We highly recommend that you pack a rain jacket and some warm layers, however, also pack some light and summery clothing for the days blessed with sunshine.
If you need more inspiration on what to pack for your trip, check out our full packing guides for all-weather conditions over here.
When it comes to toiletries, we recommend that you pack as much sunscreen as you can. The sun in Australia is strong, and even the darkest skin tones can get easily burnt. No matter what the season is or how warm you may feel, you should always wear sunscreen in Australia.
Given the beautiful sights and scenery that you are no doubt going to see around South Australia, we highly recommend packing a good camera for your trip. If you want to read more about the cameras we use and why we love them, check out the link below.
You can read what else we keep in our camera bag over here.
What is the Best Travel Insurance for South Australia
Regardless of what type of trip you are heading on, one thing that is essential for everybody is good travel insurance. Accidents can happen anywhere and at anytime and unexpected hospital bills will ruin a holiday. Remove the stress from your next adventure and get covered for the worst.
World Nomads Travel Insurance provides budget reliable travel insurance that will keep you covered for any level of adventure.
You can get your quote before you leave on your trip right here.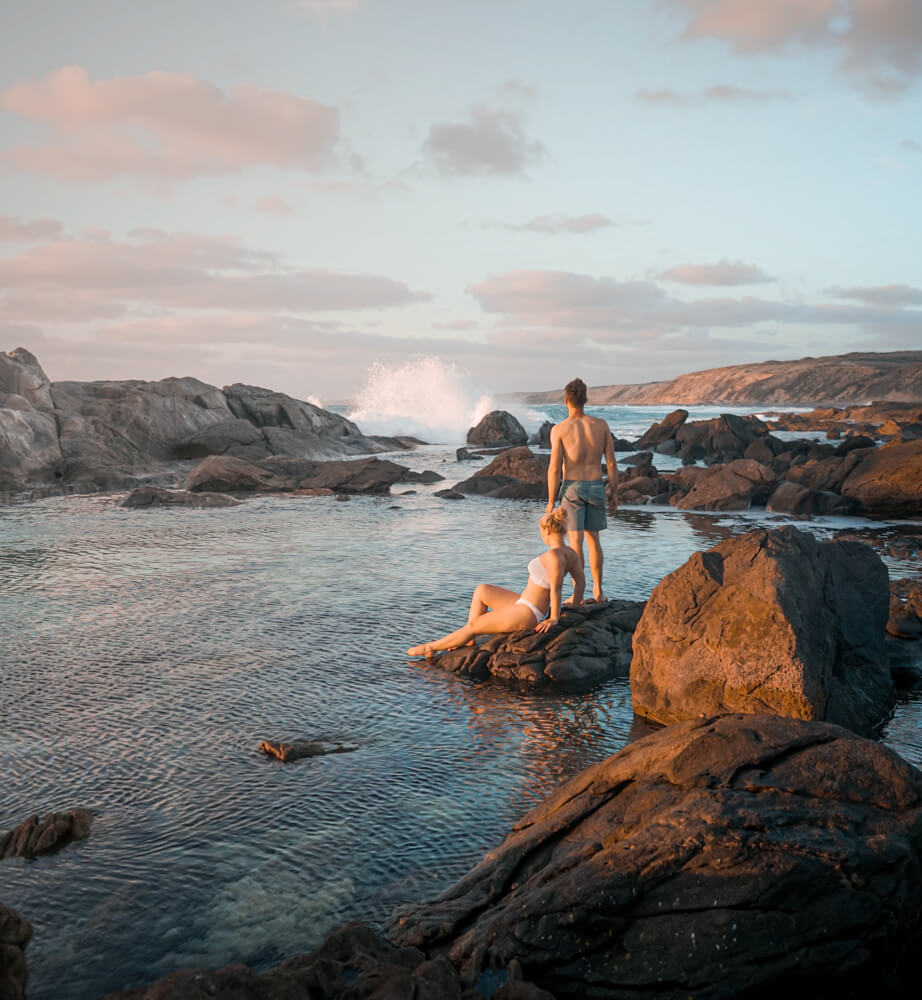 Where to Stay near Murphy's Haystacks
There are some beautiful places to stay in near Murphy's Haystacks that will suit all ranges of budget. Depending on which direction you are travelling will depend on where you want to stay. To make it a bit easier for you to choose, we have listed our top recommendations for Venus Bay and Streaky Bay at all price ranges.
Luxury – Harris House is a great holiday home to stay in located in Venus Bay. There are 4 bedrooms in the home allowing 5 people to sleep here. With beautiful sea views, this is the perfect place to stay when you visit Venus Bay.
Book your stay at Harris House here.
Luxury – In Streaky Bay, you have a few options for accommodation within a similar price range. Streaky Bay Motel and Villas offers a hot tub and an indoor swimming pool as well as a kitchenette or kitchen and BBQ on the patio.
Book your stay at Streaky Bay Motel and Villas here.
Mid-range – Set on the Eyre Peninsula in South Australia, Venus Bay Beachfront Tourist Park South Australia offers accommodation on the beach front. Each room features a kitchenette and private bathroom. 
Book your stay at Venus Bay Beachfront Tourist Park South Australia here.
Mid-range – Streaky Bay Hotel Motel features a bar and a restaurant with bay views. It also offers rooms with tea and coffee making facilities as well as a fridge. Continental breakfast is included.
Book your stay at Streaky Bay Hotel Motel here.
Budget – Sail & Anchor is located in Streaky Bay and is apartment accommodation with a patio and air conditioning. This apartment features a garden, barbecue facilities, free WiFi and free private parking.
Book your stay at Sail and Anchor here.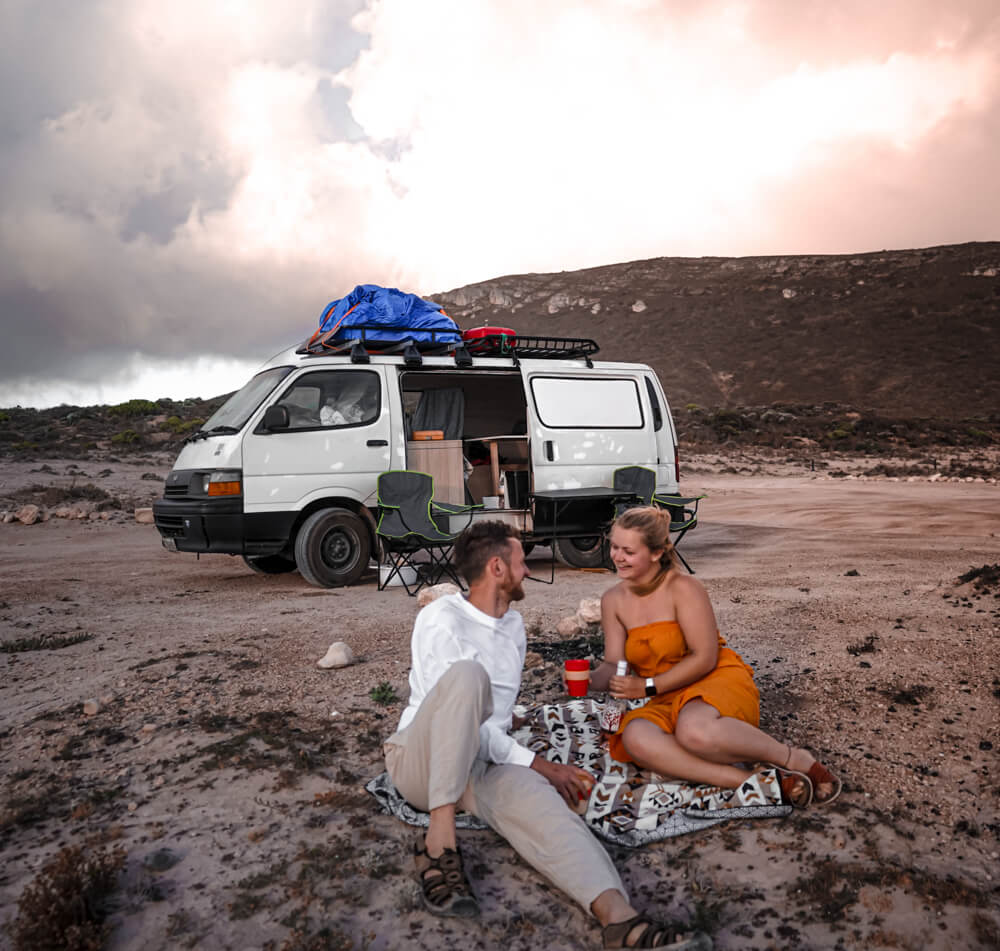 So there you have it, your guide to the incredible Murphys Haystacks. If you are visiting this breathtaking place and have any other questions on what to expect, leave us a comment down below. We love to chat about this stuff! If you have already been, let us know how it was! What was your favourite part of your trip? Where else did you visit? Let us know in the comments below!
Also, remember to share this with your friends and family that you are going to tour with. Sharing is caring and we want to inspire as many people as we can to visit this unbelievable part of the world.
If you are planning an Australia trip soon then check out our other Australia content right here. Come and find us on social media to see where we are currently exploring. Tag us in your photos from Greenly Beach and we will share them with the rest of our community of explorers and backpackers.
Now Read:
This article may contain affiliate links that provide us with a small income. For more information read our Affiliate page.
Save an image to your Australia Pinterest board for later!