We are all influenced to explore new destinations, sometimes without even realising it. These days, the power of Instagram has many people choosing their next trip based on the beautiful photos they see online. Melbourne was
awarded the most liveable city
in the world for seven years running and if you visit this city, you will understand why. The contrast between high rises in the city, golden sandy beaches and beautiful nature parks means that Melbourne has it all. If you have just arrived in Melbourne, be it with on a
working holiday visa
or just another holiday, you will be wanting to explore this beautiful city. When it comes to the most photogenic and stunning places around Melbourne we have got you covered. We have put together this guide with all of the most beautiful spots around the city, and have even thrown in some day trips that you can't miss out on either. This is your
ultimate guide to the most Instagrammable places in Melbourne
, including where to stay, how to get around and what to see.
Download our FREE full guide to arriving in Melbourne and getting yourself set up. This includes how to setup a bank account, superannuation and so much more!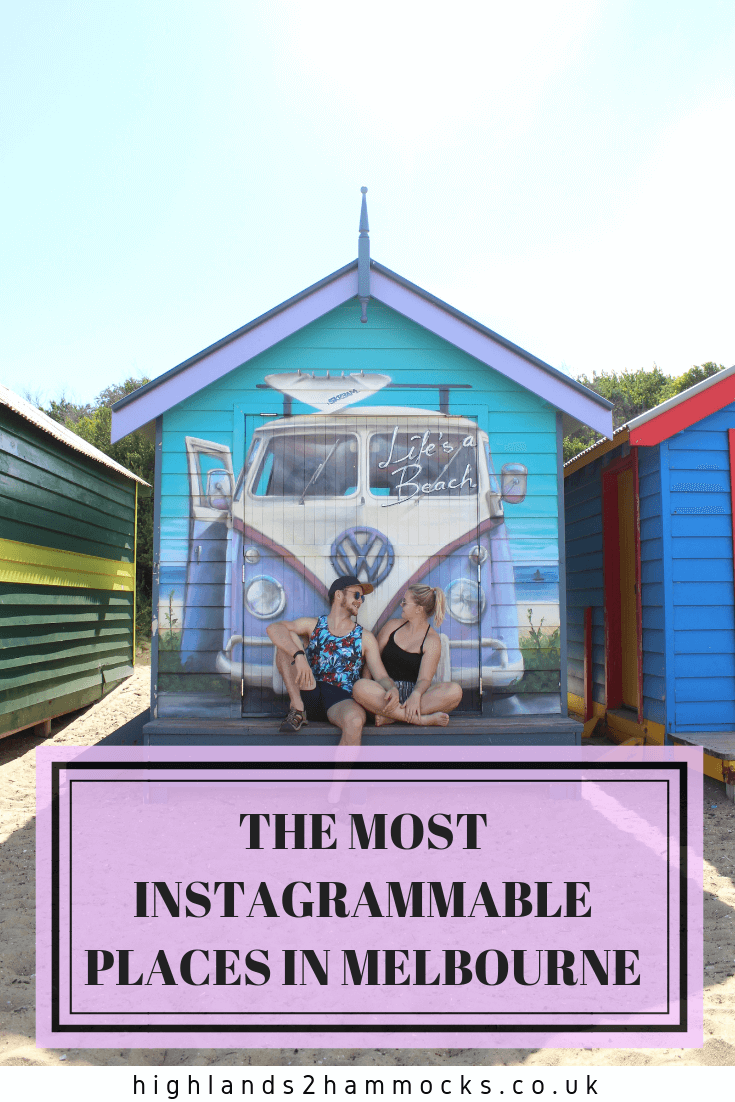 Also Read – The Ultimate Melbourne Itinerary – Five Days in the City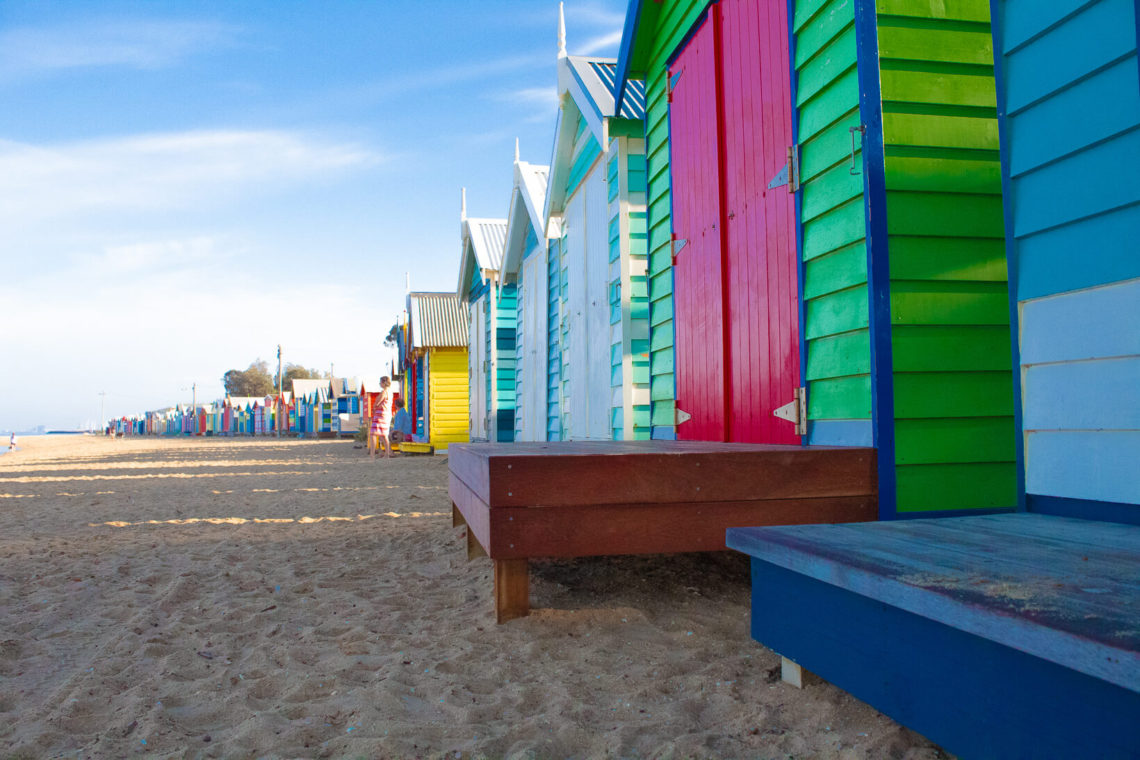 The Most Instagrammable Places in Melbourne – Full Guide
Most Instagrammable Places in Melbourne
Victoria State Library
Established in 1854 this is one of Australia's oldest public libraries. The famous domed roof can be found at the back of the building, high above the La Trobe Reading Room. Appropriately named "the Dome", this is a perfect spot for your first Instagram shot of Melbourne. It is free to walk around the library, just remember to be quiet and respectful to those who are in there.
View this post on Instagram
Graffiti in the CBD
Melbourne is a city full of colour and art. There are many hidden lanes around the city, showcasing artists work and displaying colour. The most famous being Hosier Lane, however the photo below was taken in another popular street art spot, AC/DC Lane.
You can read more about the Melbourne Street Art in our free walking guide here. 
View this post on Instagram
Flinders Street Station
Flinders Street Station is Australia's oldest train station and iconic attraction in Melbourne city centre. It's distinctive appearance and green copper dome makes it the perfect place to take your first Instagram photo of your trip and let your friends know you are in the worlds most liveable city. To get the best angle for this photo, we find that going up the stairs outside the church and taking the photo from there. Arriving here for sunrise (especially on the weekend) means you will avoid the hustle and bustle and be able to take your photos in peace before the city wakes up. Unfortunately, when we were here there were road works outside the station, we couldn't really avoid their orange reflective outfits so we've just embraced it in our photo. We think it perfectly reflects this city, always growing, changing and transforming. The other benefit to getting up and out to this spot early, is the beautiful pink colours you get from a sunrise in Melbourne, especially in the summer months.
View this post on Instagram
Also Read – Best Bank for Travelers – Starling vs Monzo Card Review
Federation Square
If you visit Melbourne in the summer months then it's hard to resist a photo in Federation Square with the Christmas decorations. Federation square is a hotspot for activities in Melbourne, with always something going on. Watch the Australian Open live on the screens here when it comes to Melbourne, or try some of the fun promotional activities that are going on.
View this post on Instagram
Southbank
Southbank is a popular area for foodies, there are many bars restaurants and cafes lined up along the Yarra River. This is another great spot to hit at sunrise as you will avoid the crowds and you will get some beautiful sunrise lighting reflecting off of the high rise buildings. From Flinders Street Station, cross the bridge and follow the stairs down to your right, you will then have reached Southbank.
View this post on Instagram
Also Read – Trivia Melbourne – Interesting Melbourne Facts
Shrine of Remembrance
This monument is the National War Memorial of Victoria. Unveiled in 1934, this war memorial was built to commemorate the men and women who served in World War One, however it is now used to remember all of those who have served in all of the wars fought in history. A spot that will always have the perfect view of the city, it was declared that there should always be a view of the city from the Shrine. On the 11th November every year, the word "Love" is illuminated by a ray of light on the wall inside the Shrine
View this post on Instagram
Botanical Gardens
With parks and green spaces so easy to find around the city, it is easy to escape the hustle and bustle of the traffic filled centre, if you so desire. This is exactly what we will be doing for today, so first stop is the Botanical Gardens, south of the Yarra River. Make sure you don't miss the peaceful lakes, spread throughout the Botanical Gardens. These spots are the perfect location to watch the park come to life as the sun rises. Walk to Guilfoyle's Volcano and climb the manmade water feature for a better view of the city in the background.
View this post on Instagram
Also Read – Melbourne Food Blog – The Foodies Guide to Melbourne
St Kilda Pier
The buzzing, vibrant and incredibly popular centre of St Kilda is always at the top of every Backpackers list. Relax on the beach for the afternoon and at the end of the day head to the end of the pier to catch a glimpse of the famous St Kilda penguins. These guys come home from the ocean after dark, so pack a jumper and be patient.
View this post on Instagram
Luna Park
Luna Park is a small theme park in St Kilda and is most popular for the huge clown face entrance. It can take some patience waiting for the crowds to move, but it's worth the wait. This is another one of Melbourne's most famous Instagram spots. Once you are done snapping your pics, why not get your adrenaline pumping with the rollercoasters that lie inside. Or if you are not into thrills, St Kilda is full of delicious restaurants and bars for you to enjoy a meal and have a drink.
View this post on Instagram
Also Read – Free Stuff Melbourne – Cheap things to do in Melbourne
Brighton Beach Huts
What could possibly make a beautiful beach view with the Melbourne skyline in its backdrop better? How about dozens of uniquely colourful beach huts? One of the most Instagrammable places in Melbourne is the Brighton Beach Huts.
If you are following this Instagram Tour then from St Kilda you will want to catch the bus number 923 towards Southland SC, taking approximately 25 minutes.
If you are travelling from Melbourne city centre then you will want to jump on the Sandringham train to Middle Brighton Station which will take around 40 minutes.
When you arrive, you will come across many signposts directing you towards the beach huts. There are plenty of different colours to choose from so take your pick and enjoy some time by the sea.
View this post on Instagram
Day Trips from Melbourne
Outside of the city of Melbourne, there are even more beautiful places that you need to see during your trip. These are all easily reachable within 3 hours by car, so make a perfect day trip or overnight stay. You can rent a car easily in the city from one of the many rental companies, or book onto a tour that leaves from the city centre for a more organised experience.
The Grampians
Sitting north-west of the city, the Grampians are a mountain range, in which lie many beautiful sights and wonders to discover. Waterfalls, hikes, nature, the Grampians has it all. This is an awesome day out from Melbourne, however make sure you leave early as it takes around 3 hours to get here. This shot was at
Mckenzie Falls
in the Grampians, with plenty of other beautiful locations also available.
View this post on Instagram
Great Ocean Road
A memorial for the soldiers who fought in WWII, the Great Ocean Road is a 243km stretch of coast that makes one of Australia's most epic road trips. You can easily reach the beginning of the Great Ocean Road in under two hours from Melbourne, however leave early as there are lots of sights to see along the way. This shot was at
Gibsons Steps
, just one of the many incredible places you can visit along the Great Ocean Road. To read more about what you can see along this epic road trip,
check out our full itinerary to the Great Ocean Road for all the sights and info you need.
View this post on Instagram
Also Read – Great Ocean Road Itinerary – Two Days Along the Coast
Mornington Peninsula
South of Melbourne and only one hour away by car, Mornington Peninsula is a much more peaceful area to visit as it is less popular with tourists. Incredible coastal views all around the bay and beautiful sights to see around entire peninsula, it is definitely worth the trip to escape the city. This beautiful coast view was at Cape Shanck Lighthouse on Mornington Peninsula and is just one of the many amazing views available here. If mountains are more your interest, then you can get a beautiful view of the whole peninsula from the top of Arthurs Seat.
View this post on Instagram
Before You Leave for Melbourne
Before you leave on your adventure to this fantastic city, there are a few things you will need to do to make sure your trip runs smoothly. These include what visa you should get, what is the best travel insurance to get and where to stay in Melbourne.
Download our FREE full guide to arriving in Melbourne and getting yourself set up. This includes how to setup a bank account, superannuation and so much more!
Applying for an Australian Visa
If you have yet to leave for Australia then this is a section of interest for you. There are a LOT of different visa options for people arriving into Australia, from tourist visas to permanent residence visas. The most common visas, however, are the 3-month tourist visa and the Working Holiday Visa. If you are only visiting Australia for a short period of time then a tourist visa is your best option. These are easily obtained and relatively cheap, costing roughly $140AUD, and allow you to stay in the country for up to 12months.
These can be applied for on the government website here.
If you wish to work and travel in Australia, a working holiday visa is your best option. These cost around $480AUD and allow you to stay in Australia for up to 12months, whilst working and earning money to travel. This visa also gives you the opportunity to extend your stay in Australia by up to 24months by working in certain job sectors.
For all of the information you need to know about the Australian Working Holiday Visa, read our full guide over here.
What is the Best Travel Insurance for Australia
When it comes to medical bills, you do not want to be looking for the money to fork out for these in Australia. In the event of any accidents happening, you are best to purchase travel insurance to cover you for these unimaginable costs.
World Nomads
Travel Insurance
 offers backpacker friendly and affordable travel insurance that will keep your mind at ease whilst on the road.
You can get your quote before you leave on your trip here.
What to Pack for Melbourne 
Melbourne is the most temperamental city in Australia when it comes to weather. During the summer months from December to February you can guarantee that most days will be shorts and t-shirt weather, however it is possible for the temperature to drop suddenly therefore we would always advise carrying a light layer. In the winter, Melbourne can be cold and wet. We would advise that you always carry a light waterproof to avoid getting caught out in a shower! Believe it or not, the temperature can get as low as freezing during the winter, so make sure you pack warm clothing if you are visiting between May and August.
If your need more packing inspiration for your trip to Melbourne, you can check out our packing guides here.
Being a guide to the most Instagrammable places in Melbourne, we would of course recommend that you have a camera with you. Whether this is your phone, Go Pro or DSLR you will want to have this kept to hand at all times. It is also handy to carry a tripod with you if you are exploring on your own or all members of your team want to be in the photo. We use a
Cannon EOS1300D camera
and
Albott 178cm Aluminium stand
to take the majority of our photos.
You can purchase these for yourself here.
If you would like to know more about what is in our camera bag, click right here.
Where to Stay in Melbourne 
Luxury
–
Melbourne Luxury Paradise
is a top of the range Melbourne accommodation. Equipped with an outdoor swimming pool and garden, if you visit in the Melbourne in the summer then this in the perfect place to stay.
You can book your stay at Melbourne Luxury Paradise right here. 
Mid-Range
–
City Tempo – Queen St
offers a centrally located apartment fully equipped with a kitchenette and the option of an airport shuttle.
You can book your stay at City Tempo – Queen St right here. 
Budget
– Unless you are wanting to stay in a hostel, Melbourne's budget still tends to look quite pricey.
Punt Road Apartment Hotel
is a cheaper option and is situated in a great location.
You can book your stay at Punt Road Apartment Hotel right here. 
If hostels are more your thing, Melbourne has a huge selection of hostels to choose from.
Browse and book your hostel stay for this awesome city right here.
Getting To and From The Airports
When you arrive into Melbourne you need to decide what will be the cheapest and easiest way for you to get to your accommodation. If you are arriving into one of the airports you will have a couple of options to get you into the city. We discuss these below. Melbourne has two international airports,
Tullamarine
and
Avalon
. The majority of flights will fly into
Tullamarine
which would be your best option as it sits only 50 minutes away from Melbourne city centre. If you have a Myki card pass, it is also very easy and cheap to get from this airport to the city using the public transport system. The other airport,
Avalon
, which sits further west, near Geelong. This is also pretty straight forward to get to, however public transport will cost you as it is outside the Melbourne zones.
Arriving into Tullamarine Airport
When it comes to getting to and from Tullamarine Airport, you have three options. The cheapest (and slowest) option is by taking
public transport
. From the airport, follow the sign post for buses and take the number 901 public bus to Broadmeadows Central station and then catch the train into the city. This will take you approximately
one and a half hours
. The train pass and tickets for the public transport around Melbourne are discussed in the next section. The
SkyBus
is your next option and the mid-range one in terms of costs. This will take you approximately one hour and will cost roughly $25-30, depending on where you are going as you can choose to go to Southern Cross Staton in the city or St Kilda, just outside the city on the coast.
You can buy your tickets for the SkyBus here.
The fastest and most expensive option you have is
hiring a taxi
. This will take around 40minutes to get into the city. If you do decide to take a taxi, your cheapest and easiest option will be to use the Internet taxi company,
Ola
.
Research their online deals as they sometimes have special airport fares.
Getting Around Melbourne City
Once you have arrived into the city, you can decide how you will be getting around. Melbourne is an excellent city to walk around and within the city centre, all of the trams are free. 
This is known as the "Free Tram Zone" and the map of it can be found here
. One of the free trams in the city is called the "city circle tram" which gives you an excellent free tour of the city. You will travel in an old fashioned tram cart and the conductor will highlight points of interest about the city and tell you about the fascinating history of Melbourne throughout the journey. You can hop on and hop off this tour as you please. Some of the photo spots we will be sharing with you are located outside of the city centre, therefore you will need to purchase a Myki card. These top-up cards will allow you access to trains, trams and buses around the two zones of the city. Simply
buy one a Myki vendor across the city
, or download the electronic version to your phone.
Also Read – The Ultimate Melbourne Itinerary – Five Days in the City
Download our FREE full guide to arriving in Melbourne and getting yourself set up. This includes how to setup a bank account, superannuation and so much more!
So there you have it, your ultimate guide to the
most Instagrammable places in Melbourne
. If you have recently visited Melbourne,
let us know how you enjoyed it in the comment section below
. What was your favourite part of the city? Did you try the famous coffee? What street art did you see? Let us know down below. Also remember that sharing is caring, so be sure to let all your friends and family know about this guide to Melbourne so they too can plan their own trip. Save this guide for later by Pinning it and make the most of your adventure to Melbourne when you visit. If you found this guide useful, make sure you
check out the rest of our Australia content
so you can plan your trip to its maximum potential.
Catch up with us on our social medias
and tag us in your Melbourne photos so we can share them with our community.
Now Read:
This article may contain affiliate links that provide us with a small income. For more information read our Affiliate page.
---
Pin it for later!