Australia is one of the most common countries for people under 30 to complete a working holiday visa. The sun shines throughout the year, the money is good and there is plenty of exploring to do, it is hard to see why anyone wouldn't want to work and travel in Australia. If you are a
nurse thinking about heading out to Australia
, you may be trying to decide whether to continue with nursing in Australia in the hope of staying in the country longer or having a year off from nursing. This is a big decision to make as many people come out to Australia and absolutely love it and decide they don't want to go home. The question that many people ask is,
does nursing count towards my Australian 2nd-year visa
?    
Also Read – Complete Guide to 2nd Year Visa Farm Work in Australia (Subclass 417)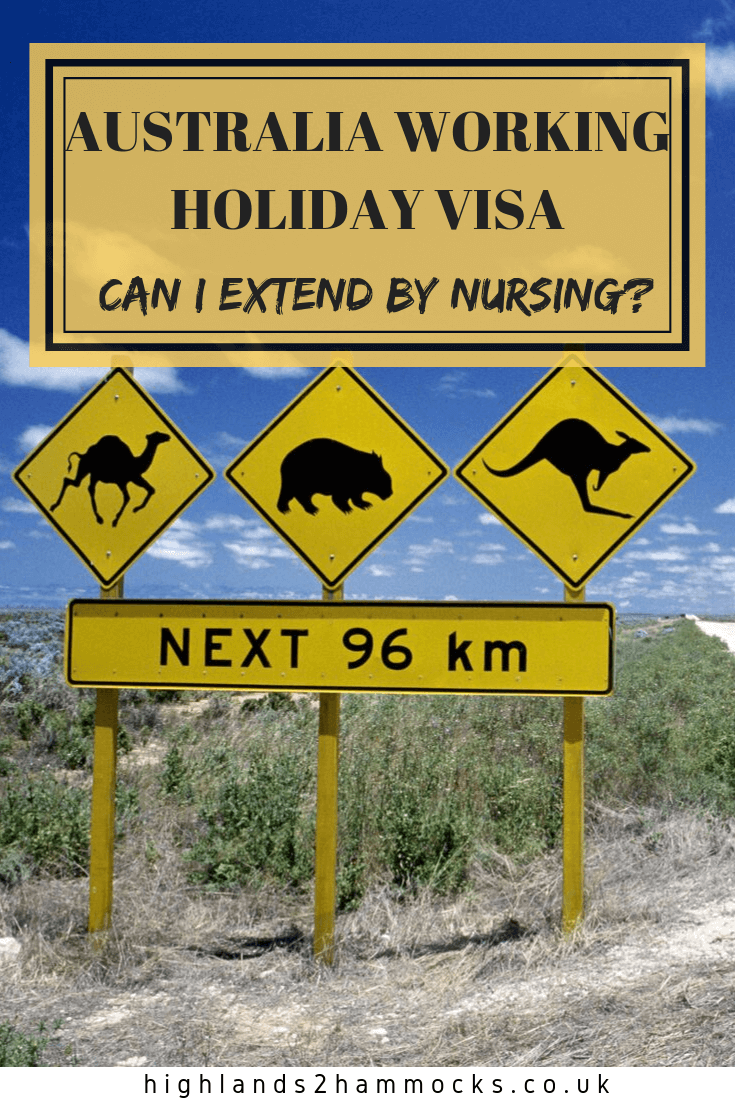 Does Nursing Count Towards my Australian 2nd Year Visa?
To Nurse or not to Nurse in Australia
To work as a nurse in Australia, it is a requirement to become
registered with AHPRA
which is equivalent to the NMC in the UK. The process of applying and registering with AHPRA can be a lengthy one and there is a lot of forms and information you will need to gather to send off to AHPRA. I would always recommend going for it if you are in two minds about it as one of the best reasons to nurse in Australia is the flexibility it will give you to travel (as well as the awesome pay).  
If you are looking for advice on applying for AHPRA registration, click here. 
  Australia is desperate for nurses as many countries are, therefore if you are wanting to travel and nurse, finding the
best nursing agency in Australia
to suit your needs is the way to go. If you love it in Australia there are also opportunities for you to get sponsored to work somewhere for a number of years. On the working holiday 417 visa, it is possible to stay for 2 or even 3 years! For your next visa to be granted though, it is a requirement for you to complete your
"farm work"
by work in a regional area on a farm for 3 months, or 6 months if you are applying for your third-year visa. After desperately hoping I could avoid this and work in a rural hospital instead, unfortunately,
nursing will not count towards another visa in Australia.
Read more about our experience working on a farm in Australia here.
What work is eligible for my 2nd-year visa?
The working holiday visa rules have become more strict over the years, voluntary work is not allowed and working in return for your accommodation costs will not be counted towards your second-year visa either.  and these are the areas of work that will be eligible for you to stay another year in Australia. There are specific industries that are approved for the 2nd year visa and you must make sure that you work in one of these areas to avoid the risk of your visa not being approved.
plant and animal cultivation
fishing and pearling
tree farming and felling
mining
construction
Specified work is any type of work described in the list below:
plant and animal cultivation

the harvesting and/or packing of fruit and vegetable crops
pruning and trimming vines and trees Note: This must be your primary employment task and directly associated with the cultivation and commercial sale of plant produce, such as fruit and nut crops (commercial horticultural activities). General garden maintenance is not eligible.
general maintenance crop work
cultivating or propagating plants, fungi or their products or parts
immediate processing of plant products
maintaining animals for the purpose of selling them or their bodily produce, including natural increase Note: Maintaining animals for tourism or recreational purposes is not eligible.
immediate processing of animal products including shearing, butchery, packing and tanning Note: Secondary processing of animal products, such as small goods processing and retail butchery is not eligible.
manufacturing dairy produce from raw material.

fishing and pearling

conducting operations relating directly to taking or catching fish and other aquatic species
conducting operations relating directly to taking or culturing pearls or pearl shell

tree farming and felling

planting or tending trees in a plantation or forest that are intended to be felled
felling trees in a plantation or forest
transporting trees or parts of trees that were felled in a plantation or forest to the place where they are to be milled

mining

coal mining
oil and gas extraction
metal ore mining
construction material mining
non-metallic mineral mining and quarrying exploration
mining support services

construction

residential building construction
non-residential building construction
heavy and civil engineering construction
land development and site preparation services
building structure services
building installation services
building completion services
other construction services
  Work undertaken in the areas of plant and animal cultivation, fishing and pearling, and tree farming and felling must be described in the list above to meet the specified work requirement.
Source: immi.homeaffairs
This type of work must be completed in a regional area of Australia with a specific postcode. You can read more about this in our Complete Guide to 2nd Year Visa Farm Work in Australia here.
  Maybe one day things will change, but at the moment
farm work is all that will give us the second year
in this beautiful country. In my opinion, farm work is hard but it is so worth getting the second year in Australia. If you need some more persuading, you can read about the experience of other backpackers to help you make your mind up whether or not it is for you.    
Applying for an Australian Visa
If you have yet to leave for Australia then this is a section of interest for you. There are a LOT of different visa options for people arriving into Australia, from tourist visas to permanent residence visas. The most common visas, however, are the 3-month tourist visa and the Working Holiday Visa. If you are only visiting Australia for a short period of time then a tourist visa is your best option. These are easily obtained and relatively cheap, costing roughly $140AUD, and allow you to stay in the country for up to 12months.
These can be applied for on the government website here.
  If you wish to work and travel in Australia, a working holiday visa is your best option. These cost around $480AUD and allow you to stay in Australia for up to 12months, whilst working and earning money to travel. This visa also gives you the opportunity to extend your stay in Australia by up to 24months by working in certain job sectors.  
For all of the information you need to know about the Australian Working Holiday Visa, read our full guide over here. 
    I hope you have found out all of the information you need to make your decision on whether or not to stay in Australia for another year. If you have any questions with regards to
nursing in Australia
or completing your farm work for 2nd year visa, leave us a comment down below. We love to chat about this stuff and help others that are going through the same experiences we did! If you have already completed your farm work, let us know how it was! Where did you work? What kind of job did you do? Would you recommend this farm to others?
Let us know in the comments below
! Also remember to share this with your friends and family that may be going through a similar experience.
Sharing is caring
and we want to ensure that as many people as possible have a stress-free experience when it comes to working for their 2nd-year visa. If you are planning an Australia trip soon or you are already in the country then check out our
other Australia content right here
. Come and 
find us on social media
to see where we are currently exploring. Tag us in your photos from your farm work and we will share them with the rest of our community of explorers and backpackers.    
Now Read:
This article may contain affiliate links that provide us with a small income. For more information read our Affiliate page.
---
Pin it for later!