When someone mentions the Great Ocean Road to you, the first thing you think of is the Twelve Apostles, right? What if I told you that if you head just north of the Great Ocean Road, you could be in amongst a spectacular array of wildlife and forestry, including a huge range of different waterfalls in the Great Otway National Park.
The classic tourist route on the Great Ocean Road is to follow the coastline, however, if you have some flexibility in your itinerary to make room for some Great Ocean Road waterfalls, we highly recommend you do so.
The Great Otway National Park is free to enter and is full of walking trails varying in difficulty and length. In this post, we share with you our favourite waterfalls on the Great Ocean Road and the ones that we believe shouldn't be overlooked on your roadtrip. This is your guide to the Great Ocean Road waterfalls and the best hiking trails on the Great Ocean Road.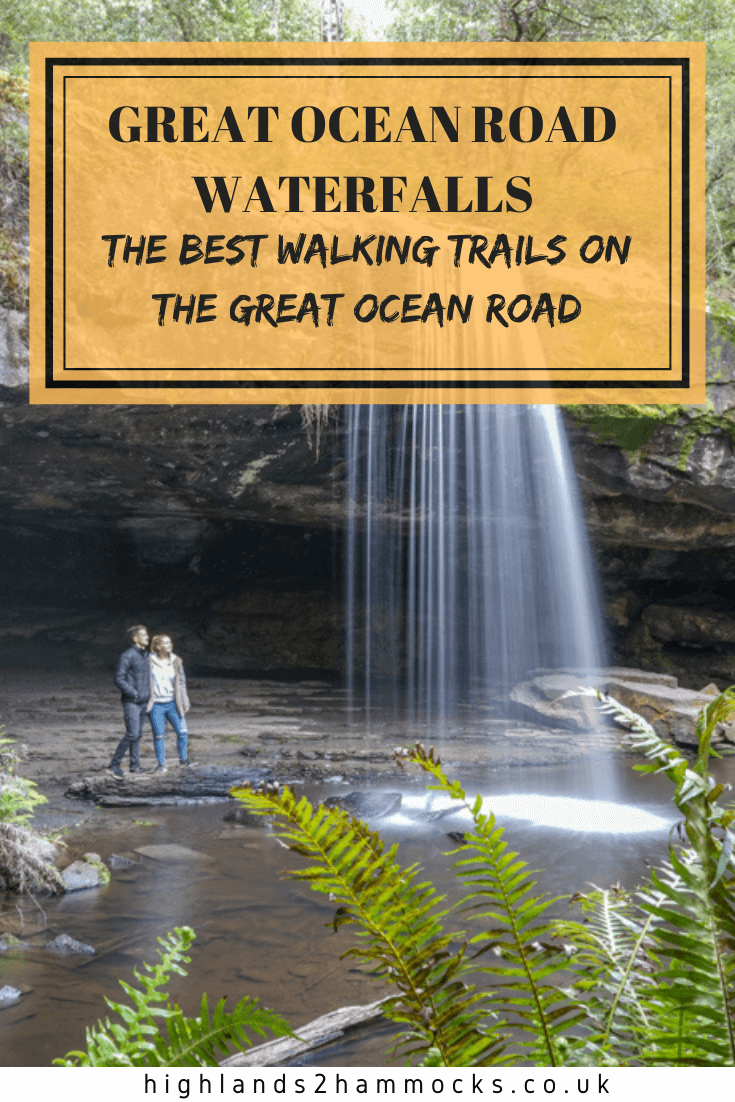 The waterfalls included in this post are listed below. We will discuss each in greater detail, including how to get there and what to expect. This list is also in order from East to West along the Great Ocean Road, as this is the most common route.
Erskine Falls
Lower and Upper Kalimna Falls
Scheoak Falls
Carisbrooke Falls
Hopetoun Falls
Little Aire Falls
Triplet Falls
Watch our YouTube video exploring the Great Ocean Road Waterfalls as well.
Great Ocean Road Waterfalls – Best Walking Trails on the Great Ocean Road
Erskine Falls
How to get to Erskine Falls
When you pass through the Great Ocean Road official sign, the first town you will enter is Lorne. Located just outside of this town, Erskine Falls, is located around a 10-minute drive inland from the coastal road surrounded by the ancient forests. You will drive along winding forestry roads surrounded by the lush green jungle and after a steep drive downhill, you will arrive at the car park for the Erskine Falls.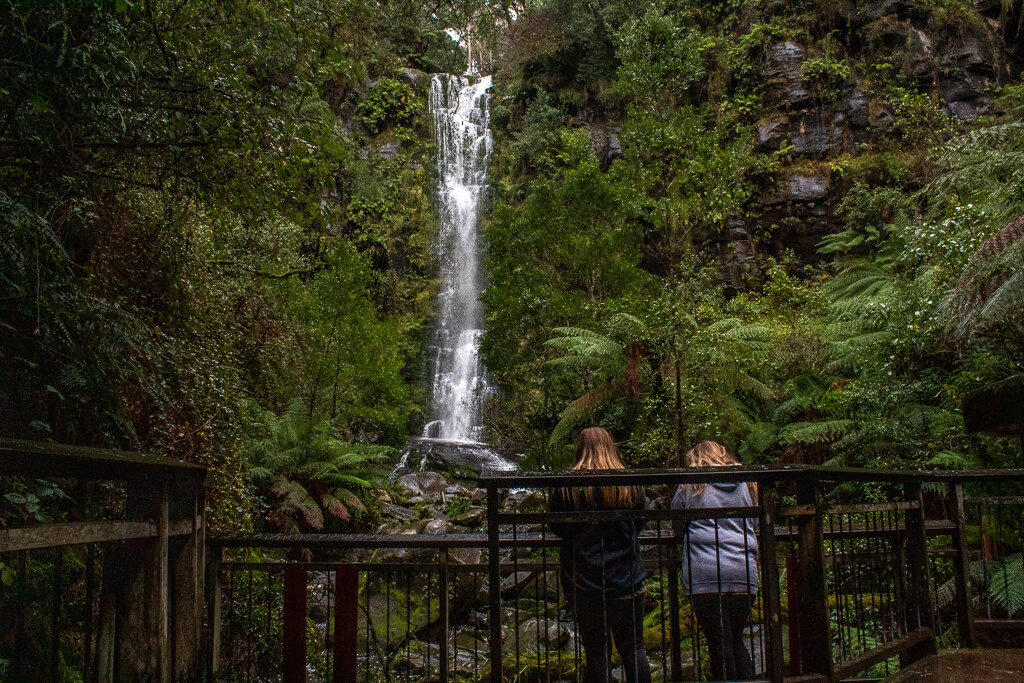 What to Expect From Erskine Falls
Erskine Falls is one of Victoria's highest waterfalls. It is a stunning location, surrounded by a dense wall of jungle growth, with the thick overhang of trees blocking out the midday sun. It is, therefore, a lovely place to visit when the heat from the sunshine along the coast of the Great Ocean Road becomes too much.
There are two lookout points for the Erskine Falls, one upper viewing deck and one lower. The upper falls lookout is an easy 5-minute walk from the car park, with not too many stairs to climb. However, the lower lookout will take you further down into the gully travelling 240 steps downhill. Expect this walk to take around 10 minutes each way as the paths and stairs are very well maintained making this walk not too difficult. The walk is easily accessible by young children and people with moderate fitness.
There are no toilets in the car park for this waterfall.
To find out more about this waterfall, read our full guide to the Erskine Falls over here.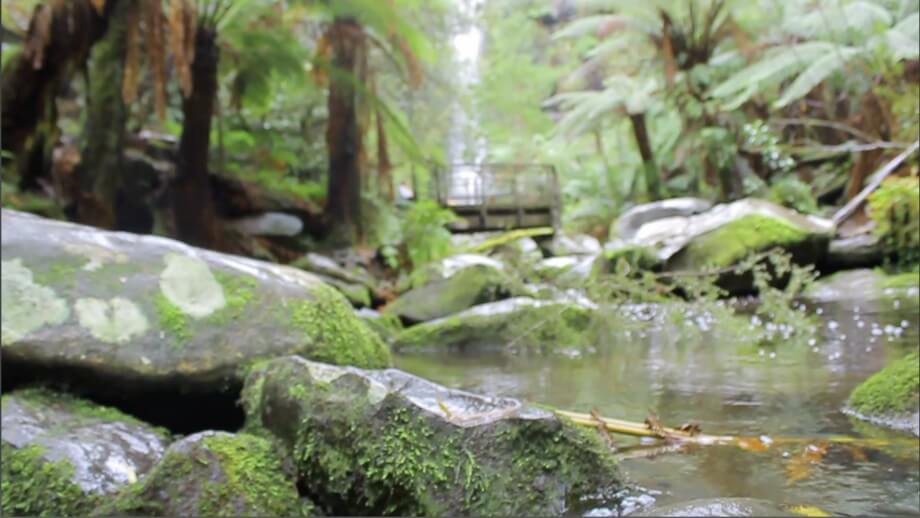 Lower and Upper Kalimna Falls
How to get to the Lower and Upper Kalimna Falls
Make your way to the Scheoak picnic area, around 15 minutes north of Lorne, where you have the choice of a variety of waterfalls to visit. The Lower Kalimna Falls sits a 2.9km walk from the Scheoak picnic area, with the upper sitting a further 1.2km ahead. In total this walk should take around 2 hours as a round trip.
If the weather conditions are dry and suitable, the gate in the car park will be open and you can drive up the gravel road. Drive on around 10 minutes and you will reach another walking route to the falls. From here, the waterfalls sit a mear 1.1km walk, with the upper falls sitting just 1.7km away.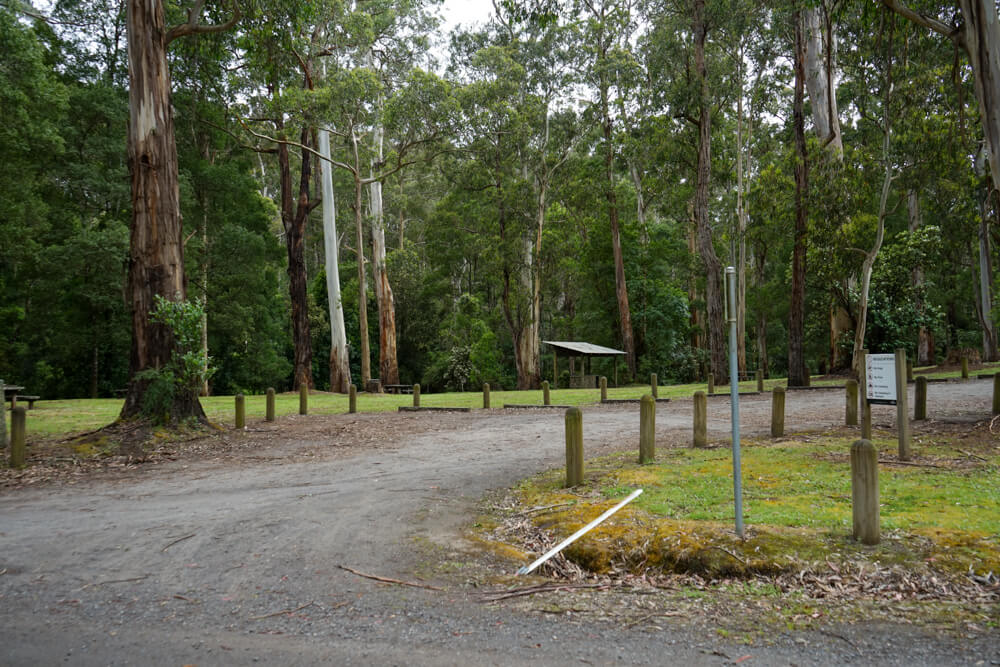 The path to the falls from this closer route will lead you to a T-junction, where you will turn left to get to the upper falls or right to get to the lower falls. If you are only wanting to visit one, we HIGHLY suggest it is the lower falls, as these are simply stunning.
Research the availability of the falls before you set off on your trip, as they tend to open and close based on the weather conditions. When we visited, the upper falls was closed due to storm damage on the boardwalk.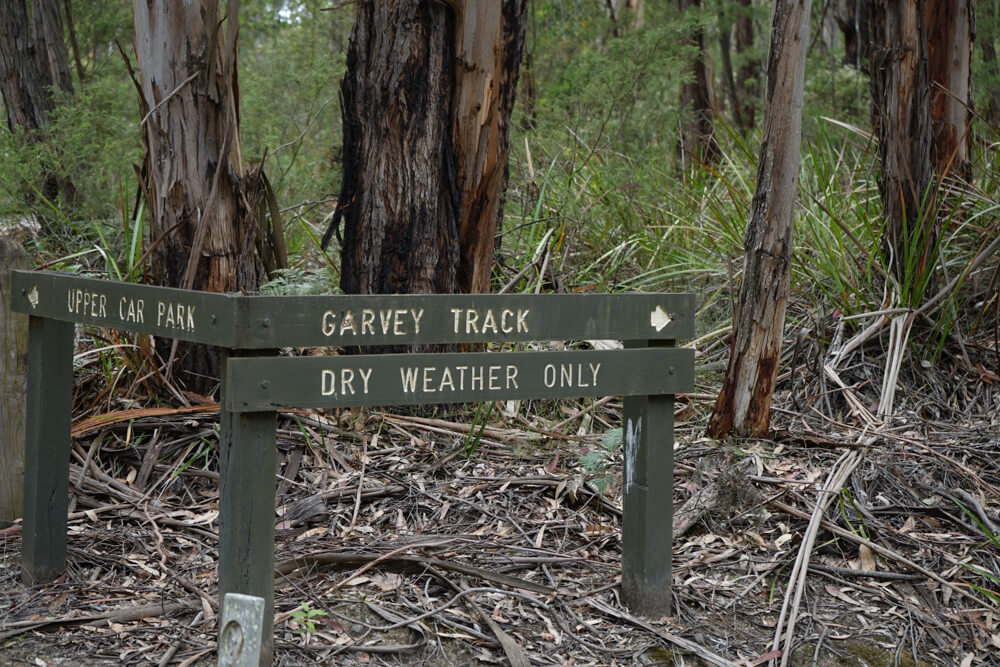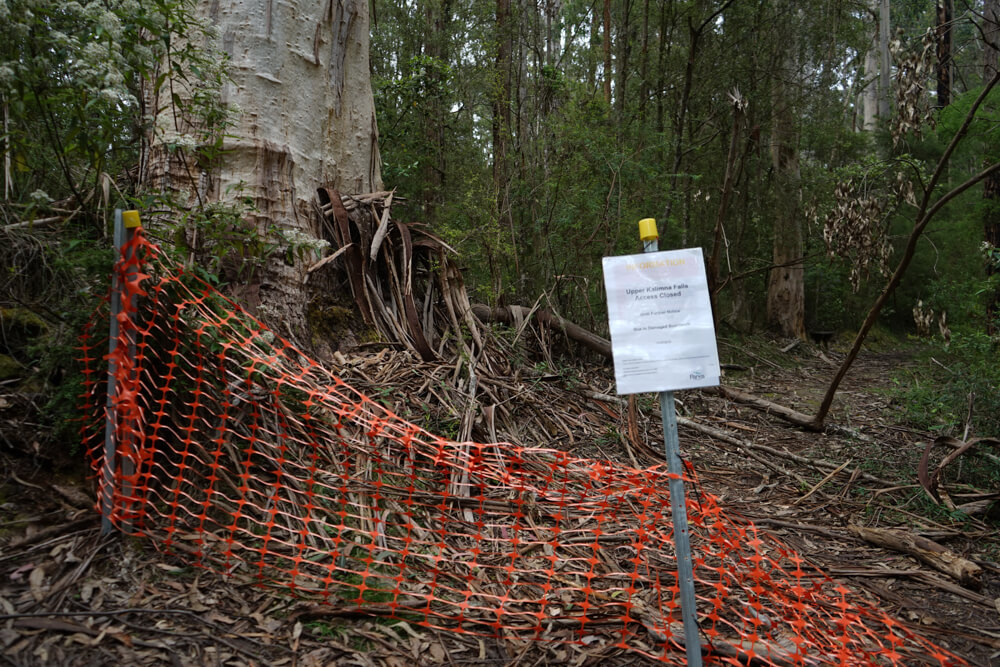 What to expect from the Lower and Upper Kalimna Falls
A 1.1km walk will take you down to the Lower Kalimna Falls, where you will be treated to a gorgeous flow of water over the cliff. This waterfall is extremely photogenic, one of our favourites along the Great Ocean Road trip so we highly recommend bringing a camera if you have one. It consists of a moderate stream of water cascading over a shallow cave and into a deep and still pool of water below. The cave is easily accessible, meaning you are able to admire the falls from all vantage points.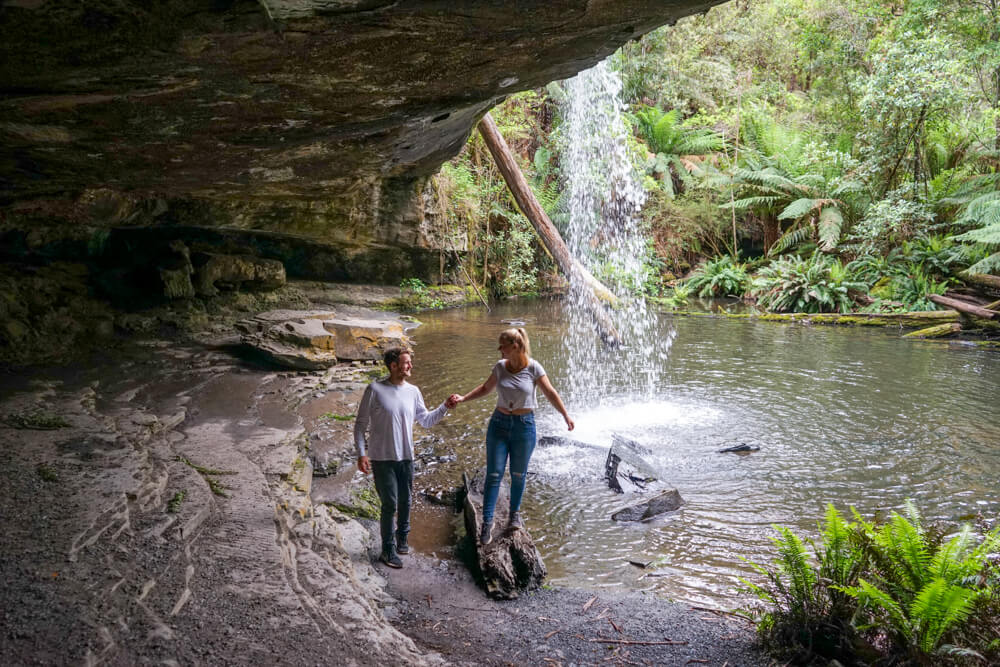 The walkway can be quite muddy so wear shoes that you can expect to get dirty. There are some stairs, bannisters and walkways, however, some sections are steep and gravel, so it can get slippery.
At the upper falls, the waterfall is not as interactive as the lower falls as it is a simple waterfall down a rock face. The waterfall here is much higher, around 20-25m, although we can only view this from the viewing platform from the path.
At the lower car park, by Scheoak Picnic Area, there is a compost toilet with easy access.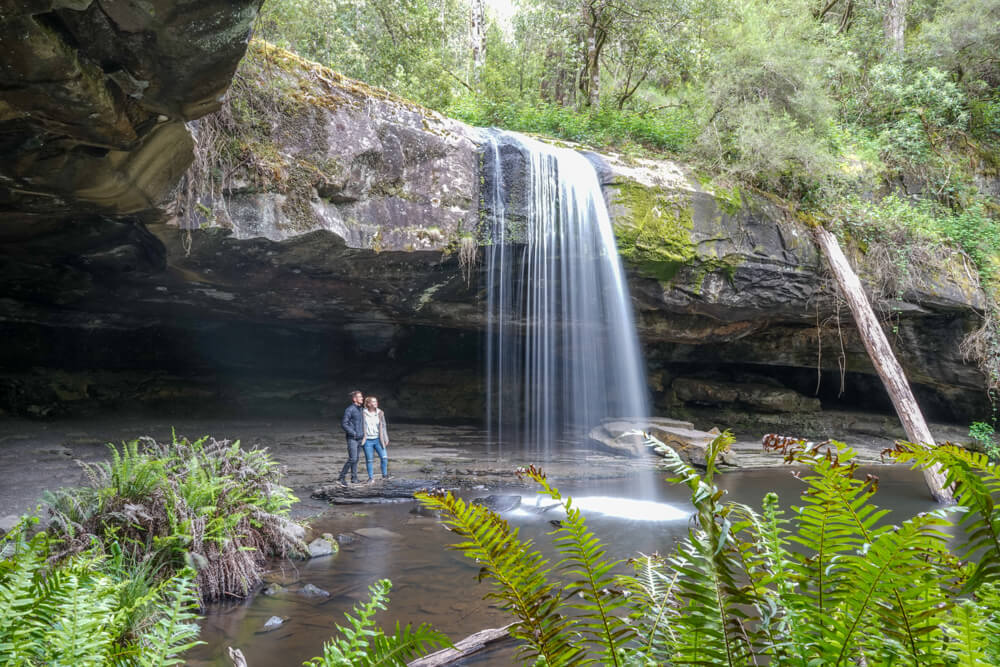 Scheoak Falls
How to get to Scheoak Falls
The Scheoak Falls car park lies just off the great ocean road, perfect for a stop in on your way along the coast. The car park will hold between 20-30 vehicles, however, be prepared for this spot being busier due to the ease of visiting it. The walk will take roughly 15 minutes each way along an easy gravel path. There are a few climbs up and down, however, stairs have been put in place to assist with this.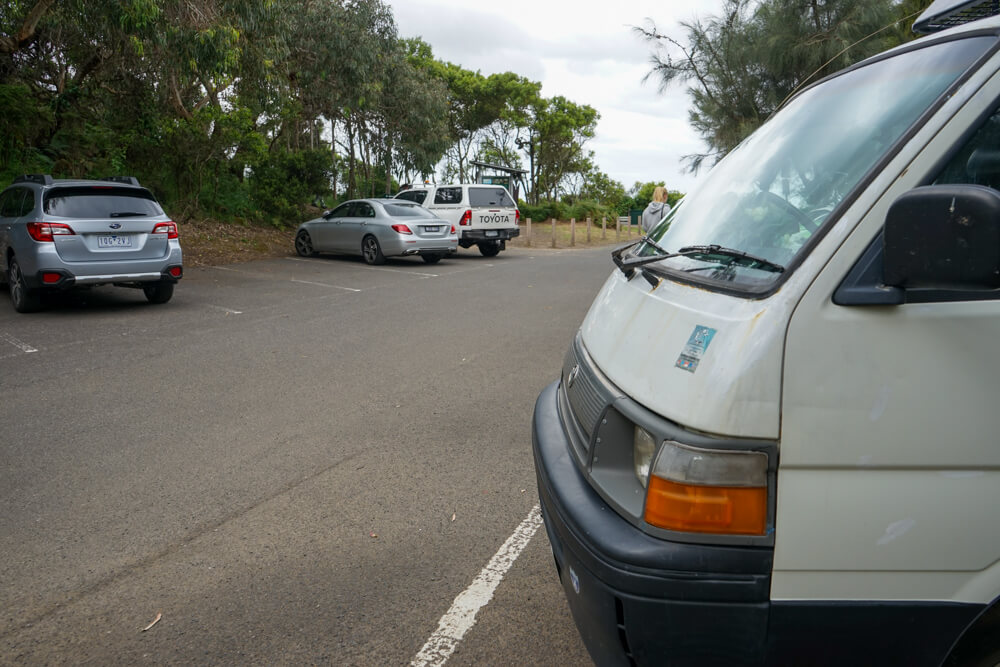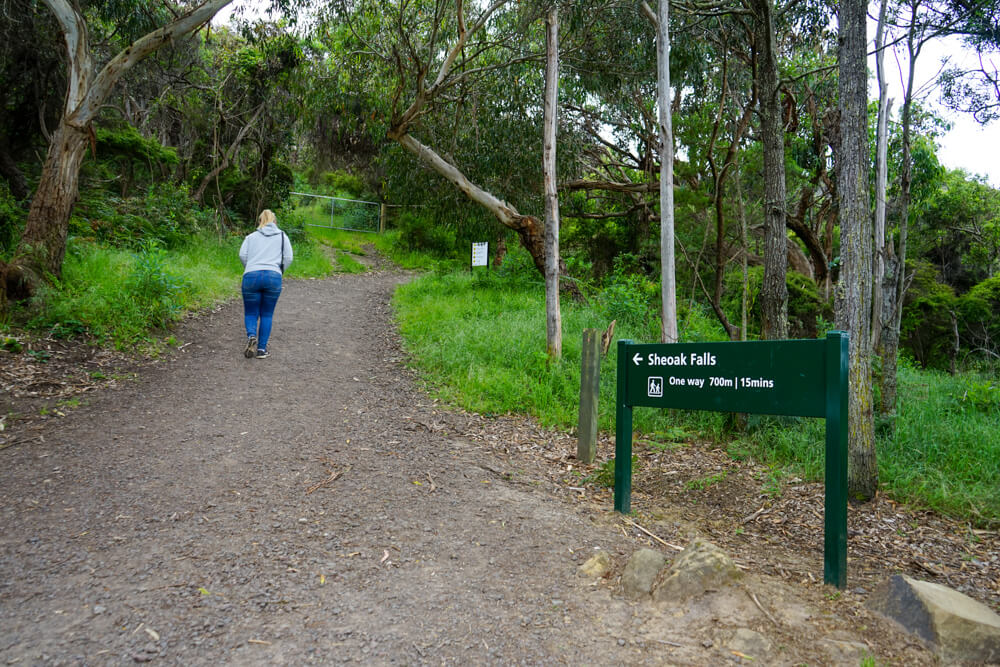 What to Expect from Scheoak Falls
When you arrive at the falls, you will find a small, decked area with a bench, perfect for a tranquil and relaxing picnic or reflection. The pool that sits beneath the light cascade of water sits very still, especially when there has been low rainfall. This makes the Scheoak Falls one of the more peaceful spots we visited along the Great Ocean Road.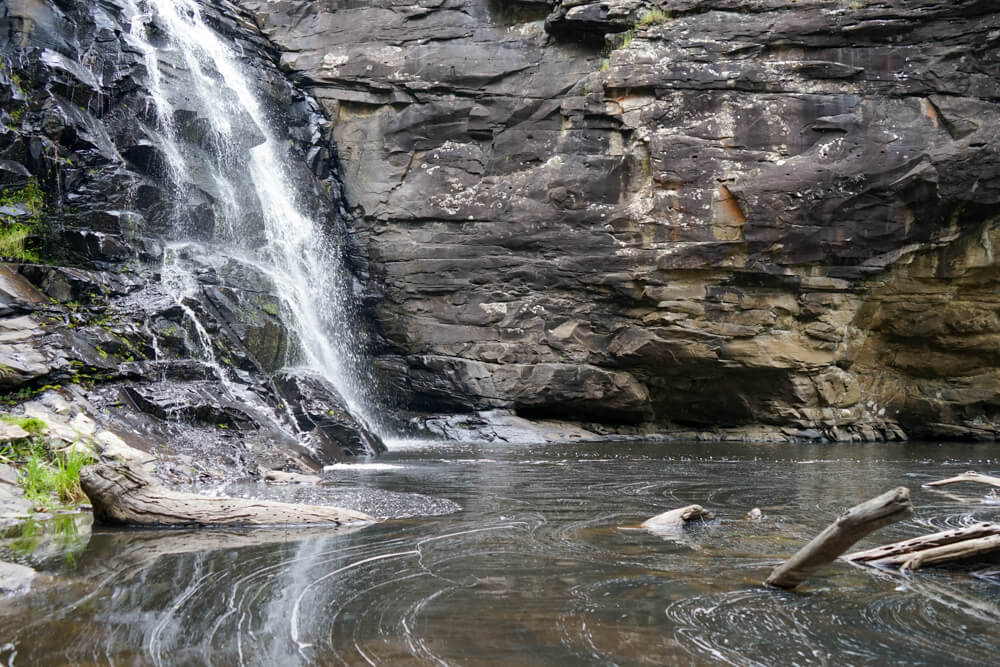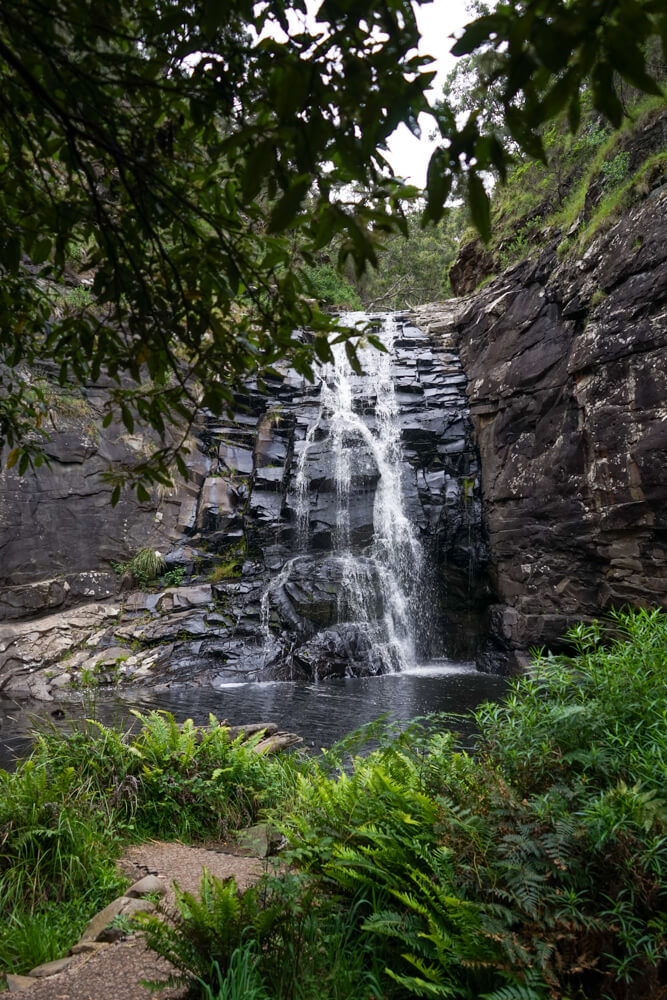 Due to its close proximity to the main Great Ocean Road, Scheoak Falls is a more popular choice for tourists, however, when we visited in Spring we have the falls to ourselves for around 20 minutes. The decking area and bench give the place a backgarden-like feel to this waterfall, and if you go when it's quiet it would be easy to sit there for an afternoon and relax.
There is no toilet at the carpark for this waterfall and the car park is quite small and busy.
Carisbrooke Falls
How to get to Carisbrooke Falls
A gravel car park just off the main Great Ocean Road will be where you leave your vehicle, before starting the 15-minute walk towards the waterfall. The path is gravel and it is quite a steep climb, with areas that may be hazardous and crumbling away to the cliff to the right. Thankfully, there is a solid, metal barrier protecting you from the drop, however, be careful you do not slip and hurt yourself.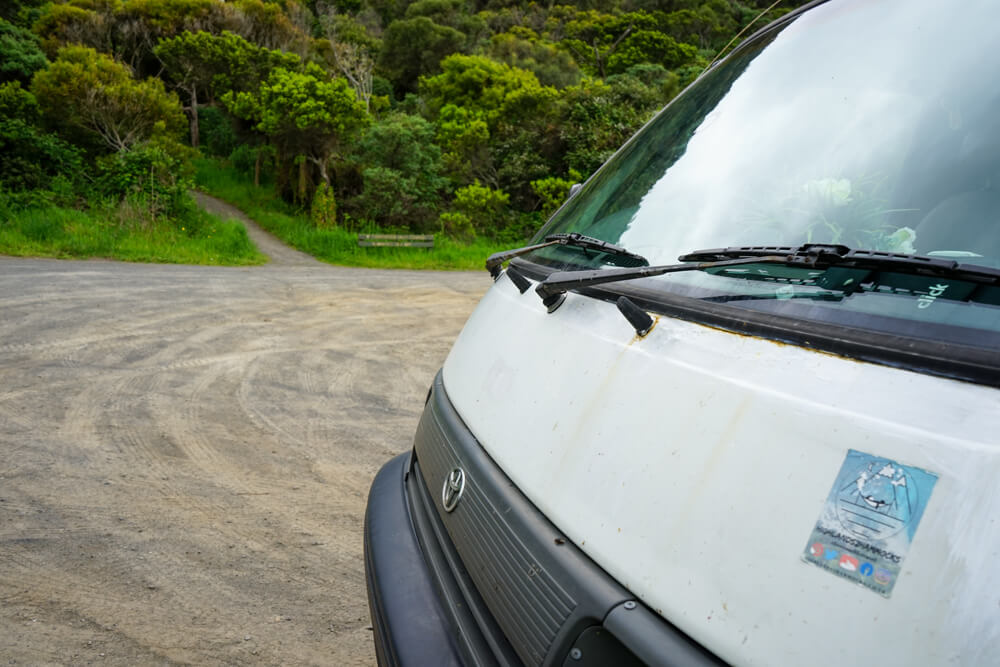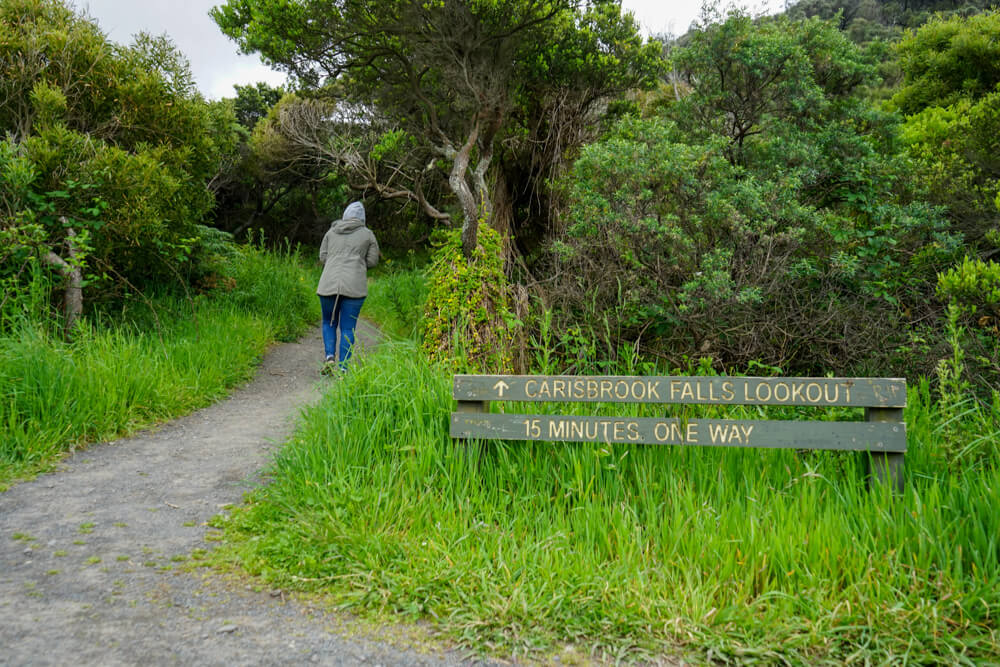 What to Expect from Carisbrooke Falls
There is a small Lookout at the end of the path, looking over towards the falls. This platform is very small and will only fit around 5 people at a squeeze. The view is quite a distance as the falls lie around 50m away from the viewing platform, however, the size of the falls makes them very easy to see from here.
The waterfall is quite a heavy flow, which cascades down a rock face wall and stretches around 20-30m above the forest floor.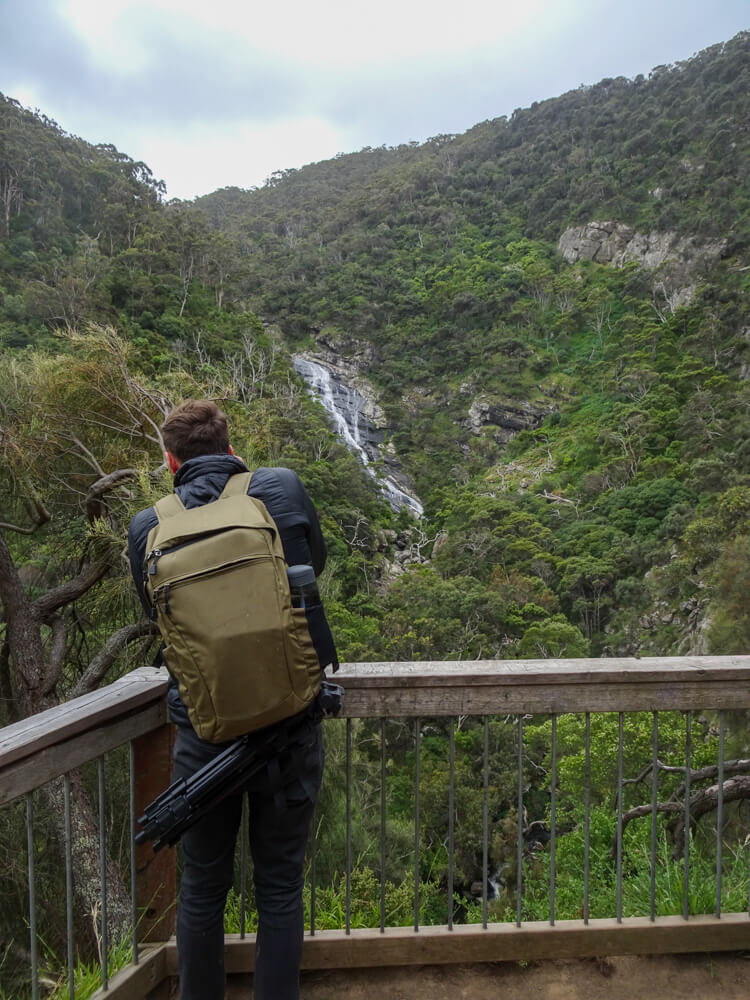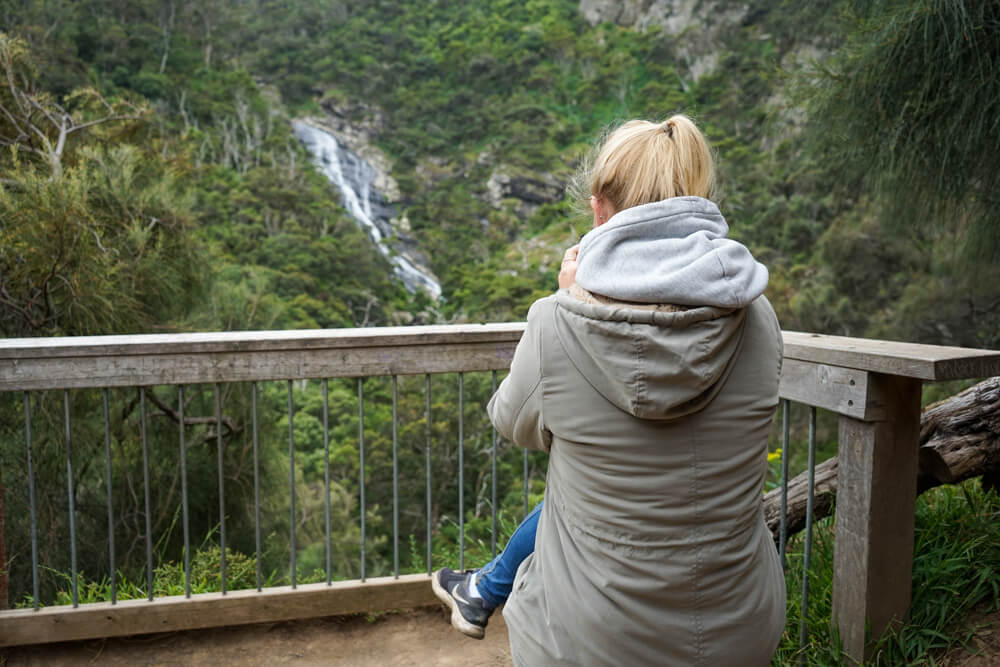 As a result of being so close by and easily accessible from the Great Ocean Road, you can expect this waterfall to be a lot busier than the rest. When we visited, we had the platform to ourselves for around 5-minutes, although on our way back to the car we passed around 10 people on their way up.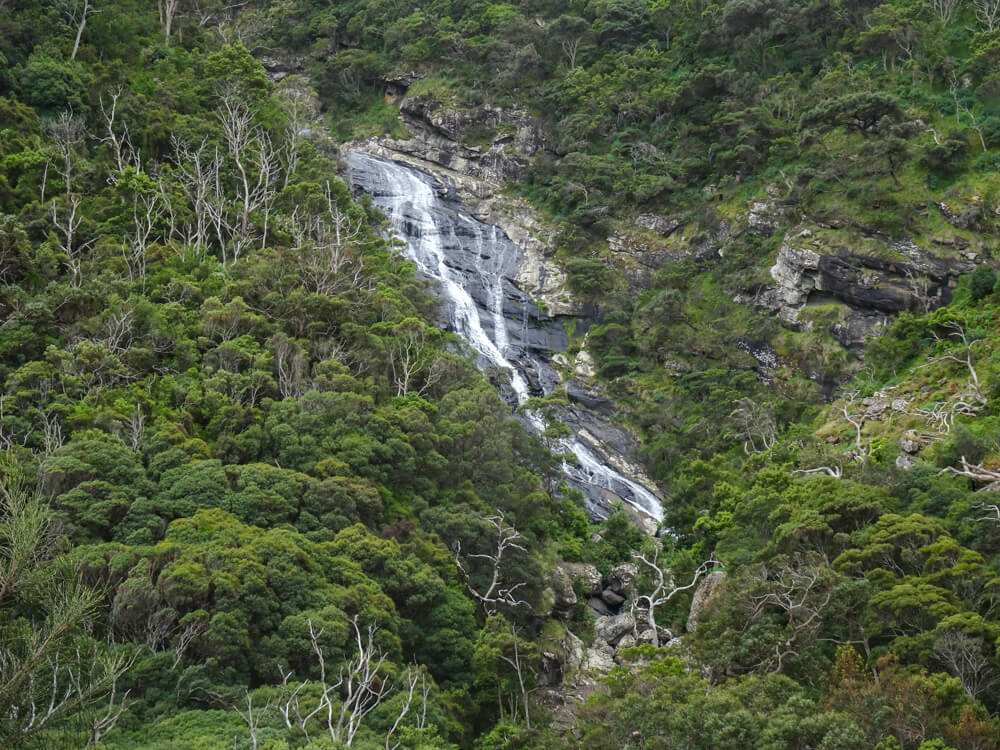 Hopetoun Falls
How to get to Hopetoun Falls
Situated around 1-hour northeast of Apollo Day. After a drive down a narrow bumpy road, you will reach a car park with a picnic bench and you will instantly hear the roar of the Hopeton Falls. You will have now entered into the Great Otway National Park, to which there is no national parks fee.
The car park here is very small and when we visited it was quite busy. We suggest you get here early if you would like to visit the falls alone.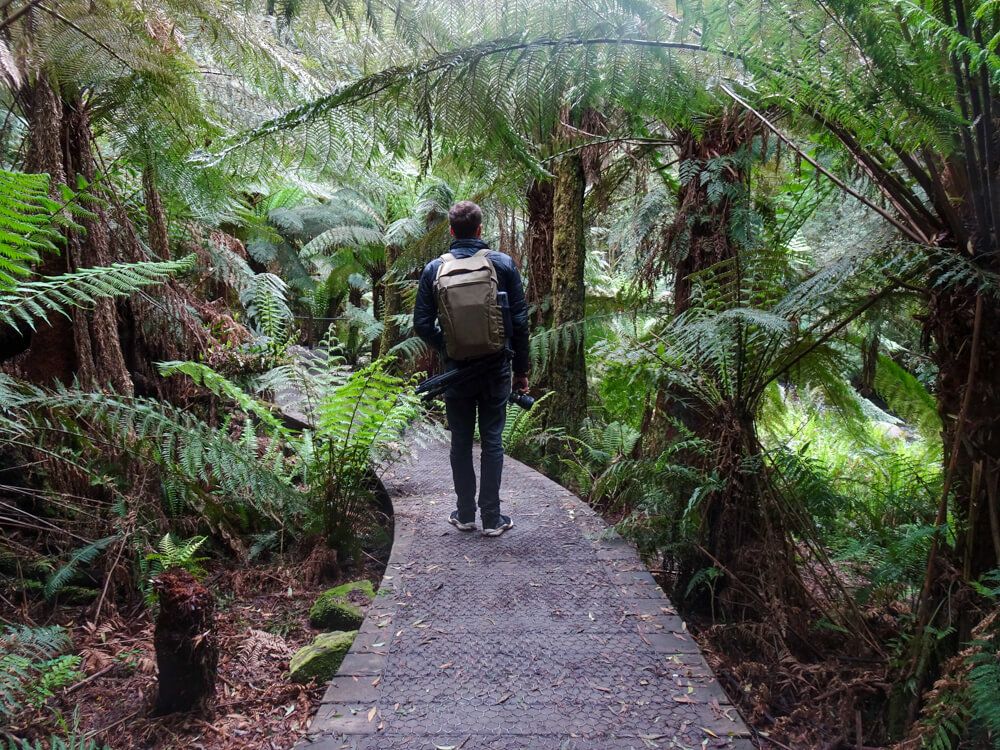 What to Expect from Hopetoun Falls
From the lookout point at the top, you will see these phenomenal falls sitting 30m beneath you. If there has been a lot of rain recently, the power of this waterfall will be immense. If you are keen to get a closer look, there is a 1km pathway leading you down to the ground level of the falls, where you will see a much more impressive angle of the waterfall.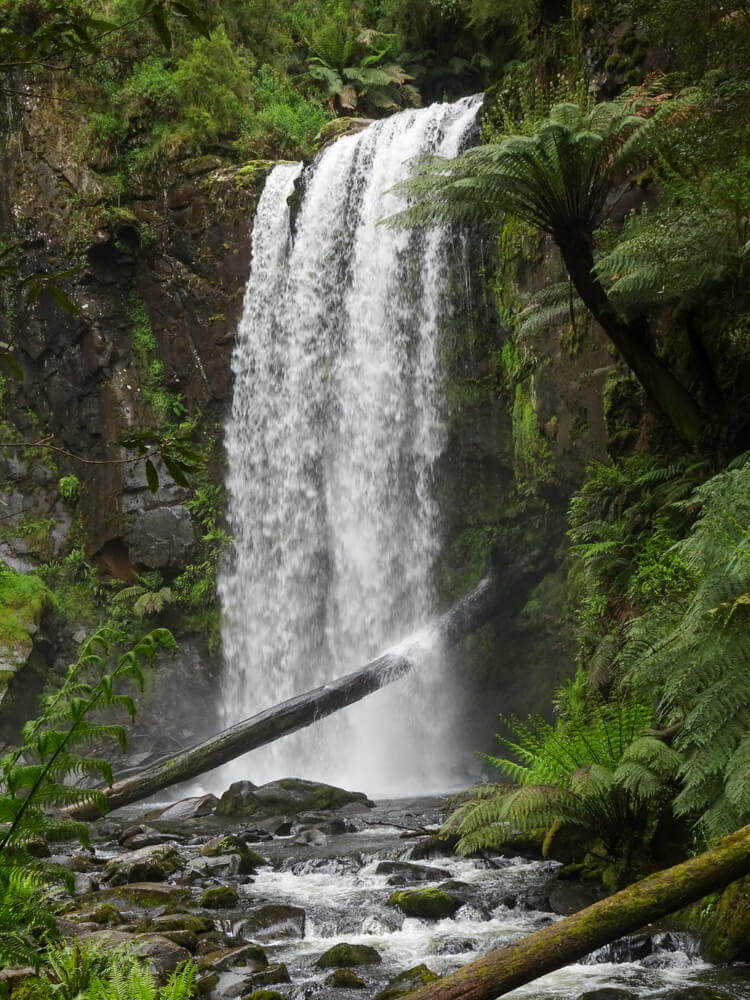 There are stairs and a railing leading down to the falls, however, the climb is very steep. It can also be quite marshy and muddy underfoot if the conditions have been wet. The walk down and up will take a total of around 30 minutes, depending on how long you choose to sit and admire the view at the bottom.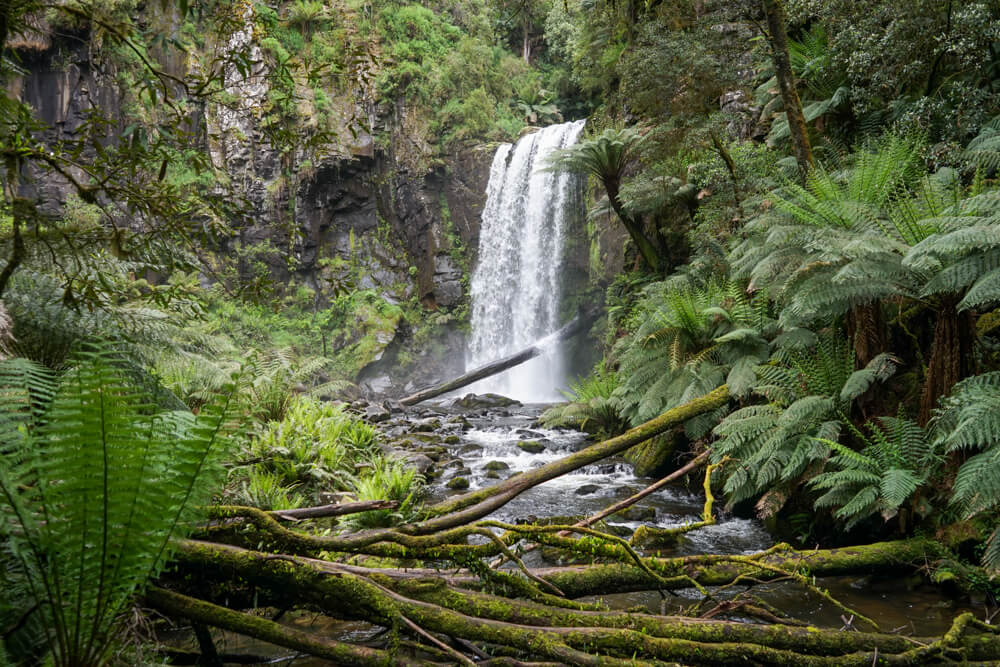 Little Aire Falls
How to get to Little Aire Falls
Driving through the forest, you will start to hear the noise of the waterfall. Keep driving until you reach the car park. When you park up you will see that you are at the entrance for two different waterfalls Little Aire Falls and the Triplet falls, which we will discuss in more detail below.
There are toilet facilities in the car park as well as picnic benches and a map of the area.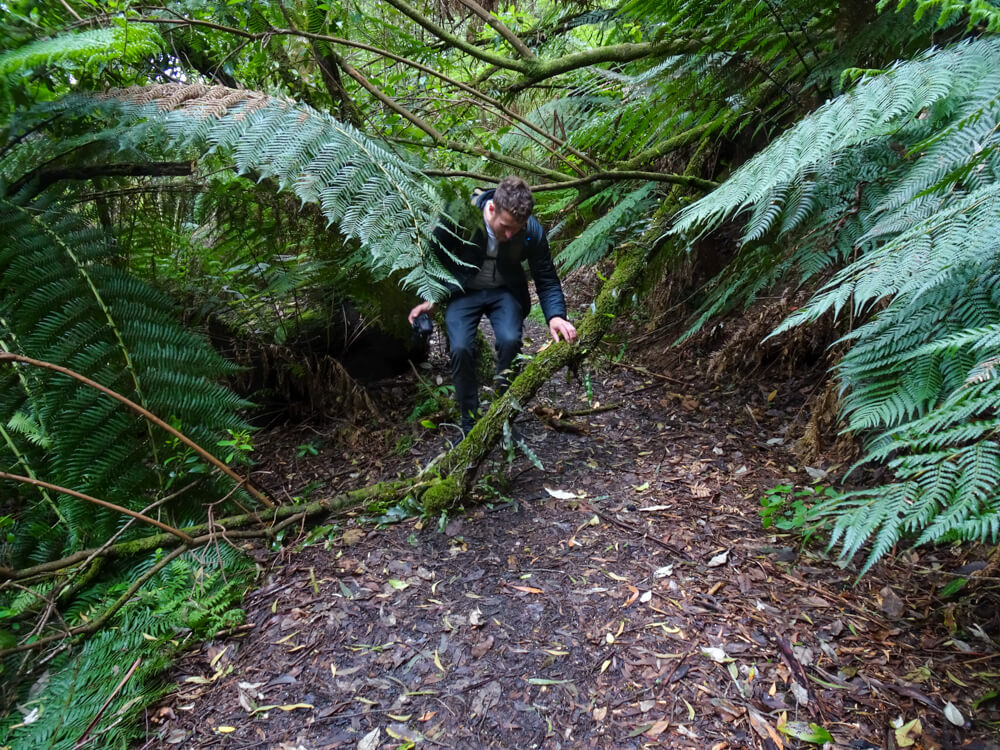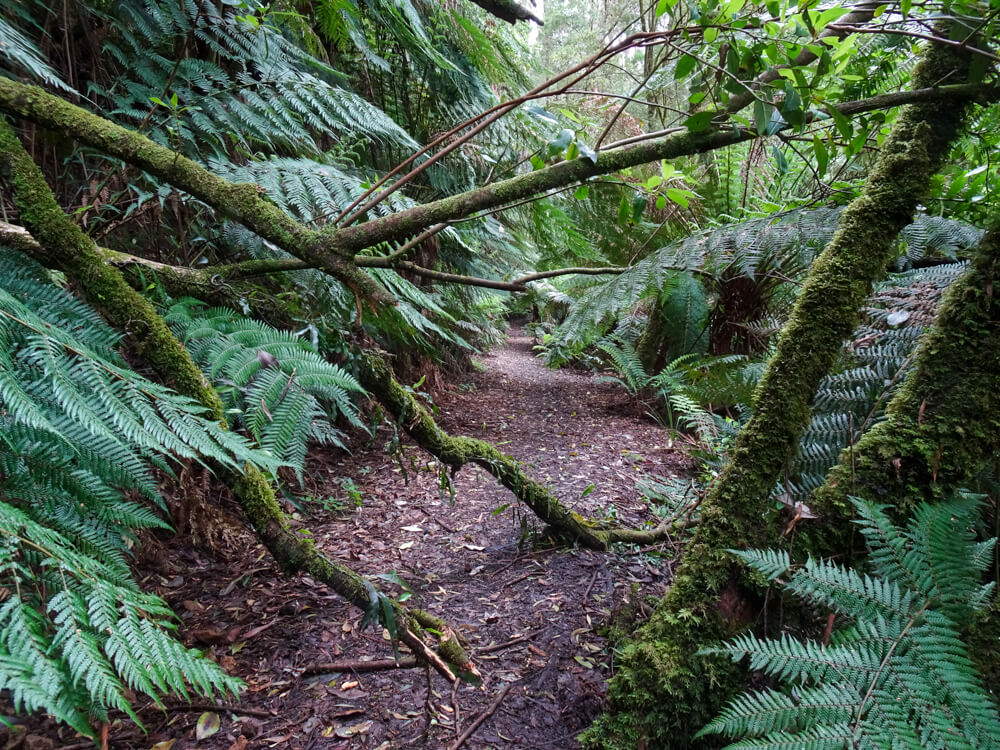 What to Expect from Little Aire Falls
The Little Aire Falls are 2.5km from the car park, so a round trip will take around 2 hours. This is quite a long and steep walk with the potential for boggy pathways in wet conditions, so make sure you bring some water and wear comfortable shoes.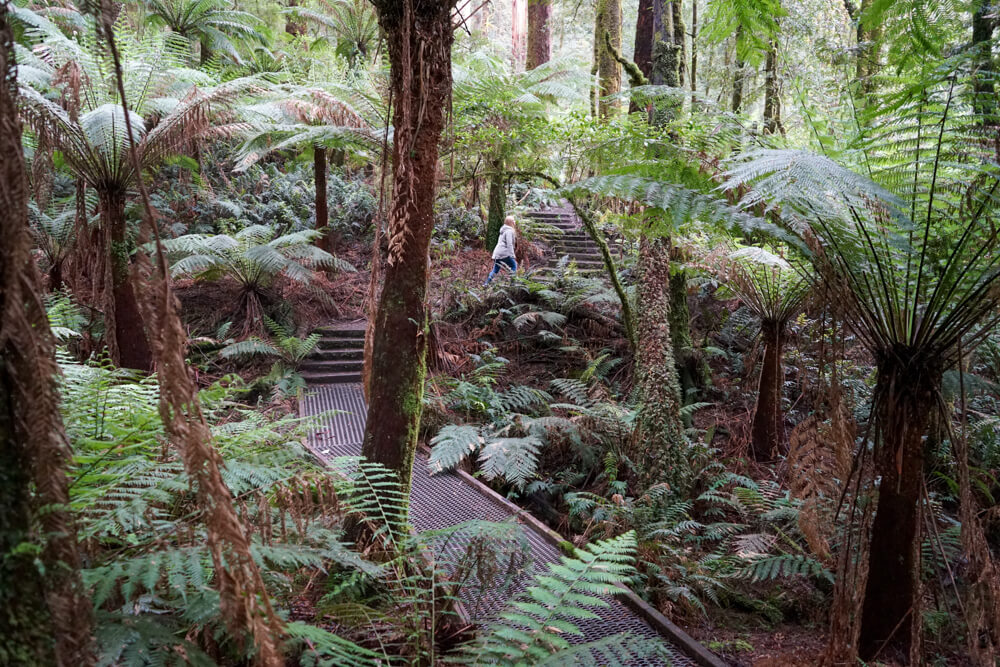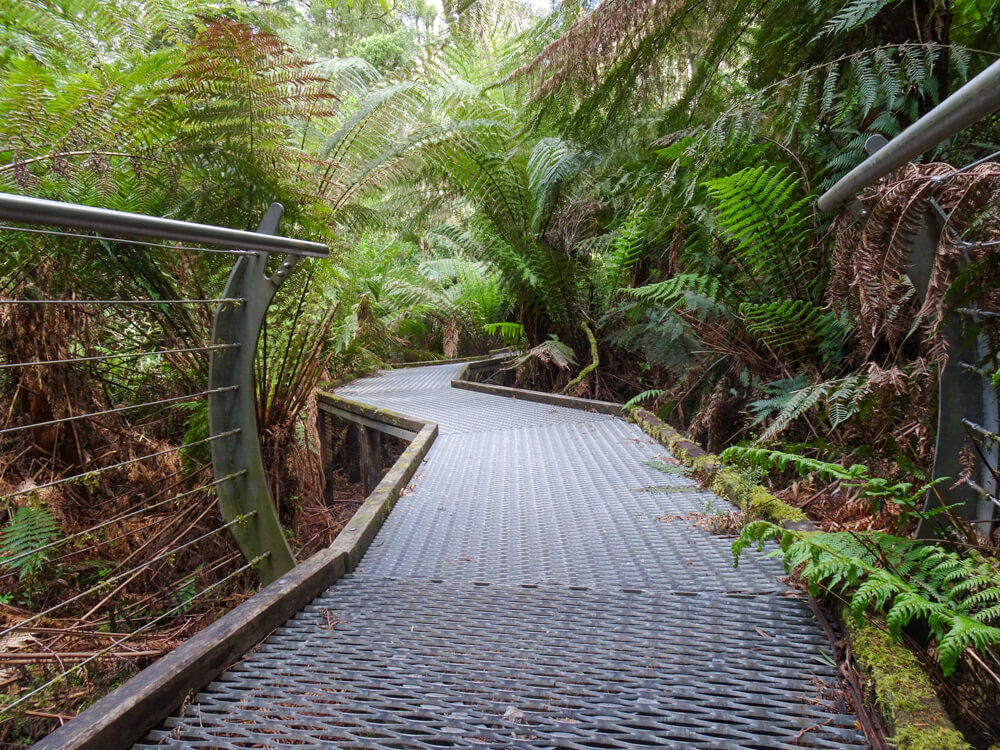 You will see the lookout ahead when you come to the end of the trail and you will be faced with the power of the Little Aire Falls. Despite the name, these are possibly one of the biggest waterfalls we discuss here. There is, unfortunately, no way down to the waterfall itself. Instead, the view from the platform will more than suffice.
Due to the length of the walk , this walk is extremely quiet in comparison to other waterfalls. If you have the time, it is definitely worth the walk to get there.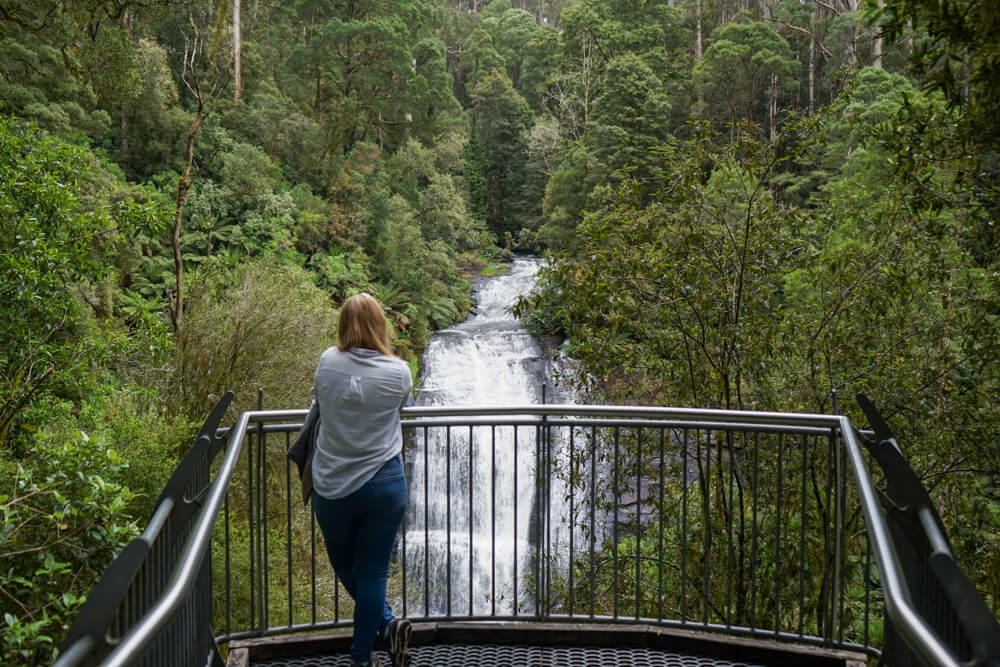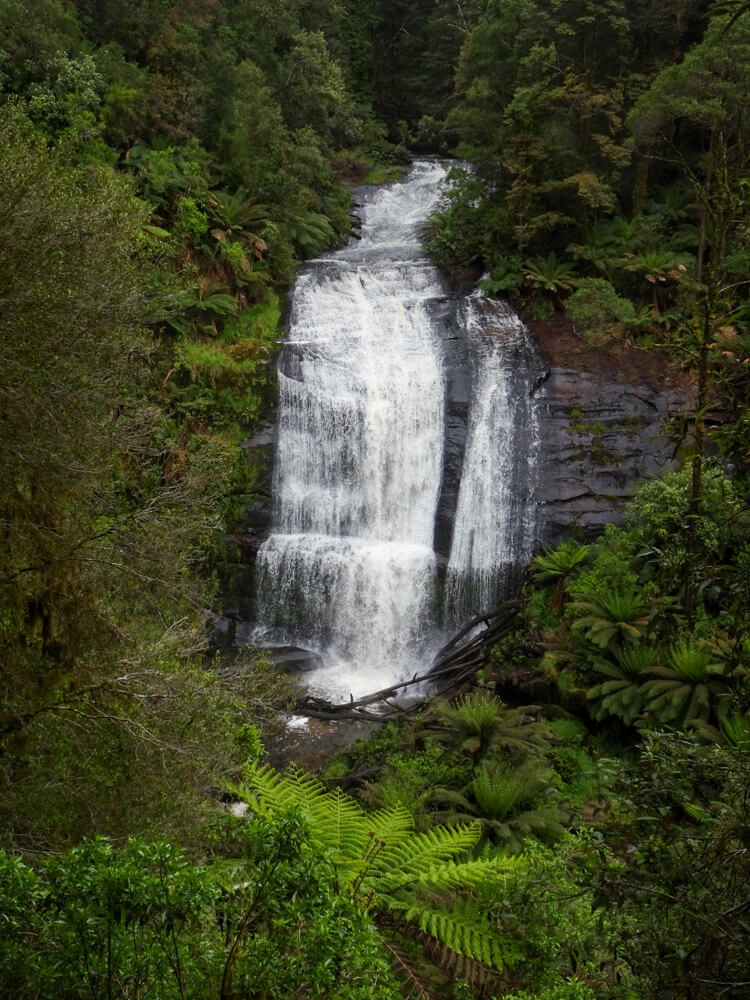 Triplet Falls
How to get to Triplet Falls
As mentioned above, the triplet falls entrance is in the same car park as the Little Aire Falls. There is an option to walk the 2km loop which takes around 2 hours to complete. This loop will take you past the waterfalls and around a scenic trail through the forest.
This loop can sometimes be closed, as it was when we visited due to storm damage. Instead, we took the shorter route there and back, which is around 20 minutes each way.
What to Expect from Triplet Falls
Once you reach the Triplet Falls you will see the opening appear on your right. The first viewing platform is further back and offers a beautiful view of the waterfalls from above. If you continue down to the second viewing platform you will get a more front-on view of the three streams of water. The name of these falls comes from the three separate streams of water that flow down the rock face.
There is a bench for you to rest your feet at on the first viewing platform, however, there is not another at the second.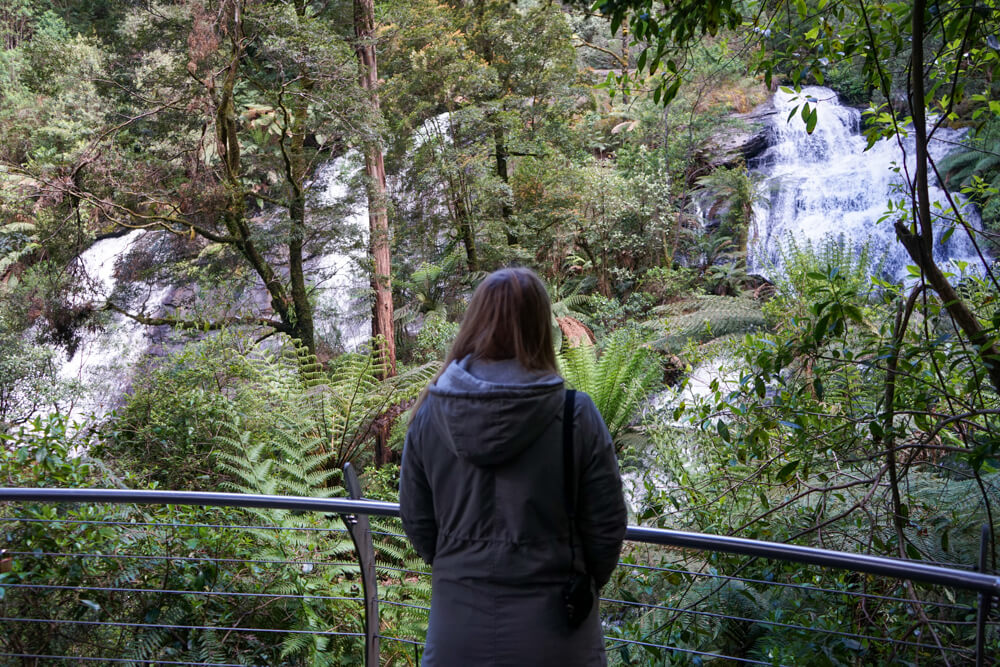 The car park for both the Little Aire Falls ad the Triplet Falls has a bathroom and is quite big, although it is a popular spot so it may fill up quickly.
Watch more Australia videos and guides on our Youtube Channel
Other Sights to See Along the Great Ocean Road
There are so many other incredible sights to see along this coastal drive, so many that it is quite difficult to decide which are for you. If you are struggling to come up with a Great Ocean Road itinerary for yourself, here are some more of the best sights that you cannot miss along the coast.
Split Point Lighthouse
Sitting just before the start of the Great Ocean Road and outside the small town of Lorne, this old lighthouse is a beautiful spot to admire the coastal views below. Built in 1891, this lighthouse was constructed to warn passing ships of the rocky shores nearby.
There are daily tours of the lighthouse, showing you the fascinating history and culture behind this part of the country. These must be booked online, which can be done here.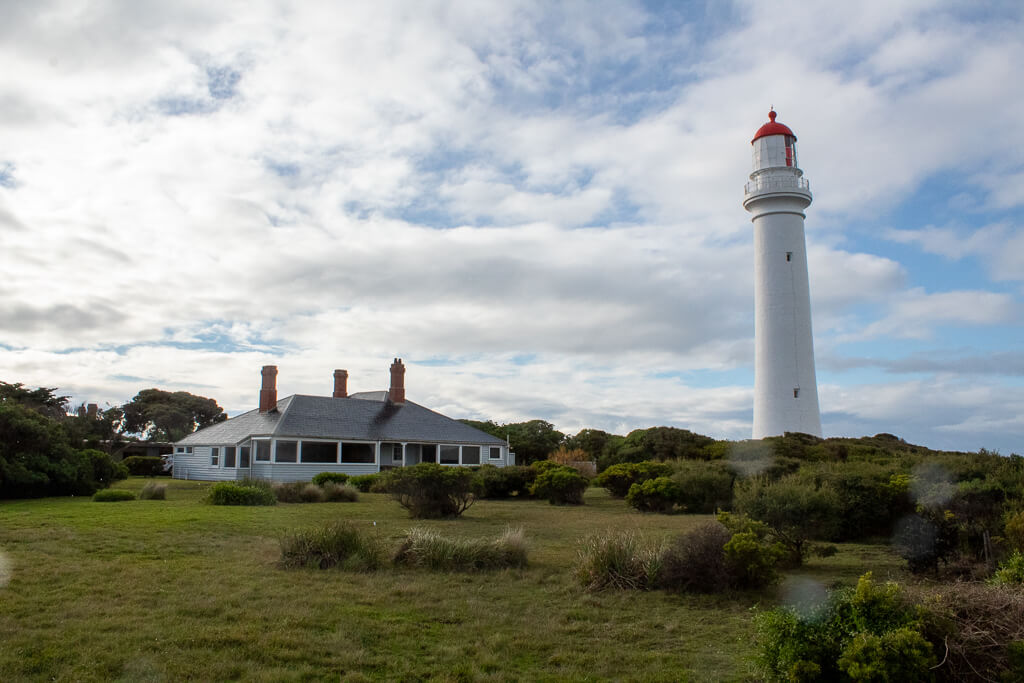 Gibson Steps
Another stunning area of the Great Ocean Road, the cliffs of Gibsons Steps are truly jaw-dropping. If you visit this spot at low tide you will be able to walk down the steps to the beach, where you can marvel at the size of the cliffs above.
Be careful when you are on the beach, however, as the waves are large and strong and if you are not paying attention you will easily get your feet wet, or possibly worse..
View this post on Instagram
Bay of Islands
An area of the Great Ocean Road coastline that is littered with dozens of smaller limestone sea stacks. Over time, the soft coastal cliffs of Victoria have been eroded by the sea, leaving behind small islands of rock. These islands will, in turn, erode and collapse into the sea one day.
The viewing platform over the Bay of Islands has beautiful views of the southern Victoria coastline as it stretches for as far as the eye can see. Silhouetted against the sea mist from the crashing waves are the outlines of these beautiful sea stacks.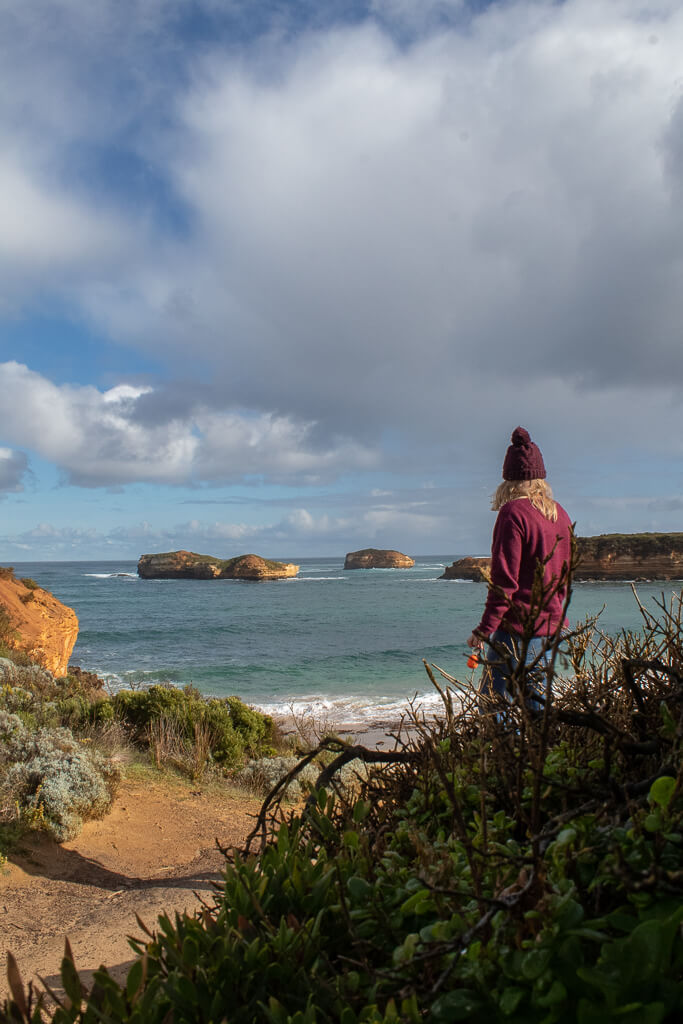 The Twelve Apostles
Perhaps the Great Ocean Road's most famous tourist attraction, the Twelve Apostles are a group of limestone sea columns just off the shore of Australia. This incredibly beautiful location shows off the impressive power that the sea possesses as it batters against these giant stacks of rock, wearing them away day by day.
Not too long ago there used to be 9 columns, however, today you will only be able to count 8 after one collapsed after years of relentless punishment by the sea.
The Twelve Ocean Road has a large amount of parking, wheelchair access, well-kept restrooms and even a visitor centre with a cafe for snacks and drinks. It is most busy at sunset as the organised tours finish their day with the stunning sunsets over the columns.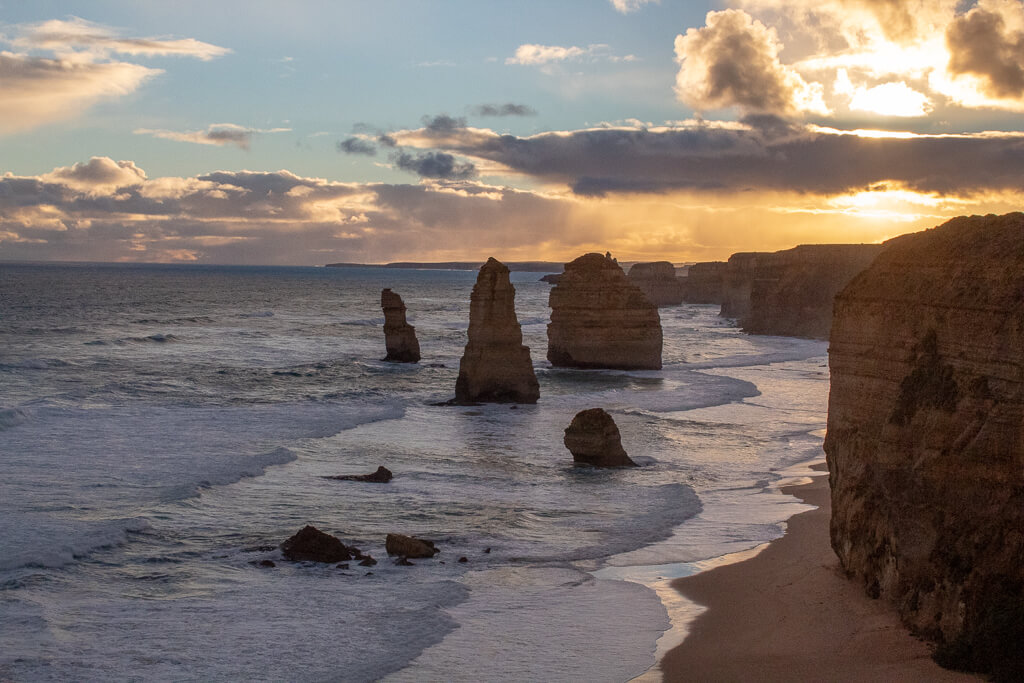 How to Get to the Great Ocean Road
The Great Ocean Road can be found along the winding route of Victoria's southern coast. The 243km Great Ocean Road trip features countless beautiful sights and stunning coastal views.
To get to this beautiful, natural phenomenon, you have a few choices of transport. The most popular option for tourists and visitors to Adelaide and Melbourne is to enjoy an organised tour from the city centre. Other options are to either rent a car or campervan and tour this route at your own pace, or better yet, buy a campervan and incorporate this road trip into your epic Australian adventure.
Organised Tours of the Great Ocean Road
The easiest, most popular and most expensive option for viewing the 12 Apostles is to join a group or private tour from Melbourne or Adelaide. These tours tend to be in the form of a one day or two-day tour and show you all of the most popular sights along the Great Ocean Road.
The downside of this option is the rushed experience you may get, as you try to race from point to point and see as much as you can. Even the 2-day tours do not promise a more relaxed pace, as they tend to cram in more sights to maximise your experience of this route.
If you simply want to see these sights for yourself and are up for a busy day filled with adventure, these Great Ocean Road tours are perfect for you. They offer a stress-free, follow-the-leader experience, where all you will need to do is show up and be amazed. Most even include food and drink, so you don't need to worry about a thing.
Browse a full list of the tours available here.
Hiring a Vehicle to Self-Drive the Great Ocean Road
The next most popular method of viewing the 12 Apostles is to rent a car or a campervan and tour the Great Ocean Road the way YOU want to. This means a more relaxed pace for the road trip and also gives you the freedom of when you want to see each sight, which will play a key part in your experience, as we discuss later on.
Car and Van Rentals
The most popular way of renting a car from Melbourne or Adelaide is with Europcar rentals. These guys provide cheap and reliable rental vehicles of all shapes and sizes, perfect for a weekend trip away. If you do decide to rent a car or van, we recommend you rent for 48hrs to make the most of your time on the road.
The rental offices will not open until 9am, which means you will not be able to hit the road until 9.30am at the earliest. By renting for two days you will be able to spend a full day exploring the Great Ocean Road and then get up early the next day for another full day of adventure.
Campervan Rentals
The best way to rent a campervan in Melbourne or Adelaide is by using the platform Camplify. This is like the Airbnb of campervan rentals, offering cheap and reliable rental vehicles for short or long term users. This platform allows owners to rent out their campervans when they are not using them, which means they are well looked after and a lot cheaper than van rental companies.
Browse the full selection of rental vans available for your Great Ocean Road trip here.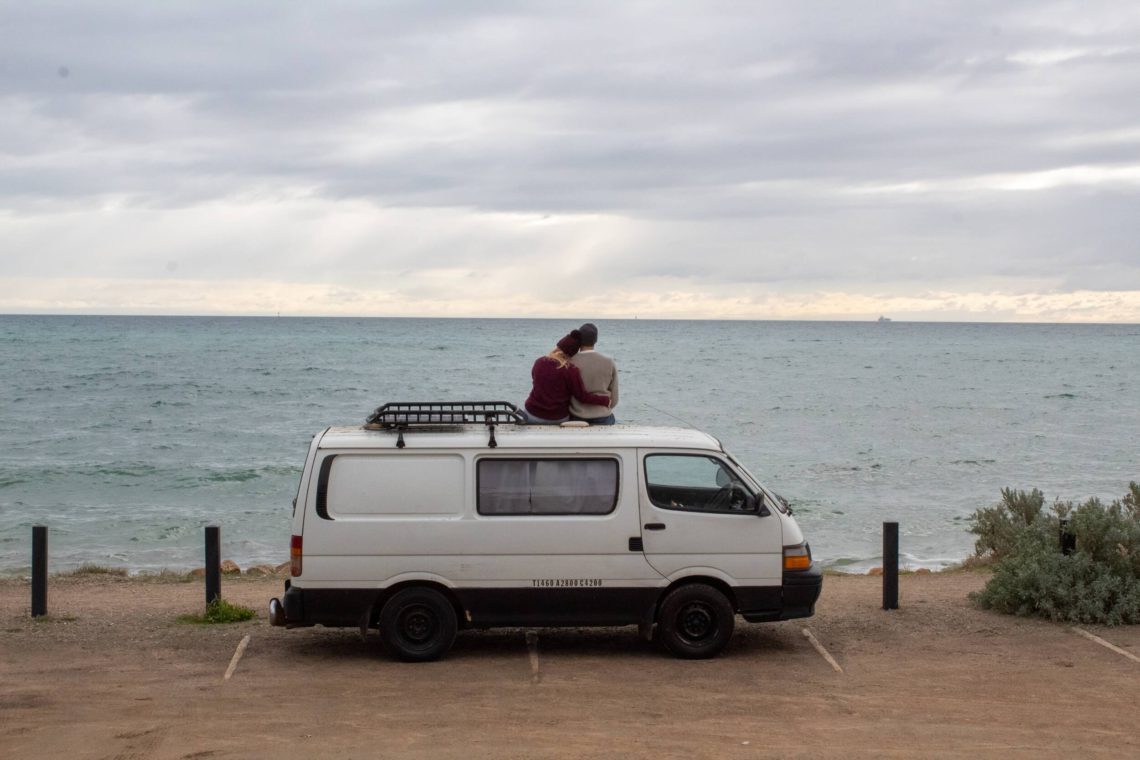 Also Read – Buying a Campervan in Australia – The Complete Guide for Backpackers
How to Prepare for the Great Ocean Road
Before you set off on your coastal adventure, there are a number of things you will need to get organised to ensure a smooth and enjoyable trip. This includes packing all the necessities, sorting out travel insurance and organising your accommodation.
Download our FREE full guide to arriving in Melbourne and getting yourself set up. This includes how to setup a bank account, superannuation and so much more!
Applying for an Australian Visa
If you have yet to leave for Australia then this is a section of interest for you. There are a LOT of different visa options for people arriving into Australia, from tourist visas to permanent residence visas. The most common visas, however, are the 3-month tourist visa and the Working Holiday Visa.
If you are only visiting Australia for a short period of time then a tourist visa is your best option. These are easily obtained and relatively cheap, costing roughly $140AUD, and allow you to stay in the country for up to 12months. These can be applied for on the government website here.
If you wish to work and travel in Australia, a working holiday visa is your best option. These cost around $480AUD and allow you to stay in Australia for up to 12months, whilst working and earning money to travel. This visa also gives you the opportunity to extend your stay in Australia by up to 24months by working in certain job sectors.
For all of the information you need to know about the Australian Working Holiday Visa, read our full guide over here. 
What Clothes to Pack for the Great Ocean Road
Depending on the time of year that you will be exploring this coastal route, you will either be packing a lot of warm clothing or nothing at all. Since the Great Ocean Road runs along the southern coast of Victoria, the winter temperatures can plummet to below freezing as the Antarctic winds blast the mainland. However, during the summer months, the temperature along this route can reach beautiful levels, perfect for a dip in the water.
Regardless of the season, we recommend you bring a good waterproof jacket with you, as you may experience the odd rain shower. Sunscreen and good walking boots are also a must all year round as the sun is strong and the walks are beautiful.
If you need some advice on what clothing to pack, check out our packing guides for all seasons over here.
You don't want to forget your camera when you visit Australia and especially when you are driving along the Great Ocean Road. We brought our Canon camera, GoPro and Drone with us on this trip. Bear in mind that drones are not permitted between Gibson Steps and London Bridge due to helicopters flying in this area.
You can check out what other travel tech we bring with us on our adventures here.
What Food to Pack for the Great Ocean Road
When it comes to food, there are some restaurants in the towns on the Great Ocean Road. The main towns to find these are Appollo Bay and Lorne, with very few sitting outside of these major hubs.
If you are planning on touring with cooking equipment, we would recommend that you stock up at one of the larger supermarkets (such as Aldi and Coles) in Torquay, as you won't reach another until the end of the Great Ocean Road in Warrnambool.
For cooking inspiration on your road trip, check out our recipes for delicious meals on the go.
Best Places to Stay for the Great Ocean Road Waterfalls
Since the majority of these waterfalls are located near Lorne, we would recommend basing yourself there and exploring the waterfalls as day trips from this base. In the small town of Lorne itself, you can choose between a luxurious hotel stay, a cosy campsite or an adventurous wild camping spot. No matter what your taste in accommodation, Lorne has just the thing for you!
These are our top suggestions for hotels and campsites in the area.
If you would like to free camp along the Great Ocean Road then you can read all of the best spots over here,
Hotels
Luxury – If a private cottage situated in the midst of Australia's incredible wildlife is something you would be interested in, the Lorne Bush House Cottages & Eco Retreats are the best choice for you. With private cottages featuring a fireplace and spa pool, as well as luxury tents for the ultimate eco-retreat experience, this is a truly unique accommodation experience.
Book your stay at the Lorne Bush House Cottages & Eco Retreats right here.
Mid-Range – Sitting right on the beach, the Cumberland Lorne Resort is a fantastic, mid-budget accommodation choice for visiting Erskine Falls. Featuring a private balcony, overlooking the nearby beach, each apartment also features a private spa bath to relax is at night.
Book your stay at the Cumberland Lorne Resort right here.
Budget – The cheapest available accommodation that features four walls is the beautiful Anchorage Motel and Villas. Sitting just 15-minutes from Erskine Falls, these air-conditioned villas and apartments are just a 5-minute walk from the stunning Louttit Bay Beach. Included in the apartments is a swimming pool as well as laundry facilities free to use.
Book your stay at the Anchorage Motel and Villas right here.
Browse all of the other choices of accommodation in Lorne right here.
Campsites
Personally, we like to travel as much as we can by wild camping. We can recommend using the Wiki Camp app for both sights in Australia and camping spots.
Camping along the Great Ocean Road can be a lot trickier and there are signs at every spot saying you can be fined for camping there. However, if you leave the B100 road, you will most likely come across spots for camping wild.
It's up to you whether you are willing to risk the fine or find a campsite to stay for the night. Lorne Foreshore Caravan Park is an option for a campsite near Split Point Lighthouse. You can book your stay at Lorne Foreshore Caravan Park, here.
What is the Best Travel Insurance for Australia
Insurance is one of the most important purchases you can make when preparing for any trip. Healthcare in Australia is expensive and it's not worth breaking the bank over an accident. For hassle-free travel insurance, we highly recommend World Nomads Travel Insurance.
These guys provide excellent cover, customer care, and worldwide support, all for a very reasonable cost.
Get your quote for travel insurance right here.
So there you have it, your ultimate guide to the Great Ocean Road Waterfalls. If you are visiting this breathtaking place and have any other questions on what to expect, leave us a comment down below. We love to chat about this stuff! If you have already been, let us know how it was! What was your favourite part of the Great Ocean Road? Did you see the visit any of the incredible waterfalls? Let us know in the comments below!
Also remember to share this with your friends and family that you are going to tour with. Sharing is caring and we want to inspire as many people as we can to visit this unbelievable part of the world.
If you are planning an Australia trip soon then check out our other Australia content right here. Come and find us on social media to see where we are currently exploring. Tag us in your photos from the Great Ocean Road and we will share them with the rest of our community of explorers and backpackers.
Now Read:
This article may contain affiliate links that provide us with a small income. For more information read our Affiliate page.
---
Pin it for later!