On the southern coast of the paradise island of Bali, you will find the beautiful Bukit peninsula and the incredible cliffs of Uluwatu. All across this part of Bali, you will find an unbelievable amount of incredible sights, awesome activities, and beautiful beaches. When in the south of Bali, a day trip to Uluwatu is something everyone should enjoy, so with this full Uluwatu itinerary you can get planning your own.
This is your ultimate Uluwatu itinerary, the best guide to a full day trip to Uluwatu. Included in this guide is what the best activities in Uluwatu are for your day trip, where you can stay close to Uluwatu, what to pack for Uluwatu and how to get around the island.
Also check out our ultimate guide to Bali for a 7-day itinerary of the island, as well as the best places to stay, what sights to see and other travel tips for Bali.
Here is a quick summary of this Uluwatu itinerary, all of which will be discussed in greater detail below.
Explore an Abandoned Theme Park
Discover the Balinese Culture at the Uluwatu Temple
Find Bali's Bizarre Abandoned Plane
Relax in the Sun at Suluban Beach
Watch Bali's Best Sunset at Karang Boma Cliff
Keep up with us over on Youtube and SUBSCRIBE for more videos!
The Ultimate Uluwatu Itinerary – Day Trip to Uluwatu Guide
Day Trip to Uluwatu Itinerary
With this full-day trip to Uluwatu, you will experience the best sights the Bukit Peninsula has to offer, including haunted theme parks, beautiful temples, head-scratching discoveries, crystal clear waters and the best sunset spot you will find in Bali. Let's get going!
Explore an Abandoned Theme Park
Parking Fee – 10k IDR
The day starts off just north of the Bukit peninsula, at the Taman Festival. This is an abandoned theme park on the east coast of Bali, where the eery atmosphere and dark history keeps locals away.
Often called the "spooky ghost town of Sanur", locals do not like to come to this place as it is believed to be home to lost spirits. Stories of cannabilistic crocodiles, wandering souls and giant bats are enough to keep even the bravest away.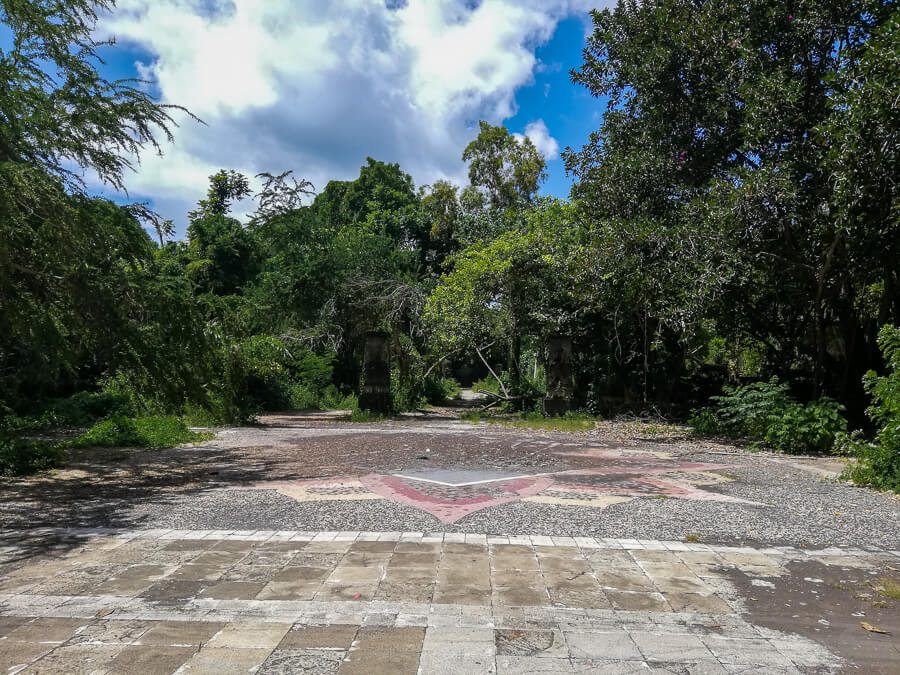 After opening in 1997, the park quickly went out of business due to financial difficulties and was passed over to the government. Today, you are free to explore the crumbling buildings or what was envisioned to be a place for shows and festivities, however now lies in ruin.
Upon entrance to the park, you will most likely be greeted by a group asking for "parking fees", despite the grounds being free to access. It is not a huge amount, however, so it is easier to pay and help support the local community.
When walking around, notice the graffiti art mixed with the classic Balinese architecture around the park. One of the most incredible parts of this area is how Mother Nature has begun to reclaim what was once her own, with the jungle seeping into the manmade structures, returning it once again to rubble.
Be careful during your visit, as a lot of the ground is covered in broken glass and rubble. Cuts and twisted ankles can easily happen if you are not cautious.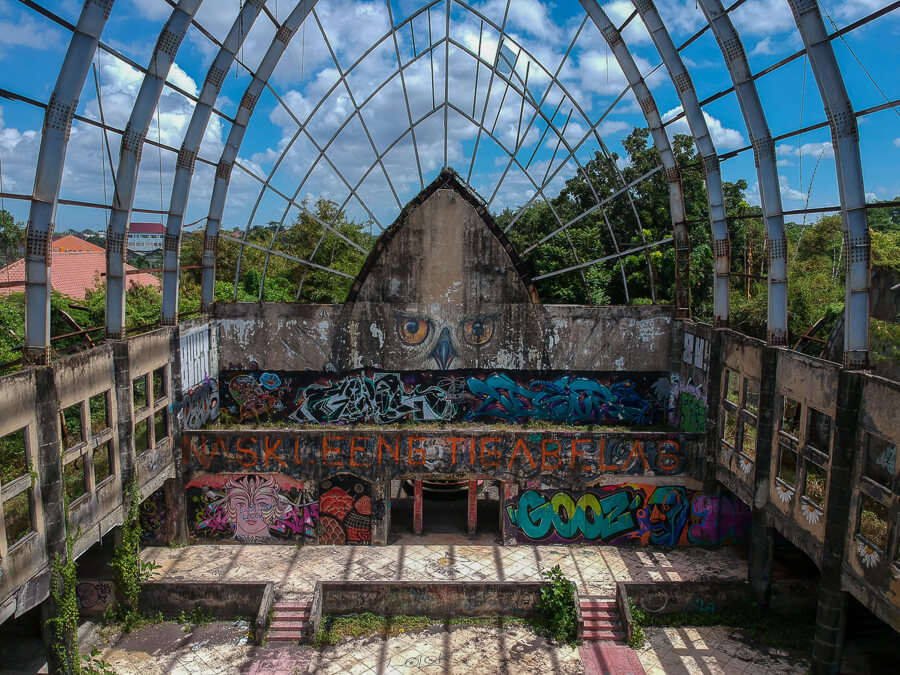 Also Read – Sunrise Over Bali – The 7 Best Spots for Sunrise in Bali
Find Bali's Bizarre Abandoned Plane
In the centre of the peninsula you will find one of Bali's more bizarre attractions. Sitting in the middle of a field, with no real explanation of how it came to be there, you will find an abandoned Boeing 737 airplane. This is a definite photo stop on your day trip to Uluwatu, being one of the most unique sights on the island.
What is truly mind-blowing about this place is that there is little to no knowledge of how the plane actually got there or why it is there. There are rumours that it was purchased and built in situ, with the intention of converting it into a restaurant. However, this plan obviously fell through as here it is, years later and slowly rusting away.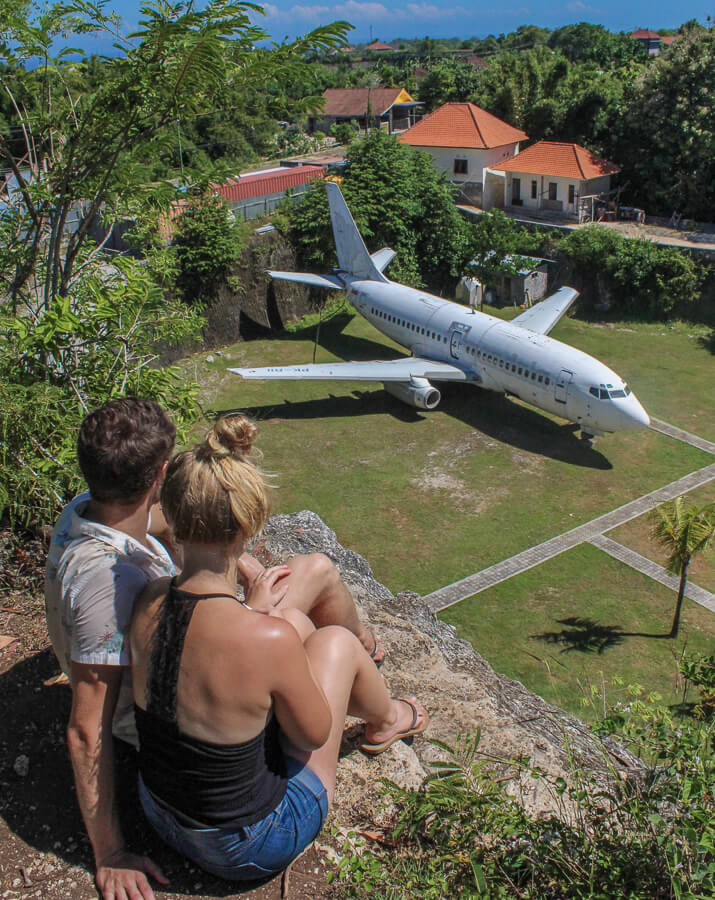 There have been signs of life with this plane in recent years, having been given a good clean and reoriented to face a different direction in 2018. Maybe this plane will be the next hotspot restaurant in Bali?
This abandoned plane is actually one of two that can be found around the island of Bali, with its cousin situated about 5 miles away. There is little to no connection between the two, apart from little knowledge of how they came to be.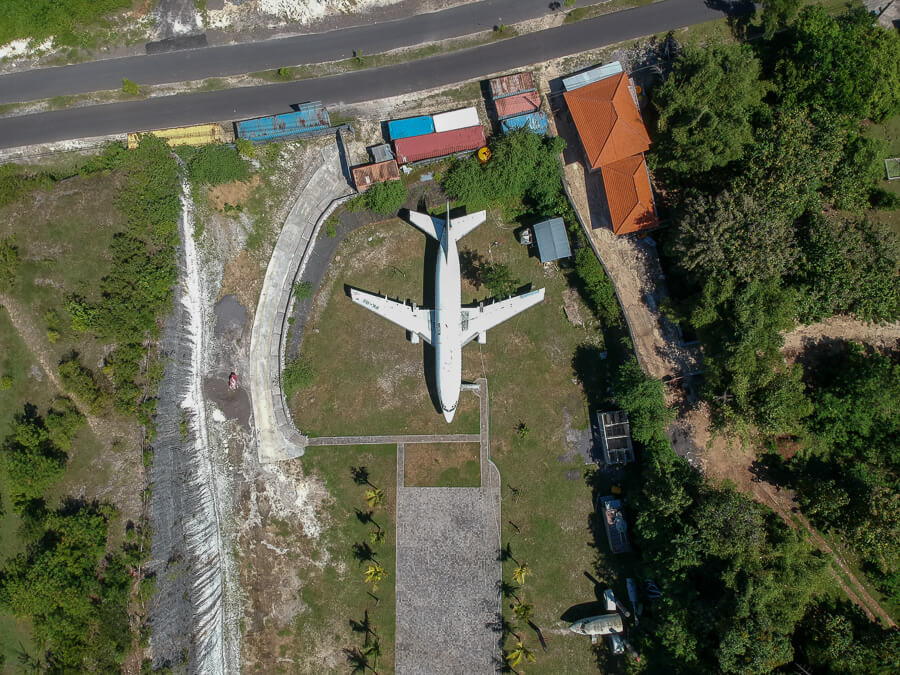 Also Read – Living in Bali – All You Need to Know for One Month in Bali
Discover the Balinese Culture at the Uluwatu Temple
Uluwatu Temple Entrance Fee – 30k IDR
Next stop is a visit to the famous Uluwatu temple, sitting on the west coast of the Bukit Peninsula. This beautiful religious monument is perched right on the edge of the cliff, overlooking the horizon of water 70m below.
This temple is actually one of Bali's 6 main temples, dotted across the island, built to protect each corner of the island from evil. Surrounded by jungle, the temple itself is said to be guarded by hundreds of local monkeys. These guys are actually pretty cute in real life, just be careful with food and drink or any valuables, as they will steal them in a heartbeat.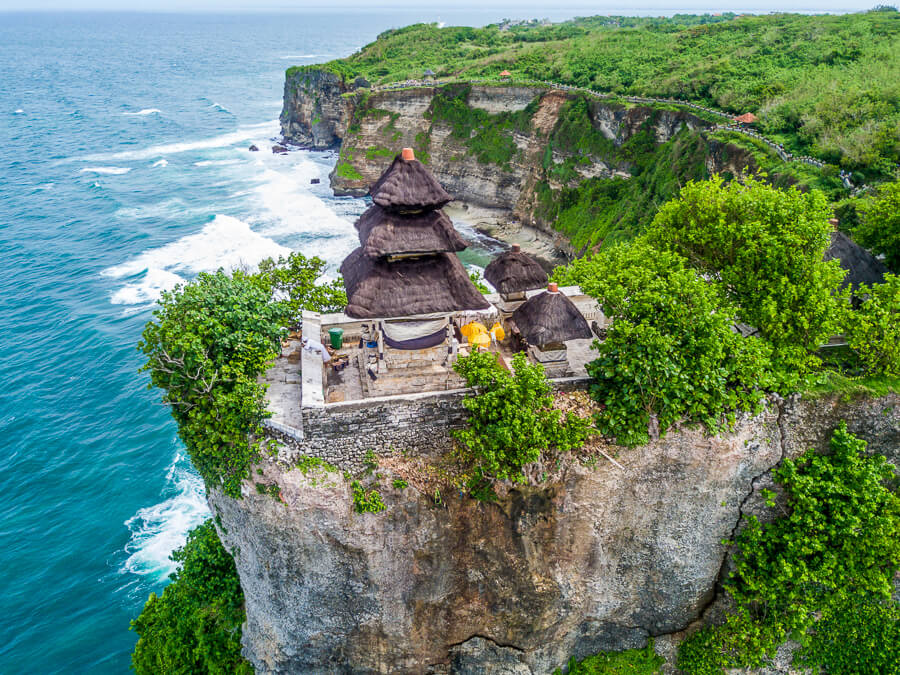 The Balinese locals believe that it is at this temple that the Hindu Trinity of Brahma, Vishnu and Siva merge here. The powers of these Gods are believed to protect the island from any evil sea spirits that may try to attack Bali.
The temple itself will take you around one hour to get from one end to the other. Visitors are required to wear a sarong and sash to cover any skin as a mark of respect. The westerly location of this spot makes it a fantastic place to watch the sunset, however its popularity takes away from the peace and tranquility.
Don't hang around here too long, as we have an even better sunset spot lined up!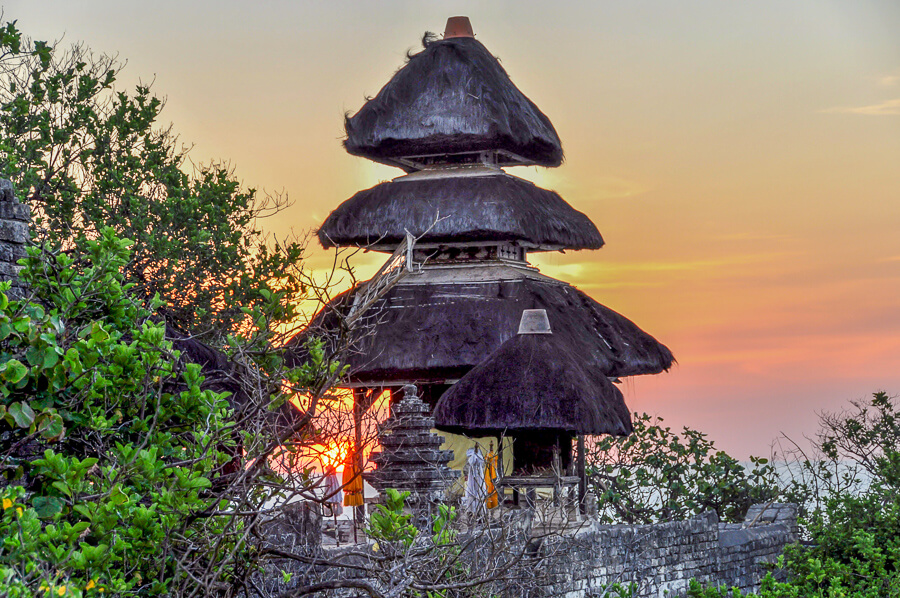 Also Read – The Ultimate Itinerary for Ubud – Three Days in the Jungle
Relax in the Sun at Suluban Beach
Suluban Beach Entrance Fee – FREE
Parking Fee – Scooter 5k IDR / Car 15k IDR
Just north of the Uluwatu Temple is one of the most interesting beaches in Bali. Sitting at the bottom of the huge, Uluwatu cliffs, you will find the hidden cave entrance to Suluban Beach. In order to get to the beach itself, you must visit at low tide and wind your way around and under the rocky walls and roof of the natural, sea cave.
On the way down to the beach, you will walk through a miniature town perched on the side of the cliff. Restaurants, shops, cafes and bars are all built into this cliffside staircase, making the most of the daily traffic of surfers and other beach-goers who visit Suluban Beach.,
Once you reach the bottom, you will find yourself in a huge cave with a towering roof and a small light at the other side. You can hear the waves echoing through this gap in the rock wall, indicating that it is this way to the sea.
On the beach itself, you will see all of the surfers in action, as most of Uluwatu's beaches are the best surfing spots in Bali. At the far left hand side of the beach, you will see the beached remains of an old boat, which was washed up on the shore years ago. This area of the beach is a good place to chill out in the water, as the shallow reefs calm the waves and make a relaxing pool to bathe in. The sea isn't deep, only reaching your knees, however it is a nice place to sit and relax in the warm waters without getting too hot in the sun.
Spend the rest of your day relaxing in these warm waters and get ready for the best sunset spot in Bali.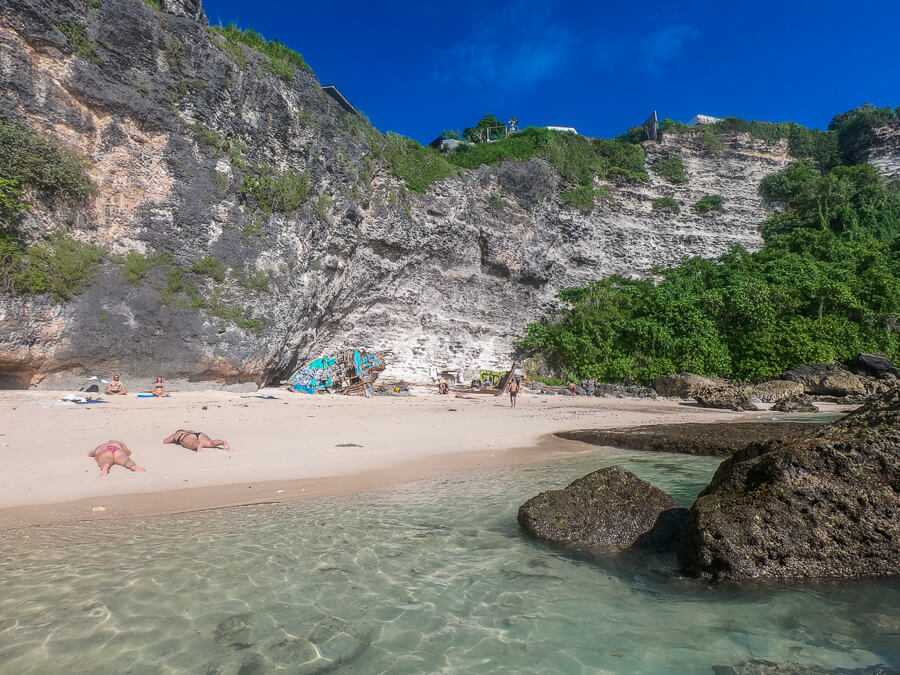 Also Read – The Ultimate Nusa Penida Itinerary – Three Days in Nusa Penida
Watch Bali's Best Sunset at Karang Boma Cliff
Karang Boma Sunset Cliff Entrance Fee – 10k IDR
Head back south again, past the Uluwatu Temple and arrive at the Karang Boma sunset cliff. This cliffside field is the perfect place to kick back on a blanket on the grass, admire the stunning view of the horizon and relax to the sounds of the crashing waves 100m below.
This cliffside spot is one of Bali's best sunset Instagram locations, however it is still relatively undiscovered compared to most of these locations. A lot of the people you will see at Karang Boma are all locals, gathered to enjoy the natural light show of another Bali sunset.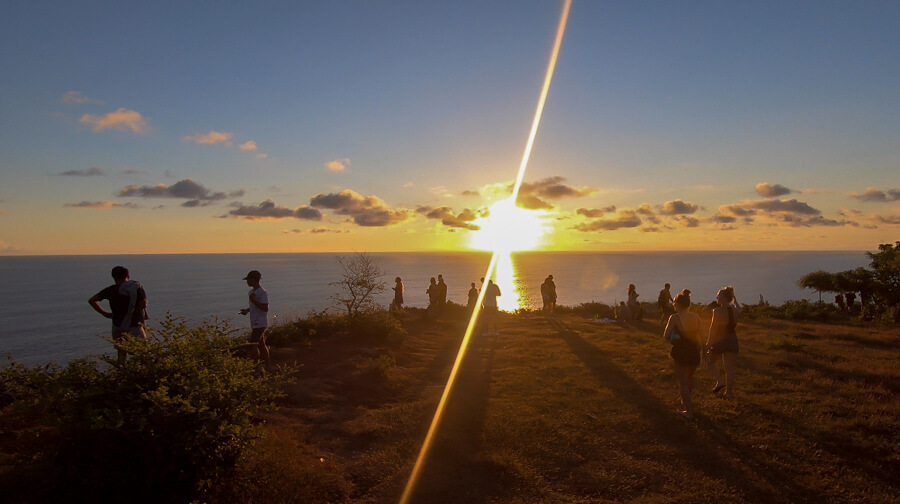 Finding the sunset spot itself can be a little tricky, however if you know where you are going it is straight forward. All you will need to do is follow Google maps to the below coordinates and you will find a small warung named Warung TG.
Karang Boma Cliff Sunset Spot Location – 8°50'11.6″S 115°05'19.1″E
From here, all you need to do is follow the road past the warung and keep following it until you reach the ticket barrier. Pay for your parking here and do not admit to the possession of a drone or you will be charged extra, before following the road once again round the twists and turns.
Eventually you will reach a dead-end with a gated residence. To the right of this gate, you will see a dirt path and this is where you want to go. Follow this path another 200m and you will arrive at the parking area. Leave your bike here and follow the footpath until you come to the open field that leads to the cliff edge.
We recommend you arrive around an hour before sunset in order to make the most of the golden hour lighting, snap all of the pictures you need and then just sit and enjoy the view as the sun disappears over the horizon.
Another day in paradise!
Read our full guide to Karang Boma cliff over here.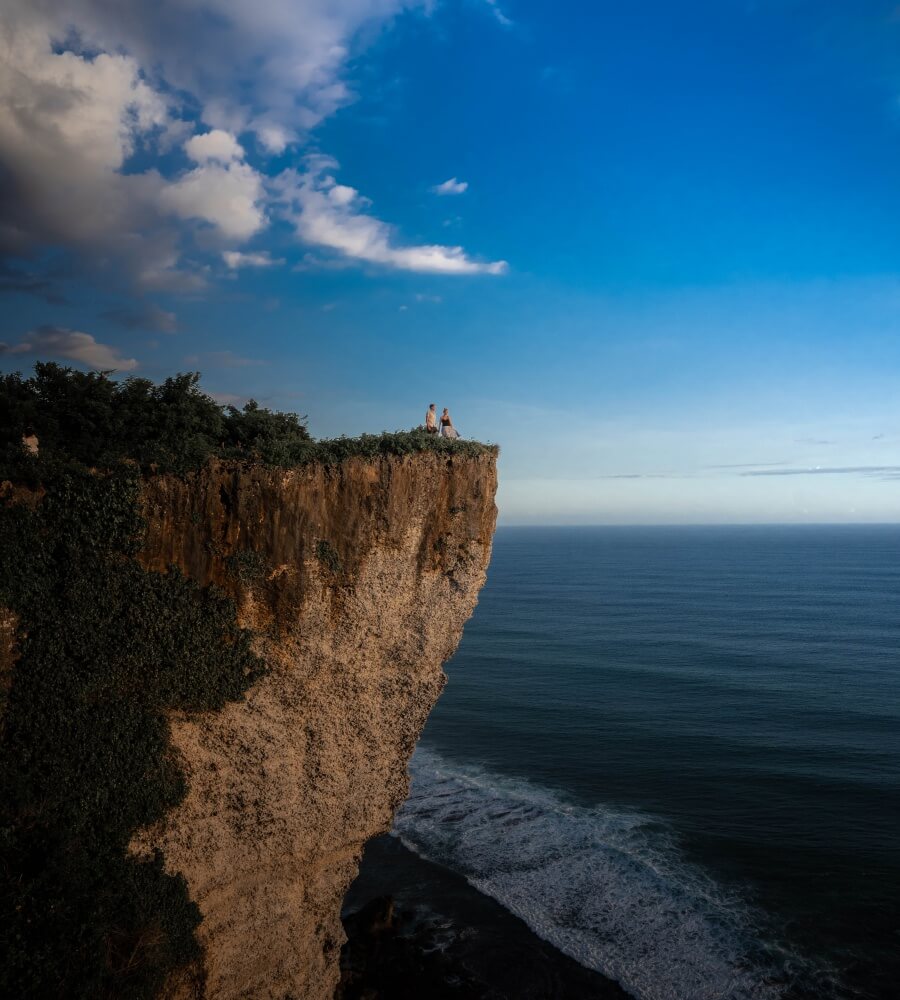 Also Read – The Definitive Guide to the Gili Islands, Bali – Gili Trawangan, Meno and Air
How to Get Around Bali
When it comes to getting around Uluwatu, and indeed Bali in general, you have two main choices. You can either hire a driver and pay a lot of money, or you can rent a bike and pay less money. Both of these options have their advantages and disadvantages, and are obviously suitable for different people.
Hiring a Driver in Bali
There are multiple ways for you to hire a driver in Bali, depending on how long you need a driver for and what you are willing to pay. You can either hire a driver for easy, A to B journeys, or you can hire one for an entire day's expedition.
Drivers can be hired directly from your accommodation, from a taxi company like "BlueBird Cabs" or one of the drivers you see lining the streets, usually shouting "taxi". These options are all the most expensive way to get around Bali, even if you are adept at the art of bartering, in which case it will be likely to cost around 600k IDR for a full day rental.
A cheaper way of hiring a driver is through the internet taxi apps, such as GoJek or Grab. These offer more standard rate  prices and will cost you around 350k IDR for an 8 hour day.
The advantage of hiring a driver is the fact that you will have your own personal photographer and tour guide for the entire day. You can either choose to follow an itinerary preset by the driver or you can instruct them of your own (like this awesome Uluwatu Itinerary here!!).
Renting a Scooter in Bali
The other choice, and the one we always recommend, is to rent a scooter for yourself and drive around the island. Renting a scooter in Bali is cheap, easy and simply liberating!
You can hire a scooter from most accommodations or through a private rental company, which are dotted all over the island. Rental costs will vary depending on the length of time you are going to rent for, with longer rentals costing less per day than short term ones. Typically, renting a scooter in Bali will cost you around 40k-70k IDR per day.
Fuel in Bali is also seriously cheap, with the cost of petrol being between 7k-10k per litre. The best place to buy petrol is at the local shops you will see whilst driving around that have bottles of liquid sitting outside. This is just as cheap as if you were to buy it from the petrol pumps and you will be supporting the local community by purchasing it here.
During our trip to Bali, we managed to drive from the southern coast to the northern coast for just 50k IDR in petrol costs.
Also Read – 10 Day Bali Itinerary: The Best Sights for First-Timers Visiting Bali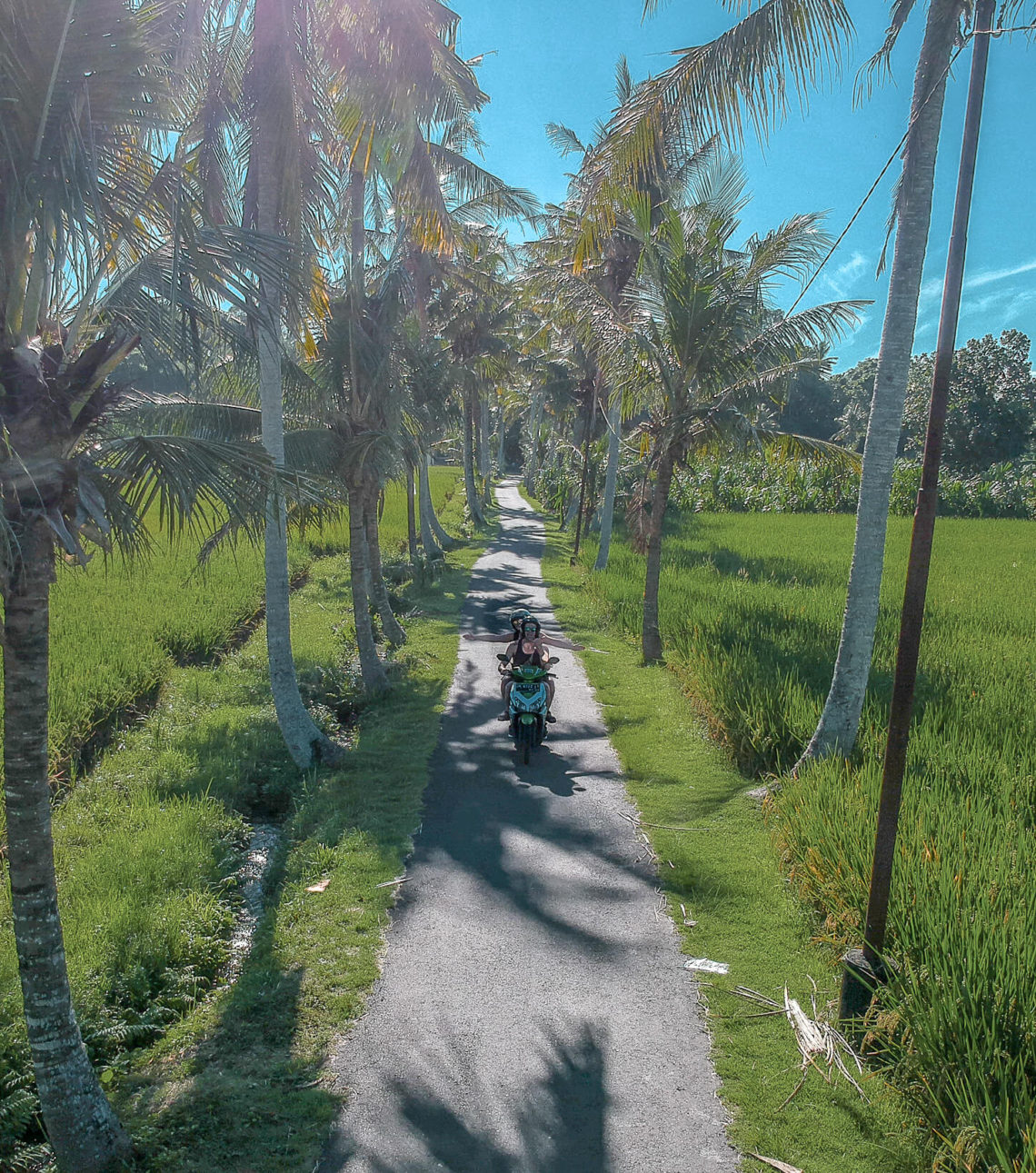 Before You Leave for Uluwatu
Whether you have yet to arrive in Bali or are planning a trip to the Bukit peninsula, there are a number of things you will need to get sorted to ensure a smooth trip. These include how to get a visa, what is the best insurance, what to pack for Uluwatu and where to stay in Uluwatu.
How to Get an Indonesian Visa
Getting a visa for Indonesia is a simple process is you are from one of the countries on the Visa on Arrival list. All you will need to do is turn up at the immigration desk in Bali and you will be automatically granted a 30 day visa. You may be asked for proof of an onward journey within these 30 days, but that shouldn't be an issue.
If you are not on this list then you can browse the requirements and sort your visa out over here.
For those who are wanting to stay in Bali for longer that 30 days then you will need to purchase a Visa on Arrival Extension before passing through immigration. You can then extend your visa once you are on the island by multiple methods.
For your full guide to extending your Indonesian visa check out this article.
What Insurance is Best for Bali
Regardless of what type of holiday or adventure you are going on, accidents can happen to anyone. Although paying for travel insurance is never a fun activity, it is not worth having your holiday ruined with extortionate medical bills or even worse..
We make sure our trips remain as stress-free and fail-safe as possible by purchasing our travel insurance with World Nomad's Travel Insurance. These guys are built with backpackers in mind, providing easy to use, international help and assistance in case of a claim. They offer robust, flexible and very affordable cover for all types of trips, and can even booked whilst you are already out of your home country.
Get a quote for your travel insurance right here and have a stress-free trip knowing you are covered.
What to Pack for Uluwatu
Bali is blessed with a tropical climate, meaning it is warm pretty much all year round. There are only two seasons when it comes to Bali: rain season and dry season. Luckily this makes packing for Bali a very easy task, with the only necessities being light clothing and a waterproof.
The southern areas of Bali are subject to extreme heat throughout the year, with midday temperatures reaching 35-40oC. We recommend packing a light waterproof in case of freak downpours and wearing something that covers a lot of your skin, for when you are riding the bike in the strong sunshine. You can then change into a lighter piece of clothing once you are out of the midday sun.
Heat stroke and sunburn are a serious issue in this part of the world, especially during full day tours of this part of Bali. Make sure you pack plenty of water, either bottled or with a filter water bottle, and take regular breaks from the sunshine throughout the day.
We would also recommend that you bring as much sunscreen into Bali as possible, as the prices of it on the island as extortionate. A small bottle of sunscreen will set you back as much as 170k IDR.
Check out our Summer Packing List for Women and Summer Packing List for Men for some clothing inspiration for your trip to paradise.
Don't forget to subscribe and follow our journey on Youtube. 
Given Bali's naturally photogenic landscape, you are going to want to pack a camera for your trip. We never go anywhere without our camera, GoPro and drone.
You can read what else we keep in our camera bag over here.
Where to Stay in Uluwatu
In order to save yourself a long drive home in the dark once the sun has set on Uluwatu, why not book a night in one of these amazing places? No matter what your budget is, Uluwatu has the perfect place for you. These are our top picks for all budgets.
Luxury – Hidden Hills Villas is nestled in the hills of Uluwatu overlooking the sea. If you are lucky enough, you may even be able to bag yourself one with an infinity pool or spa bath!
Book your stay at Hidden Hills Villas here.
Mid-Range – An example of the cheap luxury accommodation you can live in in Bali. La Kreyiol is centrally located and with an outdoor swimming pool and breakfast included, how could you say no?!
Book your stay at La Kreyiol here.
Budget – For a cheap price you can stay in a double room at Pecatu Guest House & Hostel, central to all the hot spots in Uluwatu
Book your stay Pecatu Guest House and Hostel here.
For all of the other best places to stay in Uluwatu, click through to booking.com here.
If hostels are more your social scene, there are a huge range of hostels to choose from in and around Uluwatu. Book your stay for Uluwatu right here.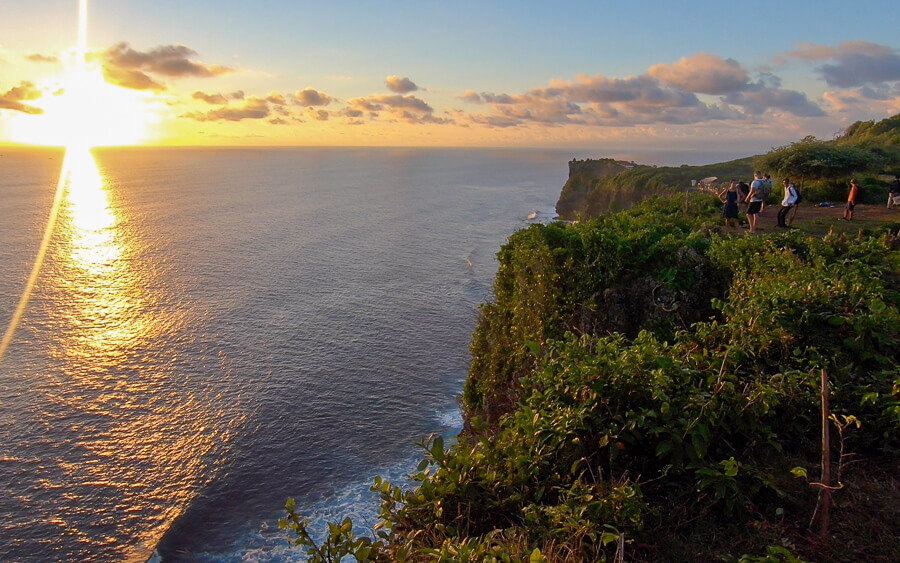 FAQs on Uluwatu Day Trips
Is it Worth Going to Uluwatu?
If incredible sights, stunning beaches, ancient temples, cliff views and sunsets to die for aren't your type of thing, then fear not as Uluwatu still has a LOT more that is sure to fascinate you. No matter what your interests are, a day trip to Uluwatu is always worth it!
What is There to Do in Uluwatu?
Whether you like a fast-paced day of discovery and action, or a simple day spent relaxation on the beach, Uluwatu is the place to be. On this peninsula you have the choice between cliff-side views, crashing waves to surf, ancient temples to explore, unbelievable beaches to comb and so much more.
How Far is Uluwatu from Ubud?
Uluwatu is unfortunately a fair distance from all major points on the island of Bali, given that it is situated on the very tip of the southern peninsula. It sits 53km south of Ubud, 21km south of Kuta and 37km from Canggu.
So there you have it, your ultimate Uluwatu Day Trip Itinerary, with all of the best beaches, discoveries and temples Uluwatu has to offer. If you have been to Bali recently, let us know how you found it in the comments below. What were your favourite sights? What did you think of the culture? Where was your favourite area? Let us know in the comments below.
If you are planning a full trip to Bali, make sure you check out the rest of our guides and Indonesia content to ensure a stress-free adventure. We will gladly answer any questions you have with regards to your trip, so either DM us or send us an email.
Don't forget that sharing is caring! Be sure to share this article with your family and friends to let them know all about your trip. Maybe even inspire them to move to Bali themselves! Catch up with us on social media and see what we are currently up to. Tag us in your photos from your Bali adventure on Instagram so that we can share them with the rest of our community.
Read Now: 
This article may contain affiliate links that provide us with a small income. For more information read our Affiliate page.
---
Pin it for later!