Famous for having a beautiful cricket ground, the capital of South Australia- Adelaide, has gotten appreciators from all around the world. It witnesses a huge footfall of tourists all over the year for various reasons. Given Adelaide's reputation as a laidback and cosmopolitan city that proudly jewels some beautiful beaches, rich wildlife, and amazing wines, it is a gateway to a lot of magnificent areas of South Australia. 
Day trips aren't just about traveling and exploring the place but it also about connecting with the destination and turning each and every stone. Exposing the natural beauty a place holds needs scratching the historical chapters and letting the place tell its own tale. 
We have put down a list of locations you could explore while planning day trips from Adelaide and plan yourself a worry-free trip! 
No time to read now? No problem, save a pin to your Pinterest board for later!
Kangaroo Island
While planning a day trip from Adelaide, many explorers believe to start their journey with a visit to Kangaroo Island. Home to the magnificent kangaroos, it is the third-largest island in Australia and one of the finest natural locations in South Australia. 
Similar to a playground for people who love to be outdoors and indulge in wildlife exploration, it is a treasure hunt. Known to all, most of the island is a natural reserve and home to various critters like koalas, sea lions, and penguins along with kangaroos. Not just this in their hats, the place offers more for its admirers of aquatic wildlife. 
Head down to Seal Bay Conservation Park to spot sea lions down by the beach or Flinders Chase National Park if you want to have a look at the koalas, kangaroos, wallabies, and echidnas to name a few. 
The island also has another attraction to show off. Remarkable Rocks and Admirals Arch along its coastal cliffs showcase amazing rugged rock formations. 
You might want to spend 2 days on Kangaroo Island with how much there is to see and d there.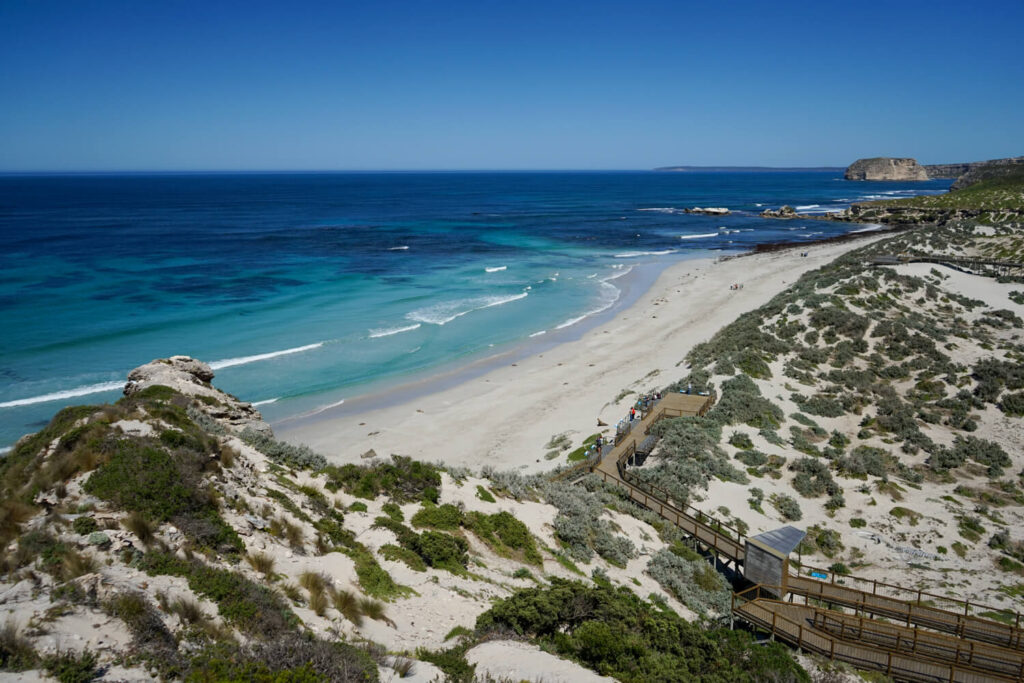 Barossa Valley
Arguably one of the most famous places for conducting a day trip from Adelaide is the Barossa Valley. Home to some of the finest wineries in Australia, the valley is nothing short of being a dream come true for wine lovers. Located northeast of Adelaide, the valley is home to prehistoric villages and towns along with the internationally famous vineyards. 
The valley is undoubtedly breathtaking and depicts what might look like a wine lover's dream. Jacob's Creek, Penfolds, and Seppeltsfield Wines are some of the globally acclaimed wines whose home is this little valley. There are more than 150 wineries in the Barossa Valley and about 80 cellar doors. Every year, during their visits, many tourists get the chance to have a taste of these splendid wines at the wineries. 
Seppeltsfield Wines offers a great deal where the tourists could get to taste wine right from the barrel and the year they were born.. how amazing is that!
While they do this, Jacob's Creek offers something else. They let the wine tasters try their hand at winemaking and experience a blend-your-own moment. 
Surely, Barossa holds a lot more than just being a picturesque valley!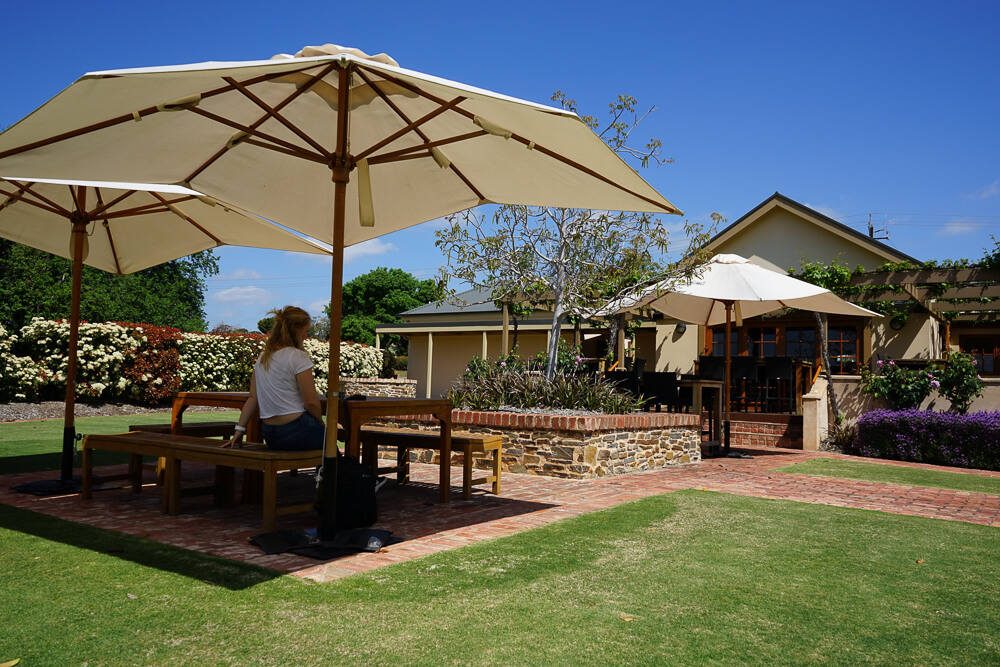 Adelaide Hills
When backpacking across Adelaide, you might come to know about Adelaide Hills. 
Mount Barker, the largest town in the area, is one of Australia's fastest-growing towns. Blossoming with little towns and rows of grapevines, these hills lay east of Adelaide city. These mountains are home to some of the major flora and fauna and play a huge part in maintaining the essence of the destination. Trek your way up to the top of Mount Lofty and grab a breathtaking view of Adelaide city. 
The hilly area is not just about being close to nature but also to wildlife. Make your way from the Adelaide Hills to Cleland Wildlife Park and be close to the rich wildlife of Australia. Here you might even get a chance to hold a Koala and interact with the roos. 
The first area of South Australia to be settled by European settlers was the Adelaide Hills. A number of towns in the Hills were started as German settlements- Hahndorf and Lobethal to name a few. The original town names and architecture have still been kept the same way.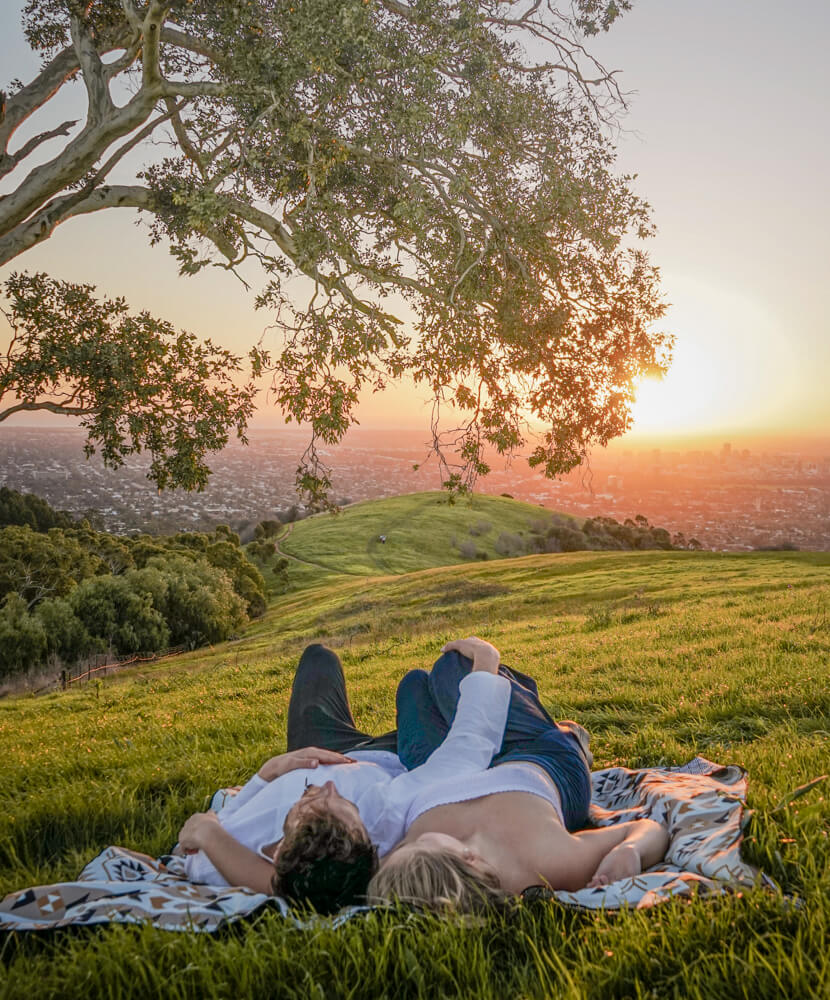 Hahndorf 
Not to be missed, Hahndorf is an unexpected town that lies within the Adelaide hills. This German town came into existence when German migrants came to Australia during the 19th Century. With their arrival, a new chapter of cuisine and culture was added to the Australian food. 
On your day trip from Adelaide to Hahndorf, you'll come across German-style homes,  German food in pubs, bakeries offering pretzels, and even cuckoo clocks for your home. The authentic feel of Germany could be felt in Hahndorf. To learn more about the history of Germans and their struggle here, you can head down to the German Migration Museum at the Hahndorf Academy where a detailed showcase is presented with much information to know about. 
Apart from this, another attraction of Hahndorf is the studio. The Cedars, located on the edge of this town, is known to be the studio of renowned landscape painter Sir Hans Heysen. Here, you can find history about him as well as can be a spectator of some of his work.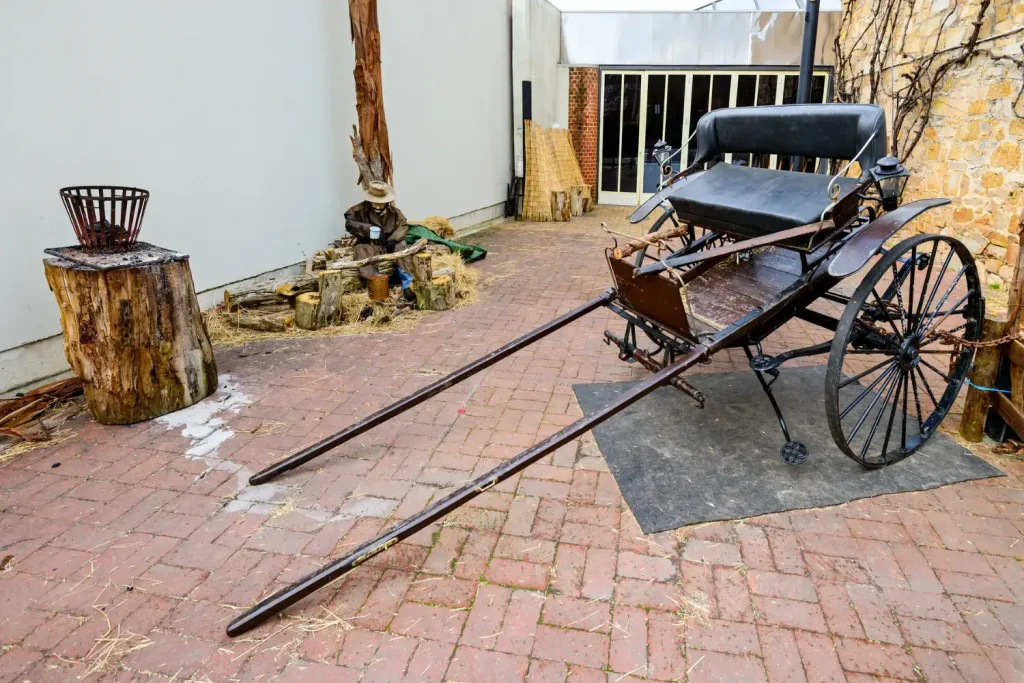 McLaren Vale
South of Adelaide, surrounded by neatly laid rows of grapevines, is a place called McLaren Vale. The location is said to be the birthplace of wines. First produced hundreds of years ago, McLaren Vale is said to be the place from where wines have originated particularly Shiraz. Grenache and Cabernet are also produced here which have made their name in the industry. 
Within McLaren Vale, below Mount Loft Ranges, one would find over 80 cellars and vineyards, giving out the opportunity of a great chance of enjoying a huge variety of wine-tasting. 
Whilst exploring the area, cycle or walk through the Shiraz Trail and explore the magic of the place. On this exploration journey, you might come across a lot of wineries and to your surprise they serve some lip-smacking food too, hence making them a one-stop-shop!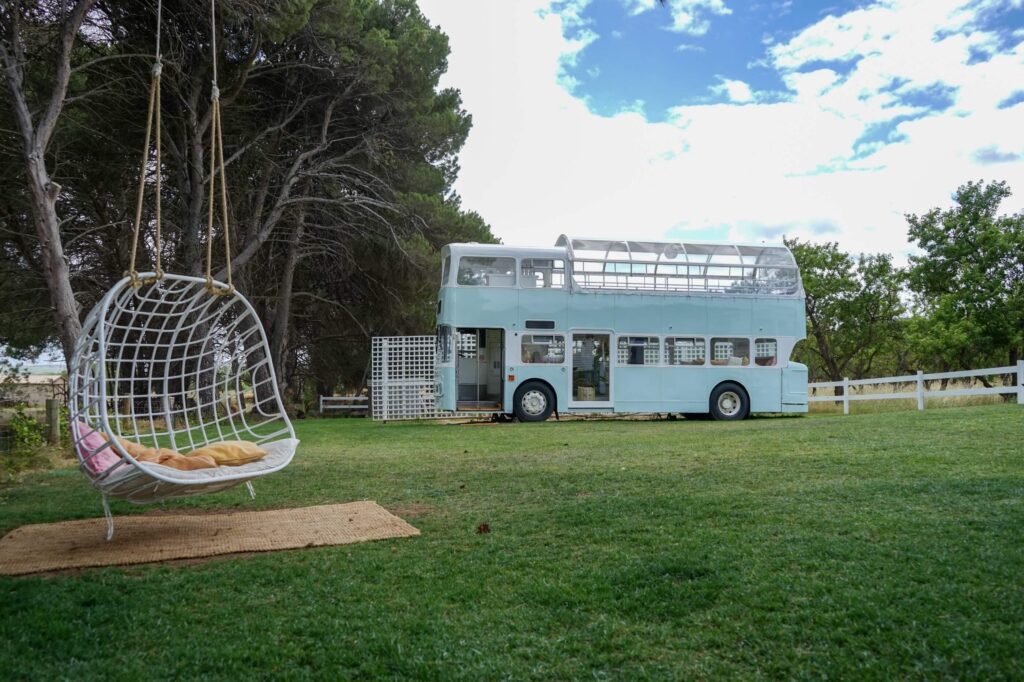 Glenelg
Holdfast Bay secures a quaint little place called Glenelg. This seaside suburb jewels long sandy beaches- a perfect spot to enjoy some quality time amongst tranquil surroundings. 
Whilst enjoying the peace and taking in nature's gift, walk your way to the back of the beach towards Glenelg Foreshore. A place blooming with cafes, restaurants, and the Beachouse amusement park. 
To know more about the place and learn about the same, find your way to the Bay Discovery Centre. Located inside the local town hall, it holds exhibitions about the place and also has a special exhibition on vintage swimwear. 
To end your day trip from Adelaide to Glenelg, head towards the waterfront to enjoy a special moment as you watch the beautiful sunset, a tradition every visitor follows making Glenelg famous for it.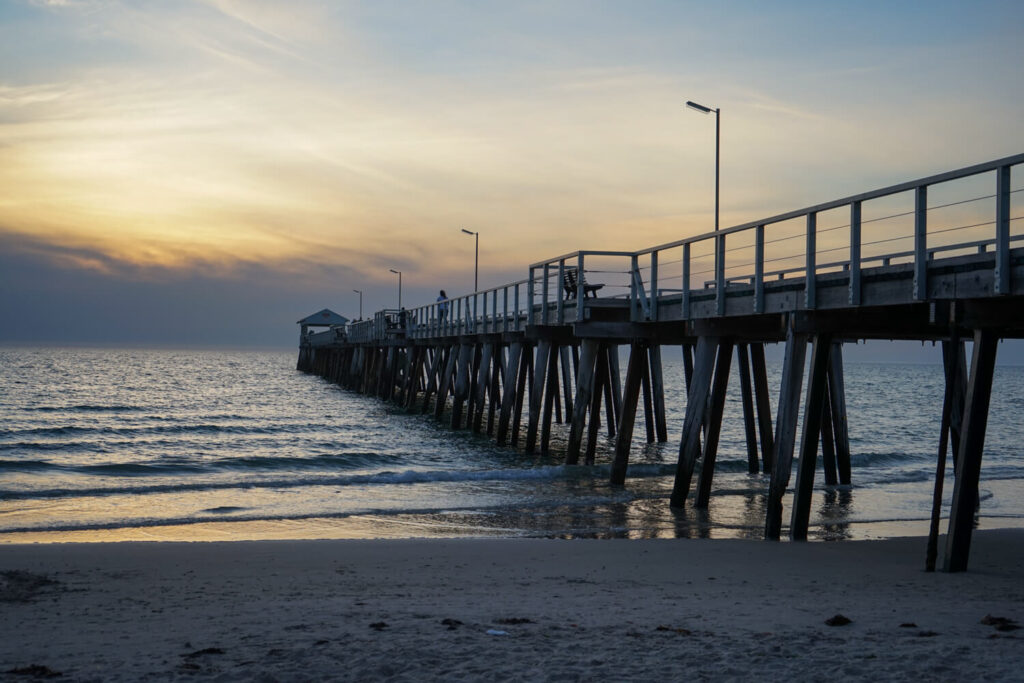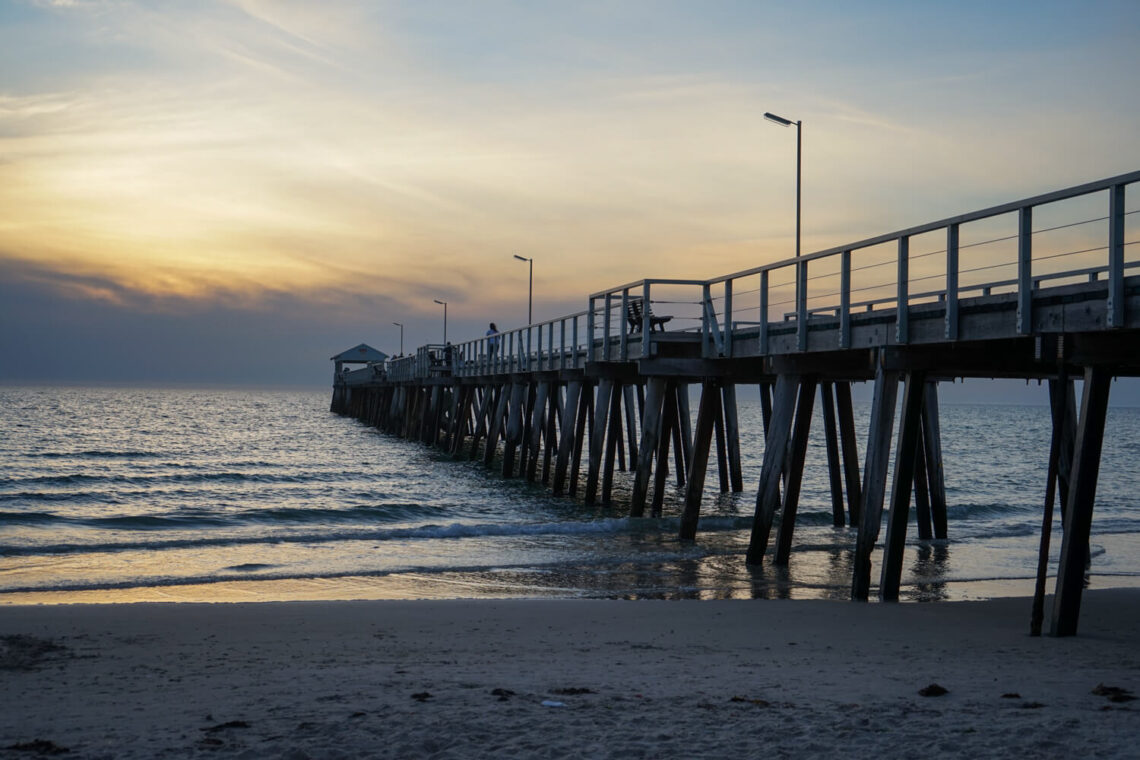 Clare Valley
Another place built for wine admirers is the Clare Valley. Located north of Adelaide, around 50 or more cellars and wineries are present between Clare Valley and Auburn. 
The valley, unlike other major wine regions of South Australia, is rather known for Riesling than Shiraz. Thus, making wine tasting a major activity here. 
While exploring the untamed Clare Valley, your journey will take turns with views like picture-perfect farmland to the remote and untamed countryside. To enjoy a taste of locals, have lunch at any local pubs with your visit to smaller country towns like Sevenhill and Watervale.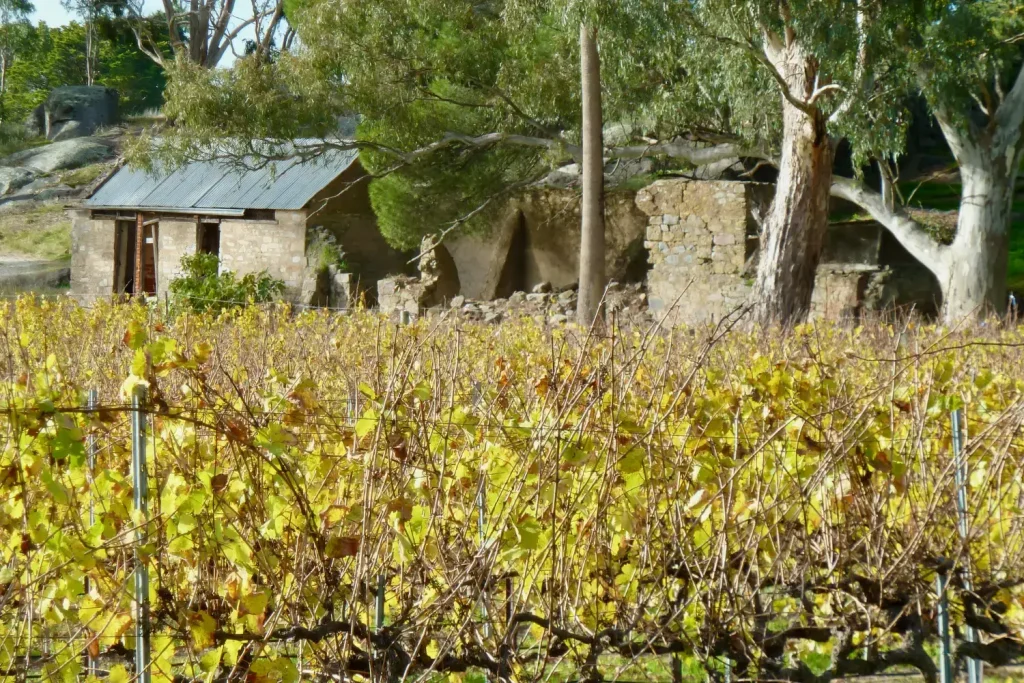 Fleurieu Peninsula
Perfectly located south of the city, the Fleurieu Peninsula is a perfect spot to enjoy your day trip from Adelaide. Proudly boasting towns and valleys, the peninsula is home to remarkable wineries of South Australia. While some are located in McLaren Vale, others are scatted throughout the peninsula. 
To get a glimpse of local life, make a visit to the town of Willunga and explore the local farmer's market. Once you have explored the local market, you can head down to the coast at Port Willunga. Witness the moody Port Willunga Jetty Pylons along with the fantastic beach. 
As said before, Fleurieu Peninsula is loaded with beaches, thus, making it a top spot for aquatic wildlife. Venture south to Encounter Bay and then make a step trip up to the top of The Bluff. Once there, you would get the chance to enjoy a panoramic view from there and even spot aquatic animals like whales, seals, and dolphins.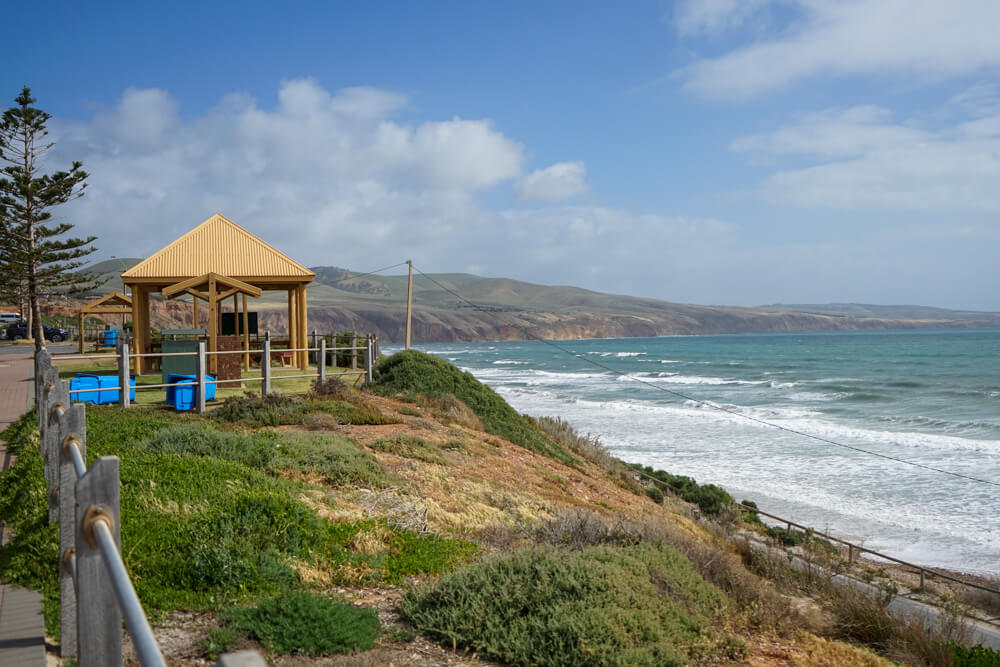 Monarto Safari Park
For people who have an interest and flair for learning about wildlife, a day trip from Adelaide to Monarto Safari Park is just the perfect choice. Spread across 1,500 hectares park, the safari park is home to around 500 and more animals from all over the world making it comfortable to enjoy a safari experience. 
Started as a sanctuary for endangered species, the park has 5 main habitats ​​which reflect different ecosystems across Asia and Africa. It is also home to various Australian wildlife. The list includes tammar wallabies, greater bilbies, and eastern barred bandicoots. As for the exotic international animals, southern white rhinoceros, black rhinoceros, American bison, and South African cheetah are present within the conservation. 
Carefully curated, the park takes precautions and makes sure the wildlife is at ease and healthy. 
Visiting here would surely make you appreciate the rich wildlife and the surroundings. 
Murray River
Murray River- the longest river in Australia, crossing three states before merging into Lake Alexandrina in South Australia, is as magical as it sounds. It begins its journey in the Australian Alps and flows for 2,508 kilometers (1,558 miles) until the mergance.  To witness this magical river, one doesn't have to travel far. A day trip from Adelaide to Big Bend can do the trick. Head down to the Big Bend and enjoy a clifftop panorama view of the river. 
In addition to this magical trip, explore the small town of Mannum.  The Mannum Dock Museum offers historical chapters of the river whereas clambering around the PS Marion hits another stroke in history. PS Marion is a restored steamer built around 1897 and tells the tales of time. 
This town is home to Hermann Gass Bird Sanctuary where you could do boardwalks and enjoy the birdlife. You could also enjoy the rock pools and waterfalls of Mannum Waterfalls. 
Exactly at the end of the Murray, lies Coorong National Park. Between Lake Alexandrina and the ocean, the national park is a protected area of sand dunes, beaches, and lagoons.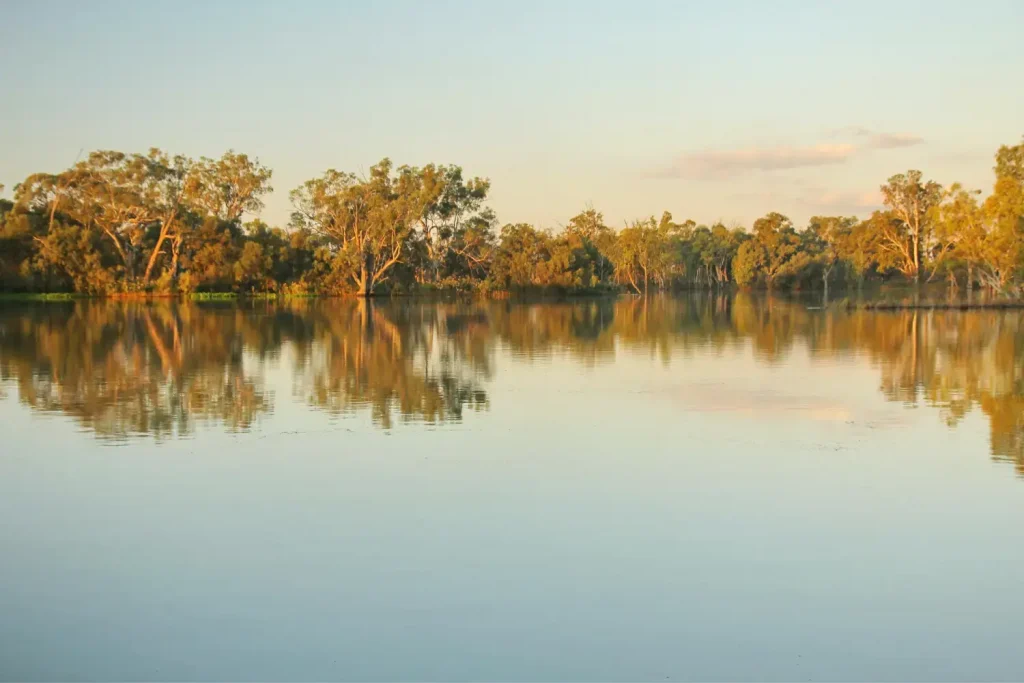 Strathalbyn
If you have a flair for antiques, Strathalbyn is the place for you. The hub of antiques is a picturesque place perfect for a day trip from Adelaide. 
Apart from the antiques, the places is loaded with bakeries and cafes to let you fill up your tummies with some delicious food. 
Another traction of Strathalbyn is the manicured Soldiers Memorial Garden next to the Angas River. Walking adjacent to the Angas River gives you the best views of gardens, bridges and reserves. National trust museum is also a tourist favourite. 
Fifteen minutes from Strathalbyn is Langhorne Creek. A spot that captures the attention with its cellar doors (more than a dozen). The best production of these cellars is Cabernet Sauvignons, another globally loved wine. If you manage to spare few bucks, you might be able to get your hands on a bottle or two. 
Pretty much the souvenirs you'll be carrying might range from antiques to bottles of abernet Sauvignons! 
Before You Leave on Your Trip to Adelaide
Before you head off on your trip to Adelaide, there are a few things to organise to make sure your trip runs as smooth as possible. Applying for your Australian visa, what to pack for your trip and where to stay during your trip to Adelaide.
Applying for an Australian Visa
If you have yet to leave for Australia then this is a section of interest for you. There are a LOT of different visa options for people arriving into Australia, from tourist visas to permanent residence visas. The most common visas, however, are the 3-month tourist visa and the Working Holiday Visa.
If you are only visiting Australia for a short period of time then a tourist visa is your best option. These are easily obtained and relatively cheap, costing roughly $140AUD, and allow you to stay in the country for up to 12months. These can be applied for on the government website here.
If you wish to work and travel in Australia, a working holiday visa is your best option. These cost around $480AUD and allow you to stay in Australia for up to 12months, whilst working and earning money to travel. This visa also gives you the opportunity to extend your stay in Australia by up to 24months by working in certain job sectors.
For all of the information you need to know about the Australian Working Holiday Visa, read our full guide over here.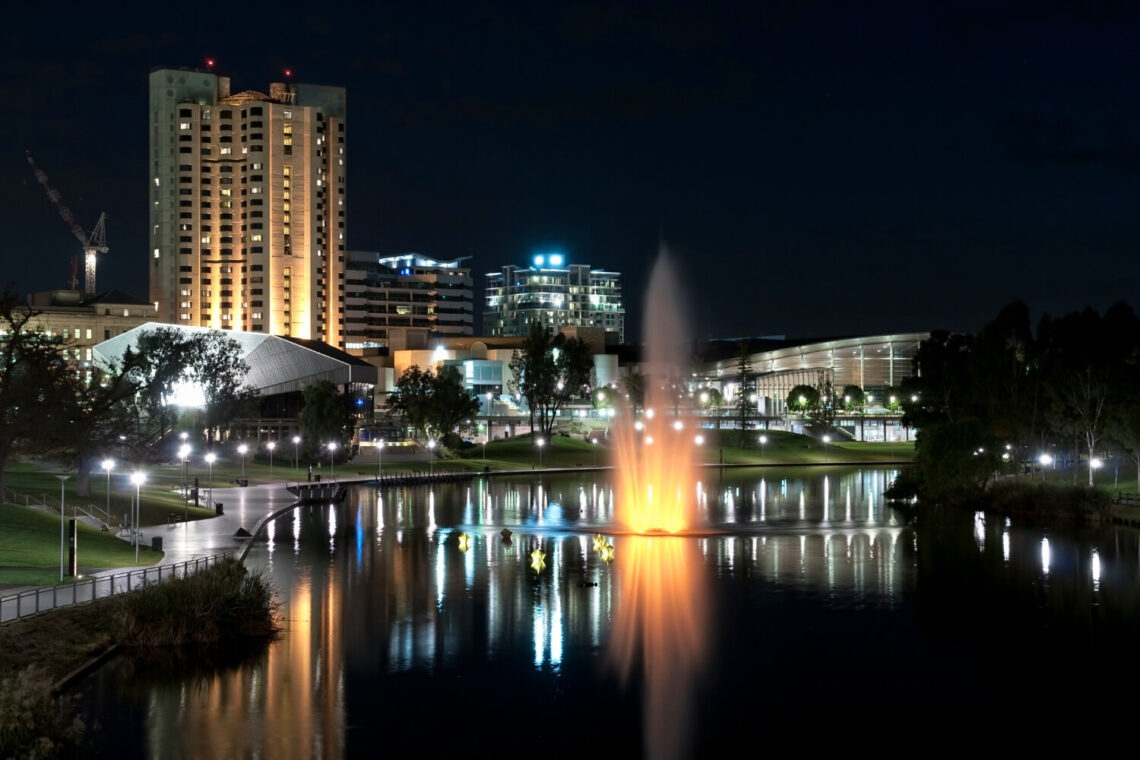 What to Pack for Adelaide
Depending on which season you visit Adelaide, what you will need to pack will vary. During the summer months of December to February, temperatures around this part of South Australia can reach temperatures in the mid-20s.
During the other months, temperatures and weather around this region are rather consistent, fluctuating between the teens. We highly recommend that you pack a rain jacket and some warm layers, however, also pack some light and summery clothing for the days blessed with sunshine.
If you need more inspiration on what to pack for your trip, check out our full packing guides for all-weather conditions over here.
When it comes to toiletries, we recommend that you pack as much sunscreen as you can. The sun in Australia is strong, and even the darkest skin tones can get easily burnt. No matter what the season is or how warm you may feel, you should always wear sunscreen in Australia.
Given the beautiful sights and scenery that you are no doubt going to see around the South Australia, we highly recommend packing a good camera for your trip. If you want to read more about the cameras we use and why we love them, check out the link below.
You can read what else we keep in our camera bag over here.
What is the Best Travel Insurance for Adelaide
Regardless of what type of trip you are heading on, one thing that is essential for everybody is good travel insurance. Accidents can happen anywhere and at anytime and unexpected hospital bills will ruin a holiday. Remove the stress from your next adventure and get covered for the worst.
World Nomads Travel Insurance provides budget reliable travel insurance that will keep you covered for any level of adventure.
You can get your quote before you leave on your trip right here.
Where to Stay in Adelaide
There are some beautiful places to stay in Adelaide that will suit all ranges of budget. Between the north and south side of the city, you will be spoiled for choice when it comes to finding a place to stay. To make it a bit easier for you to choose, we have listed our top recommendations for the city of Adelaide at all price ranges.
Luxury – If you wish to splash out for a special occasion and make your visit to Adelaide one to remember then the best choice of accommodation is the InterContinetal Adelaide. Sitting on the river's edge in the heart of the city, you can't get much more central than this. Each room at the InterContinental has beautiful views either of the river or the city itself, and each one has high-speed wifi to enjoy.
Read more about the InterContinental Adelaide and book your stay here.
Mid-range – Located in the centre of South Adelaide is the perfect mid-range option for accommodation in the city. The Hilton Adelaide offers comfortable and reliable accommodation from a world-renowned brand of hotel. This hotel gives all guests access to the heated swimming pool, the 24-hour fitness centre, and an onsite restaurant and bar.
Read more about the Hilton Adelaide and book your stay here.
Budget – For the most affordable accommodation choice in the city centre, you can rely on the branded hotel of the Holiday Inn Express Adelaide. Located in the northern end of South Adelaide, this hotel is the perfect location between the north and south sides of the city. Guaranteed comfort and value, this hotel will be sure to give you a good nights sleep so you are fully prepared for your next day out in Adelaide.
Read more about the Holiday Inn Express Adelaide and book your stay here.
If you are more into the hostel scene when you travel, there are an unbelievable number of funky, cheap, and social hostels spread through the country. Browse the full range of hostels that Malta has to offer and book your stay right here.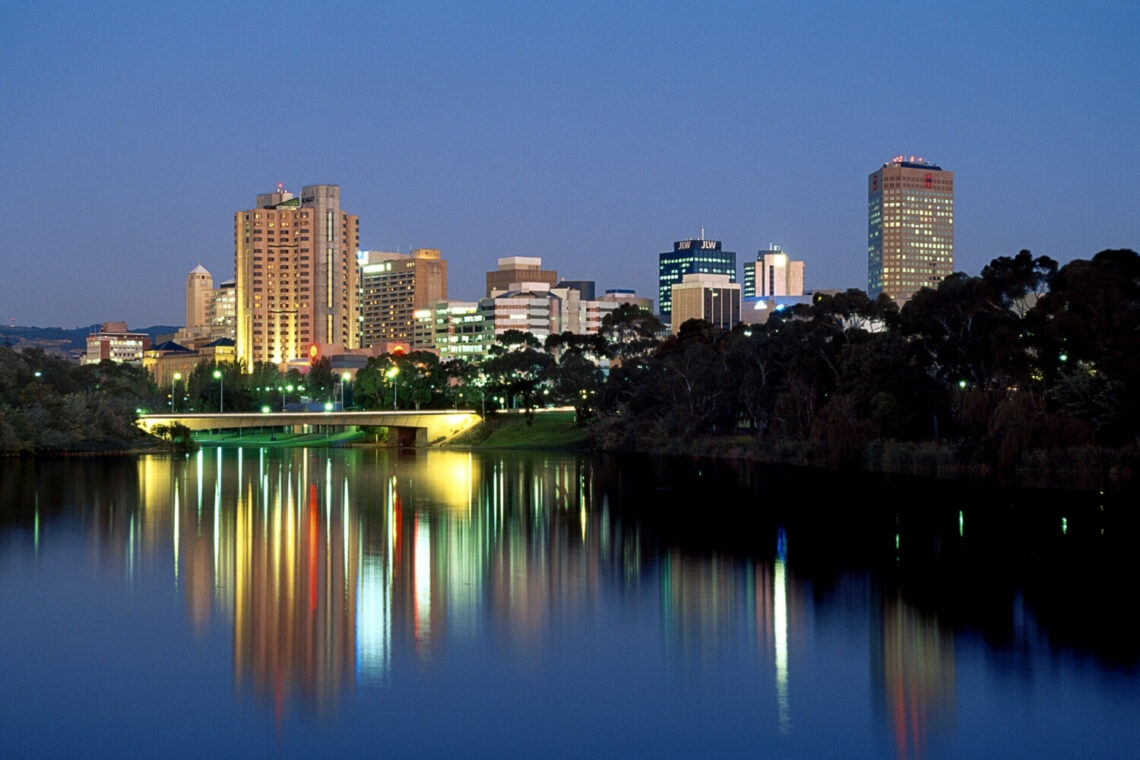 So there you have it, your guide to the best things to do in Adelaide at night. If you are visiting this breathtaking city and have any other questions on what to expect, leave us a comment down below. We love to chat about this stuff! If you have already been, let us know how it was! What was your favourite part of the Adelaide? What sights did you visit? Let us know in the comments below!
Also, remember to share this with your friends and family that you are going to tour with. Sharing is caring and we want to inspire as many people as we can to visit this unbelievable part of the world.
If you are planning an Australia trip soon then check out our other Australia content right here. Come and find us on social media to see where we are currently exploring. Tag us in your photos from the Fleurieu Peninsula and we will share them with the rest of our community of explorers and backpackers.The list we have prepared comes as a rescue for you and saves you from the hassle of going over various websites. This carefully curated list of places are the right choices for someone who is looking to plan a day trip from Adelaide. 
With every detail intact, you could now spend more time on yourself rather than worry about how to plan it. Things that don't take much of your time and gives you the right space to enjoy your trip is pretty much included in this blog.
If you have visited the Adelaide recently, let us know what you thought of the sights listed above, or if you have any suggestions let us know in the comments below.
As always, sharing is caring so make sure to share this photo guide with your family and friends and inspire them to head off on their own North Coast 500 adventure. If you are planning the trip for yourself, make sure you have a look at the rest of our Scotland content for more inspiration to our beautiful home country.
When you set off on your own adventure, be sure to tag us in your photos on Instagram and we will share them with the rest of our community. In the meantime, why not follow us over there to see what we are currently up to and keep up with us on our Instagram Stories.
Now Read:
This article may contain affiliate links that provide us with a small income. For more information read our Affiliate page.
Pin this image to your Australia Pinterest board for later