Kangaroo Island is a paradise located south of the Fleurieu Peninsula in South Australia waiting to be explored. Although it may seem pricey to travel to, this island is well worth that expense to see some of Australia's most beautiful beaches as well as witnessing the incredible wildlife in their natural habitat.
We would recommend spending 5 days in Kangaroo Island, however, if you only have 2 days on your itinerary, these are the best sights you can see during your 2 days on Kangaroo Island. 
Don't have time to read this now? Save it to your Pinterest board for later.
Included in this itinerary are all of the below sights and attractions. In this guide, we will discuss each of these spots in more detail, including how to get to each one and what to expect there. We will also go into greater detail on how to get to KI and how to get around KI.
Day One
Antechamber Bay
Pennington Bay
Prospect Hill
Day Two
Seal Bay
Bales Bay
Vivonne Beach
Little Sahara
Kingscote Shopping
Kingscote Tidal Pool
Chocol 'Art Cafe
Kangaroo Island 2 Day Itinerary
Day 1 – Prepare Yourself for Paradise
If you have arrived on Kangaroo Island on the first ferry, you should arrive at around 06.45. We recommend heading straight to the first beach stop. Remember to keep an eye out for wildlife, we saw about 6 kangaroos on this 25-minute drive.
Antechamber Bay
Antechamber Bay lies at the bottom of a steep gravel hill which is suitable for 2 wheel drive, however, be prepared for a bumpy ride. This bay lies on the corner of Lashmar Conservation Park and is free to enter for the day. When we were here we had the whole white-sand beach to ourselves and were blown away by the paradise that lay before us.
There is a campground in this area overlooking the sea which can be booked and paid for online. In our Kangaroo Island Camping Guide, you can read more about this area and camping on the island.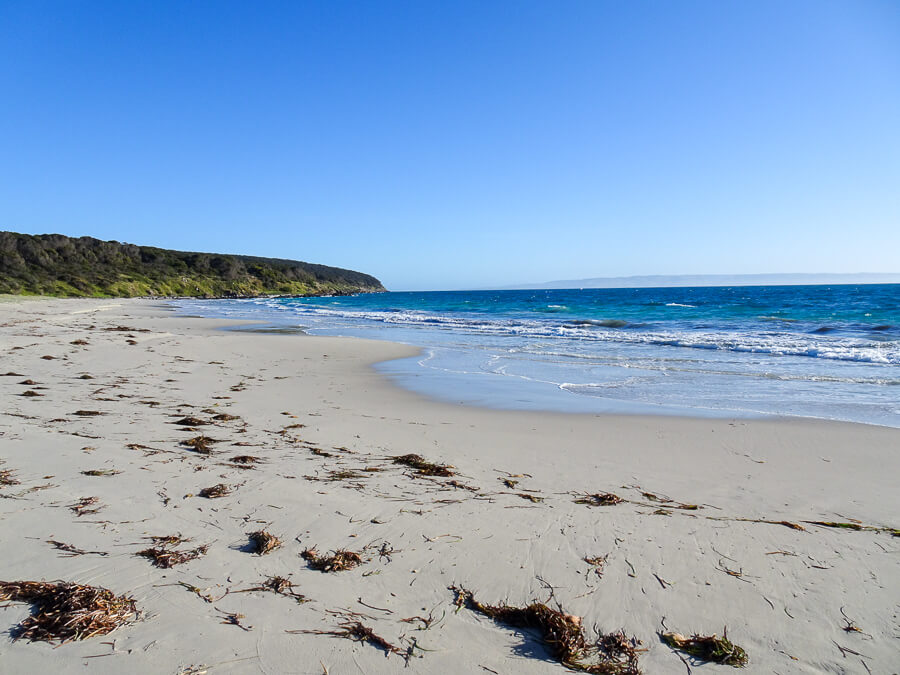 Pennington Bay
Pennington Bay is another quiet beach that is enjoyed by the locals, you will be glad to read that you will drive along a tarmac road for around 10 minutes to get to this beach. When you arrive you will see a small caravan set up selling food, drinks and ice cream. There are picnic benches outside overlooking the white sandy beach so this is the perfect place to stop and grab a snack.
Take a stroll down to the soft sandy beach and walk along the waterfront. The waves are a lot bigger at Pennington and if you time it right, there may even be some surfers out catching a wave whilst you are there.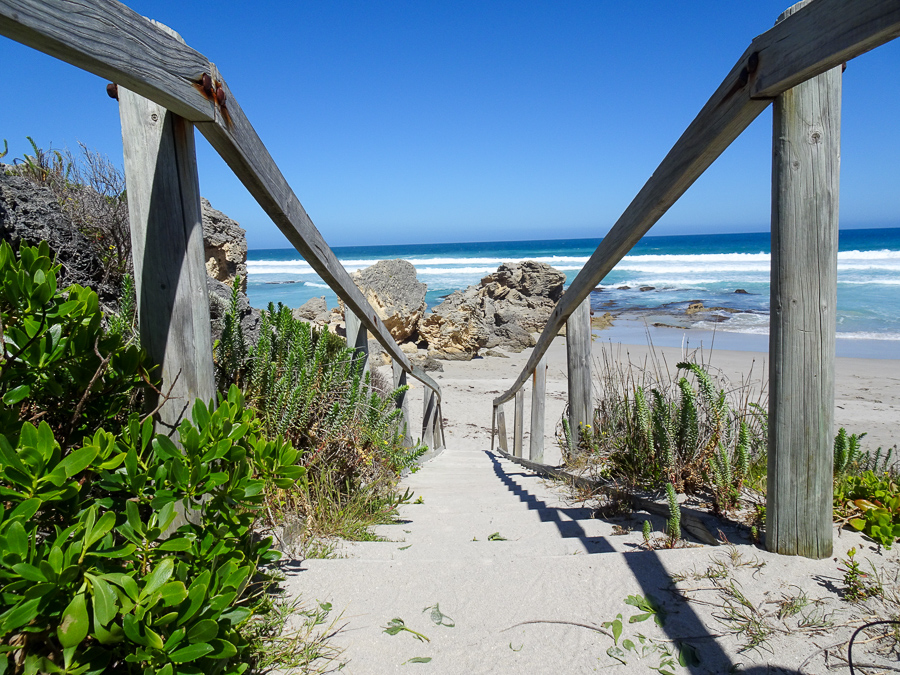 Prospect Hill 
A short drive from Pennington Bay and you will arrive at the turn in for Prospect Hill. Climb up the 385 steps and you will be rewarded with an amazing view of the island. The metal stairs have been built into the cliff and have a sturdy handrail making the climb a lot easier than it looks.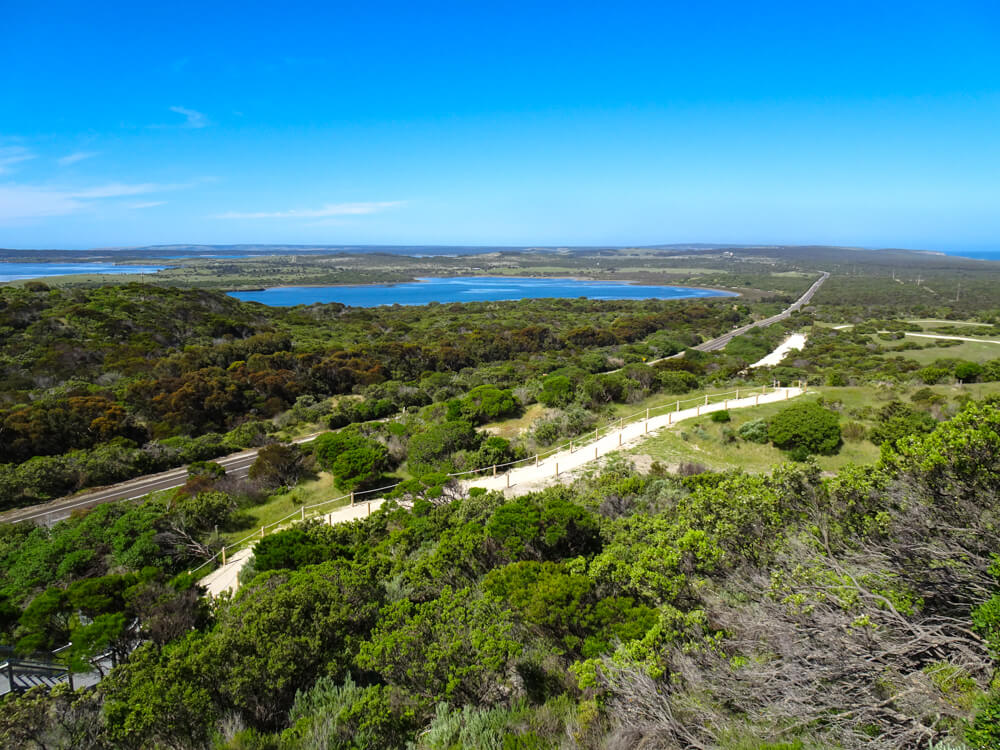 Vivonne Bay 
Around a 10 minute drive down a gravel road and you will arrive at Vivonne Bay. Vivonne Bay was voted as one of Australia's best beaches, due to the cleanliness, clean water and privacy of the beach. Take some time out here to go for a swim and cook up some lunch. The white sand and clear water make for some spectacular views.
If you are lucky, you will have this beach all to yourself.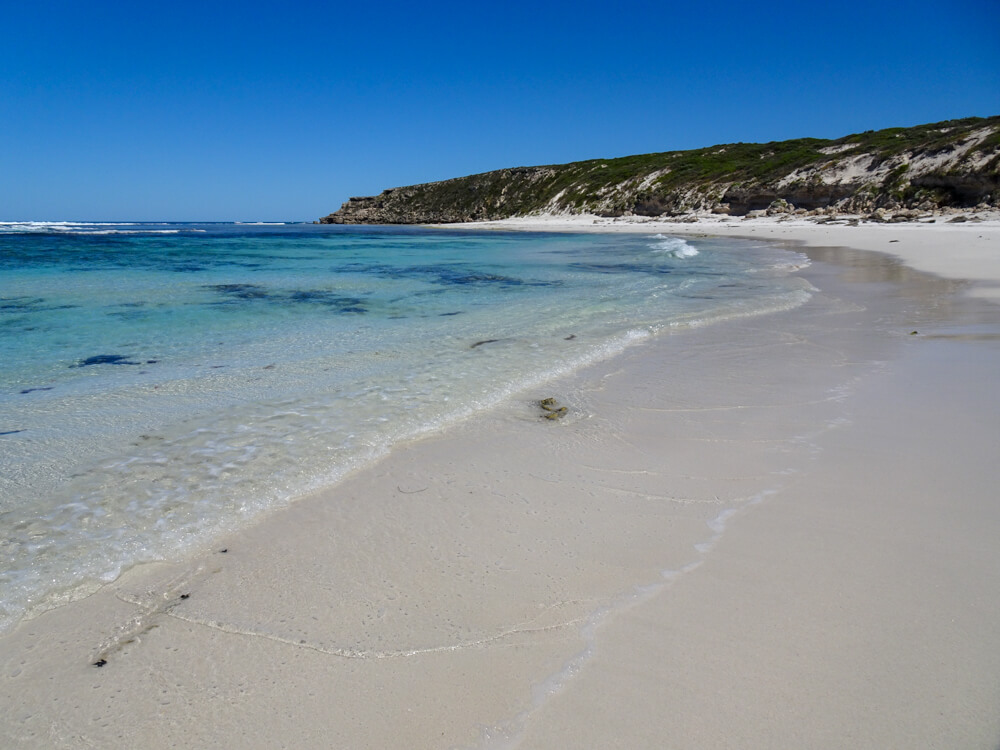 Spend the Night at Vivonne Bay Campground
By far the most complete council campgrounds on the island, the Vivonne Bay Campgrounds is also complete with stunning views of one of Australia's most beautiful beaches. Voted as one of the best beaches in Australia in an evaluation by the University of Sydney, Vivonne Bay is a must-visit place during your trip to Kangaroo Island.
With a large number of unpowered sites, Vivonne Bay campground also has 8 powered sites and is suitable for caravans. There are toilet facilities on sight and even shower facilities ($2 per 5-minutes). There are also BBQ facilities, a sheltered picnic area, a playground, and a water source.
Unpowered and powered sites
Caravan access
Toilets
Showers
Picnic area
Sheltered picnic area
BBQ facilities
Playground
Beach access
Water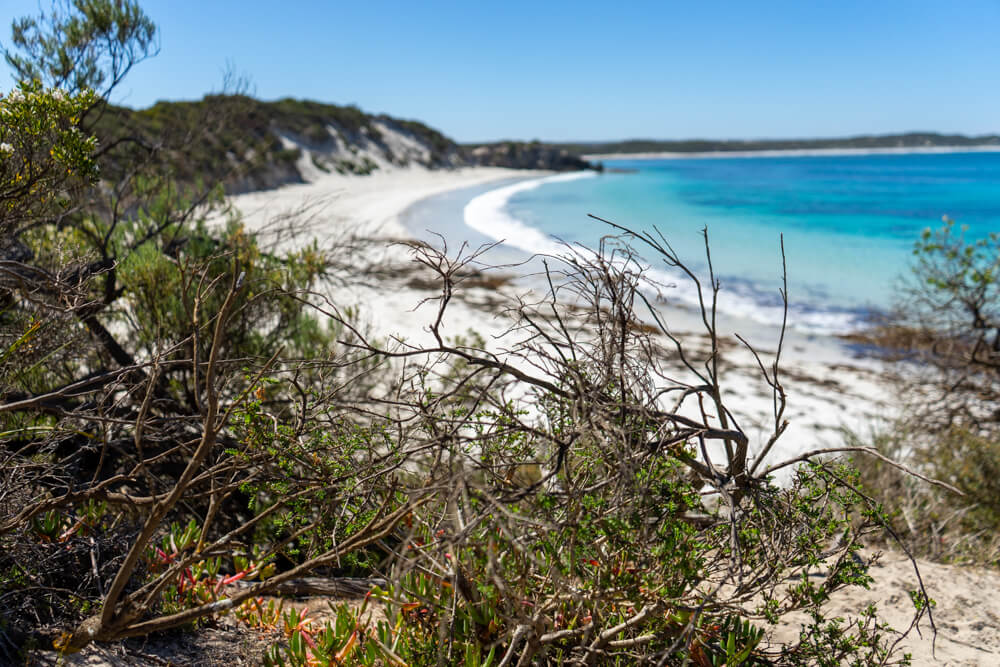 Day 2 – Nature Awaits
Seal Bay Nature Reserve
Seal Bay Conservation Park is one of the most popular attractions on Kangaroo Island. The bay is home to over 800 Australian sea lions, which use seal Bay as a resting point after they have been fishing out at sea. There are two different tours to choose from when you arrive at seal Bay, the guided tour or the self-guided tour.
Guided Tour and Boardwalk Entry
Entry Fee – $37
We were indecisive about whether we thought this tour would be worth the money and I have to say, even if you are on a budget, if you love nature this is so worth the money. A tour guide will take a small group down to the bay where you will be able to see countless sea lions.
The group will be kept at a distance of at least 12m away from the sea lions, however, that is plenty close enough to get a good view of these amazing creatures. This tour lasts 45 minutes however it also allows you access onto the boardwalk with no time restrictions.
Self-guided Boardwalk Tour
Entry Fee – $16.50
Before we arrived at Seal Bay, I wasn't sure what to expect, how far away was the boardwalk? Would I spend the money and see any sea lions? Well, that answer is yes. We saw loads of sea lions, sunbathing in the morning sun on the sandbanks.
We were even lucky enough to see a baby sea lion who had been born only an hour before. We thought it was dead as it looked like birds were pecking at it, turns out it just hadn't been able to take its first steps yet and the birds were trying to eat the placenta. This was such a precious moment, we sat watching for hours.
If you have a kangaroo Island tour pass you will have full access to the guided tour and the boardwalk. The first tour of the morning at 9 am is the best one to aim for as it is cooler so they are a lot more active.
If you want to see the baby sea lions, trying to time your visit is a little difficult. Sea lions breed every 18 months, alternating years between birthing in the winter and the summer. It is therefore hard to show up and see babies at one specific time of year, however, with a little online research you should be able to find out when the next window might be.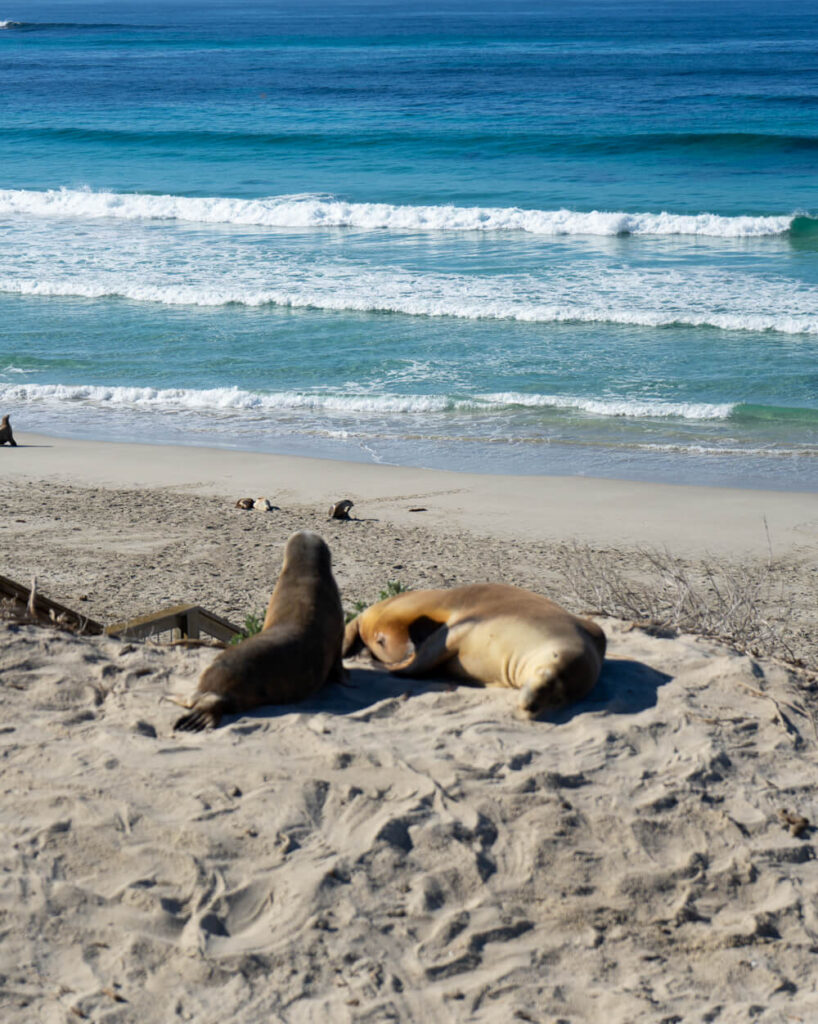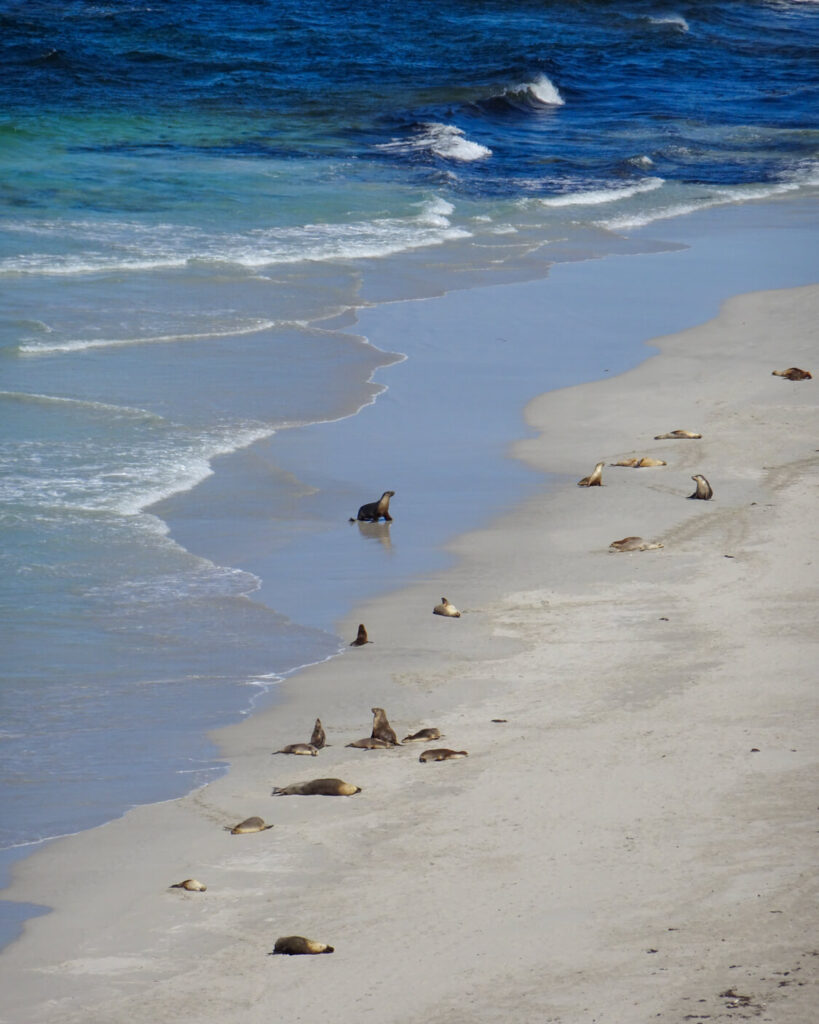 Bales Beach
A short drive from Seal Bay is Bales Beach, a peaceful paradise that will leave you thinking you are in the Maldives. This gem is one not to be missed and if you are lucky, you will be the only one on the beach.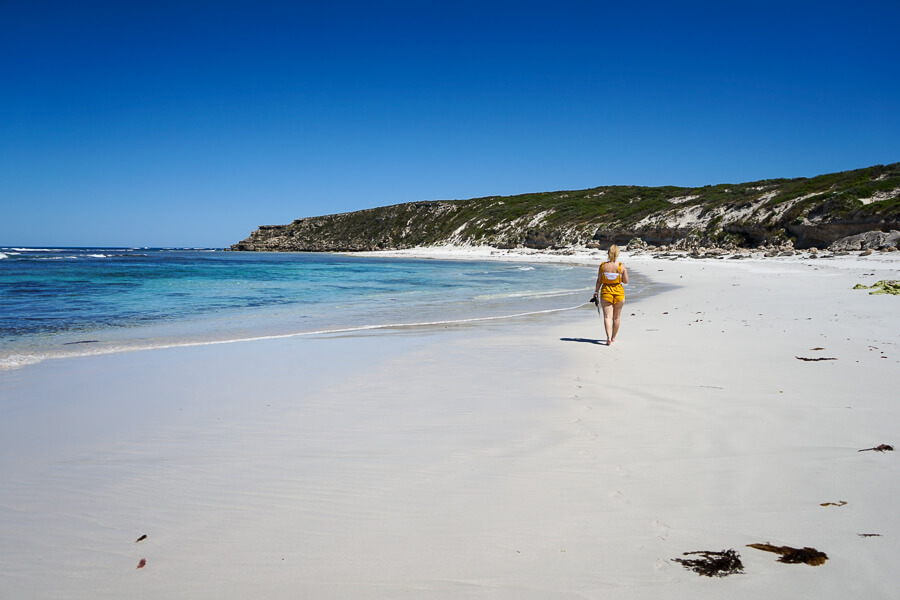 Little Sahara
The next stop on the Kangaroo Island itinerary is Little Sahara. As the name suggests, this is a small desert. The sand dunes at Little Sahara cover around two square kilometers on the south coast of Kangaroo Island and are the only sand dunes on the island. The size of the dunes varies, however, the highest dune is approximately 70 metres above sea level.
Here you have the option to hire a sandboard or a toboggan. For 2 hours this will cost $37 per board (can be shared between multiple people) and an additional $10 for a helmet. If you go during the quieter seasons (like we did) you will most likely get more than 2-hours as it is just so quiet!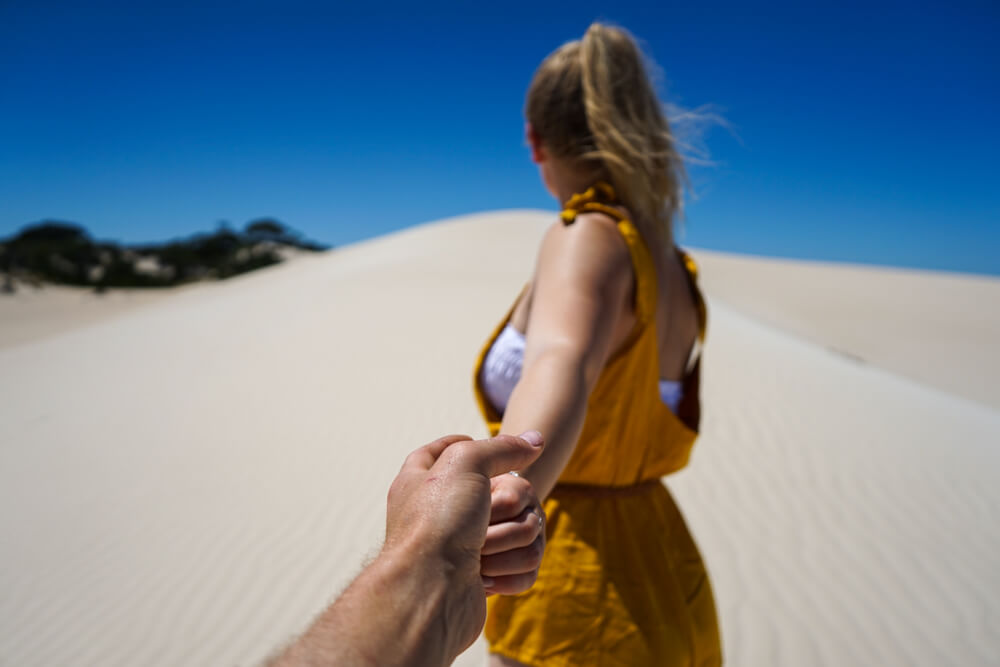 Kingscote
Kingscote is the largest town on Kangaroos Island and is also home to the commercial and business hub. The first European settlers that came to South Australia migrated to Kingscote, the first visitors to the island since rising sea levels split the island from mainland Australia, almost 10,000 years before.
Explore the small town and enjoy some more sea views along the esplanade.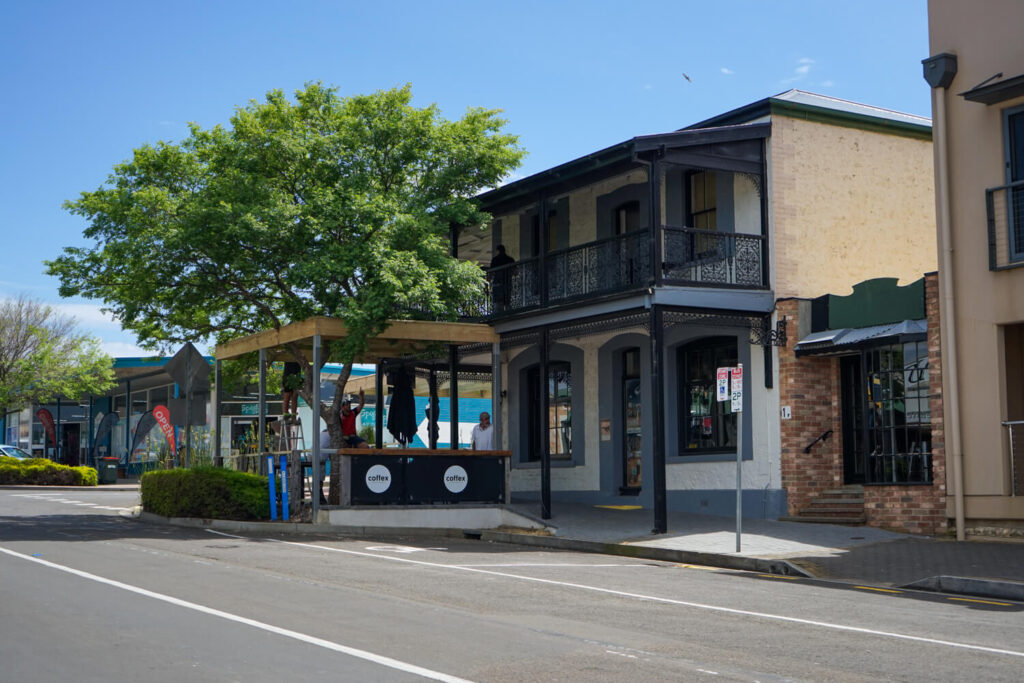 Chocol'Art & Coffee
During our travels we have tried many hot chocolates, some of which we have thought were amazing but the "bucket" of hot chocolate at Chocol'Art and Coffee is by far the best hot chocolate we have ever tasted. This portion is good for sharing between two and you can pair it with one of their delicious cakes or something from the lunch menu.
Last chance to fuel up before its time for your ferry off of the island. What an adventure!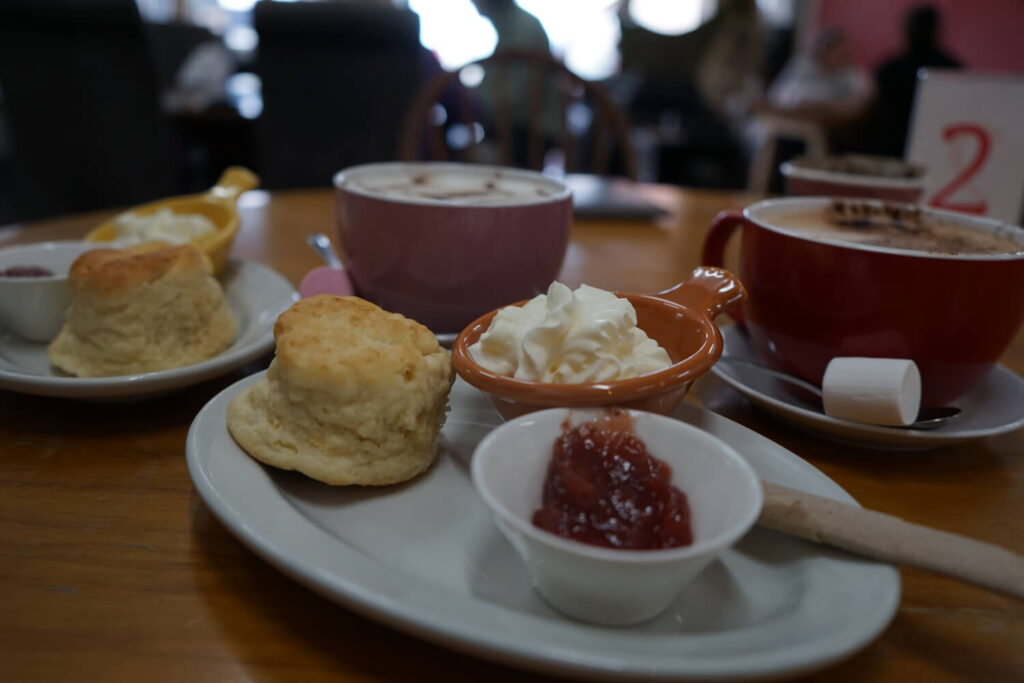 Before You Leave for Kangaroo Island
Before you set off on your adventure of a lifetime to Kangaroo Island, there are several things you will need to get organised to ensure a smooth and enjoyable trip. These include sorting out travel insurance, transport to and around the island, packing for your trip and finding the best place to stay. All of these will be discussed below in more detail.
Applying for an Australian Visa
If you have yet to leave for Australia then this is a section of interest for you. There are a LOT of different visa options for people arriving into Australia, from tourist visas to permanent residence visas. The most common visas, however, are the 3-month tourist visa and the Working Holiday Visa.
If you are only visiting Australia for a short period of time then a tourist visa is your best option. These are easily obtained and relatively cheap, costing roughly $140AUD, and allow you to stay in the country for up to 12months. These can be applied for on the government website here.
If you wish to work and travel in Australia, a working holiday visa is your best option. These cost around $480AUD and allow you to stay in Australia for up to 12months, whilst working and earning money to travel. This visa also gives you the opportunity to extend your stay in Australia by up to 24months by working in certain job sectors.
For all of the information you need to know about the Australian Working Holiday Visa, read our full guide over here.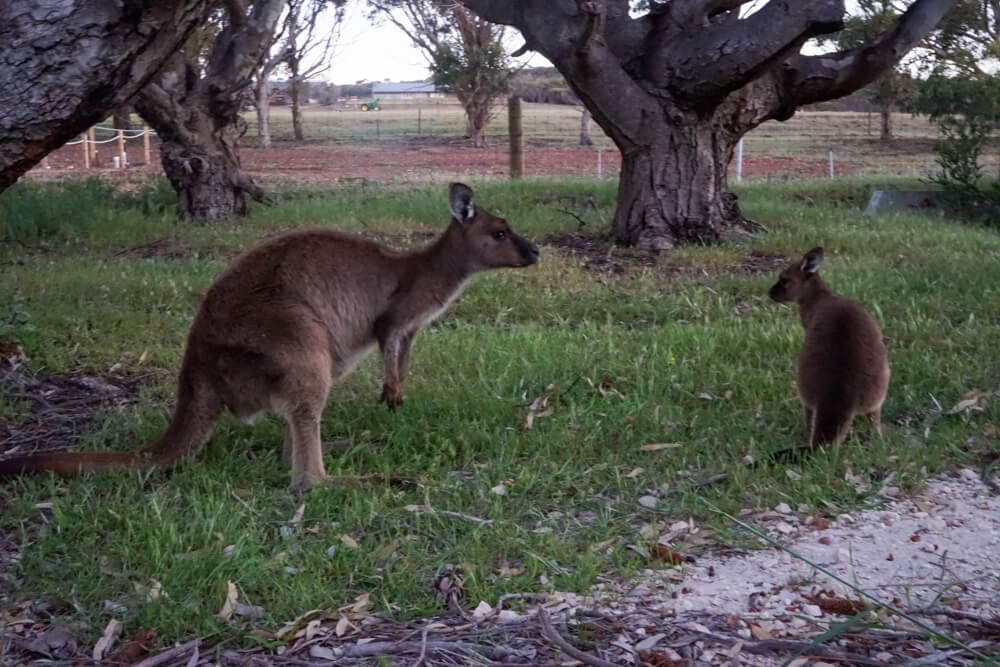 What to Pack for Kangaroo Island
Being an island, Kangaroo Island will be at risk of experiencing some mixed weather. Depending on the season your visiting will depend on what you pack. At the least, we would always recommend a warm layer, a waterproof and, of course, suncream!
During the summer months, Kangaroo Island can reach temperatures in the 30's, meaning it should be warm enough to get in the water for a swim. This also means that you will need plenty of lightweight clothing for getting around and exploring in the heat of the midday sun.
In the winter months, you would need to be very brave to get in the water as the temperatures average at half that of summer, peaking at around 14 degrees Celcius. Warm layers and a waterproof is a must for these months!
If you need more inspiration on what to pack for your trip, check out our full packing guides for all-weather conditions over here.
When it comes to toiletries, we recommend that you pack as much sunscreen as you can. The sun in Australia is strong, and even the darkest skin tones can get easily burnt. No matter what the season is or how warm you may feel, you should always wear sunscreen in Australia.
Given the beautiful sights and scenery that you are no doubt going to see around Kangaroo Island, we highly recommend packing a good camera for your trip. If you want to read more about the cameras we use and why we love them, check out the link below.
You can read what else we keep in our camera bag over here.
What is the Best Travel Insurance for Kangaroo Island
Regardless of what type of trip you are heading on, one thing that is essential for everybody is good travel insurance. Accidents can happen anywhere and at anytime and unexpected hospital bills will ruin a holiday. Remove the stress from your next adventure and get covered for the worst.
World Nomads Travel Insurance provides budget reliable travel insurance that will keep you covered for any level of adventure.
You can get your quote before you leave on your trip right here.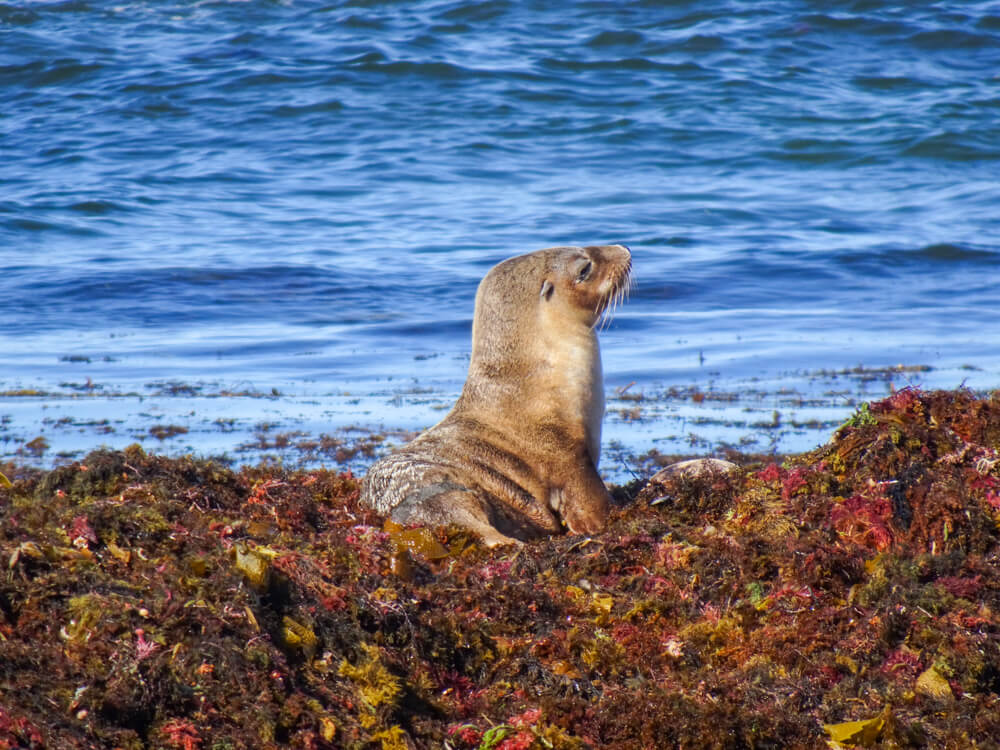 How to get to Kangaroo Island
Unfortunately, getting to Kangaroo Island is the reason that it is not as popular as many other areas in Australia. There are only two options for getting to the island (and only one if you wish to bring your own vehicle). 
With a larger vehicle and passenger ferry and a smaller passenger-only ferry operating to the island, the prices of transport are very monopolised, resulting in the most expensive ferry (per metre of travel) in the world.
Sealink Ferry
Sea Link offers passenger and vehicle crossings from the tip of the Fleurieu Peninsula on mainland Australia to Penneshaw on the island. This is an expensive option, however, by bringing your own vehicle it means when you arrive onto the island you can get straight into exploring.
This ferry leaves 5 times a day and takes 45 minutes to get across.
Browse the best option for getting to KI on this ferry right here.
Did you know – The Kangaroo Island ferry is the most expensive ferry in the world per distance!
Kangaroo Island Direct Ferry
This ferry leaves for KI 4 times a week, so it is much less regular than the SeaLink option. It is also only a passenger ferry, meaning you will not be able to bring your own transport with you. This ferry is a much cheaper option if you are wanting to go across as a passenger only, however, once you are on the island you will need to pay a lot more money for transport.
You can browse the ferry tickets and transport options available from KIC right here.
Airplane
Flying to Kangaroo Island is another option, however, this can be an expensive option and you would be restricted on your luggage. Flights from Adelaide tend to go for roughly $150 each way. You will also need to organise a method of transport for getting around the island when you arrive.
Browse your options for flying to Kangaroo Island right here.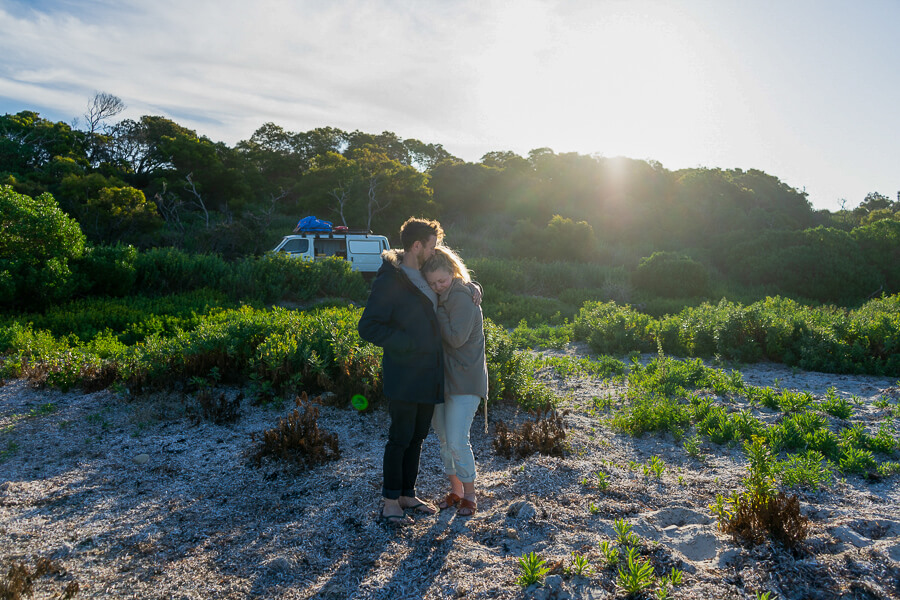 How to Get Around Kangaroo Island
When it comes to getting around the island you have a few different options available. If you did not bring your own transport, you can rent a car or campervan and travel the island yourself at your own pace. This is the best option if you are not short on time, as it means you can dictate the pace of your adventure.
Private Tours 
As for getting around the island, a 4wd is advisable, however not necessary. Many of the beautiful beaches are off the beaten track and can be up to 20km of gravel roads. The same goes for a lot of campsites in the more isolated areas, so beware if you are using a hired campervan or bringing your own.
There are car hire services available when you arrive at Penneshaw or you can book this as a package with your ferry. We would recommend hiring a campervan during your trip on Kangaroo Island due to the flexibility it gives you. You can park up wherever you are and cook your next meal, not wasting any time travelling back and forward.
Organised Tours
The last option for getting around Kangaroo Island is to book yourself onto a Kangaroo Island tour and enjoy a more relaxed and controlled adventure around the island. This can either be with a private car driver or an organised group tour.
The organised group tours will take you to the most popular sights on the island and will show you all of the best things you can see in a short period of time. The advantage of these kinds of tours is the efficiency of getting around and the information provided about the island. Your tour guide will be able to tell you a lot of interesting things about the sights that you are visiting that you would not learn on your own.
The downside of tours is the lack of flexibility in your schedule. You will be herded from one location to the next, on as quick a schedule as possible to ensure that you see the maximum number of sights as quickly as you can.
Private tours are available for booking online or in visitor centres around the island. These tours will give you the same benefits as a group tour with less of the stringent timeline as if you want to spend more time somewhere you have that option. There are lots of different tours available, however, we have listed a few below.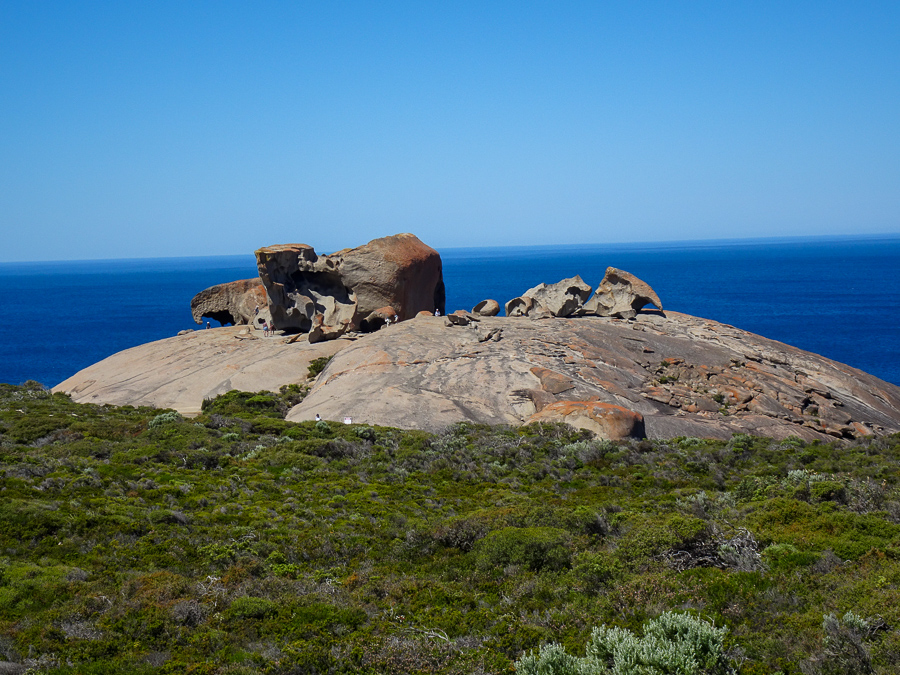 So there you have it, the must know tips for visiting Kangaroo Island. If you are visiting this breathtaking island and have any other questions on what to expect, leave us a comment down below. We love to chat about this stuff! If you have already been, let us know how it was! What wildlife did you see on your trip? What was your favourite thing about Kangaroo Island? Let us know in the comments below!
Also, remember to share this with your friends and family that you are going to tour with. Sharing is caring and we want to inspire as many people as we can to visit this unbelievable part of the world.
If you are planning an Australia trip soon then check out our other Australia content right here. Come and find us on social media to see where we are currently exploring. Tag us in your photos from Kangaroo Island and we will share them with the rest of our community of explorers and backpackers.
Now Read:
This article may contain affiliate links that provide us with a small income. For more information read our Affiliate page.
---
Save an image to your Australia Pinterest board for later!