Nusa Penida is one of Bali's most photogenic locations. The lush greenery against the crystal clear waters is absolutely stunning There are so many photo opportunities on this beautiful island that you will be filling up your Instagram feed in no time. Whether you are only planning a
day trip to Nusa Penida
or are planning a full week on the island, all of these spots should be on your itinerary for Nusa Penida. To help you plan your trip, this is our complete Instagram guide to Nusa Penida, including all of the best sights, how to get to them and the best places to stay during your trip.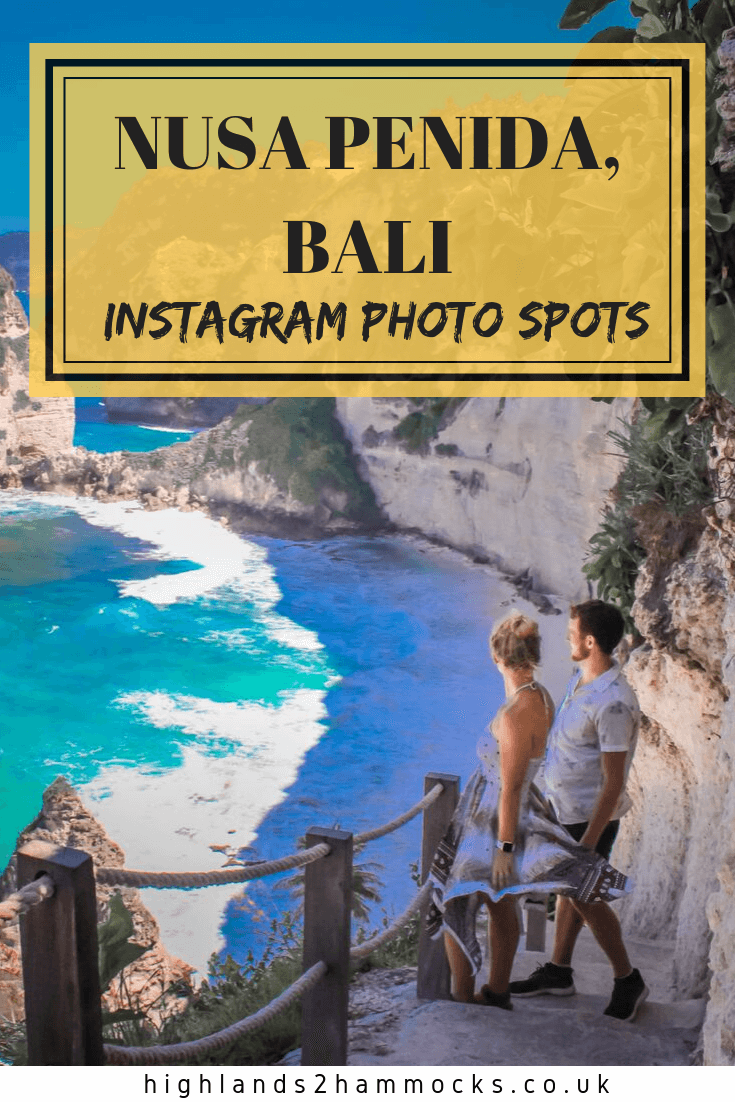 Included in this guide are the below locations, just some of Bali's beautiful sights. These are definitely our favourite spots and are the ones we recommend visiting on your next trip to the island.
Angel's Billabong
Broken Beach
Kelingking Beach
Rumah Pohon Tree House
Thousand Islands View Point
Diamond Beach
Nusa Penida Instagram Spots – The Best Photo Locations in Nusa Penida
Instagram Guide to Nusa Penida
Angel's Billabong
Entrance Fee – FREE
parking Fee – 5k IDR (shared with Broken Beach)
A naturally formed infinity pool on the south western cliff edges of Nusa Penida providing spectacular views out to sea. It is possible to swim in the pool at low tide at your own risk. At high tide, the Angels Billabong is extremely dangerous due to the waves crashing off of the rocks. Try to time your visit with the low tide if you want to spend time relaxing in this beautiful pool.
Read our full guide to Angel's Billabong for all of the information you need.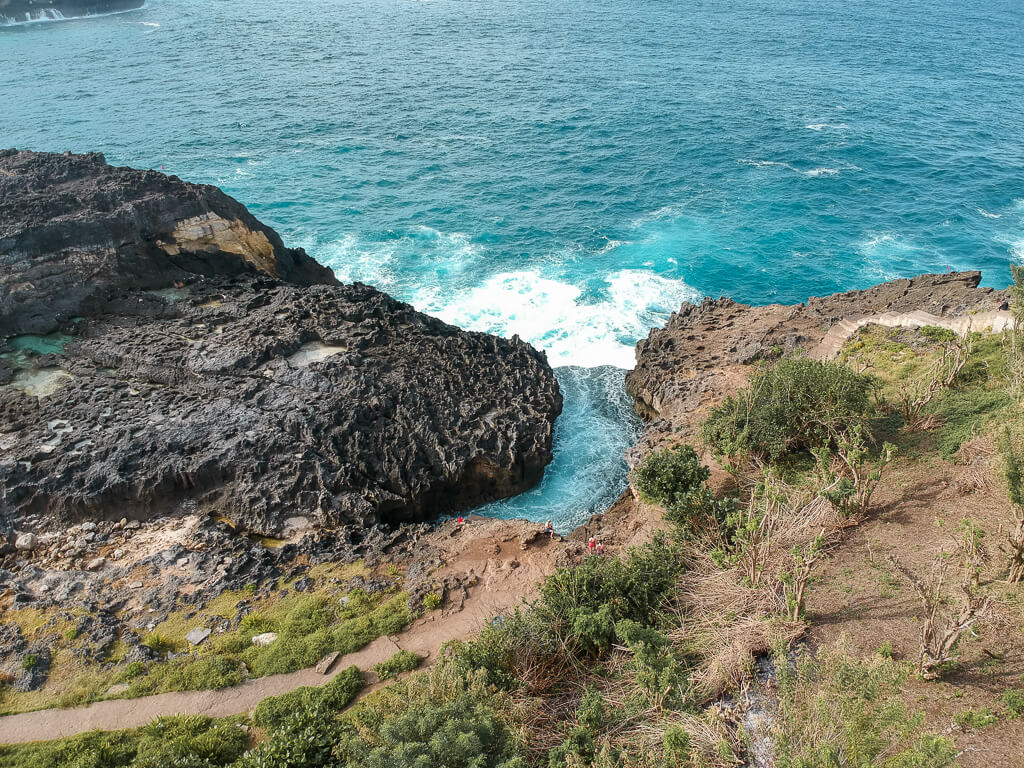 Broken Beach
Entrance Fee – FREE
Parking Fee – 5k IDR (shared with Angel's Billabong)
A 5-minute walk from Angels Billabong, this huge, circular cliff feature is one of Nusa Penida's greatest marvels. The unique limestone cliffs at Broken Beach, combined with the power of the open ocean have formed a natural archway leading into a sheltered bay. Walk all around the bay of Broken Beach to find the different photo spots, each offering a unique perspective of the beach below.
Read our full guide to Broken Beach for all of the information you need.
View this post on Instagram
Klingking Beach
Entrance Fee – 5k IDR
One of Bali's most famous cliff structures, the fascinating T-Rex Head rock sits right on Kelingking Beach. Views from the cliff high above this beach give the perfect photo opportunity to capture this beautiful part of the island. There are plenty of spots to choose from for your photo, from the staircase leading down to the beach, to quieter spots around the cliff from the staircase.
DO NOT climb the barriers at this location
. This is a shockingly common thing to do and is not only extremely dangerous but it is a stupid thing to do. There are plenty of spots around the cliff that you can get a lovely picture without putting yourself and others in danger by climbing barriers. We recommend arriving at Kelingking Beach as early as you can as it gets extremely busy towards midday. For the best lighting in your photo, you want to arrive at sunrise, as this will give you gentle light and also lets you enjoy the sunrise at one of Bali's most unique locations.
View this post on Instagram
Rumah Pohon Tree House
Entrance Fee – 10k IDR (shared with Thousand Island Viewpoint)
The Rumah Pohon Tree Houses are one of the most popular Instagram photo spots in Bali. This bamboo treehouse sits high above the turquoise waters below, giving an almost fairytale-like feel to the island. This treehouse is in actual fact an Airbnb house, which can be booked on the website. It goes without saying that if you do wish to take a picture at this treehouse, please do it with respect to the occupants. Don't arrive early in the morning and starting banging around making lots of noise. Admire the views and the beauty in peace and quiet and allow the next traveller to do the same with no issues.
View this post on Instagram
Thousand Islands View Point
Entrance Fee – 10k IDR (shared with Rumah Pohen Treehouse)
As you head back to the car park from Rumah Pohen, this viewpoint will be down a short path to your right. Sitting high above the bay, this lookout got its name from the number of limestone sea columns sitting below. Over thousands of years, the power of the sea has carved these brilliant obelisks, a monument to the age of this land. Snap a photo from the top of the viewpoint and admire the surges of the waves below as they crash inland from the open ocean.
View this post on Instagram
Diamond Beach
Entrance Fee – 10k IDR
Located a 10-minute drive from the Rumah Pohon Treehouse is the stunning Diamond Beach. Once again, the cliffside beach features some of the clearest waters you will ever see, as well as the huge sea columns that Nusa Penida is famous for. It is a long walk down to the beach, however, if you are not in a rush we highly recommend it. The view from the top of the beach is the perfect spot for a photo, with most Instagram pictures being taken at the top of the stairs. This stairway was only just added to the beach, carved into the side of the cliff in 2018.
View this post on Instagram
Is Nusa Penida Worth Visiting?
It is no secret that the Indonesian islands of Bali, Lombok, and Java all hold unimaginable beauty, but what are their smaller counterparts like in person? It is common for visitors to Bali to wonder whether the journey to Nusa Penida is worth it, and to this, we have one very simple answer. Yes. Whether you plan on spending a week exploring the Nusa islands or only have one day to see as much as you can, Nusa Penida is still a destination that is worth visiting.
Also Read – 10 Day Bali Itinerary: The Best Sights for First-Timers Visiting Bali
How do You Get to Nusa Penida?
Getting to the island of Nusa Penida is relatively straight forward, mainly due to the huge range of options available. There is a choice between the cheapest option, the fastest option or the overall easiest option. You have the choice between an organised return trip from the mainland, a fast boat from the surrounding islands or a public boat from Padangbai (Bali). All three are discussed in more detail below. On your return from Nusa Penida, make sure you discuss your ferry needs with your hotel, who will be able to get your ticket cheaper than if you show up and try to buy in person. On the day boat purchases (without help from a local) can cost up to twice as much as it should do, simply because you are in a situation where you can't say no.
Day Trip Tours to Nusa Penida
The easiest way to enjoy your time on Nusa Penida is by joining a day trip tour to the island, which will include transport to the ferry, the ferry itself, a tour guide around the island all day and then return transport back to your hotel in Bali. This is most suitable if you are short on time and do not want to spend a couple of days on the island of Nusa Penida, however, it will not give you much freedom and you will have to follow the crowds everywhere. You can browse the full list of Nusa Penida day trips right here.
Fast Boat to Nusa Penida
Fast Boat from Bali (Sanur) to Nusa Penida
The Nusa Penida fast boat from Sanur to Nusa Penida takes roughly 45 minutes and will cost around £8 for a one way ticket. We can recommend travelling with El Nido ferry company. The boat is fast and comfortable, with everything you need for a short crossing.
Fast Boat from Bali (Padangbai) to Nusa Penida
Fast Boat from Padangbai to Nusa Penia takes around an hour and is the quickest way to get to Nusa Penida if you are travelling from Ubud.
Public Boat to Nusa Penida
Public Boast from Padangbai to Nusa Penida
If you are not in a rush, then this is the cheapest way to get from mainland Bali to Nusa Penida. The public boats of Bali tend to run once or twice a day, at varying times. For as little as £2, you can get yourself a spot on the boat to Nusa Penida, which leaves Padangbai once the boat is full.
Public Boat from Bali (Sanur) to Nusa Penida
There is no longer a public boat service running between Sanur and Nusa Penida. If you would rather travel on the public boat you will need to begin your journey from Padangbai.
Nusa Lembongan to Nusa Penida
When you arrive at the ferry port by the yellow bridge in Nusa Lembongan, you will be hounded by locals asking to you to travel with their ferry company. The public boat is your cheapest option costing 30k rp per person. Some people will try to tell you that this is the slow boat, however, it only took around 20 minutes port to port and was well worth the money.
Gili Islands to Nusa Penida
There are three fast ferry companies that travel from Gilli Trawangan to Nusa Penida. Each company only sails this route once a day so we would recommend not leaving it till the last minute to book. You can catch the ferry from the harbour where you arrive on Gili Trawangan.
Getting Around Nusa Penida
There is no public transport in Nusa Penida, the same as in Bali. There are also no Grab or GoJek cars on the island, so you have a few options to choose from when it comes to getting around this island. The easiest and cheapest option is by scooter, however the roads are very dangerous so if you are not experienced on a bike a taxi is your safest option.
Read all about getting around Bali and Nusa Penida in our Full Guide to Living in Bali.
Buy a Nusa Penida Tour Package
There are plenty of tours available on Nusa Penida that will take you to all of your chosen sights. The length of the tour will vary however we would recommend going for a full 8 hour day tour. This will cost more than renting a scooter however if you are not confident on the scooter, we would suggest that this is your best option.
Book your own Nusa Penida adventure right here.
Before you Leave for Nusa Penida
For an enjoyable and stress-free trip, there are a few things you will need to organise before you leave. Below we discuss what to pack, how to get to Nusa Penida and what to do when you arrive. Once you've sorted this you are good to go on the trip of a lifetime.
How Long do You Need in Nusa Penida?
The best part about Nusa Penida is that there is no real minimum amount of time required on the island to have a fantastic day out. If you are not short on time, we would recommend taking 3-4 days to really visit each of the sights around the island, however, if you do not have this luxury you can easily organise a
one-day trip to Nusa Penida
to see all the best bits.
How to get an Indonesian Visa
If you are planning a trip to Bali for less than 30 days, you don't need to worry about organising your visa. As long as you are
from a country on the Visa on Arrival List
, your visa will be granted automatically when you arrive at immigration in Bali at no cost. If you wish to 
extend your trip in Bali and want to stay in Indonesia for over 30 days
, then you will need to purchase a Visa on Arrival (VOA) on your entry into Bali, before passing through immigration. This can easily be done at the clearly visable counter, just before you pass through the immigration desks. Once you are in the country, you can then either hire a visa agent or complete the paperwork yourself to be granted a further 30-day visa.
Read all you need to know about obtaining an Indonesian Visa and using a visa agent here.
What is the Best Travel Insurance for Bali
Travel insurance is one of the first things we book before we go on any trip. It is never a fun purchase, however, we dread to think of the costs we would have to fork out for in the tragic event of an accident.
World Nomads Travel Insurance
provides budget reliable travel insurance that will keep you covered for any level of adventure.
You can get your quote before you leave on your trip right here.
Also Read – Nungnung Waterfall Bali – Your Complete Guide to Nungnung Waterfall
What to Pack for Nusa Penida
Nusa Penida experiences a hot, humid climate like the rest of Indonesia, therefore packing for this trip is a pretty simple task. You will want to make sure you have some light clothings as it can get pretty sweaty, as well as a light waterproof as there is always the potential for a downpour.
Check out our Summer Packing List for Women and Summer Packing List for Men for some clothing inspiration for your trip to paradise.
Don't forget to subscribe and follow our journey on Youtube. 
When it comes to toiletries, we recommend that you pack as much sunscreen as you can. The sun in this tropical paradise is strong, and even the darkest skin tones can get easily burnt. When it comes to stocking up on sunscreen once you arrive in Bali, the cost is extortionate,  A small 200ml bottle in Indonesia will cost you as much as £15! Given Bali's naturally photogenic landscape, you are going to want to pack a camera for your trip. We never go anywhere without our camera, GoPro and drone.
You can read what else we keep in our camera bag over here.
Where to Stay on Nusa Penida
No matter what your taste for accommodation may be, the huge range of Nusa Penida accommodation is guaranteed to have something which suits you. This island has something for everyone; all ages, trips and budgets. Here are our top picks for a range of budgets to make your life a little easier.
Luxury
– If you are looking for a luxurious Nusa Penida experience, look no further that
Suwehan Cliff Tree House
. By booking this accommodation you will have access to your own private beach, stunning views and breakfast included.
You can book your stay at Suwehan Cliff Tree House right here. 
Mid-Range
– 
Manta Cottage Seaview Plus
will be a great place to rest your head at the end of an adventurous day. Enjoy the pool views or take advantage of the hot spring bath to chill out in the evening.
You can book your stay at Manta Cottage Seaview Plus right here.
Budget
– Spend a cheap and cheerful night at
Agung Pring Homestay
, located on the east side of the island. With a balcony view, private bathroom and air conditioning, you'll have everything you need for your night on Nusa Penida.
You can book your stay at Agung Pring Homestay right here. 
If hostels are more your social cup of tea, Nusa Penida has a huge selection of hostels to choose from. 
Browse and book your hostel stay for this paradise island right here.
So that's a wrap on your 
Instagram Guide to Nusa Penida
. If you are going to Nusa Penida let us know what your planning to do there 
in the comments below
. If you have been to Nusa Penida already, what did you think of it? What sights did you see? Do you have any recommendations that we can add to our itinerary next time? If you enjoyed reading this post, then make sure to 
share it with your family and friends
, that way we can get this awesome guide out to more fellow travellers. We want everyone to see what a magical place Nusa Penida is, and why it should not be missed on any trip to the island of Bali. If you are travelling further around Bali and Indonesia, 
check out the rest of our Indonesia content
 for some inspiration for your next trip. Be sure to catch up with us on 
social media
 to see where we are currently at and please say hello! Tag us in your Nusa Penida pictures so we can share your adventures with the rest of our community.
Also Read:
This article may contain affiliate links that provide us with a small income. For more information read our Affiliate page.
---
Pin it for later!