Scotland is the country we call home and in our opinion, it is one of the most beautiful countries in the world. Now you may call us bias, but rumour has it, we're not the only ones who think so. There are many things that you must do when you visit Scotland to really maximise your trip. We have compiled our must see's and depending on how long you are staying, will depend on how many you can squeeze in.
There is a lot of history to uncover on your trip to Scotland and we include many of the historical sights in this post. We recommend that you stop at some of the cities in Scotland, however, your jaws will really drop when you arrive in the highlands and experience the true raw beauty that Scotland has to explore.
Save this image to your Scotland Pinterest board for later!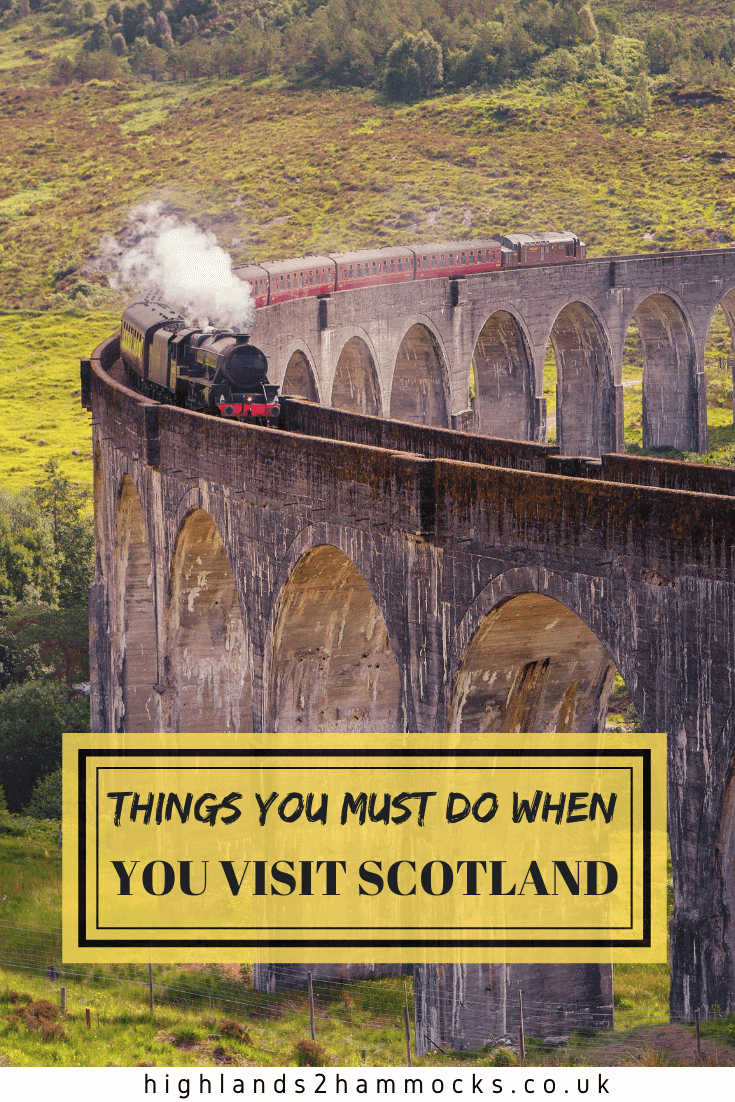 Get planning your ultimate Scotland Road Trip with our 10-day Scotland itinerary to all the best sights!
Things You Must do When You Visit Scotland
Visit the Towering Mountains of Glencoe
One of the most picturesque places in Scotland is the area of Glencoe. Located in the Lochaber Geopark in the Scottish Highlands, Glencoe sits only 2 hours away from one of Scotland's main cities, Glasgow. This makes it one of the most popular scenic glens in Scotland. Glencoe is a great base for hill walking and exploring the Scottish highlands.
The scenery was formed when volcanic explosions and icy glaciers carved out the deep valley and towering mountains many centuries ago.
Take in the beauty of Buachaille Etive Mòr which is a mountain standing at the head of Glen Etive. The steep pyramid shape makes it one of the most recognisable mountains and also one of the most picturesque. This may well be our favourite area in Scotland so make sure you don't miss it.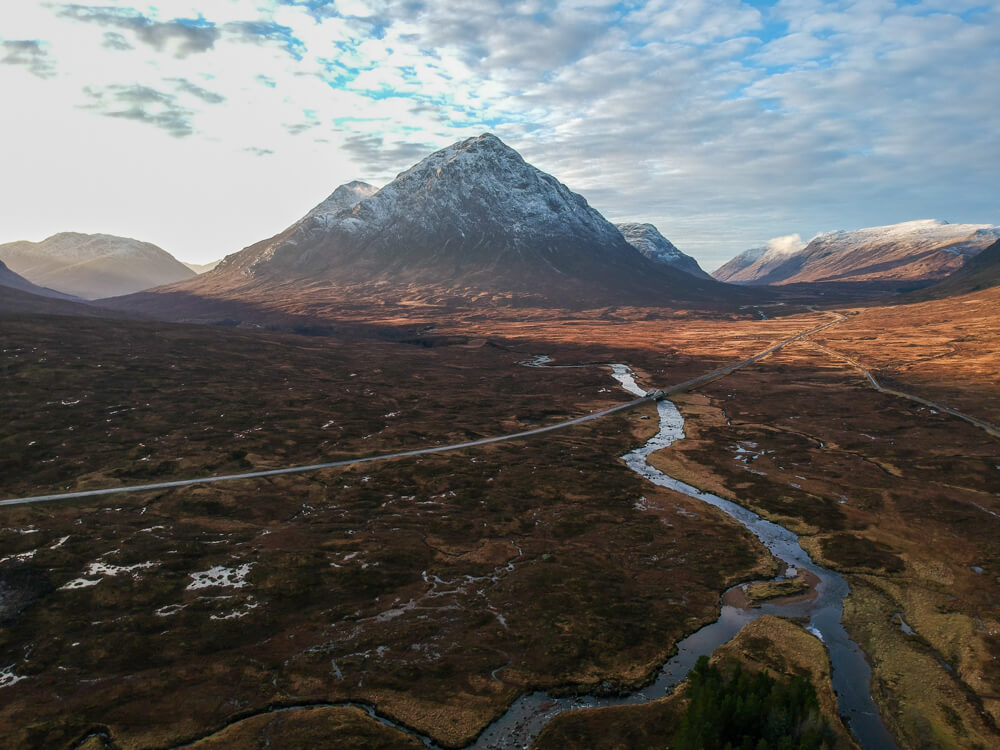 Bag Your First Munro
The name for a Scottish mountain standing taller than 3000ft is a Munro. A popular past time, called "bagging a Munro" means climbing one of these mountains. There are 282 Munros in Scotland, the tallest being Ben Nevis at 4,411ft. We would recommend if this is something you are thinking of doing that you are well prepared and have some experience and knowledge of mountaineering.
There are plenty of Munros situated around the banks of Loch Lomond that are very popular for first-timers, mainly due to their gentle slopes and more predictable weather systems. That being said, climbing mountains in Scotland is never something that should be taken lightly.
The weather in Scotland is so unpredictable and formidable that it is these mountains that are used as training by allied nation armies, and even people climbing Mount Everest. We would recommend heading out on the hills with experienced climbers before attempting a Munro by yourself.
You must always carry a map and a compass and be very experienced in using them. If you would rather hike Ben Nevis with an experienced local guide, you can check out this Ben Nevis Guide for a guided group walk.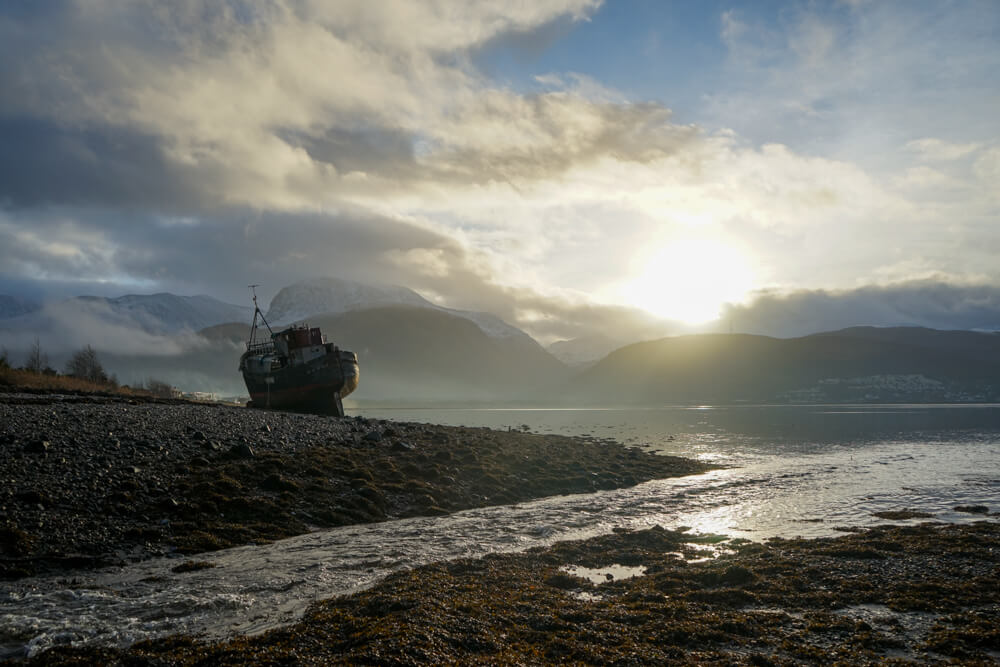 Visit Loch Lomond
Loch Lomond and the Trossachs National Park is one of Scotland's most beautiful parks and it is popular among both tourists and locals throughout the year. The park is located in the heart of Scotland and not far from the main cities of Glasgow or Edinburgh, yet it still feels like a whole other world away from civilisation. Along the banks of this loch, you will find breath-taking views, incredible walks and a route directly into the vast wilderness of the West of Scotland.
Take a road trip through Loch Lomond and explore the stunning picturesque scenery and the many top sights to see in Loch Lomond. You won't be disappointed by this part of Scotland.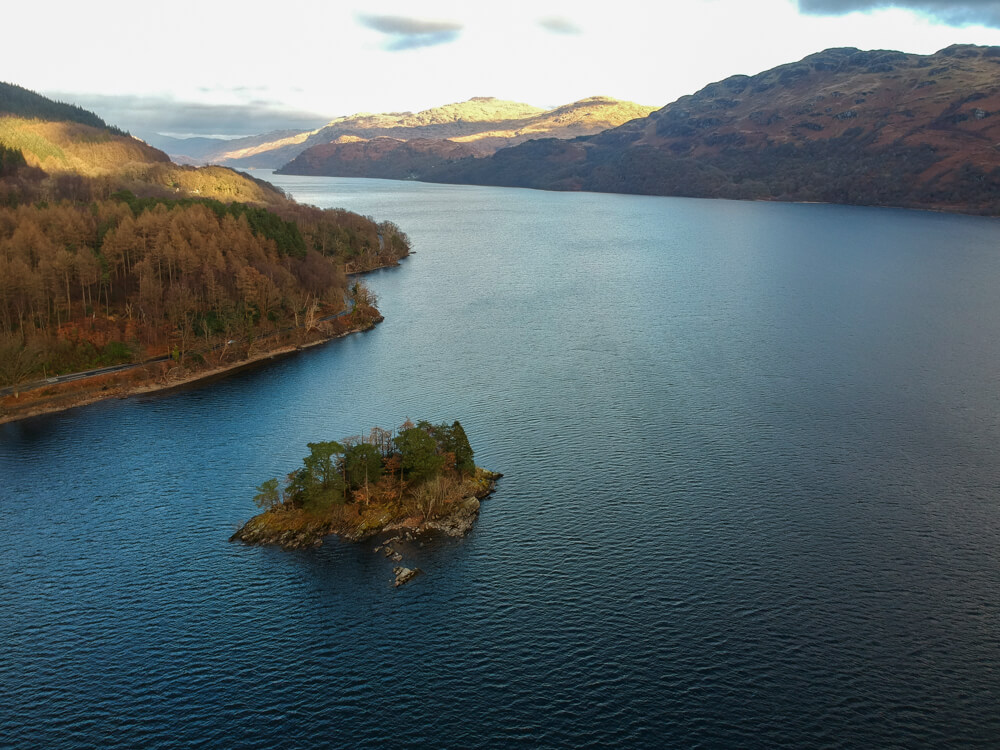 Get Up Close with Wild Deer
One of the main places in Scotland where you will be guaranteed to see wild deer is at the King's House Hotel in Glencoe. The deer come off the hills and roam around the hotel, visiting the tourists that stop by to admire the scenery. It is extremely important that you don't feed the deer, but admire them from a safe distance.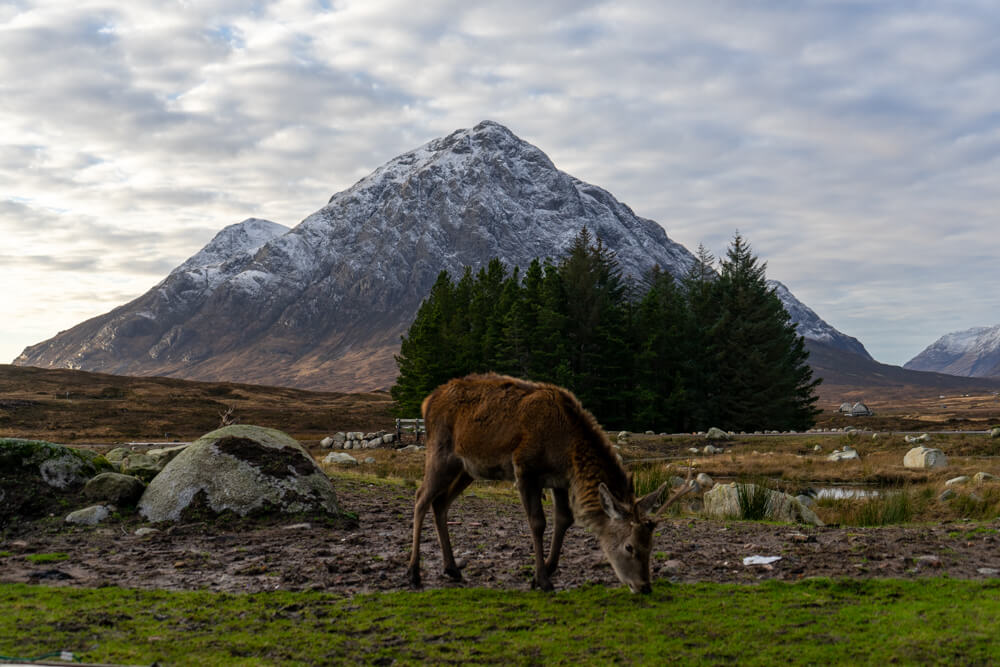 Jump Off a Bridge in the Highlands
One of our most thrilling adventures so far has been our bungee jump at Highland Fling Bungee. The feeling of standing on the edge of a ledge with your feet tied together looking out at the mountains ahead of you is like no other. We have tried both the bungee jump and the highland swing and both are fantastic.
If you want to hear Gemma's phenomenal scream then you can see more in the video below.
You can watch us bungee jump here!
Visit the Castles in Scotland
It was estimated that at one point there around 3,000 castles in Scotland meaning there would have been one for every 28 square kilometres. The Scottish landscape is known for the historic castles that attract many visitors every year to learn about the range of Scottish history.
One of the most popular castles in Scotland is Eilean Donan Castle, which sits on the banks of Loch Eilean. This stunning castle once guarded the highlands against invasion by Vikings, and is now used as a tourist centre and a wedding venue. This is one of our favourite places to go stand-up paddleboarding in Scotland, with the beautiful surrounding mountains and castle backdrop.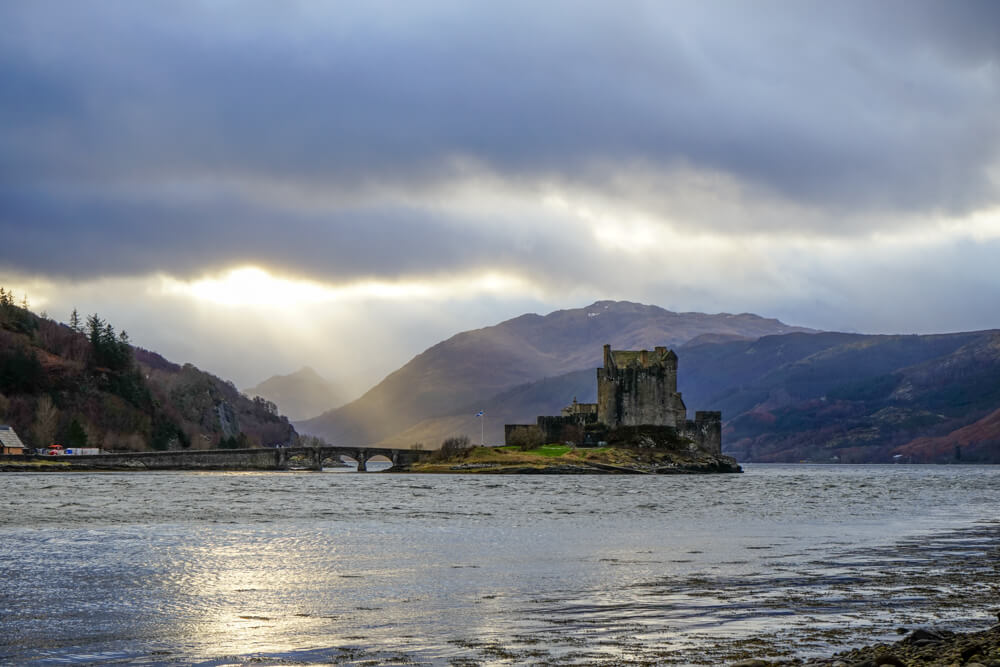 Eat Traditional Scottish Food
When you think of Scottish foods, what do you think of first? For many, it will be the well-known haggis neeps and tatties. Now, as awful as it might sound, this dish is actually very tasty and if you're vegetarian like we are now, then you can opt for the veggie haggis option which is just as amazing! Another classic Scottish food is the square sausage, a delicious square on the side of a fried breakfast.
Rumour has it there is now veggie square sausage options on the go now too!
Ride the Harry Potter Steam Train
The Fort William to Mallaig steam train crosses one of the most popular bridges in the world, the Glenfinnan Viaduct. This 84-mile trip is one of the most stunning routes in Scotland taking you through Scotlands most incredible scenery.
The Glenfinnan Viaduct was made famous in the Harry Potter movies and is visited by many every year. You can either choose to take the train journey or park at the Glenfinnan Viaduct and snap a photo of the train steaming past there.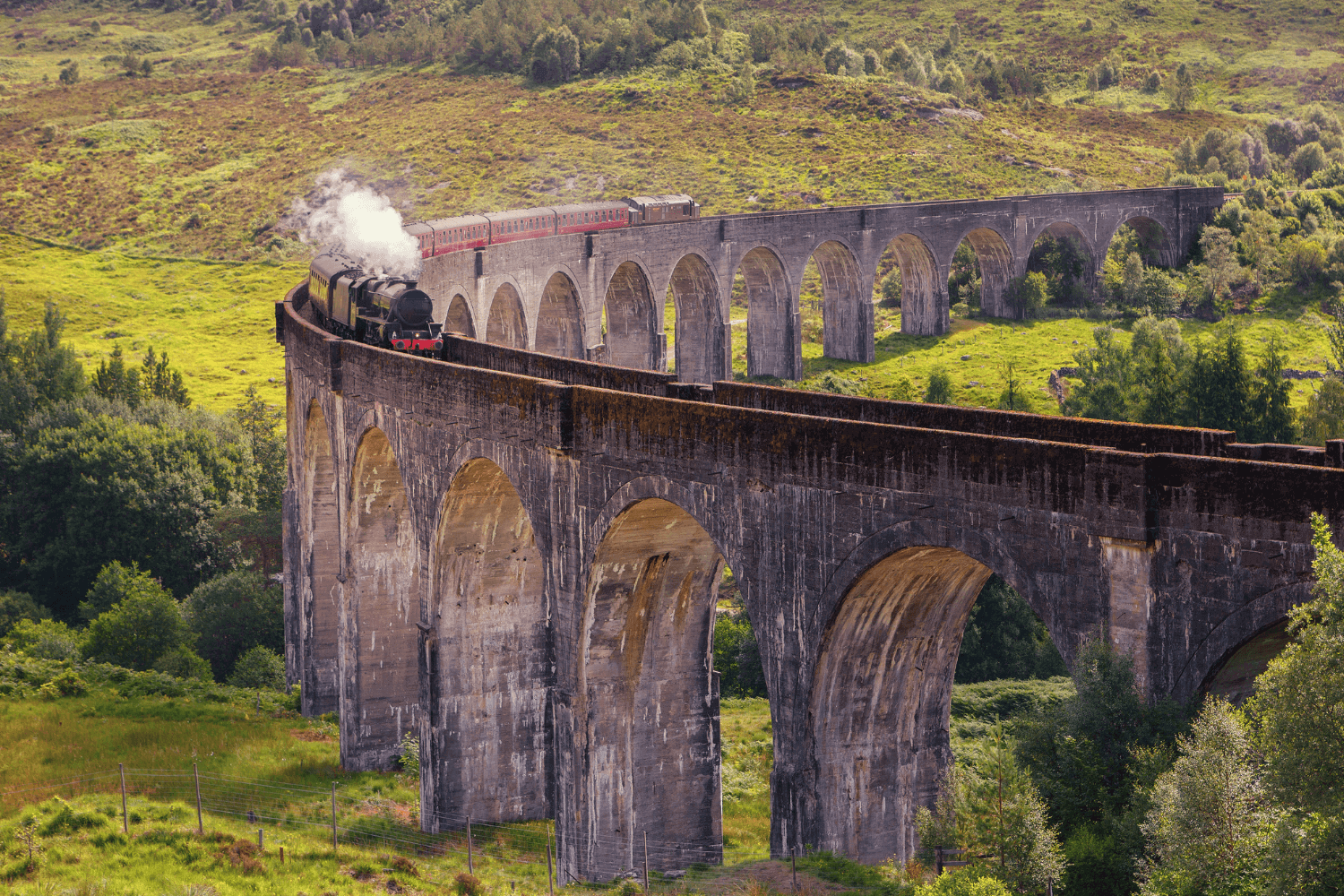 See a Highland Cow
The highland cow is an instantly recognisable animal which we associate with Scotland. Despite it's scary looking horns, the highland cow is actually renowned for being very friendly. You will come across these photogenic animals on all of the touristy postcards and gift shops in Scotland.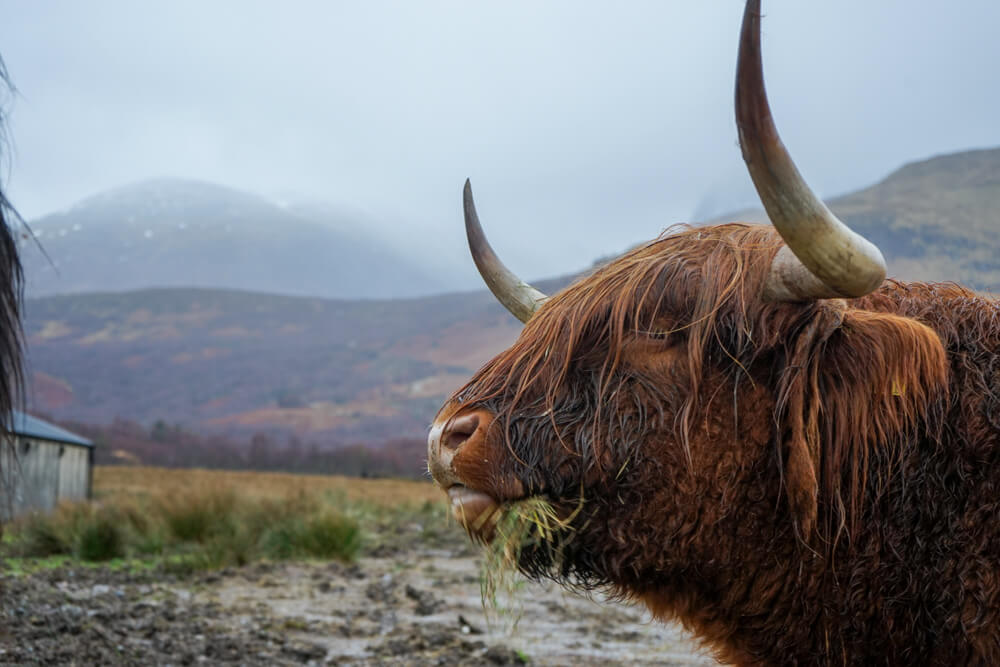 Go to the World's Biggest Comedy Festival
The Edinburgh Fringe Festival occurs once a year in Scotland's capital, Edinburgh. If you are into comedy and live events, then this will be right up your street. During the month of August every year, comedians from all over the world gather and perform in Edinburgh to the thousands of tourists that come to the city for this event.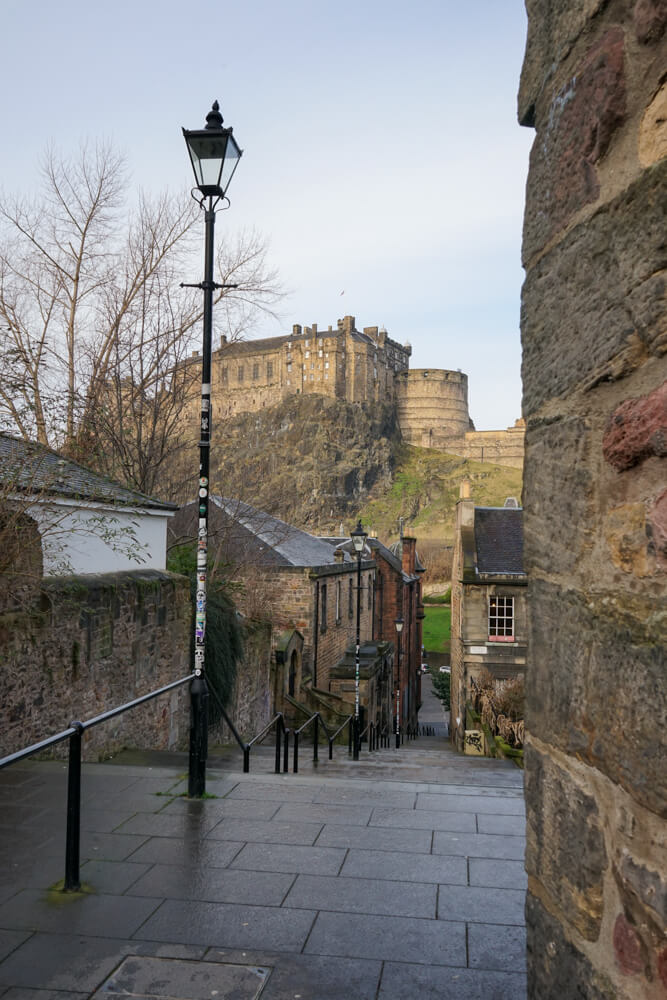 Edinburgh's Hogmanay Street Party
Is there a better way to bring in the new year than with a party in Scotland's capital city? The Edinburgh Hogmanay Street Party involves live music, traditional ceilidh dancing and a torchlight procession. No country celebrates the New Year as much as we do in Scotland, as for over 400 years this a bigger celebration than Christmas.
In the 16th century, Christmas was banned by the Scottish Parliament and didn't become a public holiday again until 1958. This has since resulted in Hogmanay becoming one of the best and biggest celebrations in the world. The Edinburgh Hogmanay Street Party is a really fun way to celebrate the start of a new year.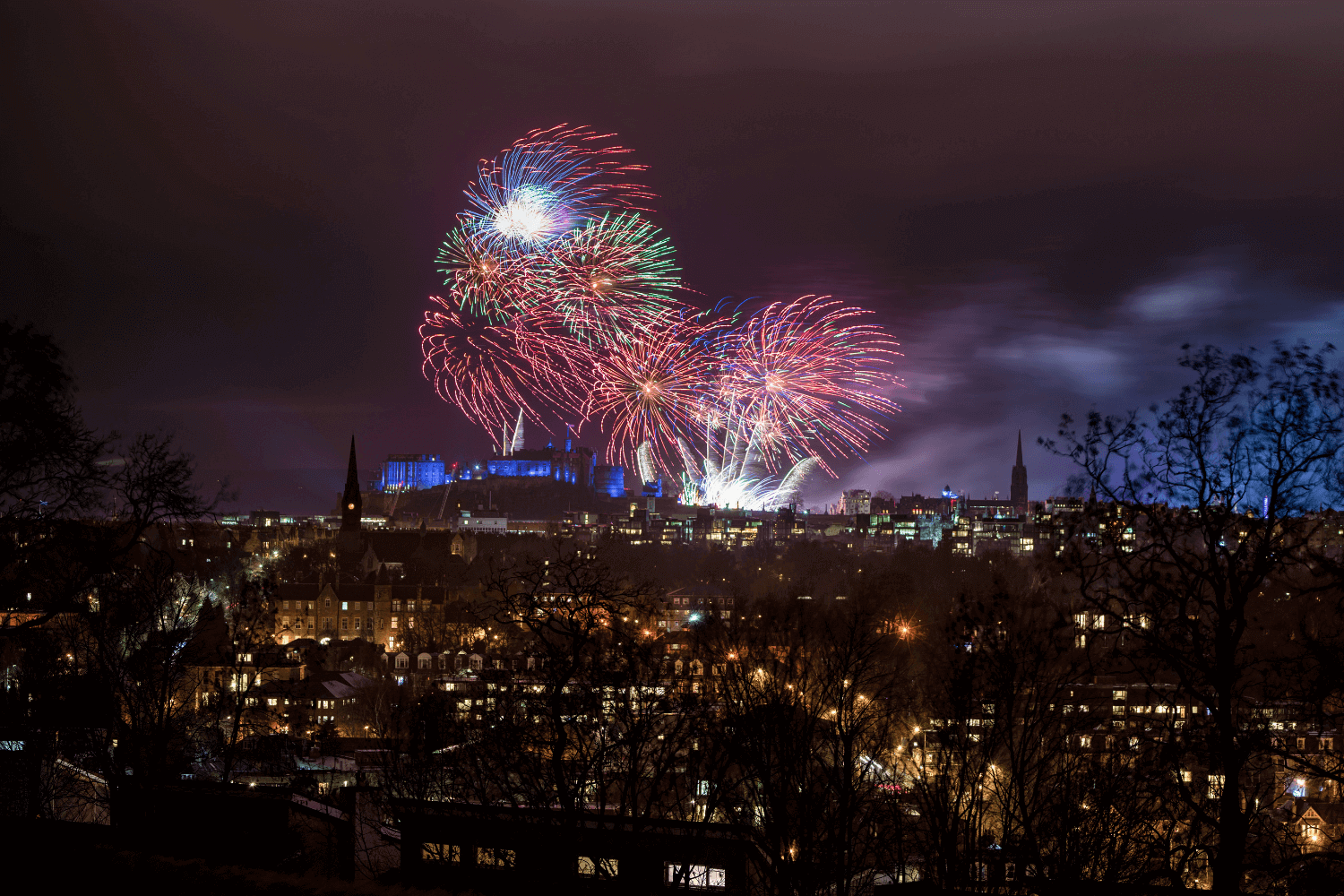 Whisky Tasting in Scotland
When people think of Scotland, they think of three things: beautiful mountains, friendly locals, and the world-famous drink, whisky. No trip to the bonnie highlands of Scotland is complete without a day spent tasting the different types of whisky from across Scotland.
We have personally visited a couple of different distilleries, from the Ben Nevis distillery in the highlands of Scotland to the Clydeside Distillery in Glasgow City Centre. Whether you plan on going whisky tasting on beautiful Islay or are travelling further north on the mainland of Scotland, a visit to Scotland historical distilleries will not disappoint.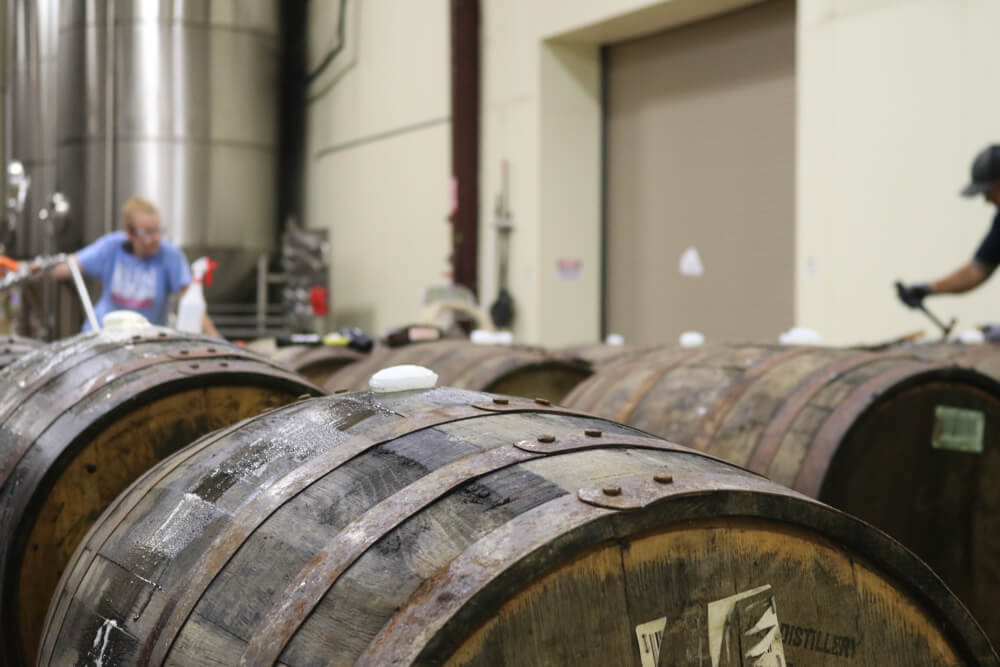 Go to a Traditional Scottish Dance
One of our favourite pieces of Scottish culture is definitely attending a ceilidh dance for a celebration. A ceilidh is a traditional celebration that Celtic music and dancing, usually accompanied by the attendees wearing traditional clothing and eating traditional foods.
Ceilidhs usually happen on the lead up to the festive period and at the end of January to mark Rabbie Burns day, who was a famous Scottish poet. If you are visiting Scotland during the winter we highly recommend looking out for a ceilidh event. Even if you have never been before, the dances are easy, the people welcoming, and the night is sure to be unforgettable.
Visit the Capital City of Edinburgh
By far Scotland's most popular place to visit is the ancient city of Edinburgh, and for very good reason. The capital city is simply dripping with beauty, from the towering view of the Edinburgh Castle to the cobbled streets of the Royal Mile. There is no doubt that Edinburgh is the most picturesque city in Edinburgh.
Upon arrival into the capital city, you will be spoiled for choice on where you should visit first. If you are only spending one day in Edinburgh, then the top sights that you cannot miss out on include a stroll along the Royal Mile, a tour of Edinburgh Castle, a visit to Scotland's most photographed street (pictured below), and a sunset view of the city from Calton Hill.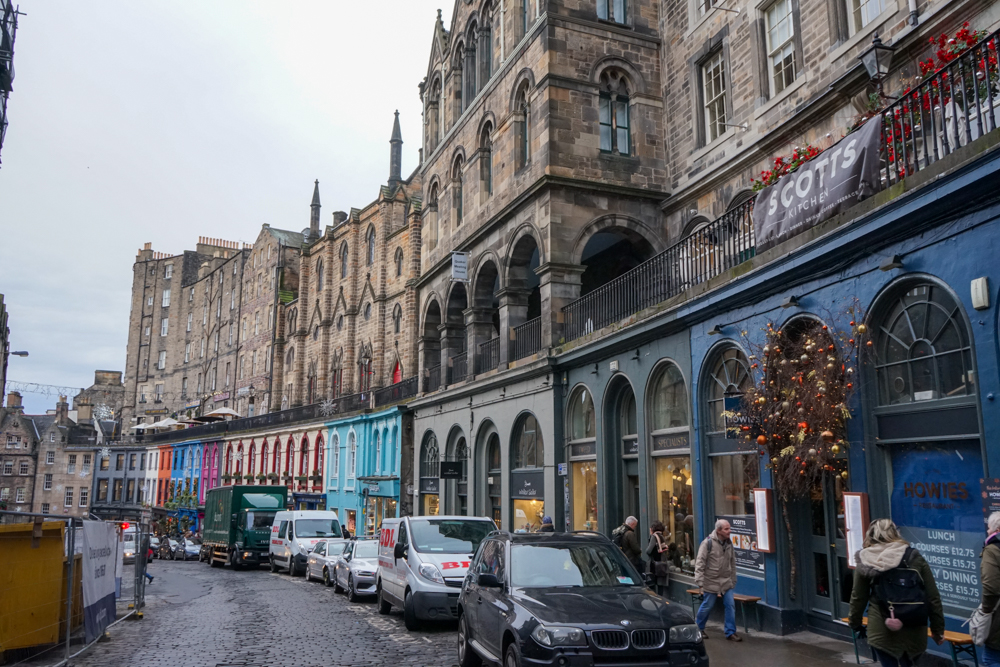 See it all on a Scottish Roadtrip
With so much to see and do in Scotland, trying to fit it all onto one visit is simply an impossible task. The best way to maximise your visit to Scotland is definitely by touring the country on an epic Scotland road trip, mixing the buzzing cities with tranquil glens.
We recommend hiring either a car or a campervan upon your arrival into Scotland and touring the country for at least 10 days in order to see everything it has to offer. If you are planning a trip to Scotland then we highly recommend you follow our 10-day Itinerary to Scotland for all of the best sights that you cannot miss, including the cities of Glasgow and Edinburgh, the misty island of the Isle of Skye, and the stunning views along Loch Ness.
For more details of how to get around Scotland and where to rent your vehicle from, either continue to read this article or read our 10-day Scotland itinerary here.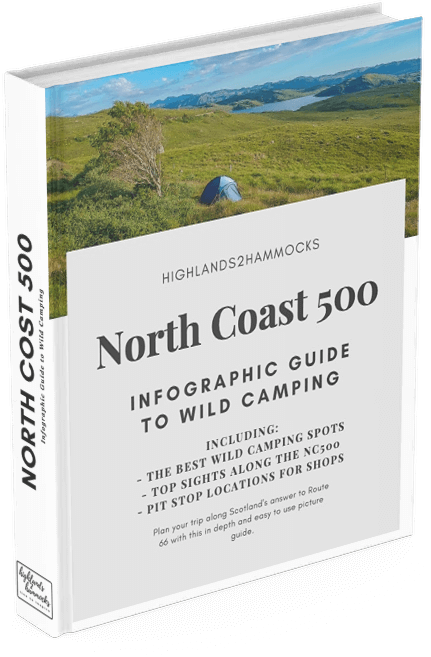 Download an easy to use, NC500 map and North Coast 500 Itinerary right here. Complete with pictures, stopping points and highlights along the way, this guide is a must-have for your next trip!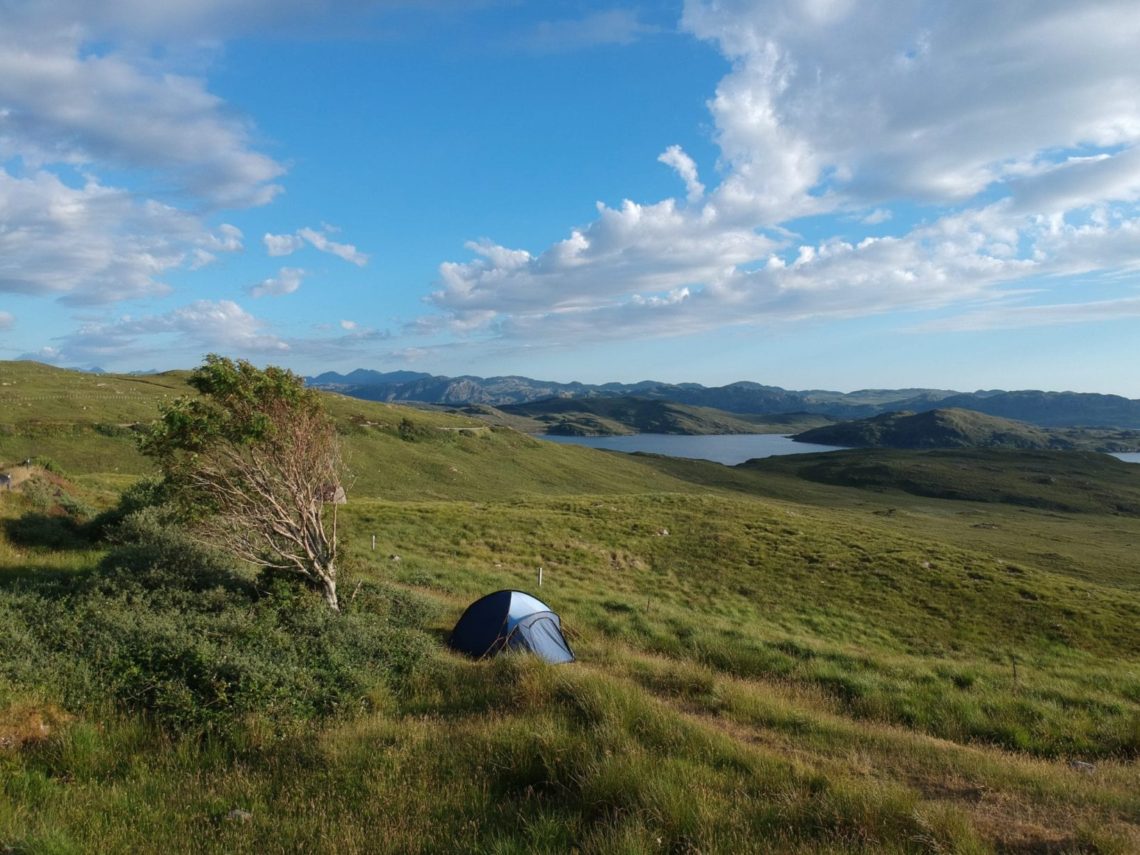 Before You Leave for Scotland
Before you head off on your trip around Scotland, there are certain things you will need to get organised to ensure a smooth trip. These include how to get around the route, including being aware of single track roads, etc., what to pack for Scotland, where to stay along the route and what travel insurance to book.
How Do I Get Around?
Given the remote locations of the majority of the best sights in Scotland, the best way to get around this road trip is by driving. There are of course other methods that are still popular, such as cycling and hiking, however, if you have a short amount of time on the route, neither of these are very suitable.
As for public transport, this will be very time consuming and difficult way of travelling around Scotland. However, with the increasing problem of congestion in some parts of Scotland, this is a good option to research if you have time.
If you are looking to rent a cosy, reliable and luxurious campervan for your trip around Scotland, we highly recommend hiring through Bunk Campers. We toured with these guys around the Heart 200 road trip in Scotland's central highlands and could not believe the comfort and customer service we experienced with their vans.
Browse the full range of vehicles on offer at Bunk Campers over here.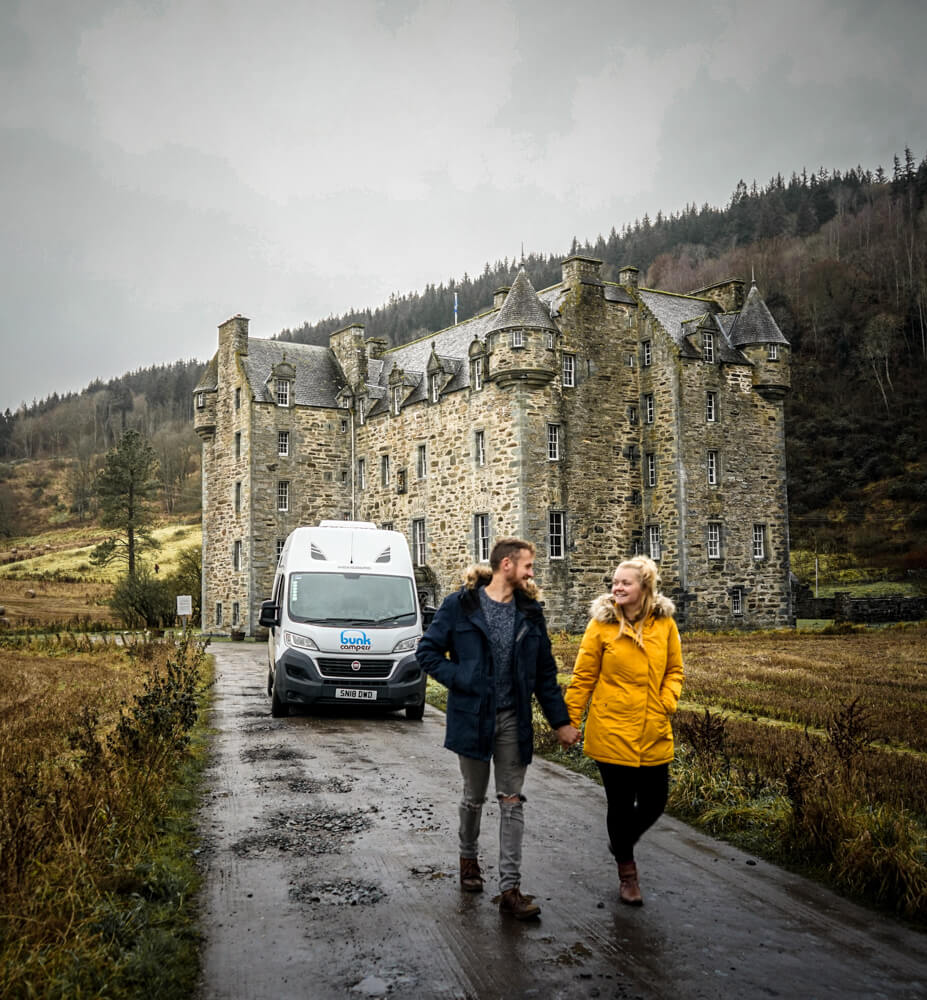 What Should I Pack for Scotland?
When it comes to packing for a trip to Scotland there is one item of clothing that you are going to need all year round: a waterproof. It rains in Scotland on average 250 days a year, meaning that during your trip to Scotland you will probably experience at least a drizzle of rain. Due to this, the number one item on any Scotland packing list is a good waterproof jacket.
As for the rest of the year, the temperature in Scotland and the central heartlands is reasonably mild for most of the year. During the winter months, you will most likely experience snow, however, temperatures usually sit around freezing, so it is not too cold. For your reference, the average temperatures in Scotland are listed below during each season.
Spring (March, April, May) – 5-10 degrees C
Summer (June, July, August) – 15 degrees C
Autumn (September, October, November) – 5-10 degrees C
Winter (December, January, February) – 0-5 degrees C
As you can see, the weather never really gets above the teens, with anything over 25 degrees C considered a heatwave. The best way to pack for your trip to the highlands is with layers that can be added and removed as you need them. You will definitely need a hat and gloves during the colder months and will most likely need sunscreen to protect you on the long days in the open.
For our full list of items that we pack no matter where we go in the world, check out our full packing guides over here.
Given the beautiful sights and scenery that you are no doubt going to see around Scotland, we highly recommend packing a good camera for your trip. If you want to read more about the cameras we use and why we love them, check out the link below.
You can read what else we keep in our camera bag over here.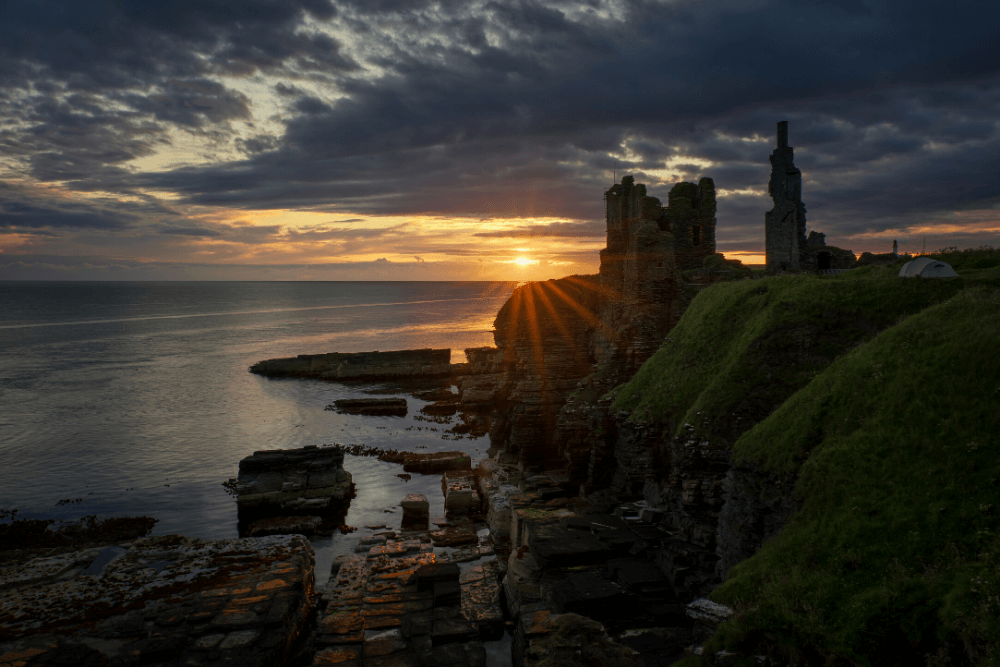 What is the Best Travel Insurance?
No matter what type of adventure you are heading on, whether it is a mountain adventure or a relaxing beach destination, one thing we all need to be aware of is that accidents can happen. The last thing you want is for an unexpected medical emergency to ruin your trip of a lifetime. Luckily, that is what travel insurance is for.
Whenever we travel abroad, we get covered with World Nomad's Travel Insurance, a reliable, friendly and extremely affordable method of covering yourself on any adventure. With years of experience working for backpackers around the globe, the service they provide is perfect for whatever type of trip you have planned.
Get covered for your next trip and get a quote from World Nomad's right here.
So there you have it, your list of things you must do when you visit Scotland. If you have visited Scotland recently, let us know what you thought of the sights listed above, or if you have any suggestions let us know in the comments below.
As always, sharing is caring so make sure to share this photo guide with your family and friends and inspire them to head off on their own Scottish adventure. If you are planning the trip for yourself, make sure you have a look at the rest of our Scotland content for more inspiration to our beautiful home country.
When you set off on your own adventure, be sure to tag us in your photos on Instagram and we will share them with the rest of our community. In the meantime, why not follow us over there to see what we are currently up to and keep up with us on our Instagram Stories.
Now Read:
This article may contain affiliate links that provide us with a small income. For more information read our Affiliate page.
---
Pin this image to your Scotland Pinterest board for later