Just off the coast of mainland Bali sits the fascinating island of Nusa Penida. Of all of the places you can visit in Bali and the other surrounding Indonesian islands, Nusa Penida is perhaps the most heavily populated area with jaw-dropping sights and stunning beaches.
All in all, Nusa Penida is basically an adventurer's playground, full to the brim with beauty and spectacle. Crystal blue water, towering cliff points, crashing waterfalls, tranquil water pools, all of this (and more) awaits you on your own Nusa Penida day trip, so what are you waiting for?!
This is your complete Nusa Penida Day Trip guide, including all of the best sights that you can see in a day, as well as information on how to get around the island and where is the best location to stay.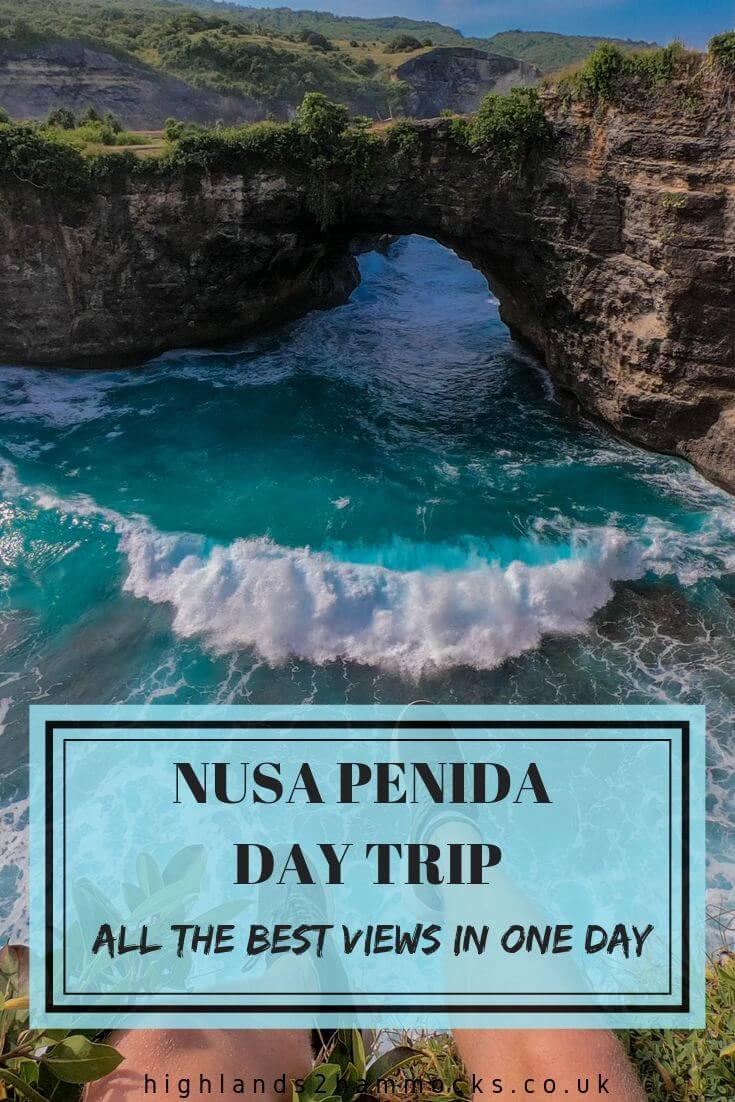 Listed below are all of the sights that we will visit on your big Nusa Penida day trip, each of which will be discussed in greater detail later in the guide.
Angel's Billabong
Broken Beach
Kelingking Beach
Rumah Pohon Tree House
Thousand Island View Point
Diamond Beach
Nusa Penida Day Trip – All the Best Views in One Day
Although it is possible to see a lot of Nusa Penida's most stunning sights in a one day trip from the mainland, we highly recommend spending three days on this island: one full day and two half-days for travel. This means you can get up early and get a headstart on the rest of the travellers coming across from the mainland. It is a busy, busy island, so those extra hours are crucial.
In this guide, we will go on the assumption that you have arrived the day before your day out and plan on leaving the day after. However, this guide can still be used if you are only on Nusa Penida for one day, you will just have to limit the amount of time you spend at each point.
Nusa Penida is just one of the islands off the eastern coast of Bali, with the others being Nusa Lembongan and Nusa Ceningan. All three islands have spectacular sights and activities, however, Nusa Penida is widely agreed to be the most beautiful of all.
Also Read – Nusa Penida Instagram Spots – The Best Photo Locations in Nusa Penida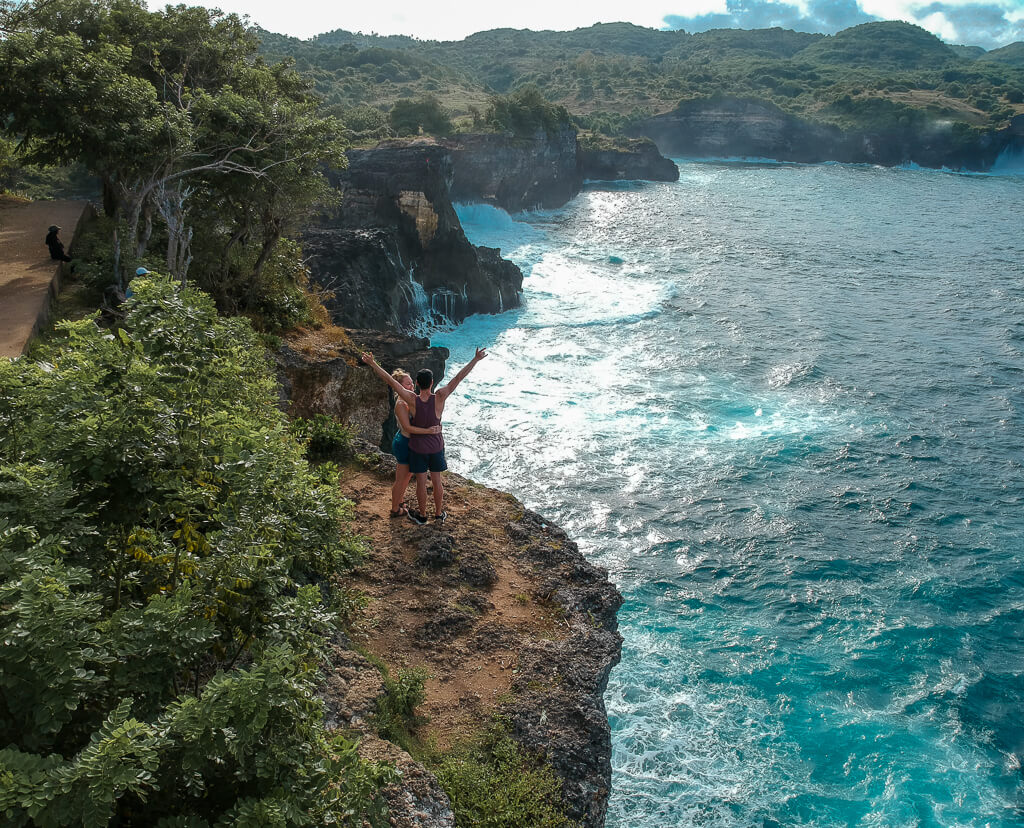 Nusa Penida Day Trip Itinerary
The day begins with an early wake-up call for sunrise, with your mode of transport waiting to get you on the road. This can either be a hired driver or a rented scooter, both of which will be discussed later under "Getting Around Nusa Penida"). You will want to make an early start to your day, as once the day ferries arrive around 9am, the island will turn into a festival of travellers swarming the best sights.
Angel's Billabong
Entrance Fee – FREE
Parking Fee – 10k rupiah
The best place to begin your day is at the beautiful, natural infinity pool of Angel's Billabong. This giant rock pool is especially fascinating as at low tide you will be able to jump in for a swim. The way this pool has been formed means that it has a unique infinity pool feature overlooking the ocean.
If you visit at any time apart from low tide, you will, unfortunately, be unable to swim due to the dangerous waves crashing in from the open ocean. Once you visit this spot, you will understand exactly why when you visit and see them for yourself.
The price of entry to Angel's Billabong is FREE, however, there is a parking fee that will cover you for both Angel's Billabong and Broken Beach.
With such a beautiful view at Angel's Billabong, it is easy to spend all morning here watching the waves. However, don't spend too long at this spot as we have many more to go! Come back another day and enjoy the infinite pool for longer.
Read our full guide to Angel's Billabong right here for more details.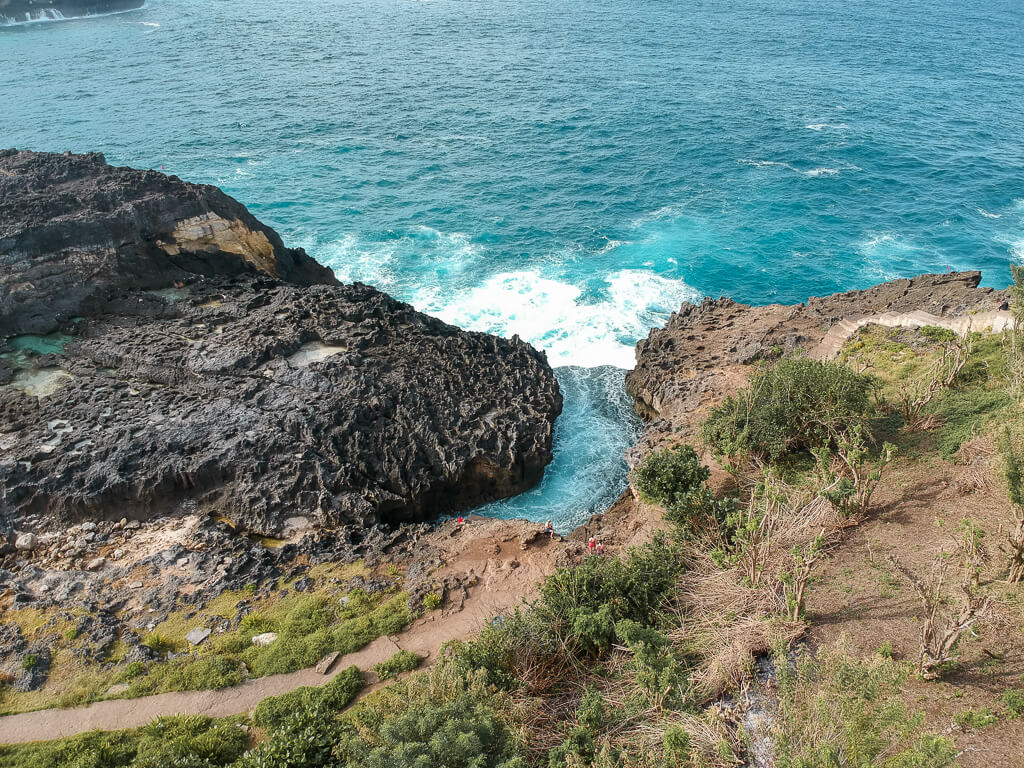 Broken Beach
Entrance Fee – FREE
Parking Fee – 10k rupiah
Just around the corner from Angel's Billabong is the incredibly photogenic spot that is Broken Beach. The parking fee for Broken Beach is included in Angel's Billabong, so you do not have to pay more. There is not much to do at this spot other than admiring the raw power of the waves and take a few gorgeous photos.
Broken beach is a circular cliff with a collapsing archway leading to the sea. Over the years, the immense power of the ocean has eroded the soft limestone rocks and have created this incredible closed beach area. It is not accesible (and you will see why), however, there are different viewpoints all around its 200m circumference, as well as some more hidden views over the sea.
When you arrive at the cliff of Broken Beach, we recommend turning left and walking around counter-clockwise. Do not walk over the collapsing archway, as this is incredibly fragile and is expected to collapse any day. As you make your way around the circle, there are plenty of stalls and warungs selling food and drink on your left, however, due to the high popularity of this are these are quite overpriced.
Just before you reach the archway you will see a small path to your left. Follow this towards the ocean and you will find a secret viewpoint looking at the other side of the archway to Broken Beach. This is a beautiful spot to watch the waves rolling into the bay.
Read our full guide to Broken Beach right here for more information.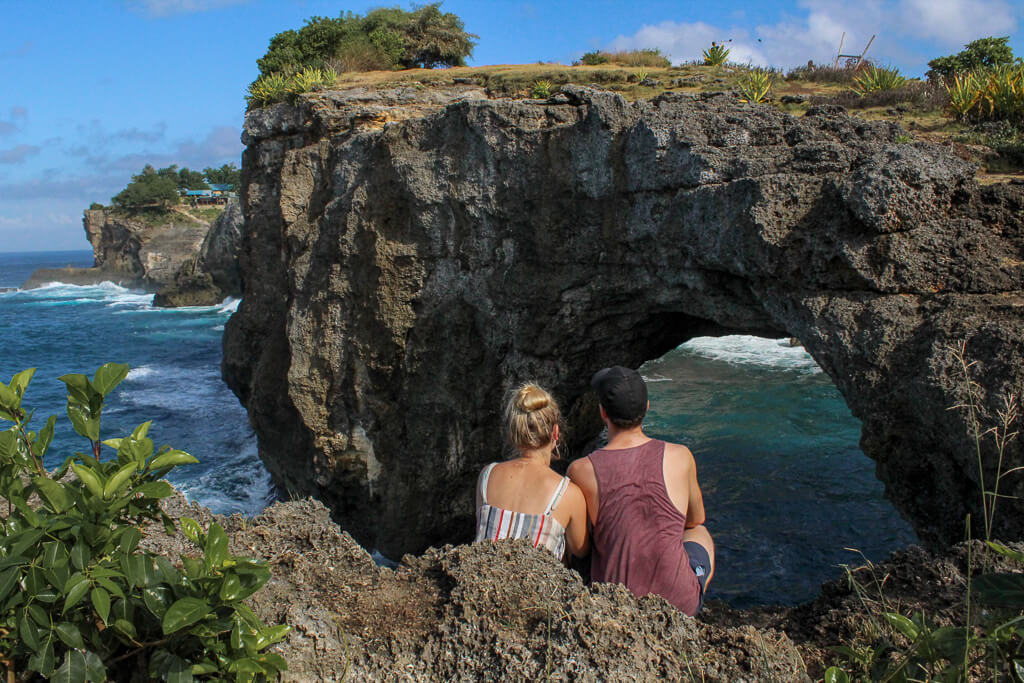 Kelingking Beach
Admission Fee – 10k rupiah
Parking Fee – 5k rupiah
One of Bali's most famous scenic lookouts has got to be Kelingking Beach, more commonly known as the T-Rex Head Rock. This incredible cliff drop lookout has views high over the white sands and crashing waves of Kelingking Beach, giving the perfect view and photo opportunity to capture the natural rock formations below.
Due to the popularity of this spot, by the time you get here, it will no doubt be overrun by other travellers, all clammering for the perfect phot spot. There are many spots around the cliff that will deliver a stunning photo of the cliffs below, however, despite this you will still see people climbing barriers to get a unique shot of this area. DO NOT DO THIS. It is a long way down and a "pic for the gram" is not worth your life.
Instead, walk away from the stairs down to the beach and take a left along the cliff so that the water is on your left. Follow the dirt path away from the lookout and eventually, you will reach an area that has a better angle for a photo and no barriers to jump. It will also be less crowded and more relaxing.
You can walk down to the Kelingking Beach itself and enjoy the stunning views from beneath the T-Rex Head rock, however, be warned that this is a long slog down (and even longer back up). If you fancy spending an entire day at this spot, then we definitely recommend stocking up on food and water and making this climb. However, for this day trip, it is time to head on to the next spot.
 

View this post on Instagram

 
Rumah Pohen Treehouse
Admission Fee  – 10k rupiah
A treehouse sitting high up on the cliff edge, overlooking the crashing waves and crystal blue waters below may sound like it is straight out of a fairytale, however, this is exactly what awaits you at the Rumah Pohan treehouse. This fascinating place is actually a very eccentric Airbnb apartment, available to rent from the website (if you are happy to book months in advance, as it books out very often).
Lucky for you, you do not need to be staying in this treehouse to visit, snap a few pics and admire the stunning views al around the place. Admission to both the treehouse and the other sight, the Thousand Island Viewpoint is 10k IDR, which will give you access to the cliff edge that this treehouse sits on.
In addition to this stunning place, there are plenty of other incredible views and photo spots that you can check out in your own time. To get to the treehouse, all you need to do is follow the path down the many stairs that lead down the cliff until you see the iconic spot on your left.
Take your time here and enjoy the views along the route as there is nothing quite like them.
 

View this post on Instagram

 
Thousand Islands Viewpoint
Admission Fee  – 10k rupiah
As discussed earlier, the entry to this lookout is included in that of the Rumah Pohan Treehouse. To find this viewpoint, simply head back towards the car park from the treehouse and roughly halfway you will see a dead-end path to your right. Walk along this and you will find the breathtaking view of the Thousand Islands below.
This viewpoint gets its name from the incredible number of sea stacks below. The colour of the water and the size of the waves below will leave you mesmorised, so stop here and admire the view for a little while before it is time to hit the road again. We have one more spot to visit for sunset!
 

View this post on Instagram

 
Diamond Beach
Admission fee – 10k rupiah
Parking fee – 5k rupiah
The final stop of the day is perhaps the most beautiful spot on the island of Nusa Penida, Diamond Beach. This stunning cliffside beach features the same turquoise blue waters as the rest of Nusa Penida, with the addition of stunning sea stacks just off the shore, giving this beach an outer-worldly feel to it.
Admission to this beach and the surrounding cliff views is 10k IDR, with a further 5k IDR for a parking space, and is absolutely worth it. As the last stop of the day, you can afford to relax a little more and enjoy the stunning views of the surrounding area.
The cliffside staircase to Diamond beach is our favourite photo spot, showing the magnificent sea and rock features below, however, make sure you visit the beach itself for an even more stunning view of the ocean. This staircase has only been recently carved into the side of the mountain, so make the most of it and enjoy the beach below.
Be careful if you do decide to visit the beach itself, the waves on Nusa Penida are strong and very dangerous, with rip-currents pulling strongly from the beach back into the sea.
Stay here for sunset and marvel at the incredible pink sky of Bali. As sunset spots in Bali go, this is one of our favourites.
 

View this post on Instagram

 
How to Get to Nusa Penida
Getting to the island of Nusa Penida is relatively straight forward, mainly due to the huge range of options available. There is a choice between the cheapest option, the fastest option or the overall easiest option. All three are discussed in more detail below.
On your return from Nusa Penida, make sure you discuss your ferry needs with your hotel, who will be able to get your ticket cheaper than if you show up and try to buy in person. On the day boat purchases (without help from a local) can cost up to twice as much as it should do, simply because you are in a situation where you can't say no.
Day Trip Tours to Nusa Penida
The easiest way to enjoy your time on Nusa Penida is by joining a day trip tour to the island, which will include transport to the ferry, the ferry itself, a tour guide around the island all day and then return transport back to your hotel in Bali. This is most suitable if you are short on time and do not want to spend a couple of days on the island of Nusa Penida, however, it will not give you much freedom and you will have to follow the crowds everywhere.
You can browse the full list of Nusa Penida day trips right here.
Fast Boat to Nusa Penida
Fast Boat from Bali (Sanur) to Nusa Penida
The Nusa Penida fast boat from Sanur to Nusa Penida takes roughly 45 minutes and will cost around £8 for a one way ticket. We can recommend travelling with El Nido ferry company. The boat is fast and comfortable, with everything you need for a short crossing.
Fast Boat from Bali (Padangbai) to Nusa Penida
Fast Boat from Padangbai to Nusa Penia takes around an hour and is the quickest way to get to Nusa Penida if you are travelling from Ubud.
Public Boat to Nusa Penida
Public Boast from Padangbai to Nusa Penida
If you are not in a rush, then this is the cheapest way to get from mainland Bali to Nusa Penida. The public boats of Bali tend to run once or twice a day, at varying times. For as little as £2, you can get yourself a spot on the boat to Nusa Penida, which leaves Padangbai once the boat is full.
Public Boat from Bali (Sanur) to Nusa Penida
There is no longer a public boat service running between Sanur and Nusa Penida. If you would rather travel on the public boat you will need to begin your journey from Padangbai.
Nusa Lembongan to Nusa Penida
When you arrive at the ferry port by the yellow bridge in Nusa Lembongan, you will be hounded by locals asking to you to travel with their ferry company. The public boat is your cheapest option costing 30k rp per person.
Some people will try to tell you that this is the slow boat, however, it only took around 20 minutes port to port and was well worth the money.
Gili Islands to Nusa Penida
There are three fast ferry companies that travel from Gilli Trawangan to Nusa Penida. Each company only sails this route once a day so we would recommend not leaving it till the last minute to book. You can catch the ferry from the harbour where you arrive on Gili Trawangan.
Getting Around Nusa Penida
There is no public transport in Nusa Penida, the same as in Bali. There are also no Grab or GoJek cars on the island, so you have a few options to choose from when it comes to getting around this island. The easiest and cheapest option is by scooter, however the roads are very dangerous so if you are not experienced on a bike a taxi is your safest option.
Read all about getting around Bali and Nusa Penida in our Full Guide to Living in Bali.
Buy a Nusa Penida Tour Package
There are plenty of tours available on Nusa Penida that will take you to all of your chosen sights. The length of the tour will vary however we would recommend going for a full 8 hour day tour. This will cost more than renting a scooter however if you are not confident on the scooter, we would suggest that this is your best option.
Book your own Nusa Penida adventure right here.
Before You Go to Nusa Penida
Before you head to Nusa Penida there are a few things you will need to get organised to ensure a smooth and enjoyable journey. These include booking accommodation, sorting out travel insurance and deciding what to pack. All of this is discussed below!
How to Get an Indonesian Visa
Sorting out a visa for Indonesia is a very straight forward and easy process for all of the countries on the Visa on Arrival list. All you will need to do is turn up at the airport immigration with a valid passport and you will automatically be granted 30 days in the country. You may, however, be asked for proof of onward travel after these 30 days are up, so make sure you have return flights on onward flights sorted.
If you wish to stay in Indonesia for longer than 30 days, there is an option to extend your visa up to 60 days. This can be done by purchasing a Visa on Arrival extension in the airport before you pass through immigration. This costs $35USD and can be purchased at the counter in the arrival hall.
Using this Visa on Arrival extension, you can either extend your stay yourself or you can pay for a Visa Agent to do the hard work for you. We highly recommend the second option as it allows you to spend more time exploring this beautiful country.
Read our full guide to extending your Indonesian Visa for all the information you will need.
What is the Best Travel Insurance for Nusa Penida?
No matter what kind of trip you are leaving on, whether it is an adventure holiday or a relaxing break, travel insurance is our most essential purchase. Accidents can happen anywhere at any time and unexpected medical bills will come home to haunt you. Make sure you are covered on your next trip and remove the stress from your next break.
We highly recommend World Nomad's Travel Insurance for cheap, reliable and easy to use cover on your next trip.
Get a quote for World Nomad's right here.
What Should You Pack for Nusa Penida
Bali is blessed with a tropical climate, meaning it is warm pretty much all year round. There are only two seasons when it comes to Bali: rain season and dry season. Luckily this makes packing for Bali a very easy task, with the only necessities being light clothing and a waterproof.
The southern areas of Bali are subject to extreme heat throughout the year, with midday temperatures reaching 35-40oC. We recommend packing a light waterproof in case of freak downpours and wearing something that covers a lot of your skin, for when you are riding the bike in the strong sunshine. You can then change into a lighter piece of clothing once you are out of the midday sun.
Heat stroke and sunburn are a serious issue in this part of the world, especially during full day tours of this part of Bali. Make sure you pack plenty of water, either bottled or with a filter water bottle, and take regular breaks from the sunshine throughout the day.
We would also recommend that you bring as much sunscreen into Bali as possible, as the prices of it on the island as extortionate. A small bottle of sunscreen will set you back as much as 170k IDR.
Check out our Summer Packing List for Women and Summer Packing List for Men for some clothing inspiration for your trip to paradise.
Don't forget to subscribe and follow our journey on Youtube. 
Given Bali's naturally photogenic landscape, you are going to want to pack a camera for your trip. We never go anywhere without our camera, GoPro and drone.
You can read what else we keep in our camera bag over here.
Also Read – 10 Day Bali Itinerary: The Best Sights for First-Timers Visiting Bali
Where to Stay on Nusa Penida
No matter what your taste for accommodation may be, the huge range of Nusa Penida accommodation is guaranteed to have something which suits you. This island has something for everyone; all ages, trips and budgets. Here are our top picks for a range of budgets to make your life a little easier.
Luxury – If you are looking for a luxurious Nusa Penida experience, look no further that Suwehan Cliff Tree House. By booking this accommodation you will have access to your own private beach, stunning views and breakfast included.
You can book your stay at Suwehan Cliff Tree House right here. 
Mid-Range – Manta Cottage Seaview Plus will be a great place to rest your head at the end of an adventurous day. Enjoy the pool views or take advantage of the hot spring bath to chill out in the evening.
You can book your stay at Manta Cottage Seaview Plus right here.
Budget – Spend a cheap and cheerful night at Agung Pring Homestay, located on the east side of the island. With a balcony view, private bathroom and air conditioning, you'll have everything you need for your night on Nusa Penida.
You can book your stay at Agung Pring Homestay right here. 
If hostels are more your social cup of tea, Nusa Penida has a huge selection of hostels to choose from. Browse and book your hostel stay for this paradise island right here.
So that's a wrap on your complete Nusa Penida Day Trip. If you are going to Nusa Penida let us know what your planning to do there in the comments below. If you have been to Nusa Penida already, what did you think of it? What sights did you see? Do you have any recommendations that we can add to our itinerary next time?
If you enjoyed reading this post, then make sure to share it with your family and friends, that way we can get this awesome guide out to more fellow travellers. We want everyone to see what a magical place Nusa Penida is, and why it should not be missed on any trip to the island of Bali.
If you are travelling further around Bali and Indonesia, check out the rest of our Indonesia content for some inspiration for your next trip. Be sure to catch up with us on social media to see where we are currently at and please say hello! Tag us in your Nusa Penida pictures so we can share your adventures with the rest of our community.
Now Read:
This article may contain affiliate links that provide us with a small income. For more information read our Affiliate page.
---
Pin it for later!