Nusa Penida is an Indonesian island off the south-east coast of Bali and due to Instagram, it is becoming an increasingly popular place to visit. When you are done wth exploring the deep jungles and stunning beaches of mainland Bali, it is time to head over and see this wondrous island for yourself. How could you not want to see the beautiful t-rex rock at Kelingking Beach or the Rumah Pohon Tree House with your own eyes?
In this guide we will be squeezing in some of the best and most famous places in Nusa Penida to your itinerary, as well as discussing costs and accommodation recommendations, guiding you how to get there and how to get around the island. This is your ultimate Nusa Penida itinerary.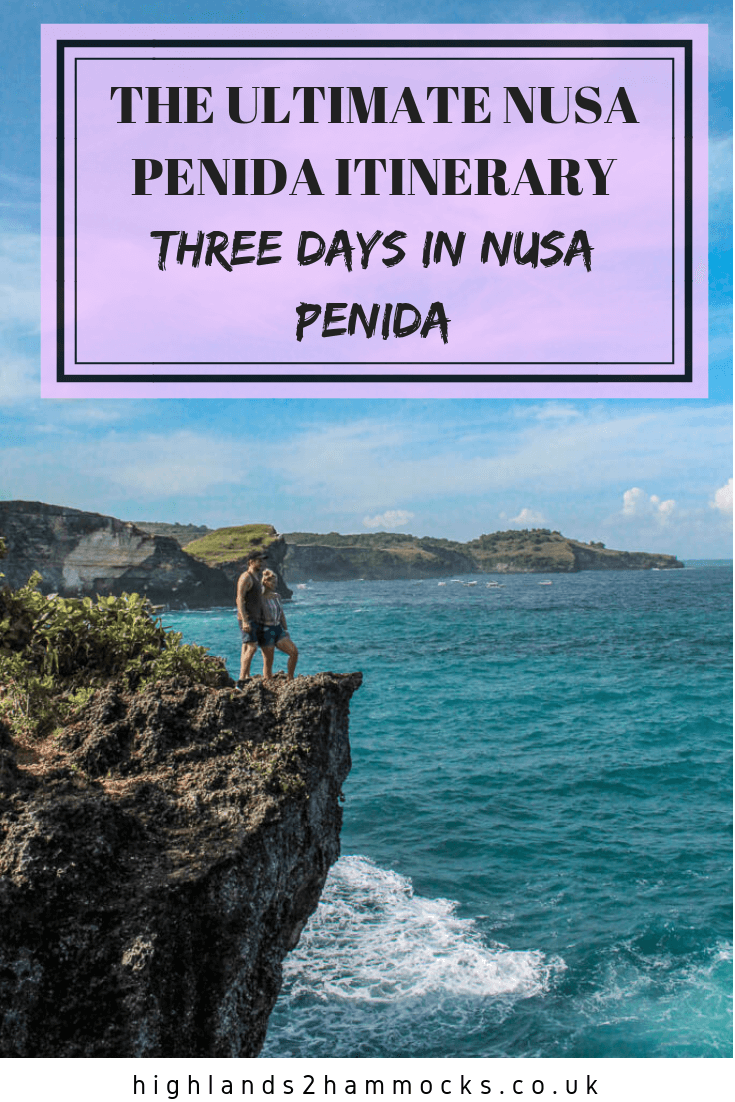 Below is a short summary of all of the days in this Nusa Penida Itinerary. All of these will be discussed in greater detail later in the article.
Day One
Arrive on the island
Stock up for the big day out
Catch your first Nusa Penida sunset
Day Two
Angel's Billabong
Broken Beach
Kelingking Beach
Rumah Pohon Tree House
Thousand Islands View Point
Diamond Beach
Day Three
Scuba diving with Nusa Penida Manta Rays
View this post on Instagram
The Ultimate Nusa Penida Itinerary
Nusa Penida Itinerary
Day One – Arrive onto Nusa Penida
After the bouncy boat ride over to the island, the last thing you will want to do is ride very far on the broken roads of Nusa Penida. The main sights can wait till the morning, when you are fully refreshed and ready for the day ahead.
The first stop of the day is obviously to drop your bags off and get accustomed to the island vibes of Nusa Penida. Take a wander to the local beach and browse the nearby shops. You will want to stock up on snacks for your busy day tomorrow.
Catch your first Nusa Penida sunset and get ready for an early night in bed. It is going to be a busy one tomorrow.
Day Two – Complete Tour of Nusa Penida
With an early start to the day, ideally you want to hit the road before the sun meets the horizon. This way you will get to enjoy the beautiful Bali sunrise over the first stop of the day, Angel's Billabong.
Angel's Billabong
Admission fee (Angel Billabong and Broken Beach) – 10k rupiah
Located on the west coast of Nusa Penida, Angel's Billabong is a spot you do not want to miss. Follow the coastal path from the car park and watch the waves crash against the rocks. By now the sky should start to brighten and the pink hues of the sunrise should begin to illuminate the clouds above.
There are so many beautiful view points on the walk around the coastal path, however push on to the main attraction. Soon you will be met with Angel's Billabong, a natural infinity pool framed by rocks, with the most breathtaking views of the Indian Ocean.
During low tide, it is possible to swim in the pool and admire the views, however during high tide this is very dangerous and it's safer to admire the views from above. The rocks are extremely sharp and jagged and the force of the waves would drag you out to sea. When the tide is high, enjoy sitting on the rocks above and admiring the force of the ocean as the waves sweep into the pool.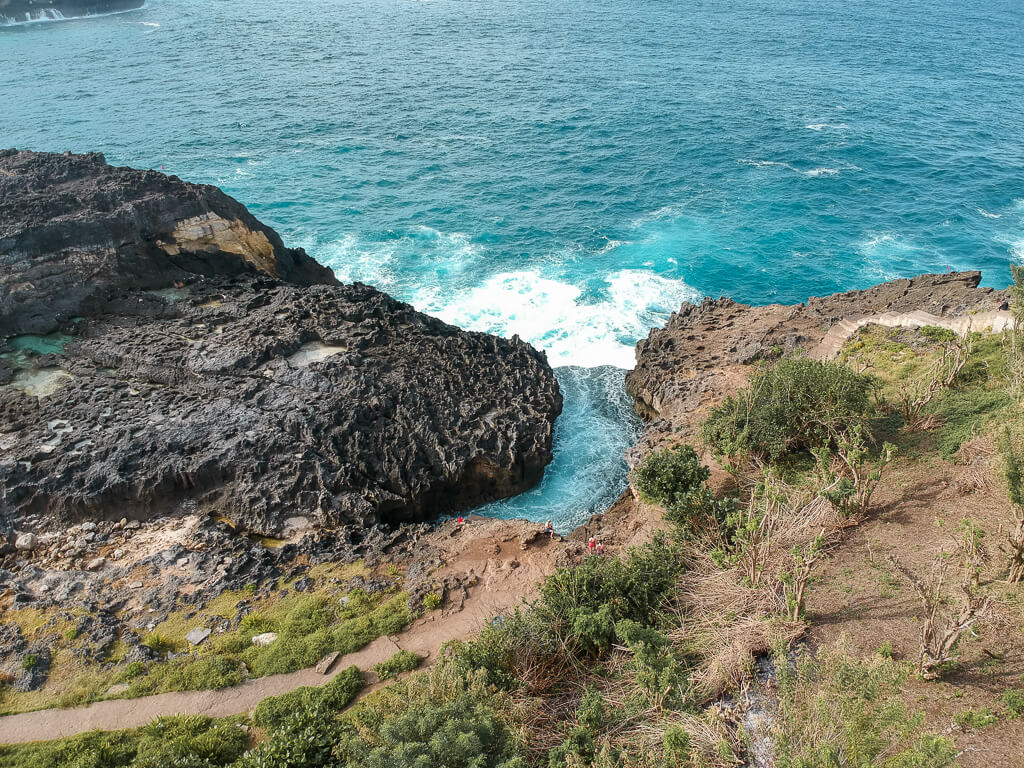 Also Read – Angel's Billabong and Broken Beach – A Complete Guide
Broken Beach
Admission fee (Angel Billabong and Broken Beach) – 10k rupiah
The admission fee for Broken Beach is included in that of Angel's Billabong. Continue on from your first stop, a short walk around the coast from Angel Billabong and you will reach Broken Beach.
A naturally formed bridge of rock creates an entrance into a bay, through which the powerful waves sweep in and out of the beach. This is a really popular photo spot for tours, however if you go just after sunrise you will have it all to yourself.
If you walk around the coast line you will be able to view the arch from many different angles. You may see people walking over the arch, we wouldn't recommend doing this as there is always the chance that this could collapse.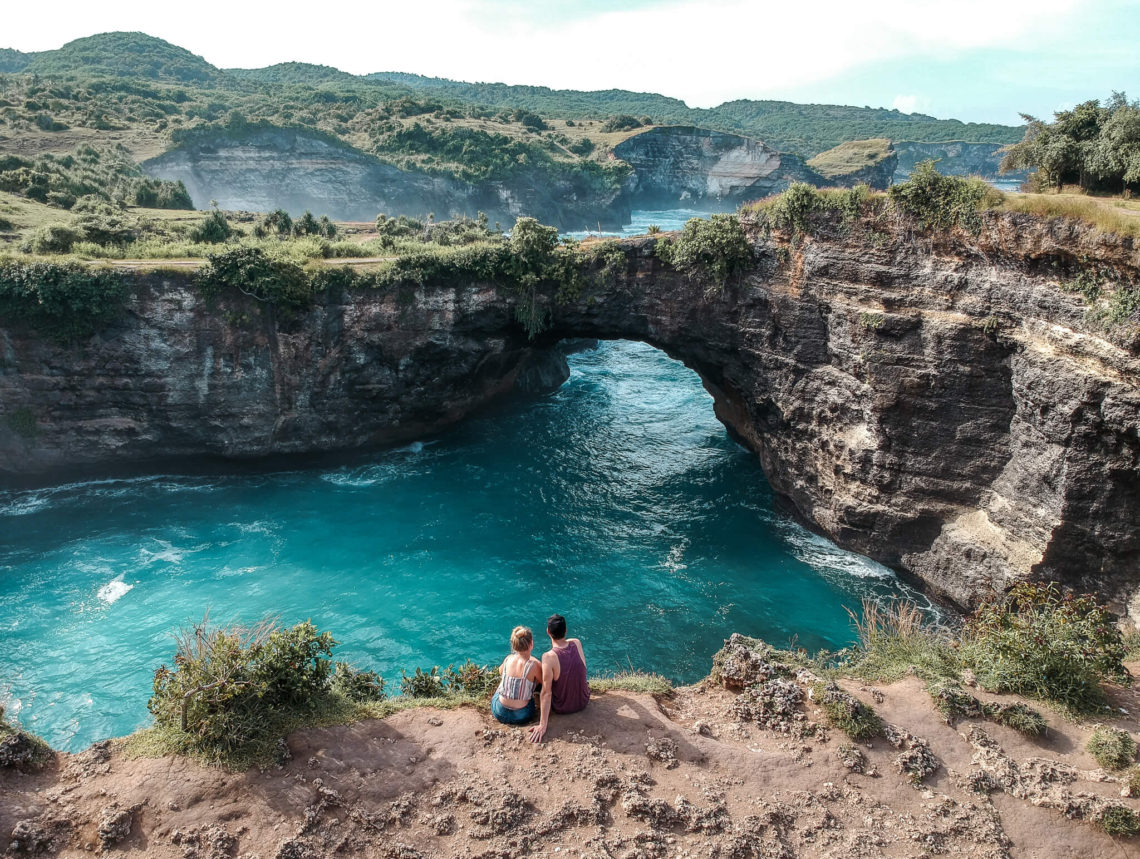 Kelingking Beach
Admission fee (Kelingking Beach) – 10k rupiah
Parking fee – 5k rupiah 
One of the most popular instagram spots in Bali is the famous T-rex shaped rock. This was one of the most beautiful spots we have ever seen and is definitely not to be missed on your Nusa Penida itinerary. There are many different photo angles of the T-rex available safely, yet will most-likely see some people climbing over barriers to get a photo. We wouldn't recommend you do this as the drop is extremely steep and the photo is not worth your life.
If you follow the coast around to the right (walking with the sea on your left), away from the crowds, there are more photo spots where there is no barrier. There is also a tree which is climbed by most of the tour guides to get a better angle for a photo. If you are feeling adventurous then you could try this as well.
You can walk down to Kelingking Beach itself, a sandy haven surrounded by beautiful turquoise waters. The walk takes around an hour and requires a lot of climbing on rocks. There is a wooden handrail on the way down however, I wouldn't recommend putting your full weight on it.
If you are taking this walk down to the beach, make sure you are certain you can get back up!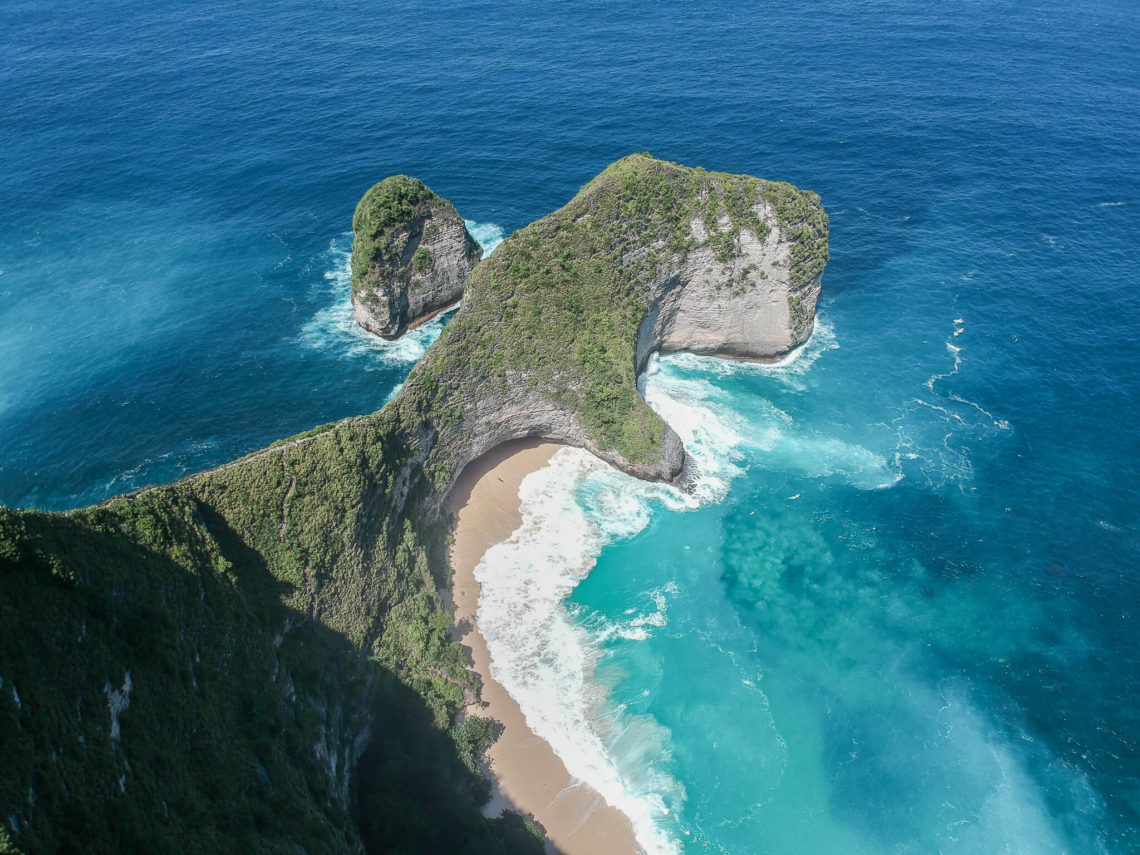 Rumah Pohon Tree House
Admission Fee (Rumah Pohon Tree House and Thousand Islands View Point) – 10k rupiah
If you are on instagram you will most likely have seen these treehouses overlooking Nusa Penida's stunning rugged coastline. These are available to book out on AirBnb, however, if you do book to stay in one, you will need to be willing to have tourists using your stairs as a photo spot.
The entry to the treehouses is costs 10k rupiah and it is another steep climb. This view will take your breath away and a photo will not even do it justice.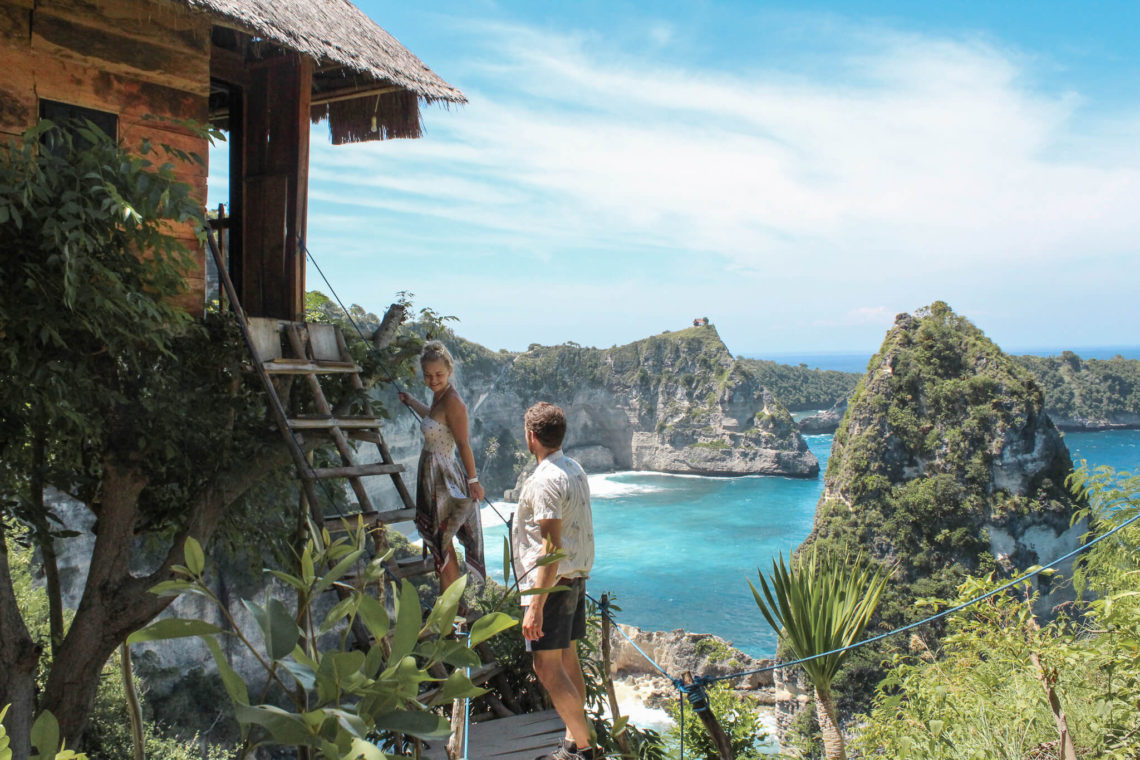 Make sure you book your stay at Rumah Phon Treehouse now or you will miss out, bookings fill up fast! Click here to book now! 
There is photo spot half way up the ascent, called Thousand Islands View Point. We can highly recommend that you stop here for a break on your way up and admire the beautiful coastline. We could have sat here all day, but there are plenty more sights yet to see!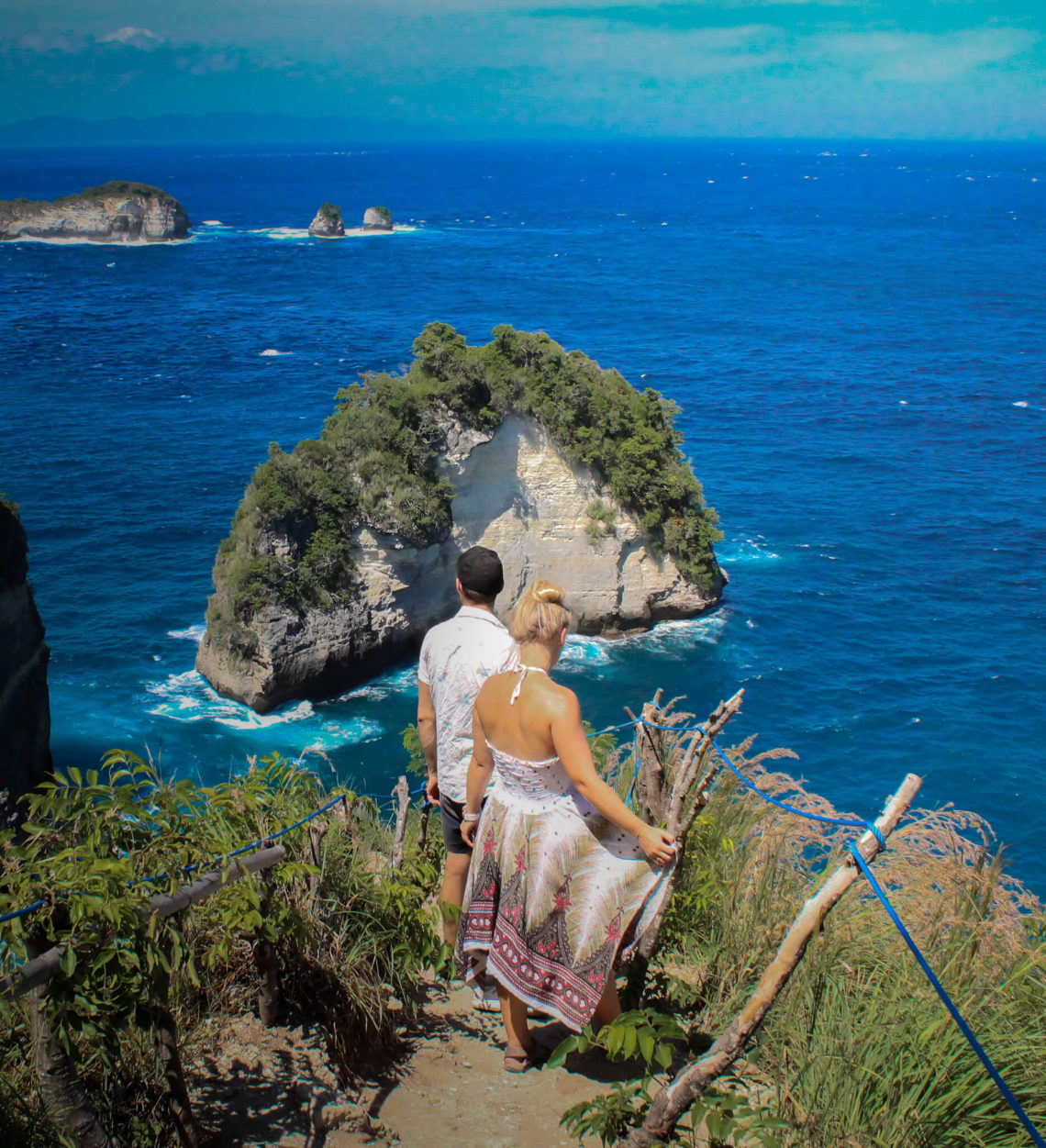 Diamond Beach
Admission fee – 10k rupiah
Parking fee – 5k rupiah
After a 20-minute drive from the treehouses, you will arrive at Diamond Beach, another stunning spot on your Nusa Penida itinerary. Follow the road down and look to your right as you walk down the path. You will see stunning turquoise water, white sand, and palm trees. The waves kissing the shoreline is directly from a movie, absolutely extraordinary.
When you look to your left, across the footpath from this stunning view, you will see emerald green rice fields. The contrast between the jungle and beach vibes is unbelievable.
If you want to relax here, you can walk down the stairs to the beach and spend some time relaxing, listening to the waves crashing off the shore. We recommend spending the rest of your day here and enjoying the incredible sunset show that Nusa Penida has in store for you.
Make the most of your last sunset on the island, but get an early night as the adventure continues in the morning!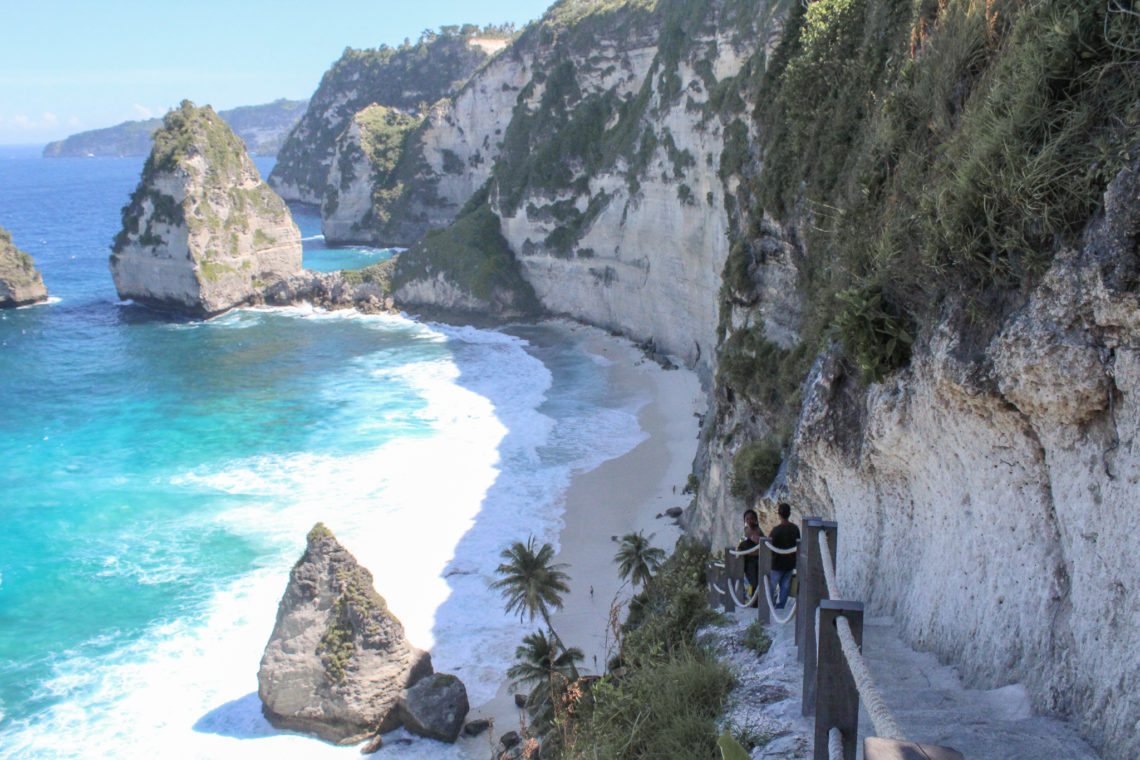 Day Three – Diving with Nusa Penida Manta Rays
Nusa Penida is a very popular island for snorkelling and diving. All around the island, there are plenty of spots to swim with the manta rays and explore Bali's underwater world. If you have time on either of your travel days and enjoy underwater activities, this may be worth looking into.
The snorkelling and diving tours can be bought on the island itself from most tour operators, however, to make sure you get a space on your tour it is advisable to book in advance.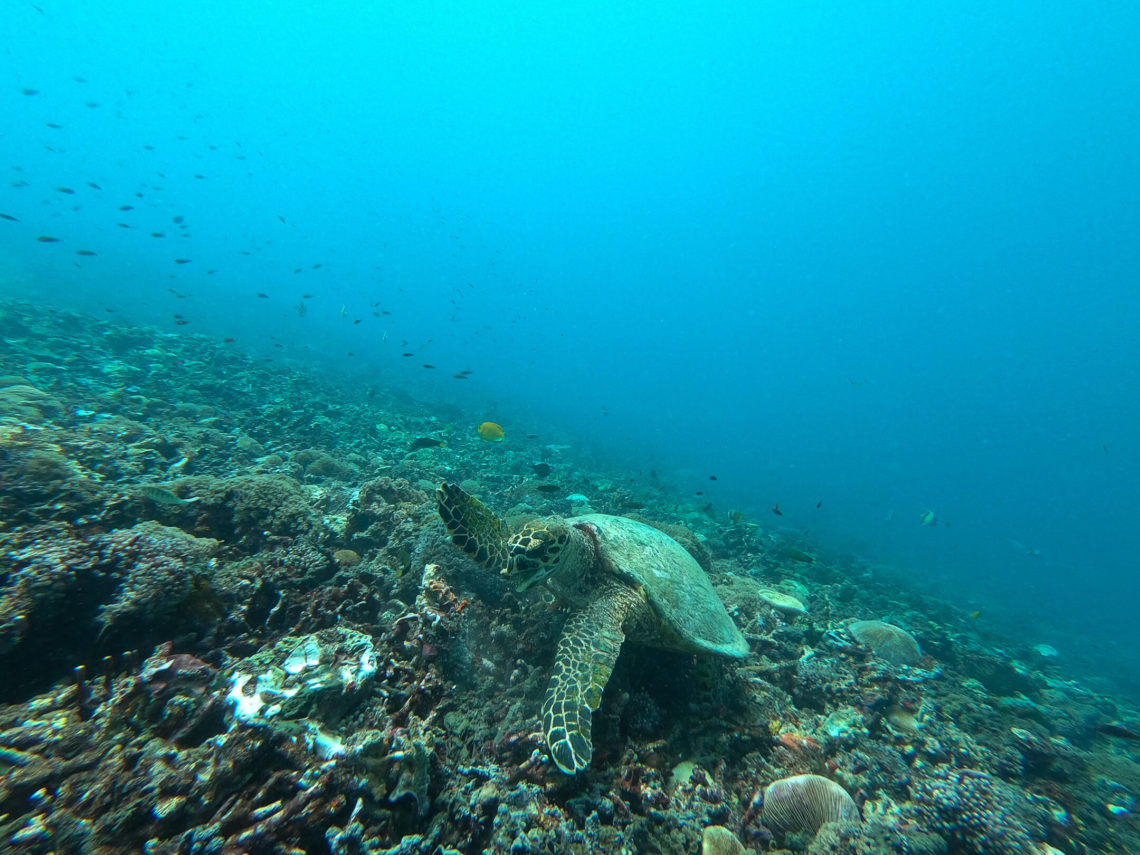 Before you Leave for Nusa Penida
For an enjoyable and stress-free trip, there are a few things you will need to organise before you leave. Below we discuss what to pack, how to get to Nusa Penida and what to do when you arrive. Once you've sorted this you are good to go on the trip of a lifetime.
How to get an Indonesian Visa
If you are planning a trip to Bali for less than 30 days, you don't need to worry about organising your visa. As long as you are from a country on the Visa on Arrival List, your visa will be granted automatically when you arrive at immigration in Bali at no cost.
If you wish to extend your trip in Bali and want to stay in Indonesia for over 30 days, then you will need to purchase a Visa on Arrival (VOA) on your entry into Bali, before passing through immigration. This can easily be done at the clearly visible counter, just before you pass through the immigration desks. Once you are in the country, you can then either hire a visa agent or complete the paperwork yourself to be granted a further 30-day visa.
Read all you need to know about obtaining an Indonesian Visa and using a visa agent here.
What is the Best Travel Insurance for Bali
Travel insurance is one of the first things we book before we go on any trip. It is never a fun purchase, however, we dread to think of the costs we would have to fork out for in the tragic event of an accident. World Nomads Travel Insurance provides budget reliable travel insurance that will keep you covered for any level of adventure.
You can get your quote before you leave on your trip right here.
Also Read – Nungnung Waterfall Bali – Your Complete Guide to Nungnung Waterfall
What to Pack for Nusa Penida
Nusa Penida experiences a hot, humid climate like the rest of Indonesia, therefore packing for this trip is a pretty simple task. You will want to make sure you have some light clothing as it can get pretty sweaty, as well as a light waterproof as there is always the potential for a downpour.
Check out our Summer Packing List for Women and Summer Packing List for Men for some clothing inspiration for your trip to paradise.
When it comes to toiletries, we recommend that you pack as much sunscreen as you can. The sun in this tropical paradise is strong, and even the darkest skin tones can get easily burnt. When it comes to stocking up on sunscreen once you arrive in Bali, the cost is extortionate,  A small 200ml bottle in Indonesia will cost you as much as £15!
Bali is one of the most photogenic places in the world, so you do not want to forget your camera. We recommend packing all the camera equipment you have as you never know when you'll want to use it.
If you would like to know more about what is in our camera bag, click right here.
Don't forget to subscribe and follow our journey on Youtube here.
Where to Stay on Nusa Penida
No matter what your taste for accommodation may be, the huge range of Nusa Penida accommodation is guaranteed to have something which suits you. This island has something for everyone; all ages, trips and budgets. Here are our top picks for a range of budgets to make your life a little easier.
Luxury – If you are looking for a luxurious Nusa Penida experience, look no further that Suwehan Cliff Tree House. By booking this accommodation you will have access to your own private beach, stunning views and breakfast included.
You can book your stay at Suwehan Cliff Tree House right here. 
Mid-Range – Manta Cottage Seaview Plus will be a great place to rest your head at the end of an adventurous day. Enjoy the pool views or take advantage of the hot spring bath to chill out in the evening.
You can book your stay at Manta Cottage Seaview Plus right here.
Budget – Spend a cheap and cheerful night at Agung Pring Homestay, located on the east side of the island. With a balcony view, private bathroom and air conditioning, you'll have everything you need for your night on Nusa Penida.
You can book your stay at Agung Pring Homestay right here. 
If hostels are more your social cup of tea, Nusa Penida has a huge selection of hostels to choose from. Browse and book your hostel stay for this paradise island right here.
How to Get to Nusa Penida
This is a one-day itinerary to Nusa Penida, meaning one of the easiest options you have is to book a Nusa Penida tour package and head over on a day trip. However, to make the most of your time on the island at each location, we would recommend spending at least two nights on the island to give you a full day of adventure in the middle. There are a few options for getting to Nusa Penida Island depending on where you are travelling from. We have discussed some of the options below.
On your return from Nusa Penida, make sure you discuss your ferry needs with your hotel, who will be able to get your ticket cheaper than if you show up and try to buy in person. On the day boat purchases (without help from a local) can cost up to twice as much as it should do, simply because you are in a situation where you can't say no.
Fast Boat from Bali (Sanur) to Nusa Penida
The Nusa Penida fast boat from Sanur to Nusa Penida takes roughly 45 minutes and will cost around £8 for a one way ticket. We can recommend travelling with El Nido ferry company. The boat is fast and comfortable, with everything you need for a short crossing.
Public Boat from Bali (Sanur) to Nusa Penida
There is no longer a public boat service running between Sanur and Nusa Penida. If you would rather travel on the public boat you will need to begin your journey from Padangbai.
Fast Boat from Bali (Padangbai) to Nusa Penida
Fast Boat from Padangbai to Nusa Penia takes around an hour and is the quickest way to get to Nusa Penida if you are travelling from Ubud.
Public Boast from Padangbai to Nusa Penida
If you are not in a rush, then this is the cheapest way to get from mainland Bali to Nusa Penida. The public boats of Bali tend to run once or twice a day, at varying times. For as little as £2, you can get yourself a spot on the boat to Nusa Penida, which leaves Padangbai once the boat is full.
Nusa Lembongan to Nusa Penida
When you arrive at the ferry port by the yellow bridge in Nusa Lembongan, you will be hounded by locals asking to you to travel with their ferry company. The public boat is your cheapest option costing 30k rp per person.
Some people will try to tell you that this is the slow boat, however it only took around 20 minutes port to port and was well worth the money.
Gili Islands to Nusa Penida
There are three fast ferry companies which travel from Gilli Trawangan to Nusa Penida. Each company only sails this route once a day so we would recommend not leaving it till last minute to book. You can catch the ferry from the harbour where you arrive on Gili Trawangan.
Also Read – Living in Bali – All You Need to Know for One Month in Bali
Getting Around Nusa Penida
There is no public transport in Nusa Penida, the same as in Bali. There are also no Grab or GoJek cars on the island, so you have a few options to choose from when it comes to getting around this island. The easiest and cheapest option is by scooter, however the roads are very dangerous so if you are not experienced on a bike a taxi is your safest option.
Buy a Nusa Penida Tour Package
There are plenty of tours available on Nusa Penida that will take you to all of your chosen sights. The length of the tour will vary however we would recommend going for a full 8 hour day tour. This will cost more than renting a scooter however if you are not confident on the scooter, we would suggest that this is your best option.
Book your own Nusa Penida adventure right here.
Rent a Scooter and Tour Nusa Penida Yourself
Renting a scooter is the other option which which if you are keen for adventure, go for it! They can be rented for around 70k rp. per day from the harbour. However, do so at your own risk and be careful, the roads can be extremely bumpy and there are some roads with very loose stones.
Cost of Living on Nusa Penida
If you are on a budget, Nusa Penida will definitely test it. If you don't have a scooter, you will limited to where you can go to eat out and shop. Due to the lack of cheap taxis on the island, the transfer fees will begin to add up.
Make sure you have plenty of cash when you come to this island. We cannot stress this point enough. There are not many ATM's on the island and they won't be located anywhere near the main tourist spots around the island. Even the ATM's you do find are quite unreliable and often don't work on foreign cards (as we found out in a panicked rush to the ferry port..). If you are worried about using your cards abroad, get yourself sorted with an international bank card to avoid the exchange fees.
Our driver began racing around the island to take us to another ATM, which thankfully worked for us, however don't give yourself the unnecessary stress and take out plenty cash. Learn from our mistakes!
Also Read – Best Bank for Travelers – Starling vs Monzo Card Review
So that's a wrap on your ultimate Nusa Penida Itinerary. If you are going to Nusa Penida, let us know what your planning to do there in the comments below. If you have been to Nusa Penida already, what did you think of it? What sights did you see? Do you have any recommendations that we can add to our itinerary next time?
If you enjoyed reading this post, then make sure to share it with your family and friends, that way we can get this awesome guide out to more fellow travellers. We want everyone to see what a magical place Nusa Penida is, and why it should not be missed on any trip to the island of Bali.
If you are travelling further around Bali and Indonesia, check out the rest of our Indonesia content for some inspiration for your next trip. Be sure to catch up with us on social media to see where we are currently at and please say hello! Tag us in your Nusa Penida pictures so we can share your adventures with the rest of our community.
Now Read:
This article may contain affiliate links that provide us with a small income. For more information read our Affiliate page.
---
Pin it for later!