If there is one thing that Bali is famous for it is the unbelievable number of stunning waterfalls it has hidden around its vast jungles. There are honestly so many waterfalls here in Bali that new ones are being discovered every year. That's right, there are unknown waterfalls that haven't even been found yet!
This simply means that when it comes to visiting a waterfall in central Bali, we really are spoiled for choice. Every single waterfall here is beautifully unique, and unfortunately, it will take a lifetime to visit them all. This is why using a vast experience on the island of Bali and our fascination with all waterfalls, we have put together a list of all of the best Ubud waterfalls that you simply cannot afford to miss.
Save this image to your Bali Pinterest board for later!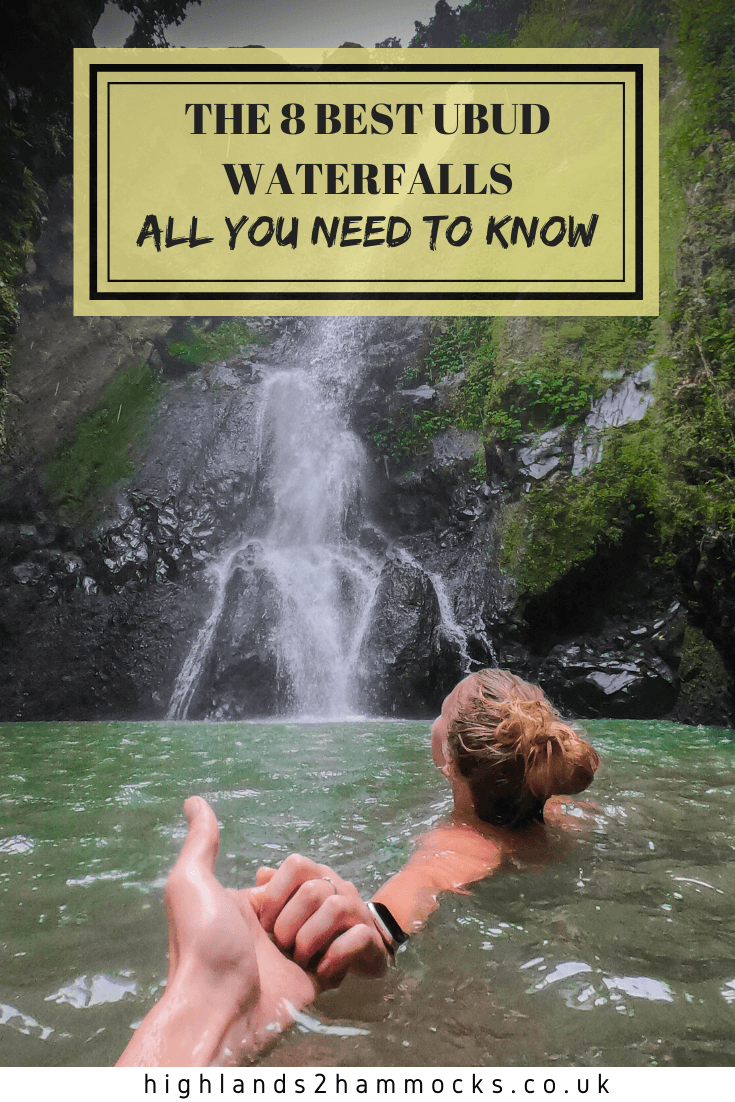 Come along on our waterfall hunting adventure. Watch more Bali videos over on our Youtube Channel by clicking here!
The Best Ubud Waterfalls – All You Need to Know
Waterfalls in Ubud
This is article contains our complete list of the best waterfalls near Ubud and the surrounding landscape. Some of these waterfalls are very well-known and hugely popular with tourists and some sit slightly more under the radar, perfect for a relaxing morning dip.
If you are on the hunt for other things to do in Ubud, read our full itinerary here.
Tegenungan Waterfall
Entrance Fee – 15k IDR
Opening times 6am – 6pm
One of the most popular and most powerful waterfalls near Ubud, Bali, is known as Tegenungan Waterfall. This waterfall sits just 30-minutes from Ubud and is definitely the most easily accessible from the bustling town centre. Due to its close proximity, tourism of Ubud has well and truly taken hold of Tegenungan, with new buildings, shops and restaurants popping up around it all the time.
As much as this may sound like a negative thing, the added tourism has actually made accessing the waterfall easier than ever. This means that it is much more family-friendly, with dedicated paths, bridges and safety areas for you to access the plunge pool at the bottom. Railings on the way down and changing rooms at the bottom, as well as cafe stops along the way mean it is perfect for a family day out.
When we visited here first thing in the morning we were the only ones there for about one hour. If you want a peaceful experience at Tegenungan then definitely get here for it opening at 6am.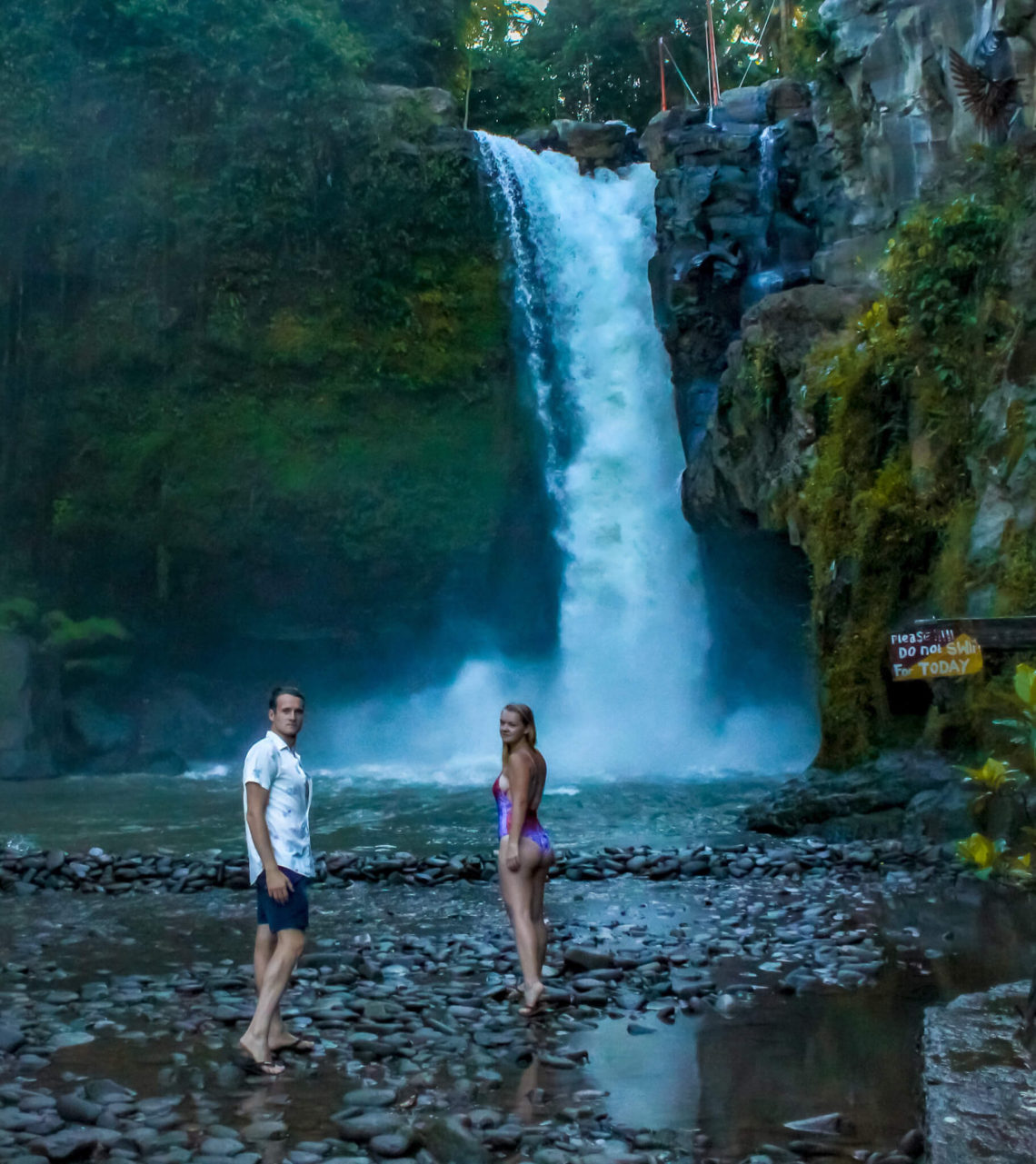 Kanto Lampo
Entrance Fee – 15k IDR
Cost of Photo – TIP (recommended 20k IDR)
Opening Hours 6am – 6pm
Another one of our favourite waterfalls around Ubud's busy town centre is the rather unique waterfall known as Kanto Lampo. This waterfall is much smaller and less powerful than the others, cascading down a wide rock face, rather than plunging in a single stream.
The width of the stream creates a blank canvas effect across the rock face behind it, which creates a beautifully photogenic backdrop to get some perfect holiday snaps. This is one of the main reasons Kanto Lampo is indeed so popular, with tourists all lining up for their turn to get a photo with the waterfall.
There is even a local Balinese man that works here all day long, taking photographs for people and instructing them on how to pose. You too can get a photo from this man for a very reasonable price, given that he will take about 20 different pictures. If you do decide to get a photo from this man, be prepared to wait about 30 minutes for your turn to catch a photo, however, as it is very busy and takes a little while.
The walk down towards the waterfall has steps and handrails, however, it is a very steep and uneven climb. Unfortunately, this means it is not suitable for young children or the infirm.
Driving from Kanto Lampo waterfall to Ubud will take you less than 30-minutes, so it is another highly popular waterfall from visit from Ubud.
We visited here as part of a hired drive tour and arrived about midday. It was exceptionally warm and the waterfall was at its busiest then, so we recommend getting here much earlier to avoid the crowds and midday sun.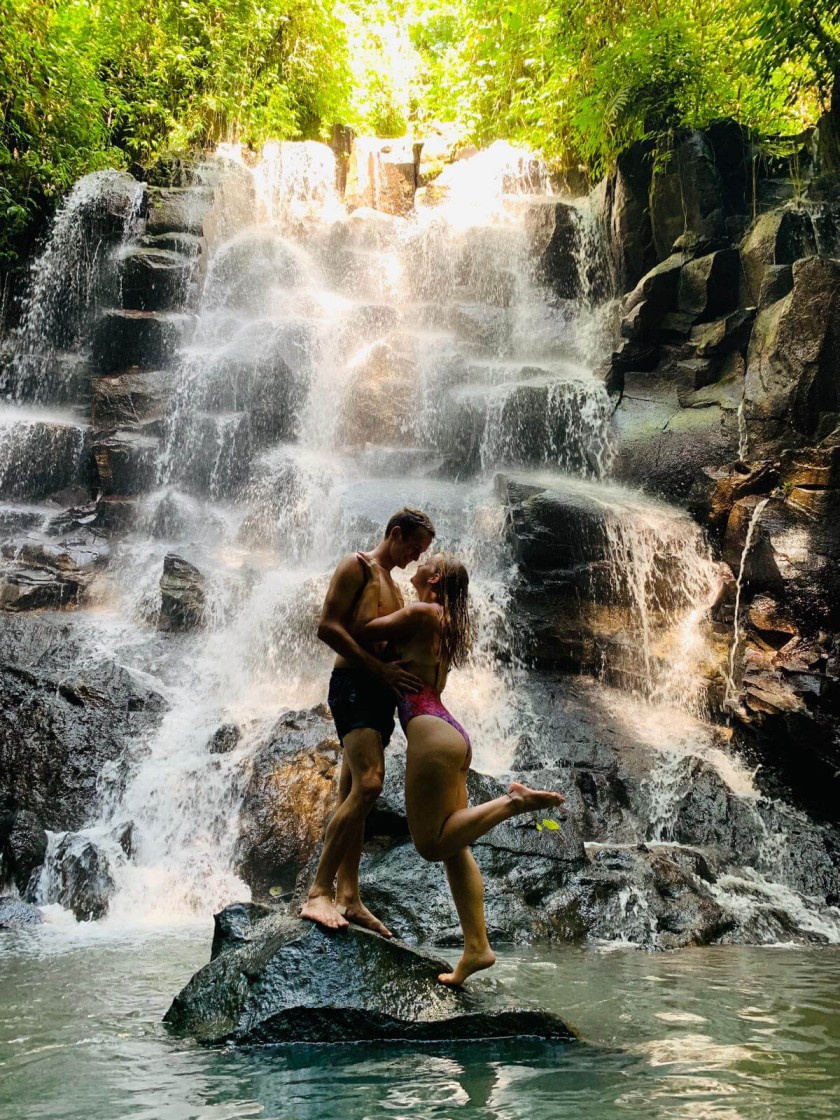 Tukad Cepung
Entrance Fee – 15k IDR
Opening Hours 6am – 5pm
Another one of Ubud's most popular waterfalls, the distance from Tukad Cepung to Ubud is around 30-minutes away from the centre of town. This is another one of Bali's Instagram hotspots and is always crawling with tourists trying to snap the perfect pic. The waterfall itself sits inside an enclosed cave, sheltered from the world outside and giving it a very mystical feeling.
Hanging leaves overhead and suspended mist from the waterfall hit the early morning sunlight to give a very magical effect to pictures. Due to this, the best time to come to Tukad Cepung for pictures is early in the morning and definitely before 10am.
Getting down to the waterfall is no easy task, with a long slog down over rough steps and broken terrain. Even once you reach the bottom, you will then need to wade through a river, ducking under and climbing over boulders to reach the cave. This walk is not demanding fitness-wise, however, the accessibility of the waterfall is non-existent to those requiring additional support.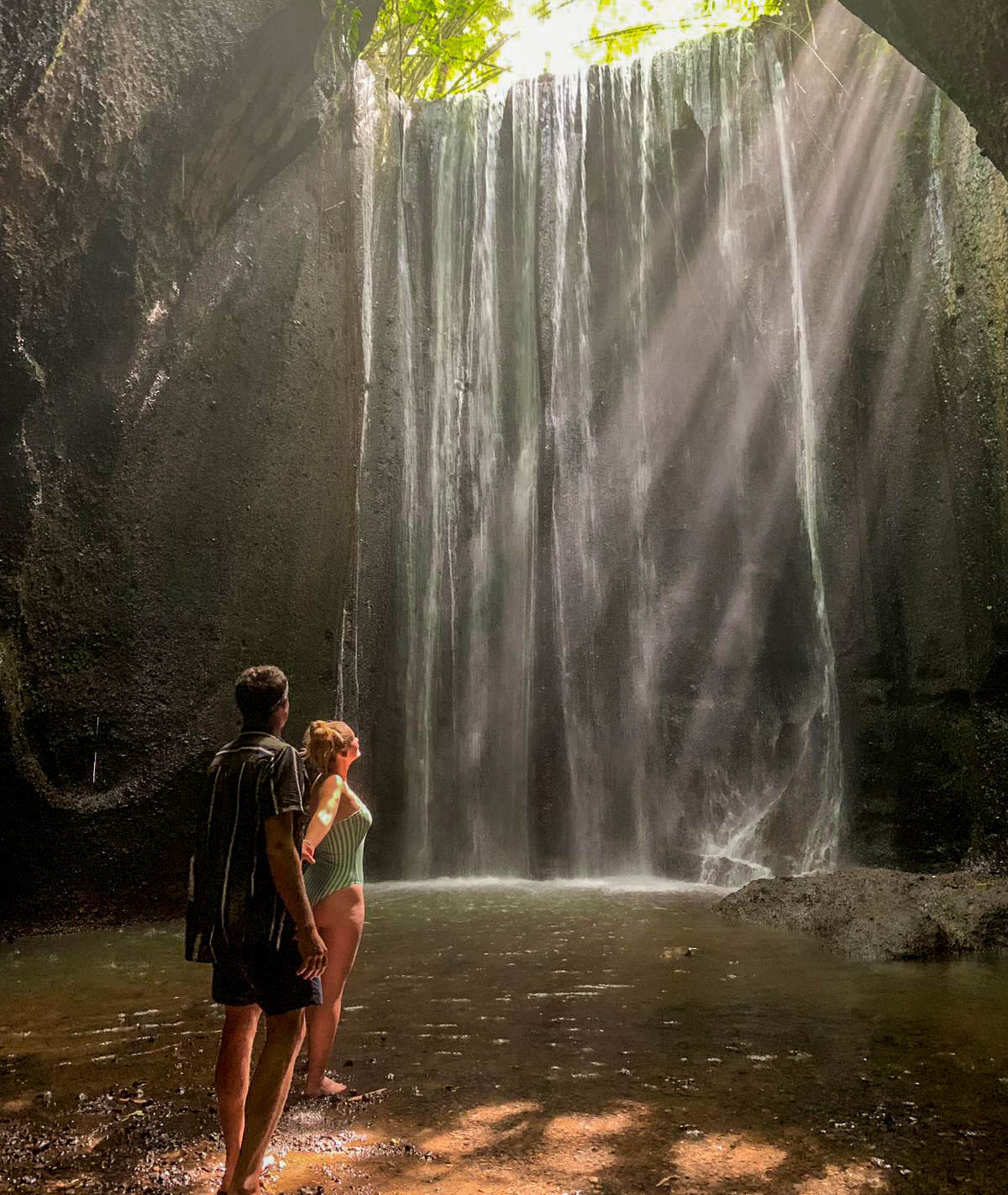 Sumampan Waterfall
Entrance Fee – Donation
Opening Hours – All Day
When we visited Bali for the first time in 2019, the Sumampan Waterfall was completely under the radar. The only reason we heard about it was through a friend who was local to the area, which means this hidden gem is a real insider's secret. Due to how rapidly beautiful spots like this become popular in Bali thanks to social media, the same might not be said about it when you go to visit yourself.
Sumampan Waterfall sits just outside of the Sumampan Village, south of Ubud's town centre. The entrance to the waterfall lies at the end of a very narrow, winding road that is not very suitable for bikes. There is a small car park area with a grass bed, a small cafe (that wasn't open when we visited) and a medium-sized sign over the staircase leading down to the waterfall.
All of this hinted towards the beginning of a tourist hotspot, however, it was as if the secret had not quite gotten out yet and we had the place almost entirely to ourselves.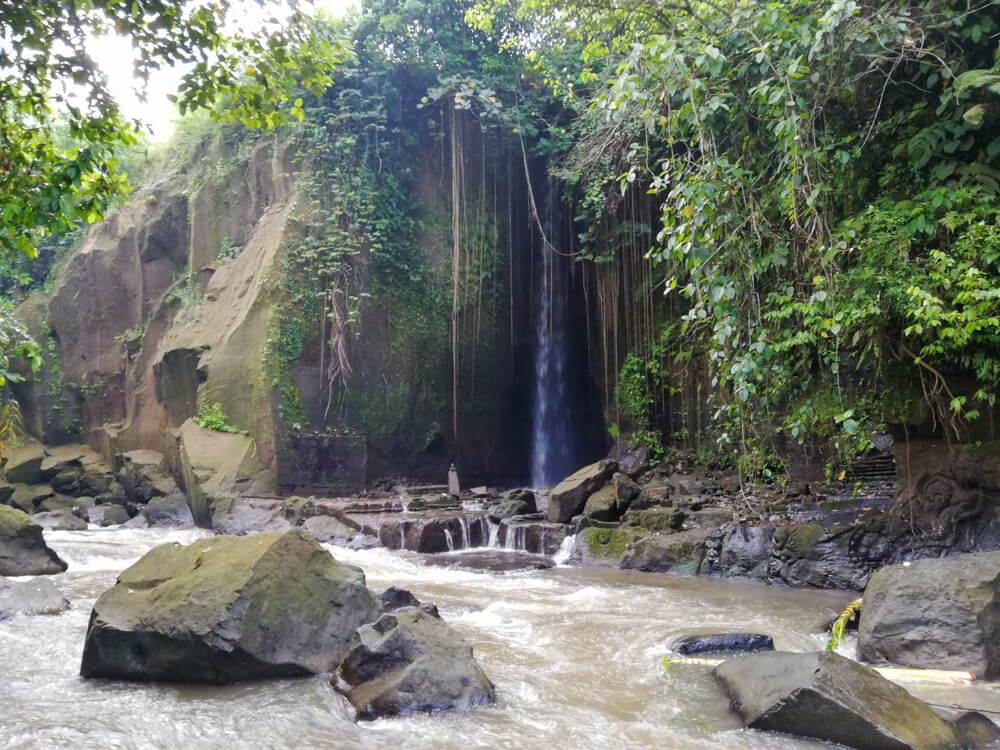 The staircase down to the waterfall has bannisters and is relatively easy to climb. The stairs are cut into the dirt of the hills and as you near the bottom, they are cut into the bedrock itself. At the bottom, there is a large viewing platform that sits above the river, looking across to the slim Sumampan Waterfall.
The waterfall cascades down from the cliff above onto bedrock before it flows into the adjacent river. It was not possible to cross the river when we visited in order to get underneath the waterfall due to how fast the river was flowing. If you do intend to cross, take extreme caution doing so, especially after heavy rainfall, as you will easily get washed away.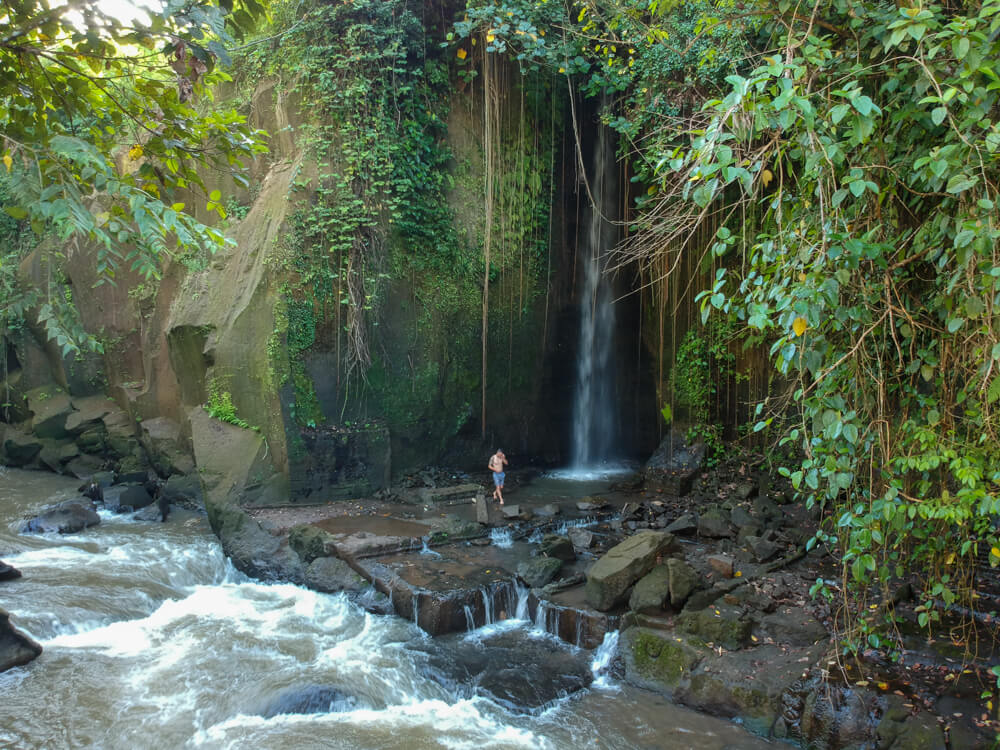 Leke Leke Waterfall
Entrance Fee – 30k IDR
Opening Hours 7am – 5pm
One of our favourite waterfalls in Bali and bizarrely one of the quieter waterfalls in Ubud, Leke Leke sits around 1-hour north of Ubud town centre. It is a very well established waterfall, with a lot of construction at the entrance and leading down to the waterfall itself. When you pay for your ticket at the entrance you will even be given the option of taking a hiking stick with you for free, to help you traverse the muddy path down.
The walk from the entrance to the waterfall takes about 15-minutes and is a steady slope all the way. Although it is a quiet waterfall, Leke Leke still receives a steady flow of tour groups on a daily basis, which has resulted in a muddy and broken path down. We, therefore, recommend wearing good shoes that you don't mind getting dirty.
Leke Leke Waterfall is definitely one of Bali's most picturesque waterfalls, with a foreground of deep, lush ferns and surrounding cliffs on all sides. It is a beautiful place to visit, whether you are wishing to get a photograph or not and is also fun for a quick dip.
The low amount of water flowing over the cliff edge means that there is not a fast-flowing river to wade through to reach the crashing water. It is therefore really easy to reach the plunge pool and cool off in the refreshing water.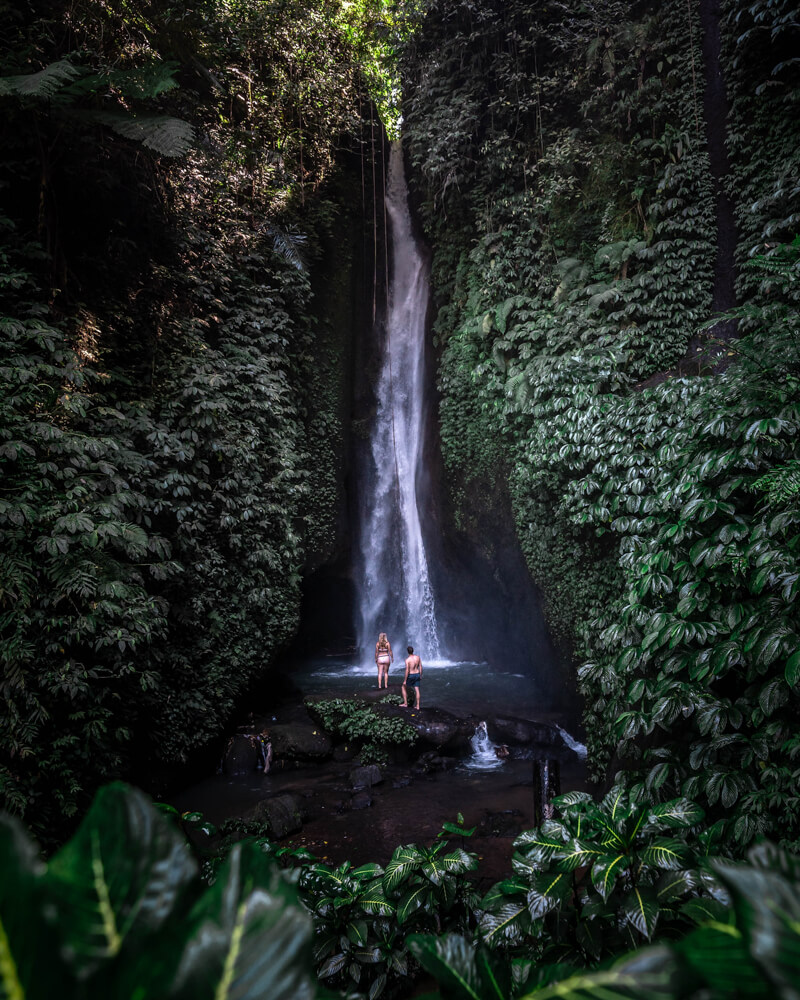 Nungnung Waterfall, Ubud
Entrance Fee – 10k IDR
Opening hours – 9am till 4pm
One of Bali's most impressive and powerful waterfalls lies a little further from Ubud than some of the others on this list. The waterfall known as Nung Nung sits roughly one hour from Ubud, so it is more of a day trip from the town rather than just a morning or afternoon trek.
Getting to Nungnung waterfall from Ubud will take you around one hour. It is located nearby by Leke Leke, so we recommend you combine the two of these waterfalls if you want to spend the day hunting waterfalls.
The popularity of Nung Nung derives from the insane power and flow that it has, with thousands of litres of water plummeting 60ft over the cliff edge every minute. The hike to reach this monster is quite tough, taking roughly an hour and consisting of roughly 500 steps.
The waterfall is one hell of a conclusion to this hike, however, and the pools at the bottom will be a welcome sight to cool off and relax in when you get there. We do not recommend swimming too close to the waterfall itself due to the weight of the water crashing into the pool.
For more information on Nung Nung Waterfall read our full guide to the trek over here.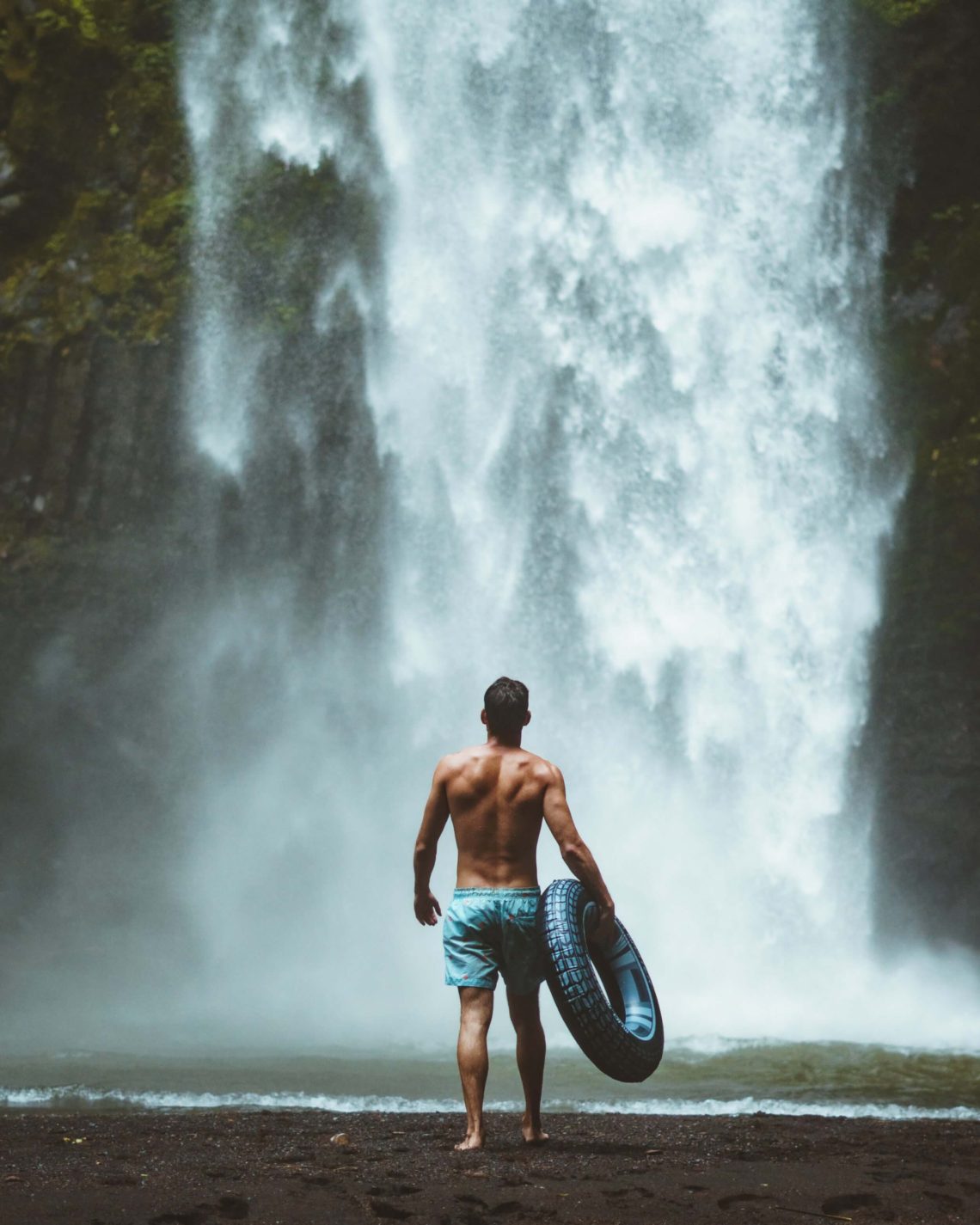 Tibumana Waterfall, Ubud
Entrance Fee – 10k IDR
Opening Times – 6am – 6pm
One of Ubud's lesser-known waterfalls, Tibumana is an excellent place to visit first thing in the morning before any other explorers arrive. Another one of Bali's most picturesque waterfalls, Tibumana waterfall is rapidly growing in popularity due to social platforms.
Getting to Tibumana waterfall from Ubud takes around 30-minutes, making it very easy to reach and one of our favourite waterfalls in Ubud. The sheltered plunge pool of Tibumana is a truly peaceful place to relax, swim and soak up the jungle noises of Bali. Even the way the water flows is beautiful, falling in a straight, broad band that is very pleasing to the eye.
Photography Tip – Using a tripod, it is very easy to take beautiful, long exposure shots of Tibumana waterfall due to the way the water falls. The result of this is a white band of water framed by the deep greens of the Balinese jungle.
For more information on this waterfall read our complete guide over here.
Sekumpul Waterfall, Ubud
Entrance Fee – 125k IDR (with guide)
Opening Hours –
The largest waterfall in Bali and one of the most famous in North Bali, Sekumpul waterfall is definitely one for the must-visit list for waterfall lovers. Sekumpul is actually a collection of waterfalls in the northern region of the island that makes a spectacular sight for those willing to venture through the depths of the jungle.
Now, it has to be said that Sekumpul is quite a distance from Ubud, taking one and a half hours to drive from Ubud to Sekumpul Waterfall. However, the sheer wow-factor of this waterfall means it definitely has to be on our list!
There is debate on the actual price of this waterfall experience, with rumours of the prices of local tours varying widely from 125k IDR to 350kIDR. There is even the cheaper option of no tour guide, however, the trek is quite long and dangerous, so we recommend trying to barter the price and going with the cheapest guide.
If you want to read more about this waterfall to plan your trip to the fullest, check out our full guide to Sekumpul Waterfall here.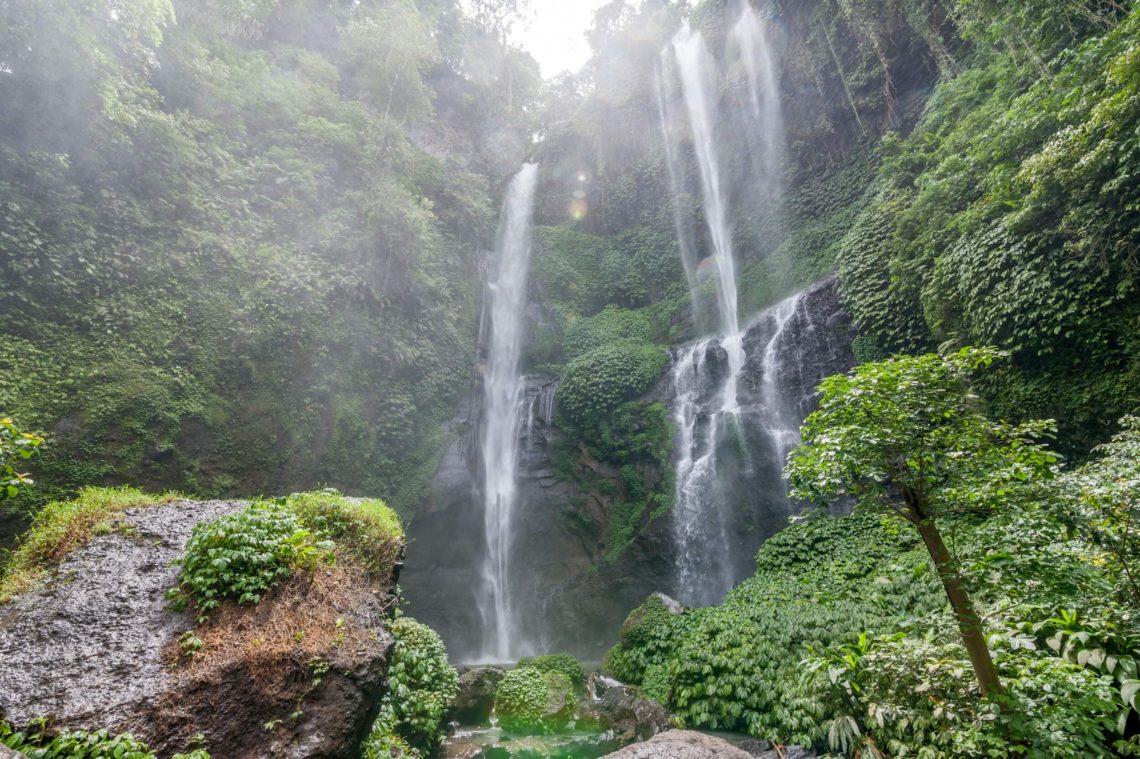 When to Visit Waterfalls in Bali?
Bali is famous throughout the world for its stunning waterfalls and natural beauty. Due to the rapid increase in popularity that all of these waterfalls are faced with, it is difficult to find a time that you will get to enjoy their serenity to yourself.
With this in mind, we have always found that the best time to visit any location in Bali is always just after sunrise, at roughly 6am.
How to Get to the Ubud Waterfalls?
The easiest, cheapest and by far the best way to get around Bali (especially northern Bali) is on a scooter bike. By renting a scooter, you will be able to get around the sights that you wish to see, whenever you wish to see them. This, of course, means a lot more stunning sunrises and late-night pizza runs.
The best place to rent a scooter for your journey north is in Ubud, or even further south. There are not many places to rent in the north and even if there was you would still have to get there first. By renting in Ubud, you will be able to get a bike for between 40k to 80k a day (roughly £2), depending on how long you rent for.
How to Visit Waterfalls Responsibly?
With over-tourism becoming a growing problem throughout the world, responsible travel is more important than ever before. A couple of things, in particular, we can all do to help protect Bali from over-tourism and the degradation of nature is stick to the path, leave no trace and reduce our plastic use.
As you trek to the waterfalls listed in this article, try to reduce your impact on your surroundings by keeping to the already trodden path. I know the saying goes "trek your own path", but in order to protect the wildlife of Bali, it is important to not destroy more of the natural habitat.
It is also important to ensure that whatever you take to the waterfalls in Ubud, you also take back with you home. Do not leave litter or waste of any kind, even degradable food waste. If all the visitors to these waterfalls left behind their banana skins, the landscape would not only be ruined but the local wildlife would begin to rely on this source of food.
All in all, we should all be trying our best to reduce the amount of plastic we use on a daily basis. The biggest impact will not come from one person doing this perfectly, but all of us doing it imperfectly. The easiest way to cut down on our plastic use is by using reliable and lightweight water filtration bottles such as WatertoGo.
Read more about how you can reduce plastic consumption on the road in our guide over here.
Get a water filtration bottle of your own to protect against "Bali Belly" during your next trip using our discount code "HH15".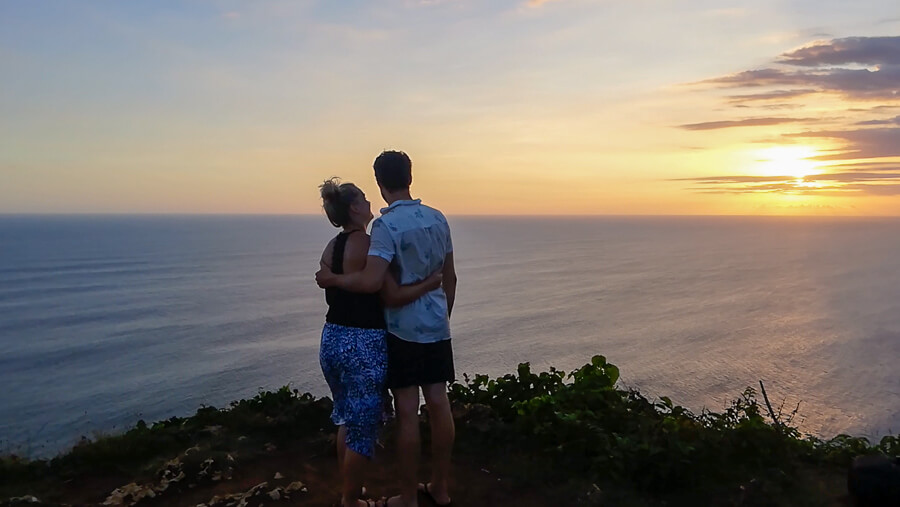 How to Prepare for Your Trip to Ubud
Before you set off chasing waterfalls in Ubud there are a number of things you will need to organise to ensure a smooth and enjoyable trip. These include where to stay, what to pack and what is the best travel insurance to use.
What to Pack for Bali
When packing for Bali, there are a certain number of items that you DO NOT want to forget. The climate of Bali is rather predictable, with either a wet season or a dry season, and a pretty reliable humidity and temperature all year round. Due to this heat, it is an obvious choice to pack light, summer clothing for the majority of your trip, however since you will be heading north to Sekumpul Waterfall, you will also need warm clothing.
Not many people believe how cold the north of Bali actually gets, however with its high altitude and high humidity, the temperature can easily drop to as low as 10oC. Therefore, it is advised to pack at least one jumper to put on and a waterproof jacket that will act as a windbreak whilst you are on a bike.
Another item that you will need is sunscreen, due to the power of the sun in Indonesia. Even the locals will avoid the sun as much as they can, with even dark skin tones vulnerable to burning.
We recommend packing as much sunscreen as possible for your trip to Bali, mainly because it is extortionate once you arrive. One small bottle of sunscreen will set you back at least £12.
We recommend packing mainly summer clothes, with a few long sleeve tops to wear when riding scooters or spending a day in the sunshine. You can check out our full packing guide when it comes to summer over here for your own checklist.
Given the beautiful sights and scenery that you are no doubt going to see around Bali, we highly recommend packing a good camera for your trip. If you want to read more about the cameras we use and why we love them, check out the link below.
You can read what else we keep in our camera bag over here.
Watch more of our Bali guides over on our Youtube Channel
Best Travel Insurance for Bali
As with any adventure, you will need to ensure you are adequately covered should something happen to you. We know that the high cost of insurance is never a fun purchase to make, however, the consequences for you loved ones should something happen to you are unthinkable.
When it comes to travel insurance, we use the backpacker-friendly option of World Nomad Travel Insurance. The cheap prices, excellent coverage and helpful customer support they deliver will make your travel insurance a lot less painful and a lot easier to manage.
Get your own travel insurance quote right here.
What Visa Should You Get for Bali
If you are one of the member countries viable for the Visa on Arrival in Indonesia, getting a visa for Bali is a simple and pain-free process. All you will need to do is show up at the airport and you will automatically receive 30 days free in the country.
If you wish to extend your visa past these 30 days, you will have to purchase a Visa on Arrival extension ticket before you head through immigration inside the airport. You will then be able to extend your visa to 60 days, once in the country.
Read all about how you can extend your Bali visa in our full guide over here.
Also Read – Visa Extension Bali – Everything You Need to Know about your Visa Extension Indonesia
Where to Stay in Ubud
By staying in Ubud, you will save a lot of money on accommodation, as that in the northern part of Bali is much more expensive than in the south. We recommend you base yourself here and make a day of your journey north and south, hitting a few different waterfalls and other sights along the way.
For accommodation in Ubud, we have chosen our favourites out of each price range available. This way there will be something for everyone, no matter what your flavour for adventure is.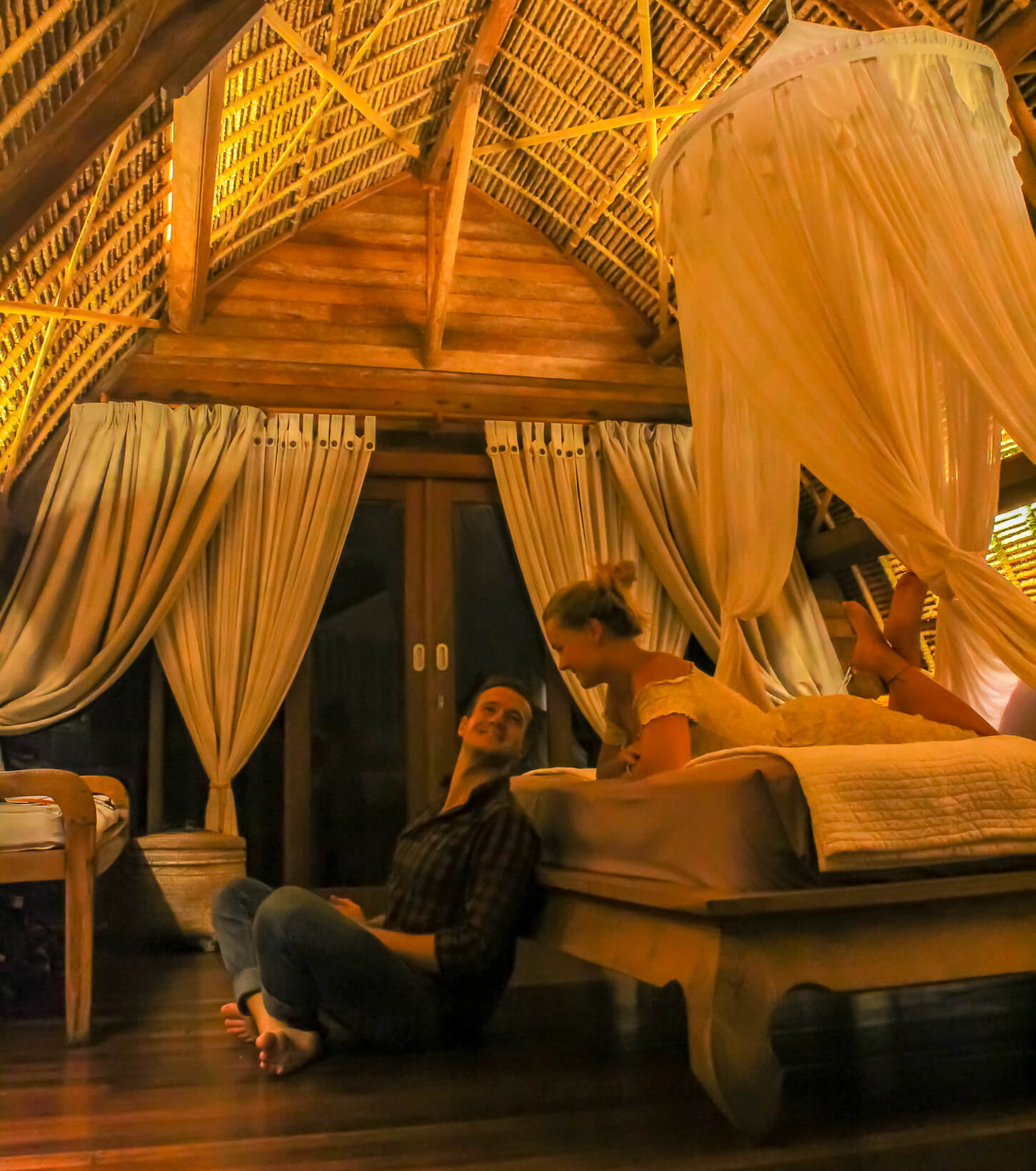 Luxury – Escape the craziness of Ubud city centre and spend your nights in the tranquility of the jungle. Sandat Glamping Tents sit only 15 minutes from the bustling Ubud markets, however you will feel like you are in another world. Spend your day relaxing by the pool and use the free shuttle to explore Ubud by night.
You can book your stay at Sandat Glamping Tents right here.
Mid-Range – Situated right in the centre of Ubud is the basic, yet very comfortable hotel, Nyuh Gading. This quiet hotel has excellent AC and fan options, balconies views and even offers cheap food and drink.
You can book your stay at Nyuh Gading right here.
Budget – For barebones accommodation just minutes from the Ubud markets, Ojek's Homestay is the place for you. This converted, traditional Balinese house compound offers rooms with and without AC, has a kitchen, showers and even offers laundry service for a reasonable price.
You can book your stay at Ojek's Homestay right here.
If hostels are more your social scene, there are a huge range of hostels to choose from in and around Ubud. Book your stay for Ubud right here.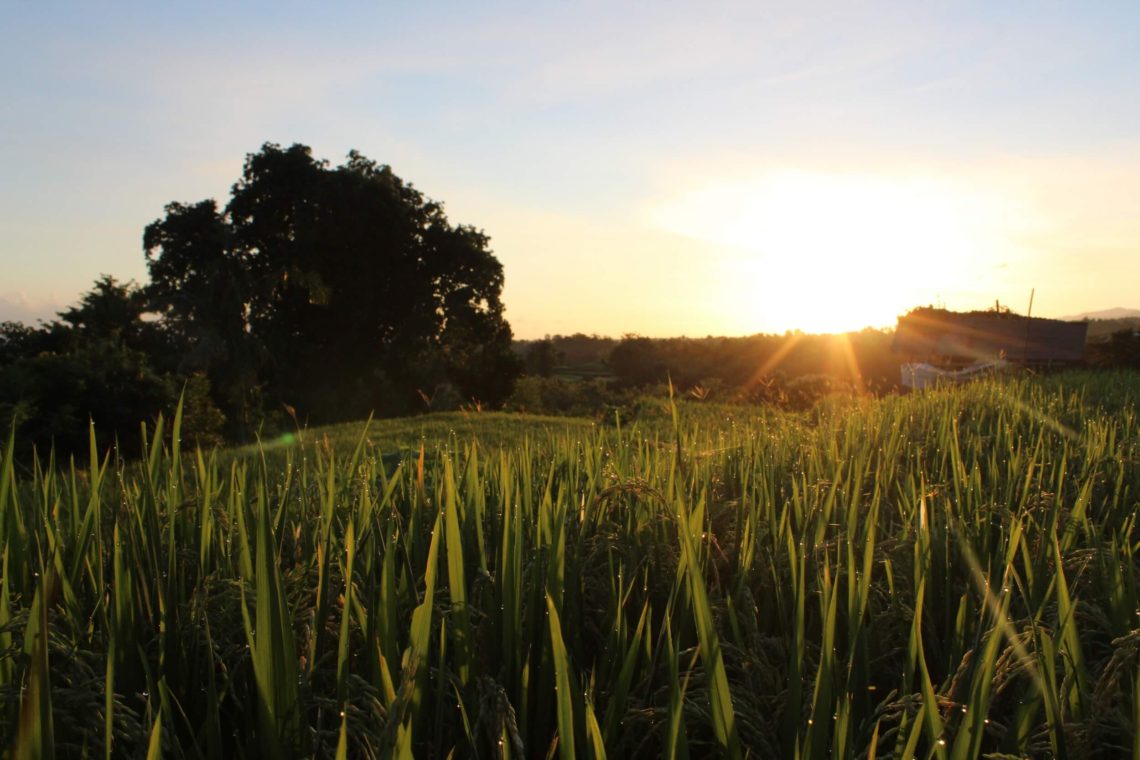 Also Read – Best Bank for Travelers – Starling vs Monzo Card Review
So there you have it, all you need to know waterfalls in Ubud, including how to get there and what to expect. If you have visited any of these waterfalls we talked abut in this article, let us know below. What was your favourite waterfall? Were the prices here different from what you paid? Are there any waterfalls we should add to this list? Share it with the rest of us Bali adventurers!
Also, don't forget that sharing is caring so if you found this article helpful be sure to share it with all of your family and friends. Bali is a natural playground and is somewhere everyone should visit at some point in their lives.
Check out our other articles on Indonesia and plan your next trip here to the fullest. You can catch up with us over on our social channels to see where we currently are, and tag us in your photos to show us you enjoying the waterfalls of Bali!
Now Read:
This article may contain affiliate links that provide us with a small income. For more information read our Affiliate page.
---
Save this image to your Bali Pinterest board for later!