The most incredible thing about the island of Bali has got to be its hugely diverse countryside. From paradise beaches to
snorkelling with turtles
, high street shopping to jungle villas, it really has it all. If you ever do want to get out of the tourist trap and into the jungle, Ubud is an amazing escape from the every day, hustle and bustle of southern Bali. Though not as isolated as it once was, Ubud still has plenty of quiet corners, hidden gems and private spaces just waiting to be discovered. On your own trip north, make sure you check out some of the amazing restaurants in and around Ubud, offering delicious grub for a fraction of what you would expect to pay. Despite a lot of Ubud adapting to the tourist trap vibes of the south, there are still an incredible number of cheap eats in Ubud, all offering mouth-watering cuisine and friendly service. This is your complete guide to the cheap eats in Ubud, so grab your knife and fork and get stuck in!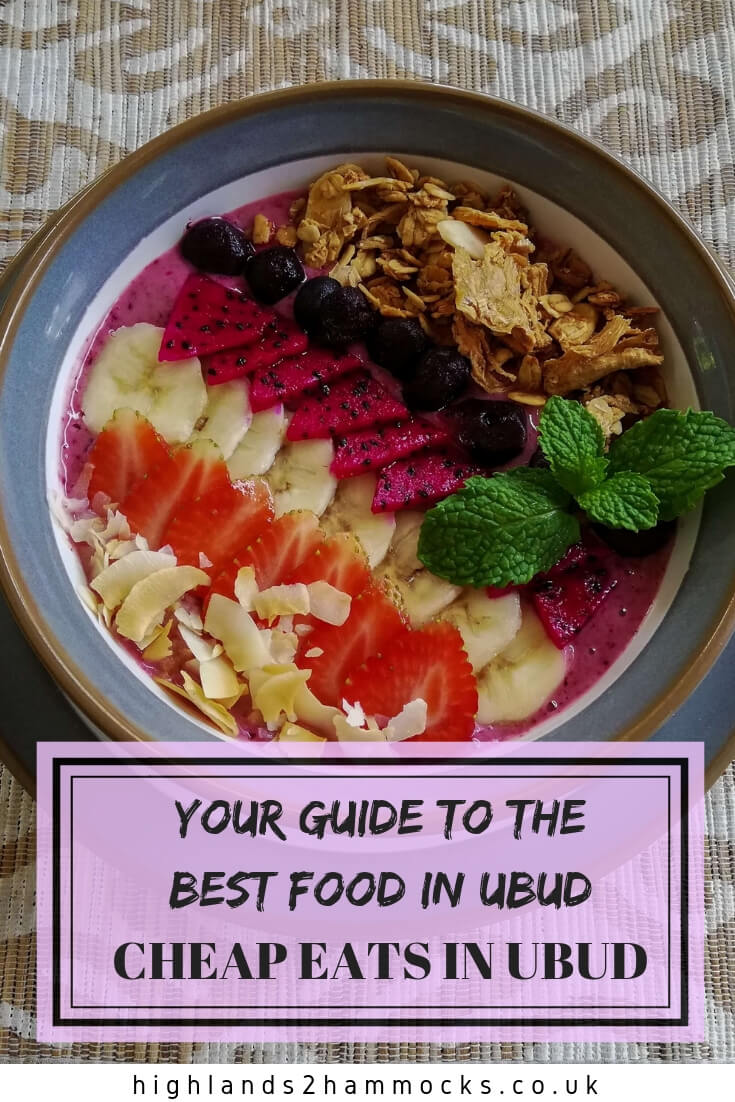 Included in this guide are the following restaurants. Each of these will be discussed in greater detail, including how to get there and what prices you can expect.
Also check out our ultimate guide to Bali for a 7 day itinerary of the island, as well as the best places to stay, what sights to see and other travel tips for Bali.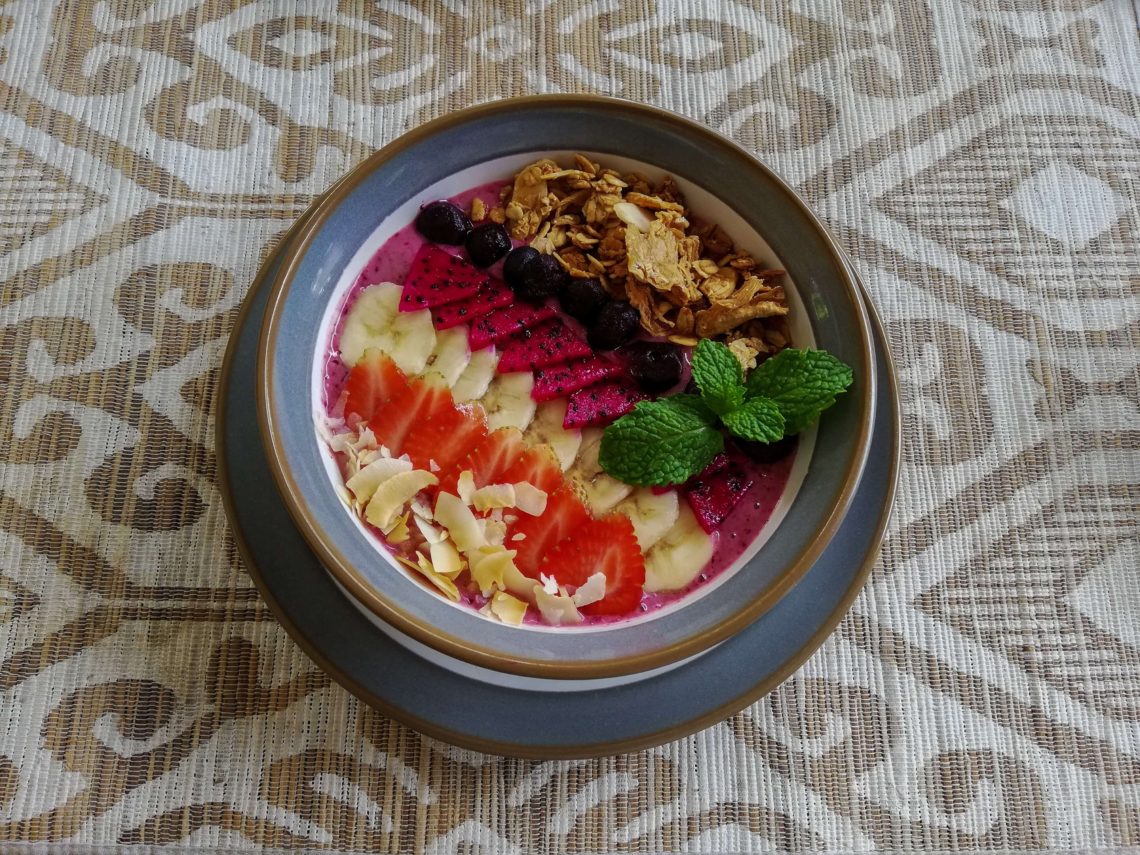 Cheap Eats in Ubud – Your Guide to the Best Food in Ubud
Where to Eat in Ubud
When it comes to Ubud food, you are truly spoiled for choice for cheap eats in Ubud! For cheap eats in the Bali jungle, there are loads of different options that will please absolutely everyone. Ubud has restaurants of all cuisines, from local dishes, to other asian delicacies, to even some European delights.  
Best Breakfast in Ubud
Tropical Bali
– If delicious smoothie bowls, mouth-watering fried food and aromatic coffee to die for is up your street, then Tropical Bali is the perfect brunch spot for you. Located right in the city centre of Ubud, Tropical Bali is one of the best cheap eats Ubud has to offer. When we visited Tropical Bali, we treated ourselves to a delicious Acai smoothie bowl, which came with a croissant and a coffee, all for only £3! Absolute bargain.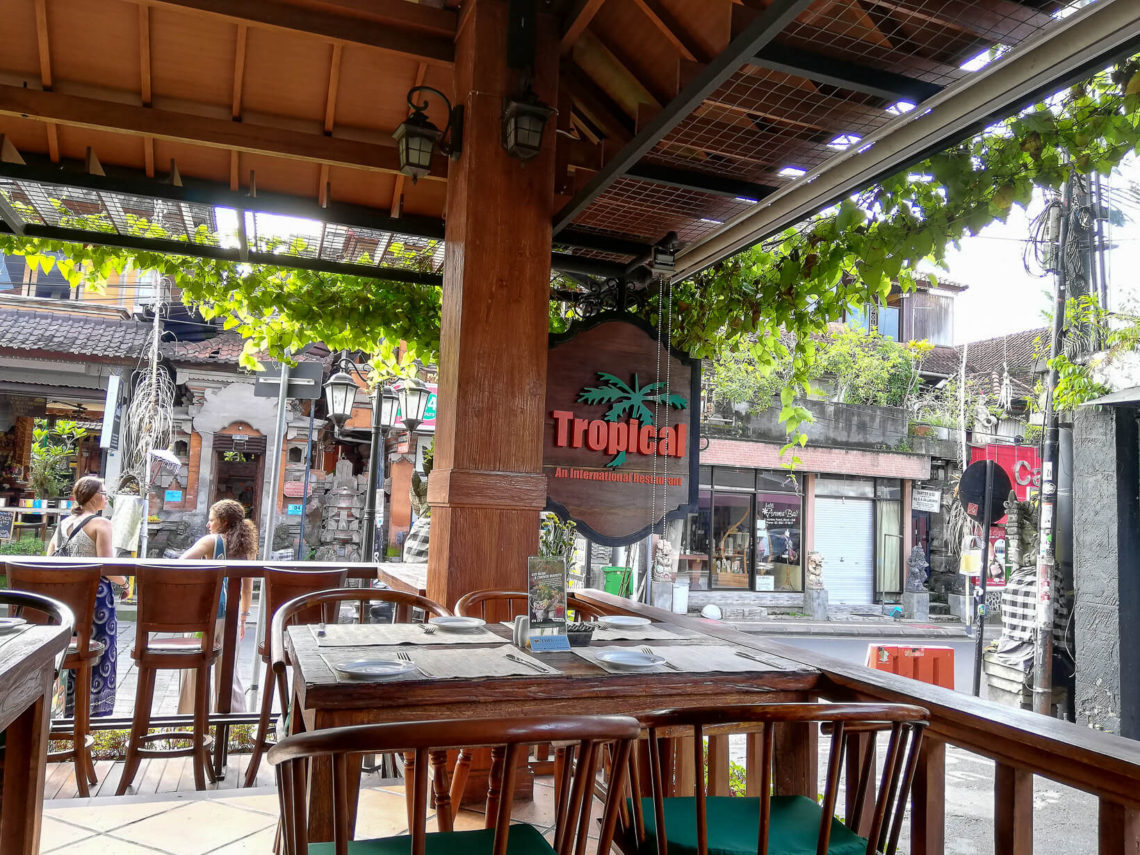 Also Read – 10 Day Bali Itinerary: The Best Sights for First-Timers Visiting Bali
Other Best Places to Eat in Ubud
Kedai D'Sawah
– Sitting just outside the busy city streets of Ubud, there is a tranquil paradise called Kedai D'Sawah. Away from the main road, overlooking beautiful rice paddies, Kedai D'Sawah redefines what it means to be relaxed and present. It is the perfect spot for lunch in Ubud, with the calming atmosphere coupled with the delicious food on offer, it is the perfect way to regain your zen. Not only is the location perfect, the food is ridiculously cheap. Gorge on all forms of cuisine, Indonesian, Thai and even Western, with a full, three course meal costing less than £10. We highly recommend the Thai Green Curry and the Oreo milkshake.  
Warung Citta Ovest Pizza and Pasta 
– The best pizza deal you will find in Ubud, Warung Citta Ovest offers a pre theatre meal deal, between 3pm and 5pm, of a margherita pizza and a beer for £3. Sitting right in the city centre, this pizza joint is the perfect place for an early dinner before you check out the lively nightlife of Ubud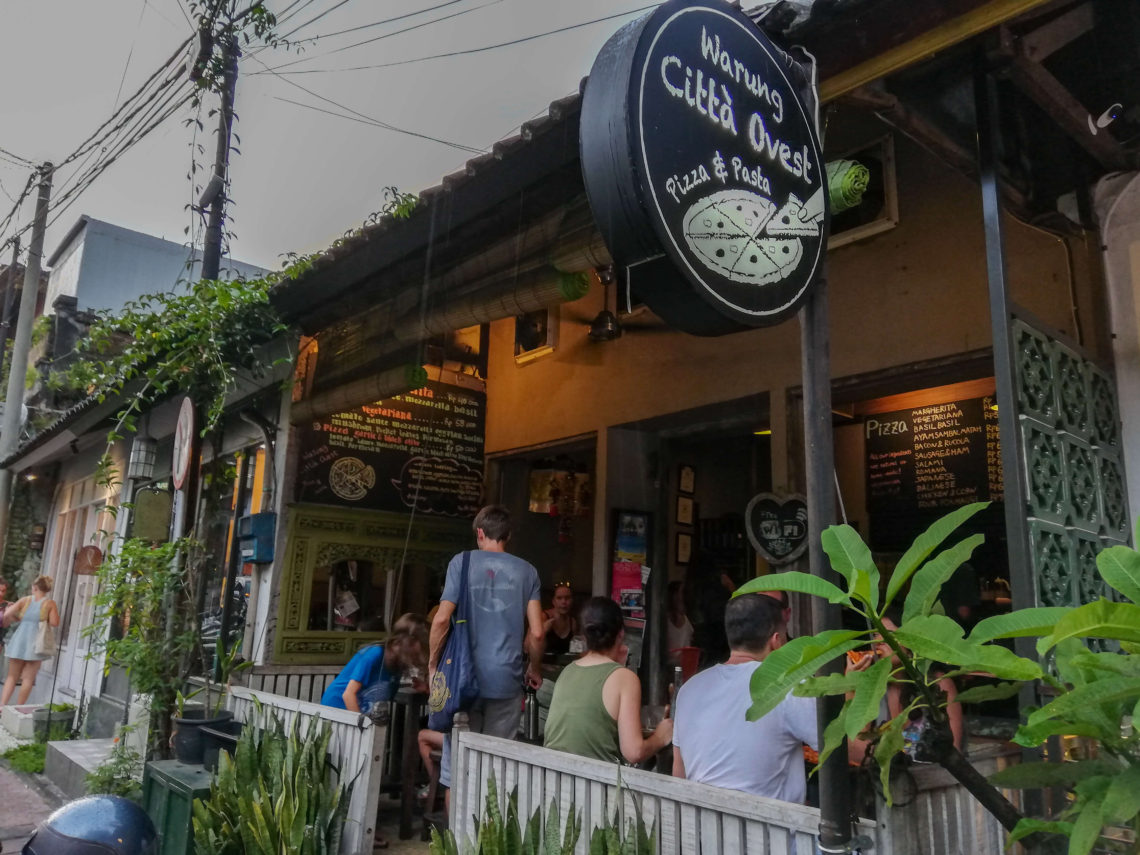 Sen San Warung 
– The perfect spot to appreciate a home-cooked meal, Balinese style! Local warungs like Sen San give you a fantastic insight into the local way of life, with your table basically sitting in the family's living room. Get yourself some Tempe Kari (vegetarian curry) and you will never eat anything else again. Better still, it will only cost you £1.50!  
Biah Biah 
– On the main, pedestrian street of Ubud sits the quirky restaurant, Biah Biah. This tiny warung has exploded in popularity over the years, and upon visiting it is easy to understand why. Staying true to its small, cosy atmosphere, Biah Biah allows you to rub elbows with fellow travellers as you chow down on the huge selection of Indonesian classics on offer. The best thing about Biah Biah is its tapas style menu, with small portions for cheap prices giving you the chance to try dishes you would never have thought of before. We highly recommend the Tempe Satay and peanut sauce, sided with Bregedel Kentang (fried potato croquettes).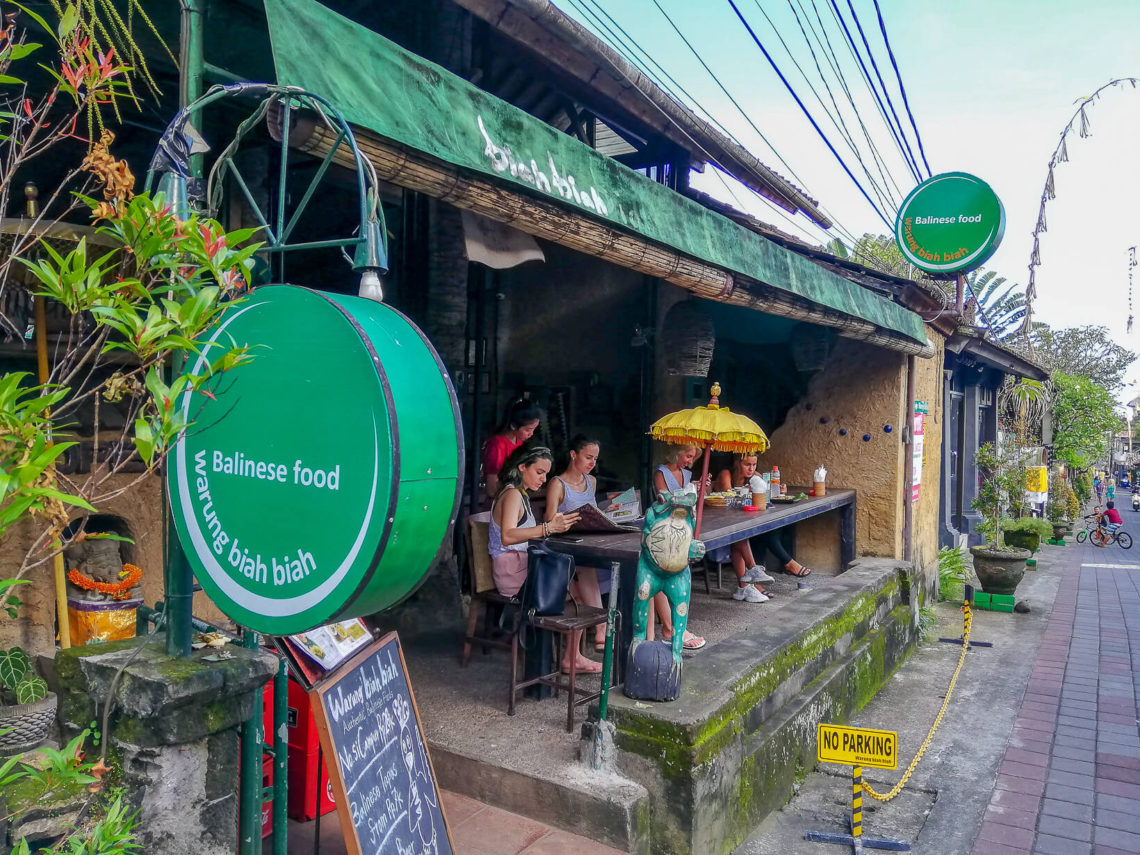 Atu Warung
– On the northern side of Ubud, near to the Campuhan ridge walk, you will find another classic Balinese Warung. With simple decor and a quiet vibe, do not be fooled into thinking this isn't a spot for delicious food. The cheap prices couple with the friendly staff is the perfect combination for an incredible night out.    
Also Read – Visa Extension Bali – Everything You Need to Know about your Visa Extension Indonesia
What is a Warung
If you are new to Indonesia, you might be wondering just what a "warung" is. Traditionally, a
warung is a small, family run cafe-type place
, where the family make a small income buy cooking for travellers and other members of the community. The cosy atmosphere and intimate setting is hugely attractive to visitors to Indonesia, as it gives an incredible insight as to what life is like for a local. Following on from the popularity of the warung setting, larger restaurants have also started to name themselves "warungs", despite not being family owned and without the cosy environment. From our experience in Bali, the tastiest and most wholesome warungs are always the places with the least amount of decor and atmosphere. These are the most traditional, raw and true versions of what life of a local is like, and are something every visitor to Indonesia must try at some point of their visit.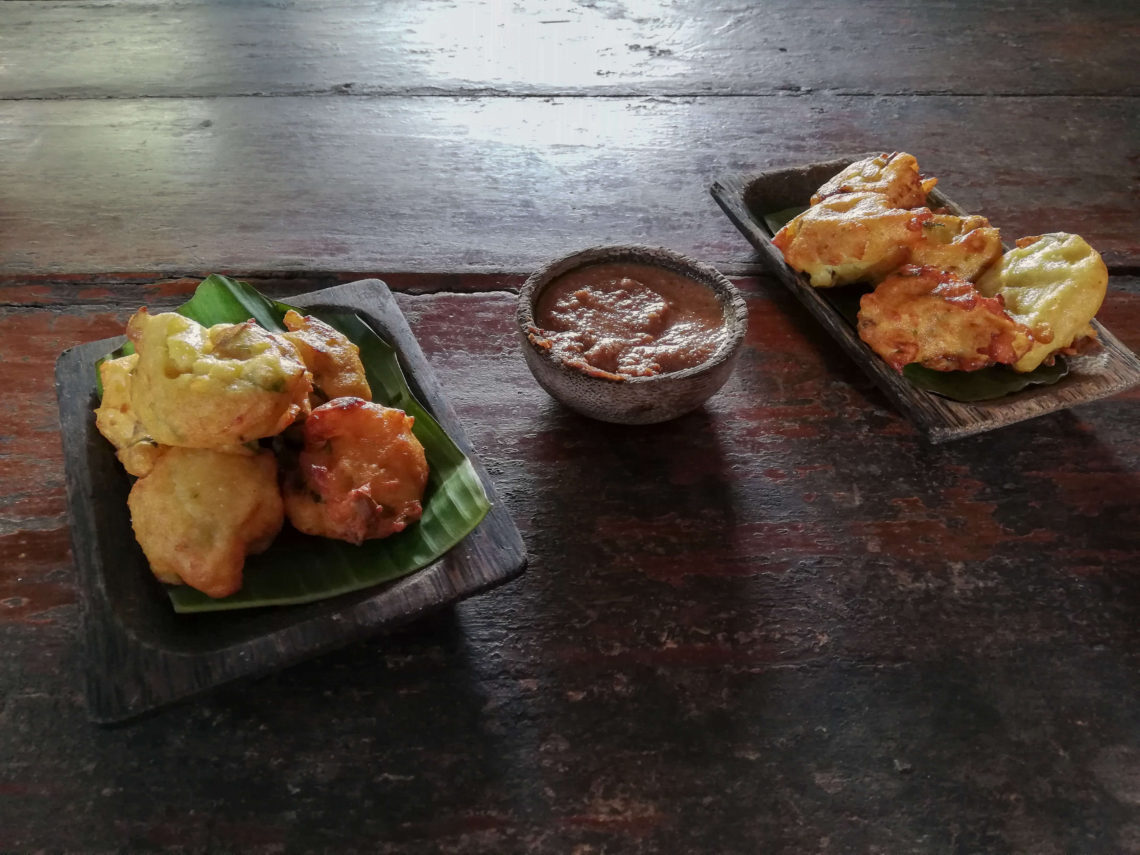 Also Read – Travel the World – Money Saving Tips
What to Eat in Ubud
Without a doubt, the best delicacy you can have in Bali is the Nasi Campur from your local warung. Every single warung is different, unique and delicious! Not only will you get a huge, nutritious meal, you will also pay as little as £0.80 for it. Other classic Indonesian dishes are the Nasi and Mie Gorengs meals, both of which are vegetarian and are perfect for avoiding food poisoning on the road.    
What to See in Ubud
Perhaps the best thing about the jungle city of Ubud is the
huge range of activities it has to offer
to explorers of all shapes and sizes. Whether you have a thirst for jungle trekking and
waterfall chasing
, or are simply looking for a relaxing break from the south Bali madness, Ubud is the place for you.  
Rice Terraces
No trip to Bali is complete without that classic rice terrace shot, and Ubud is the perfect place to bag it. The most famous rice terrace in Bali (possibly the world), sits just 30 minutes north of the city.
Tegalalang Rice terrace
is one of the most photogenic (and photographed) places on the island, and for good reason. The levelled layout of the rice paddy means you can get incredible angles for your photos. Combine this with the sheer size of the rice terrace and you will be able to find your own private corner to enjoy the tranquility no problem.  
Don't forget to follow our journey on Youtube here.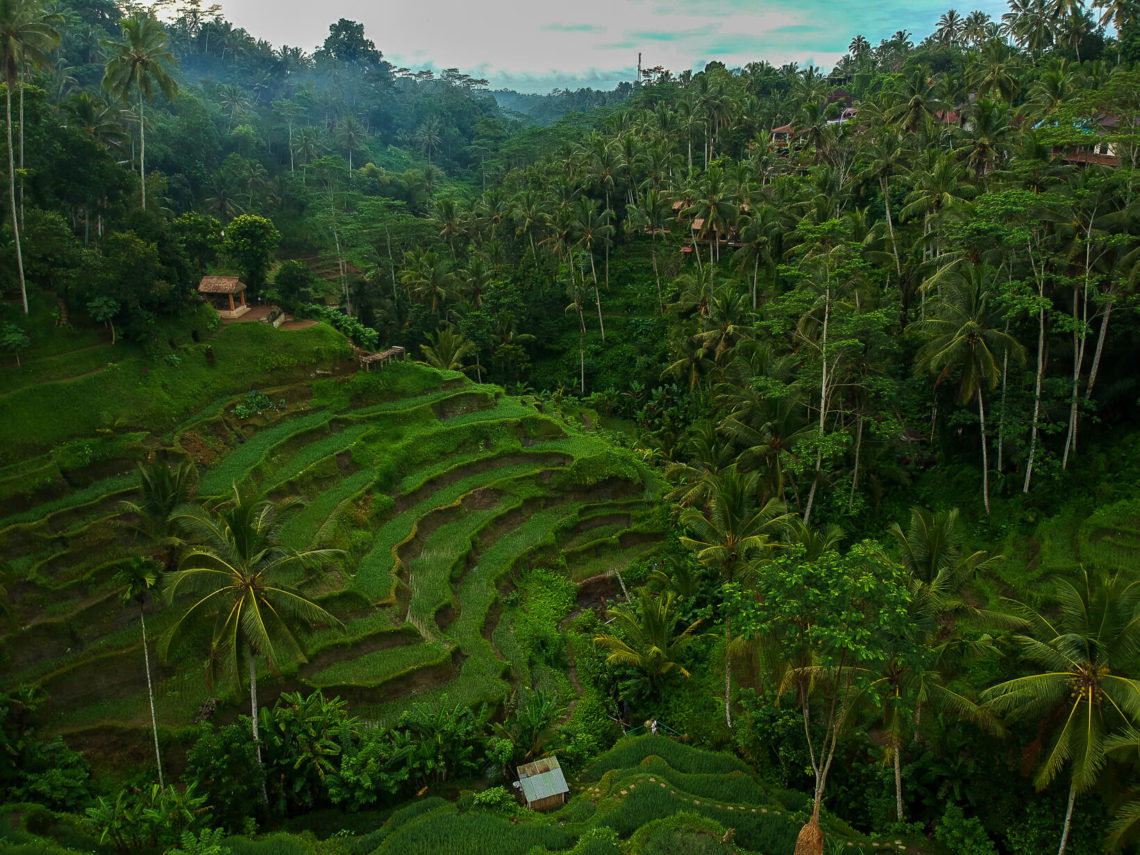 Campuhan Ridge Walk
Walking distance from the city centre of Ubud sits the famous Campuhan Ridge Walk. The perfect way to start the day, set your alarm clock early and hit the ridge before the sun rises. First thing in the morning, the ridge is much quieter and more peaceful than later in the day. Lose yourself in the mystical fogs that sit on the dense forest around you, as you walk high above the trees.  
Don't forget to follow our journey on Youtube here.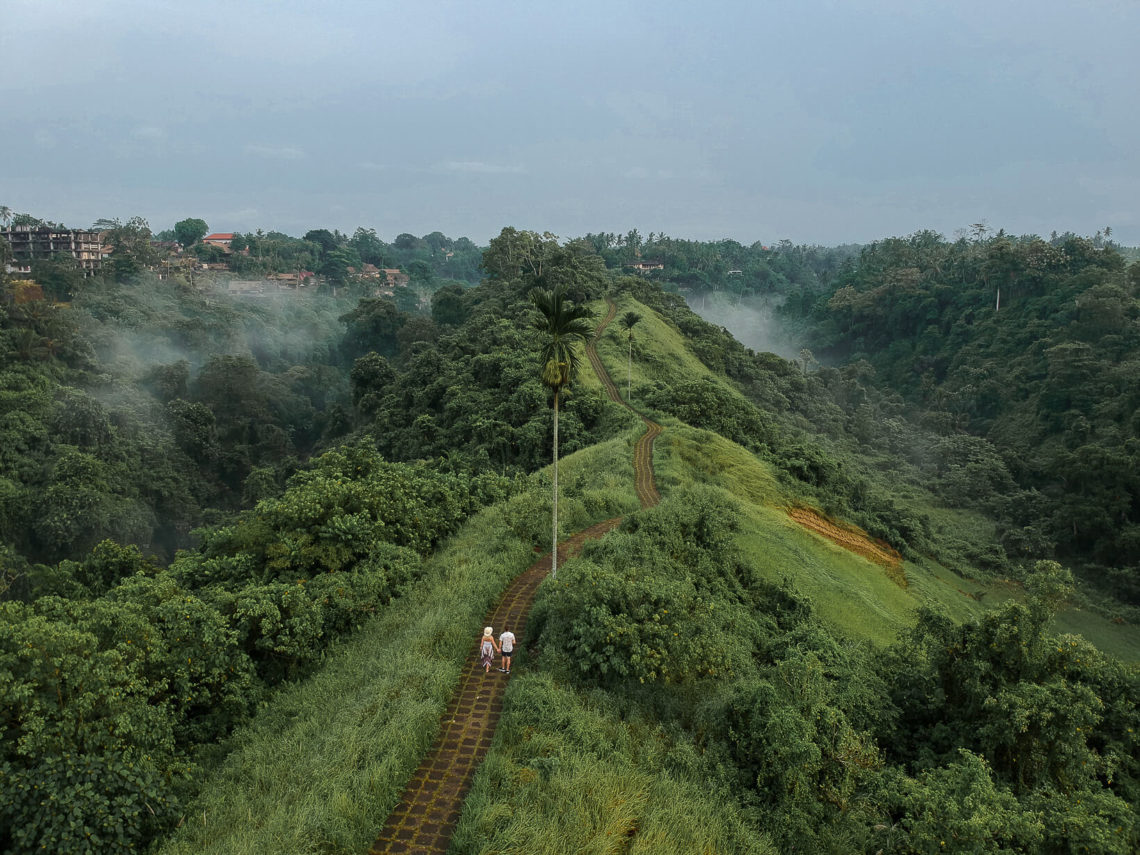 Ubud Markets
The
Ubud marketplace
is the perfect place to nab yourself some sweet bargains on holiday souvenirs, beautiful clothing and even cheap and fresh foods. The markets start off the day as a food market, where locals all gather to stock up on food for either personal use or for the nearby warungs and restaurants. Stop by here at sunrise and lose yourself in the hustle, bustle and incredible noise of the locals bartering over their pick of the day. Later in the morning, the market transforms into one of the largest clothing markets on the island. This maze-like array of market stalls offer a huge range of clothes, trinkets, accessories and souvenirs. Our top tip for bagging the best bargain is to walk past the market stalls on the ground floor (everyone visits these ones and they are unlikely to offer good prices), and head upstairs to the quieter markets. Visit the markets early to them opening and you are likely to be offered their "morning price". Locals believe if they give their first customer a very good deal and make their first sale early it will bring them luck for the rest of the day.  
Don't forget to follow our journey on Youtube here.
Waterfalls
In the jungles surrounding Ubud, you have a
huge selection of incredible waterfalls
to choose from. In less than an hour, you can visit 3 different waterfalls: Teganungan, Tukad Cepung and Kanto Lampo. Hire a bike or rent a driver for the day and lose yourself in the power of nature. If you fancy a trip further afield, the north of Bali is full of unfamiliar and undiscovered gems just waiting to be found. Two of these sleeping giants being the
Nungnung waterfall
and the
Sekumpul Waterfall
.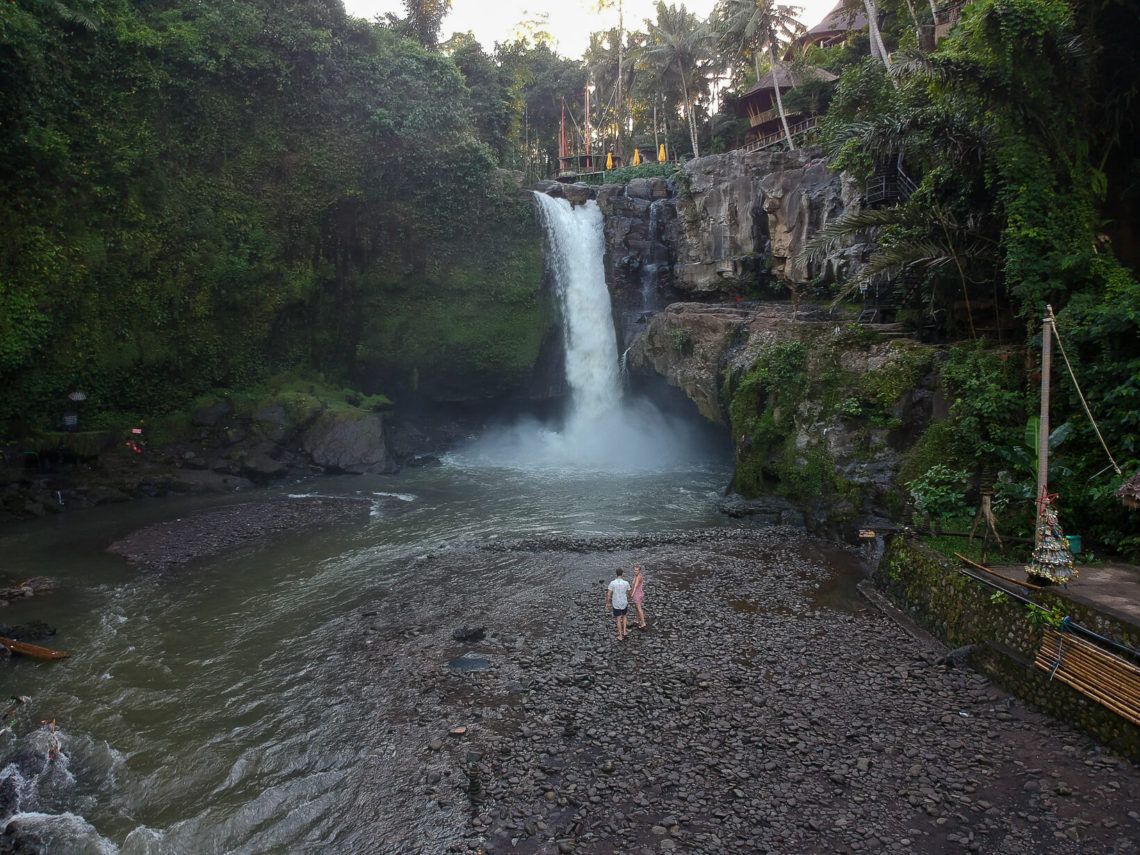 Monkey Forest
One of the most famous areas of Ubud is the Ubud Monkey Forest. Situated right in the centre of the city, the Ubud Monkey Forest is home to theses Balinese monkeys. You will have to pay for a ticket to visit the temple and make sure you take care of your possessions. Despite the locals frequently chasing them back to the forest, you can also see the monkeys wandering the streets nearby to the forest.    
Also Read – The Ultimate Nusa Penida Itinerary – Three Days in Nusa Penida
Before You Leave for Ubud
Whether you are yet to arrive in Bali or are heading to Ubud from elsewhere, there are a few things to check off to ensure you have a smooth trip. These include where to stay in Ubud, what to pacl for your trip to Bali and what travel insurance is best for your adventure.    
Also Read – Living in Bali – All You Need to Know for One Month in Bali
What to Pack for Bali
When it comes to the climate in Bali, the weather is a pretty predictable thing. In the southern, lowland areas, you are guaranteed warm, humid weather all year round. The seasons in this part of the world consist of wet and dry seasons, however even the rain is warm. That being said, being prepared with a poncho or rain jacket is always a good idea. The more dangerous part of the Balinese weather is the sunshine. The sun is hot in this part of the world and, if you are not prepared for it, can prove fatal. Covering up to avoid sun damage is always advised, especially since sun cream is EXTORTIONATE in this part of the world, with small bottles costing about £12. We recommend packing mainly summer clothes, with a few long sleeve tops to wear when riding scooters or spending a day in the sunshine. You can check out our
full packing guide when it comes to summer over here
for your own checklist. Make sure to pack a camera of your own, as you will be doing plenty of photo snapping in this insanely gorgeous part of the world. If you want to see what travel tech you should be packing, have a look at our
travel tech packing list over here
.  
Don't forget to follow our journey on Youtube here.
Best Travel Insurance for Bali
As with any adventure in life, it is important to take care and make sure you are covered. Travel Insurance is not a fun thing to fork out money for, however the consequences of not having a policy cover you are unthinkable. Do not take the risk, get travel insurance. For our adventures, we have found that World Nomad's Travel Insurance offers cheap, reliable and remote insurance policies for backpackers and holiday goers.
Get yourself a quote and protect yourself on your next trip here.
What Visa Should You Get for Bali
For a lot fo countries, getting an Indonesian visa is pretty straight forward. If you are on the list of countries able to obtain a Visa on Arrival (VOA), then all you need to do is show up at the airport and you are automatically granted 30 days in Indonesia. If you wish to stay for longer than these 30 days, extending your visa to 60 days is not too complicated either. You can easily do so through a visa agent, or even do it yourself once you are in the country.
Check out our full blog on how to extend your Bali visa over here
.  
Where to stay in Ubud, Bali
When it comes to accommodation in Bali, the range of choice is simply unbelievable. You can stay in sweaty shared dorms, converted traditional homes, jungle treehouses or private villas. No matter what your budget it, you are bound to find the perfect place in Bali. For your stay in Ubud, we have narrowed the best places to stay down to three levels of budget.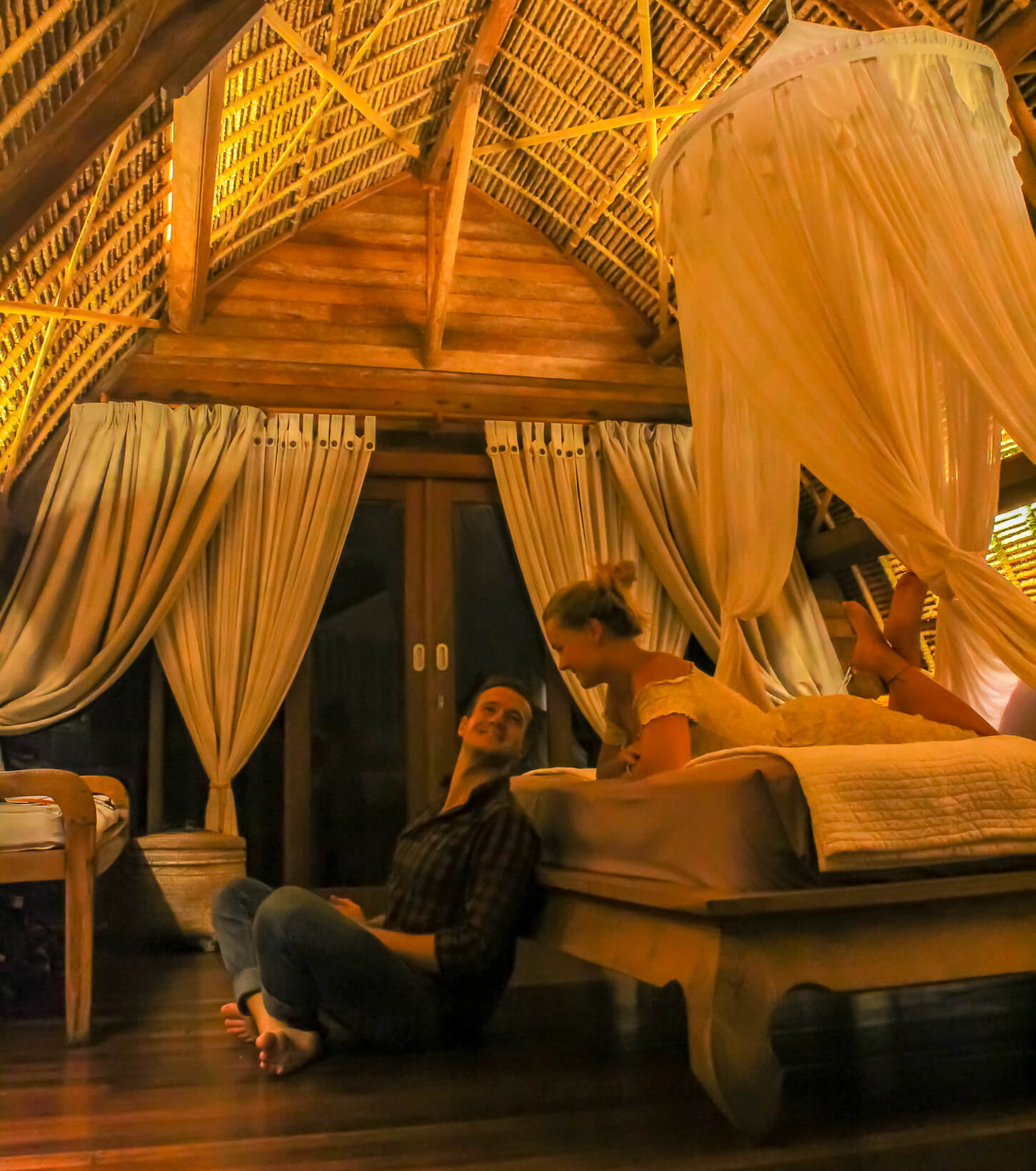 Luxury
– Escape the craziness of Ubud city centre and spend your nights in the tranquility of the jungle. Sandat Glamping Tents sit only 15 minutes from the bustling Ubud markets, however you will feel like you are in another world. Spend your day relaxing by the pool and use the free shuttle to explore Ubud by night.
You can book your stay at Sandat Glamping Tents right here.
Mid-Range
– Situated right in the centre of Ubud is the basic, yet very comfortable hotel, Nyuh Gading. This quiet hotel has excellent AC and fan options, balconies views and even offers cheap food and drink.
You can book your stay at Nyuh Gading right here. 
Budget
– For barebones accommodation just minutes from the Ubud markets, Ojek's Homestay is the place for you. This converted, traditional Balinese house compound offers rooms with and without AC, has a kitchen, showers and even offers laundry service for a reasonable price.
You can book your stay at Ojek's Homestay right here.
  If hostels are more your social scene, there are a huge range of hostels to choose from in and around Ubud.
Book your stay for Ubud right here
.  
Don't forget to follow our journey on Youtube here.
Also Read – The Definitive Guide to the Gili Islands, Bali – Gili Trawangan, Meno and Air
    So there you have it, all of the best and cheapest places to eat in Ubud. If you have visited Ubud yourself and have any further recommendations, make sure to leave your suggestions in the comment section below. If you have eaten at any of the above suggestions, let us know what you thought of them! Also remember, sharing is caring and if you found this guide useful be sure to share it with your friends and family so we can all enjoy the delicious food that Ubud has to offer. Check out our
other articles all about Indonesia
to plan your next trip here to the fullest. You can
catch up with us over on our social channels
to see where we currently are, and tag us in your photos to show us you enjoying the Ubud delicacies!    
Now Read:
This article may contain affiliate links that provide us with a small income. For more information read our Affiliate page.
---
Pin it for later!