Stand up paddle boarding, one of the fastest-growing past-times in the world, making waves across Scotland's still waters and blissful lochs. Whether you are a paddle boarding expert or have yet to give SUP a shot, the beautiful glens and deep lochs of the Scottish highlands are the perfect places to get out on your board. With so many bodies of water spread around the North Coast 500, the most difficult part about paddleboarding on the NC500 is deciding just where to go!
To help you get out and about this year, exploring the most beautiful parts of Scotland from the peace and tranquility of a paddle board, we have put together a list of our favourite places for paddle boarding on the NC500.
No time to read now? No problem, save a pin to your Pinterest board for later!
Lihou Island is the perfect place to go in Guernsey on a warm, sunny day either for a walk around the footpaths or for a dip in the sea. In this guide, we will discuss the best time to go to Lihou Island as well as the following
Paddle Boarding in Scotland
What is SUP?
Why choose SUP?
Where to get your SUP?

Portmahomak

Loch Brora

Embo Beach

Dunnet Bay

Bay of Sannick

Clashnessie Bay

Preparing for your trip to the NC500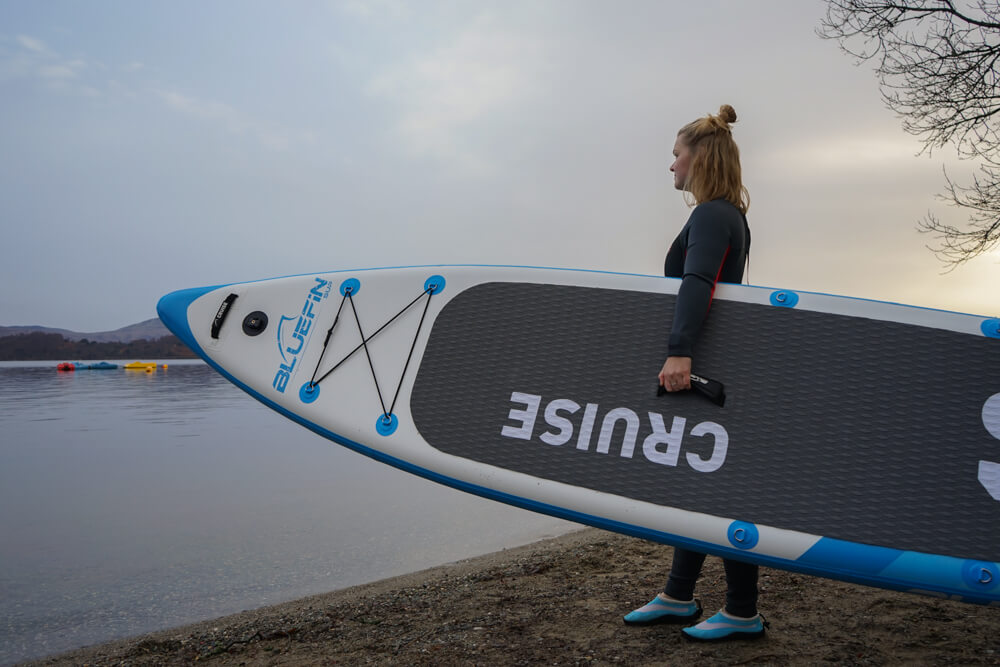 Paddle Boarding in Scotland
With the beautiful scenery, sheltered conditions from towering mountains and the bountiful supply of water (thanks to the 250 days of rain a year), Scotland is the perfect country to give SUP a shot. Although it may not have the warmest waters, with the average sea temperature sitting below 20oC, the popularity for SUP in Scotland is ever-present thanks to the magnificent scenery it has to offer.
There are loads of great quality and affordable paddle boards on offer online, all of which are perfect to start you off.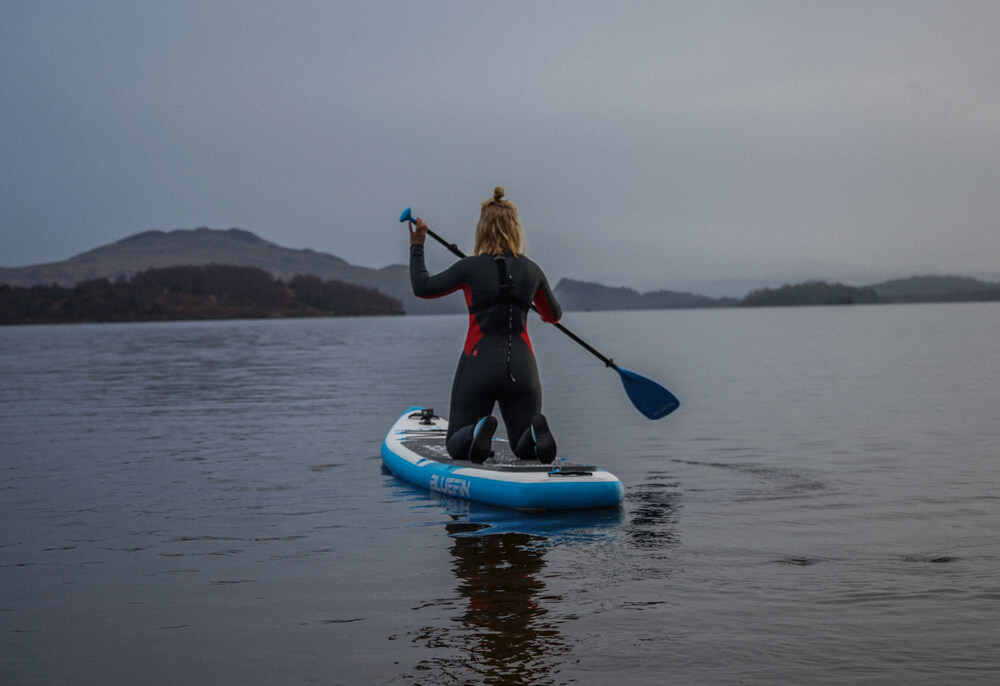 What is Stand-Up Paddle Boarding?
Stand-Up Paddle Boarding differs from the more conventional sport of paddle boarding in one very obvious way (it's right there in the name..). With the help of a much bigger board and a good amount of core strength, the participant stands up on the board and uses a single, long paddle to propel themselves through the water.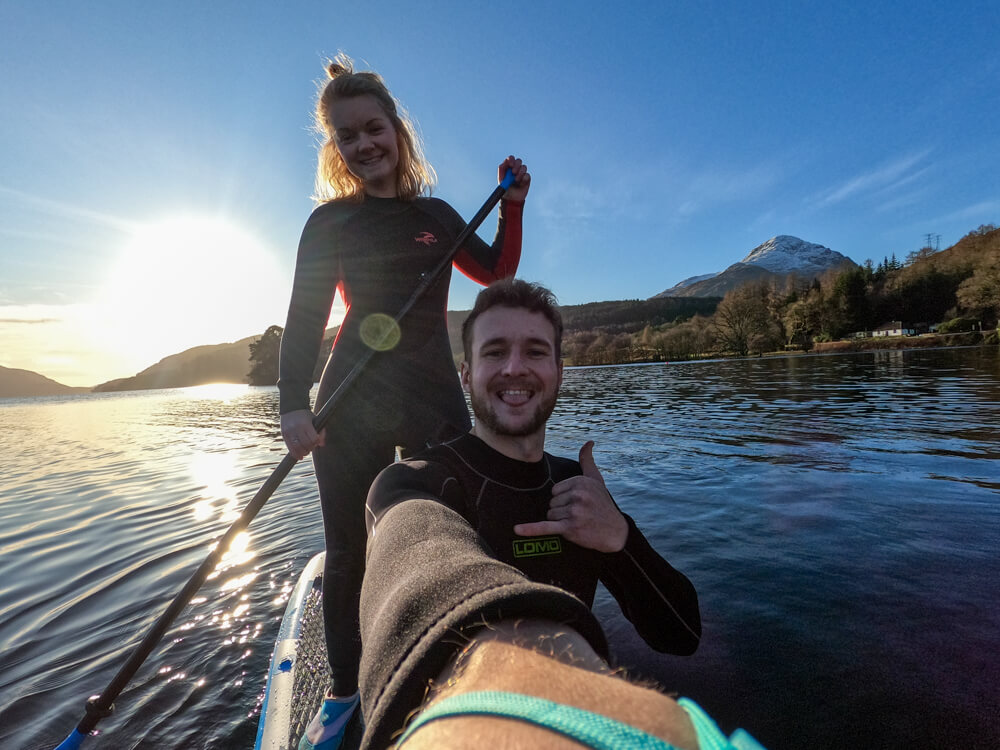 Why Choose Stand-Up Paddle Boarding?
Out of the many reasons that SUP is a fantastic sport to try, the main one that attracts so many outdoor enthusiasts is how achievable it is. With varying sizes of boards, it is possible to get a SUP is a sport that is easy to pick up and can gradually become more difficult as the user improves. If you are new to the sport and do not have the best balance, the best thing about SUp is that you can start off kneeling down and gradually transition to standing up over time.
Compared to simple paddle boarding, SUP allows the user to have a much higher perspective over the water on the board. This gives you a much better view of your surroundings, makes it easier to chat with other boarders and also gives you a better view of what is under the water.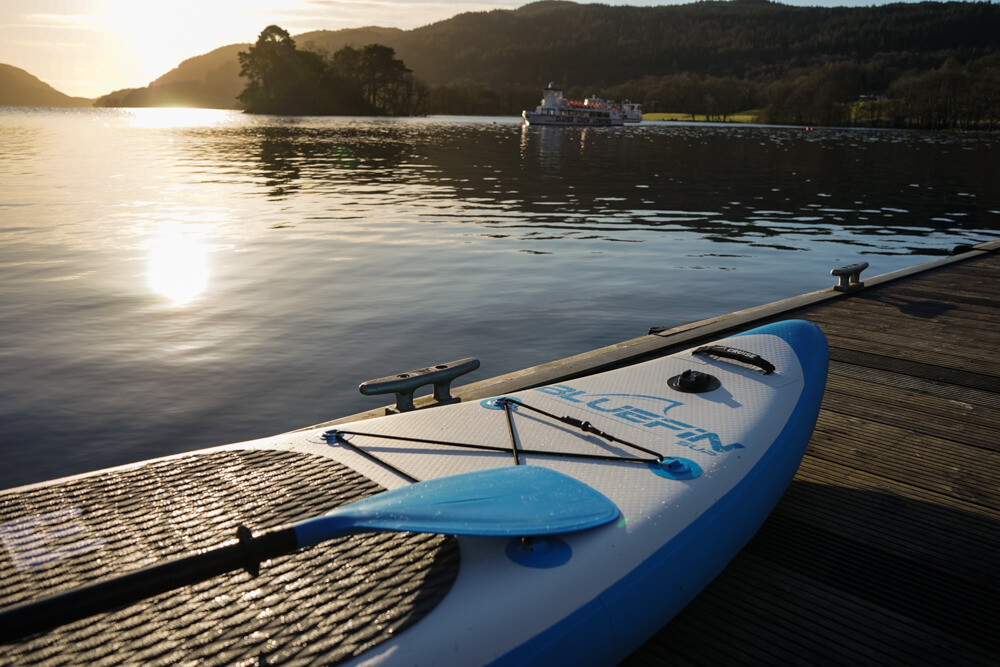 Where to Get Your SUP?
If you do not have your own SUP yet but would like to give it a shot, you can either choose to buy your own or rent one to see how you enjoy it. Due to the high popularity of the sport across Scotland, there is a huge range of rental companies all across the highlands. Wherever you plan on visiting for your SUP adventure you will be sure to find a rental board.
If you are looking to buy a SUP board of your own, Bluefin SUP is a fantastic place to look. No matter what your skills level, choice of size or budget may be, BlueFin is sure to have the board for you. They even offer ex-demo boards at a massively discounted rate for people who are not bothered about brand new equipment.
We would personally recommend an inflatable board for your trips away in Scotland, simply due to how practical they are. Inflatable SUPs allow you to pack a board of any size into a small car and then, in a matter of minutes, unpack and set up at a location of your choosing.
Read our full review of our inflatable, 12ft Cruise Board for all the information you need to know.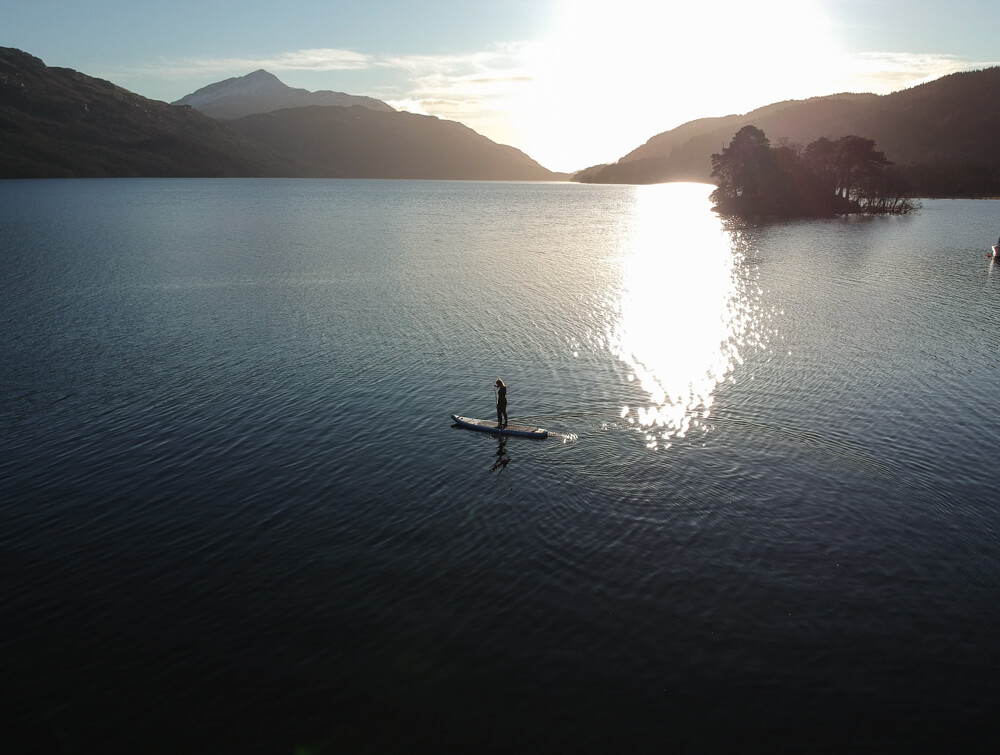 Where to go Paddle Boarding on the NC500
Portmahomak
A small bay, perfect for stand-up paddleboarding. This quiet town is located on the Tarbat Peninsula on the northeast coast of Scotland.
There is a small amount of parking in Portmahomak, with easy access to the beach making it easy for carrying your paddleboard to the shoreline. The car park is free to use.
There is a beach promenade that is lined with benches and there are pubs and cafes in the area with outdoor seating looking out to the beach too, so you may have some spectators. Public toilets are available in Portmahomak within walking distance from the beach.
If you are camping in this area, Portmahomak Caravan Site overlooks the beach and is within close walking distance to the town.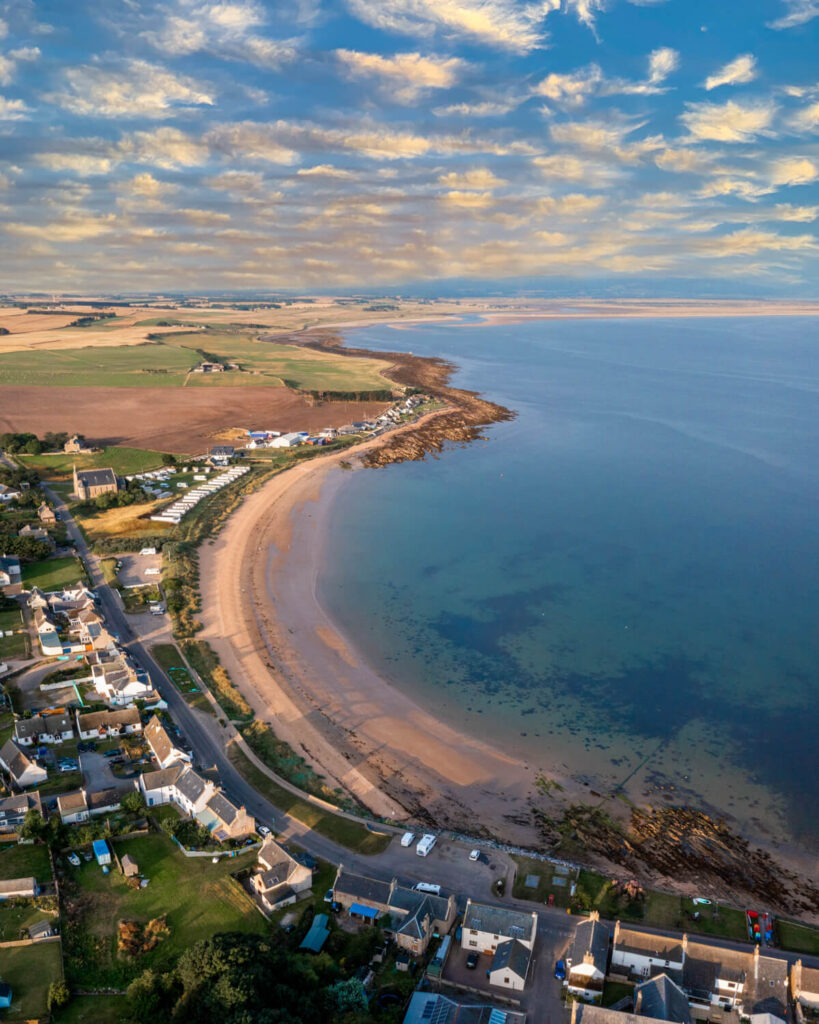 Loch Brora
Loch Brora is a beautiful setting that sits only 10 minutes outside of the village of Brora. Nestled under the mountains, Loch Brora is an idyllic spot to get out on a Stand up paddle board or go for a swim. There is a small, free parking area at the side of the Loch as well as walking trails along the Loch side. Keep in mind that if it has been raining, the car park can become very boggy.
This is also a beautiful spot for wild camping on the NC500 however if you do so it is important to remember to wild camp responsibly. 
Embo Beach
One of our favourite beaches on the east coast of the NC500 is Embo beach. This lengthy bay is a beautiful spot for paddleboarding during the summer months. The beach itself sits beneath the small village of Embo, sheltered by grassy sand dunes. There is free parking in Embo as well as public toilets and some shops. The beach is a 5 minute walk from here so be prepared to carry your board down to the beach from the car park.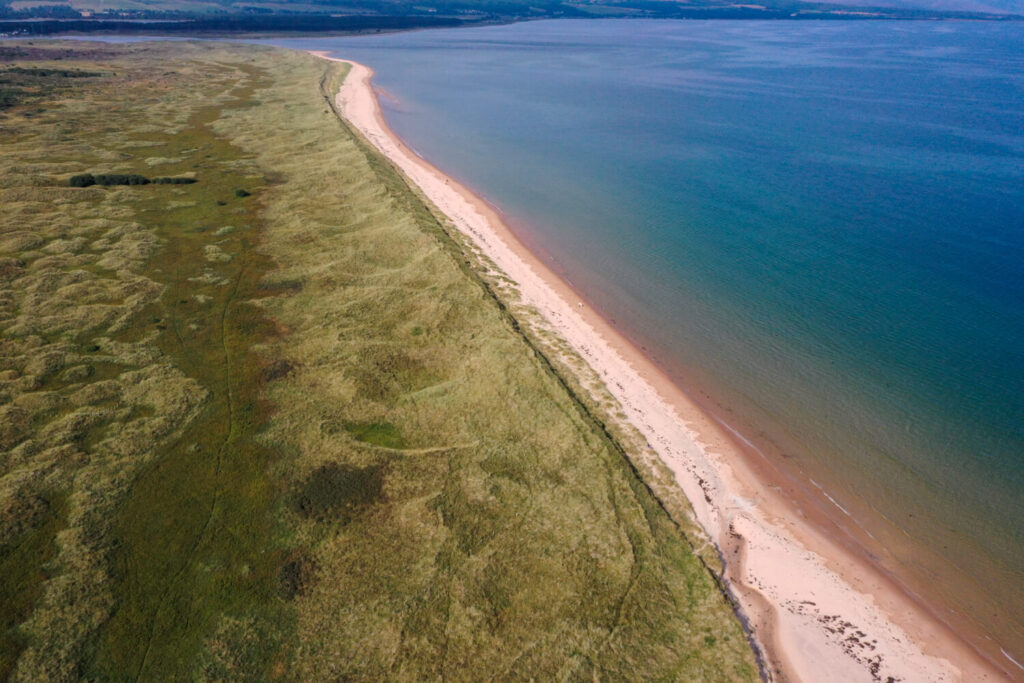 Dunnet Bay
One of our favourite stretches of white sandy beach on the NC500 is Dunnet Bay. An absolutely beautiful beach for stand-up paddleboarding. This is the most northernly beach on the north coast of mainland Scotland. There are toilet facilities and a large car parking area for the beach which is popular among surfers and paddleboarders. If you are planning to stay in the area, Dunnet Bay Campsite overlooks this beautiful beach.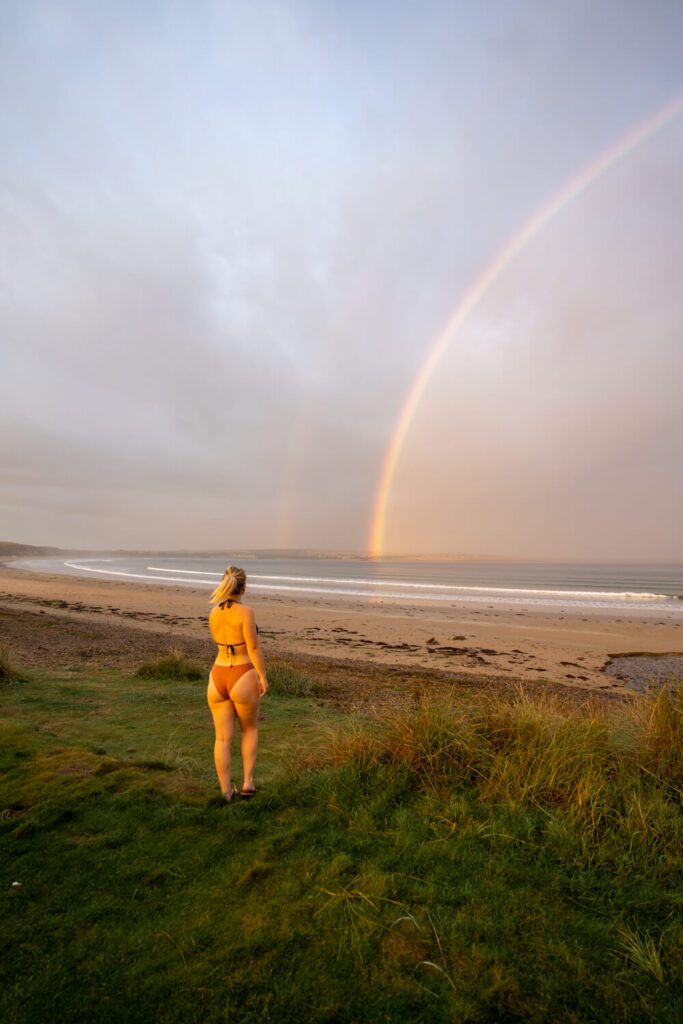 Bay of Sannick
Bay of Sannick is a very secluded and untouched beach on the NC500. On the road towards the Duncasby Stacks is the unofficial parking area for this beautiful beached there is room for maybe 3 cars. Be prepared to carry your board 5-10 minutes across the grassy path and down the sand dunes onto the beach. The bay is small and reasonably sheltered with glistening clear blue water making it perfect for paddleboarding.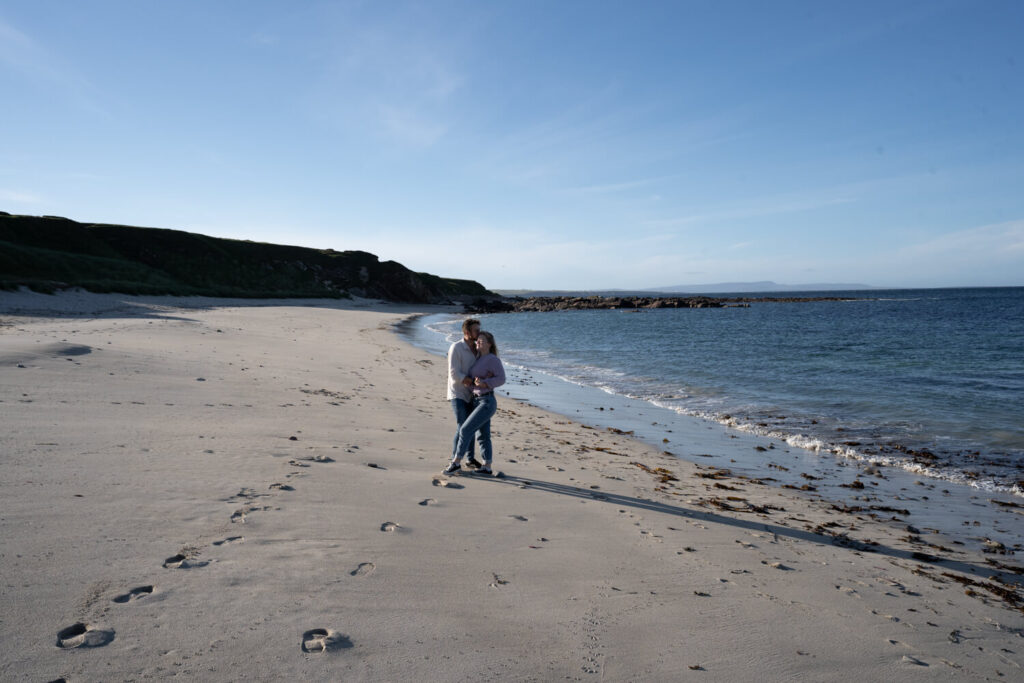 Clashnessie Bay
Clashnessie Beach is a small and beautiful bay with a rocky inlet and plenty of pristine white sand meeting the tranquil turquoise water. A peaceful, sheltered spot to do some paddleboarding on the NC500. Clashnessie Beach has a mild micro-climate due to the closeness of the Atlantic Ocean Gulf Stream.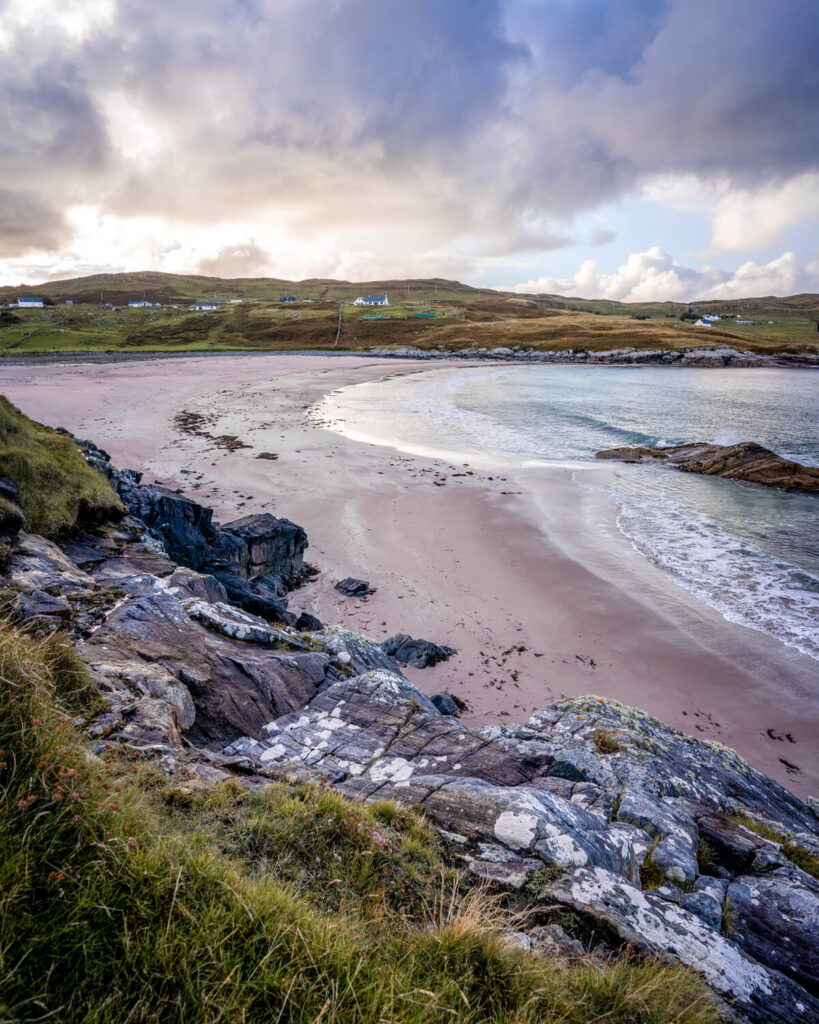 Before You Leave on the North Coast 500
Before you head off on your trip around the NC500, there are certain things you will need to get organised to ensure a smooth trip. These include how to get around the route, including being aware of single track roads, etc., what to pack for Scotland, where to stay along the route and what travel insurance to book.
Read more planning tips for the North Coast 500 in our full guide.
How Do I Get Around the NC500?
Given the remote location of the NC500 and the majority of the sights along the route, the best way to get around this road trip is by driving. There are of course other methods that are still popular, such as cycling and hiking, however, if you have a short amount of time on the route, neither of these are very suitable.
As for public transport, the use around the NC500 is understandably difficult due to how remote each location is, however, with the increasing problem of congestion along the route, this is a good option to research if you have time. If it is something that interests you, you can read a public formed itinerary of how to get around the NC500 by public transport over here.
If you are looking to rent a cosy, reliable, and luxurious campervan for your trip along the NC500, we highly recommend hiring through Spaceship Rentals. 
Browse the full range of vehicles on offer at Spaceship Rentals over here.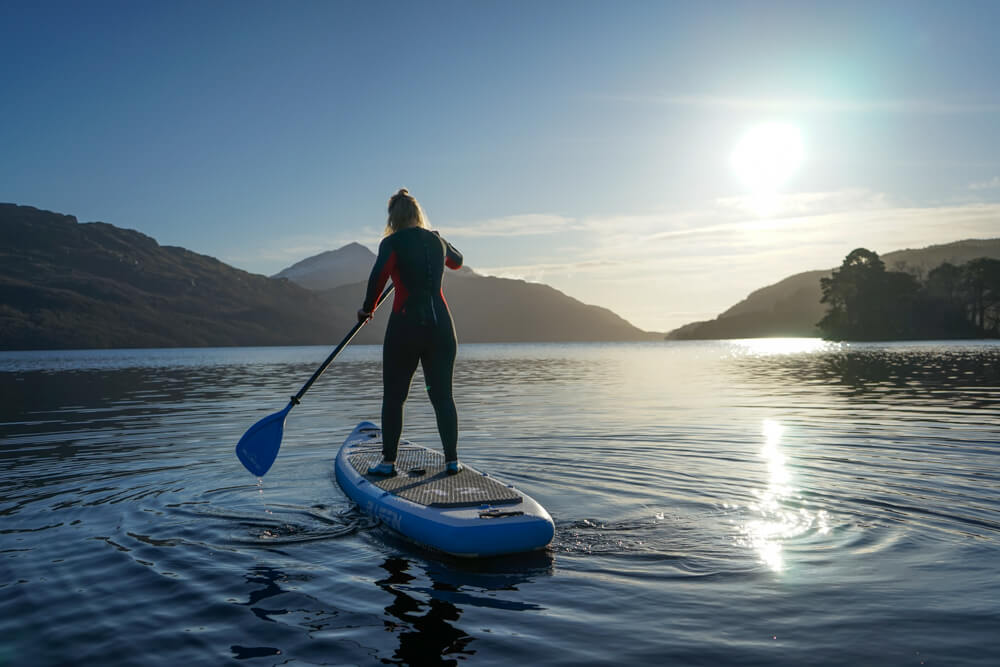 What Should I Pack for the NC500?
When it comes to packing for a trip along the NC500 there is one item of clothing that you are going to need all year round: a waterproof. It rains in Scotland on average 250 days a year, meaning that during your 7-day NC500 road trip you will probably experience at least a drizzle of rain. Due to this, the number one item on any Scotland packing list is a good waterproof jacket.
As for the rest of the year, the temperature in Scotland and the central heartlands is reasonably mild for most of the year. During the winter months, you will most likely experience snow, however, temperatures usually sit around freezing, so it is not too cold. For your reference, the average temperatures in Scotland are listed below during each season.
Spring (March, April, May) – 5-10 degrees C
Summer (June, July, August) – 15 degrees C
Autumn (September, October, November) – 5-10 degrees C
Winter (December, January, February) – 0-5 degrees C
As you can see, the weather never really gets above the teens, with anything over 25 degrees C considered a heatwave. The best way to pack for your trip to the highlands is with layers that can be added and removed as you need them. You will definitely need a hat and gloves during the colder months and will most likely need sunscreen to protect you on the long days in the open.
For our full list of items that we pack no matter where we go in the world, check out our full packing guides over here.
Given the beautiful sights and scenery that you are no doubt going to see around Scotland, we highly recommend packing a good camera for your trip. If you want to read more about the cameras we use and why we love them, check out the link below.
You can read what else we keep in our camera bag over here.
Where Should I Stay on the NC500?
The remoteness in the highlands of Scotland will leave you with little choice of accommodation in each location along the NC500, however, there are still enough options to choose from to ensure a comfortable trip. These are mostly in the shape of B&Bs, Airbnbs, converted cottages and other quirky accommodations.
Depending on how adventurous you are, there may be more accommodation choices than just the above, often with an even better view. Caravan and camping sites are abundant along the NC500, drawing camping enthusiasts from all over the world. For some of the most spectacular bedside scenery along the North Coast 500, we recommend packing a tent and getting in touch with nature for the week.
As we travelled along the North Coast 500, camped in our trusty Vango tent on a mixture of campsites and wild sites. Wild camping is a fantastic way to enjoy the beauty of the highlands, however, it must be done respectfully. Read our full guide to Wild Camping if you wish to give it a go so you know everything you need to for a comfortable and sustainable trip.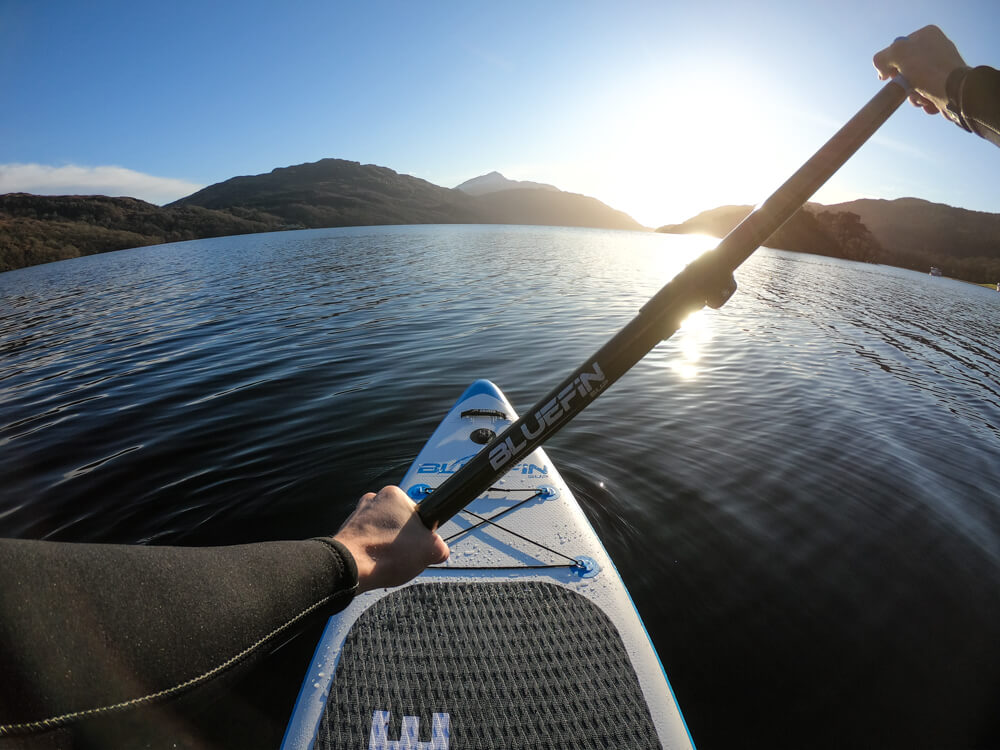 What is the Best Travel Insurance?
No matter what type of adventure you are heading on, whether it is a mountain adventure or a relaxing beach destination, one thing we all need to be aware of is that accidents can happen. The last thing you want is for an unexpected medical emergency to ruin your trip of a lifetime. Luckily, that is what travel insurance is for.
Whenever we travel abroad, we get covered with World Nomad's Travel Insurance, a reliable, friendly and extremely affordable method of covering yourself on any adventure. With years of experience working for backpackers around the globe, the service they provide is perfect for whatever type of trip you have planned.
Get covered for your next trip and get a quote from World Nomad's right here.
So there you have it, the best places for stand up paddle boarding along the North Coast 500. If you have visited the NC500 recently, let us know what you thought of the locations listed above, or if you have any suggestions let us know in the comments below.
As always, sharing is caring so make sure to share this photo guide with your family and friends and inspire them to head off on their own North Coast 500 adventure. If you are planning the trip for yourself, make sure you have a look at the rest of our Scotland content for more inspiration to our beautiful home country.
When you set off on your own adventure, be sure to tag us in your photos on Instagram and we will share them with the rest of our community. In the meantime, why not follow us over there to see what we are currently up to and keep up with us on our Instagram Stories.
Now Read:
This article may contain affiliate links that provide us with a small income. For more information read our Affiliate page.
Pin this image to your Scotland Pinterest board for later