Melbourne has repeatedly been declared one of the most liveable cities in the world. With some of the widest range of cuisines, bars cafes and thriving social spots that we have ever seen, combined with the plethora of free things to do in Melbourne, it's easy to see why. You can easily
spend an entire holiday in Melbourne alone
, with so many amazing sights, attractions and foods to see, do and try. Whether you are wanting to learn about
the history of the city
, check out the local wildlife or do some exercise, here are the best
cheap things to do in Melbourne
, including all of the free stuff Melbourne has to offer.
Download our FREE full guide to arriving in Melbourne and getting yourself set up. This includes how to setup a bank account, superannuation and so much more!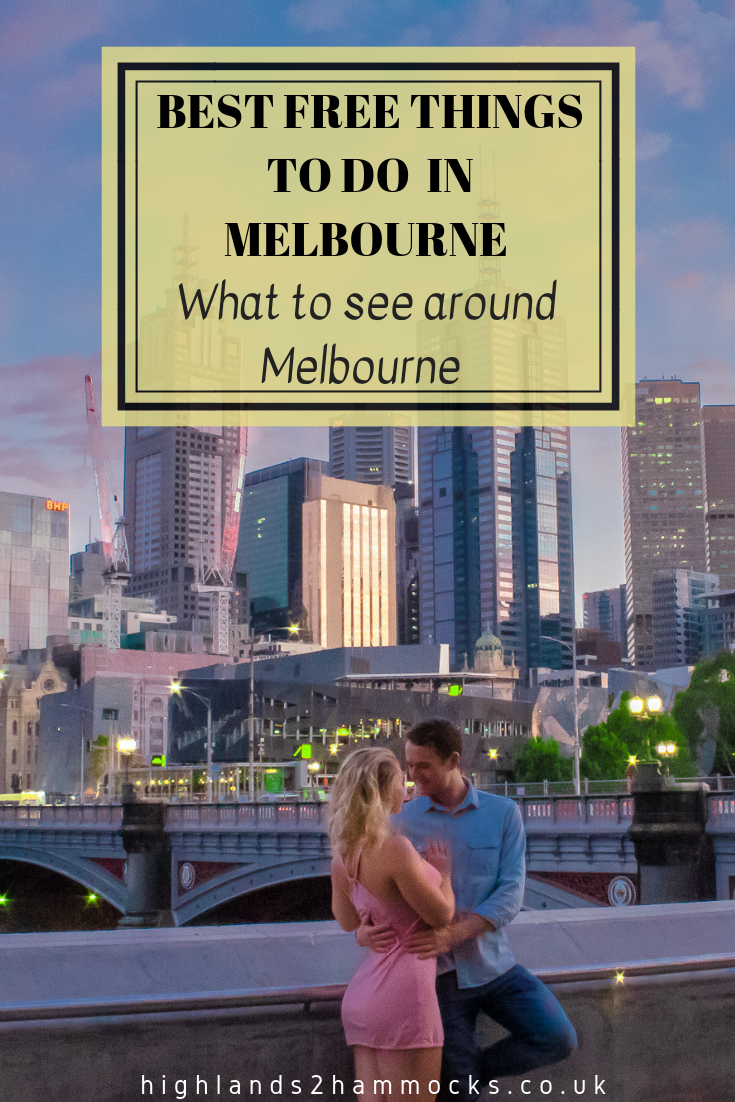 The Best Free Activities to Do in Melbourne
St Kilda Pier Penguins and Sunset
One of the most romantic things to do in Melbourne is watching the sunset over
St Kilda beach
. In the summer the beach can be quite busy if the weather is nice. However, there are also plenty grassy areas to relax together and watch the sunset over the ocean. One of the free things to do in St Kilda is going to the
St Kilda Pier at sunset to watch the penguins
. Penguin in Australia?! I thought this too! Walk along the pier to the breakwater past the kiosk and at sunset you will start to see the fairy penguins return to land after a day out at sea. There are volunteers there to ensure the penguins are safe during this time. No flash photography is allowed, instead there are red lights to help us admire the penguins from the viewing platforms. As this is one of the more popular things to do in Melbourne, we would recommend that you arrive early to get a good viewing spot.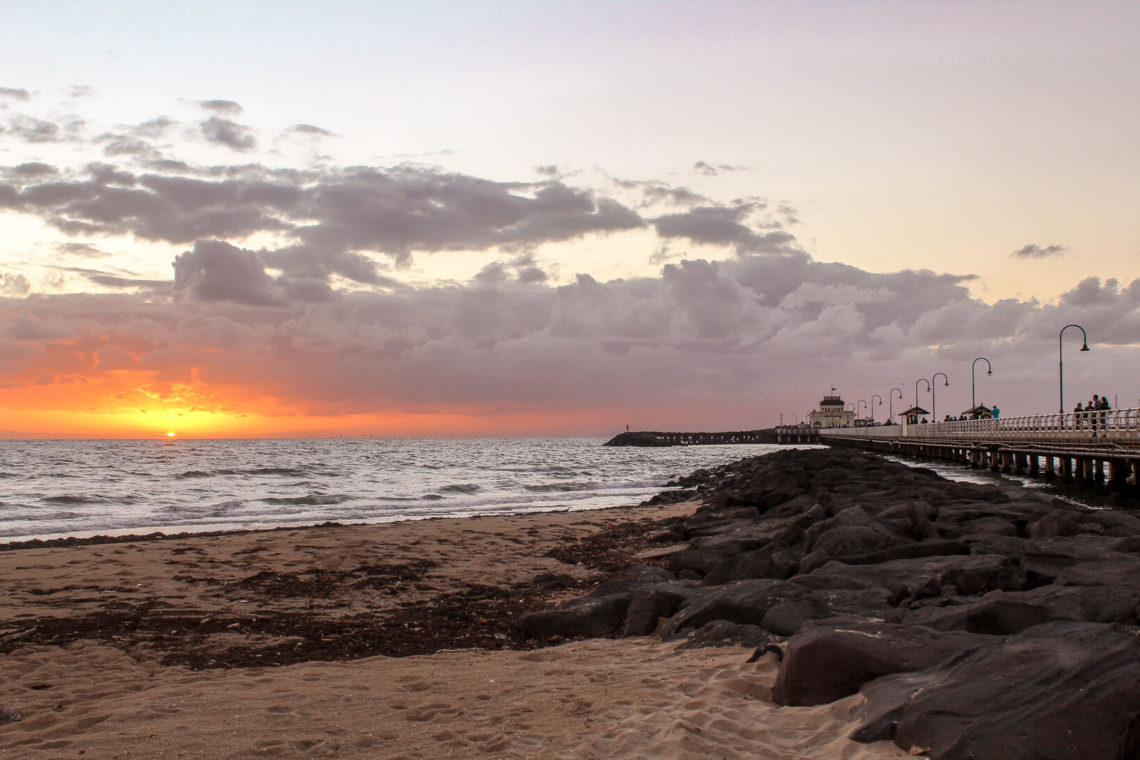 Also Read – Melbourne Street Art – Best CBD Artwork in Under One Hour
Australian Open Tennis Qualifiers
During the
Australian Open Tennis Tournament
in January, the first week of tennis matches is free. Head over to the Rod Laver Stadium and watch some of the players warm up or play to qualify for the tournament. Games are on all day and it's a come as you please event.
The Royal Botanical Gardens of Melbourne
Another one of our favourite things to do around Melbourne is taking a stroll around the
Royal Botanical Gardens
. The gardens are open every day of the year from 07.30am until sunset. Take a stroll around the Botanical gardens and experience the variety of plants and enjoy the peace and quiet away from the bustling city. It is definitely one of the nice places to visit in Melbourne.
Queen Victoria Market
Queen Victoria Market
is Melbourne's largest market and one of the best free things in Melbourne. Meander through the old sheds and smell the selection of food and souvenirs on offer. Make sure you check the opening times before you go as all stalls are opened and closed at different times. Extremely popular with both locals and
backpackers working in Melbourne
, the Victoria Market night market is open every Wednesday night between November and March, 5-10pm.
Also Read – The Most Instagrammable Places in Melbourne – The Ultimate Guide
Sidney Myer Music Bowl Free Concerts
If you're looking for something to do in Melbourne throughout the month of February, the Melbourne Symphony Orchestra plays a series of
free concerts
at the
Sidney Myer Music Bowl
. This is one of the main attractions in Melbourne during this time therefore you should make sure you arrive early to get a good seat. We arrived not long after the gates opened and brought in our own food and drink. In 2019, they celebrated 90 years of free concerts at the Sidney Myer Music Bowl. That just shows how much this is loved by people in Melbourne.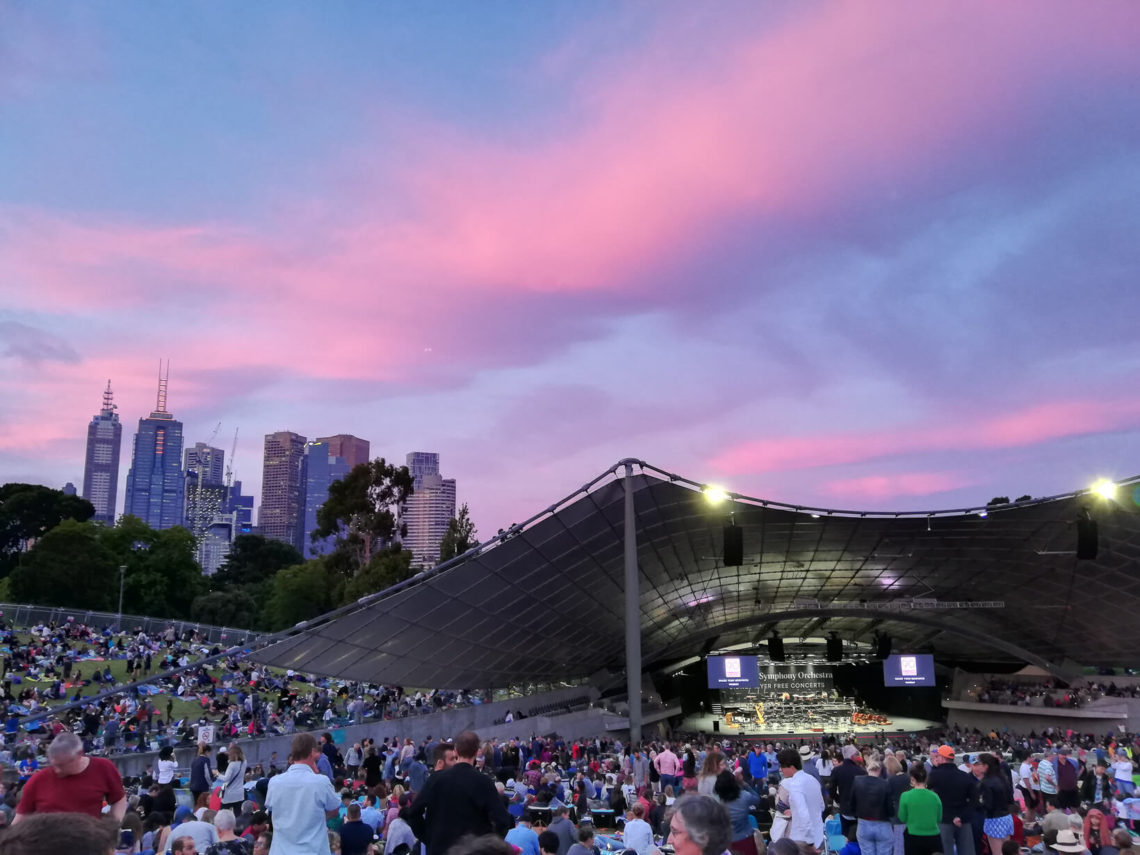 Sit in the Audience of the Project
One of the unusual things to do in Melbourne, is to sit in the audience of the
Project TV show
. This is a show joining in conversations around the country. This free event is held in the studios in South Yarra each weekday at 18.30. It is really easy to apply for online.
Also Read – Best Bank for Travelers – Starling vs Monzo Card Review
The State Library of Victoria
The
State Library of Victoria
is the 4th most popular library in the world and one of the best attractions in Melbourne. It was built in the 19th century and has some of the cities most beautiful interiors. It is one of the most beautiful libraries you will visit. Make sure you visit the La Trobe Room and read your book in peace, surrounded by the beautiful architecture.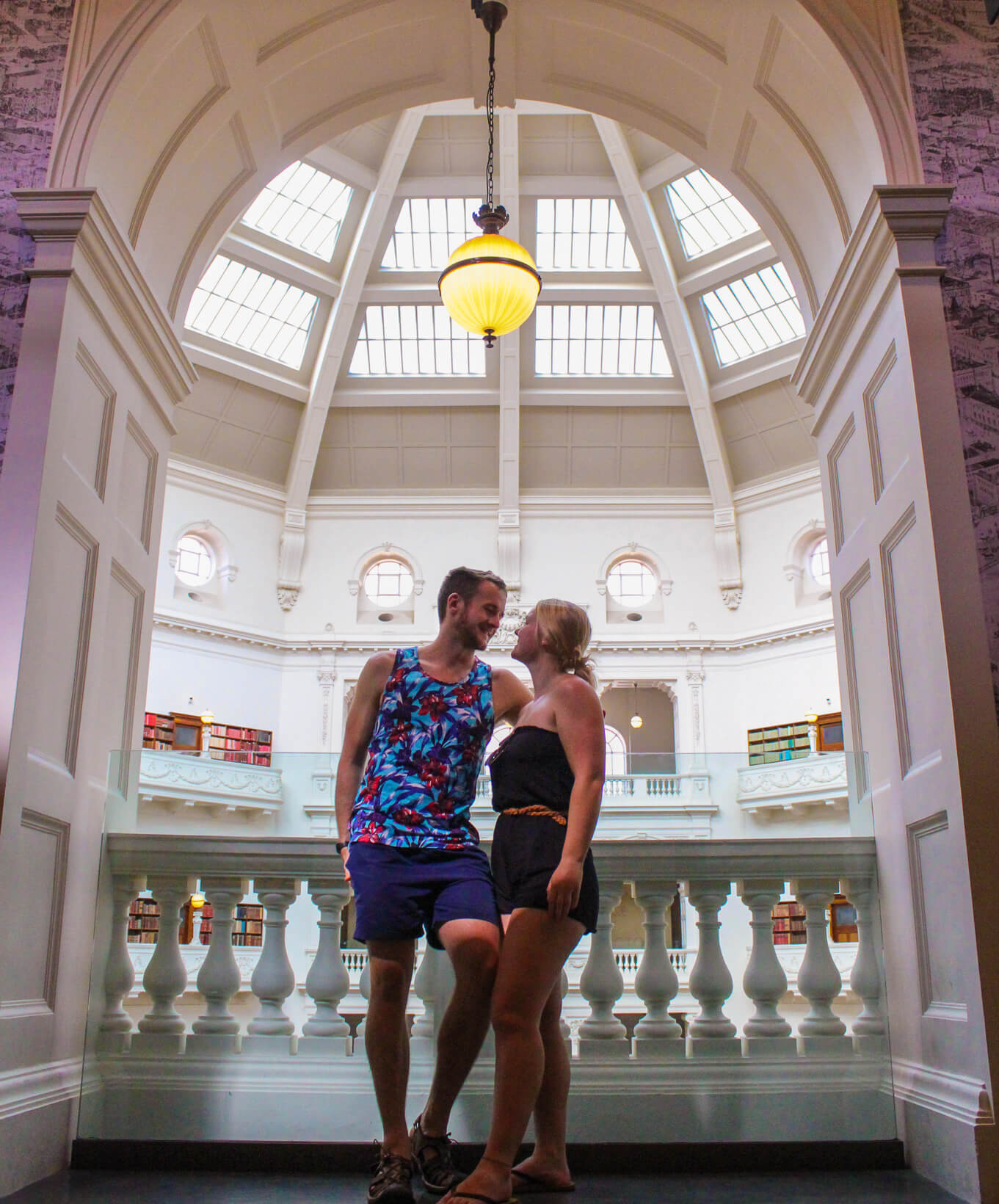 The National Gallery of Victoria
The National Gallery Victoria is one of the top things to see in Melbourne city. It is free entry and is open 10am-5pm daily. It is the oldest and most visited gallery in Australia and hosts a wide range of local and international artists, exhibitions and events.
Also Read – Melbourne Food Blog – The Foodies Guide to Melbourne
Explore the City of Melbourne
Spending a day out in Melbourne and exploring what the city has to offer is a great way to spend the day. Melbourne is a fascinating city and is currently sitting at the second most liveable city in the world (after Vienna stole its title at number one!). It is easy to see how this is the case,  as there are so many
amazing Australian landmarks
to visit in Melbourne. You could easily spend the whole day wandering and exploring this beautiful city, tasting the local food and enjoying the incredible street musicians that line the streets. Also, check out the
incredible street art\
that decorates almost every available wall around the city.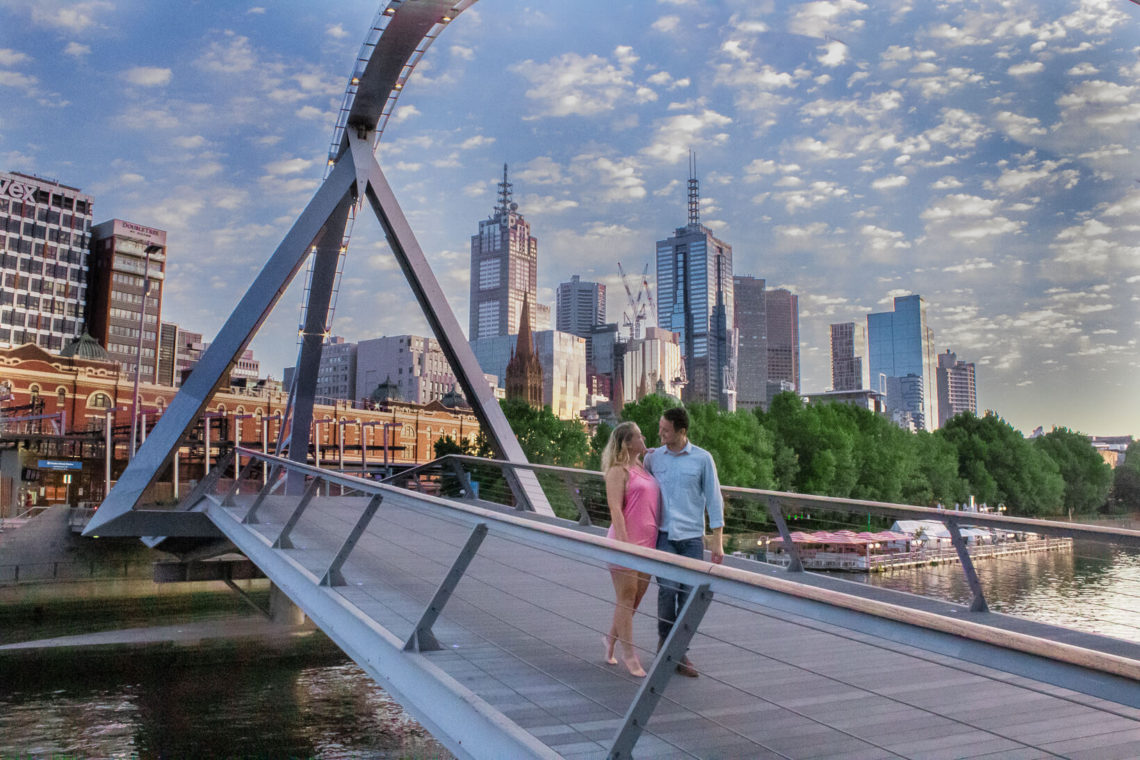 Australia Parliament House Tour
Back in the days before Canberra was founded, there was a bitter rivalry between Melbourne and Sydney as to whom is more deserving of the title of "Capital of Australia". This argument continued for years, before ending when it was decided that an inland city would be constructed, equal distance between the two cities. During construction of the capital city of Canberra, Melbourne was the temporary home to the Australian government, hence the construction of the beautiful parliament buildings which remain here today.
If you are looking for interesting places to visit in Melbourne, how about checking out the Parliament House Tour. Public Tours of the Melbourne Parliament are held throughout the day and the times can be found on the website.
Also Read – Unheard and Unbelievable Melbourne Facts
Brighton Beach Huts
Another one for your list of places to visit in Melbourne is Brighton Beach! This beautiful beach is lined with stunning colourful beach huts overlooking the ocean. The best time to visit is just before sunrise, before the crowds descend on the peaceful seaside town. Check out the colours of the beautiful beach huts along the beach and go for a quick dip to cool of in the morning sun. Just make sure you bring your camera!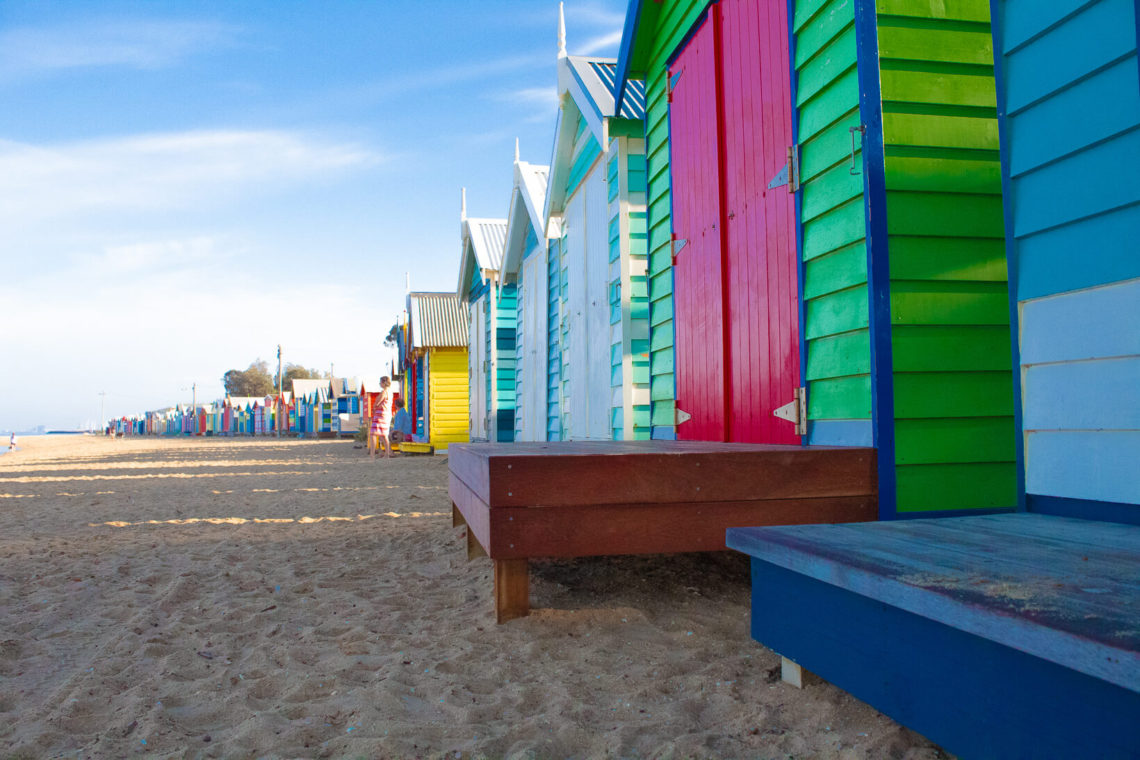 Spleen Bar Free Live Comedy
If you're looking for things to do in Melbourne city at night and it happens to be a Monday? Spleen Bar is where it's at! This bar is located on Bourke Street and is the host of free comedy every Monday night. Brighten up any Monday blues by letting your hair down for two hours and be entertained by some of Australia's up and coming and some famous comedians. The bar is open if you are wanting to buy a drink but apart from that, the night is free!
Also Read –  Travel the World – Money Saving Tips
Melbourne's Arty Alleyways – Street Art Tour
Some of the best places to go in Melbourne are the arty Alleyways. Melbourne is famed for its street art as it covers nearly every nook and cranny in the city. Hosier Lane and AC/DC lane are some of the top Melbourne city tourist attractions. Melbourne became world famous as the "Stencil Art Capital of the World'. Although it may have lost this title now, it still holds on to its beautiful, artistic heritage, with incredible mosaics decorating the inner city and surrounding suburbs. You can check out our detailed tour guide to the
Melbourne street art around the CBD in under one hour
if you are looking for an awesome afternoon out!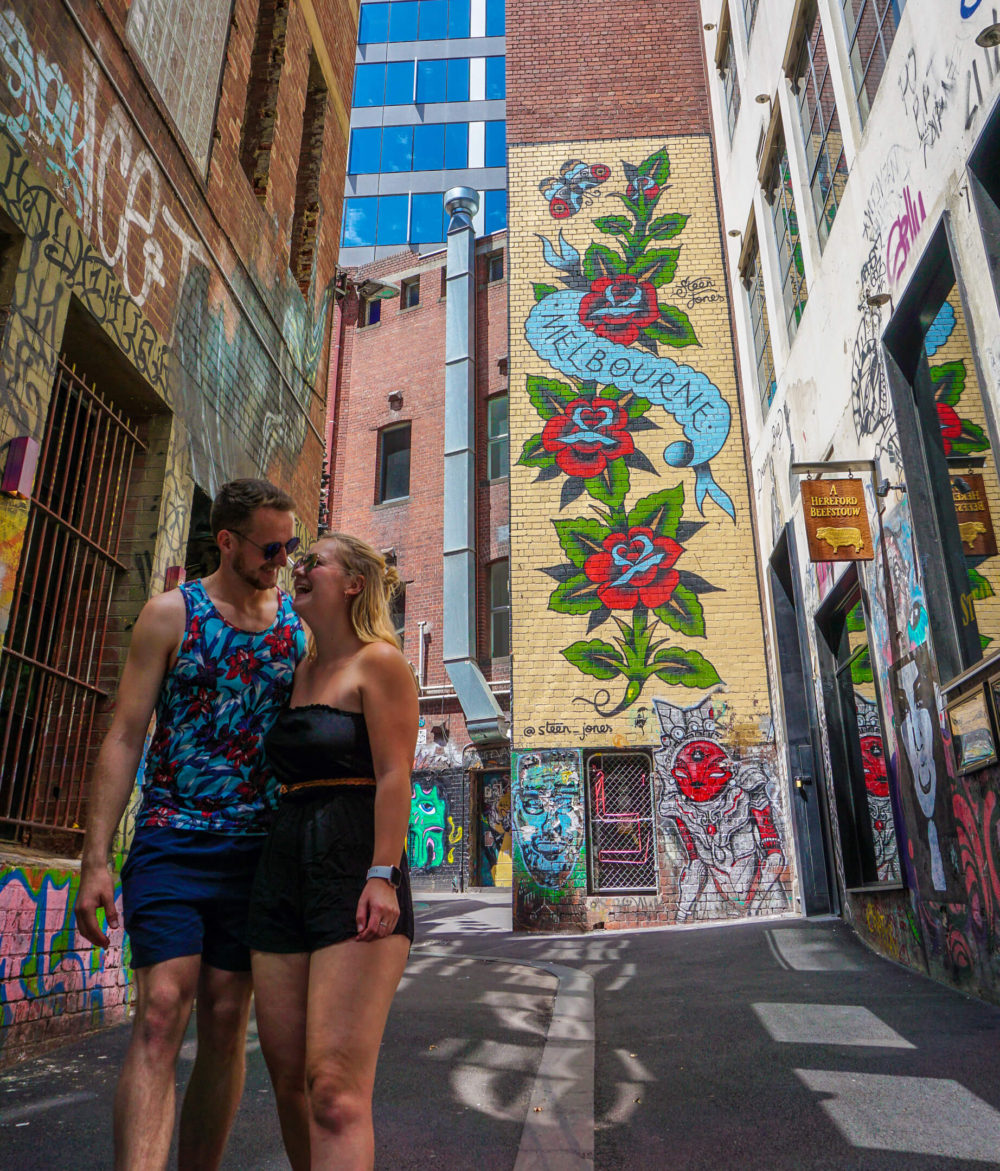 Also Read – Self Guided Walking Tours, Melbourne – The Ultimate CBD Street Art Tour
Take a Free Walking Tour of Melbourne
One of the best tours to do in Melbourne, is the free walking tour. This 3 hour tour will take you around all of the best places to see in Melbourne, as well as giving you an in depth lesson about the history of this wonderful city. We chose to go on a tour with
I'm Free Tours
, showing us what to see around Melbourne and the best bars and eateries in the city.
Visit the Shrine of Remembrance
The Shrine of Remembrance is the National War Memorial of Victoria. This monument is dedicated to the Australian citizens that have been involved in the wars over the years. The Shrine is open during the day between the hours of 10am and 5pm . The Crypt is open during these same hours and allows you access to the area beneath the shrine where you can pay your respects as you learn about the history of these tragic events. You can also climb to the top of the shrine and look at the view of the city. Thanks to a decree by the mayor of Melbourne, No buildings can be constructed between the shrine and the city. This means there is, and always will be, a magnificent view of the city from the steps of the shrine.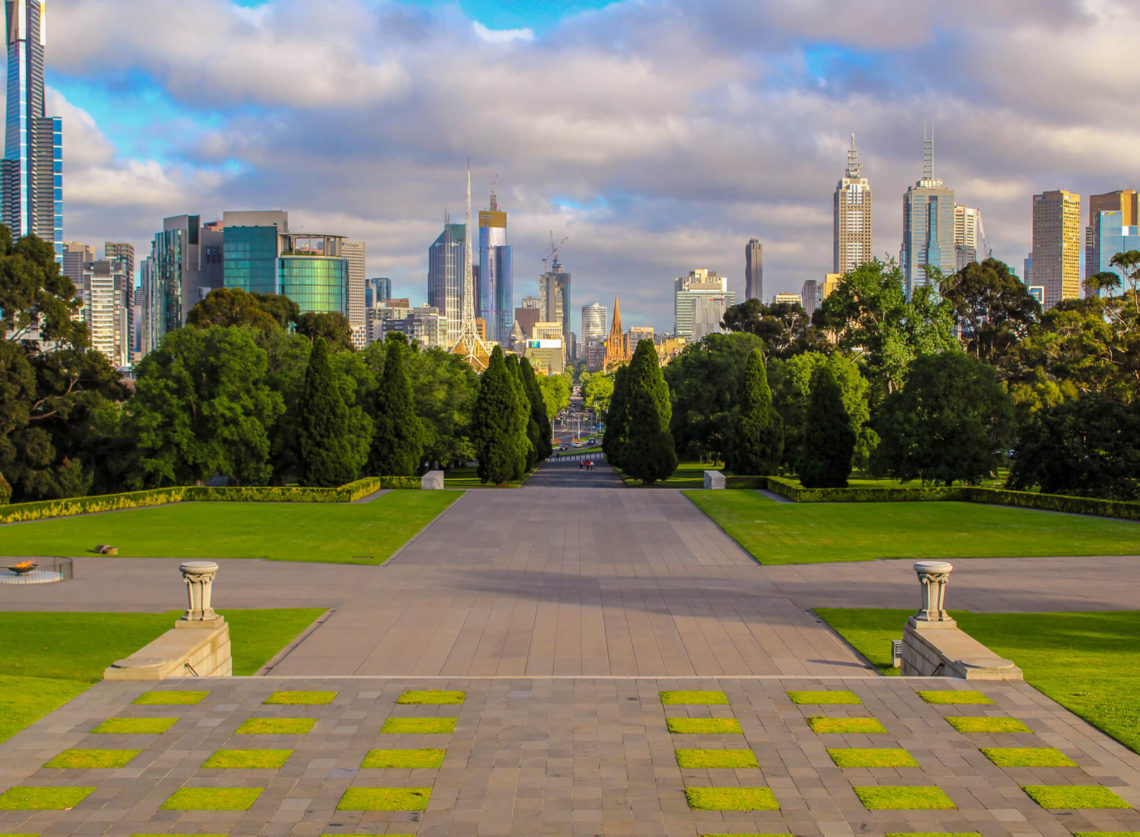 Ride the FREE City Circle Tram Line
Another one of the fun things to do in Melbourne for free is hopping on the city circle tram line. This trip will give you a completely free and convenient  insight into Melbourne's city. There is also audio commentary on this tram providing details of city landmarks and major attractions, as well as the history of the city at these specific points. Pack a picnic and enjoy your own, personal tour guide of Melbourne!
Enjoy the Rooftop Views
There are so many rooftop views in Melbourne, many being from rooftop bars. The views of the city are well worth buying a drink for and if you're on a
tight travel budget
, you can even share one with your partner! This has been one of our favourite cheap things to do in Melbourne.
Go to the Library
If you are looking for indoor things to do in Melbourne, then why not hit up the library?! Melbourne City Library is one of many in in the city. Whether you are wanting to go in and use the computer, WiFi, printer or read a book. The library has it all. You can also sign up for a
free library card
which will also give you access to an app just like Netflix.
Chill in Federation Square
Another one of the best Melbourne places to visit is
Federation Square
. Soak up the bustling atmosphere in the square whilst hooking onto the
free wifi
. Whether its chilling out watching sports on the screens or sampling some Pimm's from one of the popular pop up bars, this is one thing to make sure is on your Melbourne to do list. Relax and focus with 
Morning Meditation at Federation Square
, every Thursday morning from 8-8.30am.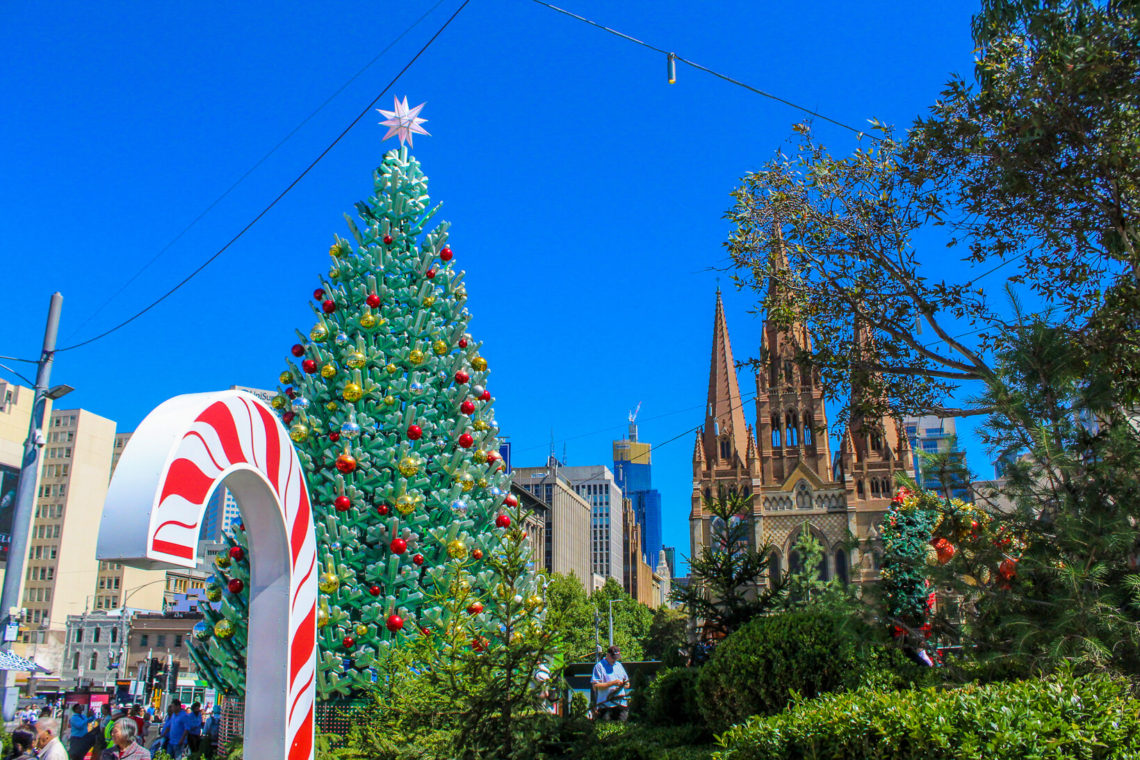 Listen to Live Music
Melbourne is bustling with buskers all year round and there will be
live music
playing at almost every corner you turn. Apparently, there is a huge waiting list to busk in the city and this has been a brilliant opportunity for some musicians to start a career. Head to
Bourke Street
, where you can sit outside H&M and listen to the talent that Melbourne has to offer. This is definitely one of the best free things to do in Melbourne.
Have a Beach Day
Some of the best spots in Melbourne are located on the coast.
Elwood beach
,
Brighton beach
and
St Kilda beach
are some of our favourite beaches in Melbourne and are easily accessible from the city. The fact that Melbourne is so close to beautiful beaches and the sunsets you can see there is another reason why we love it so much!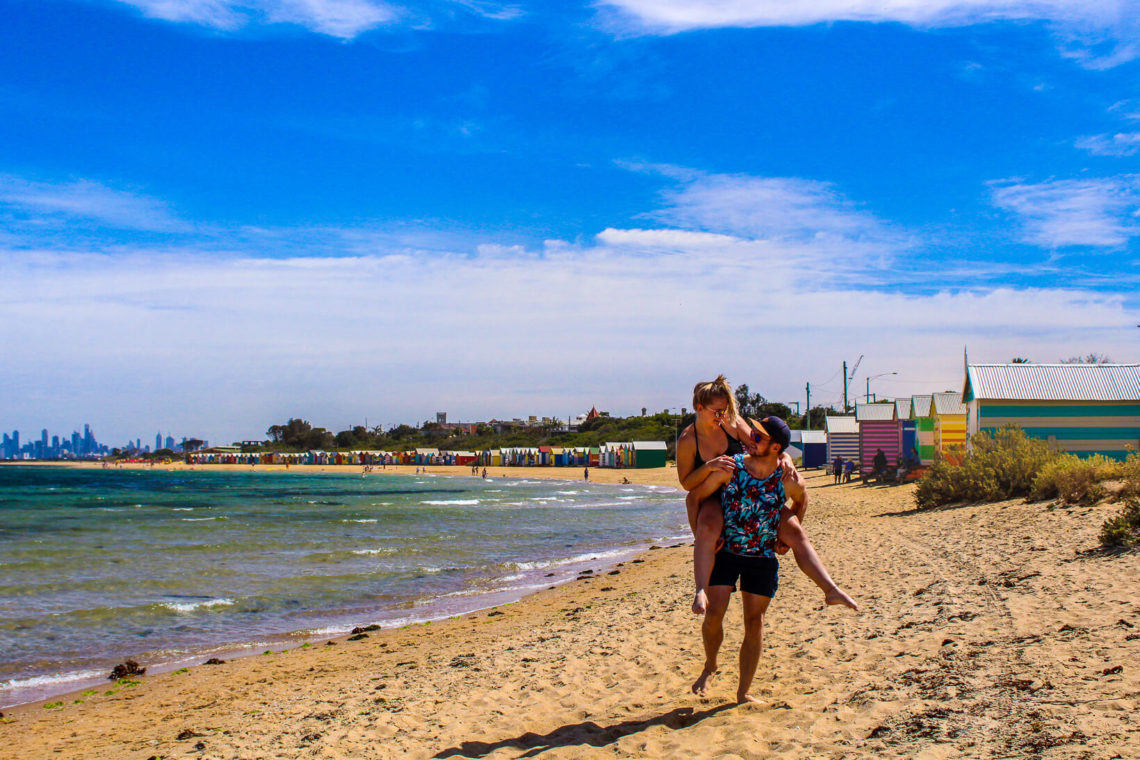 AFL Friendly Games
If you are looking for things to do in Melbourne at night for free, during the summer months
Australian Football League
is free! Well, not all AFL games are free, however, there are some friendlies that you can go to for completely free! These happen at the beginning of the season, and are the perfect opportunity to don your local teams colours and get into the Aussie spirit!
St Kilda Festival
One of the top things to do in Melbourne Australia is to attend
St Kilda Festival
. Every year in February, thousands flock to St Kilda for the return of
Australia's largest free festival
. There is live music, artists and entertainers. The roads around the area close for the full day and there is plenty of entertainment people of all ages.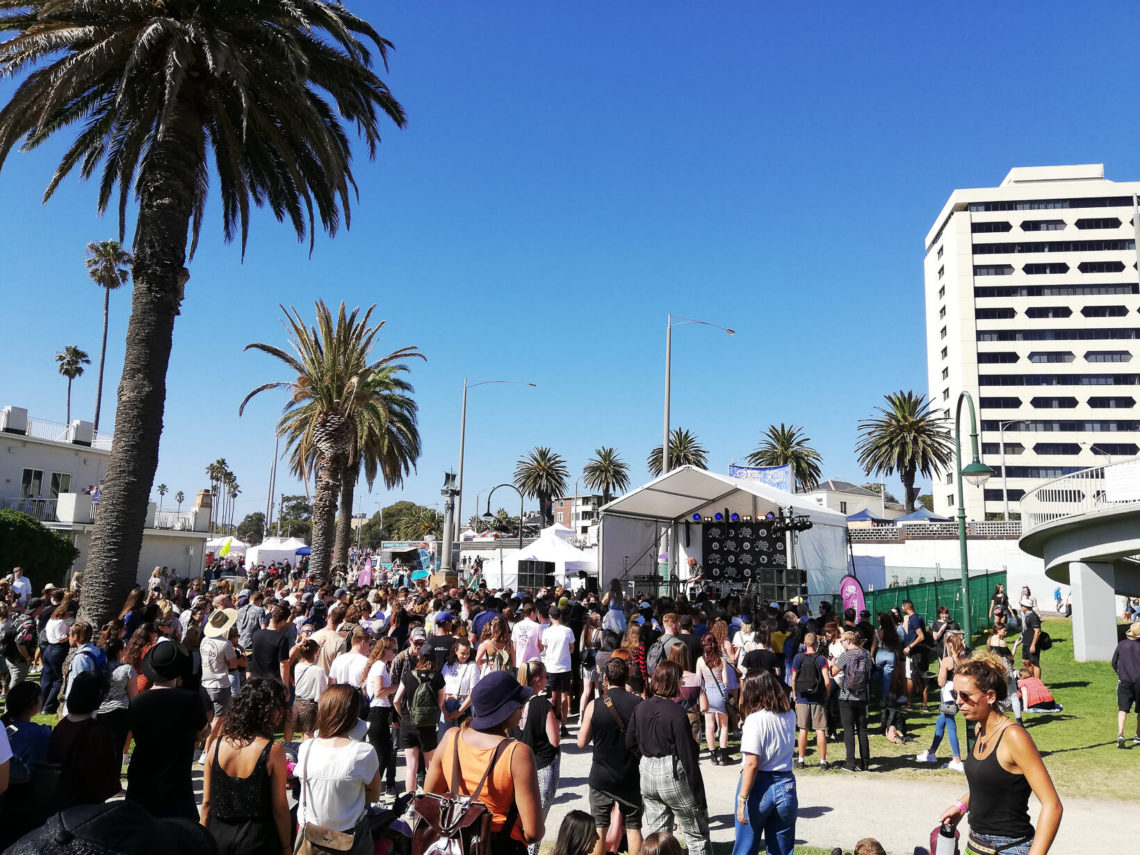 Koorie Heritage Centre
Visiting the
Koorie Heritage Centre
is another one of the more interesting things to do in Melbourne. Located in Federation Square, this centre is free entry open to anyone. There are a unique range of programmes and services to support, promote and celebrate Aboriginal culture of South Eastern Australia. The displays of Aboriginal Art work are so unique and definitely one of the top things to see in Melbourne.
Download our FREE full guide to arriving in Melbourne and getting yourself set up. This includes how to setup a bank account, superannuation and so much more!
How to Prepare for Your Trip to Melbourne
Applying for an Australian Visa
If you have yet to leave for Australia then this is a section of interest for you. There are a LOT of different visa options for people arriving into Australia, from tourist visas to permanent residence visas. The most common visas, however, are the 3-month tourist visa and the Working Holiday Visa. If you are only visiting Australia for a short period of time then a tourist visa is your best option. These are easily obtained and relatively cheap, costing roughly $140AUD, and allow you to stay in the country for up to 12months.
These can be applied for on the government website here.
If you wish to work and travel in Australia, a working holiday visa is your best option. These cost around $480AUD and allow you to stay in Australia for up to 12months, whilst working and earning money to travel. This visa also gives you the opportunity to extend your stay in Australia by up to 24months by working in certain job sectors.
For all of the information you need to know about the Australian Working Holiday Visa, read our full guide over here. 
What to Pack for a Weekend in Melbourne
When we travel, whether it is for a weekend break or a month-long expedition, we always like to pack as light as possible. Not only does this save baggage fees, carbon emissions and unnecessary stress, it also means we are not wasting our energy carrying around a huge bag. Win win win for everyone! For our full guides on what to pack for your next trip,
have a look at our packing guides
, including what to pack for men and women in both summer and winter. Also check out the backpacks we will swear by till our final days, our
North Face Duffel Bags
.
What Travel Insurance Should You Get?
Deciding on which travel insurance is always a stressful task. What cover is best? What inclusions should I get? Is the excess too much? Well,
World Nomad's Travel Insurance
is designed with all of these questions in mind and is specifically designed for backpackers, holiday-makers and nomads alike.
Get your free quotation for World Nomads Travel Insurance right here.
Best Places to Stay in Melbourne
When it comes to visiting Melbourne, the accommodation is most likely going to be your largest cost. As a large, state-capital city, the cost of living in Melbourne (especially the price of real-estate) is very high. Nonetheless, there are accommodation options for travellers of all budgets, be it shoestring budget travel (like us) or luxury holiday goers. For finding the best accommodation in Melbourne, we find it easiest to use
Booking dot com
, which offer the best rates and the nicest places to stay in the city. Another option is always
Airbnb
, where people rent out their entire home or just part of it. We have a lot of experience in staying with Airbnb hosts and can highly recommend it.
Check it out right here and you will even get £25 off your first stay!
Off course, i hostels are more your cup of tea then there are also plenty of social hubs available for solo backpackers.
You can browse the hostels Melbourne has to offer here
. As you can see, there are so many
free places to visit in Melbourne
. It makes it easy to see why it it ranked so highly as the most liveable city in the world. If you have visited the coty recently, let us know how you found it in the comments below. What was your favourite sight? Where was your favourite attraction? What money saving tips do you have?
Let us know in the comments below
. Also remember that sharing is caring, so be sure to let all your friends and family know about this guide to Melbourne so they too can plan their own trip. Save this guide for later by Pinning it and make the most of your adventure to Melbourne when you visit. If you found this guide useful, make sure you
check out the rest of our Australia content
so you can plan your trip to its maximum potential.
Catch up with us on our social medias
and tag us in your Melbourne photos so we can share them with our community.
Read Now:
This article may contain affiliate links that provide us with a small income. For more information read our Affiliate page.
---
Pin it for later!