Disclaimer – We stayed at Ardcana as part of a collaboration. The opinions below, however, are ours and are in no way influenced by this. 
The Isle of Skye is one of the most popular places to visit in Scotland. The jaw-drapping scenery makes you feel like you have entered another planet and the Skye Bridge connecting the island to the mainland it makes it a very easy place to visit in the UK. 
To make your trip to the Isle of Skye one to remember, how about booking somewhere luxurious to stay where you can enjoy the stunning views of the dramatic landscape all from the comfort of your bed.
No time to read now? No problem, save a pin to your Pinterest board for later!
Ardcana Luxury Accommodation Isle of Skye
Ardcana offers high-quality luxurious accommodation on the southern end of the Isle of Skye. In this post, we will share more of our experience to this beautiful space so you can prepare for your trip here.
What is Ardcana?

Where is Ardcana? 

What to expect from your trip to Ardcana
Restaurants near Ardcana
Things to do near Ardcana

Overview of our stay at Ardcana

How to prepare for your trip to the Isle of Skye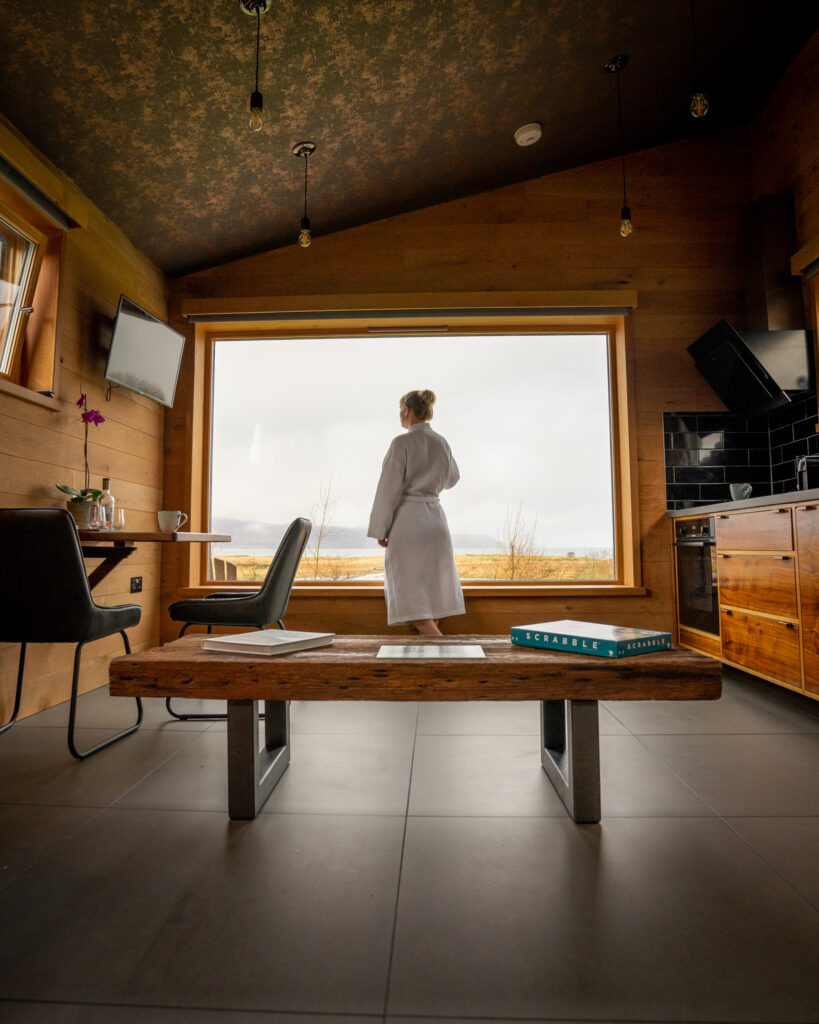 What is Ardcana?
If there is one word that comes to mind when we think of Ardcana, it is quality. There are three spaces that have been built in the Lower Breakish area of Skye that take in the magnificent view through a large picture window. Every last detail has been considered in the build and design in Ardcana.
This stylish luxury accommodation is located in the southern end of Skye and has spectacular views across to Raasay, Applecross, and more of the Isle of Skye. The parking for Ardcana is nearby and the cabin is easily accessible from the car park.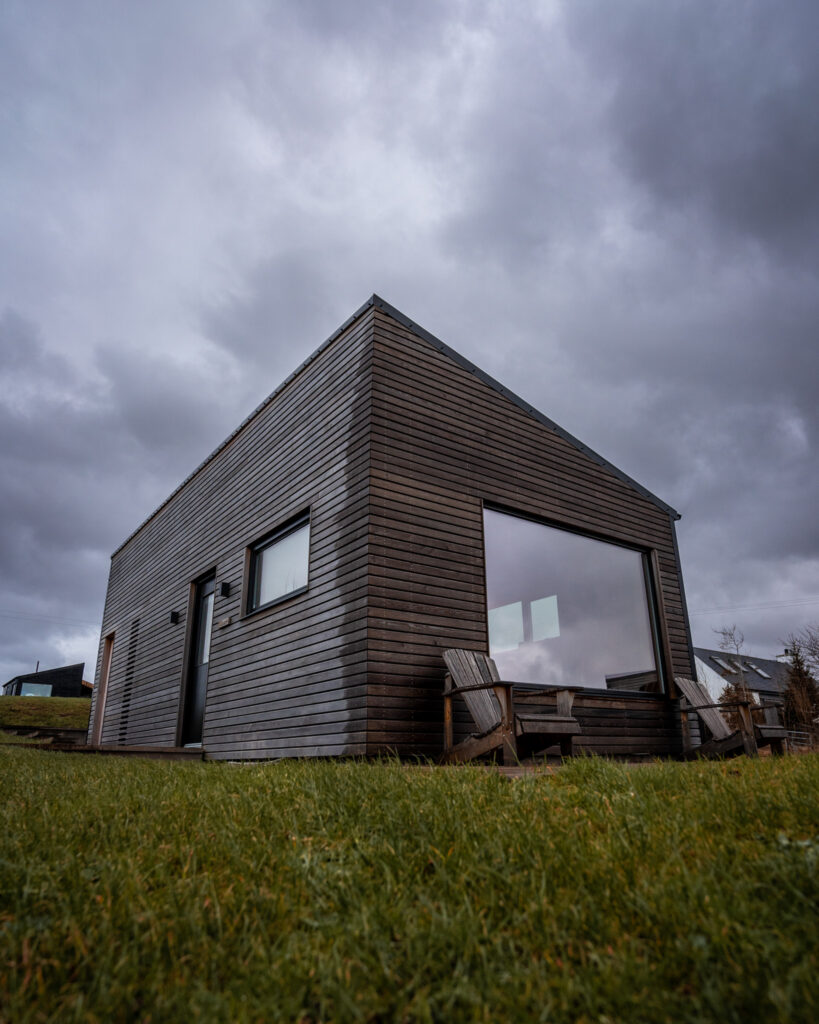 Location of Ardcana
Ardcana is located in Lower Breakish on the southern end of the Isle of Skye. It is close to amenities such as the small town of Broadford, however, the location of the cabins makes you feel like you are far away from the hustle and bustle of the Isle of Skye.
Broadford is around a 10 minute drive from Ardcana and here you will find a Co-op shop, petrol station and other small shops and restaurants.
The western-facing picture window in Ardcana means that you can enjoy a spectacular sunset over Dun Caan, the well-known flat-topped mountain of Raasay.
When the weather is dry, you can enjoy sitting outside on the patio area in front of your cabin, looking out towards the views and when it is wet and windy you can enjoy them from the warmth of your cabin.
During our stay at Ardcana, we stayed in the Darach Luxury Space.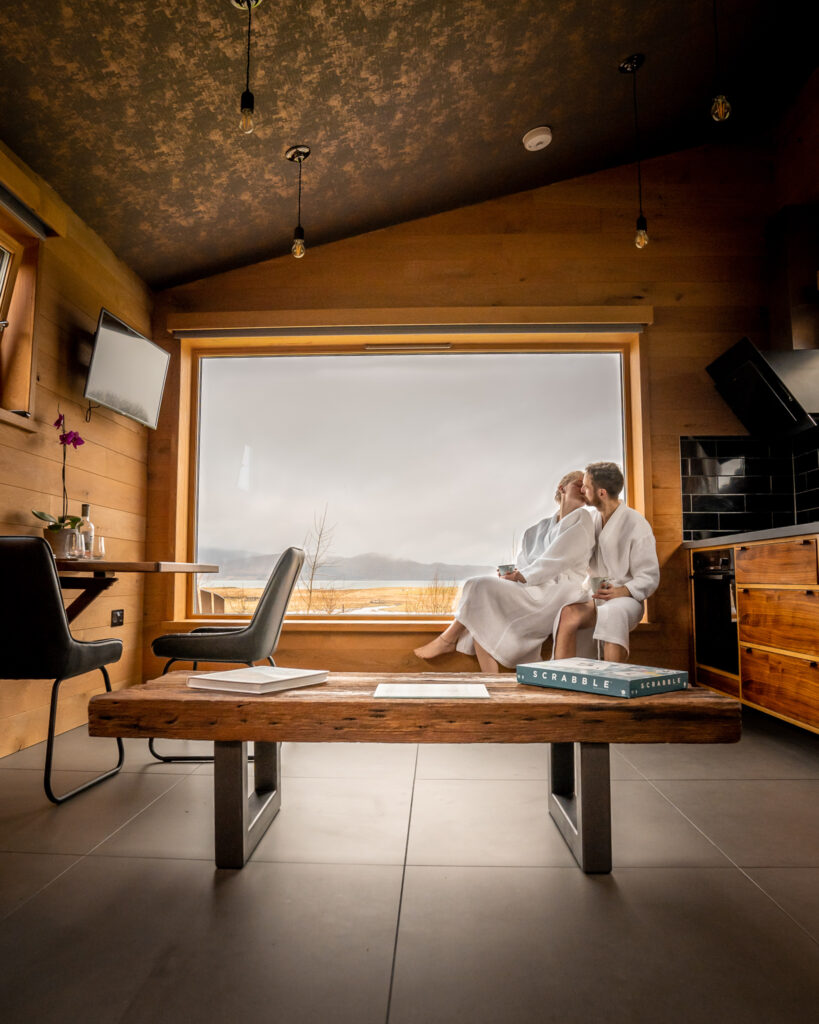 Relax in the Lounge
In the Darach luxury space, we had a very comfortable couch, looking out towards the large window with views over the sea.
There is a TV that pulls out from the wall if you choose to watch it and this can be watched comfortably from the couch. The TV has Netflix and other catch-up apps, including YouTube, however, there are no standard satellite channels. 
There is also a small, comfortable arm chair sitting beside the sturdy wooden coffee table in the lounge. If you are wanting to charge your devices, there are plenty of charging points around the space, both USB and 3 pin plugs.
The interior inside the cabin is very modern and decorated with local Scottish businesses such as Harris and Tweed and Tartan Blanket Co.
The underfloor heating is a nice addition, keeping the well-insulated cabin nice and warm.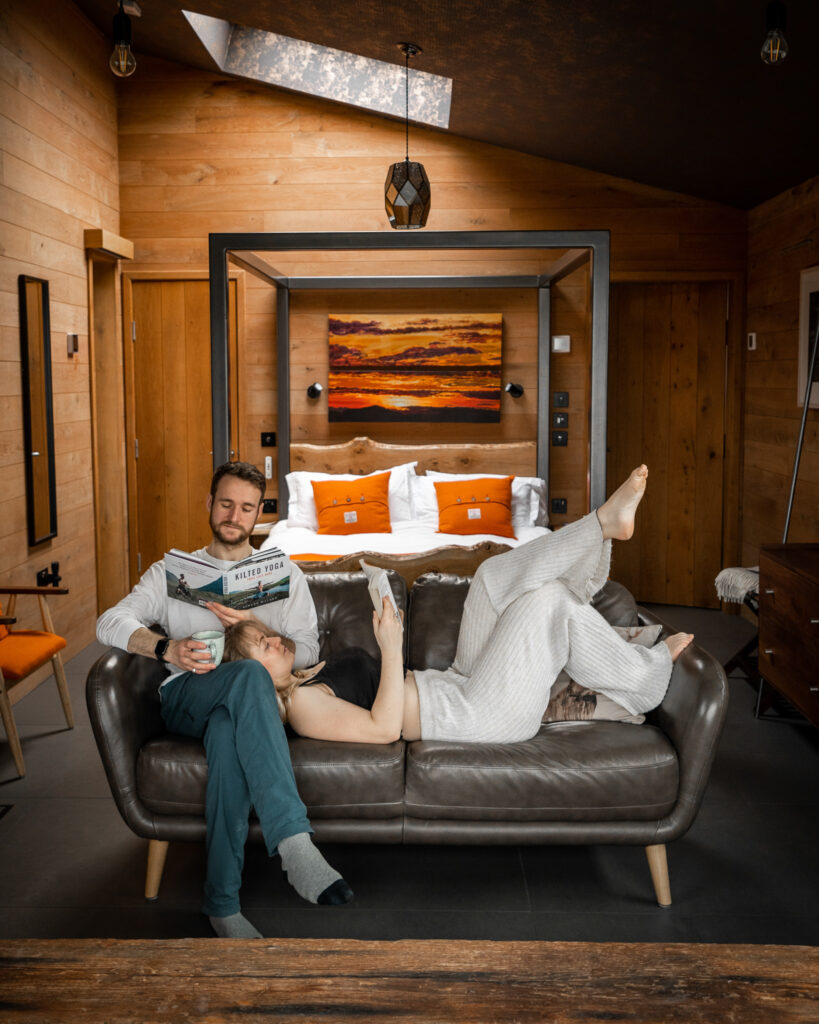 Unwind in the Bedroom
In Darach, the space is open plan, with the bedroom overlooking the lounge area through the King-size four-poster bed. The large bed is extremely comfortable and there are spot lights beside each side of the bed for late night reading. The bedding is very comfortable, 100% cotton and decorated with beautiful Harris and Tweed orange cushions and throw.
There is a full-length mirror beside the bed and a large wardrobe area, which also contains an iron and ironing board. 
In the bedroom space, there is also a set of drawers for you to unpack your suitcase and settle into the space. Inside this, you will find a hairdryer. An additional touch is the selection of books around this area that you can read during your stay. 
One of the best touches to this accommodation is the bedside remote control to open and close the electric blinds, meaning you can enjoy the view without even leaving bed. There is also a sky window above the bed which is great for stargazing on a clear night.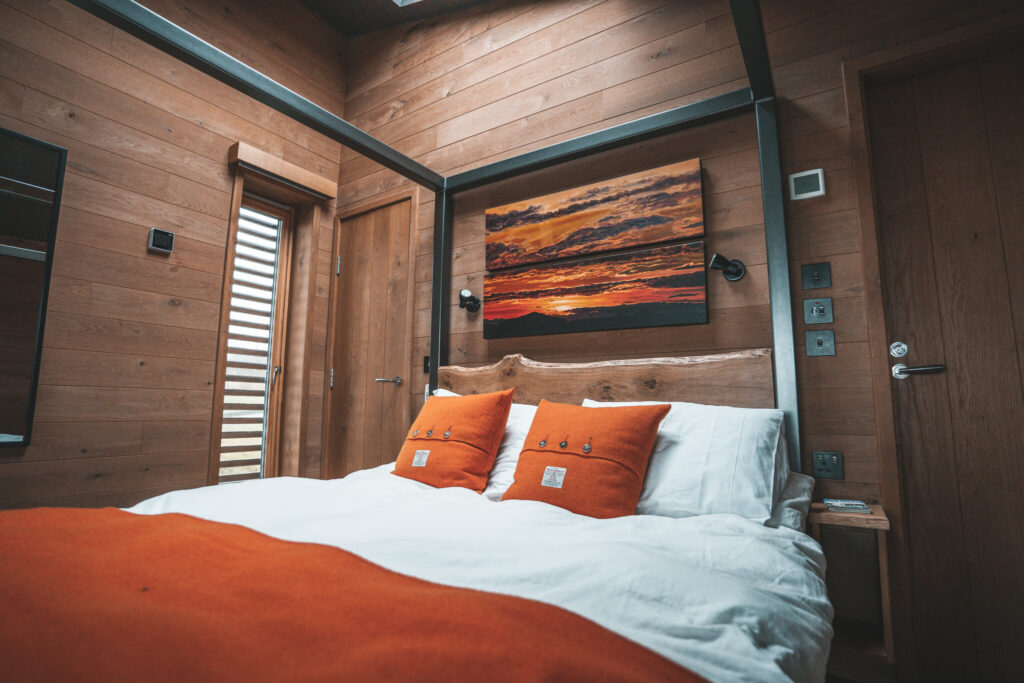 Get Squeaky Clean in the Bathroom
The large bathroom is a great space for getting ready. There is a large drench shower and a high heated towel rail. In addition, there are hair and body products from Ishga from the Isle of Lewis for you to use as well as sanitary products, cotton buds, and cotton pads. In the wardrobe you will find two bathrobes for your comfort during your stay here.
The hot water in Ardcana is powered by solar, however, if the hot water needs to be boosted due to the weather, there is the option to do this. 
To set the mood for your shower, there is a bluetooth mirror, allowing you to connect your device and play your favourite turnes in the bathroom.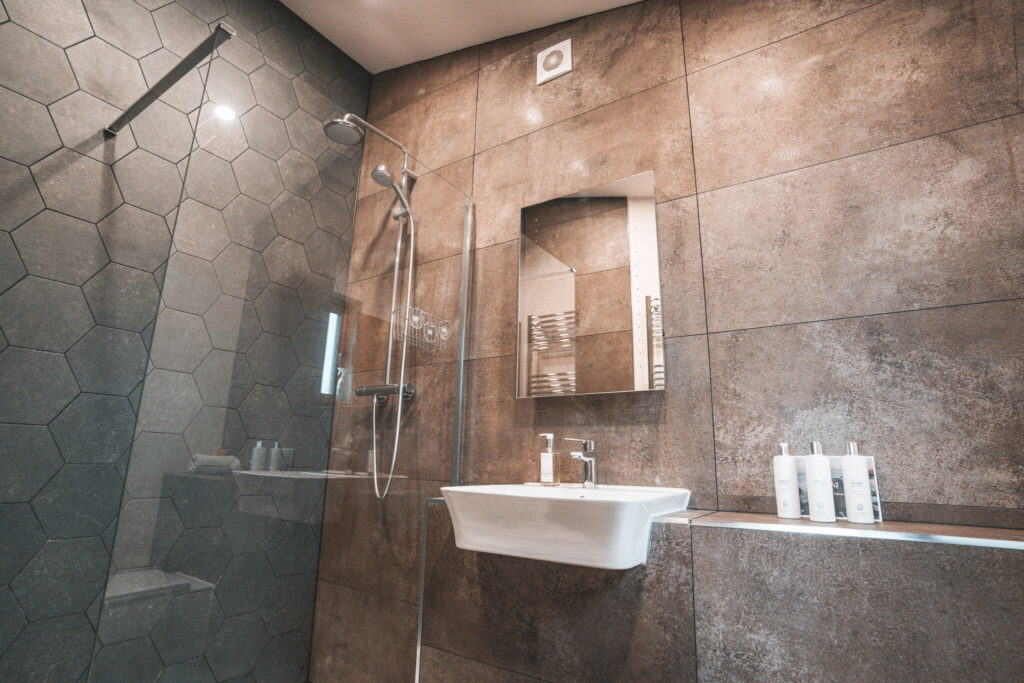 Cook up a Feast in the Kitchen
The kitchen area in Ardcana has everything you could need, from pots and pans to oil and salt and pepper. Just bring your own food and you are good to go.
There is a kettle, toaster oven and induction hob. There are plenty of oven dishes, pizza trays and pots and pans. There is a small fridge and no freezer.
Across from the kitchen, there is a small dining area. This is a very comfortable place to sit and enjoy the view out of the window. On arrival, we were very touched to see a small bottle of Isle of Skye Gin and a bag of tablet on the table waiting for us. A lovely touch.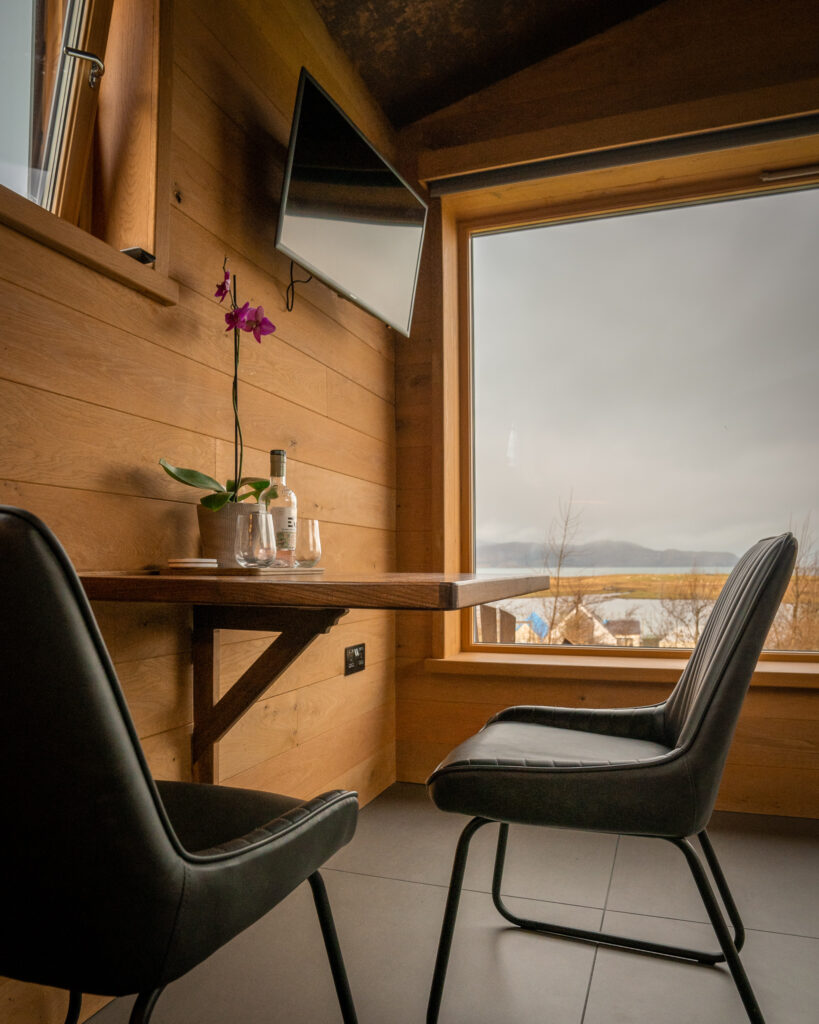 Restaurants near Ardcana
There are many lovely places to eat out or get a take away from near Ardcana. Keep in mind that if you visit during winter, these may be closed. 
Cafe Sia
Red Skye Restaurant 
Harbour Restaurant 
Siaway Fish and Chips 
Claymore Restaurant
Taste of India
Marvel at the Natural Landscape of the Quiraing
The Quiraing (pronounced Coorang), is located in the north of the island and is one of the most spectacular sights on the island. Depending on how much time you wish to spend in this area, it can either be viewed as part of a hike through the mountains or by a short walk to the first viewpoint. 
This spot is a photographer's dream as the landscapes in this area are some of the most beautiful in Scotland. The Quiraing was created by a landslide, thousands of years ago and has left pinnacles and outcrops of cliffs. The view from the viewpoint is simply incredible, sitting high above the winding road in the glen below and below the towering cliffs to the left of you.
The walk through the hills is a total distance of 6.8km and with no stops, it will take you around 2 hours. I would recommend you leave some extra time spare for stops though as you will want to get snap happy on this walk.
There has been a brand new car park built to sustain the number of tourists visiting this spot and the cost for 3 hours parking is £3.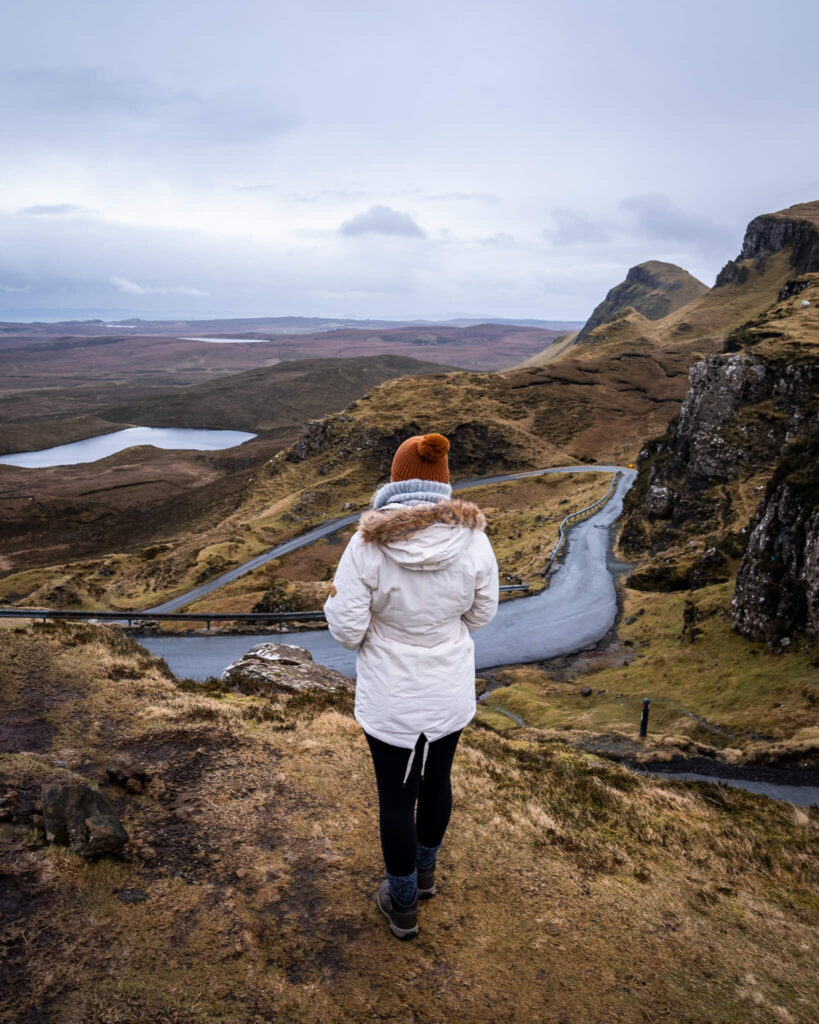 Find the Tartan at Kilt Rock and Mealt Falls
Kilt Rock is a seacliff between Portree and Staffin, formed by thousands of years of punishment by the powerful ocean below. The cliff itself gets its name from its resemblance to a kilt (a traditional Scottish skirt worn in Scotland by men and woman),  with the vertical basalt columns forming the plaits and the varying colour seen as the tartan.
In addition to the stunning sea view and the beautiful cliffs leading up to them, there is also a rather unique waterfall here that tumbles directly into the ocean. Mealt Falls is 55-metres tall and is a mesmerising sight to watch, especially if there has been a lot of recent rain.
This is a highly popular stop on the Isle of Skye, presumably due to its ease of access in comparison to a lot of other places. As a result of this, you will struggle to have this place to yourself, especially during the busy, summer months on Skye.
If you are feeling the need for a quick break and some food, there is a Dinosaur Museum close by Kilt Rock where you can see footprints of dinosaurs that once roamed the area. This museum also has a cute cafe that serves delicious, hot drinks and a range of snacks to fill you up.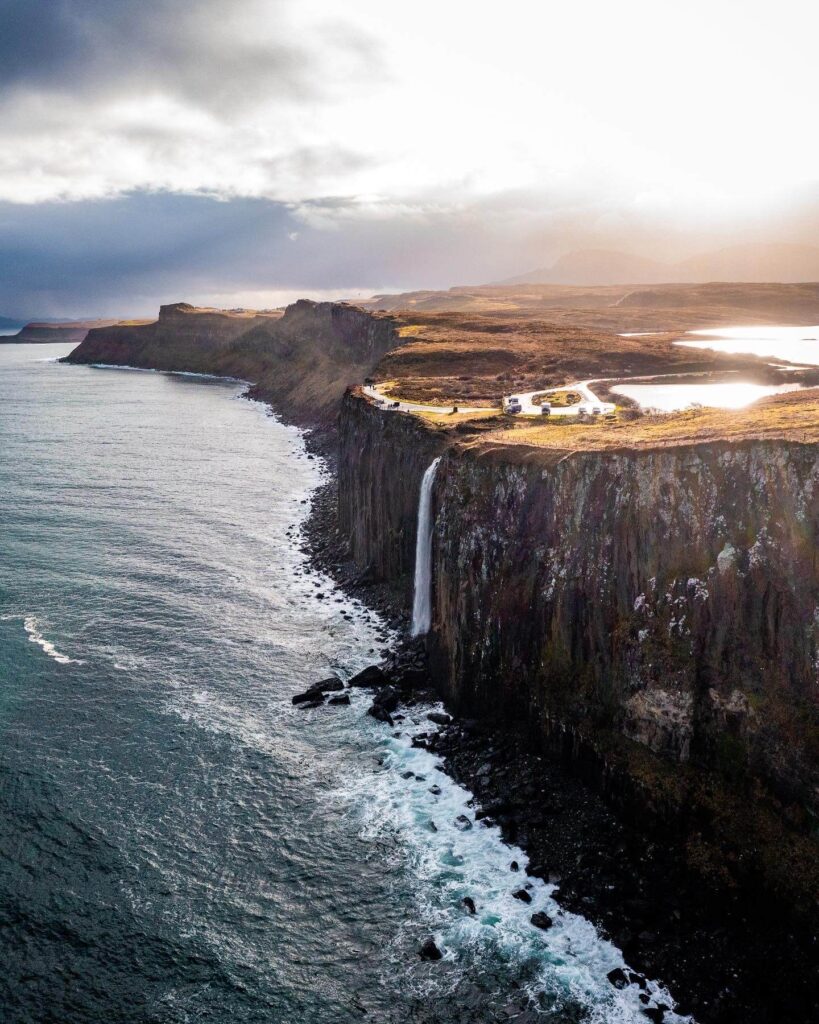 Hike up to the Old Man of Storr
The Old Man of Storr is a natural phenomenon created by a massive landslide thousands of years ago, which left the tall pillars of rock standing on the mountain that you see today. The Old Man itself is just one of many incredible rock features in this collection known as the Storr. The Old Man rock tower got its name due to the rock having the features of an old man's face. This is one of Scotland's most iconic landscapes and is worth the climb to the viewpoint if you are able to.
Read our full guide to hiking up the Old Man of Storr here.
There is plenty of parking available at the bottom of the hill and this is well signposted. In the summer months, this will fill up quickly and you will be asked to pay for parking. The walking path starts at the gate by the information board.
There are two options when it comes to walking up to the Old Man of Storr, a winding steady walk up or a more steep walk. The total distance to the viewing platform and back is 4.5km and will take roughly 45 minutes to an hour one way.  There are gates on the walk up and it is important to make sure you close these behind you as they are built to keep the deer from roaming in this area.
There is a clear path in place for the first half of the climb where you will reach a halfway viewpoint. From here on, there is no clear path and if it has been raining the trodden pathway will be extremely muddy and slippery, take care.
Once you reach the top you will be able to see all the way to the Isle of Raassay and even Applecross on mainland Scotland on a clear day. If the weather is less favourable the landscape around you is still out of this world, with low lying clouds on the Storr giving it a mystical and other-worldly feel to it.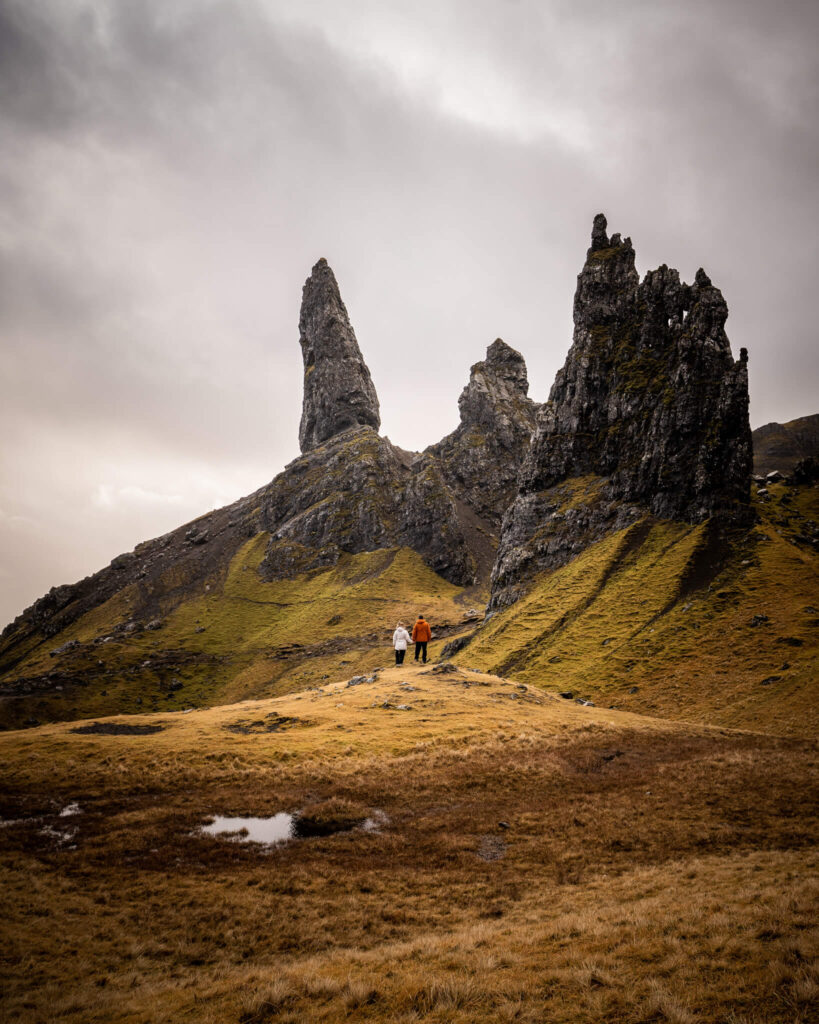 Look for the Dinasaur Footprint at Staffin Beach
Staffin Beach is a large strech of sand on the northern coast of the Trotternish peninsula on the Isle of Skye. The beach is sheltered by rugged mountains, including the Quiraing Peak. There is a boat slip way further along the road and during the summer months boat trips leave from here. 
Look out for the small stretch of black sand beach just before the slipway. At low tide you can look out for fossilised dinosaur footprints which were discovered in 2002 and has given fame to this beach on the Isle of Skye.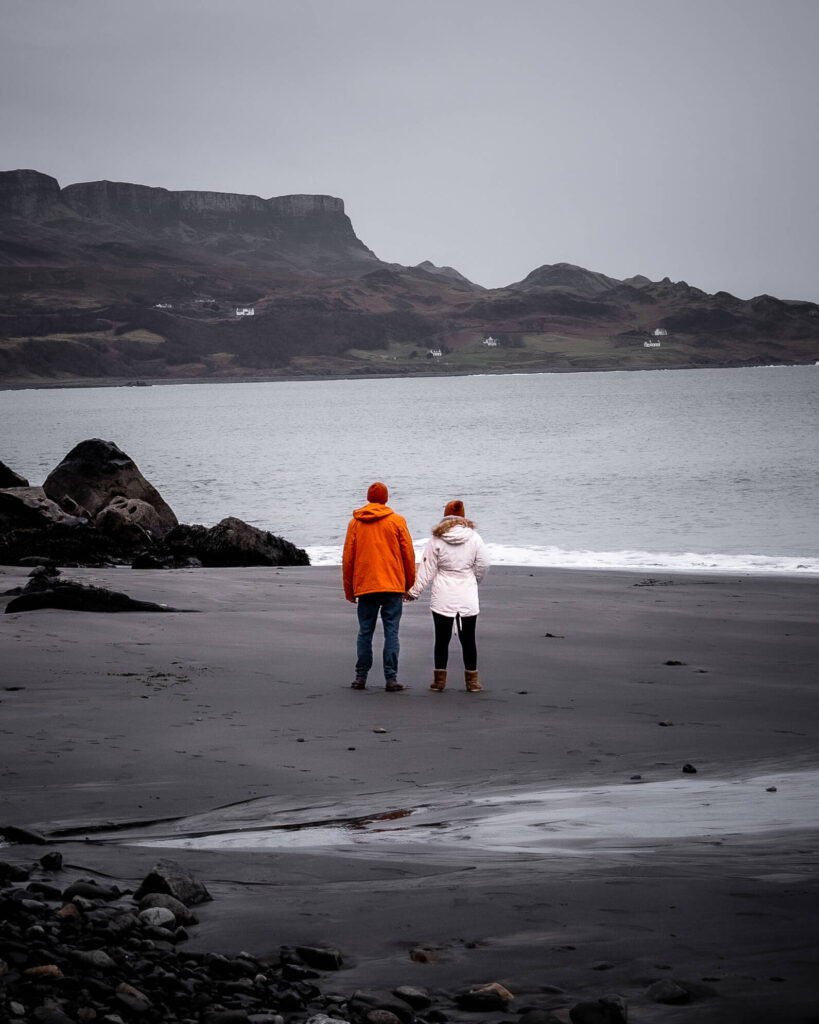 Overview of our Stay at Ardcana
As I mentioned at the start of this post, the quality of everything at Ardcana is very clear. The oak cladding makes the space very cosy and the rustic interior feels very luxurious. The small touches of the tablet and gin, as well as the products in the bathroom, were really nice and adds to the luxury feel of this accommodation. 
We have stayed at many beautiful accommodations across the world, but I think Ardcana might just be up there as one of our favourites.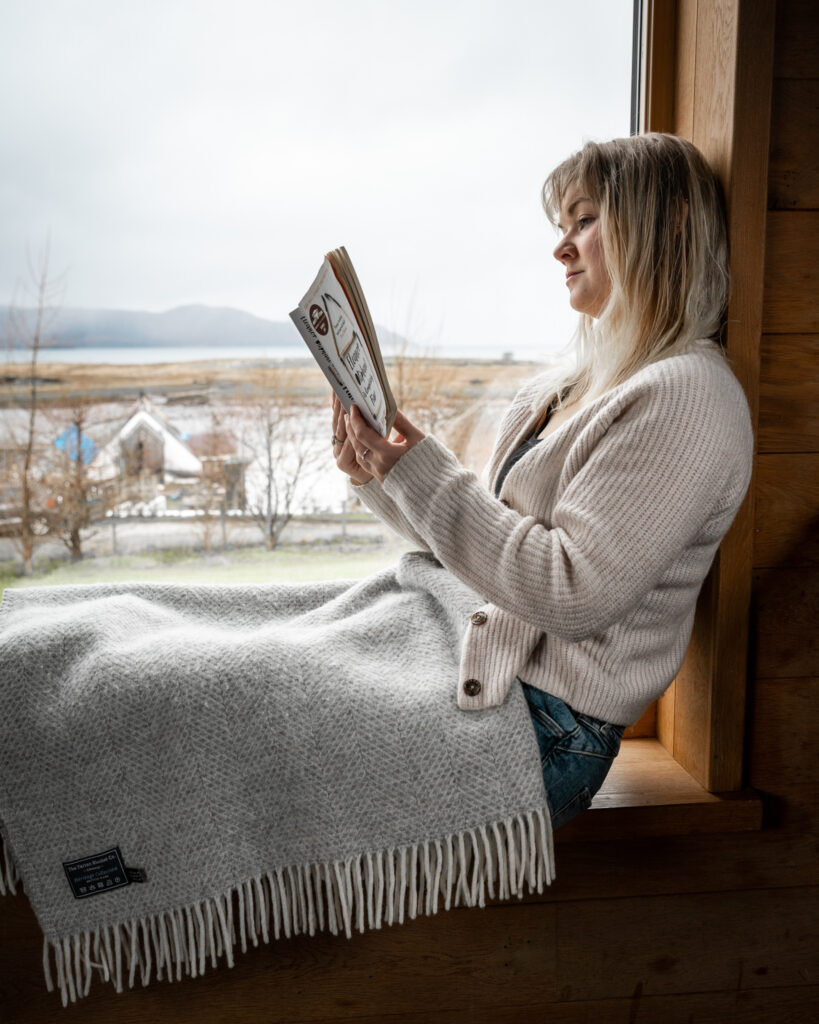 Before You Leave on Your Trip to the Isle of Skye
Before you leave on your trip to the Isle of Skye there are a few things you will need to get organised to ensure a smooth and enjoyable trip. These include how to get there and around the island, what to pack and where to stay, all of which are discussed below.
How to Get to the Isle of Skye
Drive
The Isle of Skye is connected to mainland Scotland by the Skye Bridge, a free road bridge, from Kyle of Lochalsh to the village of Kyleakin on the island. In high winds, the bridge will close to high vehicles and on days of particularly extreme weather, the bridge may close to all vehicles.
Ferry 
Another option is to get the ferry over to Skye which typically takes around 30 minutes, leaving from Mallaig on the mainland to Armadale. You can check the timetables online as there is typically only a morning and afternoon ferry running.
Bus
If you are travelling to Skye without a vehicle, buses run from Scotland's major cities, Glasgow and Edinburgh direct to Isle of Skye's capital, Portree. Buses to the Isle of Skye run from other areas in Scotland and you can plan your bus journey to Skye here.
Once you are on the island, you can book onto a tour that departs from Portree and takes you around the best sights that there are to see on the island. Read more about this tour and book your place right here.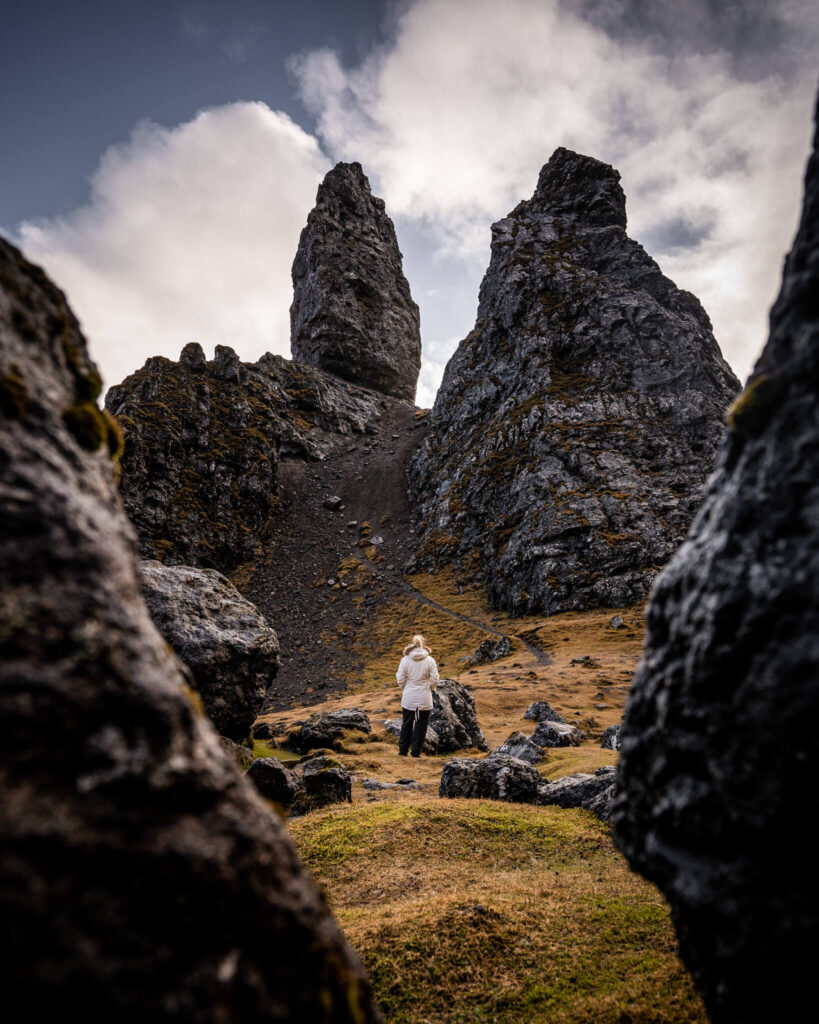 Where to Stay on the Isle of Skye
These recommendations may vary depending on what activities you are wanting to do whilst on the island. We have based these accommodations close to the centre of the island and near Portree. In the summer Portree is extremely busy and we would recommend that you look to stay elsewhere if you want to avoid the crowds and traffic.
In the winter months, however, Portree is a pleasant and central location from which it is easy to get to many of the sights around the island.
Luxury – If you are looking for a comfortable apartment stay to come home to after a day exploring, Quayside Apartment is the perfect place for you. With spectacular views and a good central location, this accommodation is comfort plus for your next trip to Skye.
Book your stay at the Quayside Apartments right here.
Mid-range – The Portree Hotel is a great central location for your stay in Skye. This hotel overlooks the main square in Portree and during the winter months, there are wood-burning stoves to keep you warm after a day of exploring.
Book your stay at the Portree Hotel right here.
Budget – If you are looking for a budget place to rest your head but still have a great view, The Pink House is the place to stay just for that. A continental breakfast is included in your stay and you can book a room with a great view out to sea.
Book your stay at the Pink House right here.
If hostels are more your scene, you can check out the hostels available in Isle of Skye here.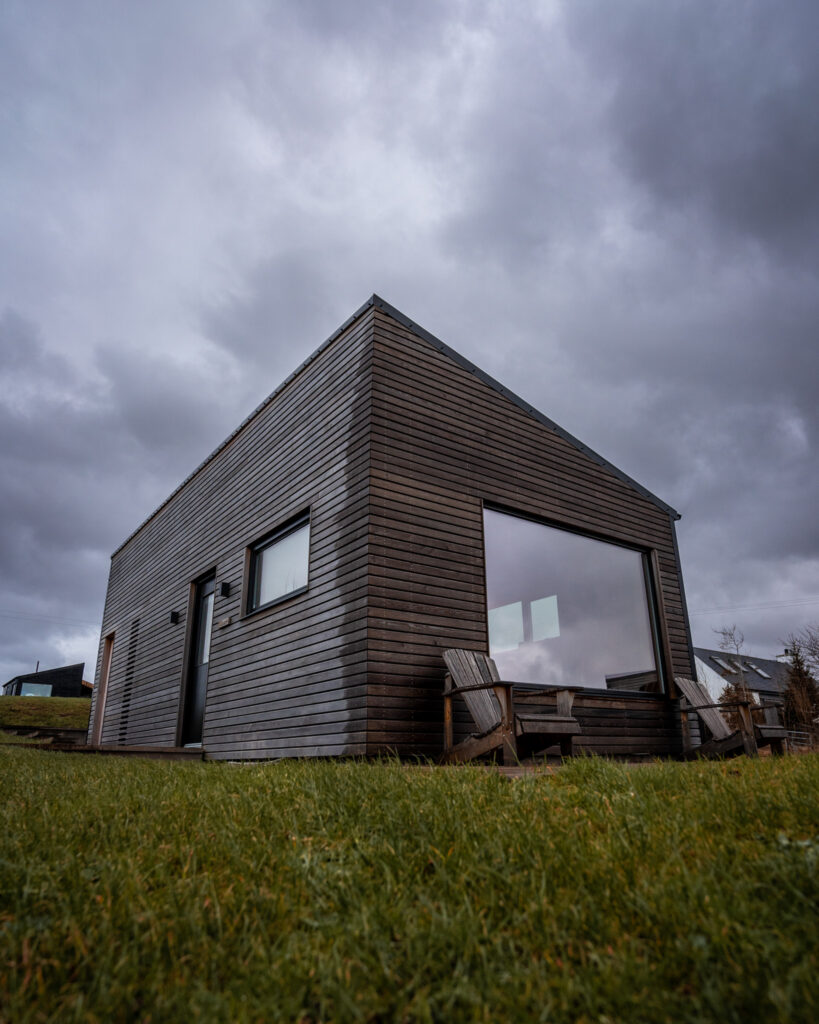 What to Pack for the Isle of Skye
When it comes to packing for a trip to Scotland there is one item of clothing that you are going to need all year round: a waterproof. It rains in Scotland on average 250 days a year, meaning that during your trip to the Isle of Skye in winter, you can expect rain at some point. Due to this, the number one item on your packing list is a good waterproof jacket.
Second to that, another item to not leave home without is a good pair of warm and, if possible, waterproof boots. A lot of the best sights on Skye require a bit of walking to reach them and the conditions underfoot can become very muddy. You do not want to ruin a good pair of white trainers so pack some sturdy boots.
You will definitely need a hat and gloves during the winter months as the wind chill can be bitter.
For our full list of items that we pack no matter where we go in the world, check out our full packing guides over here.
Given the beautiful sights and scenery that you are no doubt going to see around the Isle of Skye, we highly recommend packing a good camera for your trip. If you want to read more about the cameras we use and why we love them, check out the link below.
You can read what else we keep in our camera bag over here.
What is the Best Travel Insurance for Scotland
I know travel insurance is the least enjoyable thing to purchase and look at when you're planning a trip, however, you wouldn't want to be without it in the event that something happened. Accidents can happen anywhere and the extortionate medical bills will ruin your trip if you are not covered.
To ensure you have a stress-free trip with no worries about potential medical bills, make sure you cover yourself when you travel. We can recommend using World Nomads, a backpacker-friendly and cheap insurance company that provides good coverage and support.
Get a quote for your travel insurance right here and get covered.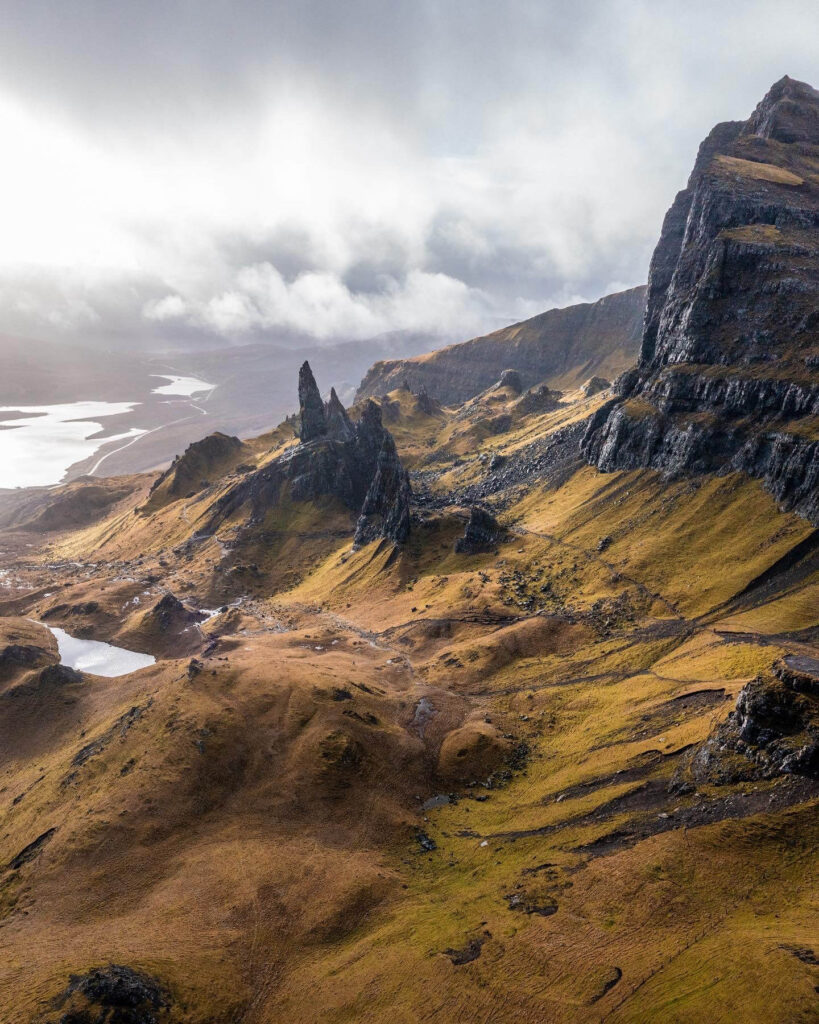 So there you have it, your guide to visiting Ardcana on the Isle of Skye. If you are visiting this incredible place and have any other questions on what to expect, leave us a comment down below. If you have already been, let us know how it was! Did you visit any of the sights? Did you manage the trip without getting caught in the rain? Let us know in the comments below!
Also, remember to share this with your friends and family that you are going to share this amazing experience with. Sharing is caring and we want to ensure that everyone is fully prepared to maximise their experience visiting the Isle of Skye.
If you are planning a Scotland trip soon then check out our other Scotland content right here. Come and find us on social media to see where we are currently exploring. Tag us in your photos from your stay and we will share them with the rest of our community of explorers.
Read Now:
This article may contain affiliate links that provide us with a small income. For more information read our Affiliate page.
---
Pin it for later!