Ben Wyvis is a Scottish Munro located in Easter-Ross, north west of Dingwall. It sits at an elevation of 1046m, overlooking a number of surrounding mountains and farmland. Ben Wyvis is easily recognised as the long mountain that dominates the landscape in this region due to the long ridge at the summit.
The Scottish Gaelic name for Ben Wyvis is Beinn Uais, translated to "hill of terror". We will get into more detail on why it may be named that below. 
If you are touring the NC500 and enjoy hiking and and a cracking view, don't miss Ben Wyvis on your NC500 itinerary.
No time to read now? No problem, save a pin to your Pinterest board for later!
Ben Wyvis is a reasonably popular Munro, enjoyed by locals and tourists visiting the area. We will discuss the following points and more information about Ben Wyvis below. 
Munro Safety
What is

Ben Wyvis

?
Where is

Ben Wyvis

?
How to get to

Ben Wyvis

?
Why Should I go to

Ben Wyvis

?
When Should I go to

Ben Wyvis

?
Walking up Ben Wyvis

Preparing for your trip to the NC500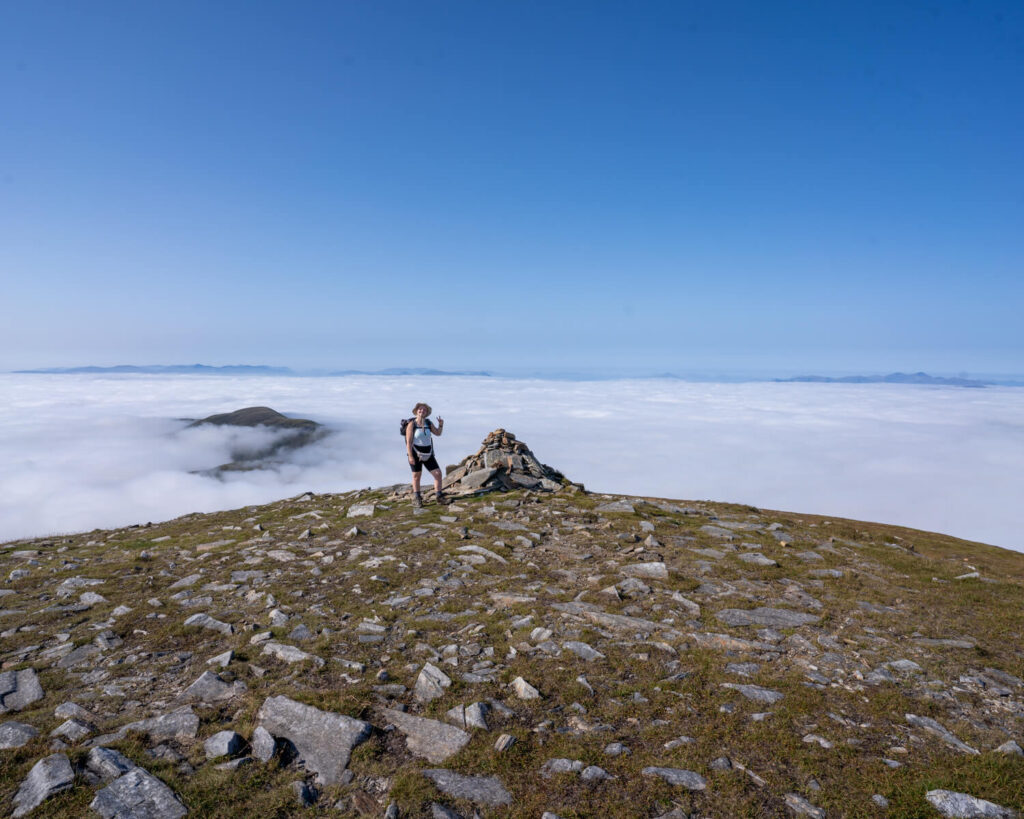 Munro Safety
Before we go any further, it is important to highlight the seriousness of staying safe in the mountains. The weather in this part of the country is very changeable and it can snow during any month of the year.
It is important to pack plenty of warm, waterproof and windproof clothes, preferably not cotton clothes as if they get wet they will become heavy. Even during the summer months, it is good to pack a hat and gloves, your body will get very cold in the mountains. Warm thin layers that can be removed and a waterproof and windproof jacket and trousers are essential.
A map and compass, as well as knowing how to use them are essential in the hills. These days many of us will use maps on our phones, however, it is important to know that this should be used as an additional map and not be relied upon.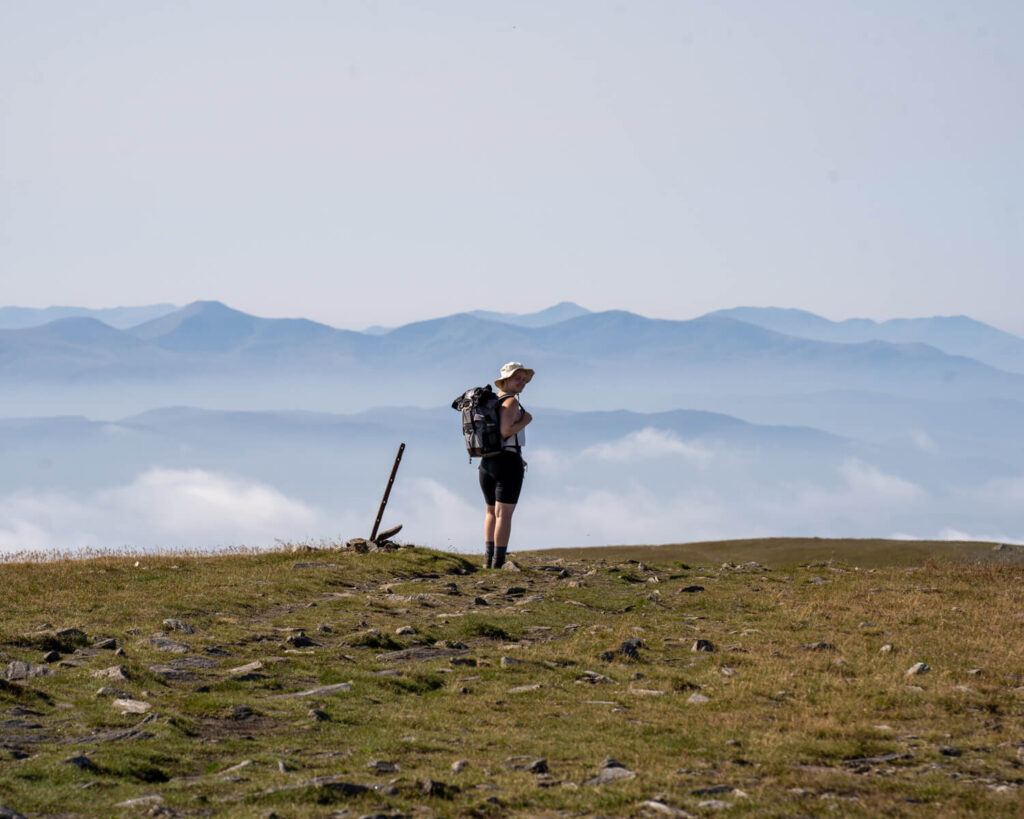 What is
Ben Wyvis?
Ben Wyvis is a designated  Natural Nature reserve, due to being a habitat for several birds and plants. The wooly hair-moss being the most important as the soft spongy feel is ideal for bird nesting. Dotterel breed in this moss every summer and Ben Wyvis represents at least 2.4% of the breeding population in the UK. This is one of Scotland's rarest mountain birds so it is important to stick to the path and keep your dog on a lead to avoid disturbing them.
As it is a mountain in Scotland over 914 metres (3000 foot), it is classed as a Munro. It is common in Scotland to 'bag' a munro or 'munro bagging' that simply means, to hike up the mountain.
The hike takes on average around 6 hours, after following along a stream the path then heads up to An Cabar and along the summit ridge to Ben Wyvis. There with a steep mid-section sandwiched between to relatively flatter sections. 
Where is
Ben Wyvis?
Ben Wyvis is located in Easter-Ross, 15 miles west of Inverness on the A835. From the car park, Ben Wyvis sits proudly in the skyline of the inner Moray Firth. From the car park, follow the path along Allt a' Bhealaich Mhòir stream for around 2km. This is your last chance to fill up water so make sure you are well stocked up for the next number of hours.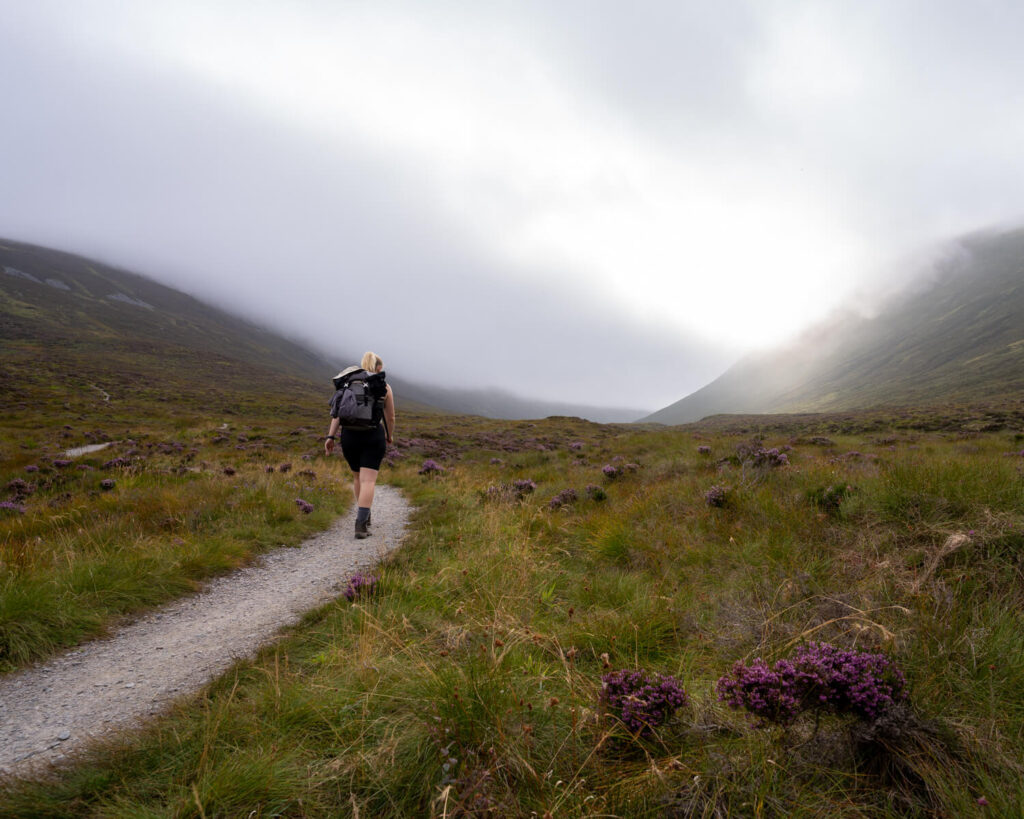 How to get to
Ben Wyvis?
If you are driving to Ben Wyvis, we would advise car sharing if you can as the car park gets very busy.
Follow the A835 road from Dingwall to Ullapool and prepare to approach the car park on your right after passing Rogie Falls and Black Water Falls. The nearest postcode is IV23 2PG, however you will also find the car park on Google Maps.
If you are taking public transport, the nearest bus stop is 8km from the car park, in the village of Garve. 

The nearest railway station is also located in Garve, on the Inverness to Kyle of Lochalsh line. From there, you can follow a path to the car park where the walk up Ben Wyvis begins.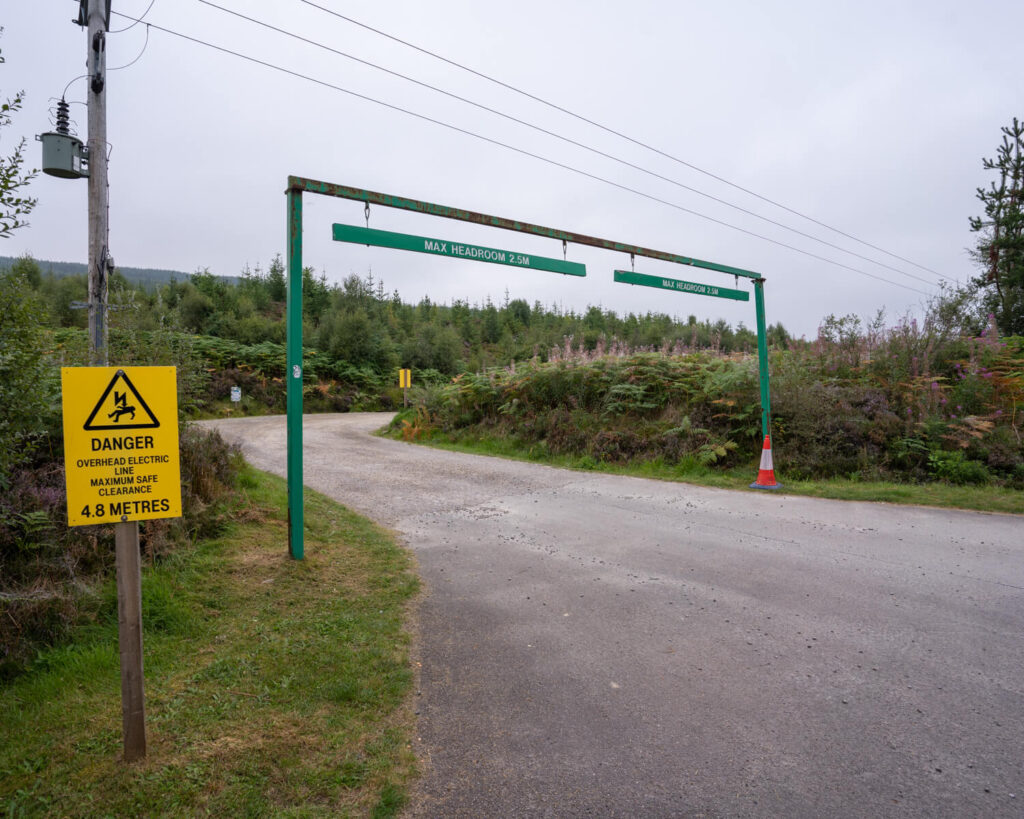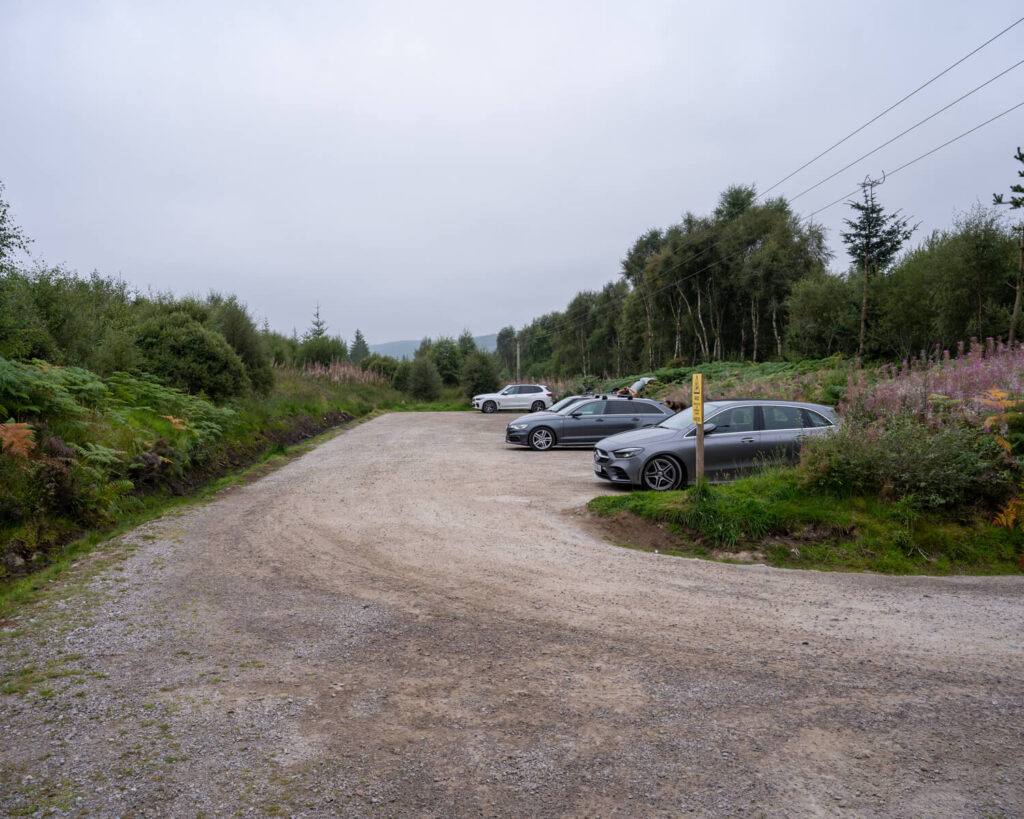 Why Should I go to
Ben Wyvis?
If you enjoy hiking and are comfortable with heights, then Ben Wyvis is a brilliant walk. There is a clear path up the mountain and it is unlikely you will be hiking up alone due to the popularity of Ben Wyvis.
On a clear day, you will be able to see incredible views over Cairngorm and the Fannichs which make the sore legs 100% worth it! Ben Wyvis is an incredibly rewarding hike if the conditions are right and being the only munro in the area, we highly recommend you give it a go. 
When Should I go to
Ben Wyvis?
As mentioned above, hiking in Scotland in the wrong conditions can be incredibly dangerous. There are parts of Ben Wyvis that are very exposed and very steep, it wouldn't take much bad weather for you to loose your balance. 
There is also no shelter on An Cabar or along the summit ridge. Make sure you have plenty of warm clothes for the top.
We would advise checking multiple weather forecasts before heading out into the hills. The best time for hiking Ben Wyvis is during the summer months.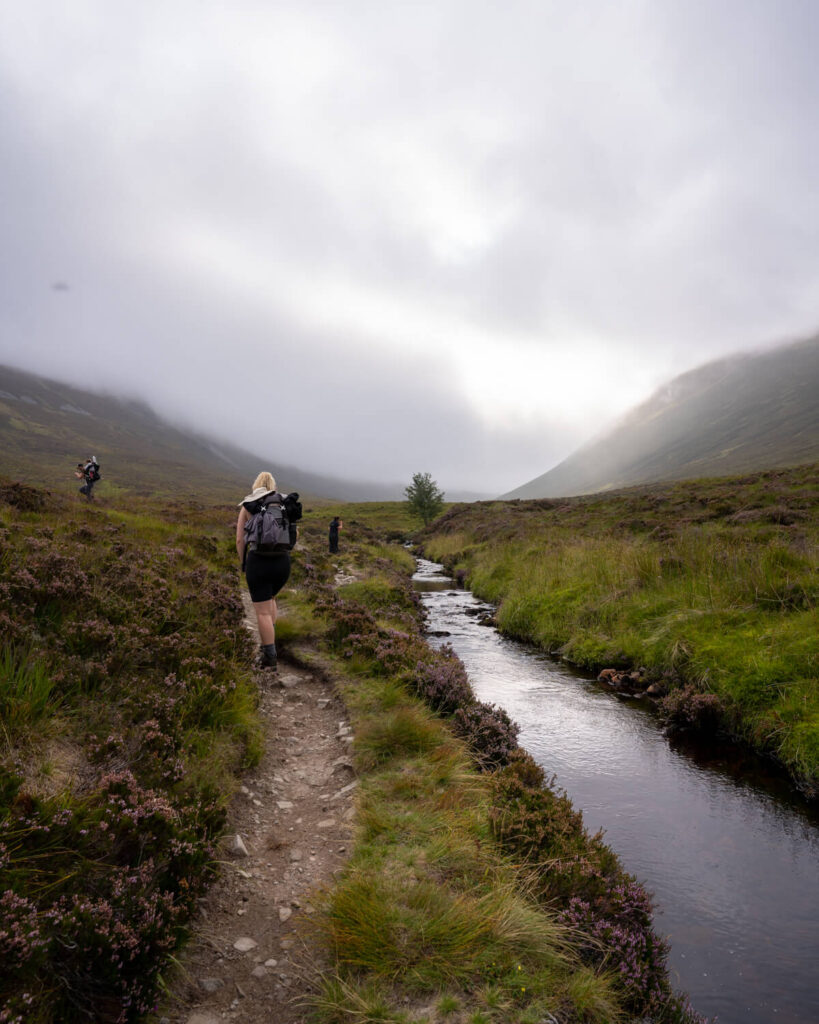 Walking up
Ben Wyvis?
The walk  up Ben Wyvis starts from the Forestry Commission car park at Garbat on the A835 between Garve and Ullapool. This car park has a 2 metre height barrier so if you are driving a larger vehicle you will need to park in a nearby layby. The 6.5km route follows a forestry path for around 2km, following a stream where you can fill up water from if necessary.
When the path starts to turn left you will notice it zig-zags steeply up the mountain. You will climb up a staircase of boulders through scree to An Cabar, the first peak which sits at 946 metres. From there you will follow the most direct route along the ridge to the summit, where you will see the trig point for Ben Wyvis. When you walk along the ridge, keep to the centre of the main path to prevent further damage to the ground.
As mentioned above, the Scottish Gaelic name for Ben Wyvis is Beinn Uais, translated to "hill of terror". We can see why this might be the case as the steep staircase overlooks a very steep sudden drop! I think we were lucky the clouds didn't show us this on the way up and it was only on the way down we had to face that!
Due to the steepness, the way down can be quite tricky, especially when walking through the scree. make sure you take your time.
The total distance of the walk is 14.3km.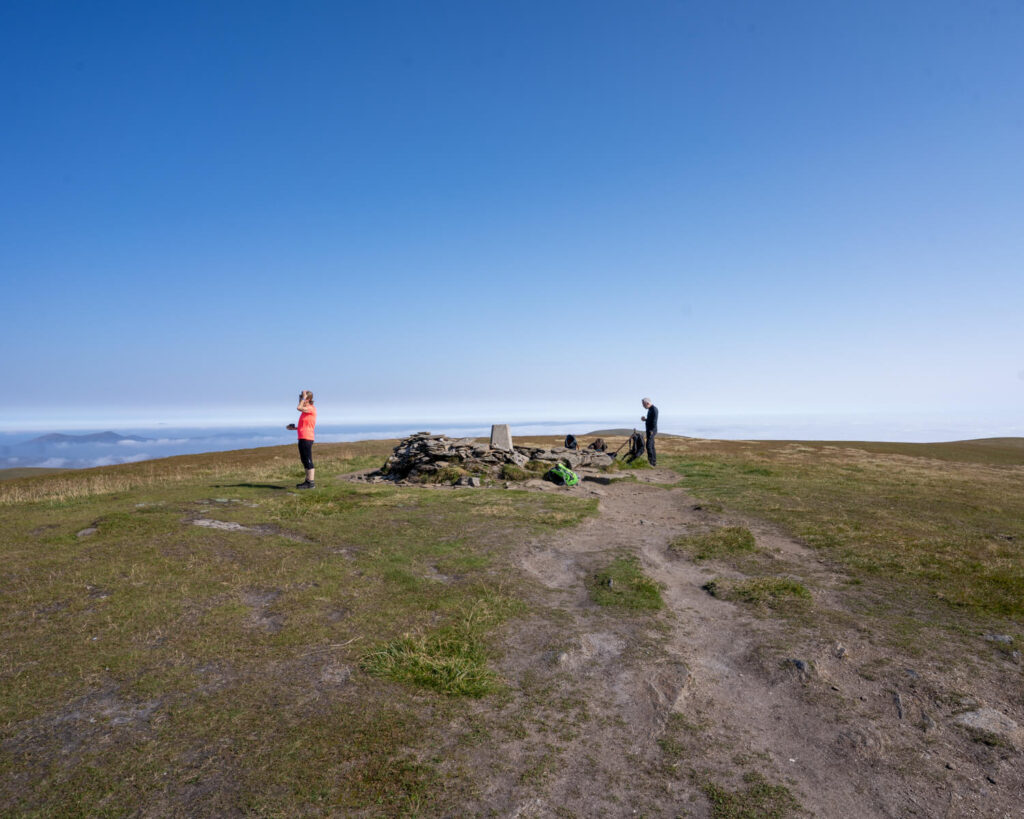 Before You Leave on the North Coast 500
Before you head off on your trip around the NC500, there are certain things you will need to get organised to ensure a smooth trip. These include how to get around the route, including being aware of single track roads, etc., what to pack for Scotland, where to stay along the route and what travel insurance to book.
Read more planning tips for the North Coast 500 in our full guide.
How Do I Get Around the NC500?
Given the remote location of the NC500 and the majority of the sights along the route, the best way to get around this road trip is by driving. There are of course other methods that are still popular, such as cycling and hiking, however, if you have a short amount of time on the route, neither of these are very suitable.
As for public transport, the use around the NC500 is understandably difficult due to how remote each location is, however, with the increasing problem of congestion along the route, this is a good option to research if you have time. If it is something that interests you, you can read a public formed itinerary of how to get around the NC500 by public transport over here.
If you are looking to rent a cosy, reliable and luxurious campervan for your trip along the NC500, we highly recommend hiring through Bunk Campers. We toured with these guys around the up-and-coming Heart 200 road trip in Scotland's central highlands and could not believe the comfort and customer service we experienced with their vans.
Browse the full range of vehicles on offer at Bunk Campers over here.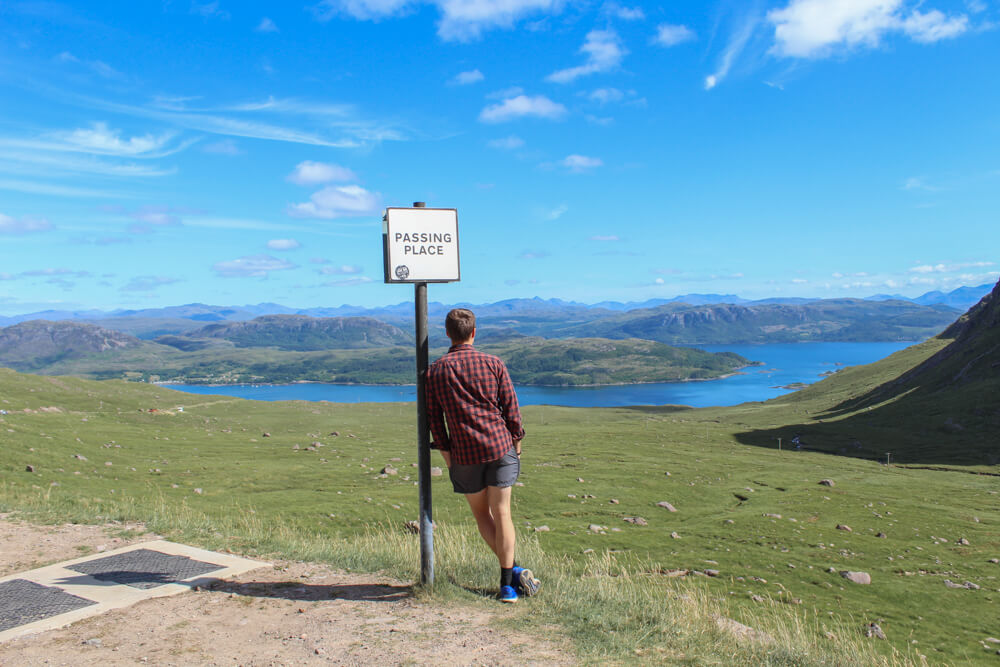 What Should I Pack for the NC500?
When it comes to packing for a trip along the NC500 there is one item of clothing that you are going to need all year round: a waterproof. It rains in Scotland on average 250 days a year, meaning that during your 7-day NC500 road trip you will probably experience at least a drizzle of rain. Due to this, the number one item on any Scotland packing list is a good waterproof jacket.
As for the rest of the year, the temperature in Scotland and the central heartlands is reasonably mild for most of the year. During the winter months, you will most likely experience snow, however, temperatures usually sit around freezing, so it is not too cold. For your reference, the average temperatures in Scotland are listed below during each season.
Spring (March, April, May) – 5-10 degrees C
Summer (June, July, August) – 15 degrees C
Autumn (September, October, November) – 5-10 degrees C
Winter (December, January, February) – 0-5 degrees C
As you can see, the weather never really gets above the teens, with anything over 25 degrees C considered a heatwave. The best way to pack for your trip to the highlands is with layers that can be added and removed as you need them. You will definitely need a hat and gloves during the colder months and will most likely need sunscreen to protect you on the long days in the open.
For our full list of items that we pack no matter where we go in the world, check out our full packing guides over here.
Given the beautiful sights and scenery that you are no doubt going to see around Scotland, we highly recommend packing a good camera for your trip. If you want to read more about the cameras we use and why we love them, check out the link below.
You can read what else we keep in our camera bag over here.
Where Should I Stay on the NC500?
The remoteness in the highlands of Scotland will leave you with little choice of accommodation in each location along the NC500, however, there are still enough options to choose from to ensure a comfortable trip. These are mostly in the shape of B&Bs, Airbnbs, converted cottages and other quirky accommodations.
Depending on how adventurous you are, there may be more accommodation choices than just the above, often with an even better view. Caravan and camping sites are abundant along the NC500, drawing camping enthusiasts from all over the world. For some of the most spectacular bedside scenery along the North Coast 500, we recommend packing a tent and getting in touch with nature for the week.
As we travelled along the North Coast 500, camped in our trusty Vango tent on a mixture of campsites and wild sites. Wild camping is a fantastic way to enjoy the beauty of the highlands, however, it must be done respectfully. Read our full guide to Wild Camping if you wish to give it a go so you know everything you need to for a comfortable and sustainable trip.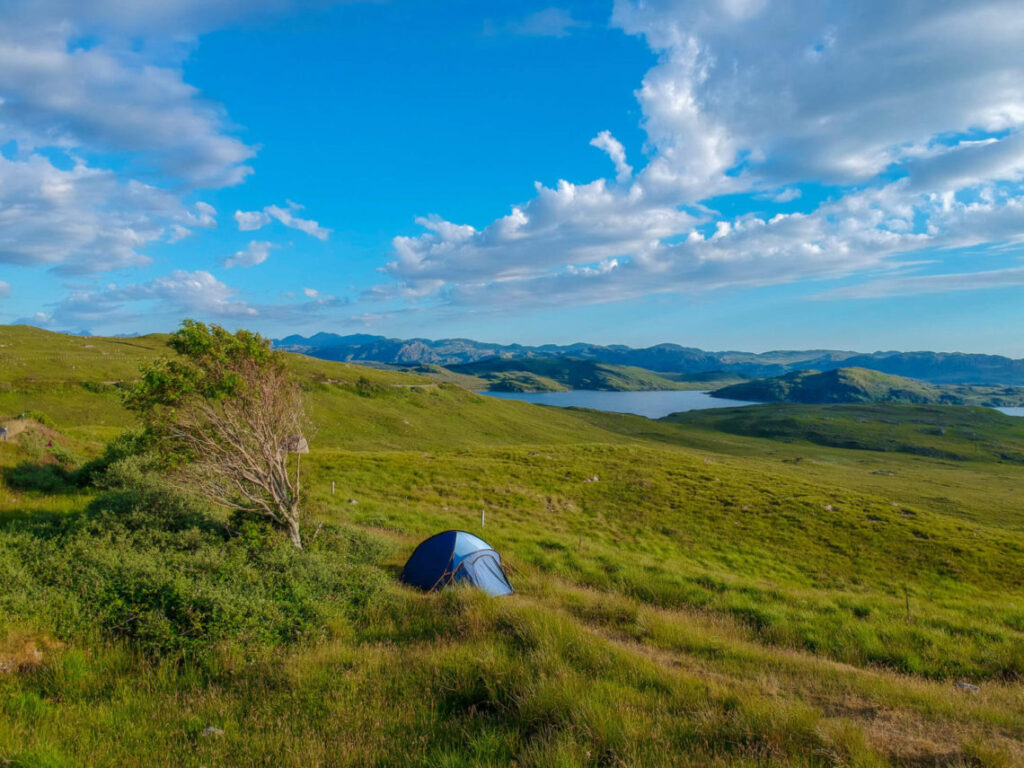 What is the Best Travel Insurance?
No matter what type of adventure you are heading on, whether it is a mountain adventure or a relaxing beach destination, one thing we all need to be aware of is that accidents can happen. The last thing you want is for an unexpected medical emergency to ruin your trip of a lifetime. Luckily, that is what travel insurance is for.
Whenever we travel abroad, we get covered with World Nomad's Travel Insurance, a reliable, friendly and extremely affordable method of covering yourself on any adventure. With years of experience working for backpackers around the globe, the service they provide is perfect for whatever type of trip you have planned.
Get covered for your next trip and get a quote from World Nomad's right here.
So there you have it, a complete guide to hiking up Ben Wyvis, a munro along the North Coast 500. If you have been up Ben Wyvis before, let us know what you thought of it in the comments below.
As always, sharing is caring so make sure to share this photo guide with your family and friends and inspire them to head off on their own North Coast 500 adventure. If you are planning the trip for yourself, make sure you have a look at the rest of our Scotland content for more inspiration to our beautiful home country.
When you set off on your own adventure, be sure to tag us in your photos on Instagram and we will share them with the rest of our community. In the meantime, why not follow us over there to see what we are currently up to and keep up with us on our Instagram Stories.
Now Read:
This article may contain affiliate links that provide us with a small income. For more information read our Affiliate page.
Pin this image to your Scotland Pinterest board for later