The Isle of Skye is a large island off the west coast of Scotland connected to the mainland by a bridge and ferry. This stunning Scottish island is well known for its small picturesque fishing villages and dramatic, rugged coastline. If you are visiting the Isle of Skye in winter, you have the opportunity for some of the world's most fantastic, moody scenery, with low clouds and dark horizons.
During your trip to Skye in winter, however, you must take into account a number of other factors for your safety and enjoyment during your trip, including what pack and where to go. This is your ultimate winter guide to the Misty Isles, with everything you need to know for a safe and exciting adventure to the Isle of Skye.
Get planning your ultimate Scotland Road Trip with our 10-day Scotland itinerary to all the best sights!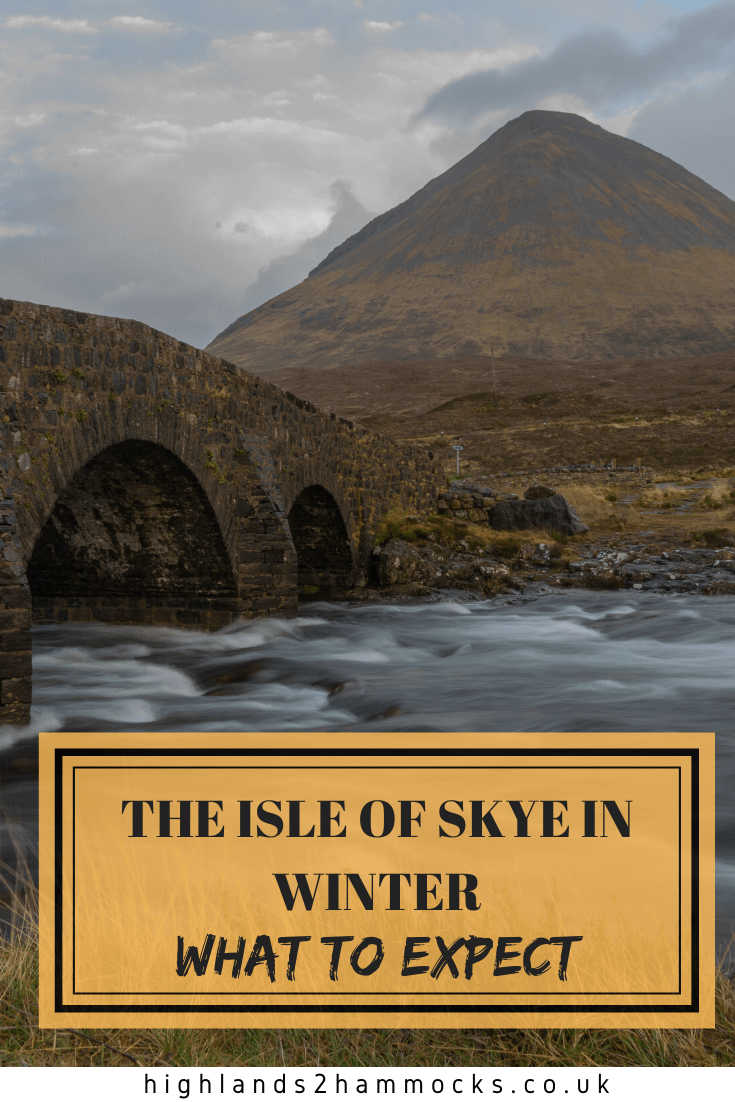 Discussed in this article are all of the below points, each of which is crucial for a safe and enjoyable trip to Skye during the cold, winter months.
How to Get to the Island
Where to Stay on the Island
What to Pack
What You Can Expect on Skye in Winter
See the beautiful Isle of Skye for yourself in our Best Road Trips in Scotland video. Make sure you subscribe to our Youtube channel for more by clicking here!
Visiting the Isle of Skye in Winter – All You Need to Know
The Isle of Skye is 50 miles long and has a population of 10,000, making it the largest island in the Hebrides. The number of Gaelic speakers on the island is declining, however, this is still an important part of the culture for the locals, so you will see signs with both English and Gaelic languages.
Skye's most iconic and well-known characteristic, however, is the dramatic mountain scenery, rugged cliffside views and sparkling lochs that can be found along the length of the island. It has got to be the most highly concentrated area of Scotland for breathtaking views, crashing waterfalls and mountain scenery straight from a fantasy novel. If you are on the hunt for a true highland experience, the Isle of Skye is the place for you.
Before You Leave on Your Trip to the Isle of Skye
How to get to the Isle of Skye
Drive
The Isle of Skye is connected to mainland Scotland by the Skye Bridge, a free road bridge, from Kyle of Lochalsh to the village of Kyleakin on the island. In high winds, the bridge will close to high vehicles and on days of particularly extreme weather, the bridge may close to all vehicles.
Also Read – Edinburgh to Isle of Skye Itinerary – Haggis Adventures Skye High Review
Ferry 
Another option is to get the ferry over to Skye which typically takes around 30 minutes, leaving from Mallaig on the mainland to Armadale. You can check the timetables online as there is typically only a morning and afternoon ferry running.
Bus
If you are travelling to Skye without a vehicle, buses run from Scotland's major cities, Glasgow and Edinburgh direct to Isle of Skye's capital, Portree. Buses to the Isle of Skye run from other areas in Scotland and you can plan your bus journey to Skye here.
Once you are on the island, you can book onto a tour that departs from Portree and takes you around the best sights that there are to see on the island. Read more about this tour and book your place right here.
Where to Stay on the Isle of Skye
These recommendations may vary depending on what activities you are wanting to do whilst on the island. We have based these accommodations close to the centre of the island and near Portree. In the summer Portree is extremely busy and we would recommend that you look to stay elsewhere if you want to avoid the crowds and traffic. In the winter months, however, Portree is a pleasant and central location from which it is easy to get to many of the sights around the island.
Luxury – If you are looking for a comfortable apartment stay to come home to after a day exploring, Quayside Apartment is the perfect place for you. With spectacular views and a good central location, this accommodation is comfort plus for your next trip to Skye.
Book your stay at the Quayside Apartments right here.
Mid-range – The Portree Hotel is a great central location for your stay in Skye. This hotel overlooks the main square in Portree and in the winter months there are wood-burning stoves to keep you warm after a day of exploring.
Book your stay at the Portree Hotel right here.
Budget – If you are looking for a budget place to rest your head but still have a great view, The Pink House is the place to stay just for that. A continental breakfast is included in your stay and you can book a room with a great view out to sea.
Book your stay at the Pink House right here.
If hostels are more your scene, you can check out the hostels available in Isle of Skye here.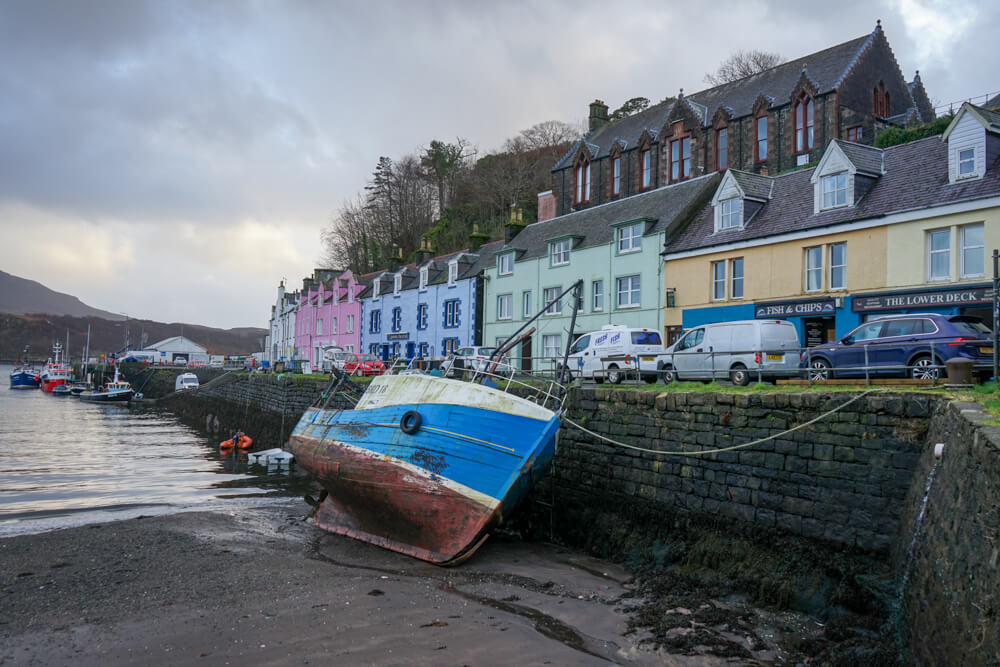 What to Pack for a Winter Trip to the Isle of Skye
When it comes to packing for a trip to Scotland there is one item of clothing that you are going to need all year round: a waterproof. It rains in Scotland on average 250 days a year, meaning that during your trip to the Isle of Skye in winter, you can expect rain at some point. Due to this, the number one item on your packing list is a good waterproof jacket.
Second to that, another item to not leave home without is a good pair of warm and, if possible, waterproof boots. A lot of the best sights on Skye require a bit of walking to reach them and the conditions underfoot can become very muddy. You do not want to ruin a good pair of white trainers so pack some sturdy boots.
You will definitely need a hat and gloves during the winter months as the wind chill can be bitter.
For our full list of items that we pack no matter where we go in the world, check out our full packing guides over here.
Given the beautiful sights and scenery that you are no doubt going to see around the Isle of Skye, we highly recommend packing a good camera for your trip. If you want to read more about the cameras we use and why we love them, check out the link below.
You can read what else we keep in our camera bag over here.
What is the Best Travel Insurance for Scotland
I know travel insurance is the least enjoyable thing to purchase and look at when you're planning a trip, however, you wouldn't want to be without it in the event that something happened. Accidents can happen anywhere and the extortionate medical bills will ruin your trip if you are not covered.
To ensure you have a stress-free trip with no worries about potential medical bills, make sure you cover yourself when you travel. We can recommend using World Nomads, a backpacker-friendly and cheap insurance company that provides good coverage and support.
Get a quote for your travel insurance right here and get covered.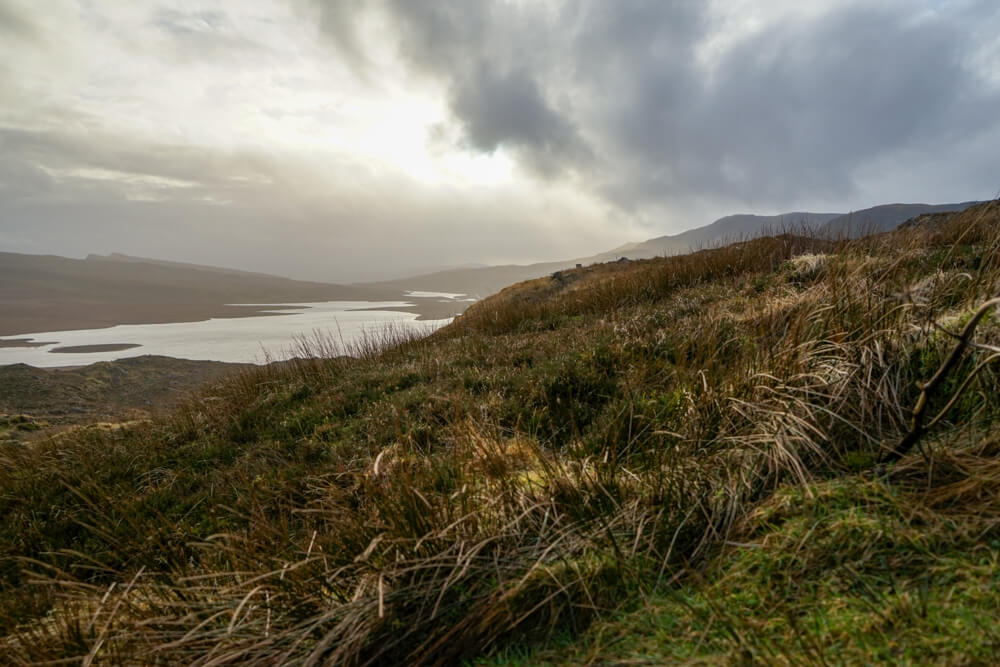 What to Expect on the Isle of Skye in Winter
Once you arrive on the island there are a few things that might catch you off-guard, especially during the winter months. These are all of the best hints and tips we can give you about visiting Skye during the quieter, winter months.
Go Prepared for the Rain
Due to the wet weather that Isle of Skye experiences in winter, you can expect boggy and marshy conditions underfoot when visiting some of the popular tourist spots. For comfort and warmth, we would recommend you pack a good pair of boots to keep your feet dry and warm if you head off the beaten path or get caught in a rainstorm.
In addition to the boots, a pair of waterproof and comfortable walking trousers will also come in handy. You are going to be out and about a lot during your trip, so you should not let a little rain get in the way of exploring Skye's beauty.
Wettest Area on the Isle of Skye
Sligachan is one of our favourite areas on the Isle of Skye. The old bridge surrounded by the towering Cuillin hills makes for some jaw-dropping scenery. However, it is handy to keep in mind that due to being in an area surrounded by mountains, you may find that Slegachan is the wettest part of the island.
Keep this in mind if, like us, you plan to camp in this area. During our most recent trip, we had to completely change our plans and camp nearer to Portree instead of here as this area was a complete wash-out.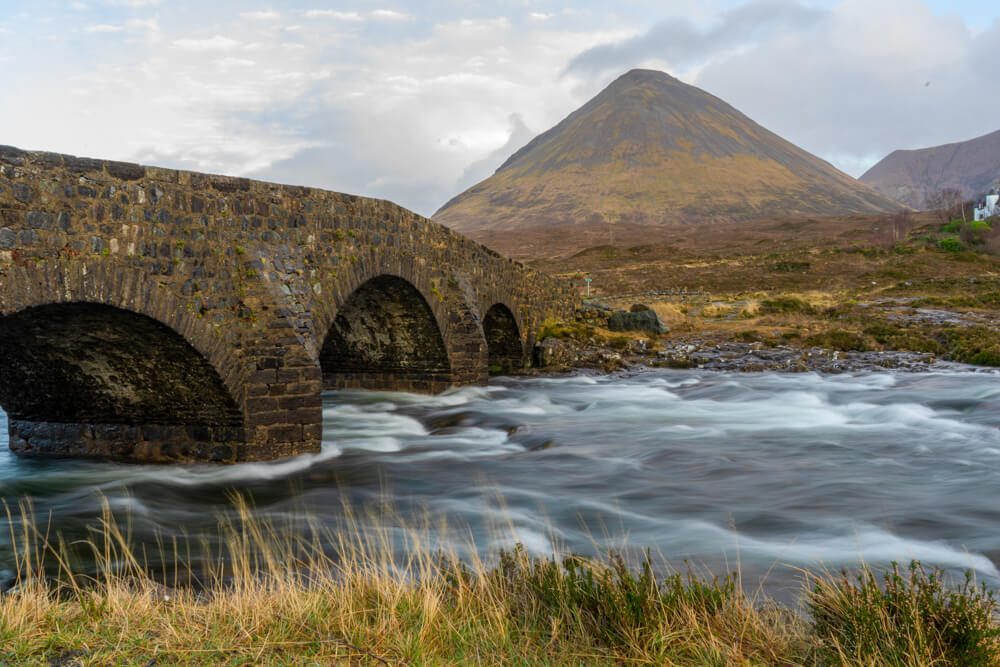 The Locals May Hibernate During Winter
The Isle of Skye is very quiet in winter as there are very few tourists that visit the island during the off-season. The locals also tend to hibernate during this time, winding down before the chaos of the summer months and hiding indoors from the cold and rain to come. This means that a lot of the bars and restaurants will be closed during this time and you will be limited to where you can go.
It is therefore recommended that you thoroughly research what pubs, restaurants, and hotels will be open during your visit in order to avoid being left disappointed.
Don't Trust the Weather Forecast
Don't always trust the weather forecast on the Isle of Skye in winter as it can change extremely quickly. The weather can be glorious one minute, and then as soon as you get out of your car and far enough away from the shelter, the rain will come down.
This can also be the case with weather warnings for wind and rain, however, don't let this put you off as there will be gaps in the weather when the rain will stop and you can get outside for an hour or two.
Our most recent trip to the Isle of Skye was nearly cancelled as we thought the weather warning would stop us from seeing the sights we wanted to without getting soaked. However, we decided we had nothing to lose by trying and we had plenty of breaks in the weather that allowed us to get out, explore and get snap-happy with the moody scenery.
Billy Connolly – "There is no such thing as bad weather, just the wrong clothes"
Parking on the Isle of Skye
In the winter months on the Isle of Skye, there are not many tourists around, this suited us perfectly as the roads were quiet as well as the landmarks. It also makes it a lot easier to find parking in smaller towns. Due to the mass amount of tourism this island receives, new infrastructure is required for safety and to maintain the environment.
Therefore, in order to pay for these improvement projects, parking machines are being put in place at some of the most popular tourist sites, such as Old Man of Storr and Quiraing, costing £3 for 3 hours parking. Unfortunately, in the winter months on the Isle of Skye, you will still be expected to pay for parking, even though the car park is empty.
Camping on the Isle of Skye
If you plan to camp on Isle of Skye in winter, then it is handy to note that the campsites close in September for the winter season. This means you will need to wild camp instead. There are plenty of wild camping spots and if you are in a campervan, you will not struggle to find somewhere to camp up for the night.
If you are planning to pitch a tent, there are also plenty of spots suitable for doing so, however, be mindful in the winter months on the Isle of Skye that heavy rainfall may result in pitching up on very marshy conditions, or sleeping in your car.
On our most recent trip to Isle of Skye in winter, we had plans of wild camping near to the Sligachan Bridge, which quickly turned to our first ever night sleeping in the car for the night. If we had tried to pitch the tent it would have blown away and we would have definitely woken up pretty soggy in the morning.
Wildlife on the Isle of Skye
There are lots of roaming animals on the Isle of Skye, including sheep, rabbits or sometimes even deer. This will mean that as you make your way along the winding roads throughout Skye, you will probably see them cross your path on the road. Slow and controlled driving is therefore required at all times of year to protect the livelihood of these beautiful animals.
It is important to take particular care in the winter months as if it is windy, the animals may not hear you coming and therefore not run away.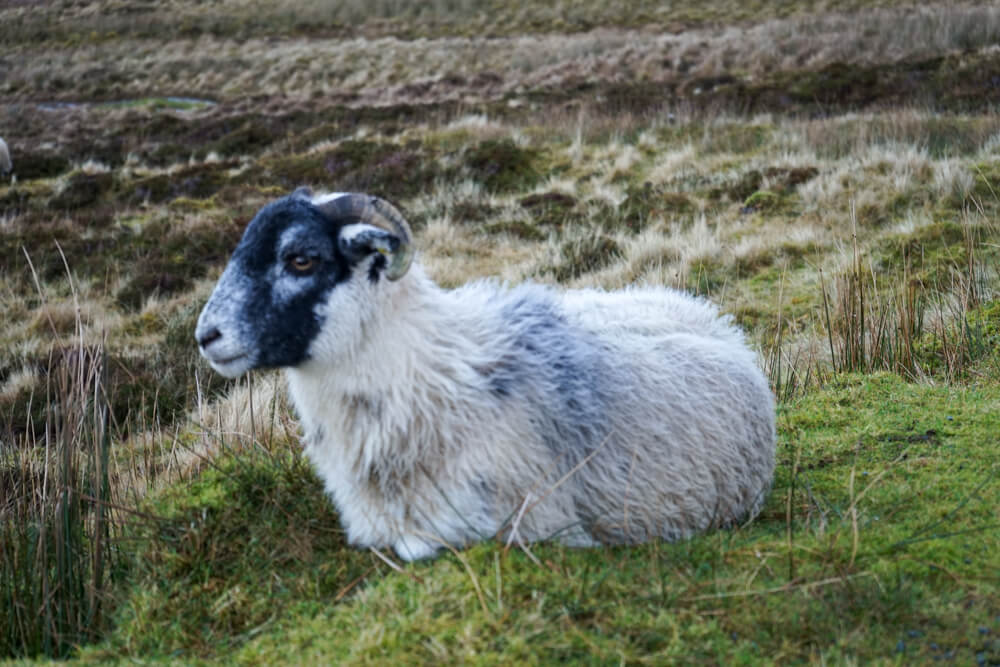 Slippery and Wet Driving Conditions
The Isle of Skye can be very wet during the winter months, which can then lead to frozen roads across the island. Due to how remote some of the paths are, not all are going to be treated with salt to prevent this freezing, so it is up to you to take care during these icy conditions.
During some of the heavier rainfalls, some of the roads around the island are likely to experience flooding. This can mean some roads will become inaccessible if you do not have a larger car, so take care when you are driving around so as not to become flooded in.
Daylight on the Isle of Skye
Due to how far north the Isle of Skye is, the daylight hours vary drastically from summer into winter. In the peak of summer, there will be nights when it does not seem to get dark at all, with a constant twilight sitting on the horizon. In contrast, during the winter months, the daylight hours are very short, some days only have 5 hours of sunshine. It is important to bear this in mind when you visit during winter and remember that you do not have as much daylight to see as many sights as in the summer.
There are many spots on the Isle of Skye that are perfect for sunrise. If you are into photography, you will enjoy capturing that soft golden glow on some of the island's most iconic landmarks. In winter, the sun rises a lot later than in the summer, which means you have time for a long lie before heading out for the day. The trajection of the sun also means that sunrises and sunsets also last a lot longer than in summer, as the sun moves at an angle across the sky, rather than up and down.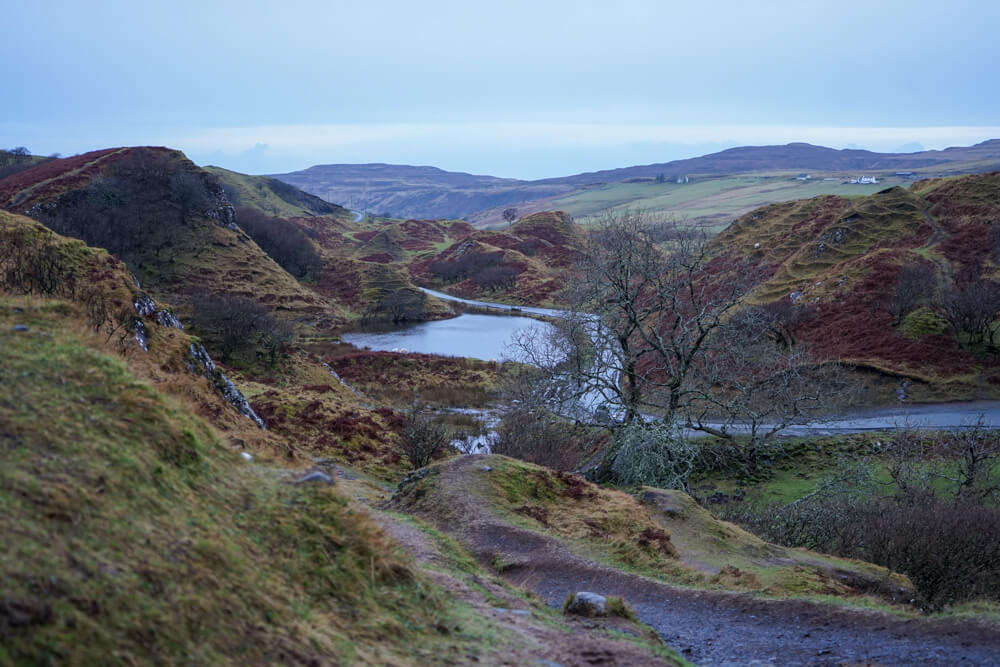 Winter Colours in Scotland
Winter may not be the brightest time to visit the Isle of Skye, the flowers are not in bloom and the trees have been laid bare. However, perhaps the most beautiful characteristic of the Scottish Flora is the colour it produces across the hills during the winter.
The heather turns a magnificent orange/brown and, when paired with a dusting of snow on the tops of the mountains, as well as a golden sunset, it creates a sensational palette of warming golds, reds, browns, and oranges across the hills. Winter in Scotland is arguably the most spectacular time of year for photographers and nature lovers alike.
The Dreaded Midges (or the lack of..)
One of the best things about visiting the Isle of Skye in winter is the lack of midges. If you are from Scotland or have visited Scotland before, you will know exactly what I am talking about. For those of you who have never been to Scotland, during the summer months the hills come to life with flying insects from hell. Midges are tiny, mosquito-like insects that have the ability to ruin a trip if you are not prepared for them.
You will only need to worry about coming across midges if you are visiting late spring to late summer (May to September) as they can't survive the winter frost. This makes winter the perfect time to get out and explore the highlands of Scotland, worry-free about any unwanted visits from the flying devil.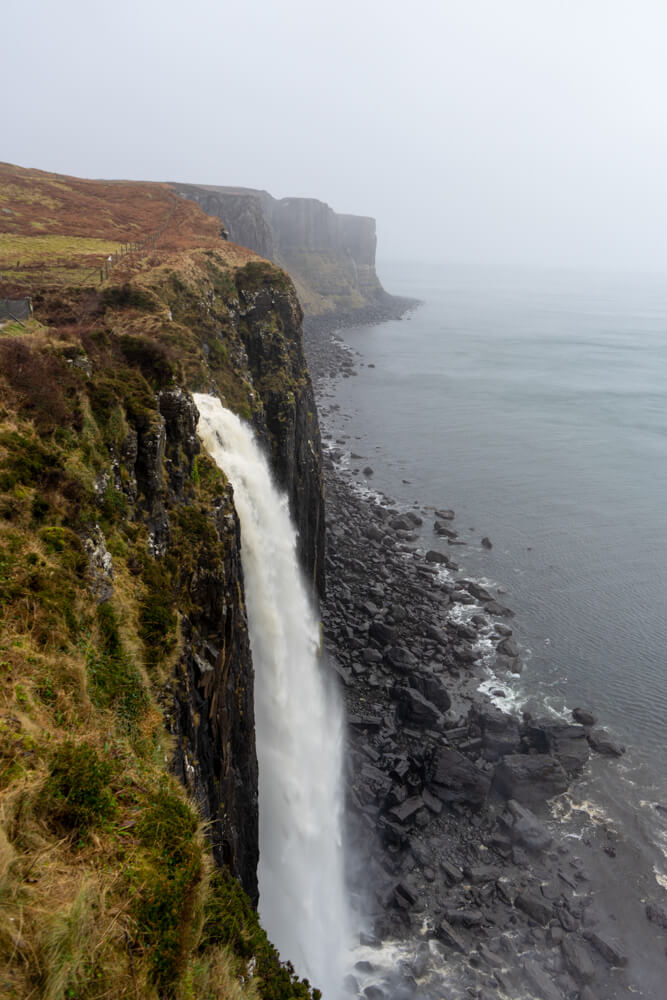 FAQs on the Isle of Skye
Is Isle of Skye worth it?
In a nutshell, absolutely yes! The Isle of Skye is one of the most unique places in the WORLD, nevermind just Scotland. If you want to see the truly rugged and raw side of the Scottish landscape, the Isle of Skye is the place for you.
When should I go to the Isle of Skye?
Due to the huge popularity of the Isle of Skye, the WORST time to go is during the school holidays in the UK. These are usually from June till August. The BEST time to visit Skye is most likely from April to May and September to October due to the reliable weather and quieter attractions.
Does it snow on the Isle of Skye?
It's not uncommon to see snow on the Isle of Skye due to how north it is. You can usually expect to see snow between the months of December to February. In milder winters you can just expect to see a lot of rain so make sure you come prepared.
So there you have it, your ultimate guide to visiting the Isle of Skye in winter. If you are visiting this incredible island and have any other questions on what to expect, leave us a comment down below. We love to chat about this stuff! If you have already been, let us know how it was! What sights did you see? Did you brave camping in the cold? Let us know in the comments below!
Also, remember to share this with your friends and family that you are going to share this trip with. Sharing is caring and we want to ensure that everyone is fully prepared to and knows what to expect on the Isle of Skye in winter.
If you are planning a Scotland trip soon then check out our other Scotland content right here. Come and find us on social media to see where we are currently exploring. Tag us in your photos from your trip to the Isle of Skye and we will share them with the rest of our community of explorers and backpackers.
Read Now:
This article may contain affiliate links that provide us with a small income. For more information read our Affiliate page.
---
Pin it for later!