Crystal waters, blue skies above and incredible wildlife to be found beneath, this is what awaits you in the tranquil sea around Gili Air. Another must-see location when it comes to the Gili islands, Gili Air offers the peace and tranquility of island life, whilst also offering a fantastic nightlife to boot. If you are traveling to Indonesia, make sure snorkeling Gili Air is on your bucket list. Underwater statues, beautiful coral, vibrant colours of fish, all lying in wait beneath the paradise waters. As well as, of course, some of the many amazing Gili Air turtles!
Here is your ultimate guide to snorkeling Gili Air, including what to pack, where to stay and how to get there.
Before you set off on your adventure to these paradise islands, make sure you have everything you need! Download our FREE printable packing list, with all of the items you will need to pack, as well as some other useful tips about the islands.
Save this image to your Indonesia Pinterest board for later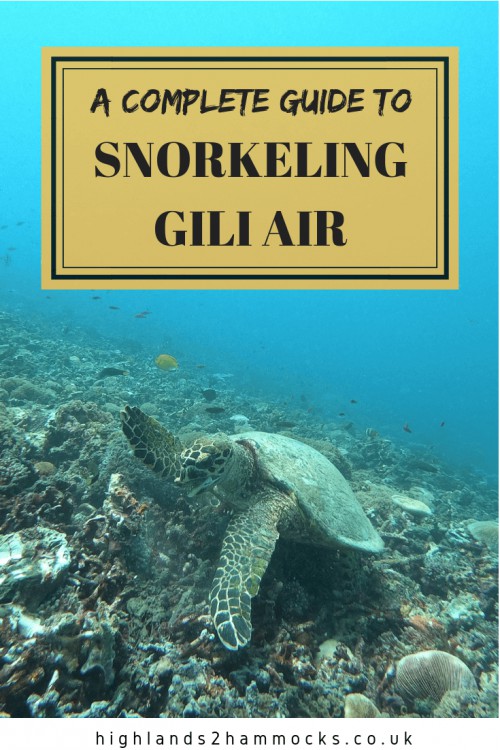 Included in this guide are all of the points listed below. We will go into each of these areas in greater detail throughout the article.
Snorkeling Gili Air and finding the Gili Air turtles
When is the best time to go to Gili Air
Tips for Finding the Gili Air turtles
How to Get to Gili Air
What else is there to do on Gili Air
How to prepare for your trip to Gili Air
For more information on the Gili Islands, read our ultimate guide to the three Gili Islands over here. 
Don't forget to subscribe and follow our journey on Youtube here.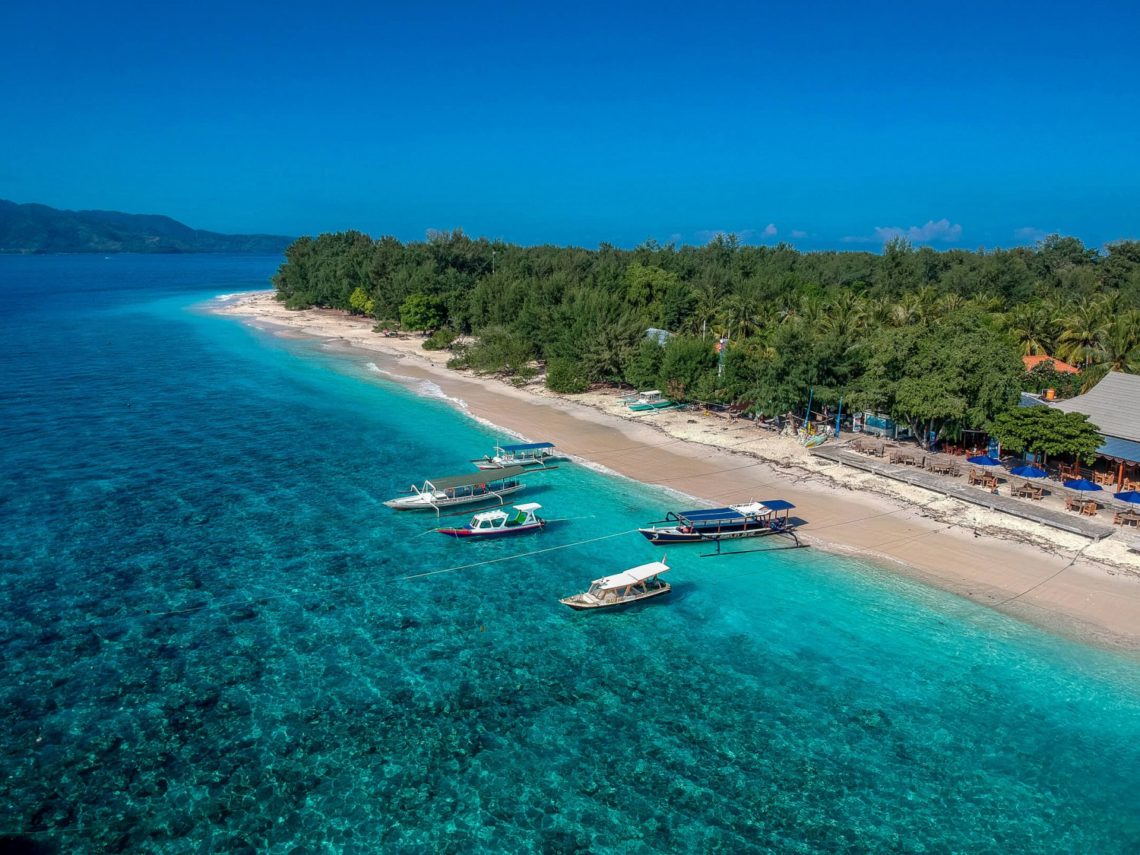 Snorkeling Gili Air – Complete Guide to Finding Gili Air Turtles
What Type of Turtle is on Gili Air?
The sea turtle is one of the favourite animals of many snorkellers and scuba divers, simply due to how chill they can be. It is a bucketlist sighting for most backpackers and, as it turns out, is actually quite an easy one to tick off. If you want to find a turtle in the wild then the Gili Islands are one of the best places for you to do so in Indonesia.
The Gili islands are spoilt with not only one species of turtle but two: the Hawksbill turtle and the Green turtle. The most common of these two species is the Green turtle, which is characterised by its beautifully patterned shell and the green colouring of its cartilage and fat.
The Hawksbill turtle is recognisable by its distinctively shaped face, with a sharp, narrow head and bird-like beak. These turtles specialise in picking food out of narrow crevices in the reefs and can also digest sea sponges, which few other animals can. Unfortunately, the Hawksbill turtle is listed as Critically Endangered around the world due to its low population.
Snorkeling Gili Air and Finding the Gili Air Turtles
Without a doubt, one of the highlights of our Gili island trip was the incredible sight of the Gili Air turtles. Having never seen a wild turtle before (despite many 4am starts..), Gili Air would finally be the place where our dreams came true.
There are a couple of different options when it comes to searching for the Gili Air turtles, including an organised tour and heading out yourself.
Snorkelling Gili Air Tour
The easiest way to see the turtles for yourself is by taking part in one of the many, awesome snorkelling tours that take place on each of the island. You can book one of these tours from any of the Gili islands, and they all tend to involve a 3 hour tour with 3 dive sights: one turtle spot, the Gili Meno underwater statues and a fish feeding spot.
These tours tend to get booked from and leave from the islands harbours, which are impossible to miss (they will be where you get off the boat!). The tours will cost roughly £6 and include a snorkel mask and flippers, as well as a boat taxi between each point.
Self-guided Gili Air Turtle Tour
Another way of seeing the famous Gili Air turtles is, of course, with a self guided tour around the island. Heading just off shore from Gili Air, it is possible to find turtle spots by yourself, only a couple hundred meters from the beach. It goes without saying that in order to do this alone you must be a very confident and capable swimmer, as there will be no one to help you should you get into bother.
If you are to head out alone, it is important to take certain precautions before doing so.
Advise your hotel as to where you plan to snorkel and what time you plan on being back. This way should you go missing, at least someone will know where you went.
Bring a friend. It is never a good idea to head out to sea alone, so make sure you go snorkelling with at least two people. This way if one of you gets into bother, there is someone else to fetch help.
Assess the weather appropriately. If a storm is on its way, it is obviously not the time for a snorkel trip.
Of course, there is always the option of looking out for the snorkel tours and following the guides from those tours. This way you will be more likely to see a turtle (as the experienced tour guide will point them out to you), and you will also have people to help you, in case you get into bother.
Finding the right spot for the turtles alone is also a difficult task, as they can be anywhere around the island. The boat tour will tend to stop at one of 5 or 6 different points, based on how many turtles were spotted the last time they stopped there. It may be best to do some reconnaissance the day before you plan to snorkel and see the exact point the boat stops.
Read on to find some tips for finding the Gili Air turtles if you do decide to head out on your own.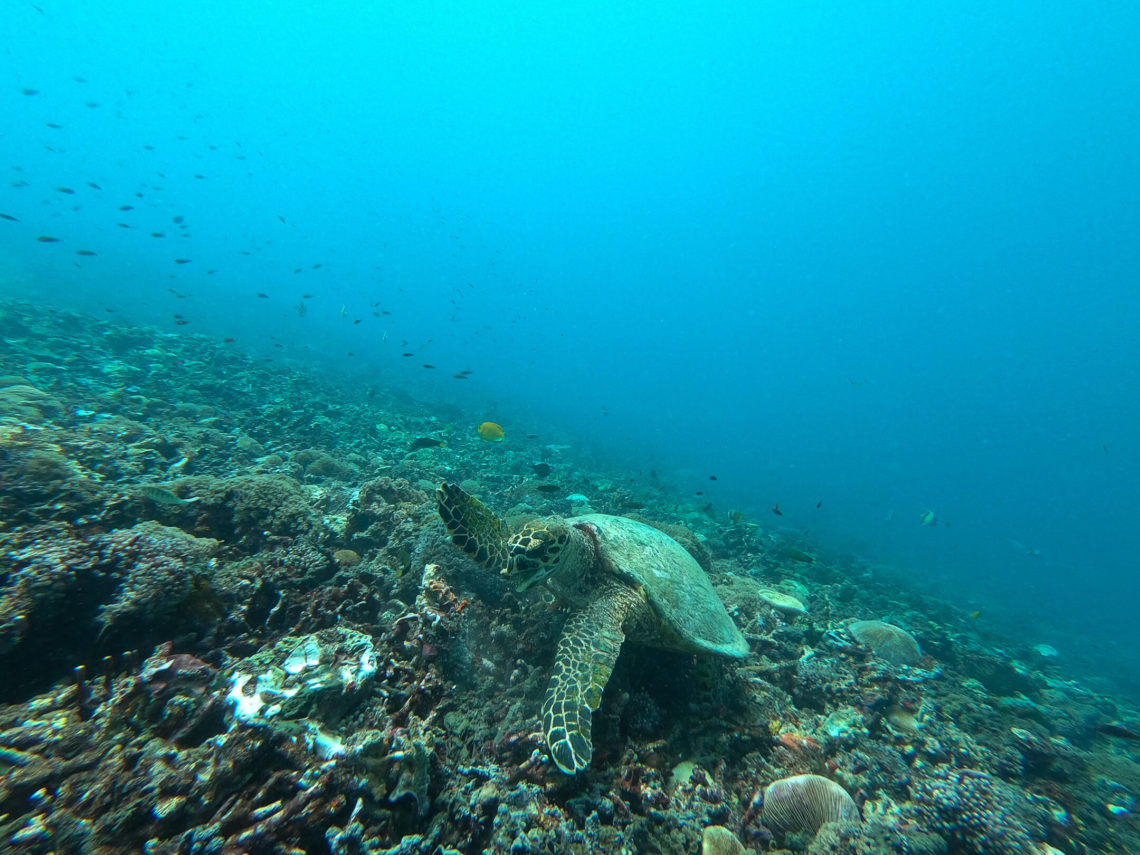 When is the Best Time to Go to Gili Air?
The Gili Air weather stays pretty predictable on a seasonal basis; it is hot and sunny almost every day. The same goes for the day to day weather, with a gorgeous sunrise to start the day, followed by blue skies until roughly 3pm, when the Lombok clouds begin to roll over. The best time to go in search of Gili Air turtles is therefore not based on weather, more on popularity.
"When is the quietest, most peaceful time to go?" is the better question.
As you will have seen (if you took our advice and watched out for where the organised tour boats drop people for the turtles), during certain hours the turtle points get incredibly busy. There tends to be two tour times, one between 8 and 12 and the other between 1 and 5. It is therefore recommended that you go outside of these hours, as you are more likely to have the turtles to yourself.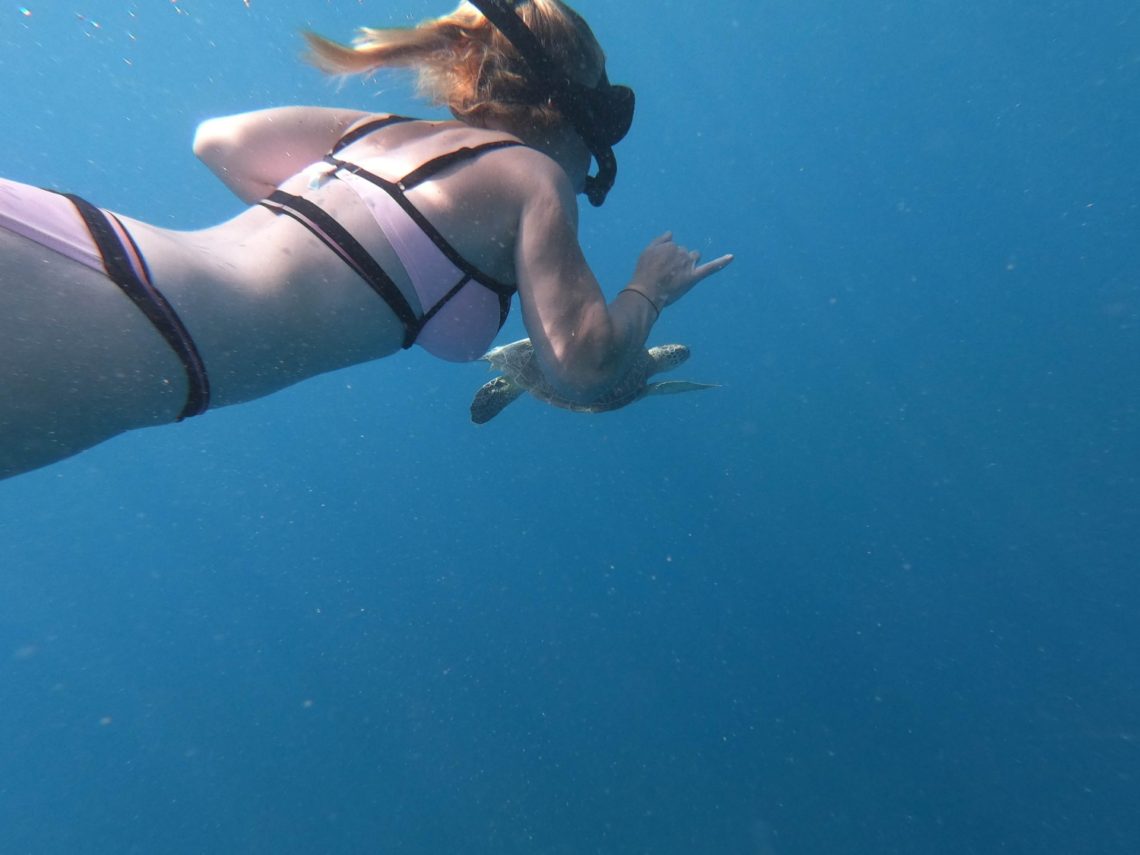 Tips for Finding the Gili Air Turtles
If you do choose to head out on your own, here are a few techniques that you can use to increase your chances of finding the elusive Gili Island turtles. As we said before, make sure you take precautions to ensure your safety whilst you snorkel, such as do not go out alone and let your hotel know where you are going and when you will be back.
Find the Best Snorkelling Spot
If you do choose to try snorkeling on your own, whilst take the utmost care and concern of the points mentioned above, there is one part fo the island where you are much more likely to spot turtles in the wild. If you head to the North East side of the island and swim just off the shore, this is where you are most likely to see turtles.
Look Out for Sea Sponges
The sea sponges in this area are the perfect spot to see one type of Gili Turtle, the Hawksbill Turtle. Few other animals can digest this type of seafood, which means more food for these elusive turtles. Keep your eyes peeled around the sea sponges for a Gili turtle enjoying some local cuisine.
Aim for High Tide
If you want to increase your chances of spying the elusive Gili Air Turtles, one thing you can do is aim to go at high tide. Due to the added protection of greater water depth, the turtles in the area are much more likely to come in shallower to the shoreline. This makes getting far enough out to see them a lot easier.
Get Up for Sunrise
One time of day that the turtles are the most active is the first thing in the morning. It turns out that the Gili turtles are all morning people and this is their favourite time to play in the shallow water and munch down on the local seagrass.
Follow the Crowds
If all else fails, a sure-fire way to guarantee a turtle sighting is by simply following where the boats are. The local tour guides in these areas have been chasing turtles for years, so who better to trust with the best location for seeing turtles in the wild.
If you don't want to have to fight the crowds, the best way is to keep an eye out from the shoreline and pinpoint where the boats are stopping. Once they leave, you can then swim out and have a go at seeing the turtles for yourself.
How to get to Gili Air
Depending on where you are coming from will depend on how you can get to Gili Air, whether you are going from Bali to Gili Air or Lombok to Gili Air, there is an easy option for you.. It is possible to go by fast, private boat or by using the Gili Island's public boats. The private speedboats are obviously the faster of the two options, however it is also the expensive option.
The public boats between the islands are cheaper, although they only tend to run twice a day, and only leave when they are full. Make sure you are aware of the timetable for the public boat to Gili Air to avoid finding yourself stranded until the next departure.
Public Boat to Gili Islands
If cheap is what you are looking for, then the public ferry is your best option for getting to Gili islands from Bali. It takes around five hours to get from Padang Bai in Bali to Lombok. Here you will disembark and wait for the next public ferry to take you over to your chosen Gili Island . In total this trip could take around eight hours, however it will cost you much less than the faster boat options (roughly £3 in total).
The public ferry from Padang Bai to Lombok will cost you roughly £2, and the public ferry from Lombok to Gili Trawangan roughly £1. From here you can catch a public boat to the other two Gili islands for about the same price.
Flying from Bali to Gili Islands
We can recommend flying to Lombok from Bali and spending a few days there before heading out to the islands. If you aren't wanting to do that, you can get a taxi to Senggigi or Bangsal harbour where you can catch a boat to the Gili Islands. You can then catch one of the ferries that head from Gili Air to Lombok and back again.
The cheapest airline is Lion Air and it takes around 30 minutes. If you are flying, make sure to have your ticket printed before hand or you may not be allowed to board your flight.
Also Read – Living in Bali – All You Need to Know for One Month in Bali
Fast Boat to Gili Islands
This is the most convenient way to get to the Gili Islands and you can expect this trip to take around 4 hours. In general, the fast boats will travel from Sanur to Gili Air, via Lombok and the Nusa islands. There are a few different speed boat options to get to and from Gili Air to Bali and the Nusa Islands.
Check out these companies below.
Check out the latest routes and prices for Gili Getaway here.
Check out the latest routes and prices for Blue Water Express here. 
Check out the latest routes and prices for Ocean Star Express here.
Check out the latest routes and prices for Patagonia Xpress here.
Check out the latest routes and prices for Scoot Fast Cruises here.
If you have booked a ferry, make sure you have your tickets printed, as some companies will not let you board without a paper copy. We have asked in hotels and doctor's surgeries before, and they have both printed off the documents we required. Good to keep in mind if there is no print shop nearby.
Gili Island Hopping Tour – Gili Island Transfers
Transferring between from Gili T to Gili Air is really simple. There are ferry ports on all of the islands and you will recognise this as the place that you arrived into the island, the place with lots of people and bags and the place with lots of boats. It shouldn't be too difficult to find.
Public boats between the islands are normally around £1.80-£2.40. They leave once or twice a day and only leave when they are full of people, so are only really an option if you are not in a rush to get anywhere. Find out the times of departure the night before to avoid getting stranded and having to pay extra for a private transfer.
If you are all out of luck with the public boat, hang around the ferry terminal and ask other people where they are off to. We did this when we just missed out ferry and managed to split the cost of a private transfer between the 6 of us, costing only £2.40 each.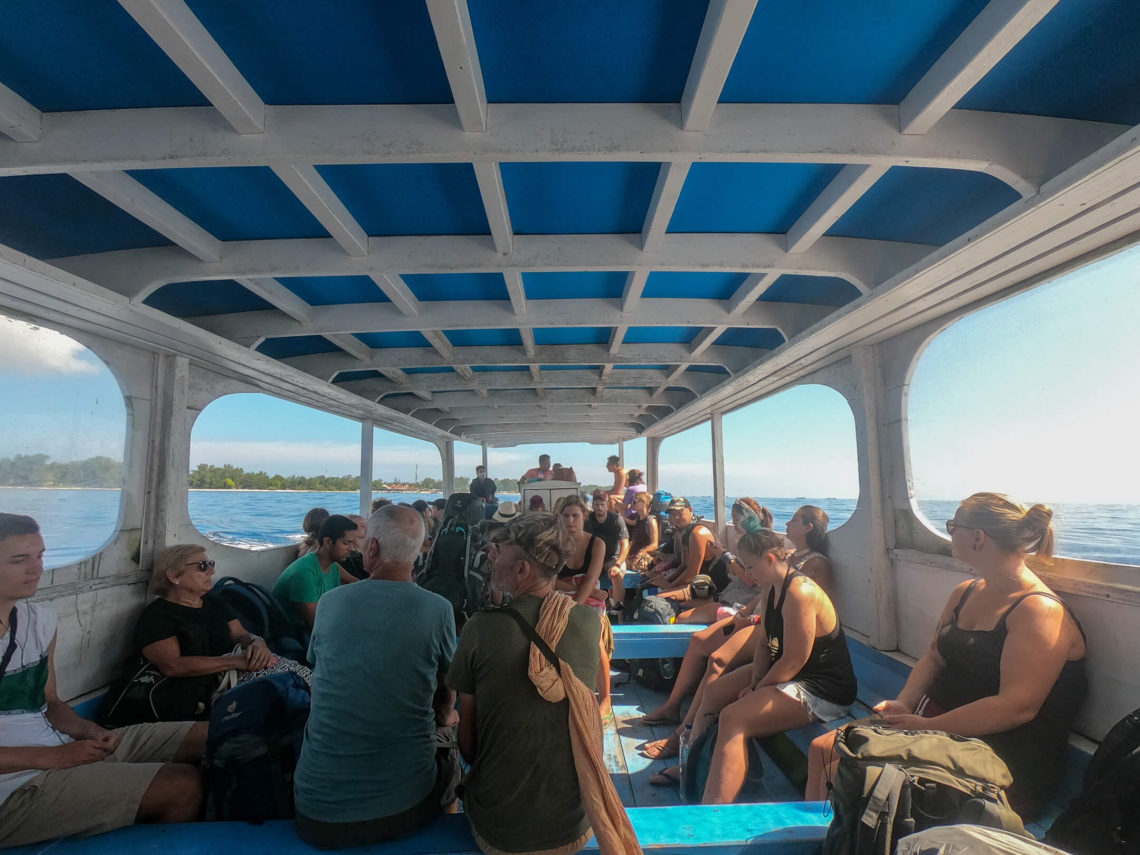 Things to Do in Gili Air
Apart from the obvious adventure of searching for Gili Air turtles, there is plenty other activities to enjoy on this paradise island. From surfing to yoga, scuba diving to fine dining, Gili Air is full of entertainment, relaxation and amazing cuisine.
Gili Air Nightlife
It is a common misconception that alcohol is not widely available on the Gili islands. Nevertheless, the party party vibes on Gili Air are as alive and well as on mainland Bali. Although quieter than the main party island, Gili Trawangan, the Gili Air nightlife will still be something to remember. Below are some of the best bars on the island.
Legend Bar – Busiest on the island, the Legend Bar is famous for filling the Gili Air nightlife with sounds of Reggae music and laughter. Every Wednesday, Legend Bar holds a beach party, allowing party-goers to enjoy the seaside views while they knock back a Bintang or two.
Star Bar –  The most popular choice for scuba divers on Gili Air, Star Bar sits next to the Blue Markin Dive centre.
Space Bar – The perfect spot for a Bintang sunset after a day of searching for Gili Air turtles, Space bar offers unbelievable sunset views.
Although bars normally close at midnight, that still leaves plenty of time to relax and enjoy the views of the ocean. It also means you will get plenty of rest before a bright and early sunrise snorkel the next day!
Surfing in Gili Air
The Gili islands surf is quite a unique one, with reef breaks about 100-200m offshore and a shallow lead out to it. Due to this, the possibility of surfing Gili Air (as with the other islands) is all down to the height of the tide. At low tide, the reef can often be too shallow, making it dangerous and even impossible to surf. At high tide, the reef breaks can be a remarkable place, perfect for the experienced surfer.
The Gili islands are not a good place for beginner surfers to practice, simply due to the distance from the shore you need to travel and the size of the waves that break. Because of this, the Gili islands surf can be an absolute paradise for more experienced surfers, with little competition for the best waves.
Getting out to the waves will either require a boat or a long paddle. Check out the latest surf reports and tide predictions right here.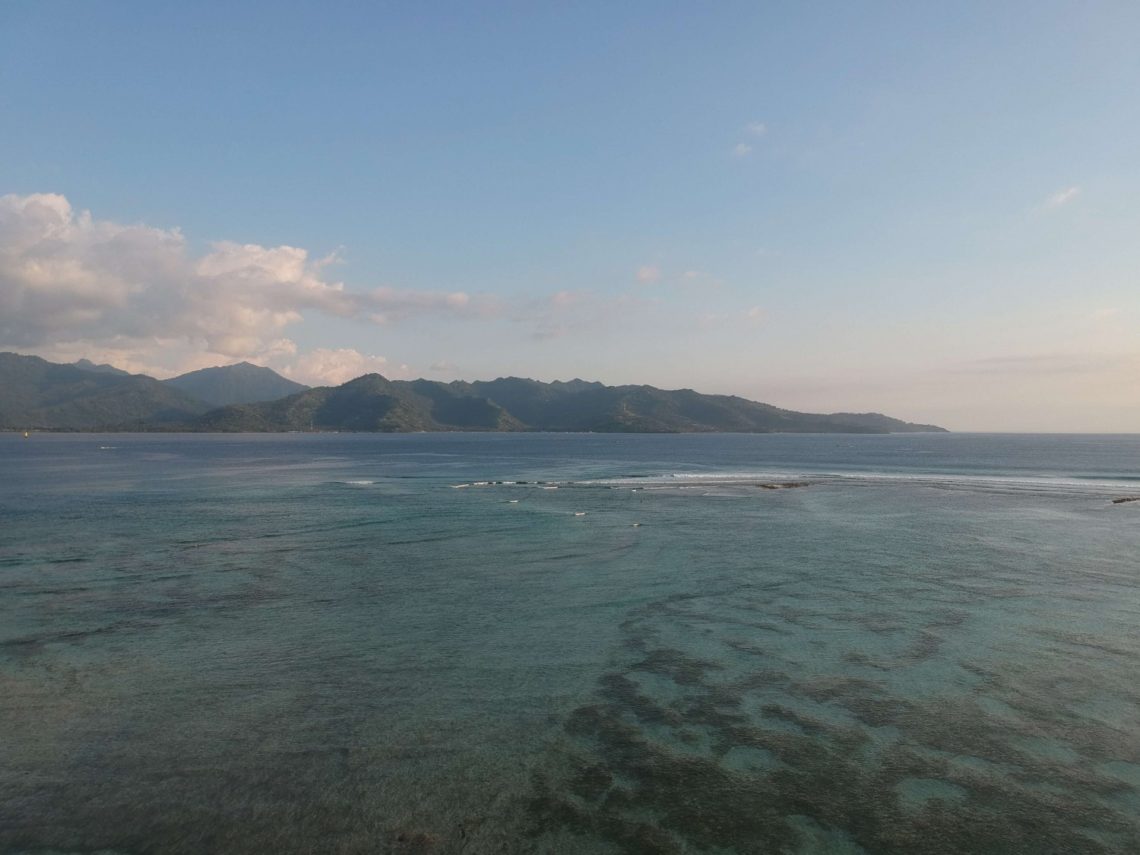 Yoga in Gili Air
Being the peaceful retreat that is Gili Air, yoga is an obvious choice for travellers wanting to relax and enjoy this island paradise. There are a huge variety of choices when it comes to choosing your yoga retreat, whether you simply want a one time class, or whether you want to book an entire yoga holiday.
For one time classes, there are plenty of places around the island offering sunrise yoga classes, the perfect way to start your day. Of course, you can do it the budget way and try an online yoga class by yourself. We normally find a video on Youtube, choose the perfect spot all to ourselves and enjoy the beauty of the sea whilst getting our bodies ready for another day of adventures.
Scuba Diving in Gili Air
One thing this part of the world is famous for is its high quality, budget-friendly scuba diving courses. Gili Air is no different to the other Gili islands, with a huge choice of dive centres all offering fantastic deals and experiences. Here are some of the best dive centres for Gili Air scuba diving.
When it comes to locations for scuba diving Gili Air, there are plenty of options to choose from. Each of these dive sites are independent of which Gili island you choose to stay on, as the islands are all so close together.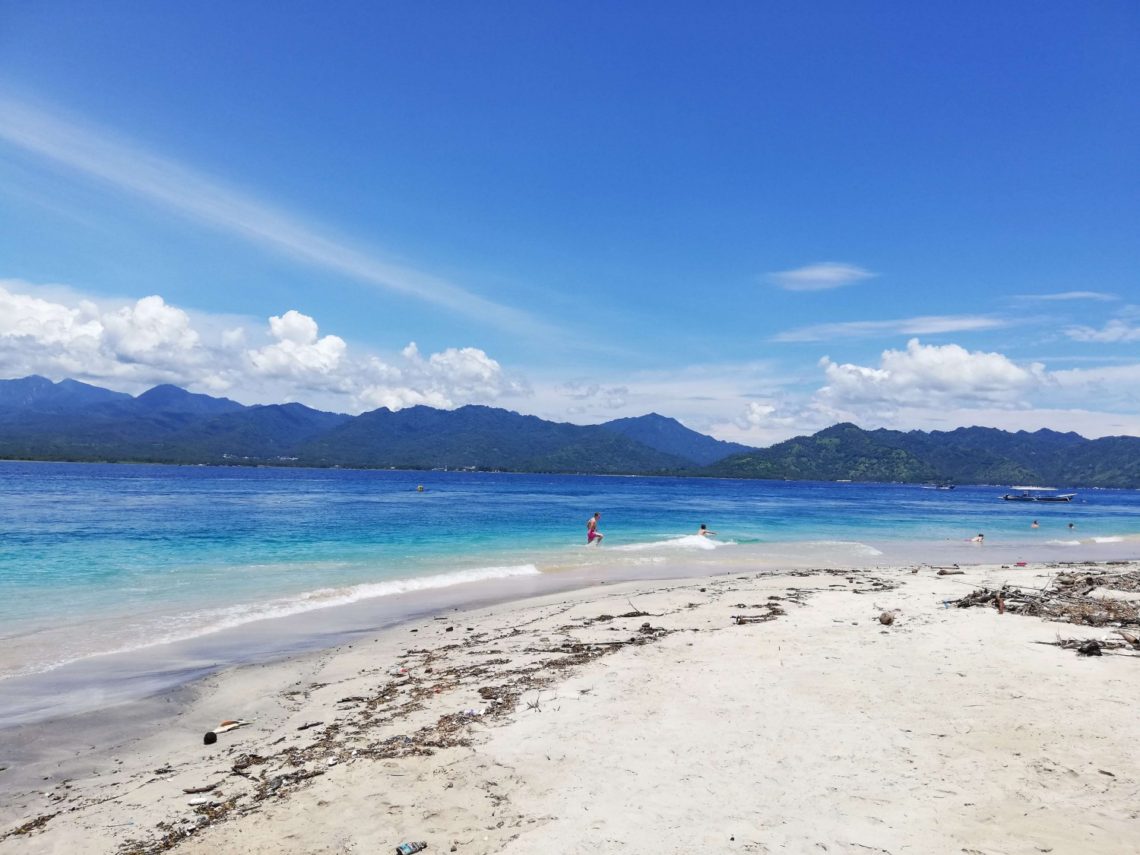 Before you Go to Gili Air
What Travel Insurance Should You Get?
As you would do when you are travelling any country, make sure you have travel insurance before travelling to Indonesia. We can recommend using World Nomads Travel Insurance for the best and cheapest coverage. Always make sure that you are covered for the activities  you will want to take part in whilst you are away, from white water rafting to snorkelling Indonesia.
Get your travel insurance quote before you leave on your trip right here.
What Visa Should You Get?
You will still be covered with your Indonesian Visa when you visit the Gili Islands. If you are travelling to Indonesia for less than 30 days, you don't need to worry about a visa. You will automatically be granted 30 days access to travel around Indonesia, plenty of time for some Gili snorkeling.
If you are planning to stay longer, you will need to apply for a Visa on Arrival before you leave the airport. Your passport must be valid for more than 6 months for you to fly to Indonesia.
You can read more about how to extend your visa in Bali here.
What Should you Pack for Gili Air?
As with the rest of Indonesia, the Gili Islands are blessed with year round, tropical weather, rarely dipping below 30oC and showering the islands with a refreshing, warm rain every day or so. For all-intensive purposes, the weather on the Gili Islands is pretty much perfect. It also makes packing for your trip a LOT easier, as there is no need for big, bulky and heavy  clothing items.
When packing for locations such as these, we try to stick with the Wash one, Wear one and Dry one principle. This means we aren't carrying 10 extra pairs of socks that you will never even wear. For a full idea of what to pack, have a look this Summer Packing List for Men and Summer Packing List for Women.
As you may be aware, Bali is one of the most photogenic places in the world, so you definitely don't want to forget your camera. No matter where we go in the world, we always ensure our camera bag is fully topped up.
If you would like to know more about what is in our camera bag, click right here.
Don't forget to subscribe and follow our journey on Youtube here.
Best Places to Stay Gili Air
There is a huge variety of price ranges for Gili Air accommodation, meaning that no matter what your budget is, you will be able to find the perfect place for you. Here are some of our top picks from the island itself!
Luxury – With an onsite swimming pool to enjoy at the hotel, free bike hire to explore the island and even satellite tv to relax with in the evenings, the Gili island villas are simply beautiful. Book up at Faris Villas and enjoy all of this and more in paradise. There is even a shared kitchen available on site if you would like to try your hand at cooking your own Nasi Goreng!
You can book your stay at Faris Villas here.
Mid-Range – For those with a more mid-range budget wanting to relax and enjoy the island life, Pineapple Resort is perfect for you. There is free onsite wifi, a garden terrace and even a swimming pool for guests to soak up the sun.
You can book your stay at Pineapple Resort here.
Budget – Cheapest of the bunch, but not something to shy away from, H&R Guesthouse is the best budget accommodation on the island. With free wifi, AC and a garden to enjoy, even budget accommodation seems like paradise on Gili Air.
You can book your stay at H&R Guesthouse here.
If hostels are more your cup of tea, then there are also plenty of social hubs available for solo backpackers. You can browse the hostels Gili Air has to offer here.
FAQs on the Gili Air Turtles
Which Gili Island is Best for Snorkeling?
In terms of popularity and ease of access, Gili Trawangan is the best for snorkeling with the turtles of the Gili Islands. This is simply due to how large, popular and accessible the island is compared with Gili Air and Gili Meno. Although, if you would like a quieter trip to see the Gili Air Turtles, away from the Gili T party scene, Gili Air is the place for you.
Which Gili Island is Best for Turtles?
Due to how much quieter Gili Air is with boats and ferries, this island is the best place to spot the (sometimes elusive) Gili Air Turtles. Snorkeling Gili Air is your best way to guarantee a turtle sighting during your trip to the Gili Islands.
Are there sharks around the Gili Islands?
The Gili Islands are known to be home to the Black Tip Reef Shark, a fish that grows up to 1.6m in length and is not harmful to humans. In saying that, however, they have been known to give the odd snorkeller a nibble if they come to close.
Before you set off on your adventure to these paradise islands, make sure you have everything you need! Download our FREE printable packing list, with all of the items you will need to pack, as well as some other useful tips about the islands.
So there you have it, the ultimate guide to the Gili Air turtles. If you have recently visited Gili Air, let us know how you found it in the comments section below. What were your favourite sights? Did you see any turtles? What was your favourite island? Let us know in the comments below.
You can also check out our Bali Youtube series, jam packed with information and inspiration for your trip!
Also remember that sharing is caring! Share this post with your family and friends, so they can get planning a trip of their own to this beautiful part of the world.
If you found this guide useful, check out our other Indonesia content to plan the rest of your trip over here. Catch up with us on social media and tag us in your Bali photos and we will share them with our community of adventurers.
Now Read:
This article may contain affiliate links that provide us with a small income. For more information read our Affiliate page.
---
Save this image to your Indonesia Pinterest board for later